This magnificent dessert is very tasty with both syrup or homemade jam and whipped cream. Bon Appetit!
Ingredients
Flour – 200 grams
Baking powder – 2 teaspoons
Salt – 0.5 teaspoons
Sugar – 1 tablespoon
Milk – 420 milliliters
Egg – 3 pieces
Vegetable oil – 120 milliliters
Vanilla Extract – 0.5 teaspoons
Jewelry
Banana – 4 pieces
Starch – 30 grams
Whipped cream or butter – to taste
Fruit syrup to taste
Jam to taste
How to make waffles
Peel bananas, cut into circles, sprinkle with starch. Lightly grease the pan with butter and fry the bananas on both sides. Put on a plate, cover with foil to stay warm.
Mix flour, baking powder, salt in a bowl.
Separate the whites from the yolks. Beat with a mixer yolks with sugar, add milk, vegetable oil, vanilla, continuing to whisk. Add the yolk mass to the dry mixture, mix the dough with a spoon.
Separately, whisk the proteins in a foam and add to the dough in portions, stirring with a spoon.
Turn on the electric waffle iron, oil and fill with dough. Prepare the waffles according to the instructions in your waffle iron until they are rosy. Put the waffles on a dish, cover with foil so that they do not cool.
When serving, garnish with fried bananas, whipped cream or a slice of butter, pour in syrup.
Bon Appetit!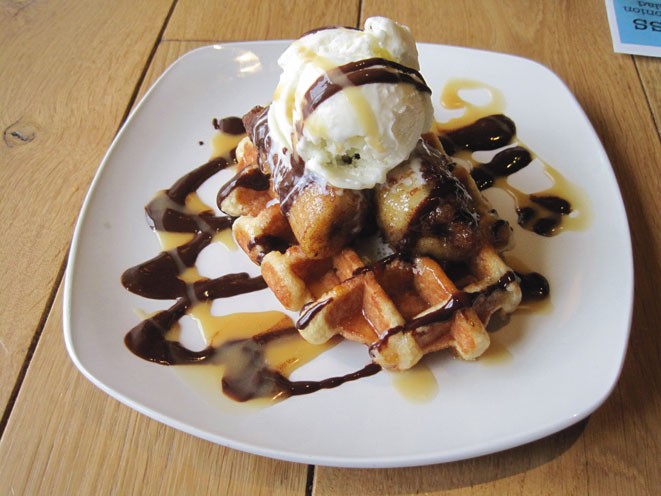 Similar articles
---