Festively decorated aromatic gingerbread cookies can be put on the table on any holiday – New Year, Christmas, Easter or Valentine's Day. Bon Appetit!
Ingredients
Eggs – 2 pcs..
Butter – 125 gr
Honey – 80 gr
Sugar – 200 gr
Wheat flour – approximately 400 gr
Ground cinnamon – 0.5 teaspoon
Dried ground ginger – 0.5 teaspoon
Cocoa – 1 teaspoon
Baking powder – 1 teaspoon
Vanilla Sugar – 1 sachet
Lemon (zest) – 1 pc..
To decorate:
Egg white – 1 pc..
Powdered sugar – 190 g
Confectionery topping
Candied fruit
Sugar pearls
How to make gingerbread with icing
In a microwaveable bowl, place honey and butter. Stir and melt in a microwave at medium power. Add cinnamon, ginger, and cocoa to the bowl. Beat eggs with sugar and vanilla sugar until fluffy and uniform, add mass to honey, butter and spices. Stir again. In a warm sweet mass, add the lemon zest, baking powder or baking powder, sifted flour and knead the dough in a bowl. It's most convenient to do it with your hands.
The dough will turn out soft and sweet, stick a little to your hands – sprinkle them with flour. Put the dough on a smooth surface of the table. On a table sprinkled with flour, roll out the dough into a layer with a thickness of 0.5-0.7 cm and cut out the shapes of gingerbread cookies. Place baking paper on a baking sheet and put honey gingerbread on it at a small distance from each other.
Bake gingerbread cookies in an oven preheated to 180 degrees for 10-12 minutes. You will get a whole mountain of delicious gingerbread cookies.
While the gingerbread cookies are baking, prepare the ingredients for the icing. Mix egg white with icing sugar, whisk a little with a whisk or a blender. Lubricate the still hot gingerbread with a culinary brush. Glaze will harden within 5-8 minutes. On top, until the icing has frozen, decorate with candied fruit, sugar pearls or confectionery powder. Homemade gingerbread festive ready.
Bon Appetit!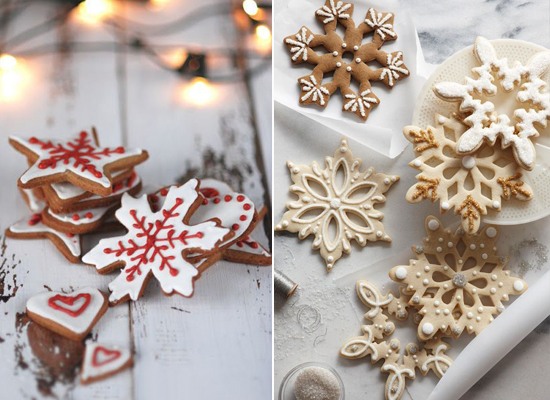 Similar articles
---