Amazingly delicate lemon pie with meringue. Lemon filling looks like a thick soft mousse.
Ingredients
Dough
1 3/4 cup flour
125 g butter
1/2 teaspoon salt
1 yolk
3 tablespoons of ice water
Stuffing and Meringue
1 cup of sugar
2 tablespoons flour
3 tablespoons of starch
1/4 teaspoon salt
1 1/2 cups of water
2 lemons, squeeze the juice and remove the zest on a fine grater
2 tablespoons butter
4 egg yolks, beat
5 egg whites (one from the test)
6 tablespoons of sugar
How to Make Meringue Lemon Pie
The basis is the dough
Chop flour with salt and cold butter (cut into cubes), until large crumbs. Shake the yolk with 3 tablespoons of water, add a little to the dough until the dough is collected in a bowl. You can do everything in a food processor. Roll out the dough, lay in a mold 24 cm, along the bottom and to the top of the walls. Chop and bake in an oven preheated to 190 ° C for 15-20 minutes until lightly browned.
Reduce oven temperature to 170 C.
Lemon Filling
In a saucepan (preferably with a thick bottom), whisk together 1 cup of sugar, flour, starch and salt. Add water, lemon juice and lemon zest. Cook over medium heat, often stirring with a whisk, to a boil. Add butter, mix. Place the egg yolks in a small bowl and gradually, whisking all the time with a whisk, pour 1/2 cup of hot syrup. Insert the egg mixture into the hot syrup remaining in the saucepan with a whisk. Bring to a boil and continue to simmer, stirring constantly, until the mixture thickens. Remove from heat. Transfer to a baked pie base.
Meringue Meringue
Beat the whites in a soft foam. Gradually add sugar and continue to whisk until a firm foam (until stable peaks). Lay the meringues on top of the filling without leaving gaps at the walls of the mold.
Bake in a preheated oven for 10-15 minutes, or until the meringue is browned on top.
Bon Appetit!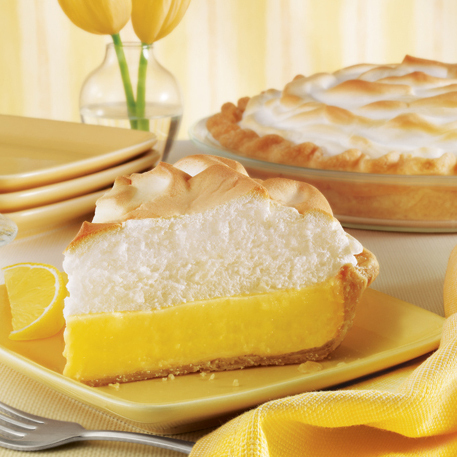 Similar articles
---