Lemon Pie – A delicate, melting citrus pie in your mouth that is very easy to prepare..
Ingredients 6 Servings
Butter 180 gr
Cane Sugar 195 gr
Flour with baking powder 165 gr
Chicken egg 3 pieces
Lemon zest 2 teaspoons
Lemon juice 1 teaspoon
Powdered sugar to taste
How to make lemon pie
1. Preheat the oven to 160 degrees. Oil and sprinkle flour on the cake pan.
2. Beat softened butter with 185 grams of sugar with a mixer until creamy. Gradually insert the eggs, whisking well. Add flour, juice and lemon zest and mix well. Transfer the dough into a mold, sprinkle with the remaining sugar on top.
3. Bake 1 hour until cooked. Refrigerate in the form for 15 minutes and put on a dish. Sprinkle icing sugar on top.
Bon Appetit!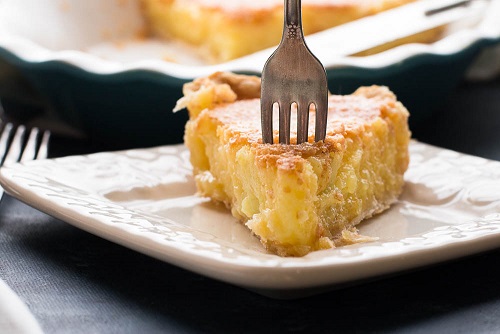 Similar articles
---