Very tasty and mouth-watering delicacy from shortcrust pastry with blueberries! Try it and you will be delighted! Bon Appetit!
Ingredients for the dough
Flour – 2.5 cups
Sugar – 1 teaspoon
Salt – 3/4 teaspoons
Chilled butter (cut into cubes) – 225 grams
Water (ice) – 6 tablespoons
Cream (fatty) – 1 tablespoon
Sugar (for sprinkling) – 1-2 teaspoons
Filling
Blueberries – 5 cups
Sugar – 3/4 cup
Corn Starch – 1/4 cup
Lemon juice – 1 tablespoon
Salt – 1 pinch
How to make Blueberry Pie
In a food processor, pulsate the flour with sugar and salt until smooth. Add oil and mix again until fine crumbs are formed. Pouring ice water gradually, knead the blueberry pie dough.
Divide the dough into 2 parts, forming cakes, each wrap in a film and put in the refrigerator for 30 minutes.
In a bowl, mix 5 cups blueberries, 3/4 tbsp. sugar, 1/4 tbsp. corn starch, 1 tablespoon of lemon juice and a pinch of salt for filling blueberry pie.
Remove from the refrigerator one cake for blueberry pie from shortcrust pastry, let it warm for several minutes, roll it into a circle (diameter 30 cm) from the center to the edges. Also roll out the second cake – to cut out the decorations for the pie with blueberries. Before baking a cake from shortcrust pastry with blueberries, grease the dough with cream and sprinkle with large sugar.
Cover the baking dish (diameter 23 cm) with rolled dough, add 3 tablespoons of butter chopped into small pieces, put the prepared filling. Make a "cover" from the second layer of dough, cutting holes in it in the form of stars or any other patterns with cookie cutters, hook the edges. Bake a blueberry shortcake in a preheated oven for 200 hours for 1 hour – until the filling boils.
Bon Appetit!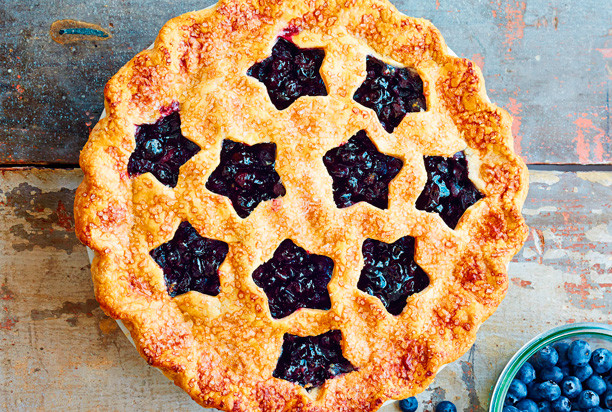 Similar articles
---