Very tasty and spectacular appetizer. Small pancake bags baked in the oven in which cheese and ham are wrapped.
Serving Ingredients – 4
2 cups of milk (for dough)
1 cup flour (for dough)
3 eggs (for dough)
3 tablespoons of olive oil (for dough) + a little for frying pancakes
1/4 teaspoon salt (for dough)
3 tablespoons of sugar (for dough)
Filling
250 gr cheese
150 gr ham
fresh dill
1/2 onion
2 tablespoons of olive oil
a few feathers of green onions
How to make pancakes with ham and cheese
Cook pancakes – Beat milk with eggs. Salt, add sugar. Pour flour and beat until smooth. Add olive oil to the dough. Preheat the pan and bake pancakes so that they remain light in color.
Fry finely chopped onion in olive oil.
Grate cheese on a coarse grater, mix with finely chopped ham and dill. Add fried onions, season with pepper.
Put the filling in the middle of each pancake – 1 teaspoon. Raise the edges of the pancake and tie like a bag with green onions.
Preheat the oven to 180 degrees. Put pancakes in the oven for 5-7 minutes. Until the filling is melted and the pancakes are baked and crunchy.
Bon Appetit!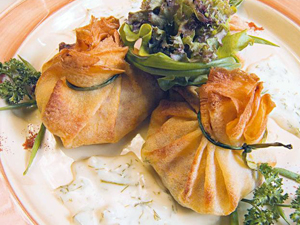 Similar articles
---