Content
---
---
Recipes for the festive table. New Year, Birthday or buffet – you will always be at your best. 3 delicious and interesting appetizer recipes from our collection.
Canapes with cheese and cherry tomatoes
Small canapé sandwiches with cheese, ham and vegetables. To make sandwiches look beautiful, you can chop them with toothpicks and decorate with cherry tomatoes.
Ingredients
Servings – 8
8 slices of toasted bread
several cherry tomatoes
1 green cucumber
1 red pepper
150 gr ham
150 gr cheese
a few iceberg lettuce leaves
1 can of pickled onions
1 can of black olives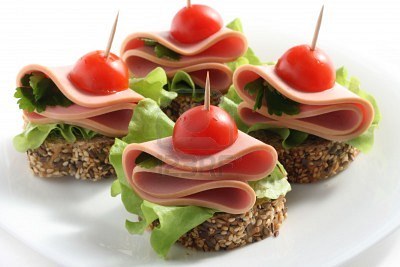 How to cook canapes
Prepare vegetables – wash tomatoes, peppers, lettuce, cucumber. Cut pepper and cucumber into thin slices.
Make sandwiches from 2 slices of bread with slices of cheese, ham, laying cucumbers and slices of pepper. Cut each sandwich into 4 parts – into triangles.
Chop a toothpick and chop the cherry tomato on top. Put lettuce on the dish, put sandwiches on top. Separately, you can serve olives and onions.
Oysters toasts
Great idea for a buffet or a feast – white bread croutons with oysters, butter and egg stewed in wine.
Ingredients
Servings – 4
2 boiled eggs
8 oysters
1/3 cup white wine (75 ml)
8 slices of white bread (baguette)
1 teaspoon mustard
2 tablespoons butter + frying oil
How to Make Oyster Croutons
Pre-cook and chop eggs or grate on a fine grater.
Rinse oysters, boil in wine for several minutes. Remove the meat from the sink. Throw out the sinks. Drain oyster juice with wine in a bowl and cool.
Beat butter at room temperature with mustard, add a little oyster juice with wine to it.
Thinly cut the bread, you can use the cookie sheet to cut it out figuratively. Toast bread in butter.
Cool the bread, grease the top with oil with mustard and wine from cooking, put the oyster on top, decorate with a grated egg.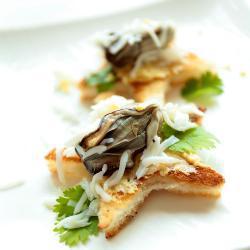 Stuffed Cheese Mushrooms
Stuffed champignons with cheese, bacon and rosemary. A delicious, simple dish for any occasion!
Ingredients
Servings – 4
250 gr champignon
100 gr bacon
1 onion
2 tablespoons butter
150 gr cheese
several sprigs of rosemary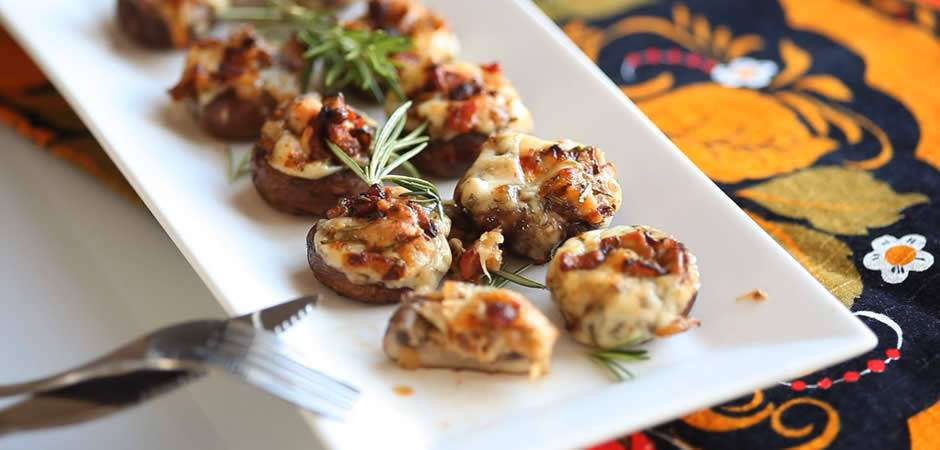 How to Make Stuffed Mushrooms with Cheese, Bacon and Rosemary
Separate the mushroom legs from the hats. Finely chop the legs.
Finely chop the bacon and onion.
Fry finely chopped onions in butter until transparent. Add mushroom legs, and cook for another 5-7 minutes together.
Fry chopped bacon in another pan. Drain the greasy fat. Cool slightly and add to the legs of mushrooms with onions..
Add grated cheese and finely chopped rosemary to the mushroom mixture..
Mix everything well. Fill mushroom caps with cheese mixture. Put on a baking sheet and bake at a temperature of 200 C, about 15-20 minutes.
Bon Appetit!