Soup with salmon, cauliflower and spinach – a very light and tasty soup, it is perfect for lunch or dinner. Bon Appetit!
Ingredients
Salmon Fillet – 500 gr
Olive or butter – 2 tablespoons
Medium onion
Flour – 2 tablespoons
3 potatoes (dice 0.6-1 cm)
Cauliflower inflorescences -300 gr
Paprika – 2 teaspoons
Tabasco sauce – 1 teaspoon
Water – 2 cups
Milk – 1 cup
Fat cream – ½ cup
Bunch of fresh spinach (leaves only)
Salt and ground pepper to taste
How to make salmon soup
Heat the oil in a saucepan over medium heat, fry the onions until transparent for about 2 minutes. Add flour and cook, stirring, for about 2 minutes. Pour in water and mix together with flour and onions. Put potatoes, cauliflower. Cook under the lid until the potatoes are ready (about 15 minutes). Add paprika, tabasco, milk and cream. Bring to a boil, and then reduce the heat. Put the chopped fish fillet in the pan and cook as much as necessary to allow it to boil. Then put chopped or torn spinach in your hands and keep it on fire for a minute. Salt and pepper to taste. Pour into plates if desired, add shrimp.
Bon Appetit!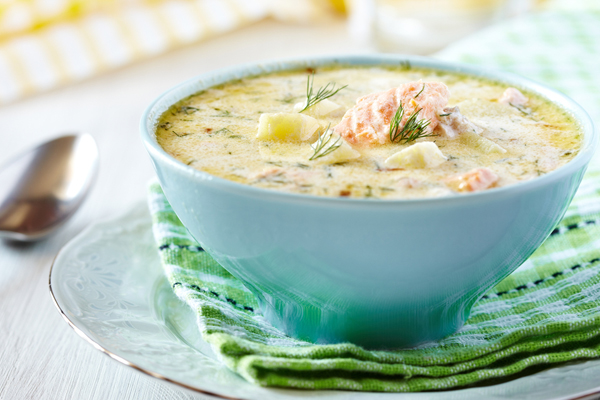 Similar articles
---