Mexican cuisine is especially popular in the summer season. It is easy to cook tacos, quesadillas, fajitos at home and take with them – for example, to a picnic park. Our retset can be very useful for you.!
Mexican Dinner: Shrimp Tacos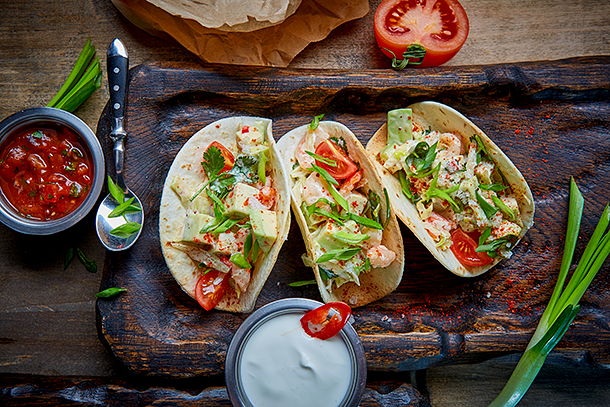 Ingredients
Tacos for tacos – 3 pcs..
Boiled shrimps – 50 g
Iceberg Salad – 25 g
Ginger Sauce – 20 g
Avocado – 50 g
Cherry Tomatoes – 20 g
Sour cream – 40 g
Green onion – to taste
Cilantro – to taste
Salt to taste
Pepper to taste
Chili pepper to taste
Cooking Method – Tacos
1. In a deep bowl, mix the avocado sliced ​​in a medium cube, boiled shrimp, green onions, chili peppers, cherry tomatoes, iceberg lettuce, salt, pepper and ginger sauce.
2. Form wheat cakes in the form of a "boat" and grill or bake in the oven.
3. Put the finished mixture into cakes, garnish with cilantro and serve with sour cream.
Bon Appetit!