Shrimp with noodles and green sauce. The Asian-style dish is striking in its vibrant flavors of ginger, seafood, coconut milk and chili..
Ingredients
Cilantro – 1 bunch
Garlic – 1 clove
Ginger (root) – 20 grams
Chile green – 1 piece
Fish sauce – 1 tablespoon
Coconut milk – 400 milliliters
Rice noodles – 400 grams
Shrimp – 300 grams
Lime – 1 piece
Green peas, green, frozen – 400 to taste
Freshly ground black pepper – to taste
Salt – gram
How to cook prawns with noodles and green sauce
Put the noodles in a pan and pour boiling water for 10 minutes (or proceed according to the instructions on
noodle packaging). Then drain the water. Rice noodles can be bought at Japanese or Chinese stores..
Remove the seeds from the chili pepper and chop finely. Mix cilantro, garlic, ginger, chili, fish sauce and coconut milk in a food processor or blender into a homogeneous mass.
On a medium heat, heat a large frying pan or wok, transfer the resulting sauce and pea pods there (you can replace peas with green beans).
Bring to a boil and add shrimp, cook for 3-5 minutes.
Add the noodles to the pan, warm, stirring gently. Add lime juice and salt to taste..
Arrange noodles on plates, serve with lime wedges.
Bon Appetit!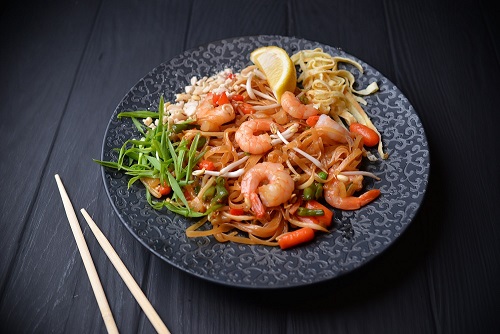 Similar articles
---