Shrimp pasta in creamy garlic sauce is a very tasty and fragrant dish that does not take you a lot of time to prepare it.
Ingredients:
Pasta – 250 gr
Shrimp – 200 gr
Cream – 150 ml
Butter – 20 gr
Onions – 50 gr
Garlic – 2 cloves
Parsley – 20 gr
Salt to taste
Pepper mix to taste
dry white wine – 50 ml
grated cheese
How to cook shrimp spaghetti in a garlic cream sauce
First, you need to chop the garlic and onion finely. Then melt the butter. Fry onion and garlic for 1-2 minutes. Add sugar (a pinch) and freshly ground pepper, then drop a little shrimp with ponytails for literally 2 minutes. Fry and carefully lay them in a separate bowl (to decorate the finished dish) After that, throw all the other shrimps, add salt and fry from all sides … add wine (it will give a spicy taste and aroma after evaporation) Pour the cream. Boil. Shrimps need to be cooked for 3-4 minutes, otherwise they will lose their taste. Add parsley on and off. Boil the pasta. Cook should not be long. For example, if 10 minutes is indicated on the package, then cook for only 7-8 minutes. Mix with the sauce. Put the spaghetti on a dish, garnish with shrimps on top, sprinkle with grated cheese and parsley leaves.
Bon Appetit!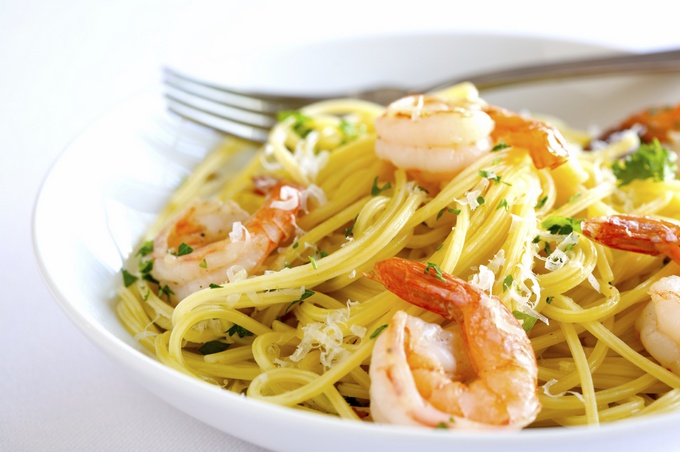 Similar articles
---