Content
---
---
Not so long ago, such concepts as nail trends or trends in nail design practically did not exist. Now this is an entire industry, and experienced nails are able to perform real works of art on nails. Below are the latest fashion trends for fall / winter 2017 manicure.
Trend # 1: Oval Nail Shape
Fashion is constantly changing and what was a fashion trend yesterday is no longer relevant today. Short nails of square shape are replaced by more elegant oval. Experiments with shades of varnishes are not prohibited. Dark colors look beautiful on oval nails: burgundy, blueberry, dark blue, shimmering black and others.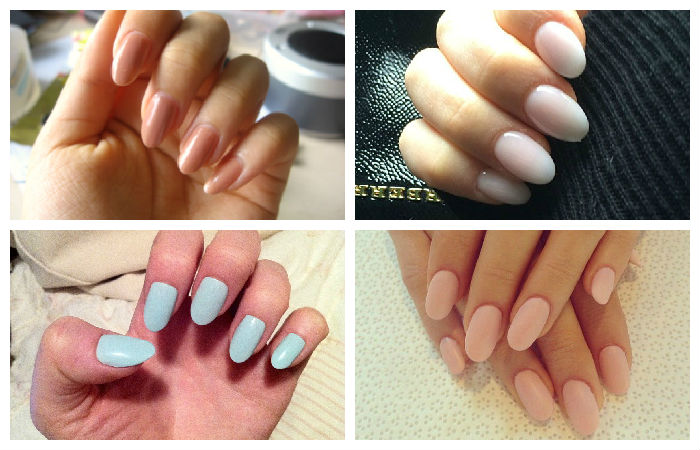 Manicure trend 2017: short oval nails
Trend # 2: Nail Lines and Patterns
Complex patterns on nails are replaced by lines. Now you do not need to varnish the entire nail, just draw a few clear lines on it in the form of Roman numerals or geometric shapes. Simple angular shapes made in classic shades are in fashion..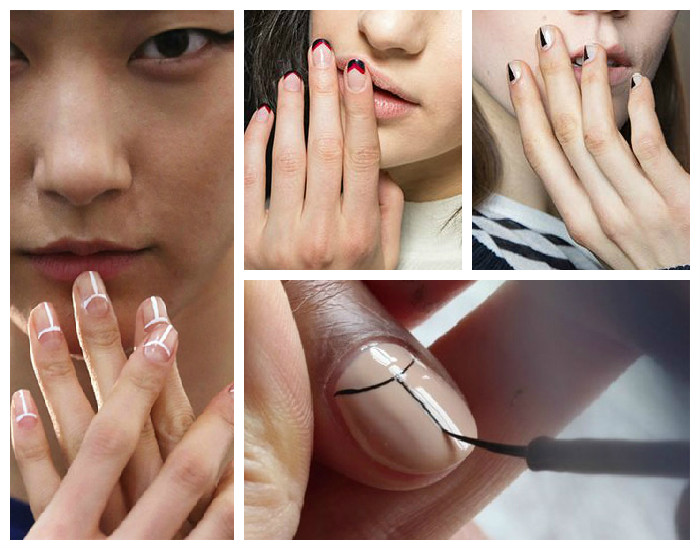 Manicure trend 2017: lines on the nails
Trend # 3: Artistic Splashes and Abstract Patterns
Try to experiment with abstract drawings on the nails, feel like a real artist, because the new fashion trend of manicure is chaotic drops of varnish on the nails. Do manicure playfully. Wrap your nails in the main tone, and then connect the imagination and apply a picture of bright drops, literally randomly spraying them on the nails. And here is a fashionable manicure of goals. Simple and at the same time very stylish. If you want a more complex picture, arm yourself with brushes, like a real artist.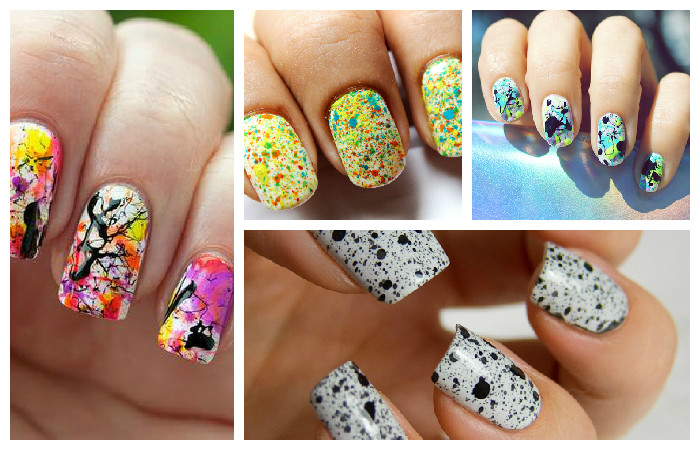 Manicure trend 2017: art spray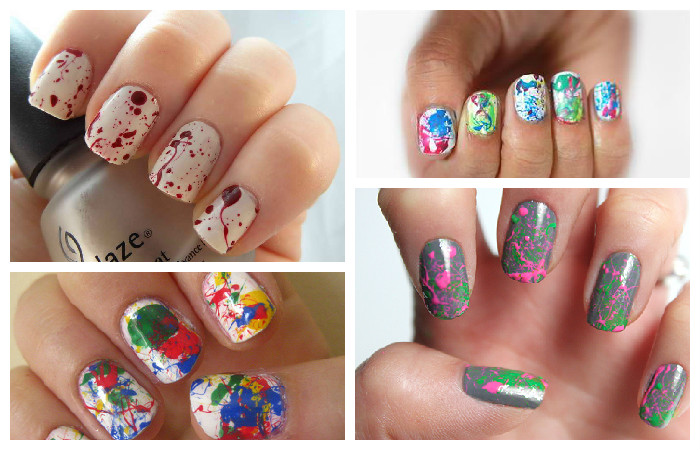 Manicure trend 2017: art spray
Trend # 4: All Shades of Blue
The main shade of the coming winter is of course blue. This trendy classic color will always be relevant. And if you think that blue is boring, then you are mistaken. The whole palette of shades will be popular: shimmering blue, bright blue, saturated dark ultramarine, gray-blue with a metallic sheen, matte Persian blue and others.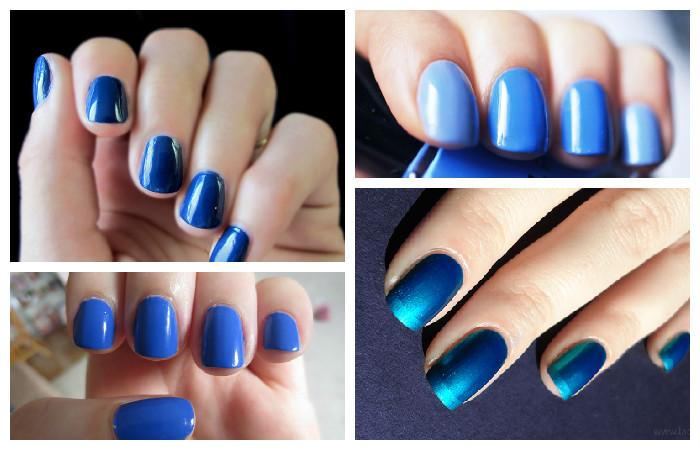 Manicure trend 2017: blue manicure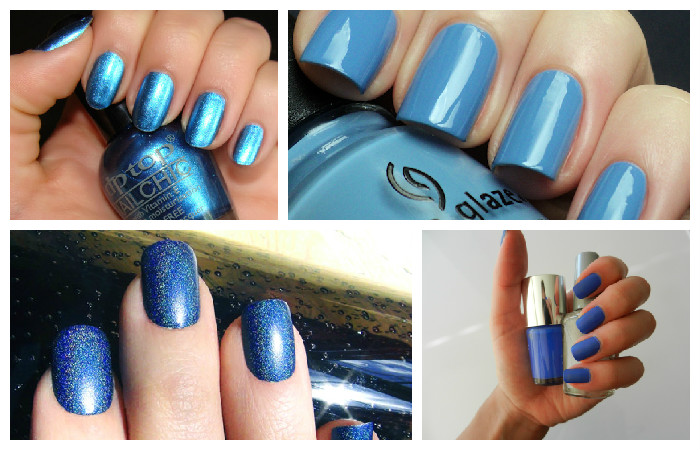 Manicure trend 2017: blue manicure
Trend # 5: Matte Haze
By the way, about matte varnish. He remains popular and does not give up his position in the upcoming season. Using a matte finish you can come up with interesting nail design solutions. It looks very original combination of matte finish and glossy drawing, applied with transparent varnish, while some additional decor is not required. Everything is concise and tasteful. When drawing on nails, we recall the number one trend – a simplified graphic design of nails.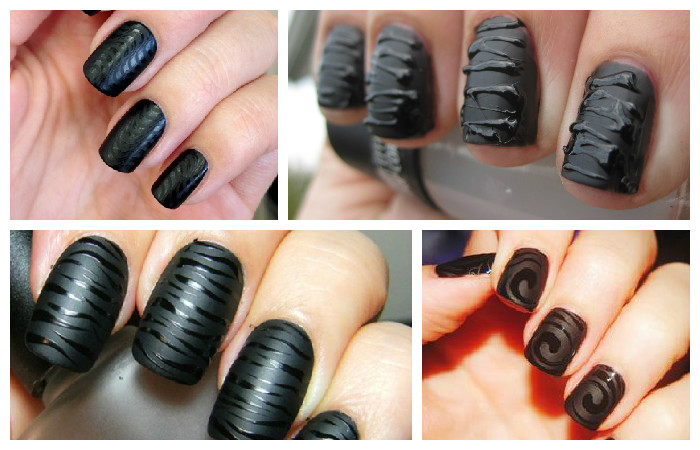 Manicure trend 2017: matte manicure with a transparent pattern
Trend # 6: French manicure in a new way
French manicure is a good old classic, which sometimes requires a little retouching. We make the nail line wavy or triangular, look for new forms, supplement them with "sculptural" lines. The color palette can also be varied. For example, make the main color bright, and the details perform classic white.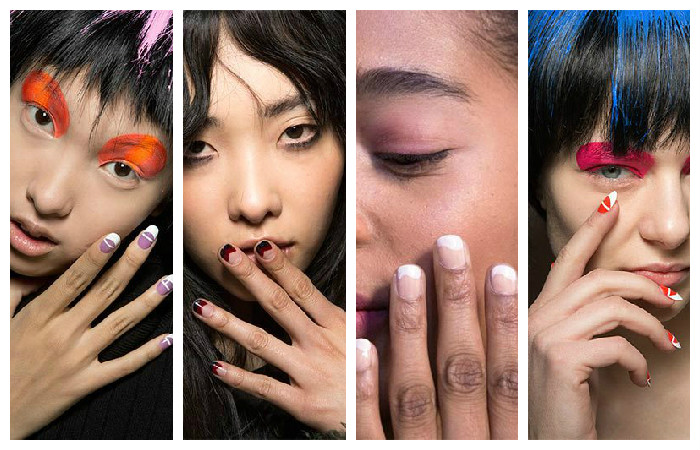 Manicure trend 2017: French manicure in a new way
Trend # 7: Noble Shades of Gemstones
Wearing sapphires and rubies is now fashionable on nails. Add play and play of light with the help of small flickering sparkles. To create an emerald coating, use a black and green color scheme, and the texture of the stone itself can be drawn with a needle, a thin brush or try to make a water manicure. You can decorate such a manicure with gold foil or jewelry for the design of nails made of metal.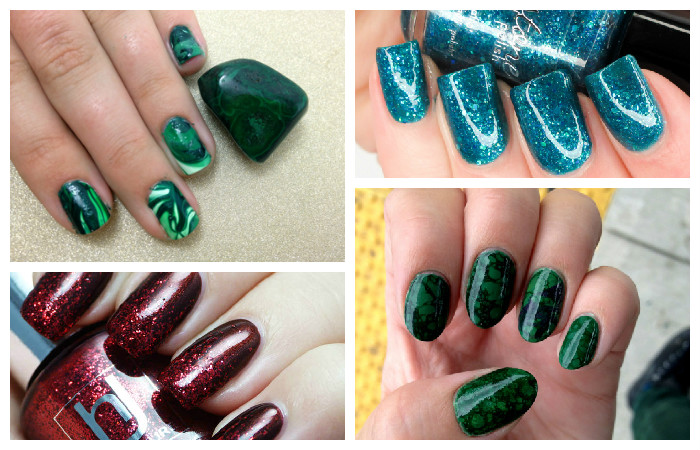 Manicure Trend 2017: Gemstones
Trend # 8: Dramatic Black
Another fashion trend is coal-black manicure, which can be decorated with hand-painted. If you do not like black, then you can replace it with other dark shades, such as ripe plums or rich burgundy. You can make bohemian black manicure with a splash of gold sequins.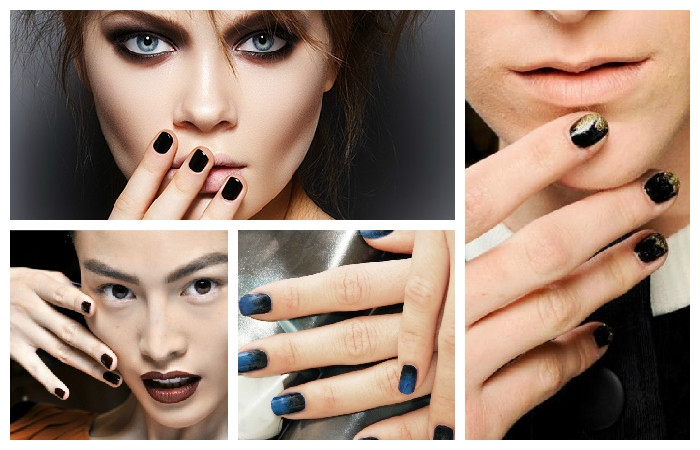 2017 manicure trend: dramatic black manicure
Trend # 9: Neutral Beige
Lovers of natural beauty are also not forgotten. In the trend, short nails of a natural rounded shape coated with a varnish of a natural tone. It can be beige, light pink or light brown. It is not necessary to supplement such a manicure, it is better to leave it in monochrome. A gentle and very simple natural manicure is back in fashion.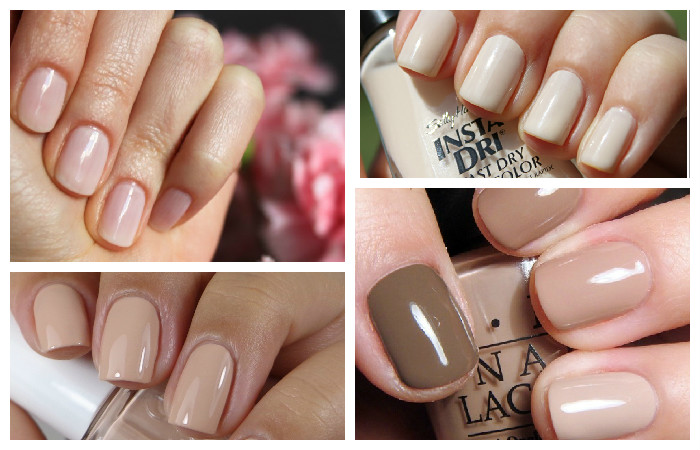 Manicure trend 2017: beige manicure
Trend # 10: Another Trendy Color
This fall and winter, gray manicure is relevant. Dark, matte or metallic. This is for your taste. The main thing is that it is combined with makeup, which should be done in gray-green tones.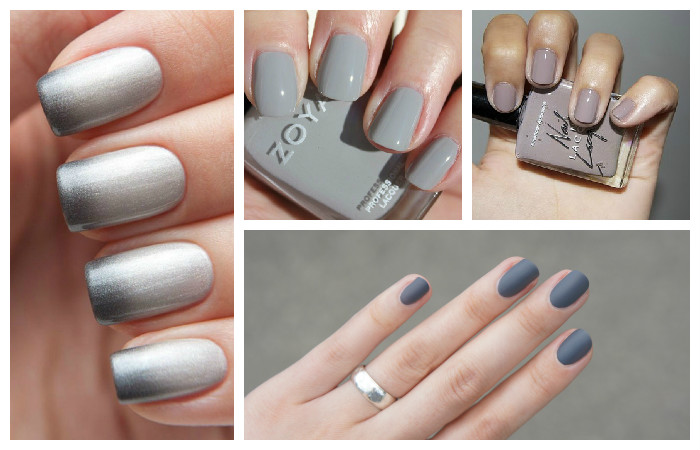 Manicure Trend 2017: Gray Manicure
Trend # 11: Minimalism
A pile of various patterns on the nails is no longer popular. Minimalist drawings came into fashion. Laps, modest stripes and a couple of stylish touches will be enough. Moreover, the tone of the nail should be neutral, preferably beige.
Simple lines and designs, square motifs on the nails – another trend in manicure for lovers of minimalism.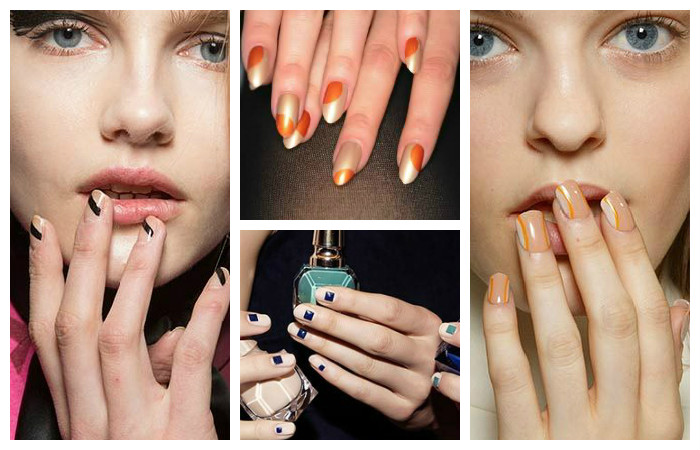 Manicure trend 2017: minimalism
Trend # 12: Favorite Red
Well, where without him this fall. Favorite color of girls, color of love and passion. The red manicure is back again. Universal color that fits almost any clothing. You can choose shades to your taste: darker or lighter, paler or more saturated.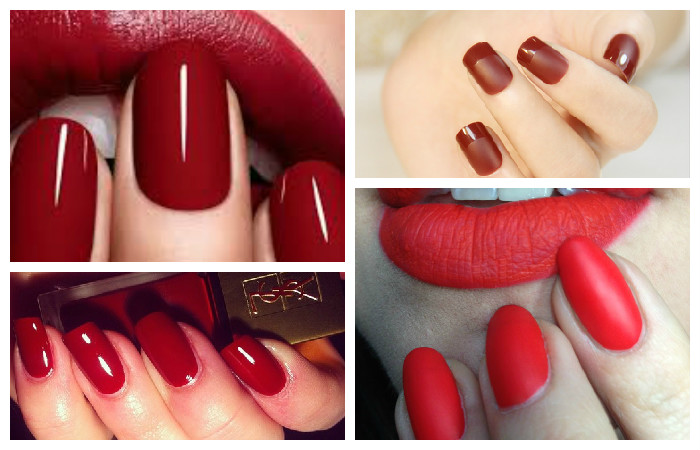 Manicure trend 2017: red manicure
Trend # 13: Wavy Manicure
The nail trend of nail design 2017. We draw patterns in the form of waves and curls. The color of gel polish is not so important, the main thing is the picture itself. The wave can be at the tips of the nails, like an imitation of a French manicure or in the middle of the nail, visually dividing it in half. And even several wavy stripes can also decorate your nails. In this case, it is better to use contrasting shades of varnishes to make the lines on the nails more noticeable..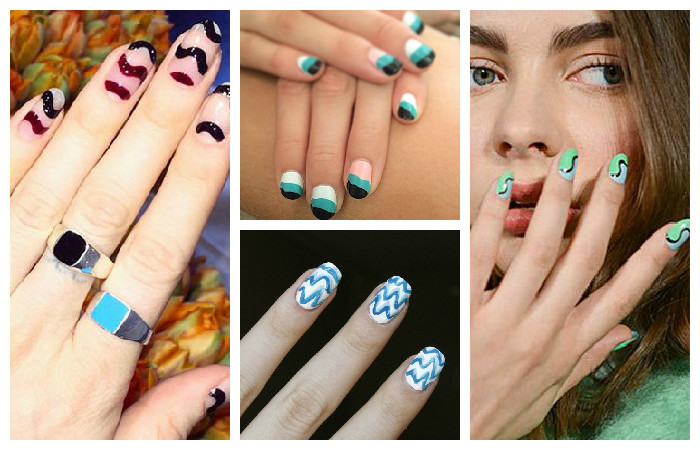 Manicure trend 2017: wavy manicure
Trend # 14: Winter White
Not only black, but also white nails will be popular this winter. Pure snow-white shades can be safely used in your manicure. If we talk about a combination of shades, then monochrome white can be slightly varied with light cream tones.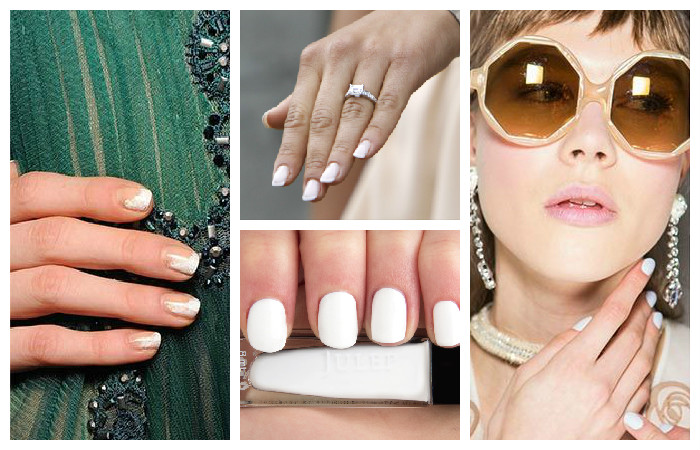 Manicure Trend 2017: White Manicure
The main trends of manicure 2017 are quite simple. Monochrome, minimalism, laconic geometric forms and naturalness are in fashion. But no matter what fashion trends are, the main thing is to choose what does not go against your own style and not change yourself. Fashionable manicure trends come and go, if you do not like current trends, you can always come up with your own.