In the new season, unusual, but not vulgar manicure is relevant. Today we will talk about a new trend that has won the hearts of many stylish beauties. Increasingly, girls turn to the nail service masters to create a marble effect on the nails.
To do this, varnishes of more than two colors are used, forming interesting abstract patterns on the nails that resemble the texture of natural stone.
We have selected the most interesting options for stone nail design, as well as step-by-step photos and a training video, so that you can make a similar manicure with gel polish at home on your own.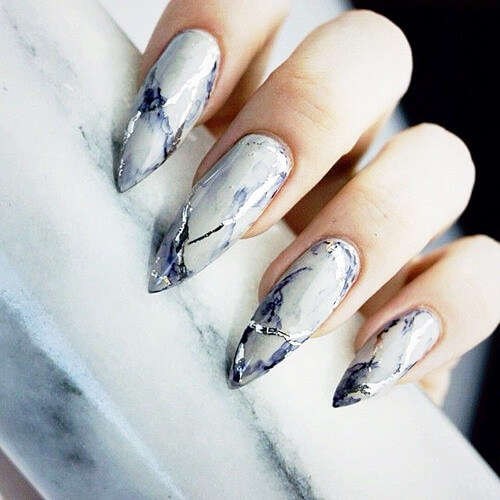 Content:
Fashion New: Marble Manicure Gel Polish
Marble manicure technique: how to make at home
Marble manicure: photo collection
Fashion New: Marble Manicure Gel Polish
A manicure with a marble design is a stylish novelty of the season 2016-2017. This design looks great on both short and long nails..
The marble technique of manicure is carried out in various ways. The most popular marbled method involves using water. Also abstract patterns are obtained using food wrap or special gel varnishes..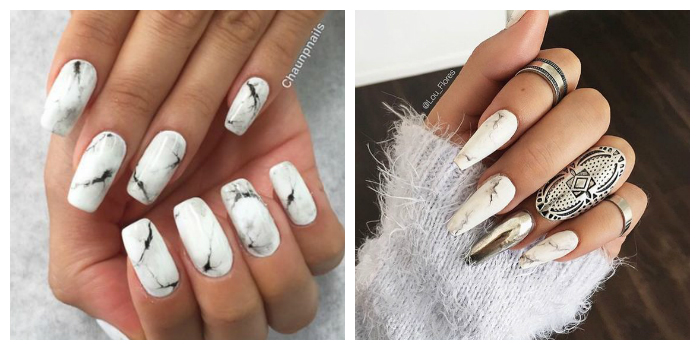 Classic marble manicure, photo
Using gel polish creating the effect of marble chips, this is perhaps one of the easiest ways to design nails at home. Commonly used varnish is black, blue and white. White marble manicure looks very stylish and great for a casual look.
Green stains look no less spectacular, with which you can get an imitation of the malachite gem.
Water is used to mix gel polishes. Dipping a finger in the water, you can see how it is instantly enveloped with a varnish film.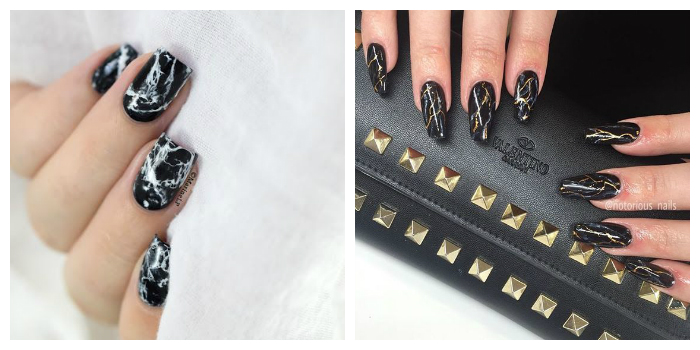 Marble manicure in dark colors, photo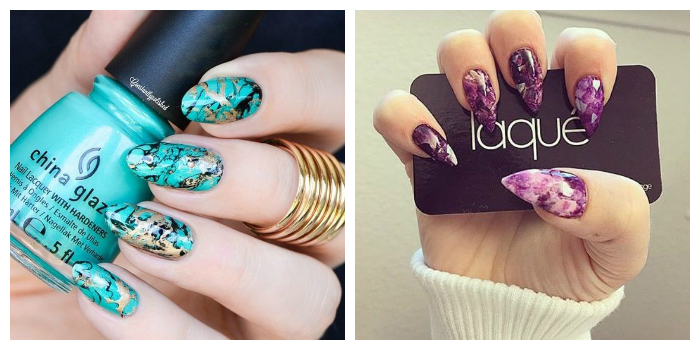 Color marble nail design, photo
Marble manicure technique: how to make at home
Those who wish to perform water marble manicure at home can use our tips. Also on the Internet there are a lot of interesting videos posted with a note on how to make marble manicure for long or short nails.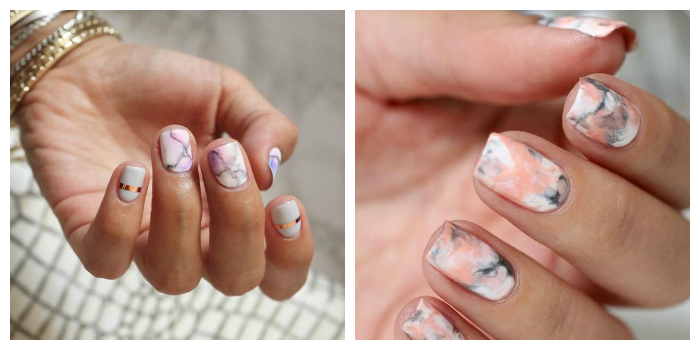 Option 1: create a "watery" marble manicure
In order to perform a fashionable manicure, it is necessary to prepare two contrasting varnishes, a greasy hand cream, a liquid container, a toothpick.
The first stage includes the preparation of the nail plates;
Next, the fingers, without affecting the nails, are greased with a greasy cream. This procedure will help to easily remove the varnish film from the skin surface..
In a container filled with water, it is necessary to drip one by one according to the selected shade of varnish and immediately form the necessary pattern with a toothpick.
Dip a fingernail into the varnish film.
To clean the skin near the nail from the film with a cotton pad previously moistened with nail polish remover.
The manipulations listed above should be performed on all nails.

Stylish stone design, photo
Option 2: create a marble manicure with a package
You can perform marble manicure in another way. To do this, you will need a small piece of a plastic bag (approximately 5 * 5 cm) and two suitable varnish colors. A piece of polyethylene must be crumpled in the hand.
Basic varnish is applied to the prepared nails, which should be thoroughly dried. After the coating dries, the nails are covered with a different color of varnish. Without waiting for the coating to dry, you need to use a bag to create a picture on the nail. To do this, you need to touch the nail with a plastic piece and, without holding it, immediately remove it. The result is an interesting pattern that resembles the texture of marble.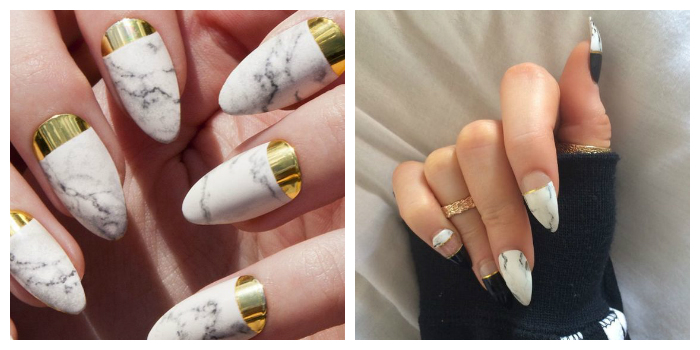 Marble triangular shape nail design with gel polish
Option 3: create a marble manicure at home (step by step photo)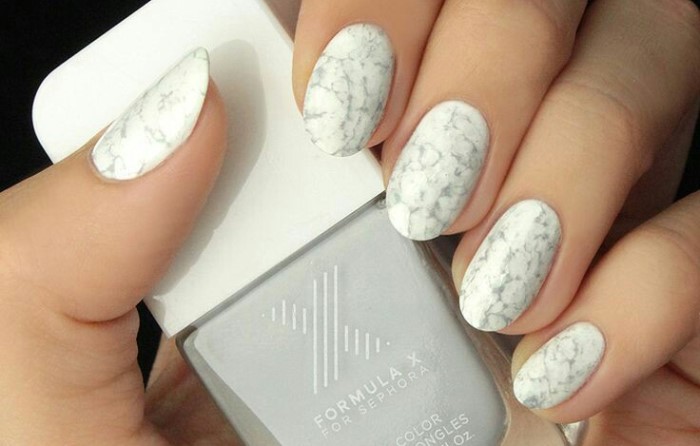 Ready-made marble pattern on nails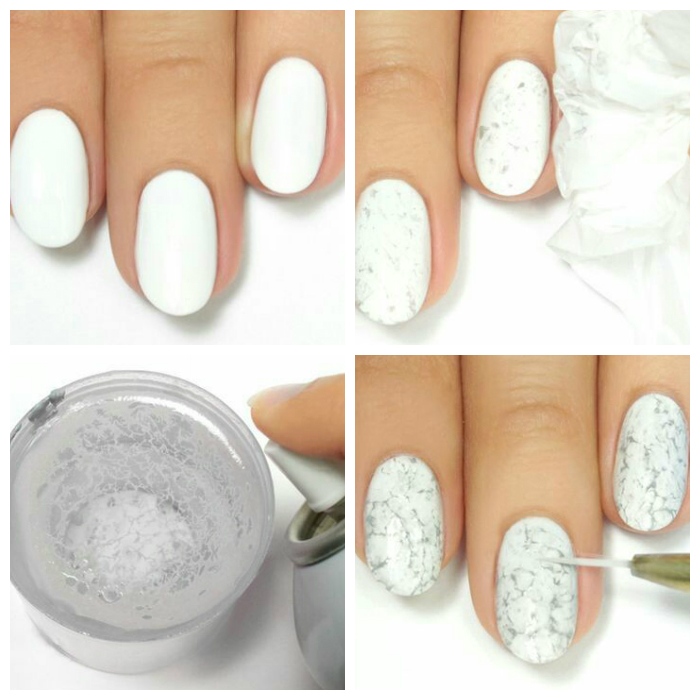 Step-by-step photo of marble nail design
Option 4: create a marble manicure with gel polishes and a brush
Step-by-step photo of creating stone manicure with a brush and gel polish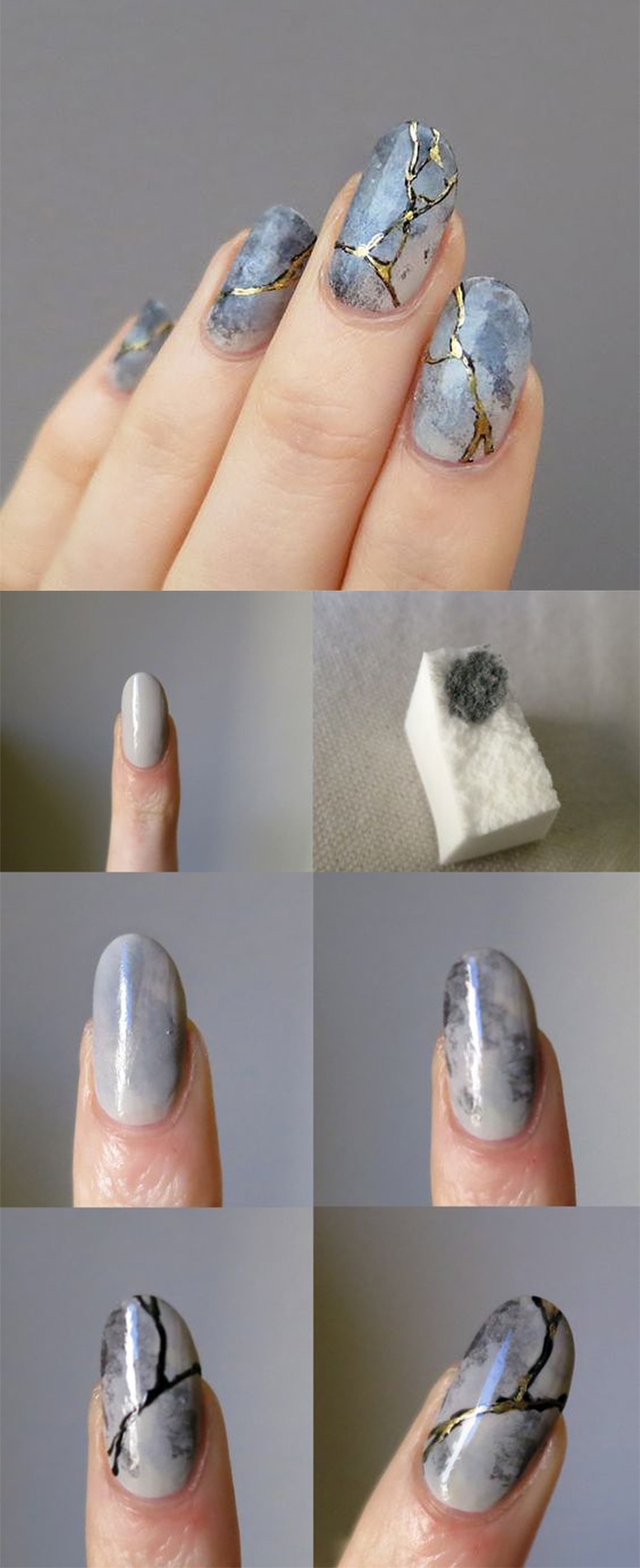 Marble manicure: photo collection
Performing a beautiful, trendy nail design with the Internet and a great desire to master a new technique is not at all difficult. On the Internet you can find video tutorials and photos step by step of any beautiful manicure. It is worth considering that the resulting pattern is almost impossible to repeat. This is the whole highlight of this technique. Often, marble design is combined with a mirror manicure, it looks very beautiful. The ability to create interesting manicure designs for short and long nails will help you significantly save on trips to the nail salon!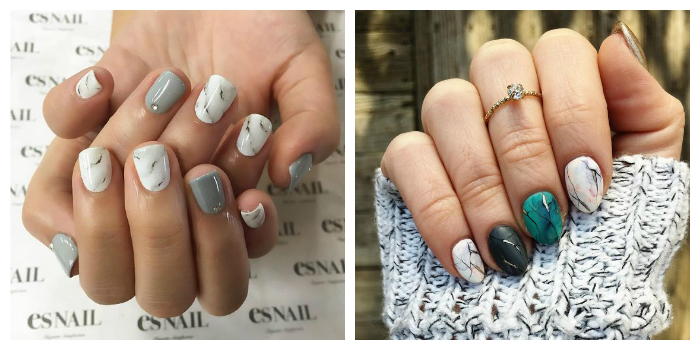 Marble Manicure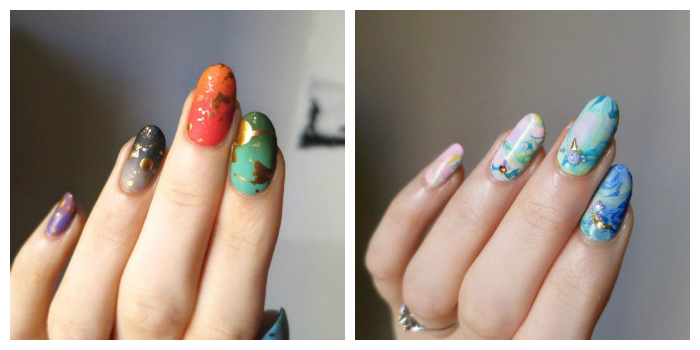 Marble color design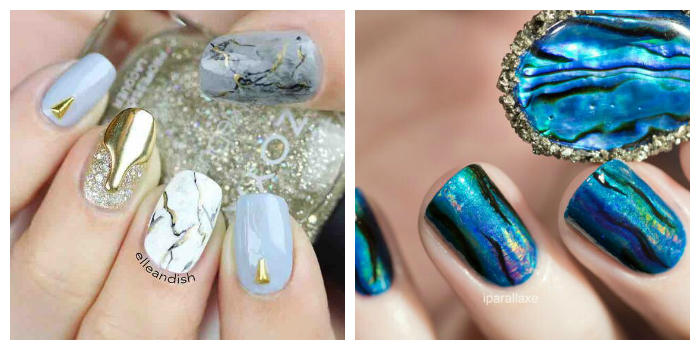 Stone manicure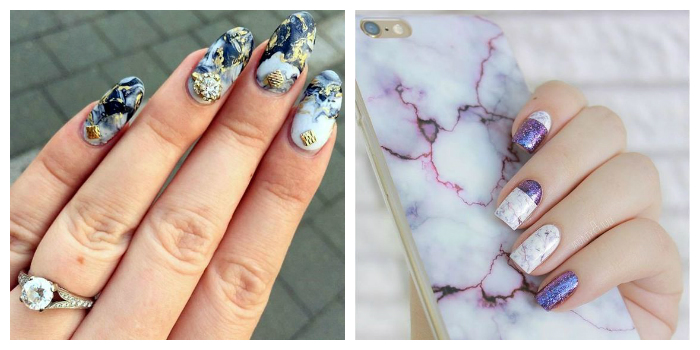 Marble manicure with gold and shiny gel polish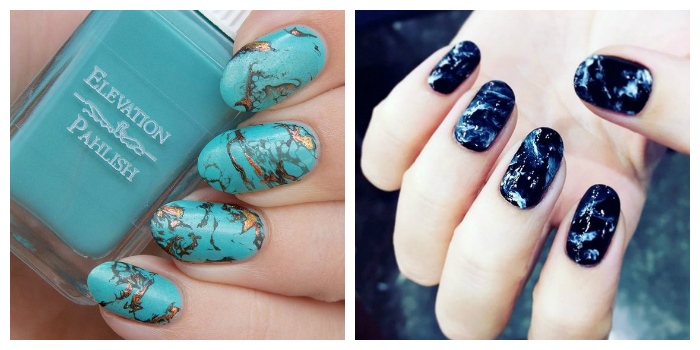 Colored stone design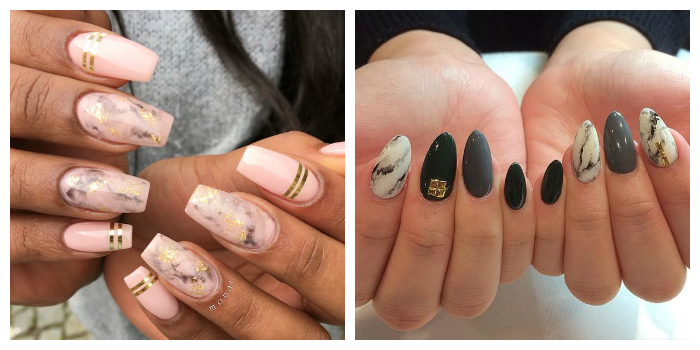 Marble Design Options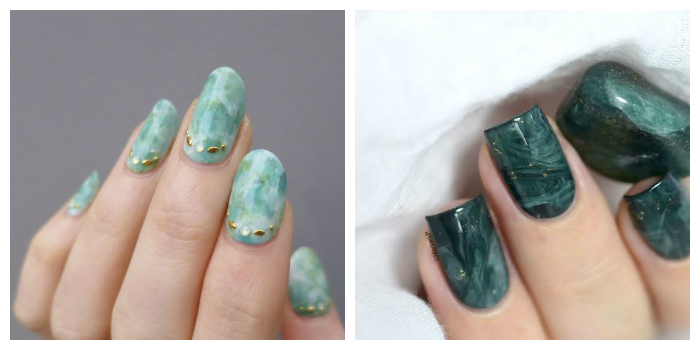 Beautiful manicure with a stone effect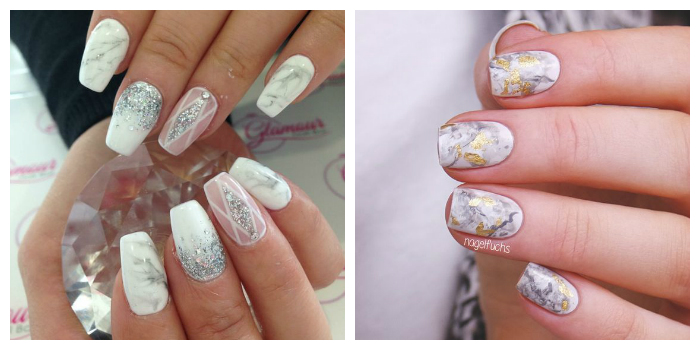 Design options for marble manicure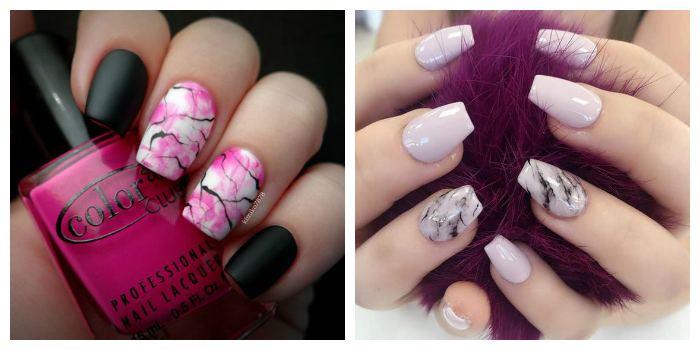 Marble design with gel polish and brush.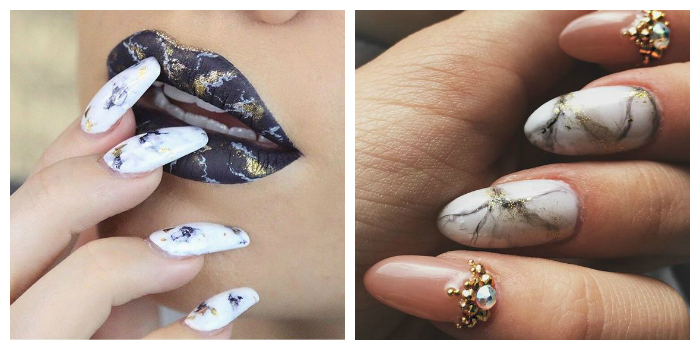 Stylish marble nails with gold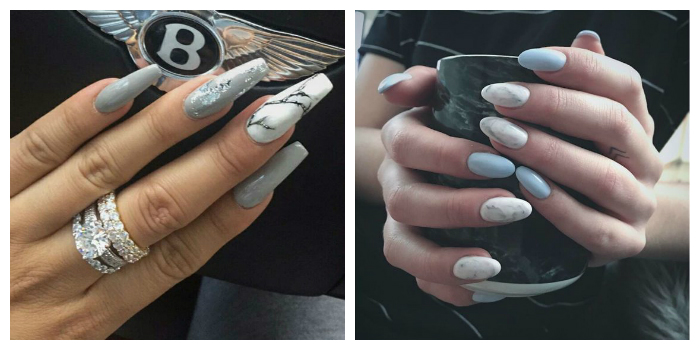 Spectacular marble manicure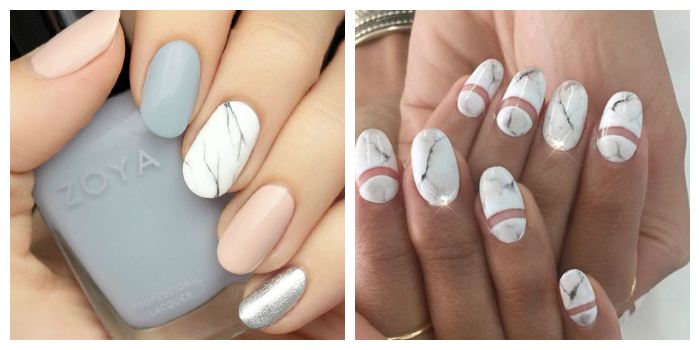 Marble design options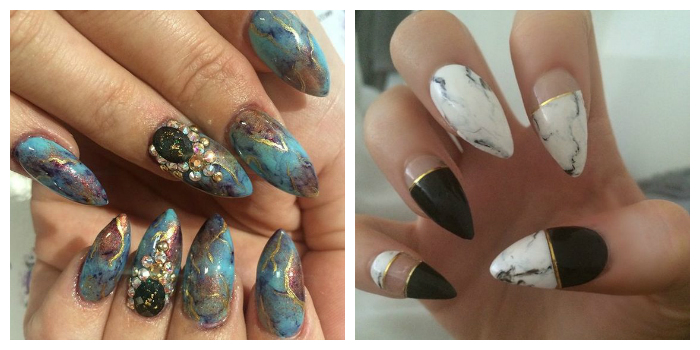 Marble manicure on triangular long nails.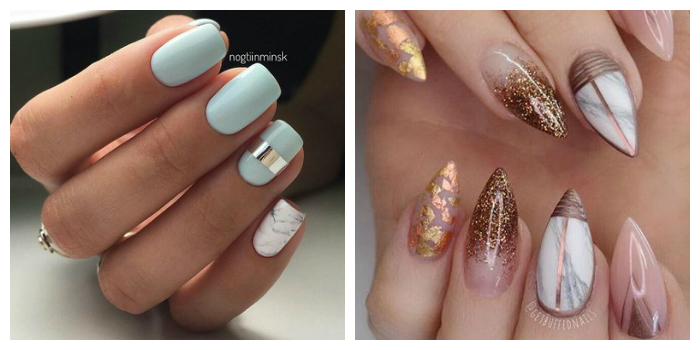 Marble design in pastel colors.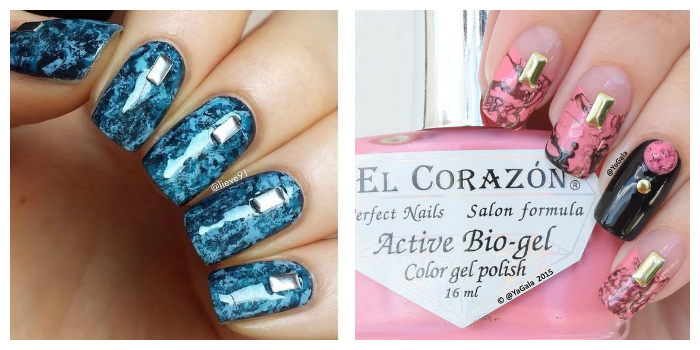 Bright stone effect design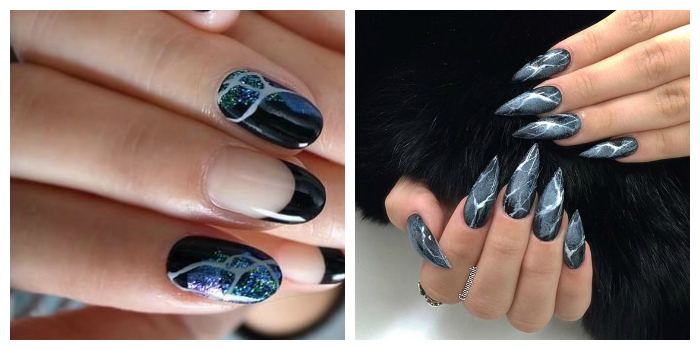 Marble manicure with dark gel polishes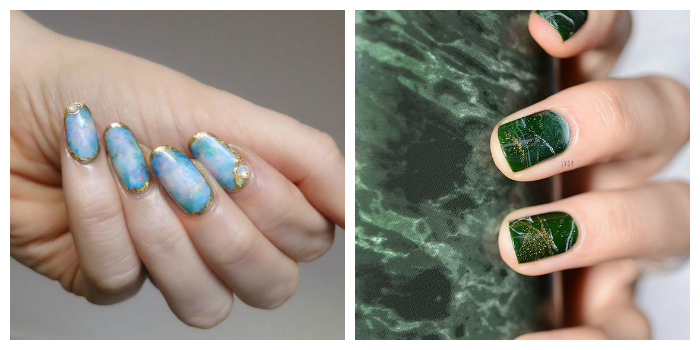 Colored stone manicure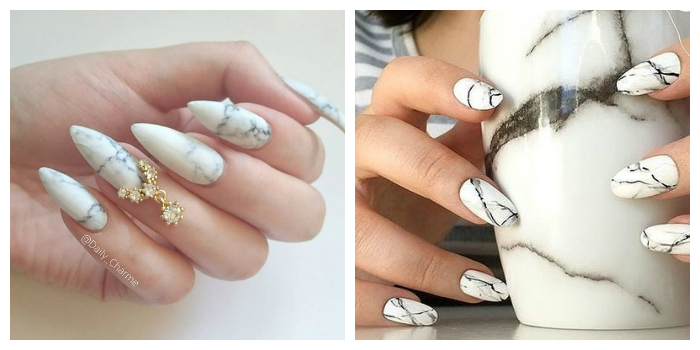 Classic black and white marble manicure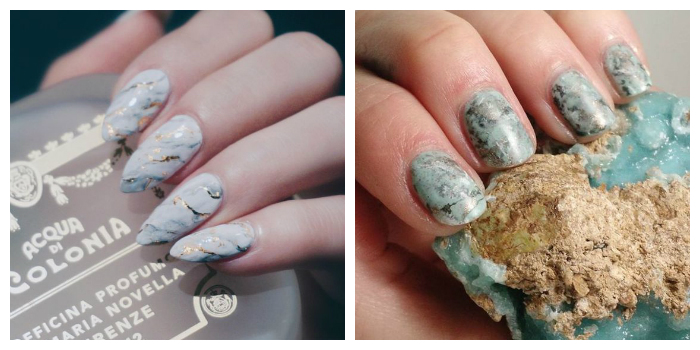 Gel Polish: Stone-Design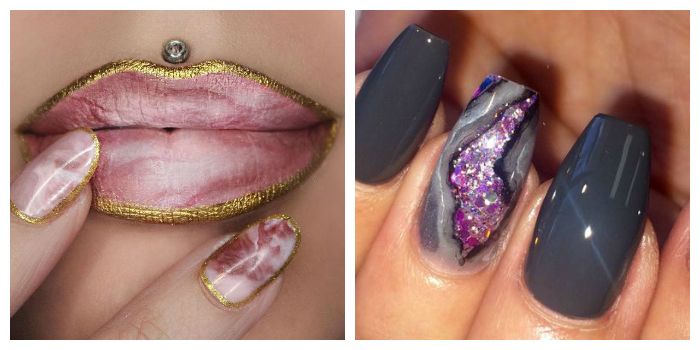 Stone effect color manicure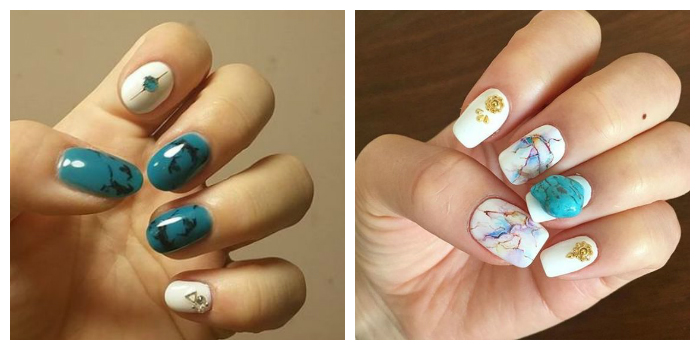 Marble manicure for short nails