If you want to draw attention to your well-groomed nails, then be sure to try a mirror manicure. This is a new trend in the beauty industry. This design looks especially beautiful and spectacular on long nails..
The peculiarity of this design is an unusual coating, which is very similar to a mirror or shiny, polished metal.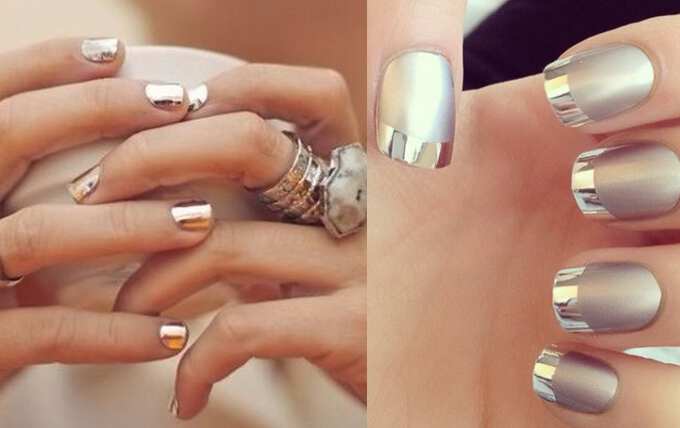 Today in specialized online stores you can buy gel polishes that can help achieve a similar effect. Shades are the most diverse. Most often, girls choose gold, silver, blue, brown.
Content:
Fashion trends in nail design: stylish mirror manicure
How to make a mirror manicure at home: step-by-step photo instruction
Video: how to make mirror manicure? 5 ways
Mirror manicure gel polish photo news 2017
Design ideas with mirror effect, photo
Fashion trends in nail design: stylish mirror manicure
Fashion trends are such that an unusual, but at the same time concise nail design comes into fashion. Mirror manicure conquered many. He looks simply amazing and causes interest among people around. Seeing such nails, every time I want to take a closer look at them. This effect can be achieved in various ways. To do this, you can use gel polish, which allows you to get a mirror effect, special foil, stickers. All of these consumables are on sale. Mirror manicure can be done at home.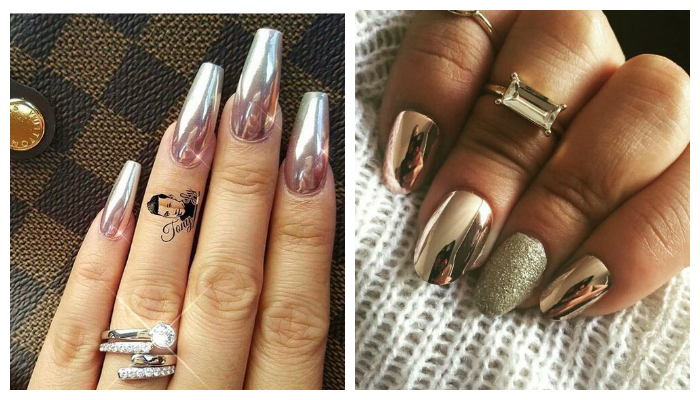 Photo mirror manicure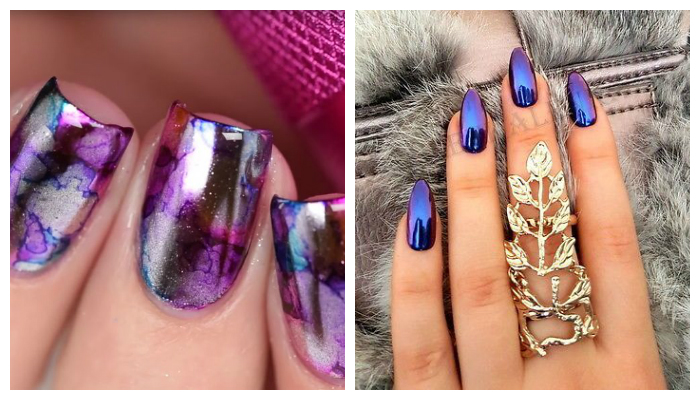 Color Mirror Manicure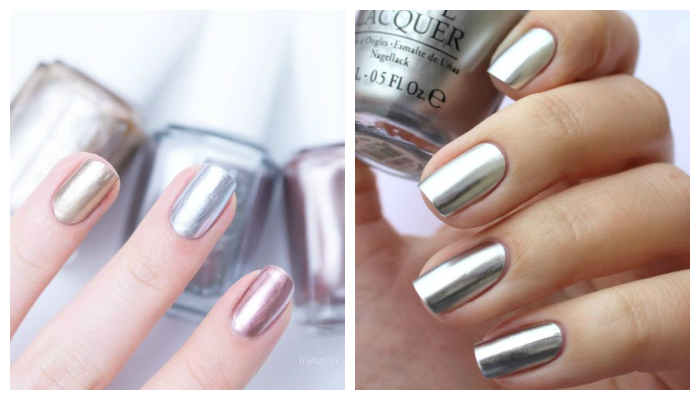 Mirror manicure with gel polish
How to make a mirror manicure at home: step-by-step photo instruction
Today, more and more girls look after their nails at home. Indeed, thanks to the Internet, where training lessons with photos are laid out step by step, it is not difficult to learn how to design nails on your own. In addition, the independent design of nails allows not only to save your budget, but also to discover the creative beginning.
Simple mirror manicure with gel polish
The simplest and most common embodiment of a mirror manicure is the use of gel polish with a metallic sheen. Mirror manicure with gel polish looks great on nails of various shapes. In addition, the mirror coating can be supplemented with painting or decorated with beads or rhinestones.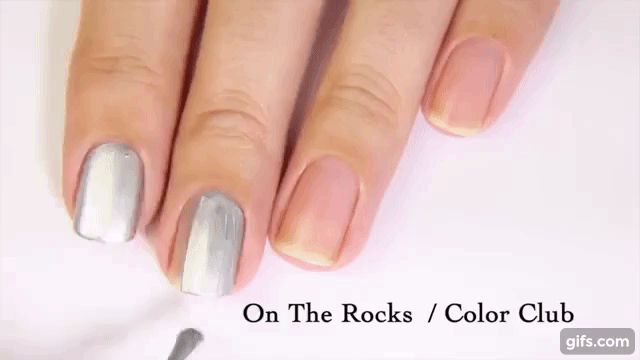 When creating a mirror manicure with gel polish, the standard technique is used. You will need to prepare the nail plate: remove the old coating, cut the cuticle and give the nails a beautiful shape. The top of the plates should be treated with a buff that will remove the upper greasy layer. After which, all nails are wiped with a primer. It removes nail dust and degreases the surface. After drying, a base coat is applied to the nails. It provides a good adhesion to gel polish. Only then can you start the procedure for applying the main varnish.
When using gel polish, creating a mirror effect absolutely can not do without a UV lamp. After application, the fingers are placed in the device for 2-3 minutes. In order for the mirror effect to turn out obvious, manufacturers of gel varnishes recommend applying them in two layers. In the end, be sure to cover the nails with the finish composition. It will provide a beautiful shine and preserve the beauty of the result for a long time..
To obtain a noble flicker, you can use powder for a mirror manicure. The formula of such a product allows you to get charming overflows in a matter of seconds. The powder is a very fine grinding aluminum powder. It is perfectly rubbed into a varnish covering. When using rubbing, it should be remembered that you can get a beautiful mirror finish only on smooth nails. Therefore, when designing them, you should use a leveling base that can correct existing deficiencies.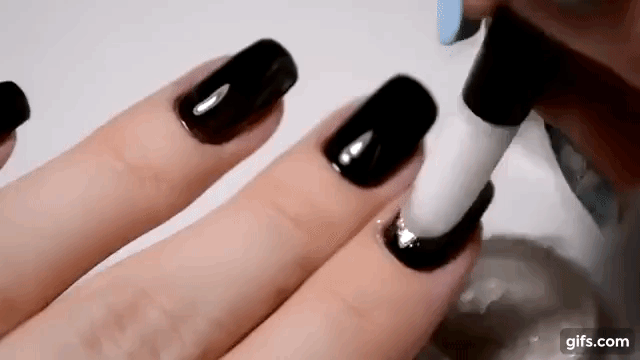 Rubbing "mirror shine" looks good if it is applied evenly over the entire substrate. Therefore, when working, you must use a brush that will help you complete this item. After applying the powder, the nails are covered with a top. If you do not use it, then it is unlikely to get the desired result.

Mirror manicure gel polish photo news 2017
Mirror manicure with gel polish is a great way to add zest to your image. After all, he is very unusual and intrigues many. Often girls ask questions, how to achieve such an effect? After all, trying to execute it yourself, the desired result is not always obtained. And all because some application rules are not respected. If you strictly follow the recommendations of the masters, then performing such a manicure is not at all difficult, and the result will please you for a long time.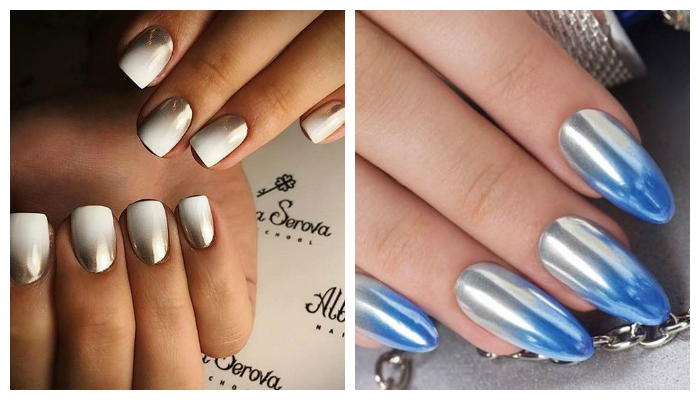 Gradient mirror manicure (ombre), photo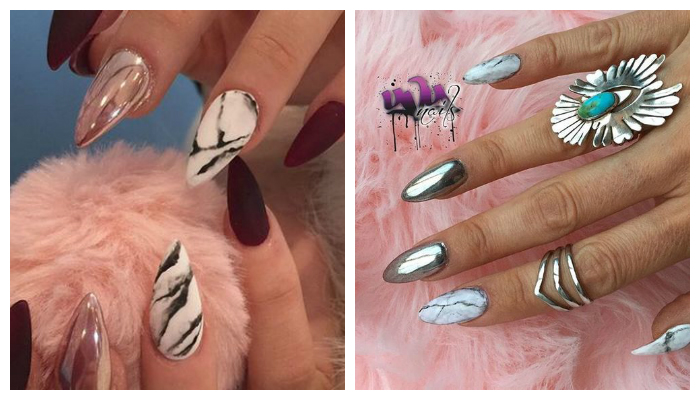 Mirror and marble manicure, photo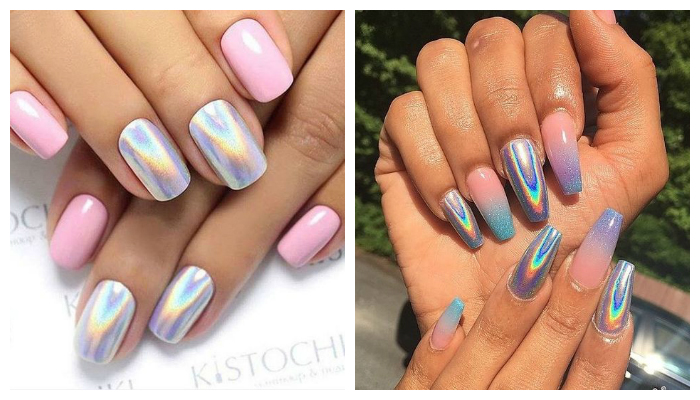 Chrome gel polish design
To perform a mirror manicure, a photo of which can be viewed below, a MIRAGE MIRROR gel polish is suitable. It comes in various colors. The varnish is applied in simple movements and dries very quickly. It allows you to get a chrome or mirror effect. The texture of this varnish is very dense, so it is not necessary to apply a second coat.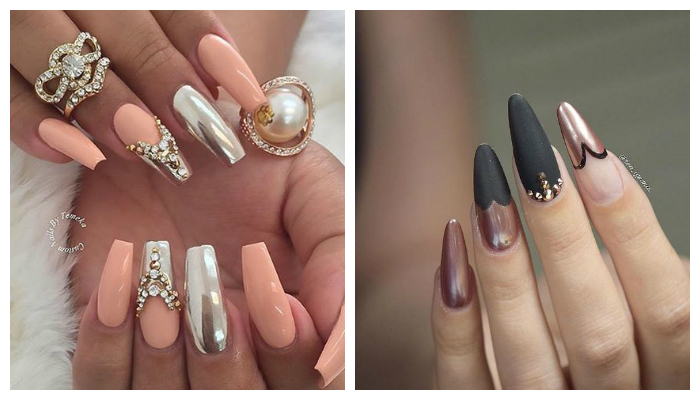 Photo mirror design of nails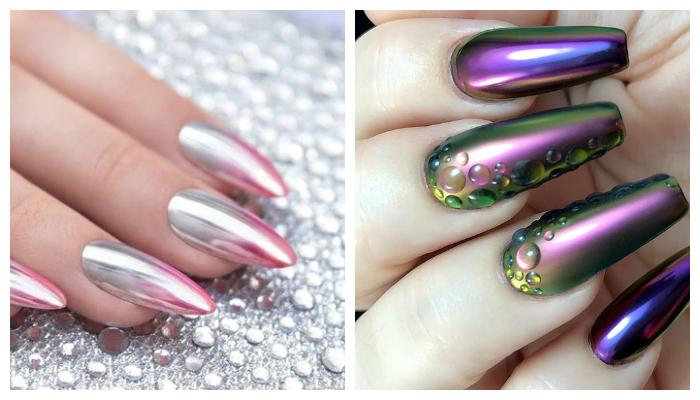 Design ideas with mirror effect, photo
In the article, we examined how to perform mirror manicure at home. Now we offer to get acquainted with the trends of 2017 and draw inspiration!