Content
---
---
Minimalist white, passionate scarlet and Gothic black varnishes, new variations of French manicure, gilded cuticle – these and other tricks become the main trends in spring-summer 2017 manicure. Once again, nail industry masters prove that manicure is needed not just for neat hands, Is a full part of our image.
As for the shape of the nails, the main emphasis is still on naturalness: short rounded or almond-shaped nails are in fashion, and square "shoulder blades" and sharp tips completely leave the fashion lines.
Minimalist manicure
As well as in makeup, in a manicure, delicate nude shades are unlikely to go out of style. Now they are replacing classics like French manicure. In addition, this is the fastest way to give your nails a neat, well-groomed look..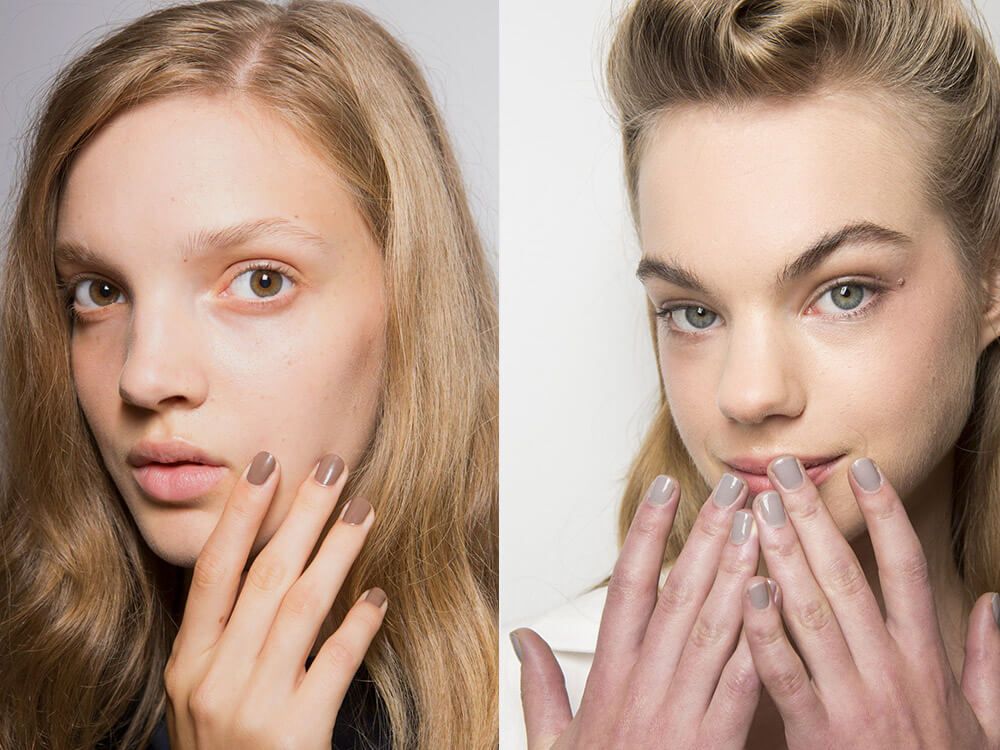 The modest and, at first glance, unremarkable nude manicure is actually much more diverse than you might imagine. These are milky tones, both transparent and more "dense", "thick" cream, natural shades with a pinkish tint, the color of coffee with milk, all kinds of flesh and powder shades. To diversify the minimalist manicure nude, a couple of strokes and a miniature sticker are enough.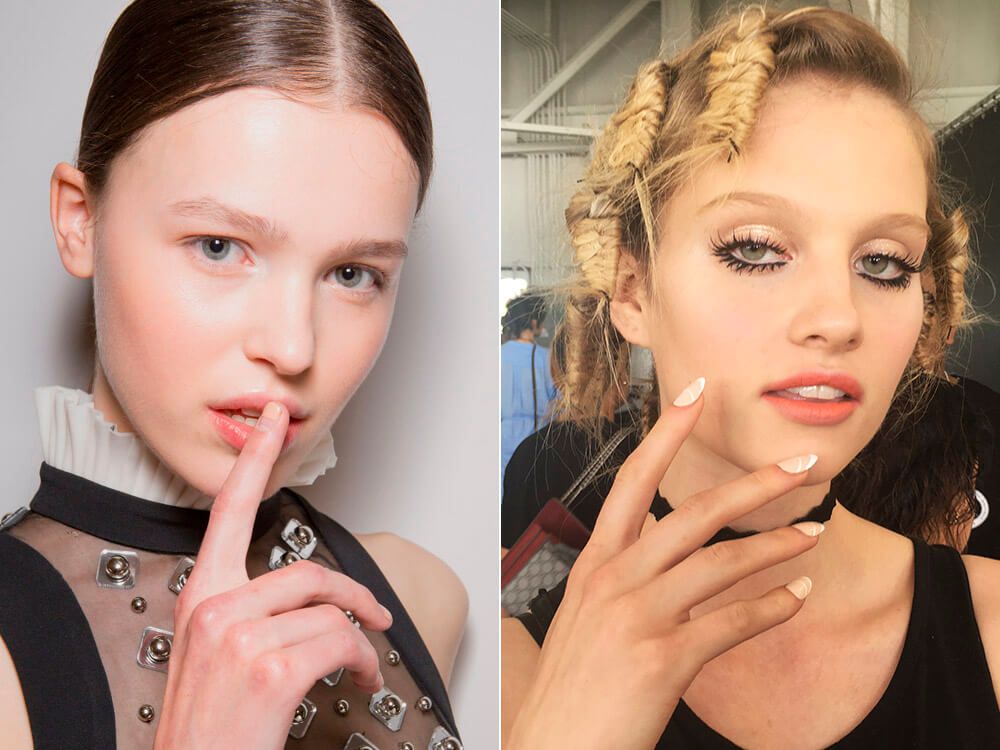 Updated manicure french
The classic combination of pink and white has long been irrelevant, in the spring-summer 2017 season, any variations of the French manicure are welcome. The application technology has practically remained the same, except that some experiments with the design of the tip of the nails have been noticed, but the palette of shades is updated every year with new colors.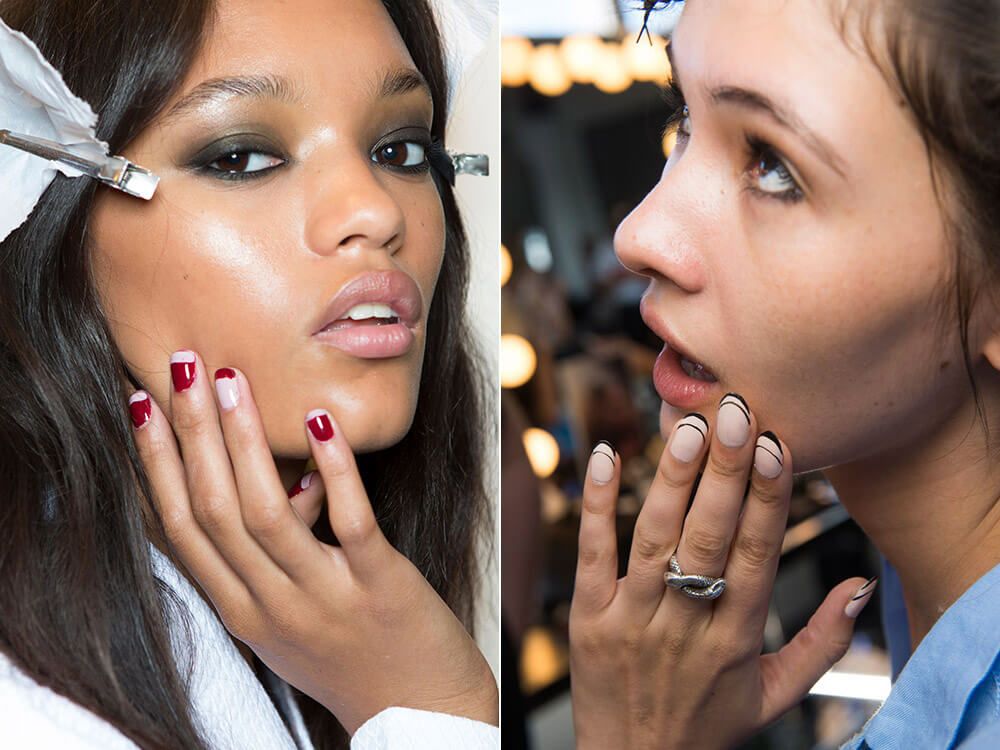 This is a combination of nude shades with bright contrasting colors, and a combination of transparent varnish with a metal coating of the tips, as well as a mix of French and moon manicure with a thin hole at the base of the nail.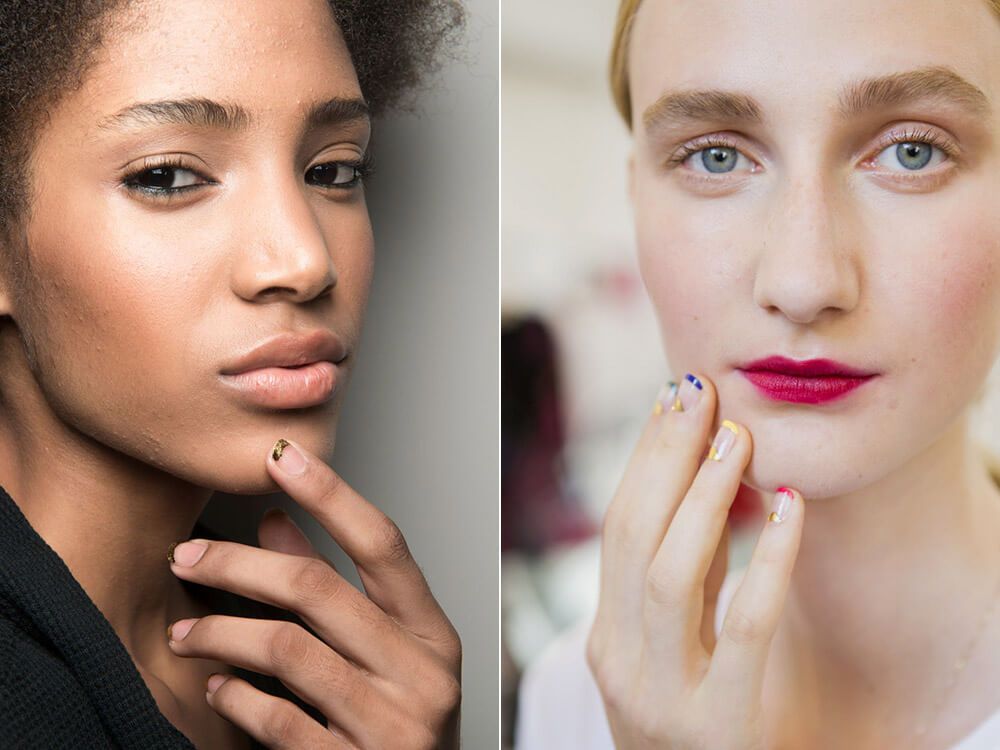 White manicure
Provocative red, delicate pink, restrained beige – all of them are inferior to the snow-white coating. The main thing to consider is that white is also different, and for each skin tone its own white color is suitable. On the skin with a cold tint, snow-white tones look good, with a warm – milky tones.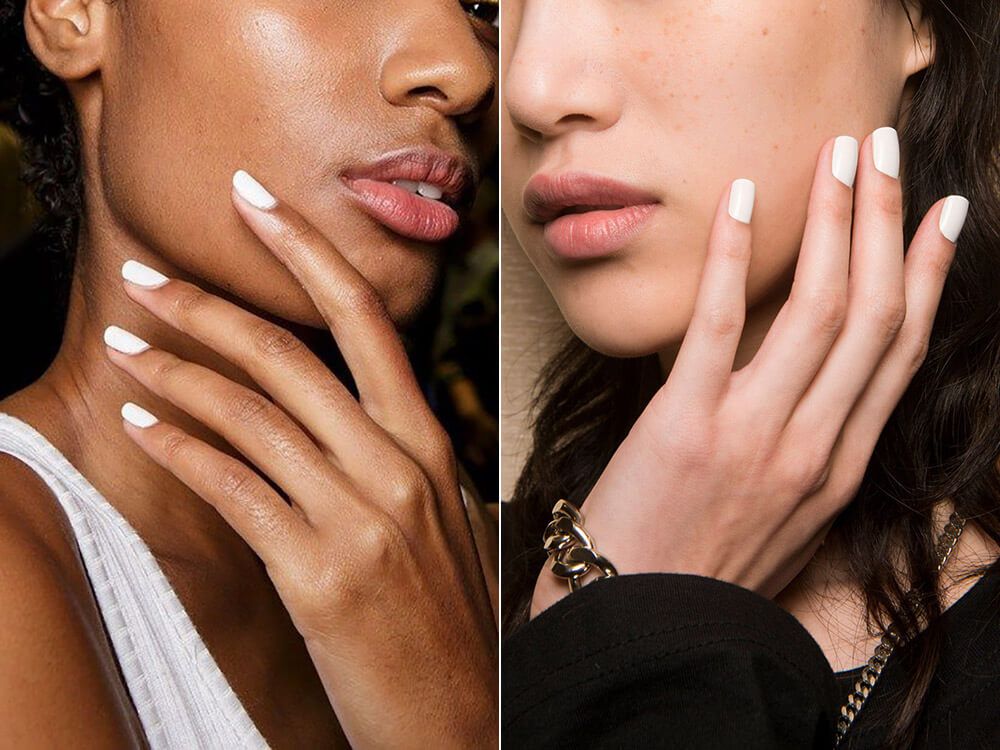 Moreover, the spring-summer 2017 season does not limit the fantasy to one-tone nail coating. It's important to dilute white varnish with other shades, for example, metallic fashionable this season, or you can simply powder your nails with glitter.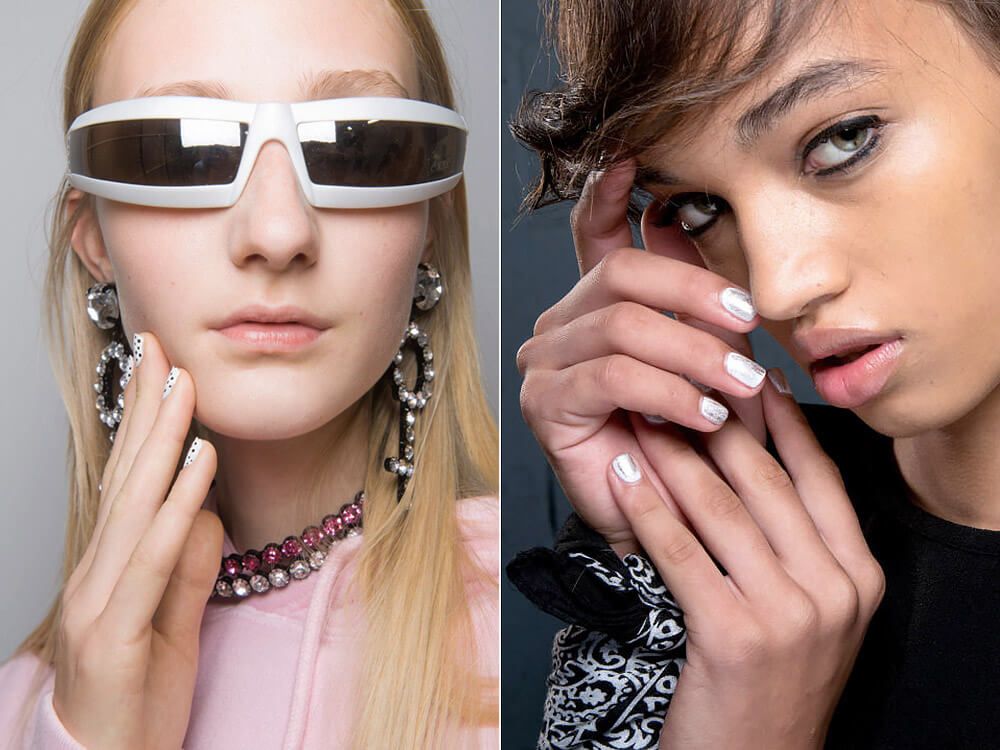 Striped manicure
Another trend that has not disappeared over the past few seasons is the strips on the nails, which look much more interesting than any other pattern. Horizontal and vertical, narrow and wide, matte and metallic, painted and pasted – stripes of all shades, sizes and variations were found in almost every show, not only on the clothes of the models, but also on their nails.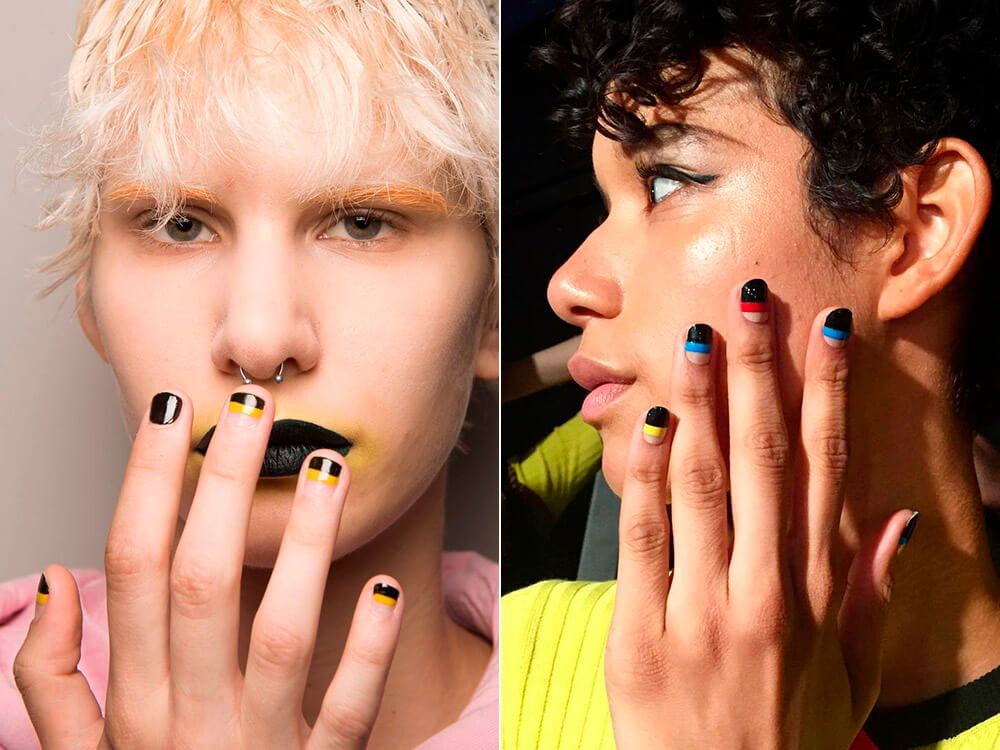 In a manicure with stripes, the main thing to know is the measure – it should not be full of colors – just choose 2-3 colors. You can draw both horizontally and vertically, and diagonally.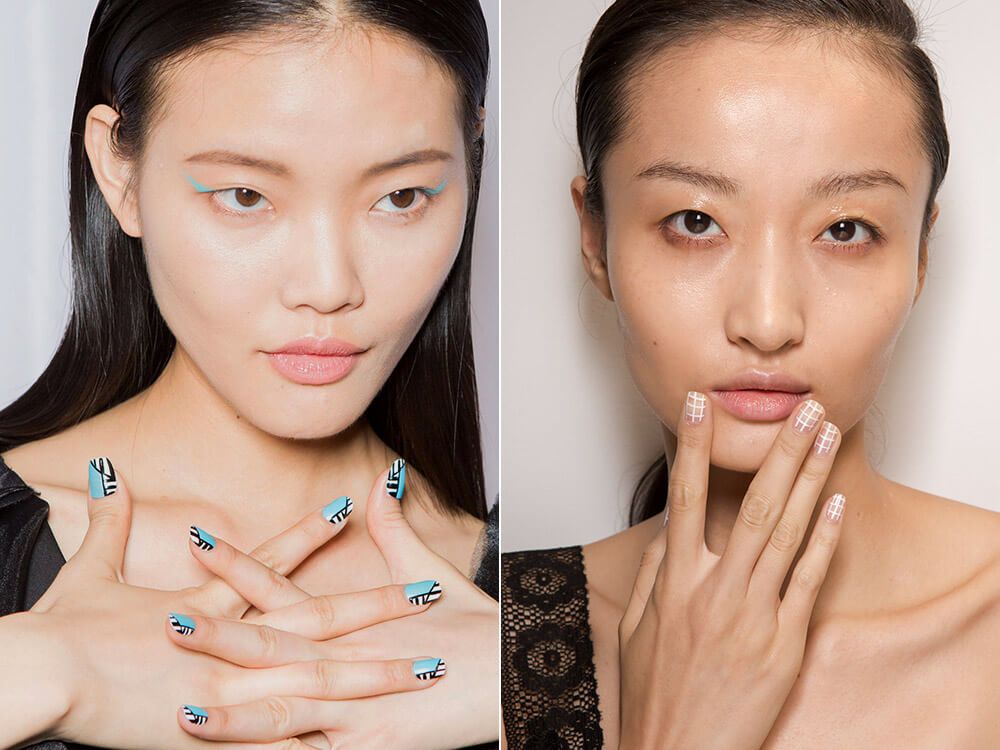 Manicure frame
The spring-summer 2017 season brought a little originality in the form of manicure with the effect of "frame". It involves applying two shades of varnish to each other so that a thin frame is formed along the edge of the nail. Colors of varnishes can be any, the main thing is that they contrast with each other. But the shape of the nails in the manicure frame should be elongated, otherwise such a design will visually make the short shape of the nails even smaller.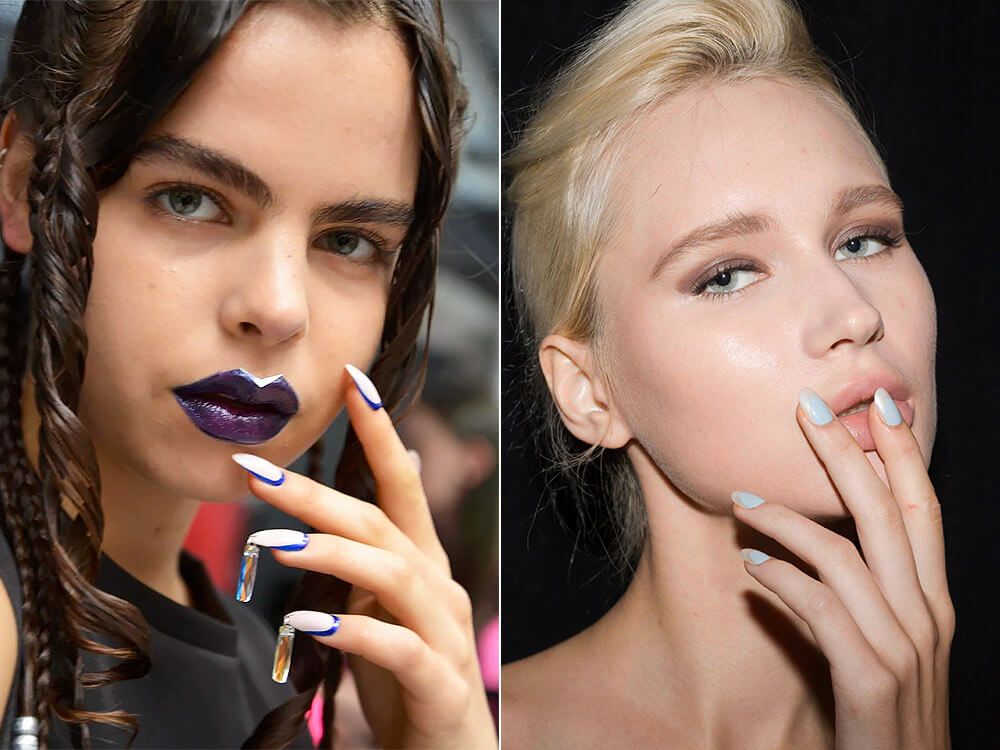 Ombre effect
This is not a new trend, but it seems that it will survive everything and everyone. He moved from his clothes to his hair, then found his place in makeup, and after he "stuck" himself at the tips of his nails. But this season, the ombre manicure itself changed its appearance: instead of bright transitions from yellow to blue, now it is presented in the form of a smooth transition of nude shades and metallic varnishes.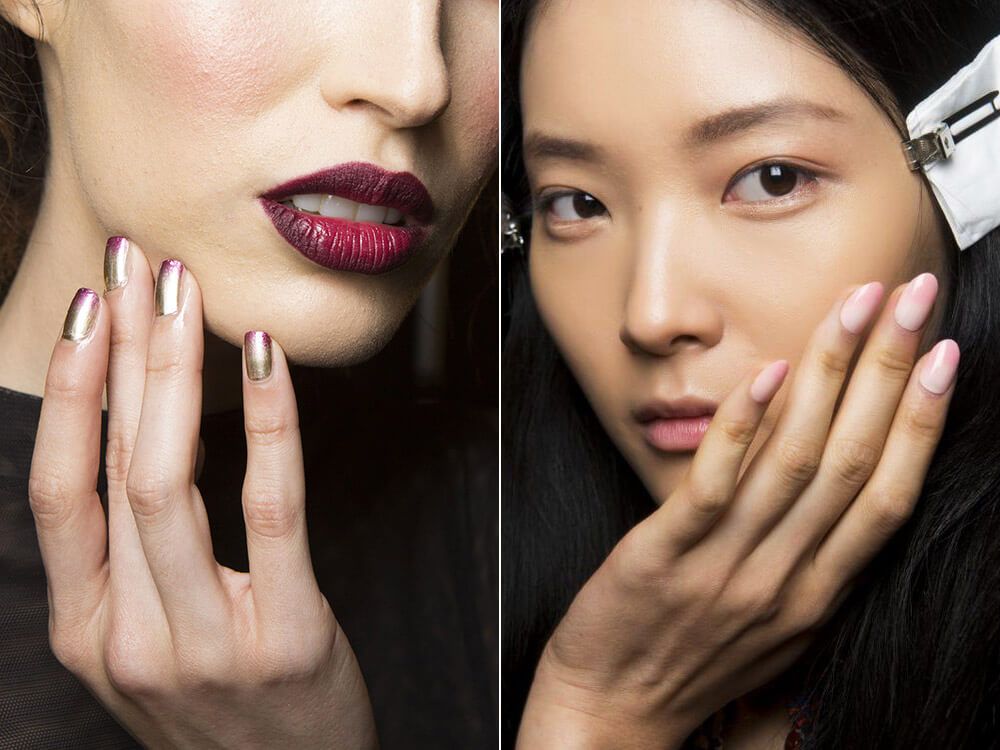 Metallic effect manicure
Metallic in shoes, clothes, makeup and, of course, in manicure. Not only gold and silver are responsible for the brilliance of metal in the spring-summer 2017 season. In fashion a holographic effect, colored metallic, as well as pearl and any other shades, but always with a metallic sheen.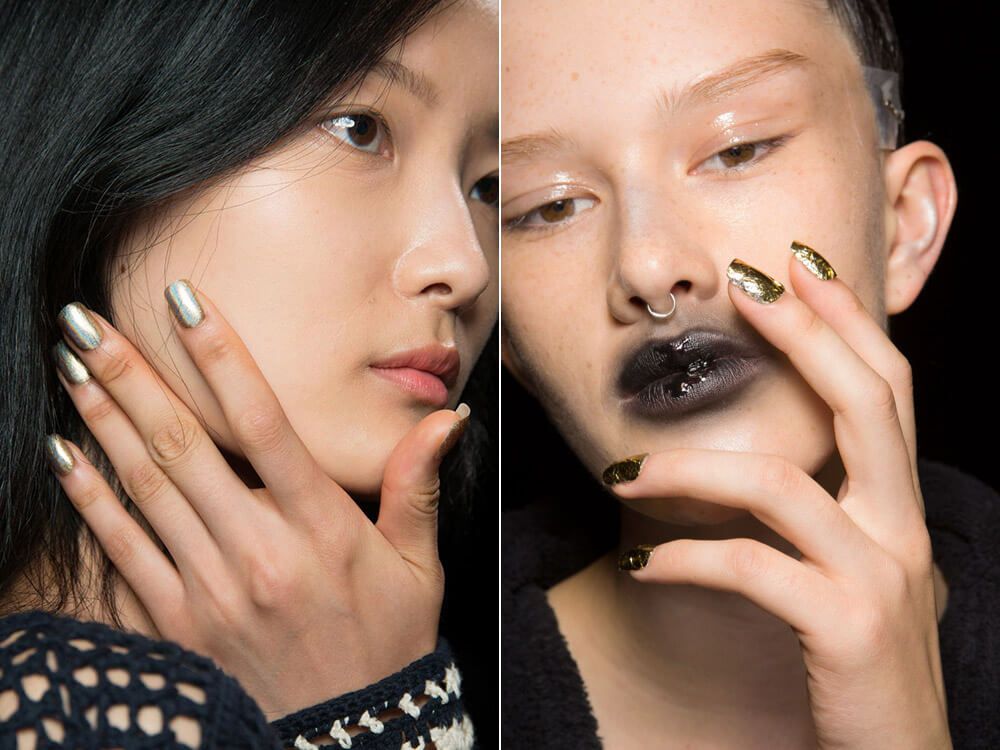 The nail plate is completely covered to a shine, decorated with several metal blotches or the tips of the nails or hole are simply painted over, and the rest of the nail is coated with a different color or completely without varnish.
Gilded Cuticle
If you are a fan of minimalist manicure and completely "metallic" nails are too bold for you, then you will definitely appreciate the new trend in nail design – the cuticle is gilded. This manicure is a coating of nail platinum with a transparent or nude varnish and applying glitter and glitter to the cuticle. In addition, it is very convenient – no one will notice your overgrown cuticle, if you suddenly did not have time to do a manicure.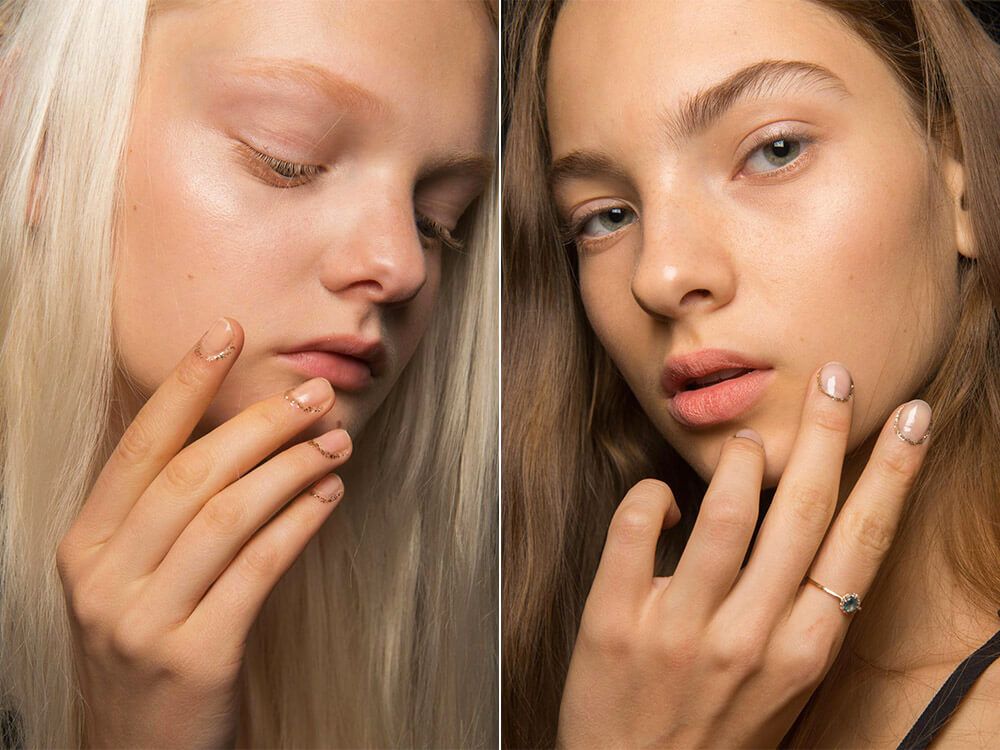 Black polish
Do you think black in the spring is somehow strange? Leading masters of the nail industry called black manicure the fashion trend of the spring-summer season 2017. Moreover, it has long been irrelevant for the rule that in summer you need to choose light and bright shades, and in winter, on the contrary, dark and muted.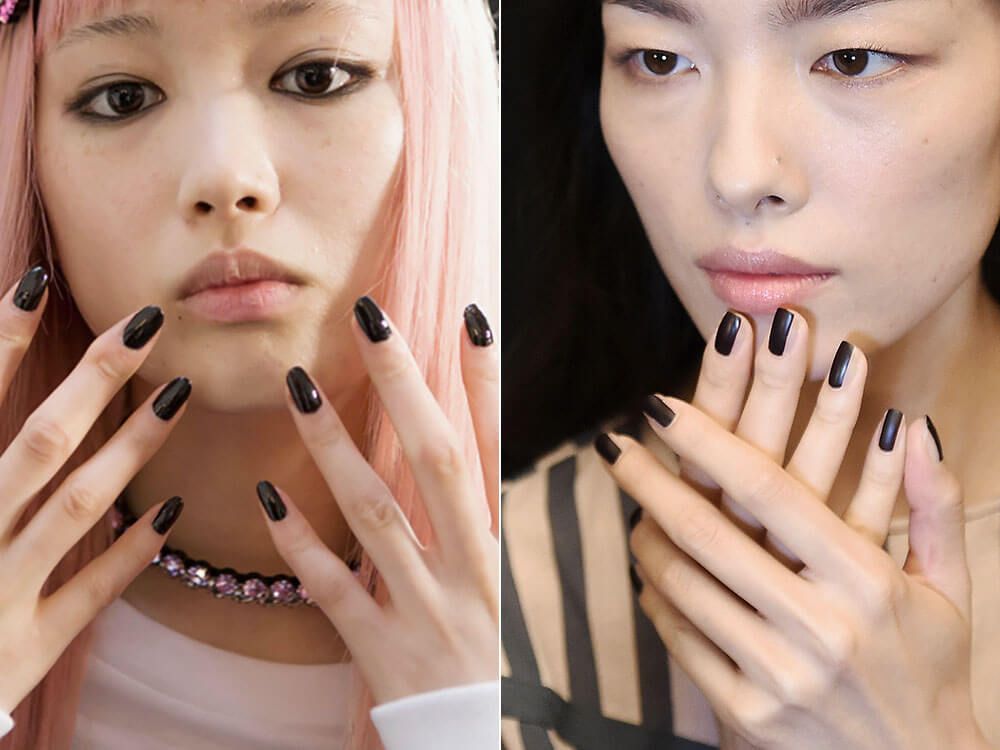 Fashionable black manicure of the warm season is not limited to black varnish alone. Masters advise trying several options – a combination of two dark varnishes using the ombre technique, applying varnish with a different texture at the same time – matte and glossy, as well as a combination of black varnish with any other color.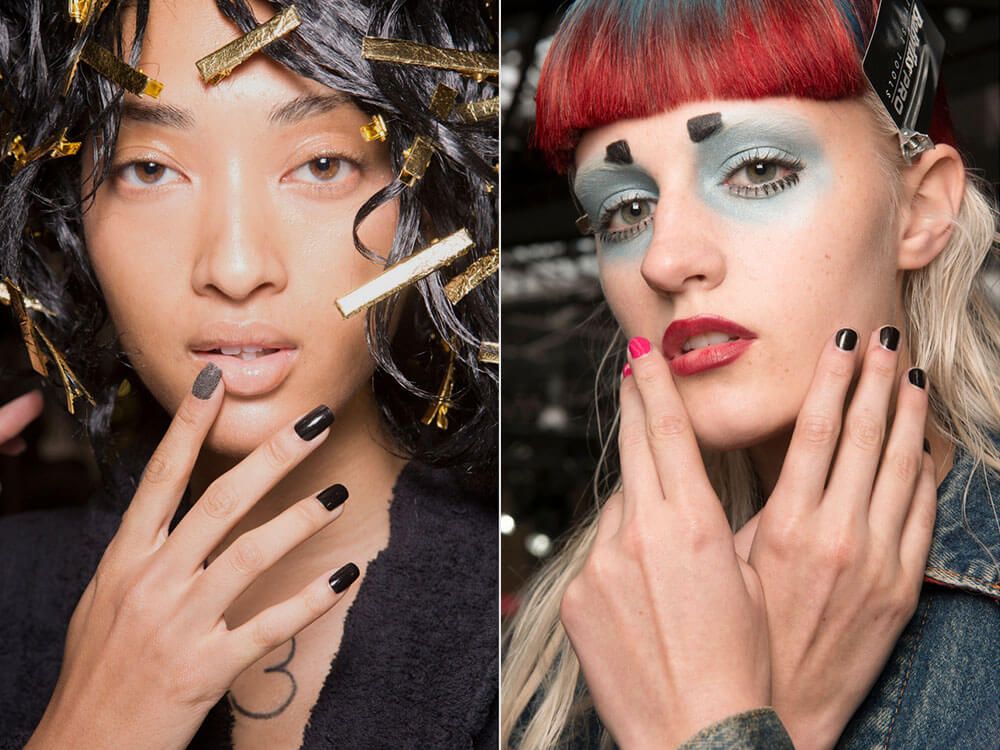 Shades of red
One of the brightest representatives of timeless classics is red nail polish – a manicure that will never go out of style. Despite the fact that red varnish just looks perfect in solo performance and it is better not to combine it with other types of nail design, nail masters are allowed to experiment a bit here. For example, fill the hole with sparkles or leave it unpainted at all.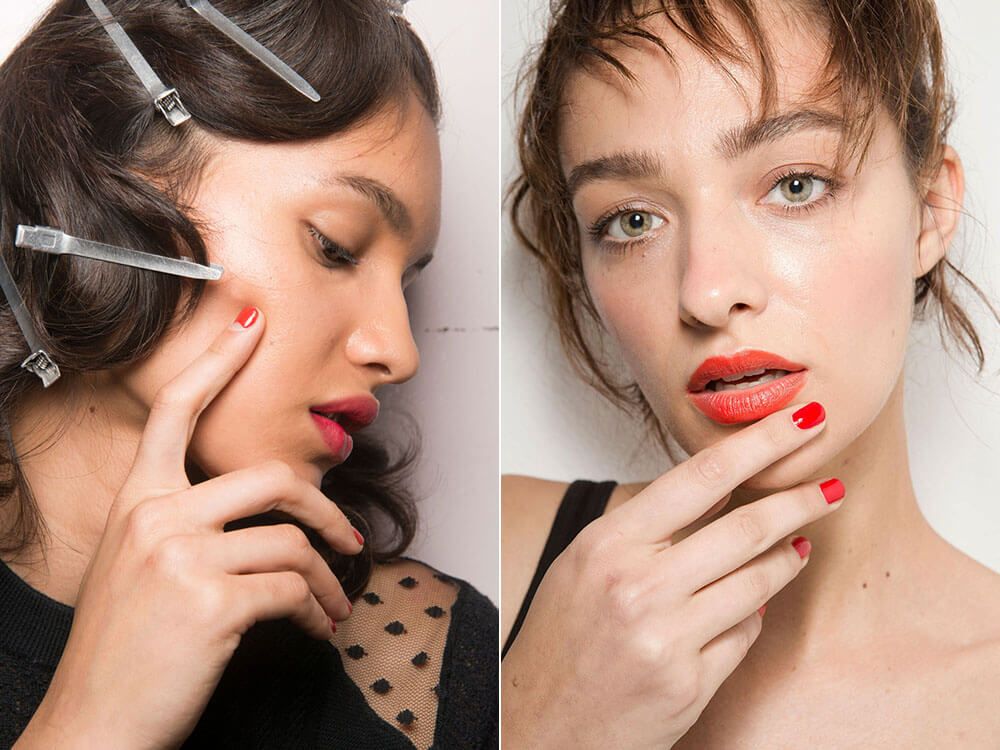 Variations on just one shade of classic red varnish do not end there – ripe cherries, burgundy, fuchsia, berry and wine shades – from Burgundy to Marsala – do not intend to yield to their competitors.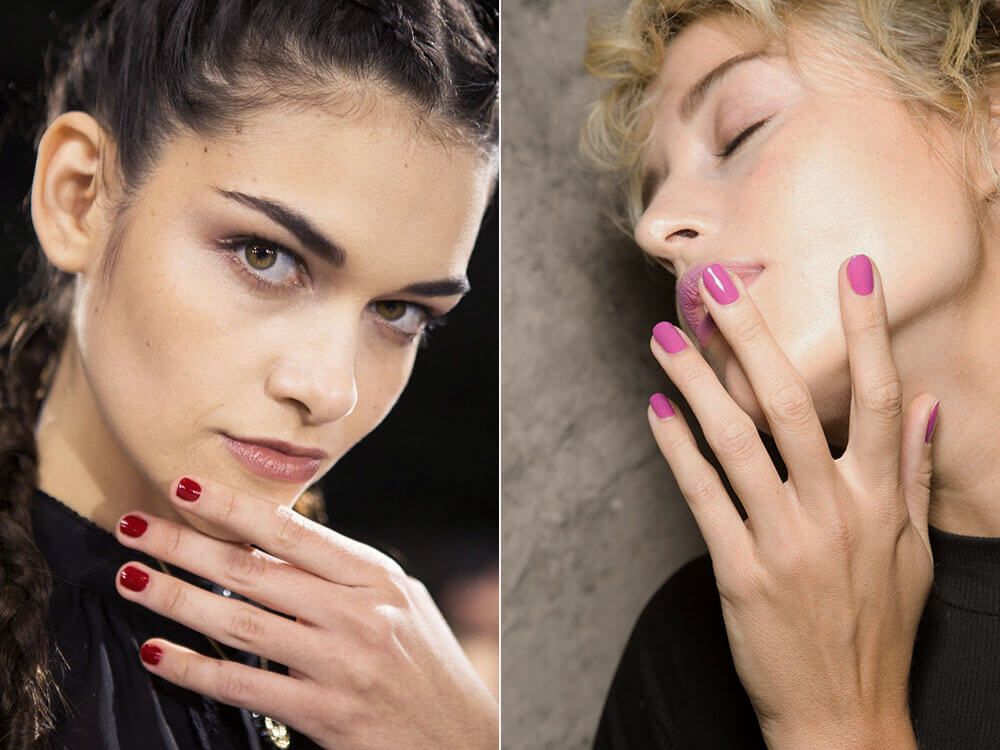 Blue and orange
Passionate scarlet and Gothic black varnishes – perhaps not the most obvious trend for summer manicure, but this is a classic. Also, bright shades of varnishes, traditional for the summer season, come to the fore in the spring-summer 2017 season. This year they are presented in blue and orange..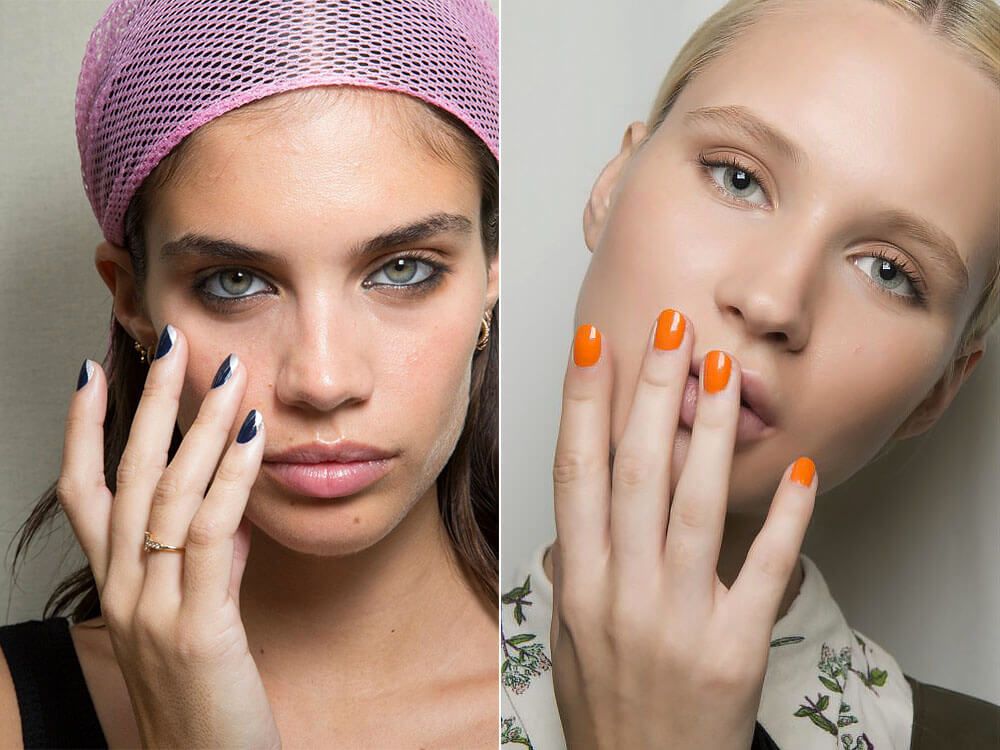 It is worth noting that the blue color this season clearly prevails not only in the collections of fashion houses, but also in makeup and nail art. In fact, this color is multifaceted – deep, rich, radiant, electric, picturesque "blue Majorelle" – blue varnishes impress with the breadth of their shades.
Voluminous nail art
Trendy 3D technology has firmly entered all areas of our lives right down to the tips of our fingers. With the help of multi-colored acrylic powders and gels on the nails, large beads, stones, all kinds of figures are molded. In addition, voluminous manicure has long ceased to be found exclusively at fashion shows, in everyday life it also found its application.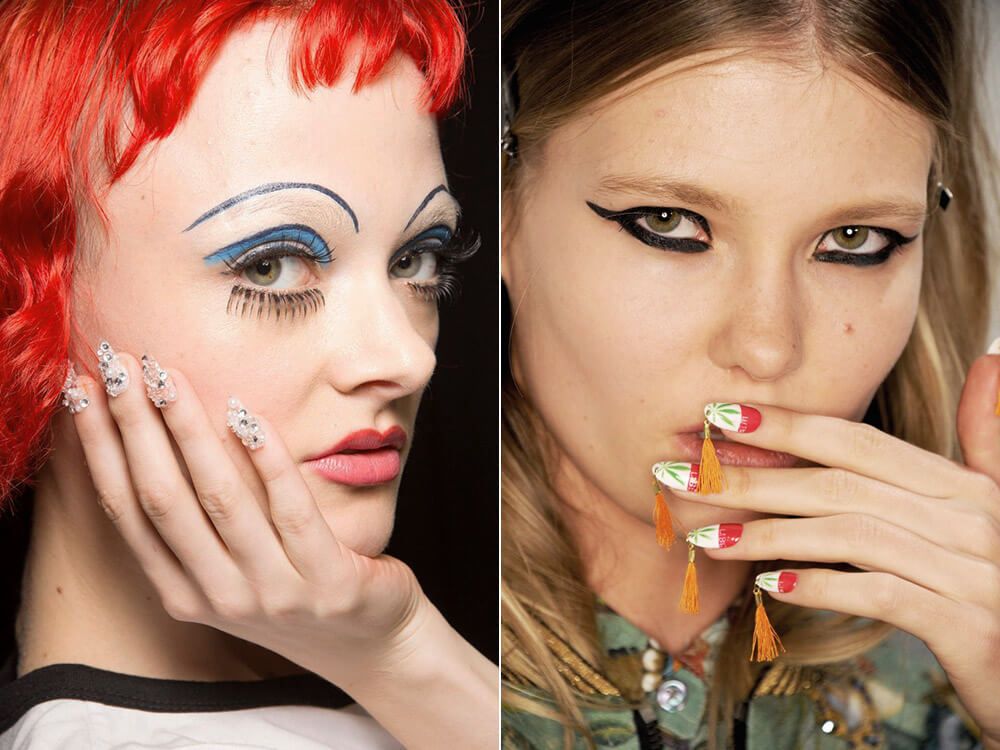 A true mix of art and manicure was presented by the creative director of CND nail polish brand for the Libertine show. Masters of the nail industry advise you not to be afraid of experiments and transfer any of your fantasies to the surface of nails.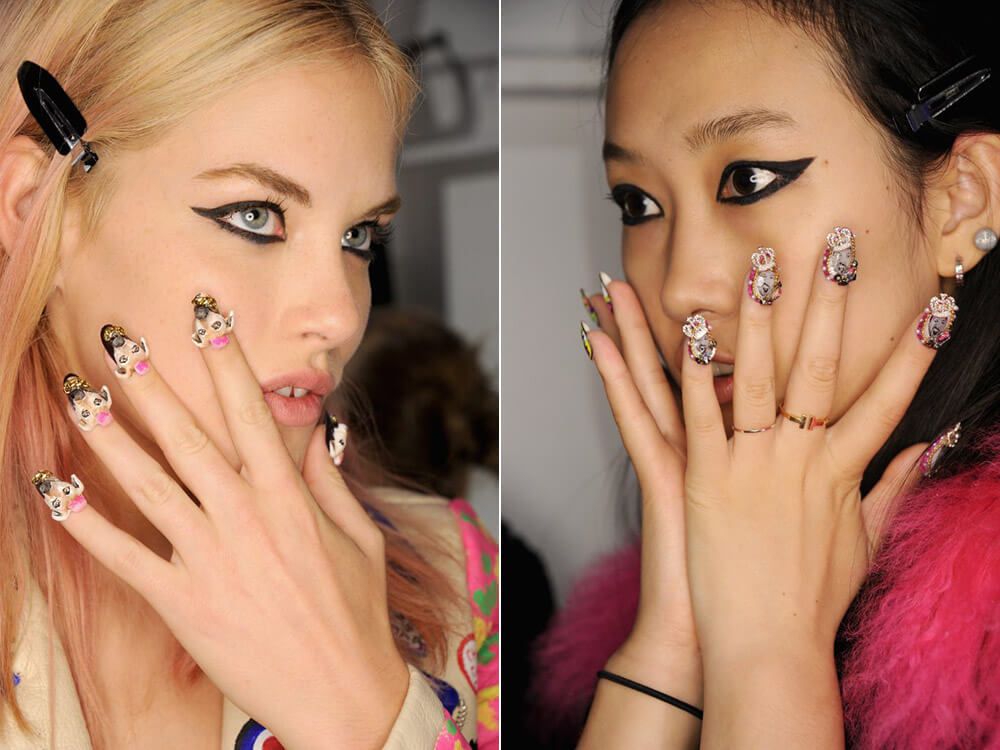 The work of leading nail masters increasingly deserves a standing ovation. In the spring-summer 2017 season, of course, not without classics, but the main emphasis is on art manicure. If in the first case the manicure is applicable in a daily everyday look, then additional nail decorations can be reserved for special occasions..
Similar articles
---