Light and tasty appetizer for the festive table. The roll is being prepared quickly and does not require the purchase of expensive products. The filling of the roll can be different – greens with cheese, mushrooms with onions and others. The roll is very satisfying and nutritious.
Ingredients
Eggs – 5 Pieces
Mayonnaise – 250 Gram
Cheese – 350 Gram
Onion – 1 Piece
Pork – 0.5 kg (you can take beef and pork 50: 50)
Salt and Pepper – To taste
Servings Per Container: 8-10
How to cook – Egg and meatloaf
Grate the cheese on a coarse grater, mix the eggs with mayonnaise and beat with a whisk. Mix the cheese with mayonnaise. Cover the baking sheet with baking paper, pour the cheese and egg mixture. We heat the oven to 200 degrees. We send the mass into the oven for 15 minutes.
Wash the meat, remove the film and cut into small pieces. We clean the onion and wash it, cut it arbitrarily. We pass the meat and onions through a meat grinder, salt and pepper. If there is ready-made stuffing then use it. Put the minced meat on the finished egg cake and spread it completely. Wrap a tight roll and again send to the oven at 180-190 degrees for 40 minutes, if you like cheese, then sprinkle grated cheese on top.
Ready roll cool a little. Only then can it be cut. So he will keep in shape and not fall apart. You can make one big roll or several small rolls. Such a roll can be eaten both cold and hot in both cases it is very tasty.
Bon Appetit!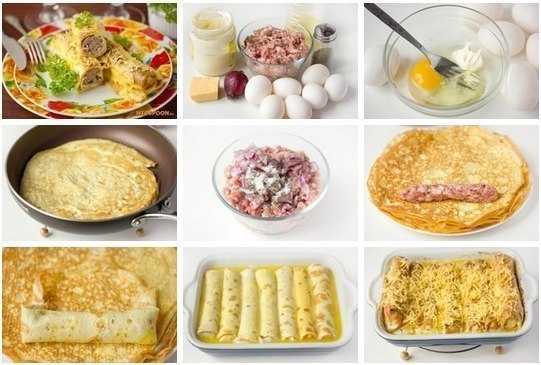 Similar articles
---