Lamb roll with herbs. Fragrant, juicy, perfectly perceiving spices and in general any flavoring additives. Lamb roll stuffed with nuts, olives, garlic and herbs promises you an amazing aroma and excellent taste of the finished dish.
Ingredients
Lamb leg without bone – 2 kilograms
Pine nuts – 100 grams
Pitted olives – 100 grams
White bread slices – 100 grams
Fresh parsley – 1 bunch
Oregano – 1 bunch
Mint – 1 bunch
Garlic battlements – 2 pieces
Lemons – 2 pieces
Vegetable oil – 2 tablespoons
White wine – 300 milliliters
Liquid honey – 2 tablespoons
Flour – 2 tablespoons
Meat broth – 800 milliliters
Egg – 1 piece
For mint sauce
Fresh mint – 1 bunch
Sugar sand – 2 tablespoons
Wine Red Vinegar – 4 tablespoons
Boiling water – 1 tablespoon
Salt – 1/4 tablespoon
How to make lamb roll with herbs
Remove the lamb from the refrigerator an hour before cooking. Paste nuts, olives, bread, herbs and 1 clove of garlic in a food processor to make a dense filling. Transfer to a large bowl, sprinkle with salt and pepper, add the egg, zest and juice of 1 lemon.
Preheat the oven to 200 degrees. Place your lamb leg on the board with the skin down. Carefully cut it in the thinnest place and open it like a book. Make more cuts without cutting through the meat so that the piece remains open. Cover with foil and beat off with a rolling pin. Spread the filling evenly on the surface of the meat and wrap the short edges inward, then roll the meat roll from the short side and tie with twine every 3 cm and around the edges. Put the roll in a baking dish, grease, salt and pepper well. Pour the wine into a mold and bake at the rate of 15-20 minutes for every 450 g.
Crush the remaining clove of garlic, mix in a small bowl with the remaining lemon juice and honey. 20 minutes before the end of cooking, carefully remove the mutton roll, grease with the resulting mixture and return to the oven. Ready roll leave "rest" on the board, covered with foil, up to 40 minutes.
To make the gravy, remove the falling pieces of the filling from the baking dish, add flour to the remaining meat juice to make a thick paste, and let it simmer for 2 minutes over medium heat. Breaking the lumps with a whisk, pour in the broth, bring to a boil and stir on the fire for 5 minutes, until it thickens.
For peppermint sauce, mix finely chopped leaves from a 50 gram bunch of mint, 2 tablespoons of fine sugar, 4 tablespoons of red wine vinegar, 1 tablespoon of boiling water and salt.
Bon Appetit!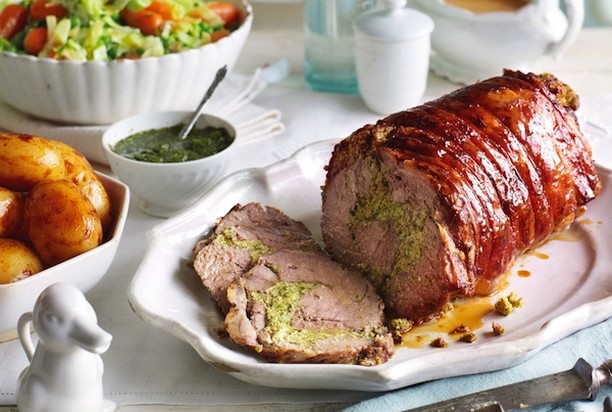 Similar articles
---