Content
---
---
Do-it-yourself pieces of furniture and decor not only carry a piece of warmth and vitality of the master, but also can make the interior of the room or the landscape design of the courtyard unique, interesting and non-trivial. At low financial and time costs, you can get home decoration, furniture and decor from simple wooden pallets, which usually remain after construction work. Special stands for building and finishing materials are also called pallets. They are made from practically untreated, but very durable wooden boards located not close to each other, but at a certain distance.
Ideas for creating furniture and decor from pallets
Try not to throw out wooden pallets, but use them to create an original atmosphere in your house or on a personal plot. Of course, you will have to spend time preparing the product for craftsmanship, clean, sand and prime all surfaces, make the necessary measurements, purchase accessories, possibly paint or varnish for opening. But, obviously, the financial costs of the necessary little things can not be compared with the cost of similar furniture items from stores. And the time and effort spent will be more than paid for by acquiring a new piece of furniture that keeps the warmth of your hands. We bring to your attention an impressive selection of photo examples of the fact that pallets for building materials can not only get a second life, but also become a highlight of the interior or landscape design.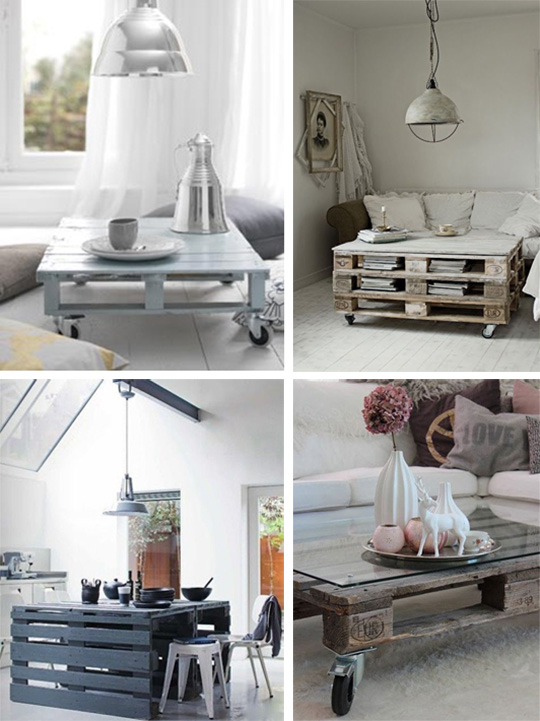 Dining tables, pallet coffee tables
The most popular pieces of furniture that are most often made from building pallets are tables of various modifications. Their distribution is obvious – a low table can be made simply and quickly even by a master without much experience. In order to get a full-fledged piece of furniture, you need a minimal set of tools and furniture fittings.
You can simply sand your coffee table or stand, not paint and thereby bring warm woody shades to the interior. Varnishing not only protects you and your household, but also allows you to extend the life of a new piece of furniture, because there is always a risk of spilling something on the furniture.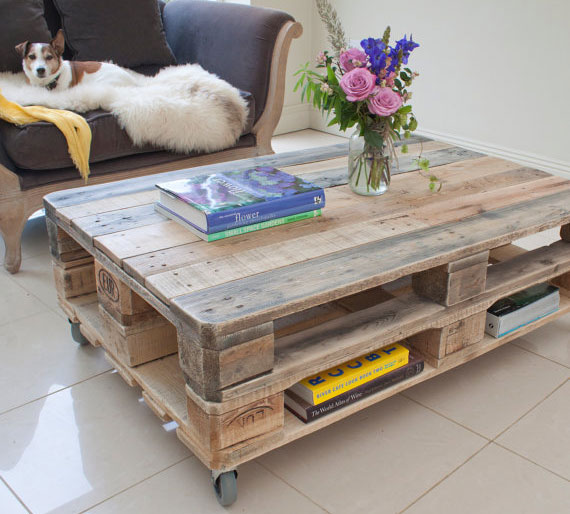 And you can color the resulting product, put thick glass as the original countertop and provide your table with wheels for mobility. Such accessories are sold in all construction stores and are inexpensive.
The free space between two rows of pallets can be used as storage systems or drawers can be equipped. Equipping them with original handles.
If you can easily make a coffee table out of pallets, then you can make a writing or dining table quickly enough. To do this, "lengthen" the legs, placing part of the pallets perpendicular to the countertop, paint the product or varnish. The resulting piece of furniture can be equipped with a glass top, drawers or original blocks on the sides for storing books, papers or magazines.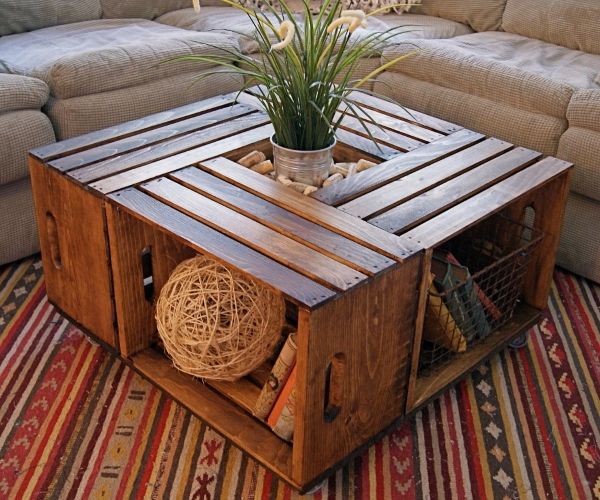 Wooden pallet bed
From the pallet you can completely make the bed frame. You can make the base as from one row of pallets (in this case you get a sleeping place in the style of Asian interiors, where all the furniture is very low) or put two levels on top of each other. You don't have to worry about the ventilation of such a bed base, but we do not recommend strongly jumping on the resulting frame.
Depending on the style of the interior of your bedroom and the selected color palette, both the natural color of the wood may be suitable, and the coloring of the frame will be necessary.
Pallets can be used to decorate the head of the bed. For interior styles that use elements such as loft,  minimalism, country industrial pop Art or their varieties, such decor can become a godsend, a highlight of a modern bedroom.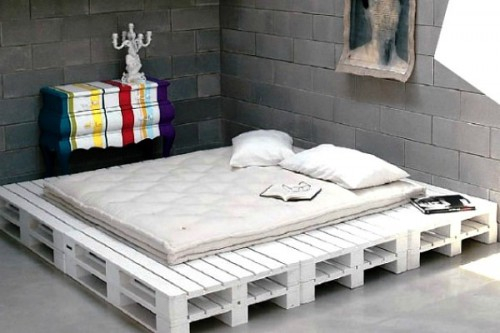 The pallets for the design of the head of the bed can be positioned in different ways relative to the wall and the berth. In some cases, you can arrange a narrow shelf so that you can put a phone or book.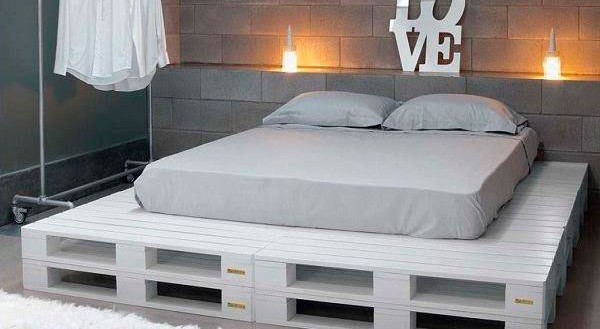 For a minimalist bedroom setting, where the bed is not only the central piece of furniture, but often the only one, pallets are perfect as a material for the manufacture of the frame.
How to make a pallet sofa
If you can make a bed out of pallets, then making a sofa is also quite a real thing. Obviously, such a piece of furniture will require the acquisition of soft seats and backs. But you can use such a sofa even in rooms where there is a risk of smearing upholstery, such as a kitchen or dining room, you can just wash the removable soft parts.
The height of the sofa as a whole and the backrest in particular, the presence of armrests is your decision. Given the standard sizes of pallets, there are few options, but they are. Such sofas with removable soft parts can be used both for arranging interior rooms and installed outdoors.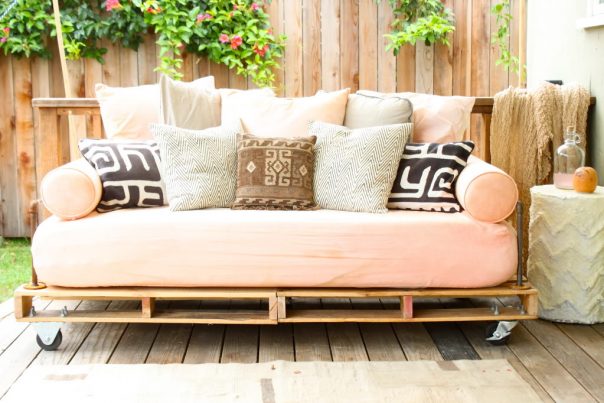 You can leave the pallets in their original colors, treated only with special protective varnishes. Or you can add color diversity to the interior of the room and paint the resulting sofa frame in bright color, or maybe use contrasting combinations of two shades.
From wooden construction pallets you can make an entire ensemble of sofas or apply an angular modification to create a roomy piece of furniture. With soft linings and plenty of pillows, such a sofa can be an excellent lounge area.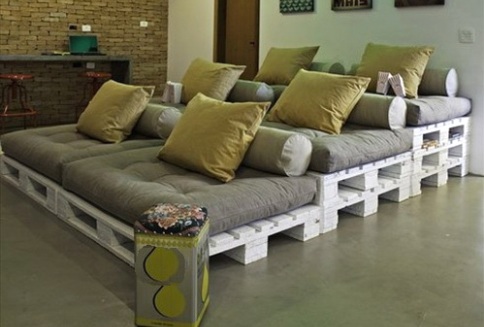 A similar pattern can be designed and a small chair. The space between the pallet levels can be used as a storage system – to fold magazines or books that are currently relevant to you.
How to make home decor from wooden pallets
Decorative elements from a pallet
Using boards taken from old pallets, cleaning them of dirt, sanding and sanding, you can make not only furniture, but also decor for your home. Original elements of the interior will not only bring diversity to the traditional stop, make the room more original, but can also become the focal points of the rooms of your home.
Just a few short boards, knocked down with the help of low sides and a pair of handles on the sides – the original tray is ready, which you can use in situations where you need to bring something, for example, breakfast in bed.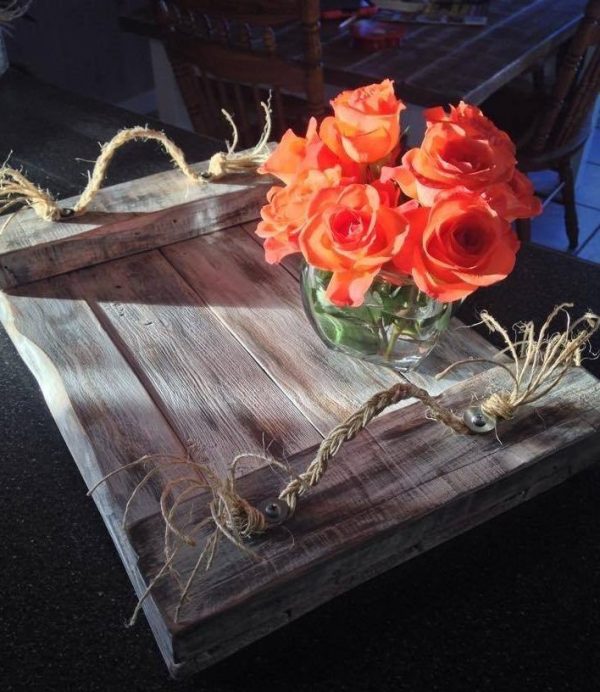 You can make a resting place for your pet, the manufacturing principle is similar to the process of obtaining a sofa or chair. The resulting place for a dog or cat can be provided with a soft backing, holes for drinking bowls and bowls with food, so that they are always stationary and water, food is not spilled.
The use of pallets for arranging a yard or a personal plot
If you are not yet ready to bring the product from wooden pallets to your own home, try using building blocks to equip the landscape of your summer cottage or yard of a private house. Wooden boards from pallets can serve as the basis for creating a barbecue area. Do not forget to treat surfaces with heat resistant impregnations.
From pallets you can get excellent, durable garden swings that can be used by both children and adults. The resulting product can be supplemented with soft seats or just throw a cover for more comfortable placement.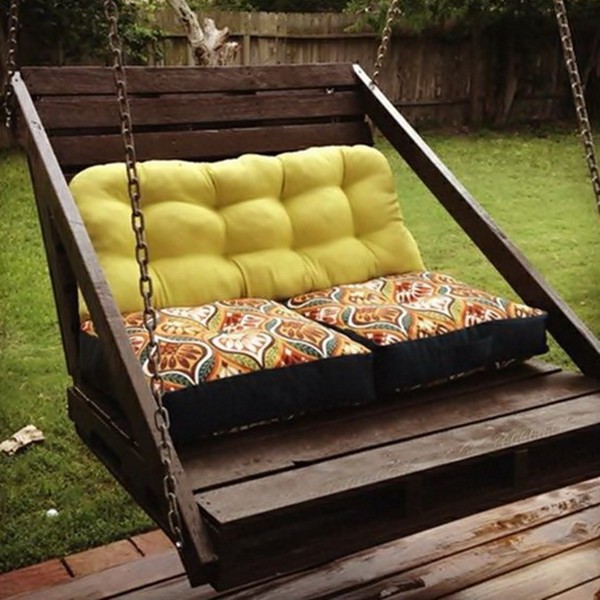 According to the principle of all the same corner sofas, you can build seating for open air or on the terrace, porch, under the canopy. Adding to the received furniture set a low stand table, you will get a complete relaxation area.
A small table and chairs for breakfast or a dining area for four is a great opportunity for al fresco dining.
The bunk tables on castors already known to us can also be used as an addition to garden furniture for organizing an outdoor recreation area. Thanks to the wheels, the product is very mobile and you can easily hide it under a canopy if it starts to rain.
Wooden pallets have unlimited possibilities for use on a summer cottage or in the courtyard of a private household. For example, such stands for flower pots and tubs can be a practical addition to the organization of landscape design.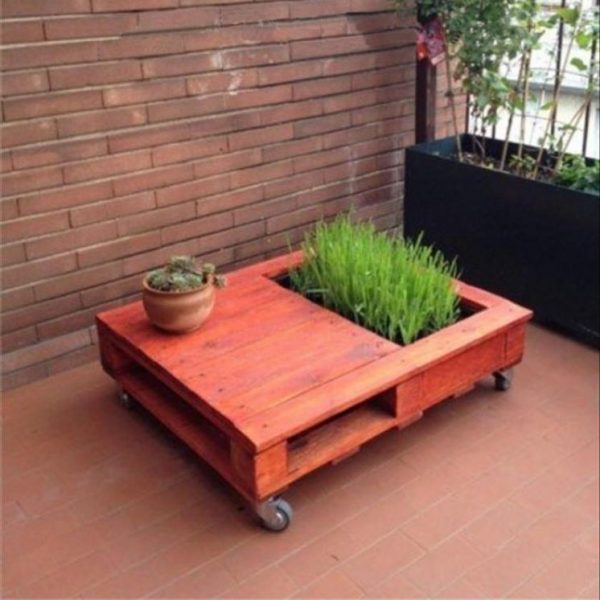 Such flower stands can not only be placed on platforms, but also suspended on a fence or any other vertical surfaces.
The small sofas and armchairs that you saw in the first section of the publication, devoted to the interior arrangement of premises, can also be used as garden furniture. Of course, such furniture will eventually fade in the sun and protect it from moisture with special care, but such garden furniture will cost you much less. And a lot of impregnations, varnishes and other sprays can help to increase the service life of products from pallets for street use.
Ideas and photos of furniture from pallets