Content
---
---
Every second girl is experimenting with things from the wardrobe. Especially if things are already old, unfashionable and require either removal to the trash, or urgent ennoblement. The second option is certainly preferable.
Surely you have a pile of jeans lying around in the far corner of the chest of drawers that you are sorry to throw away.
We will show you how to make them relevant and fashionable again.!
How to make ripped or frayed jeans
What is needed:
your old jeans,
ripper (blade or knife),
soap and a small metal grater with garlic holes.
Choosing a place for future "wear" on jeans.
Caution with a three-grater this section "horizontally." We act as carefully as possible, if the desired result is just a scuff, and not a gaping hole. Grater should remove only the top layer of thread.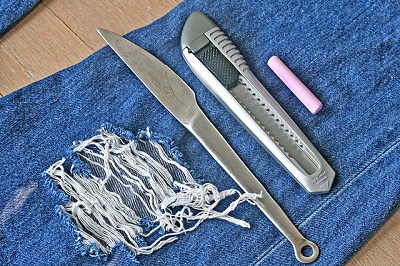 For the effect of "leaky":
We lay out the jeans on the table and mark with a remnant (possibly small) strips for future holes.
We make horizontal cuts using a ripper or scissors.
We stretch a few strings along the edges of holes to make jeans "worn" (approx. – or we wash them in a machine so that the strings stretch themselves) – we create the shaggyness of our chaotic holes.
We make incisions based on our wishes – in several areas or immediately along the entire length of the leg.
If desired, you can arrange the resulting holes in one of the following ways (lace, sequins, etc.).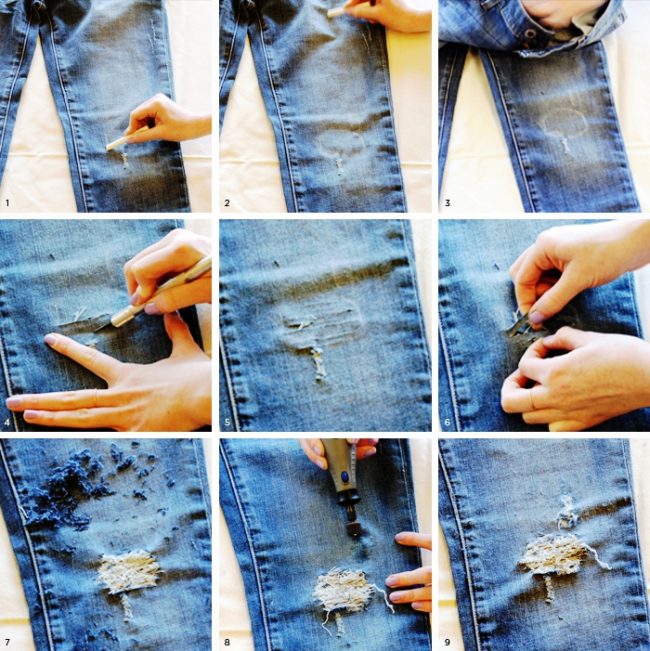 Dressing jeans with lace – stylish and glamorous
Today it is the most fashionable finish..
You will need:
old jeans with very large holes (for example, jeans on which you are too smart with holes) and lace. You can also regular jeans, if the decor is outdoor.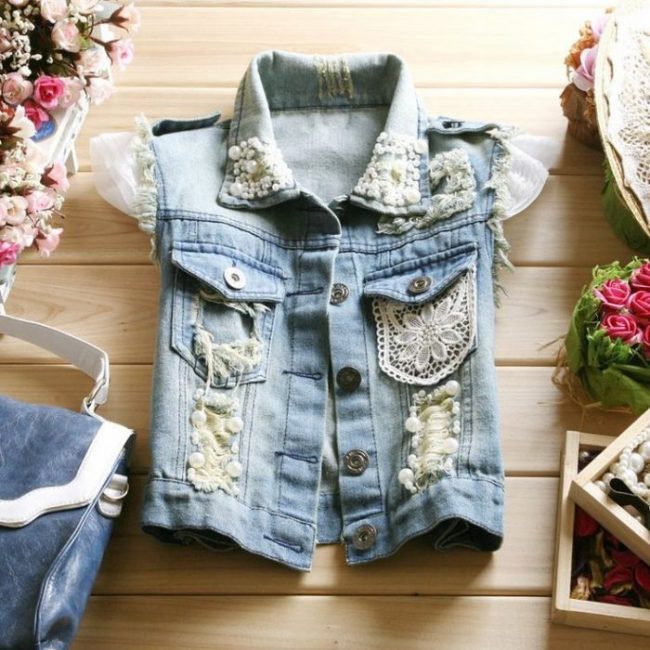 Lace sewn as a lining on a hole from the inside. White lace sticking out in cuts of blue jeans looks very piquant.
Lace tape sewn around the belt or only in the front (only in the back).
Back pockets fully decorated with lace.
Flowers cut out of lace (different pattern) sewn on trouser-legs as appliqués.
Dressing jeans with rhinestones and beads
What is needed:
rhinestones,
beads,
beads,
your jeans.
We select the desired section on the jeans, look for the desired pattern and transfer it to the jeans with a pencil (pockets, sides of the trousers, cuffs).
We select rhinestones of different sizes and glue them according to the drawing manually.
Sequins, beads or beads will have to be sewn. The work is more painstaking, but the result is worth it..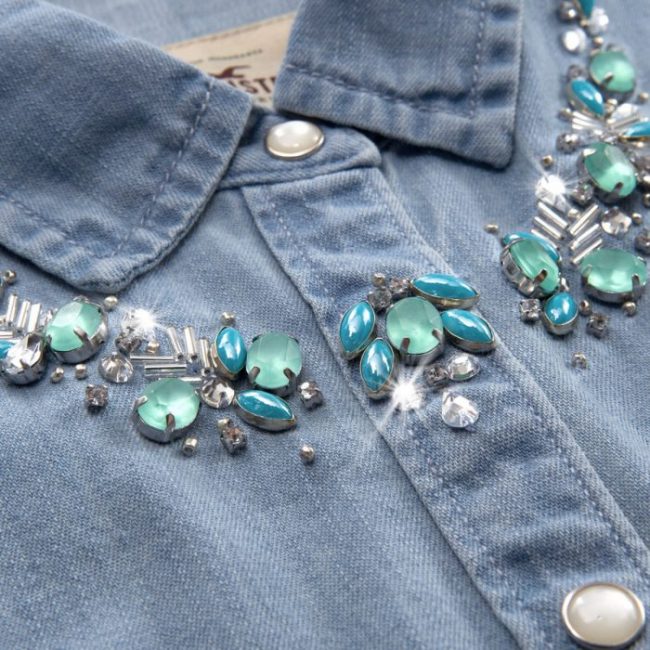 And there are cuffs on jeans!
Today, the most fashionable are wide cuffs on jeans. Although no one will stop you from making them according to your personal size and desire – you're a designer.
Having chosen the desired width, sew jeans or simply wrap them straight outward, sew them at the seams and go in for the decor of the received cuffs:
Decorate with rhinestones or beads.
Sew on lace.
We use bright strips of fabric..
Do the fringe.

DIY jeans
Stamps on jeans – how to make it yourself
If you can only draw with chalk on the pavement – it does not matter. Stamps and stencils will come to the rescue..
We take an ordinary children's rubber stamp for creativity with the right pattern, dip it in the paint for the fabric of the desired color and stamp the jeans.
If there are no children's stamps, you can make it yourself from potatoes, an eraser, etc..
You can stamp with a sponge. Just take the paint thicker and pre-test stamping on an unnecessary flap so that the excess paint leaves the sponge – the picture should turn out to be a small snow, not blots.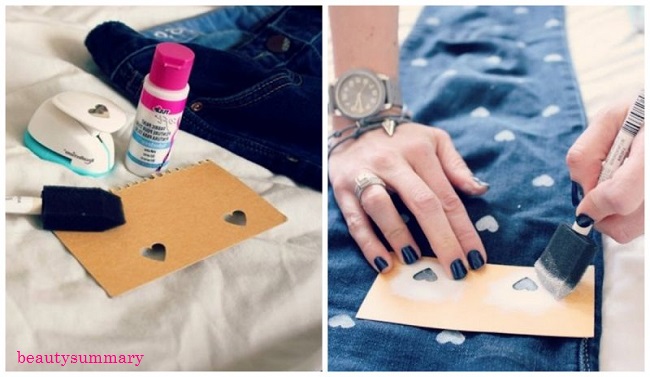 How to make yourself fashionable jeans in Pop Art style – draw on jeans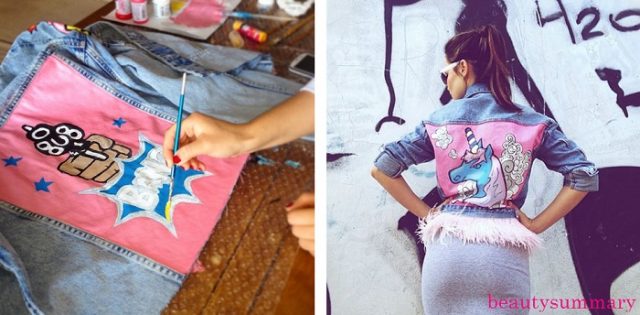 Option 1:
We take paints on the fabric and brush.
We apply the pattern in chalk, colorize, wait for drying.
You can use felt-tip pens for fabric (it's even more convenient to draw with them).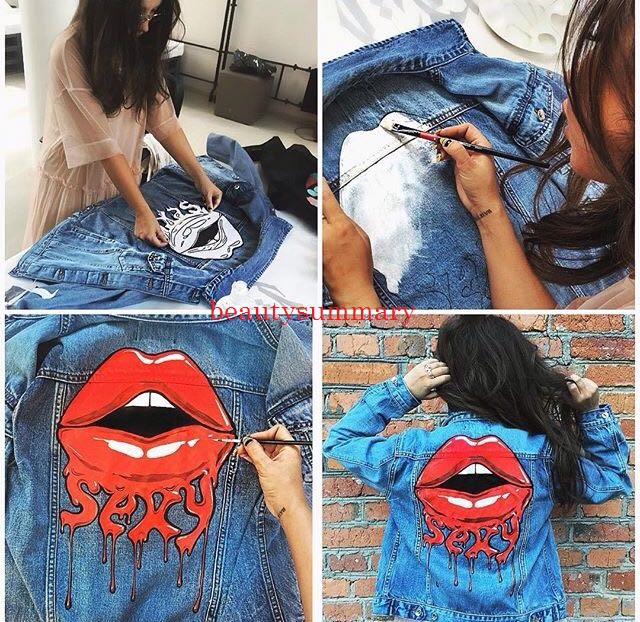 Option 2:
Insert a cardboard into the leg to protect the other side.
We put lace over the desired leg section and fasten it with pins firmly.
With the help of a sponge, a toothbrush, or by hand, we manually paint the pattern through lace and wait for drying.
Appliques-patches on jeans – at the top of fashion!
If you are young, impudent and with golden hands, you can use applications. They transform old jeans so much that then familiar people ask where to buy the same jeans?
There are many options – choose to your taste or look for something unique:
Bright rectangles of multi-colored and multi-texture fabrics randomly sewn onto the legs on the front.
Colored Lace Appliques.
Graffiti Appliques.
Point applications in the form of hearts, letters, patches, etc..
The use of colored thin leather or denim in different shades.

Jeans embroidery – beautiful and fashionable
Apply the pattern to the desired area..
We embroider. Better – smoothness, it looks spectacular. Although, you can use the Richelieu technique, but in this case it is not recommended to experiment with colors – take 1 thread color slightly lighter than jeans fabric.

Jeans rivets – timeless fashion
To begin, think of a pattern or think of the geometry by which you will "screw" the rivets. If in the process of decorating you realize that you did "wrong" and "wrong way", it will be extremely difficult to fix.
We buy rivets in the store (those with "petals" from the inside).
We break through the riveting fabric and bend the petals. If the jeans are too thick – make mini holes in advance.
Rivets will look most profitable on side seams, pockets, waistband or cuffs.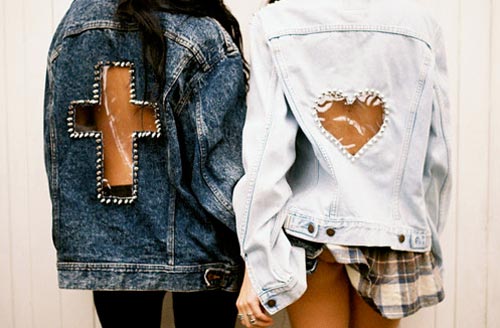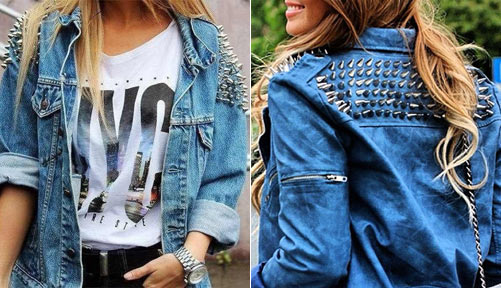 There are a lot of ways to breathe new life into your old jeans. Based on the above, you can come up with your own techniques and create a real masterpiece.