Soon new collections will appear in stores, which means it's time to discuss the dresses of the upcoming season. So that you can collect and analyze trends yourself, we acted in an unusual way. We have gathered less manifested trends into larger ones. If readers manage to understand the general direction where the fashion for dresses 2017 moves, then it will be just as easy to stay in style.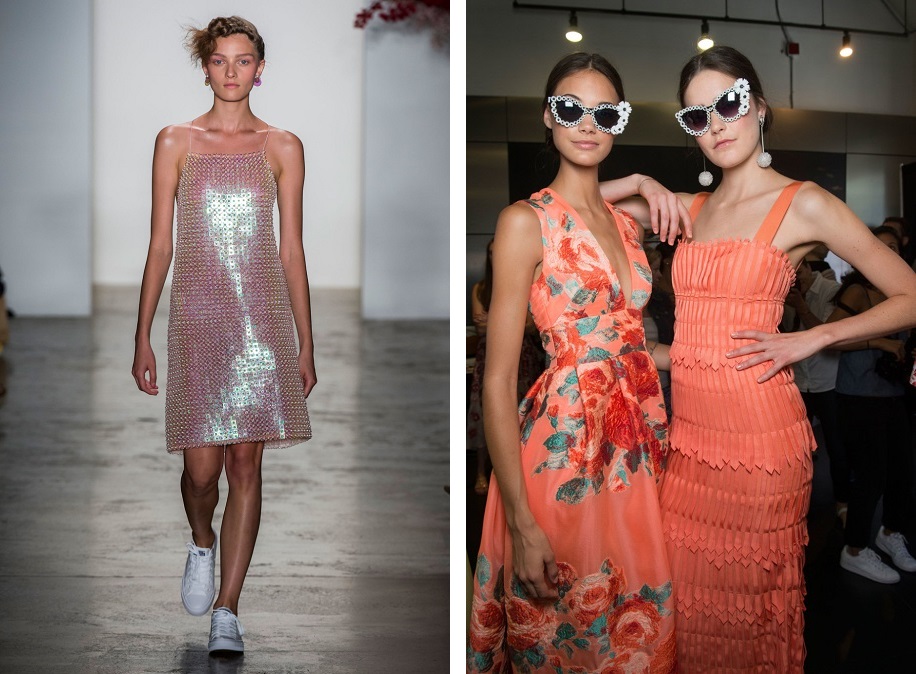 The trend of the season spring – summer 2017: transparent dresses
More air. Attractive nudity definitely influenced those who presented the latest in fashionable dresses 2017. Photos show us dozens of examples of how to open a patch of skin.
Fine perforation. It can be knitted dresses with large holes or modern knitwear. We look at Missoni, Marcel Ostertag, Adam Selman.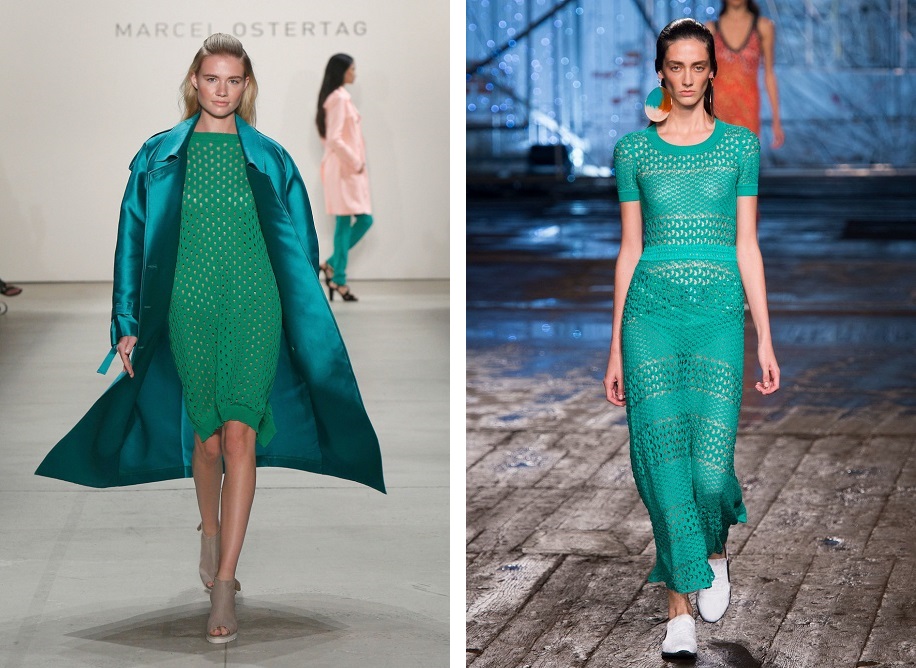 Fashionable dresses spring – summer 2017
Dissected hem. A light and carefree mood is conveyed by things in which the hem is cut into several thin trims. We look at Akris, Prabal Gurung, Blumarine (2 trends together at once).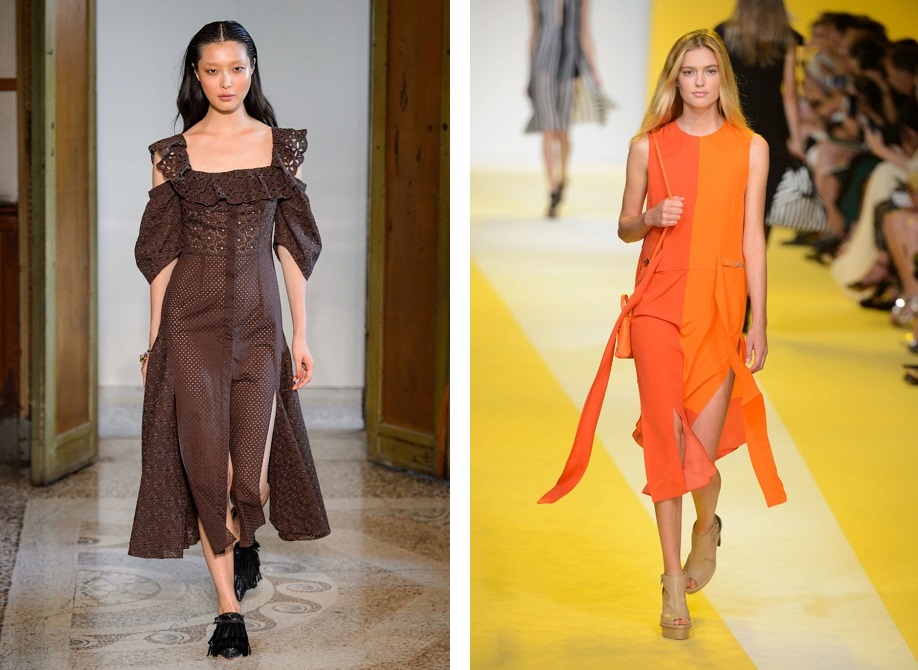 Deep cut. Fashionable summer dresses 2017 is also a deep triangular neckline, figured trimmed with lacing, inserts and blocks. We look at Agnona, Aigner, Baja East, Monique Lhuillier, Luisa Beccaria.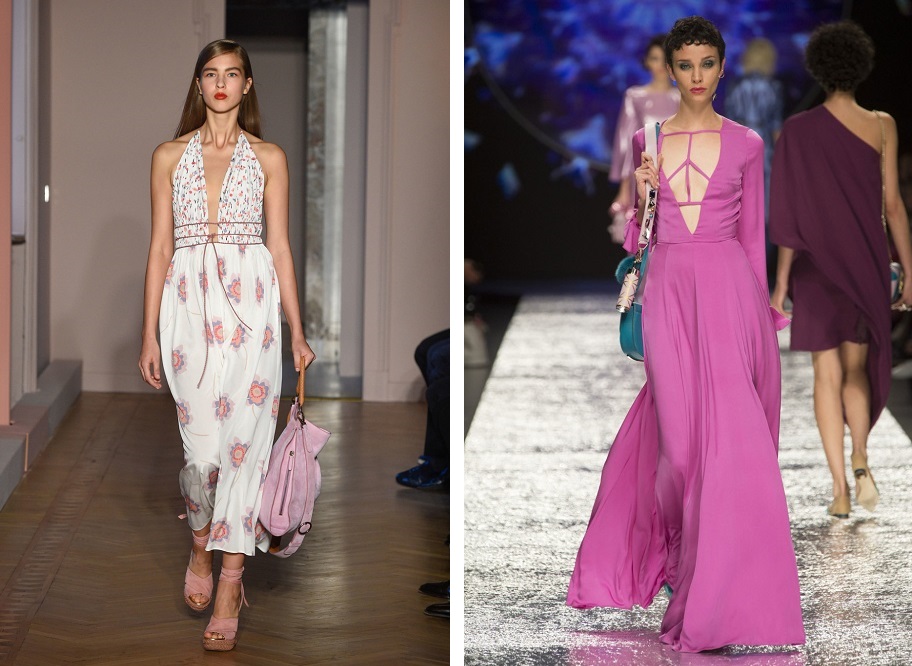 Figured cuts. Asymmetric rounded holes are an incredibly popular trend for any clothing in the spring-summer 2017 season. We look at Alexander Wang, Beaufille, Milly.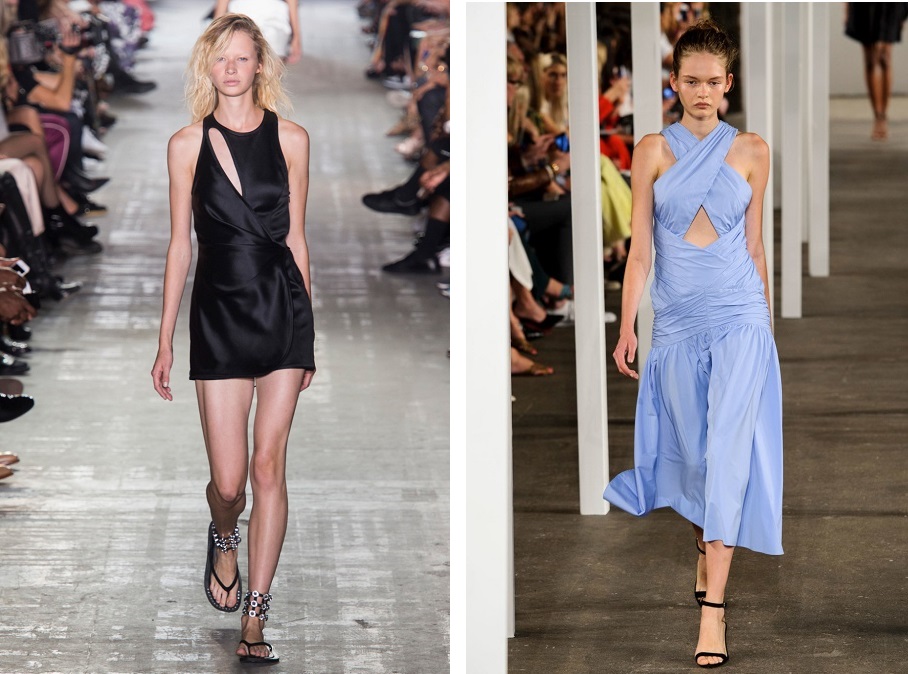 Visual special effects
What spring-summer 2017 fashion dresses are especially "fond of" is the visual component, which will make viewers doubt that everything is exactly the way they see it. Optical illusion. Here I recall both Escher and pictures with many geometric shapes, from which one large image was obtained. We take the general idea and transfer it to dresses. We look at Louis Vuitton, Mary Katrantzou, Giamba, Narciso Rodriguez, Atsushi Nakashima, Creatures Of The Wind, Custo Barcelona.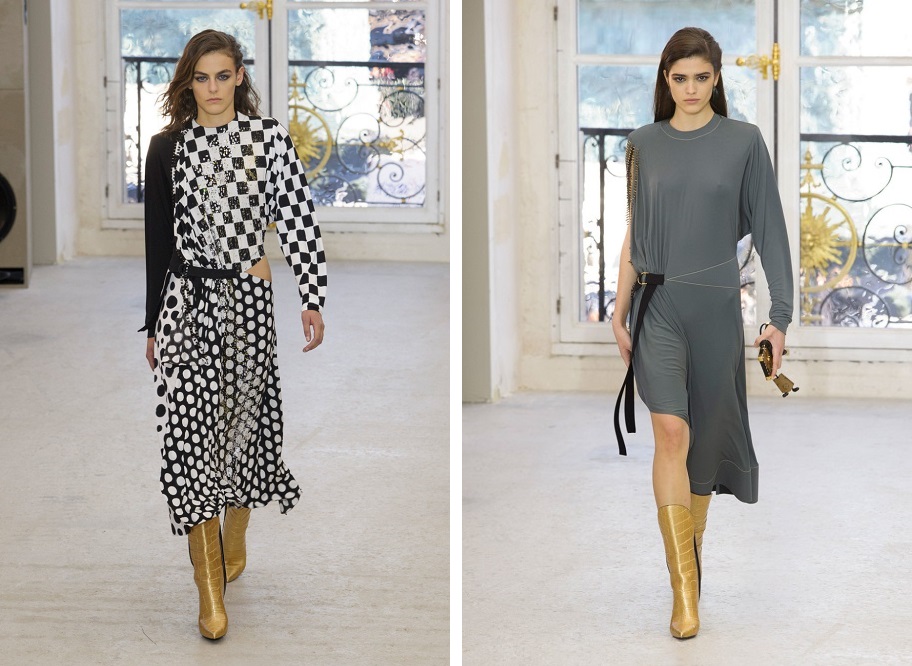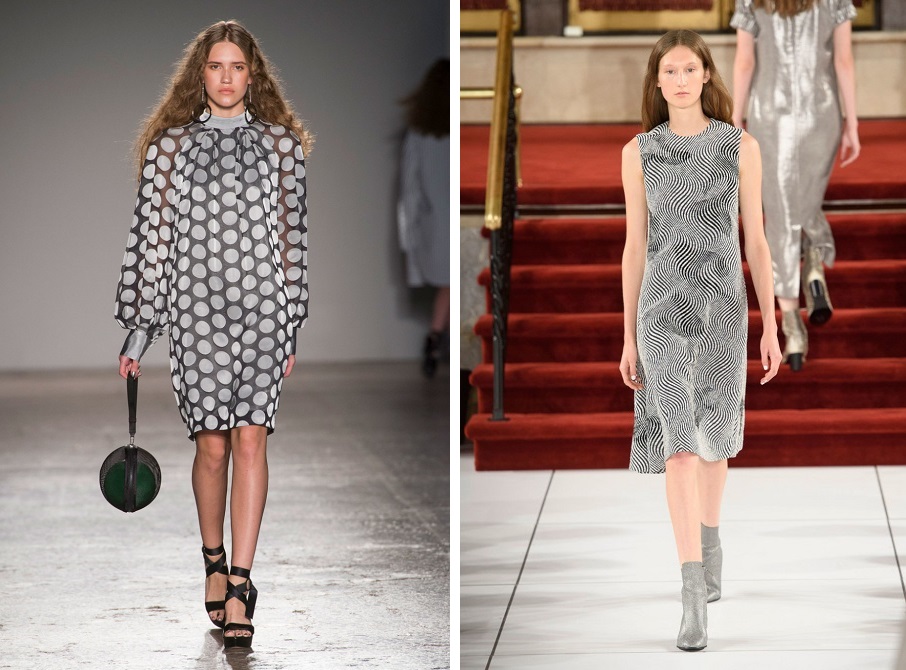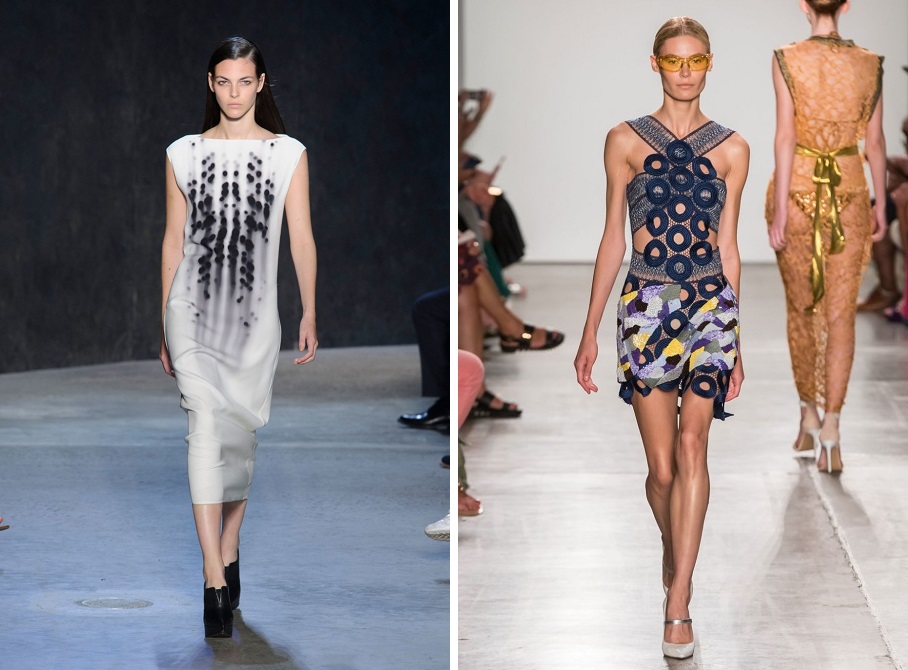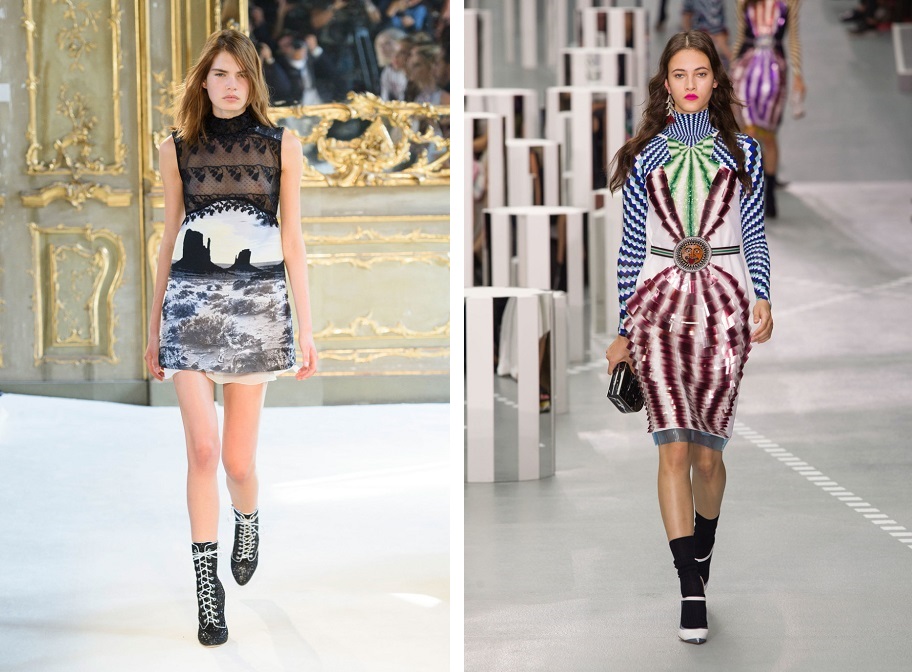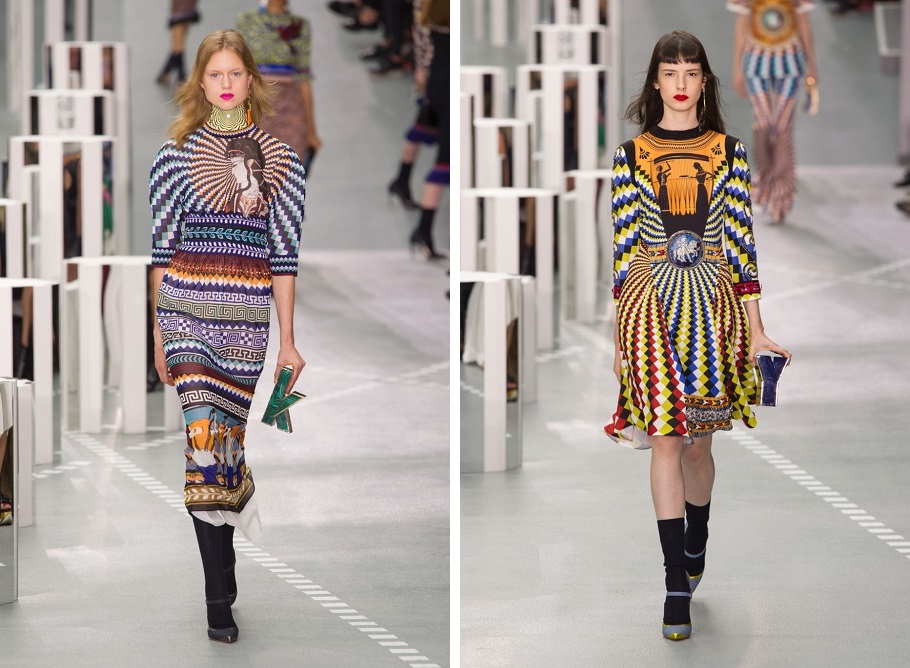 Additional volume. The decorative elements of the catwalk novelties also create an optical illusion: thanks to them, one gets the feeling that the dress continues in space. We look at Andrew Gn, Anna Sui, Antonio Marras.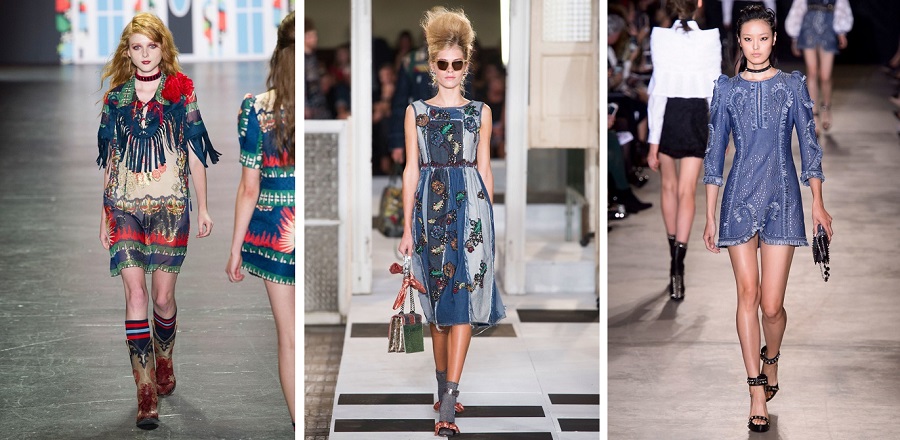 Fashion trend spring – summer 2017: layering in clothes
Two layers. Fashionable dresses spring 2017 are often a combination of several shading details. The farther they are from each other, the better, and the denser the artist pushes them to each other. Look at Concept Korea, Boss Women, Blugirl, Maryling, Mila Schon.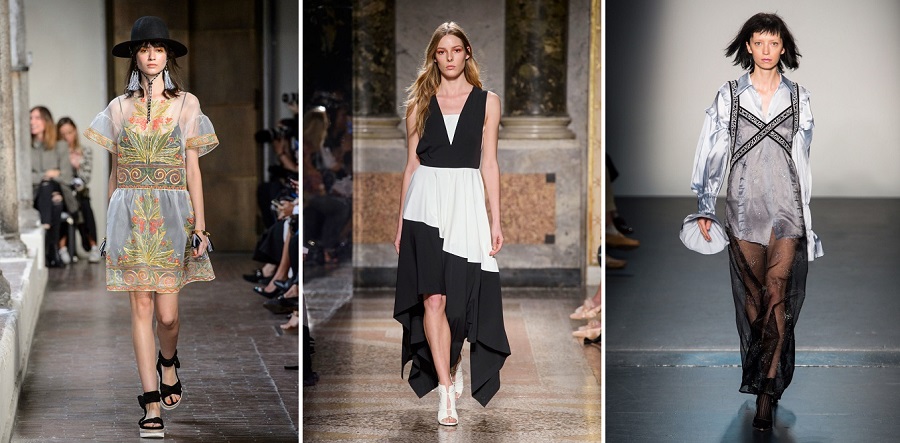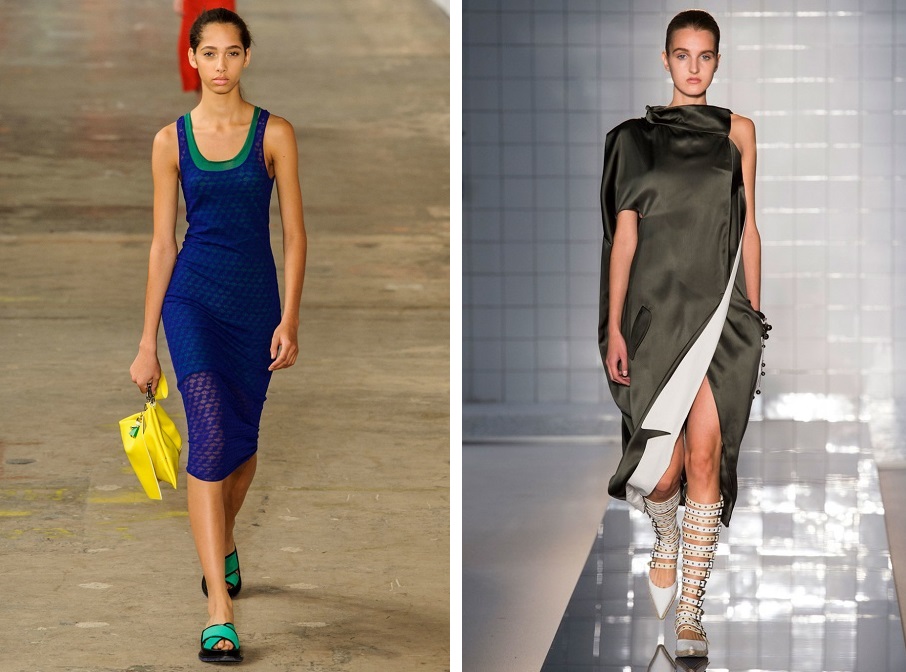 Catchy Accent – Fashion Dresses 2017
Fashion models of spring-summer 2017 dresses tend to "grab" a look in seconds. In addition to the above trends, we need to recall those that are more or less eternal tools for the podium, which are emphasized in the current season. Asymmetry. One open shoulder is what unites many dresses in the summer of 2017. We look at Agnona, Aquilano Rimondi, Michael Costello, Yde, Cushnie et Ochs.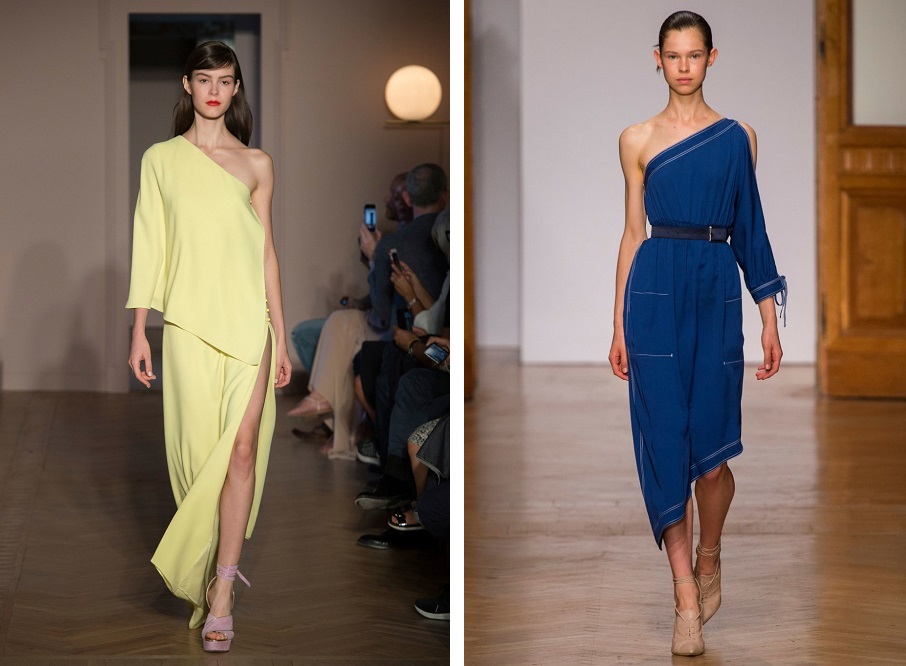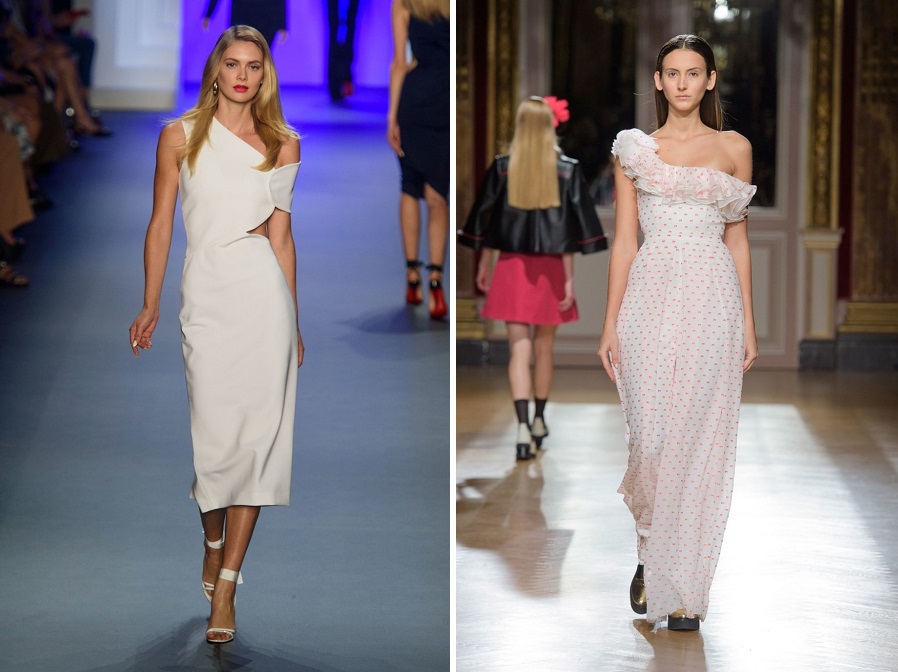 Striped transition. How to visually separate parts of a dress, make it look like a suit? Use two different prints at the top and bottom. We look at Arthur Arbesser, Prabal Gurung.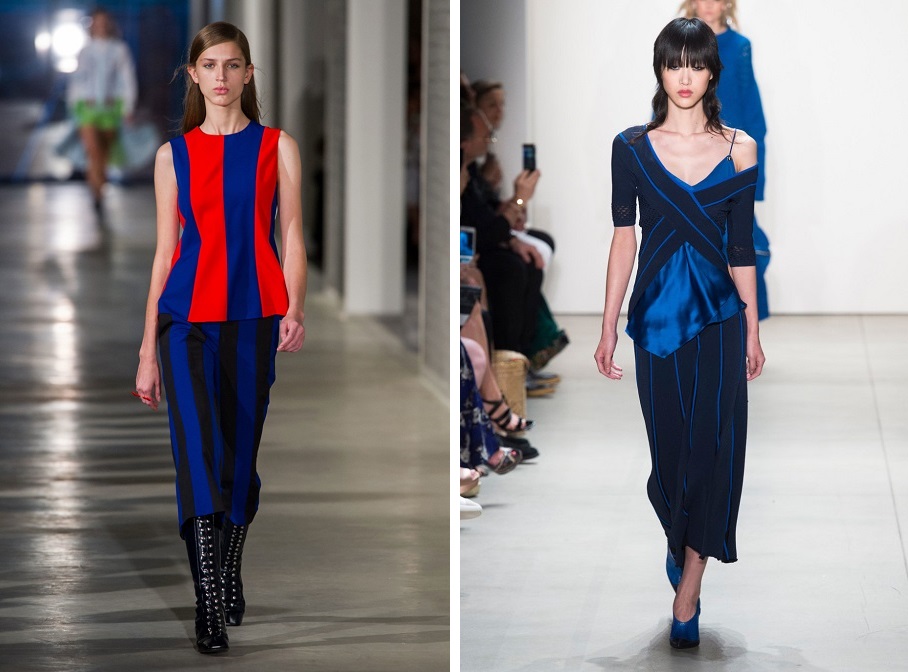 Wide belt. It doesn't have to be contrasted, but the first thing we will notice when looking at the most fashionable dresses spring-summer 2017 is a belt. We look at Aigner, Angelo Marani.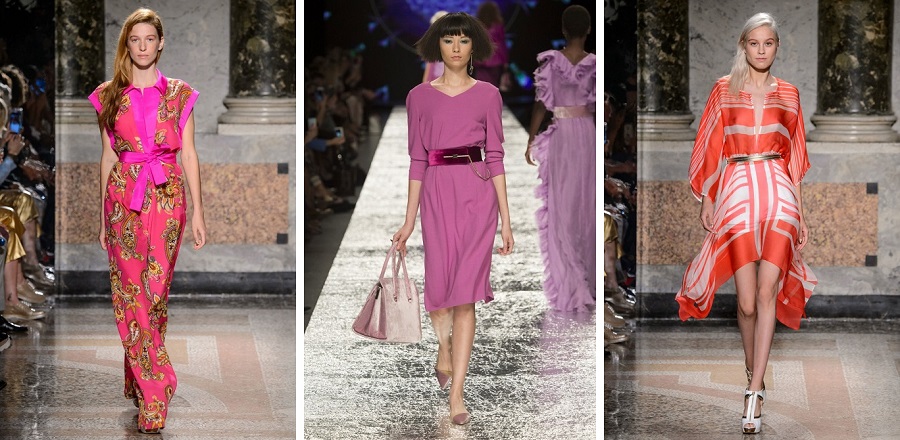 Forms
Fashionable styles of dresses spring-summer 2017 combine a great many options. However, it is these details that make the work of this season well recognizable.
Corsets and bustiers. They express our initial need for the game: very strict models were replaced by things with elegant artistic decoration. A special squeak is to leave the straps, but make them almost invisible to the eye. We look at Louis Vuitton, Christian Dior, Teatum Jones.
Beveled hem. To some extent, this is a repeat of the trend in asymmetry. However, you will see that they differ due to (in this case) a flying emphasis on the hip. We look at Custo Barcelona, ​​Temperley London.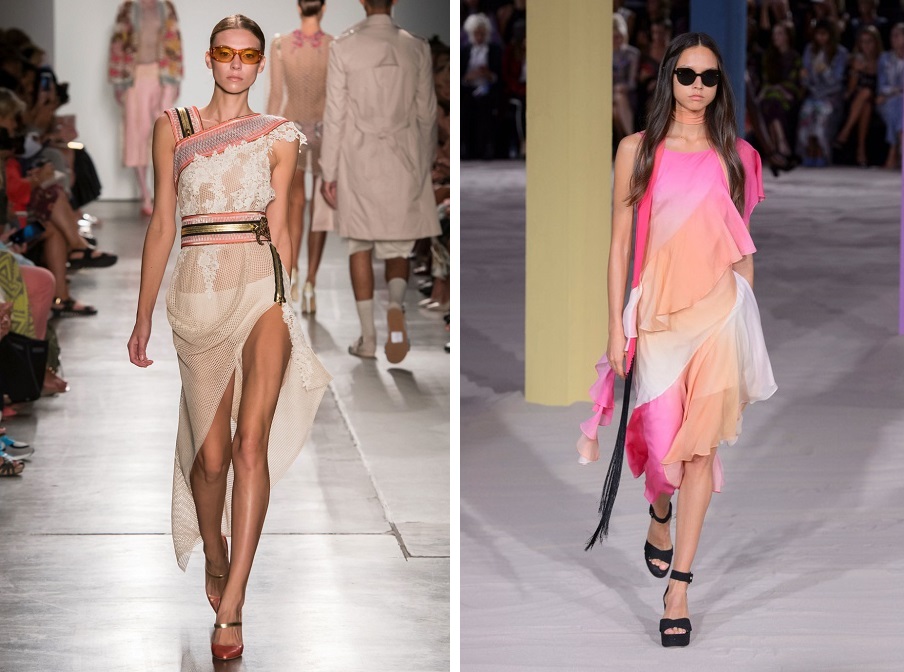 Shirts with a long skirt. These dresses are easy to imagine trimmed to the waist, simply because their top is a classic apache shirt. We look at Givenchy, Christian Siriano.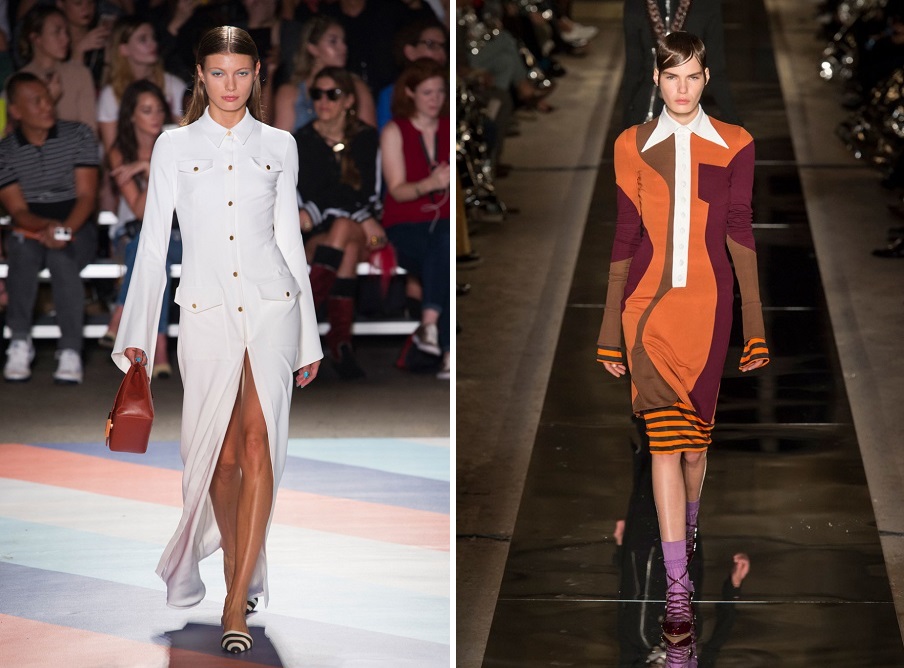 Ruffles and a lush hem. What will happen when the two favorites of the fashion world merge: a puppet style and an abundance of frills? We look at Talbot Runhof, Moschino, Zac Posen, Ermanno Scervino, Daizy Shely.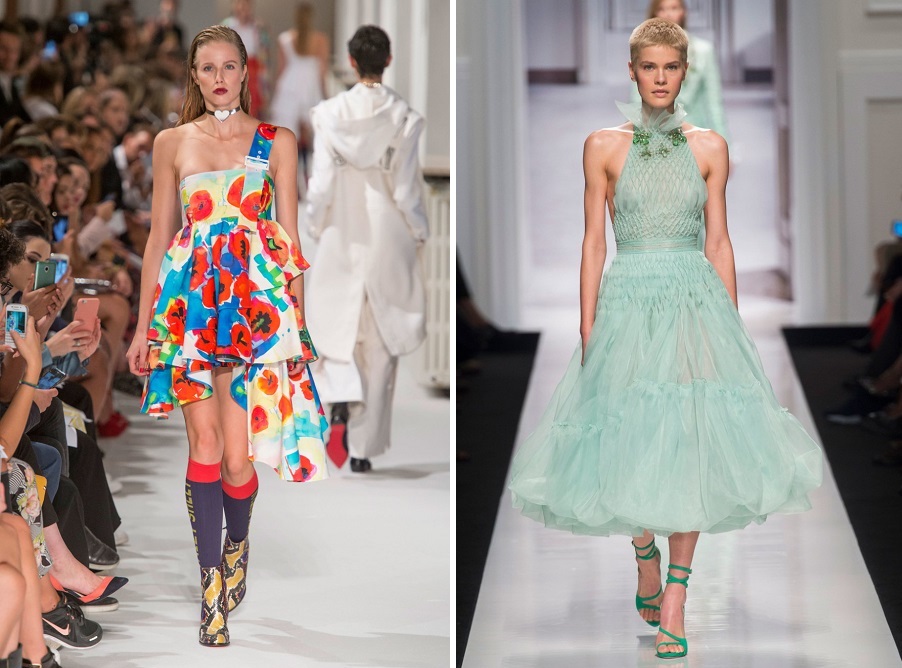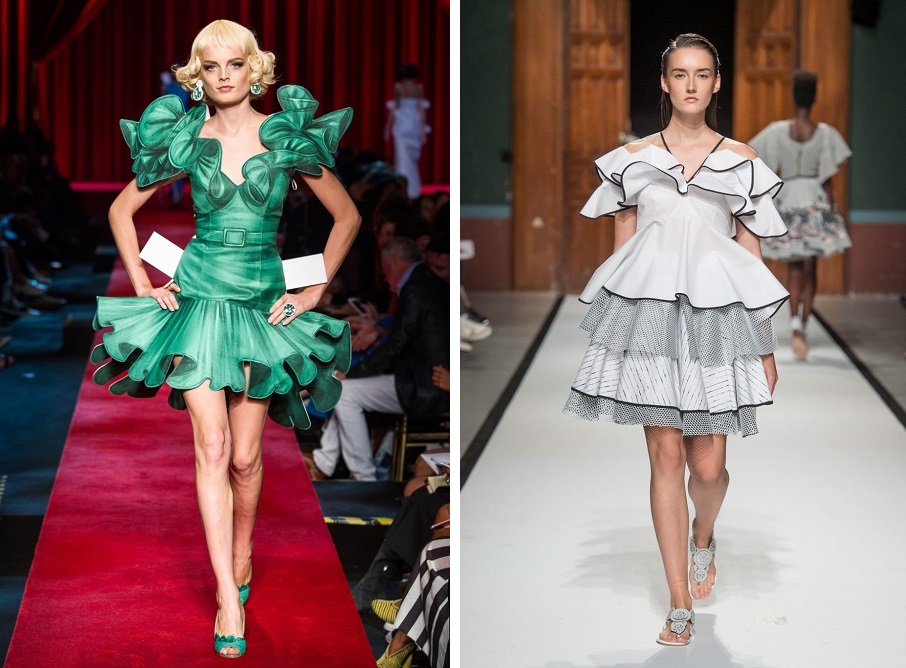 Ethno. In fashion – the Middle East, Africa and Eastern Europe. We look at Naeem Khan, Tory Burch, Oscar de la Renta, Ralph Lauren, Emporio Armani.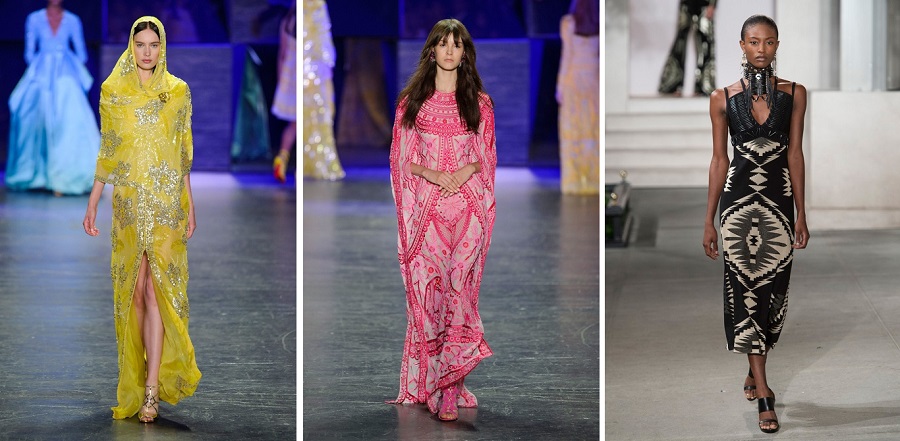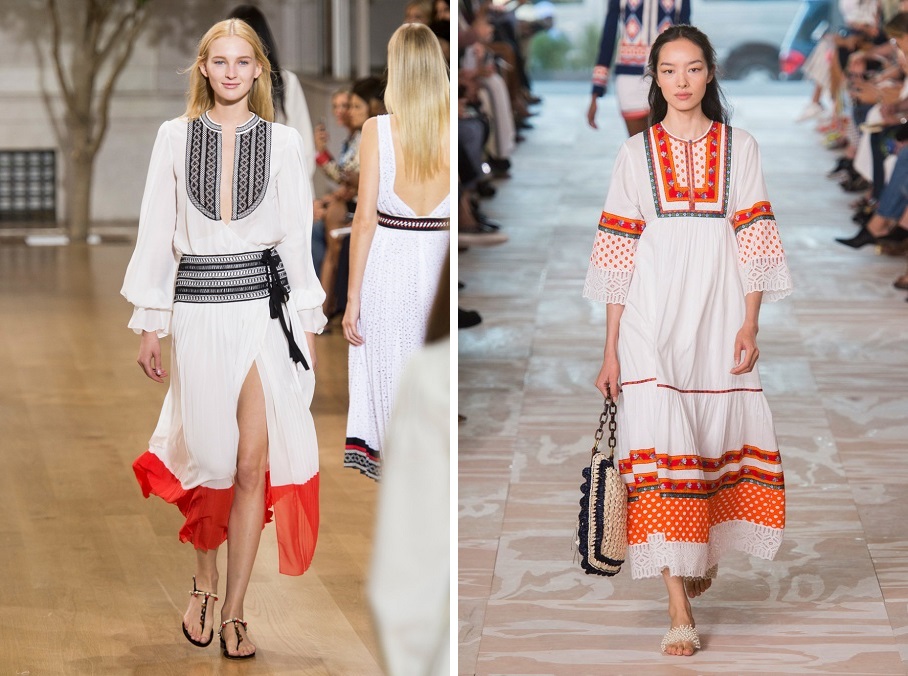 Unusual shapes. At spring shows, we had occasion to see a dress that looked like a coat. And a dress that looked like a fifties swimsuit. We look at MiuMiu, Christian Dior, Monse, Gucci.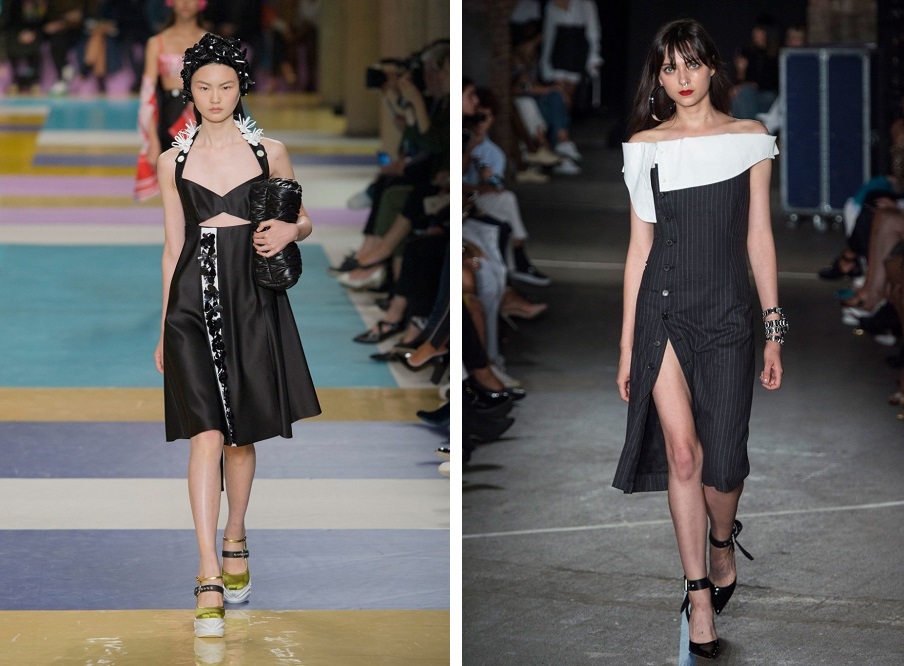 Applique and embroidery. The line between the 80s and 90s, which were characterized by simple forms, but catchy design, including applications. We look at Talbot Runhof, Byblos Milano, Missoni, Francesco Scognamiglio.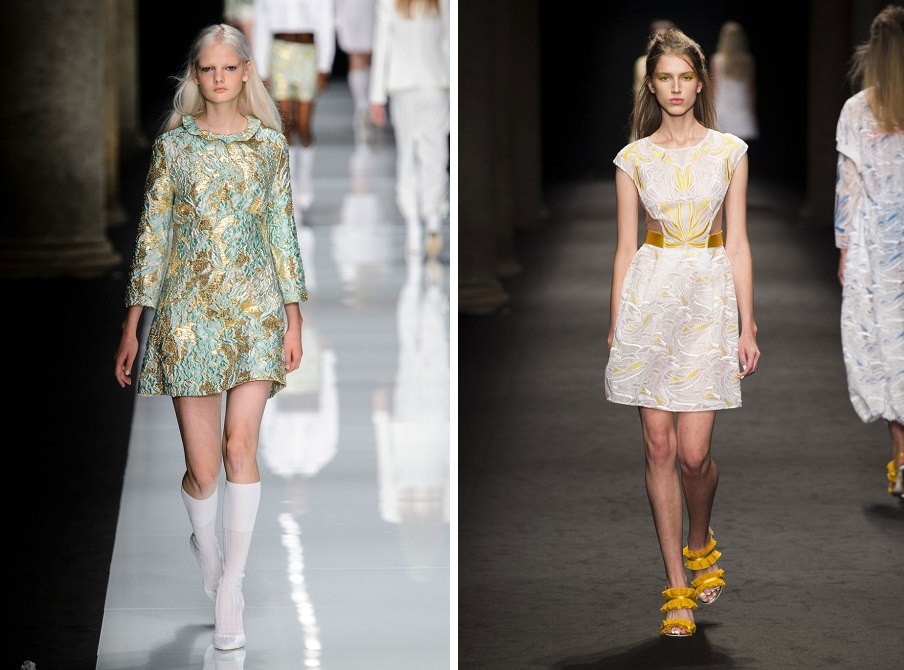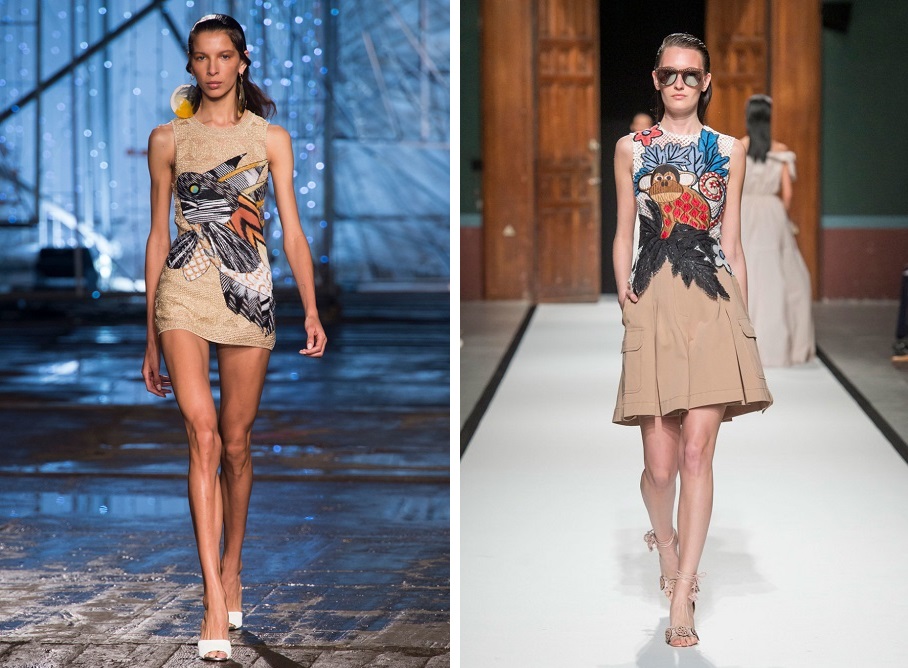 Rock and grunge – in clothes
Against the background of colorful mottles, these dresses still remain noticeable. Leather and vinyl, complex lines, black. We look at Olivier Theyskens, Christian Dior, Pamella Roland.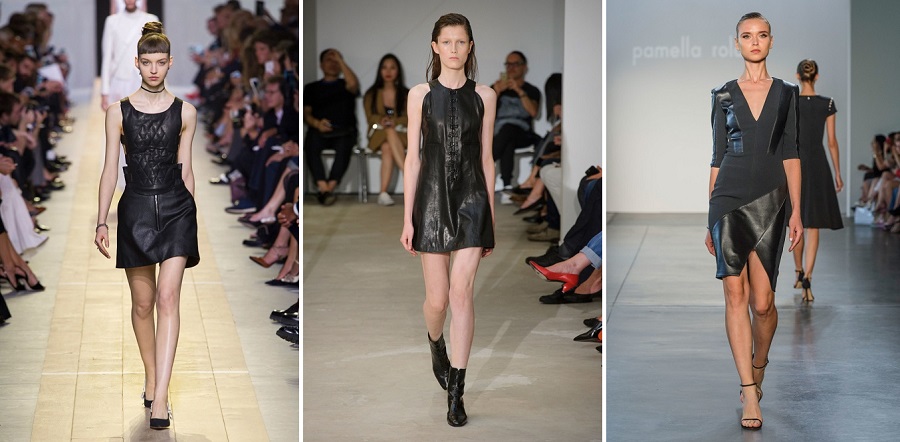 Trendy colors 2017
You can see the main colors of the season at the Pantone Institute. And yet it will not be superfluous to recall what the new spring-summer 2017 fashion dresses should be, or rather, what the shades should be.
pink powder (Chanel, Chloe)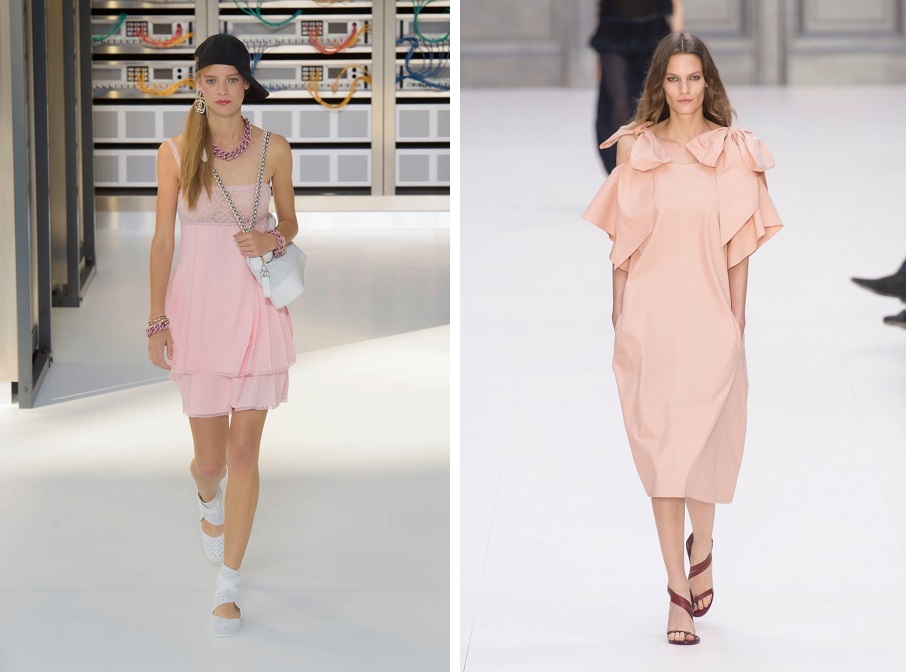 juicy yellow (Alexis Mabille, Mulberry)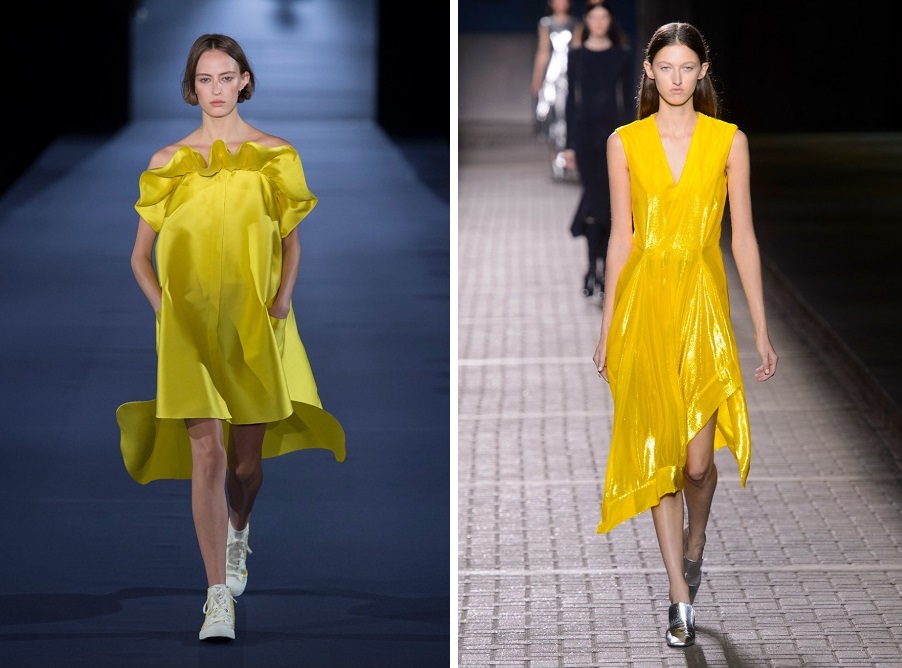 fire red (Michael Costello, Valentino)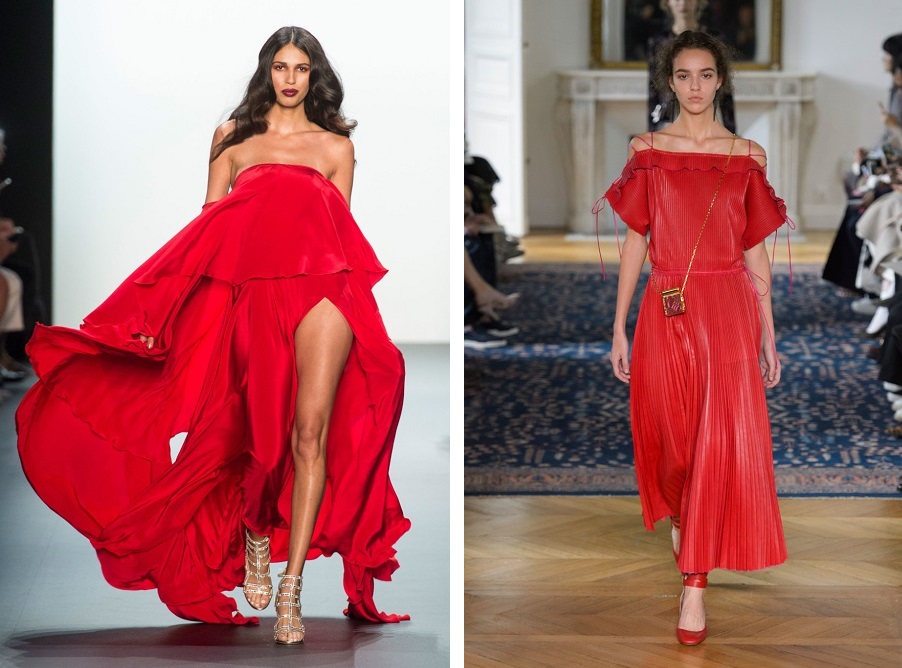 blue glaze (Creatures Of Comfort, Alberta Ferretti)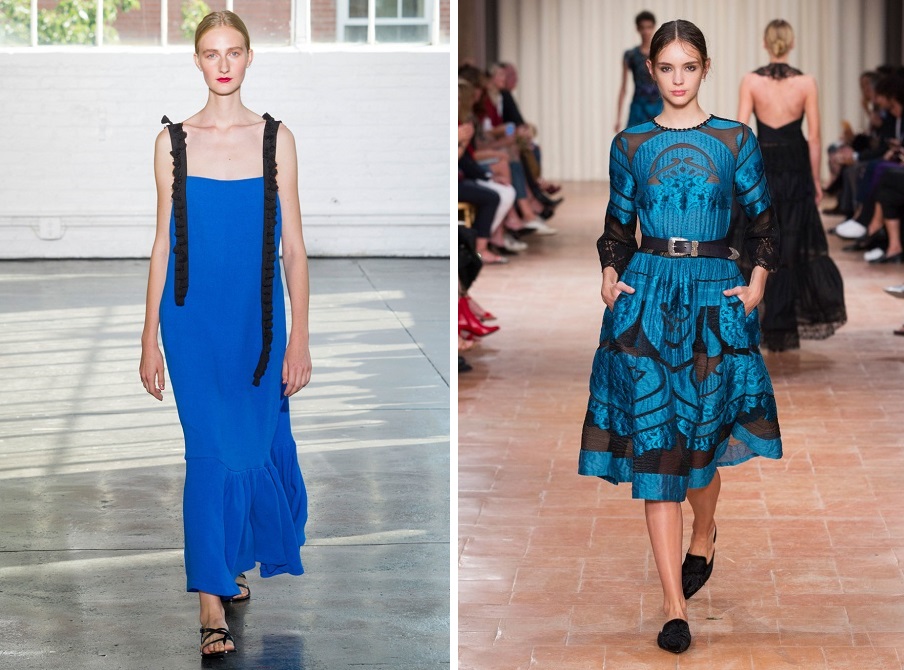 dark chocolate (Bottega Veneta), snow white (Zero Maria, Mila Schon, Barbara Casasola)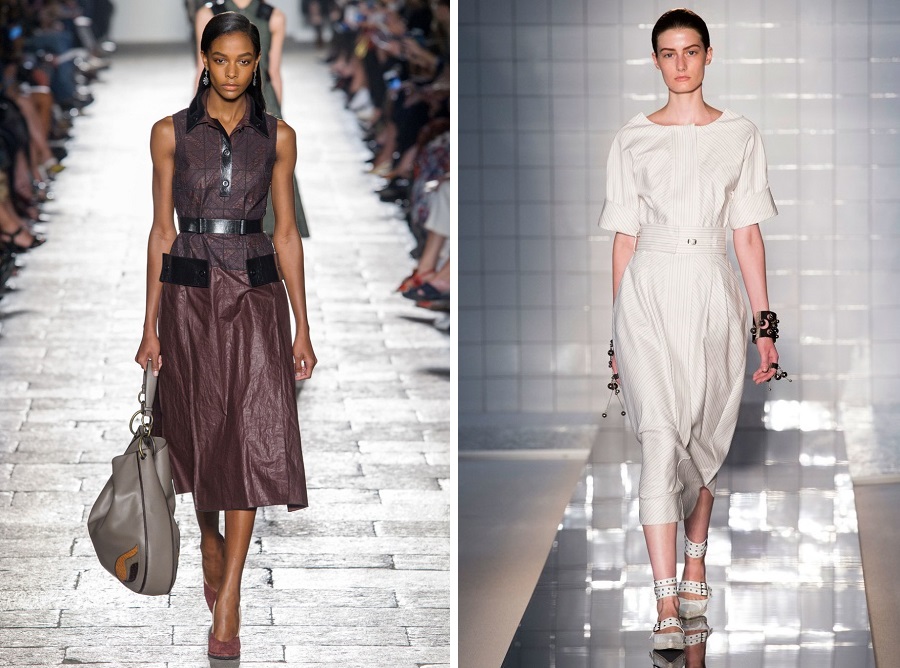 You may also like our article. about fashionable stylish trends of the season 
Be fashionable! Beautiful girl!!!