Content
---
---
To reveal feminine beauty retro styles also help. The romantic Victorian era joined the rebellious and free trends of the 70s and 80s. Dresses with an abundance of quilling, lace and ribbons take us to an era where absolute femininity reigned. And only the trend for bicycles is knocked out of the picture.
Dress – combinations
In the spring-summer season 2019, combination dresses on the finest shoulder straps of a fitted silhouette will be in fashion. Lingerie style has repeatedly tried to take a strong position in the fashion world. But he was no longer in demand as at the latest shows from world fashion designers. Thin straps, linen cuts, silk and satin fabrics, translucent textures and lace – all these are details of a new trend..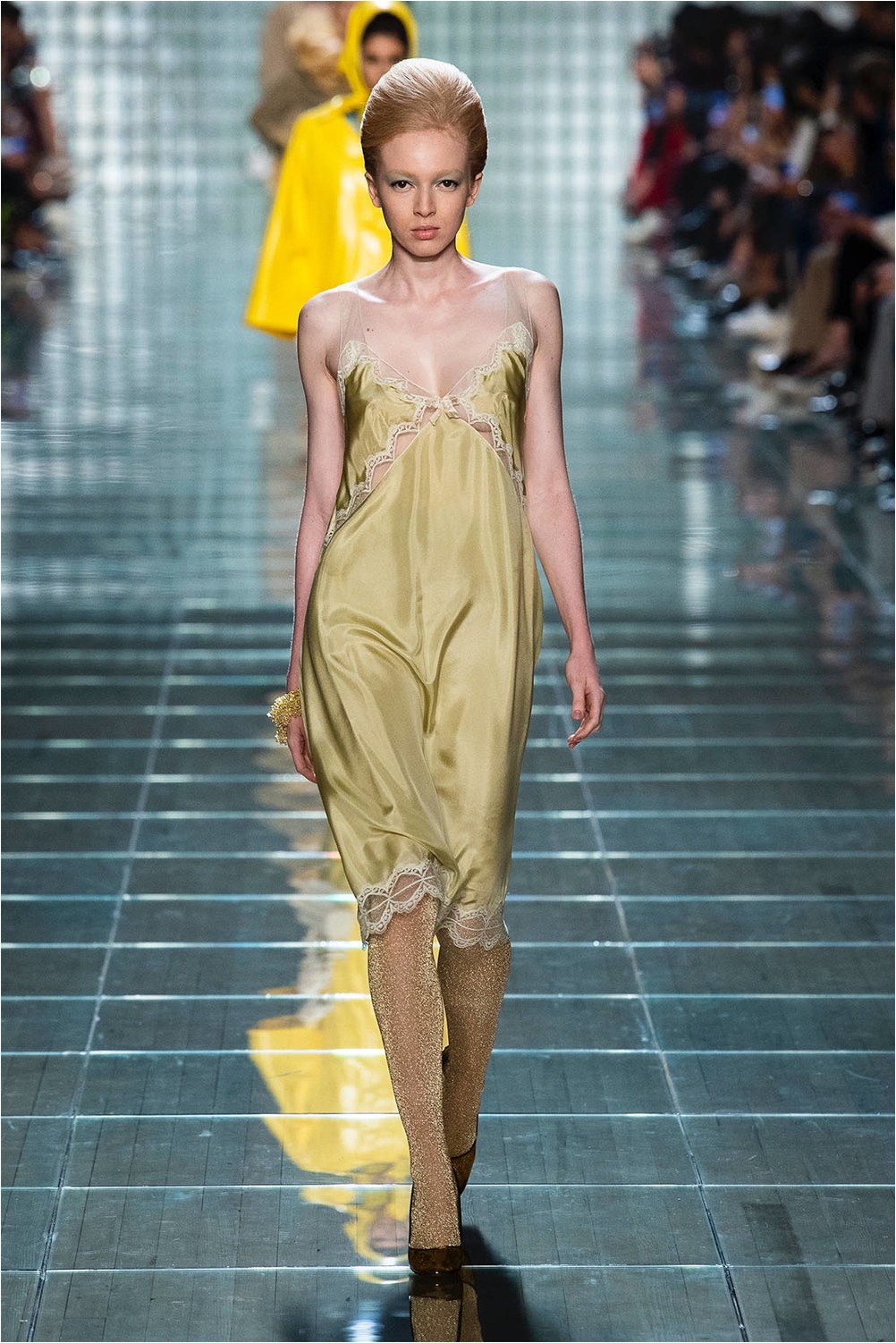 Marc jacobs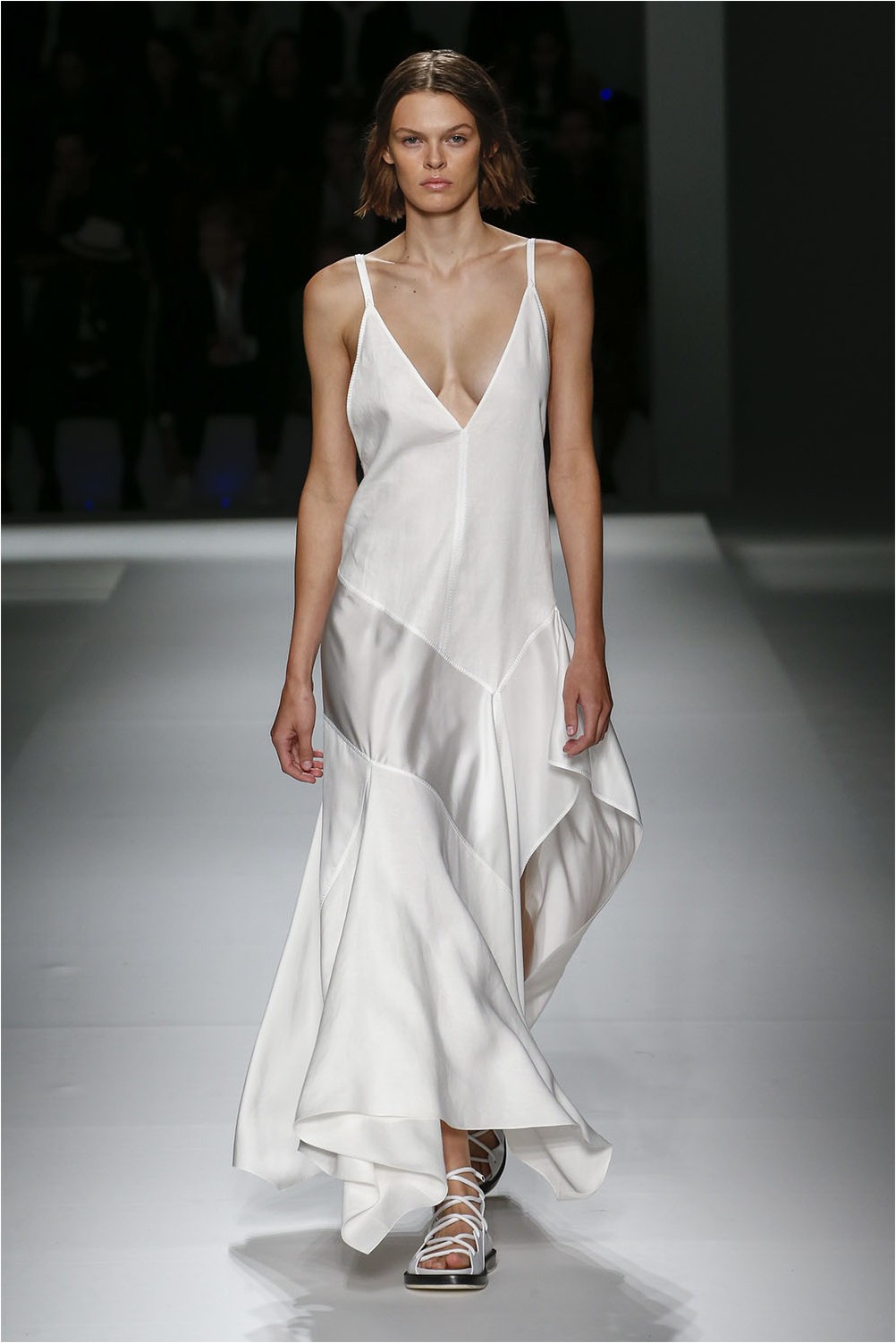 Boss
Dresses that repeat the cut of women's nightgowns appeared in the collections of Alberta Ferretti, Acne Studios, Antonio Marras, Marc Jacobs. Luxurious evening dresses in linen style introduced by Versace.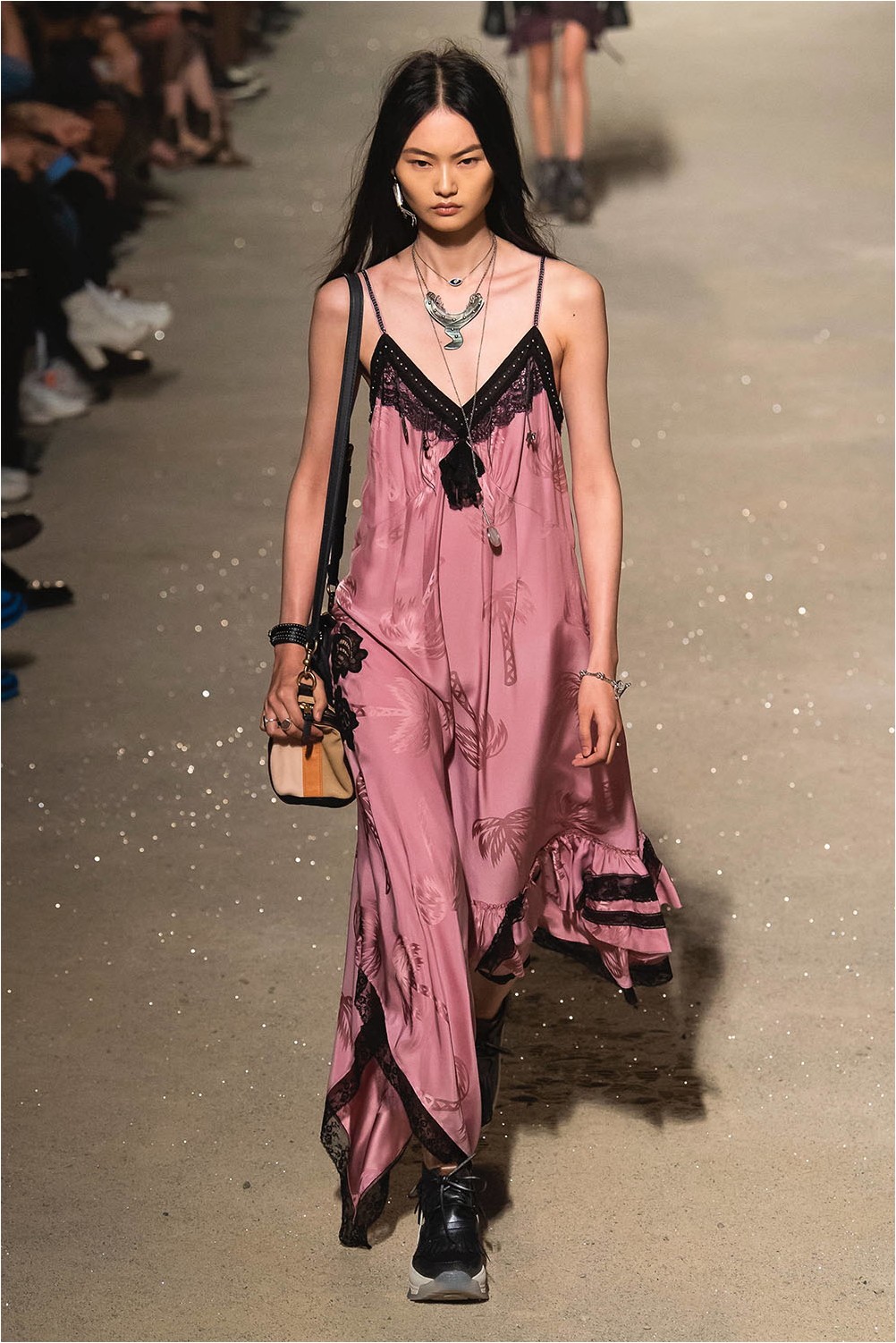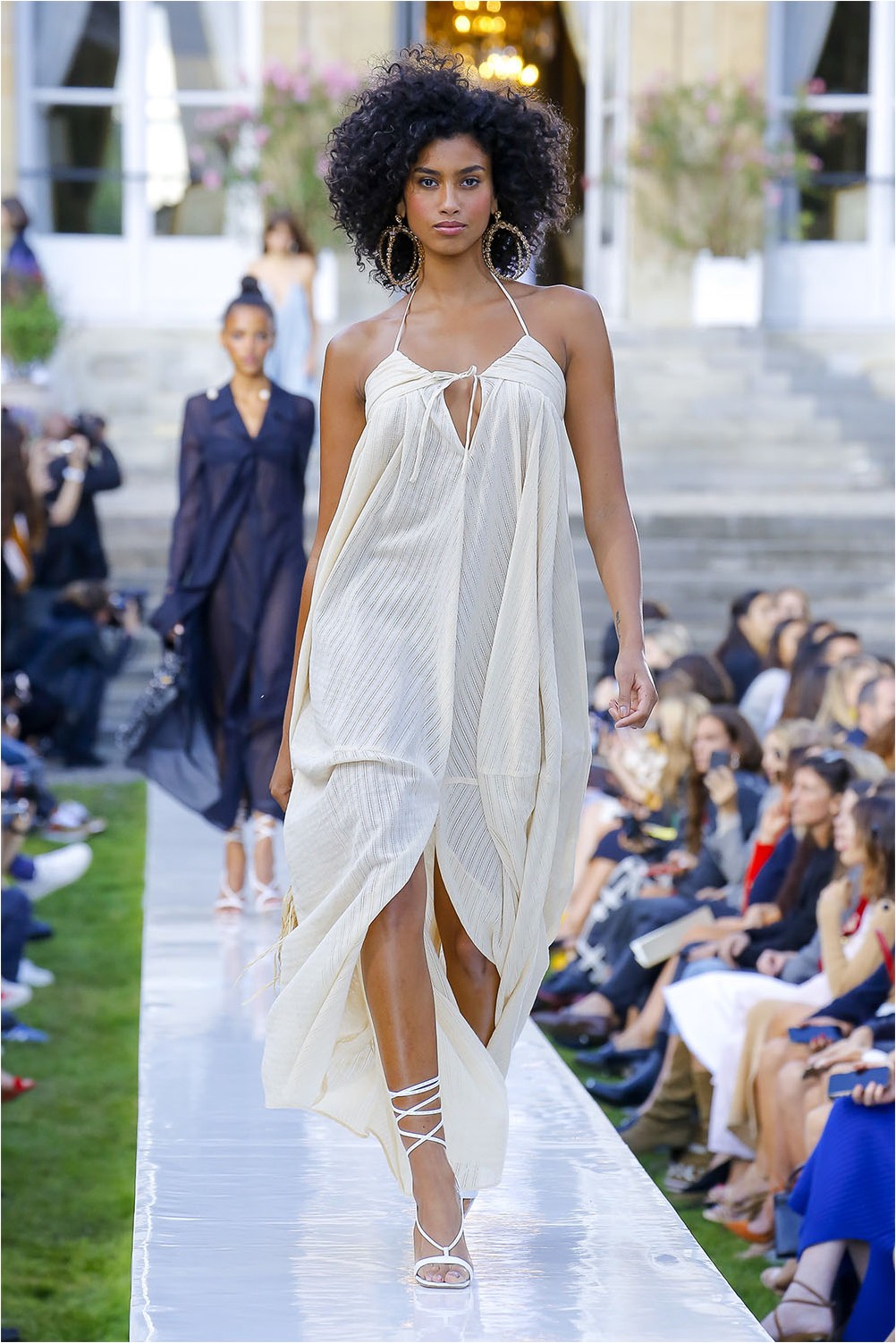 Crochet
Crocheted motifs are one of the main trends of this spring. The crochet technique appears on fashion catwalks in a new image every time. Now it is a crocheted mesh with large meshes or macrame weaving, decorated with wooden beads.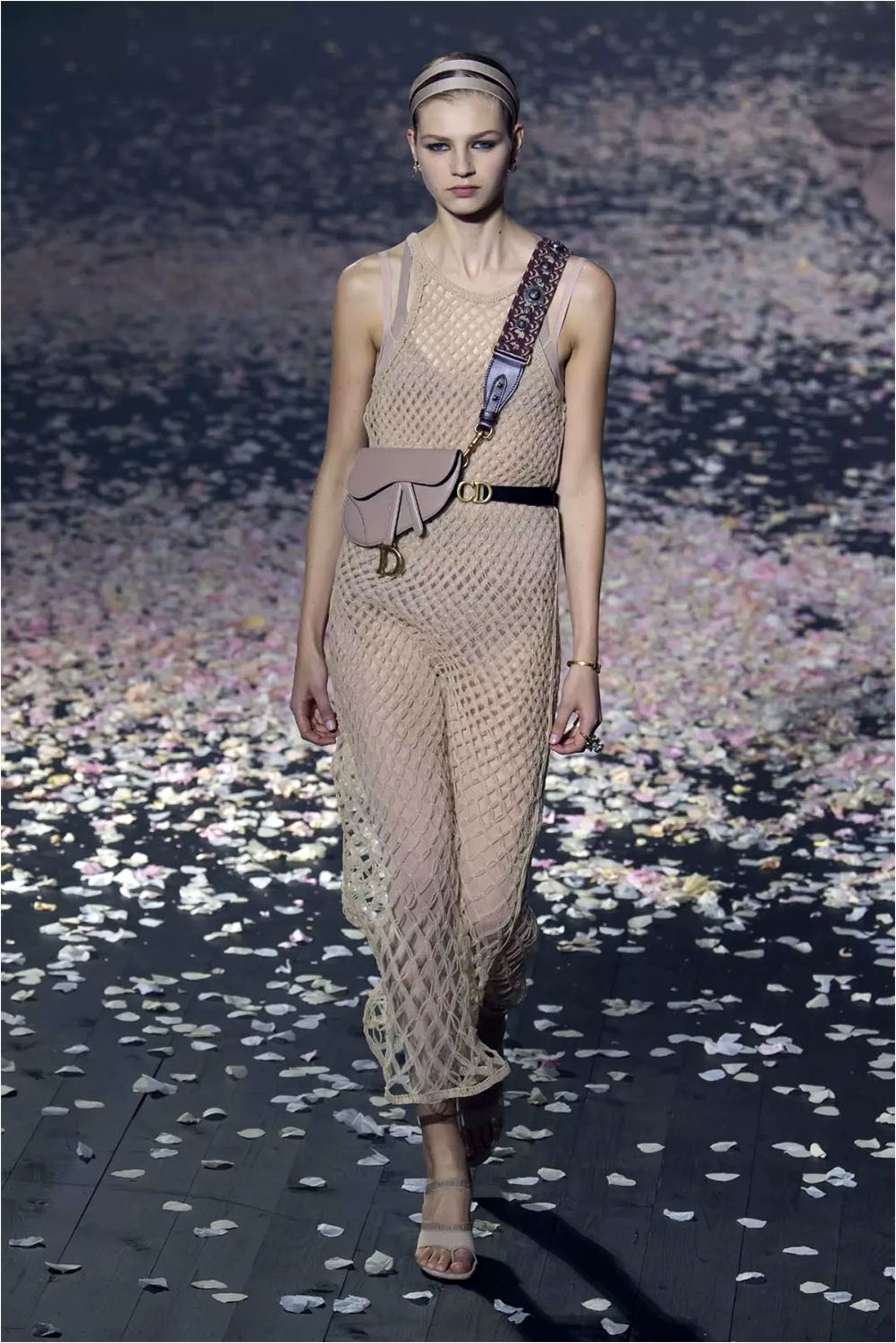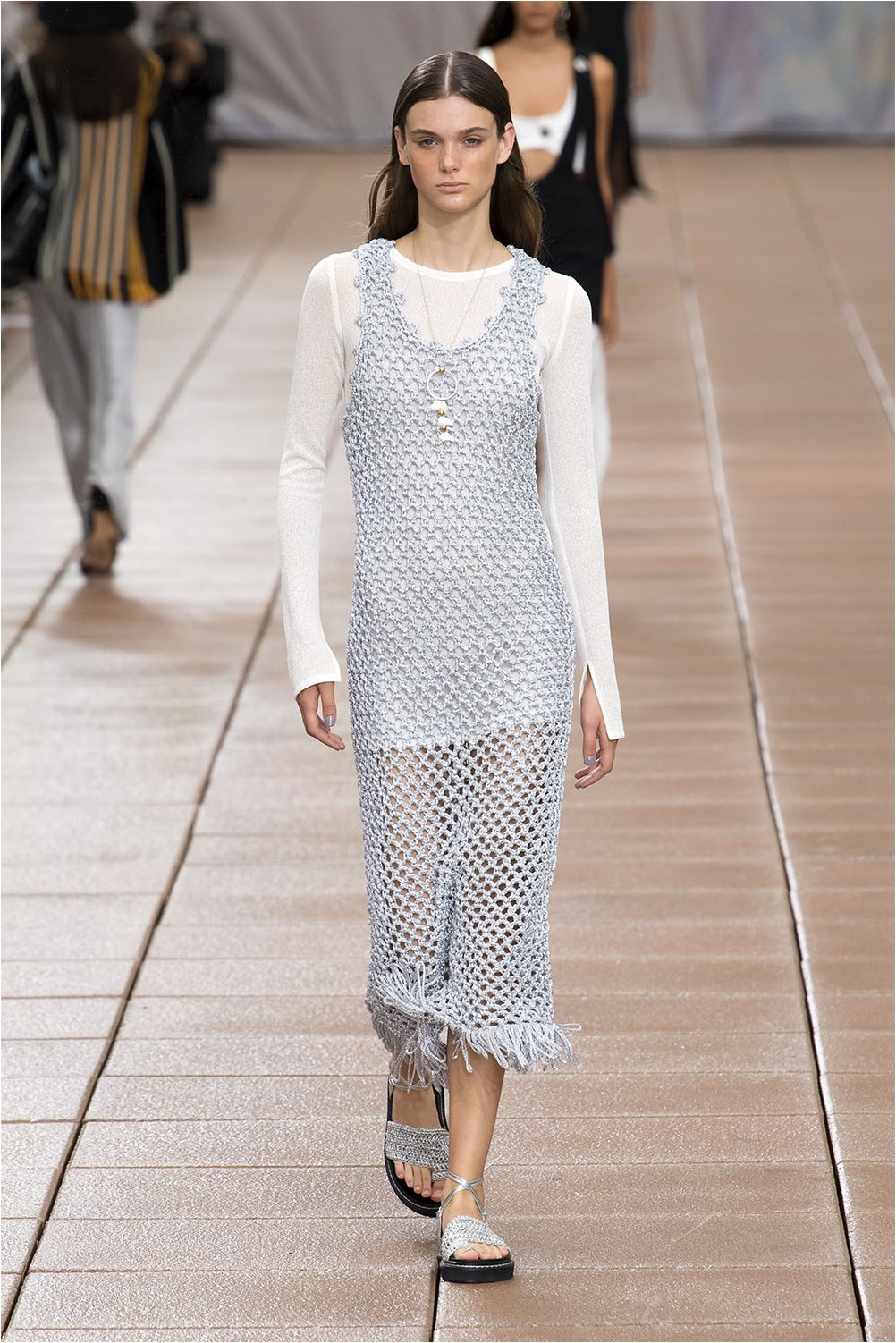 The knitting can be multi-layered, as in the models from Altuzarra and Victoria Beckham. Or light, as in dresses by Alberta Ferretti, Christian Dior and Chloé. According to the forecasts of fashion critics who appreciated this trend, intricate weaving will surely conquer fashionistas around the world this season. So your task is to get a fashionable dress for at least the next six months.!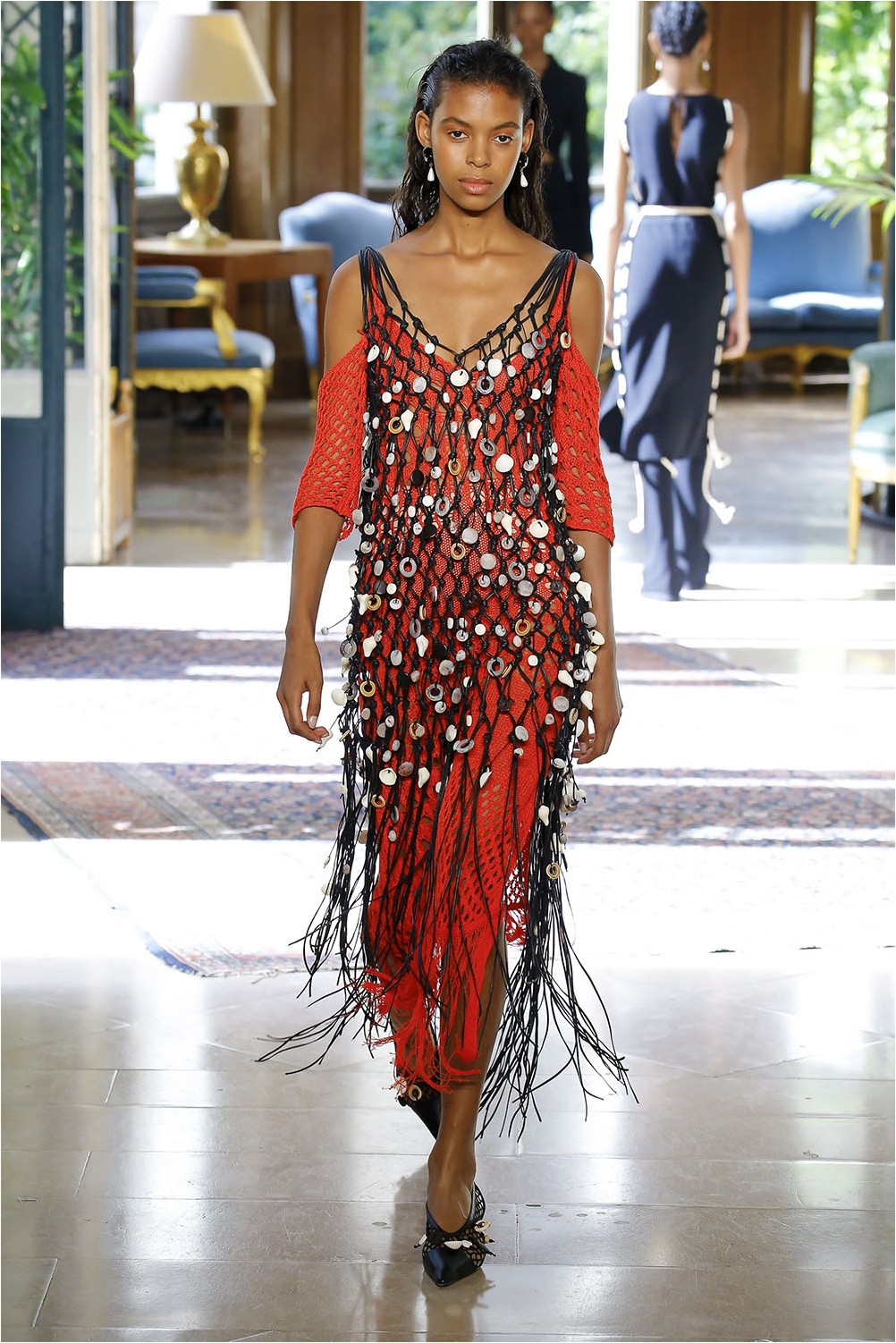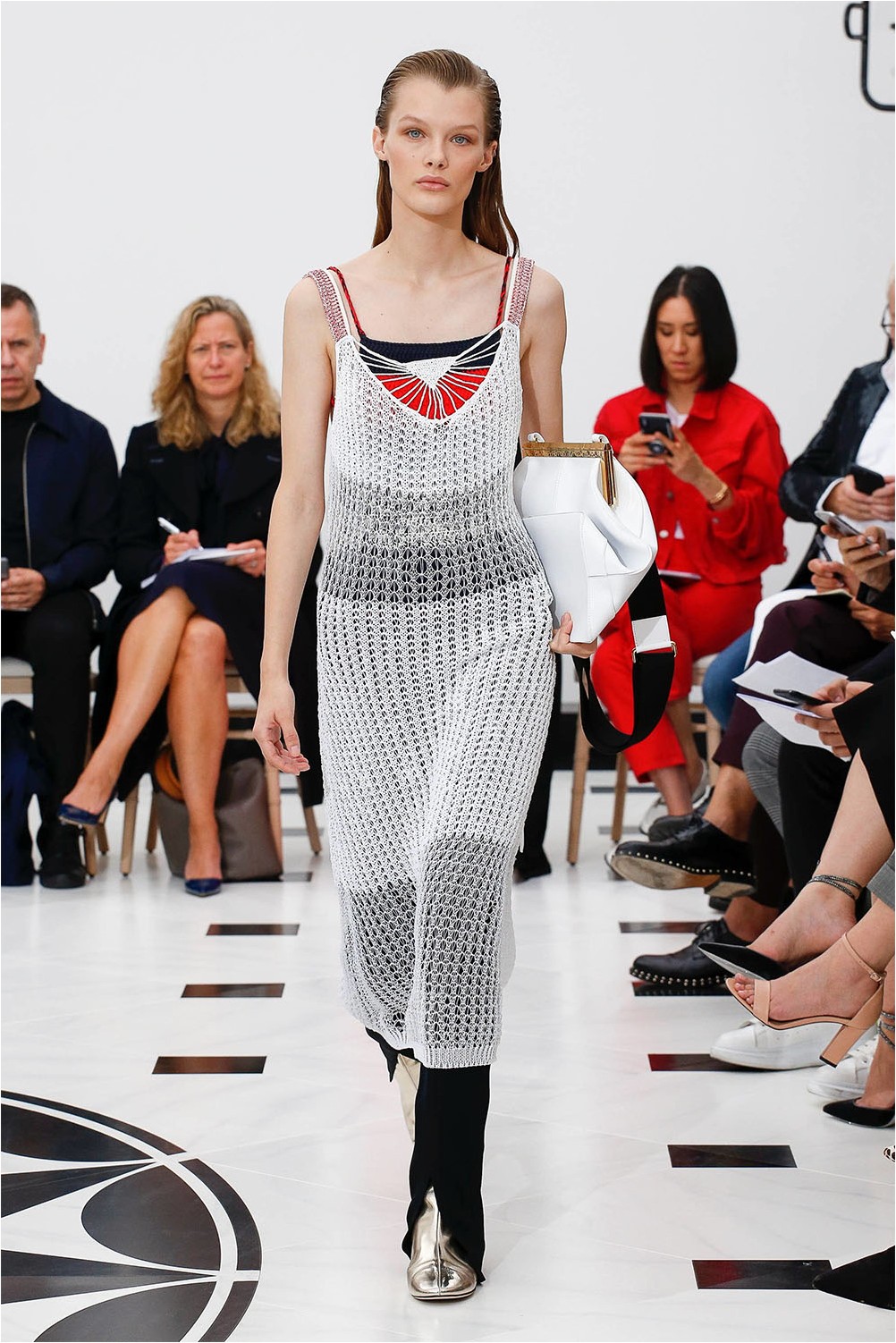 Textile lace
Hand made themes have taken seriously the minds of designers around the world. Textile lace appeared in their collections. Dresses were generously decorated with motifs embroidered in the Norwegian hardanger technique, Italian Richelieu lace and other delicate accents..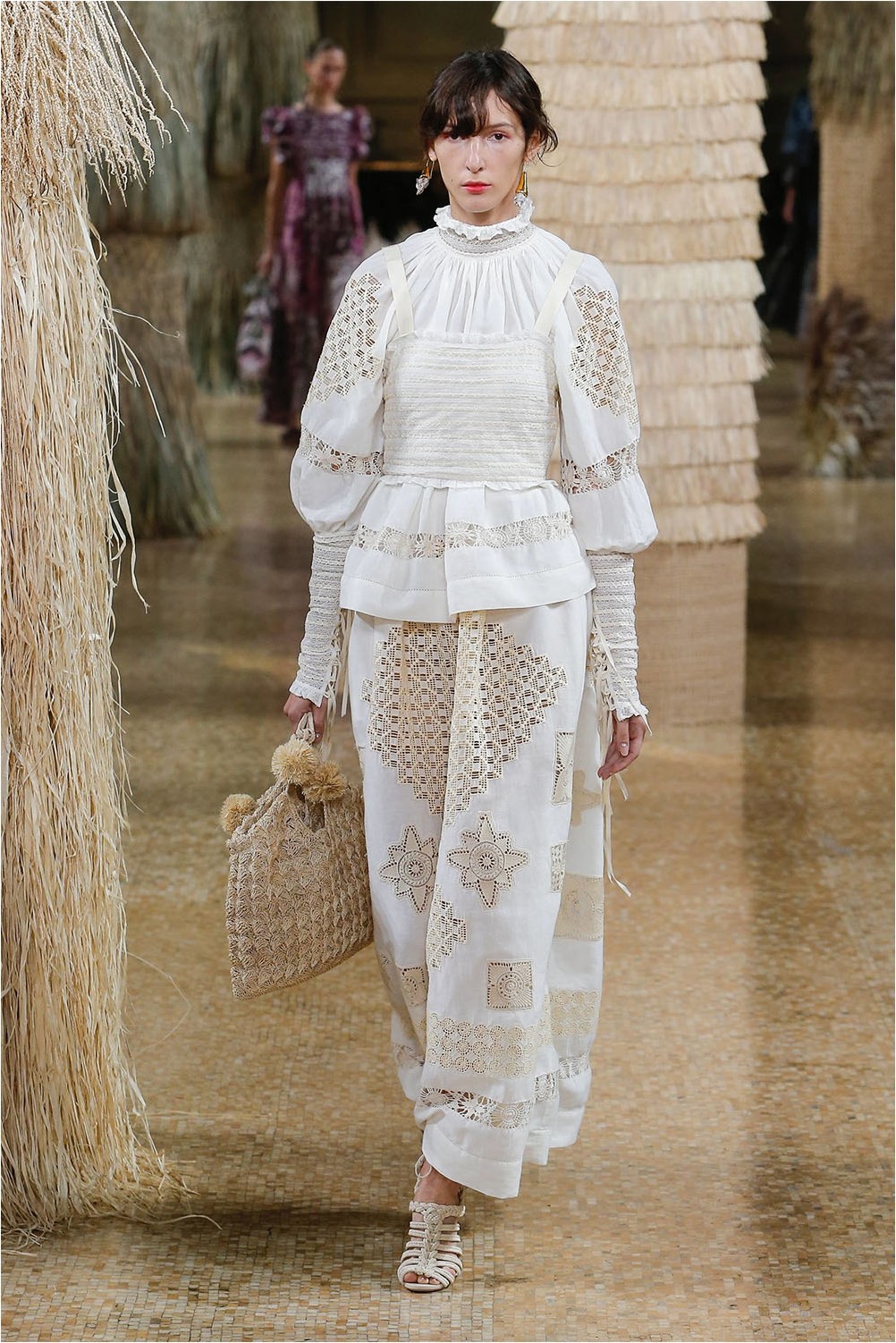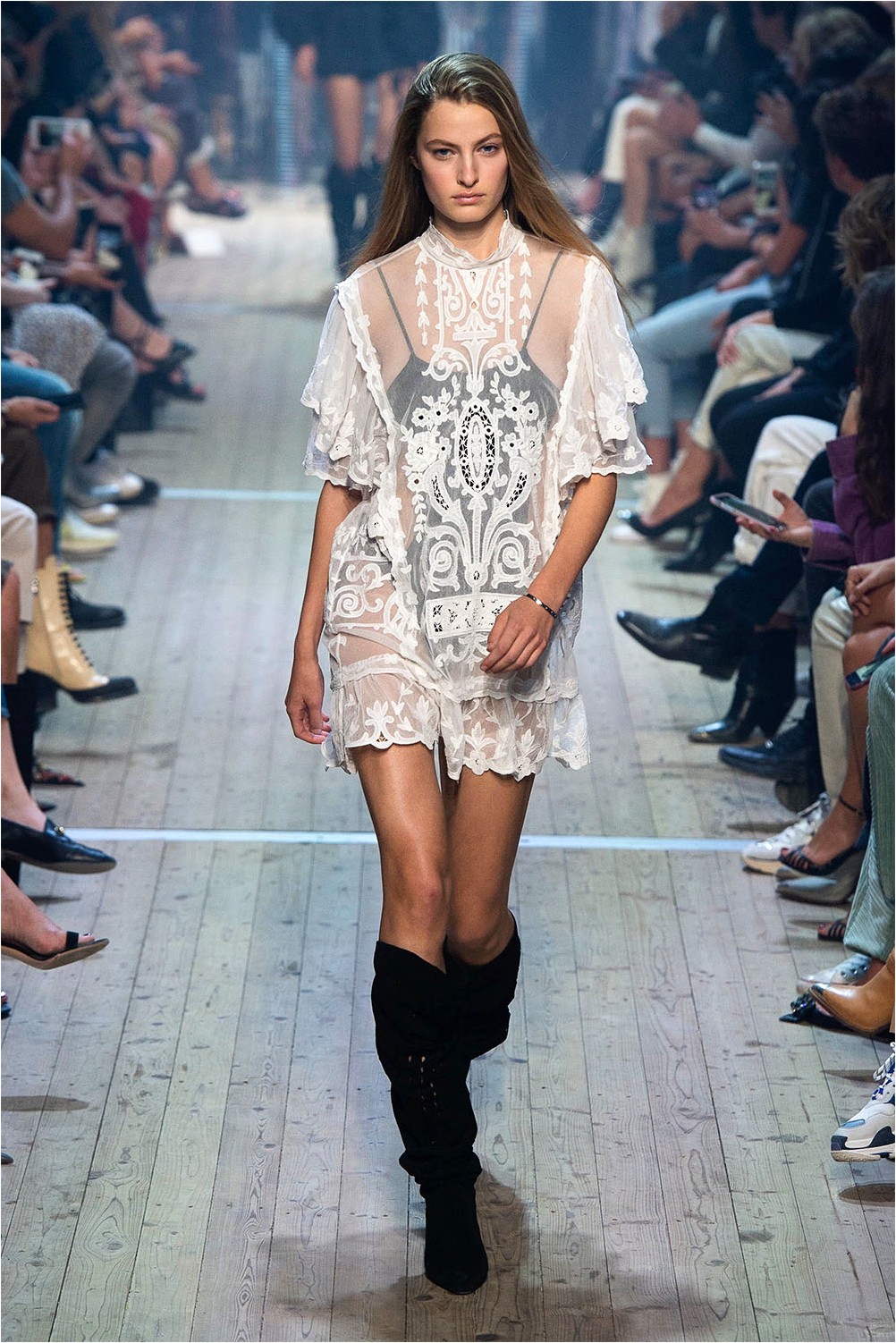 In combination with delicate shades and translucent textures, the images turned out to be very feminine.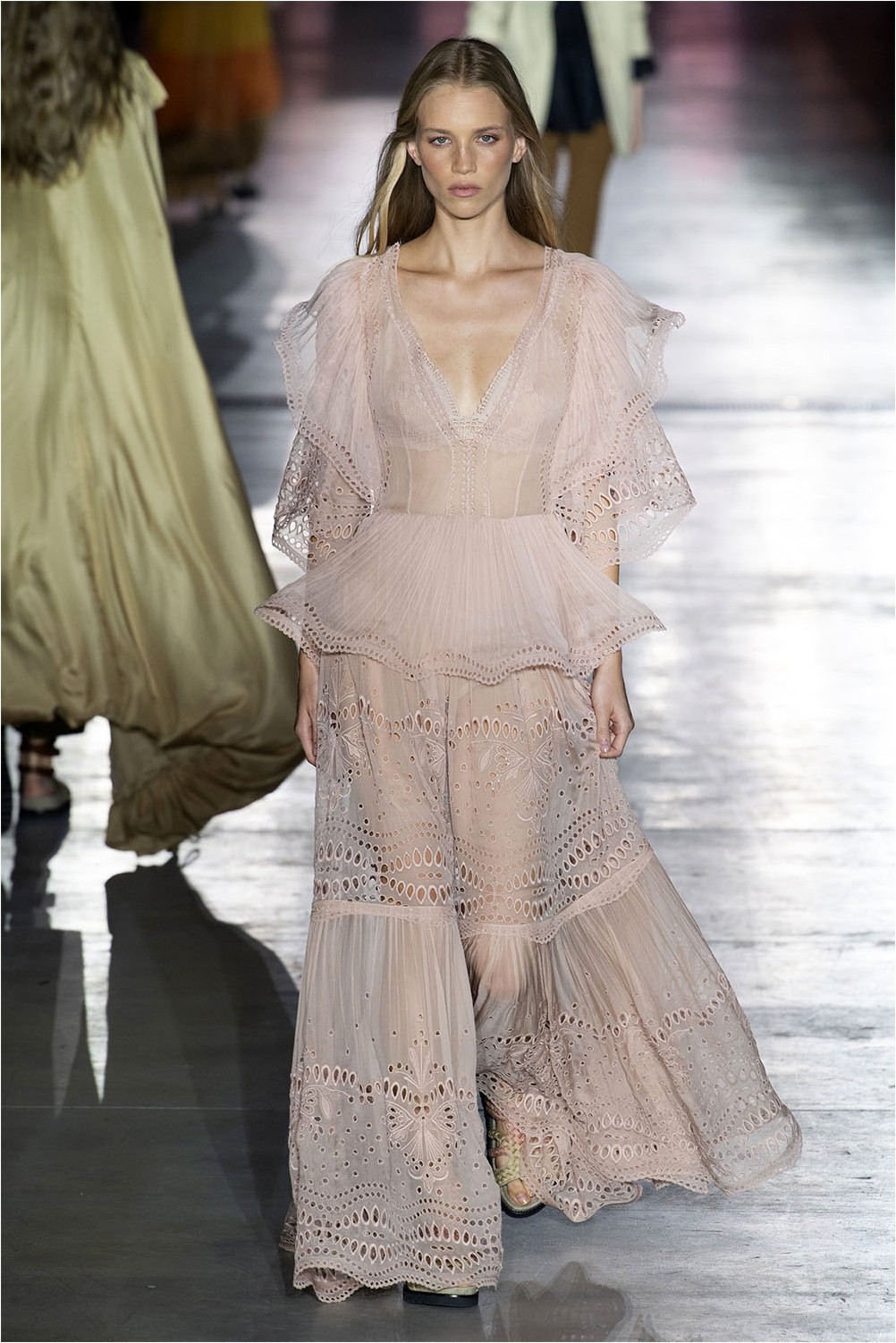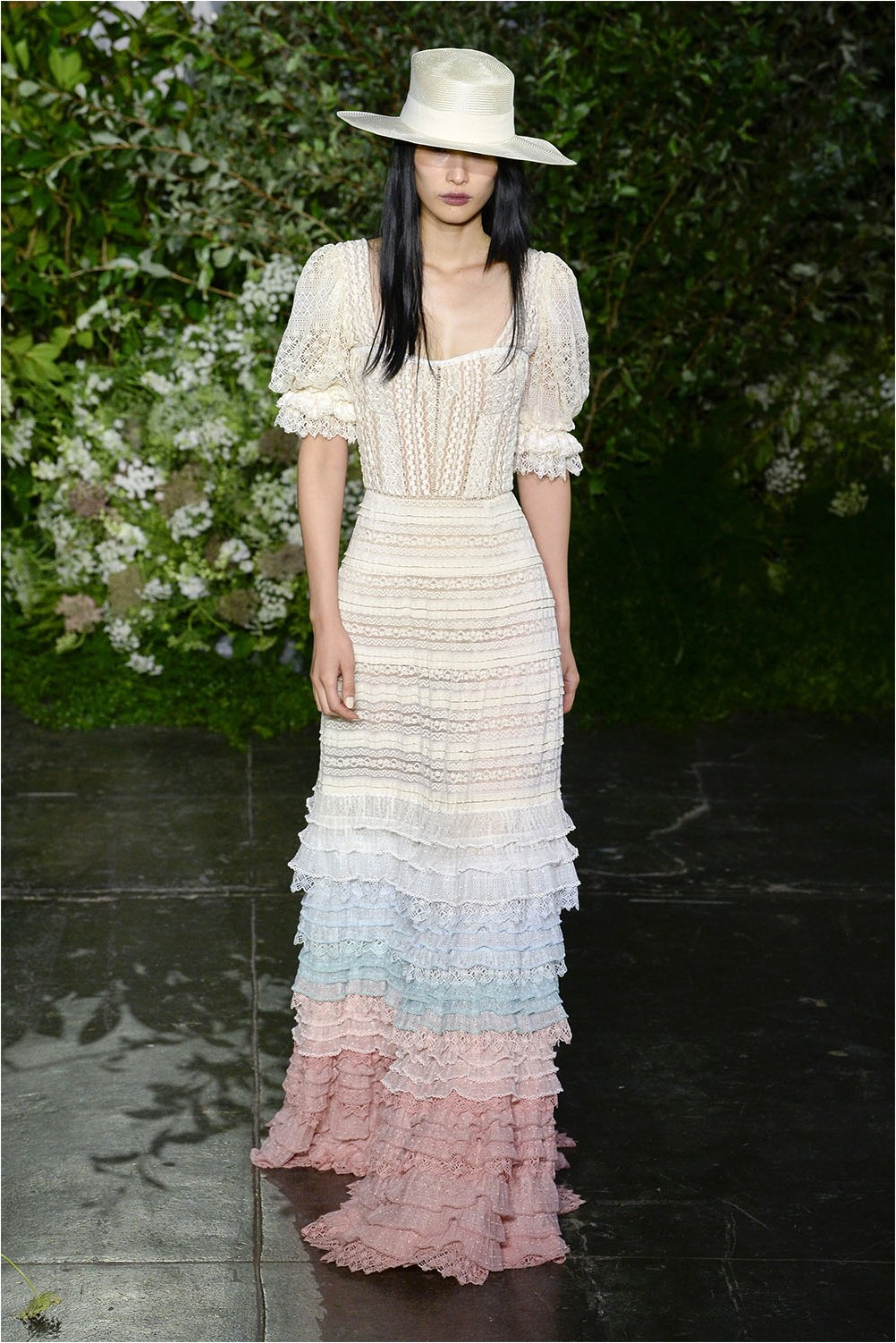 Embroidery and appliqués
Another trend that has shown itself in all its glory at the September fashion weeks is satin stitch embroidery and a large application in the form of giant flowers. Artfully embroidered sunflowers and lilies appeared on dresses by Andrew Gn. Carolina Herrera Decorated White Small Dress with Ethnic Floral Applique.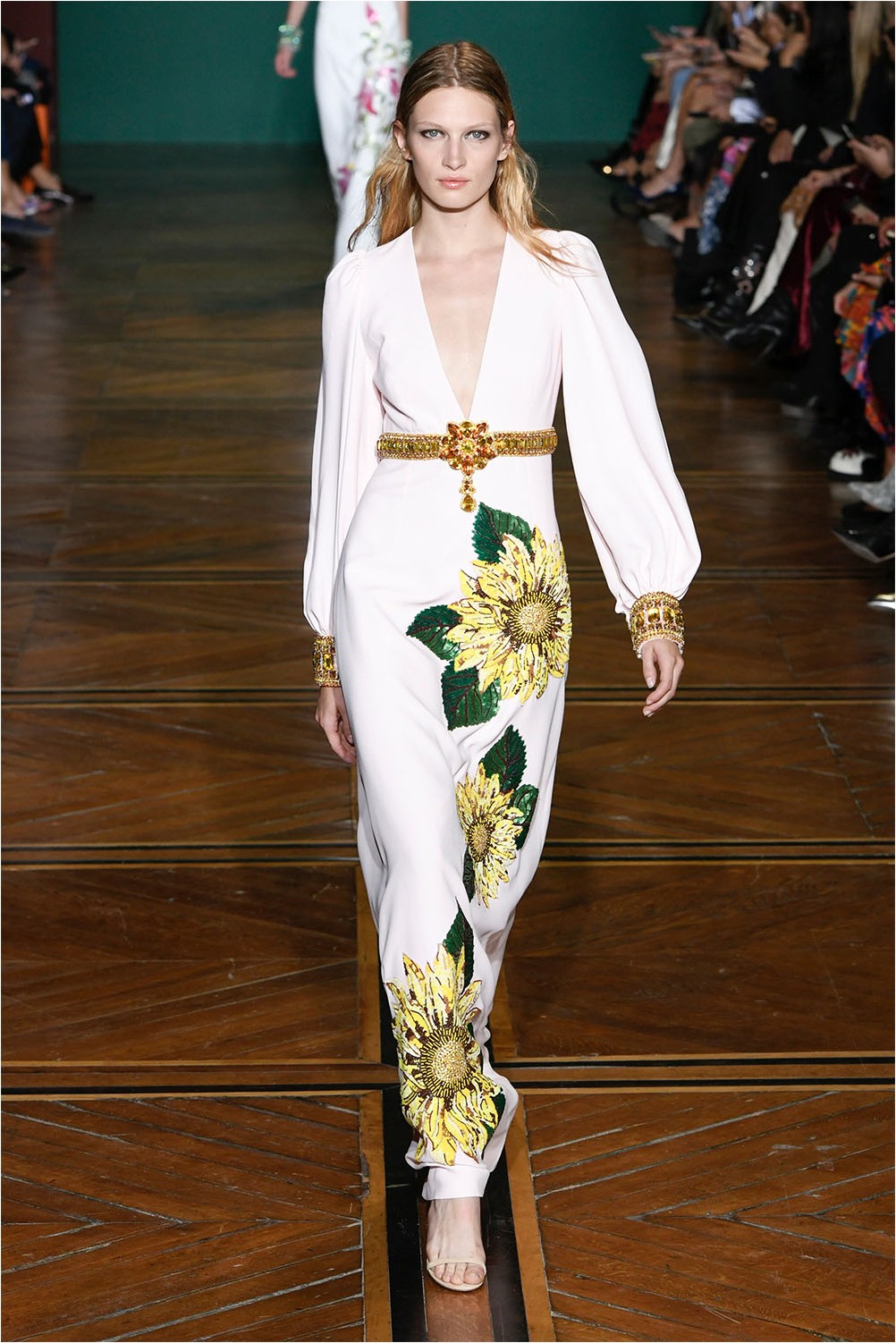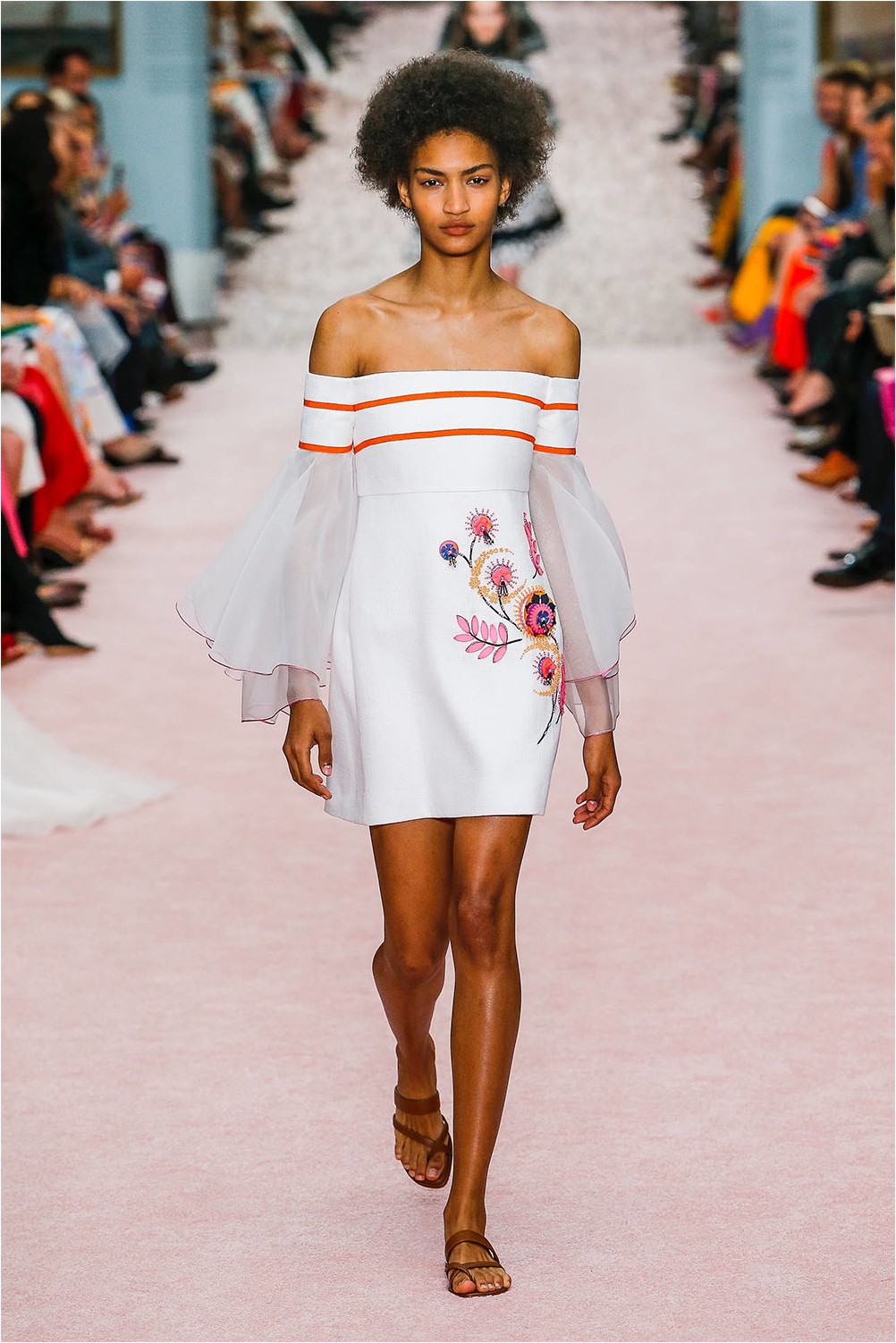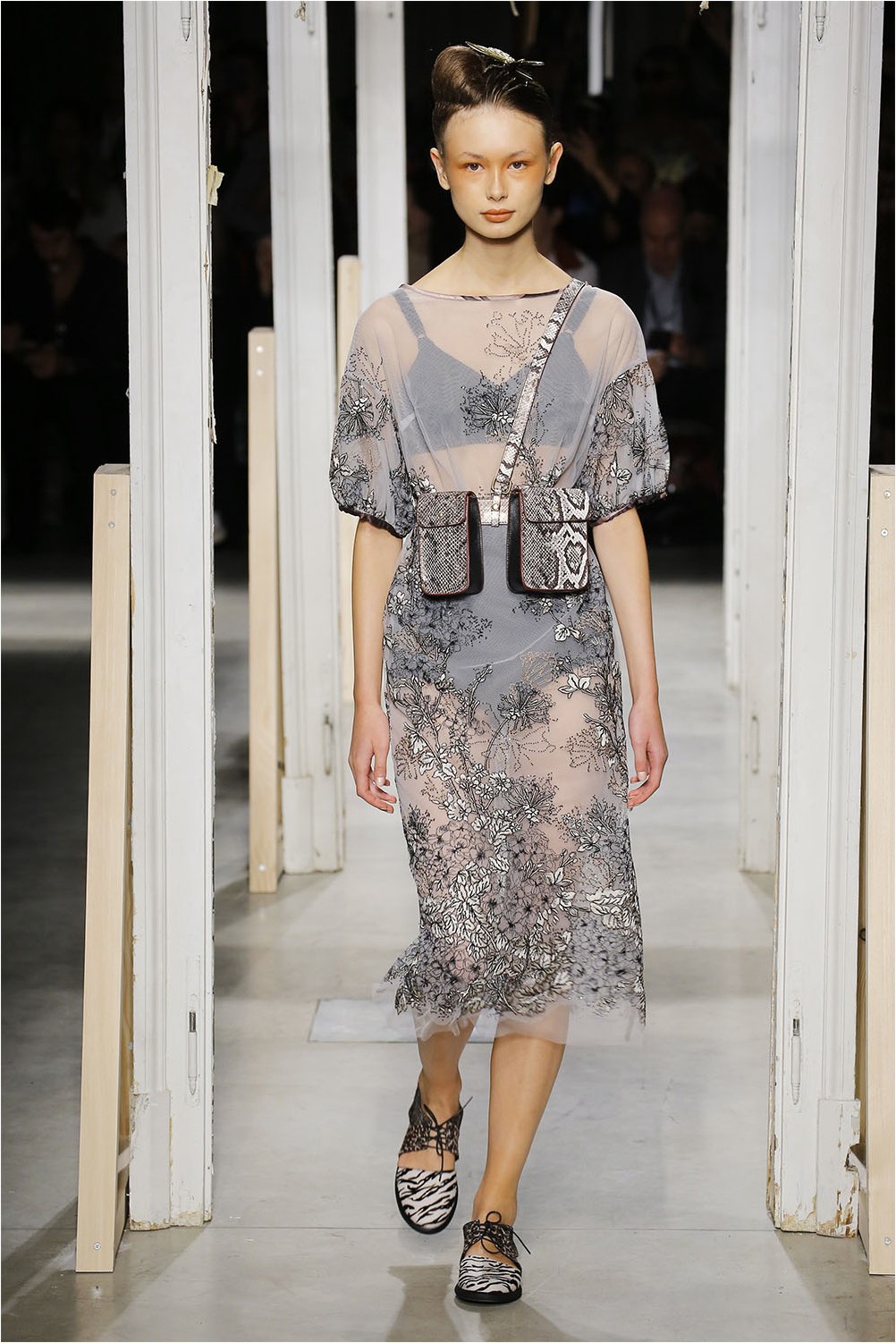 Often, stitch embroidery is combined with voluminous, as if vibrant flowers from fabric, as, for example, in evening dresses from Badgley Mischka and Elie Saab.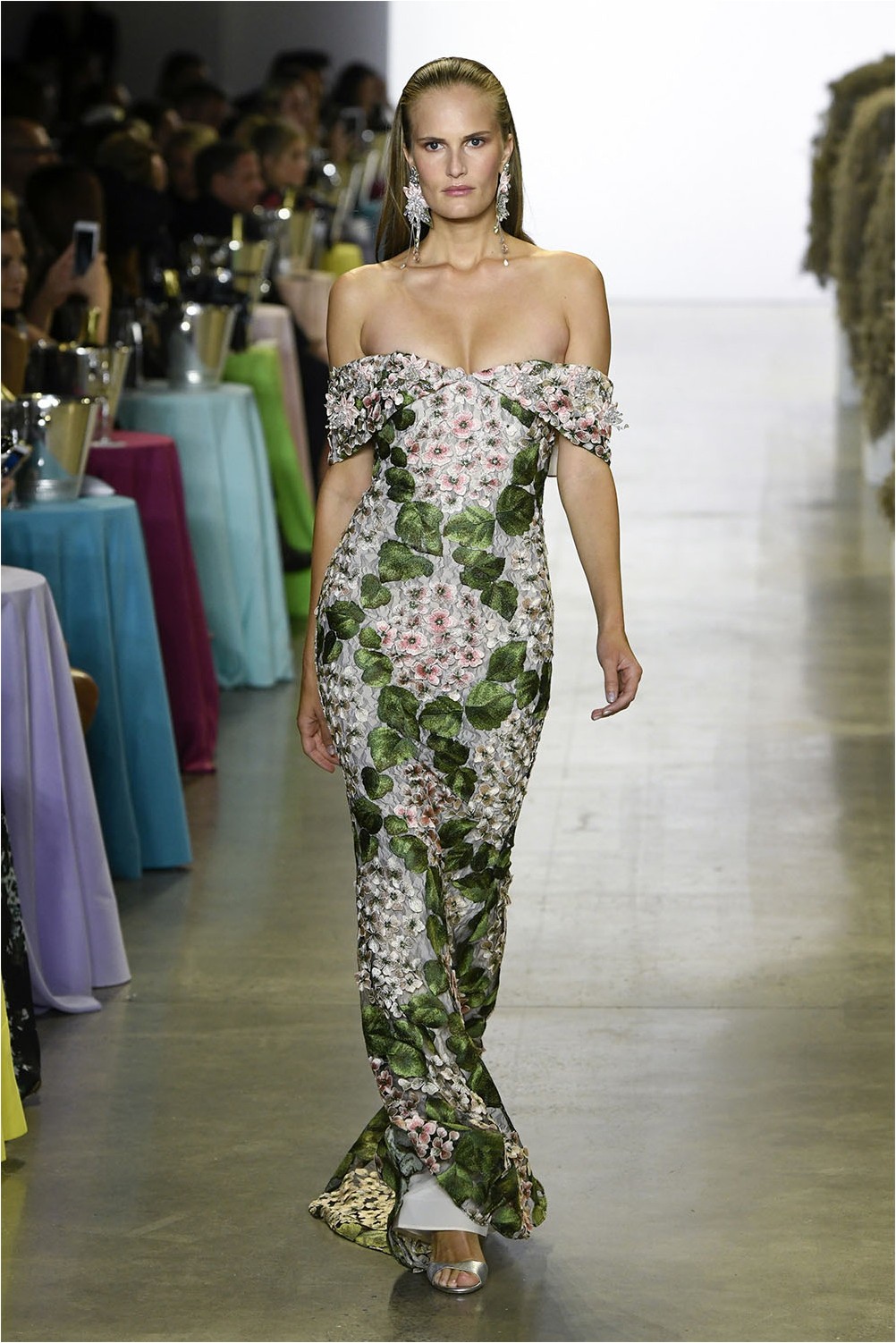 Degrade and Tie dye
The degradation effect and Tie-dye print are some of the most striking trends of this season. Dresses with unusual overflows of colors on the canvas will be a real hit of the summer. The most diverse color transitions will be in fashion. They can be bright and juicy or made in soft, pastel colors..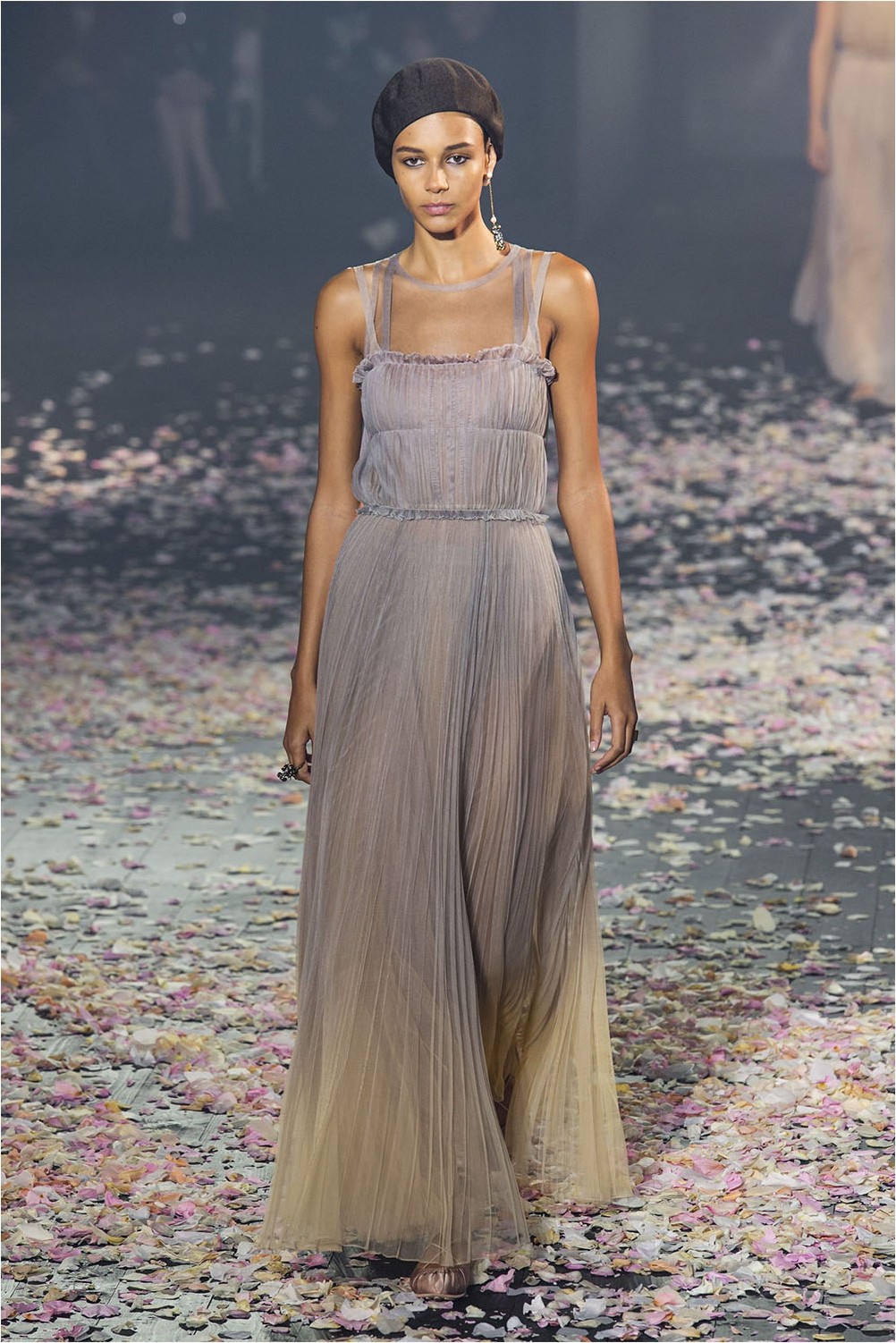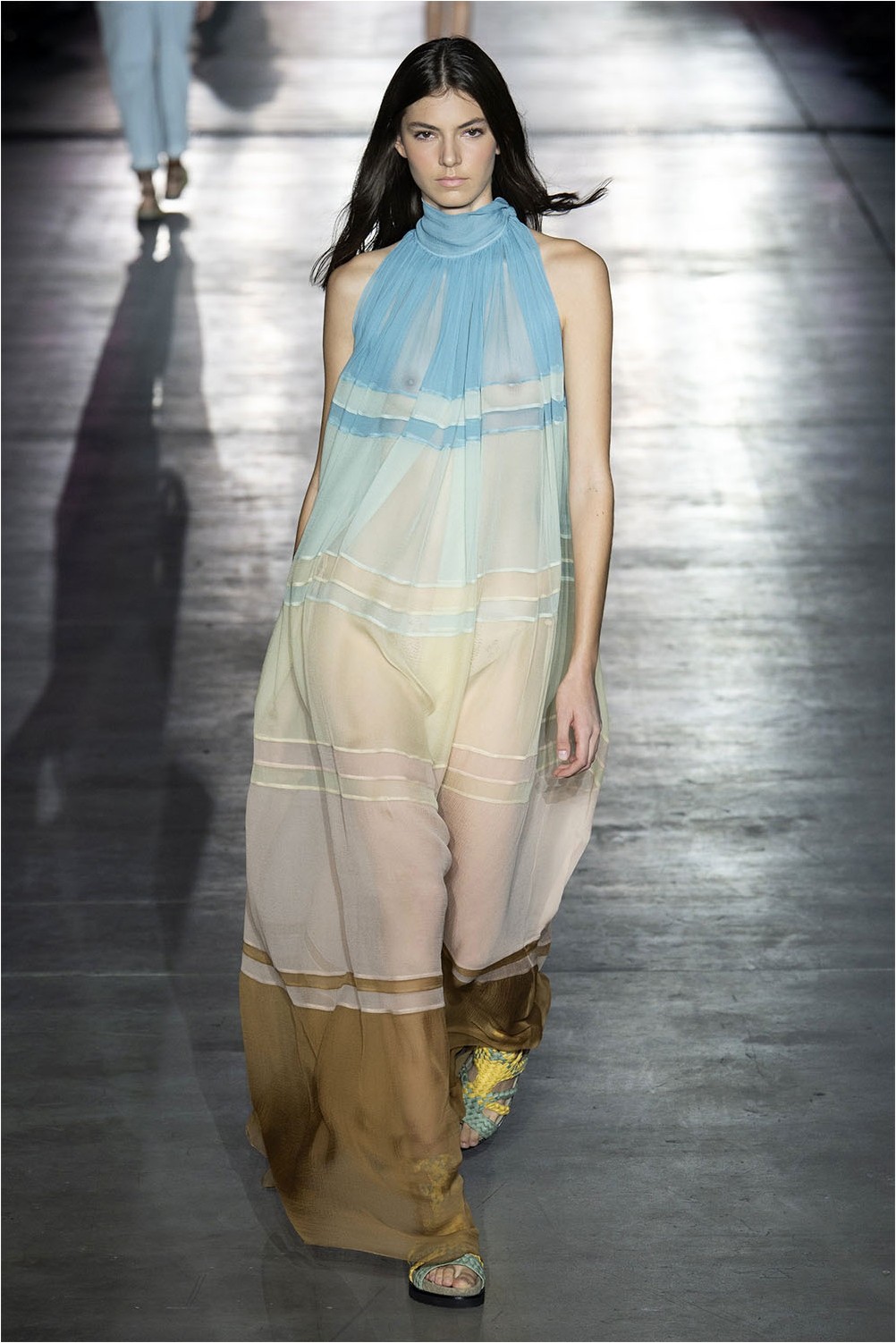 Alberta Ferretti and Christian Dior made a bet on a gentle gradient. Unusual color tints using the Tie-dye technique are reflected in No. dresses. 21, Paco Rabanne and Prada.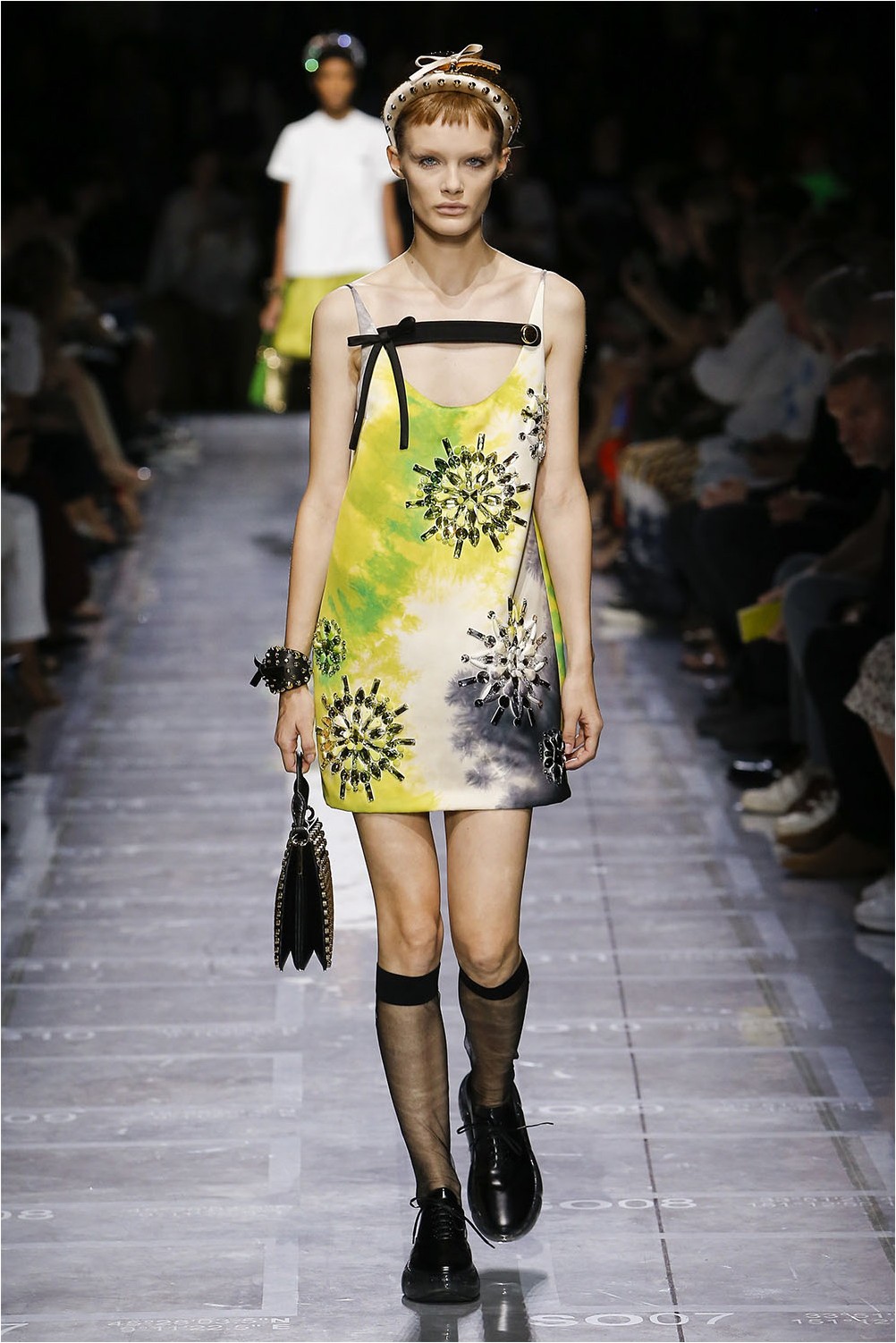 Shuttlecocks and ruffles
Romantic Victorian era still inspires designers to create models with an infinite number of ruffles and flounces. Madame Bovary's style became key at the September fashion shows. Dresses from lace fabric, bows and frills with ruffles from Coach, Dolce&Gabbana, Giambattista Valli became the new embodiment of the era of romanticism.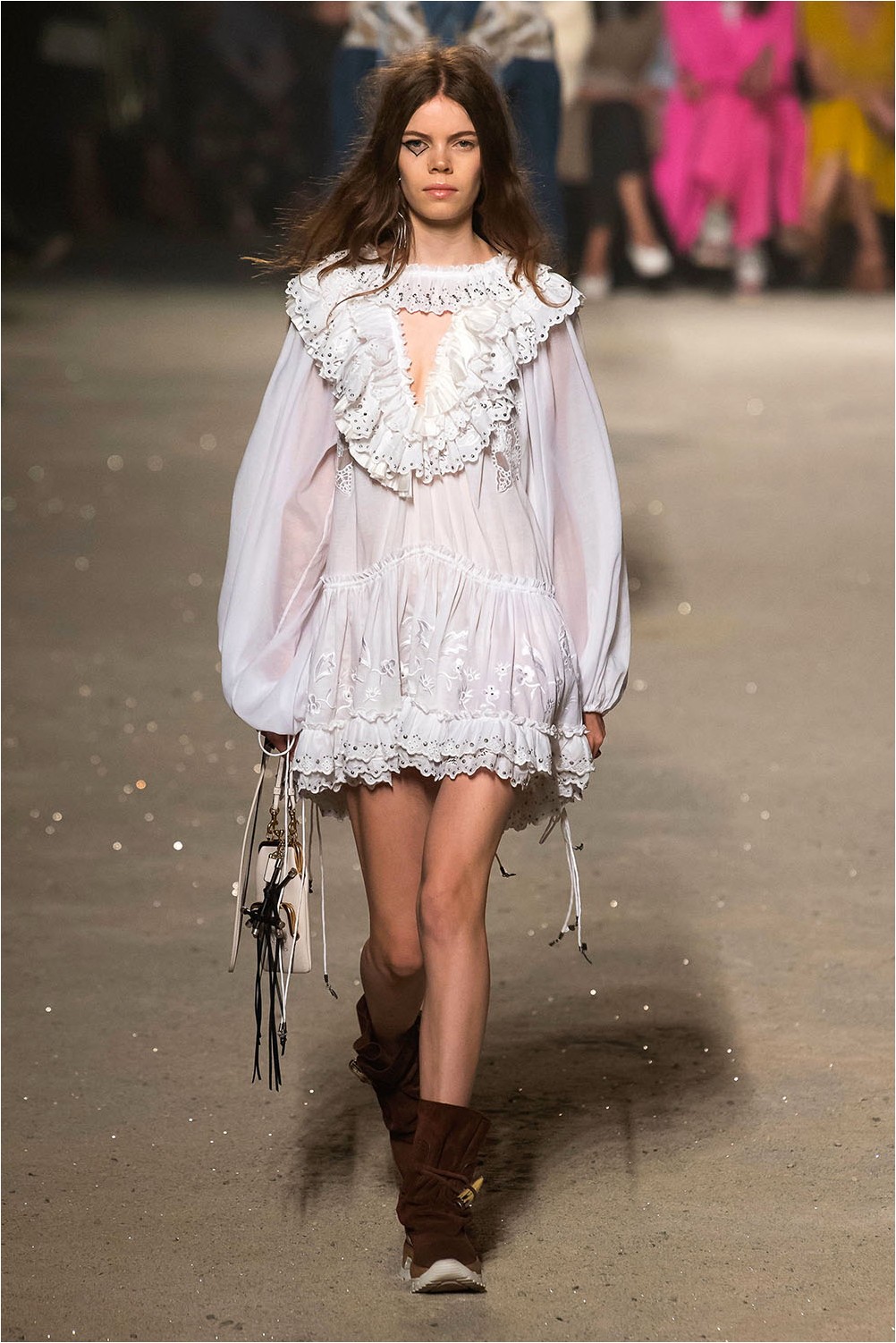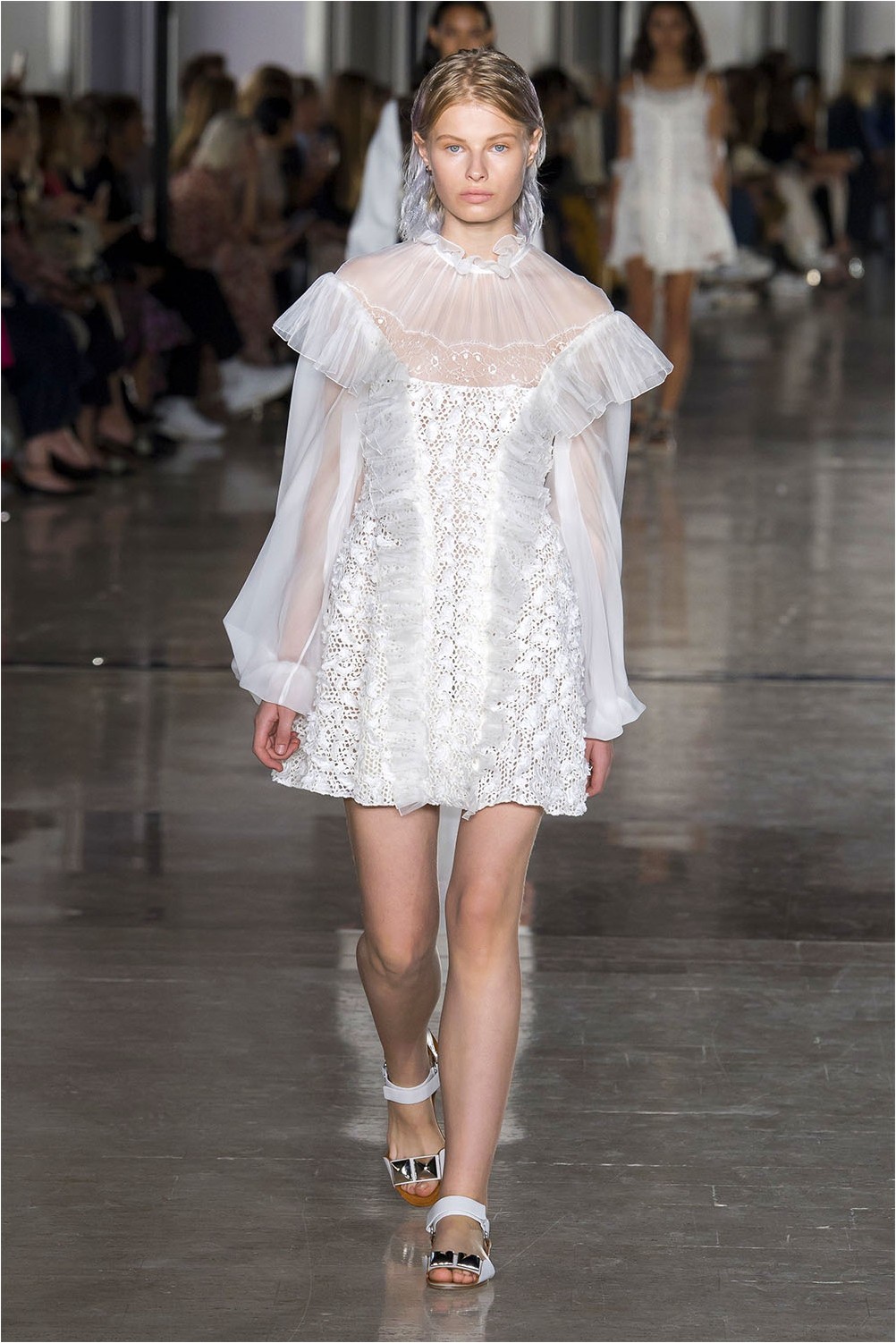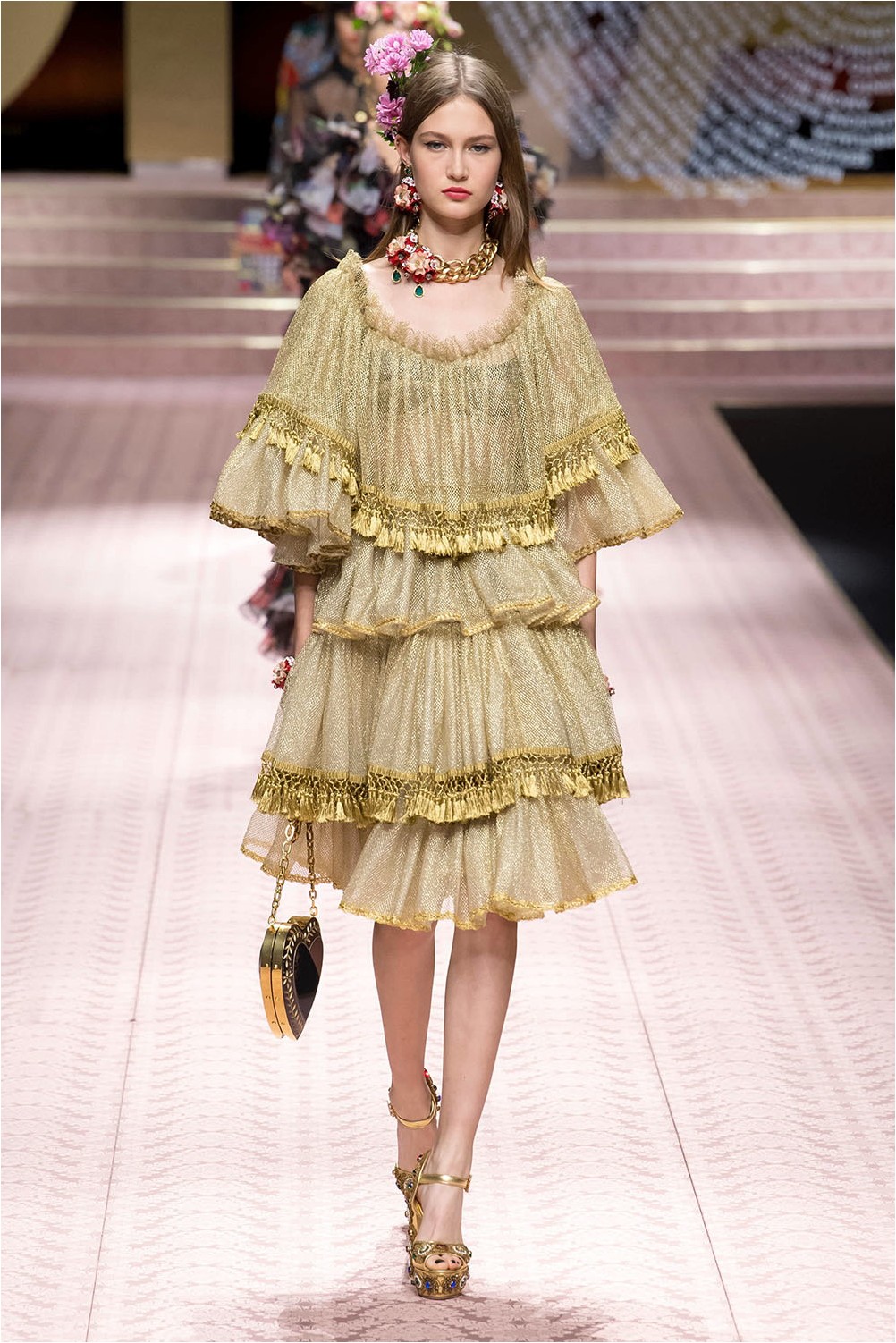 Also, the trend will be large flounces on the hem of dresses, such as in models from David Koma, Carolina Herrera.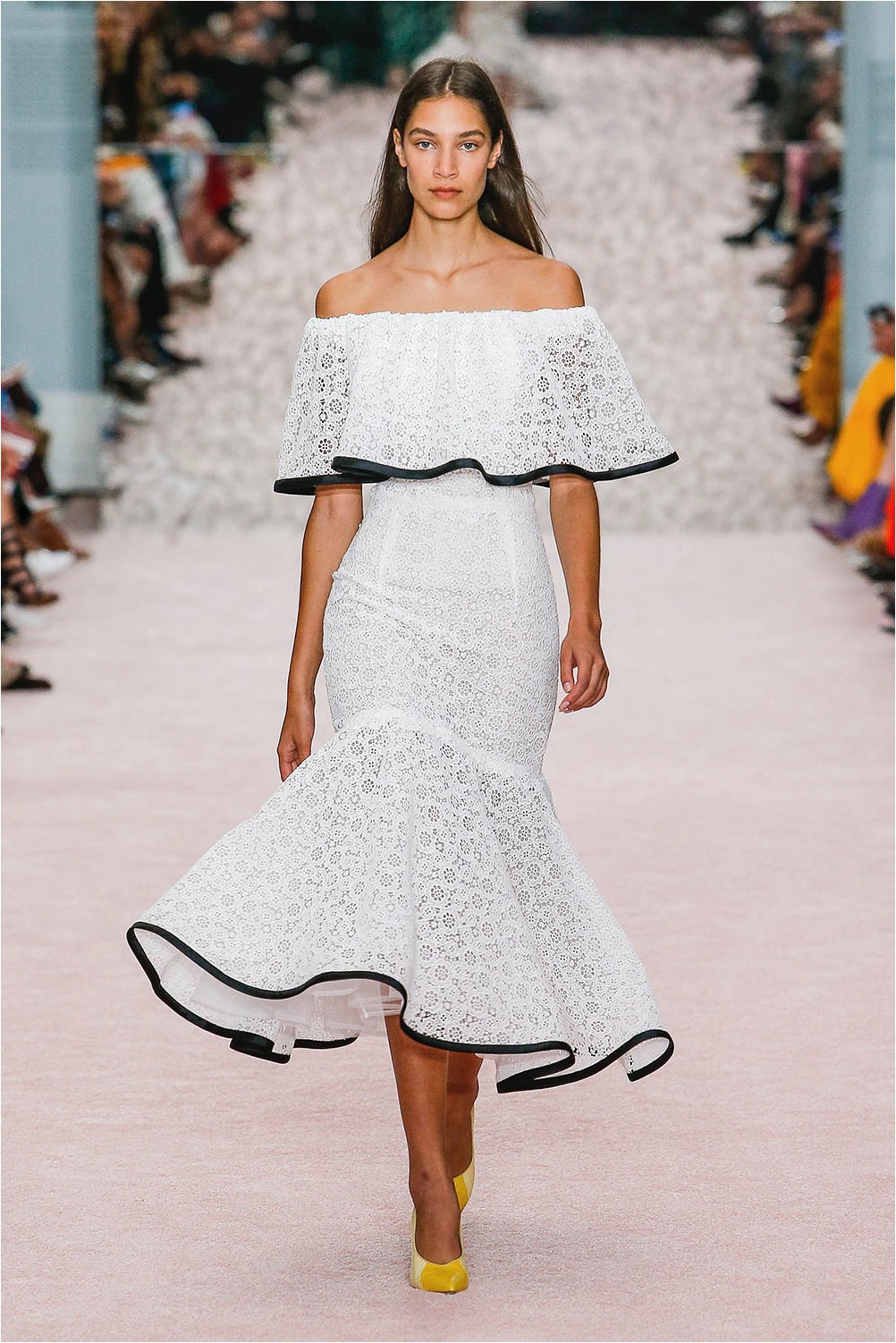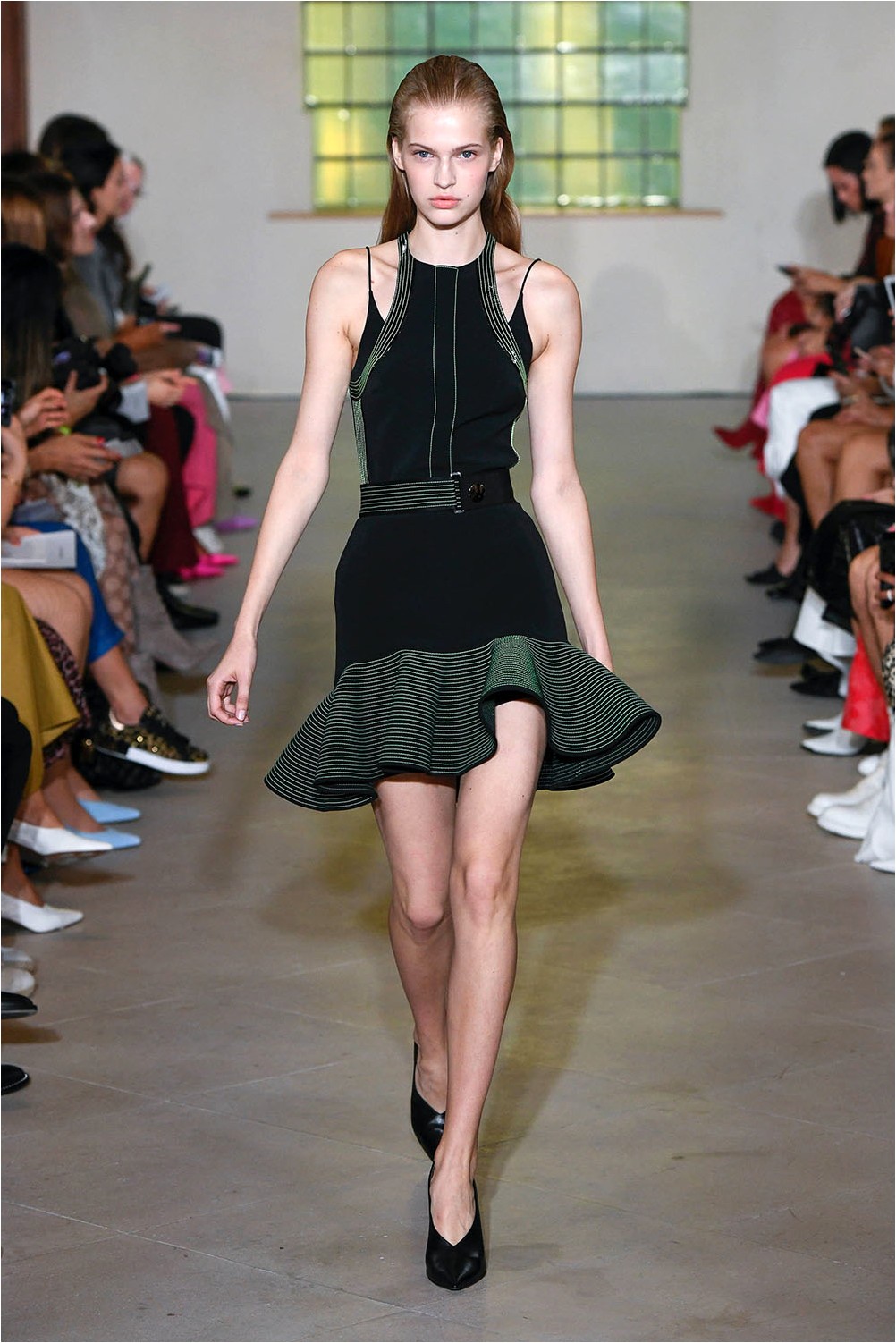 Another fashion trend of the spring-summer season 2019 is huge bows twisted into lush roses, like on dresses from Miu Miu and Marc Jacobs.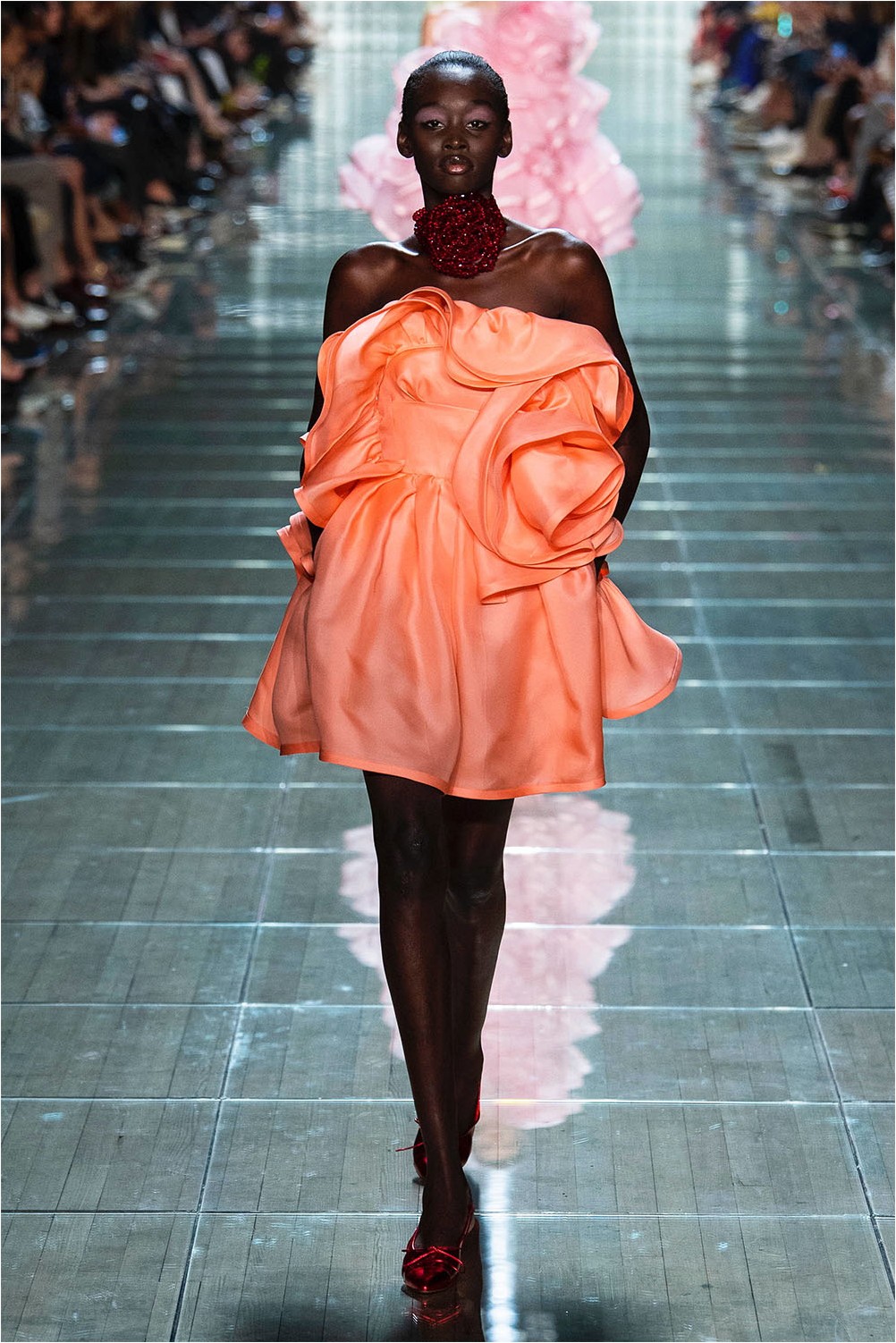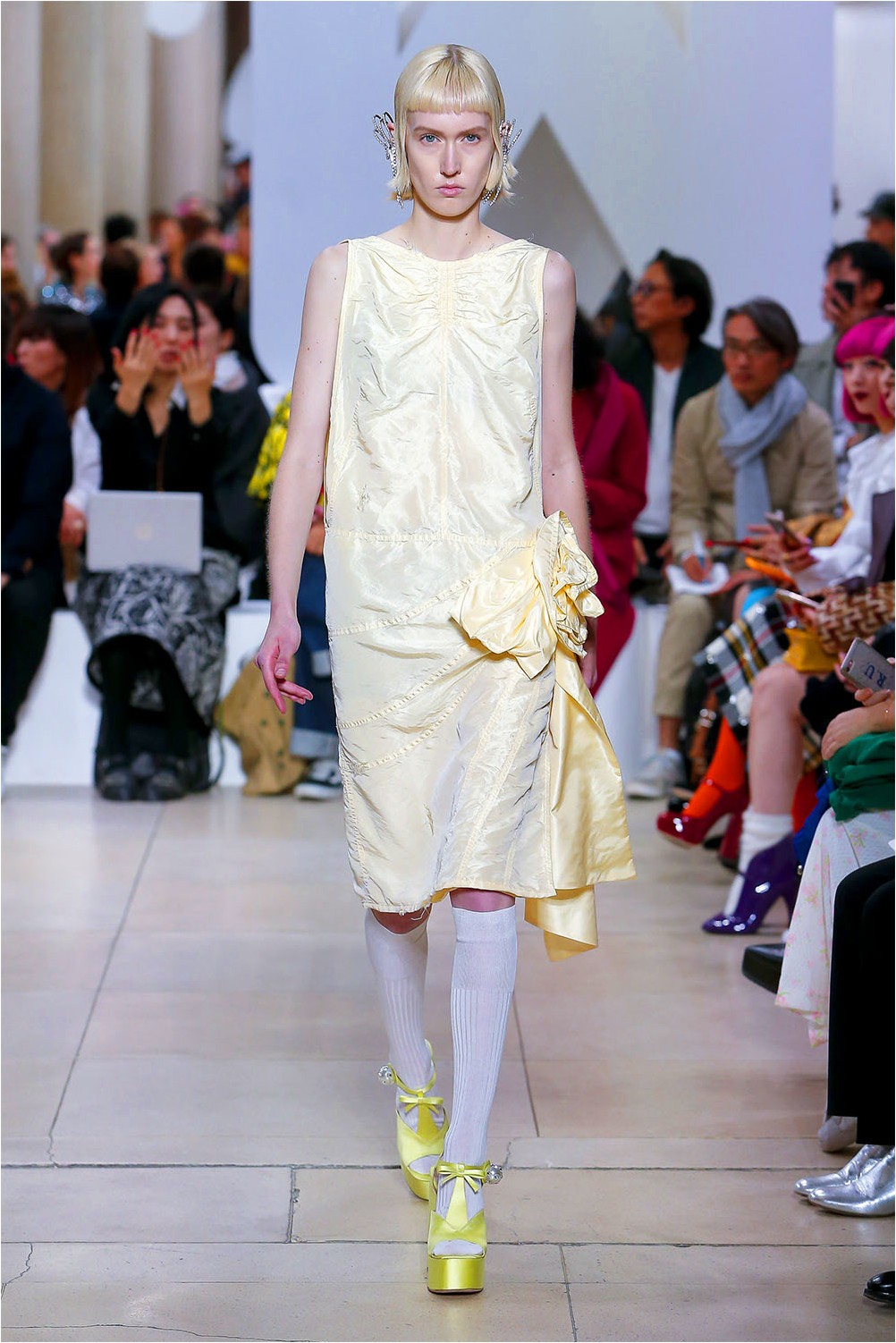 Marine motives
Marine themes dominated many haute couture collections. Shiny sequins in green, azure and blue tones, stylized fish scales, appliqués in the form of starfish and shells – all this symbolized the beauty of the water element. Holographic dresses with marine motifs were found at Céline, Badgley Mischka, Anna Sui, Andrew Gn and Christopher Kane.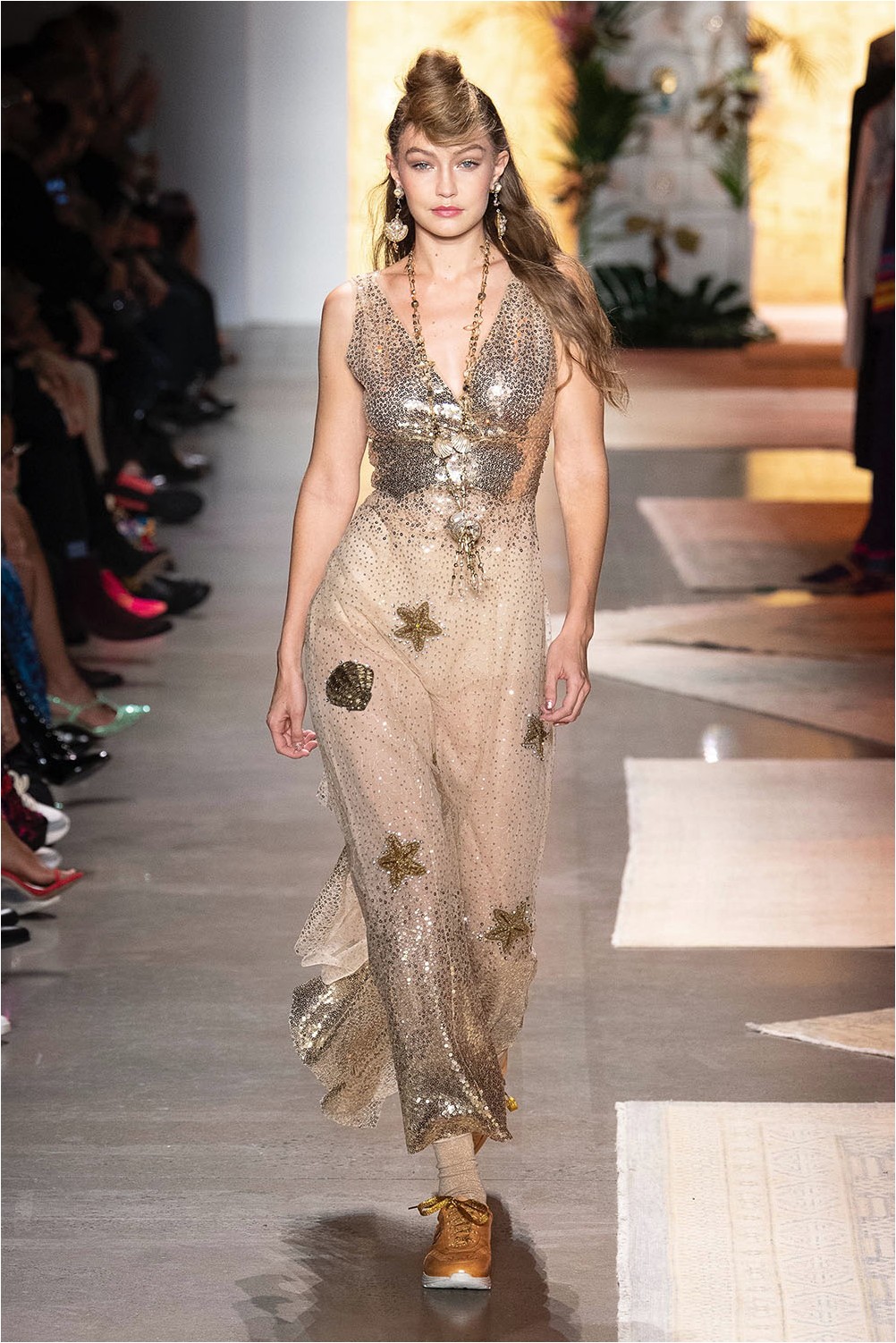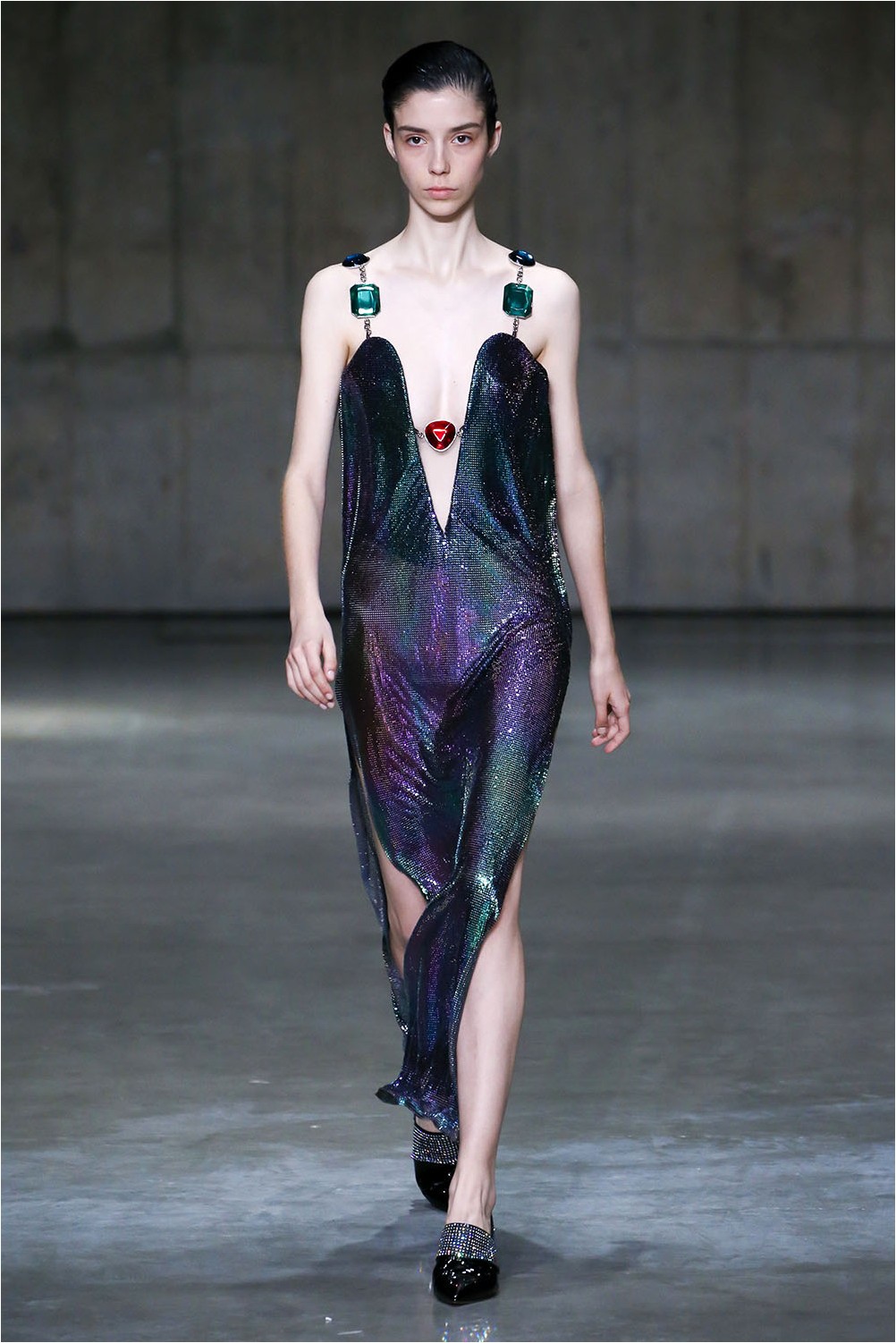 Fluff and feathers
Interest in fringe is either dying away or now showing itself with renewed vigor. For the second season in a row, the enthusiasm of designers for this finish has noticeably diminished. In her place came lush glamorous feathers..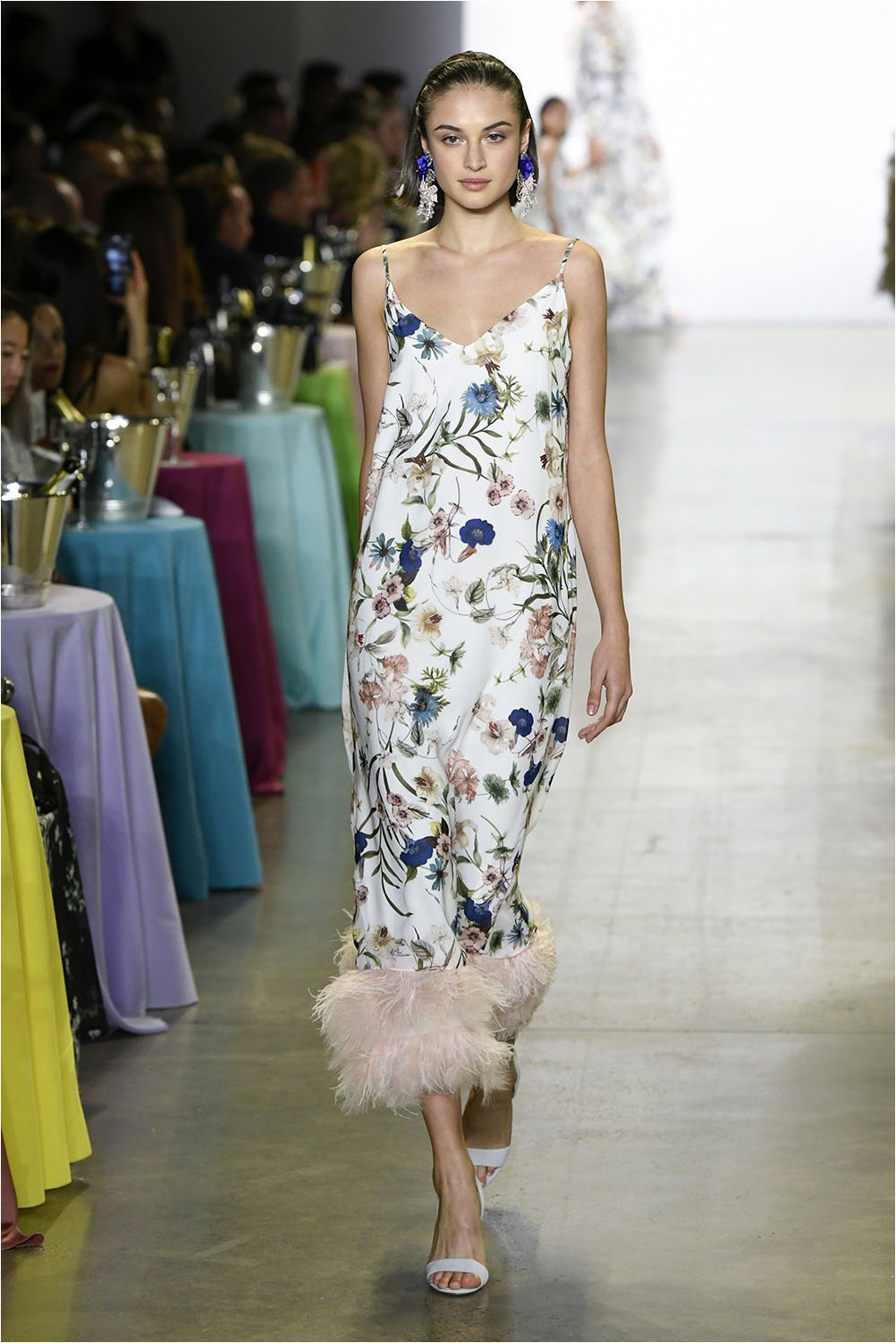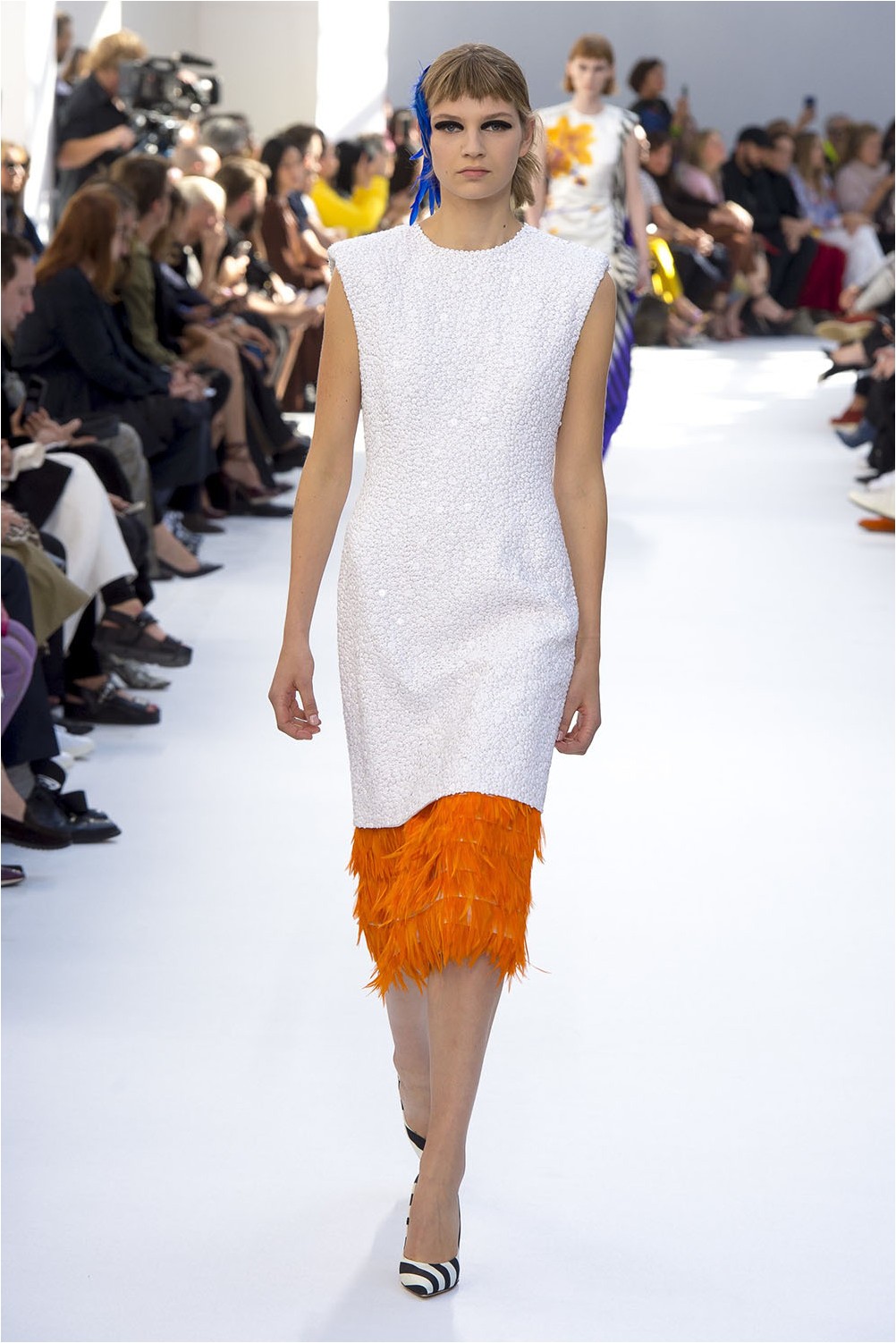 The attitude to this decor can be ambiguous. But one thing is clear – the design of feathers breaks records in popularity in the fashion world. If you decide to replenish your wardrobe with such a dress, then choose models in which the fluff serves as a finish, like Badgley Mischka and Céline. For the most daring experimenters – bright dresses with feathers all over the canvas, like No. 21 and fluffy puff sleeves, like Céline.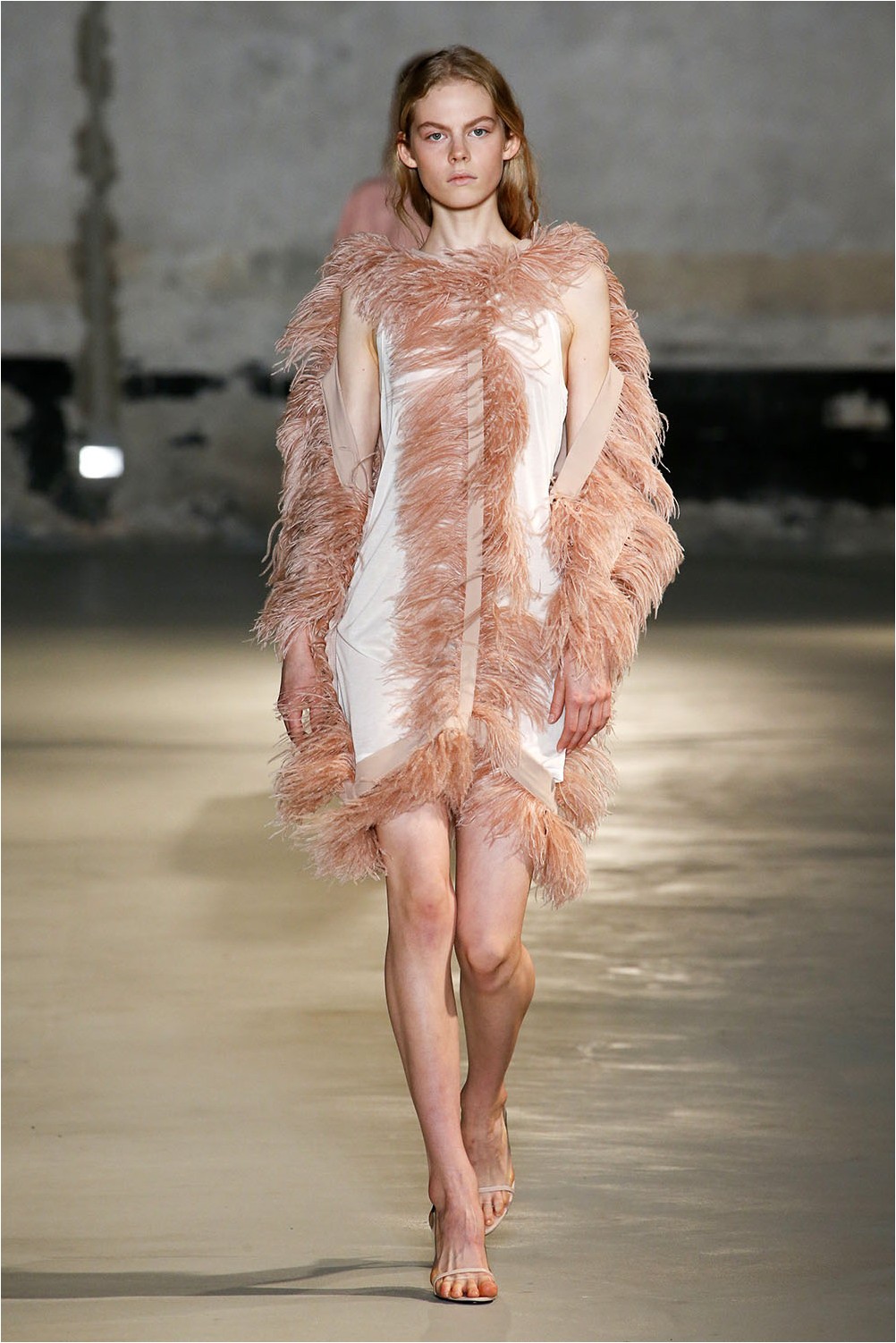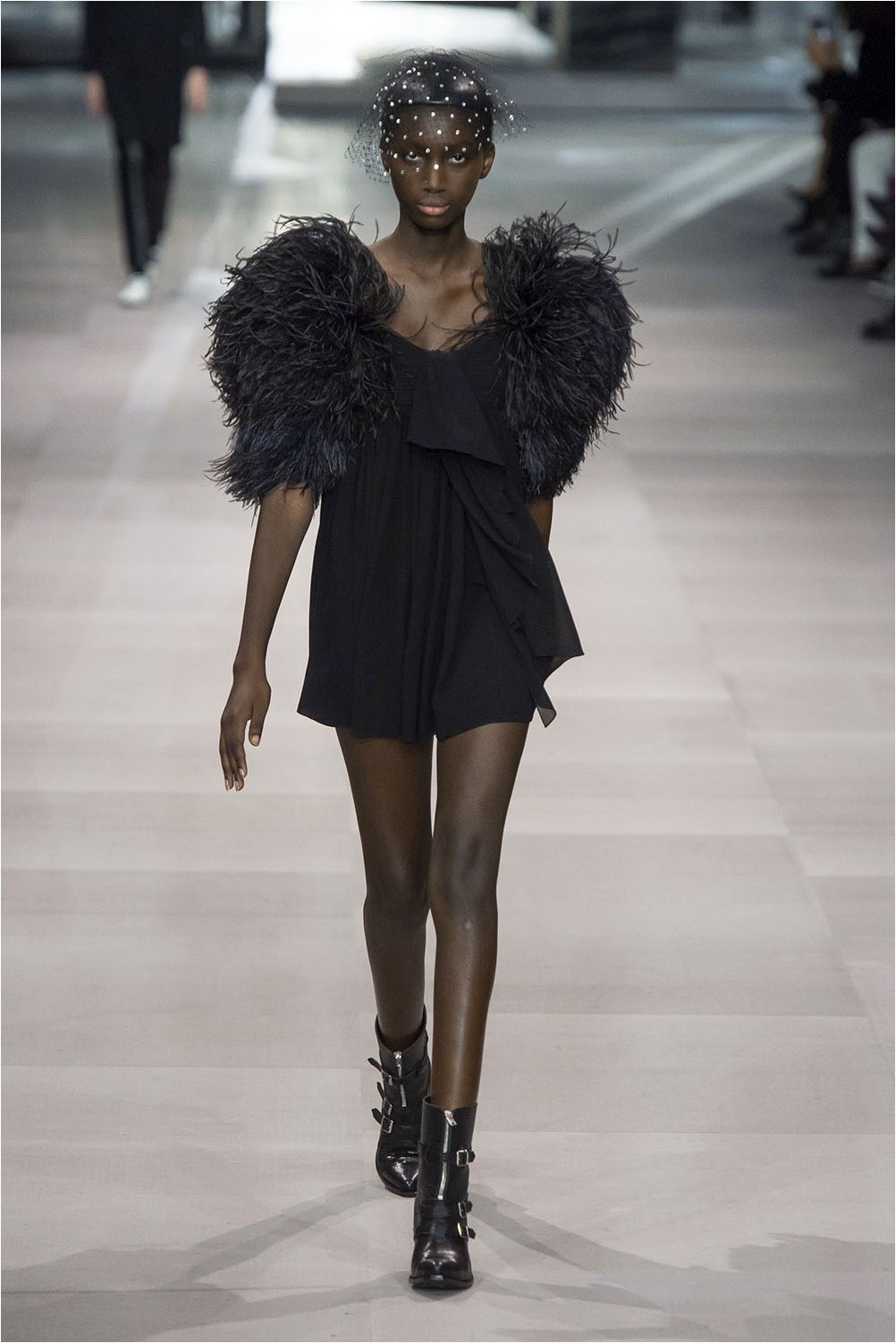 Combined print
The trend for combining is as relevant as it was a year ago. In a fashion combination of fabrics with different prints. Bright and multi-color dresses with a combination of different types of millefler, predatory print, stripes, cage and "Polka dot".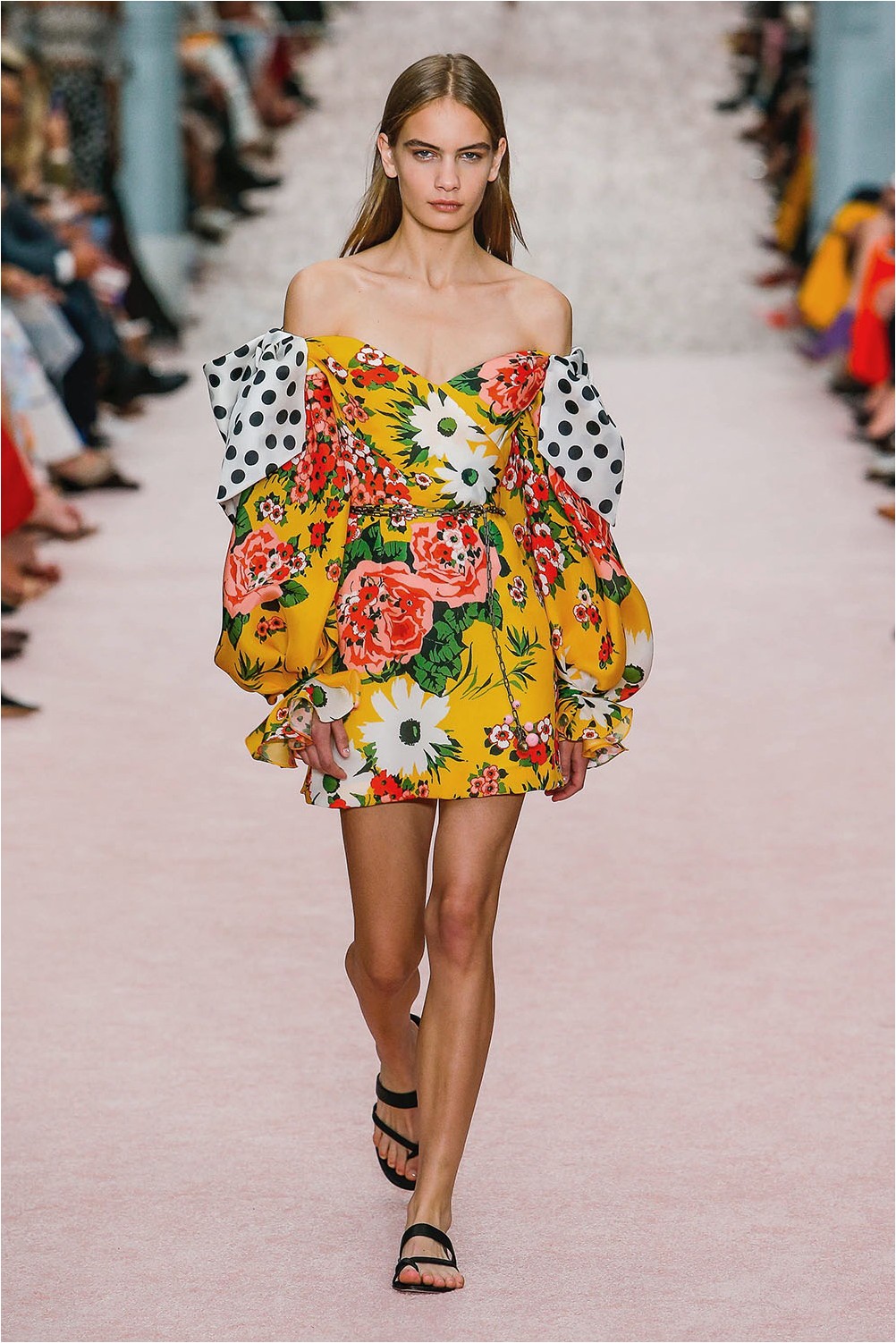 Models from Carolina Herrera, Antonio Marras, Versace, Zimmermann look colorful and original. Sometimes dresses look so variegated that they resemble a cozy patchwork patchwork technique.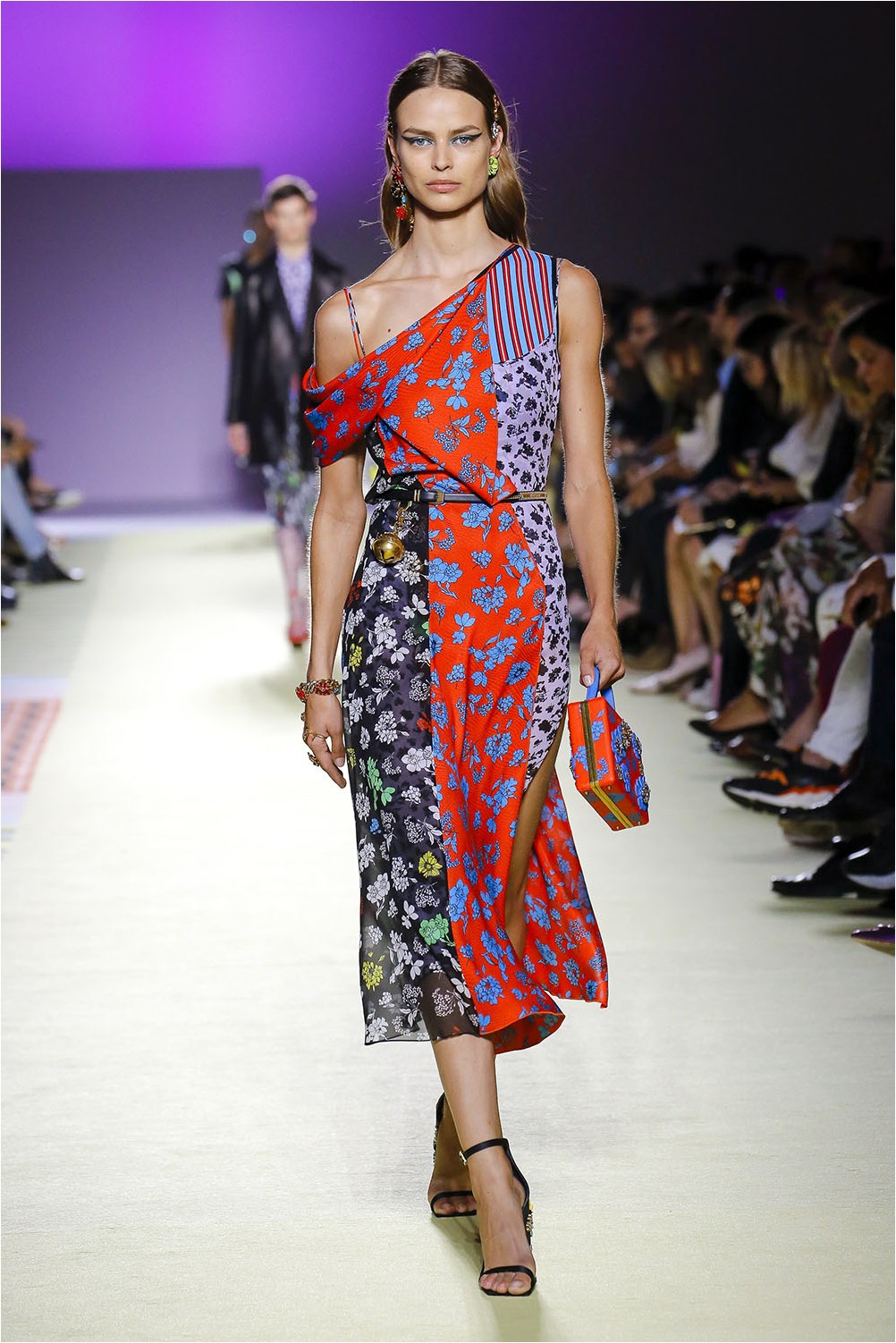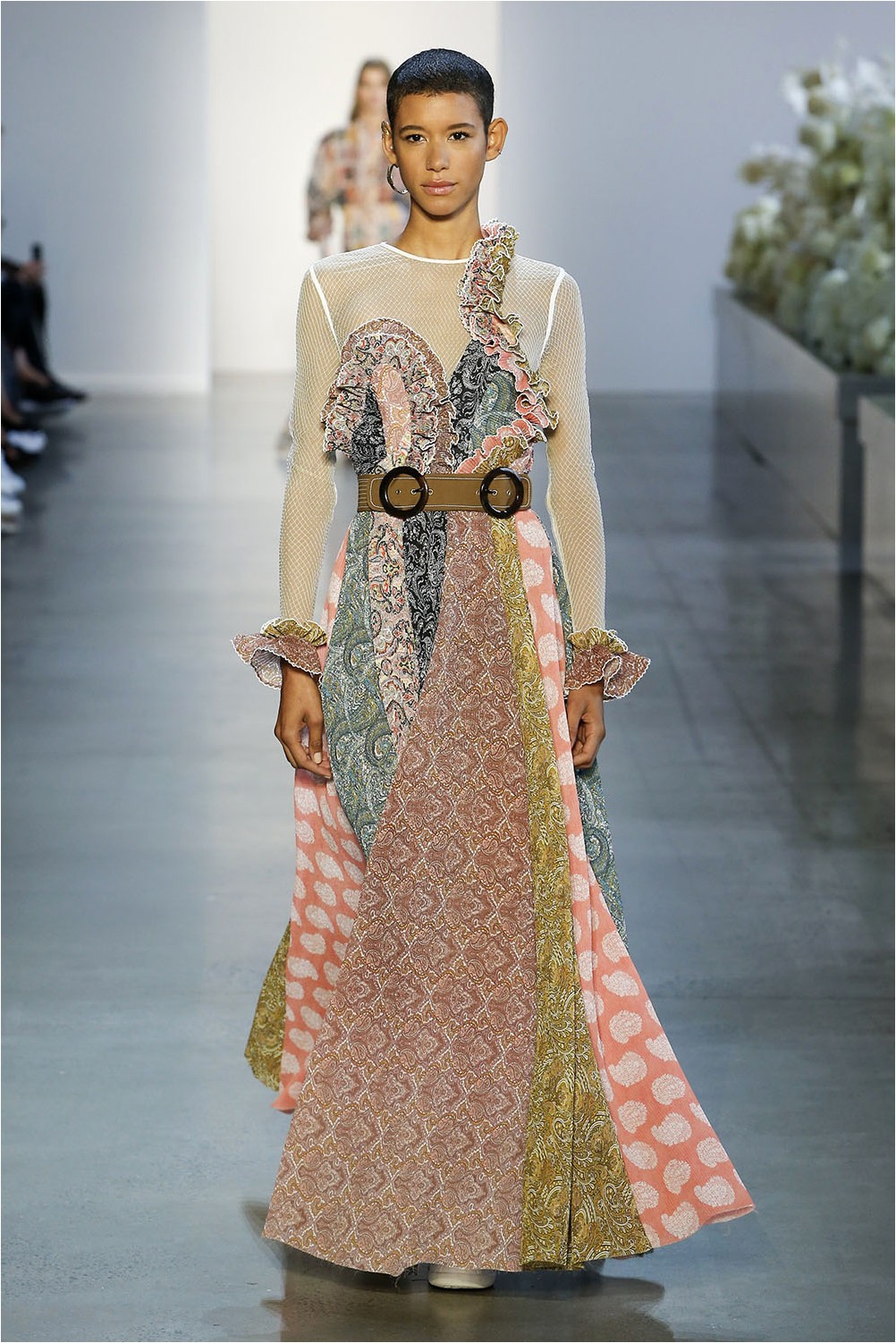 White dress
Snow-white dress is now not only a privilege of brides – designers of the most authoritative fashion houses decided. And they offered a whole series of white dresses. In the spring and summer of 2019, white mini, midi and maxi dresses will be in fashion.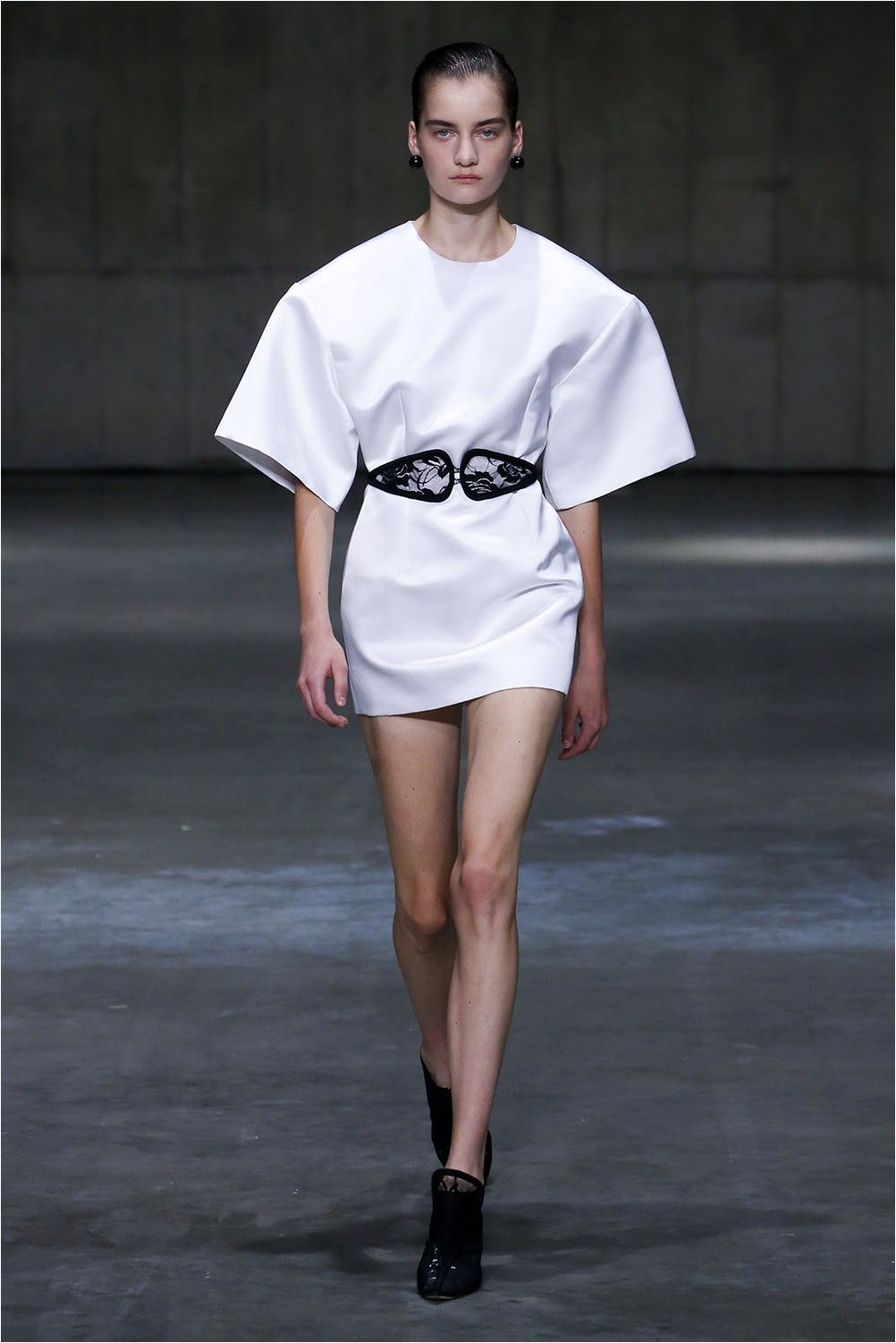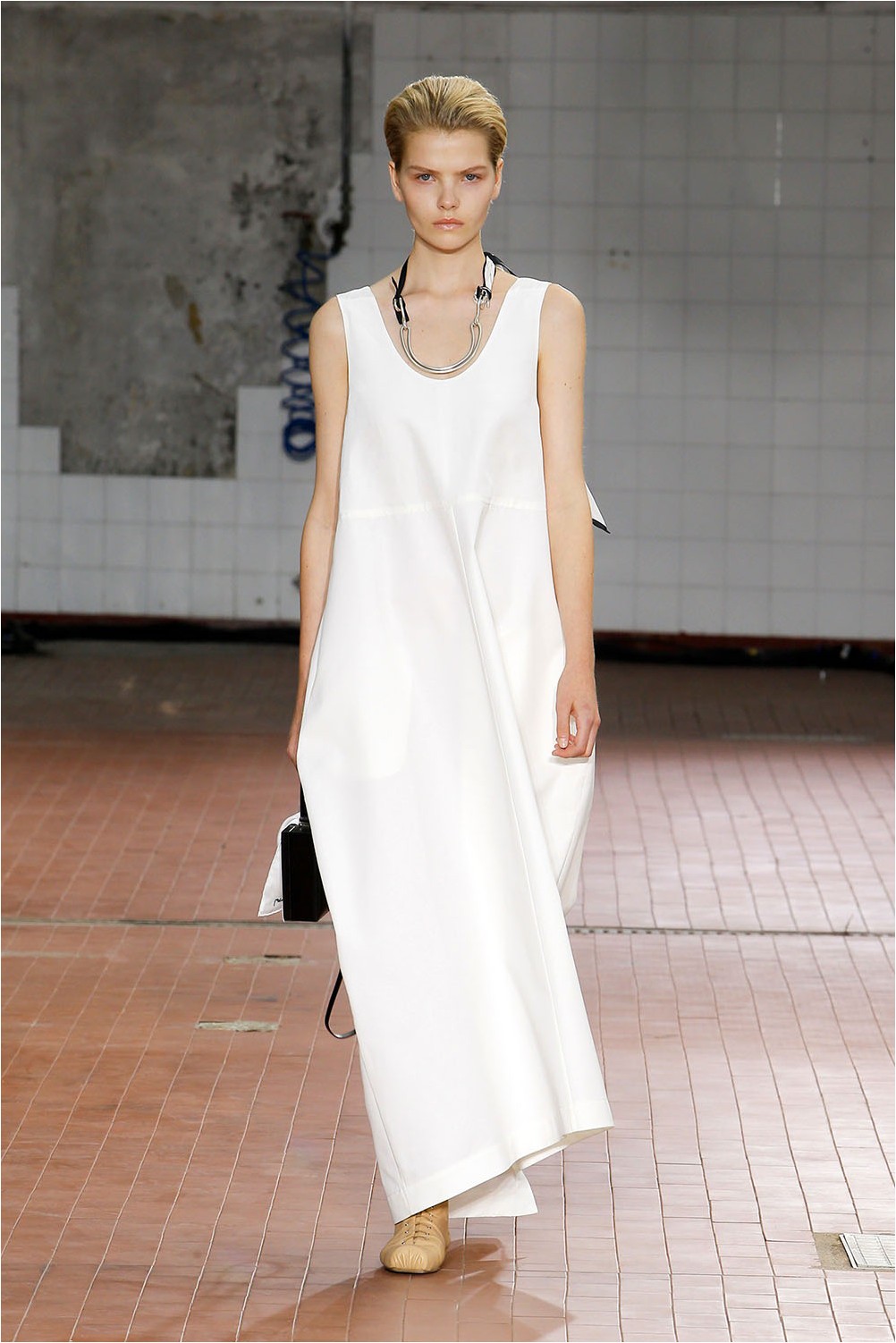 There are a lot to choose from: classic from Badgley Mischka, avant-garde from Christopher Kane, asymmetry from David Koma, oversize from Jil Sander. But be careful with white dresses. Their plus – they "refresh" and take off age. Minus – visually white can add a few kilograms.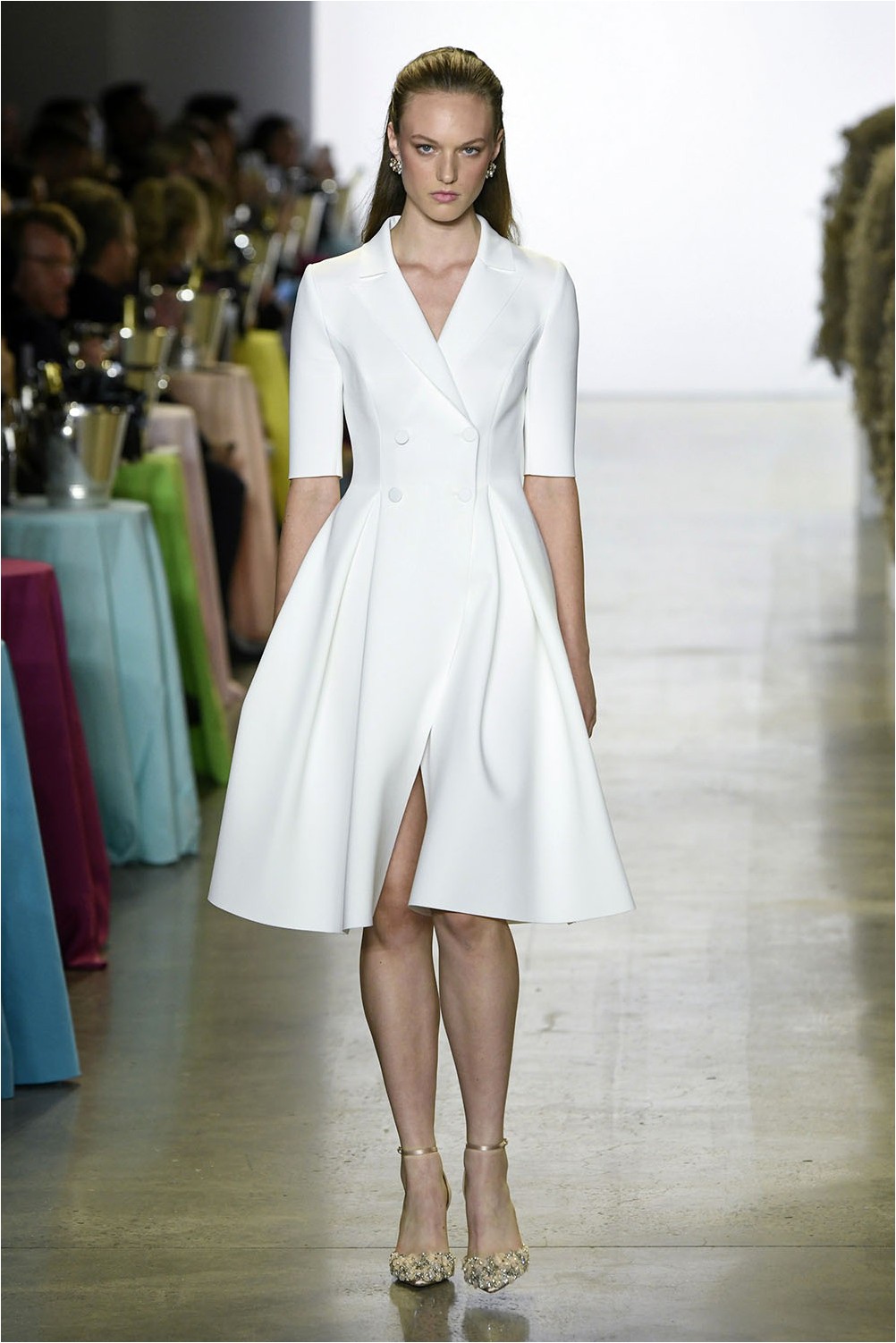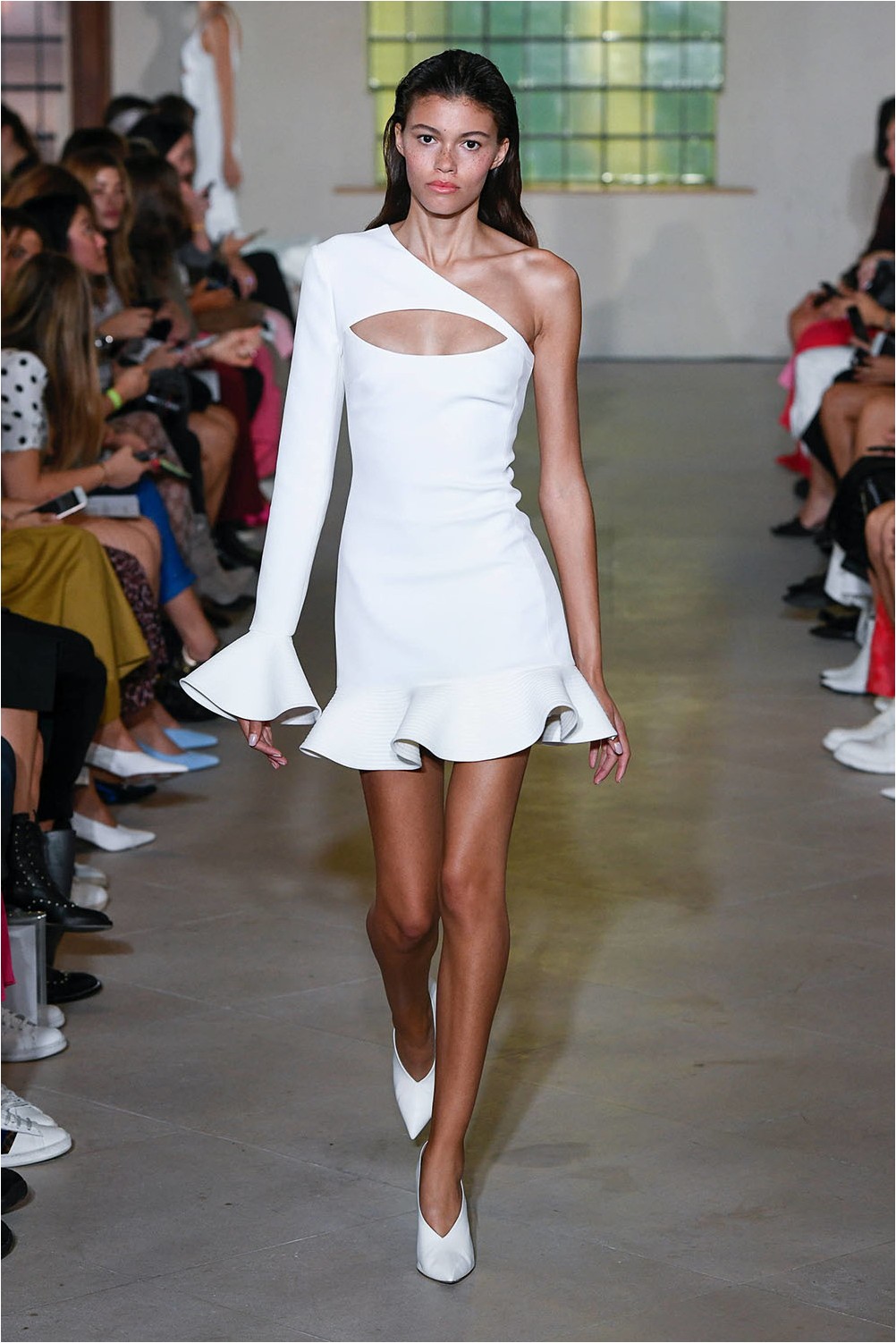 "Polka dot"
Vintage dresses "Polka dot" in the top of the most fashionable. And this is not surprising, because the fabric "Polka dot" is recognized as feminine and romantic. In the spring-summer season 2019, the trend will be a drawing of different shapes, colors and sizes.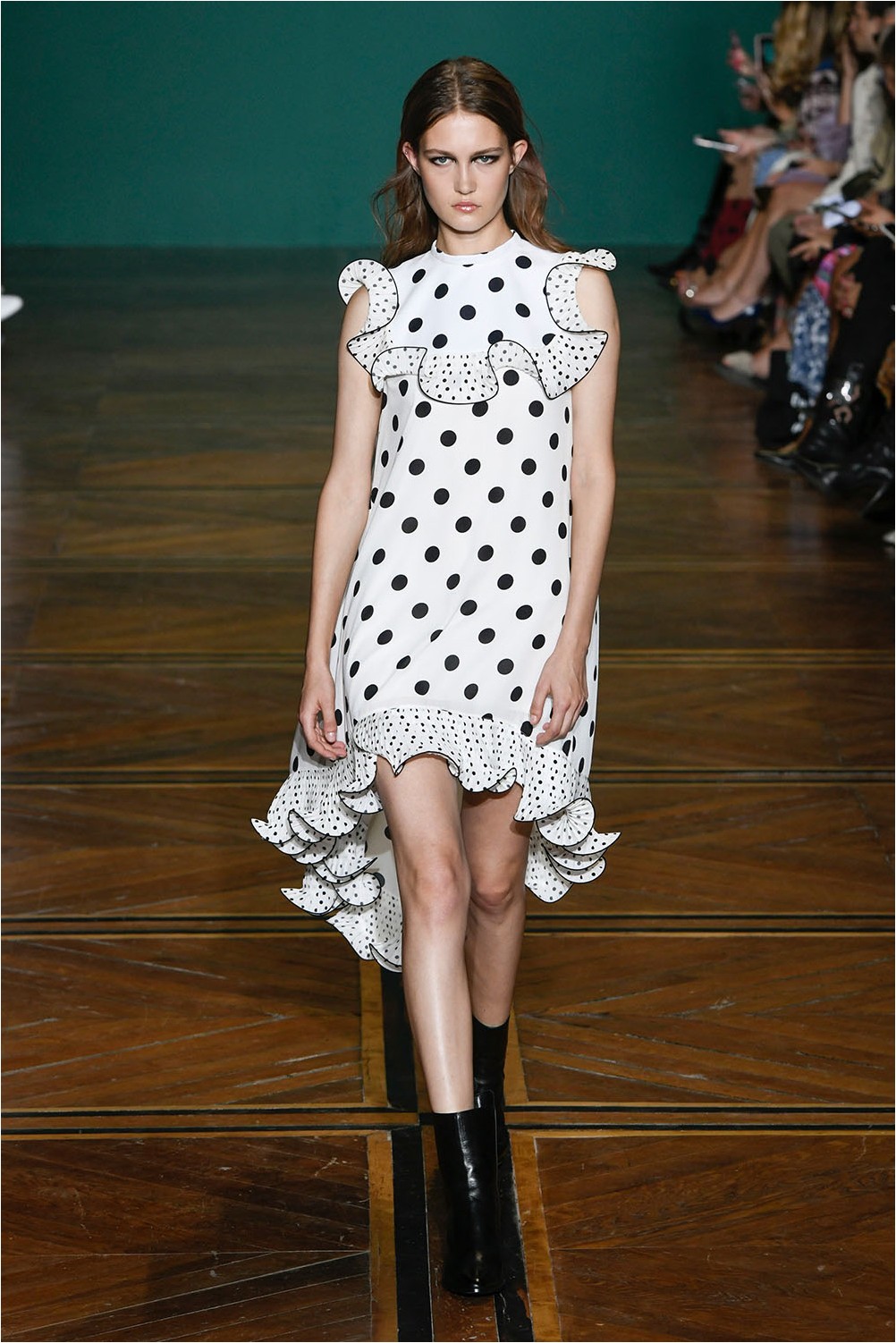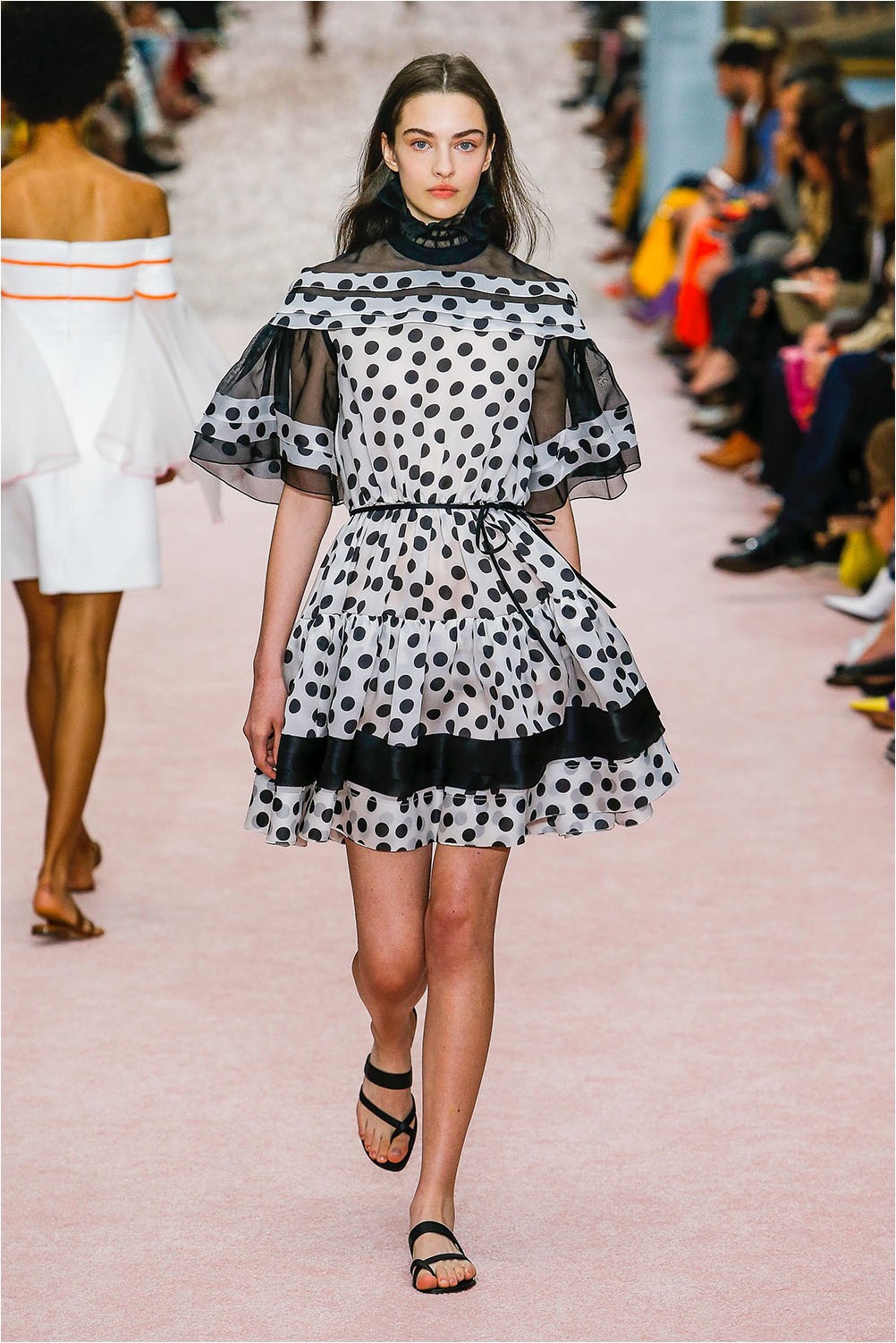 Actual combination of small and large drawing "Polka dot". Now you can include such a dress even in a business style, as Max Mara designers did.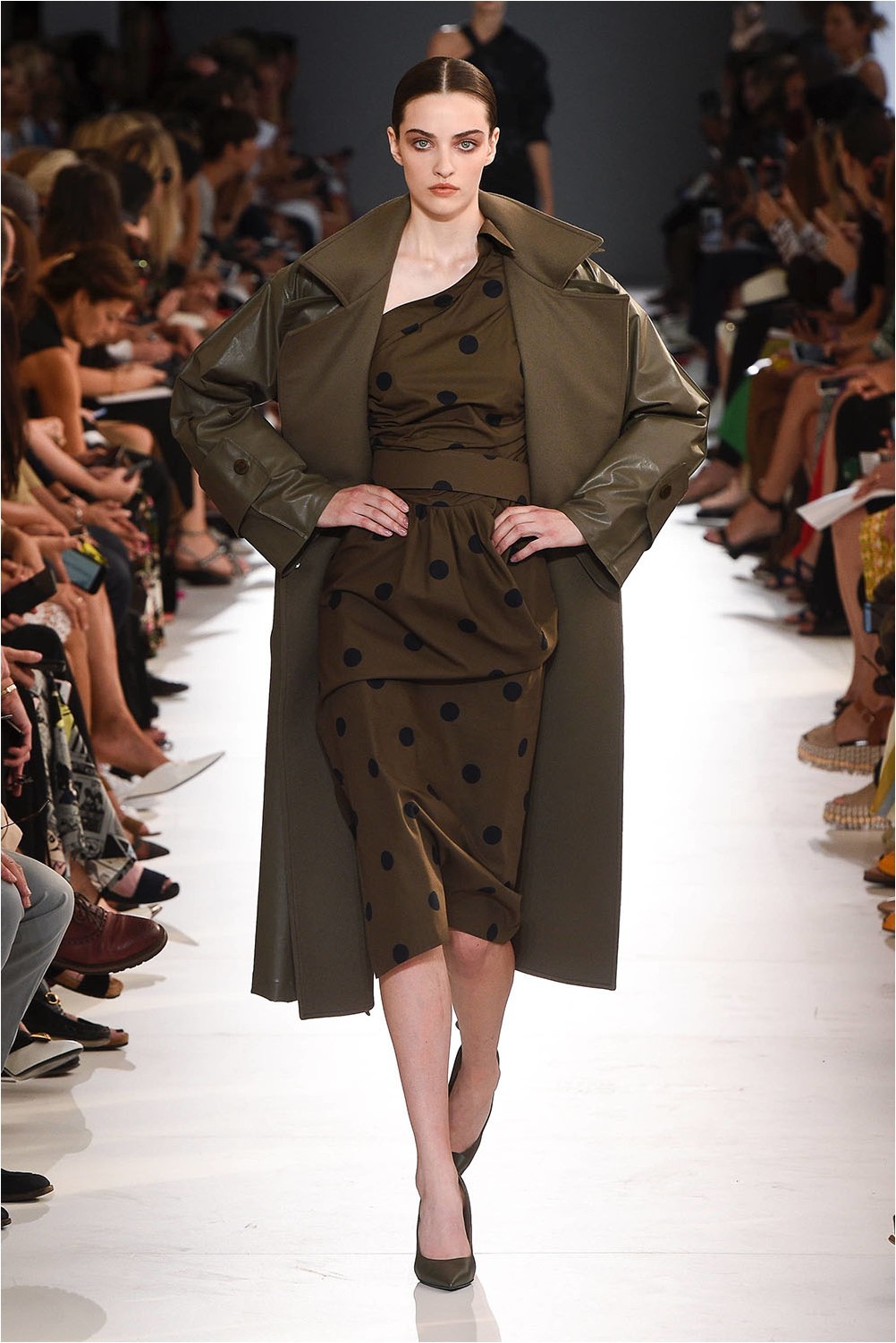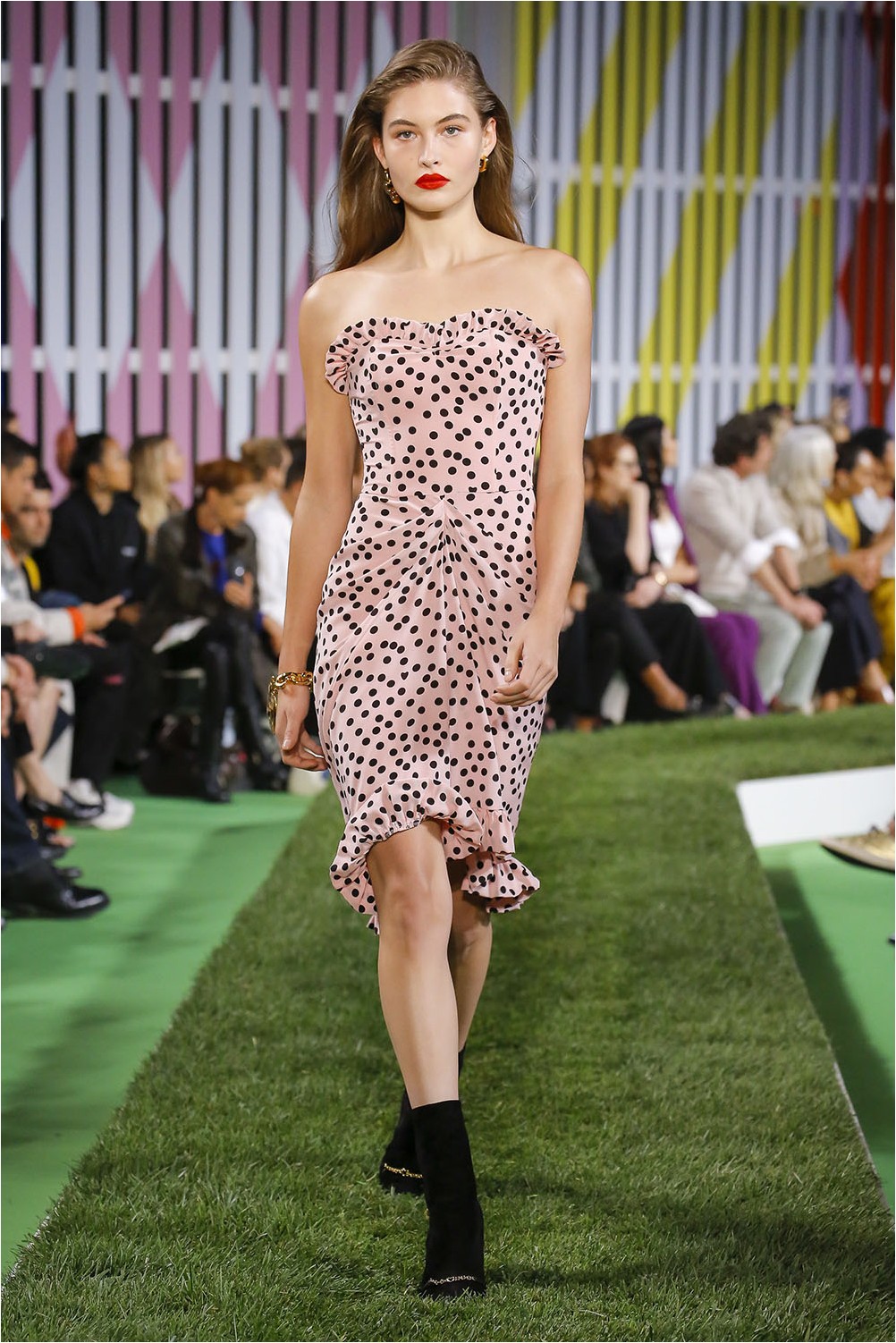 Floral print
Not a single spring-summer season can do without a floral print, because this is the most iconic coloring of the warm season. On trend dresses from Dolce&Gabbana, Escada, MSGM, Carolina Herrera bloomed colorful glades of bright colors.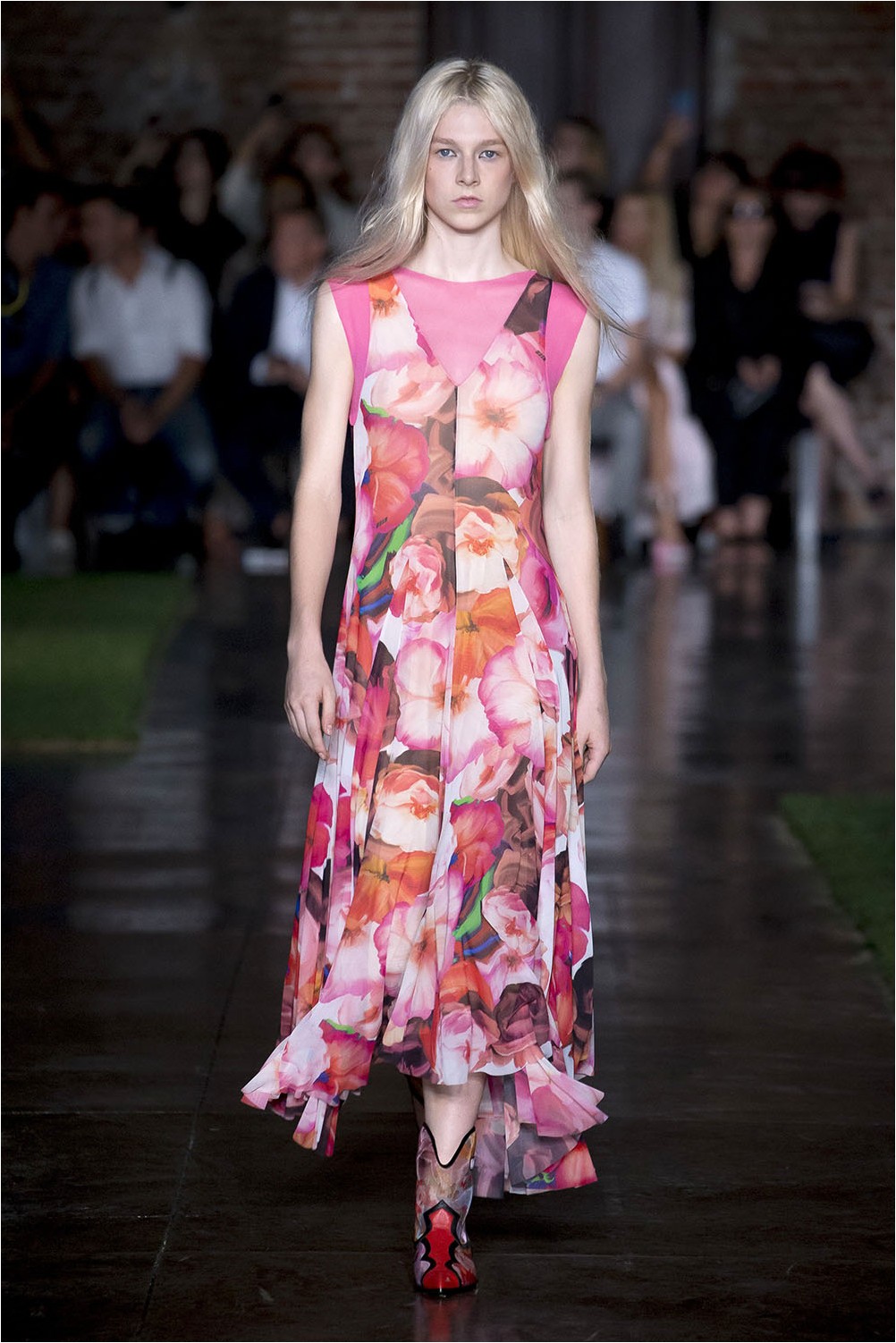 A dress in transparent chiffon with a small floral print will be especially popular in the spring of 2019. This is exactly the option suggested by Fendi, Paul&Joe and Elie Saab.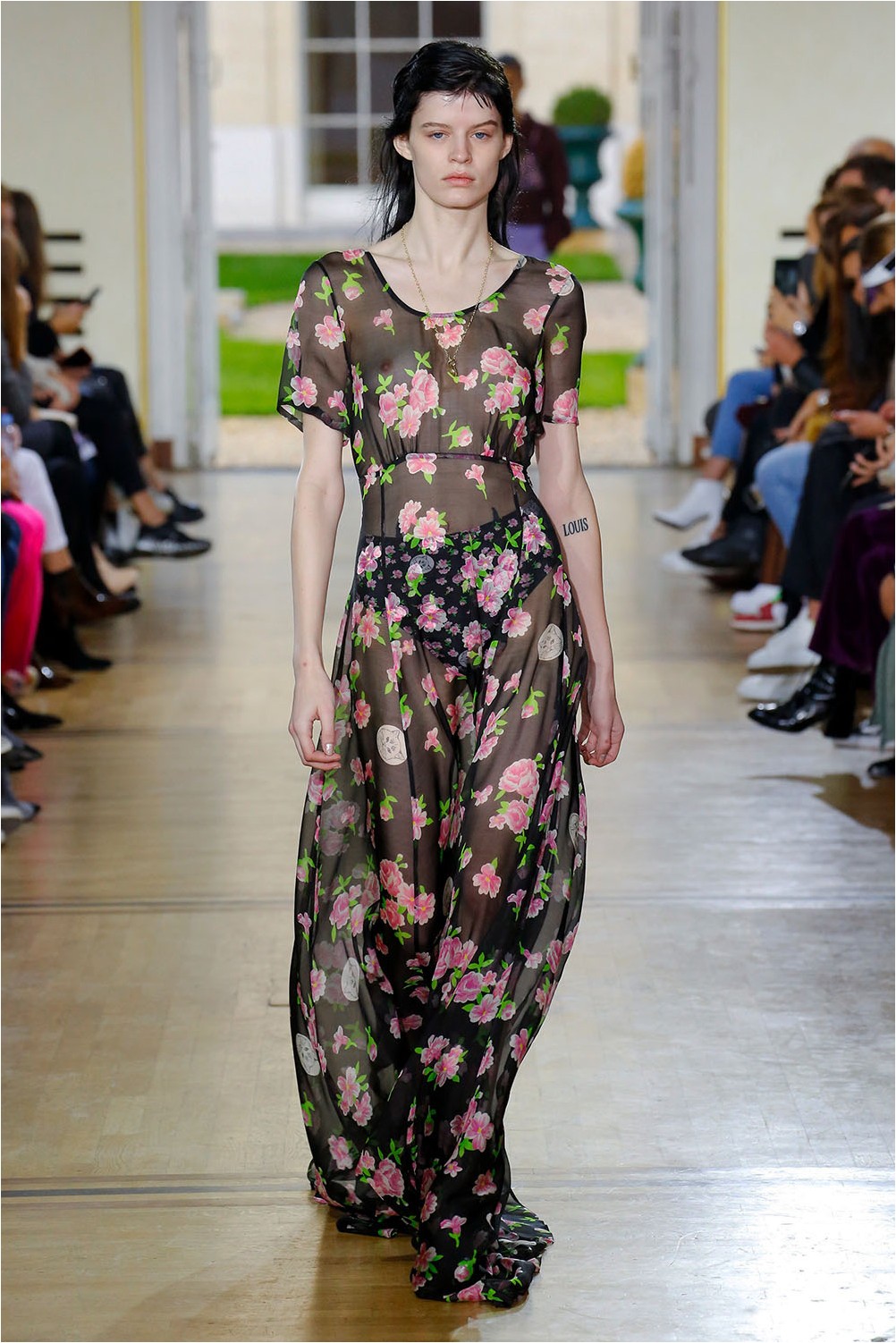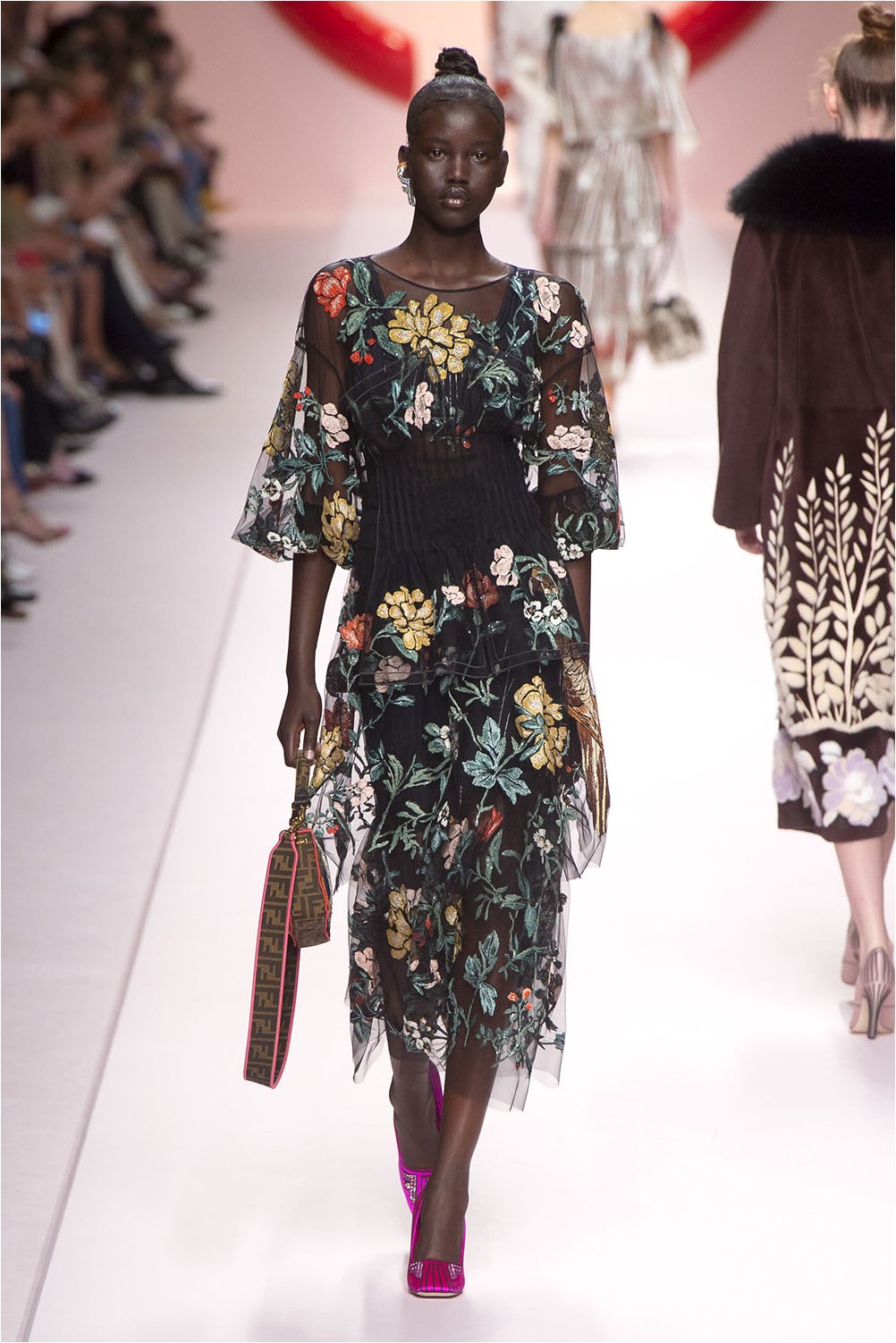 Accordion pleats
Pleated goes beyond the classics and becomes an independent decorative element. Dresses in which folds of different widths are combined are in fashion. Now the pleated can pass not only along the canvas, but also across, along the oblique and even in a circle in fashionable shell sleeves.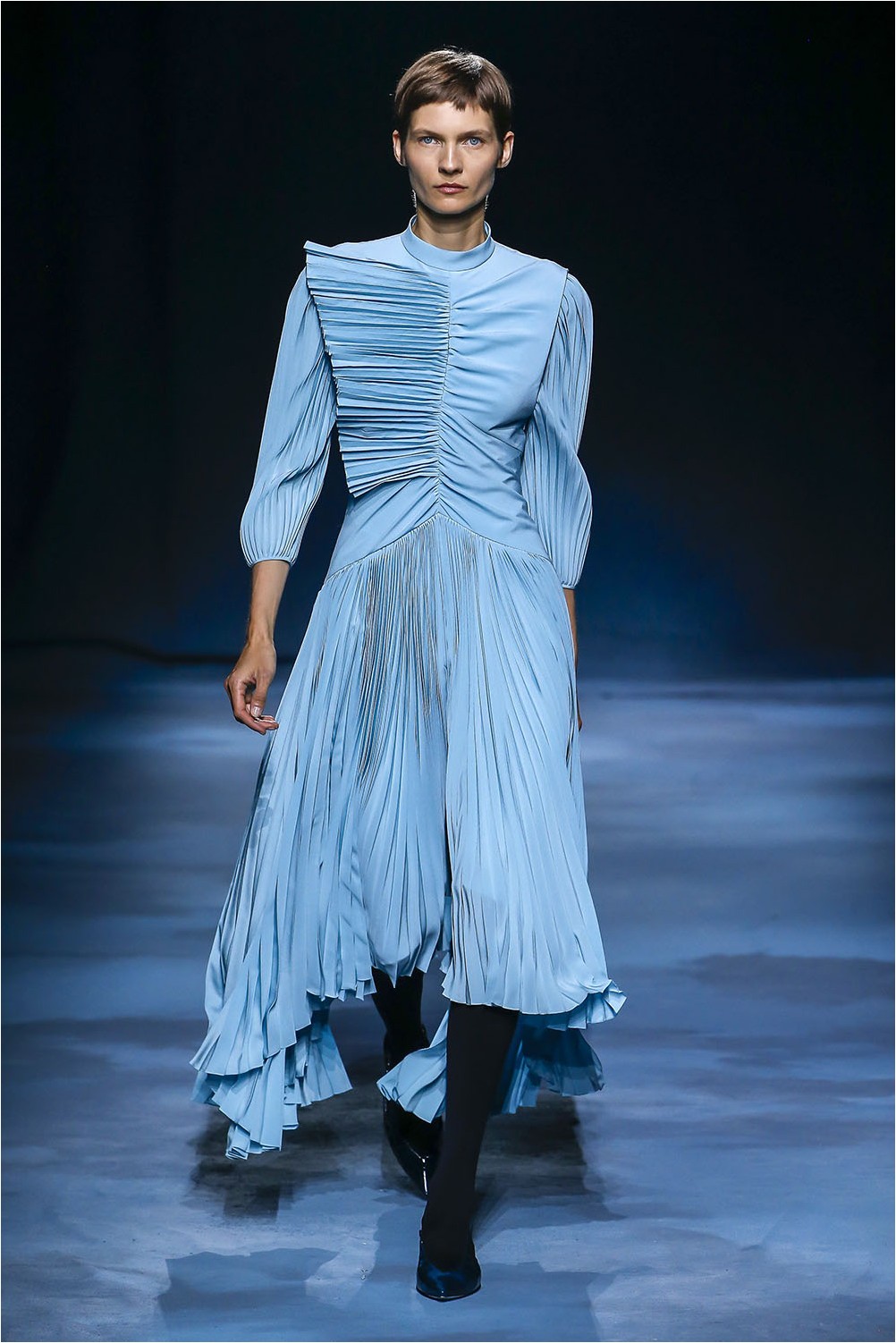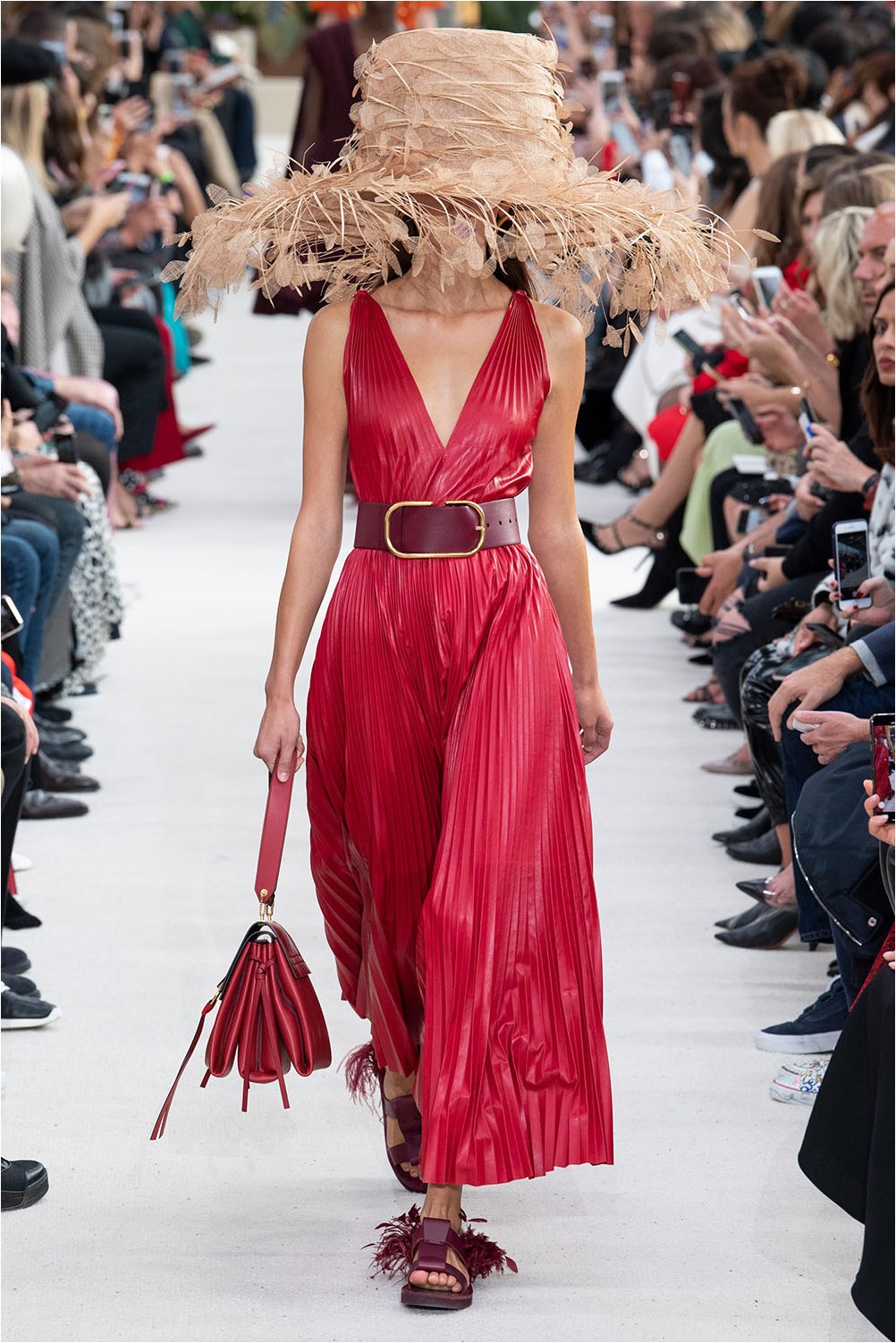 Especially in fashion is the combination of pleated fabric, asymmetry and dresses with pleated inserts.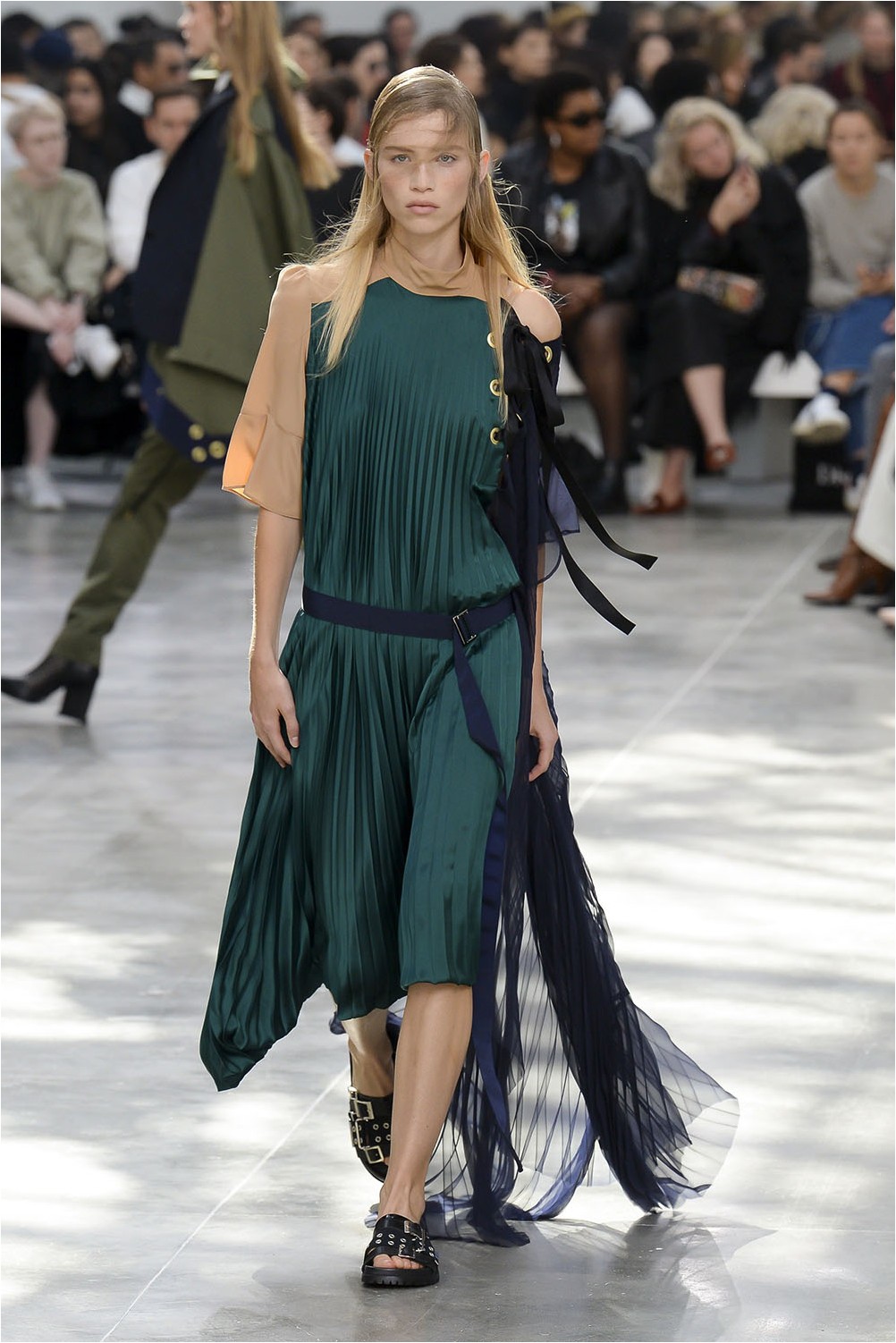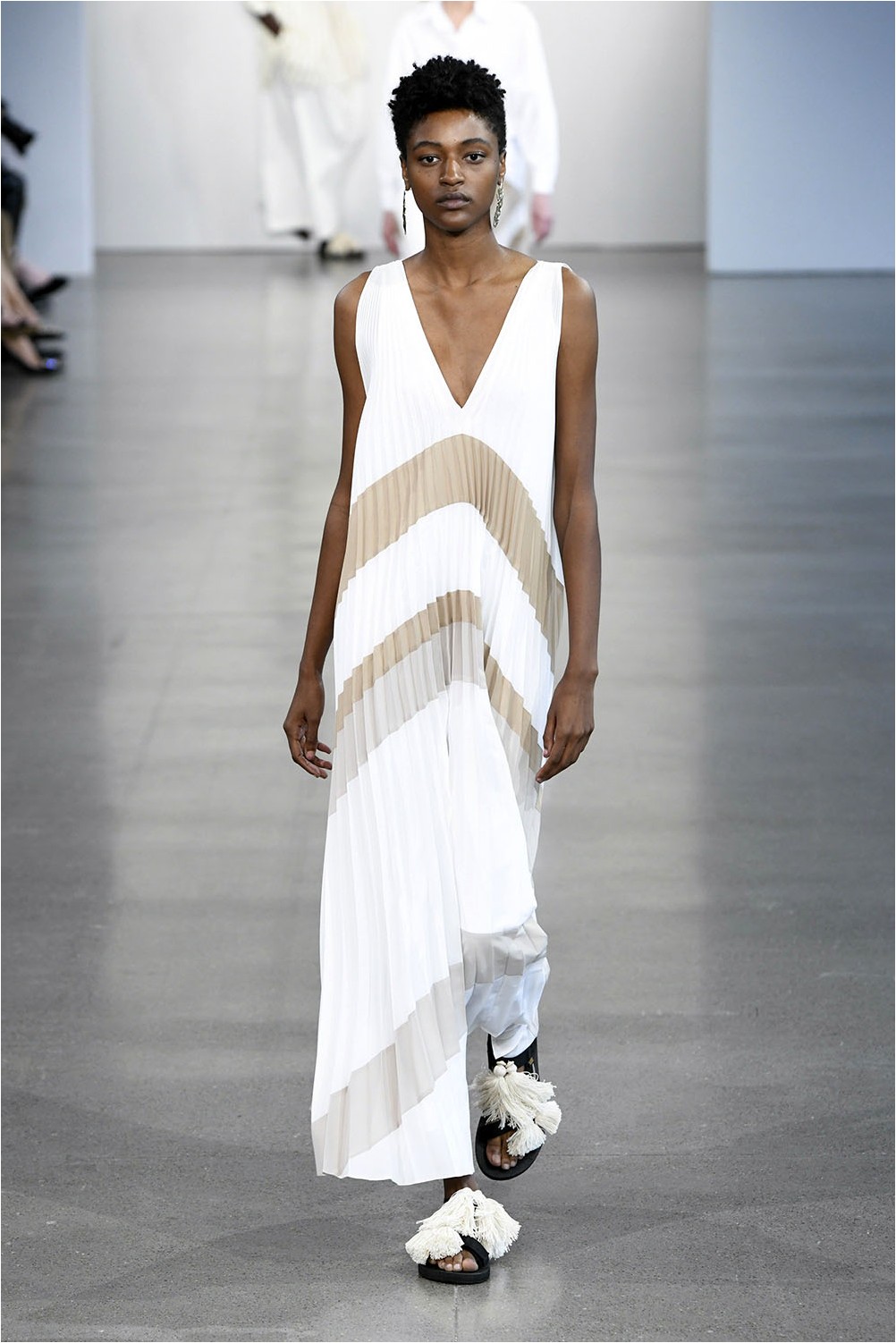 Mini
Mini dresses from the disco era of the 80s are back in fashion. Their main features are metallic color, a tight-fitting silhouette and a daring minimum length. The ranking of the most fashionable in the spring-summer season will also include knitted golf dresses, mini dresses with a bat sleeve, bandeau dresses and shemiz.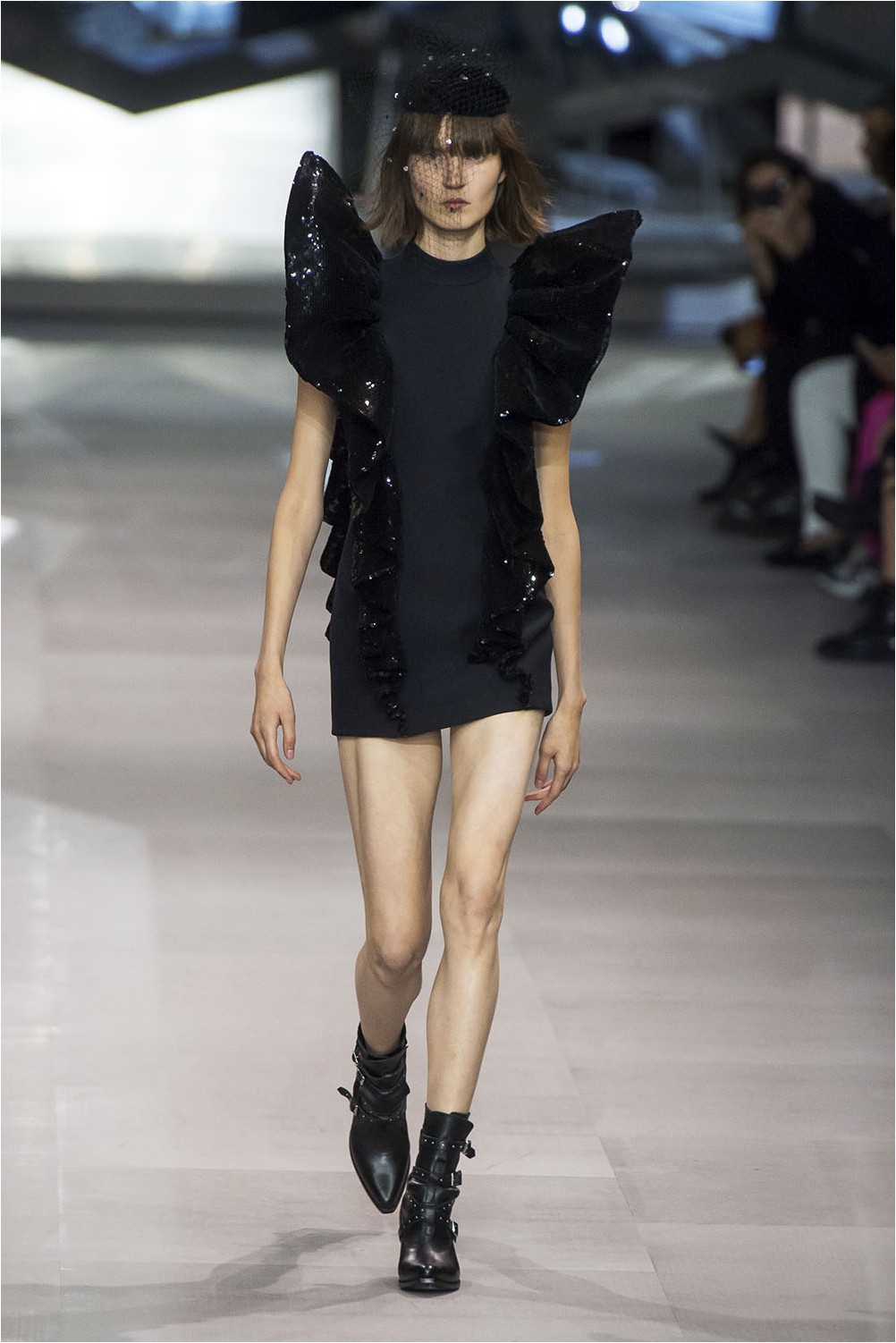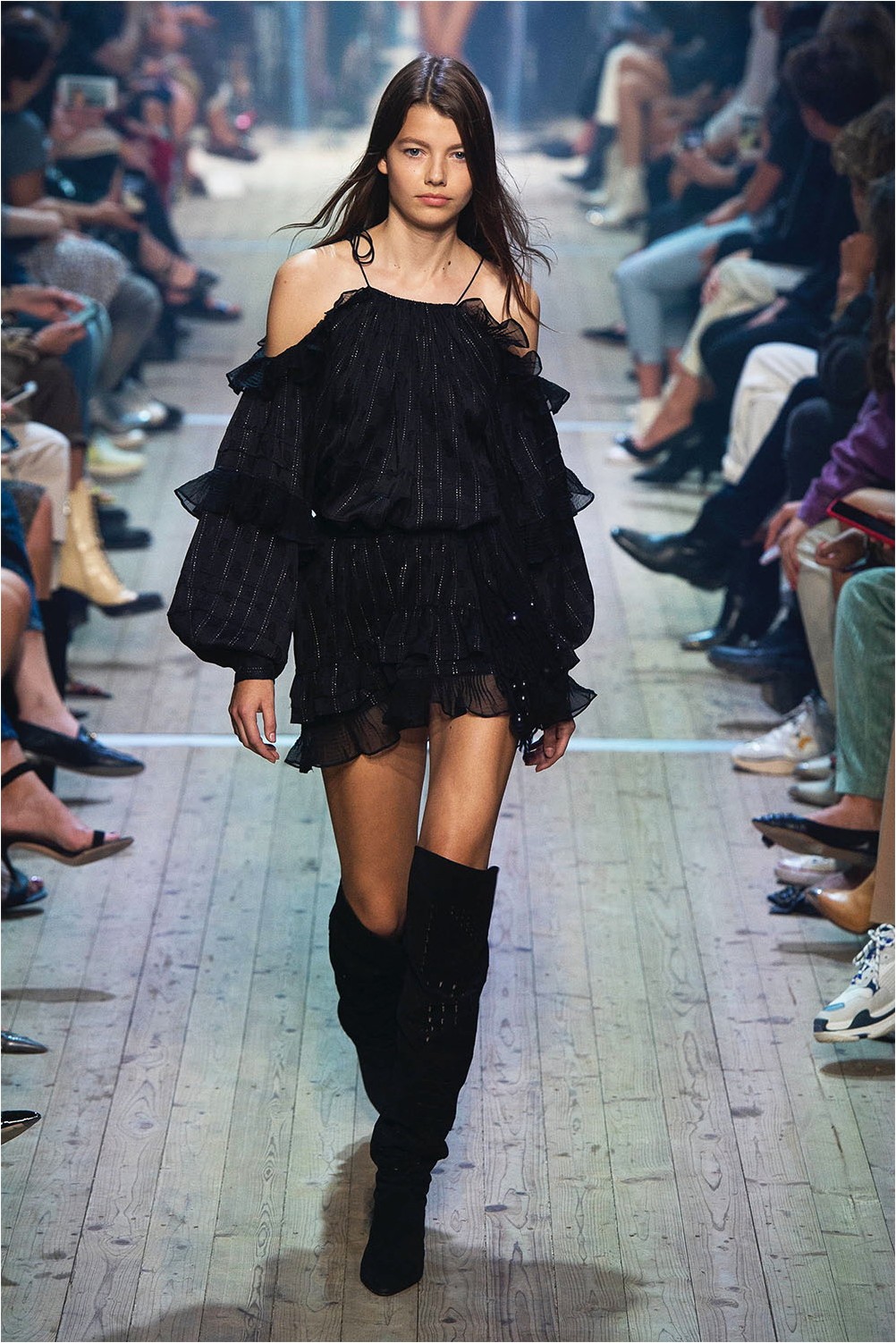 And for those who love evening dresses, luxurious dresses with an asymmetric cut from Isabel Marant and David Koma are suitable.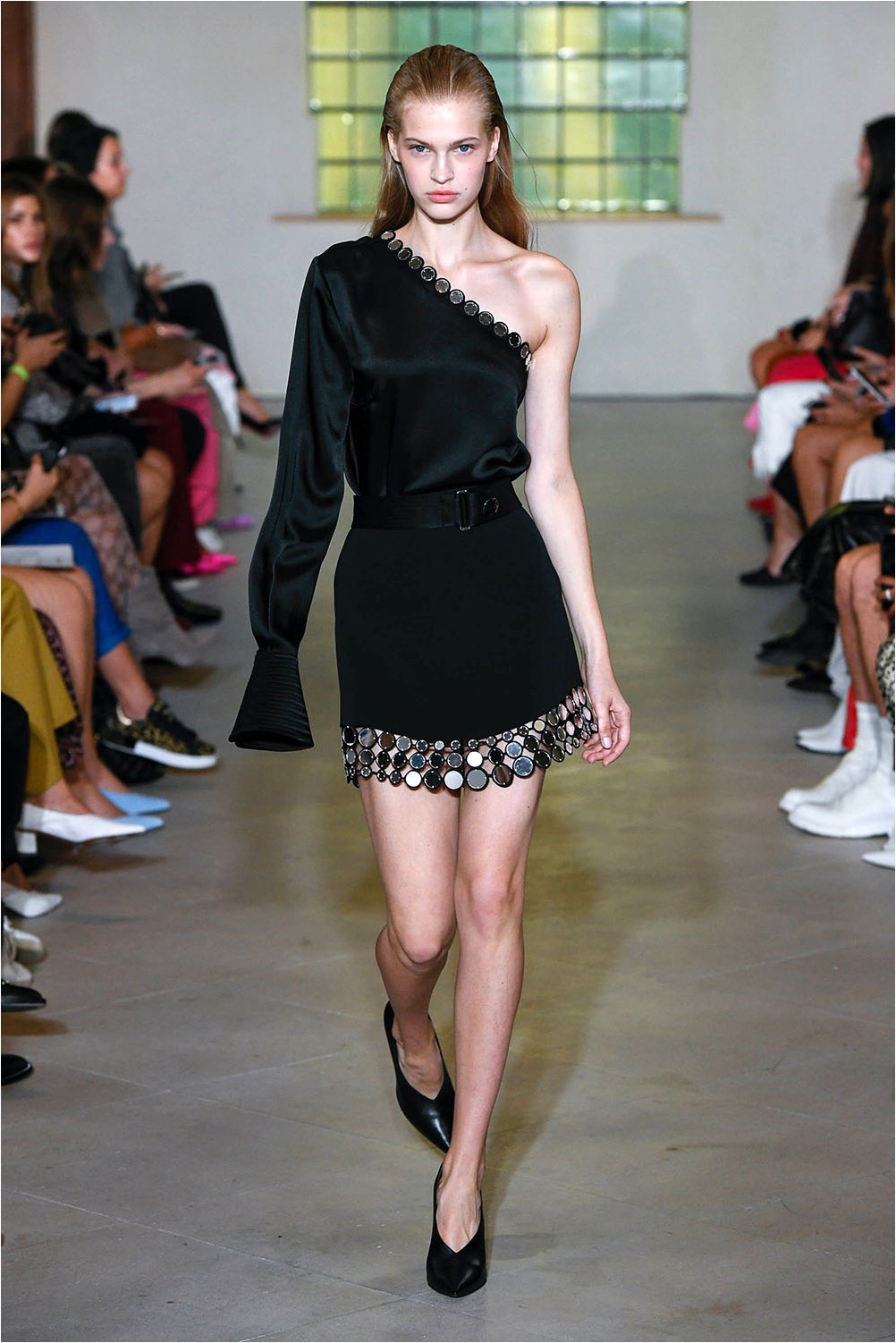 Open shoulders
Masculine trends are a thing of the past. Femininity reigns in fashion now. And the abundance of dresses with bare shoulders has become another trend in the spring-summer season 2019. For example, in the dresses Altuzarra, Elie Saab and Mary Katrantzou there were attractive cuts on the shoulders.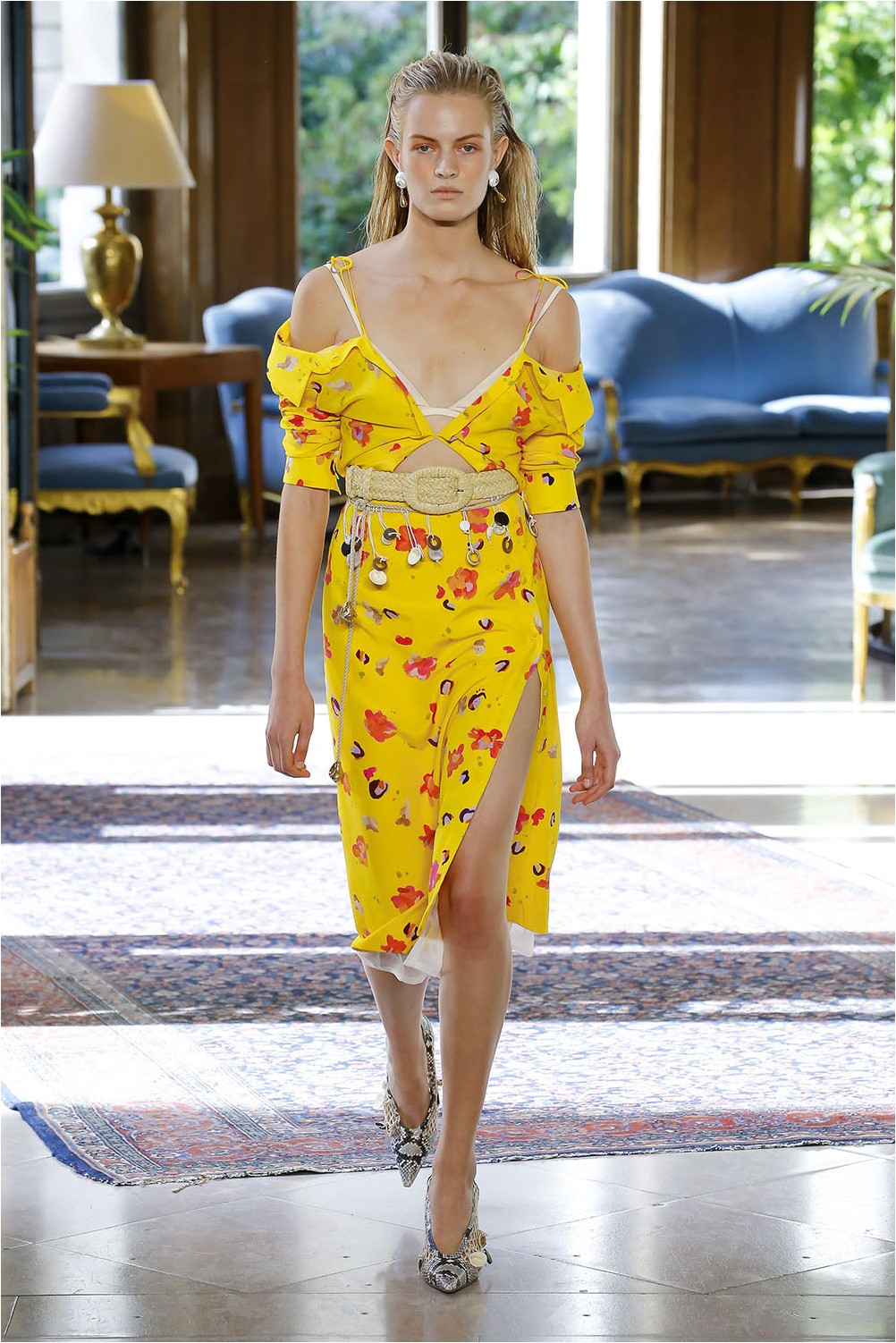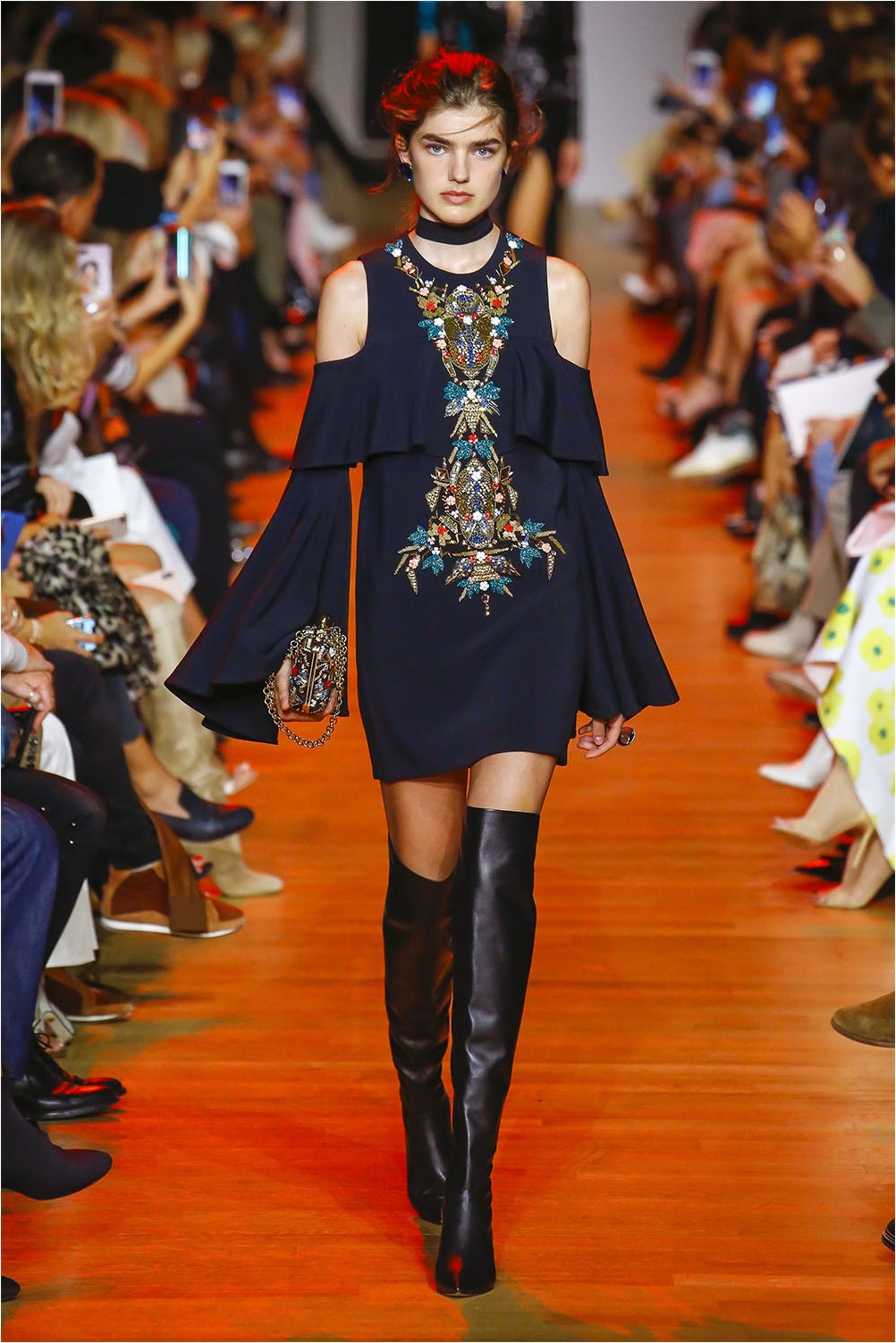 Asymmetrical dresses from Balenciaga and Chloé look no less stylish, in which only one shoulder is open. By the hot summer, you can safely stock up on a sundress with one strap. Such a trendy image was suggested by Tom Ford, Roberto Cavalli and Anna Sui.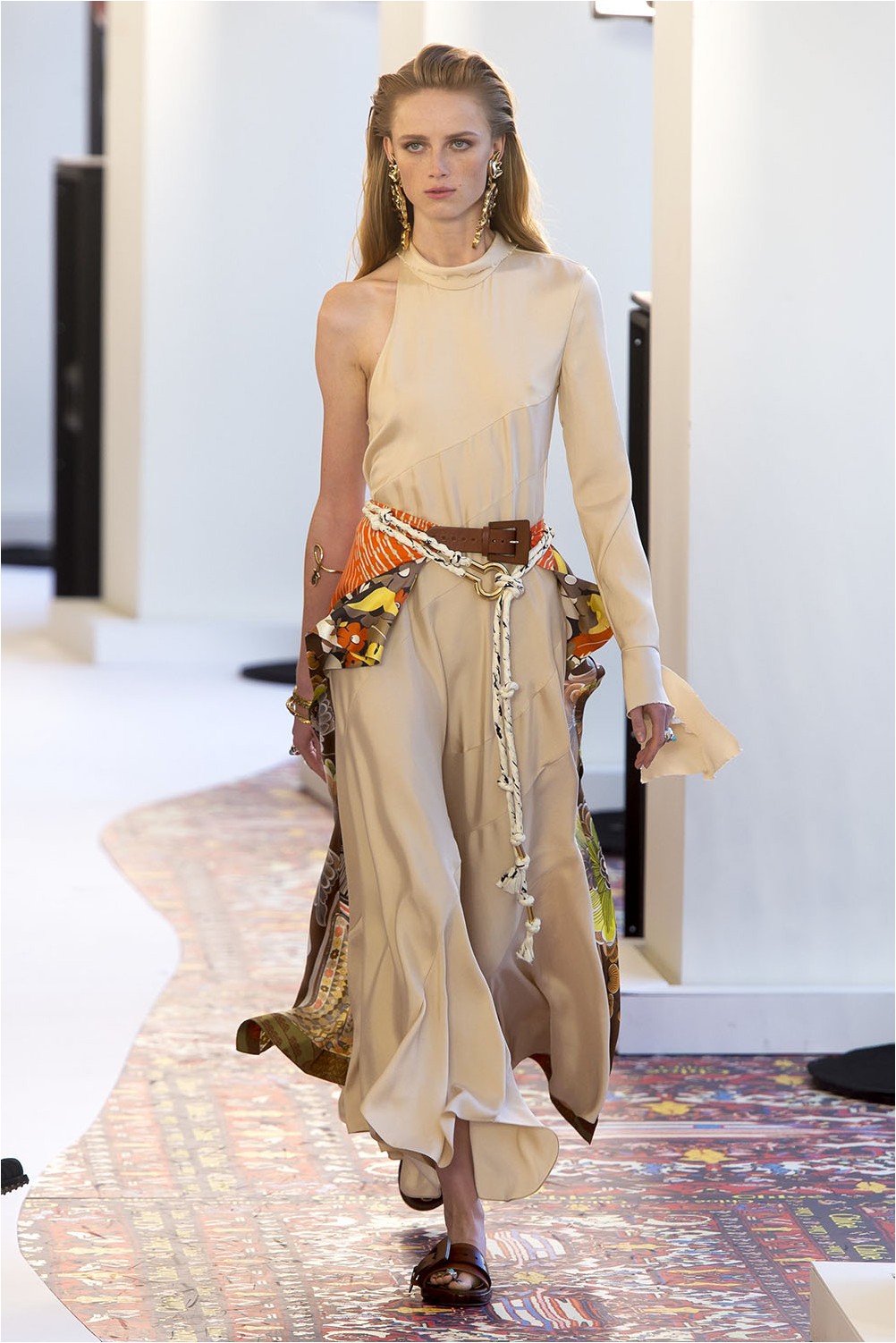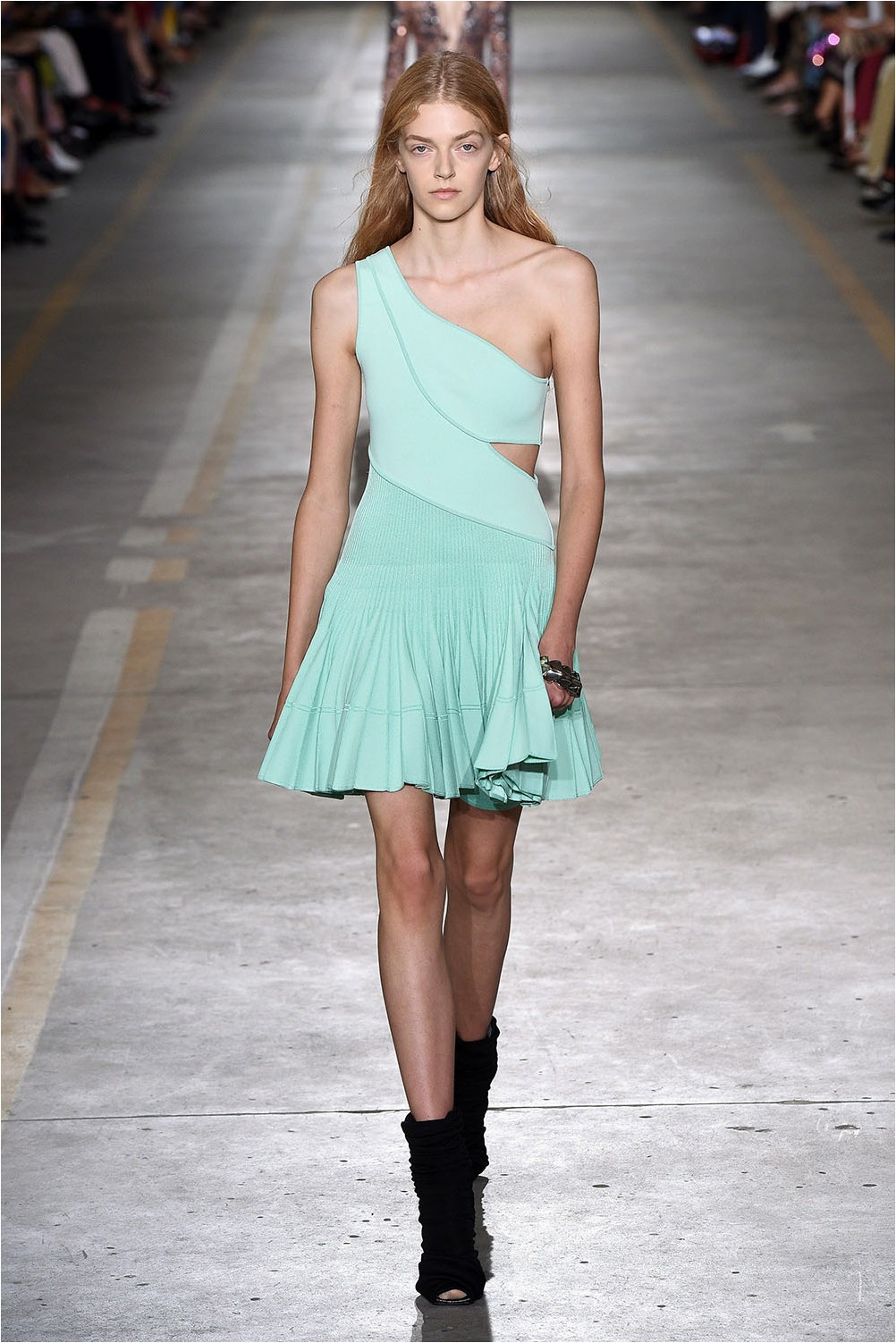 Asymmetry
Standards are driven into the framework, but asymmetry gives room for creativity. In trendy asymmetric dresses you will not find a hint of harmony. Skirts with a "torn", uneven hem, intricate interlacing of fabrics of different textures and shades, asymmetric cut, a combination of a jacket and dress in one model – all these techniques were used by designers to create fashion disharmony.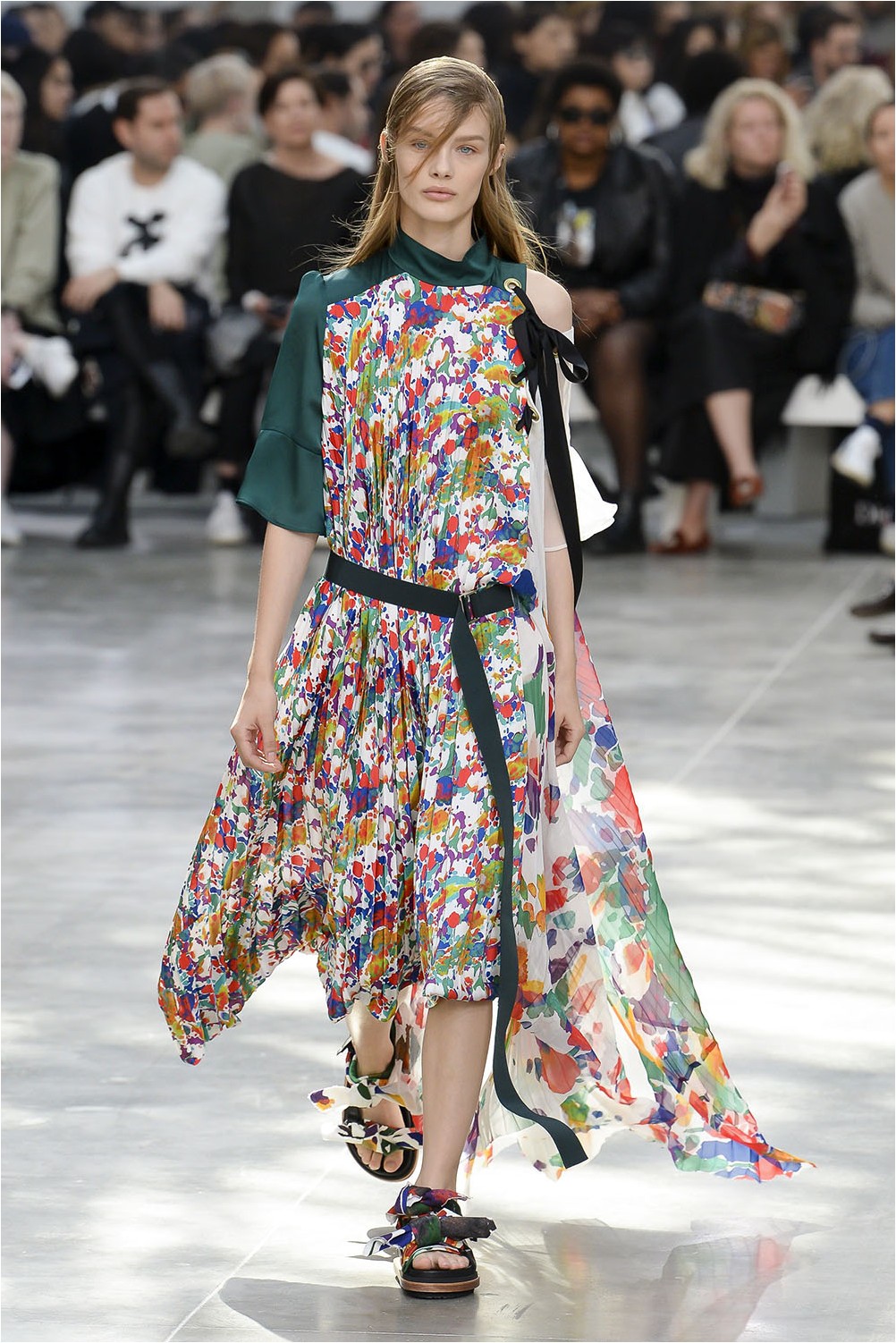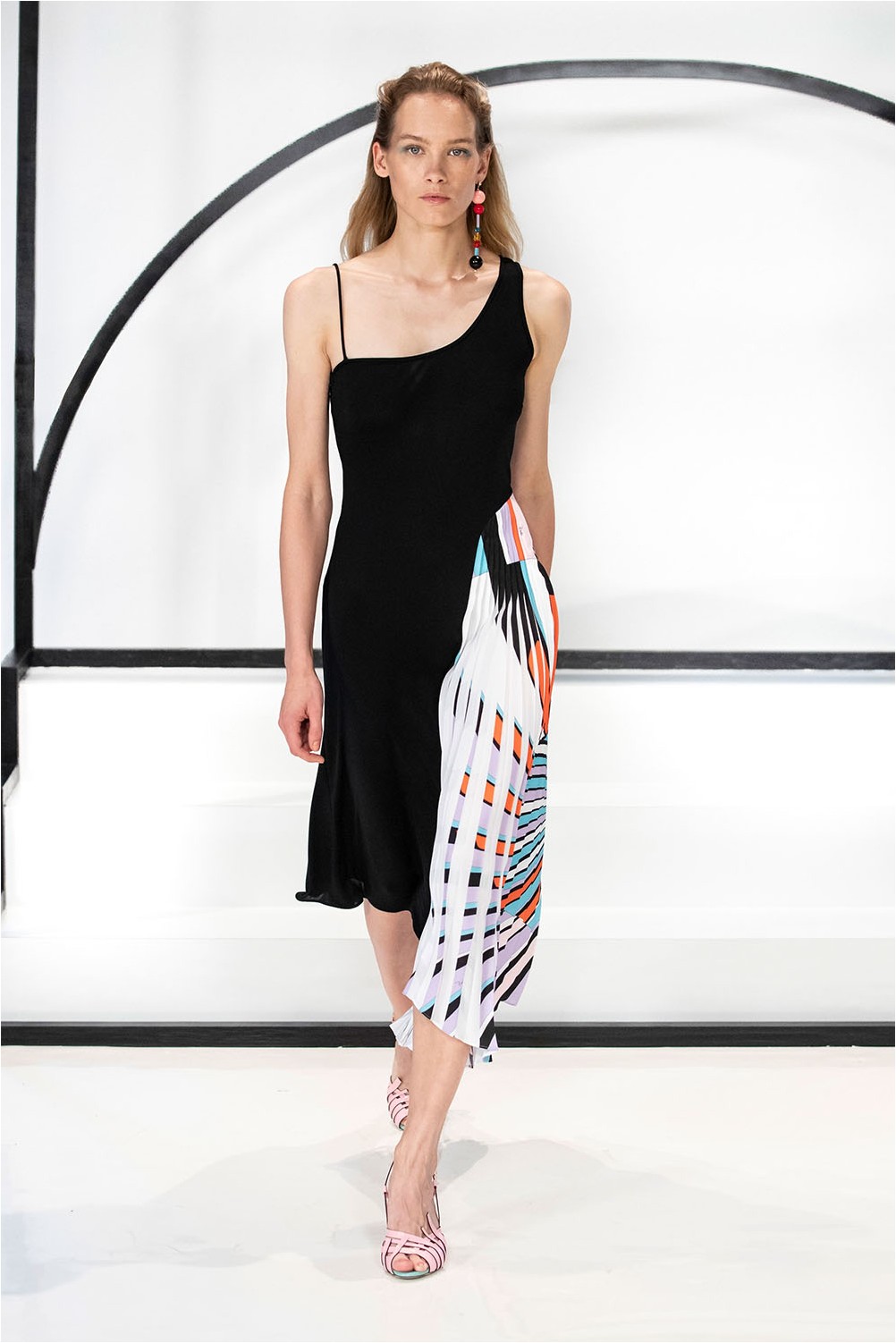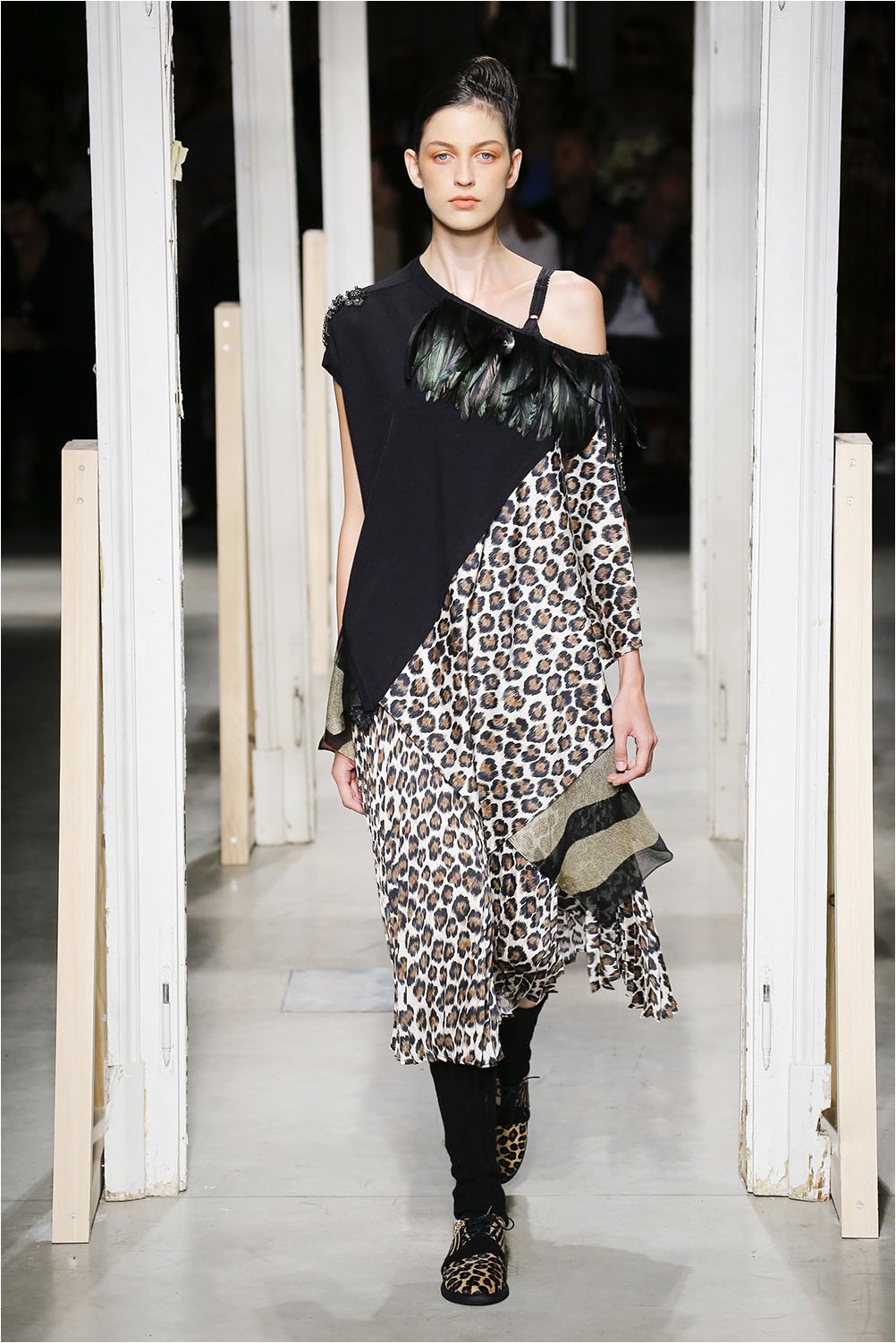 Transparent textures
Perhaps the boldest trend for spring-summer 2019 is dresses made of transparent and translucent fabrics. And the trend was proposed by the most famous style masters – Alberta Ferretti, Elie Saab, Antonio Marras, Philosophy. A little provocative, free and relaxed is slightly smoothed out by discreet ballots and shorts that shine through daring outfits.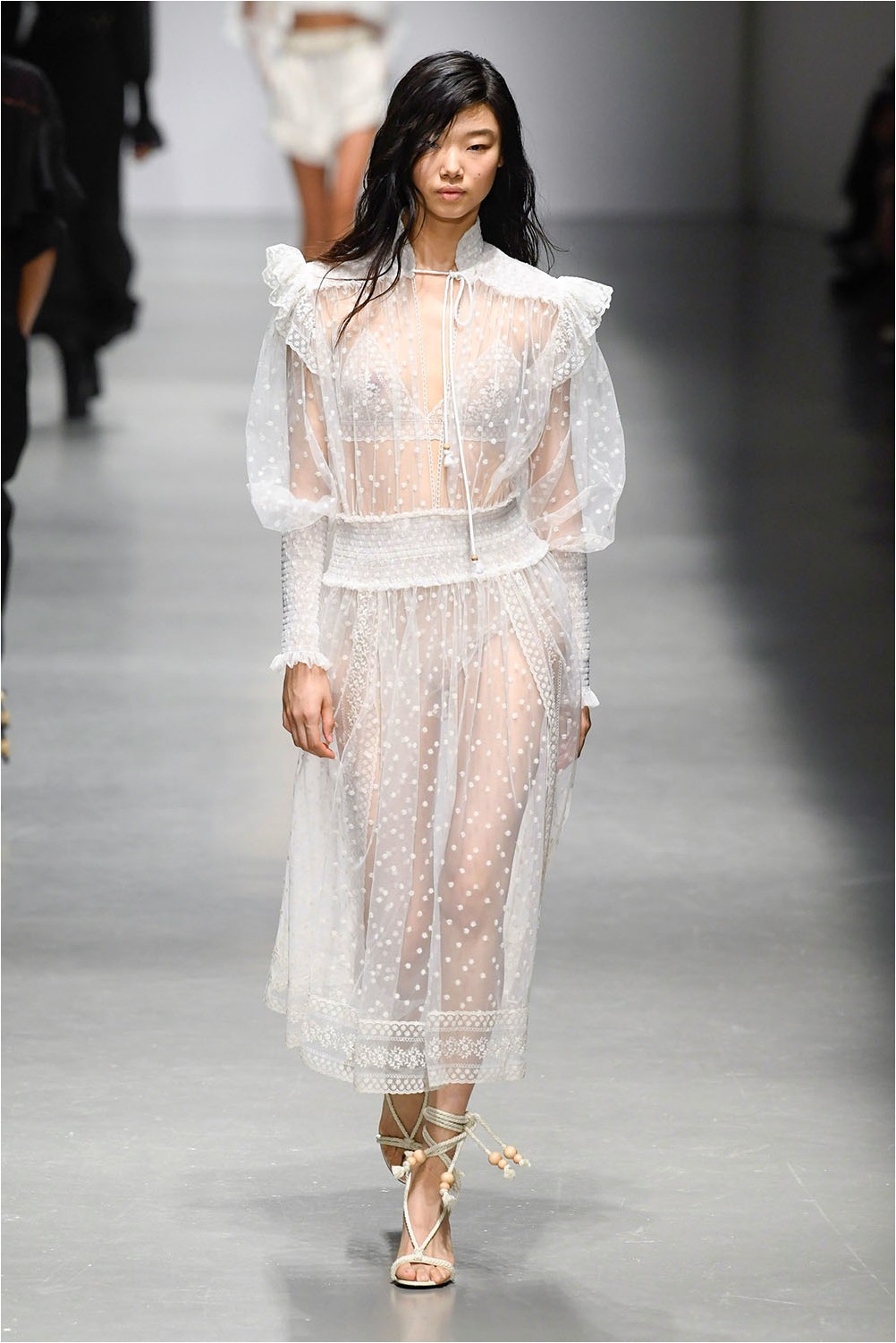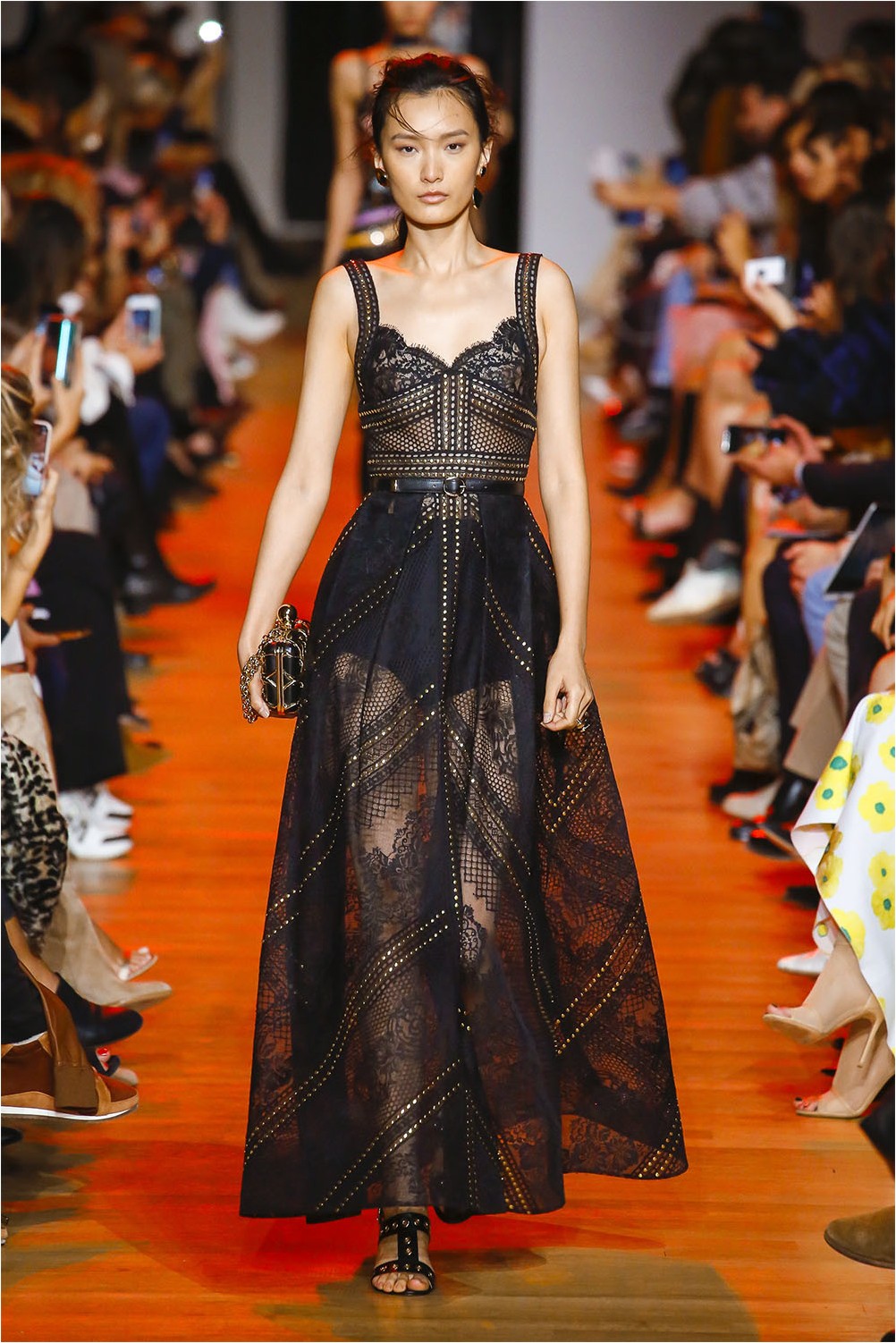 Volumetric decor
Decor faded into the background. But if he was present in some places, then it is impossible not to notice him. As a rule, these are large, voluminous stones, rhinestones, beads. But there are more original options. For example, a dress from Badgley Mischka is decorated with large 3D fabric flowers and beads. A dolce&Gabbana, it seems, used everything that could be imagined as a decoration. On their dresses you will find decorative buttons, rhinestones, sequins, intricate embroidery and other decor.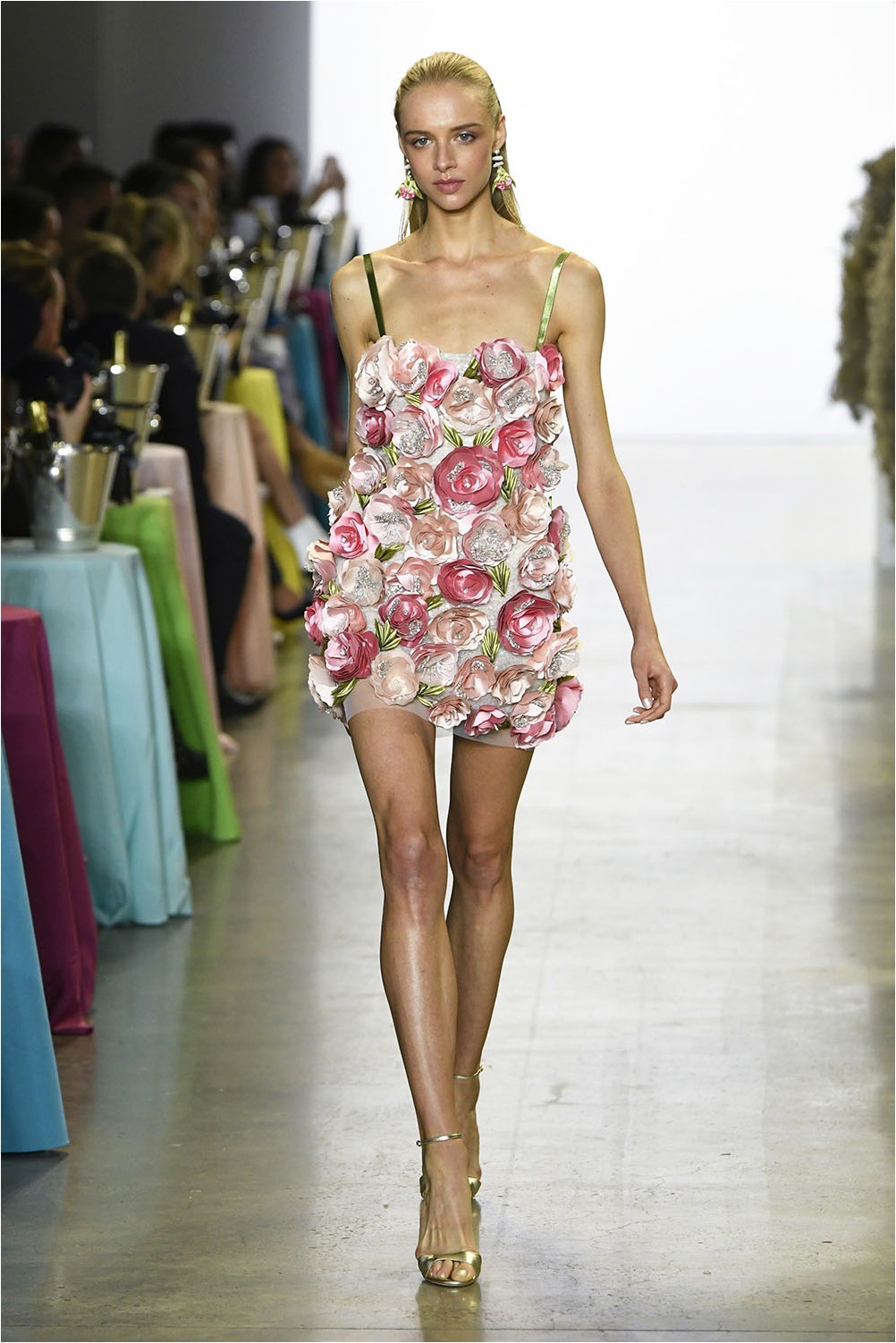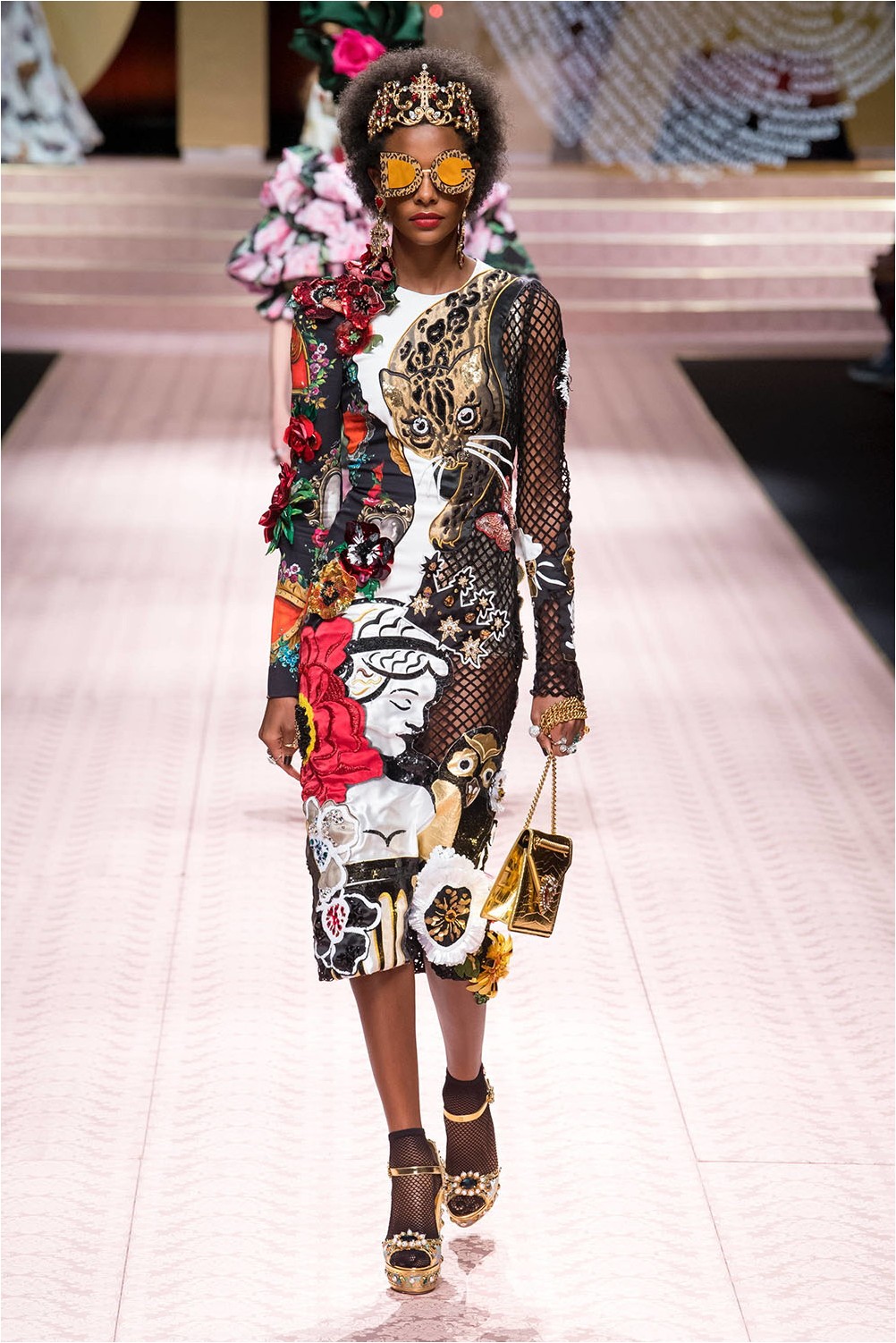 Sharp shoulders
One of the most extraordinary retro trends of next spring is sharp shoulders. Pointed shoulders were in fashion in the 80s. Now the trend has returned in a new guise. The "triangle effect" is achieved in various ways – a special cut, shuttlecocks, fringe, assembled sleeves, frill with a wide pleated.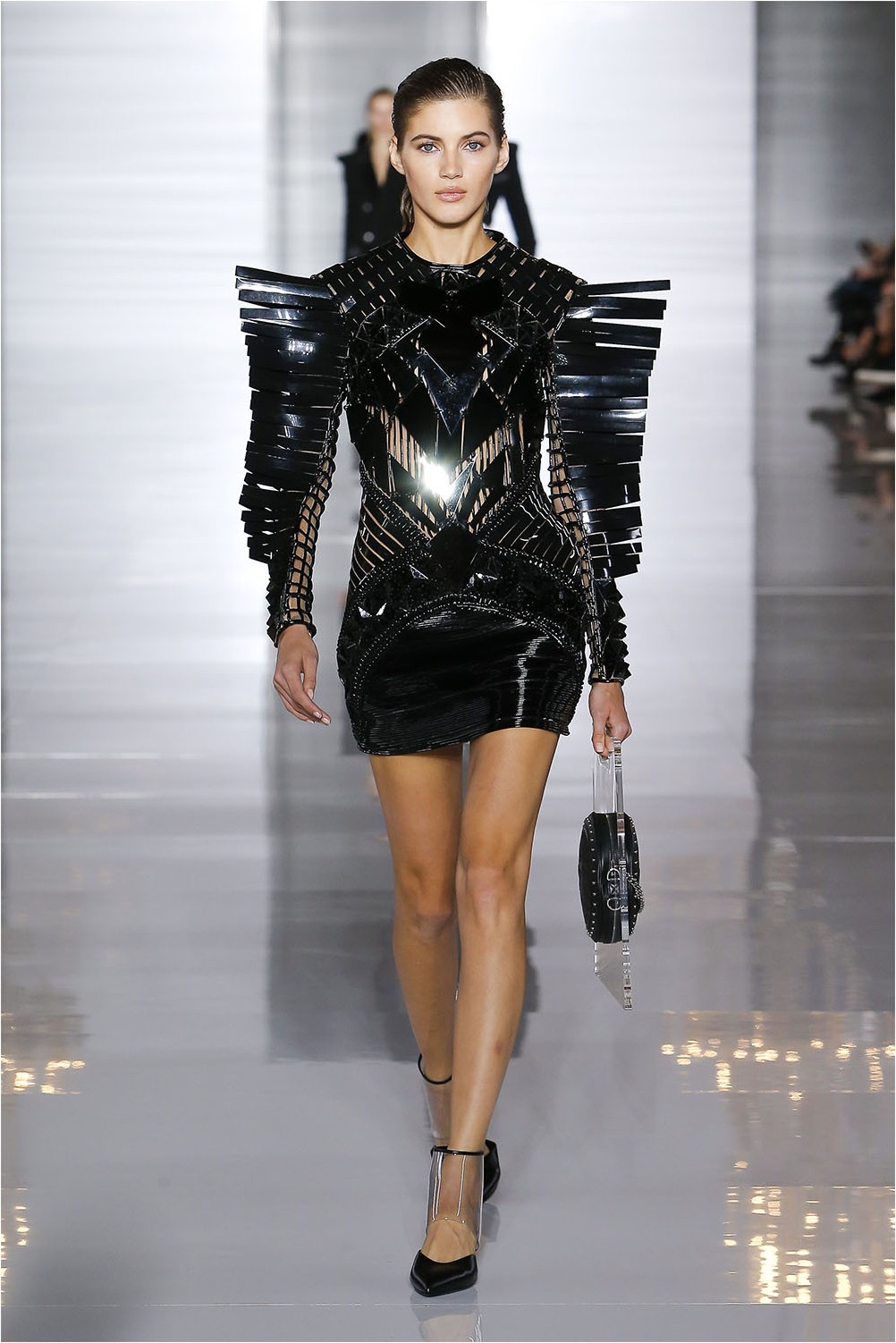 Balmain even floated decorative plastic shoulders. A triangle dress is usually mini length. So the protruding corners look even more spectacular. But there are models with a conservative maxi length and moderate midi.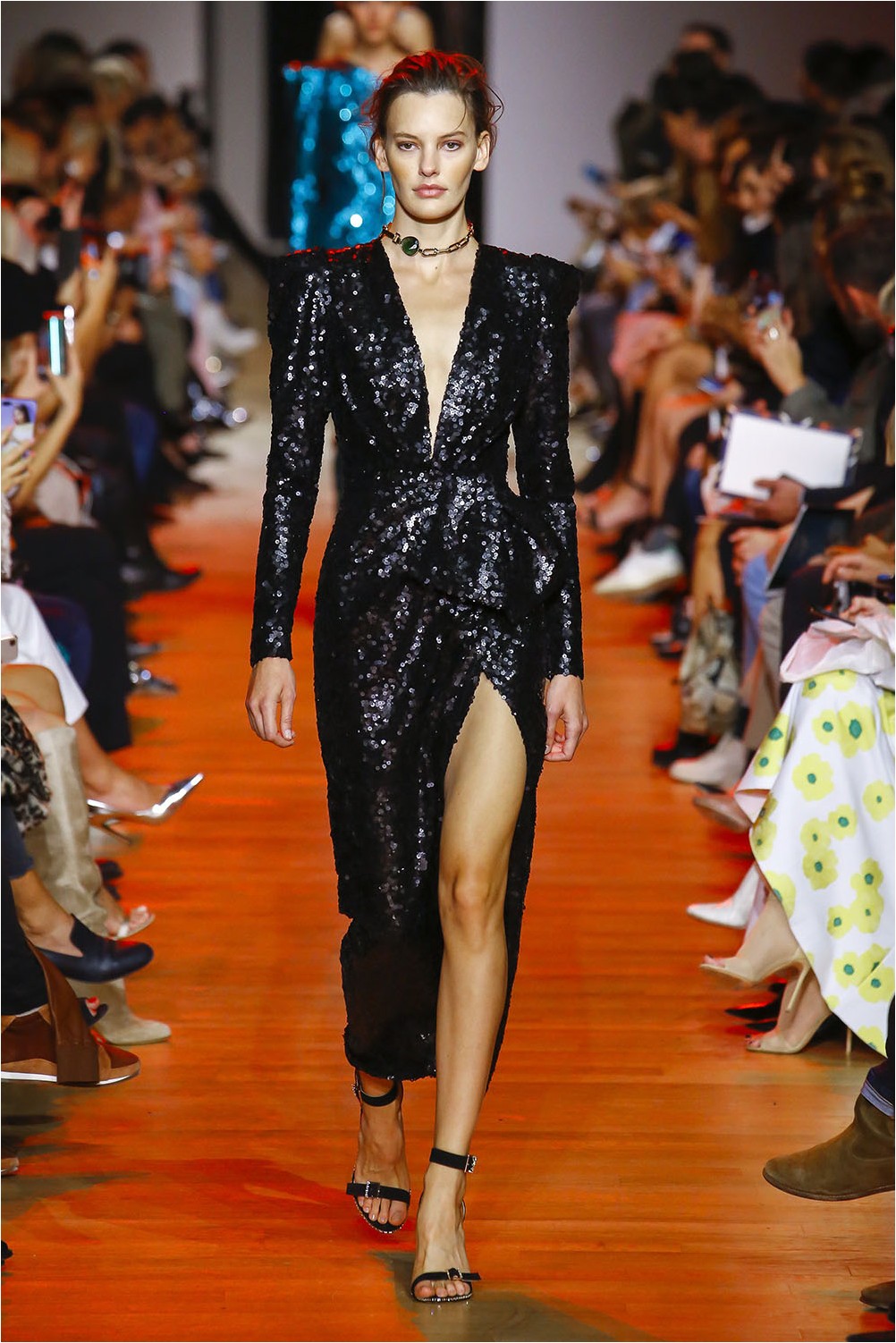 Shell Sleeves
Among the new trends of the spring-summer 2019 season is the shell. Handbags, applications, jewelry and decor in the form of shells of all kinds of mollusks and snails are in fashion. They continue the fashion trend for everything marine. Sleeves-shells appeared in dresses. Their main feature is a perfectly round shape. The relief texture of the shell is often achieved due to the shallow pleated. Models are more than original. A vivid example – dresses from Balmain, Valentino.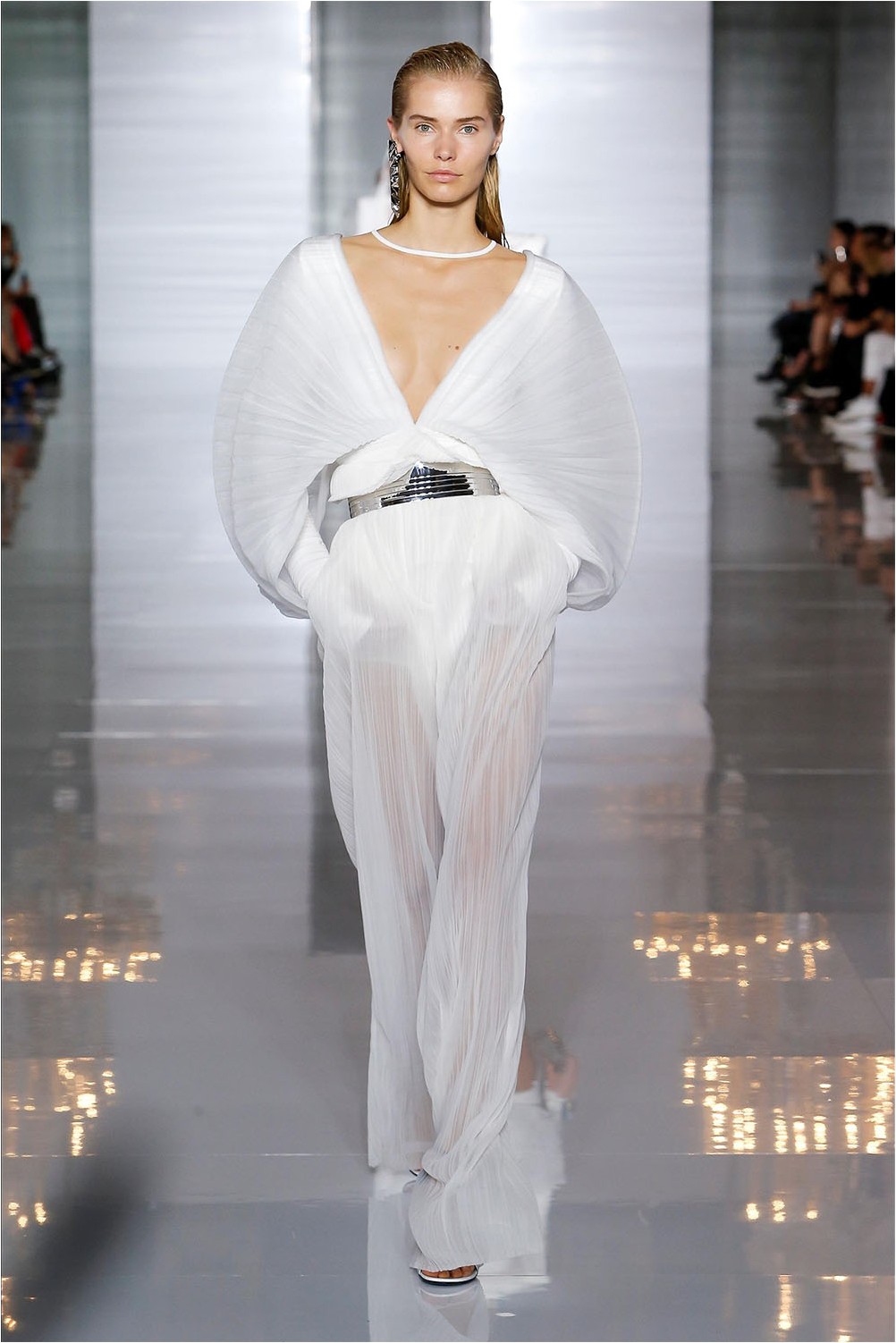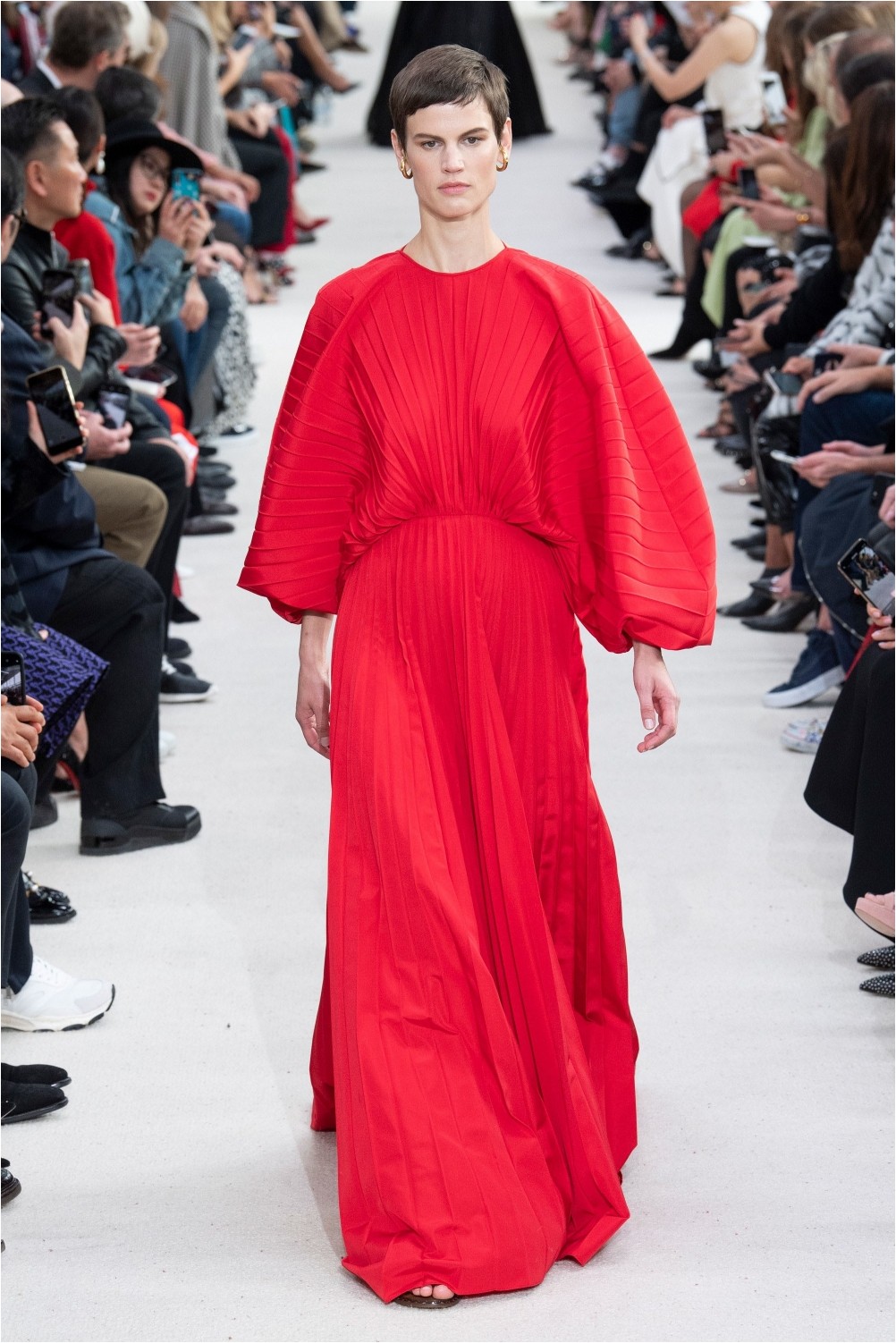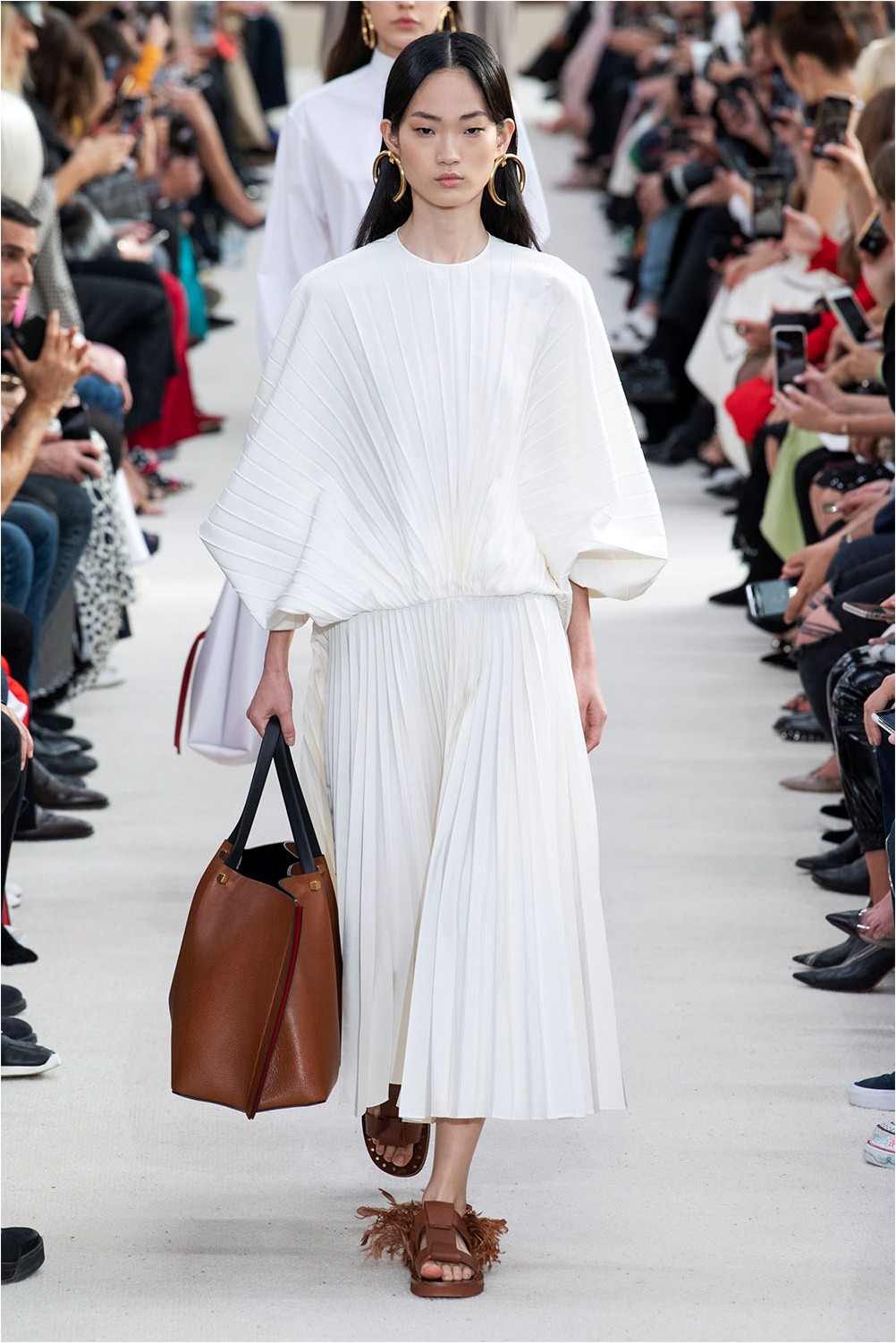 Dress + Bikes
Anyone who did not have time to wear bikes last season can do it in the summer of 2019. Now, designers offer us to wear them not only with T-shirts and bombs, but also with dresses. Yes, you heard right. Moreover, the style of sport chic has long been in fashion.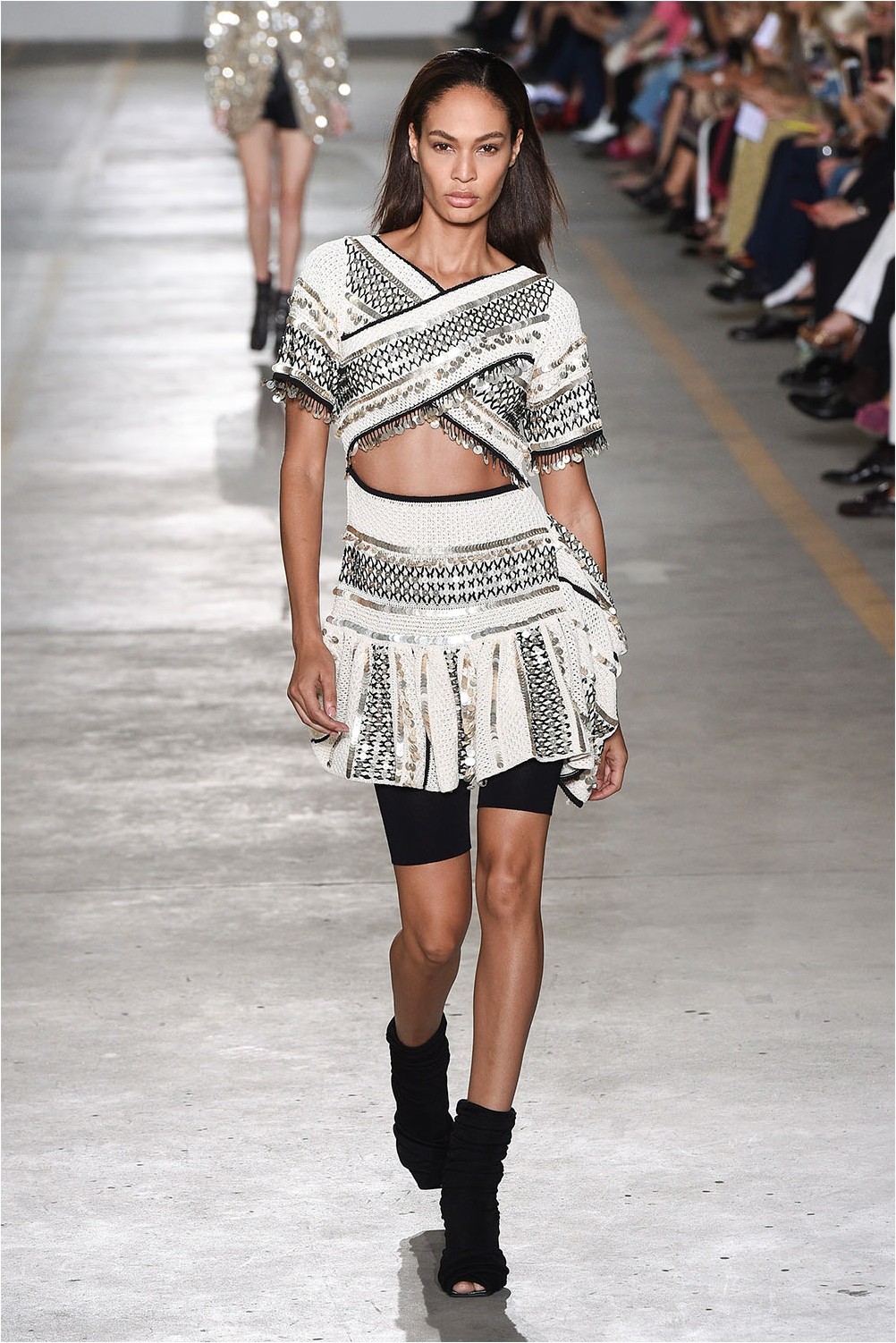 Roberto Cavalli, Blumarine and many other fashion houses have created collections of sundresses and dresses complete with sports bikes.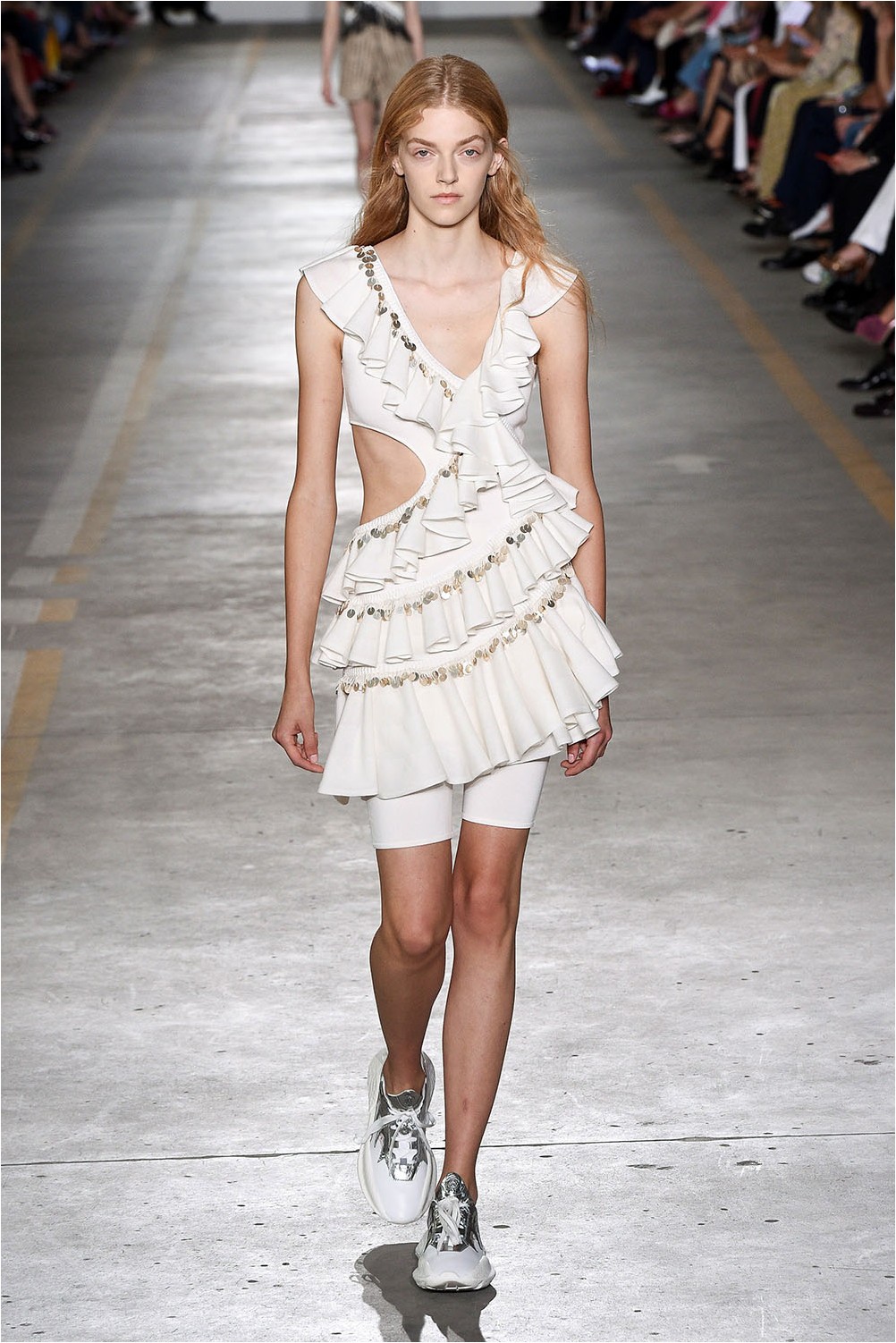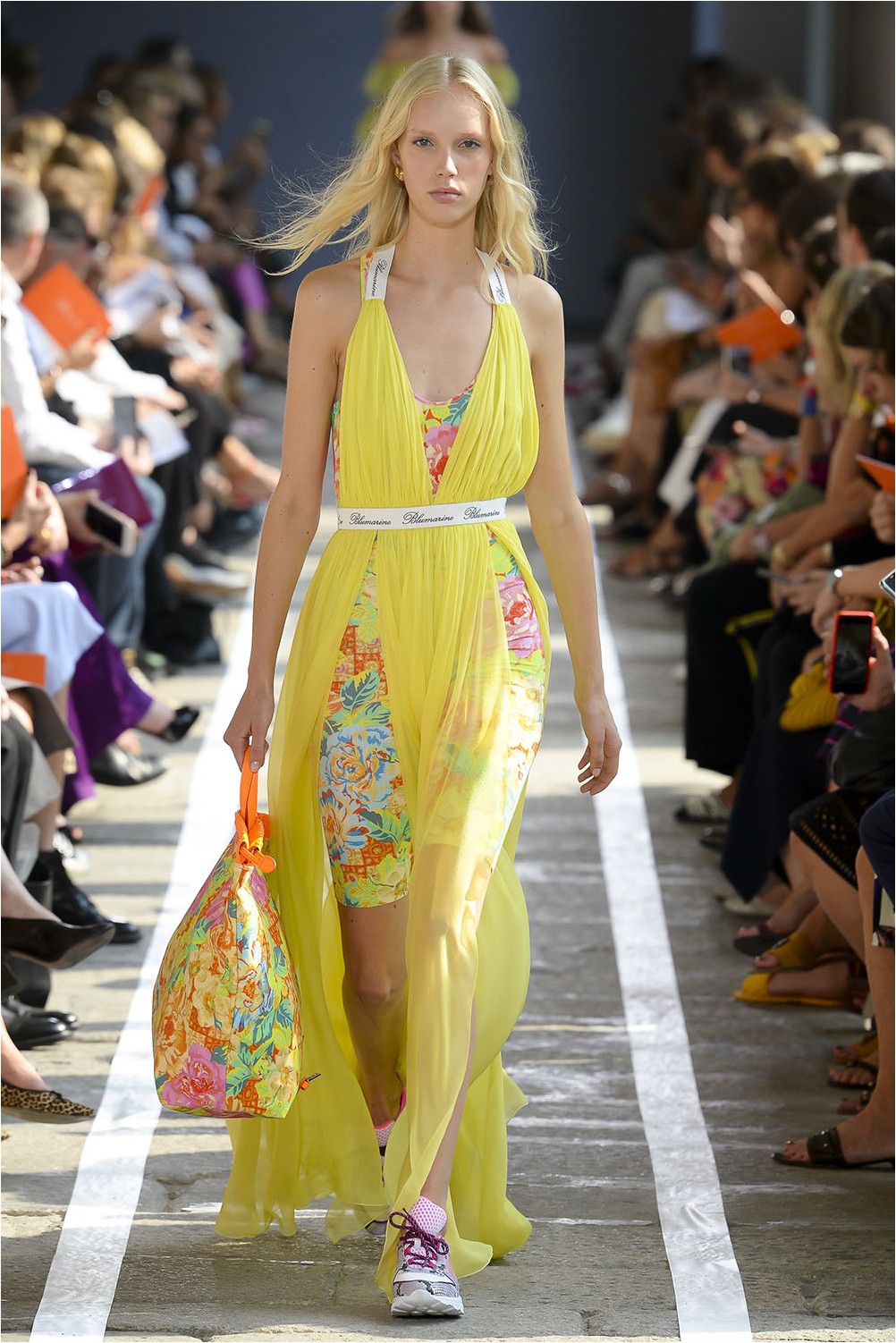 Mallet
Forgotten dresses with a short front skirt and an elongated back are in fashion again. Designers Andrew Gn, Jonathan Simkhai, Mark Jacobs and many others decided to bring undeservedly forgotten dresses to life..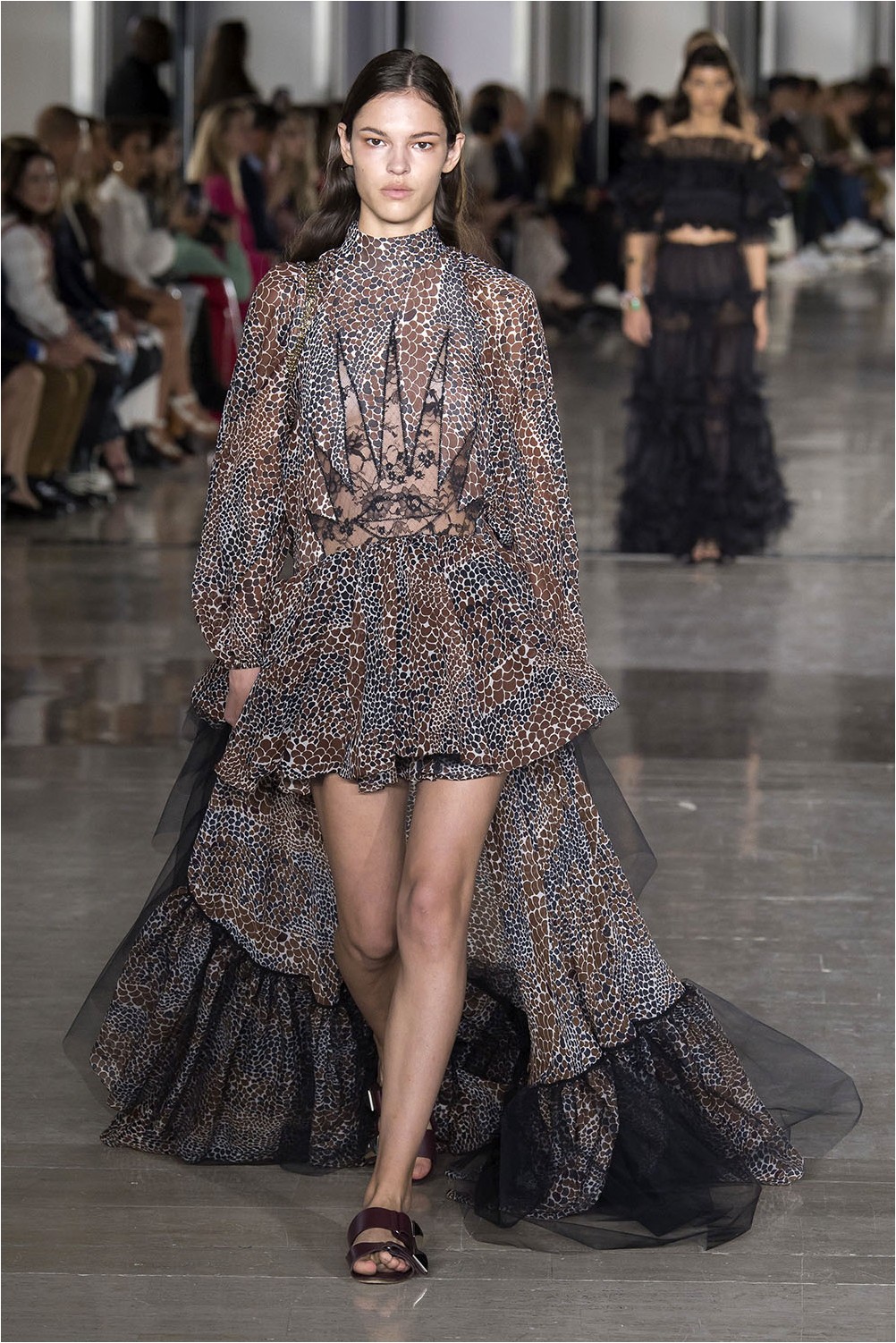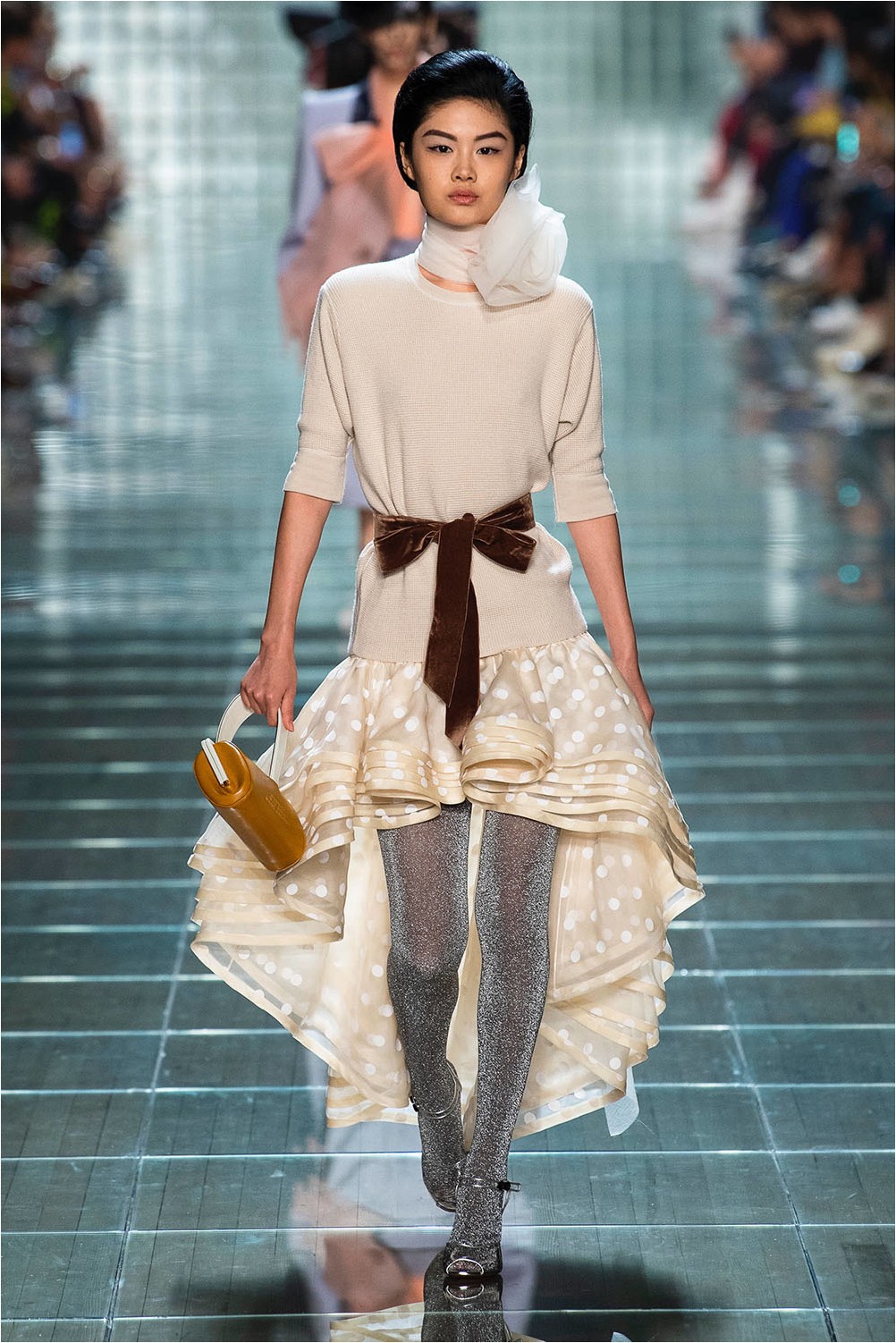 Now dresses with a train got complete freedom. On the edge of the canvas can pass rows of quilling or lace, the top and bottom are combined from different materials. Mallet can be ruffled or look like an asymmetrical shirt dress.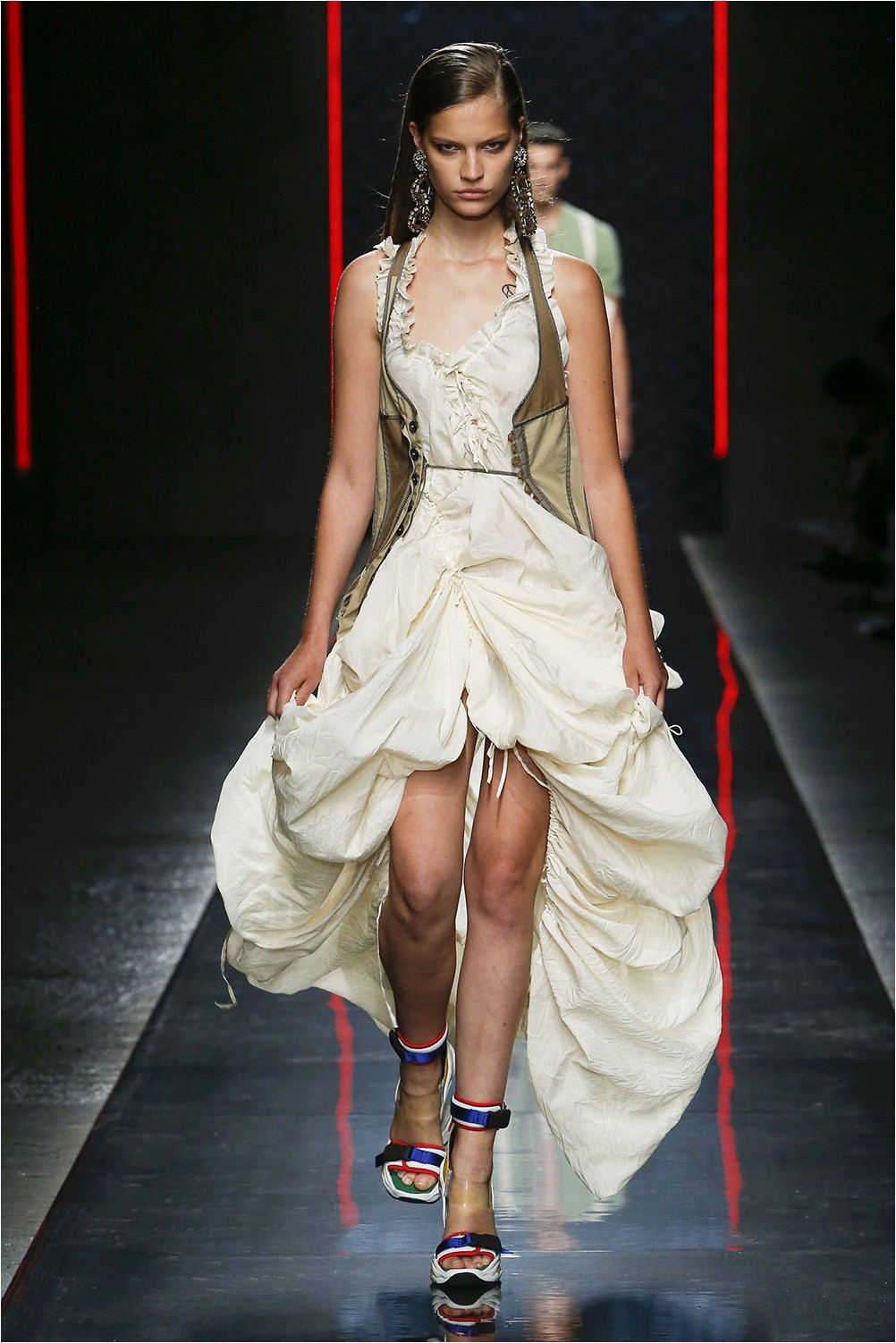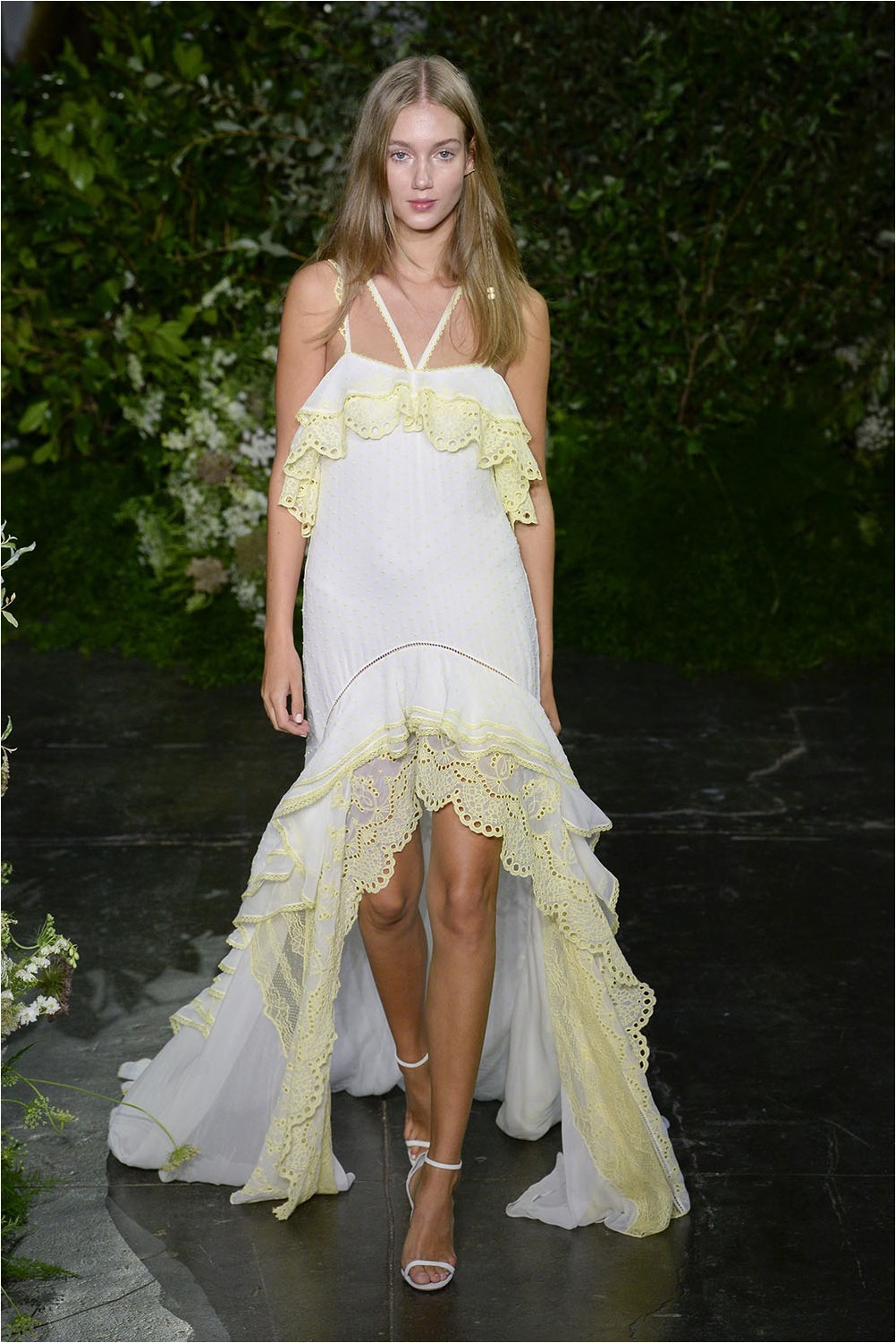 Leather dresses
Joining the animal protection movement has led many designers to abandon fur products. But, despite this, on the catwalks there are still a lot of outfits from both artificial and genuine leather.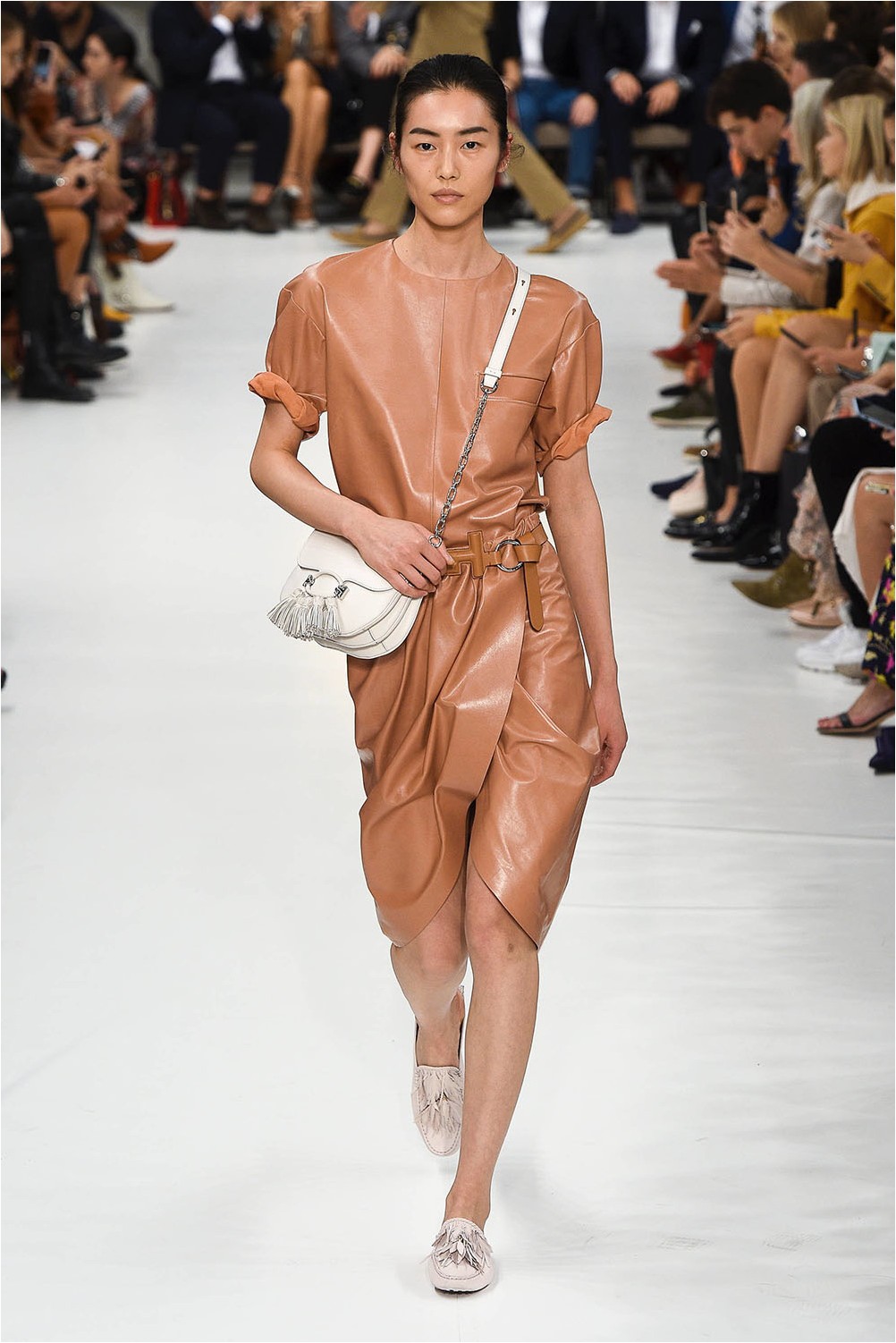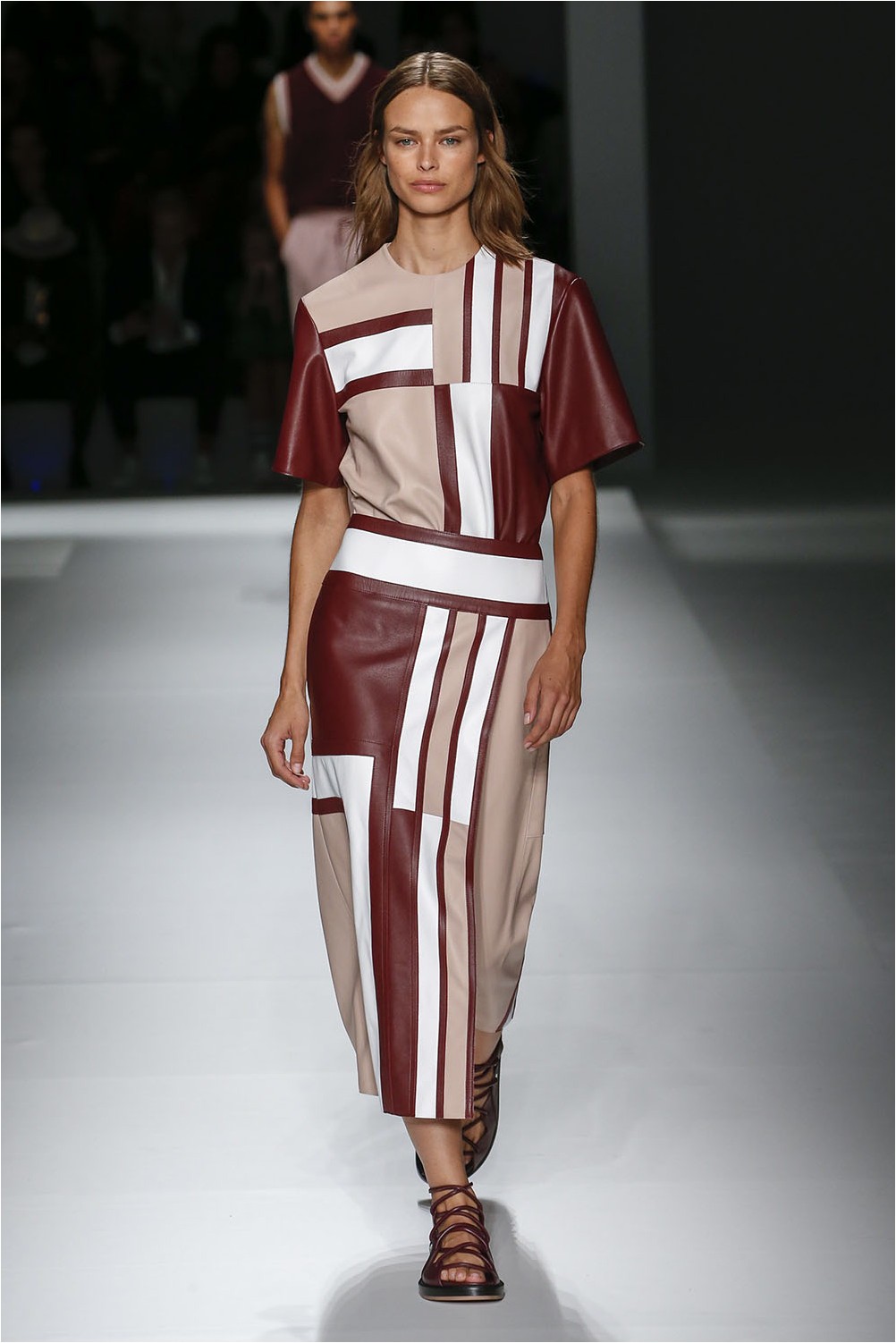 In the trend, plain dresses from matte or patent leather. But to the embossing under snake skin, and to the animal print itself, interest has noticeably diminished.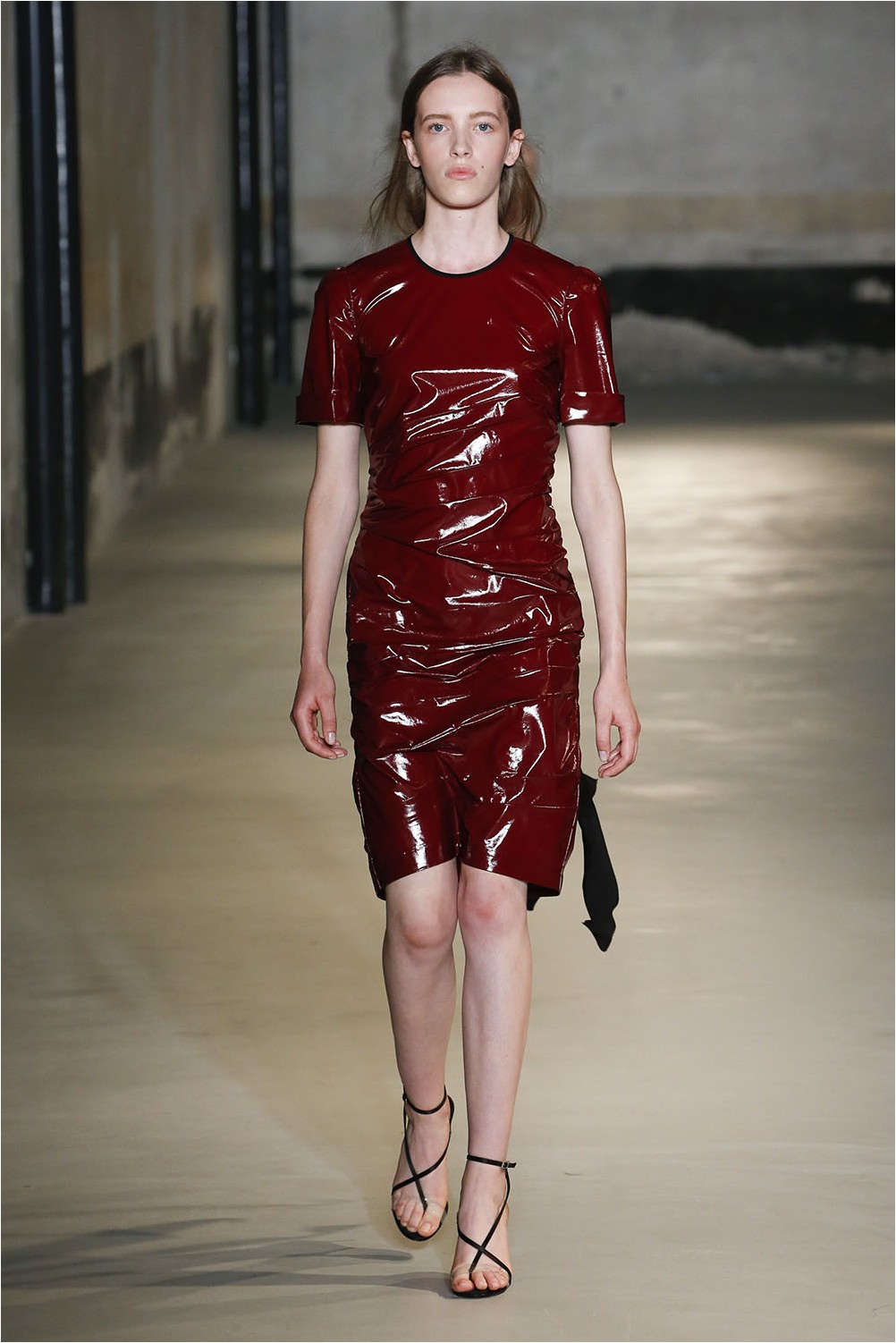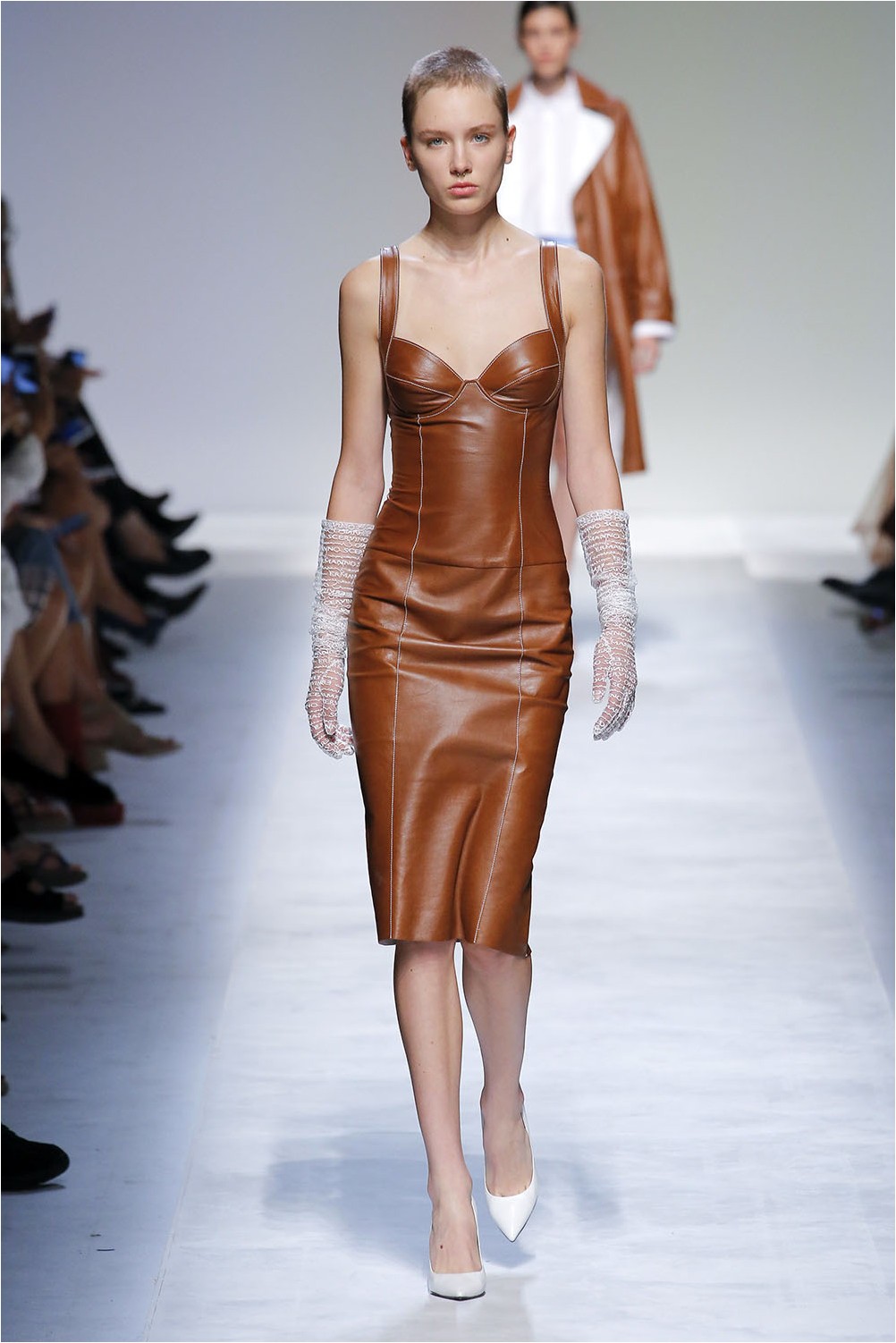 Art abstraction
Splashes of paint, color stains, colorful specks, art deco elements and scenes from surrealistic paintings – if you look closer at the colorful outfits of the coming season, you will be able to discern complex abstract miniatures that are in no way inferior to the works of great avant-garde artists.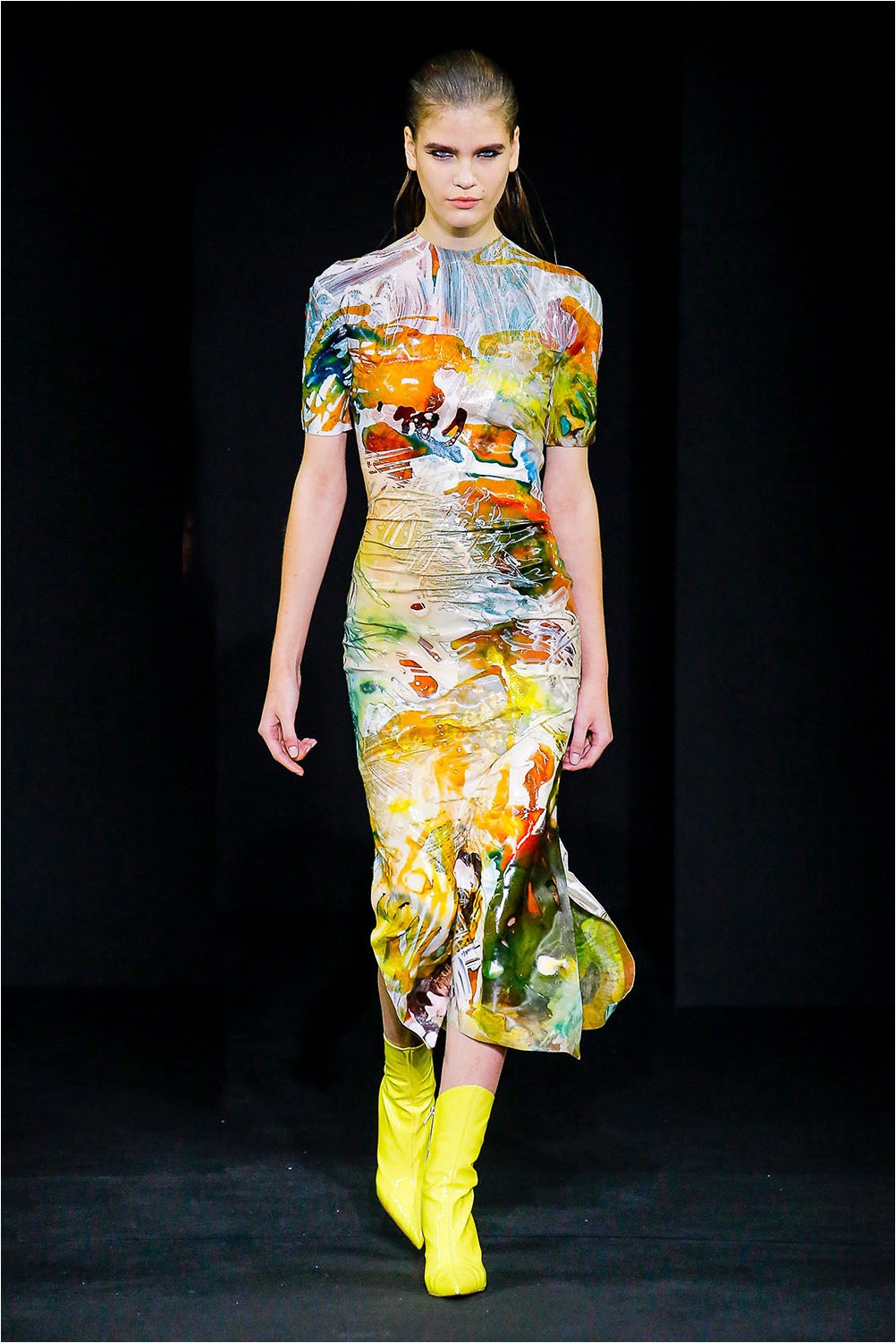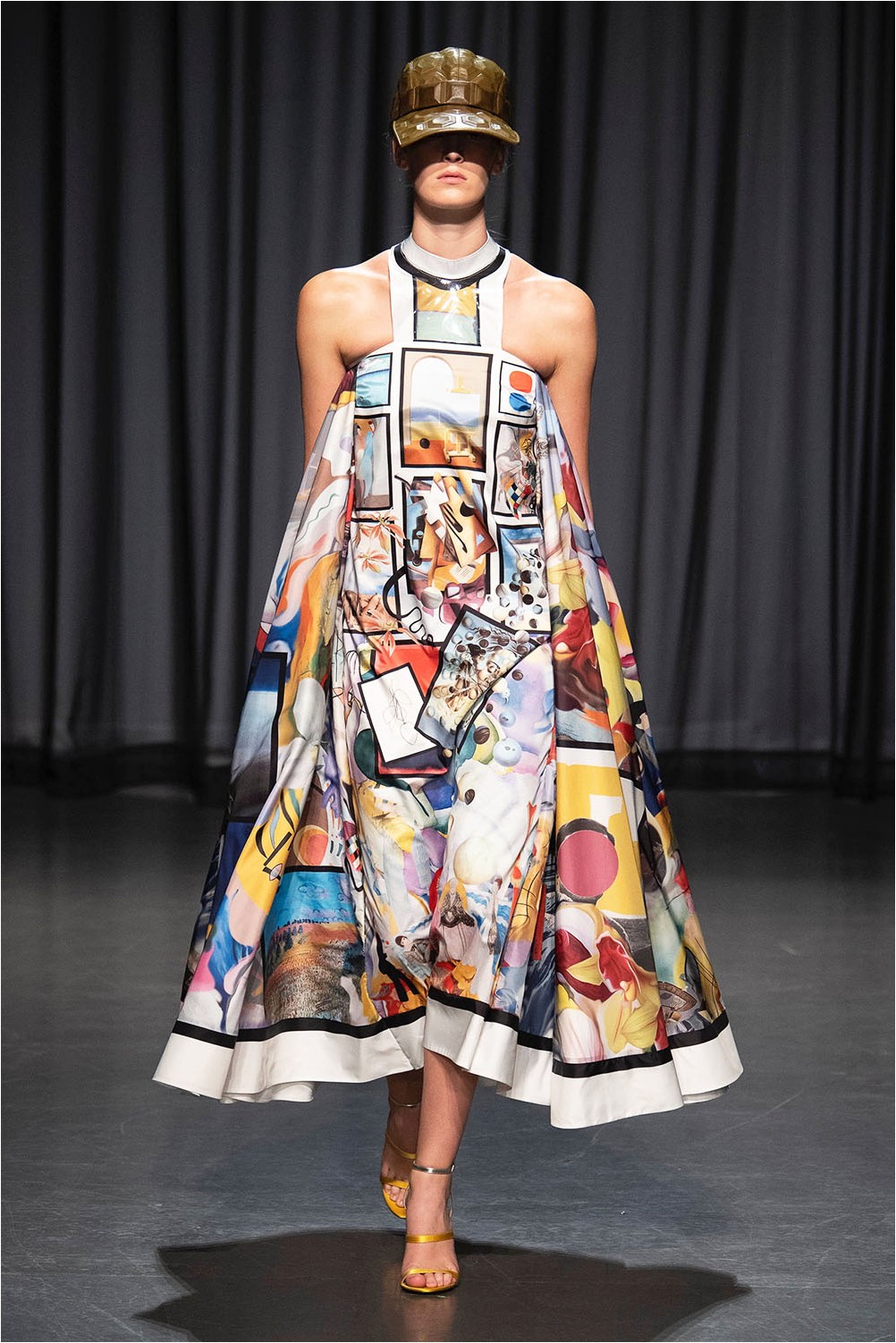 This is what fashion dresses from Mary Katrantzou, Louis Vuitton, Marni and Mugler look like..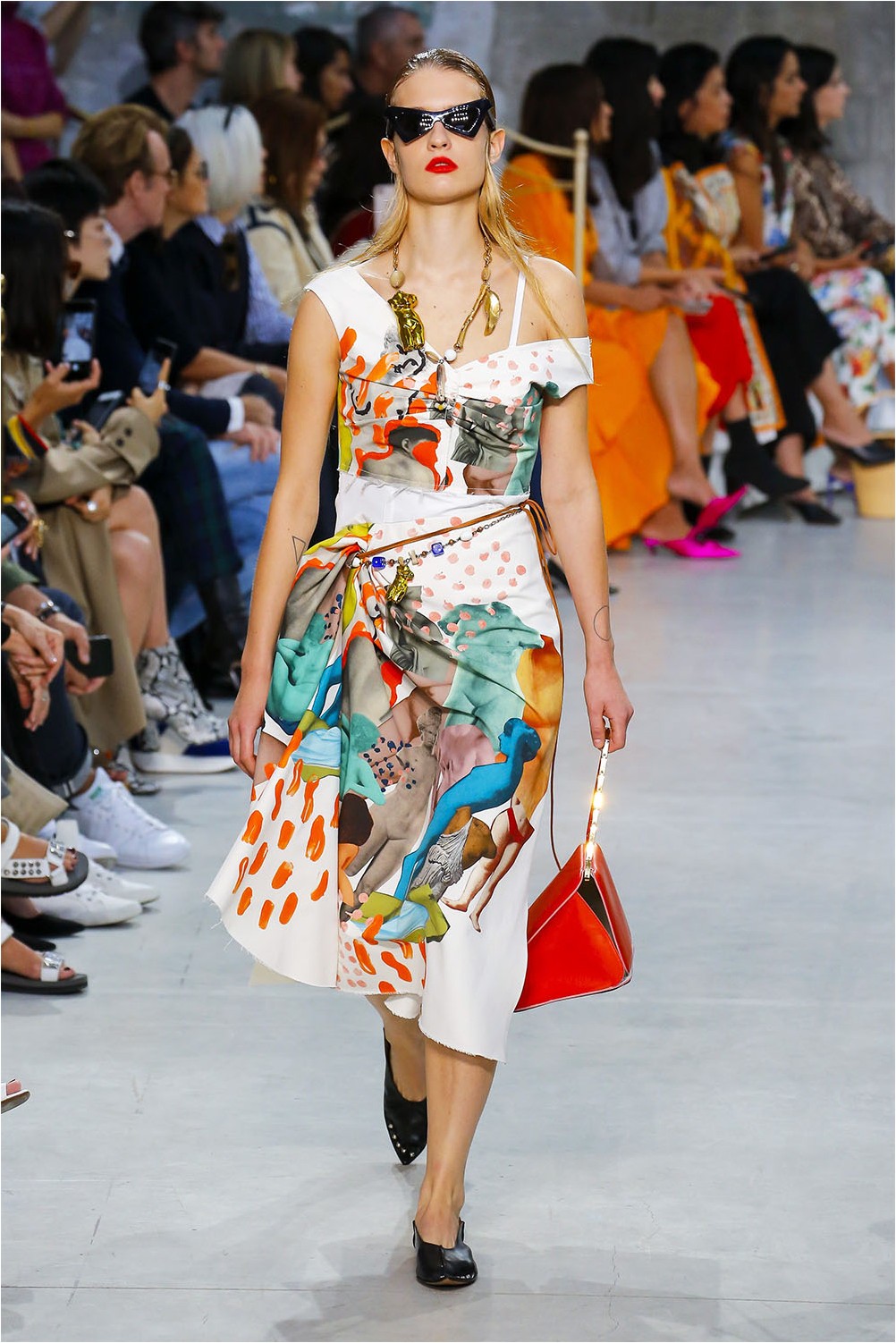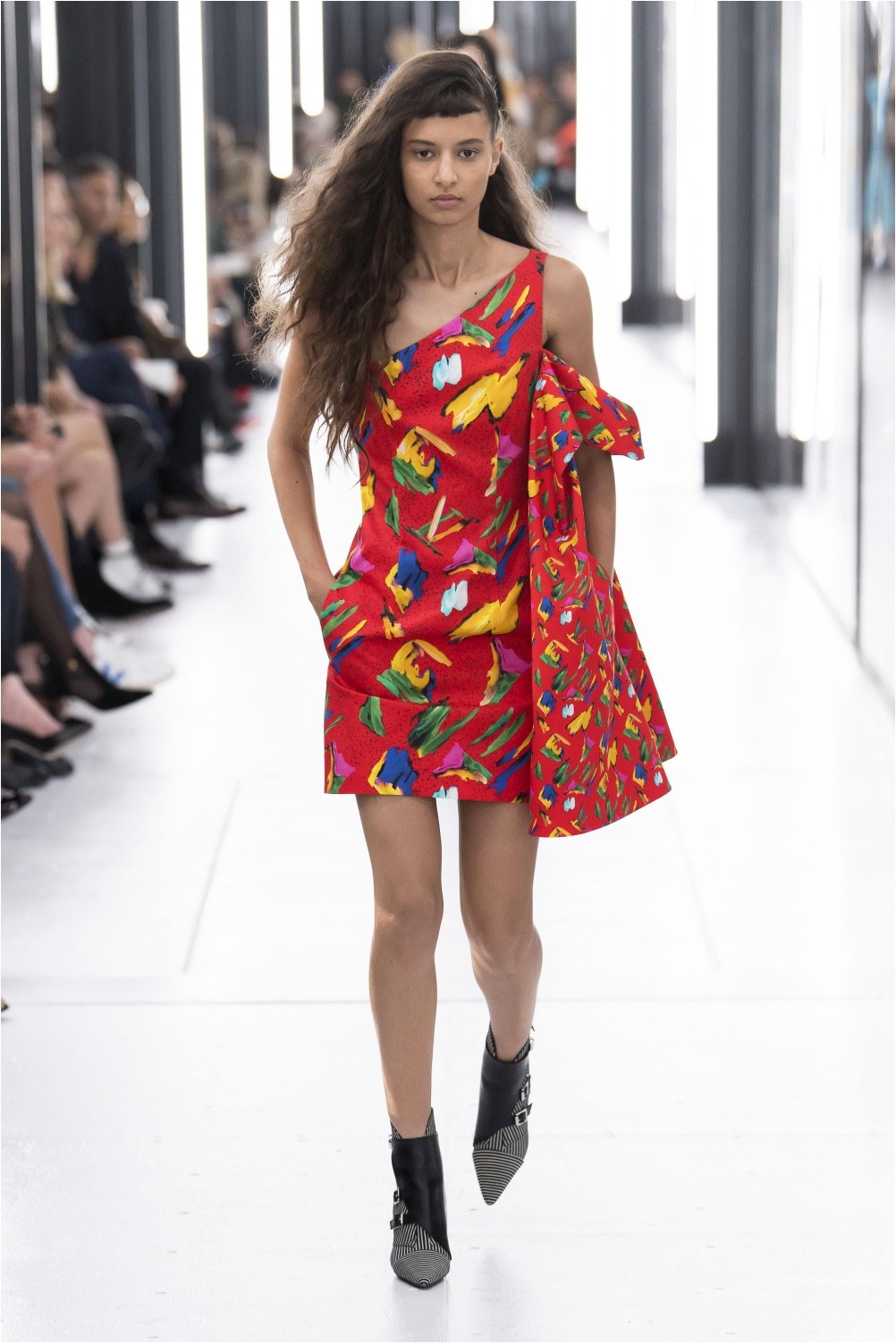 "Wrap" – Dresses
Wrap dresses or dressing gowns periodically return to fashion. Such a technique cannot be called the main trend. It is present in the basic wardrobe regardless of fashion trends..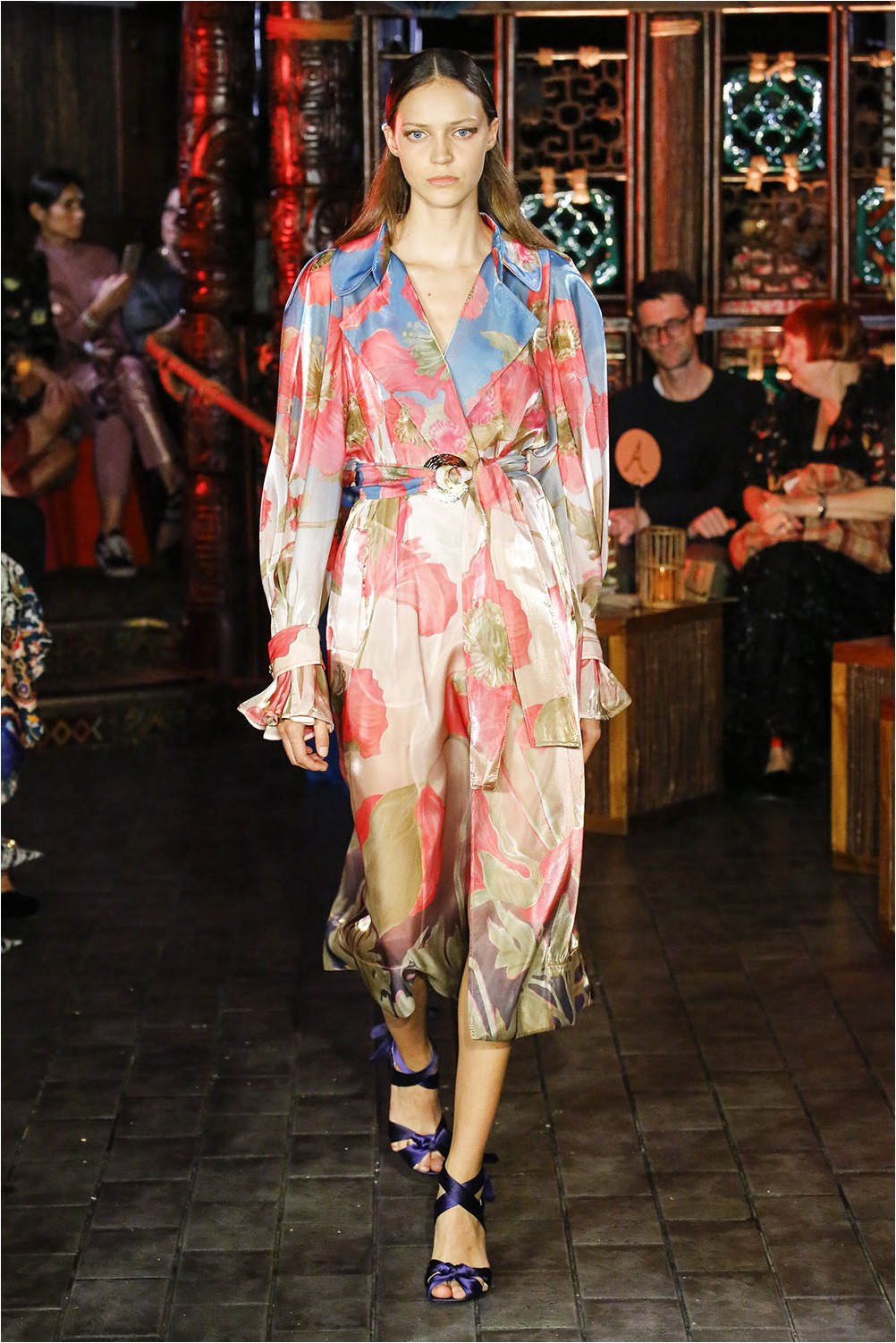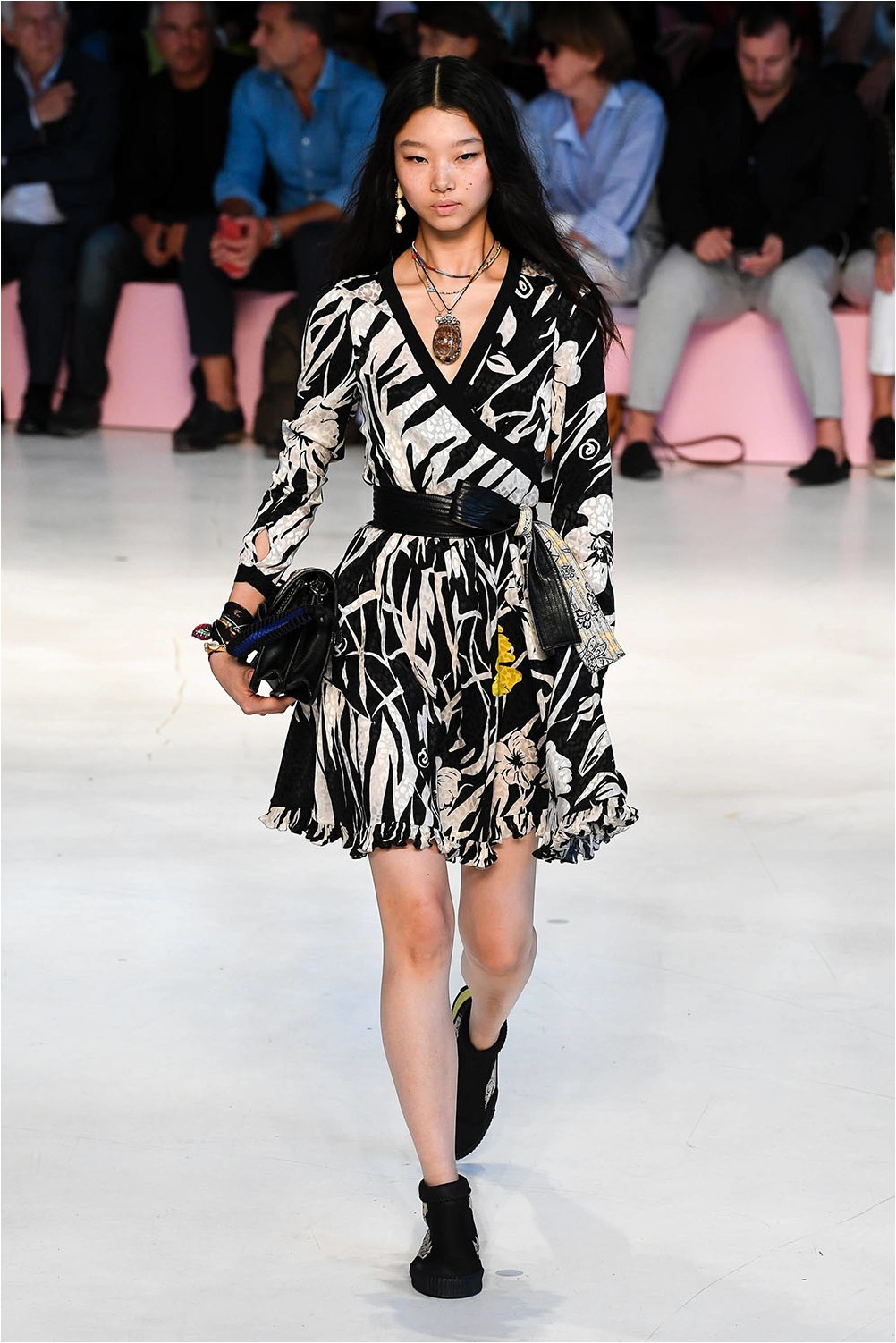 In the future warm season, we recommend paying attention to dresses with floral motifs up to a knee and below, and still leave mini-dressing gowns for the bedroom. They will be worthy of competition with maxi dresses with unobtrusive geometric print (such will always be relevant) or an original abstraction.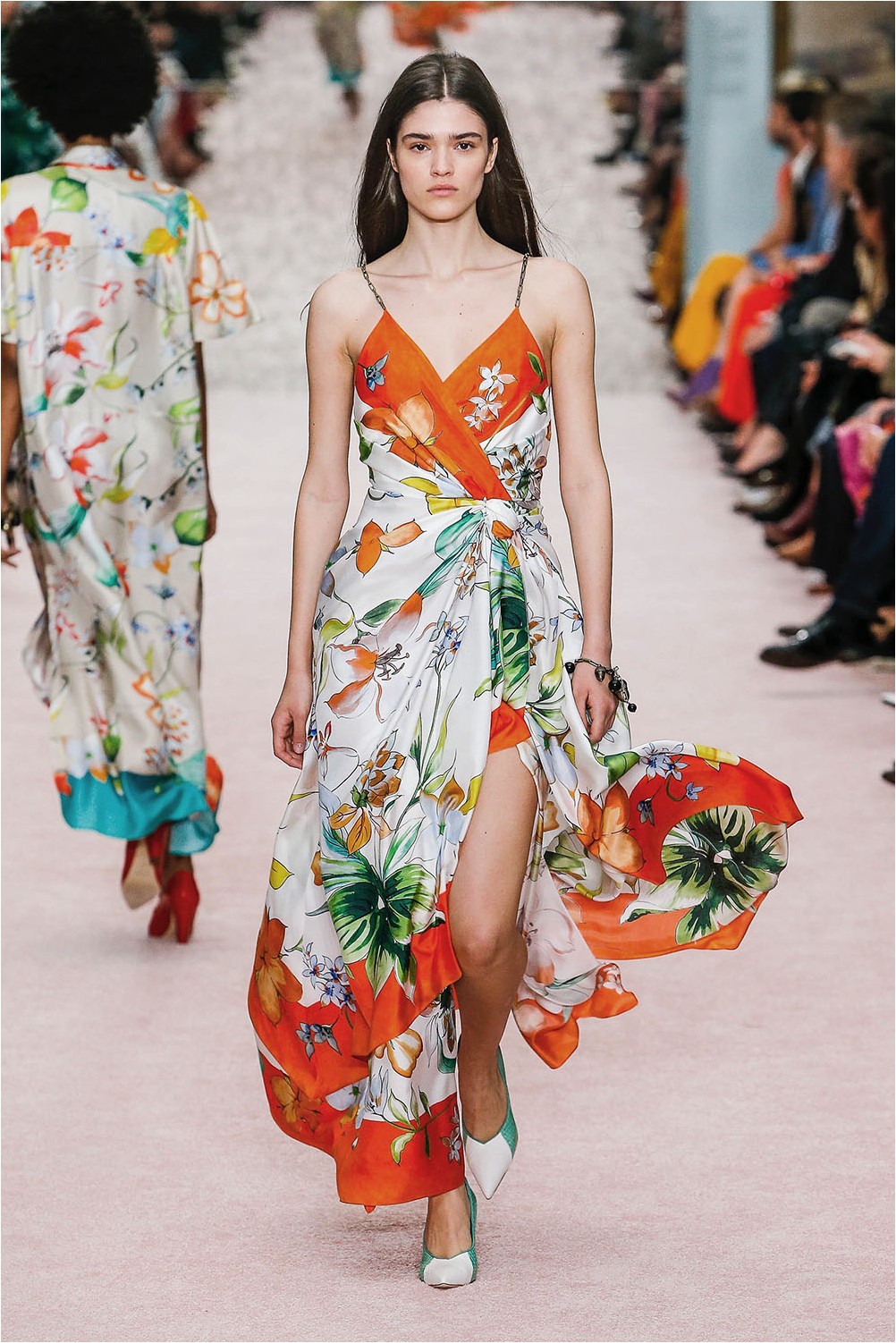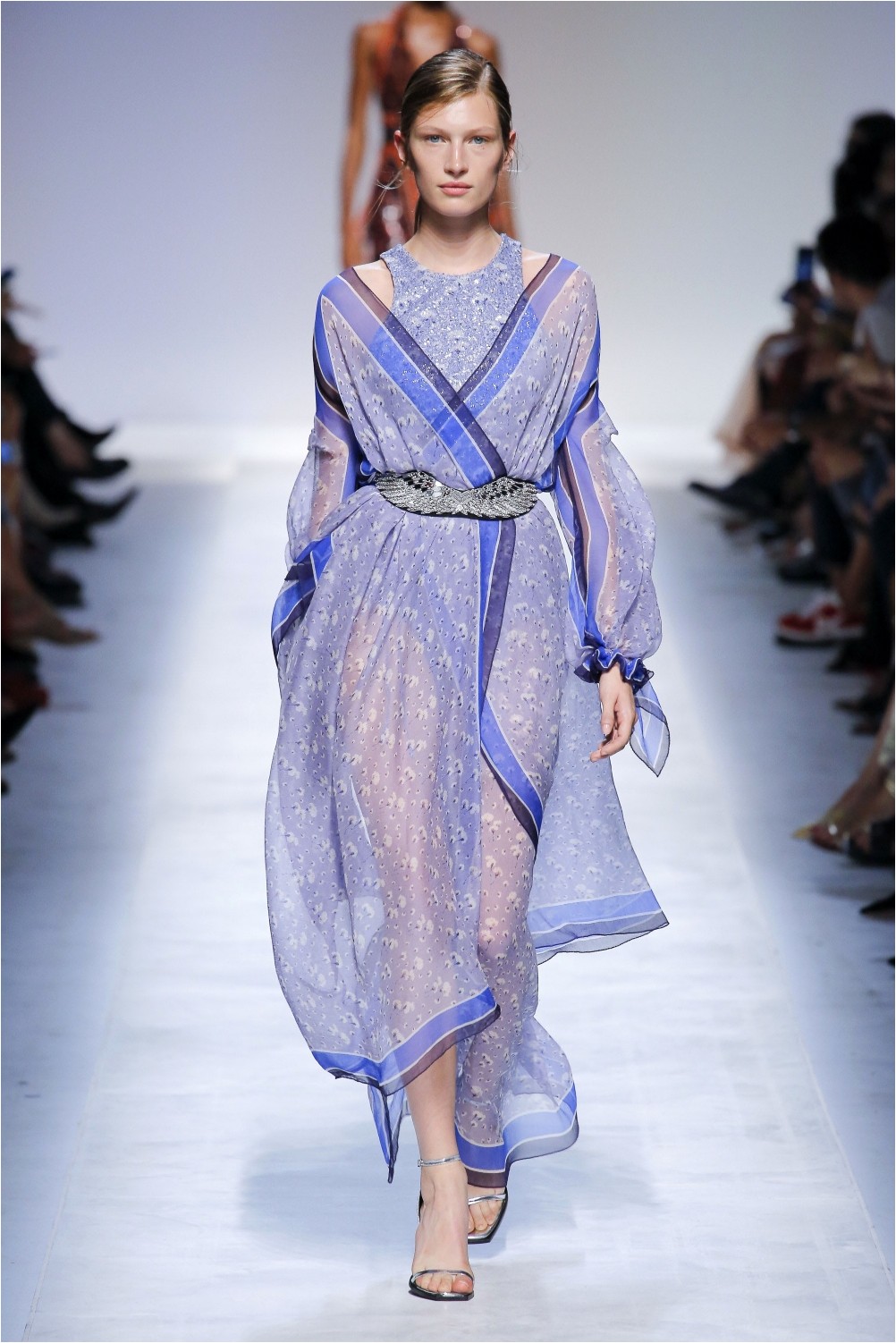 Fashionable dresses of the spring-summer 2019 season are a variety of colors, an abundance of a variety of cuts and textures. It seems that the designers seriously decided to return the girls tenderness, femininity and a special charm. Otherwise, how to explain the endless stream of quilling, lace, and bows? And about the light dress-dressing gown, which can be thrown off with one movement of the hand – and nothing to say. Now you have the opportunity to revise your basic wardrobe and meet the spring fully armed.
Similar articles
---