Content
---
---
Minimalism (Latin Minimus – the smallest) – style in design, characterized by the laconicism of expressive means, simplicity, accuracy and clarity of composition. Rejecting classical creativity and traditional art materials, minimalists use industrial and natural materials of simple geometric shapes, neutral colors (black, gray) and small volumes.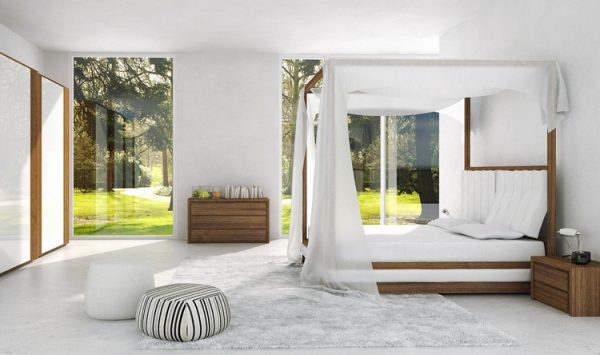 The main features of the interior in the style of minimalism
Spatial freedom: few furniture and accessories.
Zoning space, multi-level lighting.
The color palette is light, based on the game of halftones, a lot of white, graphically emphasized in black or gray. The palette is complemented by the natural tones of wood, brick, metal, glitter glass.
Simple natural finishing materials, often unprocessed, with a rough texture: brick, concrete, wood or plaster.
Simple shapes and lines, almost no decor on windows and walls.
Geometry of figures: circle, rectangle, straight, there may be a soft bend (no spirals)
Large windows saturated with light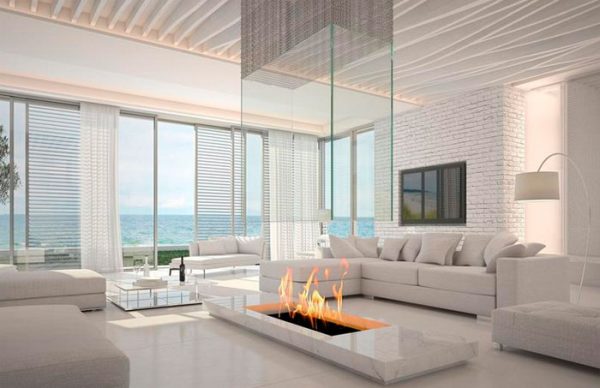 Furniture in the interior of minimalism
Cabinet furniture in the style of minimalism is characterized by a large number of flat facades. No milling of facades is permissible here, only a flat surface. To finish the facades, plastic is used that imitates natural wood or fancy wood-like designs, as well as monochrome colors. Also used facades with a high degree of gloss painted, or from acrylic. On more expensive furniture, natural wood is used either polished under glossy varnish or with a textured surface. Often on cabinets and facades you can see bronze and graphite mirrors. Often in interiors in the style of minimalism there are countertops made of artificial stone. The upholstered furniture in the style of minimalism also has simple geometric shapes..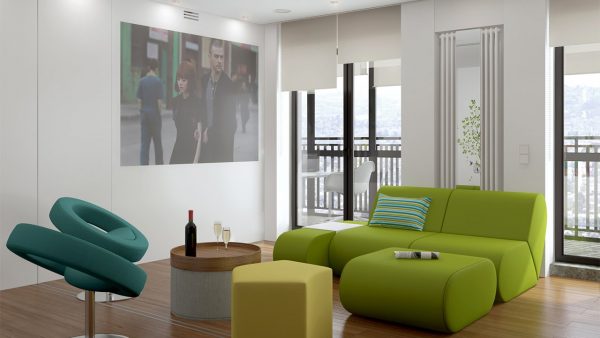 What interior lighting to choose for minimalism style
Minimalist indoor lighting means large windows for daylight access. Draperies are not appropriate here, they are replaced by vertical and horizontal blinds or shutters. Often used lamps with screens made of pure cotton monophonic color. Hidden ceiling lighting from neon and halogen lamps is also appropriate..
The walls in the interior in the spirit of minimalism style have a monophonic color scheme, no more than two – three colors similar to the shades of the room. The second color scheme is two contrasting colors. Monotone wallpapers are used for wall decoration, as an option with a not clearly defined pattern, a relief surface. Textured plaster, wallpaper for painting are also used. The interiors of minimalism are very interesting by the insertion of wall panels made of natural or artificial materials, such as stainless steel, polished and textured wood, artificial and natural stone.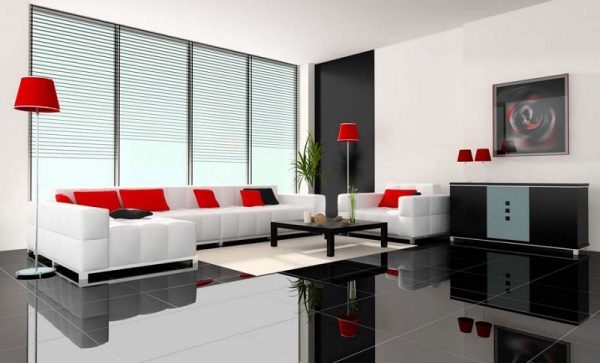 The transformation of style. Cold "white" minimalism has gone out of fashion (however, amateurs, of course, still create white-glass-steel interiors without regard to fashion), and now the style of ecological minimalism is very popular – natural materials, muted autumn colors, rough furniture
rustic forms.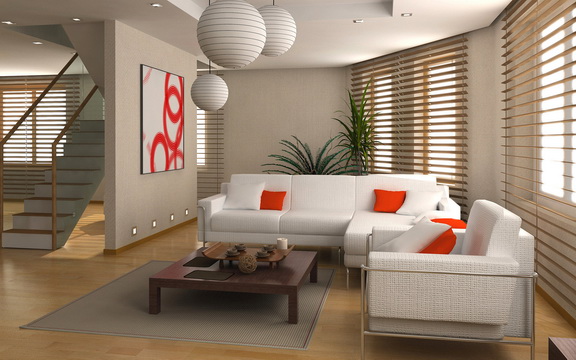 Minimalism is the brightest and most controversial style of the second half of the 20th century. Very often there is an opinion about the style of minimalism, that it is a cold style that creates uncomfortable, empty spaces to the echo. This opinion was formed in the mid-90s, when minimalist interiors were in great fashion and it was believed that the colder, more square and monochrome – the better.
The essence of the minimalist approach is that things should be concise and there should be few of them. Minimalism has no other canons – any colors, any textures, any spatial solutions are used. You can add bright colors such as colorful paintings or accessories in style Pop Art. As a result, the style of minimalism looks different or an interesting direction in design – the so-called Scandinavian minimalism. Go for it and your interior will be unique!
Photo Ideas