Those who are bored with gray minimalism and want to live brightly in the style of pop art, designers offer a creative interior built on flashy contrasts and paintings. Colorful posters, vibrant color combinations, a game with sizes and textures, comics, a combination of gloss and plastic, a portrait of Marilyn Monroe, funny 60 g, this is the first thing that comes to mind when talking about expressive pop art style. This is definitely not a mass style; it is suitable for people who are not afraid to shock, attract attention and stand out from the crowd. Pop art for young, cheerful and active.
How to make an interior in the style of Pop Art
Colour. If you firmly decided to decorate the interior in this style, get ready for large-scale transformations. One of the main tasks is to correctly convey the spirit of pop art through color schemes, the choice of materials and accessories. For the decoration of the room, use bright, acidic colors, and they may in no way be combined with each other. Traditional notions of harmony – the concept is absolutely unacceptable for the interior of pop art.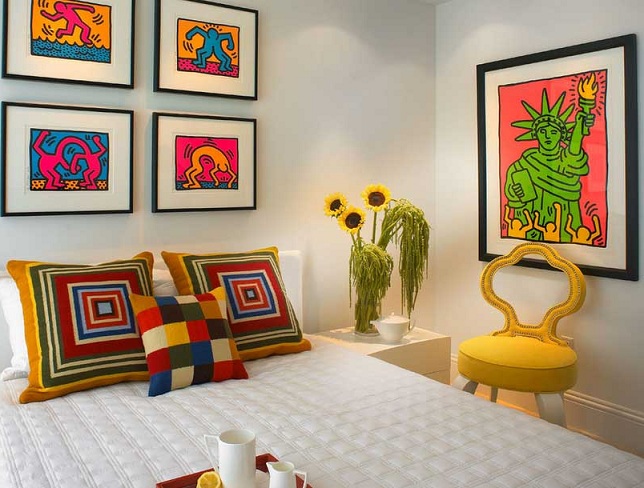 Light finish on the walls and floor. Pop art looks very good with clean, bright colors that do not conflict with it. And therefore, a light or neutral ceiling, floor or walls will be as suitable as possible for this purpose. Pop art is a burst of color and a storm of emotions, you can balance all this only with the help of a light foundation from the walls.
The simplest and most affordable tool will be white paint, which you can paint everything that will surround pop art, regardless of what it will be: a picture, furniture or wallpaper on an accent wall.
Cold gray is also good, which resembles the reflections of chrome steel, which has a certain affinity with pop art: it was in the 50s that the boom on the chrome finish of things began.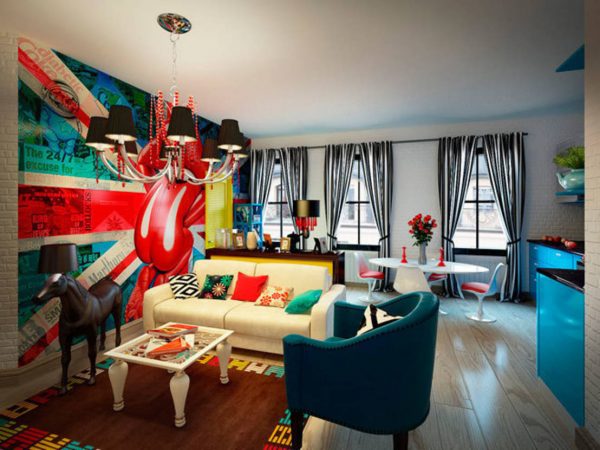 But look further. A common technique for wall decoration is painting them in contrasting colors. One wall is painted in a neutral light color (this is a kind of "safe haven", where the look can take a break from the flashy colors of the interior), while others are decorated in the most vivid way. Ideally, at least one of the walls of the room should be a kind of exhibition of popular art in the style of the works of the famous Andy Warhol, who, as you know, was a pop art guru. The wall should be decorated with a repeating pattern many times, the motive of which can be any commodity, starting from Coca-Cola bottles or many bright lips.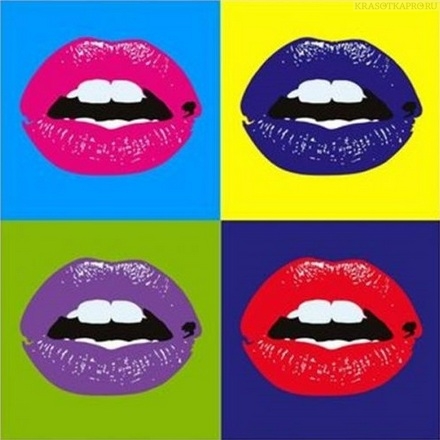 Portraits of famous people, drawings with portrayals of comic book characters and Hollywood films made in a screaming "Warhol" style will perfectly fit into the interior of pop art. Newspaper clippings, posters, mirrors in creative frames hung on the walls will look original. The contrast will become even brighter and more impressive if the walls differ not only in color but also in texture, for example, one painted, the other trimmed with decorative plaster, the third wood, the fourth wallpaper.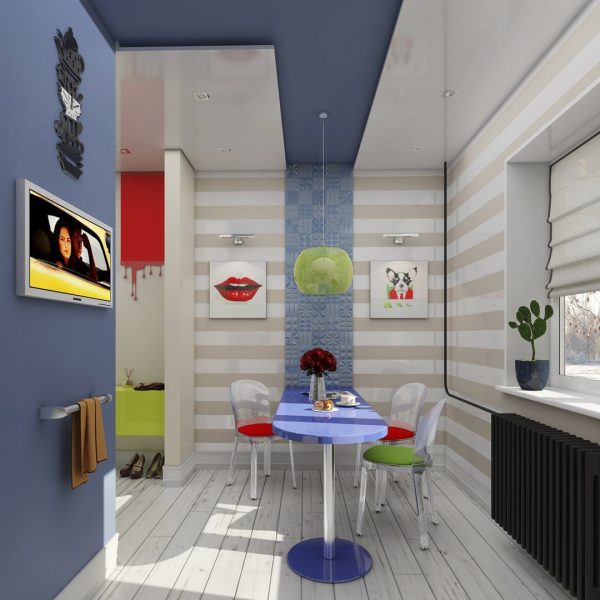 Bright sculptures. Pop art came to the interior from art, and therefore he took a lot with him. And the sculptures in the interior of pop art will be appropriate. It can be big pink dogs, reproductions or fragments of posters in the same style..
Colorful paintings. The value of paintings in pop art can hardly be overestimated, because it was they who became the conductor of pop art in interior design. As a rule, paintings in the style of pop art are created using print on canvas, photo printing or draw them in oil. A distinctive feature of pop art paintings is bright neon colors. The picture can be made in acidic colors, or have several bright strokes, but they will give you the understanding that this is an object of pop art. Themes for paintings: from the simplest ones – a portrait of a beloved dog, painted with distorted color reproduction, to stylized photos of politicians and show business stars. In general, painting in pop art is the easiest way to mark your interior with this particular style. It is worth hanging some bright photos in frames on light walls, and you will already have the impression that your apartment is from New York from the 50s.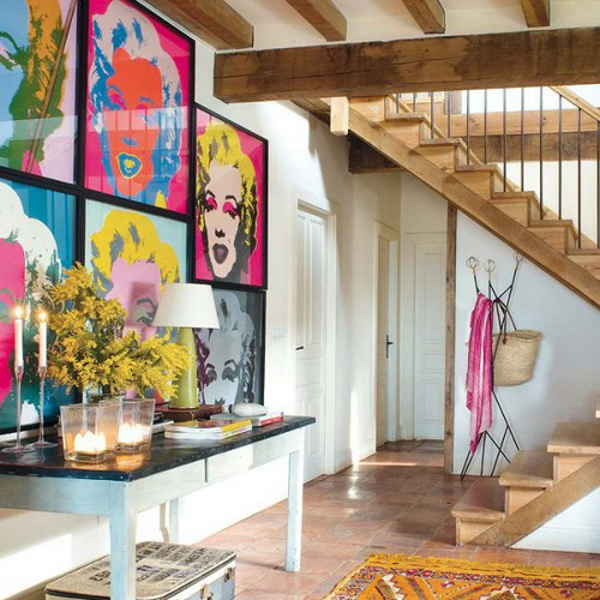 Pop art on accent wall. Accent wall in the interior in the style of pop art – akin to a large canvas for a picture. You can create everything you want here, without any restrictions. Just paint the wall with dense white paint and draw logos on it from your favorite goods and products. It can be car brand badges, the name of sweets, drinks.
You do not need to have special artistic skills to bring to life the ideas of pop art, because graphics do not require creativity – just took and redrawn. Also now you can order any image on paper, which you later use as a photo wallpaper on the wall.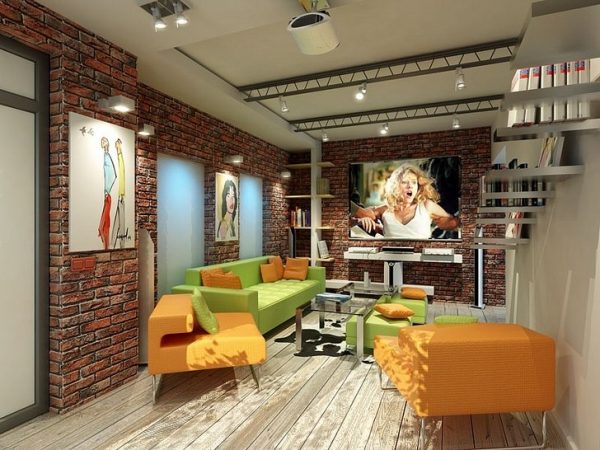 What furniture to choose for Pop Art style
Colorful textile. Textiles in pop art occupy a very significant place, since on it, just like on paper, it is very simple to realize any creative ideas. If you want to add some pop art to your life, buy colorful curtains or bedding with prints. Throw a few neon pillows with Marilyn pictures onto the sofa. Sometimes, looking at fabrics with pop art motifs, it seems that they are definitely from the 60s. So clearly they set the overall tone of the interior..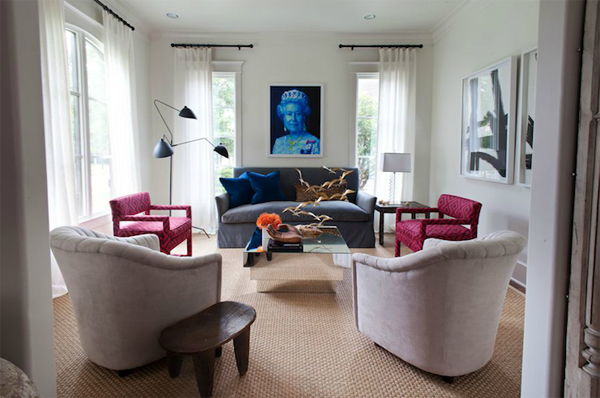 Now there is a huge selection of fabrics for independent sewing of decorative design elements. Also in any textile store you can choose something unusual in the style of pop art. We recommend that you carefully treat fabrics with pop art, as bright printing on a fabric tends to quickly lose its appearance. Try not to wash your bedspreads or curtains too often. And then your "pictures" on the fabric will delight you for a long time.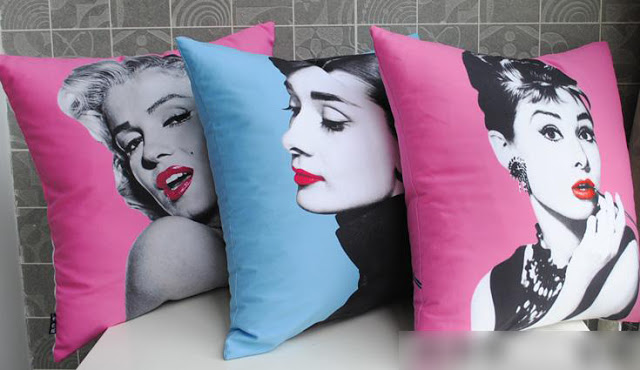 furniture. It is difficult to determine exactly what furniture looks like in an interior in art. Since, nevertheless, this applies to graphic images. But the furniture will have one very characteristic feature – the brightness of colors and shapes. It can be designer chairs of an unusual shape, large colored soft sofas, specially enlarged chairs, or small, but very bright poufs. The choice is up to you. You can choose any color on the color palette, even the most daring, and it is perfect for pop art. After all, art itself is an explosion of color and a surge of emotions. He can revive any, even the most boring, space..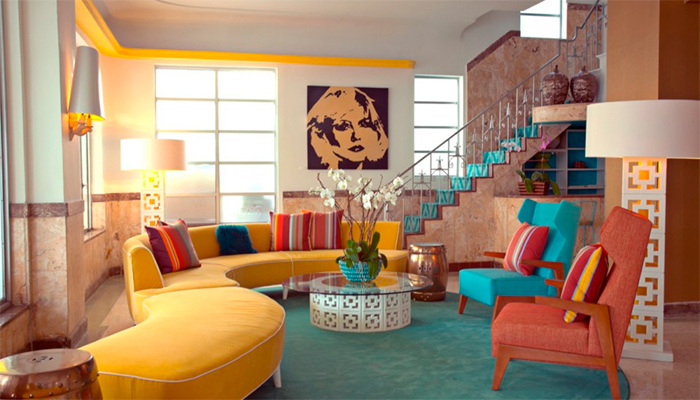 The pop art style has no strict limitations either in space-planning decisions or in the decor, which allows you to show maximum creativity in the arrangement of the interior. Shocking, self-irony, freedom of expression – these are the main postulates of the pop art style that will help you create an unusual and bright interior. He perfectly dilutes the interior of the apartment in style loft or give brightness to a minimalist design, it also looks cool in a room for young guys and girls.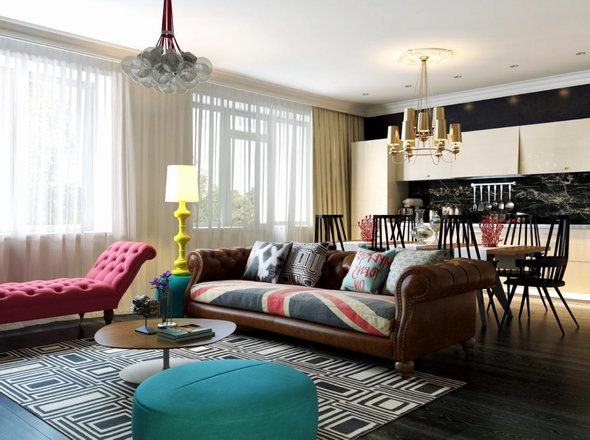 Pop art is timeless art. Since more than 60 years have passed since its appearance, and the number of its fans is constantly growing. Pop art is a celebration of color and art. Having bought something in this style at home, you will not stop admiring this thing. Do not be afraid of color and do not limit yourself in expressing your emotions!
Photo gallery