Content
---
---
Dignity and beauty in every detail – so in a few words you can describe the interior, embodied in the classical style. Living rooms decorated in this way are created exclusively for those who are seasoned and devoted to the best traditions in design and architecture. In addition, the refined taste and understanding that the classics are timeless and competitive come with age, which is why among the followers of the classical canons, more and more people are older than middle age.
Living room: classic-style interior, basic design rules
Creating an interior in a classic style is appropriate if your living room is quite large in size with high (from three meters or more) ceilings and windows through which light will abundantly flood the entire room. The whole living room decor should consist of solid, high-quality materials and furniture, which to purchase means seriously fork out.
The classic living room is elegance in every subject, clearly proportioned proportions, exquisite forms without pathos and excesses.
The tree in the classic interior is always used in furniture, flooring, decorative objects; fabrics of upholstery, curtains, pillows and tapestries are also made of silk, linen and cotton; metal elements are present in lighting fixtures, decor.
If you are seriously determined to embody all the features of the classical style in the living room, you can not do without a fireplace in it. This object must be present here unconditionally, since a priori is the heart of the living room.
The main colors of the interior in a classic style
For the most part, when arranging a classic living room, light neutral shades are used: cream, pale pink, beige, light gray, delicate blue, pale yellow, blurred green, which must be combined with a lot of white. Contrast is welcomed in the form of dark wooden furniture, frames of lighting fixtures, decorative gizmos..
Floor and walls in a classic interior style
The floor is often laid with natural parquet made of high quality wood, with a classic openwork or geometric pattern. You can use a parquet board, but not too dark, otherwise the feeling of lightness of a classic interior can evaporate.
Natural parquet is used not only due to its high aesthetic performance, but also performs a practical function, since such a coating is very durable.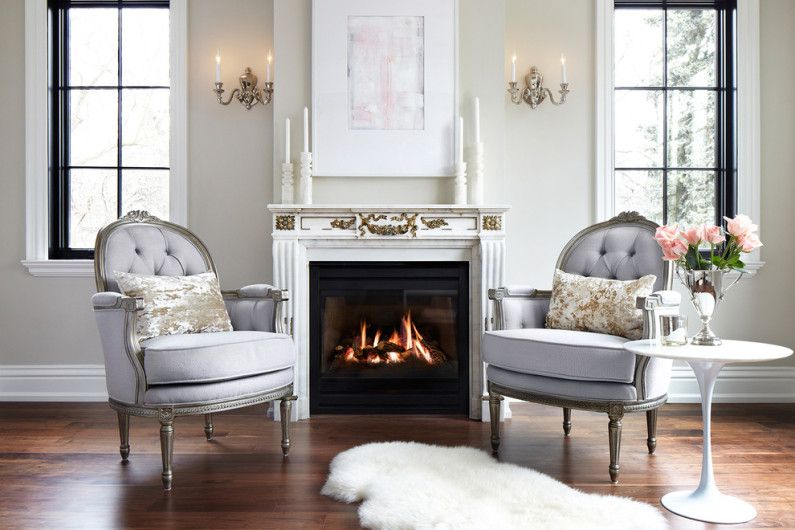 Walls in a classic interior design of a living room
They can be painted in a light shade and decorated with stucco elements: columns, half columns, pilasters, panels, friezes and moldings with a moderate relief. If the living room is papered with wallpaper, choose discreet ornamental motifs or a floral pattern to match the basic color of the room.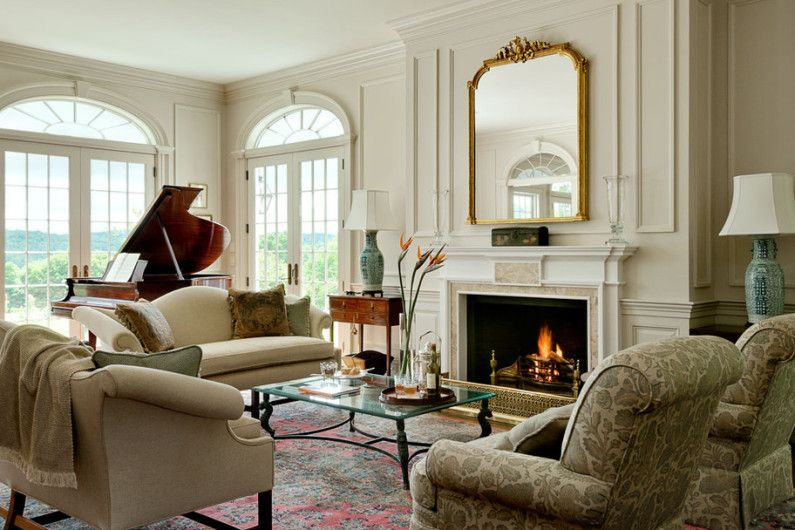 Ceiling in a classic interior design of a living room
Always white, decorated around the perimeter with a traditional classic cornice and frieze, sockets, moldings and other stucco moldings of gypsum, which today can be replaced with polyurethane elements.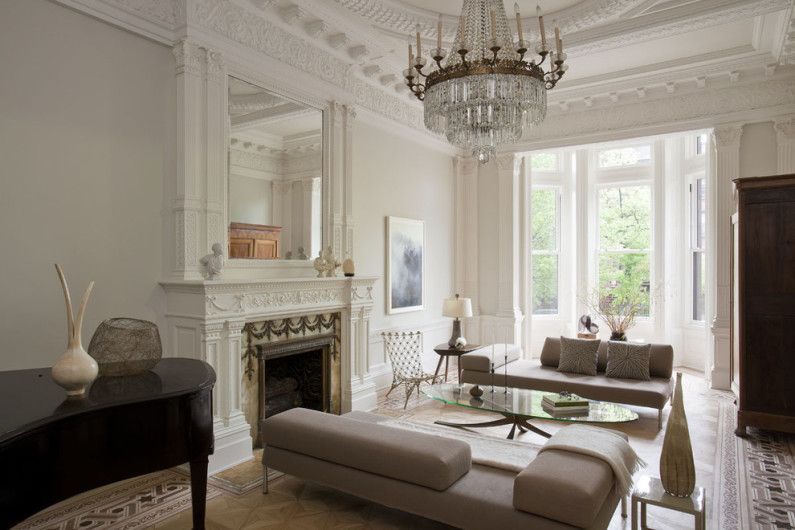 What furniture to choose for a classic style in the interior
It is she who creates the special character of the room, since objects establish those that most clearly reflect the essence of the historical style. Very often among them are antique armchairs and Chippendale-style chairs, Sheraton tables and dressers, Chesterfield sofas.
As mentioned earlier, all objects have a distinctive feature – this is the material from which they were created: natural wood (wenge, oak, hevea, mahogany). Upholstery of classic furniture should not be too different from the main gamut of the room, and ideally, should be a natural white or sand color, but may have one of the shades of a wooden frame. For example, a chair with curly thin legs, a back and armrests made of oak can be upholstered in light brown jacquard, velvet or velor fabric..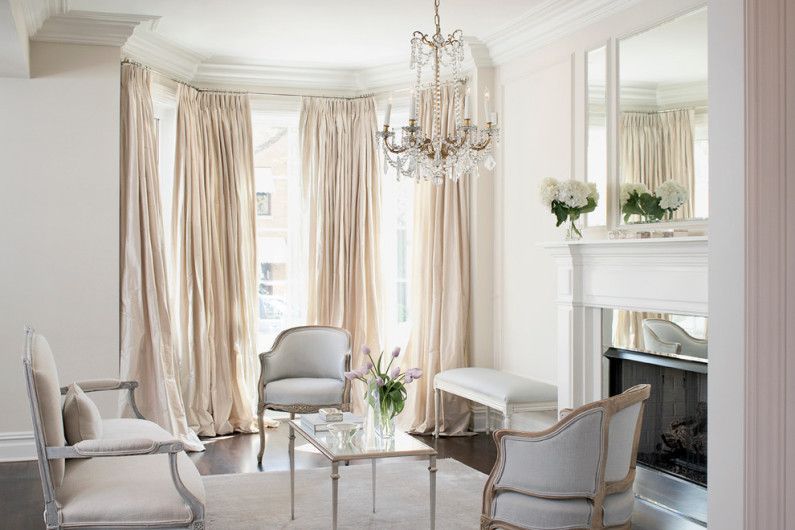 The furniture for the living room in the classical style can be represented by sofas and armchairs on elegant carved legs, but with a moderate decor. In the interior, all objects should be placed at some distance from each other so that the freedom of space is clearly felt. It should not, too, overload the room with excess heavy objects, even if the footage allows you to do this. It will be enough, in addition, to establish a coffee table, a chest of drawers, a console and a sideboard, so that the situation does not look empty, but harmonious.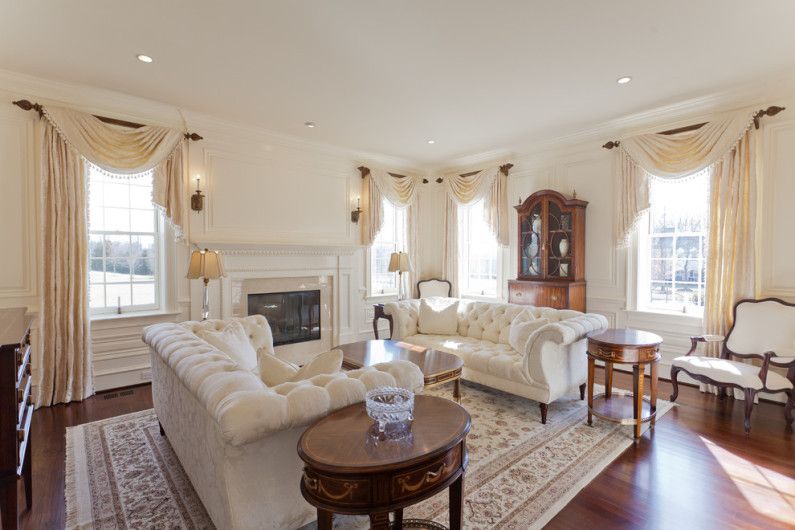 What chandelier to choose for a classic style in the interior
In the center of the ceiling, its rightful place should be occupied by a chandelier with several horns imitating lighted candles, or with classic fabric lampshades. Together with them, you should choose a model of the lamp so that it contains crystal pendants – also a classic trick.
When installing a chandelier, make sure that it is suspended at a certain distance from the ceiling, and does not come close to it, use the competently provided room height.
In the classic version, the pendant device is made of forged metal or carved wood with the effect of bronze or gilding. In addition to the main light source, it is recommended to choose wall sconces (in the form of candlesticks or with lampshades) and table lamps with figured bases.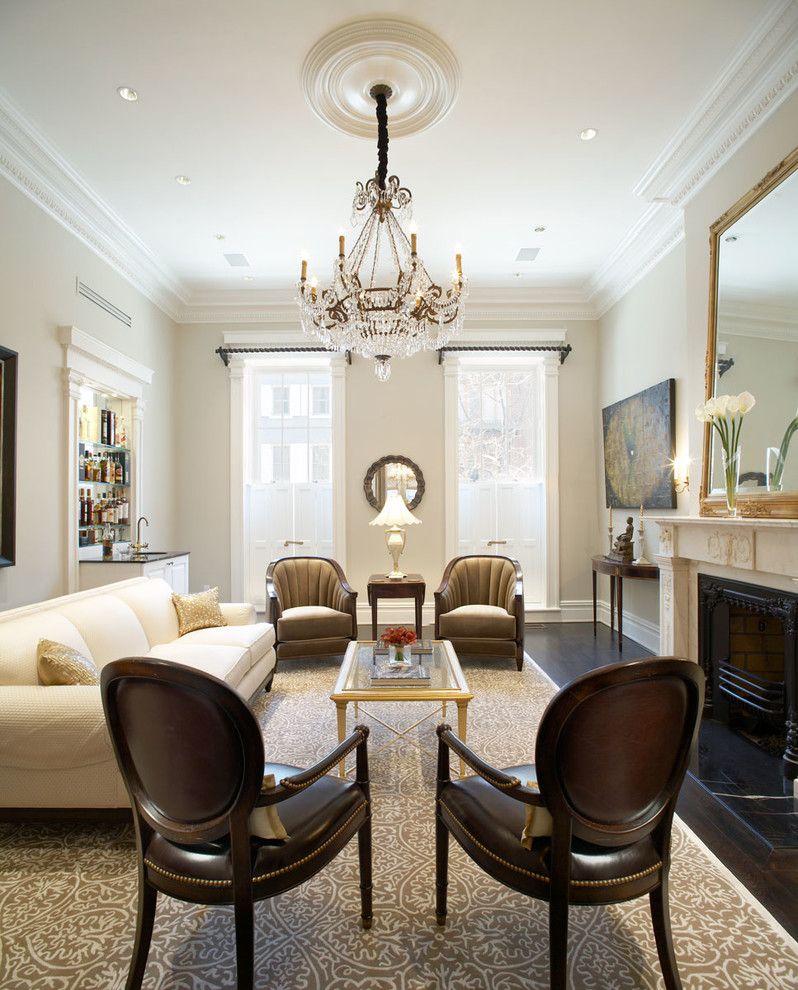 Classic style in the interior, how to choose curtains
The windows are hung with dense curtains, combining with light tulle, but blinds or Roman curtains in the classic living room does not belong. In order to provide good light access to the room, the curtains are equipped with pickups with decorative brushes and suspended on a traditional curtain rod with brackets.
Speaking of patterns for textiles, it should be noted that colors that are too bright are not accepted, and preference should be given to neutral, with a barely noticeable ornament, a tone different from the background shade.
In addition to velvet and jacquard, they also use printed silk, brocade and satin, you can choose decorative pillows that will repeat the pattern of the upholstery fabric of the sofa, the color of the walls or combined with the wallpaper pattern.
If desired, for curtains, you can choose a heavy fabric in a more saturated color (deep carmine, wine), which will be in harmony with the shade of solid furniture.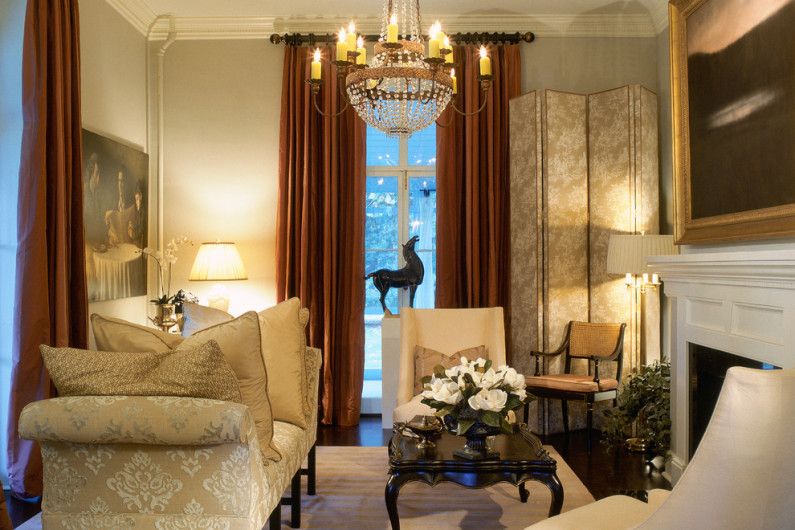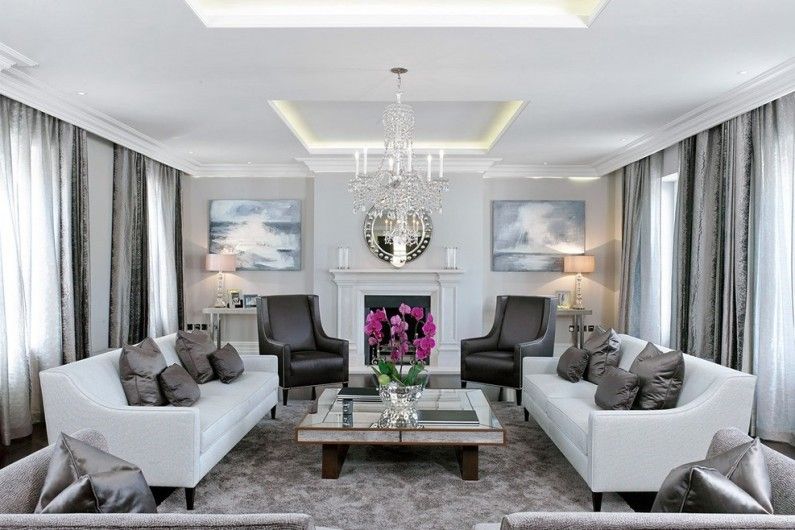 Accessories and interior decor in classic style
The walls, in addition to moldings and wallpaper, should be decorated with paintings in massive frames, and the plot for them should be landscapes, hunting scenes, ceremonial portraits, in general, traditional paintings.
Decorate tables, consoles or a fireplace with porcelain figurines and vases, candelabra or decanters made of bronze and silver. But it is worth remembering that there shouldn't be many such objects, and their surface – with moderate decorations.
Well, and most importantly, organically in the classic-style living room books, placed a wardrobe of solid wood, or a similar shelf look organic. It will not be superfluous to use, as decorations, family photos, necessarily in wooden frames, which are exhibited in small compositions on the fireplace, chest of drawers or console against the wall.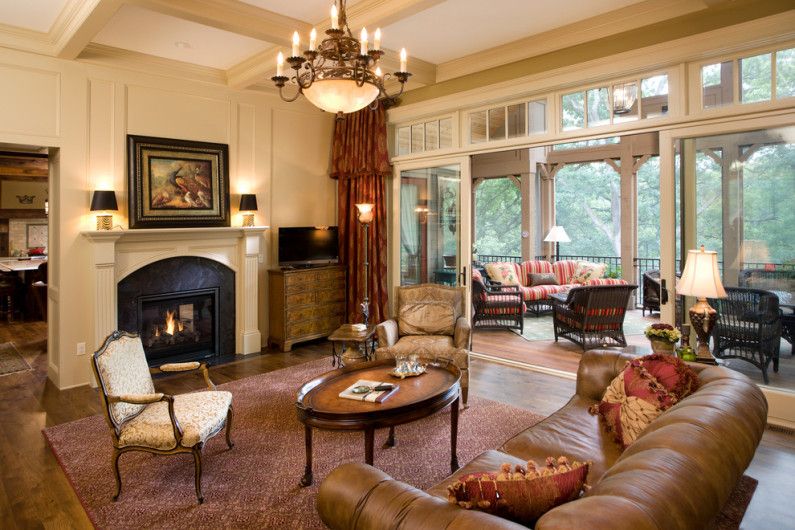 The classic interior is characterized by the use of gilding and bronze shimmer, which cover carved furniture elements, frames for mirrors and paintings, wooden candlesticks.
If you have a desire to create a solid interior for years, or even decades, after reading this article, there will be another reason to bring a long-standing undertaking to life. Good luck and creative accomplishments!