Content
---
---
A useful pleasant procedure necessary for the skin of the body is scrubbing. The cosmetics industry offers women body scrubs, but you can actually make it yourself. One of the best scrubbing bases for home use is sea salt..
What are the benefits of sea scrubs?
The task of a good scrub is to deeply cleanse the skin by removing dead cells from its surface. The use of scrubs on the skin has long been an indispensable stage of regular care. Likewise, the body needs scrub care, especially if a woman seeks to get rid of cellulite.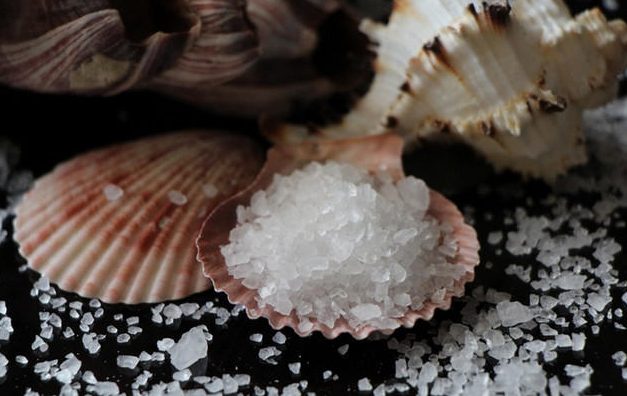 Any scrub consists of a soft base sliding on the skin, the role of which is played by a cream, oil or gel, and hard abrasive particles. They play the role of a stiff brush that cleans the pores and exfoliates the upper dead skin layer. As abrasive particles when creating scrubbing home compositions are used:
• coffee;
• ground peach seeds, dried peels of citrus or walnut shells;
• sea salt.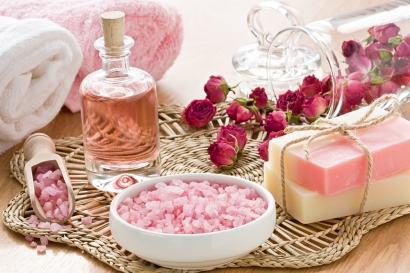 Scrubs with sea salt are especially good for the body. The fact is that in addition to deep cleansing, they perfectly heal the skin and are effective in combating the "orange peel" – cellulite that is hateful to any beauty. Sea salt contains iodine, iron, magnesium, calcium, which have a wonderful strengthening effect, fill the skin with minerals, tighten and renew.
As a result of regular use of sea salt as a part of home body scrubs, the skin becomes smooth, smooth, like a baby's, beautiful and supple. If you seriously take care of the cellulite problem and work with a salt scrub for the body on the problem area, the manifestations of the "orange peel" will become smaller, the skin will even out, swelling and excess volume will go away.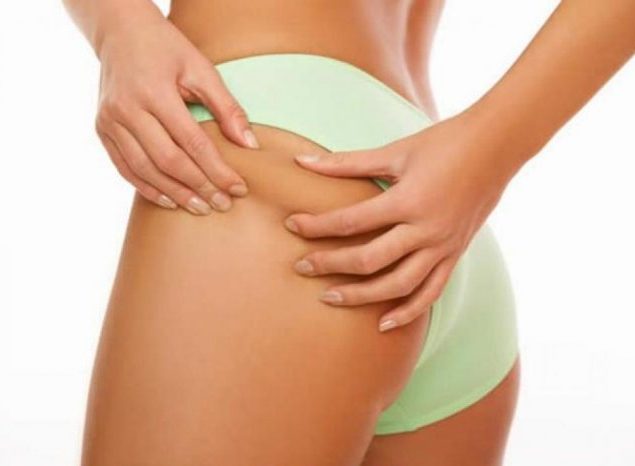 The secret is that scrubs with sea salt improve blood circulation, promote the outflow of fluid from cells, and therefore, relieve constant edema – one of the reasons for the formation of cellulite. Not only the skin is smoothed, but also the fat depots are destroyed and go away. In addition, after applying the scrub, the pores are cleaned, and anti-cellulite, moisturizing or nourishing lotions, milk, creams, balms deeply penetrate deep into the skin. Their action is enhanced several times.
How to apply scrubs with sea salt
To get the maximum effect from salt scrubs for the body, you need to apply them correctly:
• before using the scrub, it is imperative to take a bath or shower to steam out the body;
• apply the composition to wet skin, massaging it with a special massage sponge or just a palm;
• problem areas where there are manifestations of cellulite (hips, hands, stomach, etc.) are processed especially carefully, intensively, but without injuring the skin;
• it is imperative to work out the arms and legs with a scrub;
• After scrubbing, rinse thoroughly;
• get wet skin and be sure to apply cream or lotion.
The procedure does not take much time, about five to ten minutes, but the effect will be amazing. Sea salt has a drying property, so moisturizing the skin after the procedure is mandatory.
How often to make scrubs with sea salt depends on the type of skin. If it is dry and normal, then twice a month is enough. For oily skin, cleansing is required more often: it is better to repeat the procedure weekly. If the skin is sensitive, you will have to act, firstly, very delicately, avoiding microtrauma, and secondly, do scrubing no more than once a month.
If the skin is problematic, there are injuries, skin diseases, injuries, it is better to refuse a salt scrub until a complete cure or restoration of the integrity of the skin.
In extreme cases, in separate undamaged areas, you can try a scrub based on carefully ground salt.
What components can be used in scrubs with sea salt
In order to prepare a scrubbing composition, additional components and base oils will be required. Salt can be mixed with soda, ground coffee, corn grits, fine clean sand, dried medicinal herbs, that is, strengthen mechanical scrubbing. Skin cleanses even deeper.
As a softening component that will help prevent damage to the skin, any base cosmetic oil is used. It will not only soften, but also give the skin additional nutrition, hydration. Instead of cosmetic oils, you can take food, for example, olive or flaxseed. But in this case, you need to take into account its high fat content. If the skin is dry, then such a base will be useful.
What oils can be taken to make scrub:
• grape (from grape seeds);
• jojoba;
• peach;
• wheat germ;
• flaxseed;
• rapeseed;
• almond;
• peach;
• sunflower.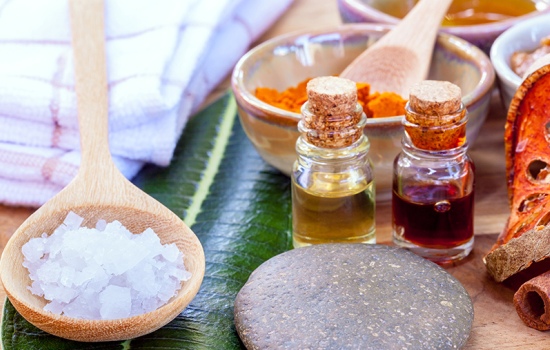 In addition, any massage oil that can be bought at a pharmacy is suitable. If there is an essential oil whose aroma you like, it is also added to the composition of home scrub. Ether will not only make the procedure even more pleasant, but also give the skin additional healing.
The best recipes for scrubs with sea salt
There are several popular salt scrub recipes. But in reality, you can invent them yourself – you just need to catch the general principles of compiling scrub compositions.
With olive oil
The easiest salt crab recipe for the body is a mixture of sea salt and olive oil. It will take from 5 to 8 tablespoons of salt and two to three tablespoons of oil. You get a mixture that perfectly cleanses from deep skin impurities, including sebaceous plugs, relieves inflammation and makes the skin soft and moisturized.
With coffee and lemon
Coffee-salt scrub with the addition of lemon juice is distinguished by excellent cleansing, tonic and anti-cellulite properties. A multi-component recipe fully justifies the time that you have to spend on its preparation. Although in reality there is nothing complicated in such a scrub.
It will take six tablespoons of salt, a spoonful of coffee from a Turk or a coffee maker, three tablespoons of lemon juice. The composition can be used to regularly treat problem areas during an active fight against cellulite..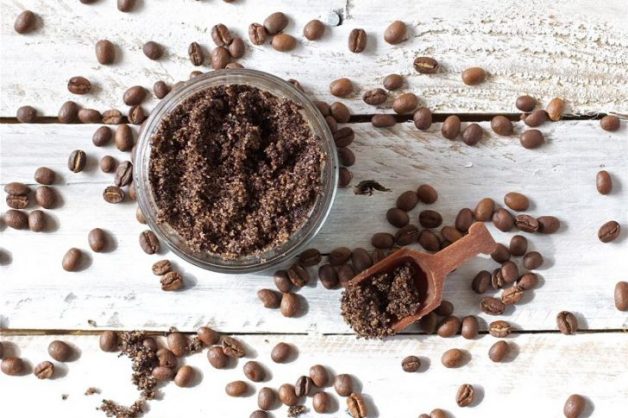 Orange Peel, Essential Oils
To make a scrub according to the following recipe, you need a dried peel of an orange or any other citrus fruit. The zest contains many essential oils that have a beneficial effect on the skin, especially with severe cellulite. The composition is fragrant, it will give not only true pleasure, but also satisfaction from a clear anti-cellulite effect.
Dried orange peels should be ground into powder, mixed with a glass of sea salt, three tablespoons of cosmetic or massage oil, and add three drops of essential oils of cedar, grapefruit and lemon. Mix the components thoroughly and thoroughly treat the skin of the body for 10-15 minutes.
With sand and essential oils
The original hot scrub made from a mixture of salt, pure river sand and essential oils is a powerful anti-cellulite product. It is important that the sand is fine and really clean so as not to infect through microscopic skin lesions..
To prepare the composition, pour one hundred grams of salt and sand into a tightly closed container, drop ten drops of cinnamon ether or other (optional), mix well, close the lid tightly and let stand for 24 hours..
The mixture is heated over boiling water, in the oven or in the microwave, and applied hot to the skin. Massage movements should be very cautious, and the temperature of the mixture should not be scorchingly high. Such a scrub should be applied to the cellulite areas of the body, massaging them for ten to fifteen minutes.
Rinse thoroughly after the procedure, apply a calming crepe or balm to the skin. Repeat scrub in a week.
With honey
It is not by chance that honey and salt scrubs are considered the most effective if three goals are to be achieved simultaneously: smoothing the cellulite areas of the skin, detoxifying, and nourishing the skin. Honey combined with salt gives an amazing effect..
To prepare the composition, you need to take two tablespoons of honey for half a glass of salt and immediately use the mass, applying it to problem areas or treating the whole body.
There are two methods of working on the body using a honey-salt scrub. The first option is to do everything as usual, that is, distribute the mixture over the skin with massage movements, rubbing and slightly pressing.
The second option is more interesting, it is used by professional masseurs during anti-cellulite massages. The mass must be applied to the palm of your hand, pressed firmly to the area to be treated, and torn off sharply, quickly. Pores are cleansed very deeply, the skin becomes incredibly soft and smooth..
With sour cream and cream
To pamper yourself, nourish the skin with useful substances and deeply cleanse it, you can cook sour cream and salt scrub. To do this, the right amount of sea salt (3-4 tablespoons) is mixed with three tablespoons of sour cream and a spoonful of fat cream. The mass is distributed over the skin, massaged and washed off. Such a scrub is especially good for dry skin..
Who should not use sea salt scrubs
If the body has serious problems in the form of acne or acne, scrub can not be used. It can damage the skin and cause severe inflammation..
With very sensitive, thin, irritated skin, the procedure is also contraindicated. Mechanical aggressive effects are detrimental to such skin. sparing scrubs based on oatmeal but not sea salt are allowed in this case.