Content
---
---
Confectionery and sugary drinks can reward us with cellulite, excess weight, uneven, dull skin. If sugar is used as an external remedy, it is able to rid us of these troubles. Let's apply sugar correctly!
Sweet grains of regular white sugar contain substances that are very beneficial for the skin. They disinfect, soften, restore elasticity, and solid particles help mechanically clean the surface of the epidermis. Sugar body scrubs, the recipes of which are given below – proven remedies for the fight against sagging, orange peel, stretch marks.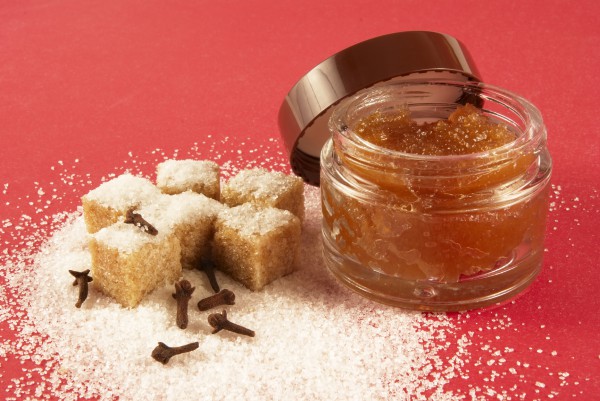 How to use sugar scrub for the body
There are many recipes for homemade sugar-based scrubs. Often, one composition is applicable to the face, lips and the whole body. The exception is cellulite scrubs, often they contain potent substances not applicable to the skin of the face.
It is enough to follow a few tips to get the most out of the "sweet" procedures:
1. Less sugar inside – more outside.
2. Before processing the whole body, it is advisable to take a bath, steam out the skin, which means to open the pores for a deep impact. If the face is the cleansing area, steam baths or a warm compress will do..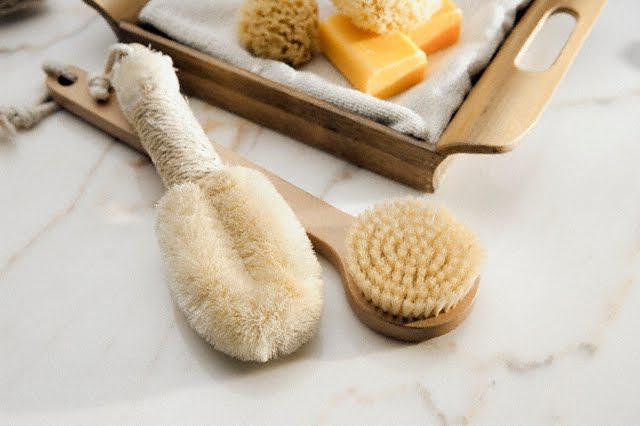 3. Using burning ingredients from cellulite (ginger, pepper), accustom the skin to them gradually. Start injecting them into the scrub with micro doses, gradually increasing to the amount recommended in the recipe.
4. For sensitive skin, use crushed sugar in a coffee grinder..
5. Brown sugar contains more beneficial substances for the skin; if possible, replace it with plain white in recipes.
After cleansing, rinse the scrub with warm water, and be sure to rinse with cold at the end. The pores will narrow, and the body will receive a tonic, hardening effect..
Sugar body scrubs: the best recipes
The composition of any scrub includes a creamy base and abrasive particles. These particles massage and cleanse the epidermis of impurities, dead old cells, sebaceous secretions. Sugar crystals will serve as such abrasive elements, and various ingredients as a basis will help to cope with the problems of any type of skin..
Anti-cellulite scrub with sugar
An "orange peel" on the sides, buttocks, or stomach is very upsetting for any woman. We are ready for any cosmetic procedures in the hope of getting rid of it. But the most important components of such a miracle are intensive massage and regularity. At home, sugar body scrubs perfectly replace expensive salon treatments, providing the skin with the most luxurious care.
The composition of a simple anti-cellulite scrub:
1. Sugar (white or brown) – 0.5 cups;
2. Vegetable oil, olive is better – 0, 5 glasses;
3. Spices that enhance the anti-cellulite effect – 1 tsp.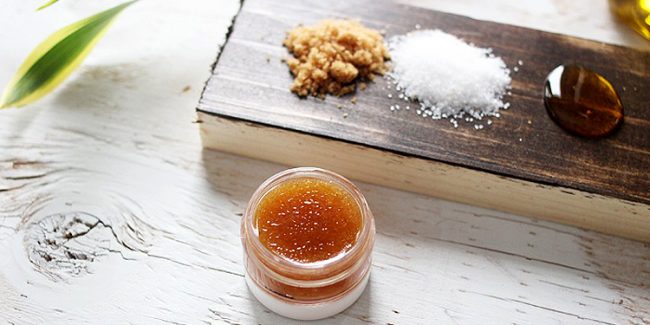 You can use a variety of spices, the best warming effect is given by red and black ground pepper, ginger, cinnamon.
Sugar body scrub recipe with ginger and honey
It is permissible to use dry ginger, but the best result is a fresh root grated on a fine grater. In addition to nutrients, it gives additional heating and scrubbing effect..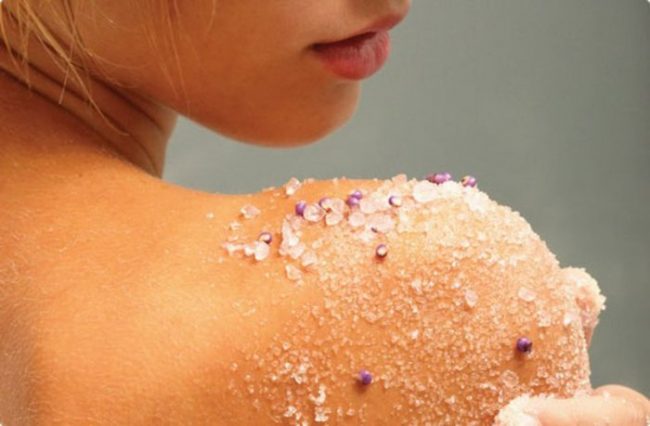 Honey is one of the leaders among products from cellulite, stretch marks, and skin roughness. The rich vitamin composition, minerals, natural honey enzymes rejuvenate and stimulate the metabolic processes in the epidermis. The unique sticky astringent structure is useful for massage. Therefore, when massaging problem areas with honey, it is recommended that, in addition to rubbing movements, lightly pat the skin with your whole palm.
Structure:
• sugar;
• honey;
• ginger.
Products must be taken in equal parts, mixed. Add a little essential oil (3-5 drops) if desired. Oils of any citrus, lavender, mint, bergamot are well suited.
Salt and sugar in one scrub from stretch marks
In addition to its exceptionally strong anti-cellulite effect, such a scrub helps to solve the problem of stretch marks. Salt and sugar together, with regular use, are capable of even such miracles.
Ingredients:
1. Sugar – 0.5 cups;
2. Salt (sea) – 0.5 cups;
3. Coffee grounds – 3-5 tbsp. l .;
4. Unrefined olive oil – 0.5 cups;
5. 1 capsule of pharmacy oil solutions of vitamins A and E.
We connect all the components, mix. Massage the whole body, paying particular attention to problem areas, elbows, knees. The remedy perfectly copes with calluses, corns on the feet. In places of stretch marks, one should act carefully, massage with light movements.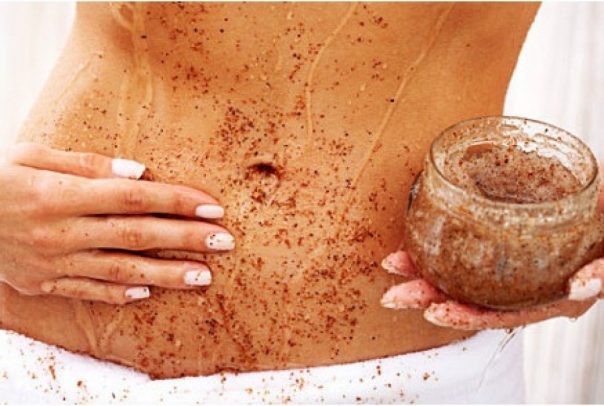 Be patient: neither stretch marks nor cellulite will go away in a week or two. It may take up to six months of weekly procedures, although the first changes on the renewed skin are felt almost immediately. The tenderness, velvetyness of the whole body pleasantly pleases after the first procedure.
"Bounty" for the whole body – a scrub with cocoa and coconut
This rejuvenating sugar scrub for face and body in composition and smell is a real chocolate bar. Its ingredients nourish, moisturize, tone tired skin, restore its elasticity..
Cooking:
1. Mix sugar with cocoa powder in a 2: 1 ratio.
2. Add 1 part coconut.
3. Pour 1 part of melted coconut (almond, olive) oil into the resulting dry mixture, mix.
4. Add cinnamon or vanilla as desired.
From a magic smell you are guaranteed to be in a good mood. After applying with a massage, leave the treat on the skin for a few more minutes, for intense action. Silkiness, softness of the skin, its delicate aroma after the procedure will for a long time remind of such an affordable and yet precisely "heavenly" pleasure. You can repeat the procedure at home when you want.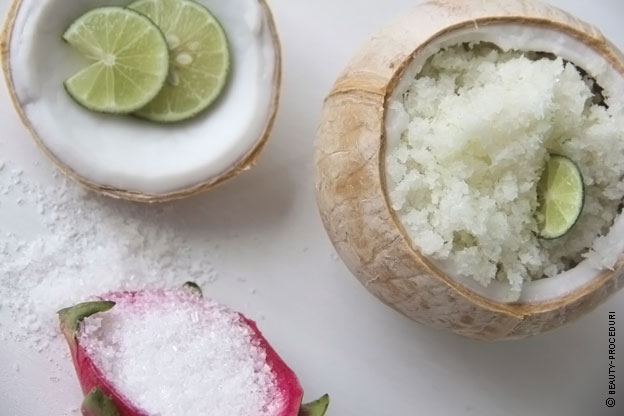 Note! Scrub cooked for the future, it is permissible to store in a closed container, in the refrigerator for no longer than a week.
Depending on the composition, sugar crystals may persist or melt. If sugar melts quickly, the scrubbing effect is lost, which means that the product must be prepared before use.
Sugar Facial Scrubs
Excess sweet in the diet spoils the skin, increases its fat content, porosity. Externally, application cannot harm – sugar in face scrubs does not cause allergies. Deep cleansing pores, polishing the surface of the skin, sugar disinfects and helps eliminate black spots, acne, small wrinkles.
Sour milk scrub for oily skin with sugar
As a basis, take kefir, yogurt or yogurt without dyes, flavors, sweeteners. Sugar is added so much that a dense mass is obtained. Scrubbing crystals should be more than half of the total volume. Apply the product to the entire face through massage lines, especially carefully treat problem areas: places where the pores are enlarged, there are black dots, greasy shine is observed.
Sugar easily opens, cleanses pores, deeply penetrates the skin, eliminates acne, rashes, accelerates the healing process of the epidermis.
Oil scrub for dry skin
For dry skin, change the base to oil. Deeply moisturize and nourish the epidermis, prone to drying out, such oils:
• olive;
• cocoa;
• grape seed;
• creamy.
Important! Do not use mineral, baby oil for your face. They clog the skin, take her breath away.
Preparing a scrub in butter very quickly, it should be applied immediately. Softened, but not liquid, butter (1 tbsp. L.) Is mixed with the same amount of sugar. Immediately begin to massage the face, lips, neck, décolleté. It is enough to carry out the procedure for 5 minutes, once a week, to remove peeling, nourish delicate, dry skin.
Sugar Lip Scrub: Freshness and Nutrition
Most sugar facial scrubs are also suitable for delicate lip skin. But sometimes it's useful to do the procedure separately. The skin of the lips is damaged more often, but it is restored faster than in other parts of the body. Therefore, it is required to remove the spent epidermis layers more often. Homemade lip scrubs, with good tolerance, can be used every day.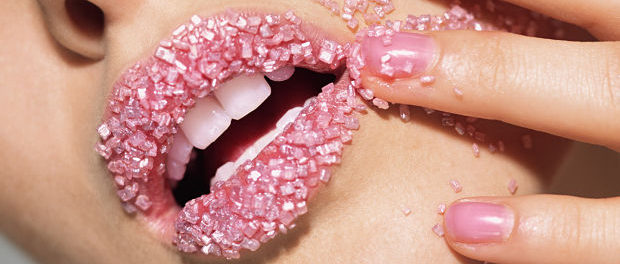 With the formation of cracks, dry crusts, special sugar lip scrubs polish and restore the skin well.
1. Take 0.5 tsp. Vaseline and butter, mix.
2. Add 1 tsp to the mass. Sahara.
3. Rub the scrub in the direction from the corners of the lips to the center.
4. Leave on the skin for a few minutes, rinse with warm water.
Massage with solid particles of scrub provides an additional rush of blood, lips become bright, voluminous. A few drops of peppermint oil added to any sugar lip scrub will help to strengthen this effect..
After cleansing procedures, be sure to apply a nourishing balm to your lips. There are no sebaceous glands on the skin of the lips, the protective layer is not formed naturally. It will be created by special balms, oils, creams.
Sugar lip scrub: increase the volume
The use of spices in lip scrubs enhances the warming effect, and in the case of cinnamon adds a light shade and aroma to the lips. Prepare a mixture of honey and olive oil to make about a teaspoon, add 4 tsp. cane sugar, 1-2 drops of cinnamon oil. Stir, place in a small jar. It is convenient to use such a scrub if necessary, taking it out of the refrigerator.
Do not apply scrub on dry, chapped lips. Pre-soften the skin with a warm, moist compress. Sugar contributes to the rapid healing of tissues, but it should be applied carefully, without excessive pressure.
Sugar is a unique product in home cosmetology. It is applicable to all parts of the body, suitable for long-term use in the treatment of deficiencies, and also helps to urgently help tired skin of the face, neck, lips. Quickly saturating the skin, restores its vitality and healthy appearance.