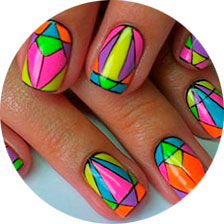 Manicure has long been a creative process where art skills are needed. After all, nail designs are a new-fangled trend that has been popular for several years. With the help of patterns, geometric shapes, abstractions and images, you can diversify boring design.
Any girl will be able to master the nail painting if she practices regularly. First you have to master the simplest drawings and only then, proceed to more complex.
Content:
Nail art at home
Step-by-step mural lesson for beginners
Short Nail Art Manicure
Nail drawings of the photos of new products 2016 – 2017
Fashionable nails with a pattern: a collection of photos
Nail art at home
To create patterns, you need brushes of various thicknesses, toothpicks or tailor needles, dots, sponge, orange stick, etc..
To create patterns on the nails you will need acrylic paints. For starters, you can use 2 to 3 colors. The choice of colors is very extensive. You can buy bright neon colors, or vice versa, soft, calm shades. You can also use gel polish for nail design. It can be used on both natural and artificial nails. Gel Polish is highly resistant and has an extensive color spectrum of options. The resulting coating is dried in an LED lamp.
pattern on nails with roses
In order to make beautiful drawings on the nails, you can refer to the step-by-step photo on the Internet. You can also buy various stencils and stamps that will help to create a bright and catchy design, as well as various decorative elements: rhinestones, appliqués, fabric jewelry, dried flowers, stickers, threads, cobwebs.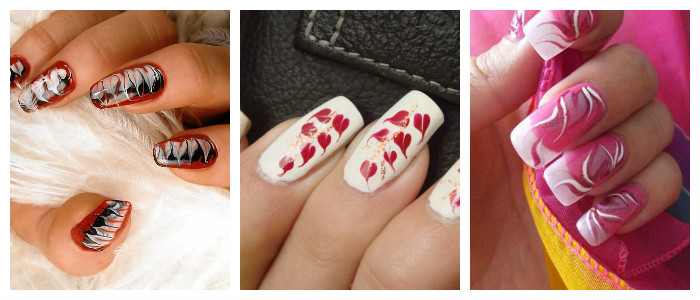 butterfly nails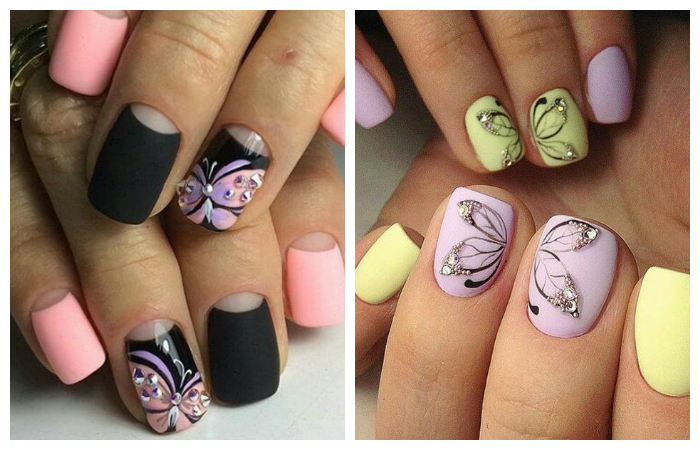 Summer drawings on nails with butterflies, photo
Drawing for beginners should not consist of complex elements. Most often these are drops, geometric shapes, curls, polka dots, stripes, nets.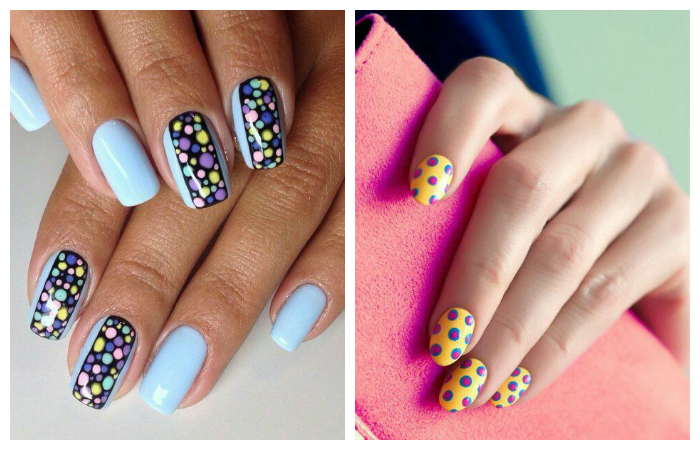 Stylish bitmaps on nails, photo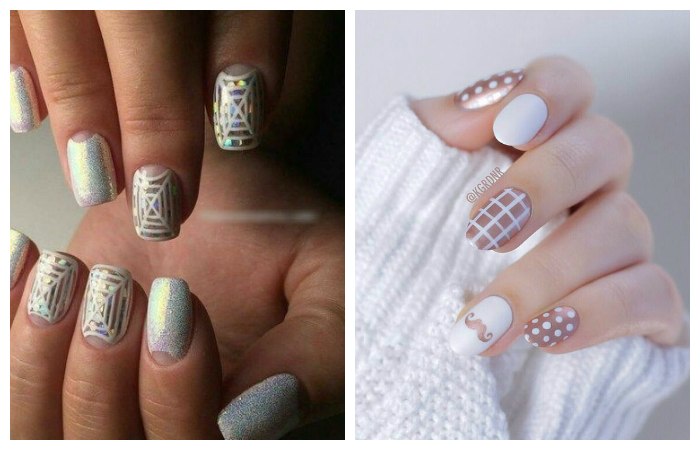 Drawings on nails in the form of a net or web, photo
Step-by-step mural lesson for beginners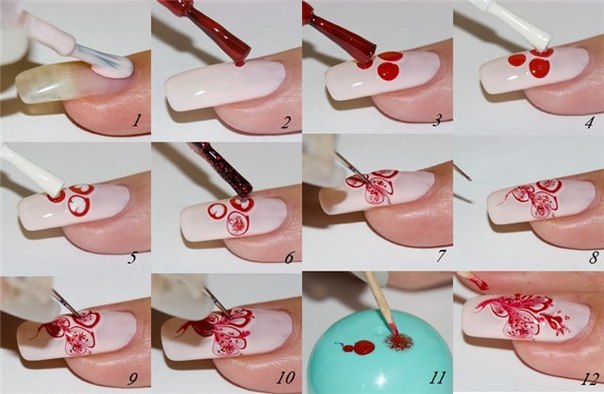 The easiest, but quite stylish way to decorate your nails is to draw straight or wavy lines. The main rule: choose harmonious shades of varnish and draw clear, neat strips.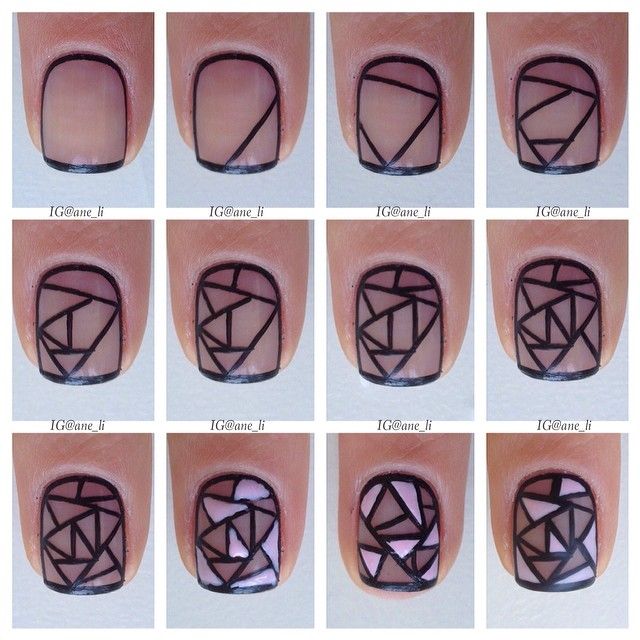 For example, you can use a wine-colored varnish. Silver, white, gold and black are perfectly combined with it..
Instruction:
Prepared nails are covered with red varnish;
Having retreated a little from the left edge of the nail, a black horizontal line is drawn. After which, another vertical line emerges from the line.
A white line is drawn just below the horizontal black line..
A white and silver line is drawn next to the black vertical line..
Thus, an interesting and uncomplicated drawing is obtained, which can diversify the usual manicure..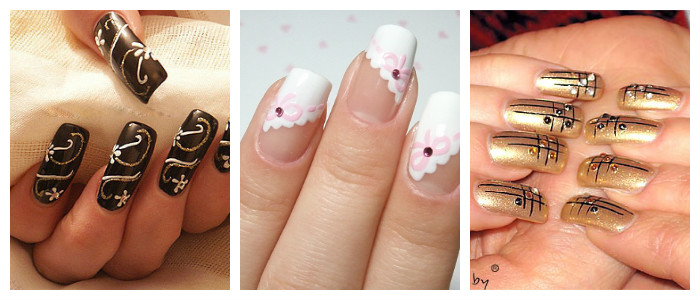 Options for simple drawings on the nails in the form of lines and waves, photos
Options for simple drawings on the nails in the form of lines and waves, photos
Short Nail Art Manicure
Many girls mistakenly believe that on short nails the drawings are not as interesting as on long nails. In fact, short nails are a great canvas for creativity. You can depict anything on them, starting with simple drawings on nails and ending with whole compositions.
When choosing a pattern for short nails, you should adhere to the following rules:
It is necessary to take into account the shape of the nails. If it is square, it is better to give preference to bright graphic patterns, while oval nails, on the contrary, light pastel shades of varnish.
Visually lengthen fingers vertical drawings.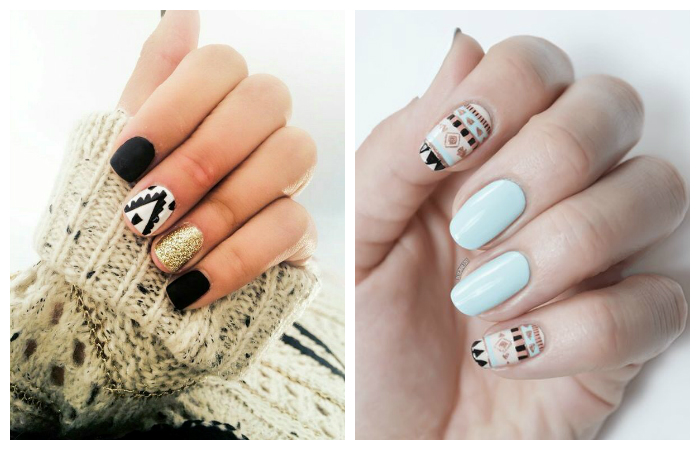 Drawings for short nails, photo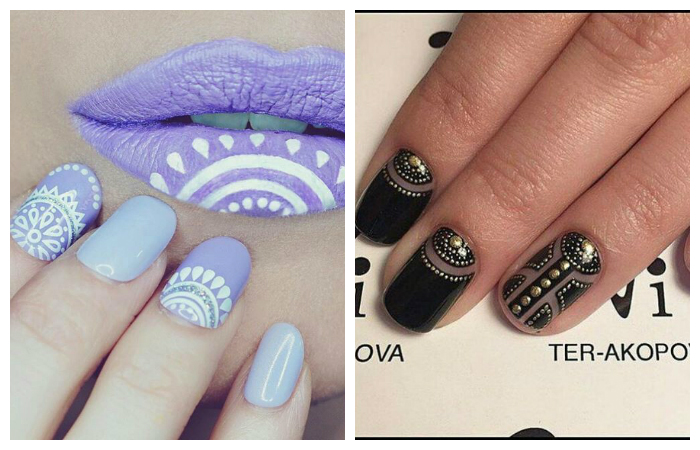 Ideas of drawings for short nails, photo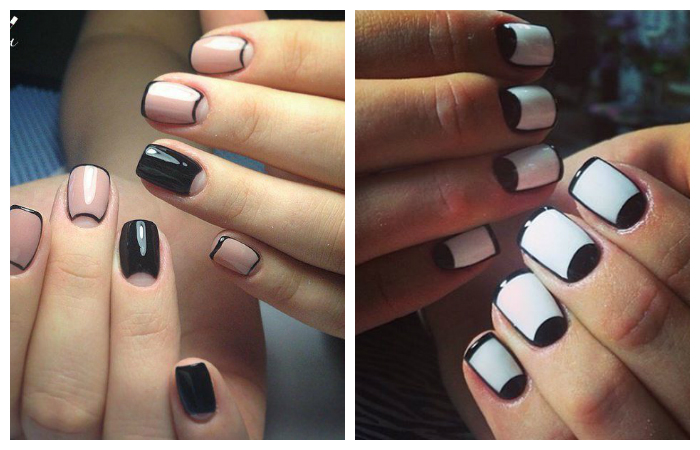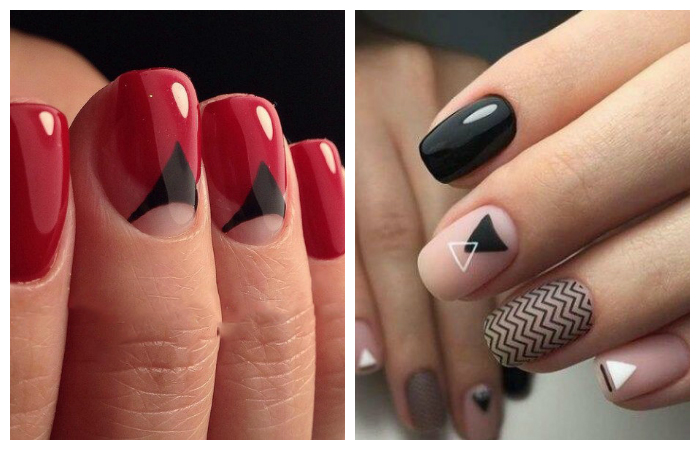 Ideas of drawings for short nails, photo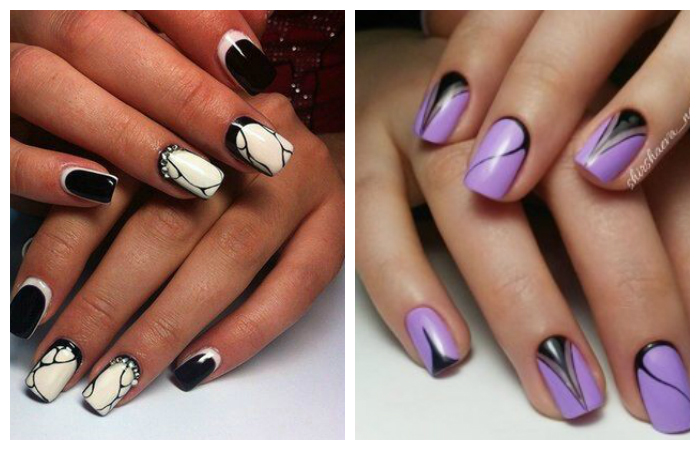 Drawings for short nails, photo
Nail drawings of the photos of new products 2016 – 2017
In the 2016 and 2017 season, a heterogeneous manicure will be popular. The trend is not only ethnic and geometric motifs, but also various zigzags, symbolism and even whole words.
Popular color combinations will be: purple with black, red with gray or white, blue with coral or yellow, blue with silver.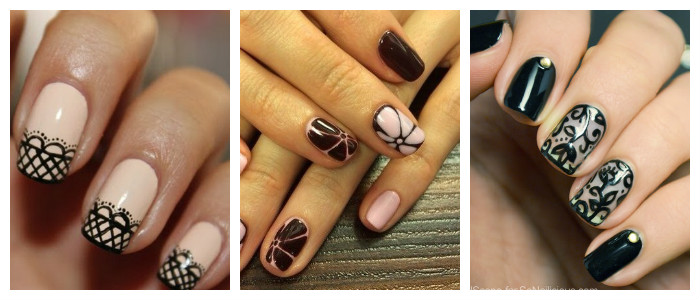 Bright, juicy drawings on the nails for the summer of 2017
It is worth noting that the fashion for the same nails is a thing of the past. Now it's important to paint nails in different colors.
Looking at the fashion blogs of beauty masters, we can conclude that in the winter of 2017 the deep blue color will catch the palm. It can be combined with silver or golden patterns, rhinestones or beads..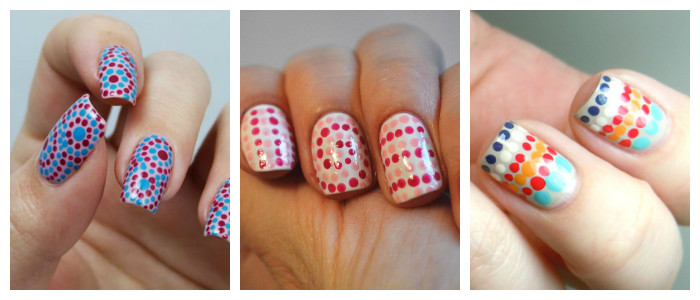 Fashionable drawings on nails and shades of varnishes 2016 – 2017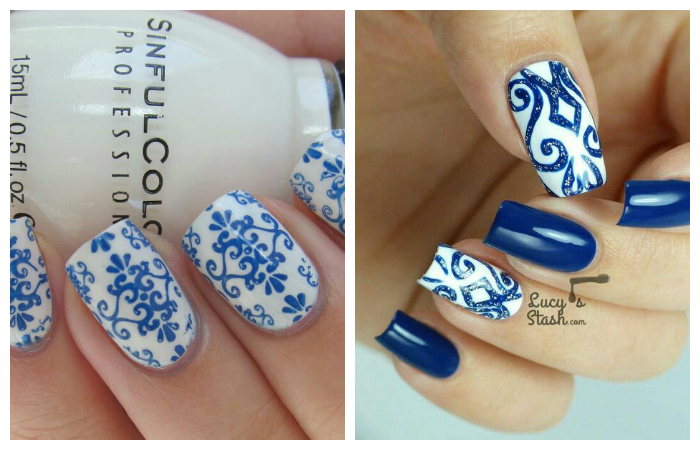 Novelty Nail Design – Gzhel Pattern
For several months now the animal print has not lost its popularity. The perky and funny faces of animals look cute and flirty. It is said that girls who choose such patterns on the nails have a cheerful and cheerful character..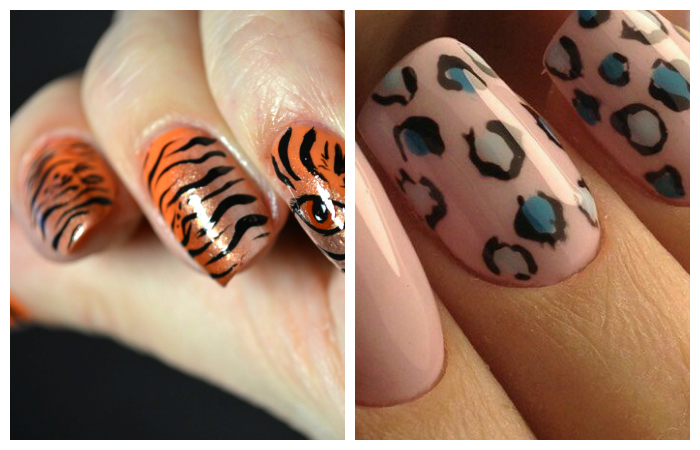 Animal prints on nails, photo
Nail art imitating the skin of predatory animals is popular. Often on the nails of fashionistas you can find a pattern in the form of spots of a jaguar, a tiger or just cat tracks. It's not necessary to decorate all nails with a print, just select two fingers.
It is difficult to imagine a decor without a floral arrangement. This is perhaps the most sought-after design among fashionable contemporaries. Special chic – watercolor tones. Therefore, fans of floral prints can safely decorate their nails with a sakura branch.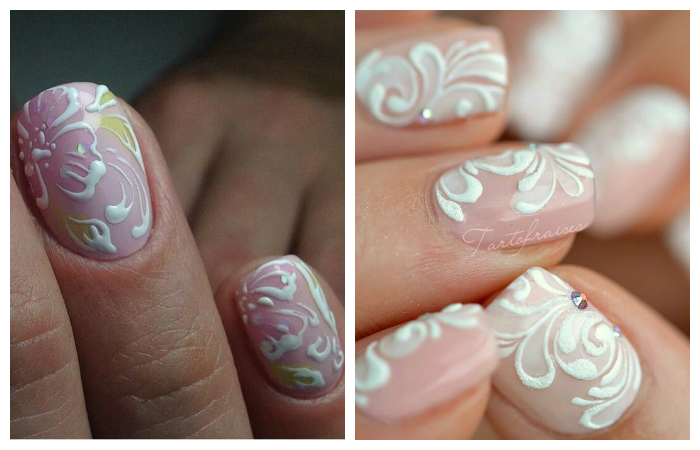 Pictures on nails with gel paint, photo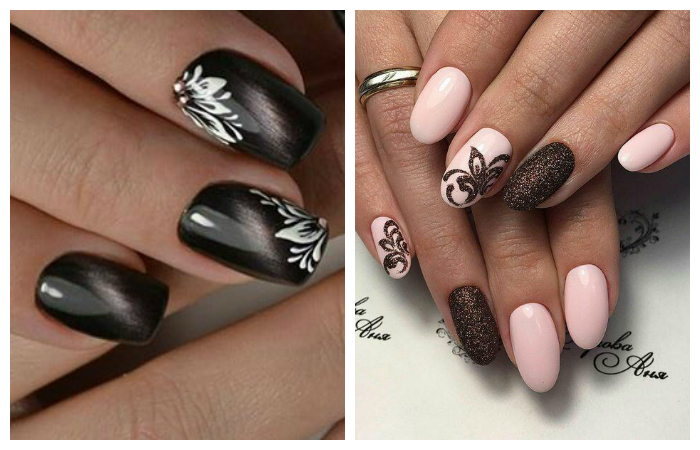 Flower patterns on nails with gel paint or gel polish
Monogram and flower drawings on nails with a brush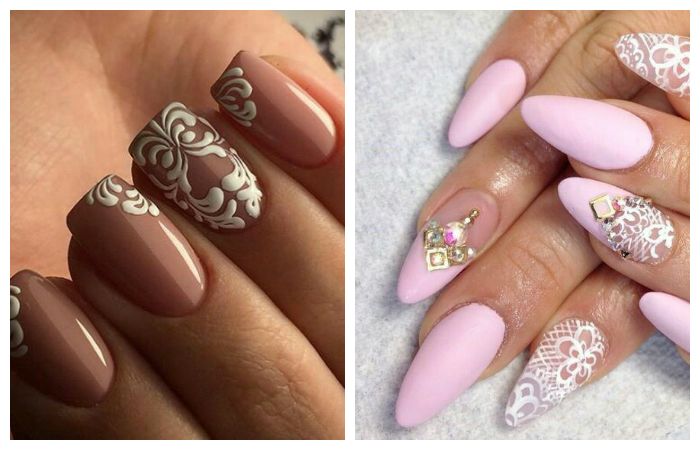 Patterns and lace on nails with a brush
Stylish and fashionable looks French manicure with a pattern. Art – French can be combined with any outfit. Typically, the drawing is applied to the nameless nail. When creating an art French, various patterns on the nails are used: abstractions, curls, dots, oblique and straight lines, circles, floral motifs, color blots.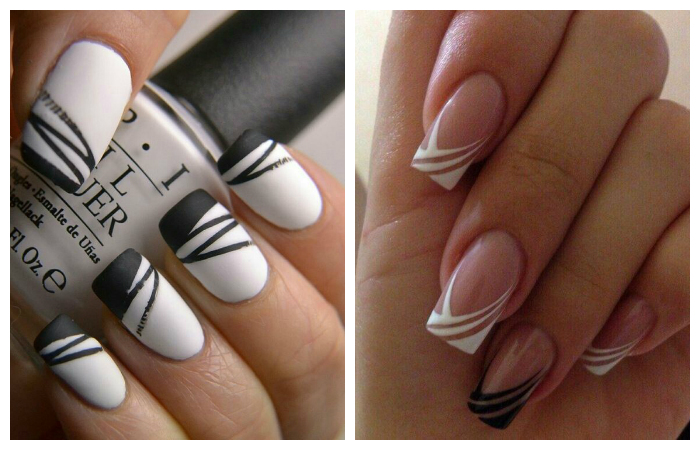 Black and white jacket with a picture, photo
Fashionable nails with a pattern: a collection of photos
For you, a fresh selection of photos with interesting drawings and fashion ideas for nail design 2017.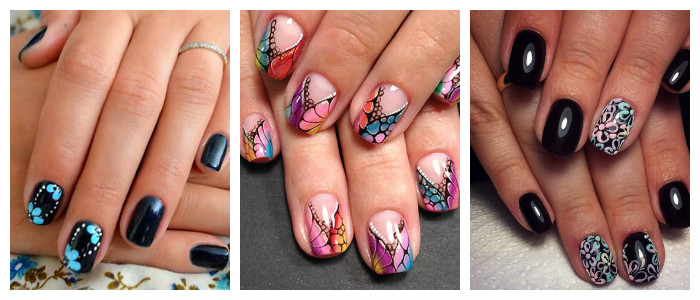 Boho Nail Art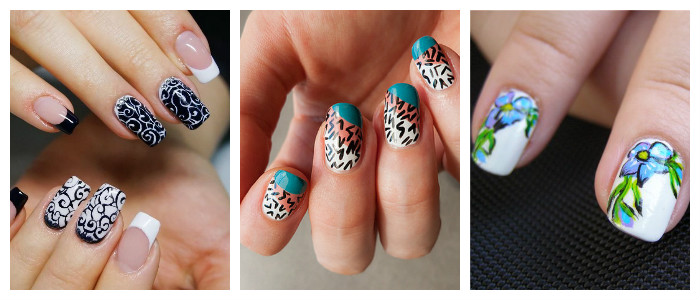 Nail art with beautiful flowers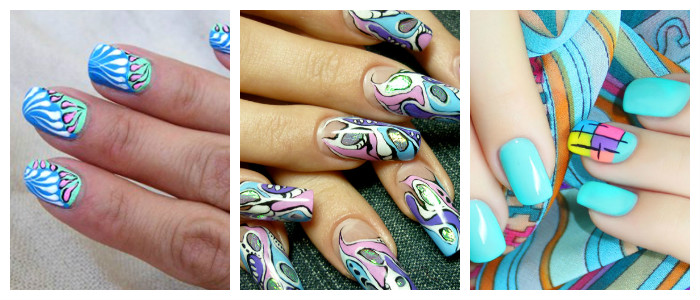 Stylish geometry: photos of fashionable designs on nails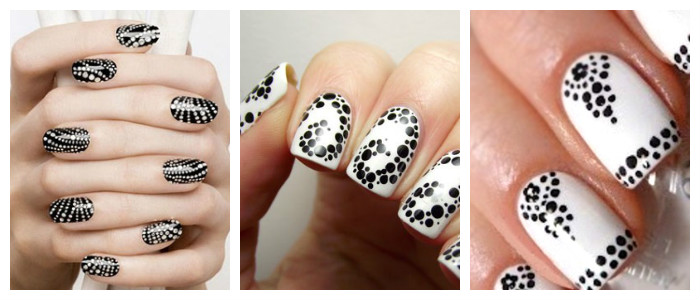 Beautiful drawings on nails, photo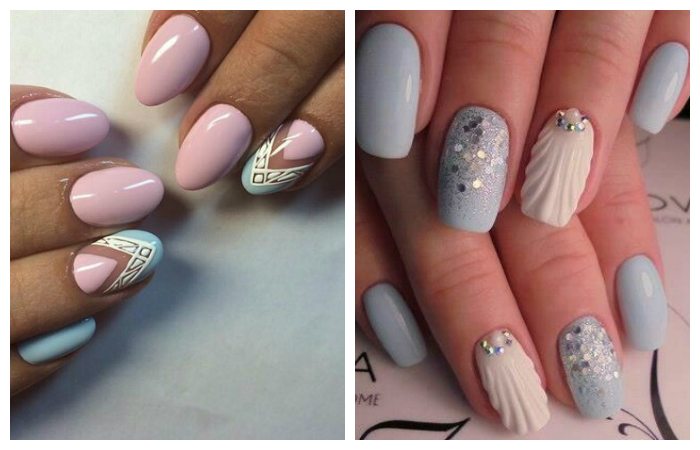 Beautiful manicure with a pattern in pastel colors, photo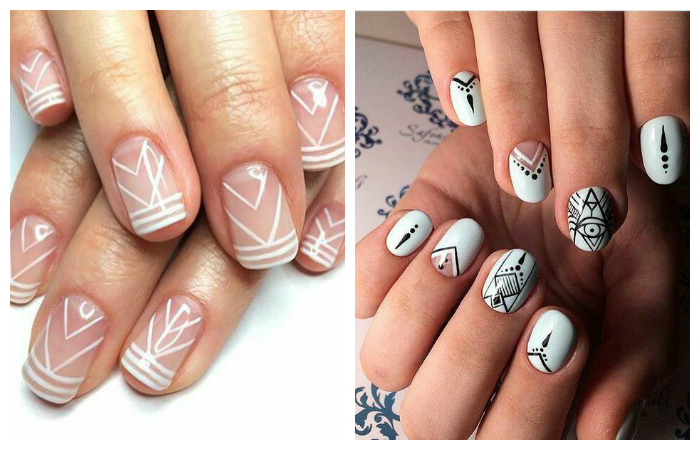 Fashionable drawings on nails, photo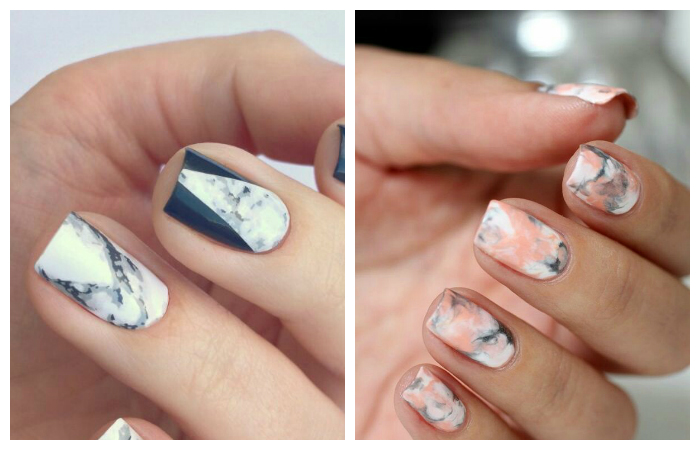 Trend 2017 – stone manicure with a marble pattern on the nails, photo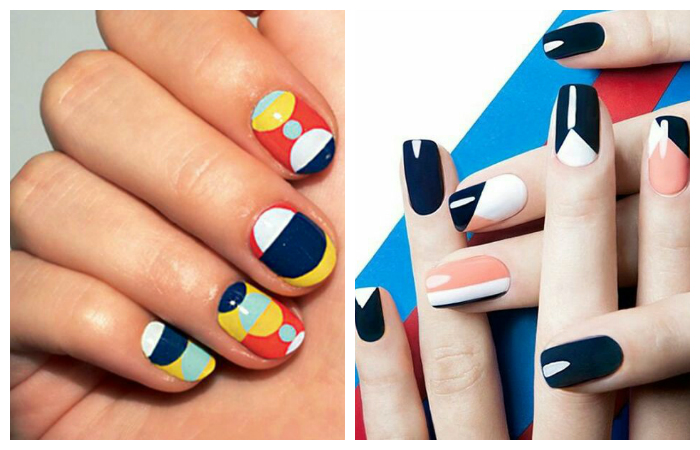 Fashionable geometric patterns on nails, photo
Fashionable news and ideas of drawings on nails, photo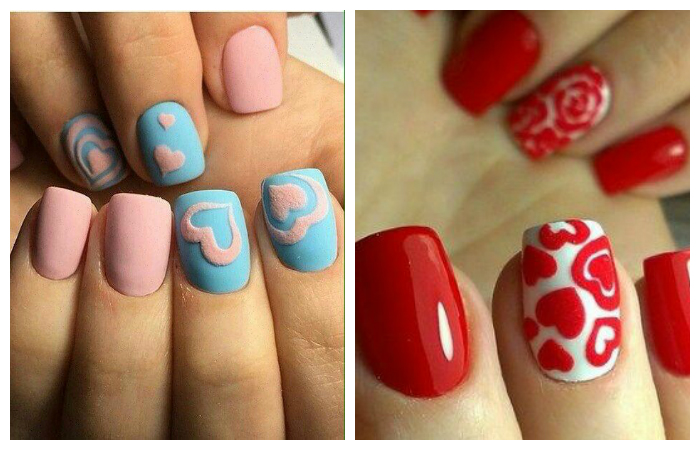 Nail art with hearts, photo
Novelties of manicure 2017 – stylish strips, photo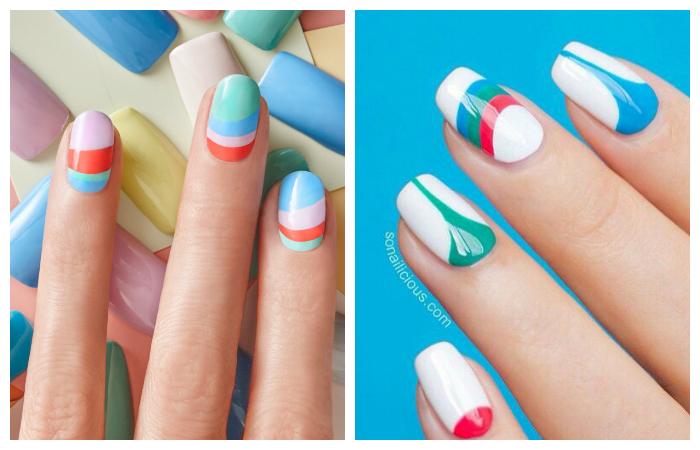 Fashionable news and ideas of drawings on nails, photo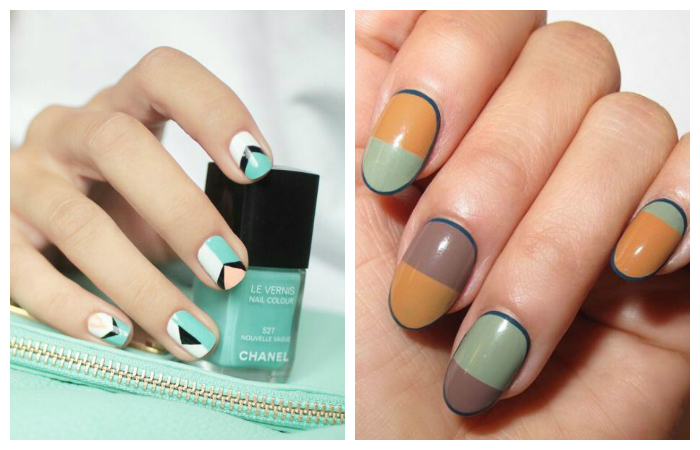 Fashionable nail design with a picture, photo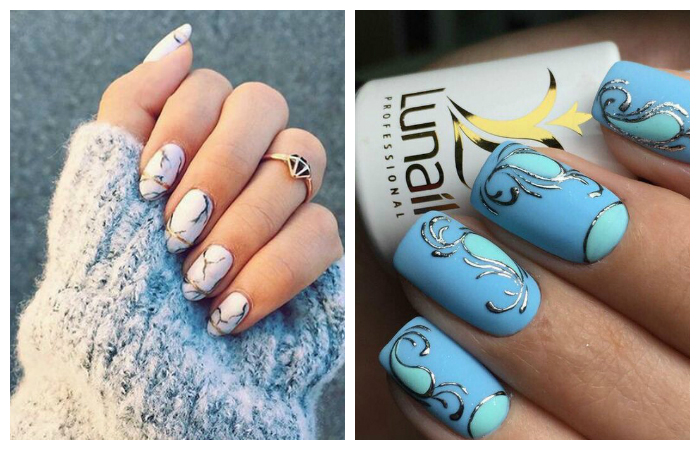 Silver nail pictures, photo