Pork with prunes and cream sauce – wine and cream based sauce will make this meat dish tender and juicy.
Ingredients
Pork meat (tenderloin medallions) – 8 pieces
Pitted prunes – 8 pieces
Olive oil – 1 tablespoon
Butter – 50 grams
Dry white wine – 100 milliliters
Chicken broth – 150 milliliters
Cream 35% – 2 tablespoons
Chopped parsley – 1 tablespoon
Flour for sprinkling – to taste
Salt to taste
Pepper to taste
For garnish
Mashed potatoes to taste
Braised cabbage or other seasonal vegetables to taste
How to cook – Pork with prunes and cream sauce
Wash prunes, dry. Make a deep cut in each medallion on the side and insert 1 prune inside. Sprinkle the stuffed medallions with flour.
Heat in a pan 1 tbsp. l butter and whole olive oil. Lay out the medallions and fry until golden brown on both sides, for 5 minutes. Put on the dish.
Remove excess fat from the pan, pour the wine and broth, bring to a boil, let it evaporate a little. Add cream and remaining butter, salt, pepper, cook for 3 minutes, stirring constantly.
Strain the sauce through a sieve. Dry the pan with a paper towel. Return the sauce to the pan, lay the medallions and warm up a little.
Serve medallions with mashed potatoes or with any seasonal vegetables, pour sauce.
Bon Appetit!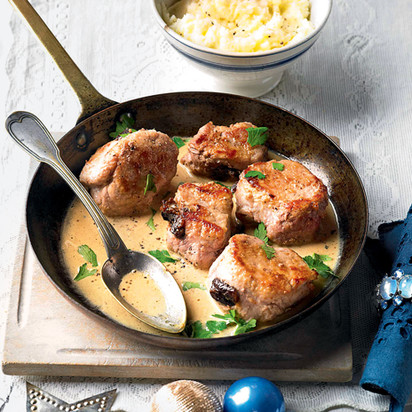 Similar articles
---