Christmas is one of the most important family holidays, when all relatives gather at a large table, eat deliciously and have fun. Traditionally, every Christmas a duck is cooked. The recipe for a duck with chestnuts and prunes is not very difficult, but absolutely everyone will like it!
Ingredients
1 duck 2 kg
veal 1kg
prunes 150 gr
chestnuts 150 gr
egg 1 pc
olive oil
onion 1 large onion
honey 5 tablespoons
salt to taste pepper to taste
Dry white wine 150 ml
How to cook a duck with chestnuts
Stuff the duck with minced veal with fried onions, chopped chestnuts, prunes and eggs. Add salt and pepper to taste. Tie the bird, grate it with honey and put in a preheated oven for 1.5 hours. Bake at 160 ° C, periodically sprinkling with white wine. Remove from oven. Give the duck "infuse" for 20-30 minutes, covering with foil. Serve with a side dish of fried artichokes, porcini mushrooms and caramelized apples.
Bon Appetit!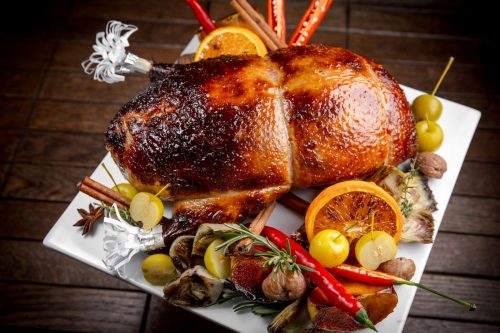 Similar articles
---