Cook the chicken drumsticks in cranberry-honey sauce. Shins come out tender, fragrant, with a very beautiful crust.!
Description of the preparation:
Separately, prepare the sauce, rinse the chicken drumsticks and stuff with garlic. Then put everything in a baking sheet and send to the oven to bake.
Servings Per Container: 2- Persons
Ingredients
Chicken Drumstick – 5 Pieces
Fresh cranberries – 50 grams
Garlic – 12 cloves
Mustard – 1 Teaspoon
Honey – 5 Art. spoons
Soy sauce – 2 Tbsp. spoons
Olive oil – 2 Tbsp. spoons
Black pepper – 4 grams
Vinegar – 1 Tbsp. the spoon
How to cook "Chicken in Cranberry-Honey Sauce"
To make chicken drumsticks in cranberry-honey sauce, you need garlic, chicken drumsticks, cranberries, honey mustard sauce.
To get started, prepare honey mustard sauce. Stir the honey thoroughly with mustard. Add olive oil, freshly ground black pepper, soy sauce and mix everything.
Now let's get down to the chicken. Wash the legs, dry with a napkin, cut them in 3-4 places and fill with slices of peeled garlic.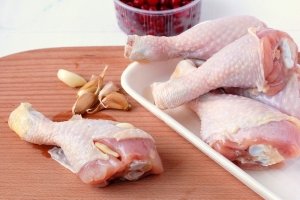 Wash cranberries, knead, combine with honey and mustard sauce. Put the drumsticks in a baking dish, pour in cranberry-honey sauce.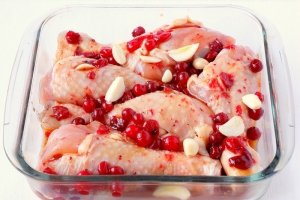 Sliced ​​garlic on top. Refrigerate for marinating for 3-4 hours.
Bake for 35 minutes at 200 ° C until golden brown.
According to this recipe you can cook wings!
Bon Appetit!