Content
---
---
Makeup for sensual lips with red lipstick of the fair sex has been admiring men for a very long time. Some women consider it vulgar. This is a misconception. Proper combination with shadows and foundation will help you look irresistible and perfect.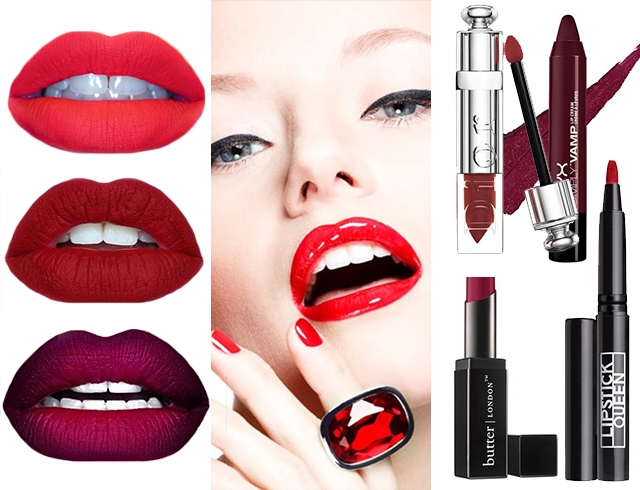 Red lipstick has more than 20 luxurious shades: juicy scarlet, burgundy, cherry, coral, carrot, purple, raspberry, fuchsia … Your main task is to correctly determine your color type of facial skin and, based on this, choose the perfect tone for makeup lipstick.
We select a shade of red lipstick for the complexion
The easiest way to determine skin tone is to try jewelry made of gold and silver. You can also bring silver and gold foil to your face. Which suits you best?
If against the background of the sparkle of silver your skin fades and, on the contrary, gold makes your face radiant, then the skin tone is warm and the lipstick should be chosen with a yellow undertone: carrot, brick, terracotta, coral, mountain ash.
If silver is more suitable for you, then you have a cold skin tone and in makeup you should use red lipstick with a bluish tint. Cold colors of the face, light, slightly ruddy or olive skin, as well as dark-skinned girls will suit pink shades: scarlet, cherry, raspberry, fuchsia, purple.
The lighter the skin, the shade of lipstick should be softer, and vice versa, the darker the face – the richer and brighter.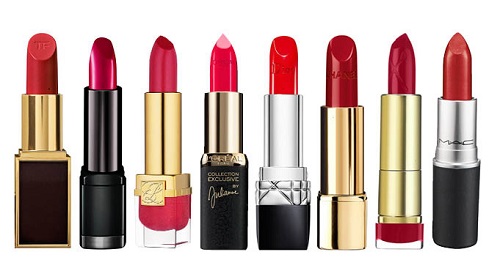 Please note that the right choice of lipstick does not guarantee a positive effect. It is very important to pay attention to eye makeup.
Making the look expressive
The effect of red lipstick is that it involuntarily draws attention to your lips and immediately transfers it to your eyes. Arrows are successfully combined with it, for this it is best to make up eyes with eyeliner. Do not overdo it: the arrows should be thin enough and drawn only until the middle of the lower and upper eyelids. Also, before drawing arrows, you can use shadows, which can be gray, black and coffee color..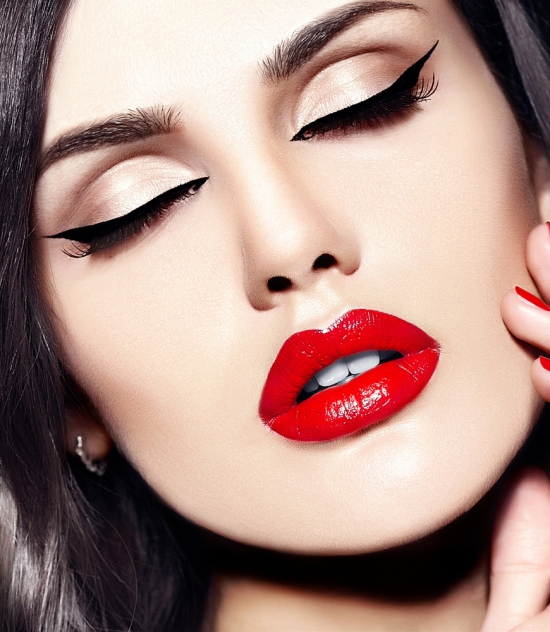 If you are going to a secular holiday, it is better to make the makeup more moderate in order to harmoniously combine strict style and sophistication. But feel free to experiment for a party with friends or at an incendiary disco. You can create the image of a vamp woman who is very attractive, but also knows how to keep her distance.
Correctly apply red lipstick
Perfect make-up with red lipstick is designed to refresh the complexion and give extra grace. To do this, it is important to make the lips soft and sensual:
use a toothbrush for a small massage, just be delicate: in a circular motion, massage your lips for a few seconds;
take the usual moisturizing lipstick and apply on the lips, wait until it is absorbed a little;
now proceed to create a contour around the lips. Keep in mind that red color increases, therefore, drawing pencil around your lips, do not go beyond their natural contour. Choose the color of the pencil to match the lipstick. A big and serious mistake in makeup is to draw a lip contour a few tones darker with a pencil. First of all, it is necessary to remember the naturalness, which today is popular;
the best way is to apply the lipstick with the fingertips, so you can evenly distribute it;
the second layer is best applied with a small brush, and carefully clean the excess with a dry cloth.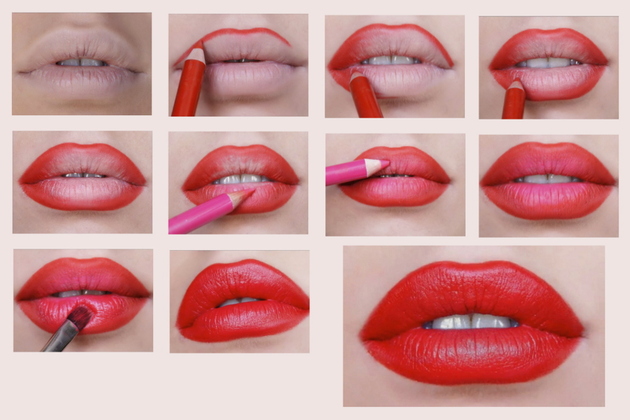 Note: bright shades of red lipstick with gloss will add volume to your lips and, conversely, dark ones with a dense texture will visually make them thinner. Lipstick with a cold undertone will emphasize the whiteness of the teeth, but orange will give unwanted yellowness.
Indulge yourself in a new way: make-up with a spectacular red lipstick that can emphasize all your advantages and make you seductive at any time.