Content
---
---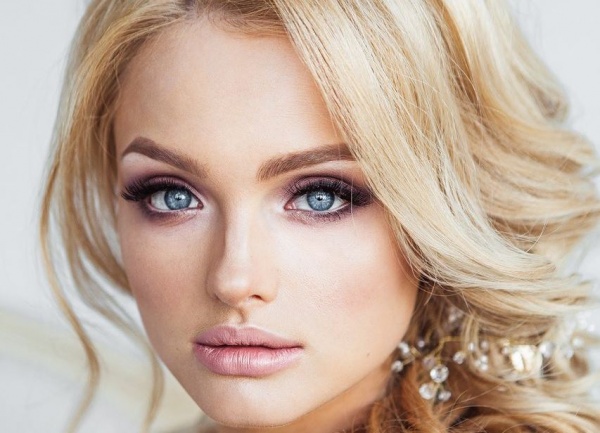 The face of the bride is an important component of the whole image. She should be the center of attention throughout the day, and therefore, makeup should emphasize her beauty. Wedding makeup 2017 should be natural and attractive, as well as harmoniously combine these two qualities.
Wedding Makeup Tips
Regardless of fashion trends, every woman should choose cosmetics by color and skin tone. Skin and hair color is an important component when choosing a wedding makeup. However, it should not only make the face more beautiful, but also harmoniously combine with the dress, wedding hairstyle, accessories and wedding manicure.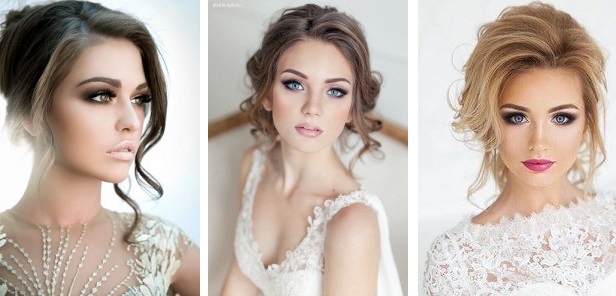 Wedding makeup for brown eyes
Brown eyes are characterized by depth and expressiveness, so classic makeup types are well suited for them. Black eyeliner, suitable lipstick and mascara will be an excellent solution for beautiful ladies with brown eyes. An ideal shade of eyeshadow would be opal or coral; you can experiment with others, with the exception of orange and pink colors (they visually blur the eyes).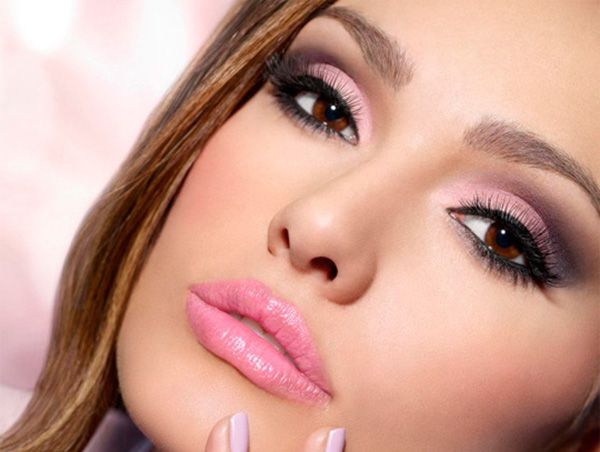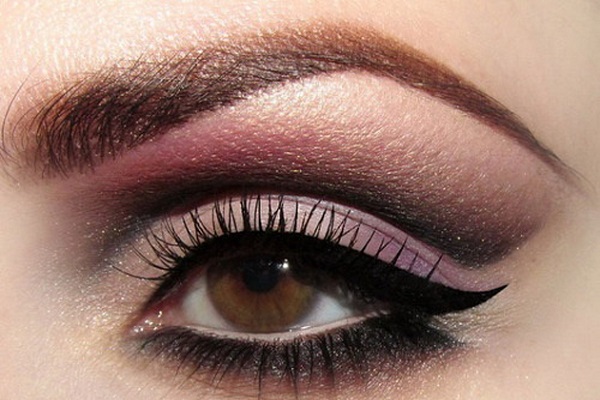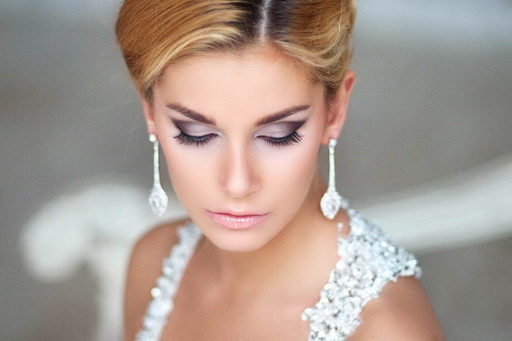 Photo of makeup for brown eyes
Wedding makeup for green eyes
For green eyes, you can choose several shades of shadow: purple, gold, purple, bronze, blue. If you want a fashionable makeup in bright colors, make it match your outfit. Basic cosmetics, including shadows, should be selected taking into account skin color. Lipstick should ideally be light colors.
Note: bright blue and its shades will deprive green eyes of depth.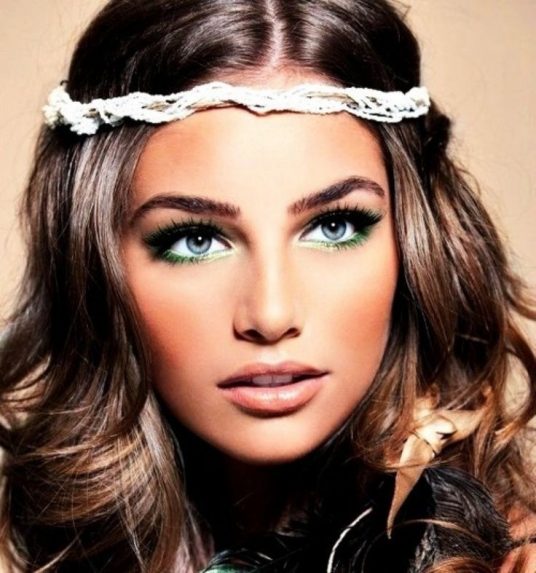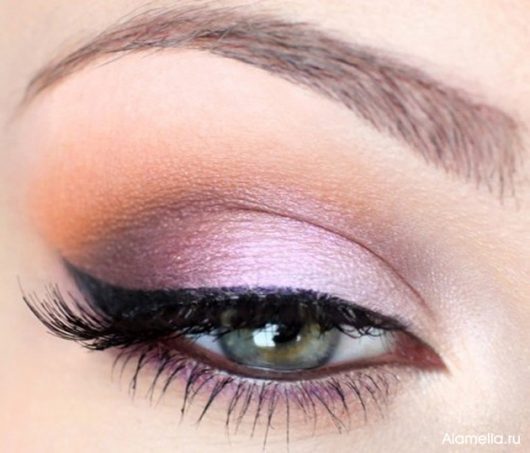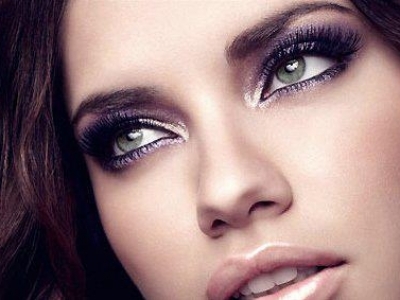 Wedding makeup for blue eyes
Owners of such beautiful eyes should really focus their attention on them. Delicacy and sophistication are the main indicators when choosing makeup. To emphasize your natural beauty, pay attention to pink and purple colors..
To add depth and expression to blue eyes, use shades of purple, green and indigo. A bride with blue eyes should avoid using a black eyeliner. Instead, we recommend brown or gray. As for the lips, choose a lipstick of coral or peach shades.
Wedding makeup for gray eyes
The gray color of the eyes is neutral and any palette of colors can come up to it. If you have gray eyes, then you can safely experiment based on your taste.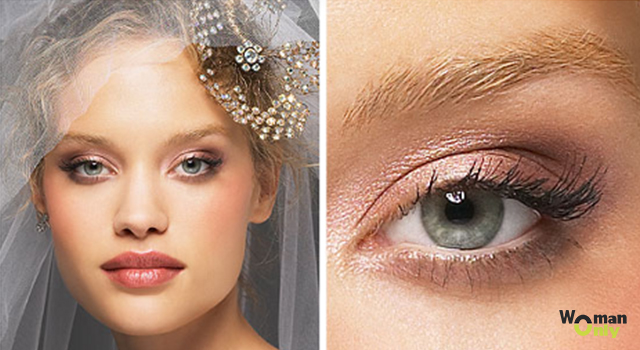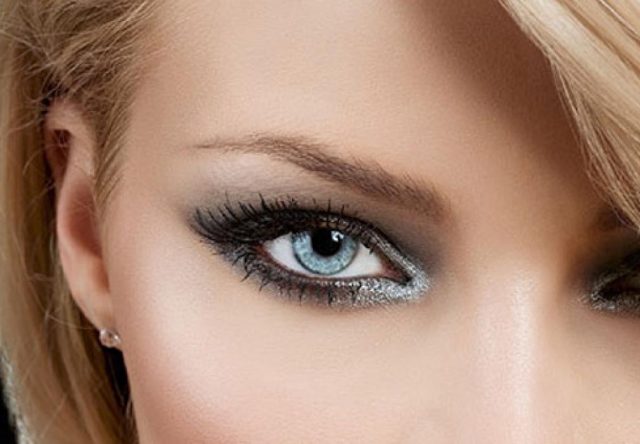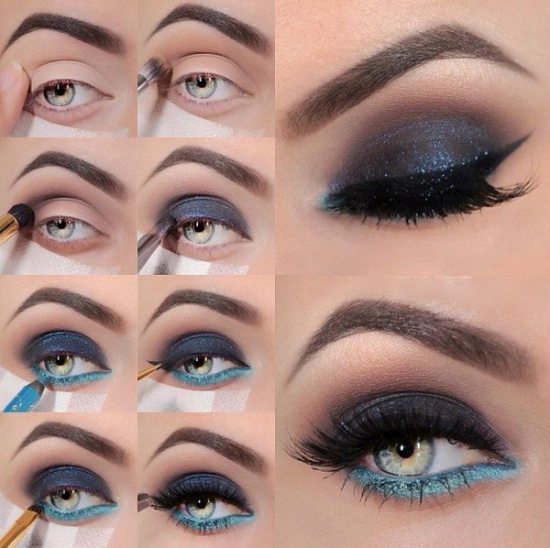 Wedding makeup for blondes (photo)
Thanks to the light shade of hair, blondes can create a more sophisticated look for this beautiful event. Ideal eyeshadow colors are those that match skin tone, mainly shades of gray and skin tones. Lips can be emphasized with pink or coral lipstick. Owners of blond hair should not be afraid to experiment with bright and saturated colors.

Wedding makeup for brunettes (photo)
Brunettes should pay attention to dark and warm colors. Lipstick should be chosen according to skin color, there are no restrictions. Eyeshadow perfectly accentuate the hair, especially if it is dark purple, green or warm blue, but no vulgar colors.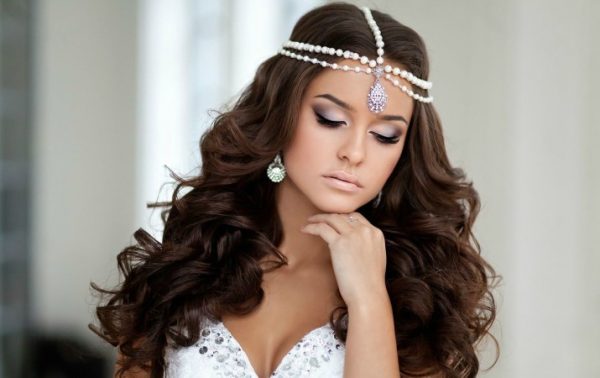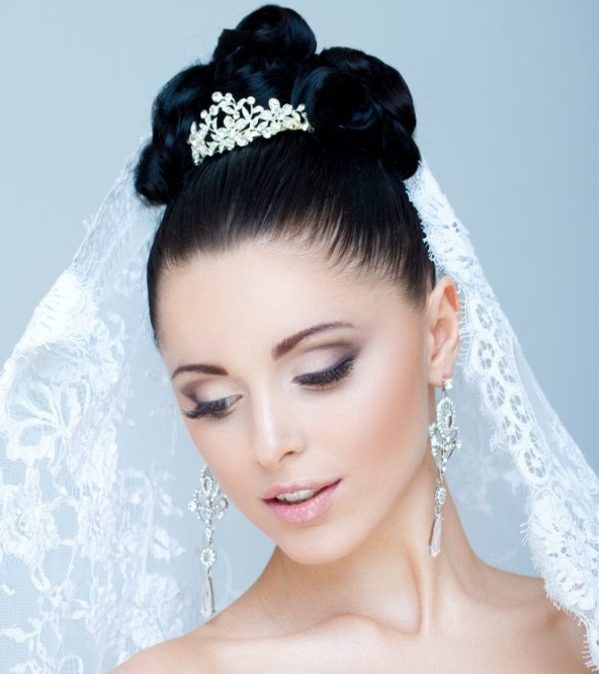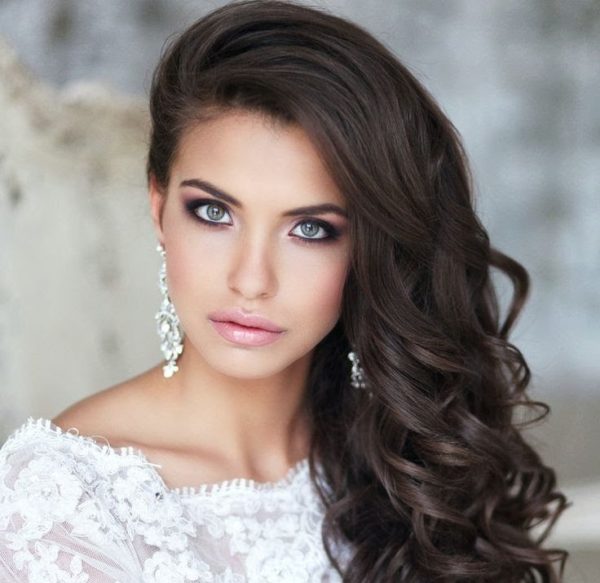 Natural bridal makeup
In 2017, the main trend of wedding makeup and attire is naturalness. Therefore, the best makeup will be that you will look natural. Although it seems natural to look simple, you will need to use a lot of cosmetic products:
Basic cosmetics that make the skin perfect.
Eye shadow, mascara.
Powder blush.
Pomade.
Eyebrow pencil.
The basic rule that must be observed is the use of cosmetics in light shades and its ability to lie flat on the face, focusing on the natural color of the skin. We recommend applying natural makeup with the help of a professional makeup artist to ensure proper use of cosmetics. This makeup is perfect for the summer season..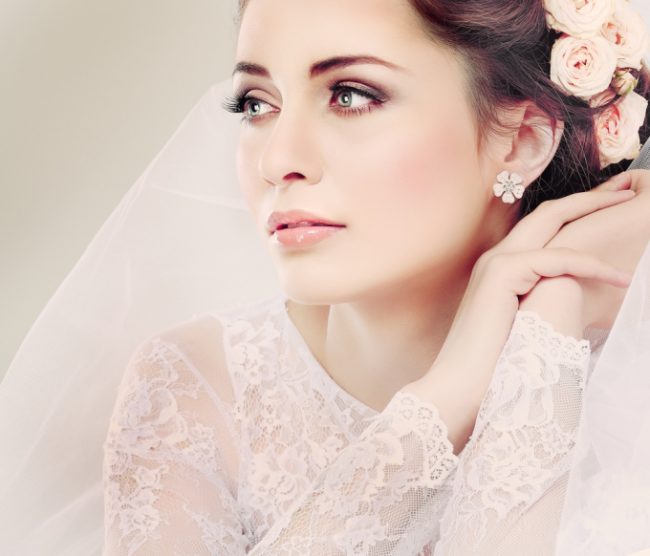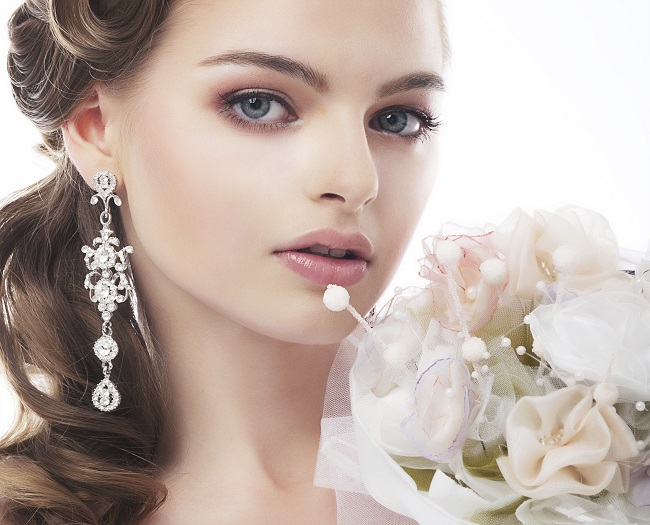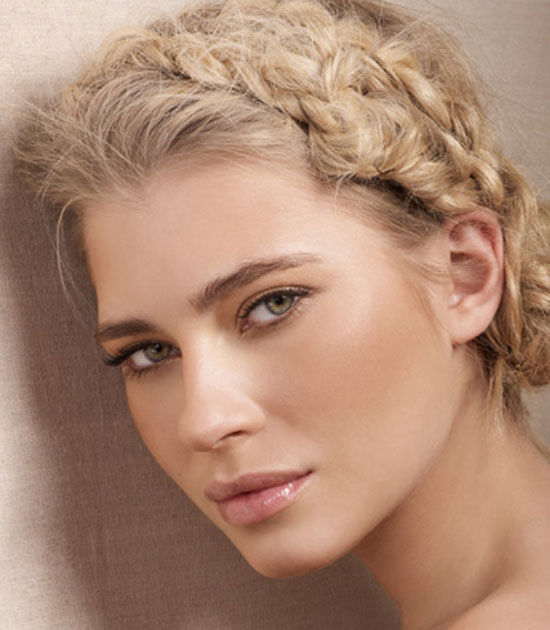 Smoky Wedding Eye Makeup
This evening makeup has become an indispensable component of wedding makeup. Dark eyeshadows should not be used on the entire eyelid, they should be concentrated in the corners. The line should be thin, and the expressiveness of the eyes should be achieved through false eyelashes and voluminous mascara. There is no need to focus on the lips, so using pale colors is a good solution.
Brides should pay attention to cosmetics of brown and gold tones, gloss can also be used.

Bright wedding makeup and lips
For brides who want to add more colors to their look, we recommend applying bright lipstick – one of the main trends of 2017. Bright colors will suit any woman, however, a specific shade should be chosen individually in accordance with the skin tone, while avoiding the "poisonous" colors and classic red, which can make the bride look vulgar.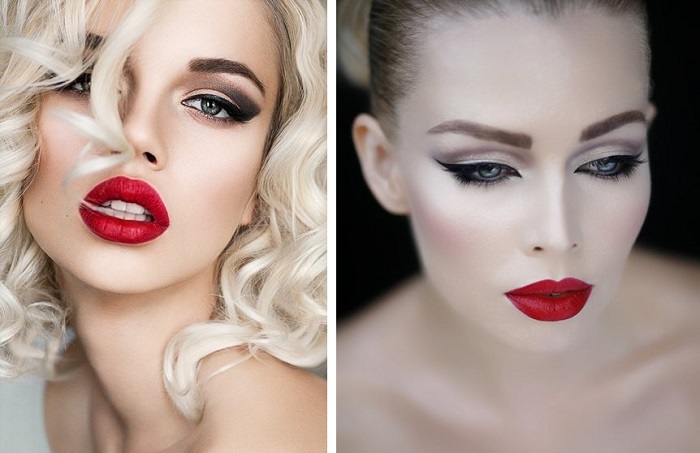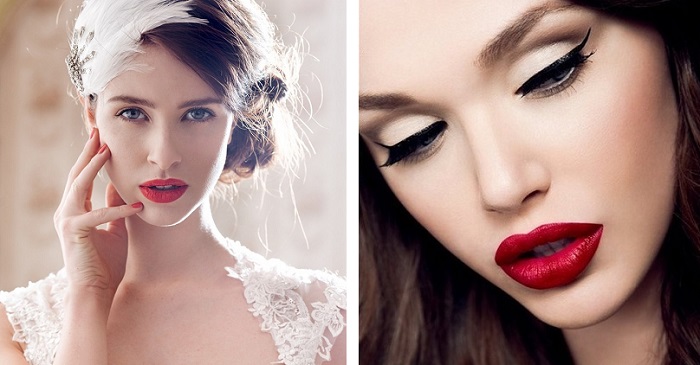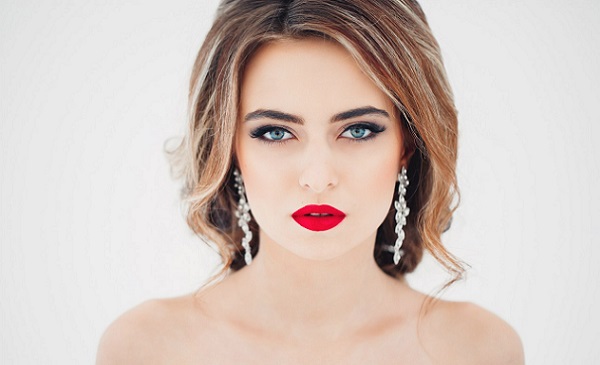 Wedding Makeup Tips
Here are some 2017 wedding makeup tips:
To avoid excessive brightness of the lipstick on the lips, wipe them lightly with a cloth or finger.
Wine shades are currently popular. If you want the lipstick to stay longer on the lips, first use a lip liner all over. Prefer matte lips? Use only a lip liner, but be sure to moisturize your lips before using it..
The bride needs to be careful with the consumption of fatty foods on the wedding day, since there is a chance to grab lipstick from her lips. In any case, keep the lipstick with you to correct the situation if necessary..
The bride is the embodiment of beauty, elegance and sophistication. Wedding makeup, if applied correctly, will help strengthen this image..
Which of the current trends did you like the most? Share your wedding makeup ideas in the comments.