Content
---
---
Girls with blue eyes can only be envied, they are always cute and desirable, in addition, it is believed that this color is a standard of beauty. We offer you to consider how to make beautiful makeup for blue-gray eyes, daytime and evening looks, as well as what colors are suitable for blue-eyed. Depending on your shade, you can create the effect of deep blue, dark gray, blue or even azure. When choosing eye shadow, it is very important to take into account skin tone, hair color, as well as the shade of gray-blue eyes. In most cases, it is enough to use light colors, black eyeliner and shiny shadows..
Warm blue eye paints
Very fashionable now, the orange color is quite difficult to use in makeup. This expressive color works great for gray-green-blue eyes. Shades of orange with yellow or even brick are just some of the many options for eye shadow for blue eyes. This color will look advantageous due to the fact that it will create a wonderful contrast between the blue eyes and deep orange eyelids. Please note that bright colors can be too provocative and inappropriate during the day or at a business meeting. What shades of orange are suitable for gray-blue eyes: Copper, brick, bronze, terracotta, peach, coral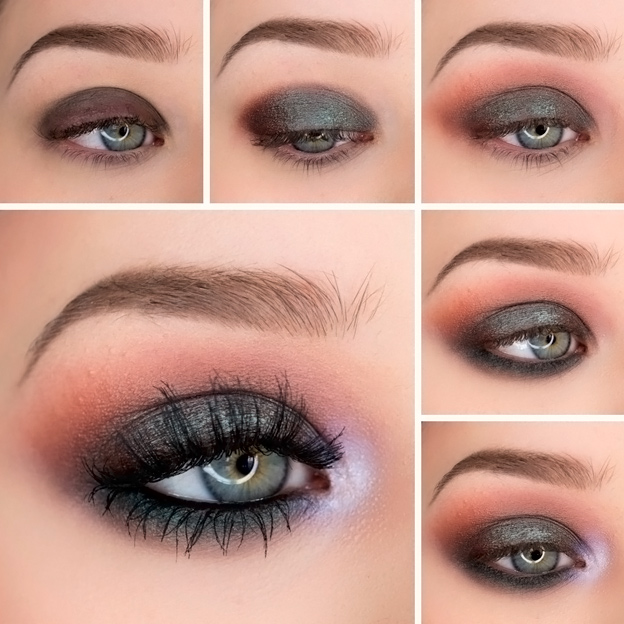 Cool shadows for blue eyes
Many girls just look magical with bright shades of cold shades. The following colors especially emphasize the mystery of the look and its dramatic nature: pale blue, pink, purple, iris, navy blue, blue, silver, turquoise, azure. Some women believe that the use of dark blue shades help emphasize the beauty of gray-blue eyes, create a very effective image, memorable.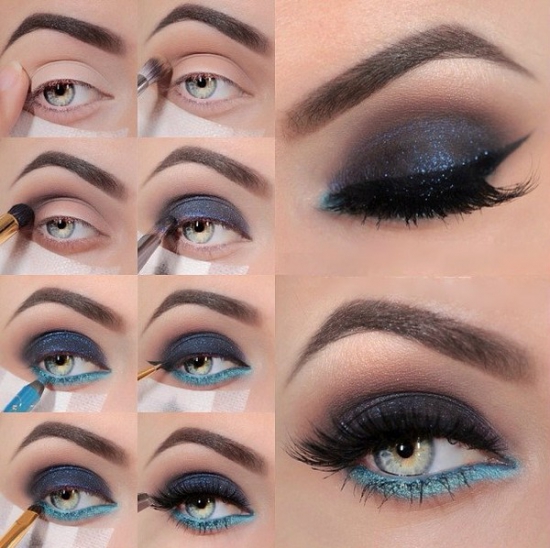 The turquoise hue plays perfectly in the context of the summer heat. It is suitable for beauties not only with blue-gray shades, but also for owners of nutty, brown spots on the counter-eye, thick black eyelashes. It is very important to be as careful as possible when using this palette, it is very bright and not suitable for day-to-day map-up blondes. Light violet and lavender is most recommended for women in the style of baby face, or brunettes with blue-gray eyes. Any violet looks very beautiful on fair skin, in combination with bright expressive eyes. You need to apply purple and lilac not on the entire eyelid, but only on the movable fold, then you will visually make your eyes larger. If you want to make up the entire eyelid with this color, then be sure to carefully work out the makeup options with black eyeliner or a pencil. If you have dark skin and blue eyes, then try the colors of champagne spray, amber and chocolate. Brown shades beat the owners of dark brown hair, gray-blue eyes and fair skin well. What colors to choose to make everyday make-up: white, gray shades of green, chocolate, brown, burgundy and black, if you need to create a bright, dramatic image.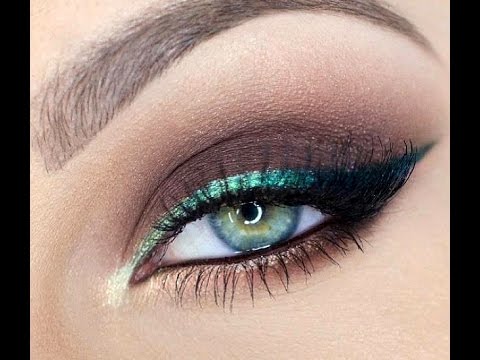 Especially beautifully listed shadows will look on red and light blonde girls. Since your curls are already very bright and prominent from the very beginning, skin tone and eyes will require more natural shades. To create a natural look, be sure to use green shades. Black is too intense for daylight, but at the same time it can provide intense contrast between blue eyes and dark skin. Use the smoky-eyes effect or just apply smoky eyeshadows on your eyes. In case you need to make a sharper or more dramatic evening look, mix a black liner with bright blue paint, which will give you a classic "smoky" effect. For a more stylish outfit, we recommend combining black with the colors of silver, fuchsia or turquoise. There are also win-win options for blue-blue eyes, which will be a great addition to the look both in the evening and in the morning: metallic (copper, gold), steel white; warm purple and burgundy.
How to make up blue eyes
We suggest you consider how to create the perfect look for girls with gray-blue eyes. The first makeup option for beautiful ladies with freckles.
Cleanse your face from old cosmetics, wash yourself, cover the skin with foundation and powder;
Apply white shadows to the inner corner of the eye; you can also work with shades of silver. This will make your eyes whiter and brighter. If you are doing make-up for big eyes, then cover the outer corner with white shadows; Now you need to use a foundation or concealer. This action will provide a good base for eyeshadow, so they will stay longer on the face;
To create contrast, we will work with brown shadows. On top of the white tone, apply brown shades with a splash of red. If you do day makeup, then confine yourself to just beige;
Now it remains to apply eyeliner or use a black pencil. You can make an oriental look or use subtle retro arrows; Apply mascara for volume and eyebrow pencil.

Festive light make-up for blue eyes
With the help of simple light shadows, you can easily do New Year's or wedding makeup. The technique has its own characteristics, among which:
It is very important to use rhinestones and sparkles;
Makeup for the wedding should fit under the dress, and not look like a bright spot;
If you don't know which make-up to choose, then stop at Smokey Ice, it is suitable for any face shape (triangular, round, oval), looks spectacular, beautifully emphasizes the eye shape.
Step-by-step holiday makeup for blue-gray eyes
We clean our face, apply the base coat, foundation and powder;
For deep-set eyes, you need to draw a white line along the inner side of the eye, for convex, paint this area with black;
After that, apply silvery shadows to the corners of the eyes, gently wave the turquoise in the center;
Now draw a line from the inner corner to the outer along the moving fold, dark gray or blue, blend;
Next, gradually paint the eyes of the girl or bride in a gradient. On the corner we apply silver, after turquoise, then blue or gray, and again turquoise and silver. We draw an arrow along the line of eyelashes above and below;
Mascara.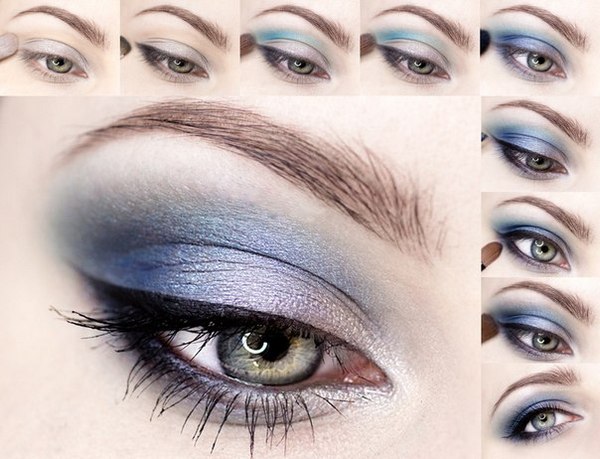 What colors to choose for gray – blue eyes
It's not difficult to create a beautiful make-up for light grayish-blue eyes yourself, especially if you use professional equipment. Consider the most popular facial cosmetics that develop products for the Spring color type:
Guerlain écrin 6 Couleurs eyeshadow palette is great for adding sparks to gray-blue eyes, it is especially cool that you can create nude makeup with it thanks to the presence of ivory and beige.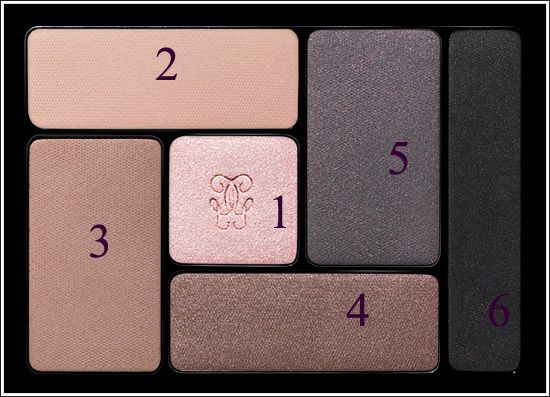 NYX Bohemian Chic – nude matte collection is a set of 24 matte shades in natural tones, among which are bronze, brown, cream, turquoise and others. With the help of this makeup you can create a cool simple make-up.
Urban Decay two 12 shadow palettes, which are perfect for applying holiday makeup to bright eyes. Full of shimmering neutral shades, matte Urban are great for any event..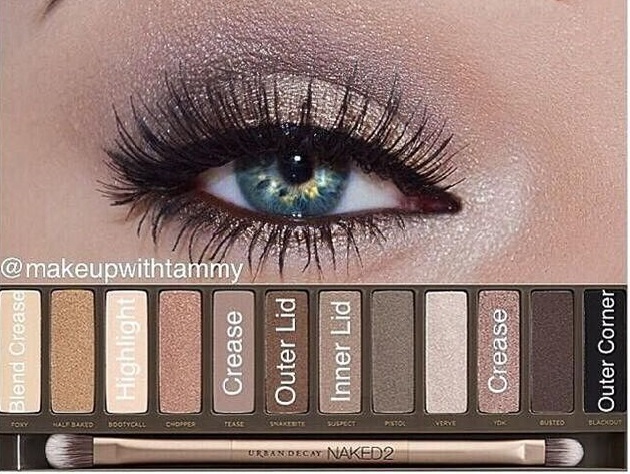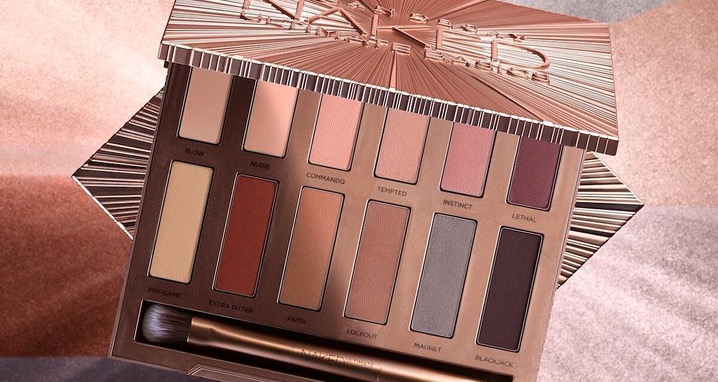 MAC presents not only excellent cosmetics, but also step-by-step makeup ideas with its help, tips for prolonging the freshness of the image and examples of the use of its products. This brand provides a look of contrast and brightness, in addition, professional shadows fit perfectly on the skin, persistent and hypoallergenic.