Content
---
---
Black dress is a real timeless classic! With the help of makeup you are able to bring freshness and relevance to the image with it! The legendary Coco Chanel erected a small black dress in a cult. And not in vain! This versatile outfit will suit absolutely any girl!
But if you decided to choose a small black dress for a celebration or a date, be sure to thoroughly think over the whole look. Make-up under a black dress must certainly be harmonious and impeccable. What palette of decorative cosmetics is combined with this classic outfit, read in our article.
Perfect winged eyeliner
A winged eyeliner is one of the most win-win makeup options for a black dress. Whether you choose the modest emphasizing only the upper eyelid or luxurious broad arrows, or playful feline – they must certainly fit the shape of your eyes.
Owners of almond-shaped eyes can try on any shape and length of the arrows, and other girls can draw such arrows that would bring the shape of their eyes closer to the cherished ideal. Open winged eyes are suitable for short winged eyeliners with a small tail, and for narrow eastern eyes, a straight enough wide winged eyeliner would be ideal.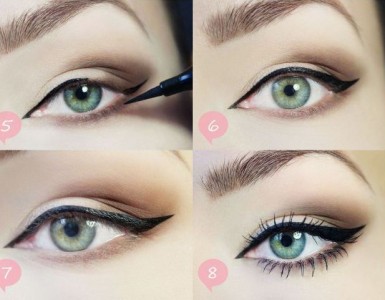 In all cases, before drawing a winged eyeliner, be sure to emphasize the inter-eyelash space with a black eyeliner. So eyelashes will appear thicker and longer.
For makeup with a winged eyeliner – lipstick should choose a restrained shade: the color of tea rose, pink-coral, but if you are a bold beauty, you can choose the juicy red color of lipstick.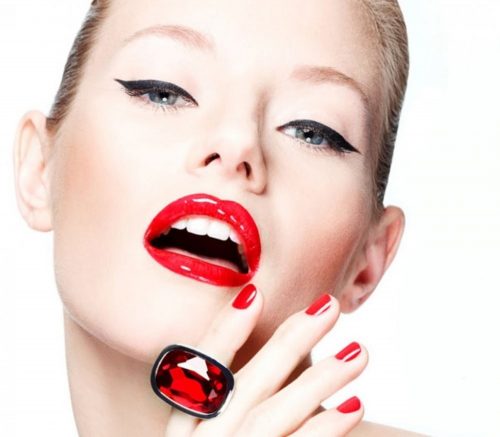 Makeup with berry lipstick
Berry and wine shades of lipsticks invariably lead each autumn-winter season. They look very noble and harmonious against the background of pale tanned skin and add to the whole image of mystery and drama. Make-up for a black dress with berry or wine lipstick will turn out to be incredibly elegant.
In the case of wine lipstick, an impeccable background is needed, that is, smooth skin, even tone without flaws and imperfections.
Eyelids are also better not to overload with excessive makeup, but with berry shades you can afford a little variety. Try using warm shades of precious metals (gold, bronze) for eyeliner makeup. Do not use any complicated makeup techniques, just apply shadows on the entire moving eyelid. Cream shades applied on the eyelids with fingers will look more natural and delicate.
The actual technique in makeup is to combine berry lipstick with blushes of a similar shade. But in this case, only mascara is enough.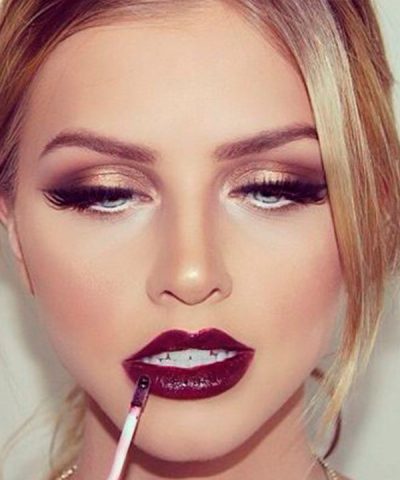 Makeup with red lipstick
Red lipstick is an eternal classic, and will make a perfect pair of a black dress! Makeup with red lipstick does not suffer face flaws: the tone should be impeccable! Therefore, be sure to work on the skin:
Use a primer if necessary. The makeup base will even out the skin, mask acne, pores, age spots, fill in wrinkles and hide other skin imperfections.
Apply a tint exactly matching your skin tone, if necessary.
Concealer mask imperfections: bruises under the eyes, acne and redness.
Loose powder will help to fix makeup and give the skin velvety
This season, the lip contour does not have to be clearly defined. More natural in fashion, so applying lipstick is most convenient with your fingertips. However, the skin of the lips for this application technique should be smooth and healthy: do not forget about the balm and regular exfoliation.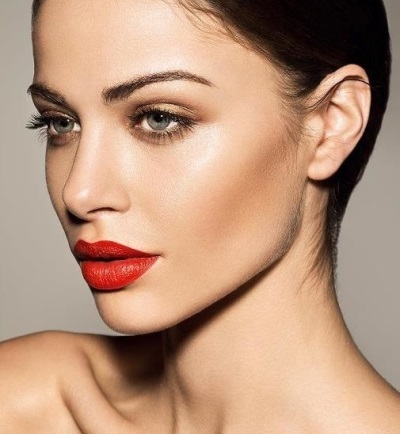 Before make-up, first apply the balm, let it absorb a little and act, and then just use the lipstick: apply a little on the middle of the lips and gently blend with your fingers towards the corners. If you want to make your lips even brighter, apply a second layer of lipstick. Be sure to highlight the eyebrows: comb them and apply mascara or eye shadow..
You do not need to do bright eye makeup. Carefully tinted eyelashes and a thin line of black eyeliner will be enough.
Nude Makeup
Makeup for a black dress in nude style – perfect for those who do not want excessively bright colors on their faces, but want to emphasize the dignity of the face.
For makeup in nude style, choose natural shades: flesh, beige, pink, shades of brown and ocher.
Choose lipstick to match your lips: if the skin is light, then lipstick with a pink undertones is preferable, if it is dark, then with brown.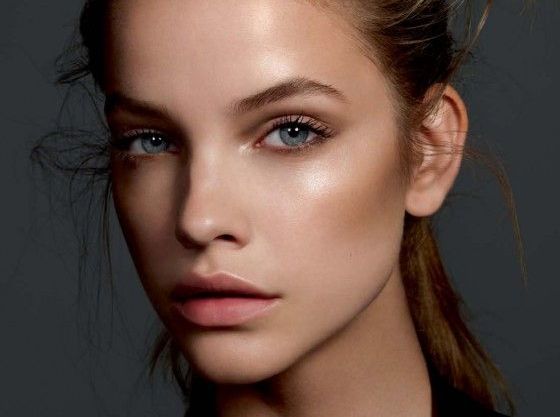 Shades of beige and sandy shades will look great with it (the taupe shade between the gray and beige colors is considered to be the most win-win), blush of brown shades (for example, bronze) and black mascara.