Content
---
---
Last year we remembered us with a crazy bubble manicure, fortunately this trend did not live long with us. In 2017, there are also several innovations in the field of nail design gel polish, but they all strive for naturalness and elegance.
In addition to new products, we are waiting for some transformation of eternal trends, such as lunar manicure and French. New variations on the theme of ombre and manicure with stripes are proposed. But first things first.
Updated manicure french
Classic, relevant at all times – French manicure gel polish. Only if before it was not necessary to bother with combinations of colors and come up with patterns, now the fashion obliges you to add a manicure of brightness and dynamism. So forget about the usual duo of pink and white varnish, colorful French manicure, French manicure with a modified "smile" form, brilliant manicure French millennium and unlimited fan manicure French.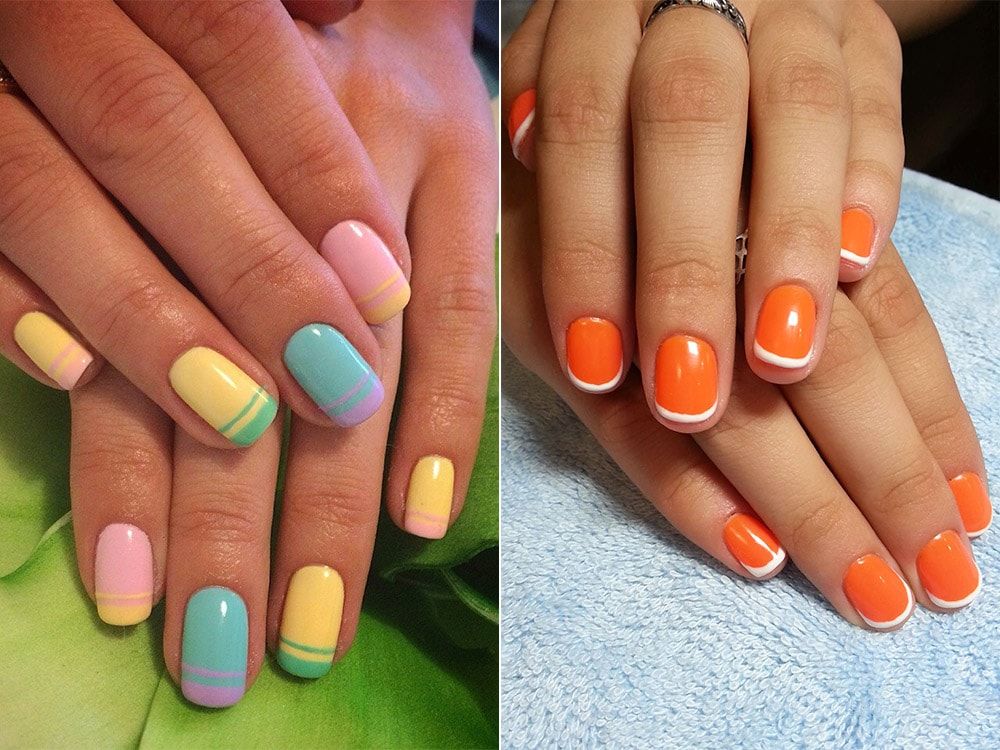 A wide palette of gel polishes allows you to turn a boring classic jacket into a real riot of colors. You can choose as two or more bright colors that will contrast with each other, and use a transparent shellac coating as the main color, and cover the tips of the nails with any juicy shade.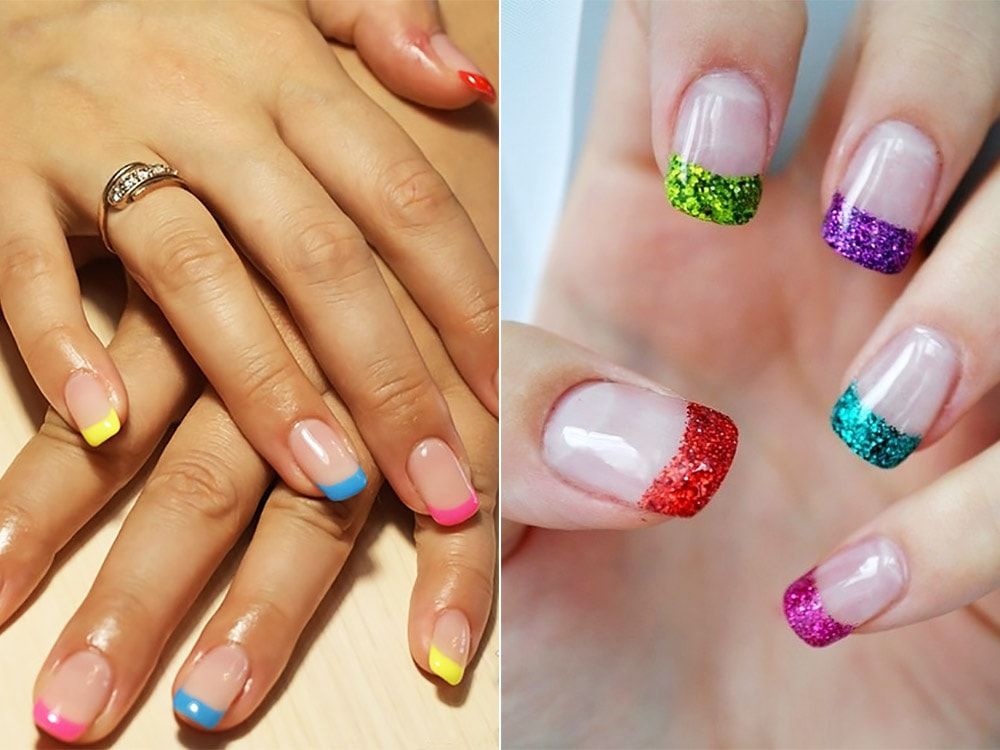 French millennium looks festive when a transparent gel polish is applied to the nail plate, and the "smile" zone is covered with glitter.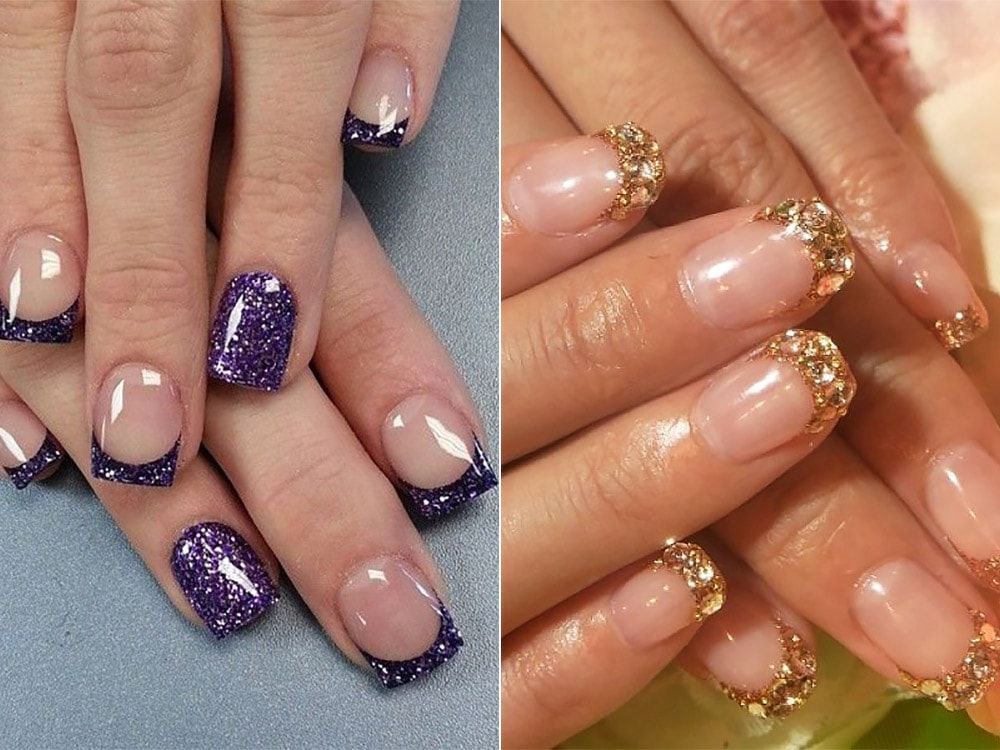 French manicure is another novelty in the design of French manicure. In this case, the tip of the nail is decorated with any possible decor: beads, broths, foil, or simply painted with chameleon varnishes or halogens.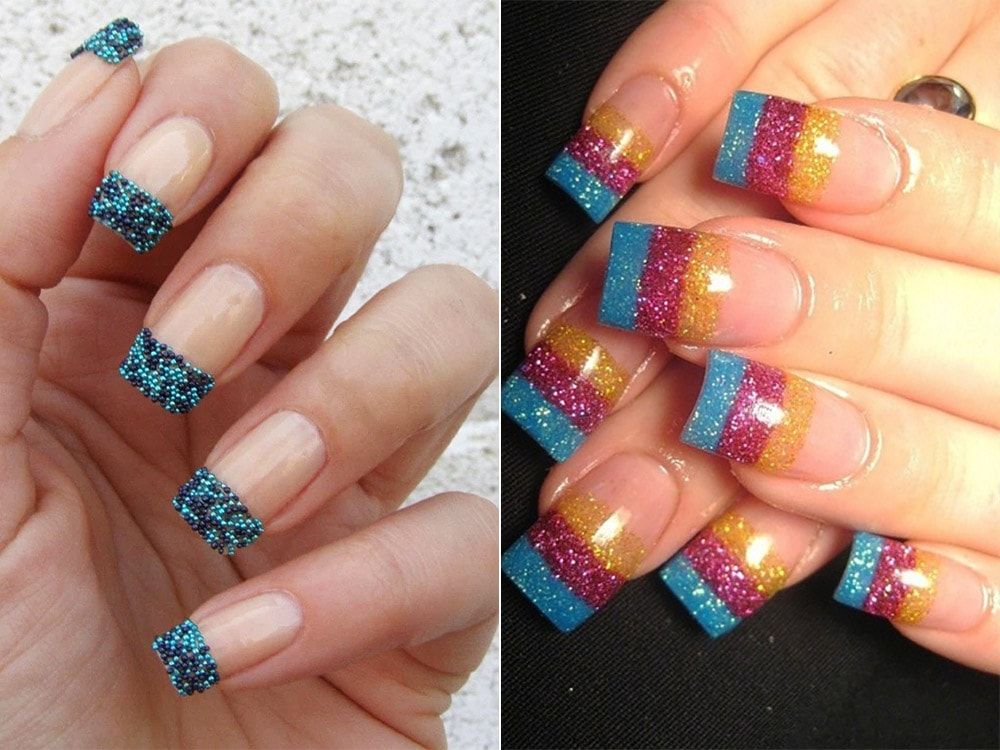 Actual combination of glossy and matte finish. For example, the base of the nail is covered with a matte gel polish, and the tip is painted glossy.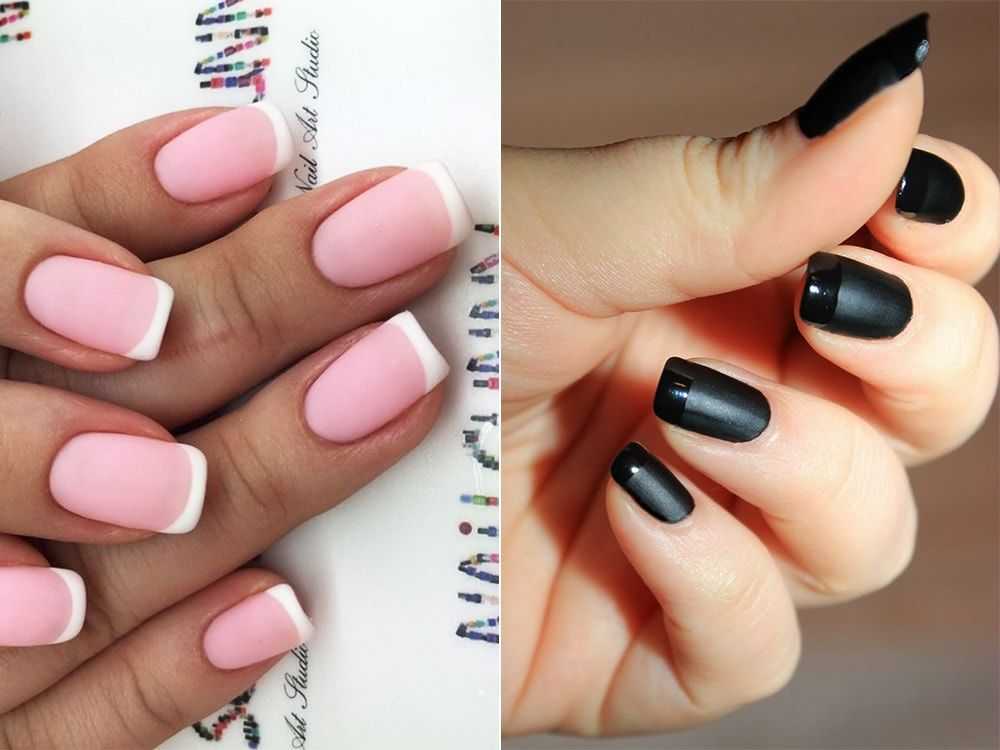 2017 trends oblige you to experiment, in the case of French manicure, the line of "smiles" is suitable for these purposes. It can be double, triple, triangular, with a beveled edge, V-shaped and any other shape.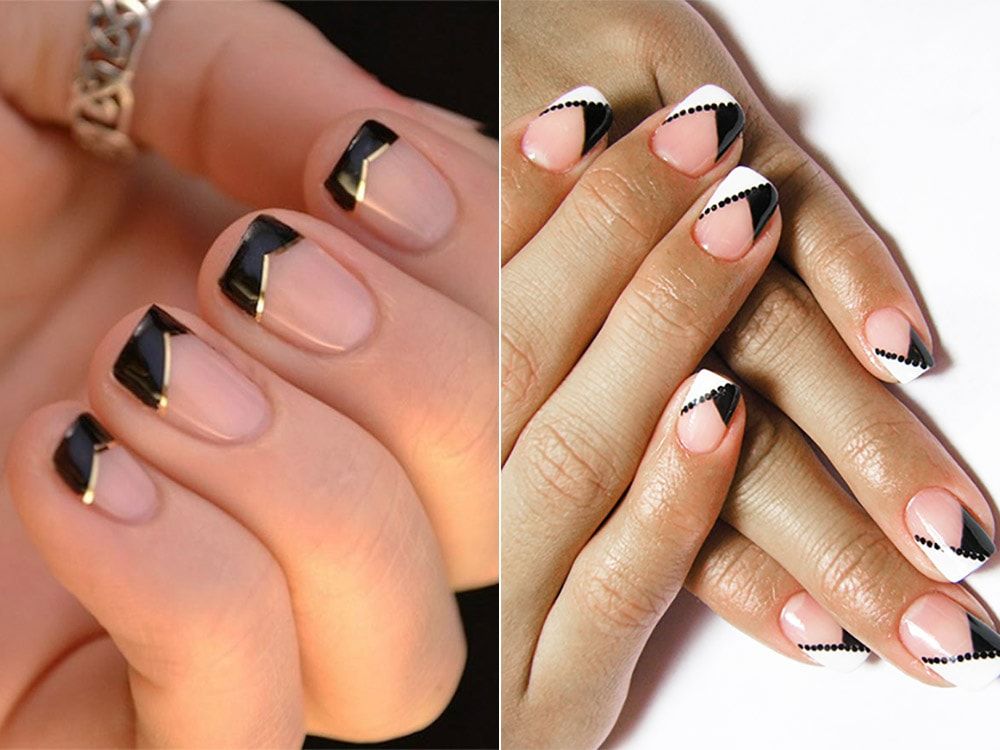 Updated moon manicure
Lunar manicure has also become a classic, which is the opposite of French. The "smile" line can be convex or concave, as well as any geometric shape. In general, geometric design has been a major hit in the nail industry for several consecutive seasons..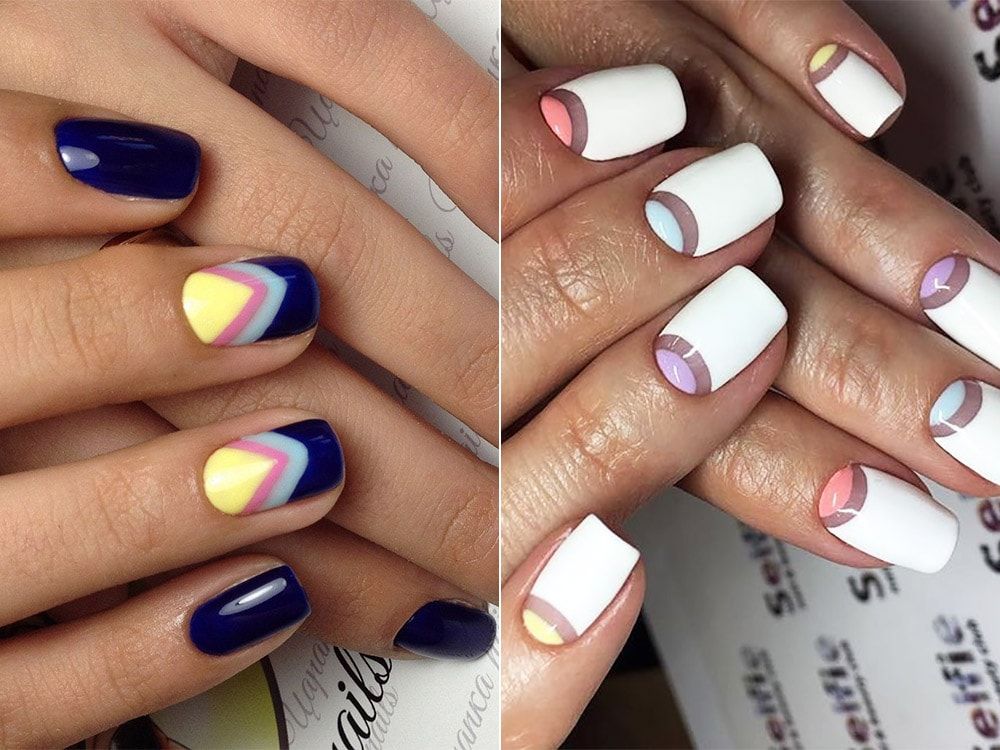 Foil can be applied to the well, and the remainder pre-coated with gel polish. If you want everything at once, you can combine several manicure designs in one, for example, a lunar French jacket with a classic.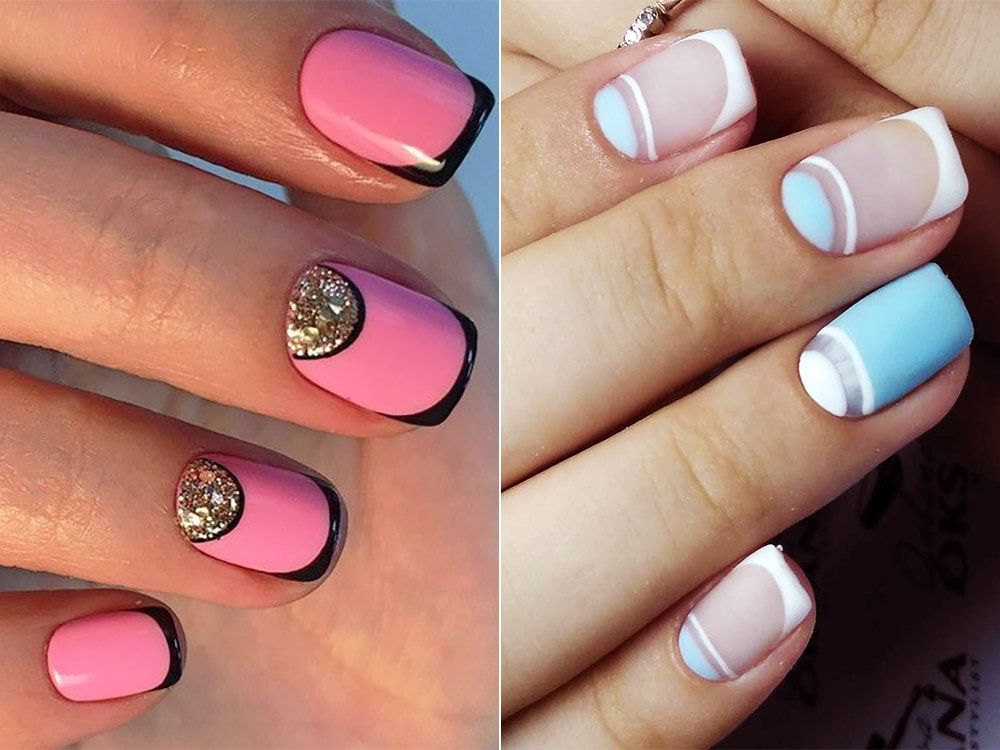 For autumn and winter, a manicure in cold dark shades is suitable – brown, burgundy, gray … For spring, choose summer juicy colors – yellow, green, blue, raspberry.
Manicure frame gel polish 2017
2017 new in nail design and, as a result, the fashion trend is a manicure frame. To create a thin line along the edge of the nail, first a layer of gel polish is applied, which will be the border of the frame, and then another layer of varnish is already applied in a different shade. The perfect combination – black with white.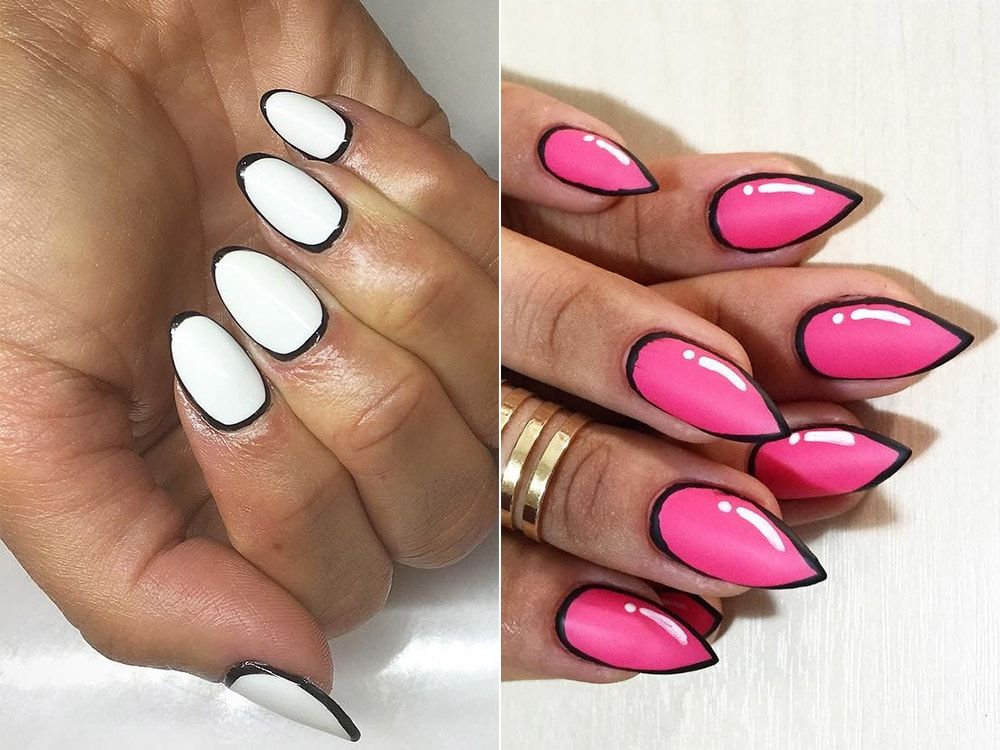 However, for the summer it is better to choose bright juicy shades that will contrast with each other, you can apply some kind of drawing on the final coating.
A manicure frame is not suitable for everyone. This design looks good only on long elongated and almond shaped nails.
Cat's eye
This manicure design is by no means a novelty; it appeared a couple of years ago, but in 2017 it reached the peak of its popularity. Cat's eye manicure looks best in the natural range of chrysoberyl stone – brown, green, gray, blue tones. The design of holes is allowed, decoration with liquid stones, sparkles, painting.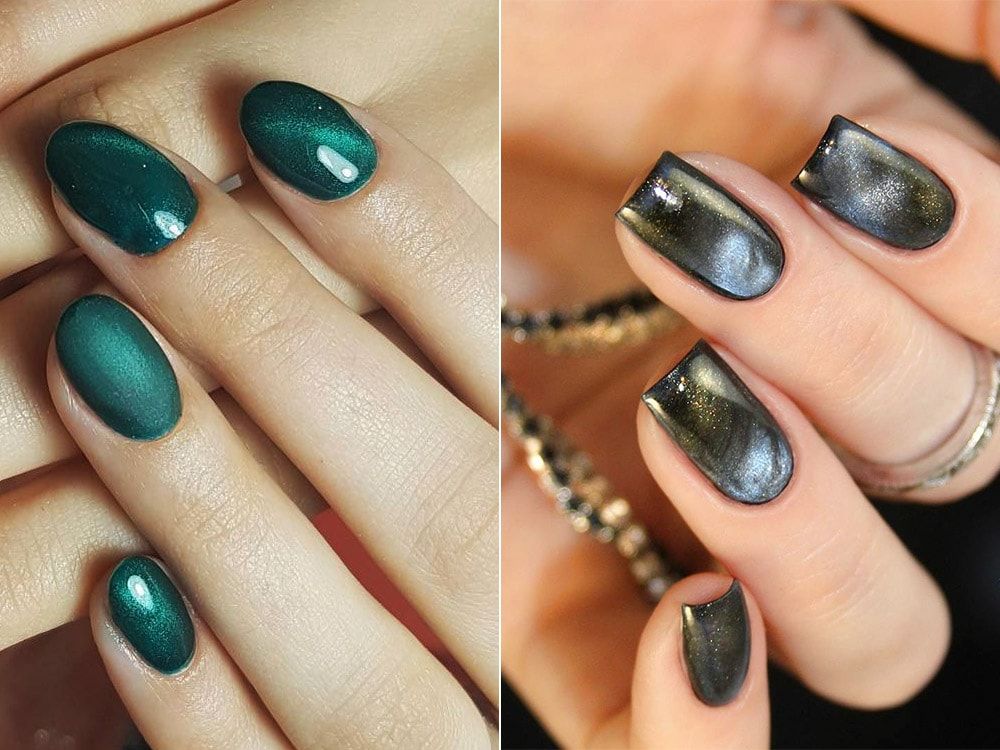 The effect of unusual radiance is achieved through the application of special gel varnishes containing small particles of metal and the effects of a magnet, without which it will not be possible to perform a cat's eye manicure.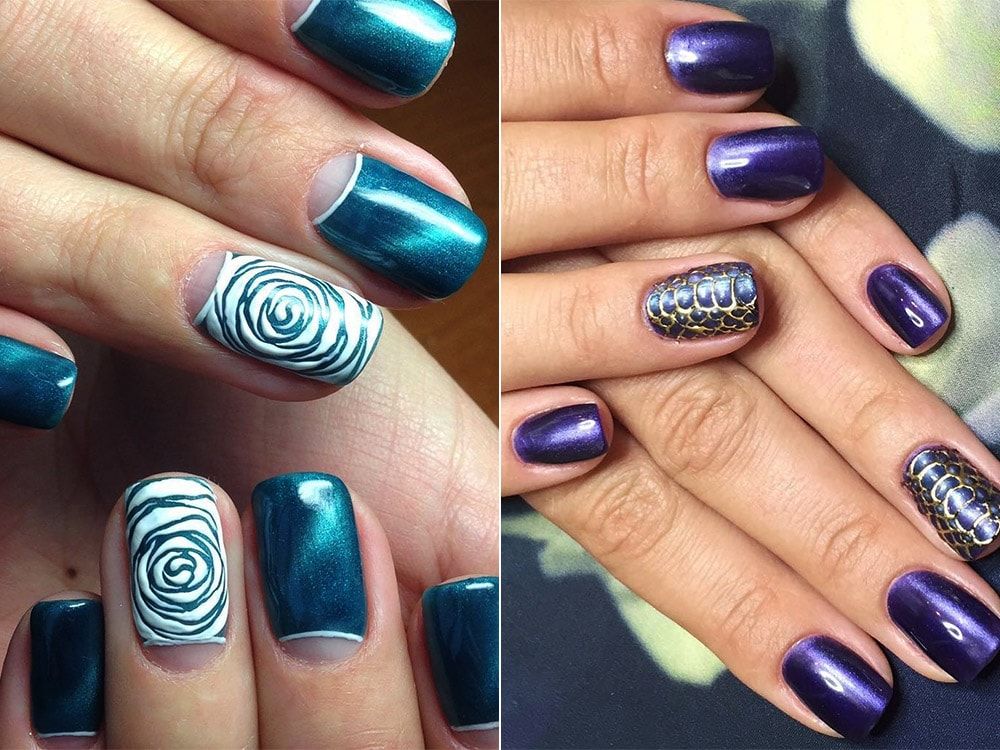 Stripe design
You can not ignore the striped manicure, which became the main trend of 2017. And it doesn't matter if you choose a strip as the main design or complement it with a classic jacket, this season the nails should be streaked on both hands and feet.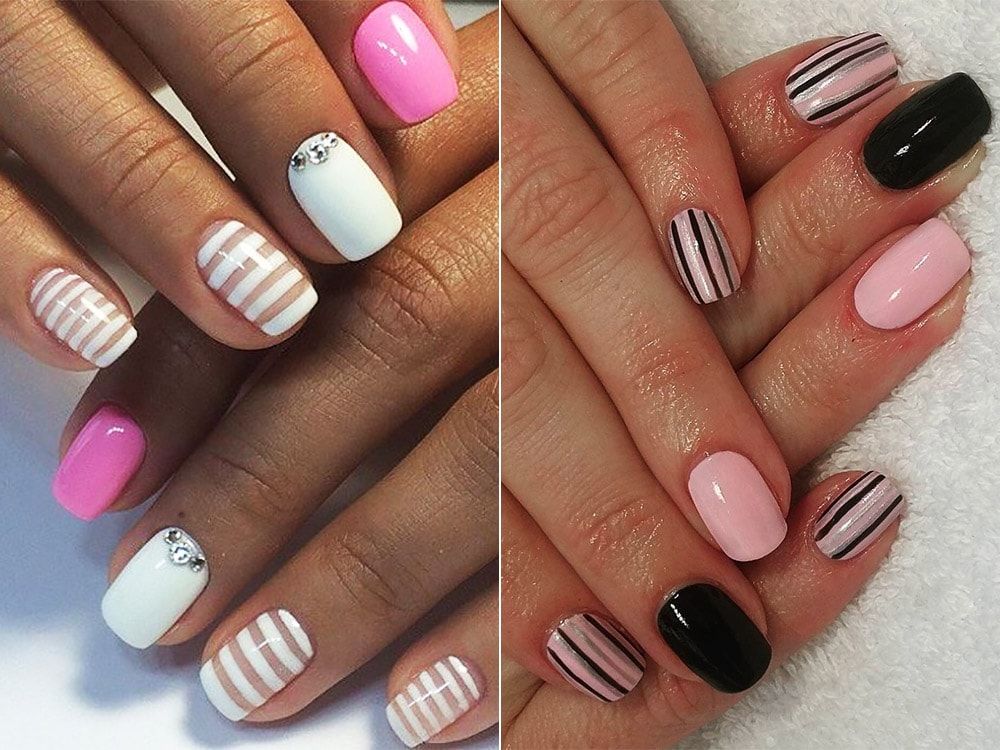 The strip has become more diverse: vertical, horizontal, zigzag, tending to twist into a spiral, marine blue-white, on a colored background or under a transparent gel polish.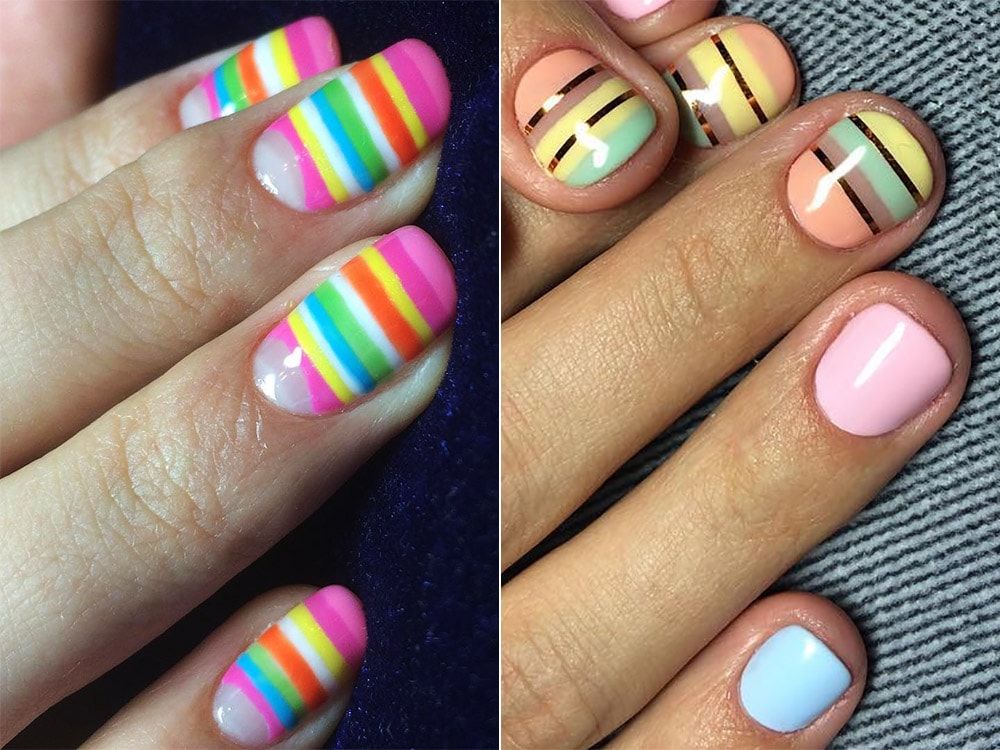 Sunset effect
A manicure with a sunset effect is a continuation of the ombre fashionable in past seasons or gradient nail design. Such a novelty in the field of nail design is more suitable for summer, as the palette consists of bright saturated shades of orange, red, yellow and blue, imitating the color of the sky during summer sunset.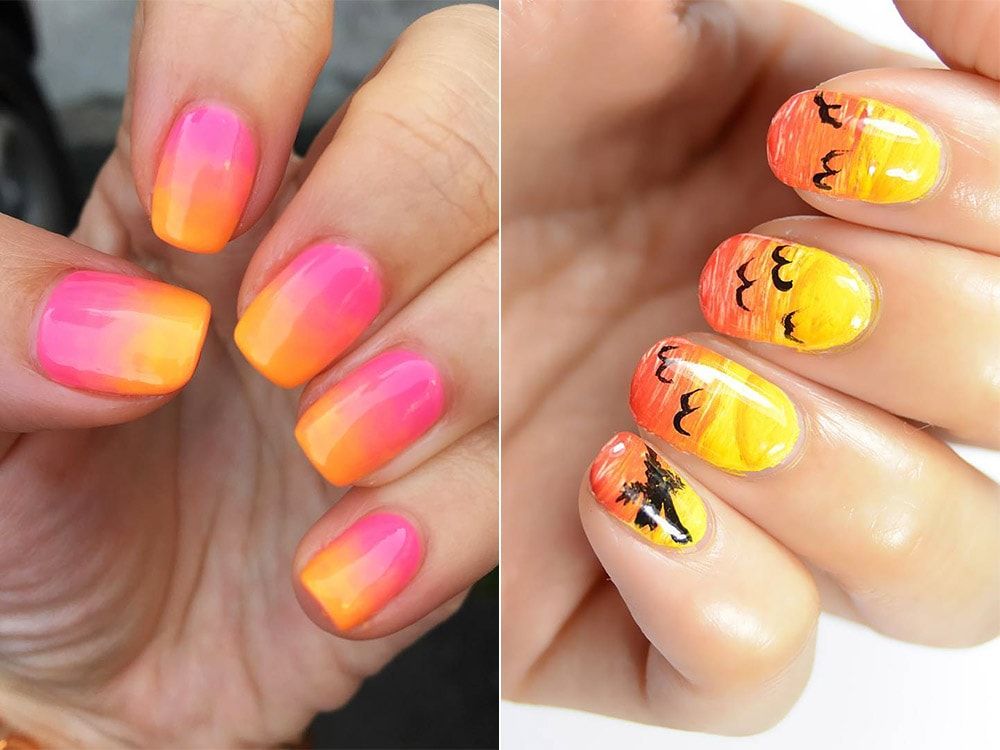 Shattered glass effect
New in nail design gel polish originally from South Korea is gaining more and more popularity. A manicure is a stylization of nails for broken stained-glass windows and fragments of mirror glass, which are obtained by applying special stickers, holographic foil or pieces of mica. As a result, "fragments" shimmer in different shades, and the color of the tint depends on the tone of the gel polish.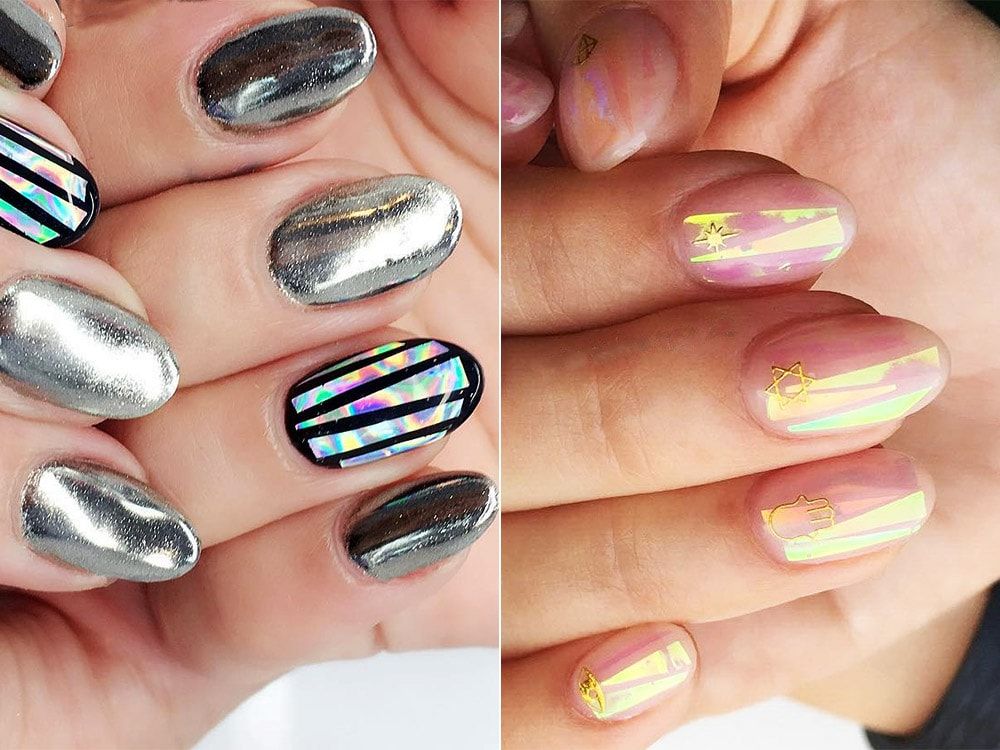 To achieve depth and three-dimensional reflection, these "fragments" are best applied to a black or other dark background. You can focus on one finger or cover all nails.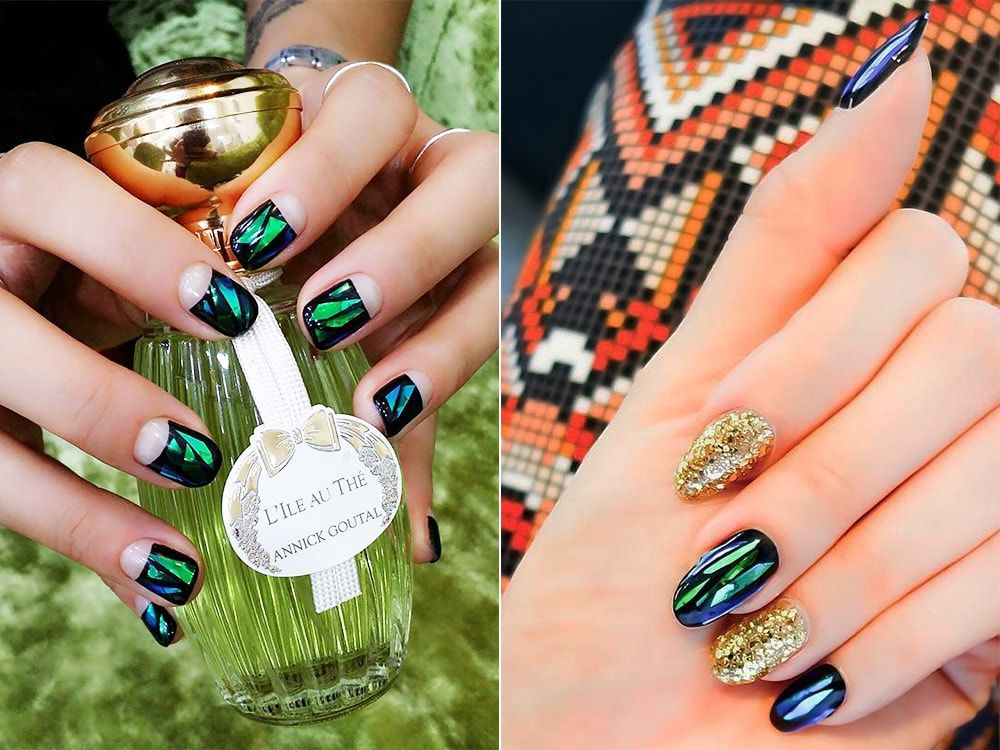 Focus on the ring finger
Another novelty originally from Asia is a manicure with an emphasis on the ring finger. This nail design is part of a Feng Shui manicure. True, before it was carried out in accordance with the rules of Taoist philosophy, now it's just a fashion trend.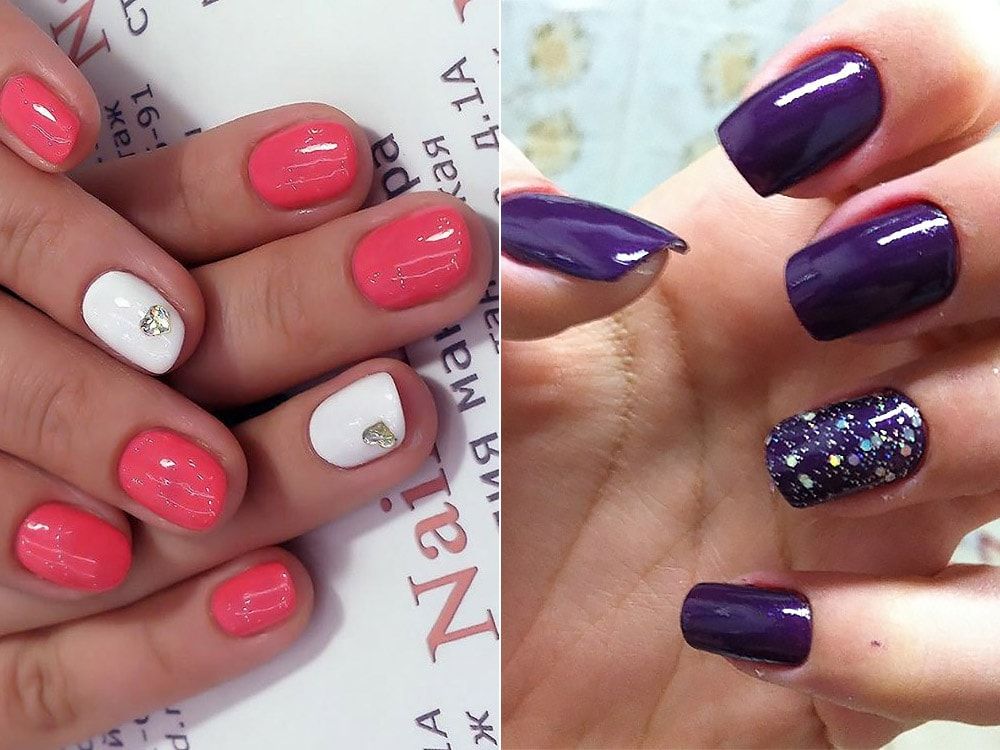 The ring finger can be highlighted in a different color, decorated with sparkles or glitter, decorated with liquid stones or cast, applied with an openwork mesh or art painting.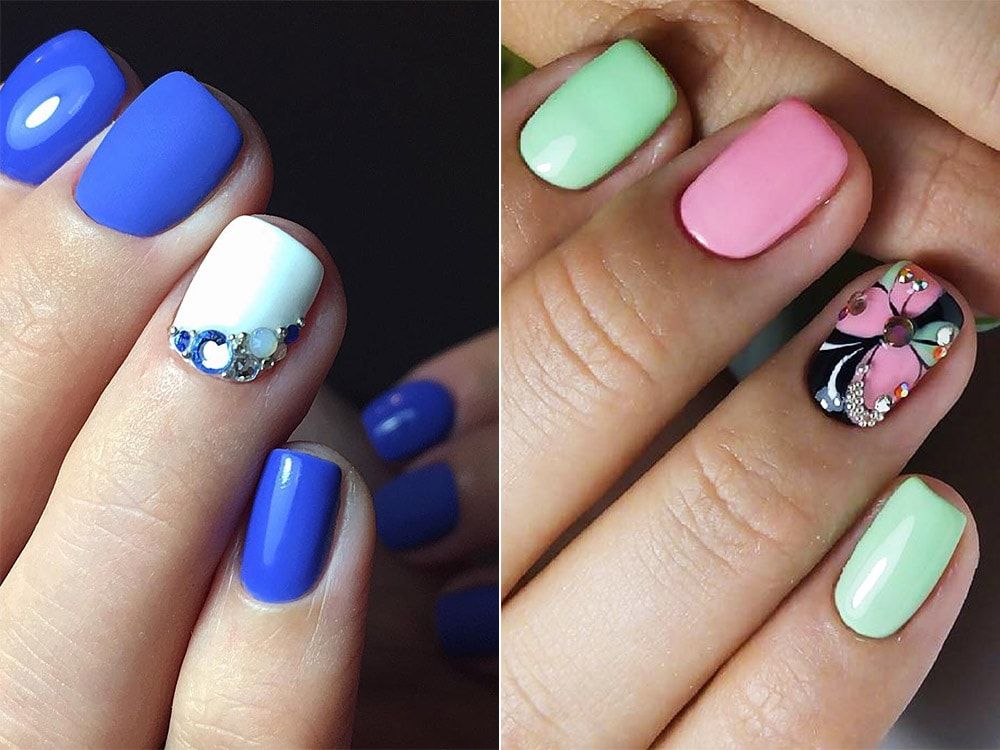 Knitted 3D nail design
A real boom in the field of nail design was the emergence of manicure in the form of 3D voluminous knitting, consisting of woolen threads, braids, cones and rhombs. Its creator was the Russian nail designer Ekaterina Miroshnichenko, the author of many popular techniques in the field of nail design.
In order for the nails to acquire the texture of a favorite sweater, it is necessary to apply a gel pattern to the gel polish coating and fix it under a UV lamp. As a background, it is better to choose pastel matte shades..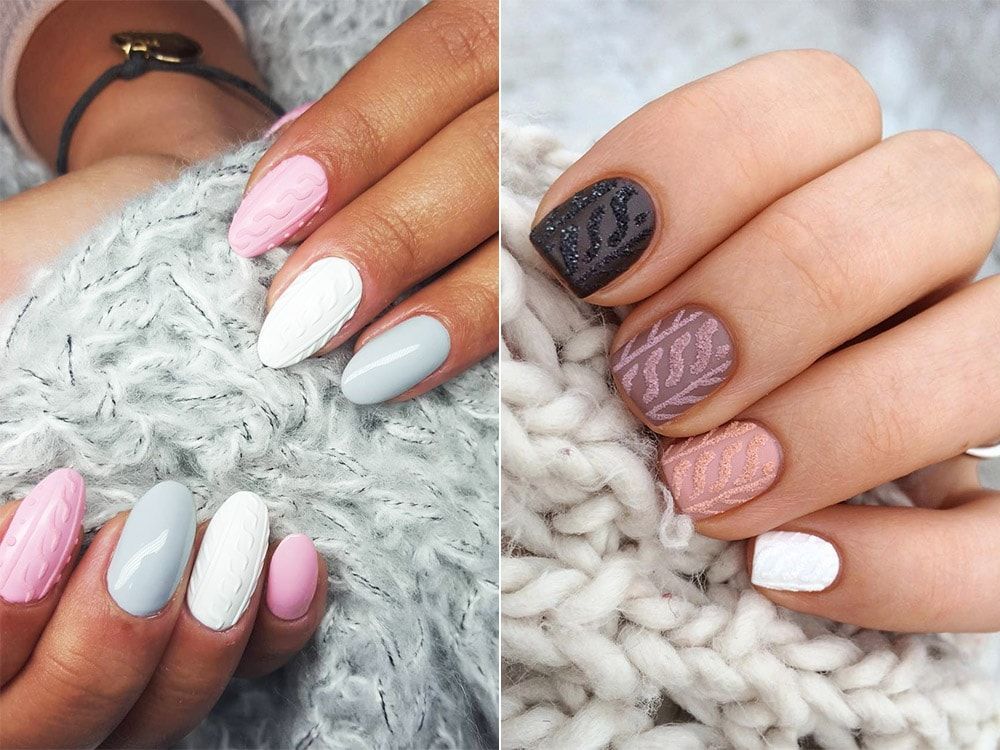 By the way, not a single manicure design looks so cute on short nails as knitted.
2017 brought us a lot of ideas in the field of nail design with gel polish. Therefore, you really have plenty to choose from. Try a manicure frame or a broken glass design, perhaps this particular manicure will become your favorite in the near future.