We all love to pose in front of the camera, and often, when we want to make a beautiful photo, we lack imagination. Simply put, there is no suitable idea, and it doesn't matter if a photo shoot takes place at home or somewhere else, all that comes to mind is "hands on your sides, lips with a bow". Let's try to fix this situation.
Idea 1. The simplest idea for a photo shoot at home is shooting for daily housework. Washing dishes, cooking, ironing, washing and other duties. Do you think boring? And instead of the usual dressing gown, try to put on the uniform of a maid, with stockings, high-heeled shoes, do not forget to put on makeup – and the unusual look in the familiar atmosphere is ready. Pay special attention to your lips. The most spectacular photos are bright red lips covered with gloss.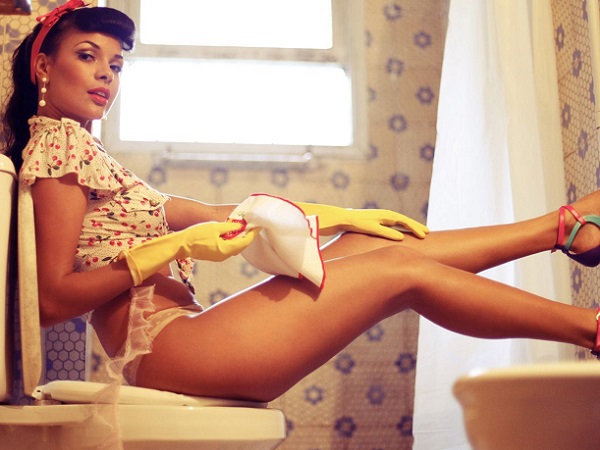 Idea 2. Portrait shooting at home. A good option to save on a studio rental. To do this, you will need: white or any other dense fabric that will serve as the background, a chair, any desired decor element (rose petals, pheasant feather, shells), several outfits, hats and a good mood. Home photo shoots are good because you can't be afraid to experiment, do not hesitate to reveal yourself in front of the camera.
Idea 3. If the photoshoot of you alone is not what you want, then you can organize a friendly shooting at home. For example, it could be a pajama party with a friend or a retro-style shoot. You can jump on the bed, fight pillows, make secrets, read a book together, drink tea, dance, scream in karaoke. The main thing is to openly have fun. Then the photo shoot will be easy, and the photos will be a great reminder of your friendship.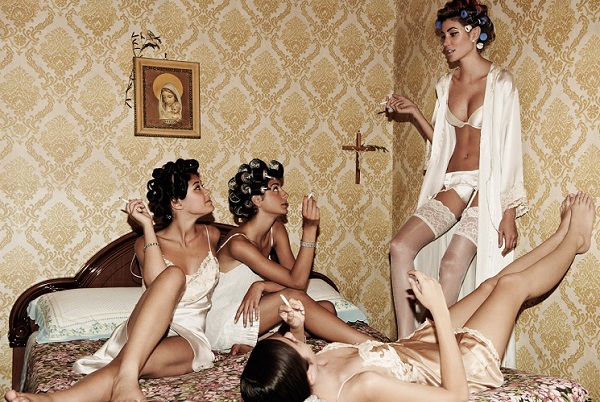 Idea 4. If you are pregnant, then the ideas for a photo shoot at home will be especially useful to you. If the period is still small, then you can take pictures every month in the same place so that you can see the change in the size of the tummy. It's better to sign a deadline so as not to confuse and not to forget. You can buy booties, put them on the tummy, bandage the tummy with a silk ribbon with an inscription of a similar plan: "Made with love", "The sweetest waddler", "I'll be with you soon". You can decorate the tummy. With such an idea at home, you can attract a husband by making some nice shots. Photos of pregnant women in white shirts or in beautiful silk fabric look beautiful.
Idea 5. Want to make an original photo shoot at home with your loved one? Then here are some ideas for you! Organize the small world you invented in which you live. To do this, select the background from the fabric, lay it on the floor and prepare all the necessary items. Come up with what you do? For example, play a ball. So sit down on the floor, take the ball and depict the game.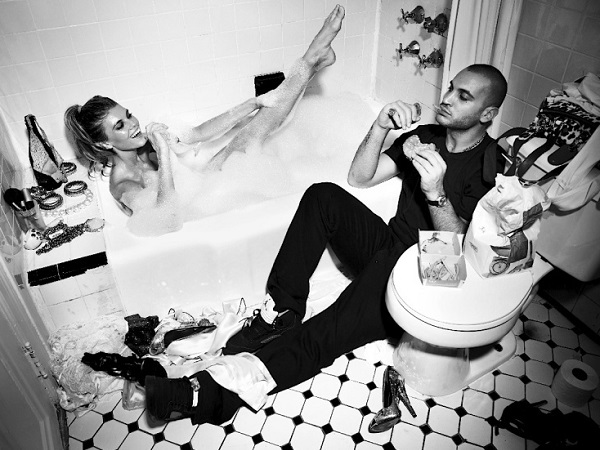 If you want romance, then arrange a photo shoot in bed. Let your beloved bring you a cup of aromatic coffee, and at that moment you wake up from sleep. Then you can fill the glasses with champagne and feed each other sweets, kiss. Do not forget to choose beautiful bedding, silk will look better.
Idea 6. If you want to give a gift to your beloved, have a sexy photo shoot at home, and ask him to be a photographer. Perhaps he himself will come up with some ideas. Beautiful underwear, mesh stockings, high-heeled shoes, peignoir, rose petals, candles – everything that only comes to mind! You can make several frames in bed, on a table, chair, plaid on the floor. Such a photo session will be an excellent entertainment for the two of you, and if it is conducted by a professional photographer, then you will have every chance to see yourself new, relaxed and incredibly beautiful..
Beautiful photo shoots without leaving your home with thoughtful ideas will help you have fun, catch the bright moments of life, make a difference. And in old age, having opened an album with a photo, warm memories will flow over about a great time and the beauty of youth.