This is a traditional Christmas dish. The goose has a very special taste and aroma, so do not hesitate for a minute, choosing it.
Ingredients
Goose – 4.5-5 kilograms
Lemon – 1 piece
Sage – 1 bunch
Salt to taste
Freshly ground pepper – to taste
For gravy
Flour – 25 grams
Chicken broth – 600 milliliters
How to Cook a Baked Christmas Goose
Cut a thin spiral layer of peel from a lemon. Heat the oven to 220 C. Remove excess fat from the goose carcass (keep in the freezer – it will come in handy for you!), Fill it with lemon peel and sage, adding some spices. Rub the surface of the carcass with salt and pepper, lay breast down on a wire rack in a large baking dish. Bake for 30 minutes, until browning.
Carefully remove the goose from the oven, turn the breast upside down. Hold in the oven for another 20 minutes until the breast is browned. Carefully rearrange the grate with the goose on the board, gently drain the grease from the pan into a large refractory bowl (it can then be used to bake potatoes).
Reduce the oven temperature to 180 ° C, return the grate with the goose to the pan and bake for another 1.5–2 hours until tender (pierce the thickest part of the thigh with a skewer – transparent juice should stand out). If necessary, drain excess fat one or two more during the baking process. Transfer the goose to the dish, wrap tightly in two layers of foil and leave for 20 minutes.
Make the gravy. Leaving in a baking dish 2 tbsp. l melted goose fat, set it on medium heat (or use a small saucepan for this). Add the flour, hold on the fire for a minute, stirring occasionally. Continuing to stir, pour the broth into a thin stream, bring to a boil. Let it simmer for 2–3 minutes, until the sauce thickens. Salt to taste, strain in a gravy boat. Serve the goose with any of the side dishes, with gravy, with apple or berry sauce.
For a garnish of red cabbage, heat the oven to 150 C. Lay the cabbage and apples in a baking dish with a lid, add sugar, vinegar, butter, cut into small pieces, season with salt and pepper. Cover the pan and simmer in the oven for 2–2.5 hours, until soft. Add currant jam, mix, salt to taste and serve to the baked goose.
Bon Appetit!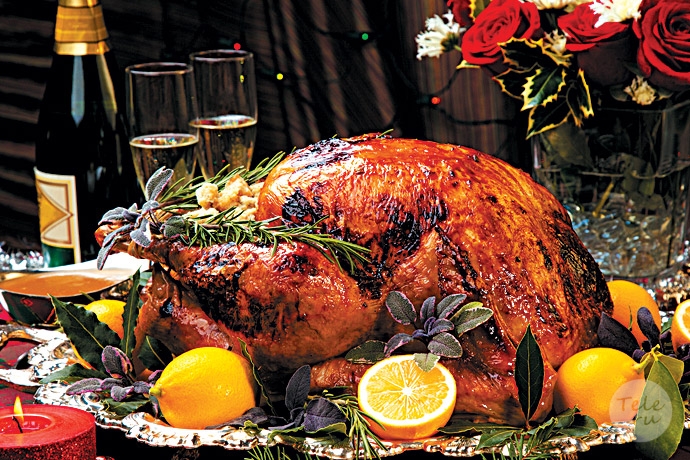 Similar articles
---