No matter how strong and iron the modern business woman does not seem outside, her dreams of fairy-tale romance and sublime love are not alien to her. Prada spring-summer 2017 collection is about such a woman.
Prada Spring-Summer 2017 Collection
The collection, presented in Milan, was developed in collaboration with director David Russell. David made his contribution by presenting a short film at the show. The title of the film, Past Forward, is a surrealistic picture of rapidly changing frames in black and white. The official premiere of the film will take place in Los Angeles in November this year, and then will be available on prada.com.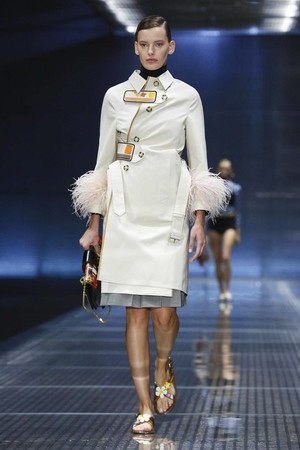 Returning to the collection itself, Prada tried to present the atmosphere of the film. The images were strict, elegant and modest enough. Classic brand. There was no extravagant makeup, no heavy gold jewelry. The collection includes business uniform shorts, plain sleeveless jackets, medium-length skirts, a variety of blazers and cardigans.
"I did not want to complicate anything. I tried to find the elegance of the last century and adapt it to modern times. My clothes should convey the individuality of each woman, girls should feel relevant and comfortable in her, "said Miucia Prada backstage of the show.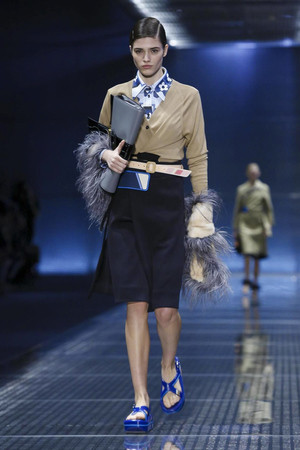 Prada – office romance
Romance was felt in the details. Feathers adorned the sleeves of classic coats, on skirts and a line of tops. On evening sets, one could notice a light embroidery of glass sequins, forming a laid-back floral pattern. Not so much, but Prada introduced flying, translucent fabrics in combination with dresses and skirts.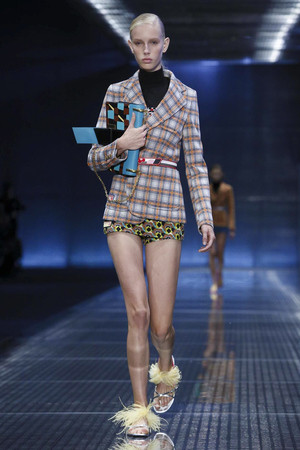 An integral part of the wardrobe of every business – lady – shirts and turtlenecks. At a show in Milan, these things were in almost every image. The designer expressed her sympathy for the combination of shirts and a turtleneck with other elements of clothing. With short tops that were worn over geometric print blouses, buttoned under the throat, with cardigans, vests and dresses.