Content
---
---
A successful combination of jeans will become part of a casual outfit, an image in grunge and ethnic style, a business and ultramodern look.
What to wear with a denim shirt so as not to spoil its self-sufficiency and not to harm the harmony of the outfit with its presence?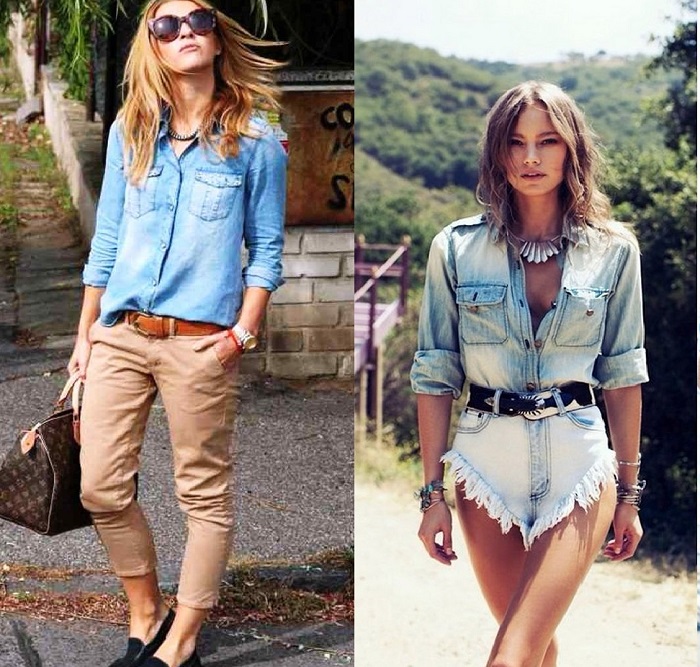 Denim shirt and skirt
A high-waisted pencil skirt with a scent and asymmetrical hem, pleated pleats and slits – all this will be the perfect pair for a light or dark denim shirt. This combination of things looks a little eclectic, but stylish and not boring..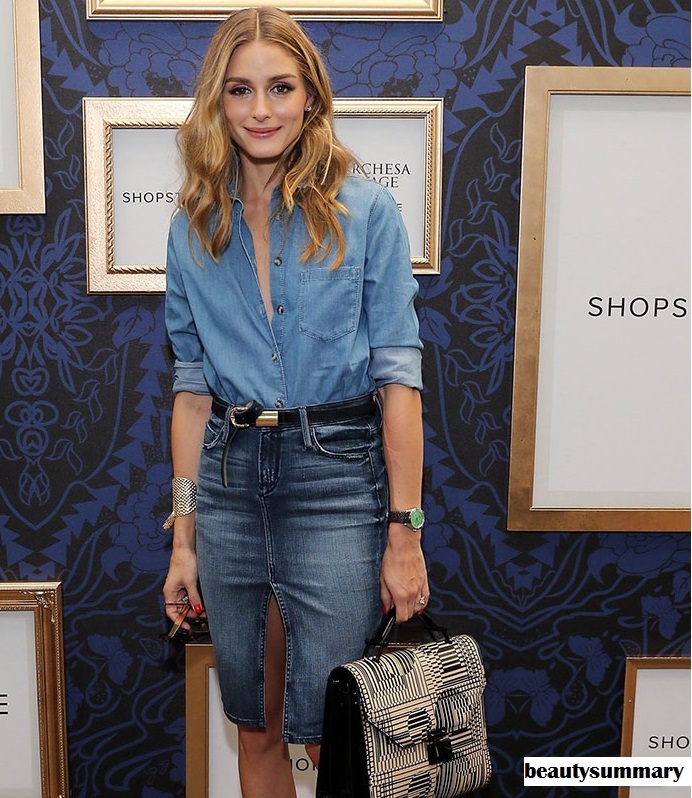 Long-sleeved shirts go well with long skirts. Looks spectacular floral print, flowing and flying fabrics, pleated, high waist. Adding a massive necklace to the neck and waist belt, you can emphasize your femininity. In this outfit, you can safely go on the red carpet or a fashionable metropolitan party.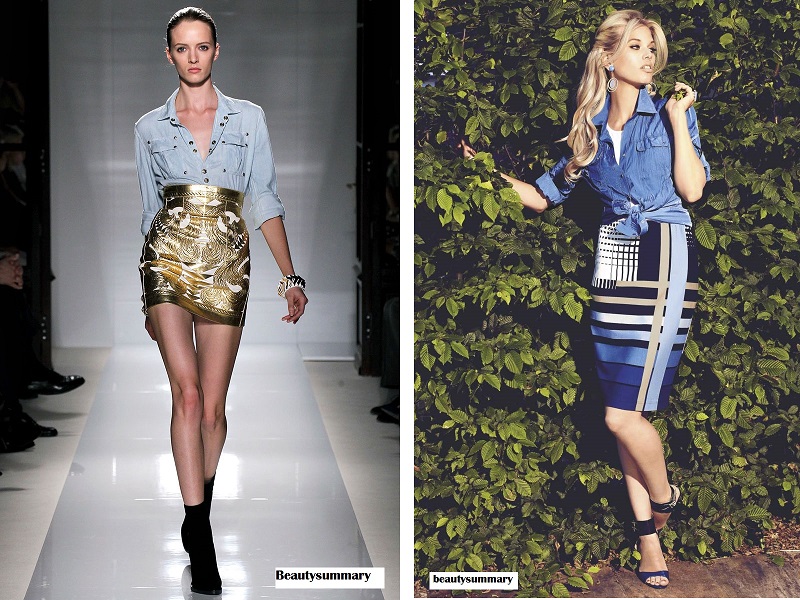 Fluffy midi skirts, plain and printed, that dilute the uniformity of blue denim, look spectacular. Choose a bright clutch and shoes of neutral color.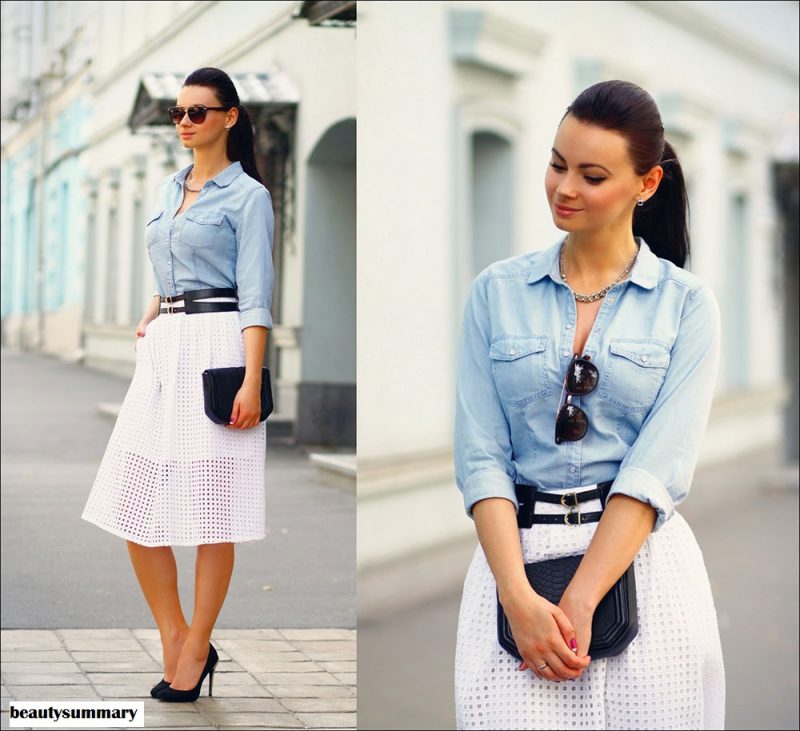 One of the most fashionable and successful combinations is considered to be a set of denim shirts and pencil skirts. In this outfit, you can go anywhere and no one will have doubts about its relevance. Choose prints and shades without fear. Even the most daring patterns and colors will be compensated by the jeans simplicity and modesty of a straight cut shirt.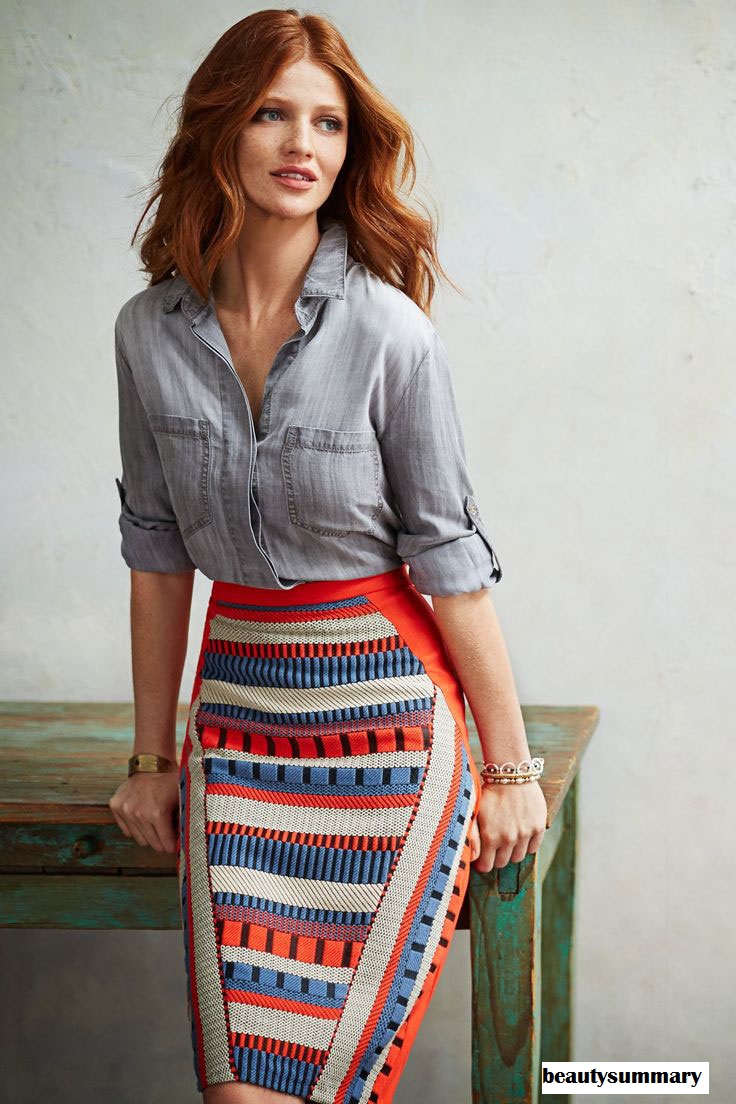 Denim shirt and pants
A denim shirt this season is allowed to be combined with all the fashionable styles of trousers that have been seen on the catwalks. In this set, the cut sets the tone, determining the style of the image. So, cropped print trousers and a denim shirt will be an excellent walking kit, and strict flared trousers with high waist are suitable for going to work. Choose the boldest patterns and shades.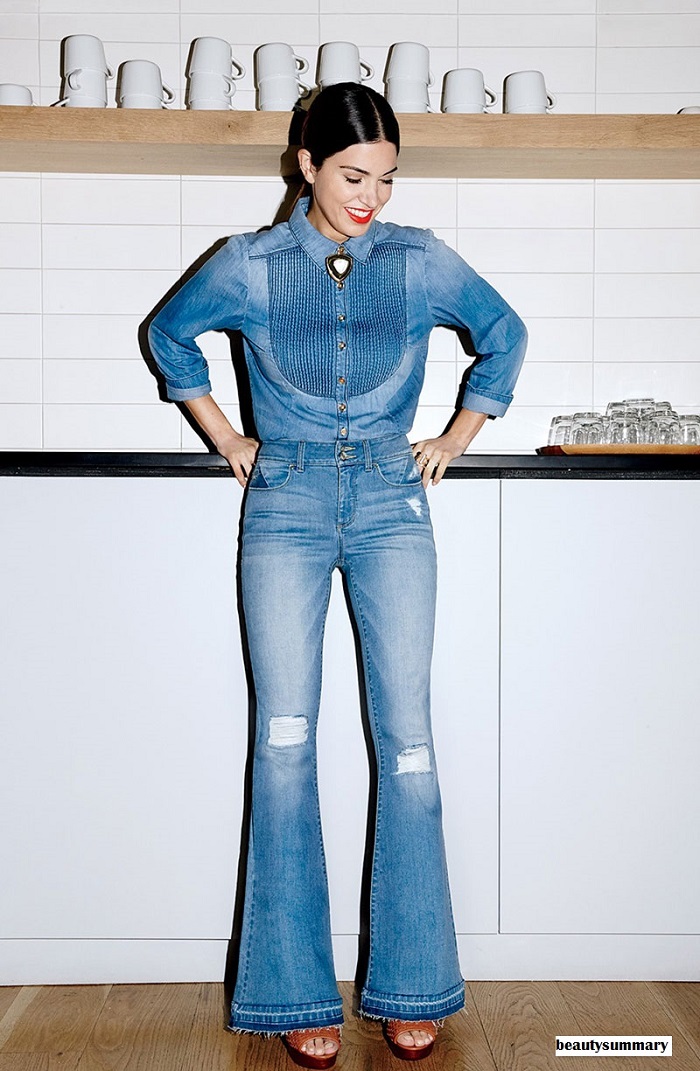 In cold weather, complement look with trendy outerwear. An oversized coat, cardigan and jacket will do the job best. Remember about accessories that will allow you to dilute the grayness of the image and make your own appropriate adjustments to it..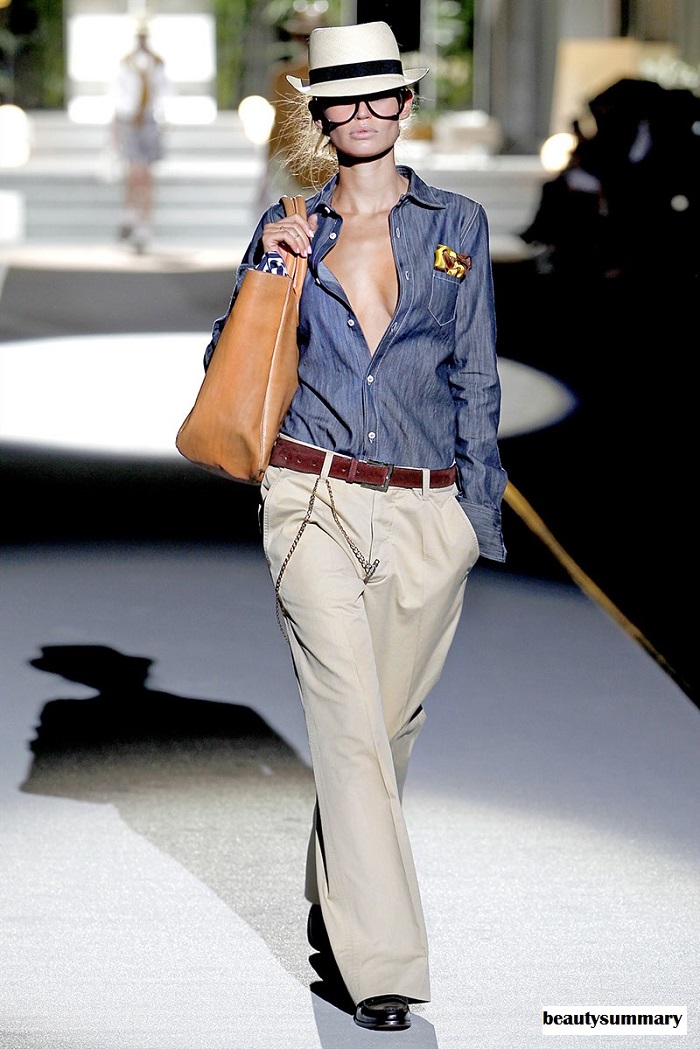 Denim shirt and jeans
Total denim is certainly an immortal combination. To look stylish in a denim shell, give preference to fashionable jeans models – skins and boyfriends. Pay attention to scuffs, plain material, torn elements.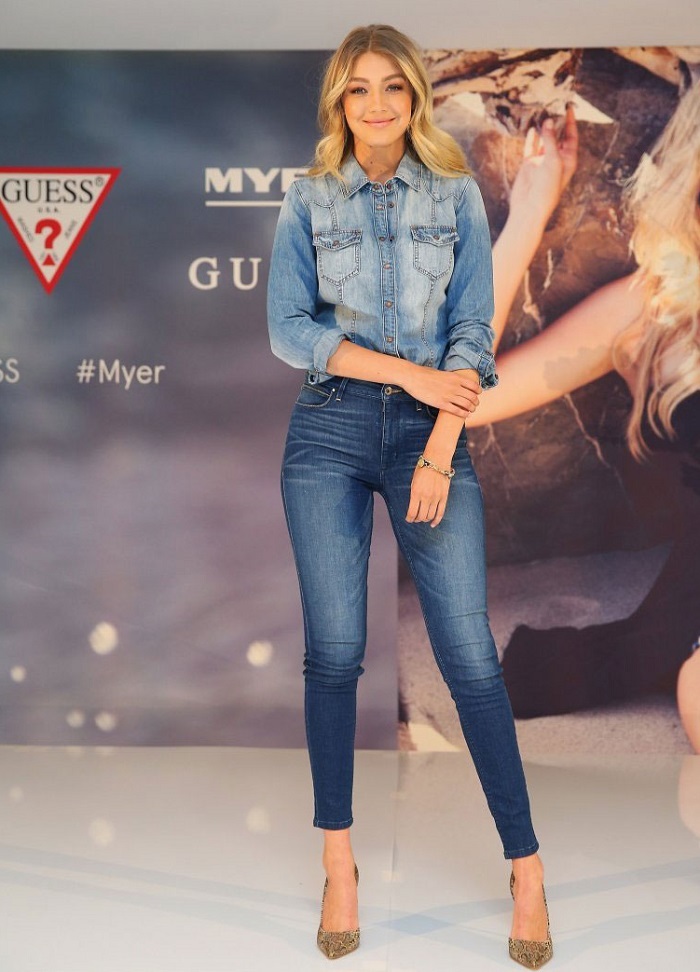 It is desirable that the shade of the shirt and jeans does not match. Complement the total denim with a bright bag, throw a jacket, cardigan, trench coat or coat over your shoulders. Classic shoes or fashionable ankle boots will complete a jeans symphony.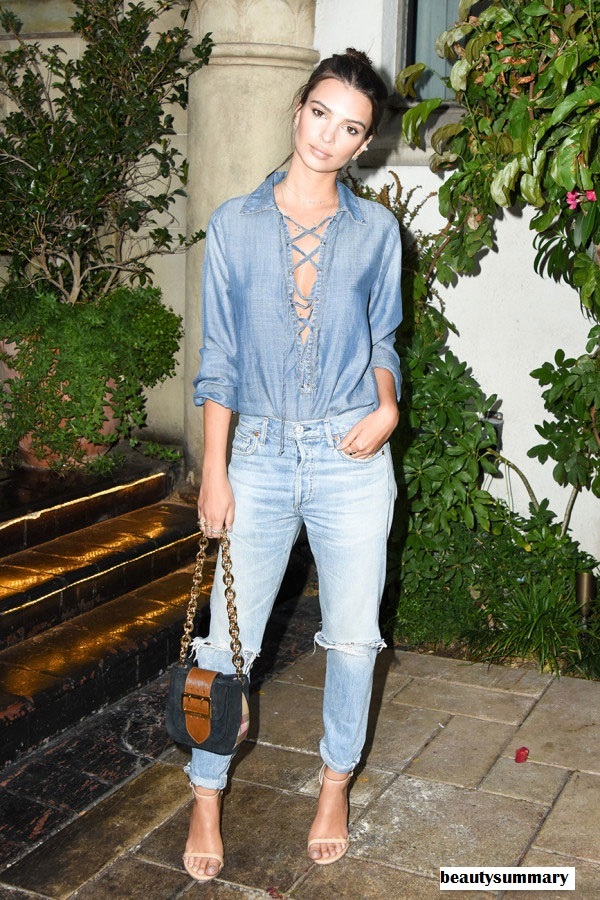 Denim shirt and dress
For spring, it is important to wear denim shirts under the bottom of fashionable sundress dresses, while not following the rule of contrast – the shades should not be contradictory. Accessories and shoes will set a rich accent.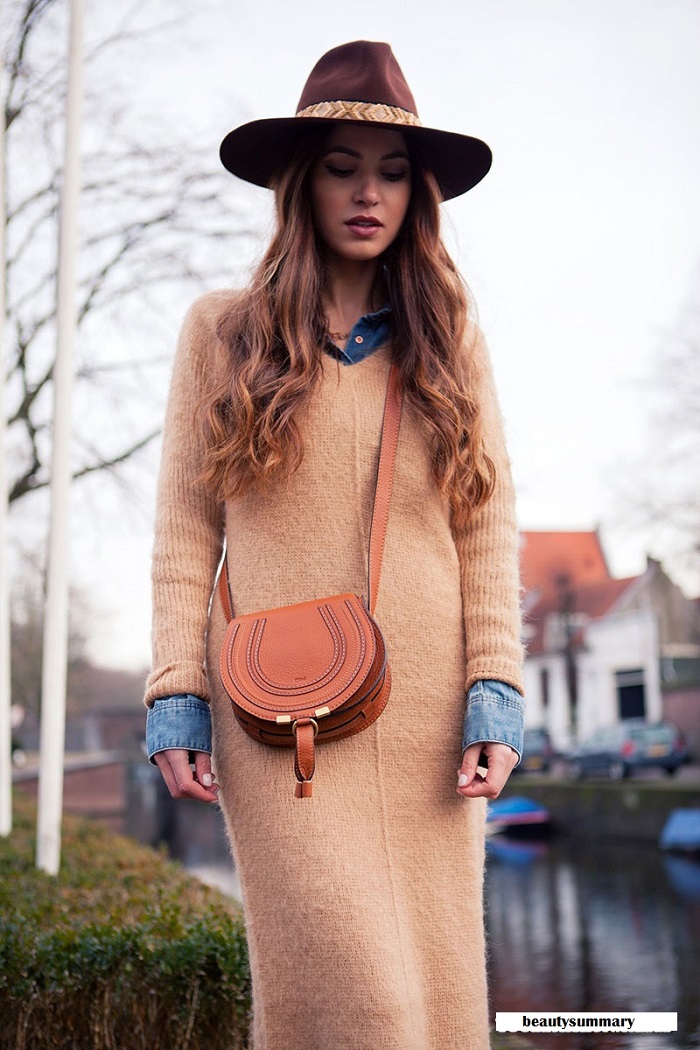 Denim shirt under the bottom of a sweater and jacket
A jumper and a jacket are allowed to be worn over a shirt that is paired with jeans, a skirt, trousers and shorts..
The main rule – the sweater should be slightly oversized and without a neck.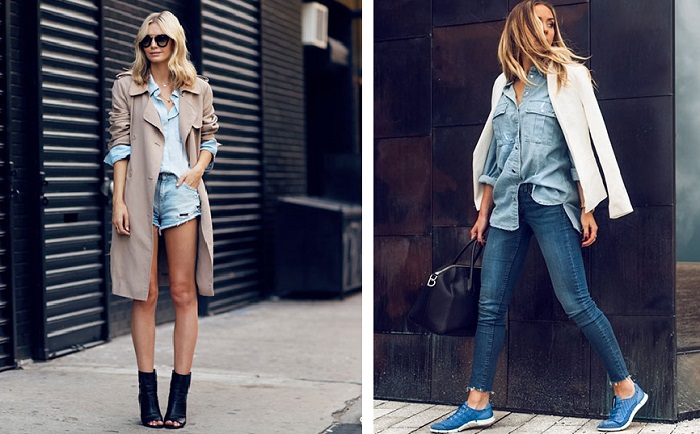 And do not forget to complement the image with a denim shirt with the most important accessories – a wide smile, fashionable makeup, a neat hairstyle and a favorite perfume.