Content
---
---
Avoiding such troubles is simple – you just need to know a few simple rules for the compatibility of a pencil skirt with a top and shoes. And be sure to choose the style and length for your type of figure and age. And to make the look really stylish, we'll tell you which skirts are in trend now..
Who is interested in a pencil skirt?
It is believed that a pencil skirt is universal. Many stylists claim that it is suitable for any type of figure. They also insist that a straight skirt fits perfectly into the wardrobe of a woman of any age. The only thing to consider when doing this is length. Young girls fit mini length. In middle age, it is better to give preference to the length to the middle of the knee or slightly higher. Mature women are recommended length below the knees.
How to choose a pencil skirt by the type of figure
Pencil skirt – a style that fits the figure tightly. The cut is made in such a way that it completely repeats the lines of the female silhouette: it emphasizes the waist, hips and as a whole creates an incredibly feminine and attractive image. But if you do not take into account your type of figure when choosing a model, then you can spoil even the most ideal appearance.
Hourglass
Such a figure is the standard of female beauty. If you are lucky and you are among the girls with an expressive thin waist proportional to the width of your shoulders and hips, then without a shadow of doubt you can fill up your wardrobe with such a skirt. After all, tight-fitting straight skirts will successfully emphasize the beautiful bends of the hourglass.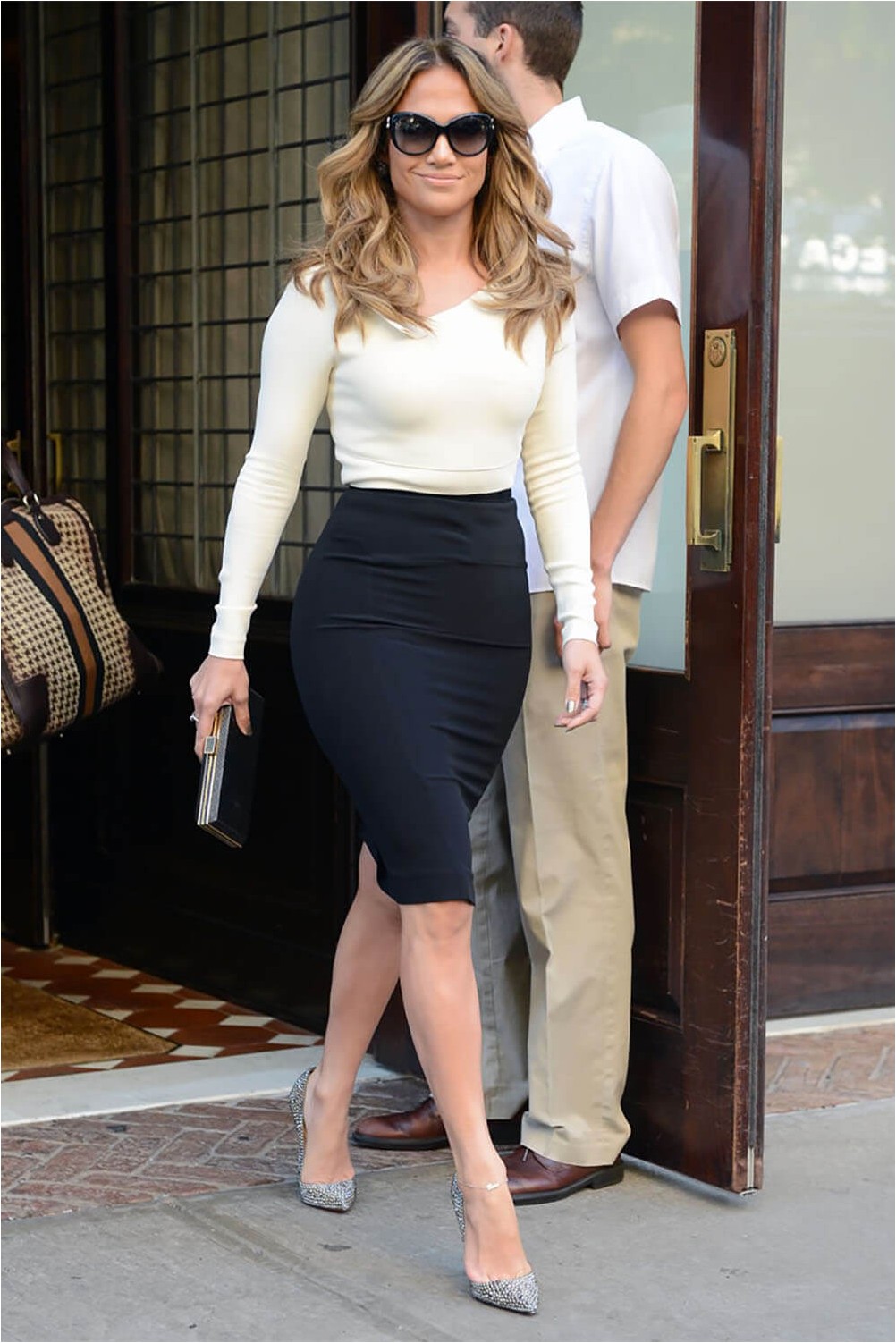 Task. Do not spoil the ideal proportions of the figure.
What is suitable? You can choose any of the pencil skirts that you like. After all, a "pencil" cut is an ideal option for an "hourglass". The color palette – from the most juicy shades to pastel colors. You can also choose a fashionable now combined leather model with vertical inserts.
Rectangle
What does this type of figure look like? Shoulders and hips are on the same line. The waist is poorly expressed, almost imperceptible. The legs are thin and the buttocks do not stand out too much. The figure is straight, without rounded shapes.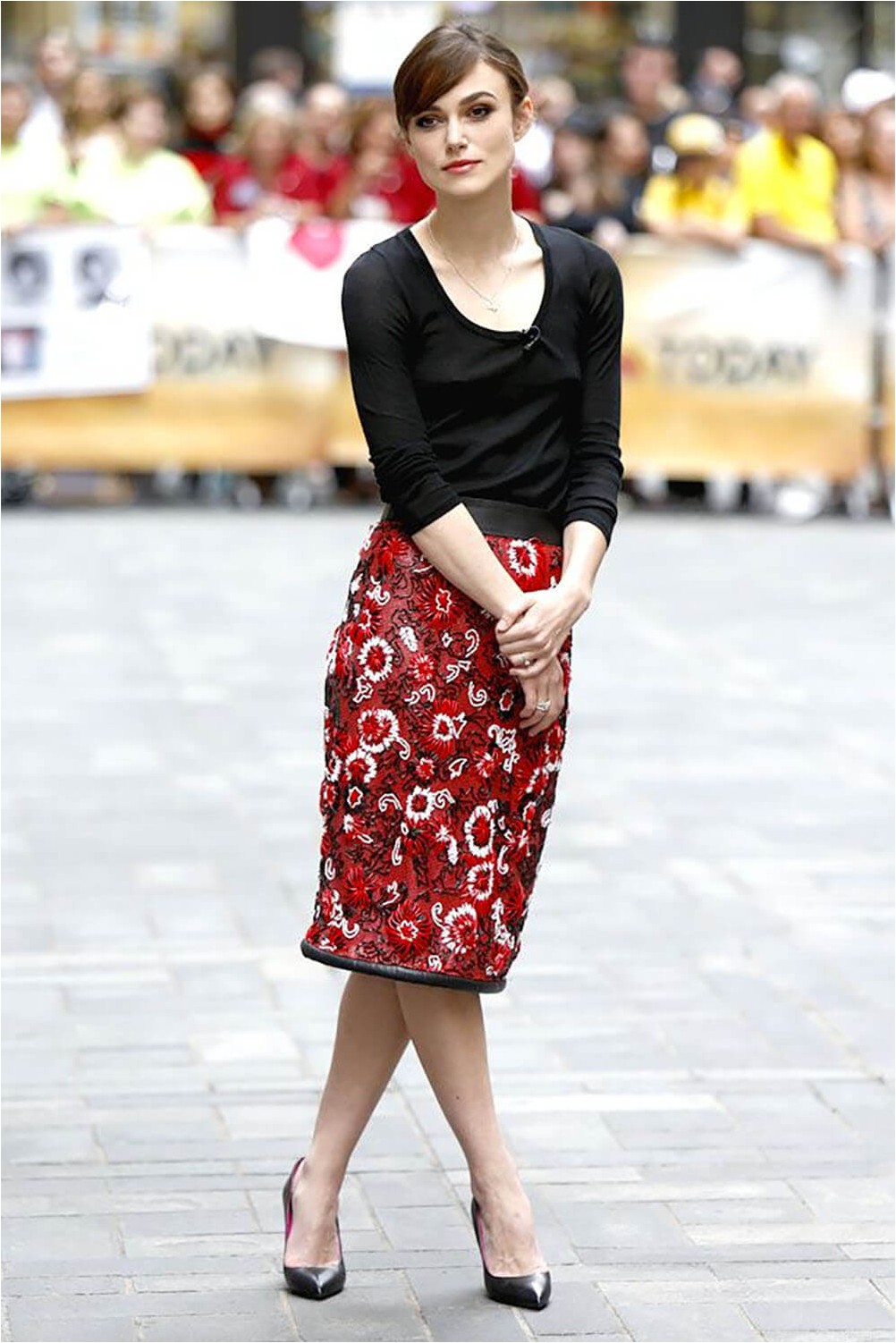 Task. Visually hide the angularity of the figure, do not focus on a not too pronounced waist. Make the silhouette softer, more feminine.
What is suitable? Perfect cut – narrowed down, slightly hips. It is important that there was no belt in the cut or was hardly noticeable. Choose a dense fabric such as tweed, wool, velveteen or silk. Adjust the length depending on the characteristics of the legs. If they are smooth, long, slender, then you can choose a shorter length. If the legs are full or, conversely, not too thin, the knees protrude too much, then it is better to stop at midi length.
Pear
The pear-shaped silhouette is also called the "triangle." The main feature is wide hips and small shoulders. The waist is narrow, so a significant "advantage" is obtained in the lower part of the figure. The stomach of "pears" is practically absent, the chest is small. The length of the body is usually longer than the length of the legs..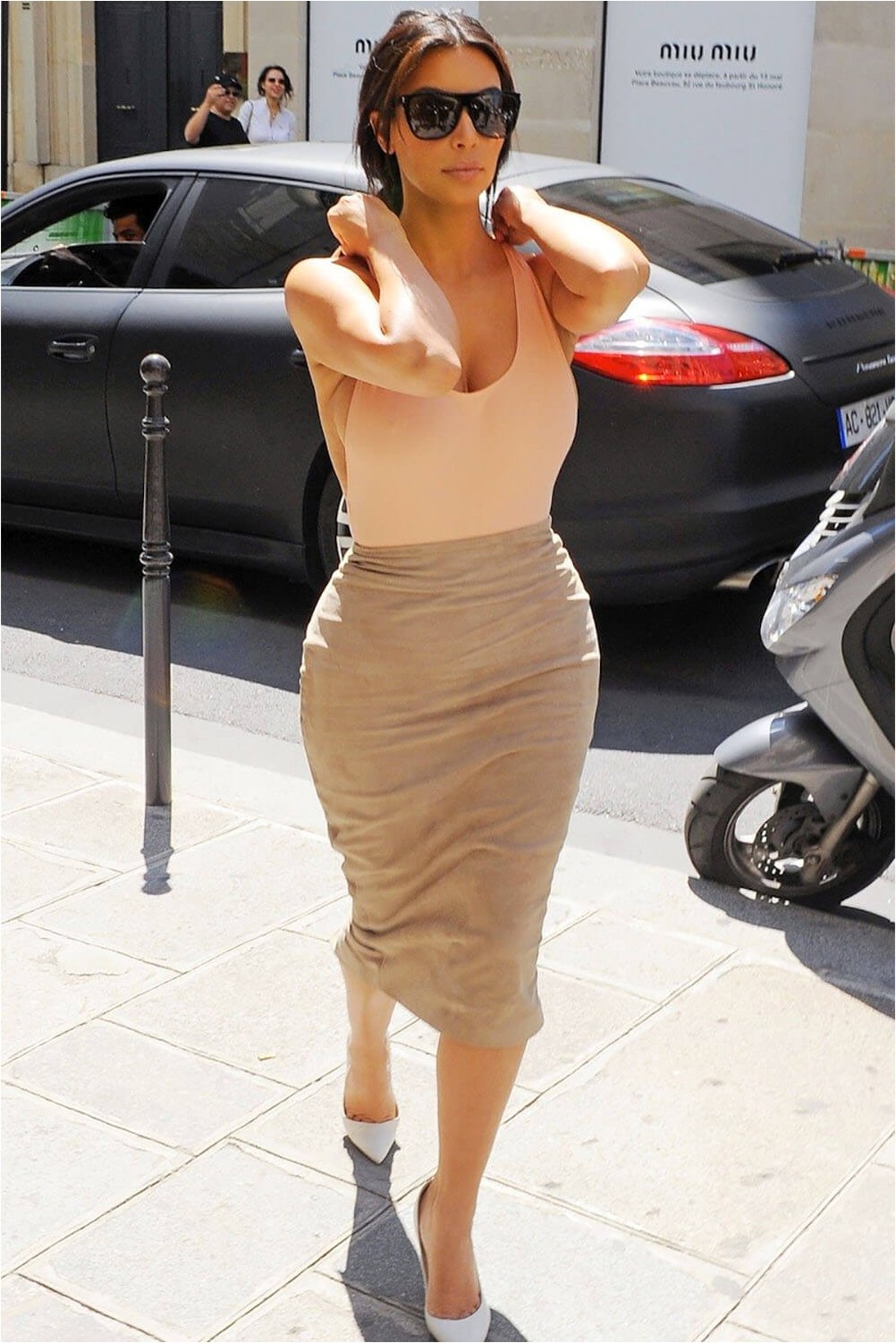 Task. Balance the proportions. Hide the "heavy" bottom, visually slightly "lengthen" the legs.
What is suitable? Not too tight pencil skirt. Choose a straight cut, it will visually make the hips thinner. Try not to draw attention to the massive bottom. To do this, abandon the bright colors, catchy print. The same applies to decor: large patch pockets, draperies, rhinestones on the canvas, rough straps or dimensional bows – all this is better not to use for girls with a pear-shaped figure.
An Apple
An apple shape or circle is very difficult to correct. Indeed, a noticeable imbalance prevails in it – the waist and abdomen are wider than the hips. At the same time, the legs are graceful, and the hips are narrow. The bust is splendid, but the buttocks, on the contrary, are flat.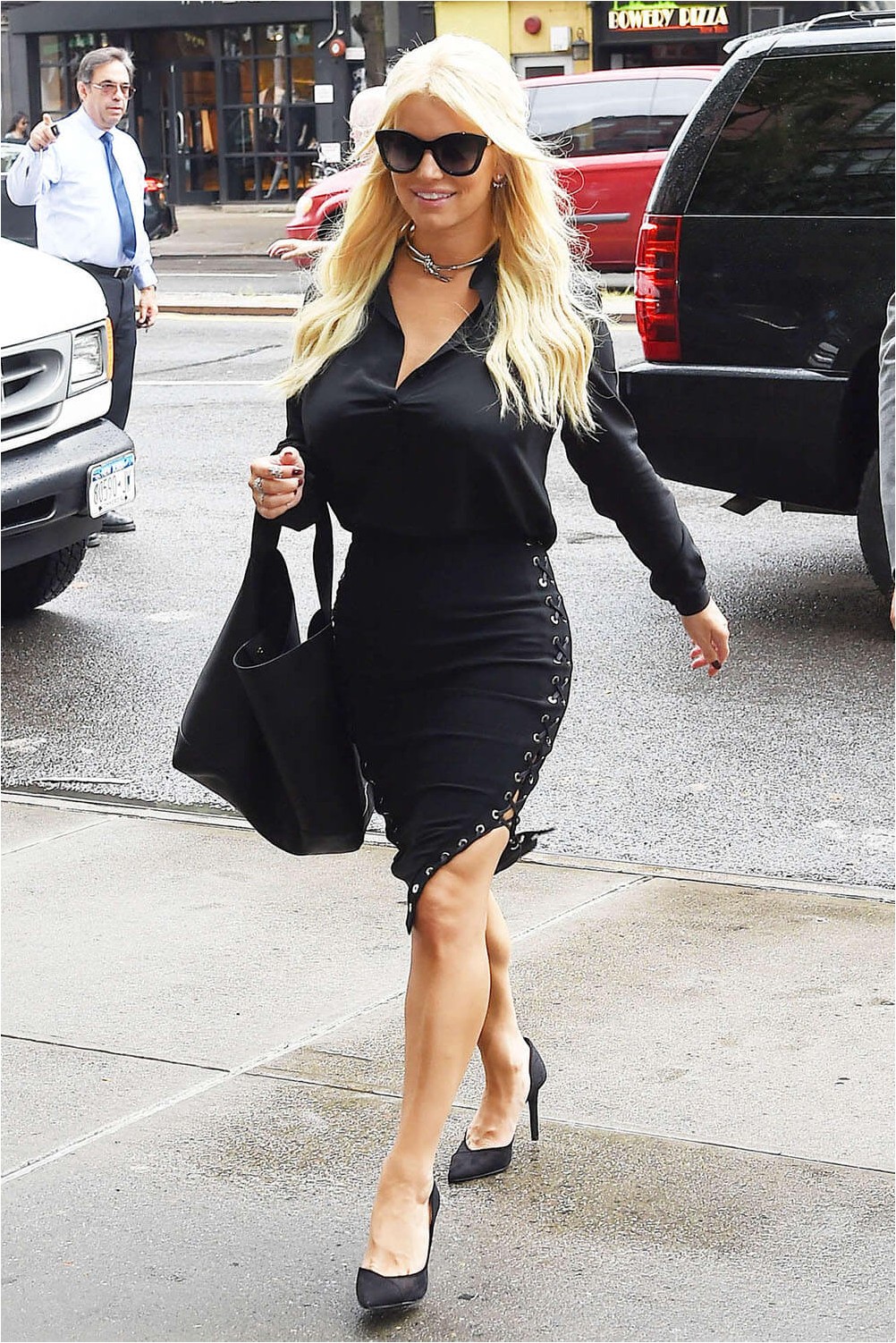 Task. Hide the stomach and at least highlight the waist, as well as emphasize the beauty of the legs – the main advantage of this type of figure.
What is suitable? High-waisted pencil skirt. She visually veils her stomach and forms a little waist. It is better to choose the color as dark as possible, and the fabric is the most dense of the possible: costume, suede, velveteen, drape, jersey. With the help of length, focus on the graceful legs. To do this, fit the model to the knee or slightly higher.
V shape
The V-shape or "inverted triangle" is the exact opposite of the pear-shaped figure. The hips are narrow, the waist is not too pronounced, and the widest part is the shoulders. Often they talk about such a silhouette – a male type of figure. But still, such a figure has expressive feminine nuances, namely, slender legs and a magnificent bust.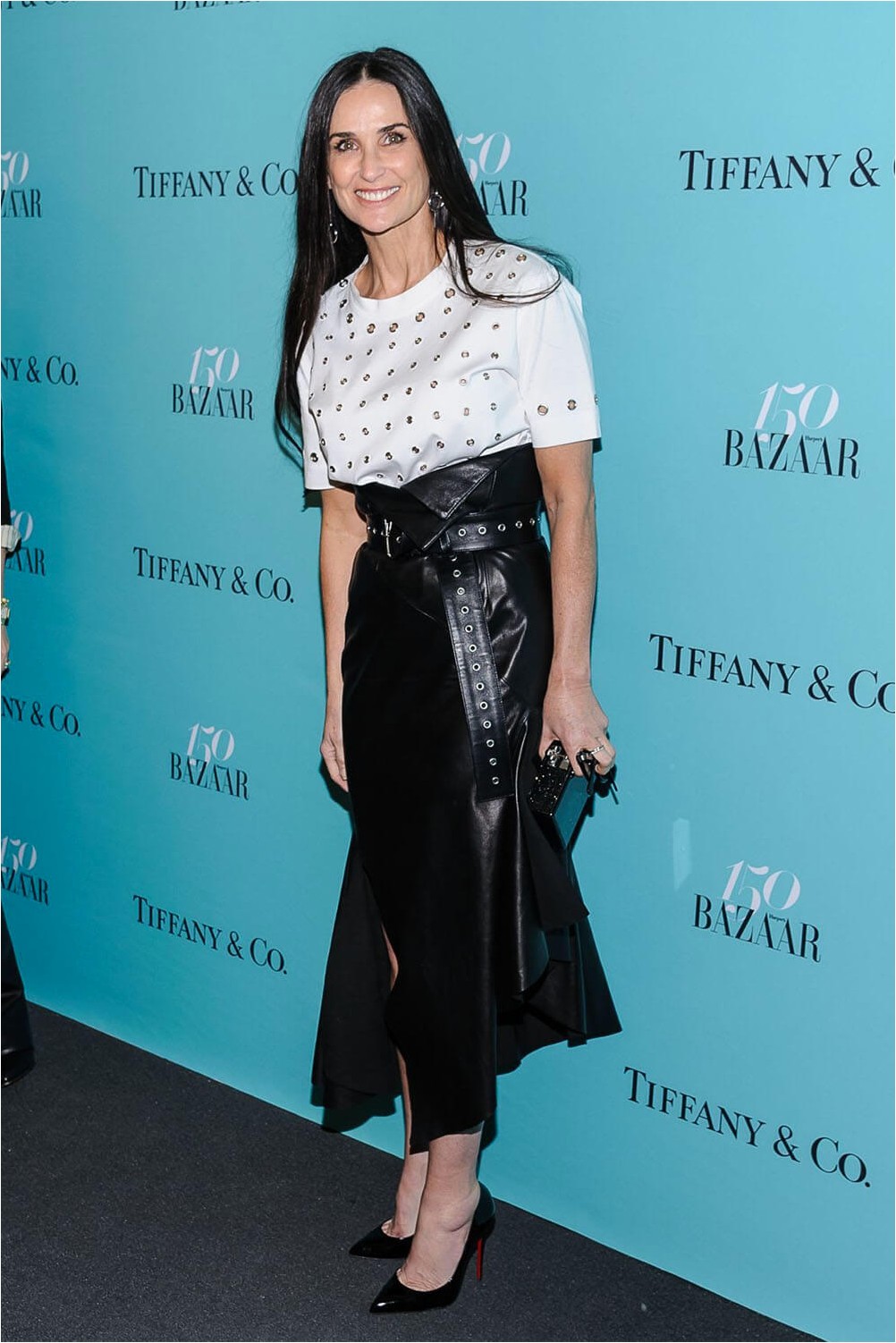 Task. Narrow, make the heavy top "easier", divert attention from the top of the triangle. Add volume to the hips.
What is suitable? Honestly, not the best type of figure for a pencil skirt. Pleated skirts, "bells" and a-line are best suited for V-shape. But the choice of pencil skirts today is so vast that you can choose the option for this case..
For an inverted triangle, skirts are not straight, but a little tight-fitting silhouette. The figure, although not distinguished by lush hips, but silhouette clothing will give it femininity and attractiveness. Black classic pencil skirt is the worst choice. She will increase imbalances.
Choose a motley large print, horizontal stripes. Large, bright floral motifs are also suitable. Moreover, they are now at the peak of popularity. Various textures of fabrics will help to divert attention: guipure, metallic, leather – all this is in trend today, which means the owners of the "inverted triangle" are saved. After all, with the help of such textures, you can divert attention from the large top.
What pencil skirts are in trend now
So that the skirt not only fits well in the figure, but also is in trend, adhere to fashion trends. It would seem that there are not many options for a pencil skirt. You will probably be surprised when you learn that with this simple skirt you can create several dozen fashionable images. Choose you, and we will list the most trendy options with what to wear a pencil skirt.
Wrap Pencil Skirt
The smell skirt is one of the most fashionable variations. The smell can be very small, in the form of a cut or reach the thigh or waist. This cut has an interesting feature: such a model is suitable for any type of figure. She will expand her narrow hips, and hide her wide ones. The best length is midi or slightly above the knee. From a mini is better to refuse because of the features of the cut.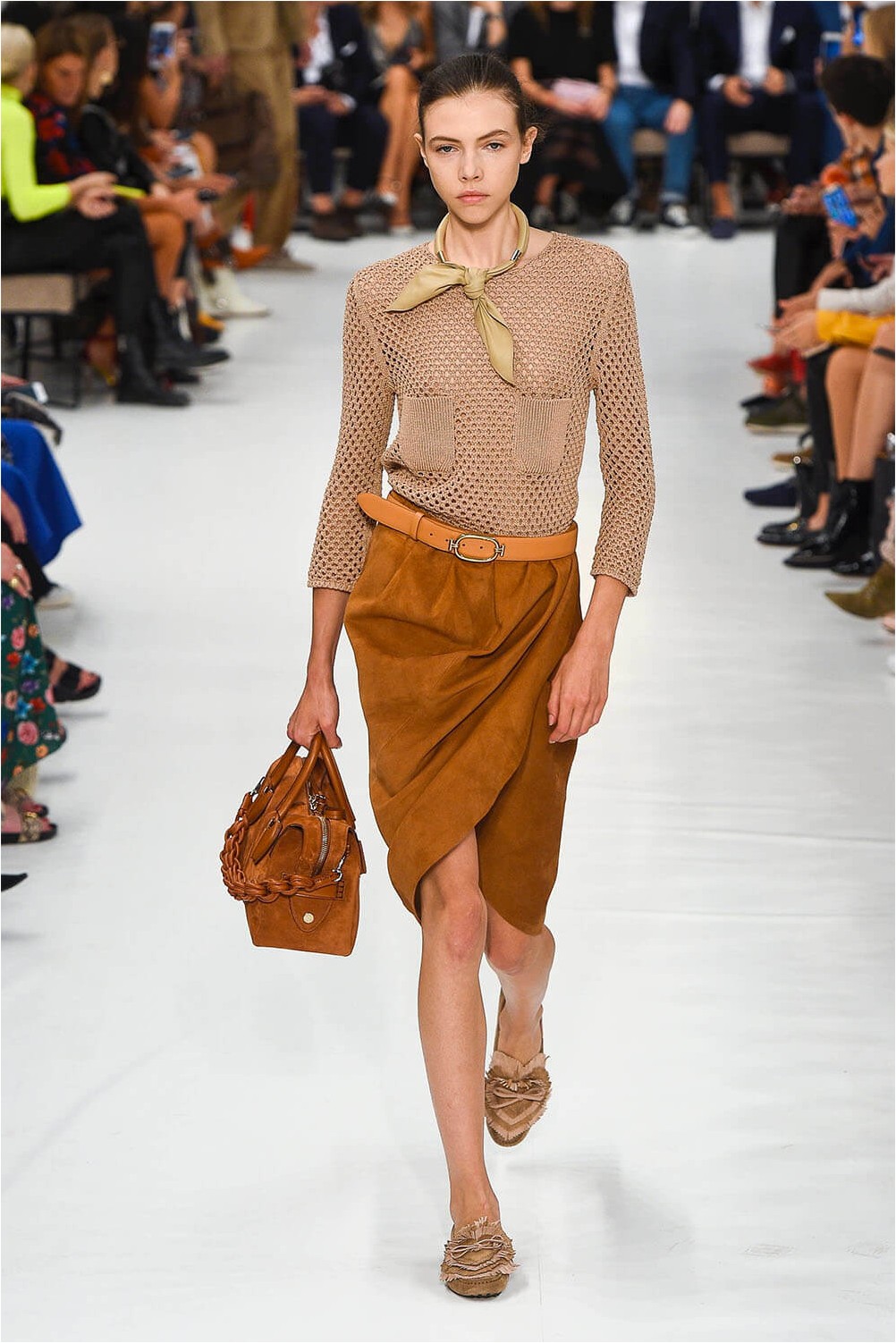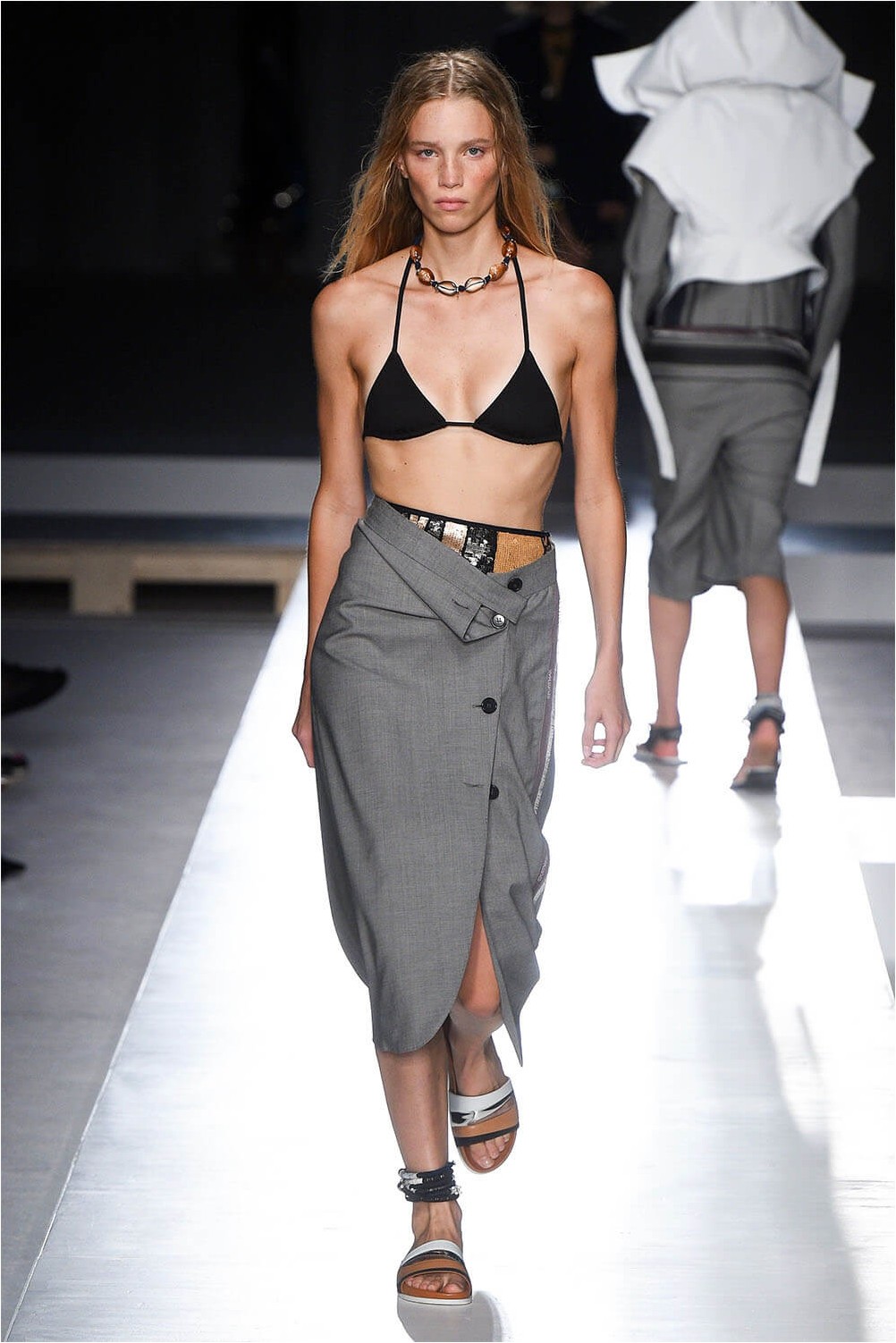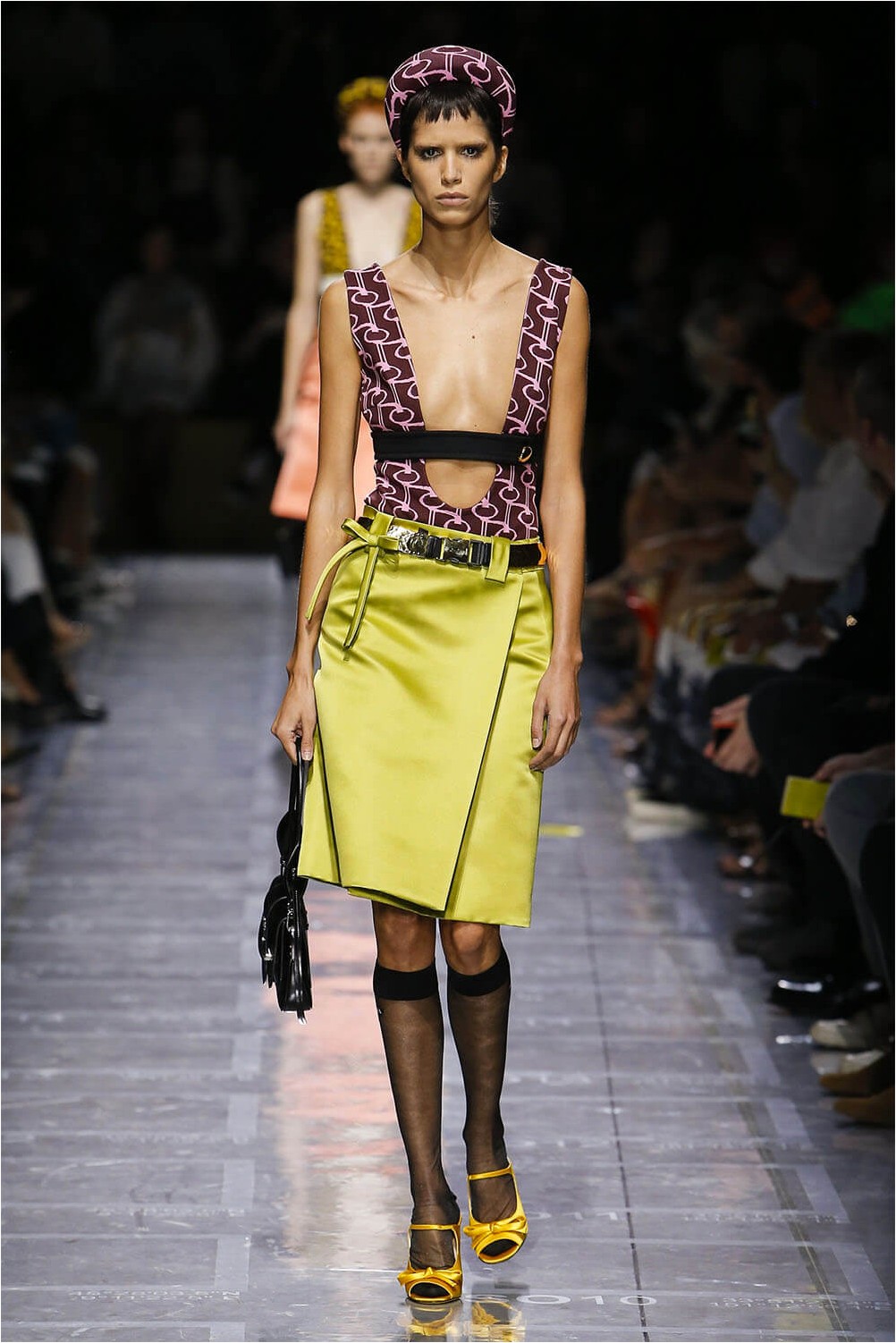 Skirts should not have much decor. After all, the drapery that results from the imposition of one fabric on another is beautiful in itself. But you can choose fabrics with a print in a small strip or floral motifs..
Where to wear? This option is suitable, as they say, "and in a feast and peace." Only you need to choose the right model. If we are talking about the office, then a short bright skirt with a smell there is unlikely to be appropriate. But the gray, blue or black model to the middle of the knee is what you need. So the business image will become more interesting and feminine.
Lace and guipure
Victorian style breaks all records of popularity. An integral part of the clothes of those times is lace and guipure. A pencil skirt sewn from delicate lace ceases to be strict and restrained. Femininity and romance appear in it. The texture of the lace can be textile or handmade.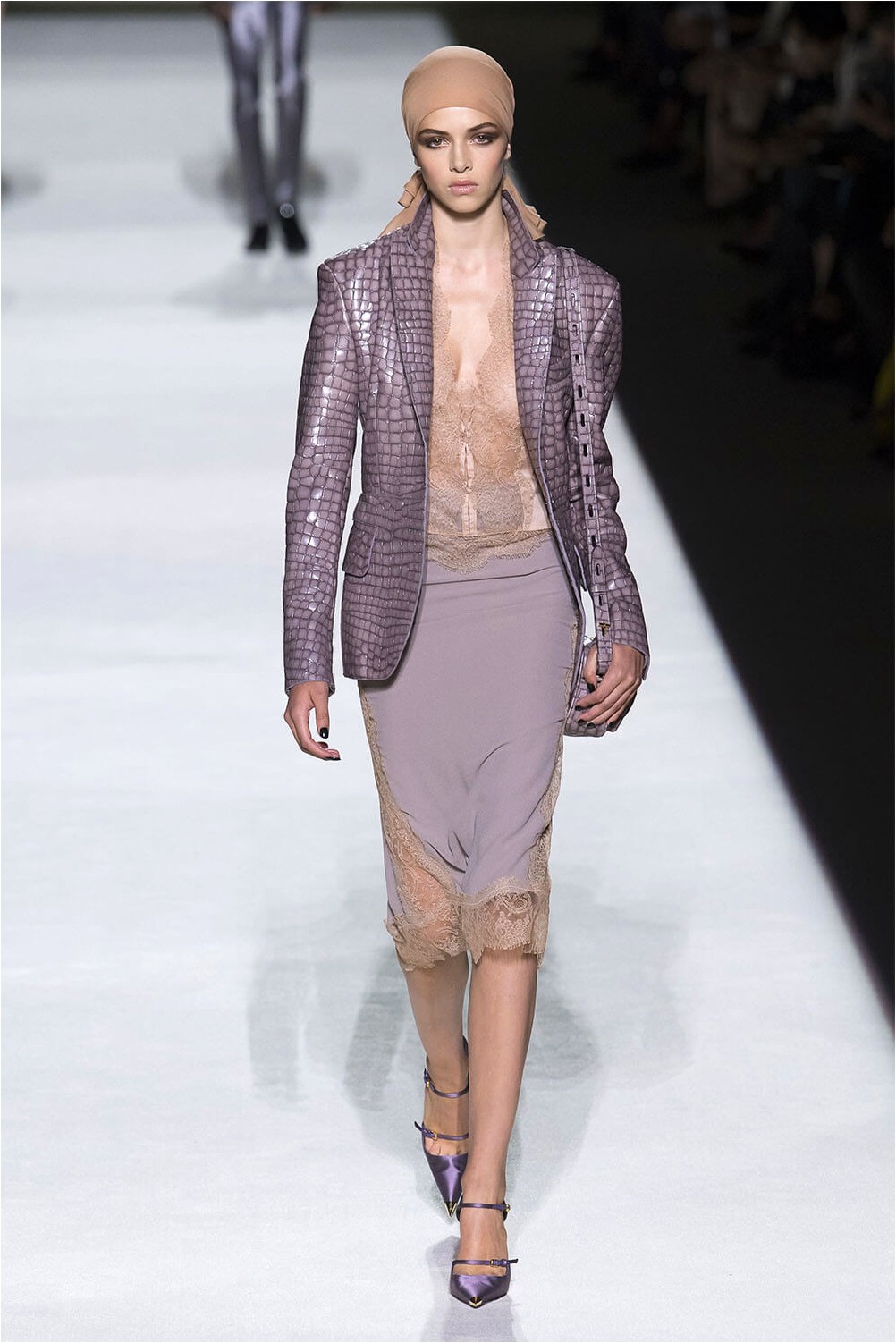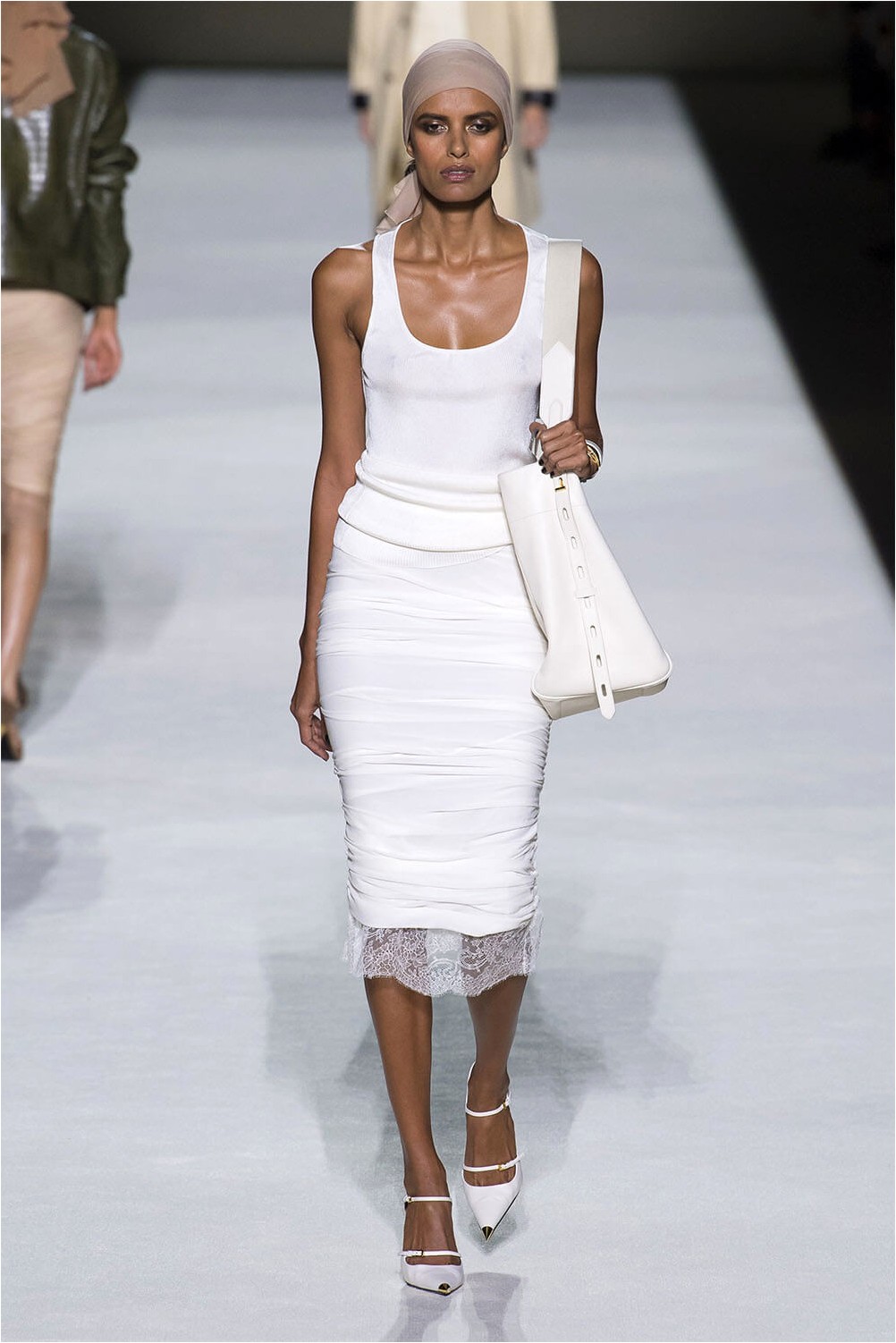 It is best to select fabric in a flower or mesh. Lace can be a full canvas or a small strip at the bottom of the skirt. It is these gentle and feminine models that were presented in the collections of Tom Ford. There are fashion options when using lace print.
Where to wear? Combined with stilettos, a pencil skirt made of guipure or lace becomes part of a sophisticated evening look..
Leather pencil skirt
This year, many fashion brands abandoned genuine leather as a material for their collections. But, despite this, leather has become one of the most trending materials. Of course, it was high-quality eco-leather, which is very difficult to distinguish from genuine. The trend is leather skirts made in the fashionable shades of this season: Fiesta, Toffee, Aspen Gold, Pressed Rose. Black classic is not losing its position.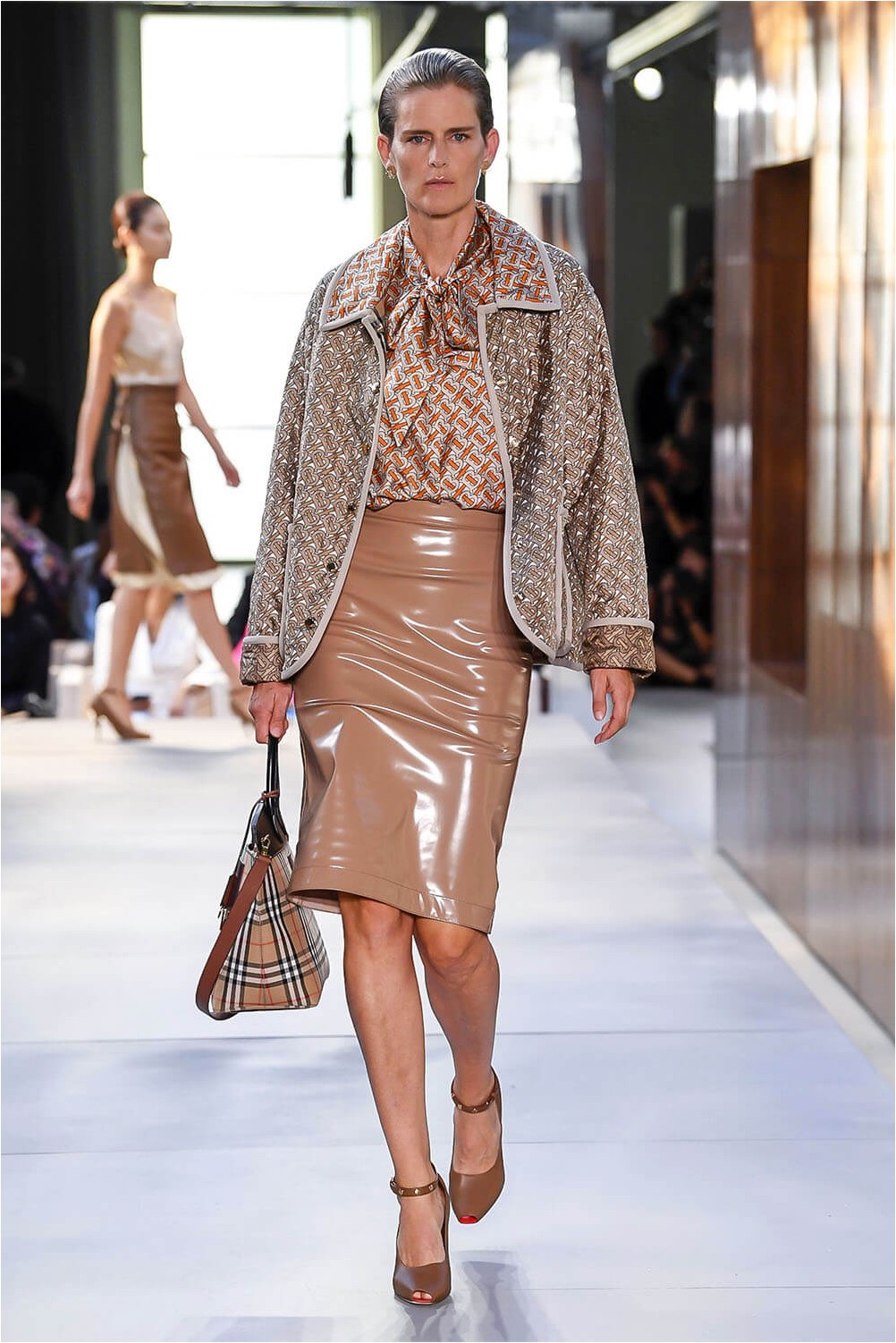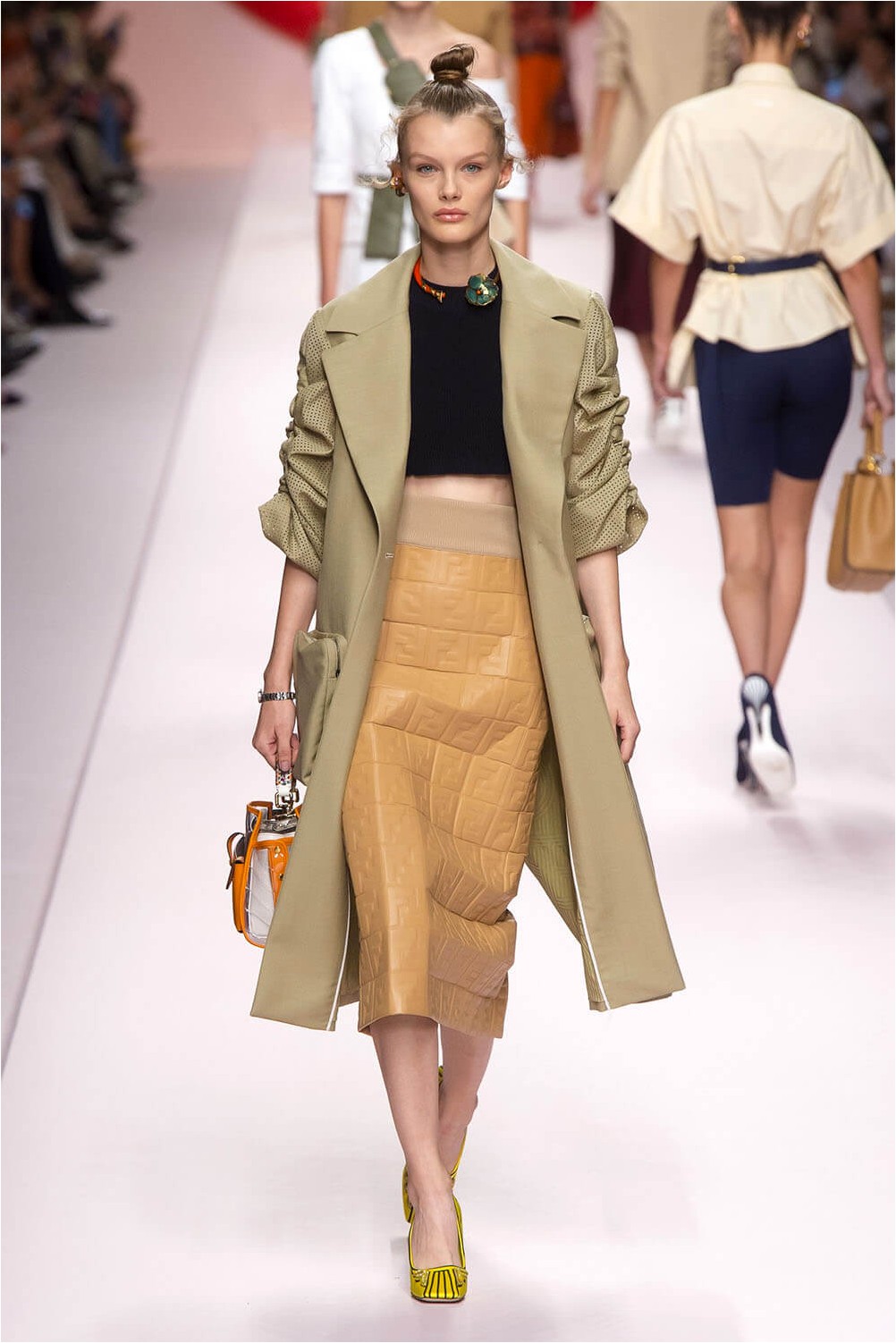 As a material for a pencil skirt, a variety of types of eco-leather are chosen: matte, patent or suede.
Where to wear? Ideal for business style. With a leather skirt, a business look will become much more interesting. Such models fit perfectly into the style of urban chic or grunge..
Fringe
If we talk about the decor, the designers gave the first place to fringe and glamorous feathers. This type of decor appeared literally on everything: clothes, bags, accessories. Sample style demonstrated by experts of the cult English brand Burberry.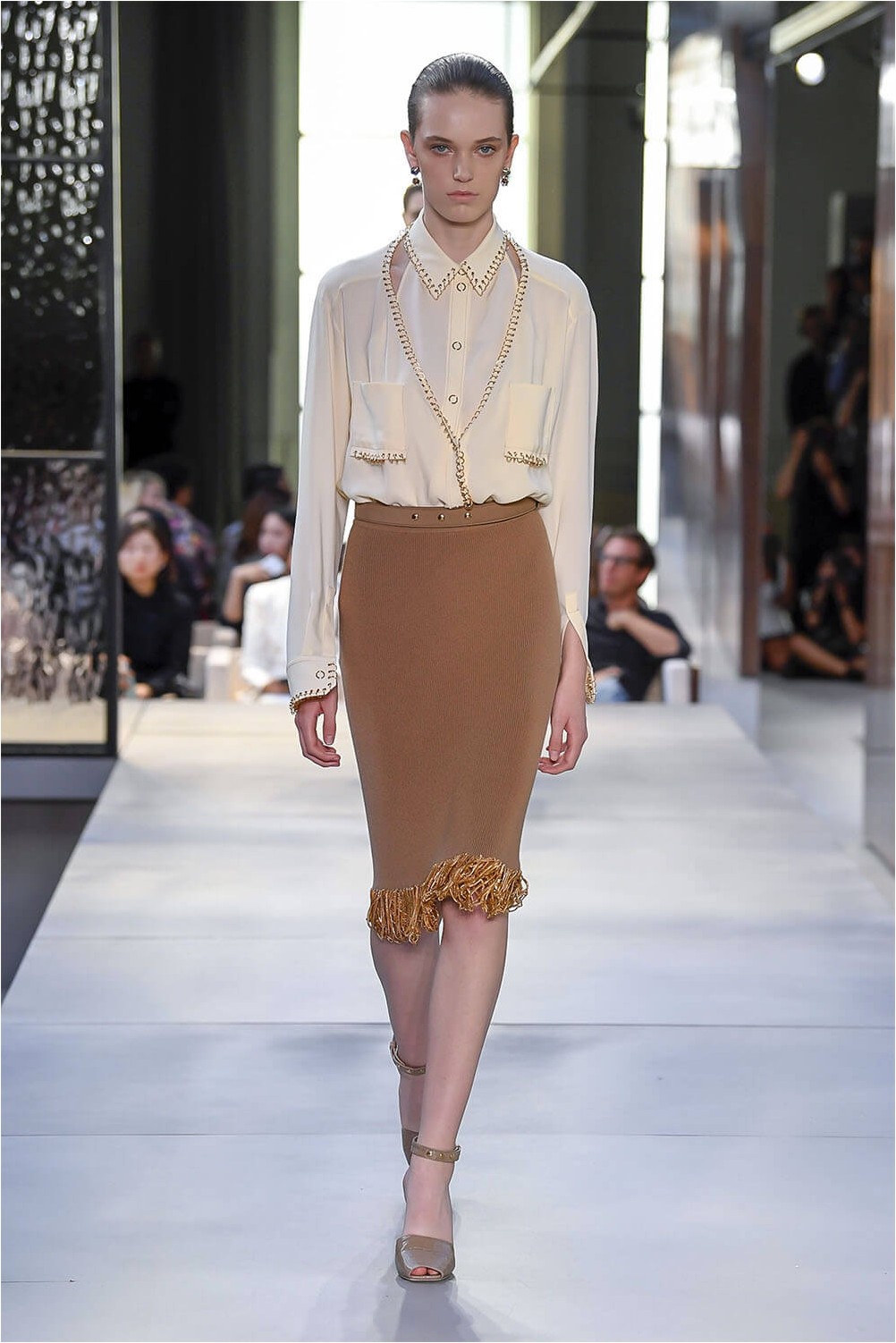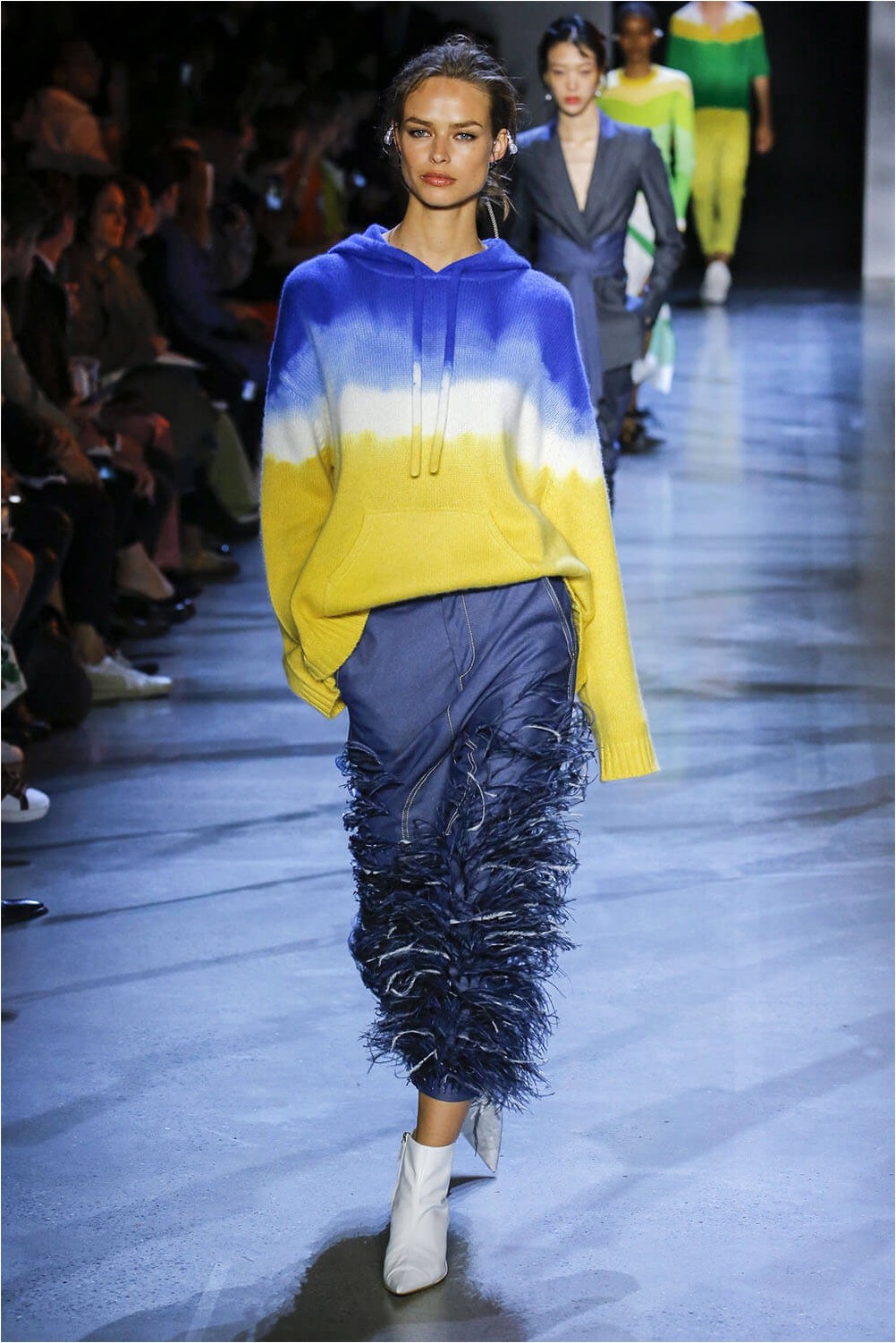 Where to wear? A party with friends, a gala event or a trip to the theater – for all these cases, fringed clothing will be appropriate.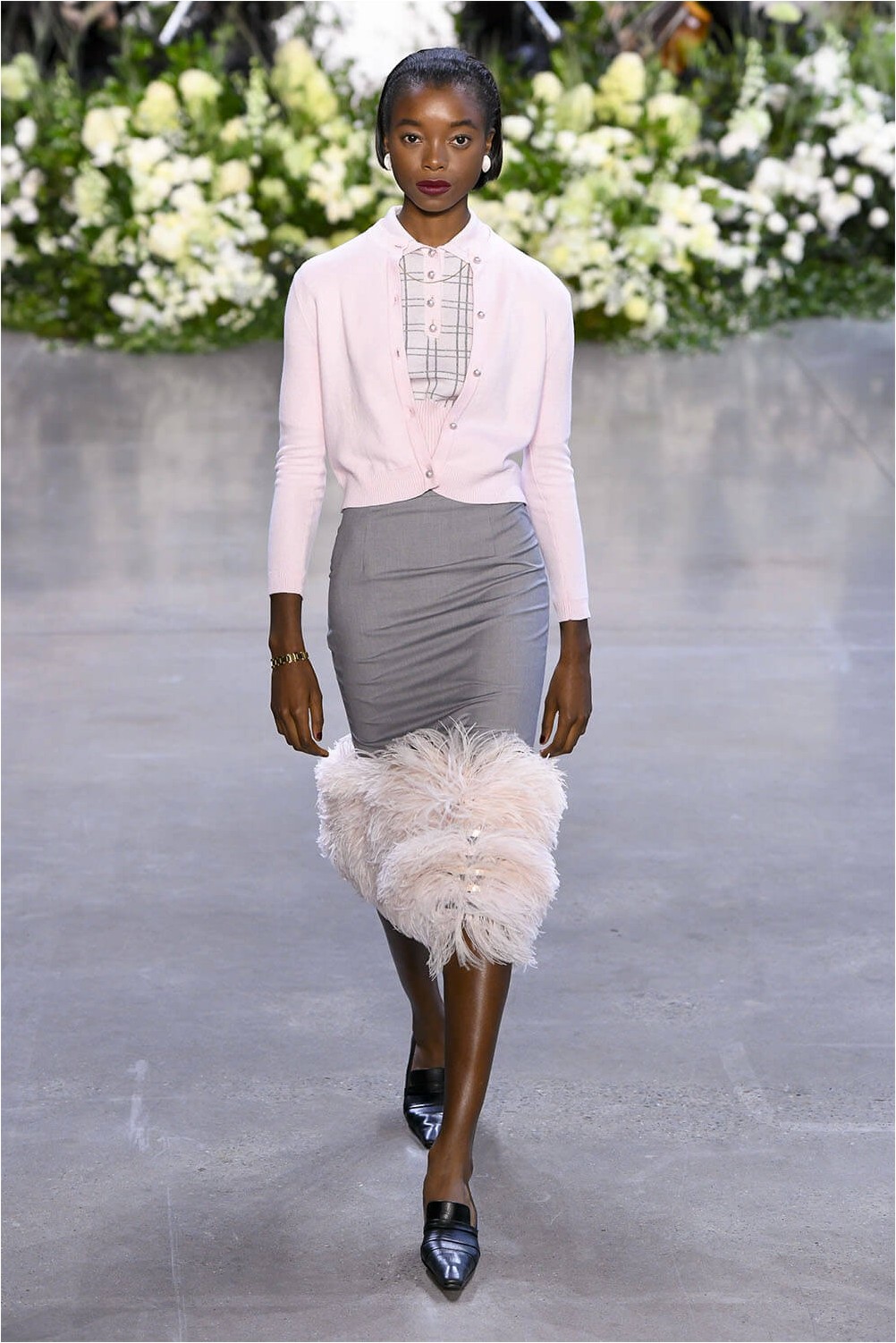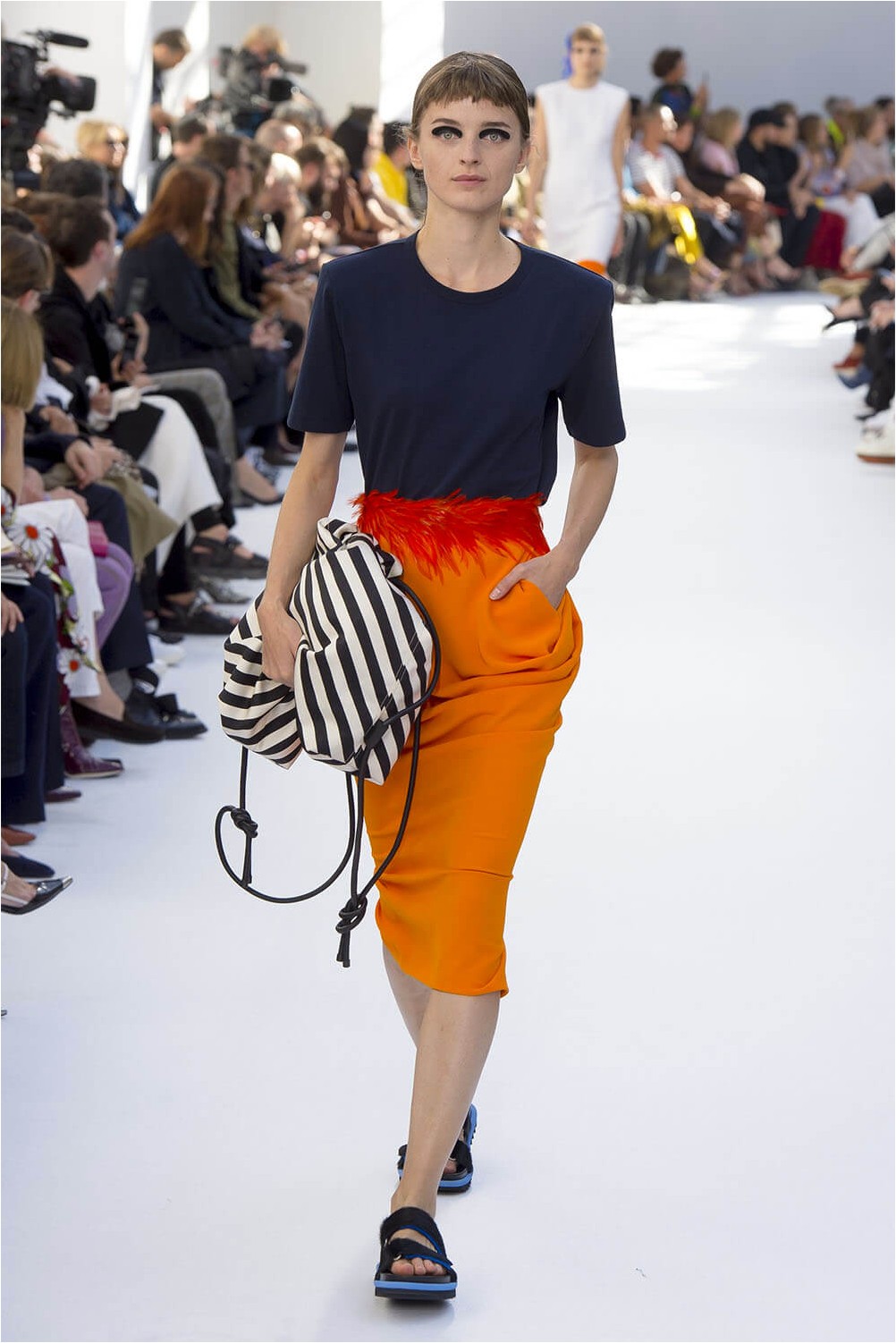 Denim pencil skirt
Retro fashion of the 80s and 90s. These times are hard to imagine without jeans. The fashion trend has spread to the pencil skirt. In the trend, both denim mini and elongated denim models. The bottom can be framed in the form of a raw, fringed edge. A remarkable property of such skirts is that they can be worn both in cold winter and warm spring. They are practical and allow you to create thousands of fashionable images..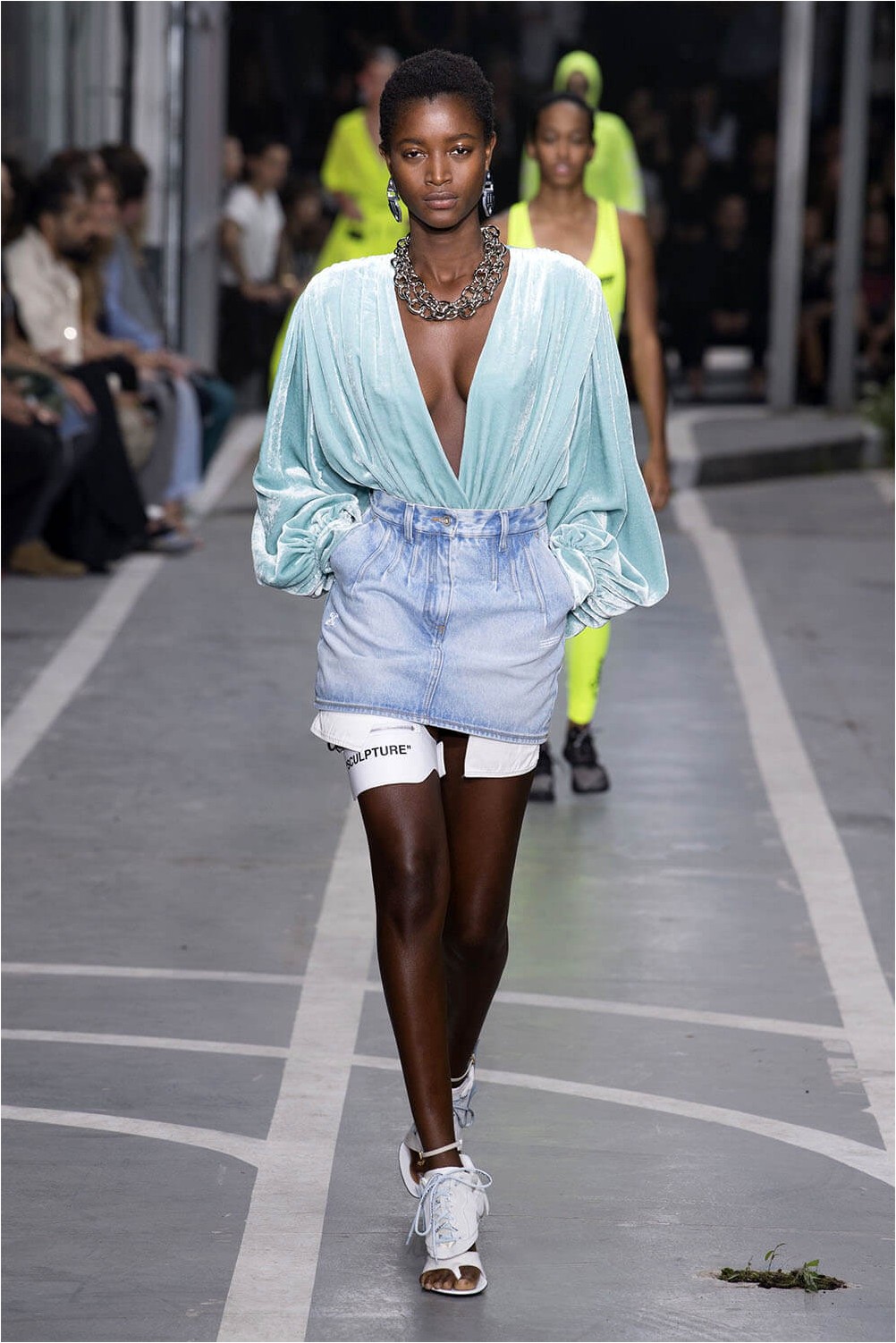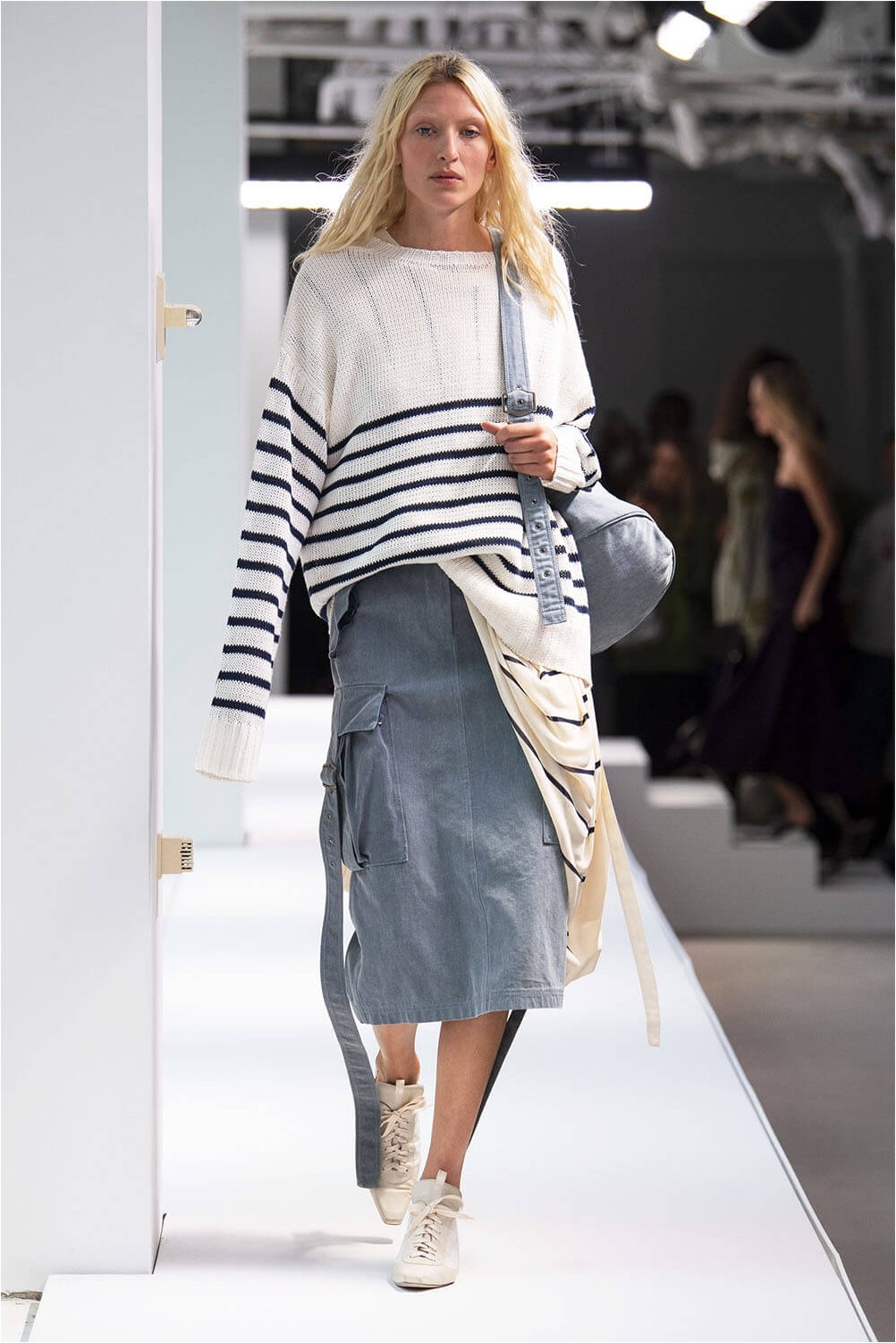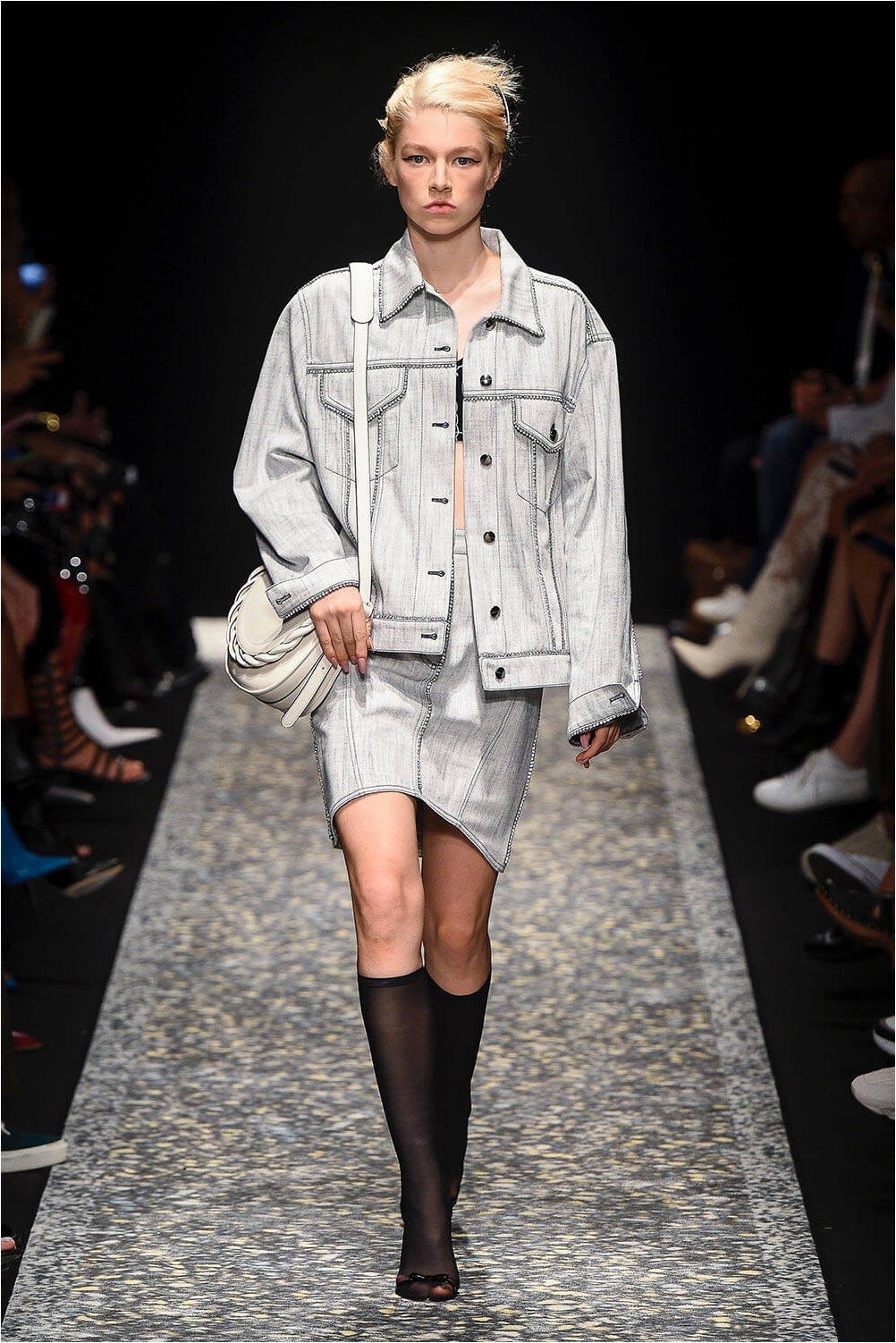 Where to wear? A denim pencil skirt is suitable for almost all situations: business meetings, everyday looks and romantic walks. Only for each case you need to choose the right option. For example, a straight skirt of dark denim without decor is suitable for the office. And for an informal environment, you can afford more democratic options..
How to wear a pencil skirt
A pencil skirt fits perfectly into many styles that are loved all over the world. Pick up the top for a pencil skirt depending on what image you are going to create: romantic, business, casual. Also, the choice of top depends on the time of year. We offer ideas for boring looks with a pencil skirt in different styles and for different seasons..
Romantic style
The style of the Victorian era is the main trend of this spring. Everything that gives the maximum femininity to the image is in fashion: lace, guipure, flounces, hats, lantern sleeves, embroidery, tulle and chiffon. A pencil skirt easily becomes part of this romantic splendor. Take a look at a few romantic pencil skirts.
An unusually romantic look will turn out if you combine a pencil skirt with a delicate, lace top. You can combine two fashion trends in one look at once – put on a lace top paired with a leather pencil skirt.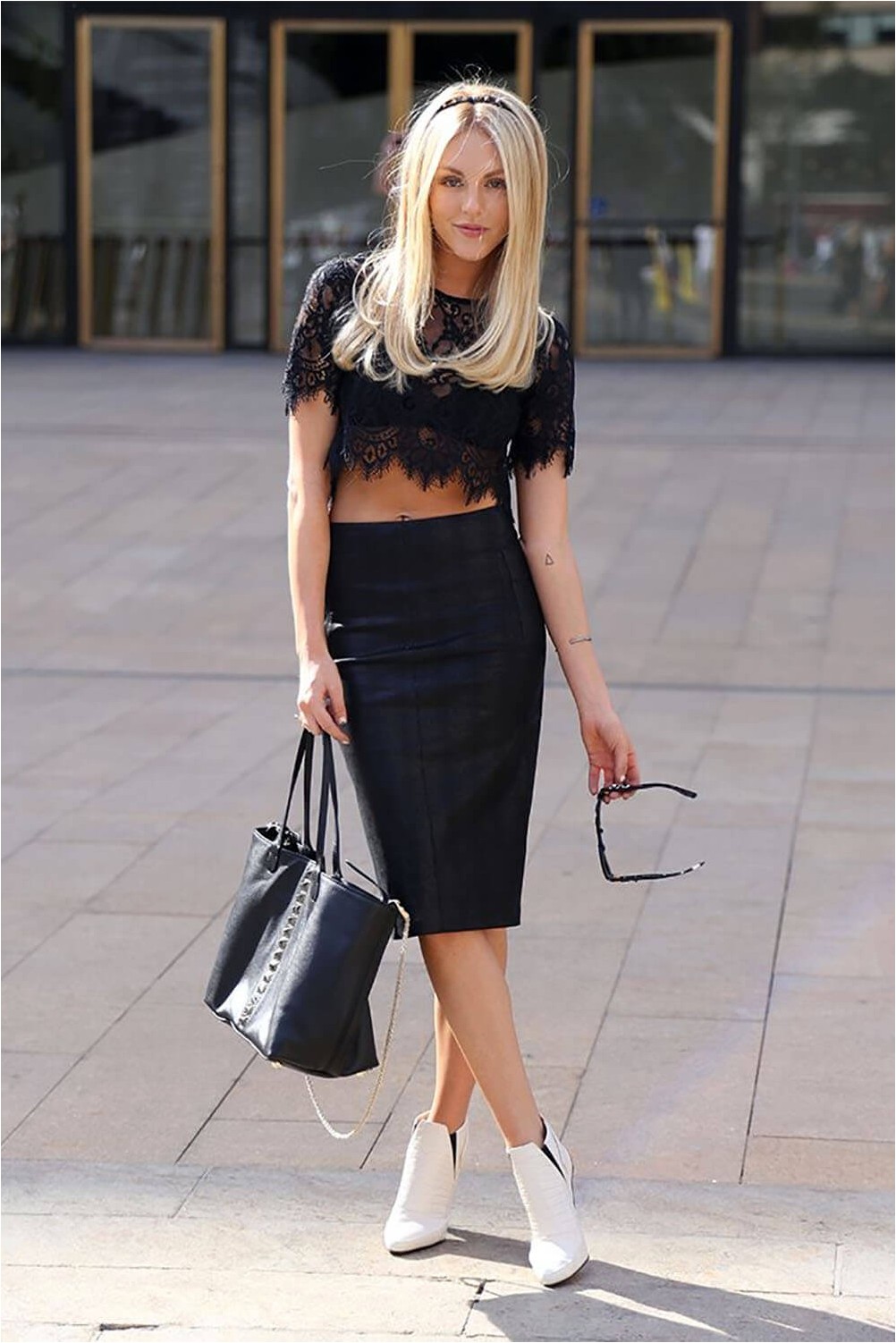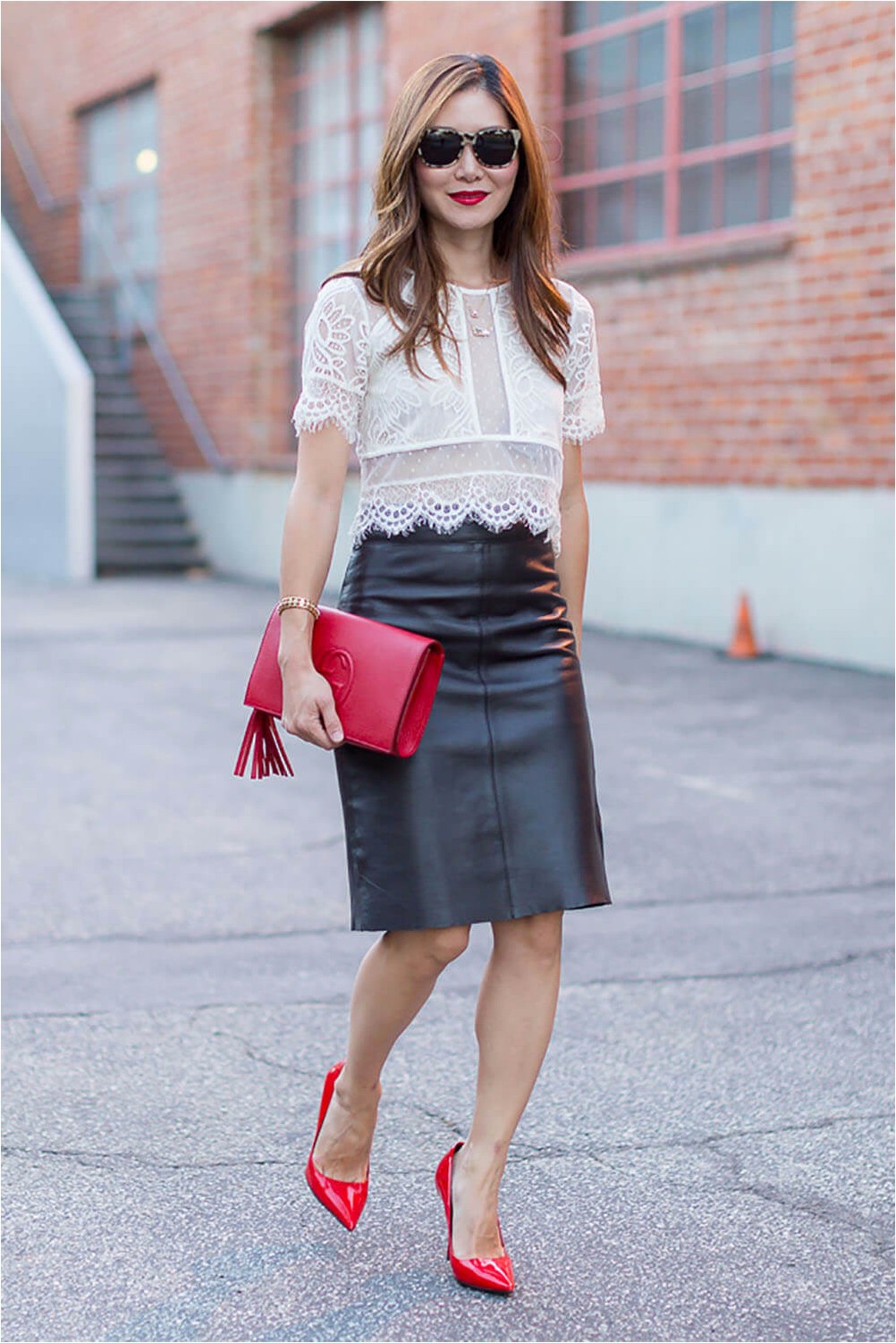 Shuttlecocks and ruffles today set the tone for fashion. Air frills will soften the severity and conciseness of a pencil skirt. Choose a blouse made of light, flowing fabric with soft frills along the yoke or sleeves.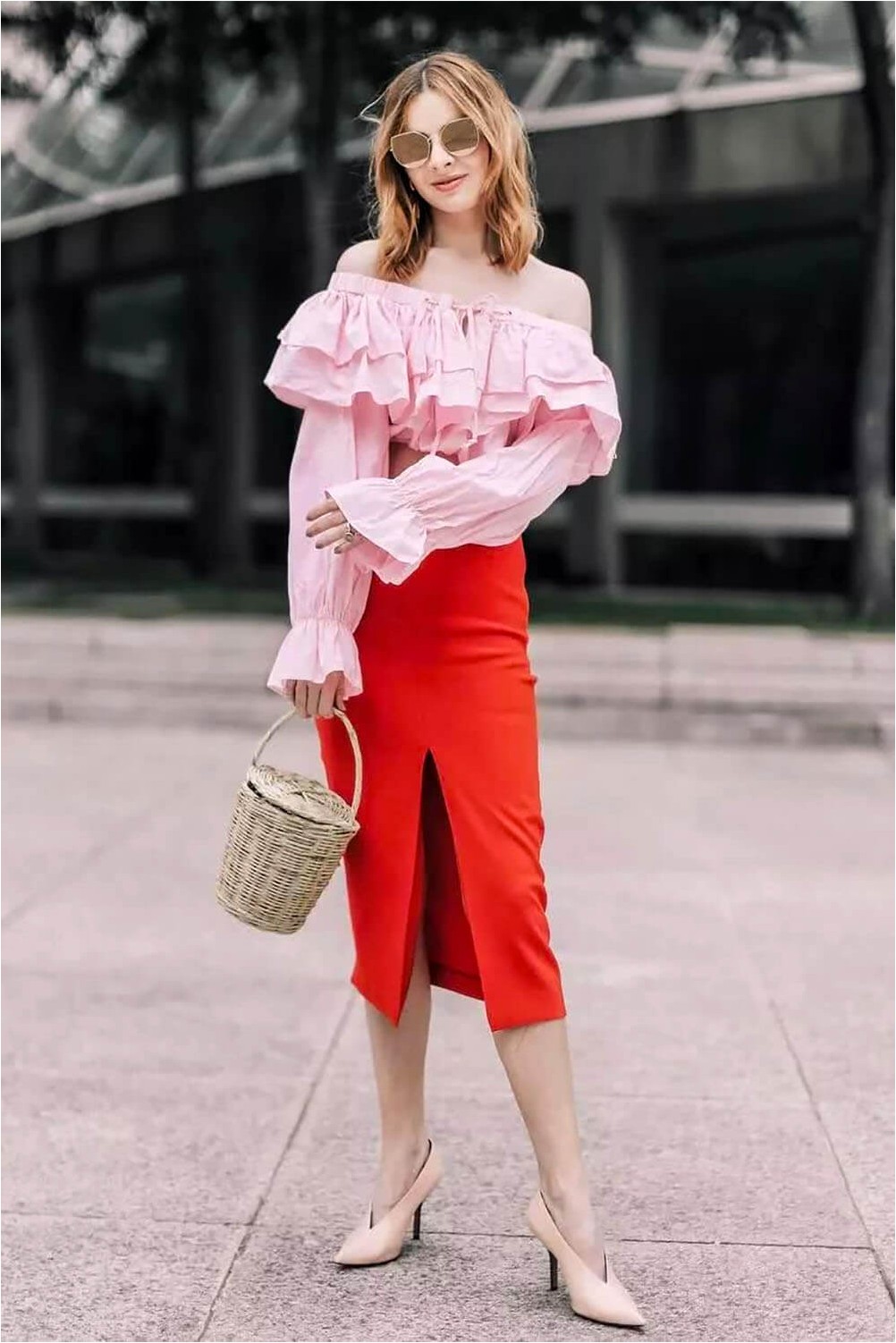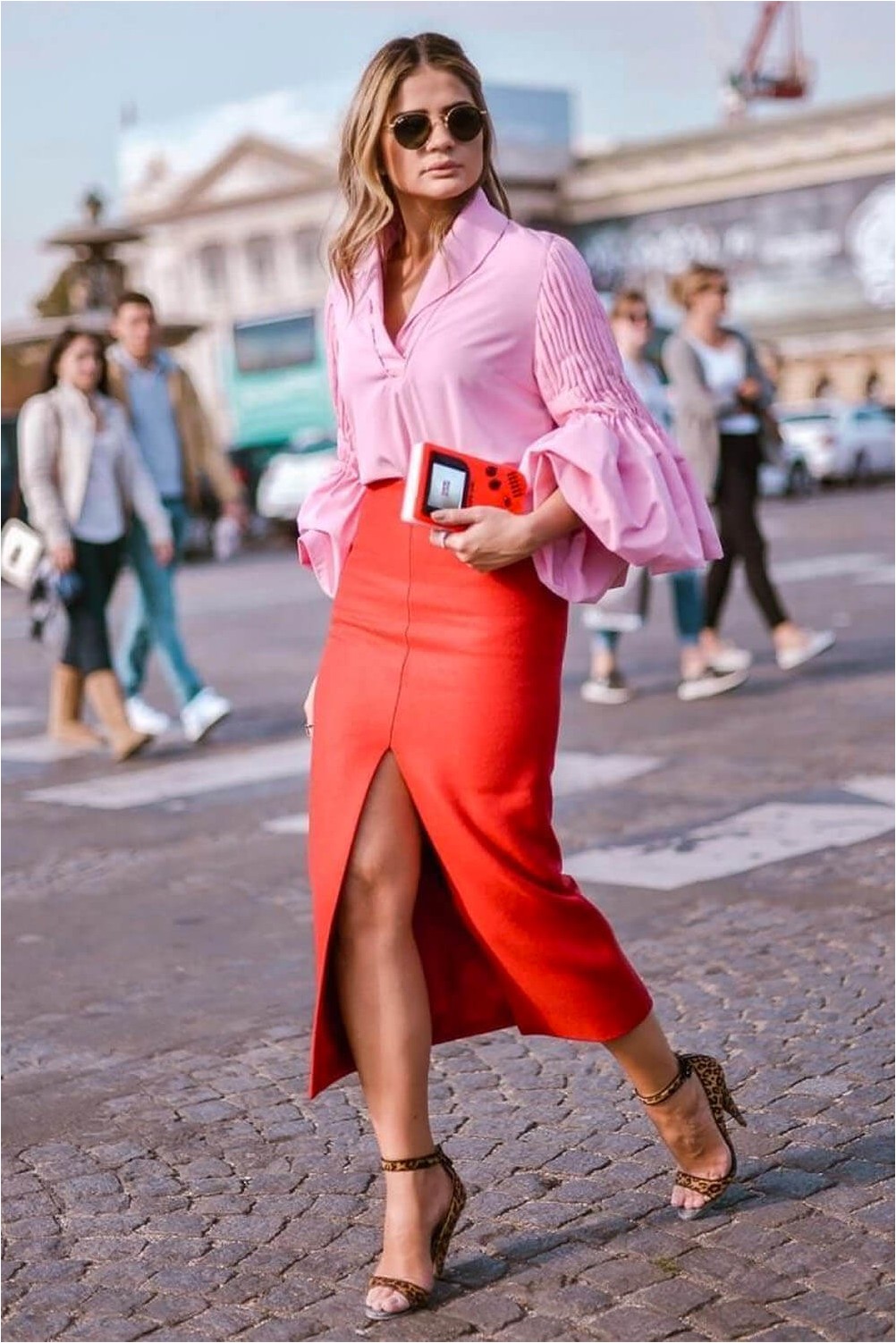 A blouse with long sleeves, decorated with pleats at the end and ending with cuffs will perfectly fit into the romantic style. A successful addition to this cut will be a bow tie on the neck.
Lush gigantic sleeves and puff will also be appropriate for creating a fashionable Victorian look with a pencil skirt.
Preppy style
The preppy style became iconic for American youth in the 1980s. It combines two styles at once – business and smart casual. Its main features are accuracy, comfort and elite. After all, once the clothes in the spirit of preppy look were the privilege of the "golden youth". By the way, a pencil skirt has long been part of the wardrobe for preppy.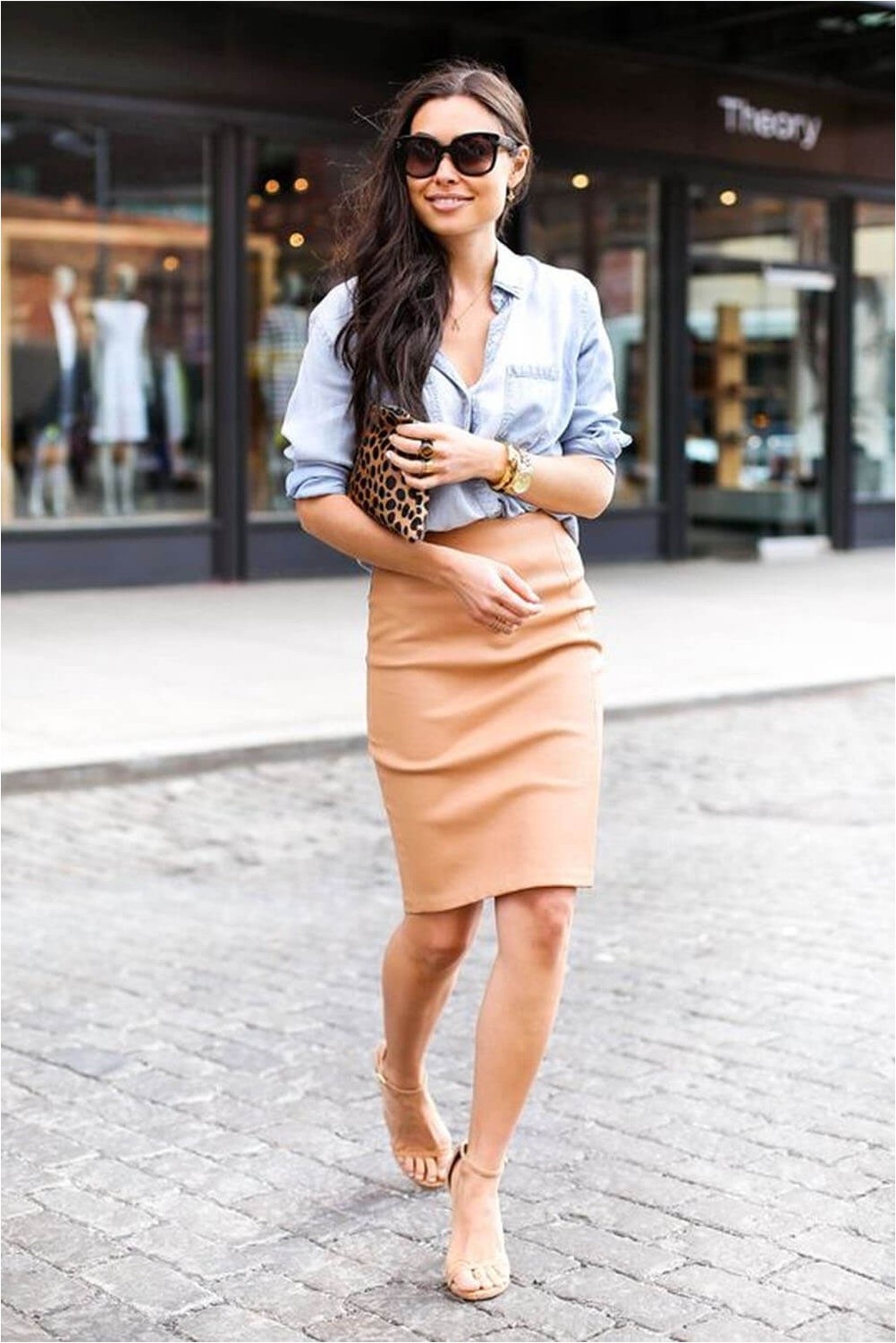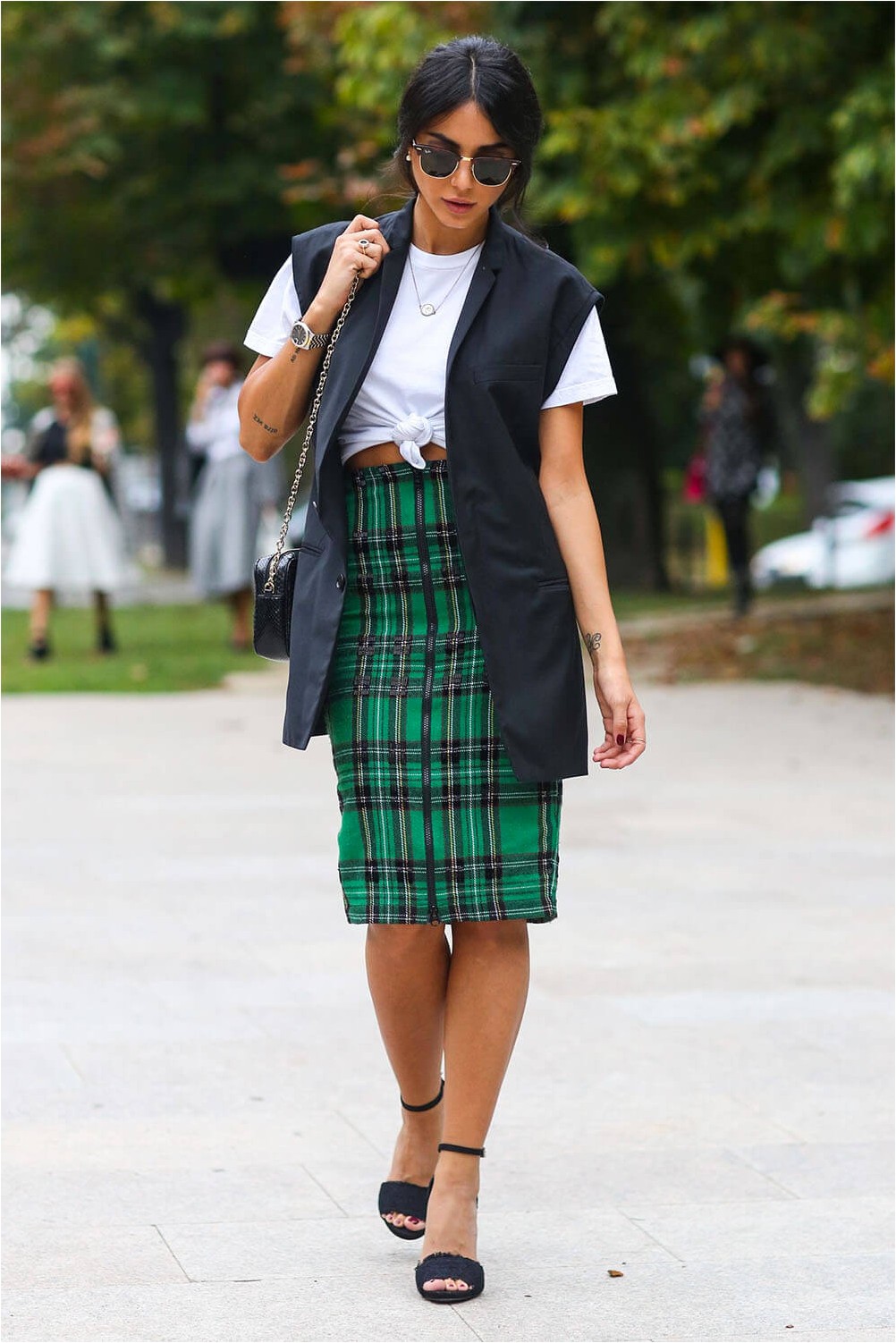 To create the style of a fashionable schoolgirl, use a pencil skirt paired with a shirt cut blouse, sweatshirt, pullovers, knitted vests and Oxford shirts. It is advisable to choose a material for a skirt made of tweed, wool or cotton. The top can be decorated with a print with rhombuses or argyle cage.
Business style
The best choice for a pencil skirt. For a business look look, choose a skirt of dark shades – blue, black, chocolate or dark gray. Length is just below the knee. The ideal top in this case is a blouse or shirt. In the cool season, a strict jacket can be worn on top of the blouse..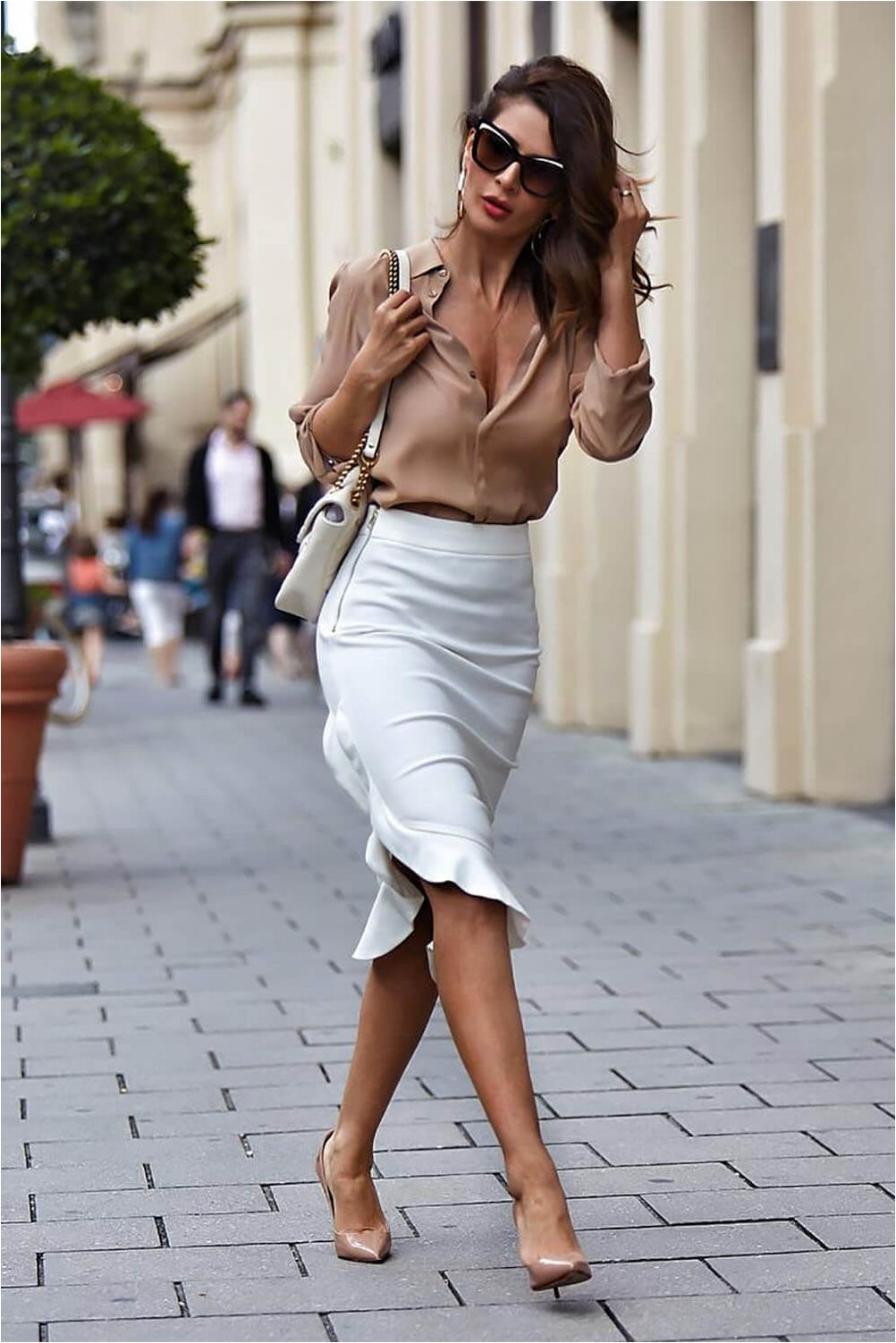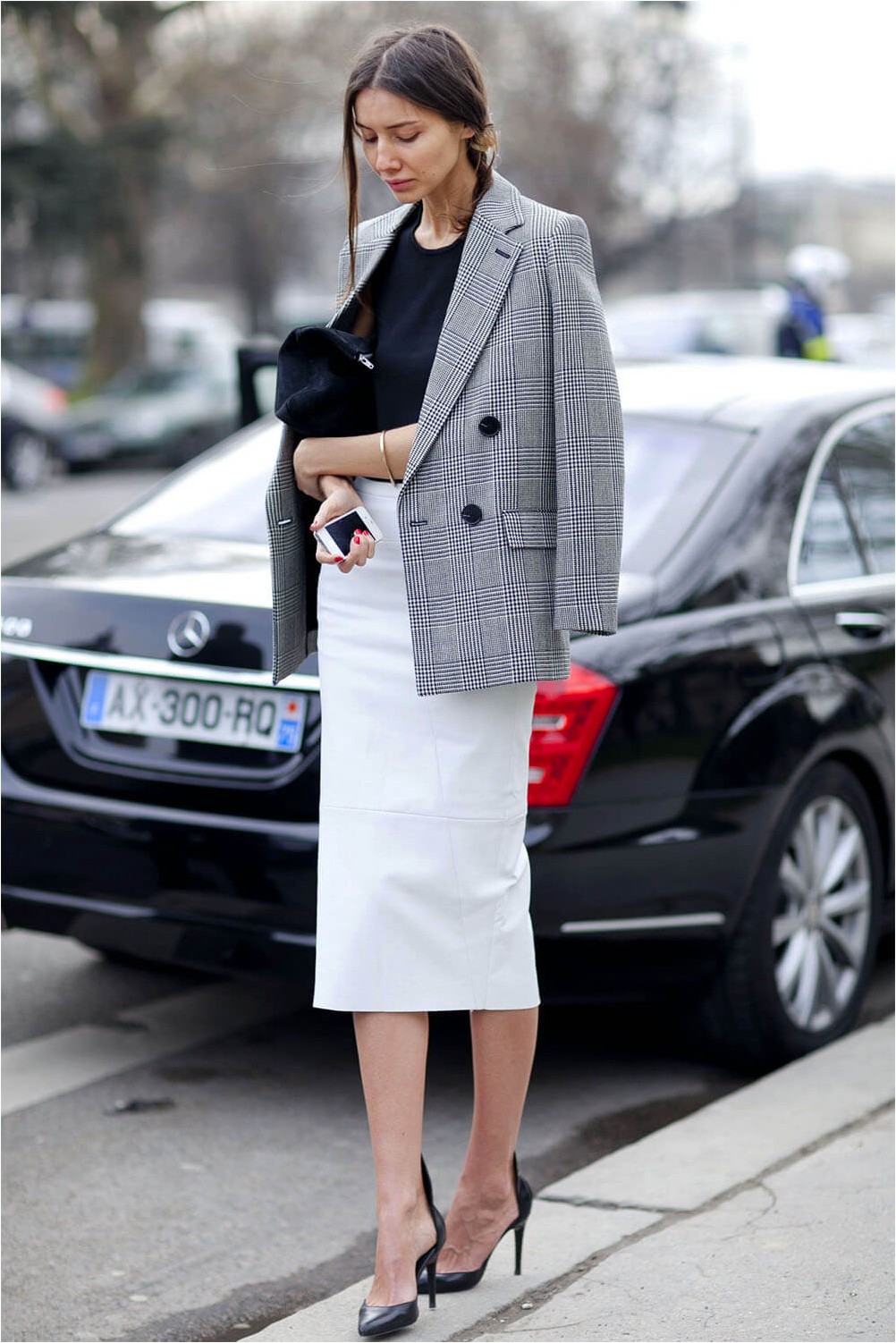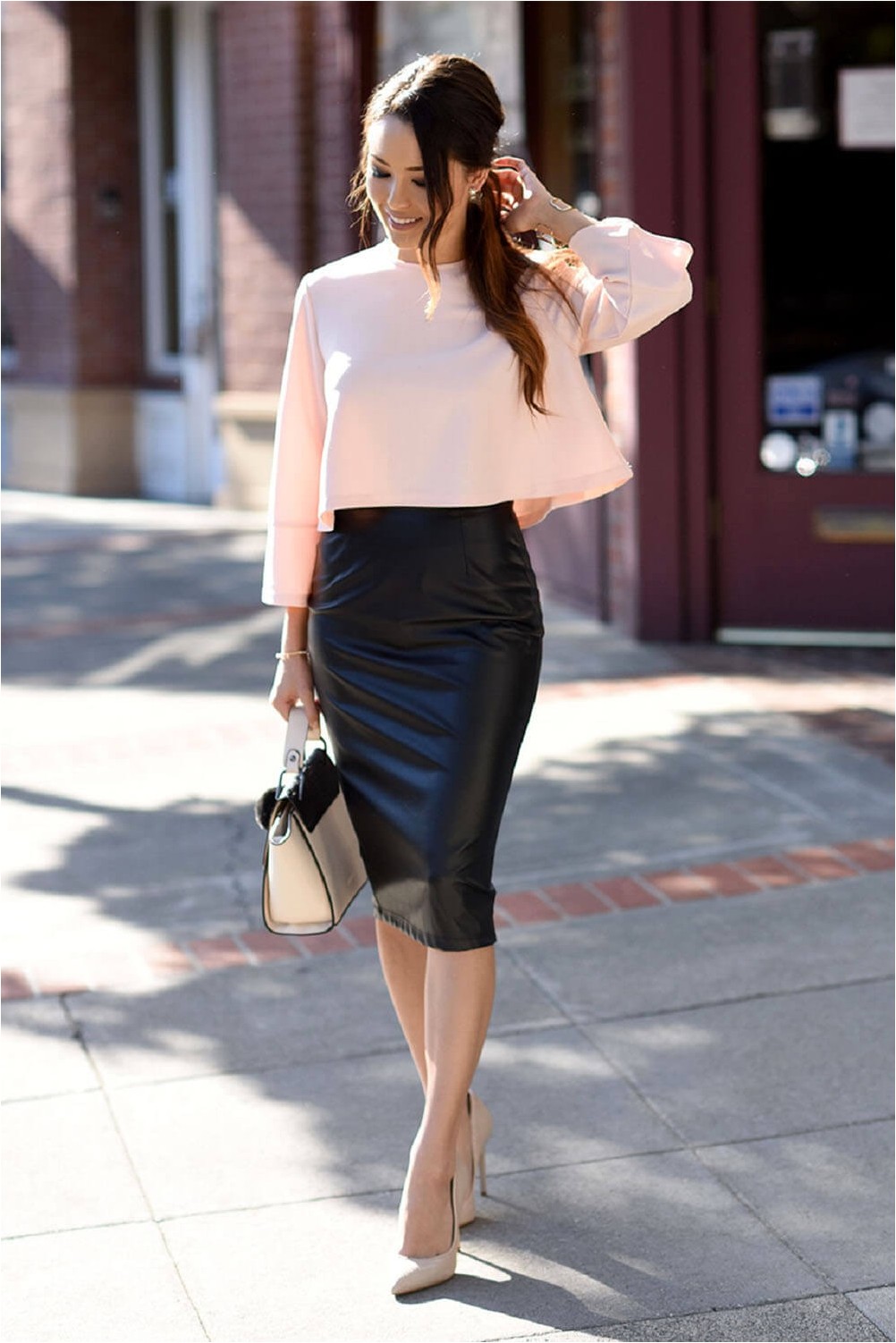 For winter and fall in the office style, there are also several top options. For example, a loose sweatshirt or cardigan. It should not have bright prints.
Casual style
In a casual style, any pencil skirt is appropriate – short, midi or elongated. Allowed a variety of shades – from pastel to bright. Fashionable prints are welcome – strip, flowers, peas, gradient effect. As the top, you can select various options:
crop top;
golf;
blouse;
shirt;
T-shirt;
sweatshirt;
top with wings.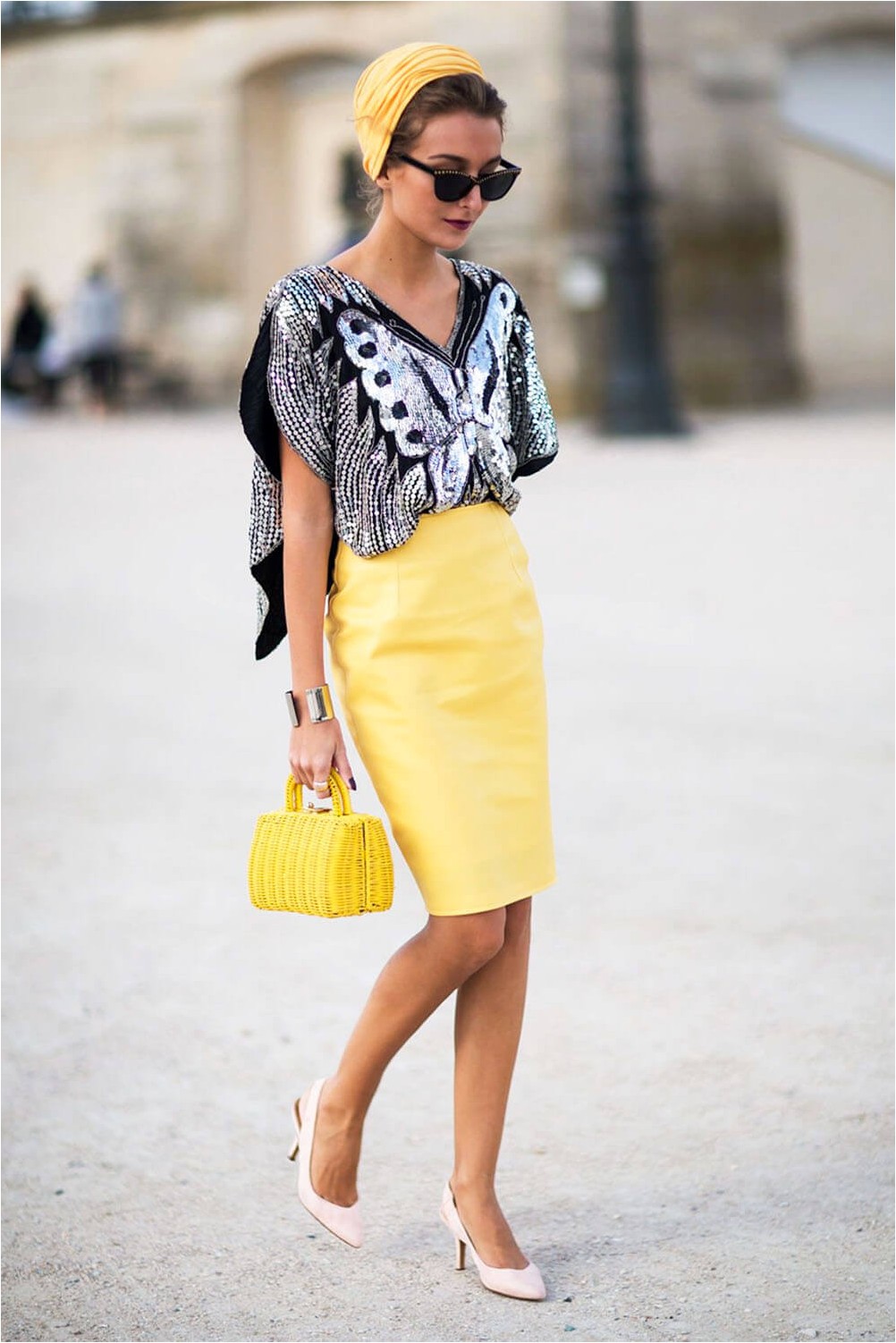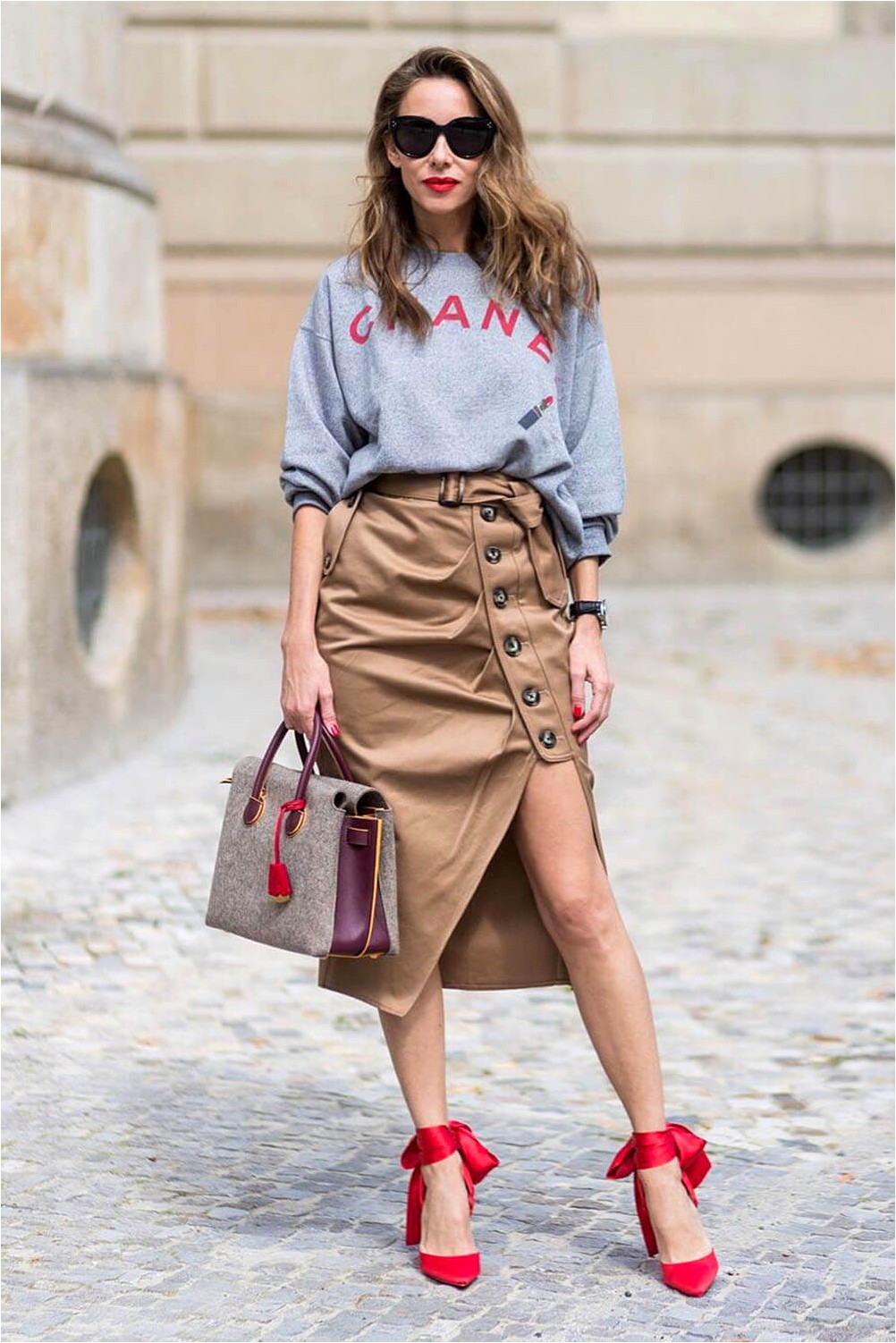 In everyday style, freedom and comfort should be present. The main task is to rid the pencil skirt of its severity and restraint.
What shoes to wear with a pencil skirt
Shoes for a set with a pencil skirt may be different. It all depends on the style, situation, season and mood..
Pencil skirt with shoes
The kit is so versatile that it has long become a classic. Stiletto heels or a small steady heel will always successfully complement a strict and elegant pencil skirt.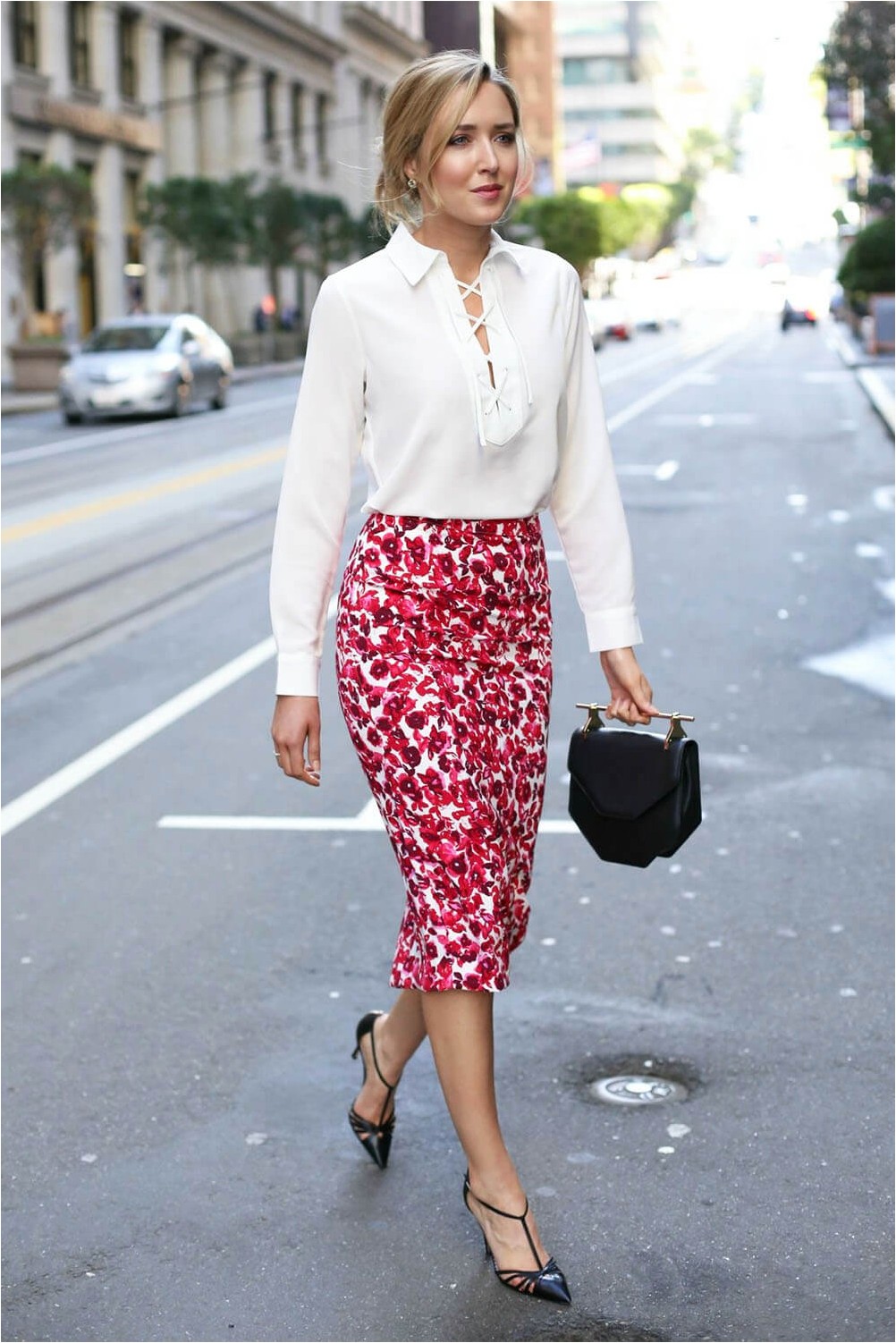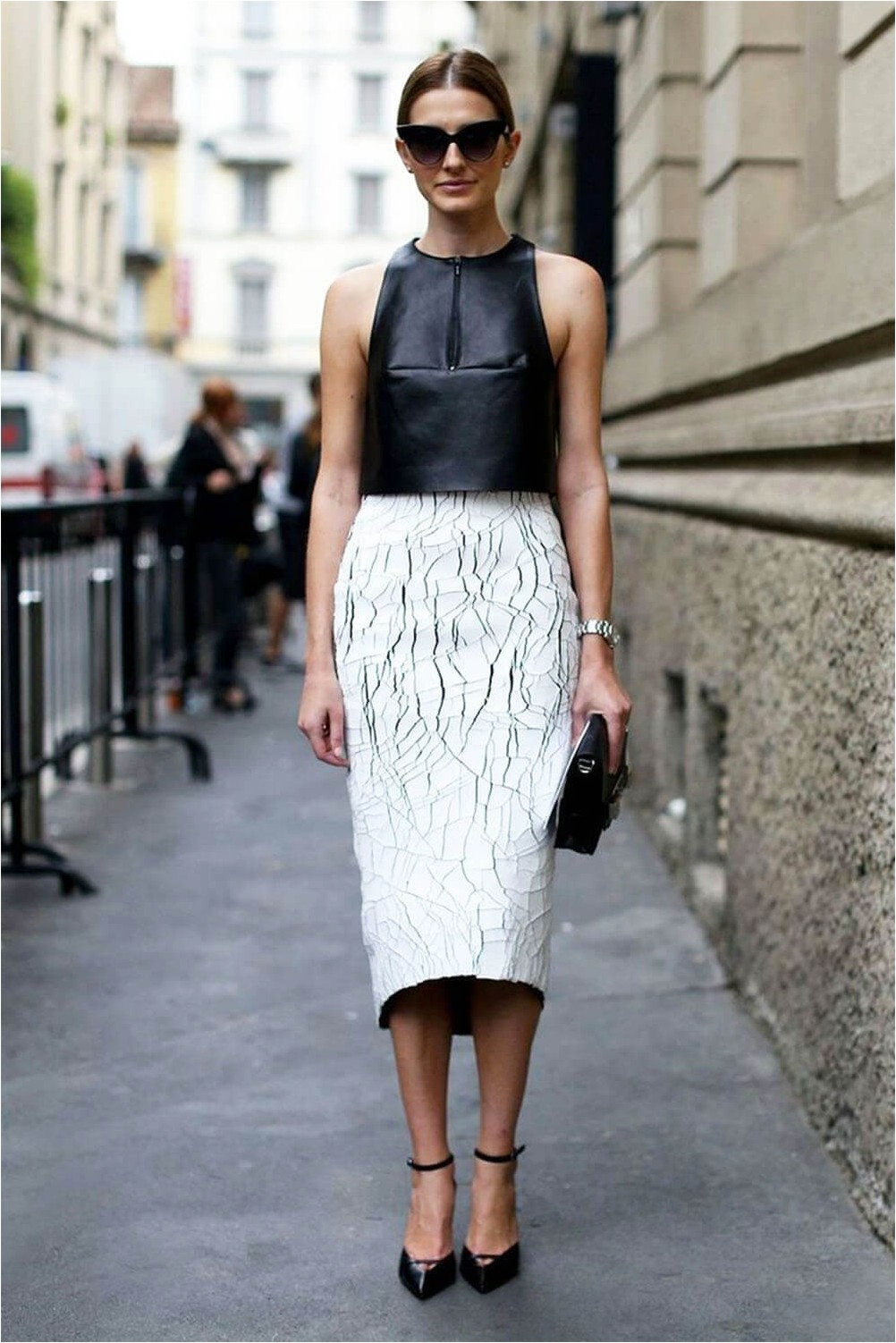 Pencil Skirt with Flat Shoes
It would seem impossible. But stylists prove the opposite. If you skillfully choose shoes without a heel, then you can look even more elegant than with a stiletto heel. Combine straight skirts with shoes such as:
oxfords;
slippers;
ballet shoes;
loafers.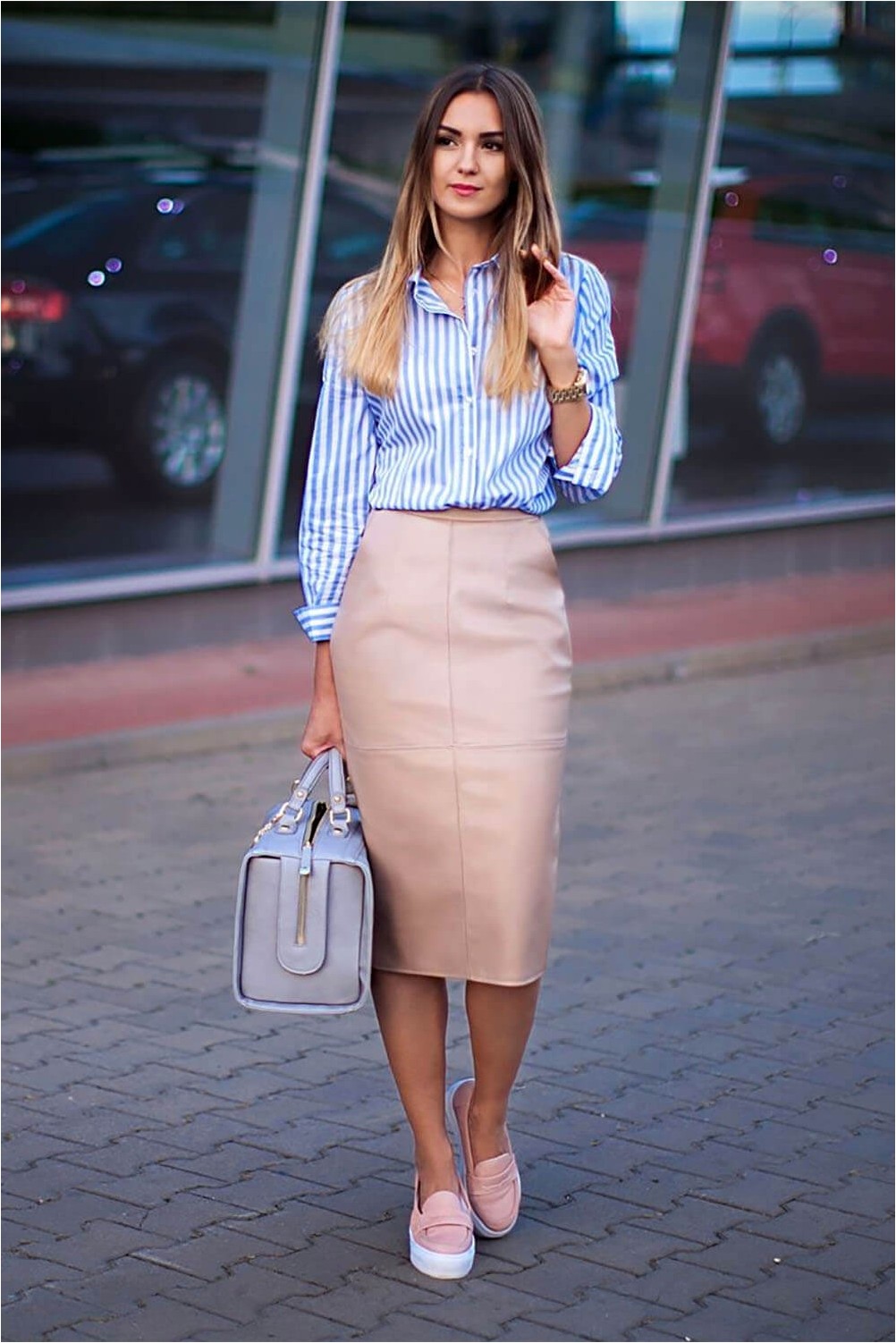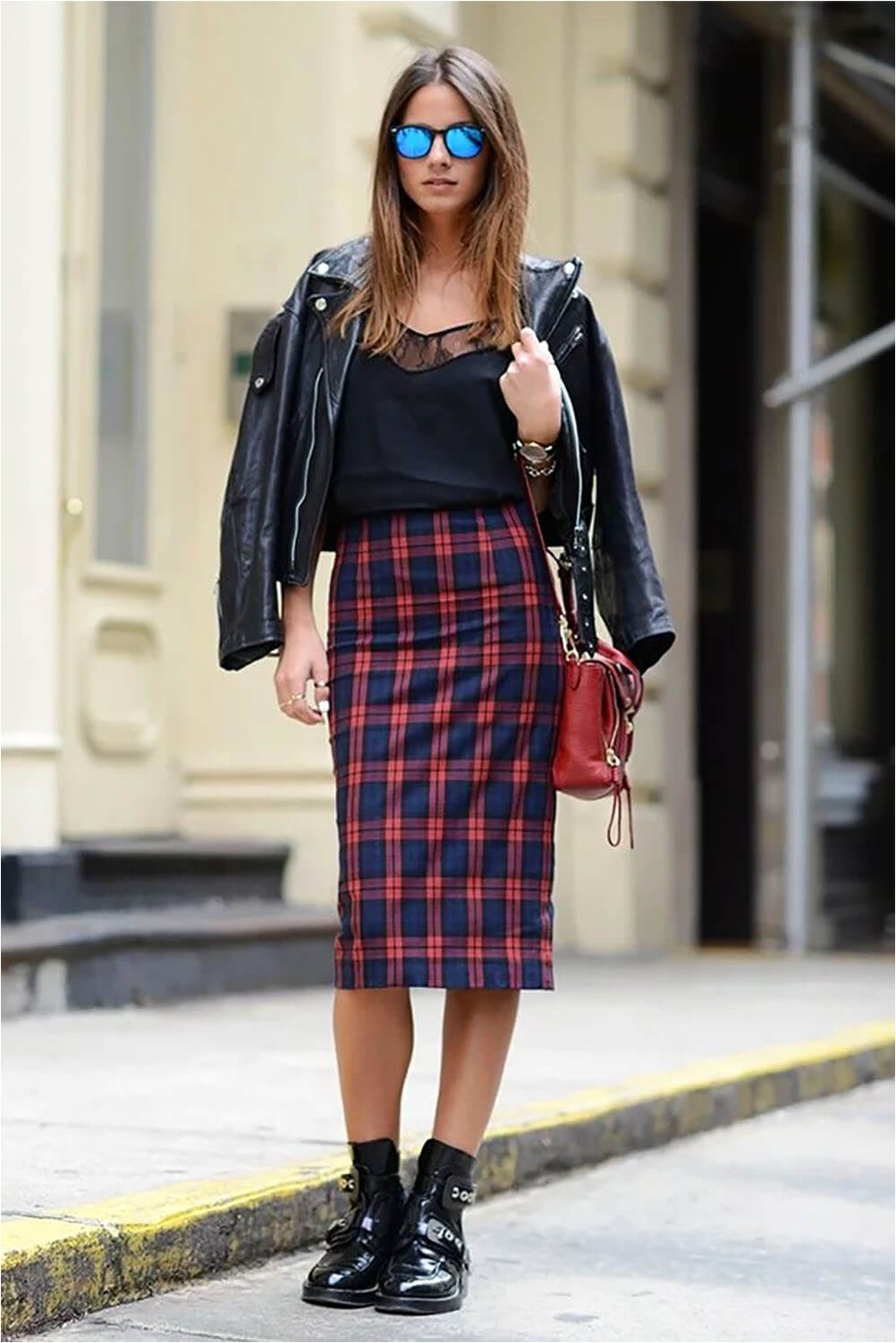 In this case, the image needs to be supplemented with a free sweatshirt, a t-shirt with a print, a loose-fitting pullover or an extended cardigan.
Pencil skirt with athletic shoes
Sport and classic are one of the fashionable combinations in clothes. Therefore, it is not surprising that a straight skirt is often combined with sports shoes:
sneakers;
slippers;
sneakers.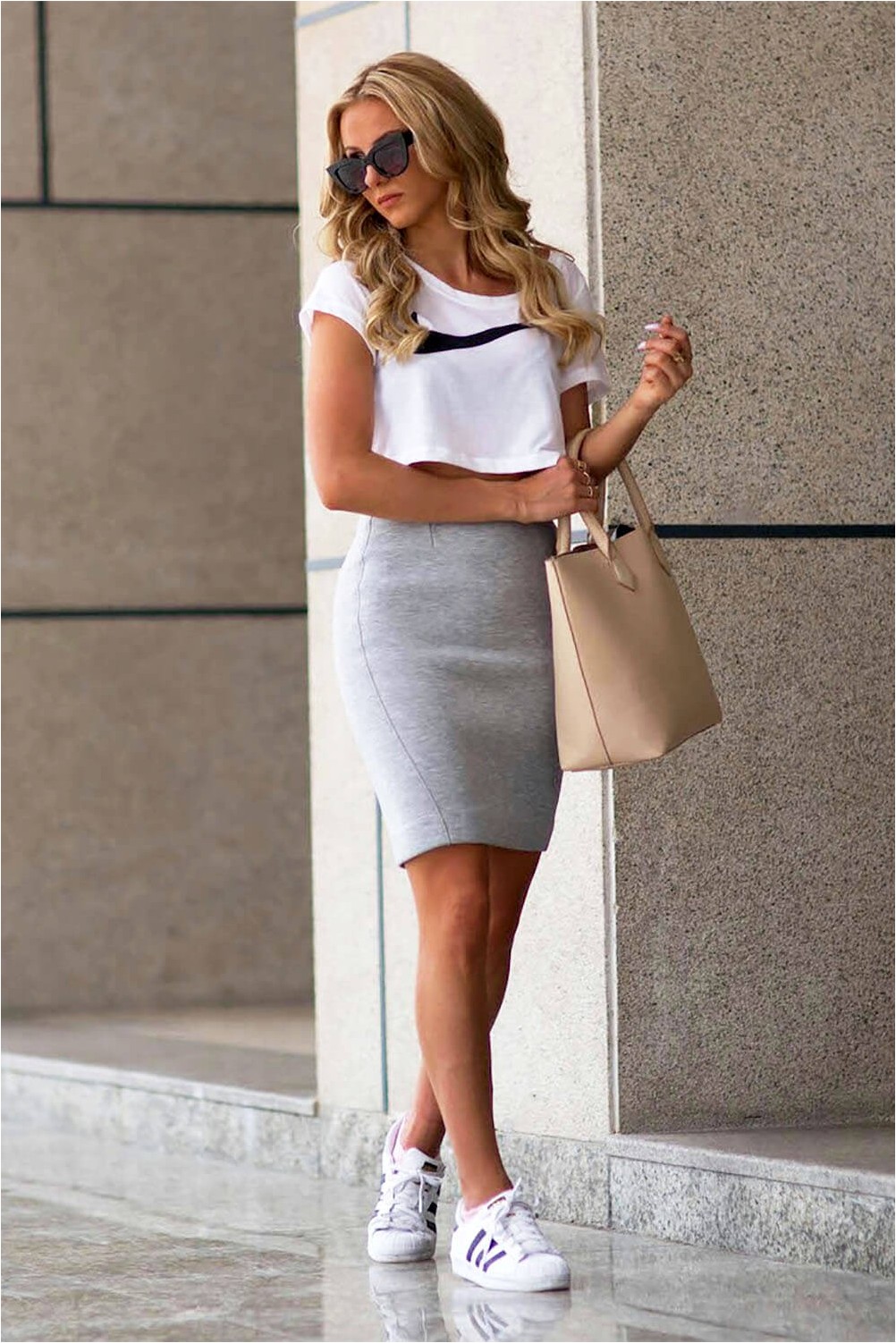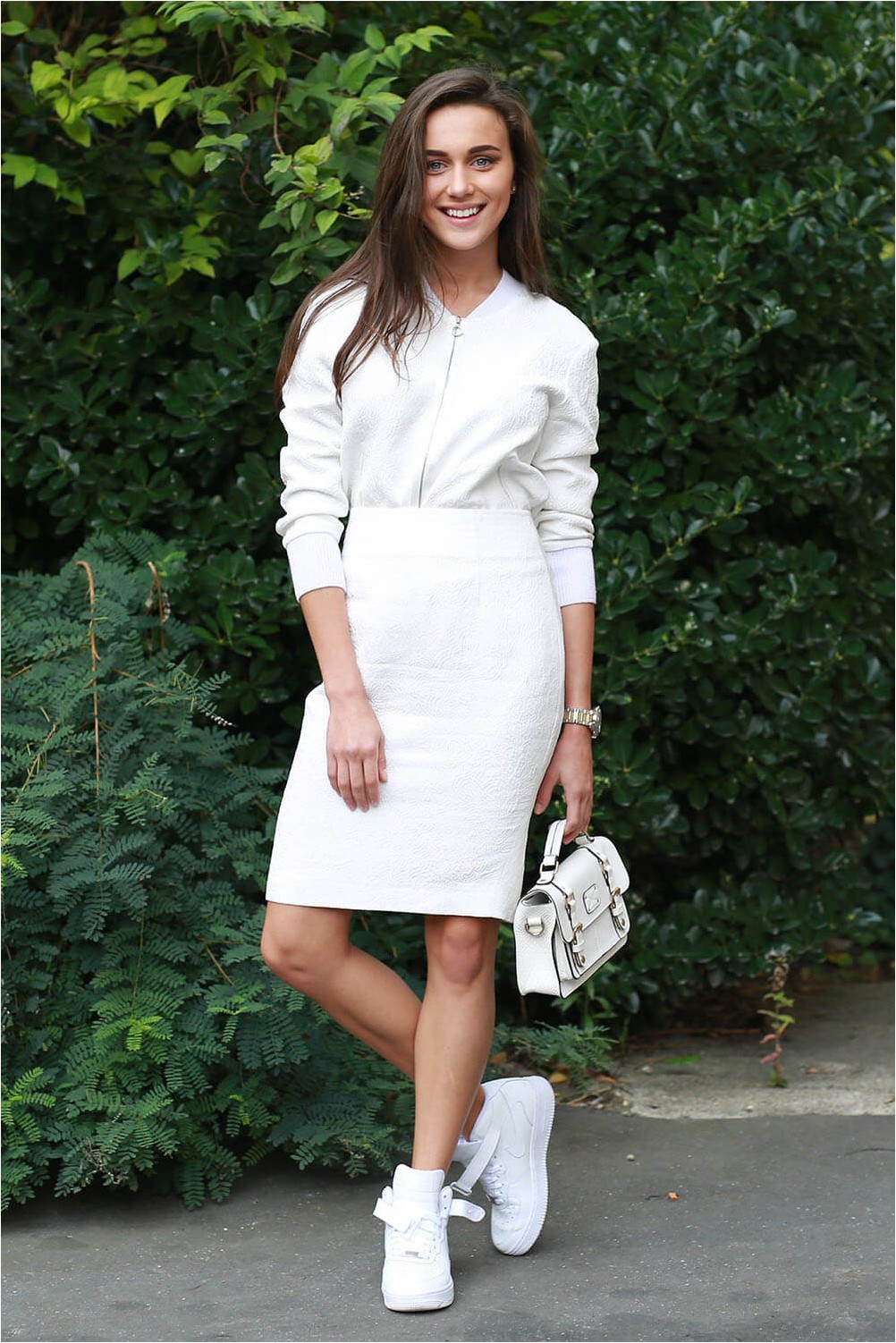 This combination looks fresh, original and stylish..
Pencil skirt with sandals
The image claims to become as feminine as possible, if you add to it sandals on a stiletto with thin straps. If the dress code is not too strict, then such an image will fit perfectly into the office style. For informal situations you can choose sandals with thick heels..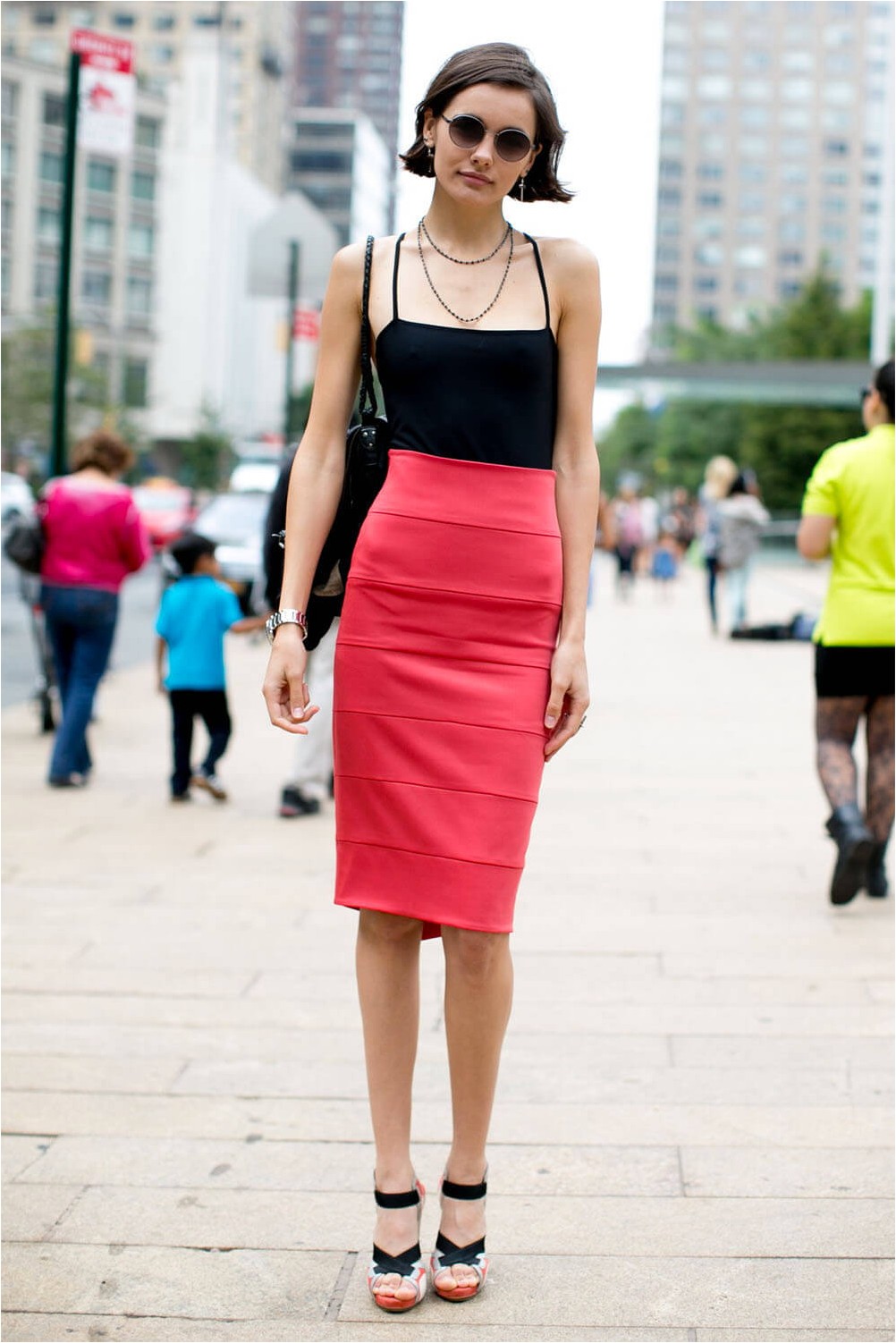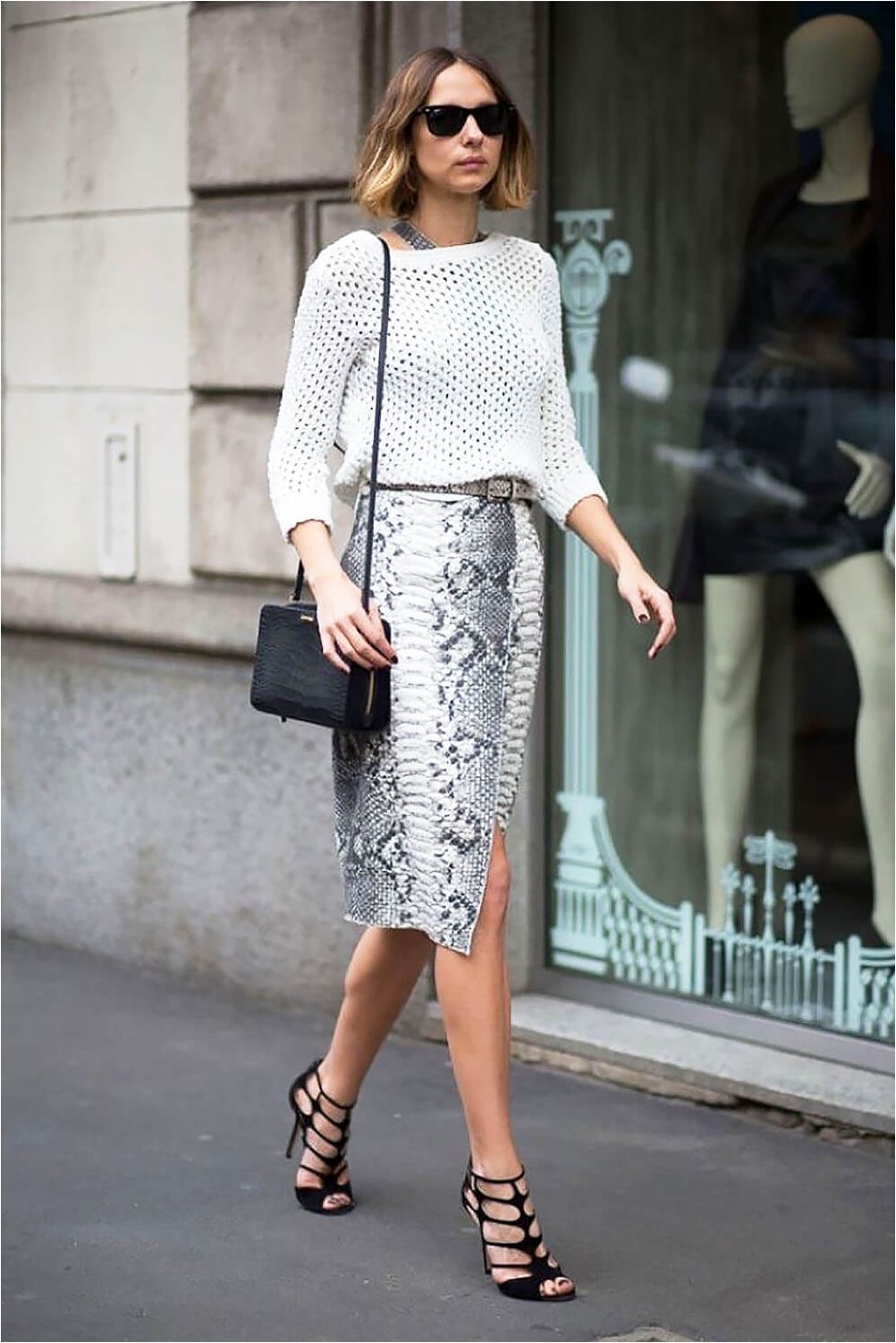 Pencil skirt with shoes for the warm season
When choosing shoes for the cold season, it is important to consider its height. Be sure to tie the height of the shaft to the length of the skirt. Otherwise, there is a risk of making the figure disproportionate. Take note of a few simple rules:
Choose ankle boots no higher than the ankle. Otherwise, they visually "shorten" the length of the legs..
Shoes can be with or without heels. The basic rule here is not to overburden the image..
Boots or over the knee boots should be high: go to the very edge of the skirt or go under the hem.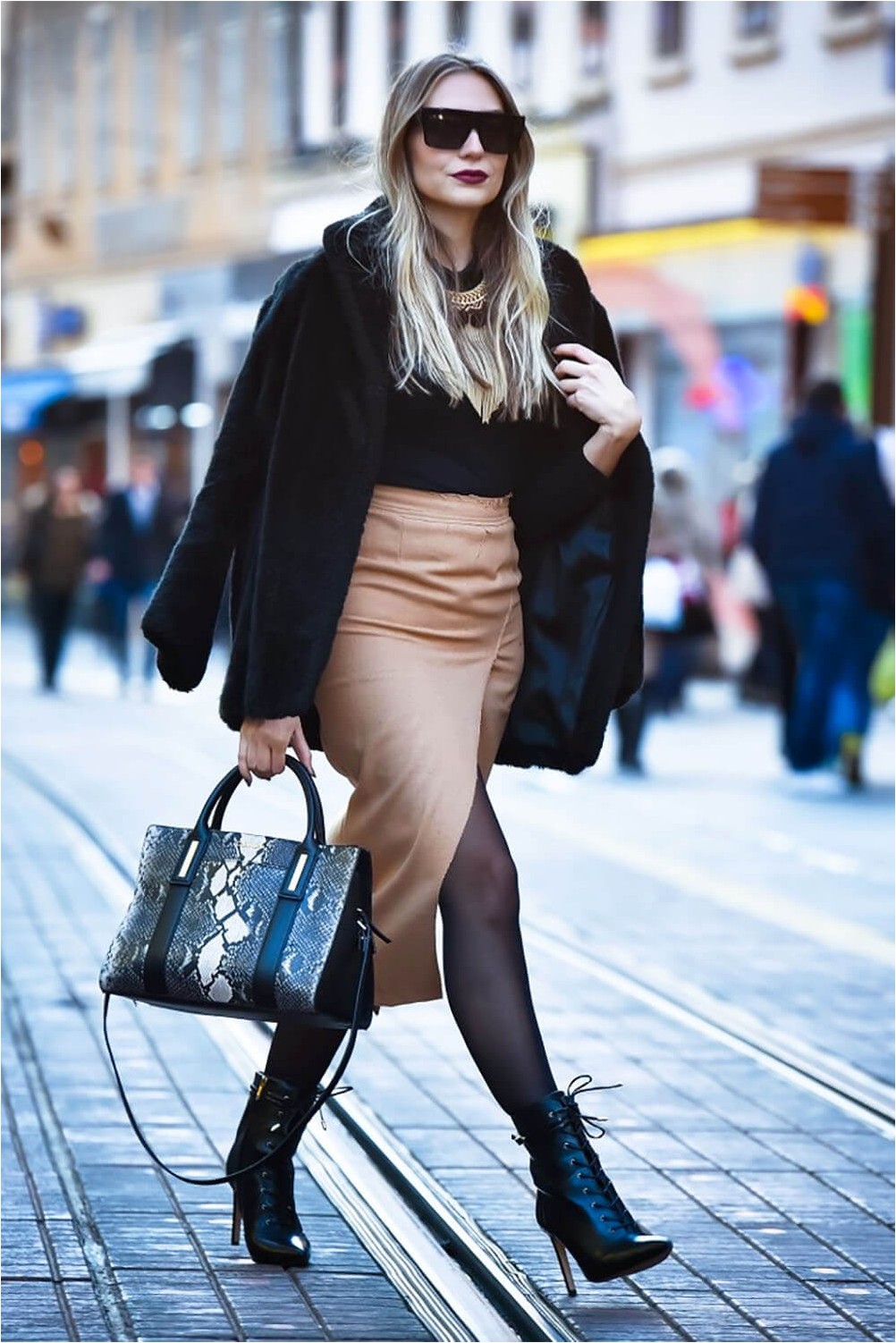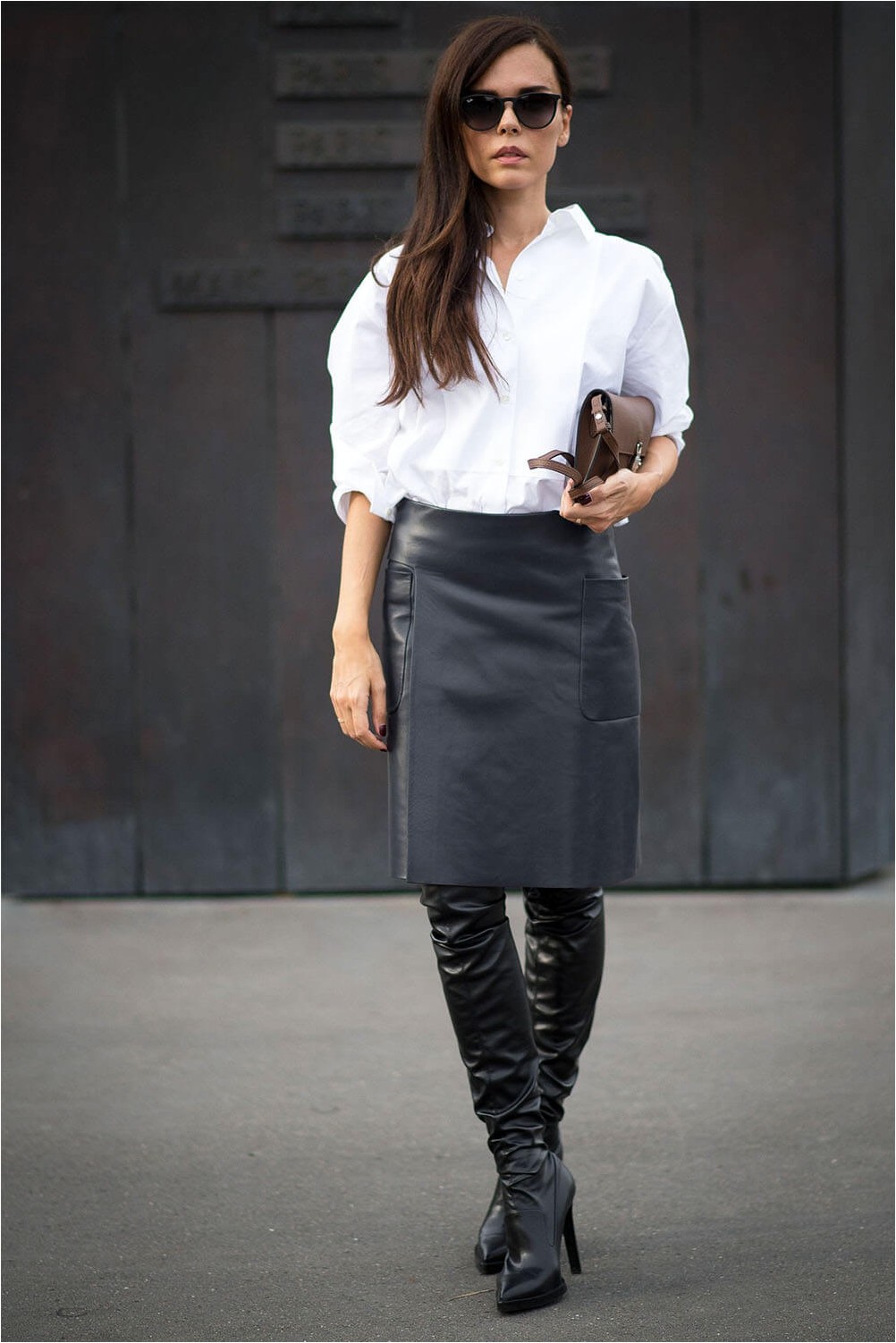 Fashion Tips: How to Tame a Leather Pencil Skirt
Today, a leather pencil skirt is one of the most trendy clothing options. But such a model has its own, slightly aggressive, "character". If you ignore it, there is a risk of looking ridiculous and ridiculous. To prevent this from happening, choose the right top and shoes for the leather skirt.
An informal look with a pencil skirt
Very nice pencil skirt made of soft eco-leather fits in an informal style. Add sneakers or sneakers to it, and for the top choose one of the options:
voluminous sweatshirt;
crop top;
vest;
loose cotton blouse;
print top.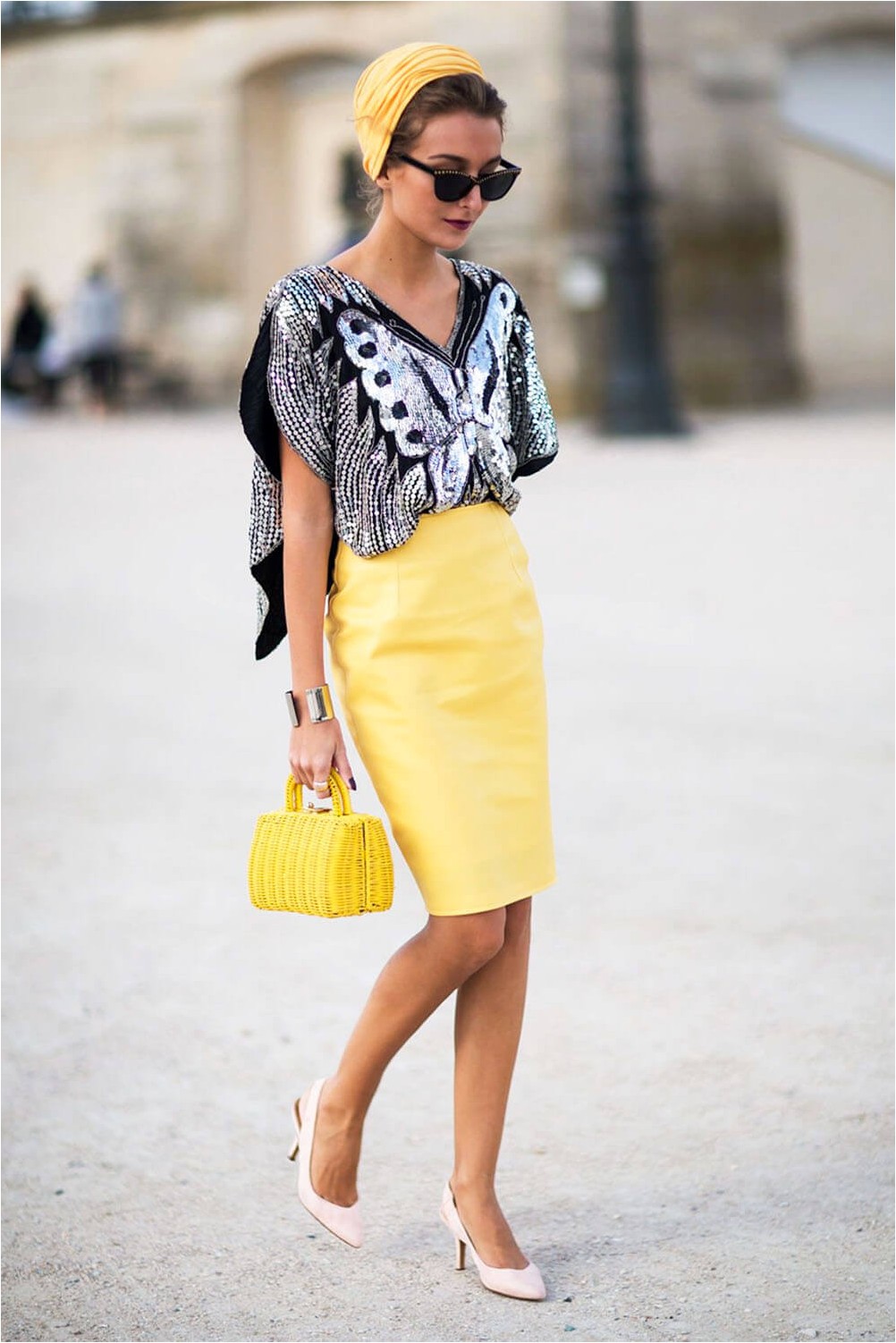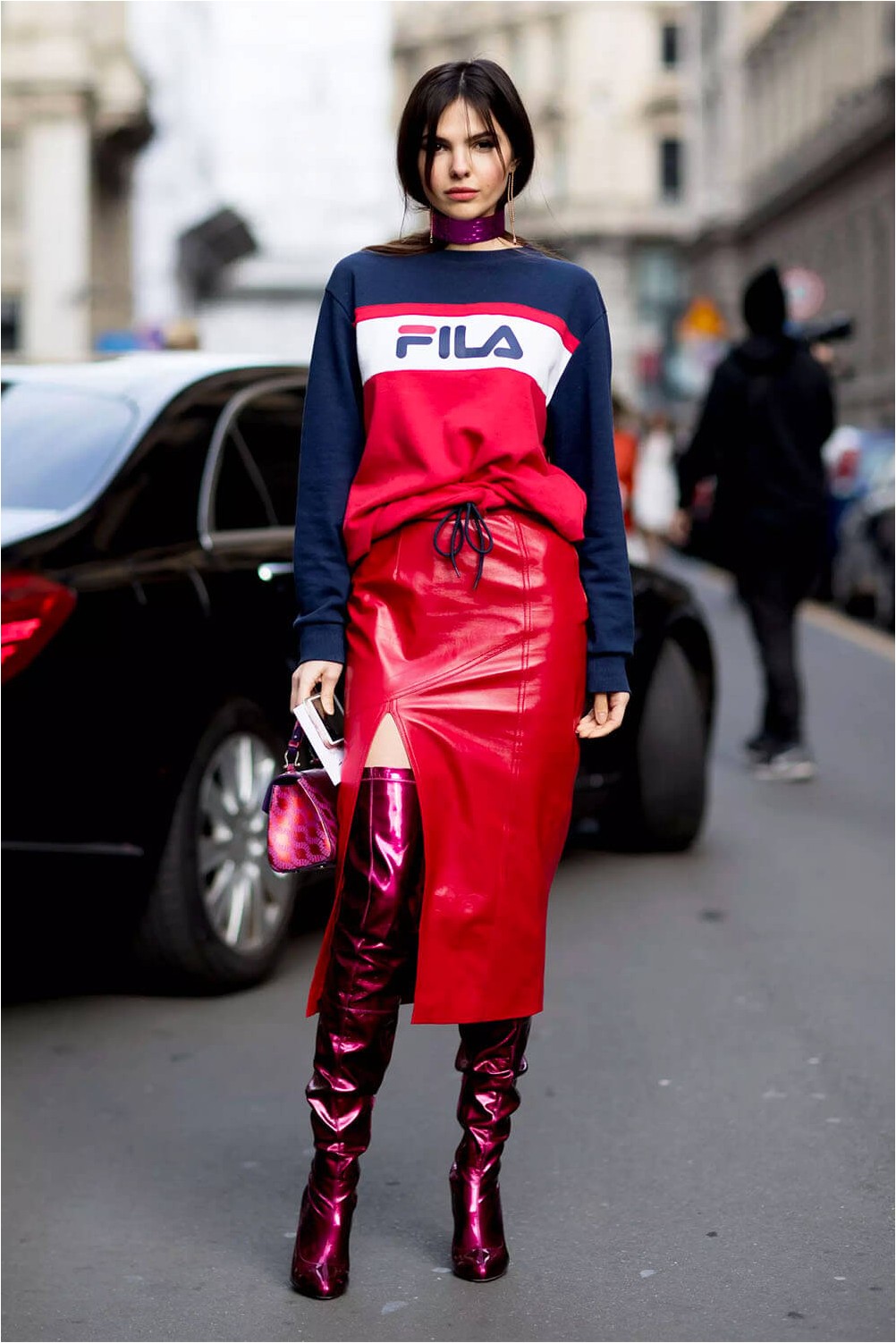 Casual or street casual with pencil skirt
For street-casual fit out of jeans, knitwear or other practical fabrics. Sweaters, T-shirts, T-shirts and other convenient top options are perfect for casual style..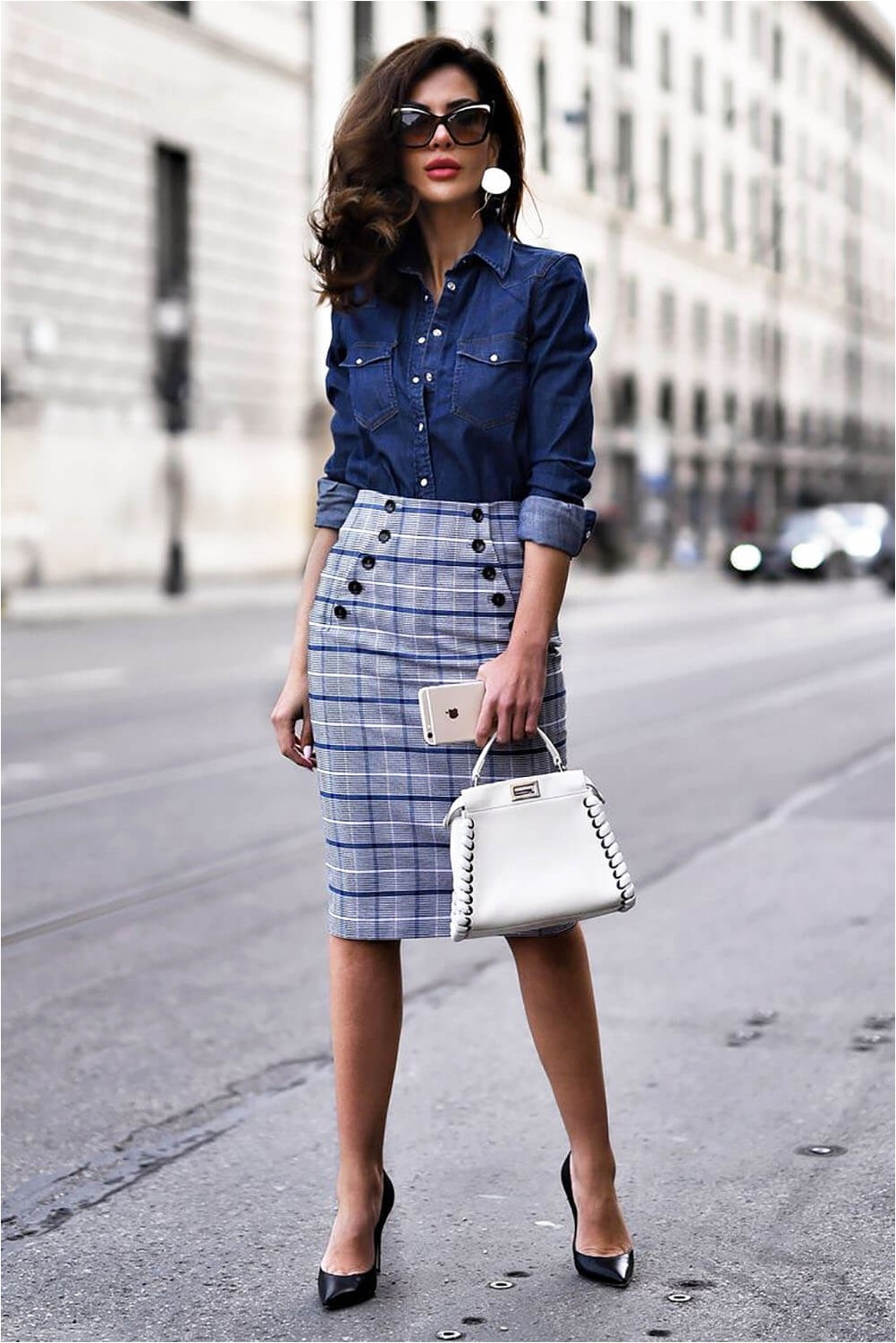 Smart casual business style with pencil skirt.
A leather pencil skirt is also allowed for a business style. But in this case, it must be combined with office shirts, plain knitted sweaters and cardigans.
A pencil skirt is the basic part of a wardrobe, with the help of which images are created in different styles, for different occasions and under any weather. Following our rules, you can easily avoid the most common mistakes in choosing the perfect pencil skirt.
Similar articles
---