Nowadays, being slim is fashionable. And if in former centuries "burly" puffy ladies were considered beautiful, then modern women tirelessly monitor their figure, trying to get closer to the parameters 90-60-90. Physicians and nutritionists offer more and more new ways to burn fat: all kinds of cosmetic creams, massages , exercise complexes, etc..
One of the most effective and affordable means is wrapping. The advantage of this procedure is that for its implementation there is no need to go to the salon. Slimming wraps can be done on your own right at home, using the components that are in every kitchen.
How to carry out wraps
First of all, prepare everything you need for wrapping.
We offer you a list of items, which includes not only the means to conduct the procedure itself, but also to prepare for it: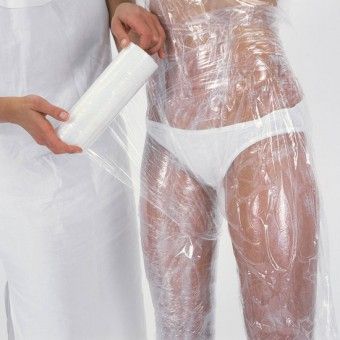 massage brush;
    Body Scrub;
    towel; 
    composition for wrapping;    
    food wrap;
    anti-cellulite cream.
Having prepared everything you need, you can begin to prepare the body for wrapping. Go to the shower to thoroughly steam out the body. Use a scrub and do a light massage, paying attention to problem areas.
This cleansing will rid the skin of keratinized particles and cleanse the pores. Thanks to this, the composition for weight loss is better absorbed into the deepest layers of the skin, and the procedure will be more effective.
Dry with a towel and apply the finished composition for wrapping with gentle massage movements. We will talk about what means can be used for its preparation a little later.
Wrap with cling film. It should be tight enough to the body, but not cause discomfort. To improve the effect, put on warming pants or a bathrobe. It is not necessary to move in this state so that the film does not move out. Lie quietly while watching your favorite movie or reading an interesting book.
After 40 minutes, you can remove the film. If you have the opportunity, you can extend the time of the cosmetic procedure up to an hour. Rinse off the wrapping compound. To enhance the anti-cellulite effect, you can take a salt bath, then wipe the body dry and apply anti-cellulite cream or oil. After the procedure, try not to drink for one hour and do not eat for two hours.
Types of body wraps for weight loss using different components
It is not necessary to purchase expensive cosmetics to wrap. As an active ingredient for such a composition, products that can be found in the kitchen of every woman can serve.
We offer several types of wraps available..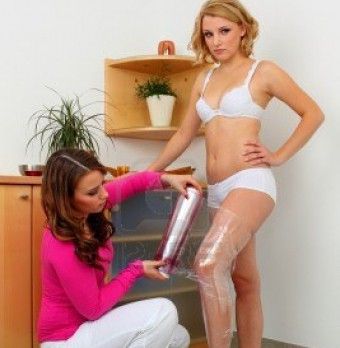 Honey wrap for weight loss. I must say that it is popular in beauty salons, but you can make it at home. For this procedure, take any honey. Before applying the product to the body, melt it in a water bath. Be careful, check that the honey does not overheat, otherwise you can not avoid a burn. Beekeeping products have a beneficial effect on skin tone, remove toxins and saturate the skin with vitamins;
Acetic wrap for weight loss. For this procedure, it is better to take apple or wine vinegar, and not an ordinary table vinegar. It must be diluted with water in a ratio of one to one before applying to the skin. Unlike other wraps, in this case it is not enough to wrap with a film. To achieve the effect, wrap the body with a cloth before the film. Acetic acid contributes to the expansion of capillaries and active blood circulation, as a result of which fat deposits are burned. Some wives lose up to three kilograms of excess weight in one procedure !;
Slimming coffee wrap. Take coffee powder, but not instant! It is better if it is finely ground coffee – it is better absorbed into the skin. Coffee can be used as an independent component. You can also add a little red pepper, cosmetic clay and a couple of drops of essential oil. The active substances that make up coffee help increase skin turgor and remove excess fluid, which eliminates the signs of cellulite. Coffee also gives the body a light tan color..
What results to expect after the wrapping procedure: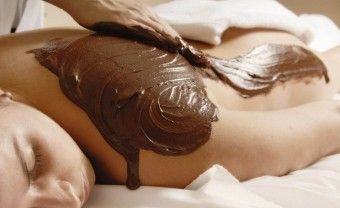 the skin is cleansed, the process of cell restoration is accelerated;
excess fluid is excreted from the body;
metabolism improves;
blood circulation accelerates;
the skin is saturated with vitamins and minerals;
the skin becomes elastic, the body tightens, the "orange peel" disappears;
relaxing effect and muscle relaxation are observed.
Who is not recommended to carry out slimming wraps
Unfortunately, such an effective procedure as wraps has a number of contraindications.
It is forbidden to carry out in the following cases:
with heart failure;
in the presence of skin diseases;
at elevated body temperature;
pregnant
women suffering from gynecological diseases;
persons with kidney disease;
women with varicose veins.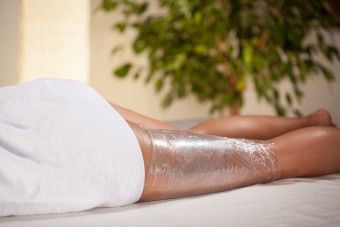 Before carrying out the procedure, be sure to check if you have an allergic reaction to the component that you will use for wrapping.
This will help to avoid serious skin problems. If during the procedure you feel discomfort, immediately unwind the cellophane and take a shower.
After you have wraps for weight loss of the abdomen, hips and buttocks for two weeks, you will not recognize your reflection in the mirror.
A toned, beautiful body without cellulite and minus a few kilograms – this is the effect that awaits you after a course of wrapping procedures!