In our wardrobe there are a number of items in the men's style. The idea of ​​wearing jeans called "boyfriends" is also borrowed from the stronger sex. Notice how well these pants fit into female images. With the correct selection of clothes, accessories and shoes, we focus on the elegance and tenderness of the female body. Many girls prefer this particular model of trousers. Fans of such jeans consider such clothes feminine and feel as comfortable as possible in them. It is worth recognizing that this garment is really relevant and versatile. To it you can pick up different options for the upper and shoes, radically changing the image. We reveal this topic in order to understand who goes to boyfriend jeans and what are their main characteristics. Consider what they need to be worn to look stylish, relaxed and attractive..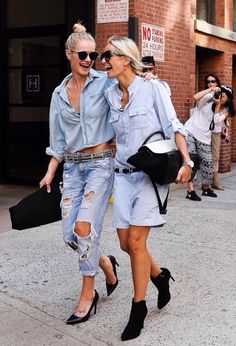 What things to wear jeans
You need to know these facts about modern boyfriend jeans. So, we have before us a model of jeans, made in the men's style and often made with a low rise right on the hips. The groin area is free. If the pants are sitting on the body of a fragile girl a little ridiculously and it seems that she borrowed them from her boyfriend, then the desired effect has been achieved. This is ideal for girls with an overly thin physique. In this case, the attention of society will be concentrated on the wasp waist, and at the same time, the pants will mask the thinness of the body. You may notice that almost all models lack decorative elements. There are options with a belt.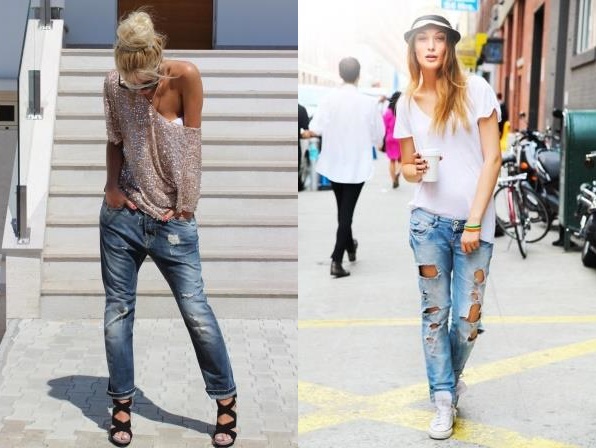 An integral attribute of boyfriends are slots of various shapes, imitation of traces of dirt, various scuffs. This piece of clothing adds a rude look and hooligan style to the female image. For this reason, jeans are well suited to relaxed, active and courageous women with moderately bold behavior. In the presence of voluminous hips and short legs, it is better to abandon the pronounced baggy models of jeans. For full girls, the process of choosing a well-fitting model is significantly complicated. They are better off guided by a straight fit and abandon bright colors. You can safely use boyfriends in any life situations that do not imply an official situation and do not oblige you to wear classic business clothes.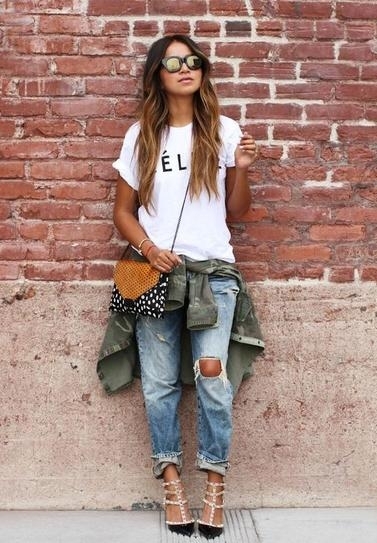 Almost always, boyfriends are worn with their legs tucked up. This detail once again confirms that the true owner of jeans is your boyfriend, has a more massive body and high growth. With the correct bending of the jeans, their edge is clearly 8-10 centimeters above the feet. If you make a mistake and roll up your jeans above this mark, then they will turn into a capri. And if you tuck the trouser legs only 2-4 centimeters, you will get the impression that they are short.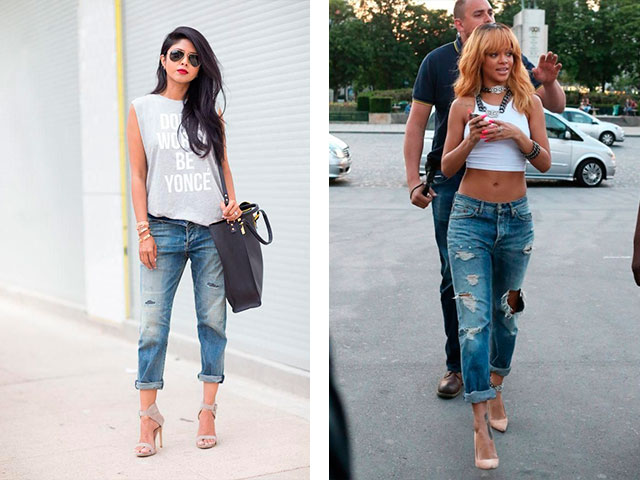 How to wear boyfriend jeans
Good options are a T-shirt or jumper, made in the form of a vest. Also, a loose military-style jacket is considered a good option. A sports top or t-shirt, complemented by a vest, is also suitable as a top. If it is possible to show the stomach, then with this jeans model this can easily be realized. All shortened suits them: tops, T-shirts and jumpers. A translucent blouse or feminine blazer also look great.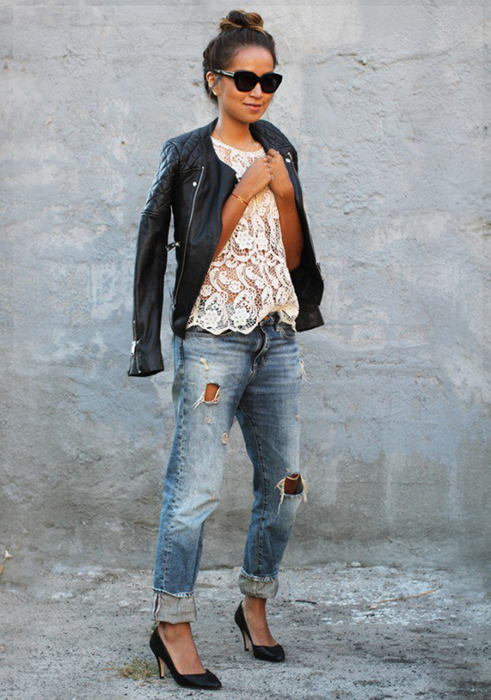 A fitted shirt in a man's style goes well with jeans. If a loose shirt is chosen, then it is usually tied at the waist or tucked under the belt. A sweatshirt and a parka jacket are also among the top options of the top. We also include a turtleneck and some models of leather jackets. Boyfriends can be worn with many shoe options, most commonly used are sneakers, sneakers, moccasins, sneakers, timbers or loafers..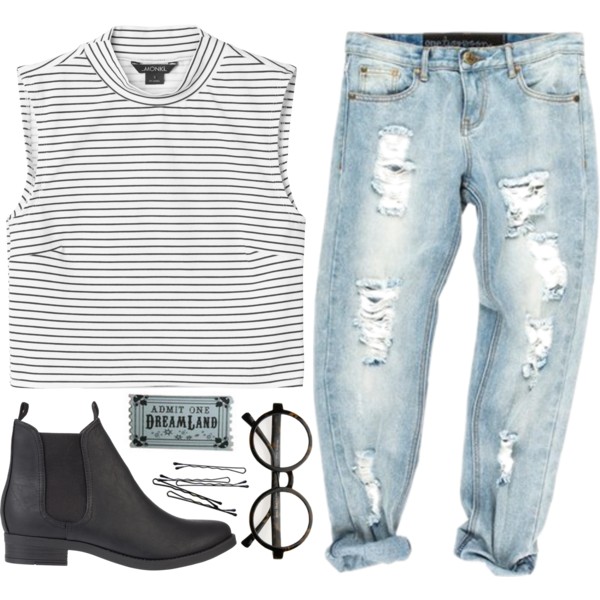 Shoes fitted with a heel or platform are well suited. Recognizable tucked-in trousers make up the perfect ensemble with narrow-toed shoes and stilettos. Not everyone knows how to wear heels, as an alternative to shoes, you can pick up elegant ballet shoes or sandals. For cool weather, ankle boots, Cossack boots or other models of high heel boots are suitable.