Content
---
---
It is worth noting that the ultra-low fit fashion is a thing of the past, now jeans should sit at the waist or be slightly lower. As for the models, fashionable denim continues to develop the trends of past seasons. That is, wide models and flare jeans from the 90s, lapels, various scuffs and torn edges are still in fashion. But the fashion for ultra-slim skinny gradually came to naught.
Trend Lapels
Short and clear, as many designers have said. Therefore, jeans this season are either cut off or tucked. With the help of lapels, you can vary the length, turning the same jeans model into a component of different images. Lapels look best on straight-cut jeans and boyfriends, as well as on cult dumplings, models with holes and scuffs. The only things lapels do not look at are narrow skinny and flared models.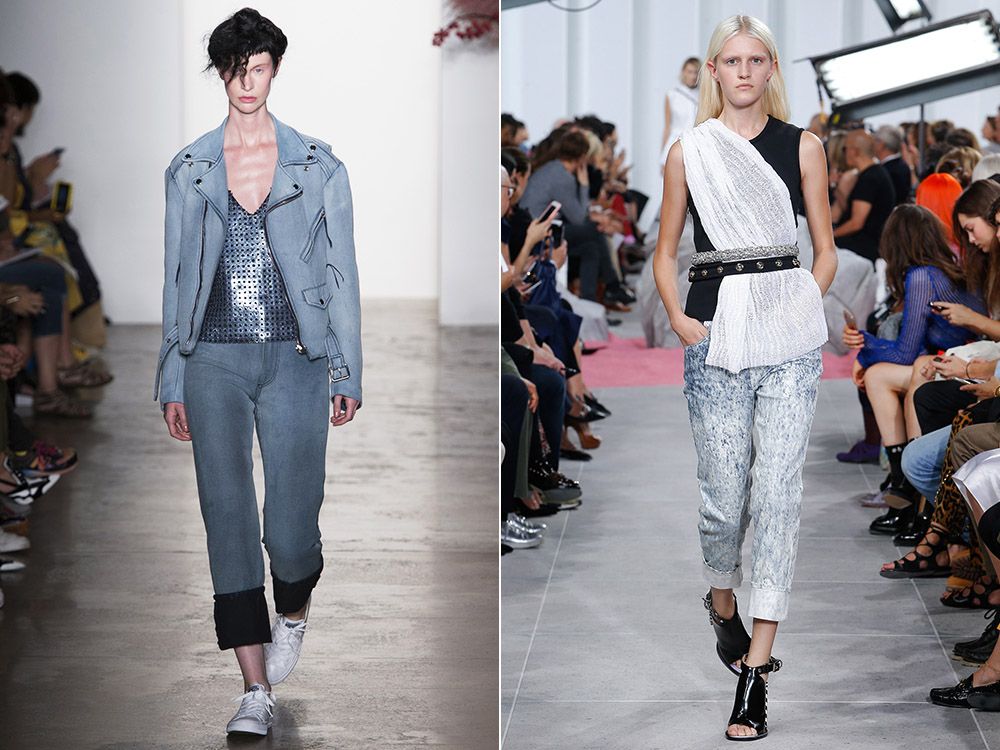 On tight-fitting jeans, you need to make neat thin lapels, wide cuffs will suit straight cut models, and volume lapels that are casually wrapped in several layers will ideally look on boyfriends.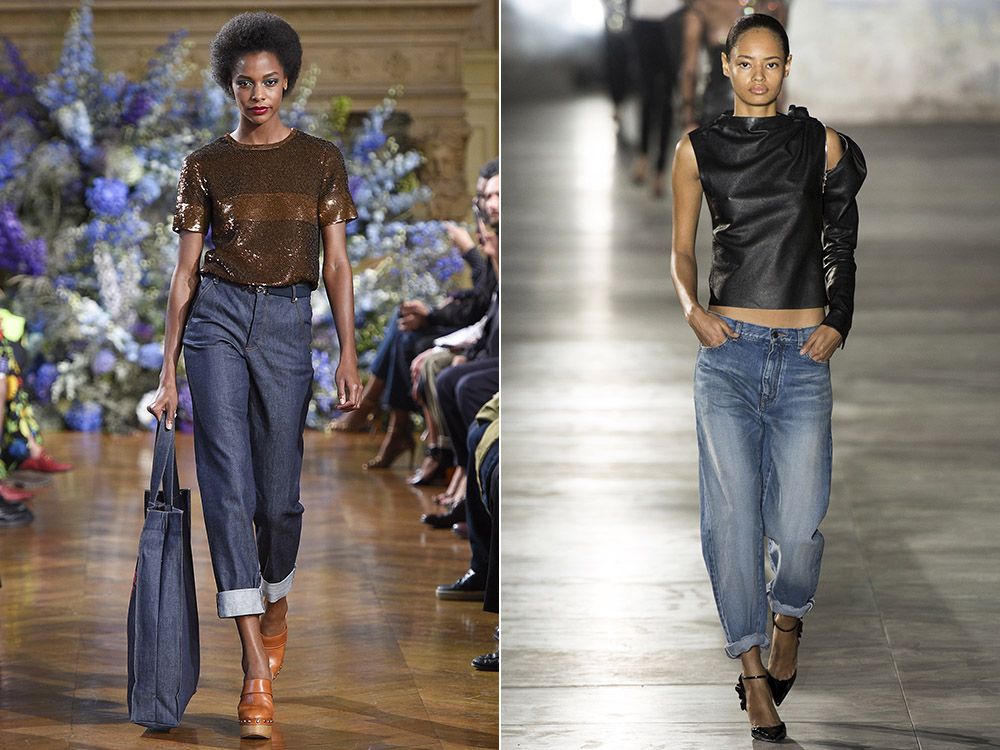 Straight jeans
The tight low-rise jeans that have dominated the past decade are time to forget. In the spring-summer season of 2017, classic straight and looser jeans models with a medium or high waist come to the fore. They hide unnecessary centimeters, and they look much more interesting compared to narrow skinny. However, despite the relevance of the high rise, there were jeans with a low waist.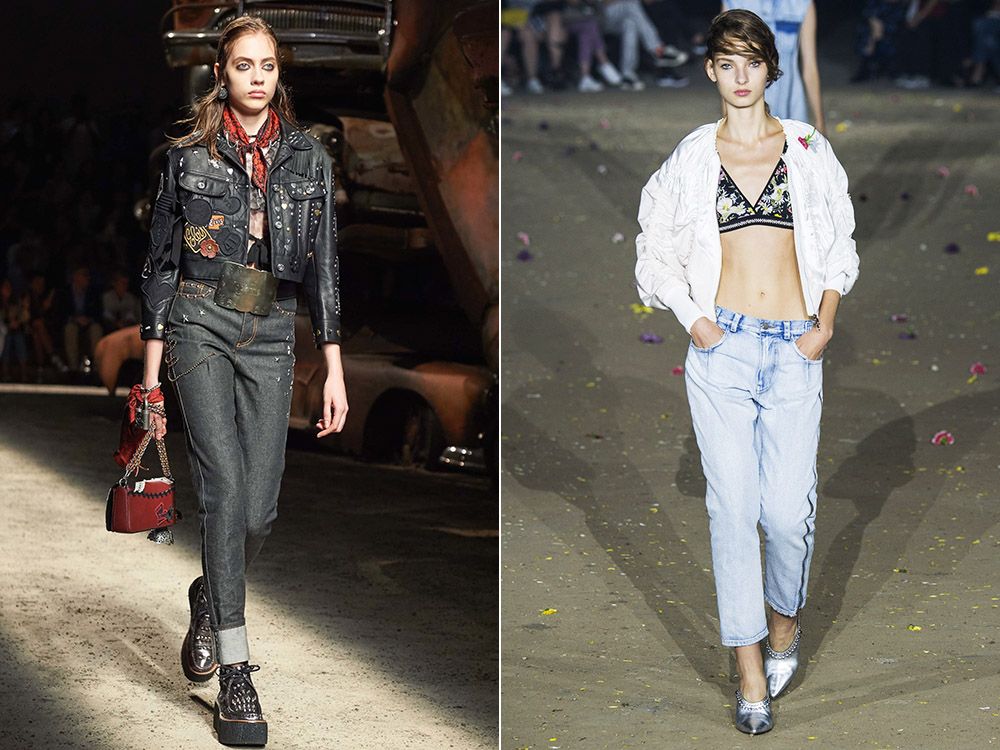 Classic, both standard and shortened lengths, in grunge style or mom jeans that have been popular in recent seasons – it doesn't matter what your straight jeans are like, but at least one pair of such trousers should be in the basic wardrobe of every girl.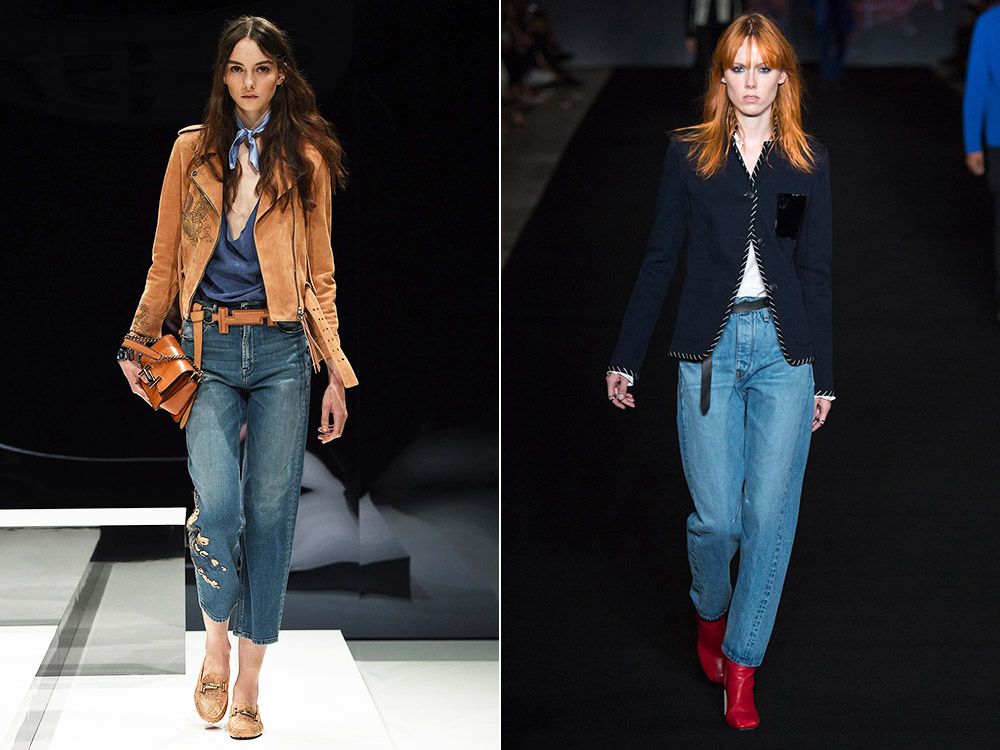 Wide jeans
The oversize theme does not leave designers alone, and from the "top" they switched to the "bottom". Wide culottes, jeans-pipes, boyfriends, a denim palazzo and a loose flare almost completely replaced the skinny from the list of fashion trends in the spring-summer season 2017.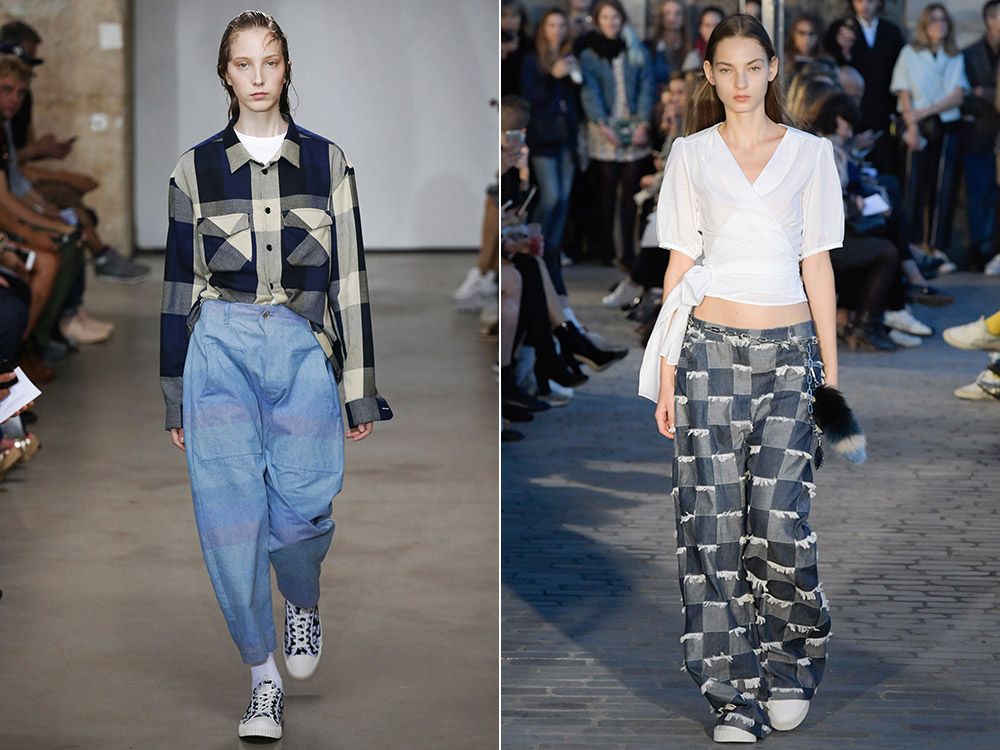 Wide jeans can be either standard length or shortened or even dragging on the floor, completely covering the heel. The main plus of them is that if only girls with an impeccable figure can wear narrow skinny, then baggy wide models are suitable for absolutely everyone.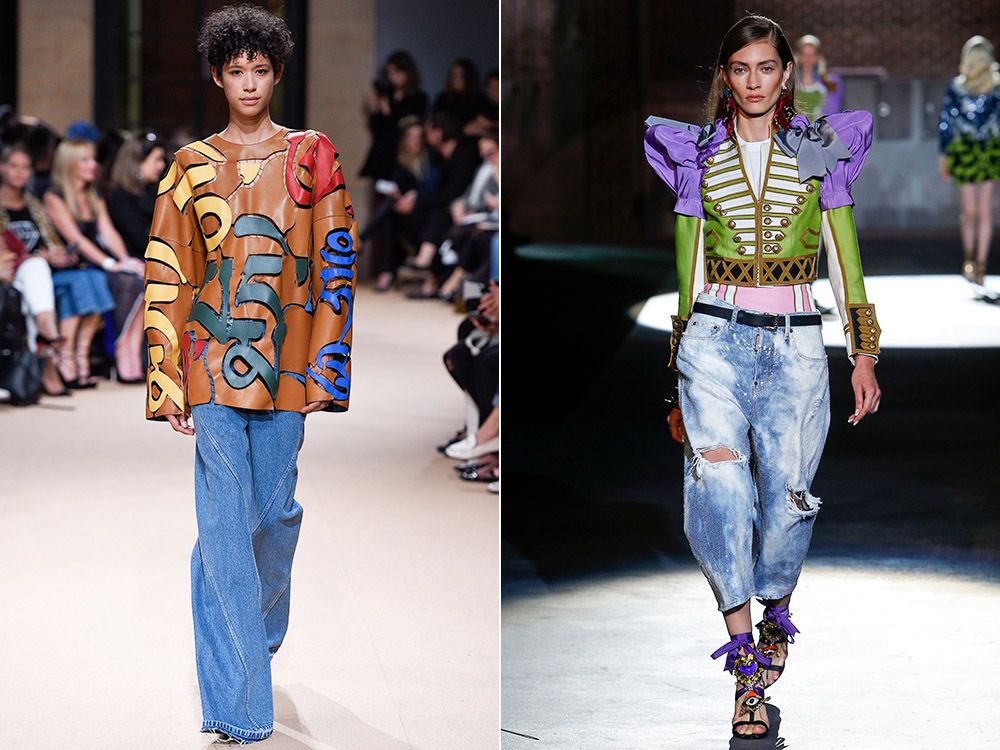 Flared jeans
Designers made it clear to everyone that jeans in the spring-summer 2017 season will not be tight. Thus, along with a straight cut and wide models, flared jeans became another topic of fashion shows. If some designers have relied on a surplus of fabric, others have experimented with accessories, embroidery and other decor..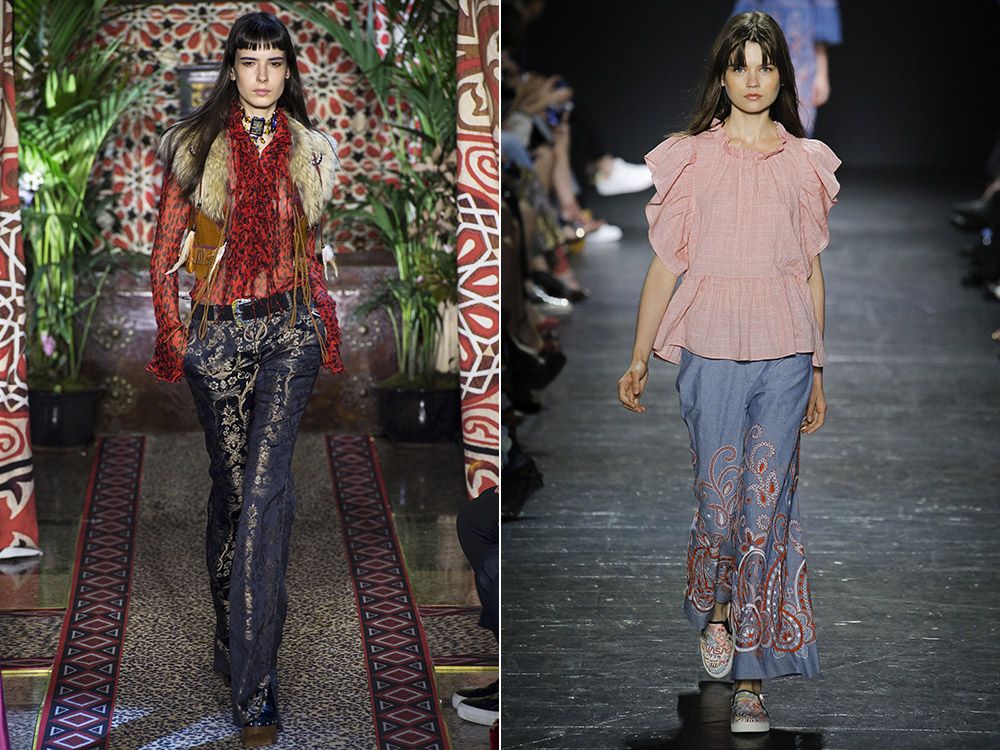 The length of flared jeans can be any: from maxi options, to shortened models with a fringe on the lower edge. The only rule: a flare should start from the hip. In addition, modern fashion suggests that jeans must be with medium or high rise.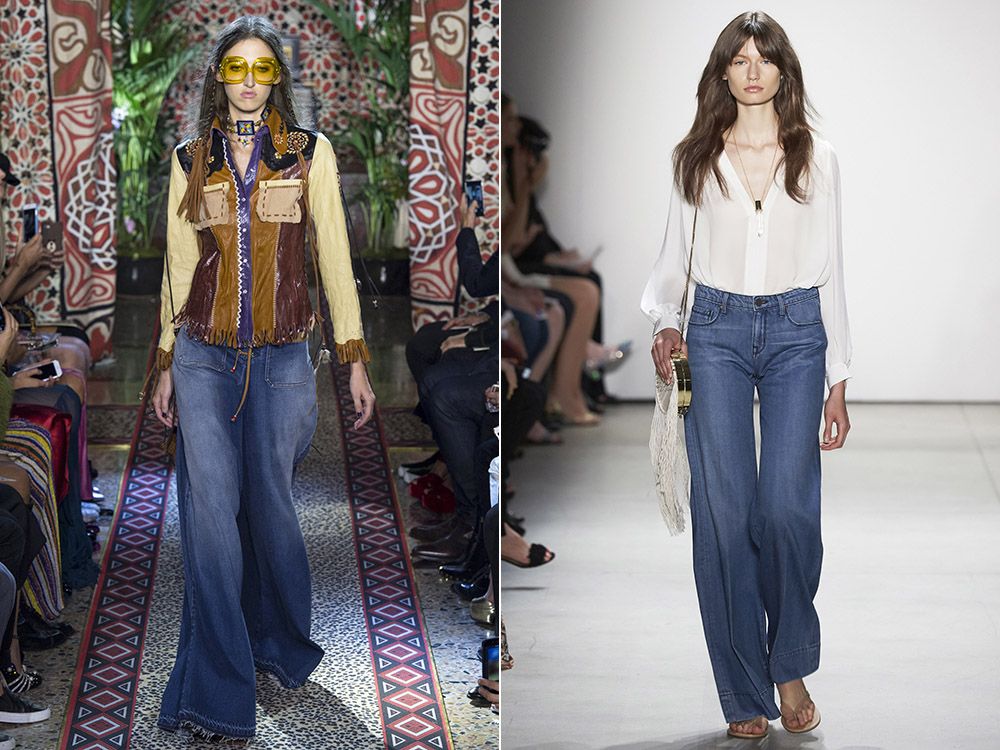 Skinny jeans
Despite the fact that the fashion for tight pants is gradually disappearing, skinny jeans have not gone completely. Only in the spring-summer 2017 season they are presented not in traditional blue and blue denim, but in multi-colored models and with decor in the form of contrasting inserts that are different in color and material.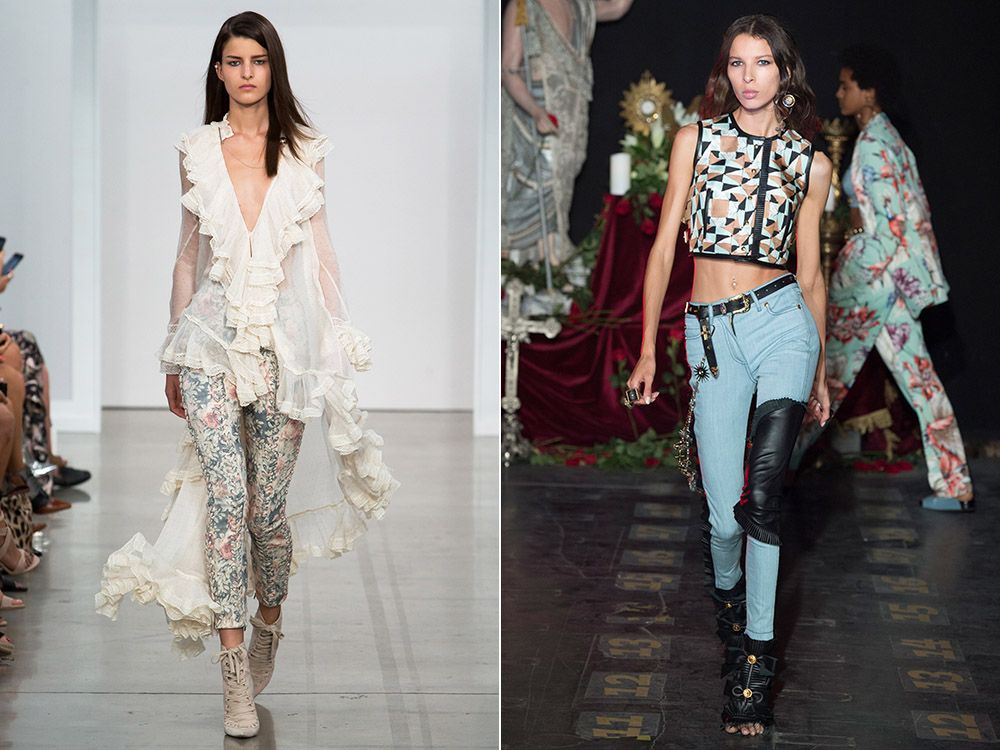 Unusual textures and shiny-coated jeans that look no less solemn than evening dresses are also in fashion..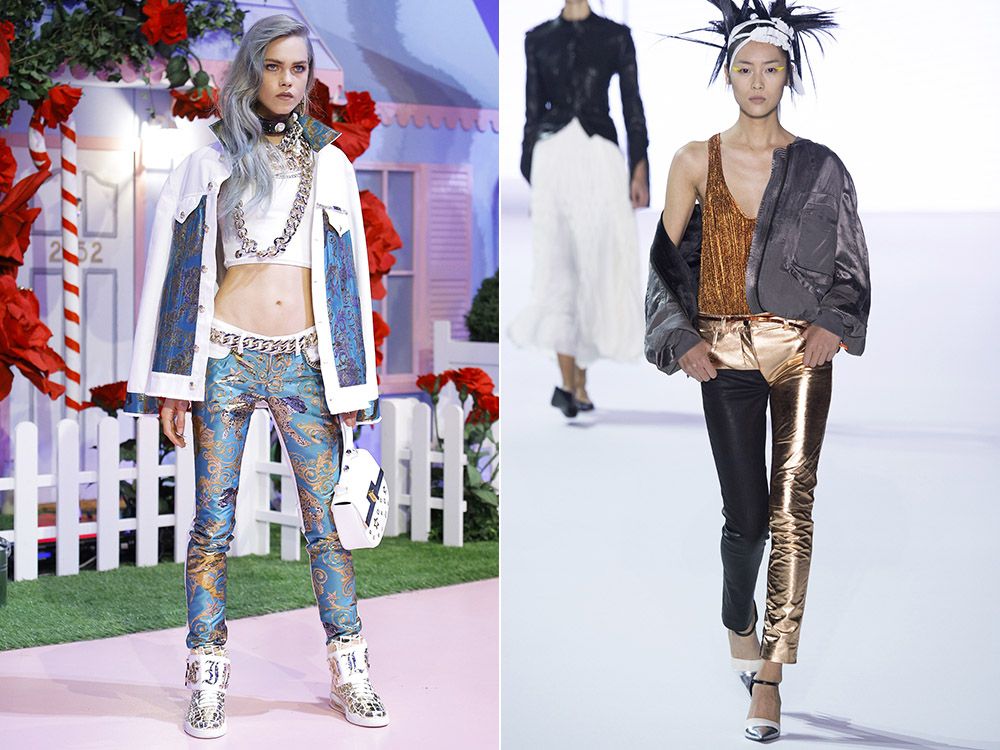 Denim total look
Another fashionable rule, which is a long time to forget: "Do not combine denim with denim." And this is not the first season designers have offered us to dress in jeans literally from head to toe. Full-value denim total bows were presented by Alexander Wang, Moschino, Philipp Plein, Fausto Puglisi, Philosophy and many other famous brands.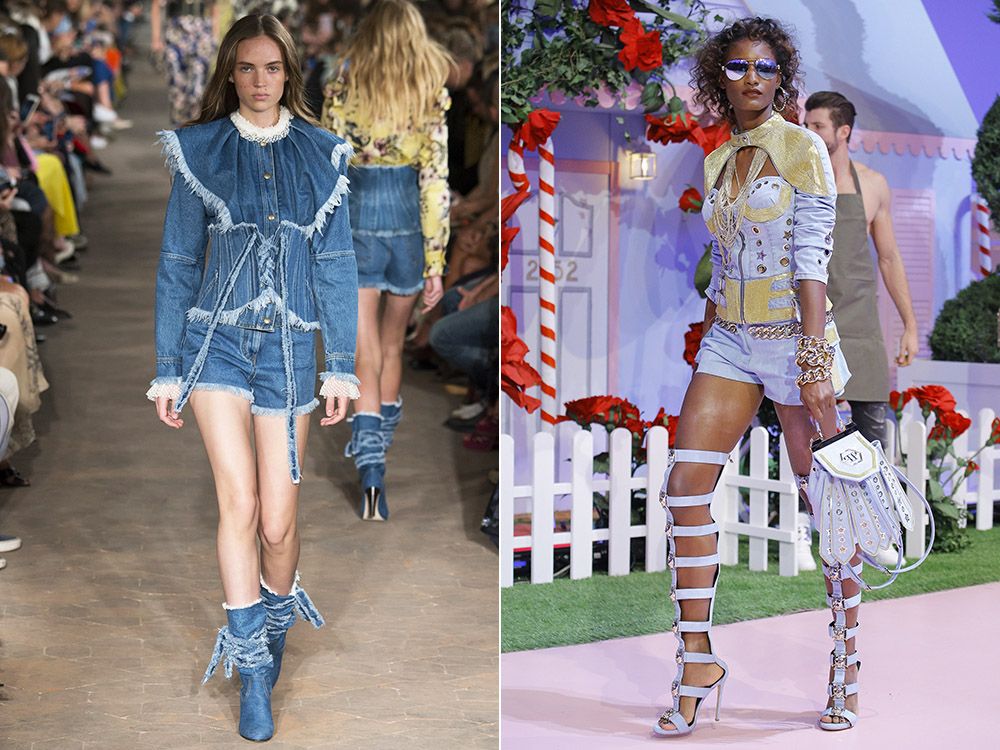 Peerless on young girls, regardless of the type of figure, overalls look. The cut of the trousers can be absolutely anything: a pronounced flare or slightly widened to the bottom, straight or slightly narrowed to the bottom, or simply dimensionless.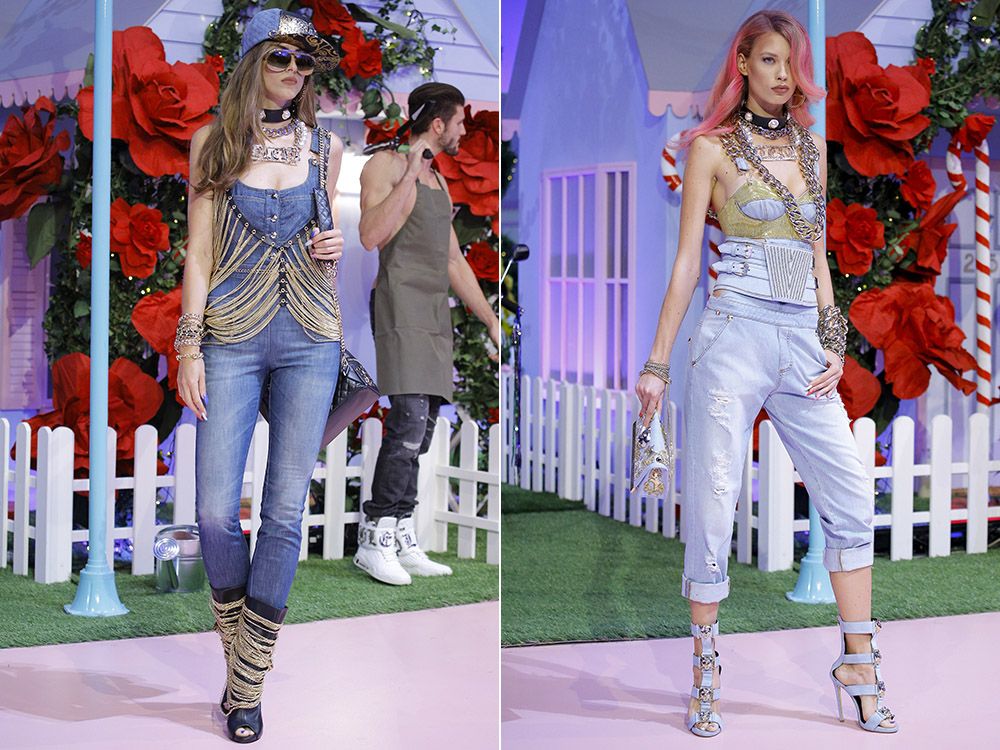 This season you can not be afraid to exaggerate with the amount of denim in one look. The only rule: do not mix jeans of different colors. Just give up the traditional mix – jeans and jeans, try to make a total look of a denim skirt and top, sundress and summer coat.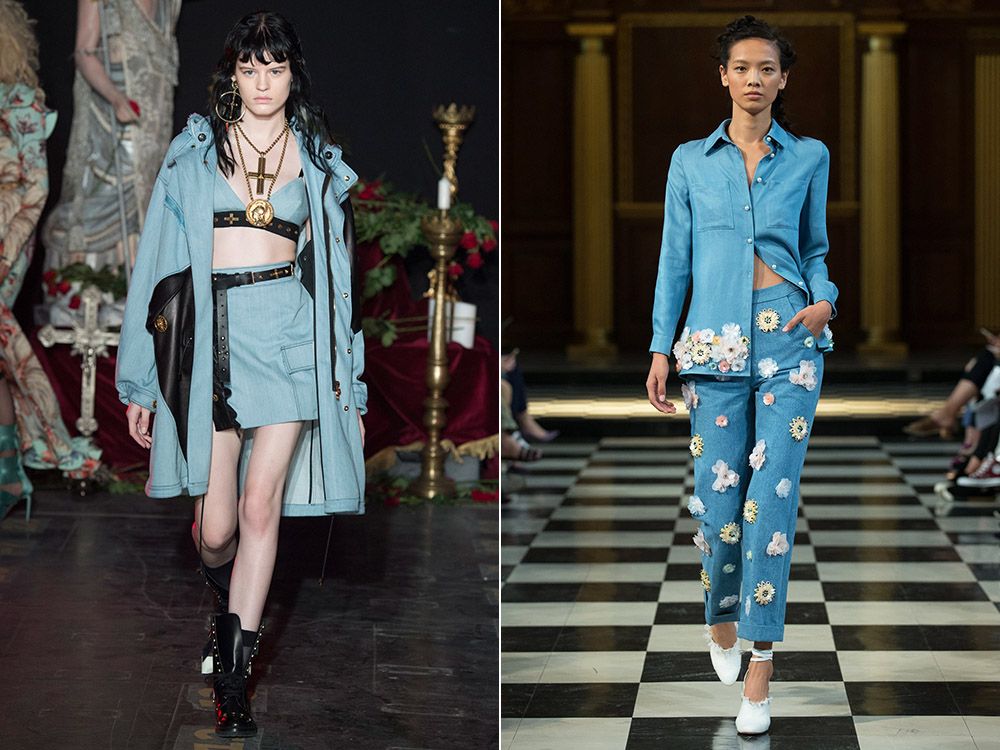 White jeans
White color is always traditional for the summer, which reached jeans. Diesel Black Gold, Philipp Plein, Y / Project and many other well-known brands gave preference to bleached denim. Thus, white jeans became an unconditional hit in the spring-summer season of 2017. And so that colorless jeans did not look boring, designers complemented them with fringe, lacing and deep cuts.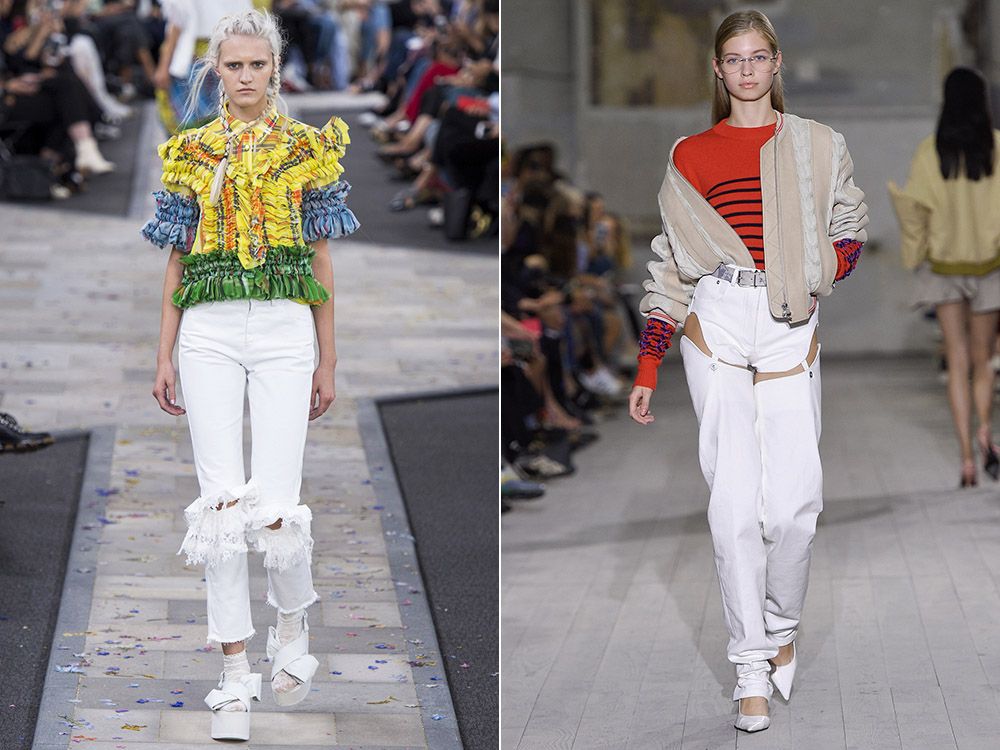 In some, white jeans have become part of the total look, in others the main component of the grunge style, in others – casual. Once again, we are convinced that white things are universal, perfectly fit into any image.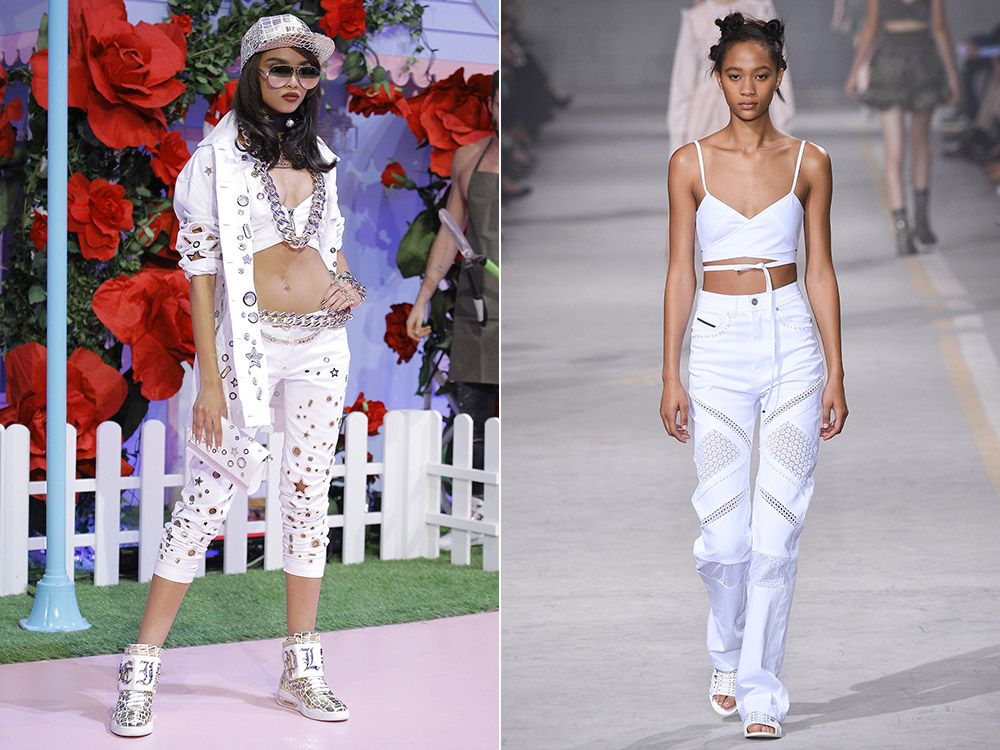 Scuffed and torn edges
In the spring-summer 2017 season, any imperfections are welcome. If the edge is cut, then it is necessarily uneven, if the holes are necessarily large with elongated threads. As we can see, fashionable jeans do not differ in accuracy.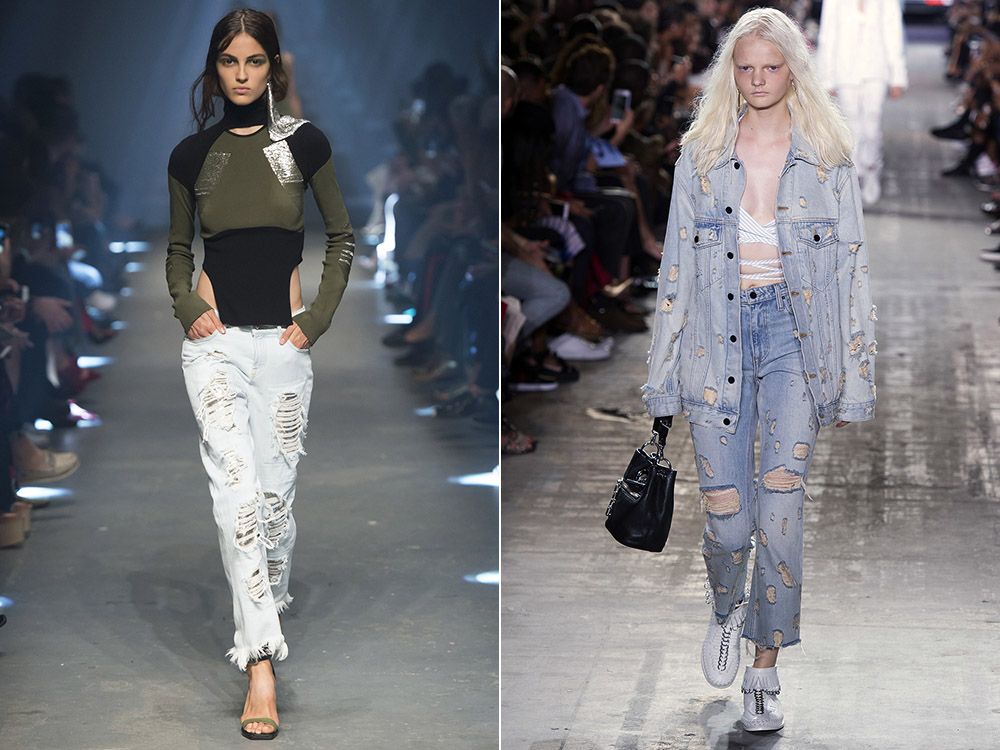 Moreover, ripped jeans do not have to be part of the grunge style. Real fashionistas wear them with high-heeled shoes, combined with expensive bags and accessories.
As if grunge-style jeans, specially battered and stained with paint, unlike previous seasons, this spring will not be a huge success. Such models can only be found in the Dsquared2 collection..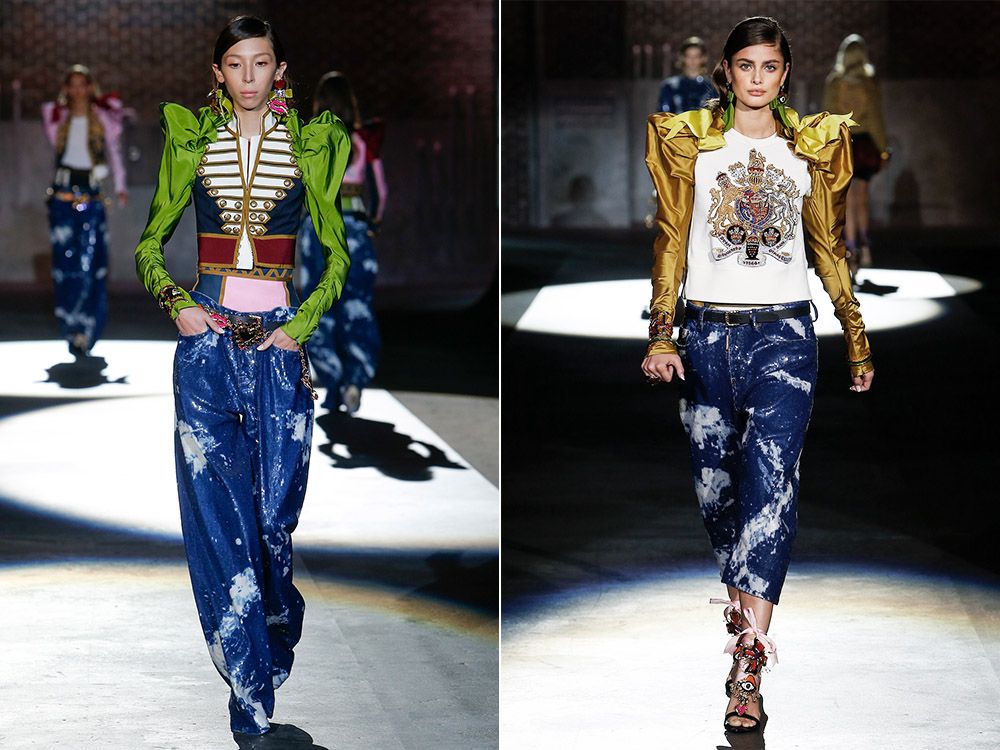 Combined Denim
Some designers complemented the familiar cut of jeans with unusual details in the form of contrasting inserts, patches and patch pockets, excellent not only in color but also in material. The right way to combine denim is best shown by Roberto Cavali, Antonio Marras, Philipp Plein, Off-white.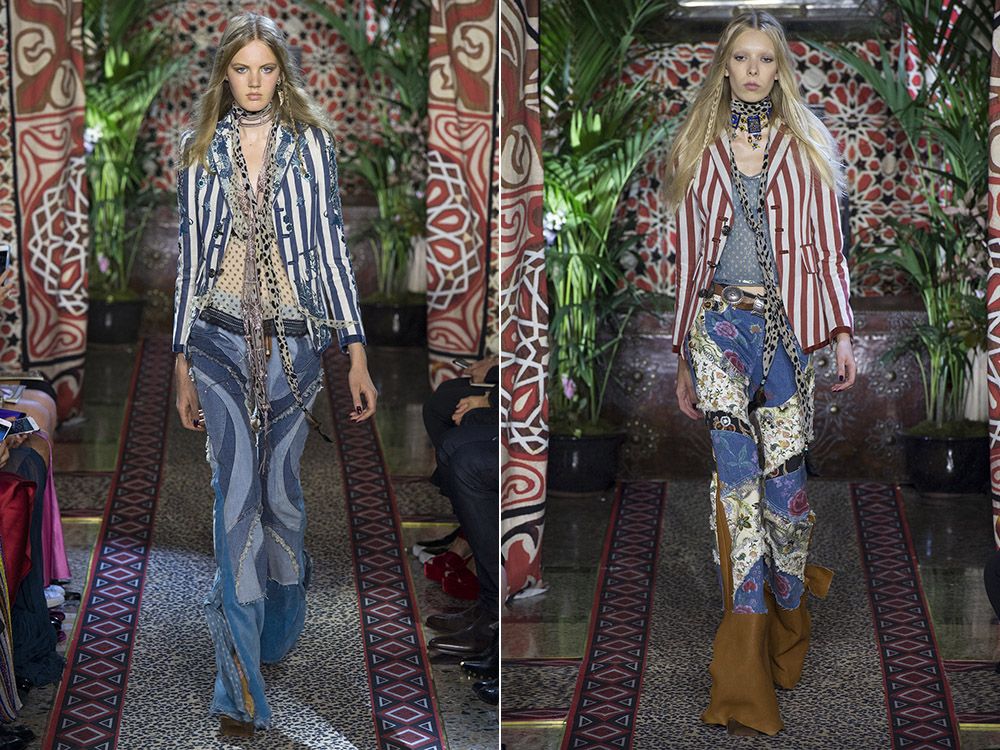 But there are rules: the main color of the trousers and the shade of the patches should be combined.
Fashionable jeans decor
So that the jeans do not look too boring, the designers decided to supplement them with bright applique, embroidery, fringe, sequins and metal fittings.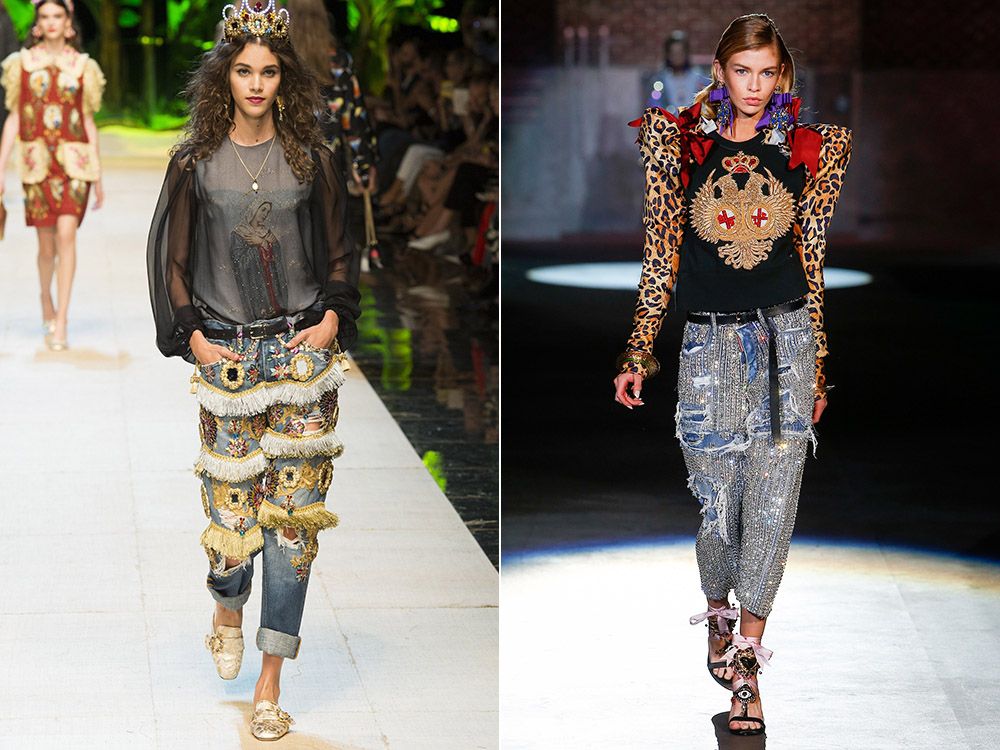 Some designers decided to revive fashionable in the 90s patches. Only if earlier they covered holes, now patches have become an independent trend. Sewn on pockets and knees, they look spectacular on any jeans, regardless of style and style.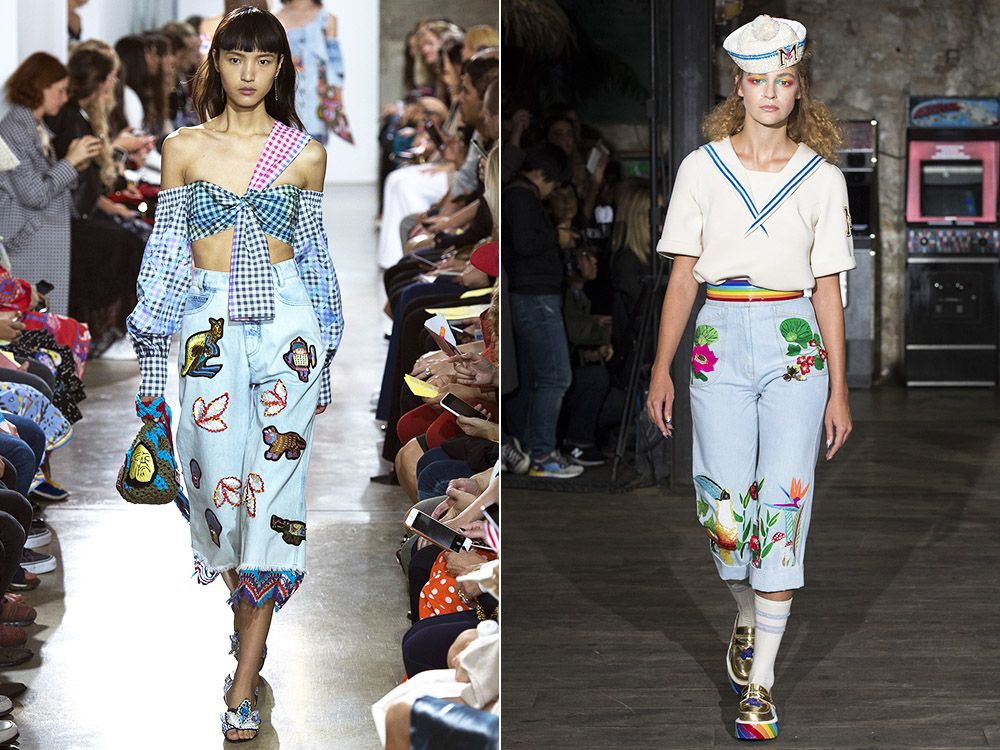 Fashionable jeans in the spring-summer 2017 season give you complete freedom of choice. You can mix them with any clothes and always be on top. Do not be afraid to copy even the craziest ideas from the catwalks, because everyday fashion in the wake of the high is becoming more and more unusual and original.