Content
---
---
If you will hardly surprise anyone with bare-chested models now, then trendy layering or a dress worn over trousers looks very fresh and unusual. Fashionable dresses are far from classics – from now on, even in the office you will have to go in an outfit with lace and frills. So that by the beginning of spring you would be aware of the latest fashion trends, it's worth now to figure out what's what.
Bright dresses
When, if not in the summer, to please yourself with rich rich colors? Such colors are associated with fruits, clear sea water and sunlit streets. At fashion shows, the catwalks literally bloomed in yellow, red, blue and blue. But in the first place was still a noble scarlet color, to which shades of coral, wine and cherry were mixed.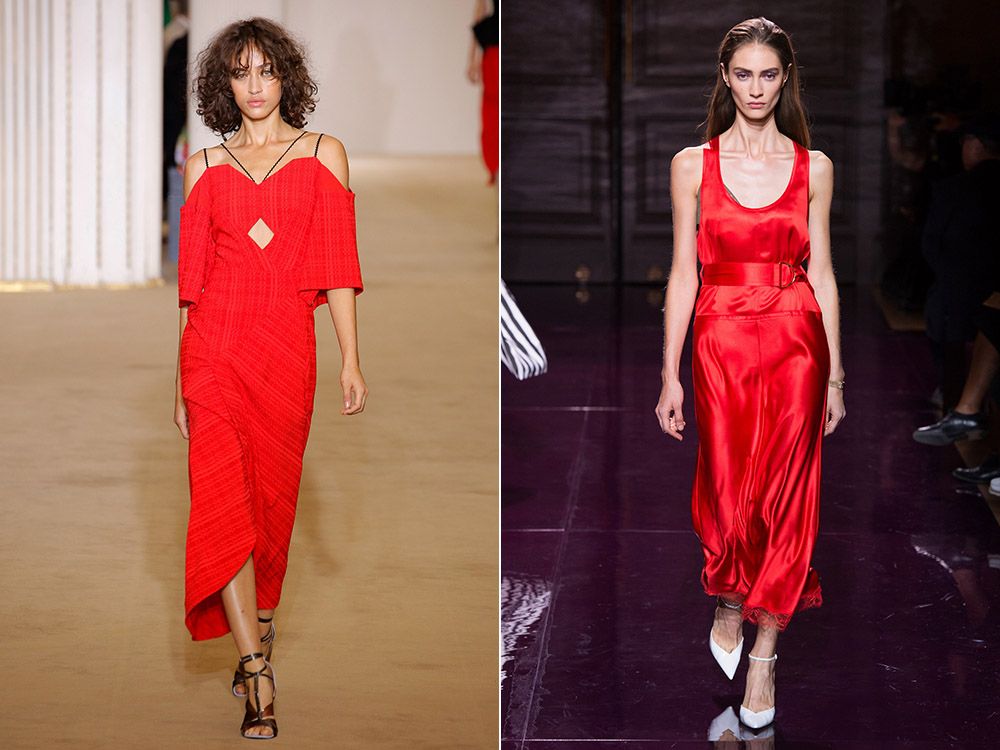 Christian Siriano, Emilio Pucci, Bottega Veneta and Victoria Beckham have included Flame in their collections this season. Burning flaming red shade looked good on both evening and everyday dresses.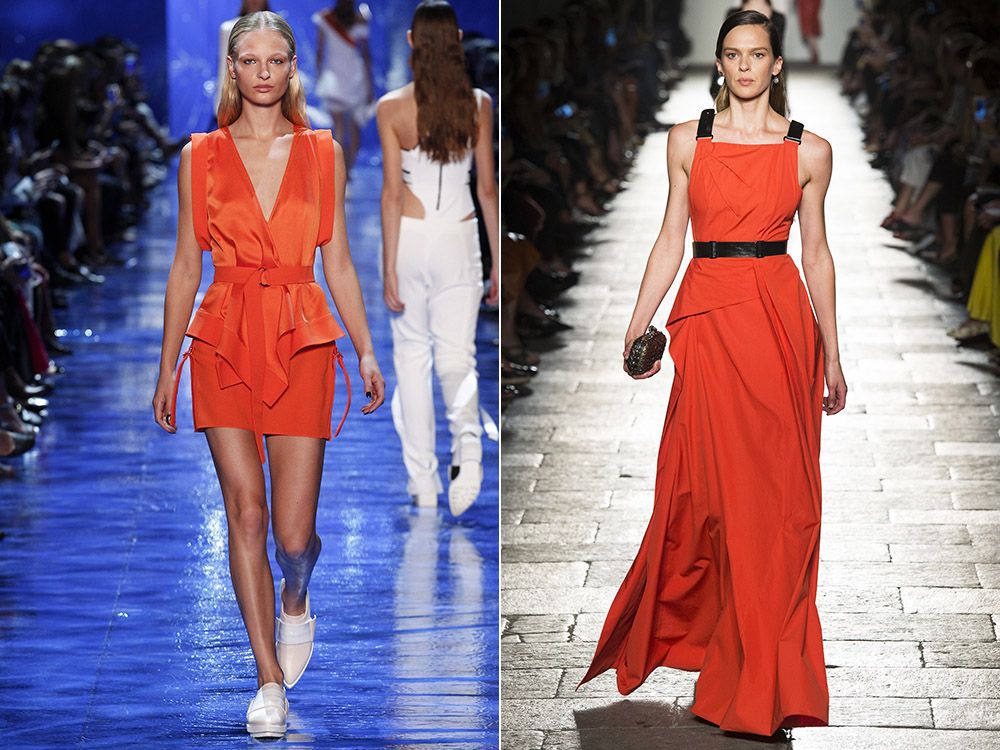 Esсada, Lanvin, Prabal Gurung relied on deep blue, which this season is represented by a shade of Lapis Blue. The lack of decor and the simple silhouette of the dresses only emphasized the incredibly deep blue tint.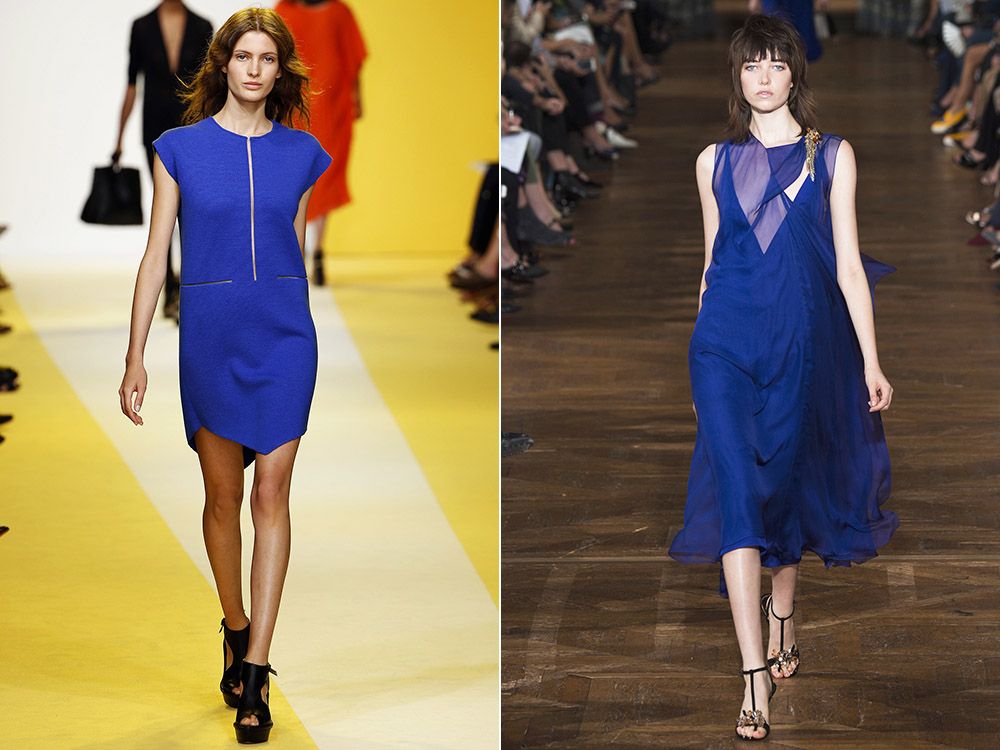 Orange and yellow are another trendy colors of the spring-summer 2017 season. Emilio Pucci, Jenny Packham, Lacoste presented monochrome dresses in rich, sunny shades that will just match the summer heat.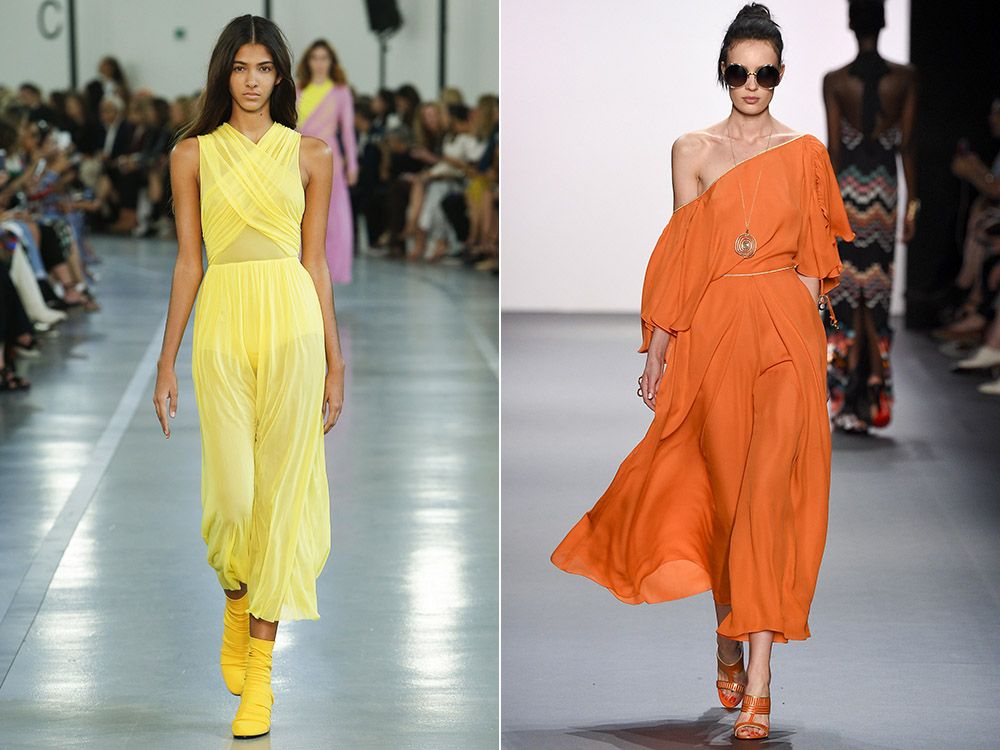 Black and white monochrome
The spring-summer season is a time of bright saturated shades. Despite this, dresses in black and white can also find their place in the wardrobe. These colors are universal, look good on dresses of any style and style. Both in the evening and on the daily, adapted to daily wear.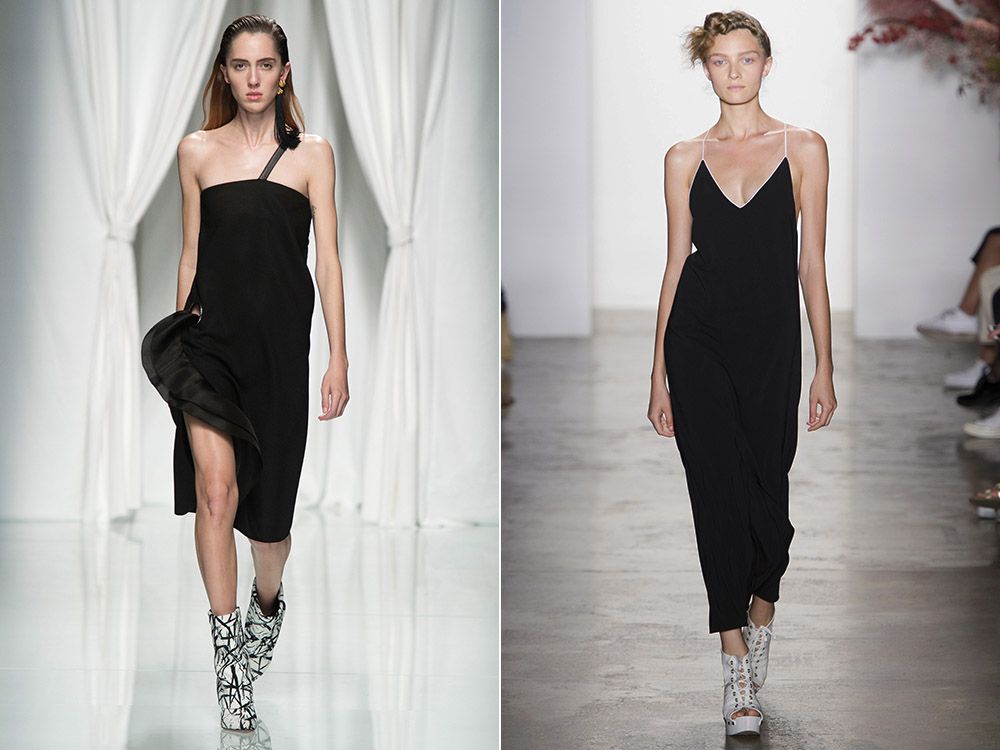 If Adam Selman, Alexander Wang and Barbara Casasola preferred the classic black color, then Marissa Webb, Chloe, Christian Siriano and Jil Sander chose a dairy and snow-white whole.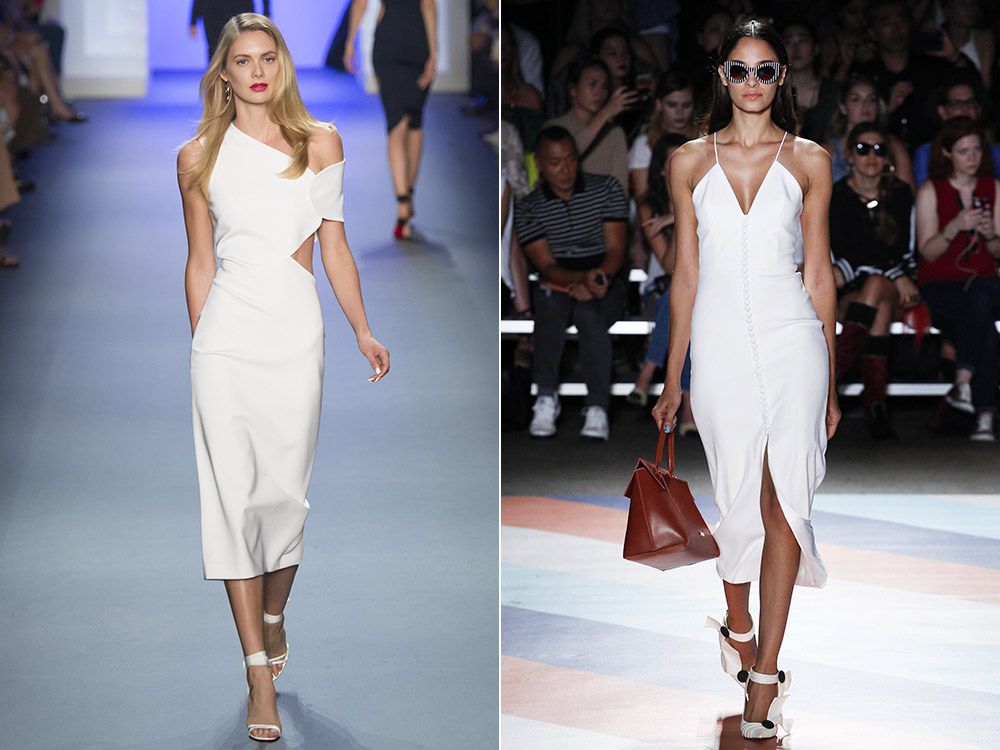 Many designers have relied on a graphic combination of black and white, which was represented by all kinds of variations: from peas and cages, to stripes and rhombs.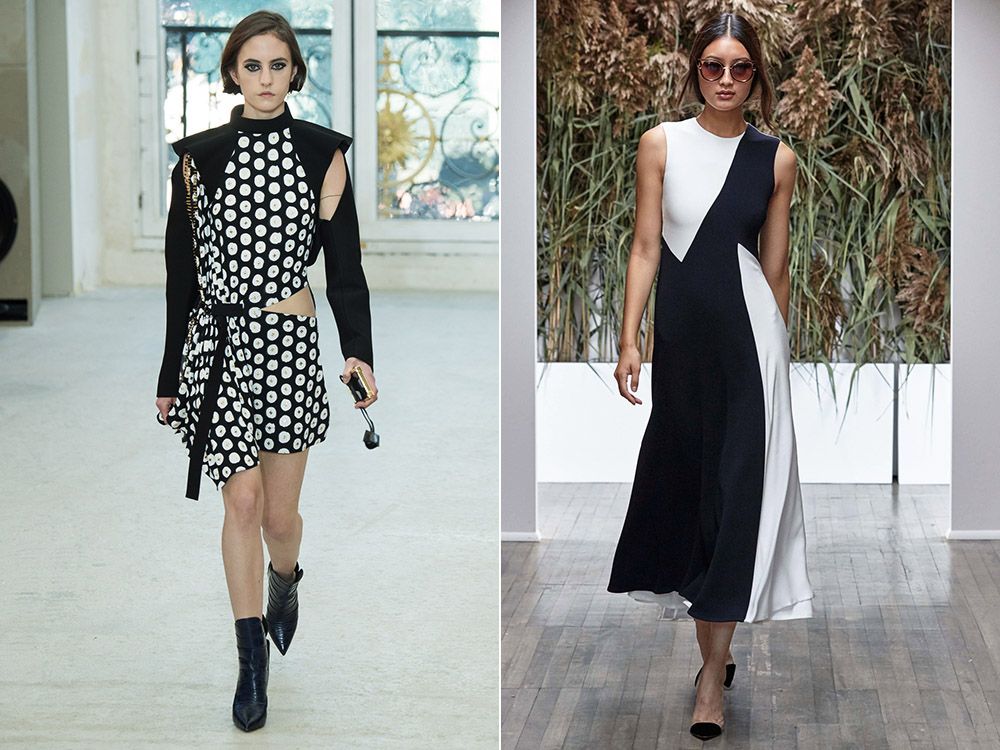 Carolina Herrera has created a whole line of black and white striped dresses and this year's fashionable Visha cage.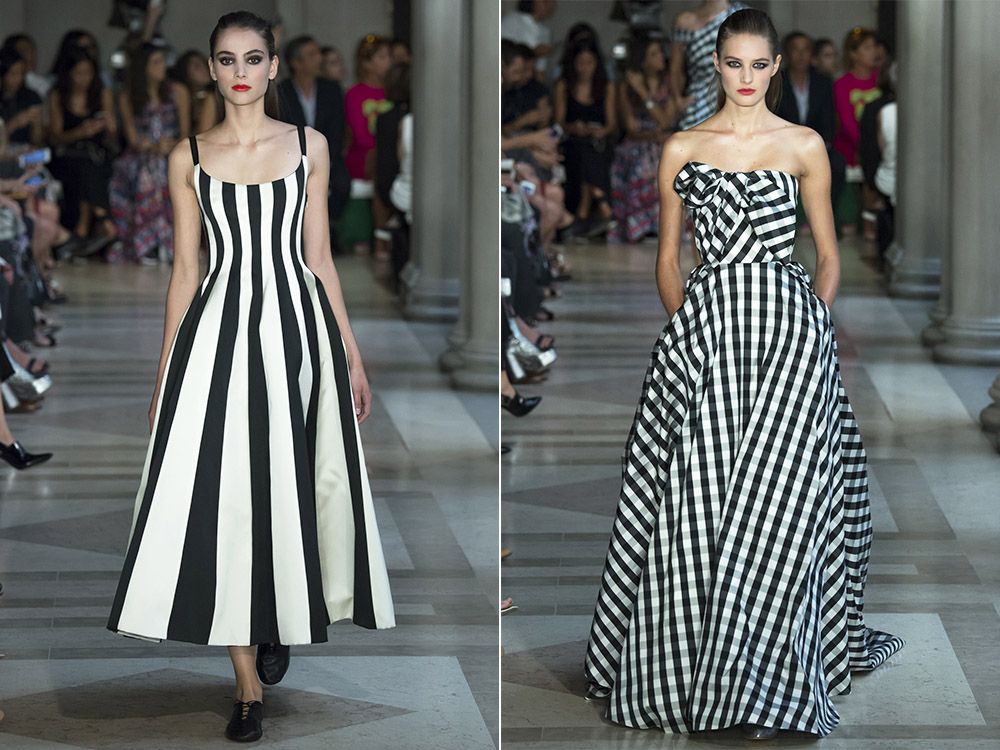 Transparent dresses
Organza, silk, lace, chiffon and tulmarine firmly took the place of the key fabrics of the spring-summer season 2017. The task for the upcoming season is to learn how to wear transparent dresses so as not to look too defiant in them. This can be learned from the collections of Ermanno Scervino and Fendi. To feel more confident, choose a free dress. The thinnest fabric will not fit the body, and you will look seductive, but it did not go.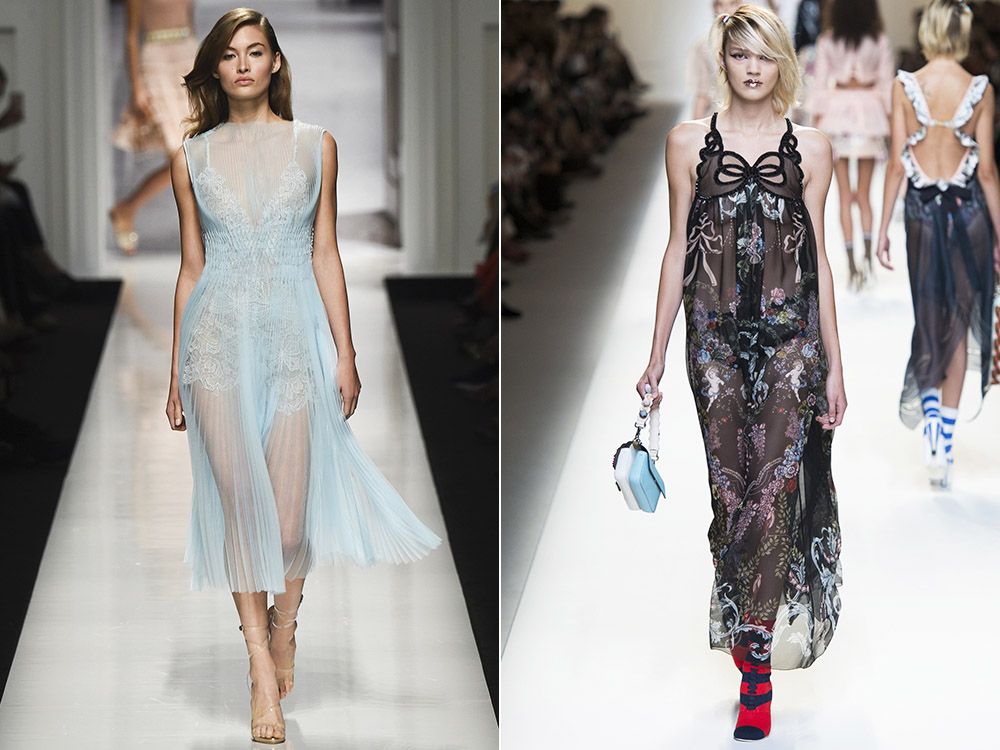 A good lesson was given by Alexander McQueen, Dolce&Gabbana and John Galliano. In their opinion, the most "safe" option is to wear underwear to match the dress. The style should be as closed as possible: for example, high panties with a classic bra or top. This option least focuses on the transparency of the dress.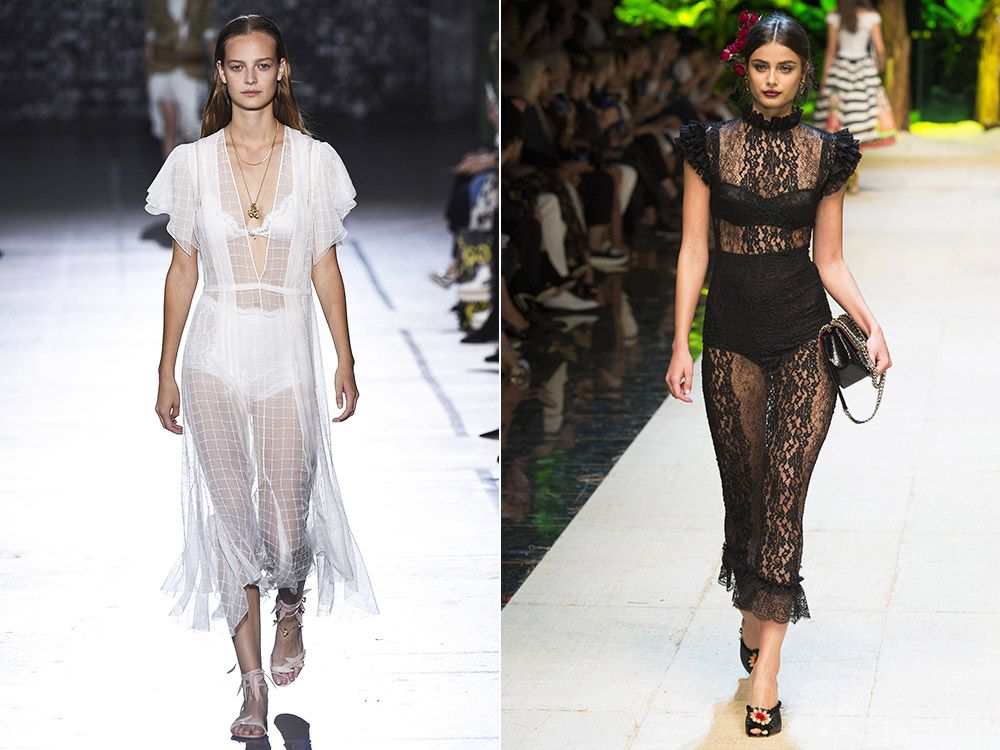 Monique Lhuillier and Jenny Packham provided thick covers to match the dress and embroidery that covers what needs to be hidden. Therefore, in such dresses you can even come to semi-official events.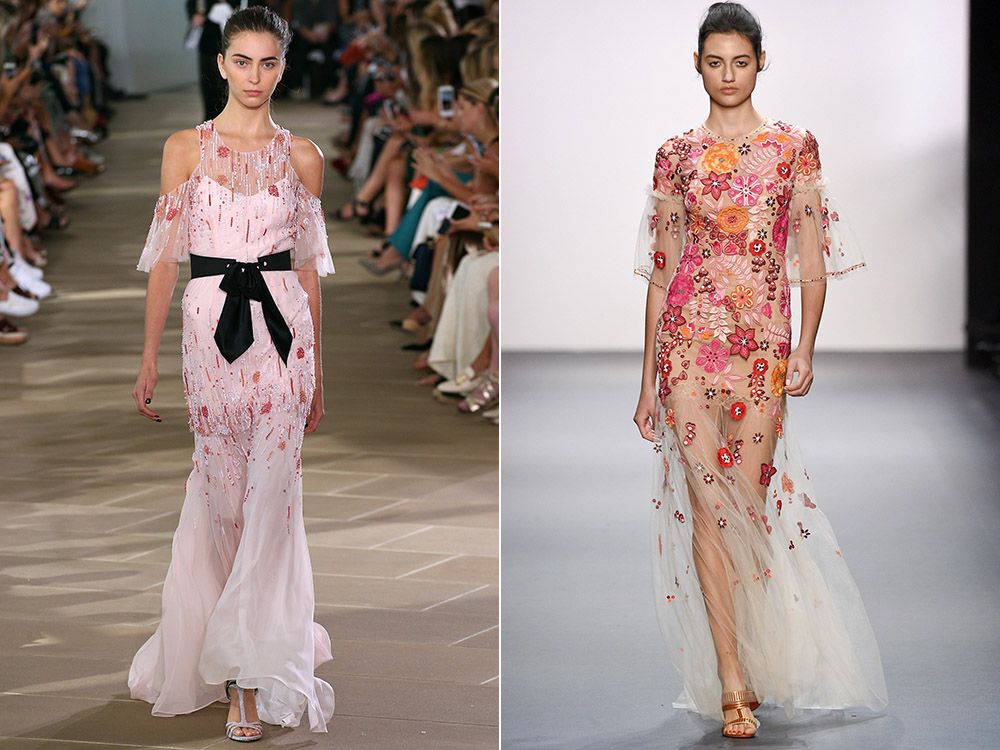 Ruffle & Fringed Dresses
Masculinity and oversize are a thing of the past, replaced by elegance and femininity. Smooth lines, neat decor of dresses in the form of quilling and fringe fashionable this season – these are what we have been missing for several seasons.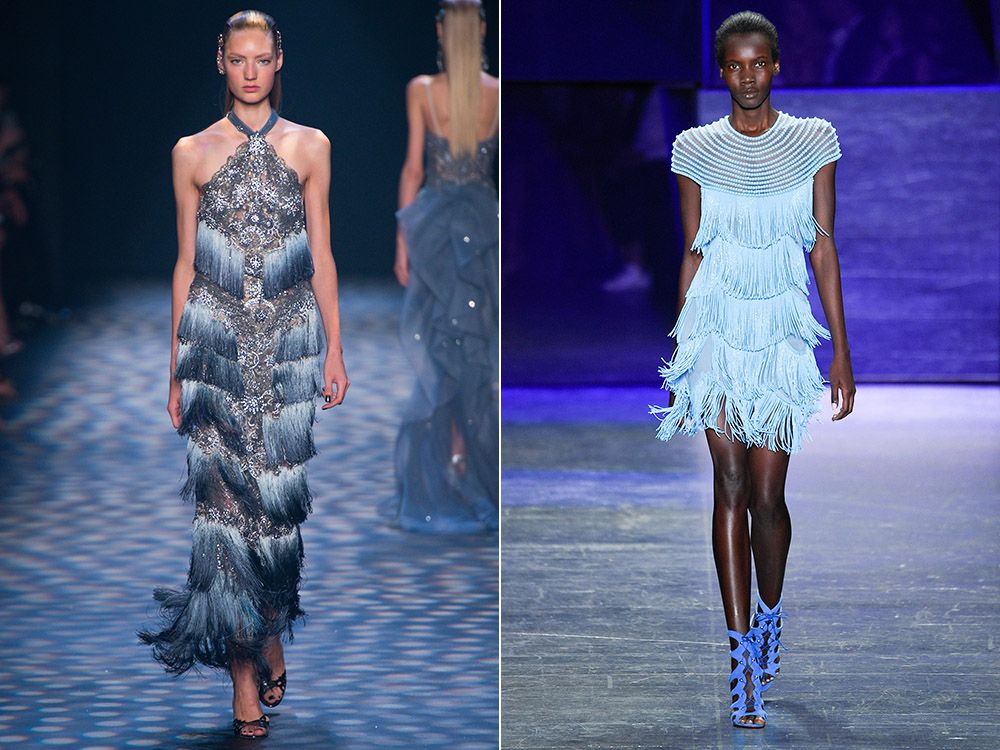 Bright colors, flying fabrics, flounces and chaste cutouts created a summer mood on the podium. Fluttering when walking, this splendor made the walk of models smooth and feminine.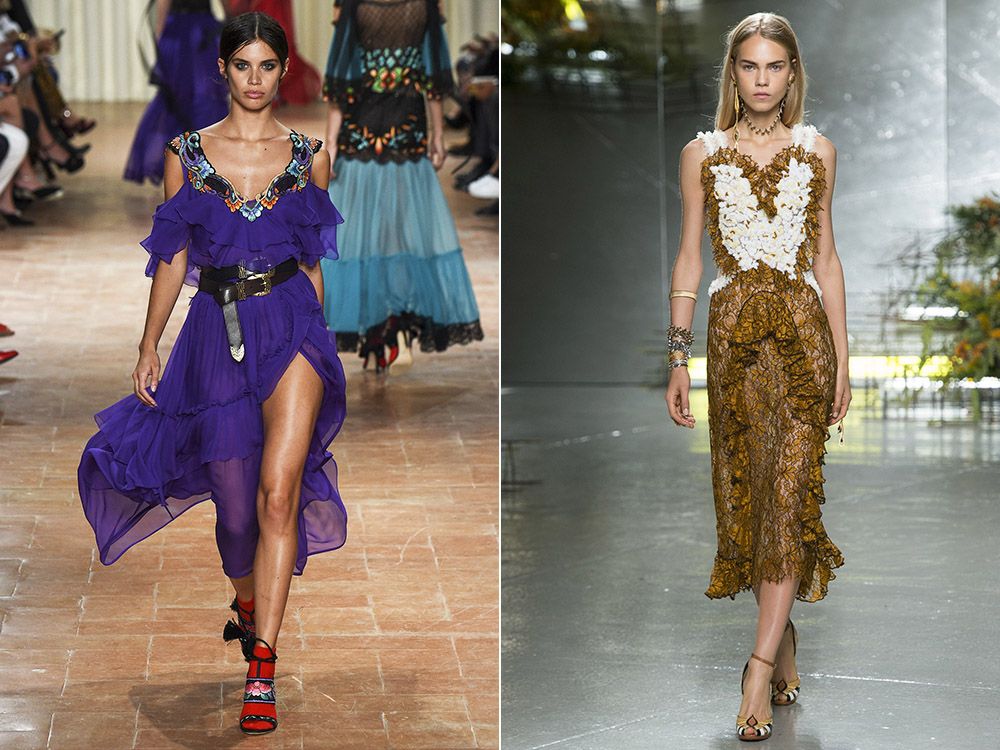 Ruffles decorated not only evening dresses on the floor, but also more casual models and business dresses that are suitable even for a strict office dress code.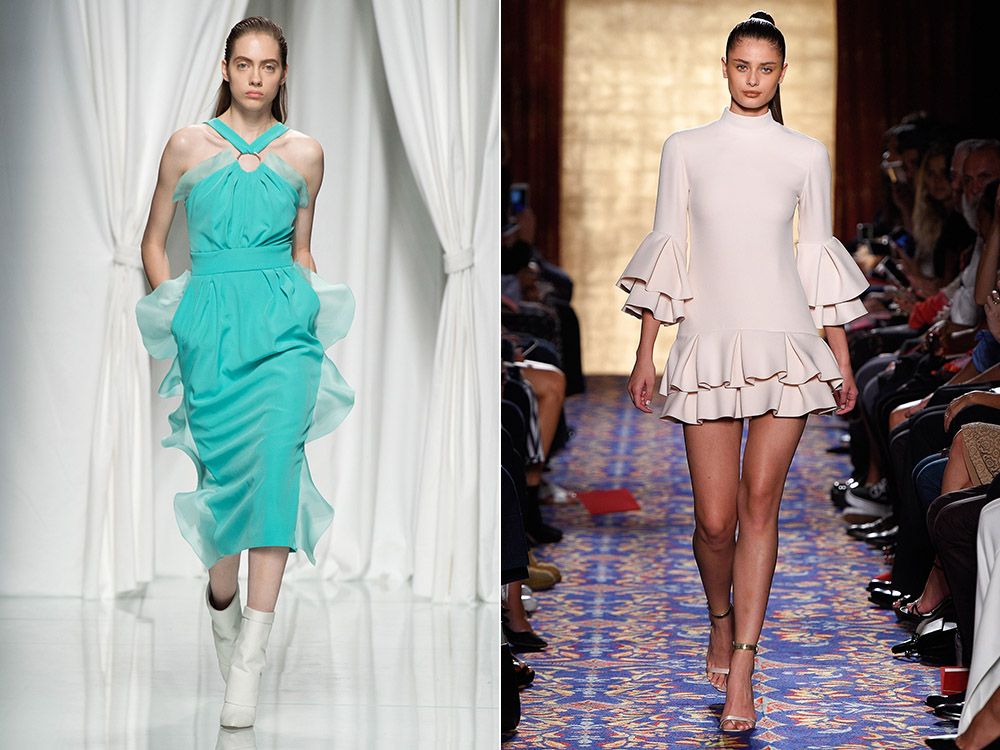 One can say without exaggeration: frills decorated most of the fashion shows. Alberta Ferretti, Emanuel Ungaro, Rodarte, Diesel Black Gold, Dolce&Gabbana, Fausto Puglisi, Rochas, Alexander McQueen and many other fashion houses included in their collections dresses decorated with all kinds of ruffles, frills and frills.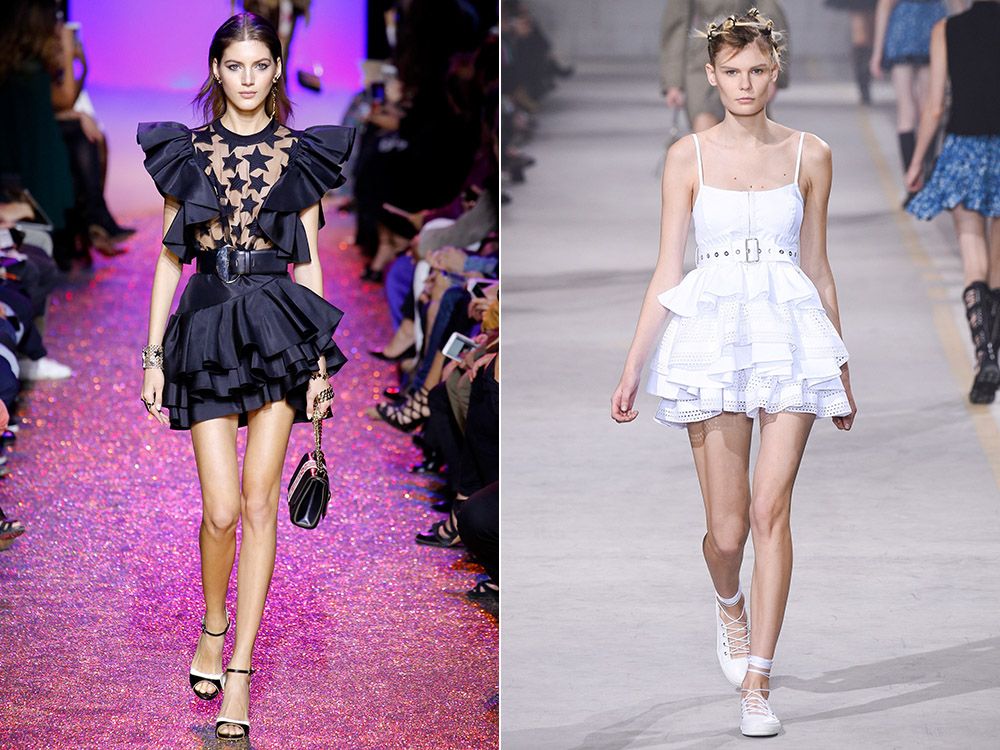 Floral Dresses
Leaflets, flowers and other "plant world" annually enters the top trends of the spring-summer season. In 2017, the trend will be both a regular floristic applique and motifs stylized as real blooming gardens and green meadows with sunflowers and fluttering butterflies.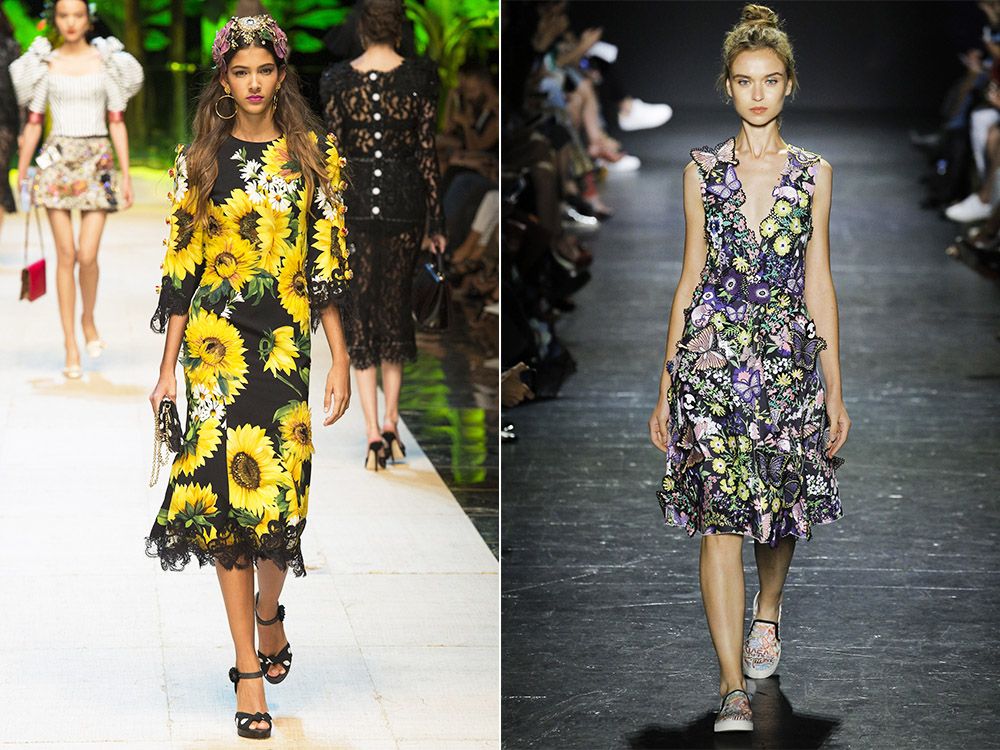 Dolce has presented more modern 3D applications for more than a season&Gabbana, Jason Wu and Naeem Khan connected to them. The flowers on the dresses looked vibrant and voluminous, it seemed that butterflies were about to fly in and begin to collect sweet nectar.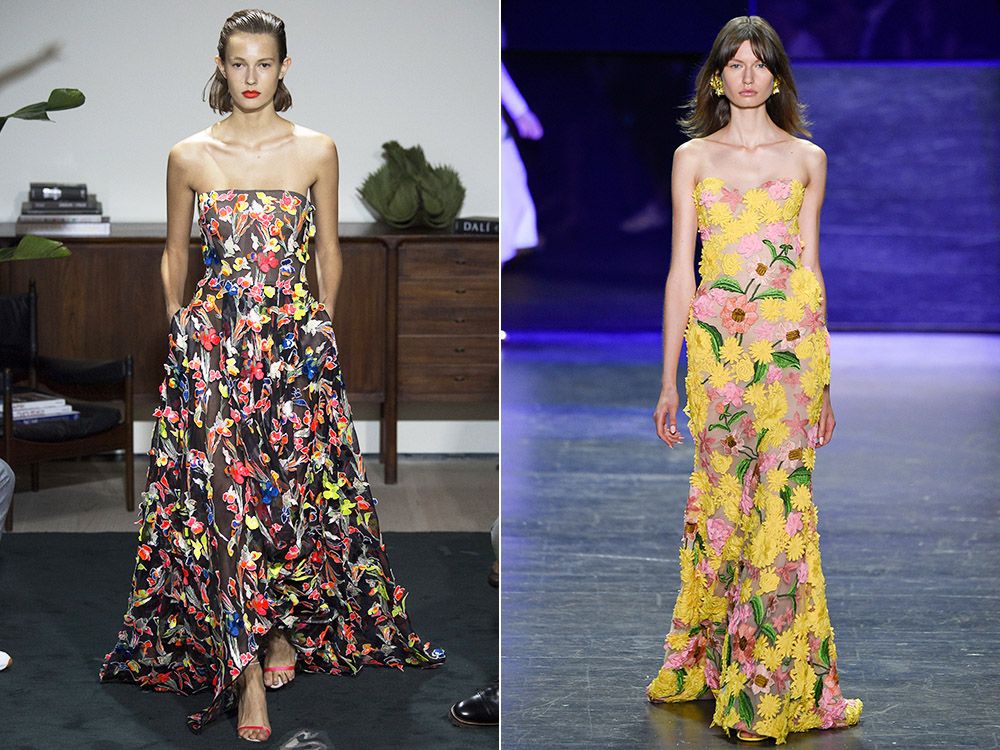 In fashion as a full floral total look with large rosebuds, blooming cornflowers, daisies and poppies, as well as individual floral nuances that add a flirty accent to the image.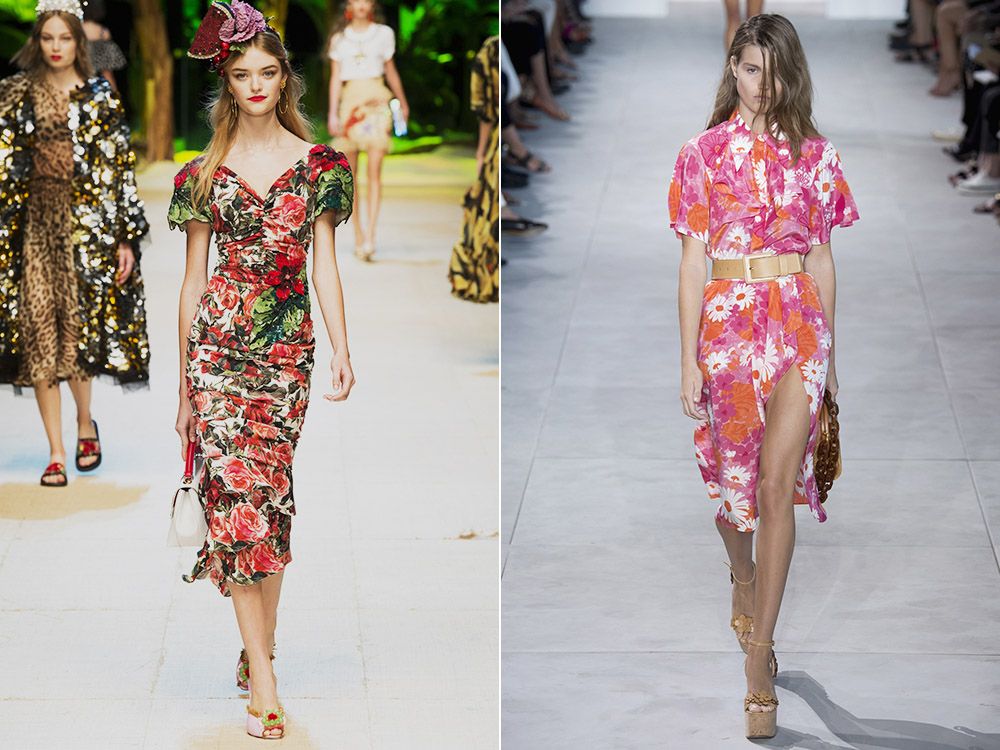 Retro motifs
If you like the fashionable 60-80s of the last century, the spring-summer 2017 season will delight you with an abundance of memories from the past. The main trend is voluminous sleeves-puffs and "flashlights", sometimes reaching impressive sizes. The emphasis on a round shoulder line and magnificent sleeves was made by Jil Sander, Isabel Marant, Blumarine, Daks, Kenzo.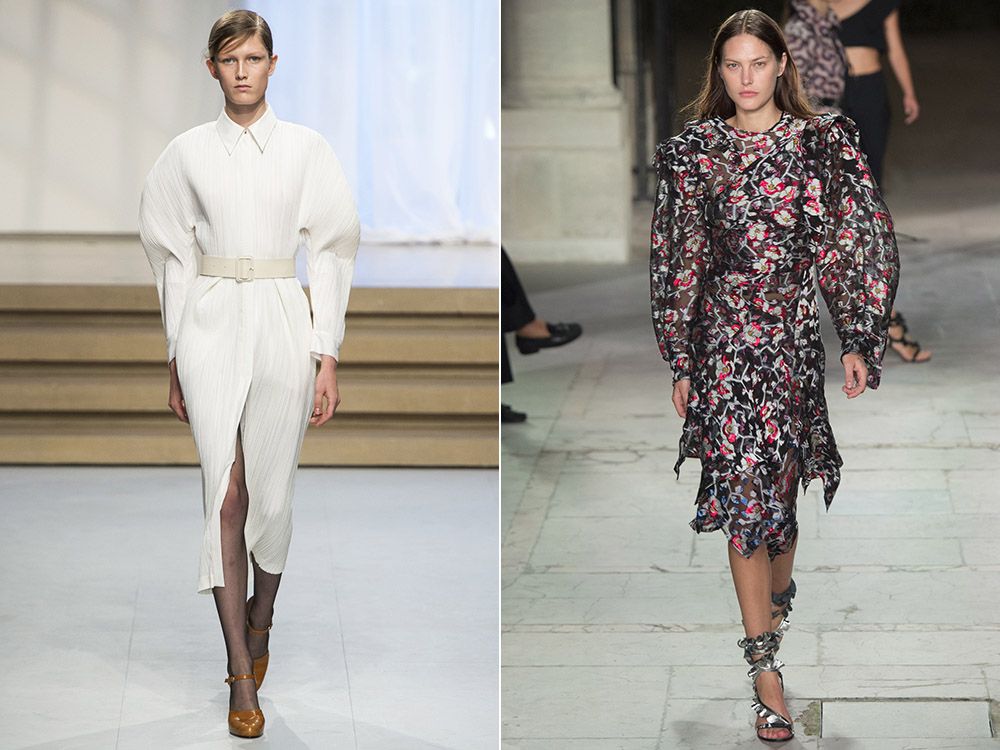 Feminine retro images were presented by both Carolina Herrera and Michael Kors. The models were dressed in the most closed dresses of medium length with a small print..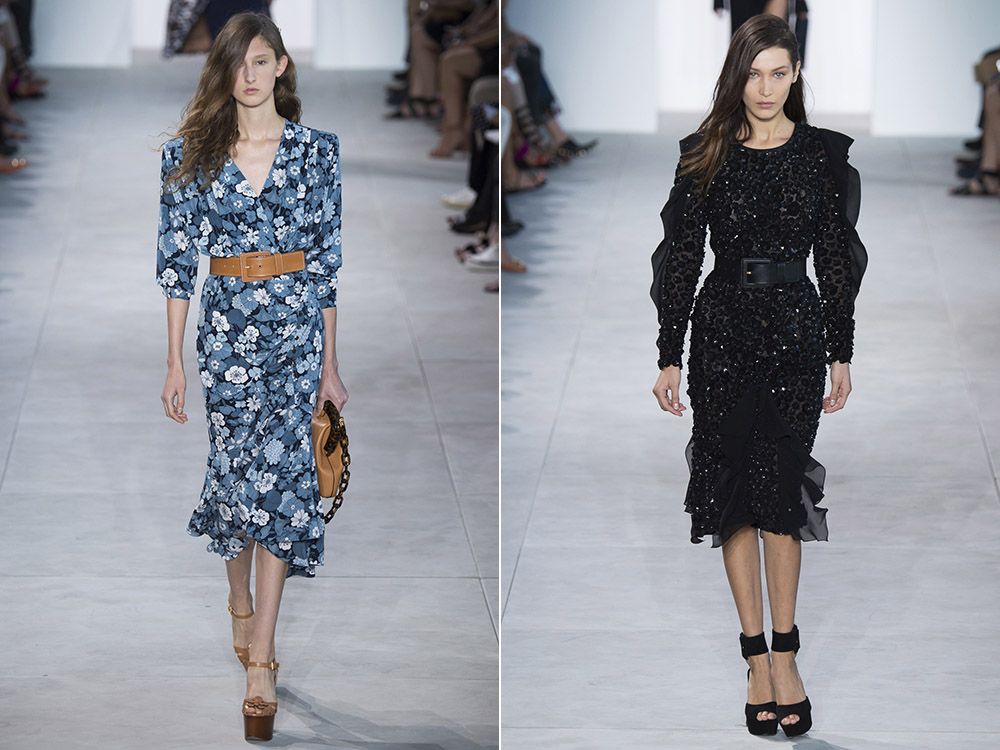 Metallic dresses
The flickering of molten gold and silver, the effect of foil, shiny leather with a texture under the "reptile skin", the decor from sequins – all this brought "metal dresses" to the top trends of the spring-summer 2017 season.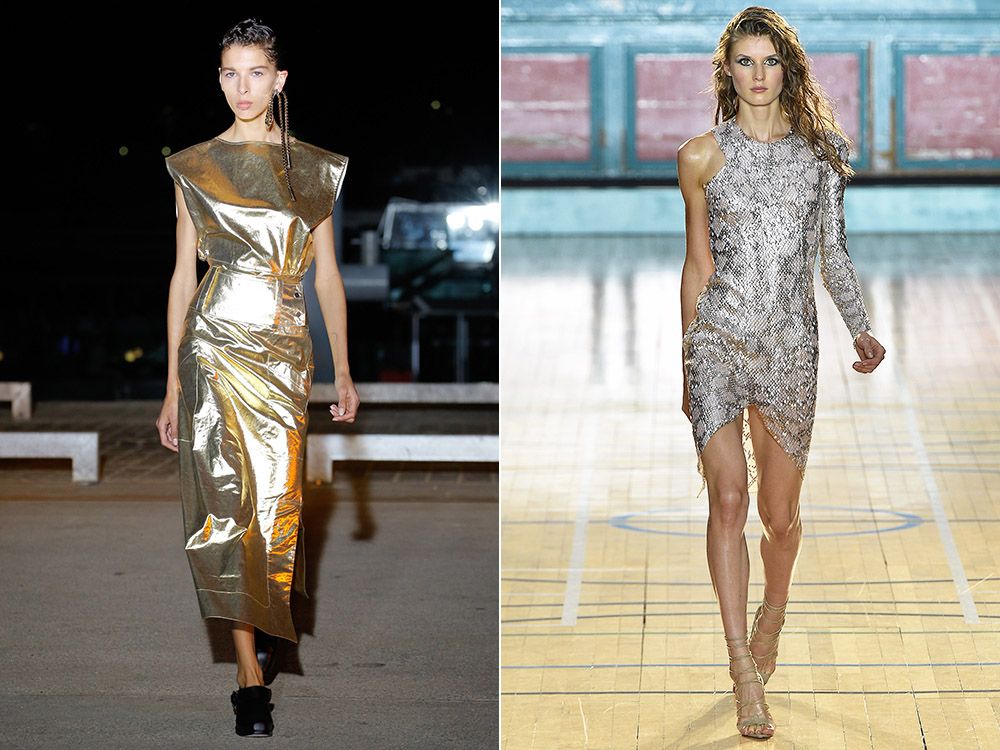 Moreover, if before we wore metallized organza, shiny silk and glitter exclusively for the exit, now "metal dresses" can also make up an everyday look.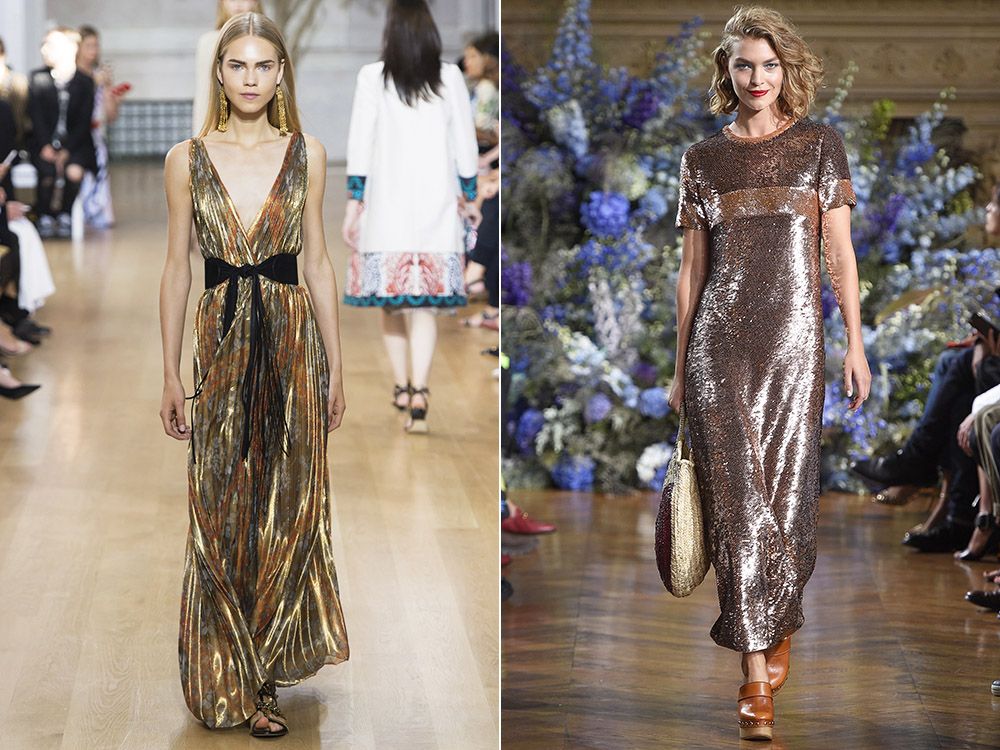 Leather dresses
Along with silk, chiffon, cotton and knitwear, designers actively used leather – a material traditional for the autumn-winter season. Only in the warm season, colored leather will set the tone, as well as dresses with ruffles, ruffles and other elements traditional for the spring-summer season.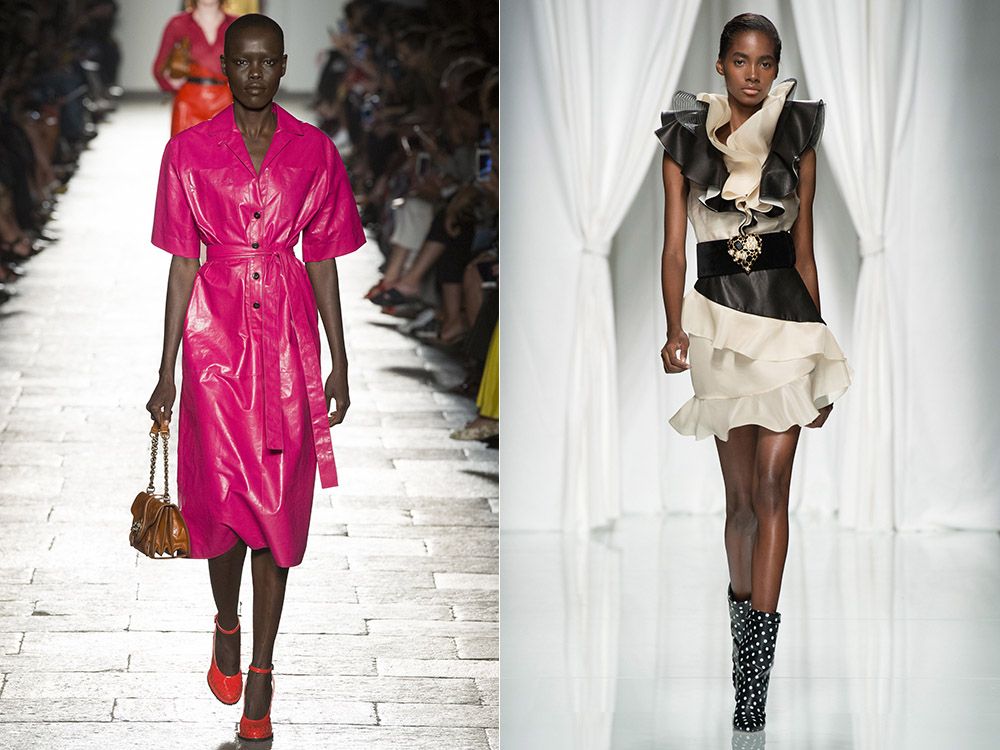 The fashion for the classic black color has not gone anywhere. Emanuel Ungaro, Christian Dior, Dennis Basso, Louis Vuitton, Saint Laurent showed us the usual black leather dresses that are fully consistent with the trends of the spring-summer season 2017.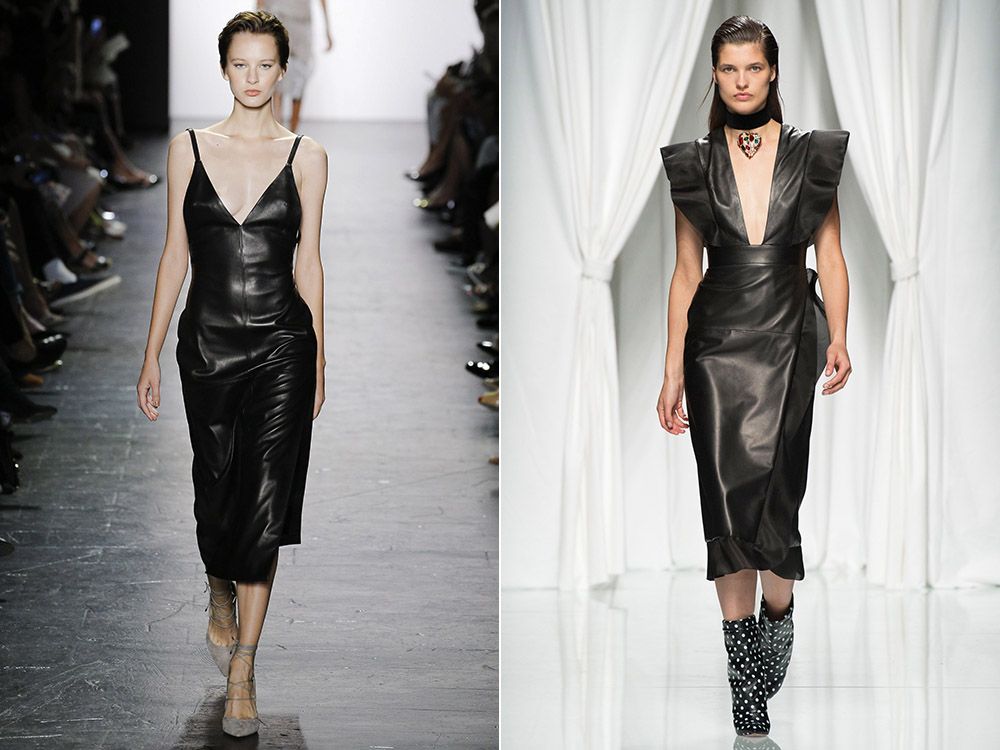 Layered and sophisticated cut
If all the previous decisions seemed too banal to you, then it's time to look at dresses that are more reminiscent of lasagna. A lot of layers, colors, fabrics, textures – designers can complicate things no worse than outstanding chefs. Alberta Ferrretti, Rochas and Daks even decided to combine several things into one toilet at once.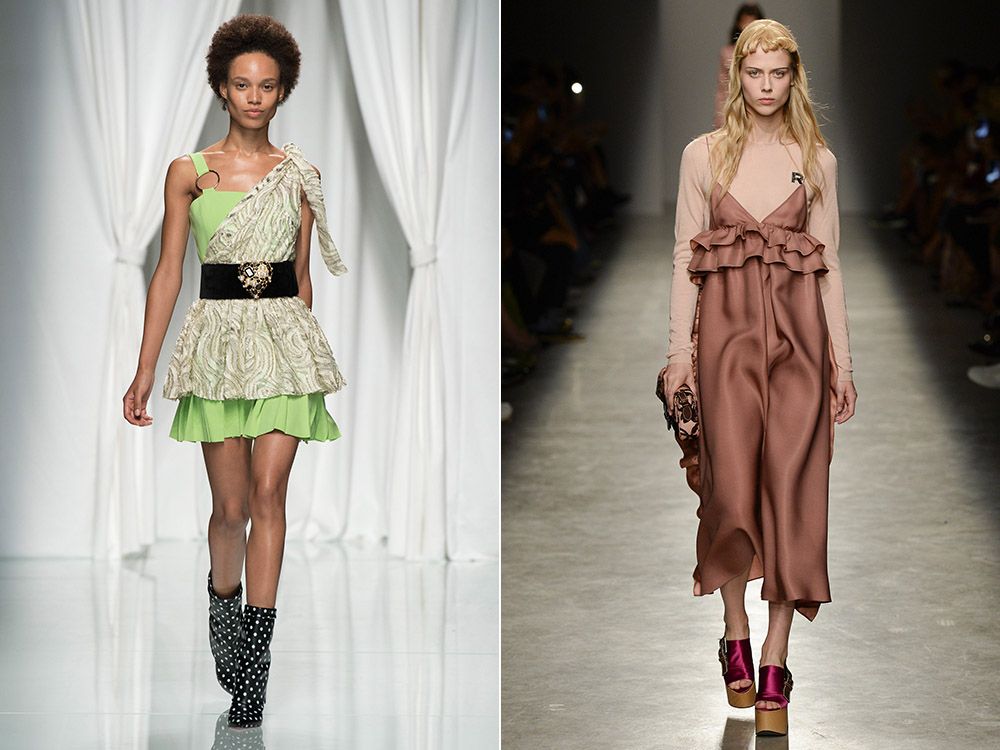 Antonio Marras and Roberto Cavalli decided to complicate the dress by combining fabrics sewn using the patchwork technique. Thus, in one image you can see a combination of several prints at once: from simple peas and cages, to complex floral and ethnic motifs.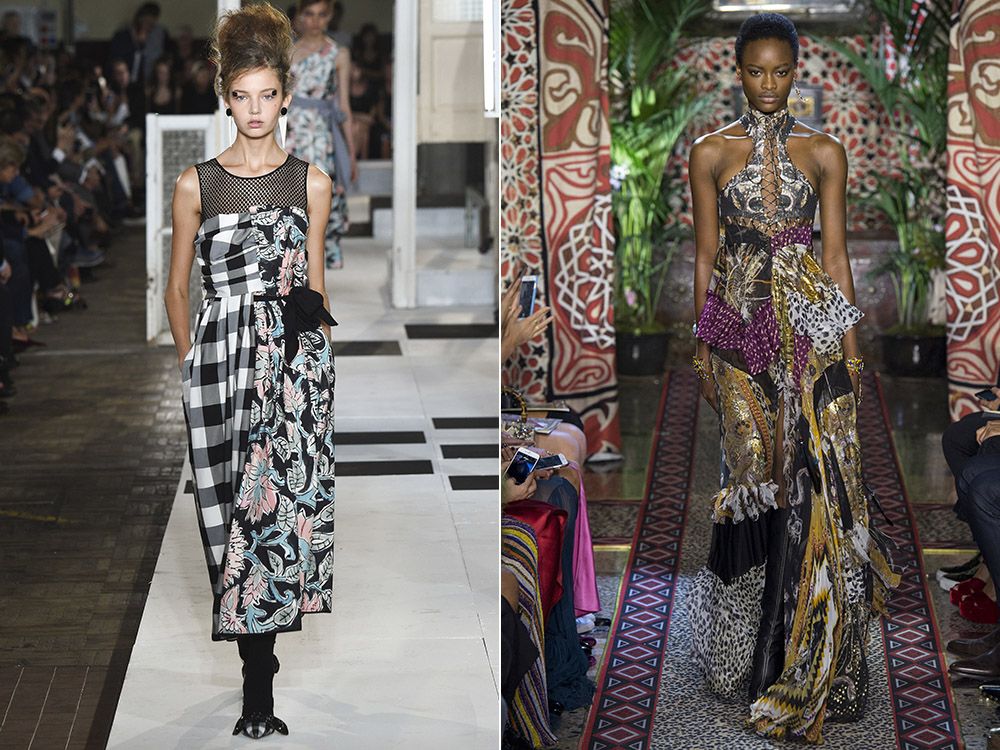 Another new trend of the spring-summer 2017 season is to wear a dress over trousers. Such a set was either precisely matched in color and texture, or was completely different both in style and material.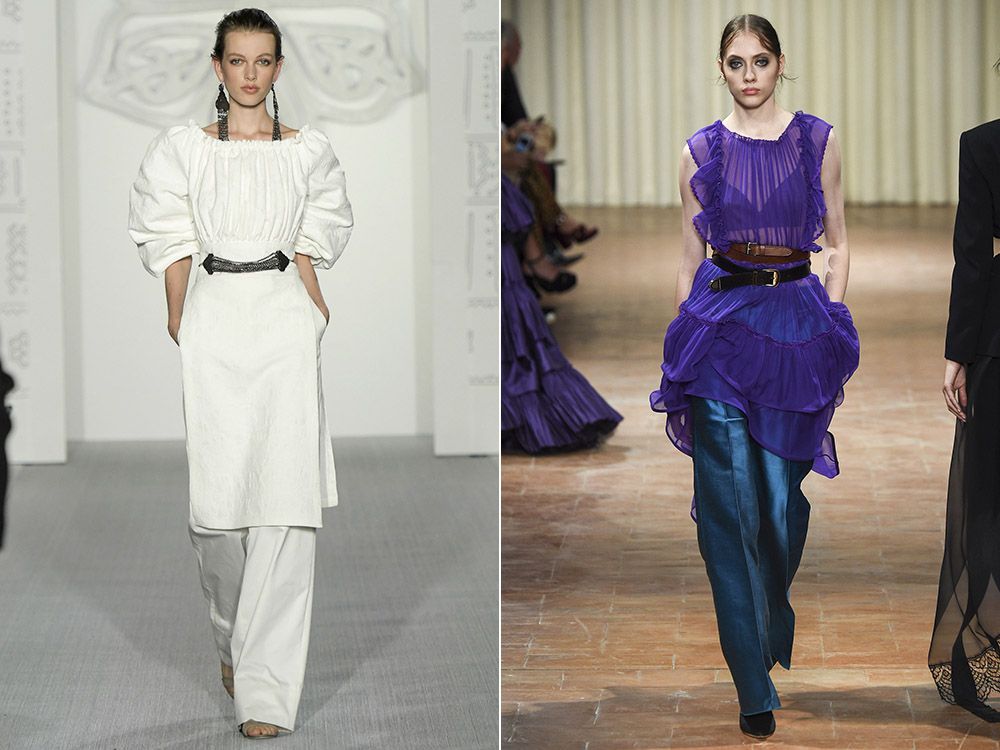 Fashionable dress length
The most popular dress lengths are midi and maxi. If you think that Long Dresses necessarily feminine and romantic, designers will quickly dispel your hunch. Sharpness, provocation, chic – these are the main words that can describe fashionable maxi dresses for the upcoming spring-summer season 2017.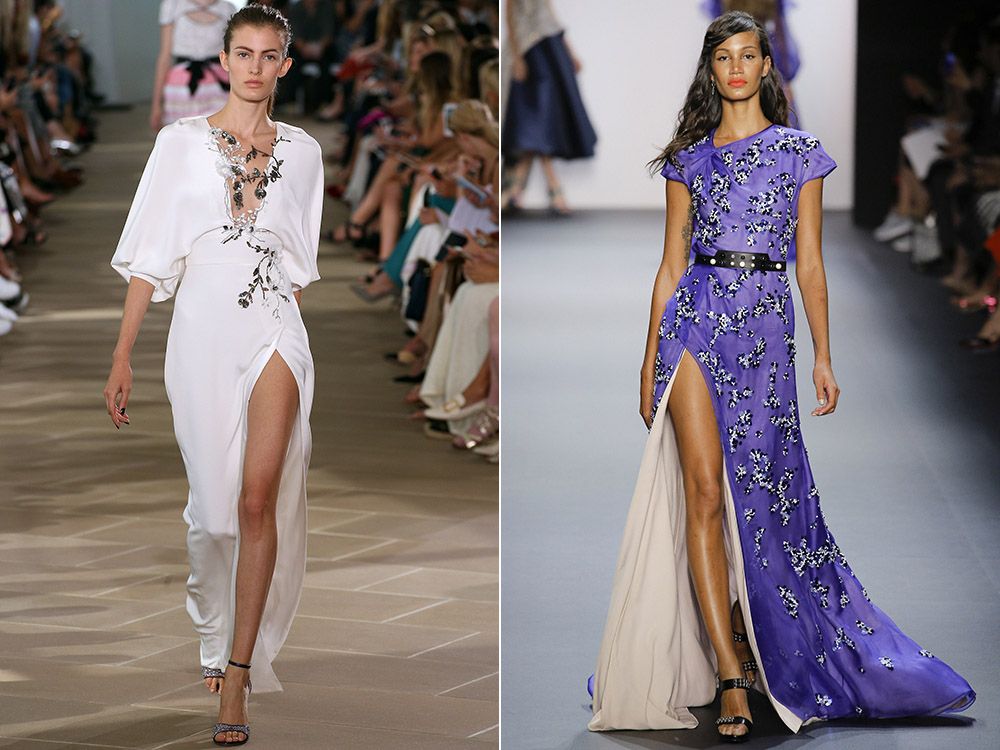 The main detail that many designers beat was the cut from the hip, which allows to present the model's long legs in a favorable light. Balmain, Bibhu Mohapatra, Elie Saab, Monique Lhuillier competed, who will be more frank. The development of this trend was given by other designers. They added even more cuts, turning dresses into a continuous provocation.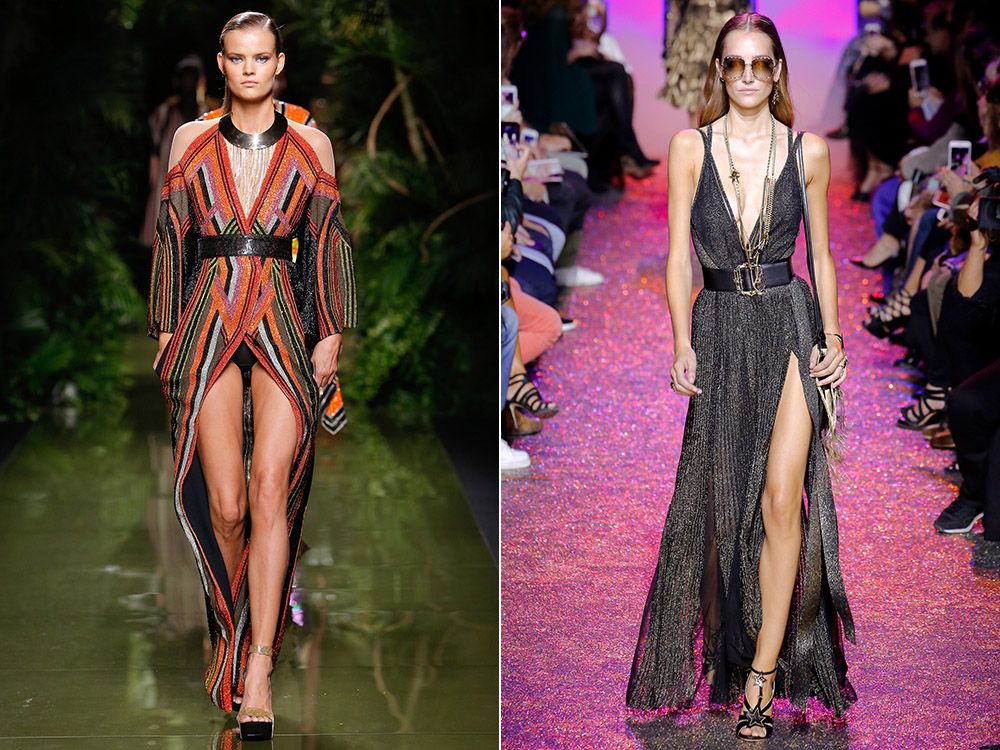 The concept of dresses on the floor was completely redrawn by Julien Macdonald, Emanuel Ungaro and Antonio Berardi. Asymmetric skirt suit designers the most. Short in front and long in back – such a cut seemed to them the best solution.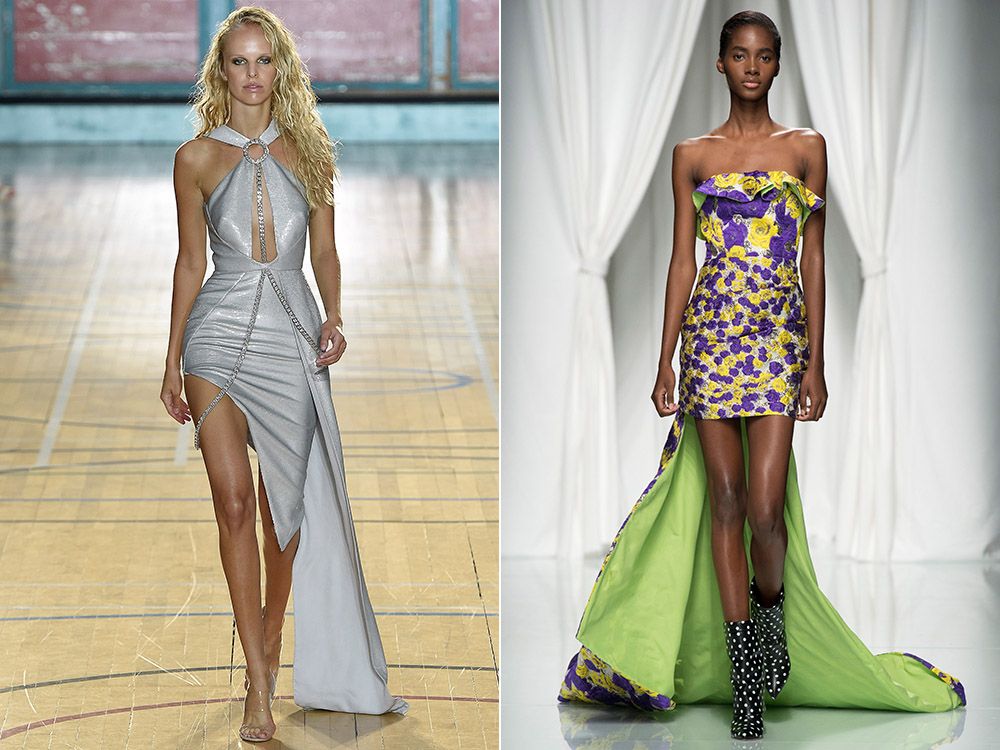 Some designers preferred dresses of medium length, just below the knee, but above the ankle.. Midi Dresses absorbed several trends of the spring-summer 2017 season at once – transparency, sections, frills and voluminous sleeves-puffs.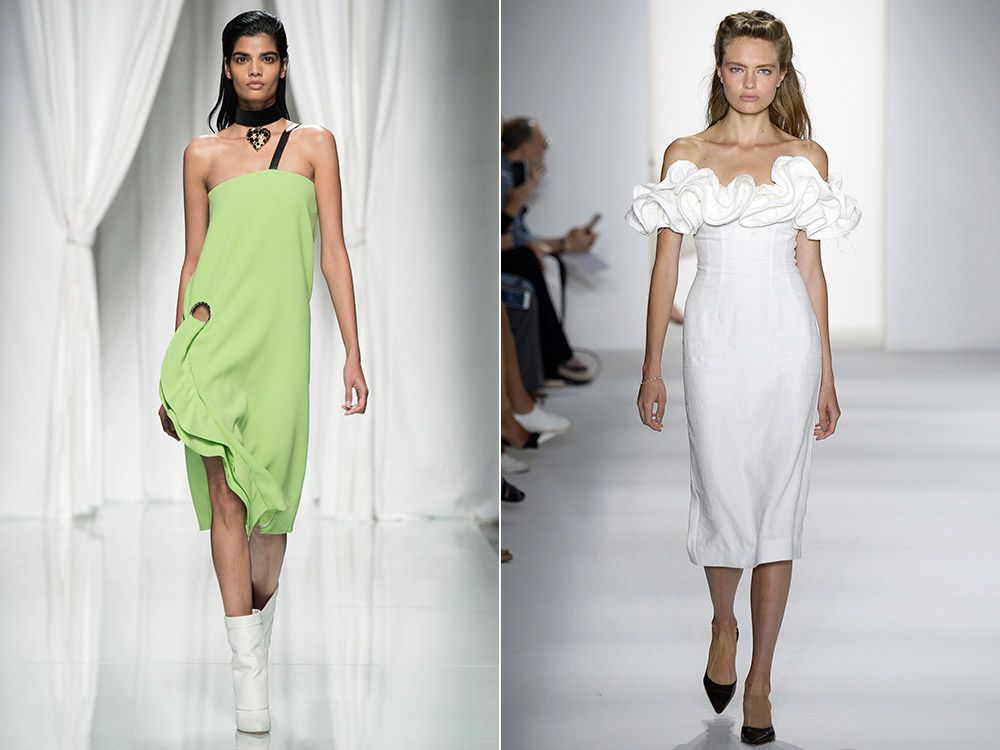 Despite the fact that summer is a time to bare feet, mini dresses was not an example less. Moreover, short dresses show trends that the models are more authentic – the same ruffles and provocative cuts.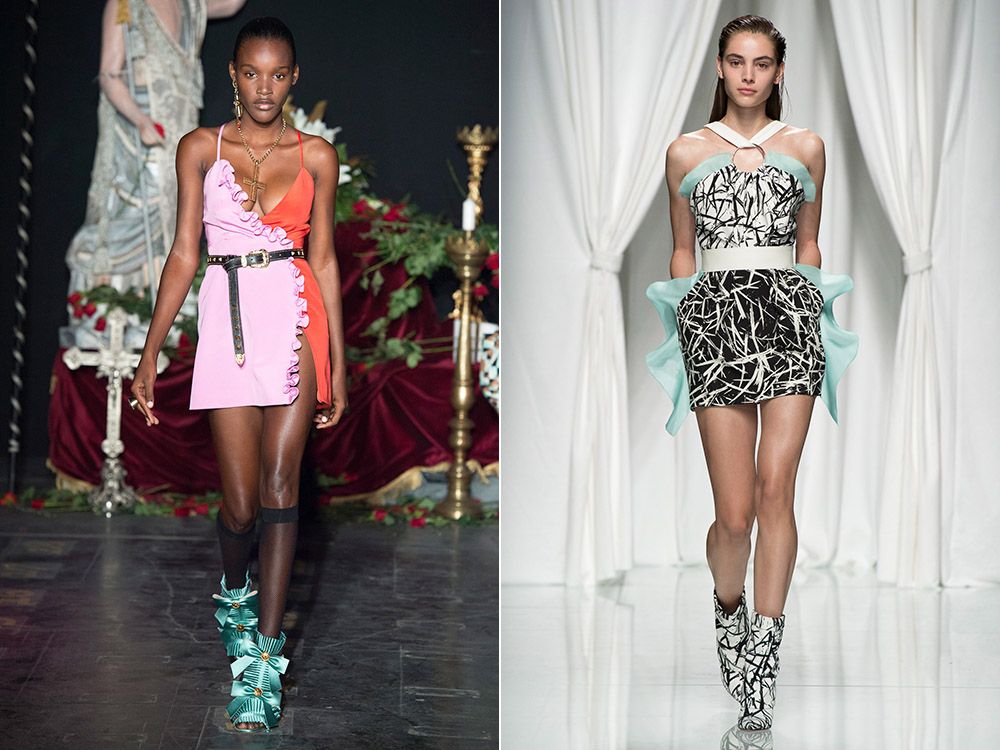 After such a variety, it is simply a sin to complain that there are no ideas for a variety of wardrobe. Fashionable dresses of the spring-summer season 2017 give unlimited scope for creativity – just do not drive your imagination.