Content
---
---
Fashion has ceased to be conservative – more and more new ideas find their way onto the catwalks. But designers do not discard the old achievements, giving new life to retro things. Fashionable trousers in the new season amaze with an abundance of styles – do not be afraid to wear unusual things for you – summer is created in order to transform.
Classic pants
Despite the variety of styles of strict skirts, the basis of the basic wardrobe of a business woman is still a classic cut pants. And so that the classics do not look boring, Emporio Armani, Ermanno Scervino, Hermes, Lanvin, Michael Kors presented modern models of office trousers that are fully consistent with the fashion trends of the spring-summer season 2017.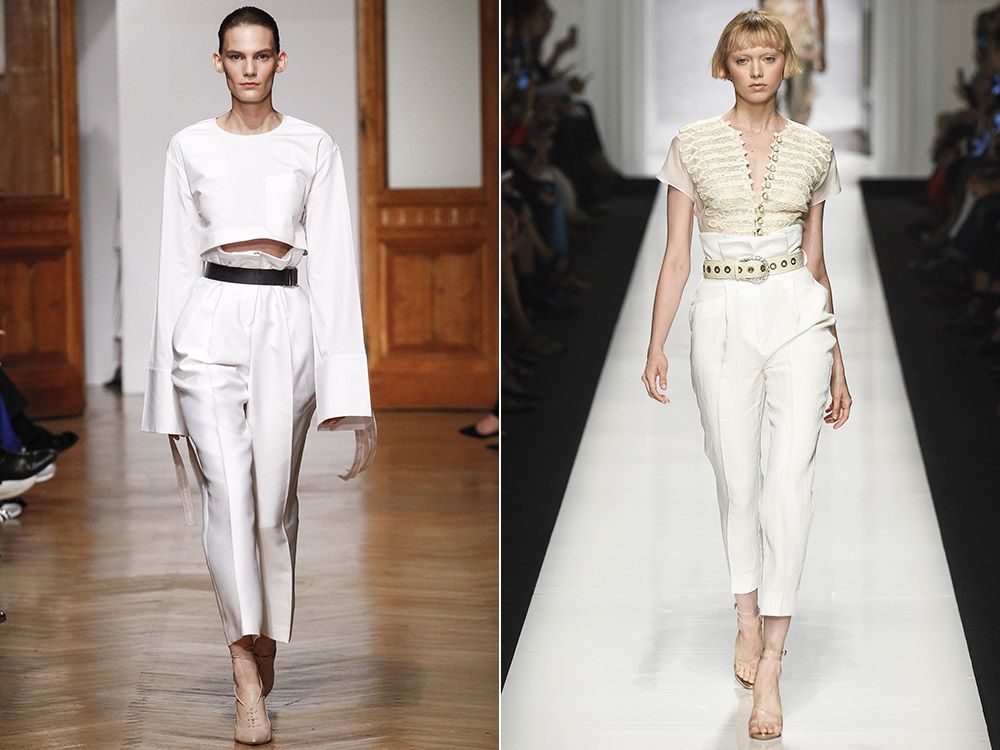 Despite the fact that feminine silhouettes are returning to fashion, mostly classic trousers were presented by straight-cut models, as well as wide trousers in the men's style, with and without arrows. The only thing is that they have a softer and more feminine fit. The length can be any: standard to the ankle or slightly lower, shortened or ultra-long, completely covering the heel.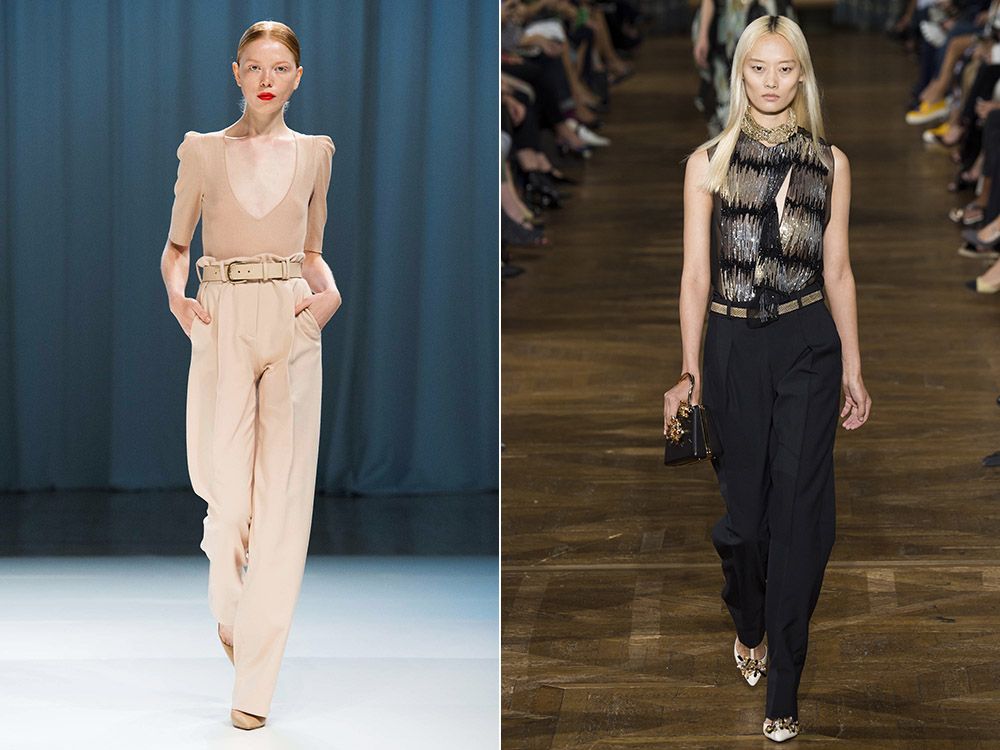 As for the landing, the designers allowed to exist both too high and rather low options. The main thing is that the cut of the trousers was designed in a simple style. The color scheme is calm: mainly black, gray, white and beige.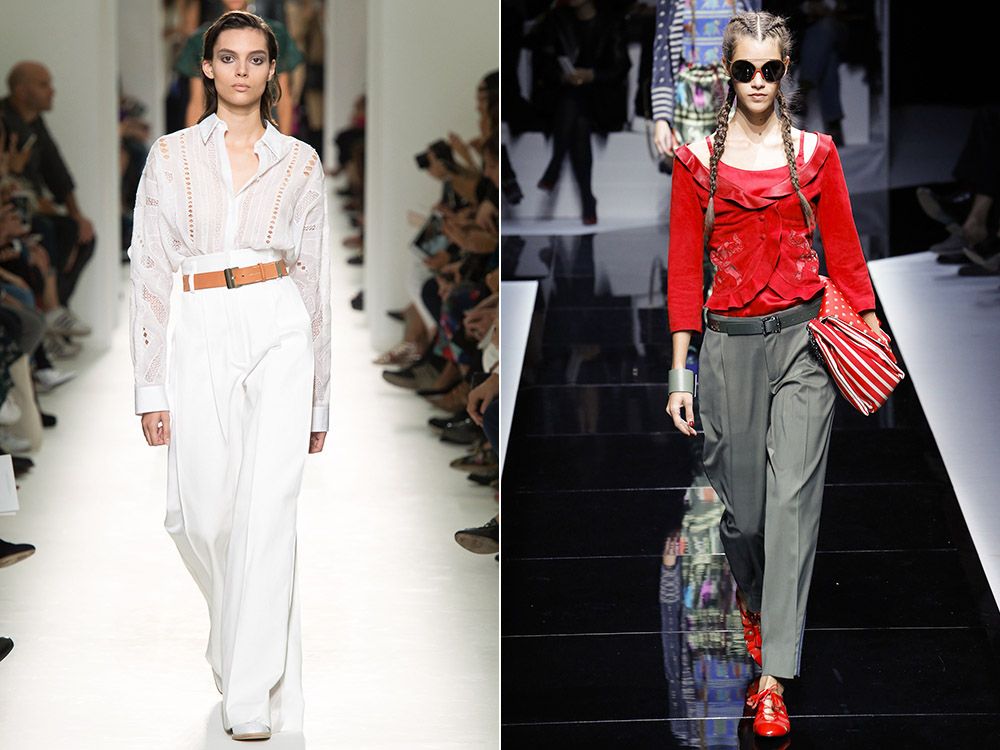 Wide pants
Loose fit oversize, they are also palazzos, culottes, wide sail trousers, "pajama" models – the most fashionable pants of the spring-summer 2017 season. Apparently, familiar styles are given to designers more and more difficult.
Looking at some models, you won't immediately say: this is a skirt or trousers. Several well-known fashion houses presented such skirts-trousers at once: Chloe, Delpozo, Carolina Herrera.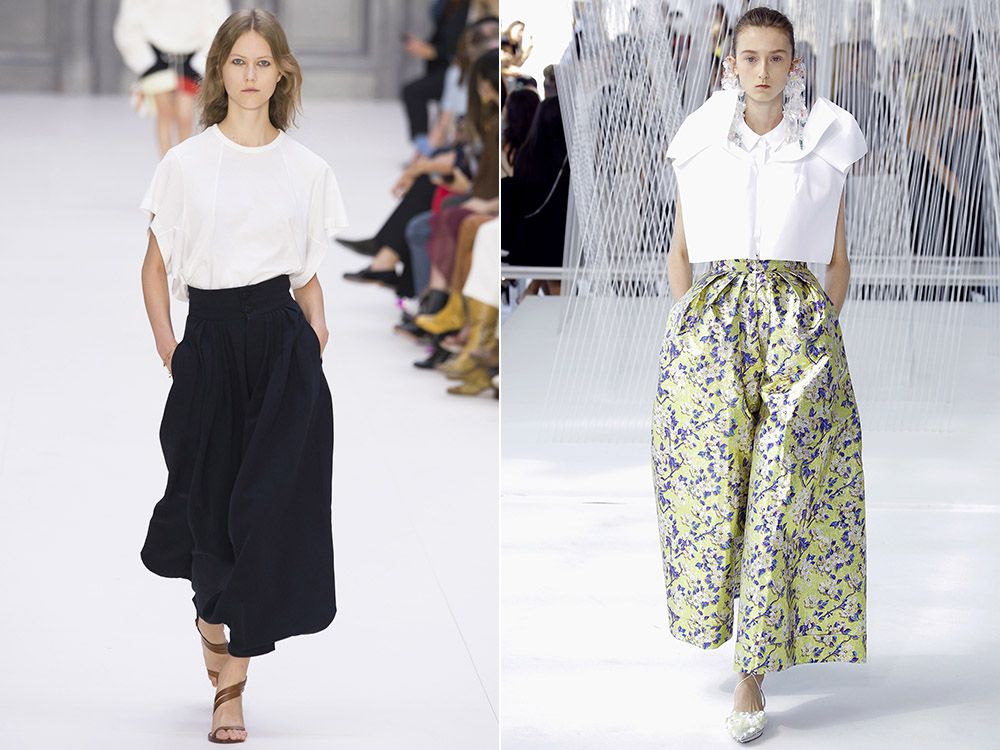 The wide cut, characteristic of "pajama" suits, this time is not made of silk or soft knitwear, but of dense fabric, which holds its shape better and looks more brutal. Wearing these trousers is better with a fitted top and high-heeled shoes..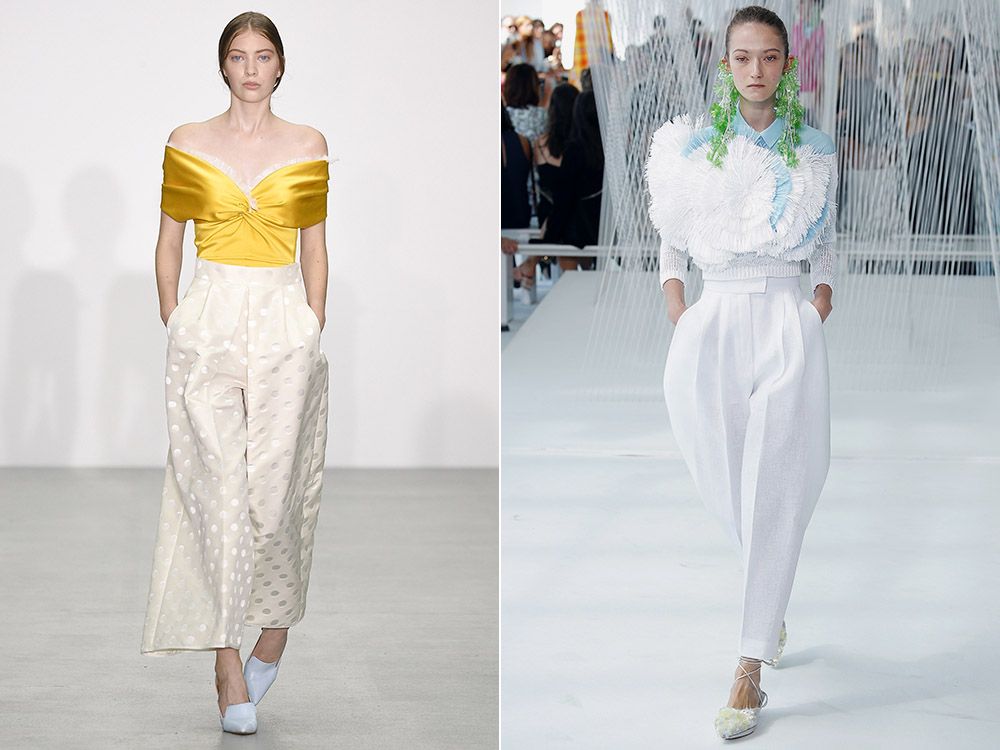 Flared pants
Flared pants that reappeared on fashion catwalks a couple of years ago, this time were presented in only a few collections: Elie Saab, Giamba, Roberto Cavali, Vivienne Tam. Such a refusal of designers from the abundance of flare was offset by a "game" with a cut, texture and color. Thus, in the spring-summer 2017 season, flared pants with a variety of patterns and prints are in fashion: from peas and stripes, to upholstery prints and vichy cells fashionable this season.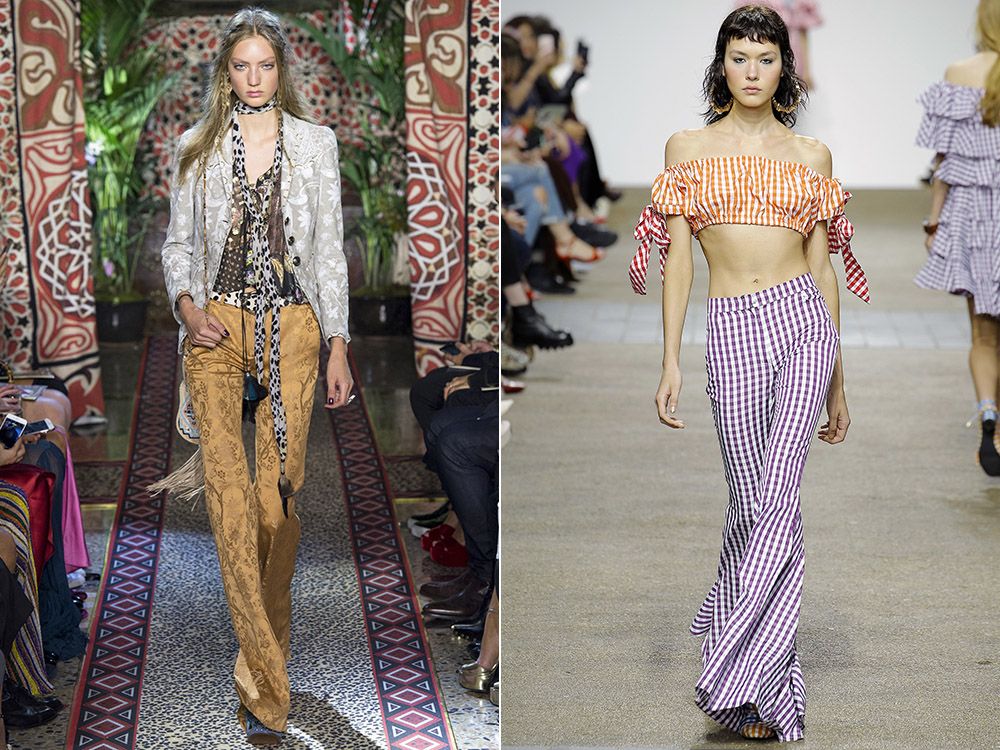 But there are rules: a flare should start from the knee, not from the hip. Especially in fashion bell pants that fit tight on the hips and maximally extended from the knee to the bottom.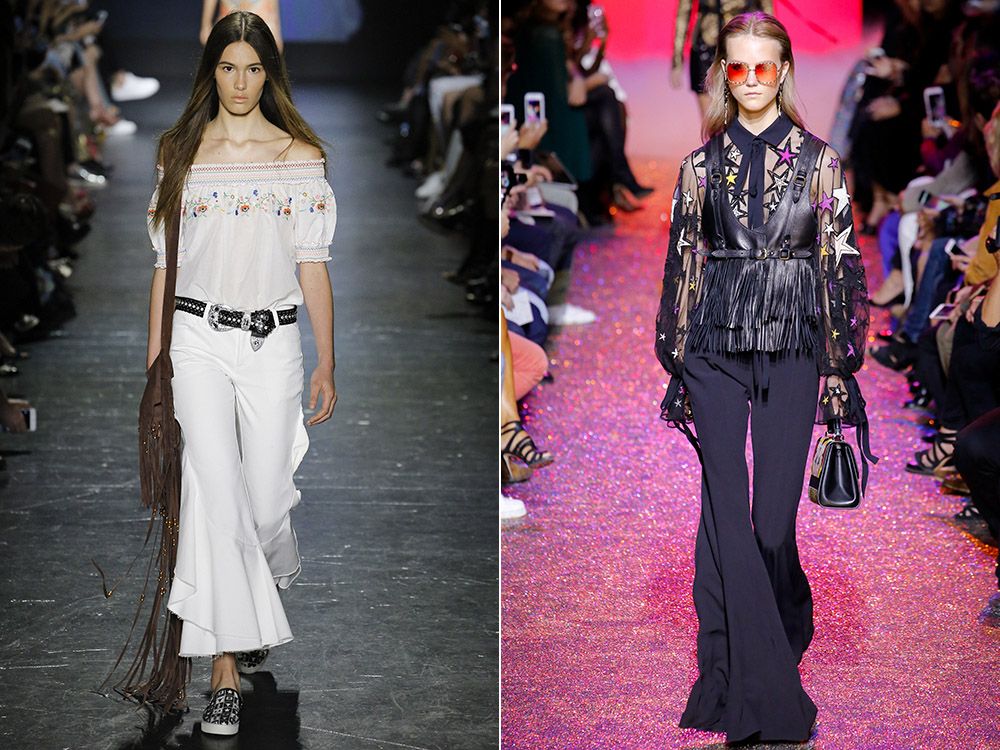 Cropped trousers
If we talk about length, then in fashion pants of medium length are slightly higher or slightly lower than the ankles and ultra-long trousers, almost dragging along the floor. But this does not mean that the era of "shot" panties has come to an end. It's just that in the spring-summer 2017 season they became noticeably smaller and they are represented not by capri pants and breeches, but by wide culottes and a skirt-pants.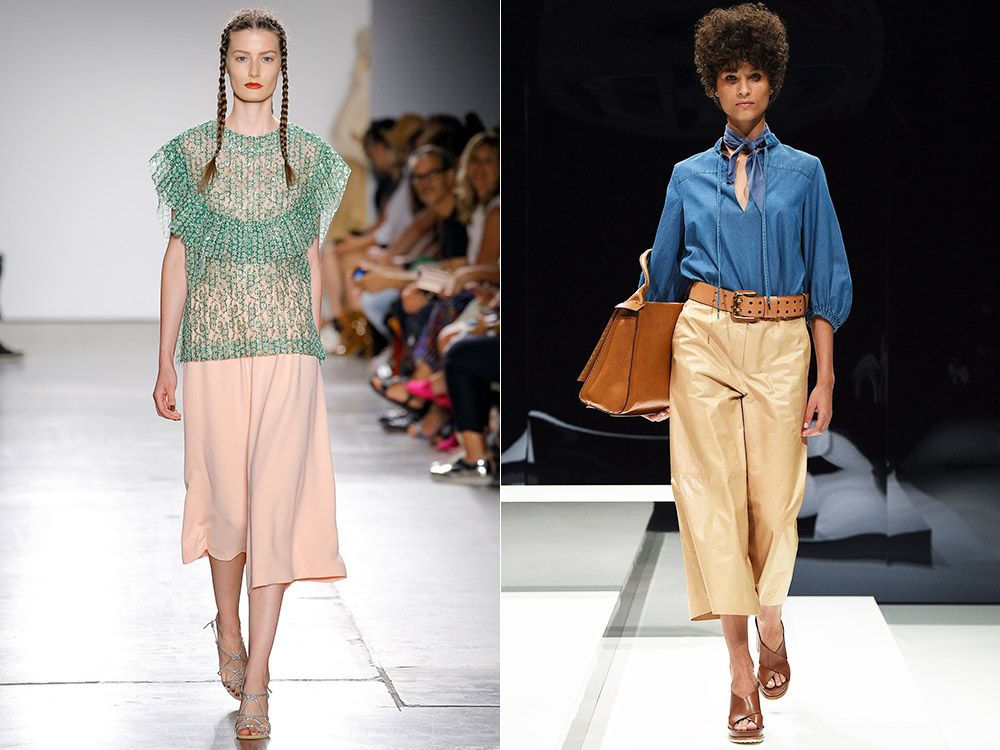 High Waist Pants
The upcoming spring-summer season 2017 promises to be as practical as possible: most of the trends from the world fashion capitals can be transferred to everyday life. For example, the high waist and visually lengthens the legs, and hides the stomach, and looks very seductive.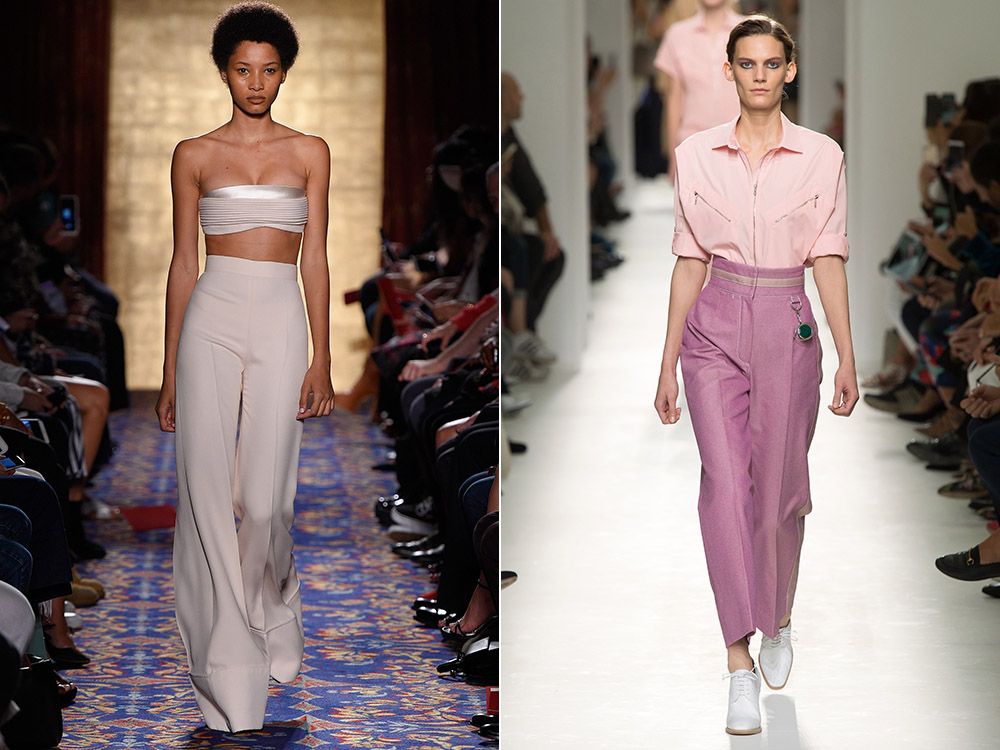 Pants with a high rise are mainly represented by models of a classic cut. Alberta Ferretti, Alexander Wang, Hermes, Isabel Marant – this is not a complete list of those who included pants with a high waistline in their collections.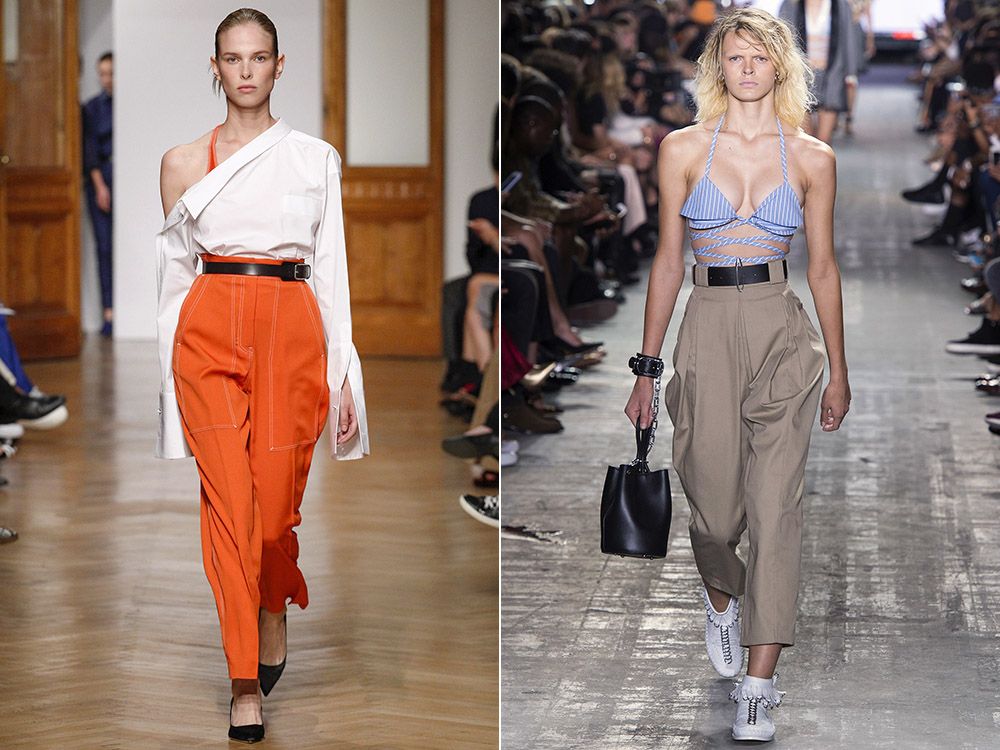 To give the trousers more dynamism, the designers decided to dilute strict lines with at least a minimum of decor in the form of metal parts, frills and patch pockets.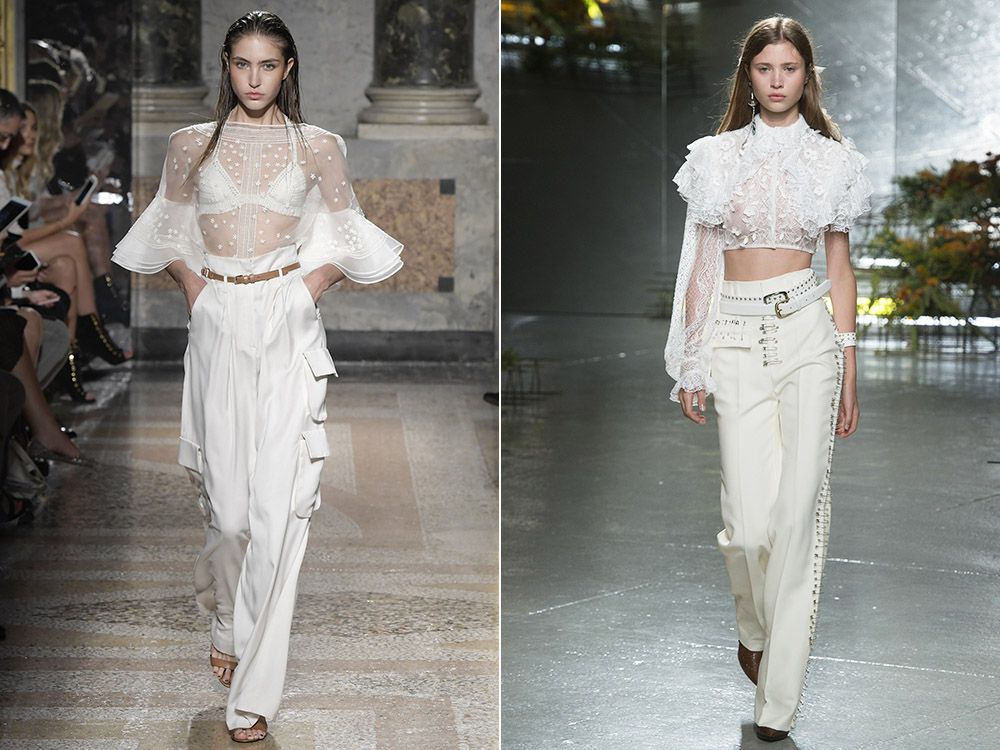 Layering effect
You probably already know that in the spring-summer season of 2017 multilayer skirts made of light fabrics will be in fashion. This trend also moved into trouser fashion: light models with a clear excess of fabric will be megapopular. Some designers decided to experiment with a cut, complementing the silhouette with a fashionable scent this season, which was successfully used on skirts.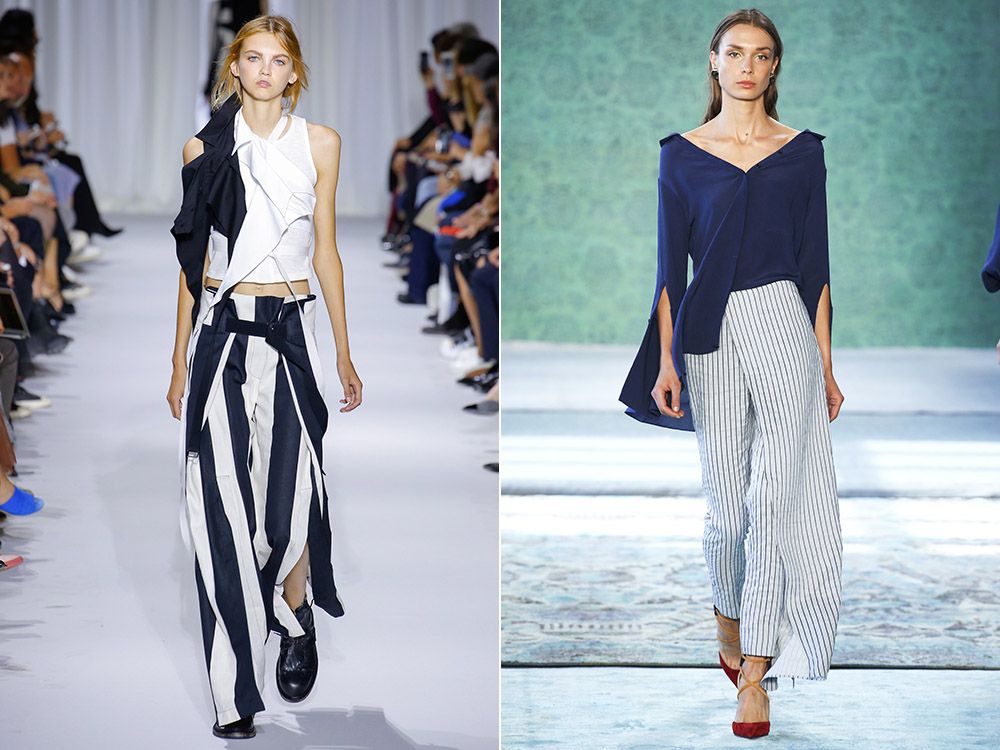 Alberta Ferrretti, Rochas, Daks did decide to combine several things into one toilet at once. They suggest wearing a dress over trousers. Such a set was either precisely matched in color and texture, or was completely different both in style and material.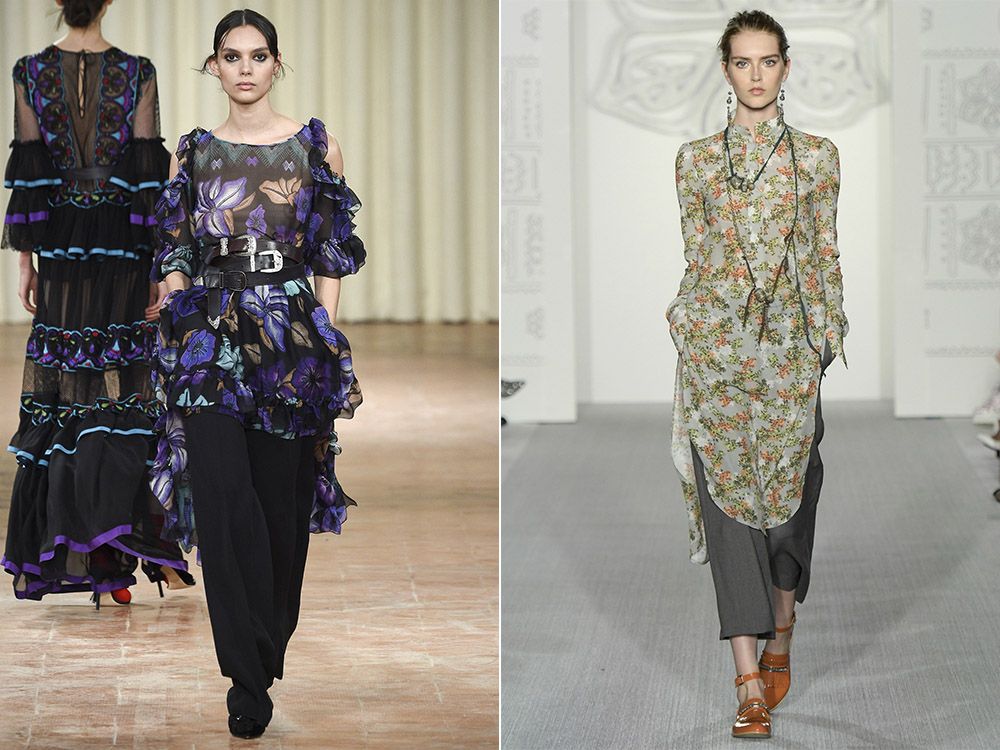 Trouser suits
 In order not to bother in the morning with the selection of a suitable top for trousers, learn to wear trouser suits. Fortunately, an incredible number of any styles, styles and colors were presented on their catwalks. Dolce Gabbana, Ermanno Scervino, Zac Posen, Hugo Boss and many other well-known brands have included similar kits in their collections.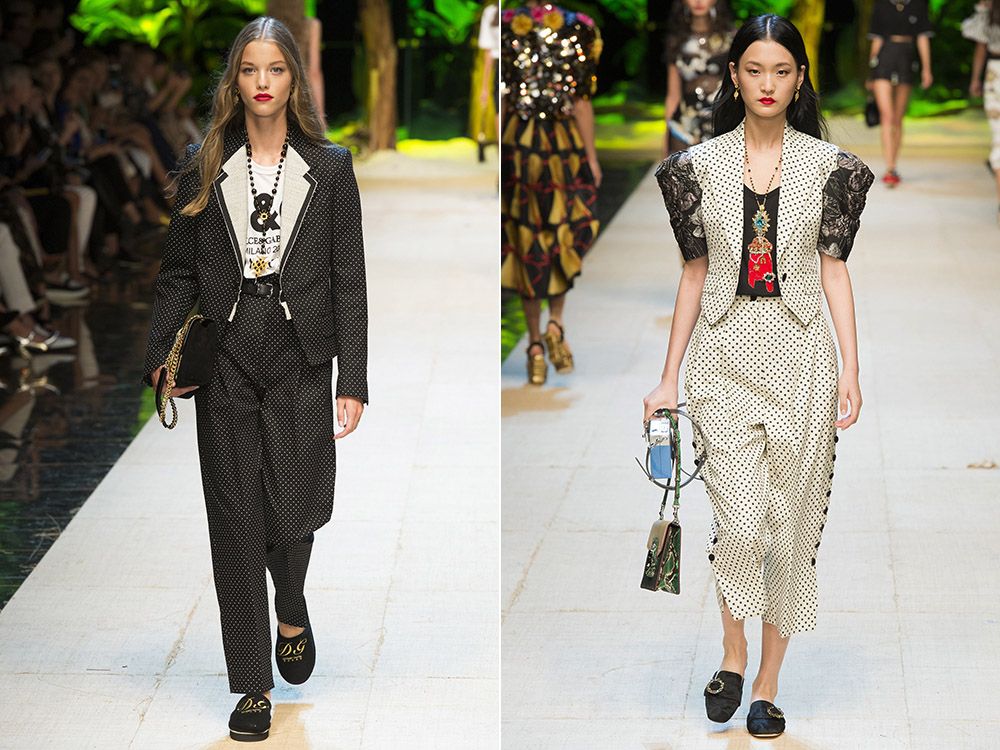 A three-piece set, a two-piece suit with a silk shirt and other things of a man's wardrobe have become one of the most sensual images of the spring-summer season of 2017. Despite the fact that femininity is in fashion and masculinity is gradually becoming a thing of the past, designers suggest that we wear clothes "Like him." And so that the image does not look too masculine, just choose pantsuits with feminine silhouettes.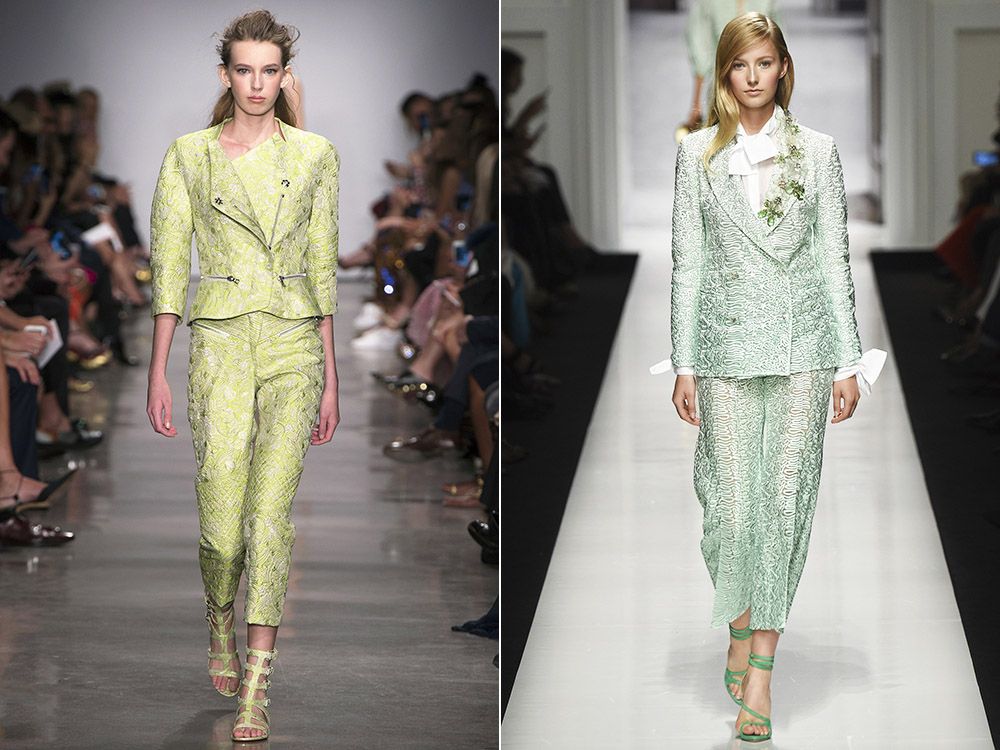 Total look
Designers strive to make our life as easy as possible by offering sets: pants plus top, made in the same style and color. They resemble overalls in some ways, but they do not look like typical "robes", but as full-fledged independent outfits that do not need any addition.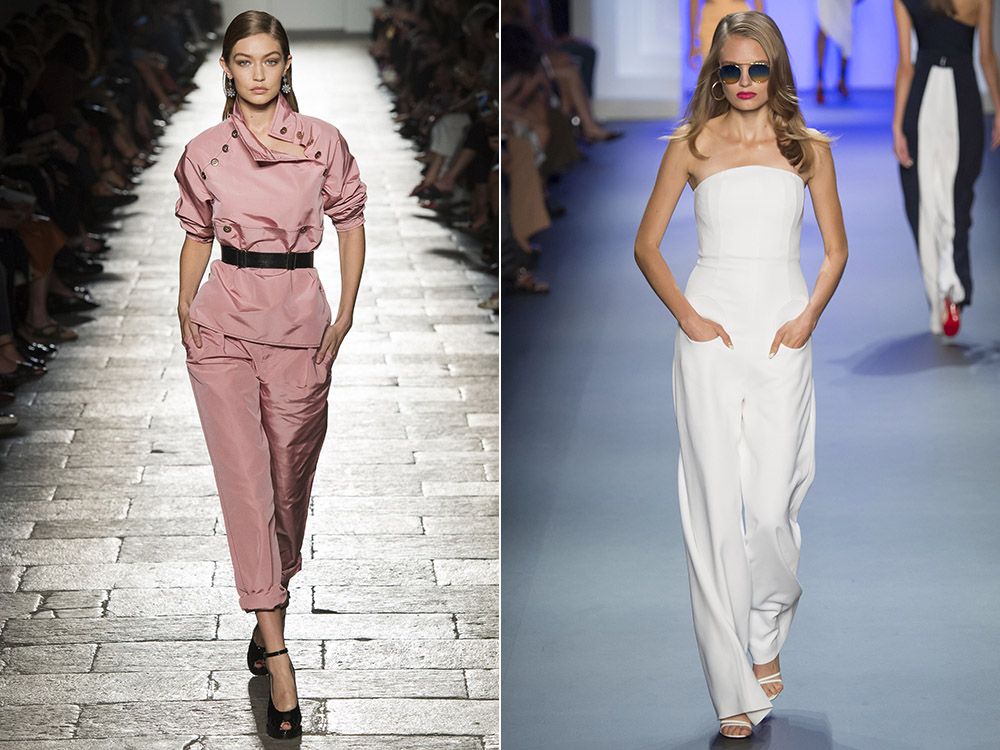 Such a jumpsuit can be worn even in the office, just choose more conservative styles made of fairly dense, while "breathing" fabrics. Full-fledged evening and casual total bows were presented by Alexander Wang, Bottega Veneta, Cushnie et Ochs, David Koma and many other famous brands.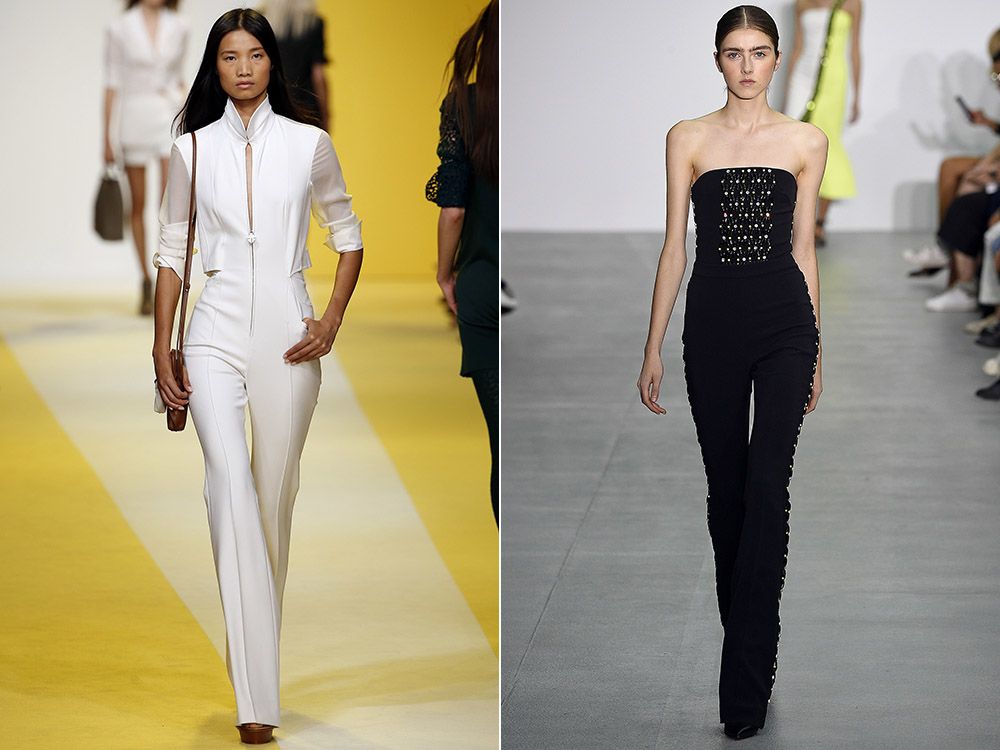 Leather pants
In order not to get stuck in the lightness and airiness of traditional fabrics for the warm season, Trussardi, Topshop Unique, Tibi, Emanuel Ungaro, Kenzo remembered the trendy wet shine of vinyl and smoothness of genuine leather. Only in the warm season, colored leather will set the tone, as well as pants with ruffles, ruffles and other details traditional for the spring-summer season. However, the fashion for the classic black color has not gone anywhere. Some brands showed us the usual black leather pants..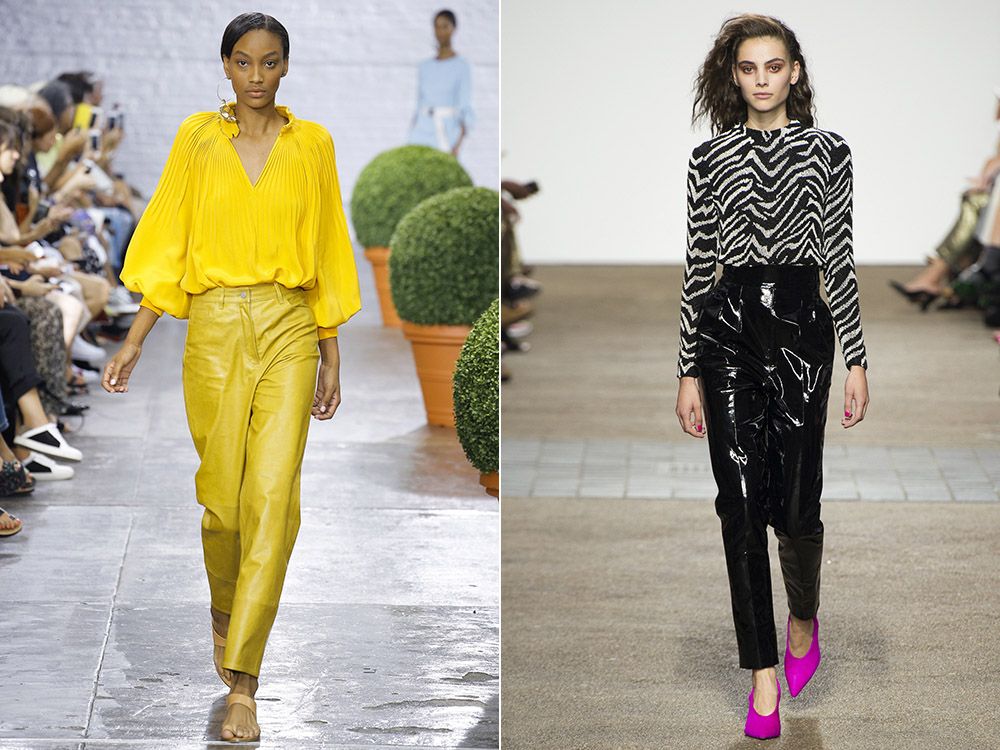 Note that these are not leggings, namely trousers. Therefore, the most important here is the style. It can be fashionable culottes this season, classic straight models and dimensionless wide trousers.
Metallic trousers
Metallic has established itself as a trend several seasons ago. And if before we wore metallized organza, shiny silk and glitter exclusively for the way out, then this spring, designers advise to finally transfer the metallic from a number of special cases to the category of everyday looks.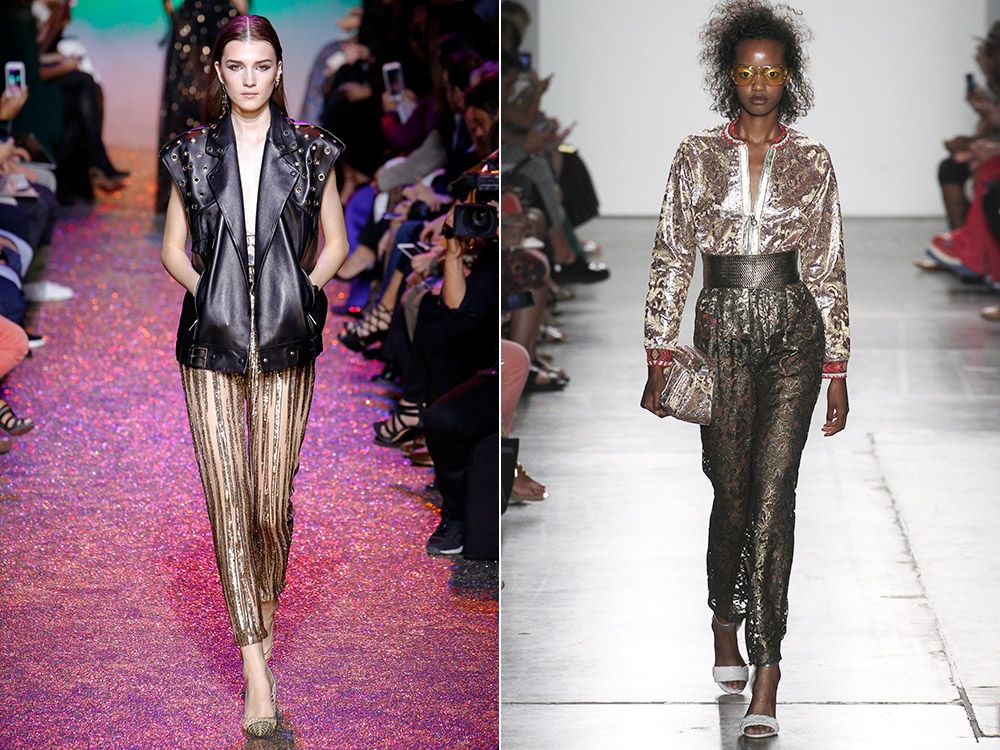 Metallic trousers can be from any material: from cotton and silk with the inclusion of metallized threads to leather with a holographic effect and embossed in gold or silver.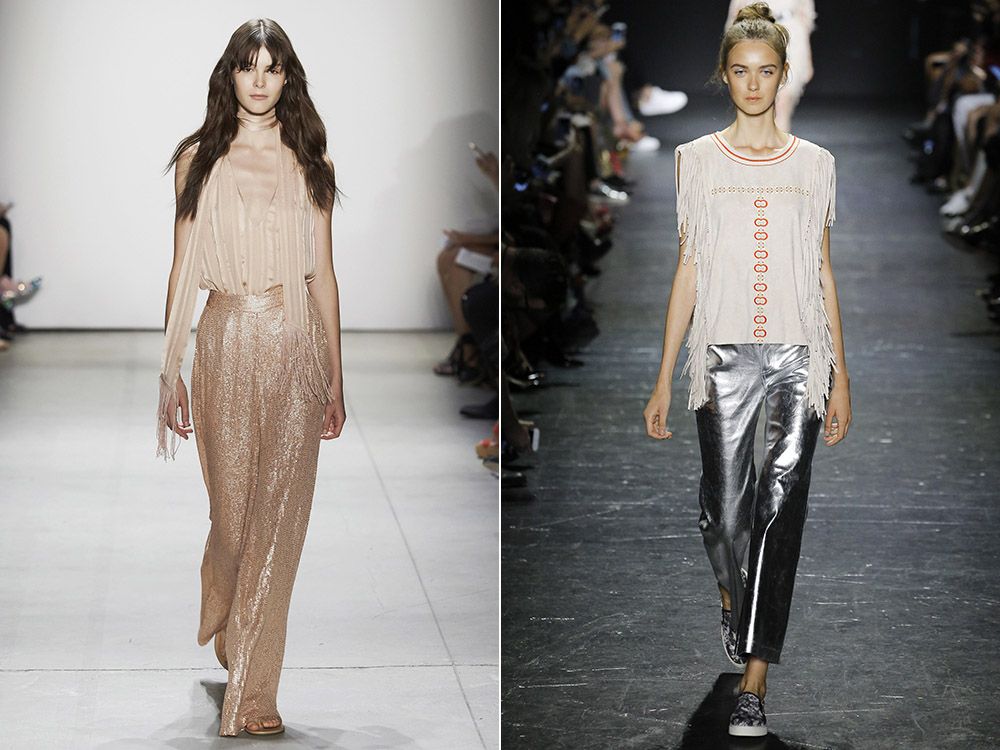 Transparent pants
If your figure and self-confidence allow you to wear transparent pants, be sure to take this chance. In the spring-summer 2017 season, completely transparent materials, mesh, guipure, finest lace will be in fashion – there are plenty to choose from.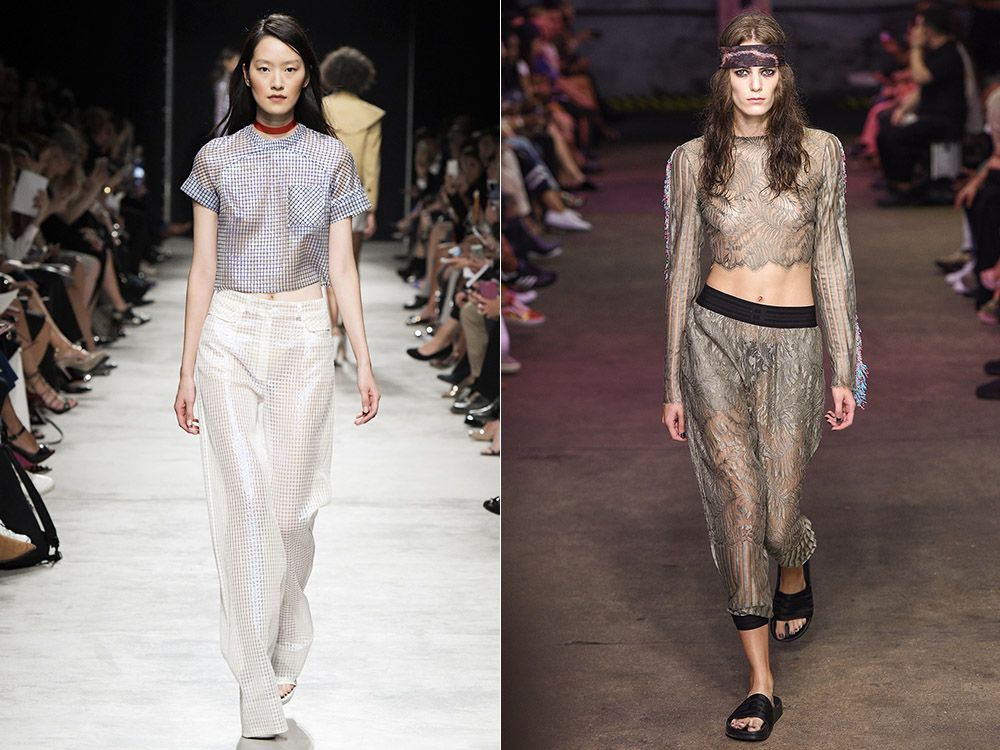 To get started, try dressing in pants made of translucent fabric with tight "shorts" and a transparent hem. This will allow you to understand how freely you will feel in transparent trousers, without risking to flaunt what you usually need to hide. If the previous experiment was successful, you can safely put on completely transparent pants, but already without "shorts".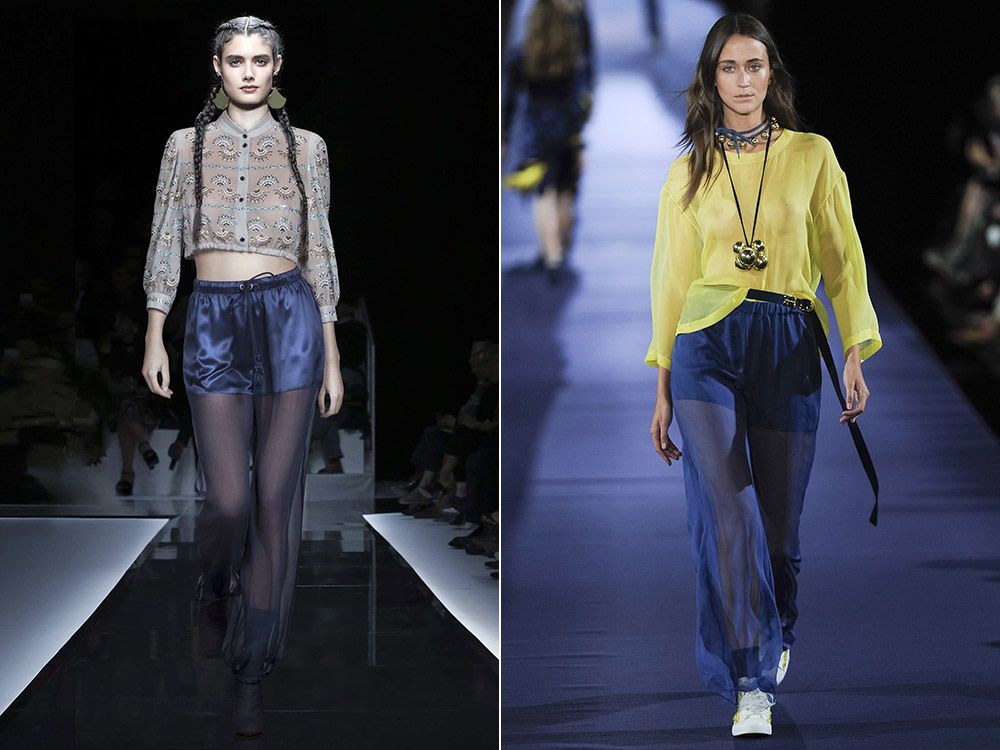 Fashionable stripes
If the stripes on the sides of your trousers seem to be a relic of the Soviet past, do not flatter yourself: stripes are in the top fashion solutions for the spring-summer season of 2017. Dsquared2, Milly, Roksanda, Paul Smith and a couple of fashion brands actively used them in collections as an important element of decor.
Moreover, the stripes even fit into the classic models of trousers and did not at all cause an association with sports training. To create a duet of sporty chic and elegance, designers are advised to combine such trousers with blouses, cardigans and heels..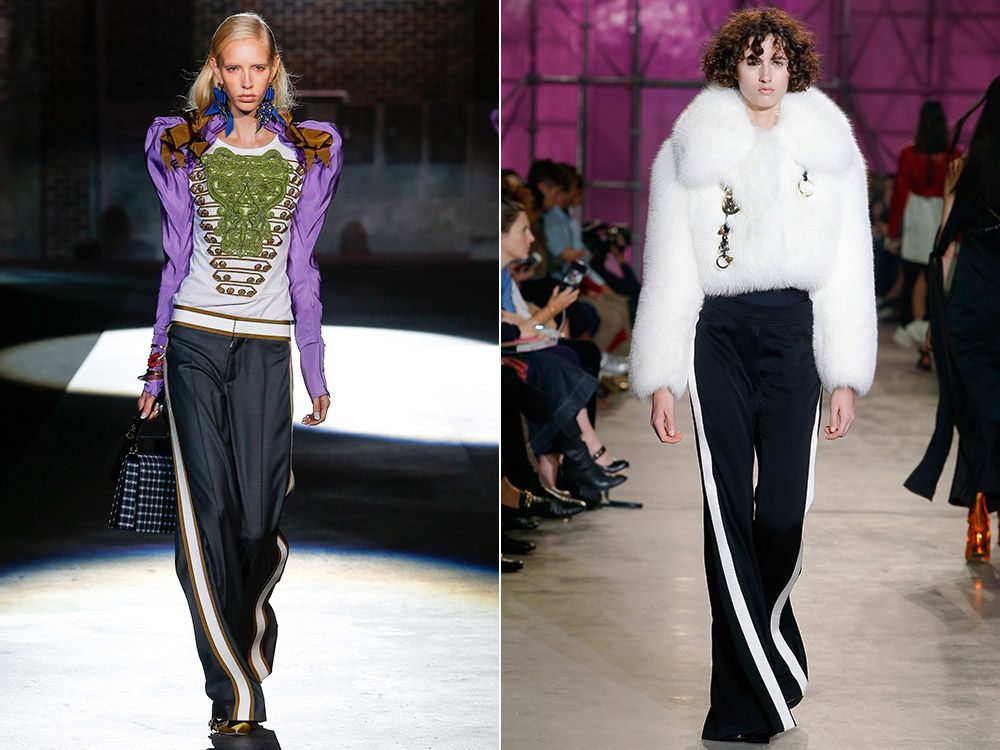 White pants
And although the prevailing stereotypes oblige to massively put on clothes of any color, but not white, designers are advised to put aside all prejudices and dress in white in the summer.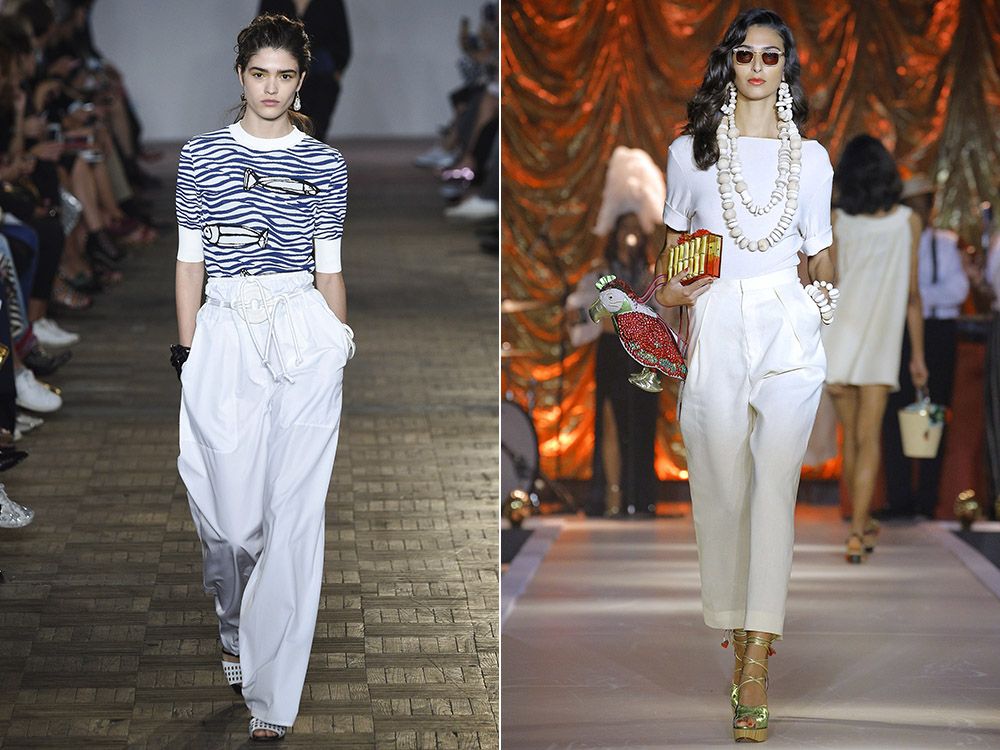 White is not the absence of color at all, in fact it includes many shades: from snow-white to white with a milky, beige or grayish tint. This color is so versatile that the trousers are combined with almost any clothing and look great in the total white version..
We hope that our review has presented you with ideas for building a spring-summer wardrobe in 2017. Moreover, not only trousers should be present in it, but also trouser suits and fashionable overalls.