Content
---
---
Of course, not only a romantic mood reigned on the catwalks. Lovers of grunge and austere classics will also find their skirt. But first things first. Let's start with the length. Designers give us complete freedom in choosing the ideal skirt length: from mini to maxi, as well as elegant midi (just below the knee or to the middle of the calf).
Mini skirts
It is difficult to say who likes miniskirts more: girls who want to boast long slim legs, or men who like to see a little more than allowed. In any case, in the spring-summer 2017 season, mini skirts have their place in the wardrobe.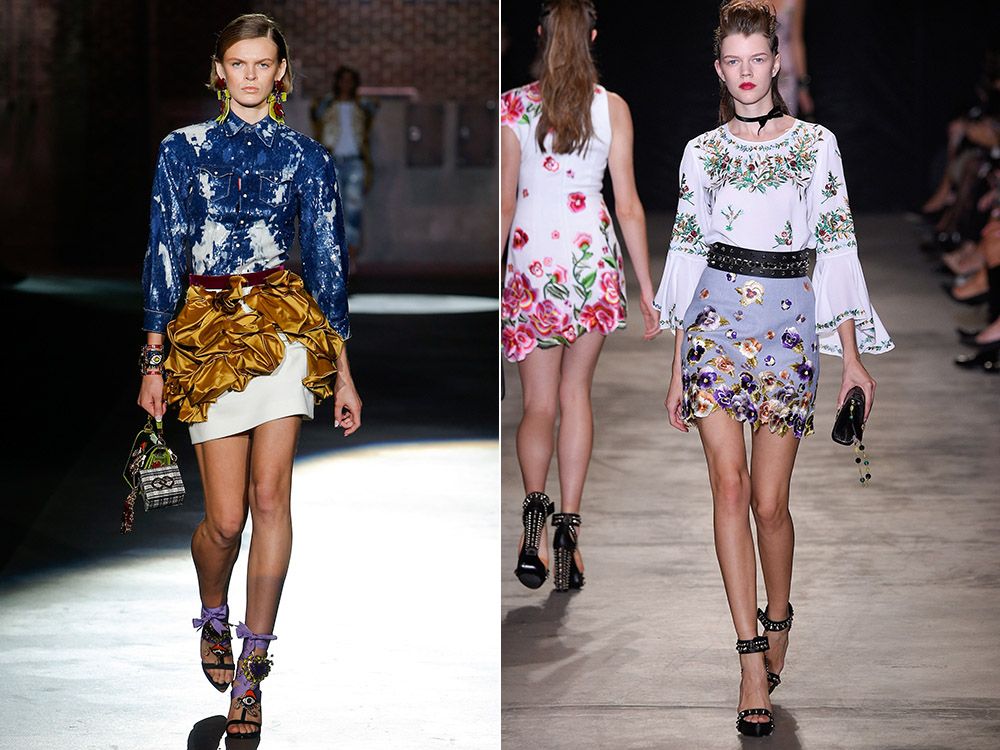 But with an extremely short length, jokes are bad – femininity, not vulgarity, is still in fashion. The personification of this rule – collections Veronique Leroy, Dolce&Gabbana, Dsquared2. Mini-skirts on models hid what should be hidden, and so that the image does not look gone, they were balanced by jackets, jackets and long-sleeve blouses.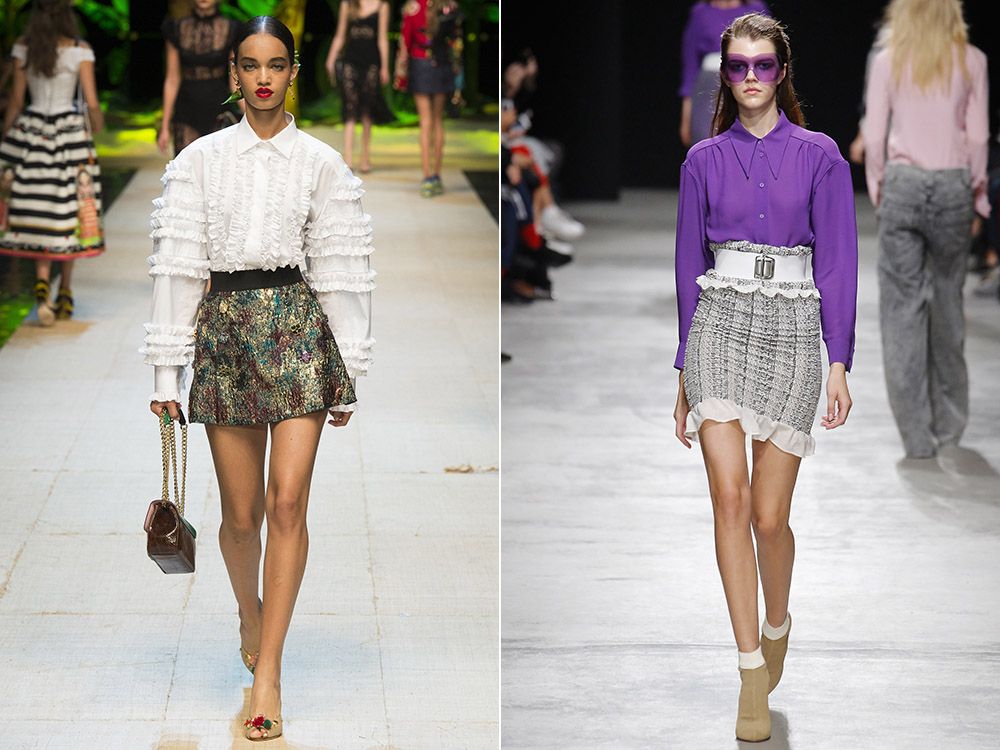 Of course, the miniskirt blends perfectly with summer crop tops, especially if they are made in the same style. Such mini-kits are presented in the collections of Blumarine, Michael Kors, Alexander Wang.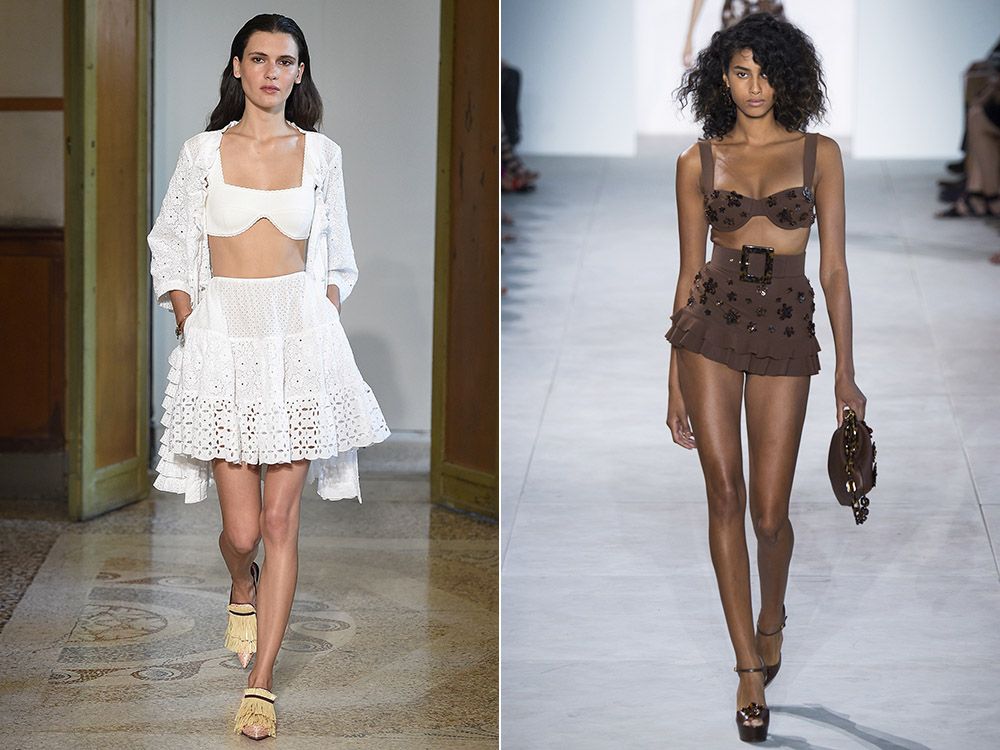 Long skirts
Maxi skirt is not going to go out of fashion – just in the summer it becomes lighter and more vibrant. Each designer beat the maxi length in his own way. Thus, floor skirts are available in any style and color: from lush, bright "sun" and "half-sun" models to strict "pencils" and skirts with an asymmetrical hem and high cuts.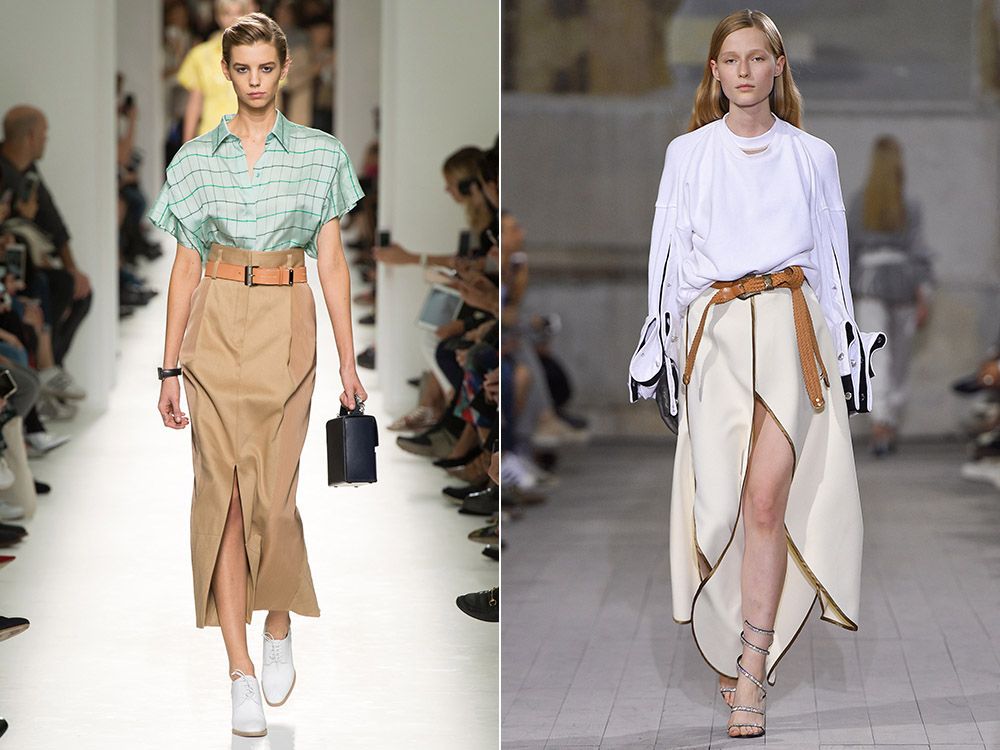 A maxi skirt can be either an extreme floor length or more shortened to the ankle, as well as with a hem of different lengths: short in front and long in back.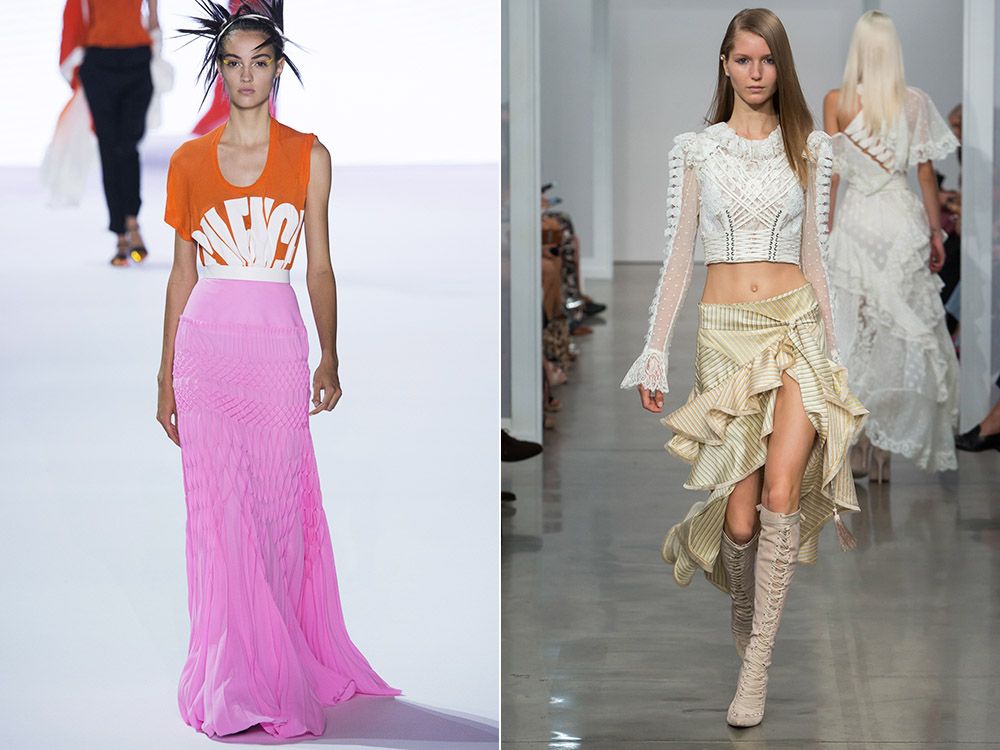 The long skirt is quite versatile, it looks equally good both with short crop tops, and with more complex combinations – long sweaters, voluminous jumpers, loose blouses and shirts.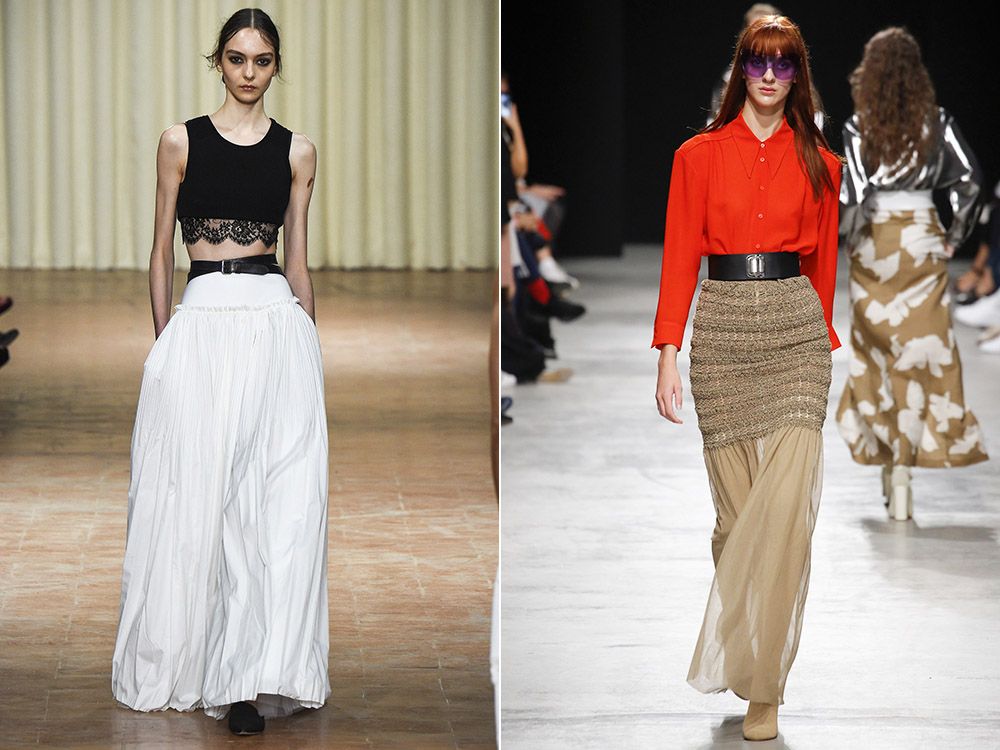 Midi skirt
Probably, there is no such length that would be inappropriate in the new season. Along with extreme length and ultra mini in the fashion midi skirts below the knee, but above the ankle.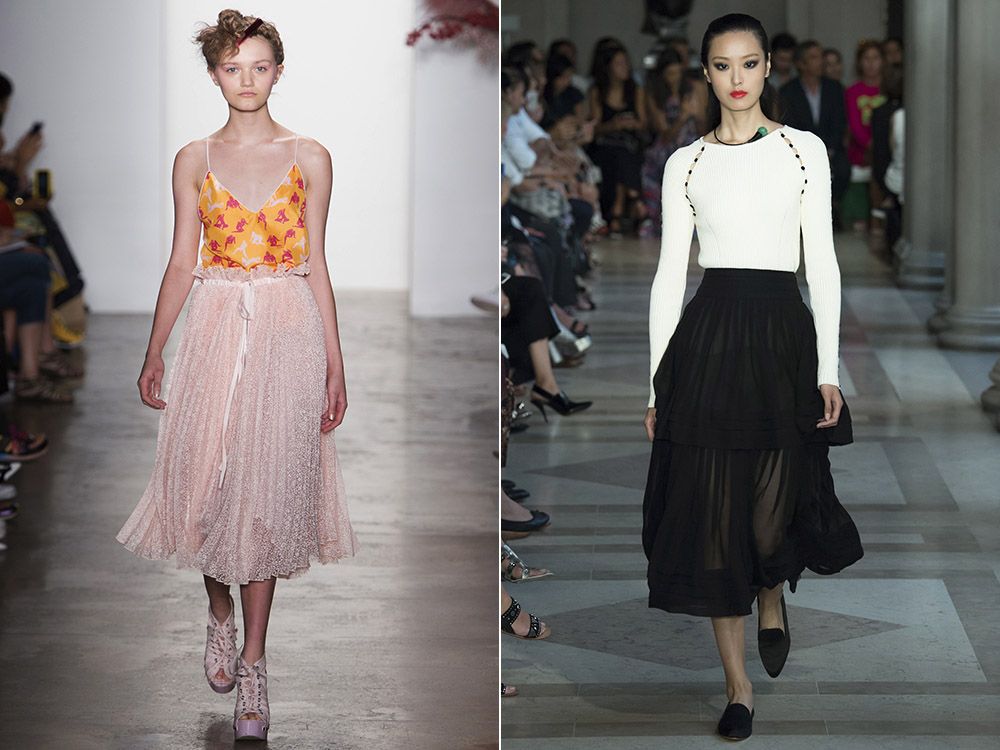 The cut can be anything: lush with numerous pleats, tight-fitting over the entire length, tight-fitting hips and extended downward (skirt-year). Designers fell in love with a midi skirt because it matches almost any outfit and any shoe.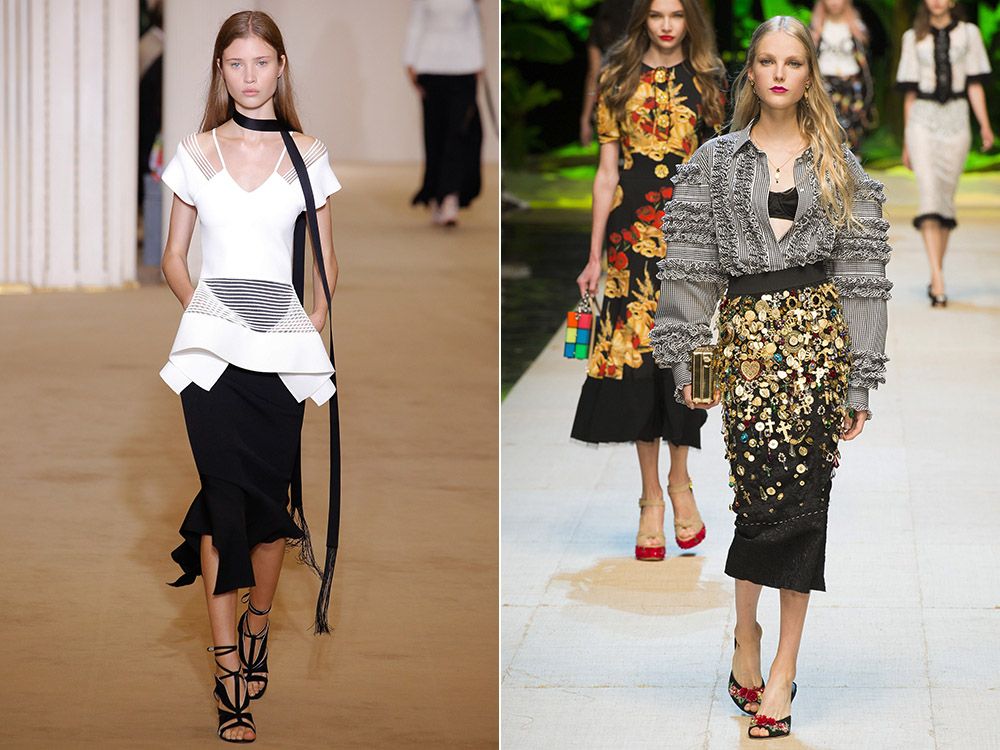 "Sunny" style
A sun skirt, a half-skirt, a bell skirt and their variations are one of the most popular styles of the spring-summer season of 2017. Designers turned to this cut because of its versatility. After all, despite some frivolity, the skirt-sun is combined even with jackets and shirts in a simple style.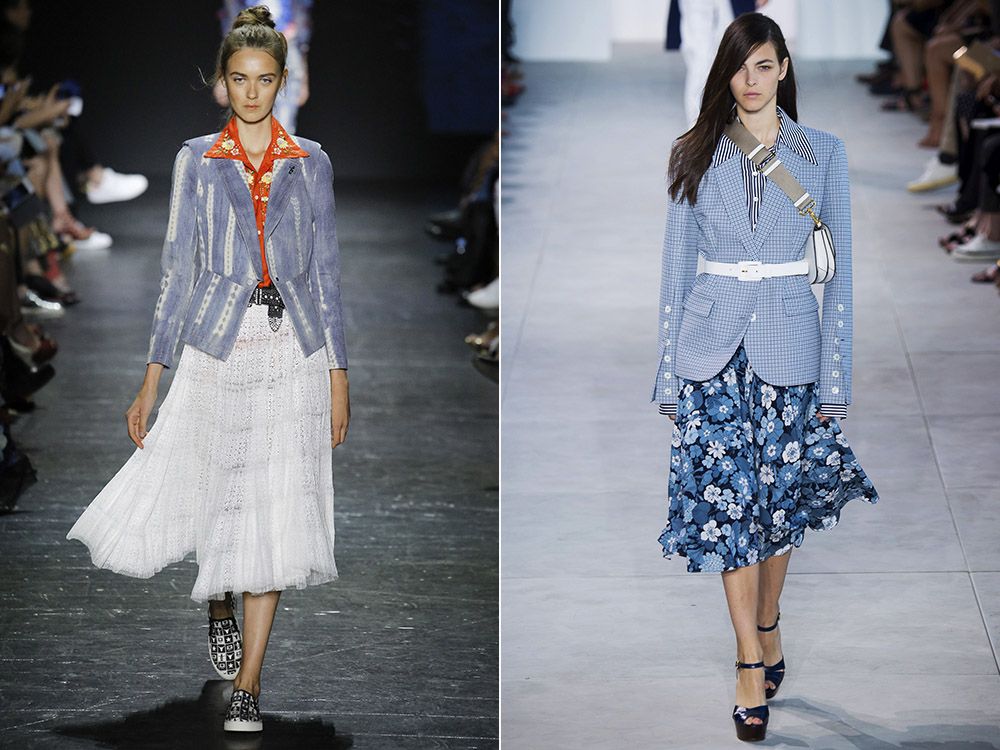 If Michael Kors, Veronique Leroy, Vivienne Tam offered moderately strict office bows with a skirt, then Rochas, Blumarine, Giambattista Valli preferred light, bright images. Some designers went even further; they suggested combining a romantic sun skirt with rude grunge-style things..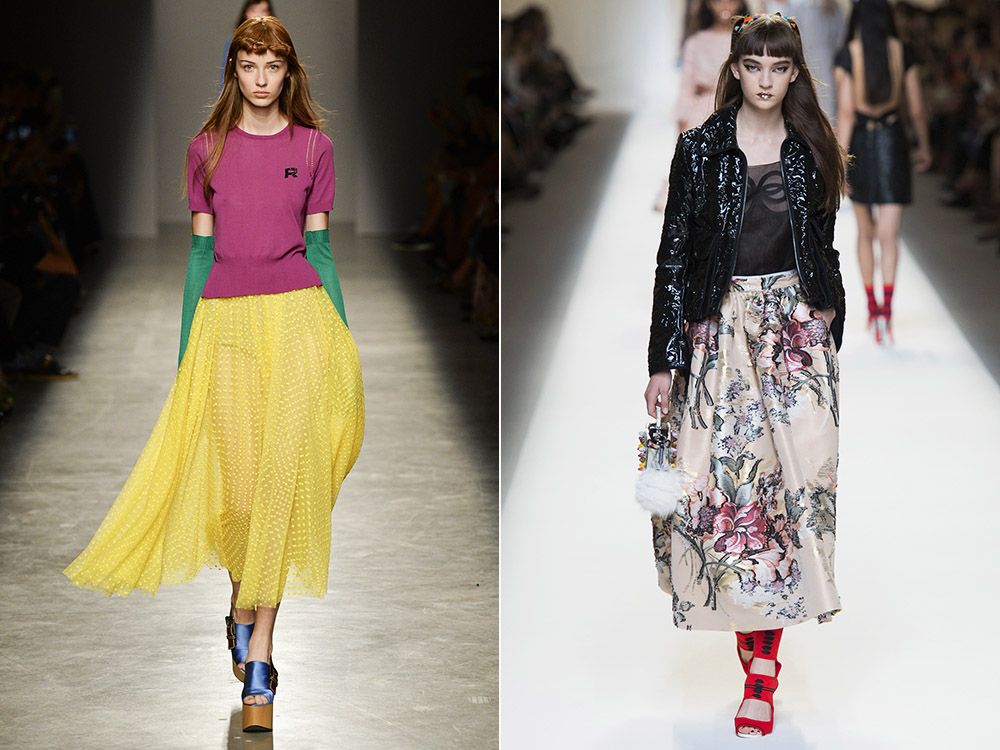 Despite the style with which the skirt-sun will be combined, it must be made of light flying fabrics, in soft pastel or in bright colors. The length of the skirt can be absolutely anything: from ultra-short mini to maxi options.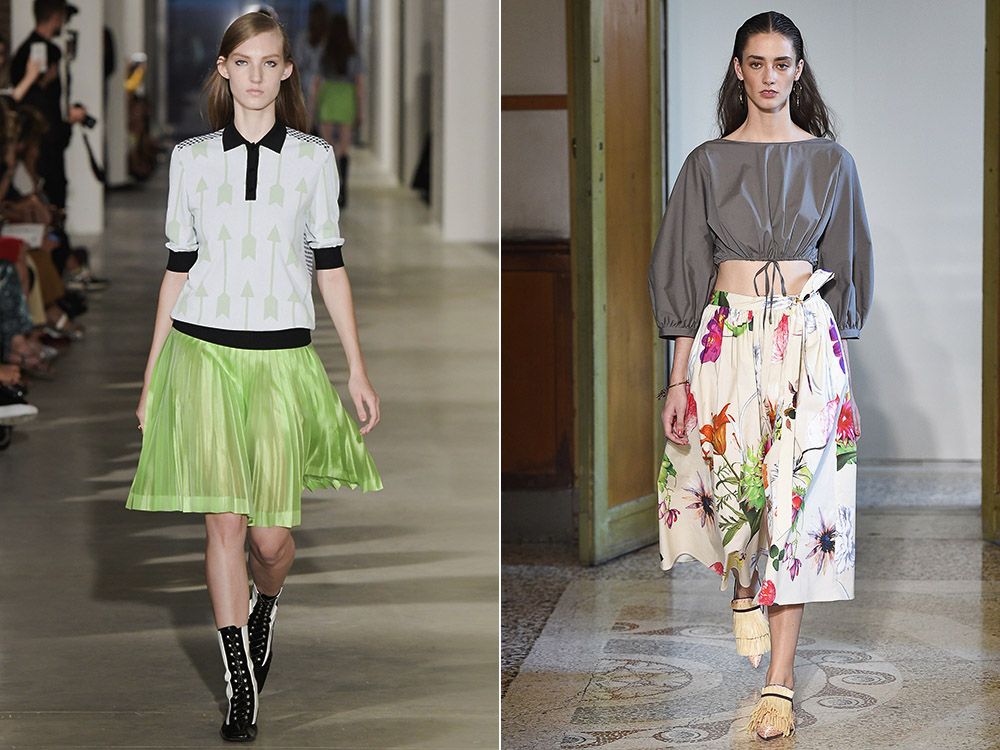 Pencil skirt
This cut is a must-have of any season. To make this style more memorable, designers offer to wear pencil skirts of unusual colors with patch pockets, framed by draperies, frills and bold cuts..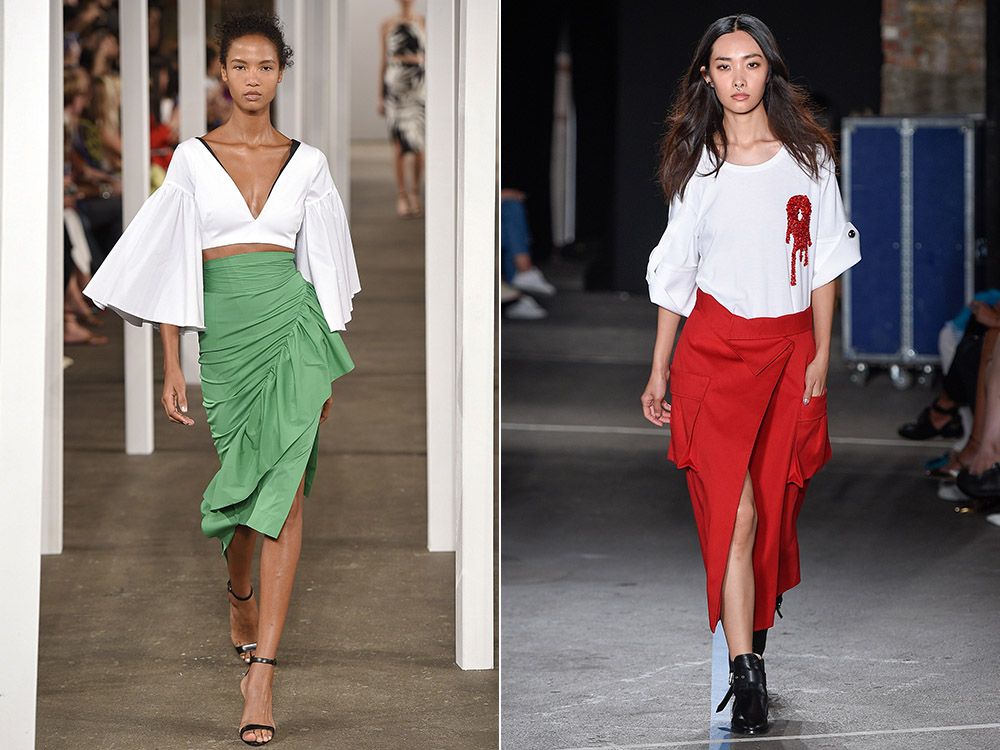 One of the trends of the spring-summer 2017 season is pencil skirts with a slit in front. And the bigger it is, the better. Similar models can be found in the collections of Trussardi, Marissa Webb, Marco de Vincenzo, Altuzarra.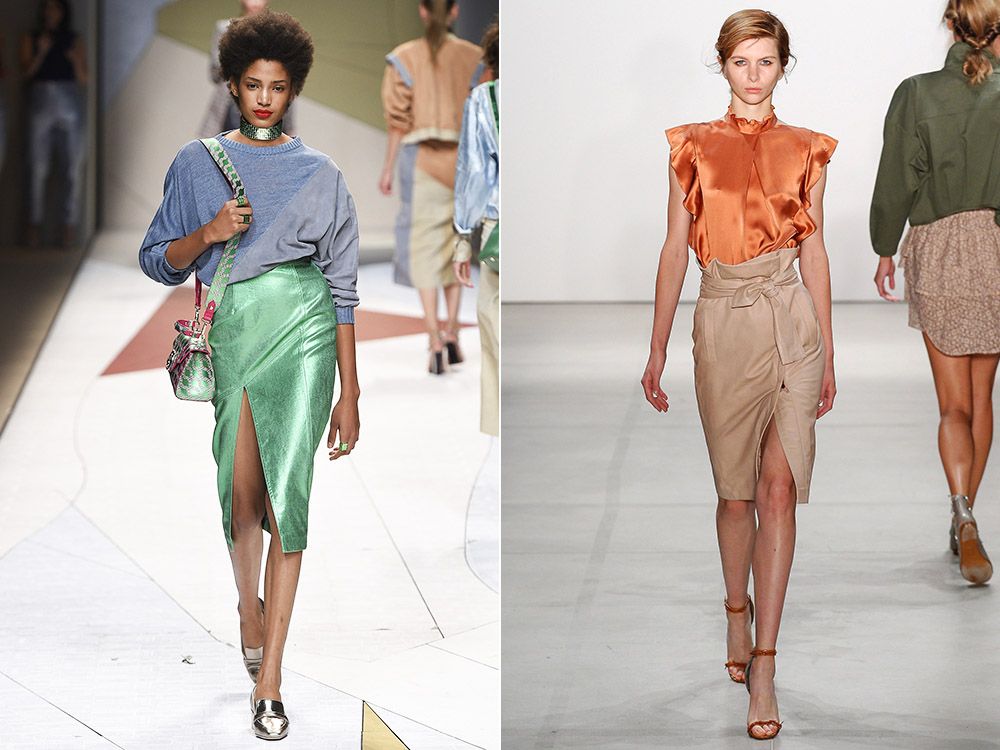 Also, designers have relied on rich rich colors, unusual silhouettes and materials. Now you can safely wear a pencil skirt not only for work, but also in everyday life. Indeed, the fashionable style and warm summer colors just match the mood of the big city.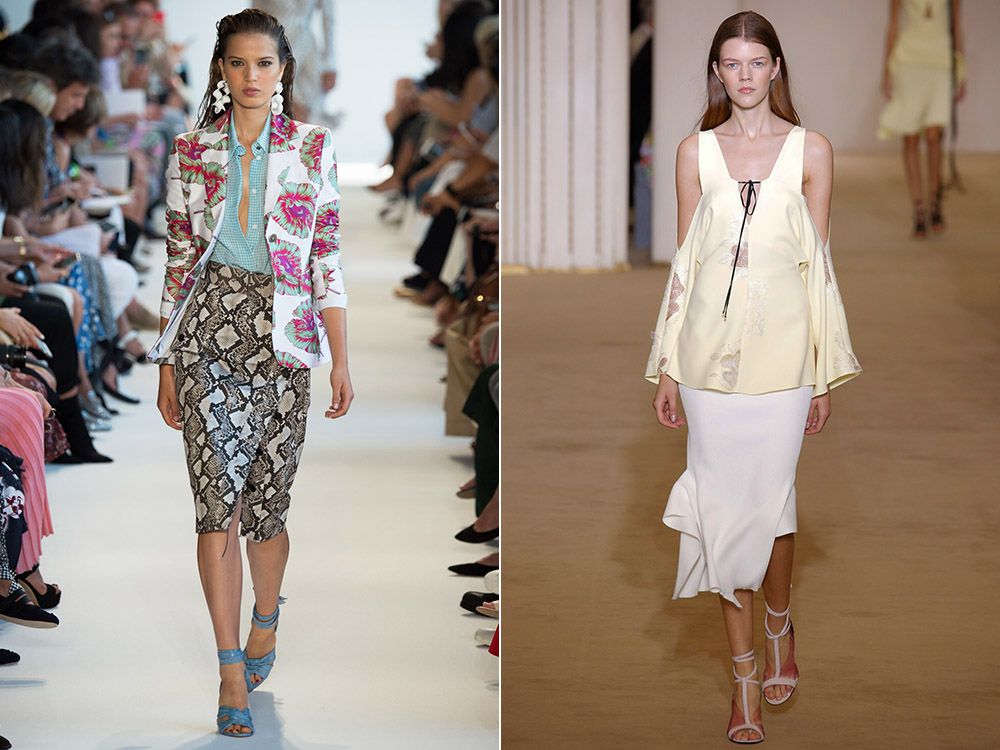 Trend smell
At the same time as the classic cut, the smell came out on top in the spring-summer 2017 season. Although this complicated cut is not for every girl, with the right selection you will look much more feminine than in the usual pencil skirt.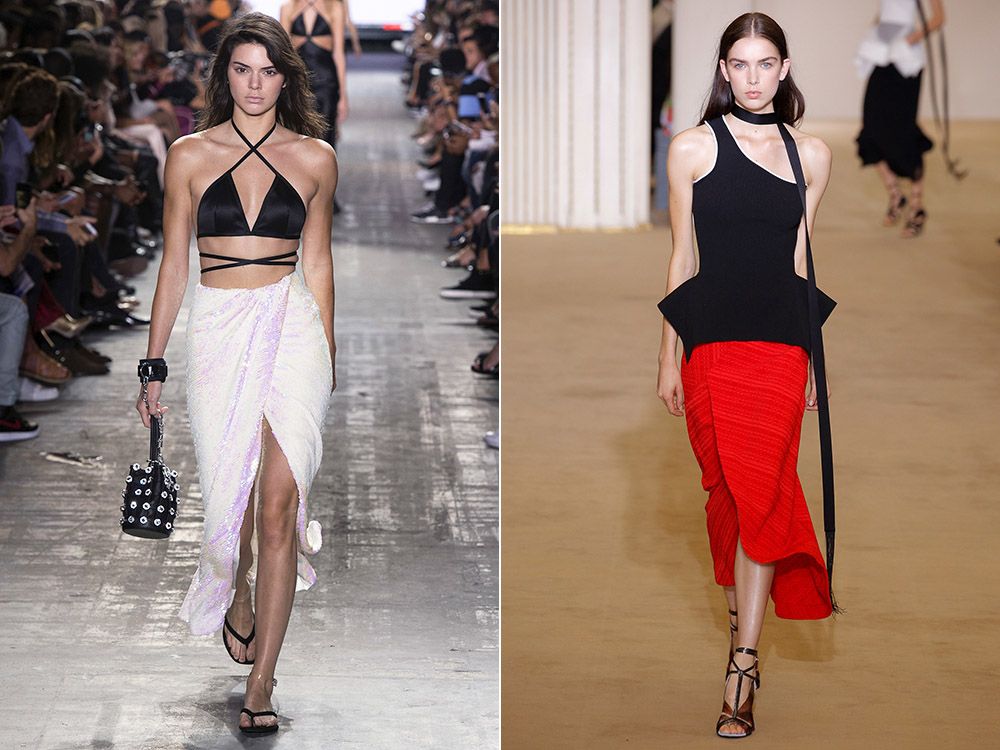 Skirts with the smell of medium and maximum length are in fashion. Both classic models in a calm range, and skirts in bright summer colors, with a fashionable Visha cell this season, as well as with unusual accents in the form of frills, frills and fringes, are relevant..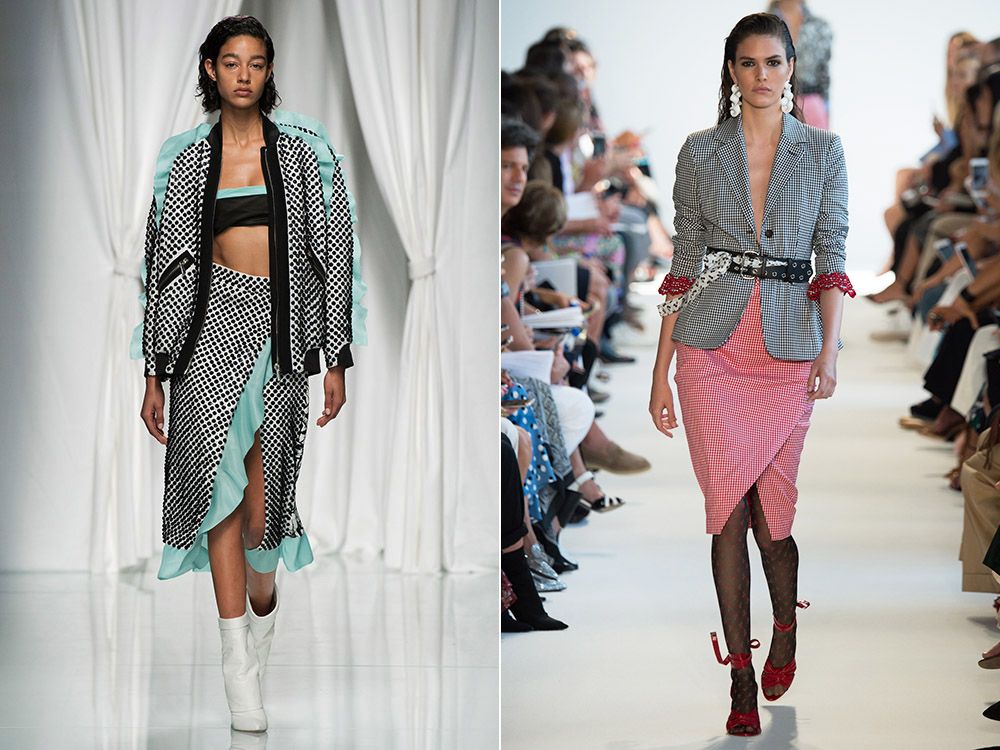 Slit skirts
An intriguing cut is another detail that adorns the skirts of this season. The most relevant are skirts up to the knee and below with a deep cut in the front or on the sides. Similar models can be found in the collections of Trussardi, Chanel, Marco de Vincenzo.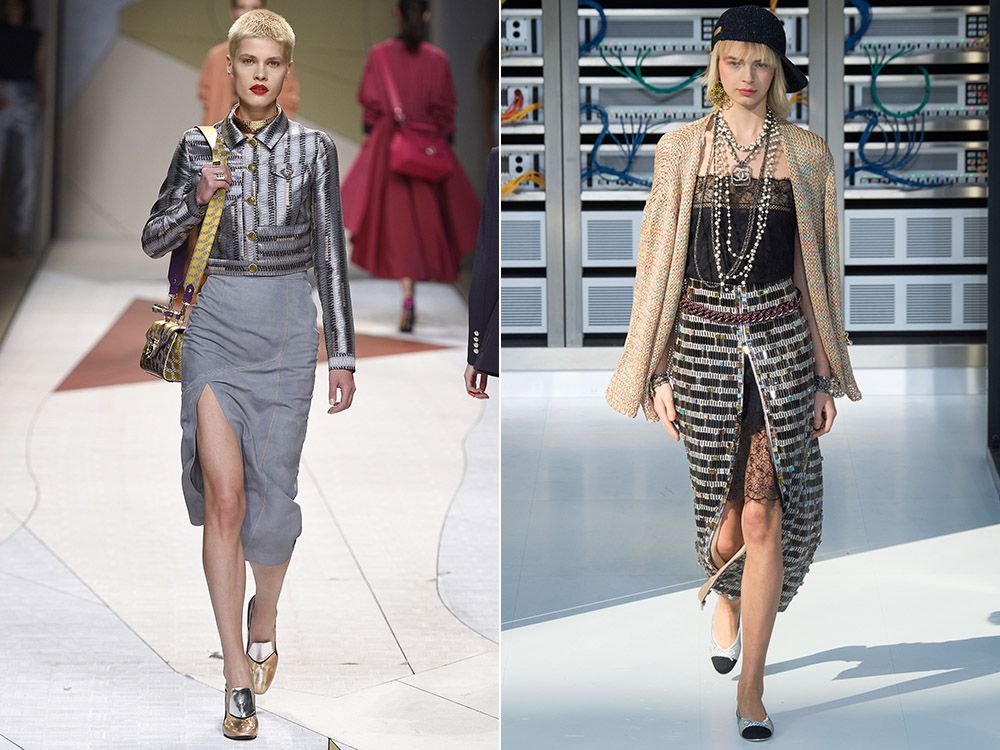 Prabal Gurung provided for several cuts, similar to fringe, which for the third season has not left the fashion catwalks. A slit skirt, including a deep one, can even be worn in the office, provided that the company will make her things as strict as possible in a classic business style.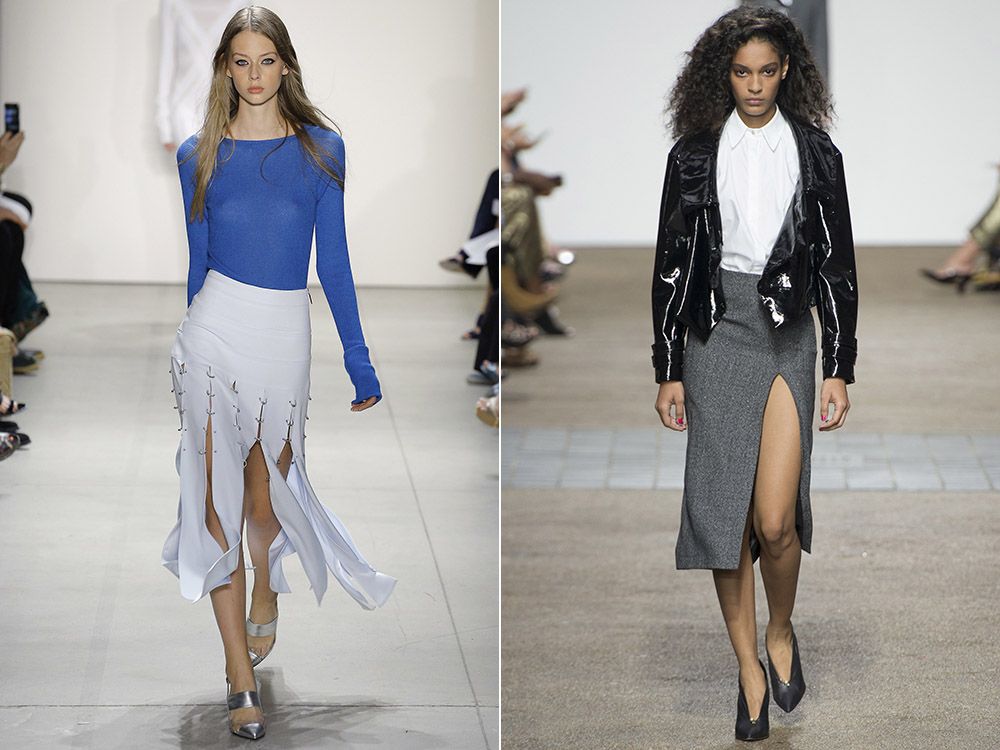 Asymmetry
 It all started with tops on one shoulder, and gradually the asymmetry went down to the skirts. Thus, skirts with an asymmetrical hem firmly took their place in the list of fashion trends of the spring-summer season 2017.
Leather skirts
If earlier leather skirts were considered clothes on the verge of permissible, now they can become a full-fledged element of an office wardrobe. Moreover, designers began to use eco-leather or a special fabric that is indistinguishable from genuine leather, which do not require any special care.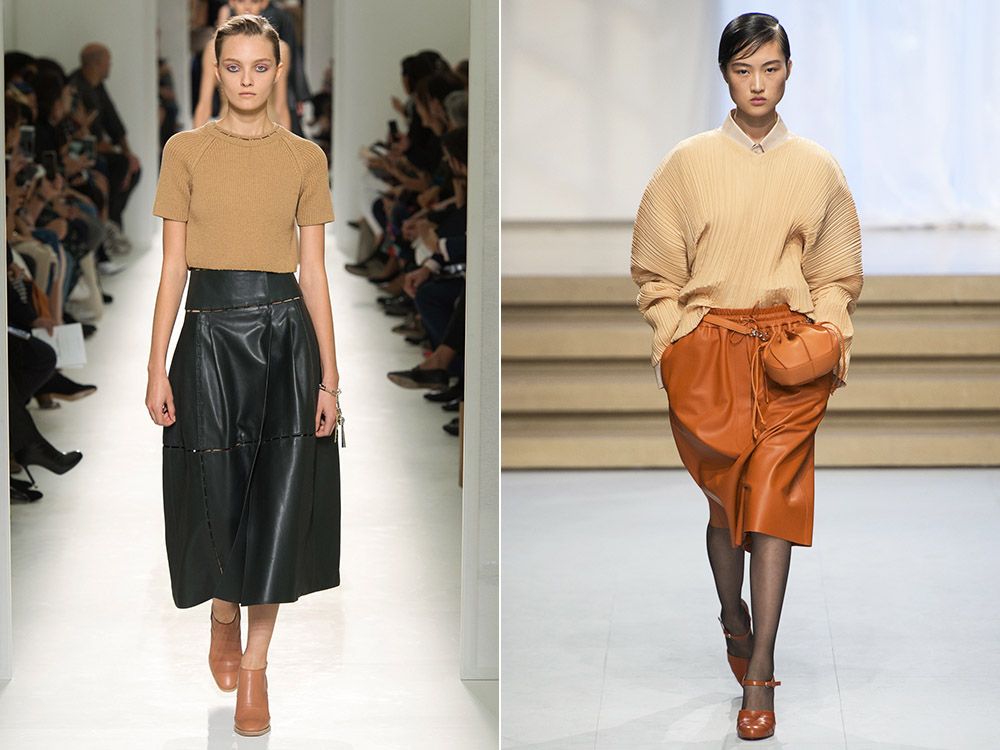 The fashion for the classic black color has not gone anywhere – Marissa Webb, Salvatore Ferragamo, Emanuel Ungaro showed us the usual black leather skirts that are fully consistent with the new trends of the spring-summer season 2017.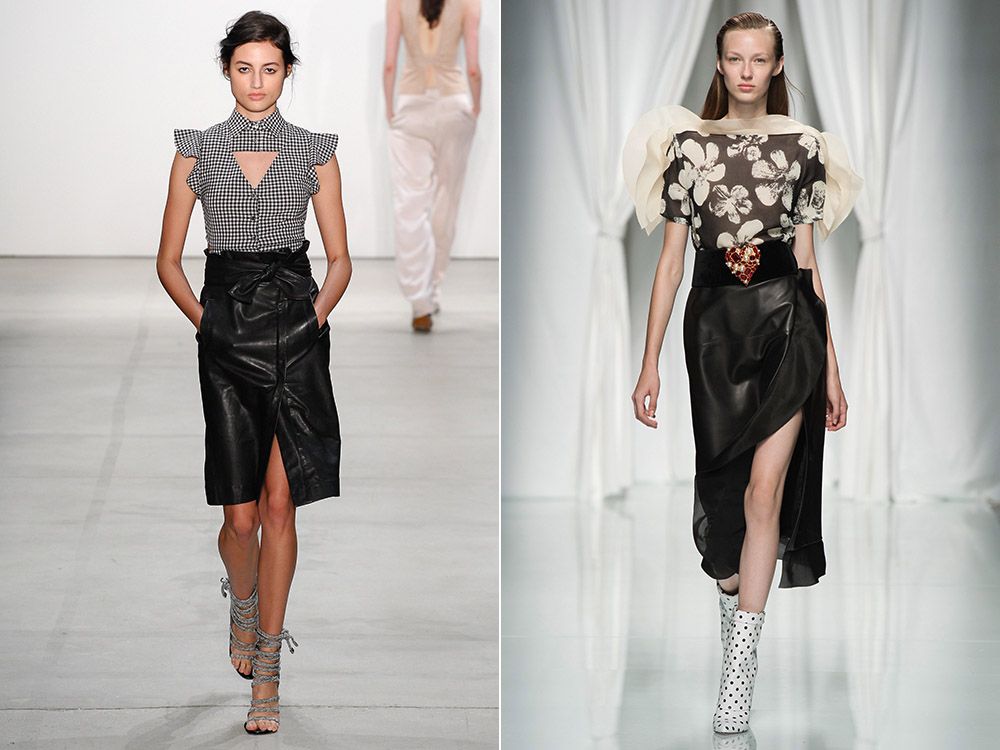 If black is not associated with a spring wardrobe, look at the collections of Jeremy Scott, Fay, Trussardi. These brands presented trendy colored leather with fashionable cut elements..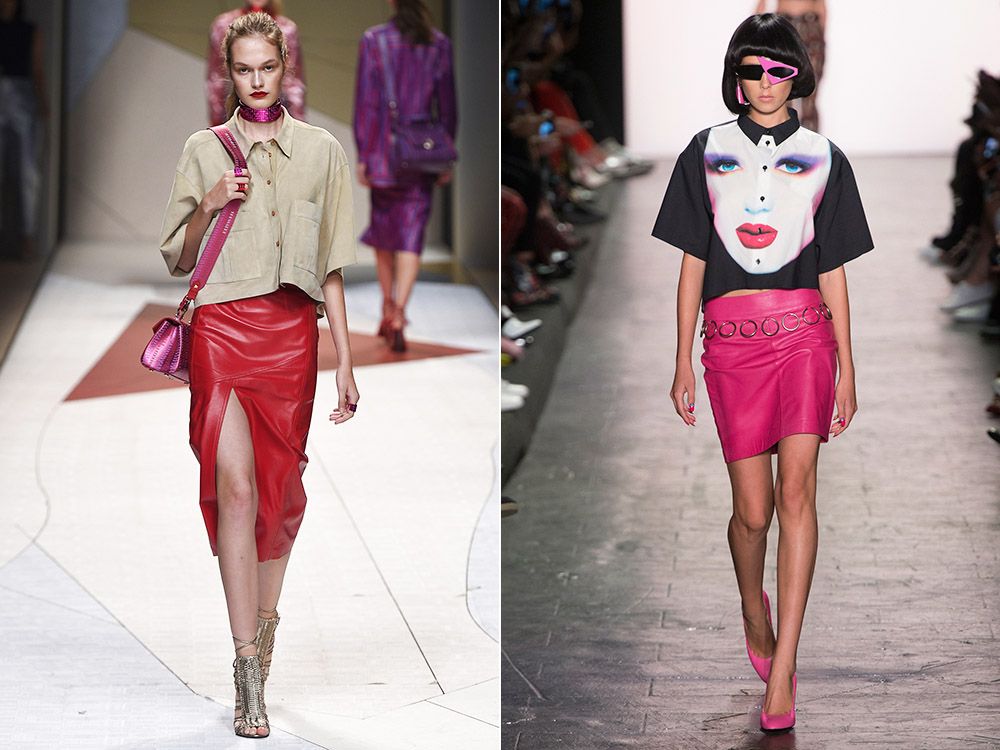 Phillip Lim introduced a whole line of skirts with imitation snake skin, made in shades inherent in the natural colors of reptiles.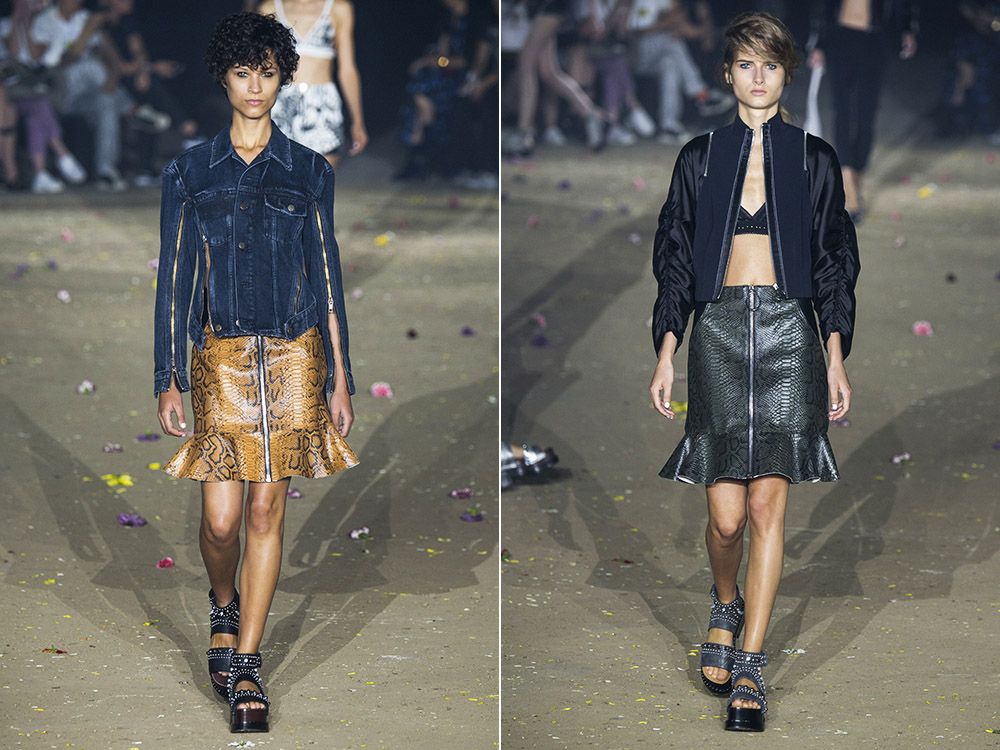 Volumetric shuttlecocks
Femininity is returning to masculinity in the world of haute couture, so we cannot do without ruffles, flounces and lace. Ruffles decorated not only evening skirts on the floor, but also more versatile models adapted to everyday wear.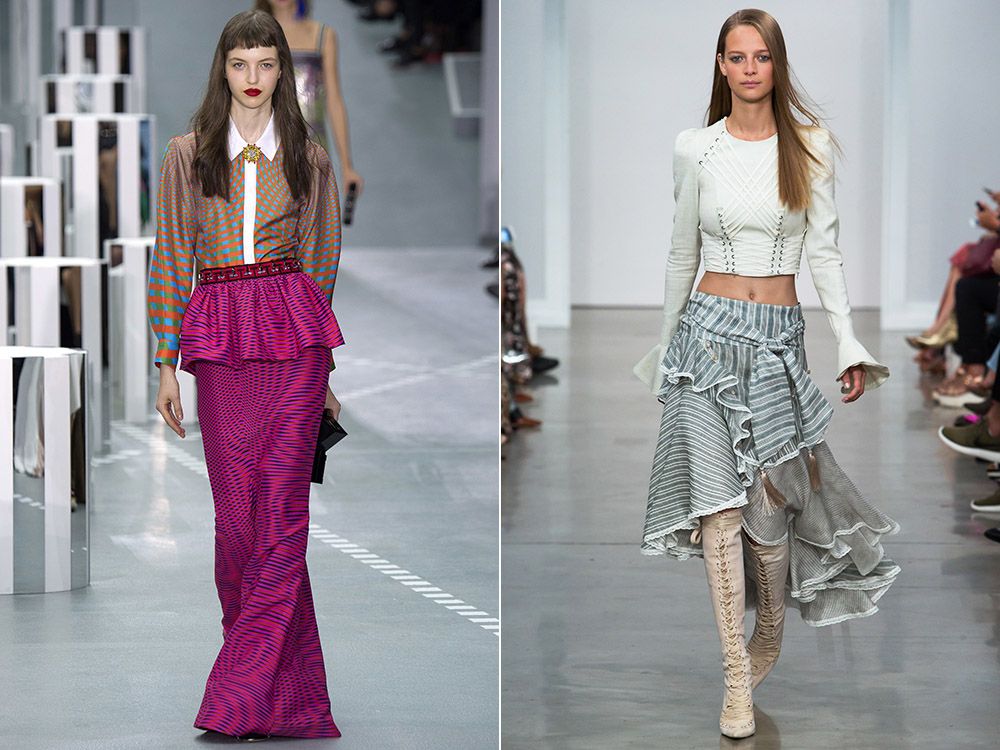 One can say without exaggeration: frills decorated most of the shows, including Alberta Ferretti, Altuzarra, Dsquared2, Emanuel Ungaro, Mary Katrantzou, Zimmermann. And this is not a complete list of those who included skirts in their collections, decorated with all kinds of ruffles, frills and flounces.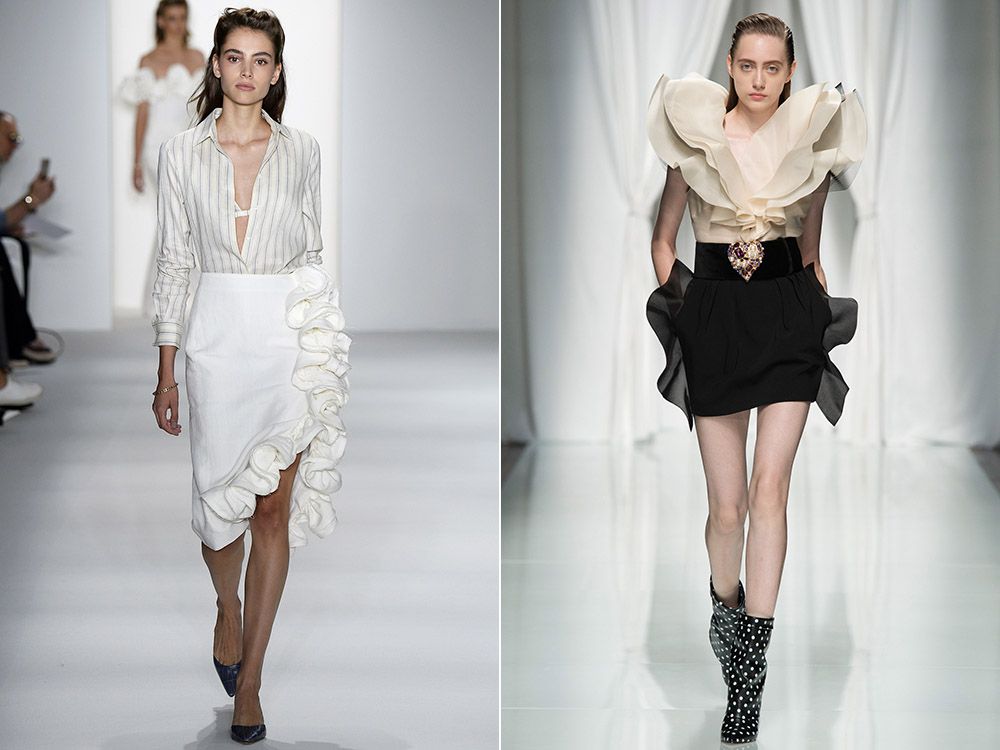 Fringed skirts
In the spring-summer 2017 season, fringe is in fashion, which gives the image of femininity, making it light and energetic. Fringes can act as a separate element that adorns the hem or smell of a skirt, and as the main outfit.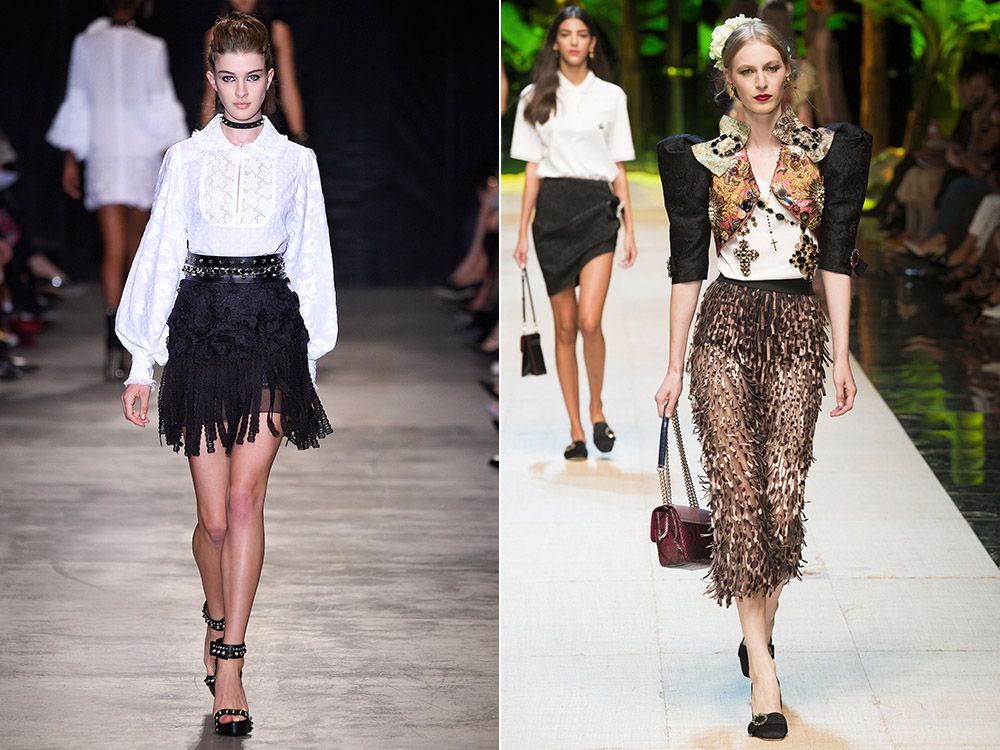 Fringed skirts look equally good both with t-shirts and casual sweaters, and with strict jackets and blouses, both with loafers and sneakers on a flat sole, and with high-heeled shoes.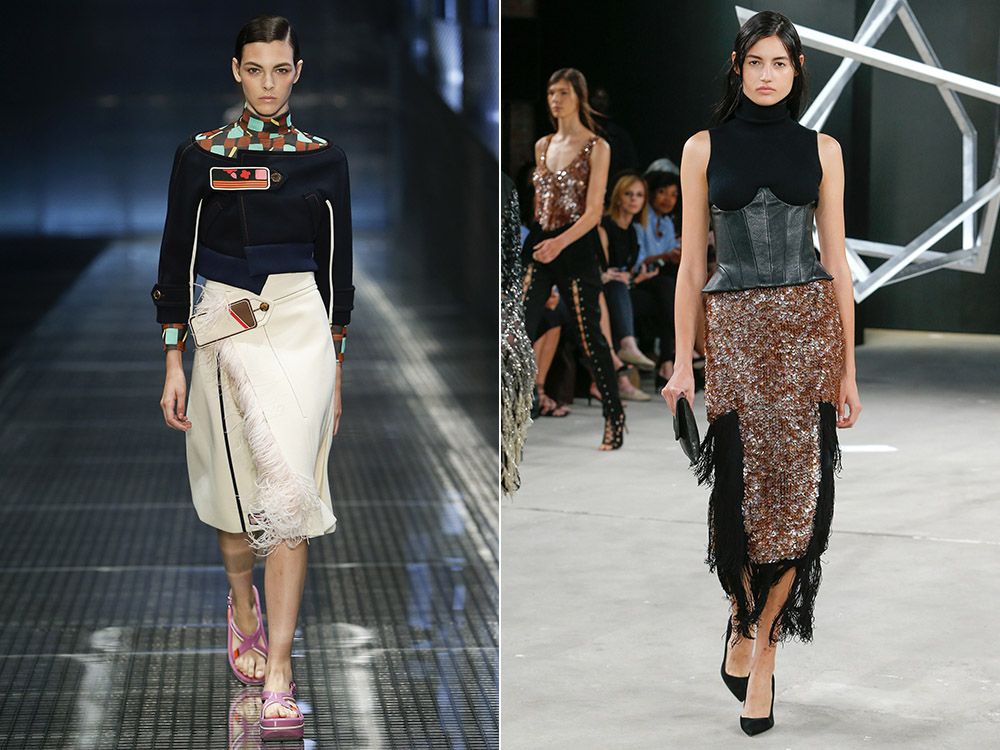 Stylish geometry
Skirts with geometric elements in the spring-summer 2017 season are presented not with prints in the form of stripes and rhombuses, but with trapezoid styles. Moreover, the designers abandoned the extreme length of mini and maxi and settled on models just above or slightly below the knees..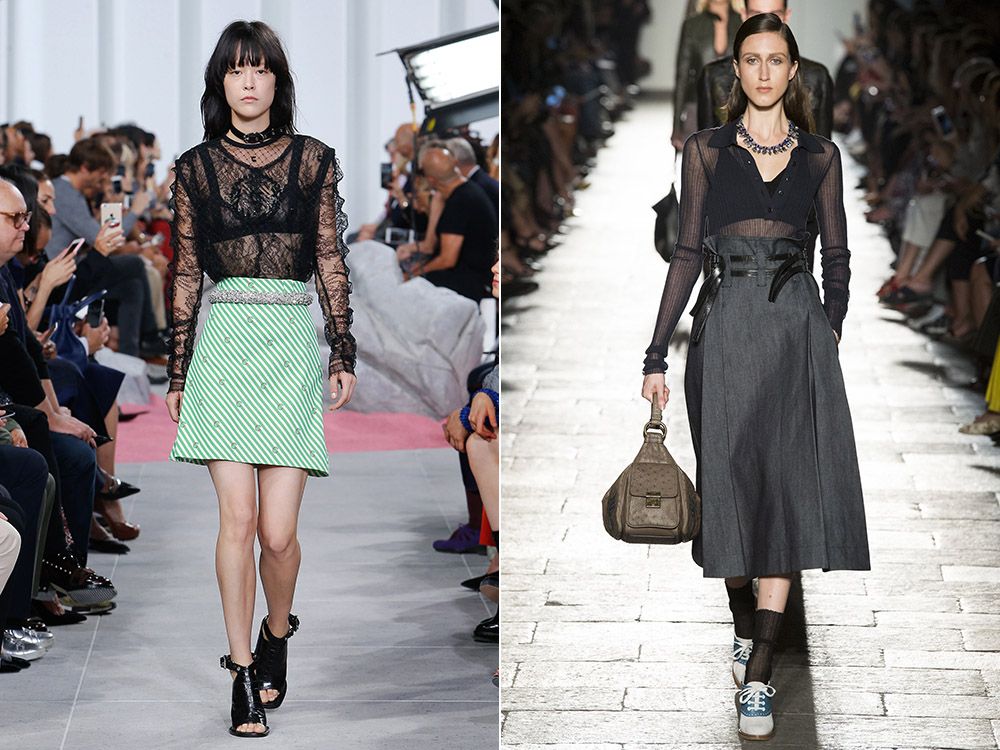 It is worth noting that the catwalks were predominantly dominated by retro-style a-line skirts. And so that the skirt did not look boring, designers added elements of modernity to their liking.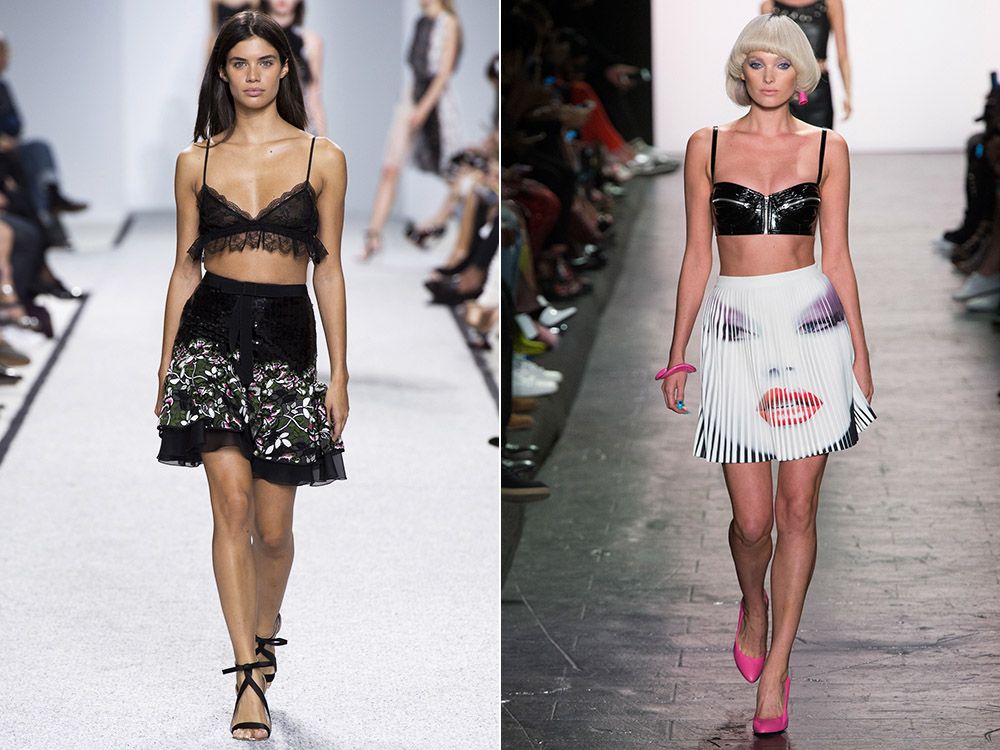 Pleated Skirt
Pleated skirts again in the spotlight. Only this time they are represented by a long midi or maxi, ultrashort models with even ironed folds are no longer relevant.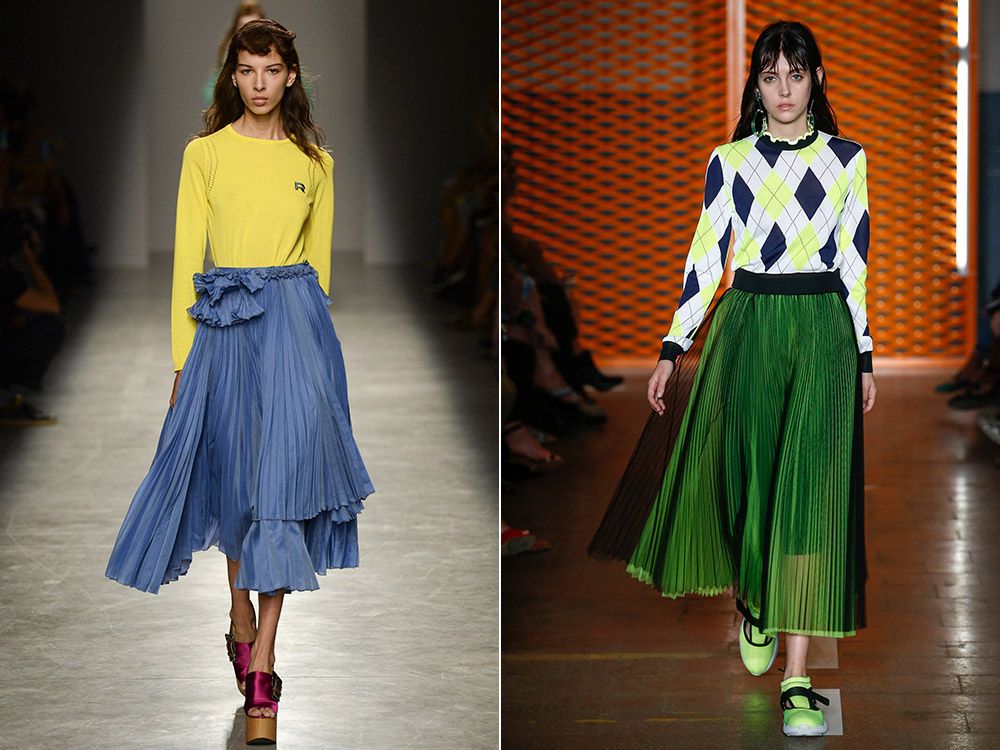 Any material is suitable for creating a characteristic "staircase," but chiffon, silk and other lightweight fabrics are preferable for summer. Also, along with the usual materials in fashion, pleated skirts with metallic sheen.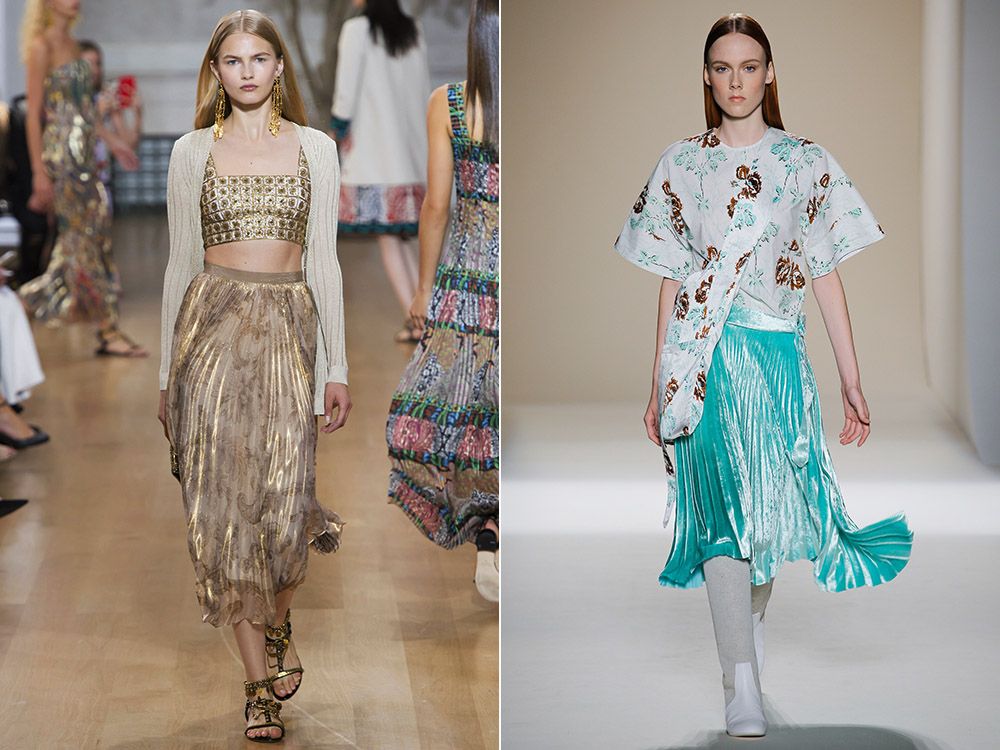 Metallic skirt
As you already noticed, fabric with a metallized texture is again at the peak of its popularity. Shiny gold, silver, non-ferrous metallic, as well as skirts with a holographic effect were seen on fashion catwalks in a variety of variations: from ultra-short mini to midi and impressive maxi.
Despite the first impression, the skirt for "metal" is truly universal – it is suitable both for going out and for everyday wear, including for the office.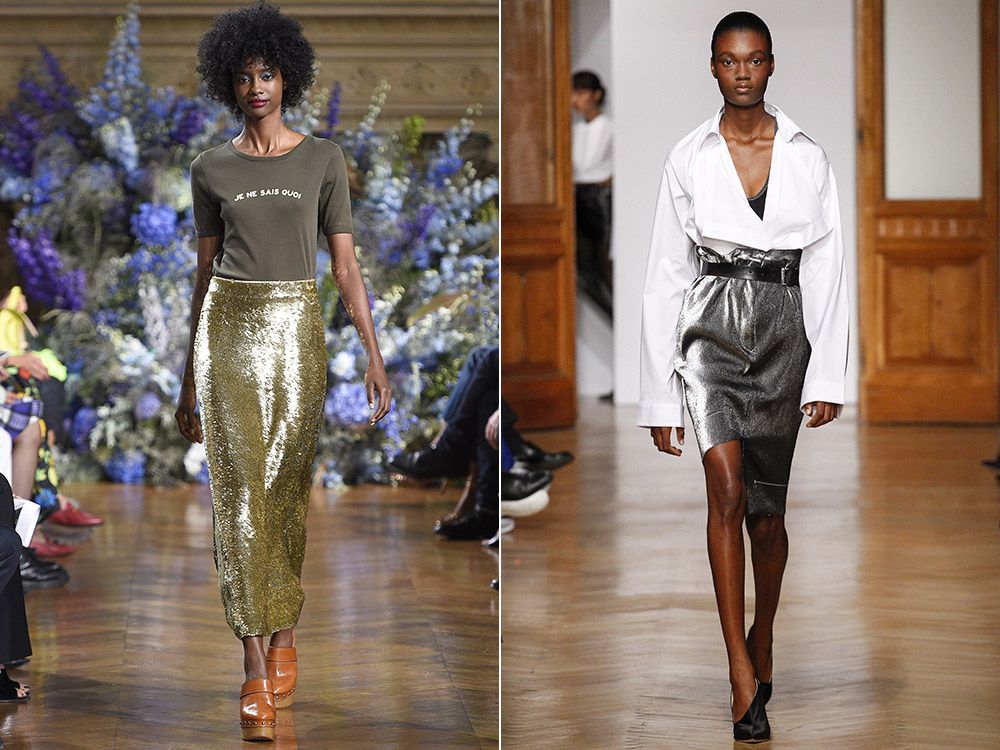 Transparent skirts
The maximum task for the upcoming season is to learn how to wear transparent skirts so as not to look vulgar in them. After all, organza, lace, chiffon and tulle have firmly taken a key place among the fashionable fabrics of the spring-summer season.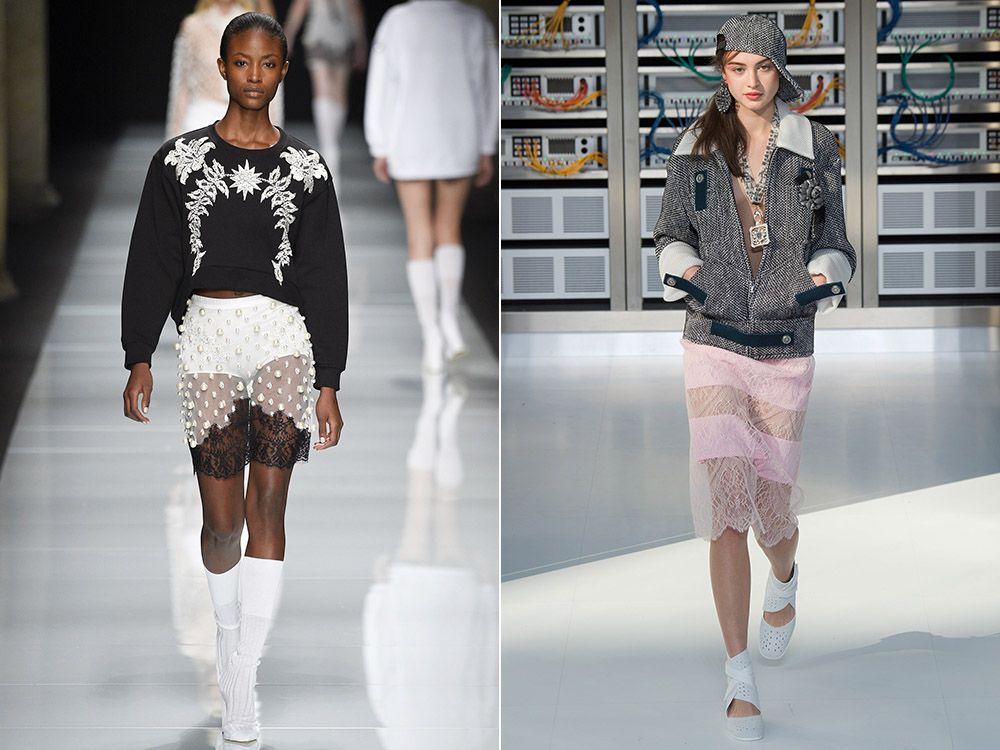 The classic cut makes it possible to come in a transparent skirt even to semi-official events. To look seductive, but it didn't matter, the designers provided tight covers and short shorts. So you choose what you can show and what you need to hide.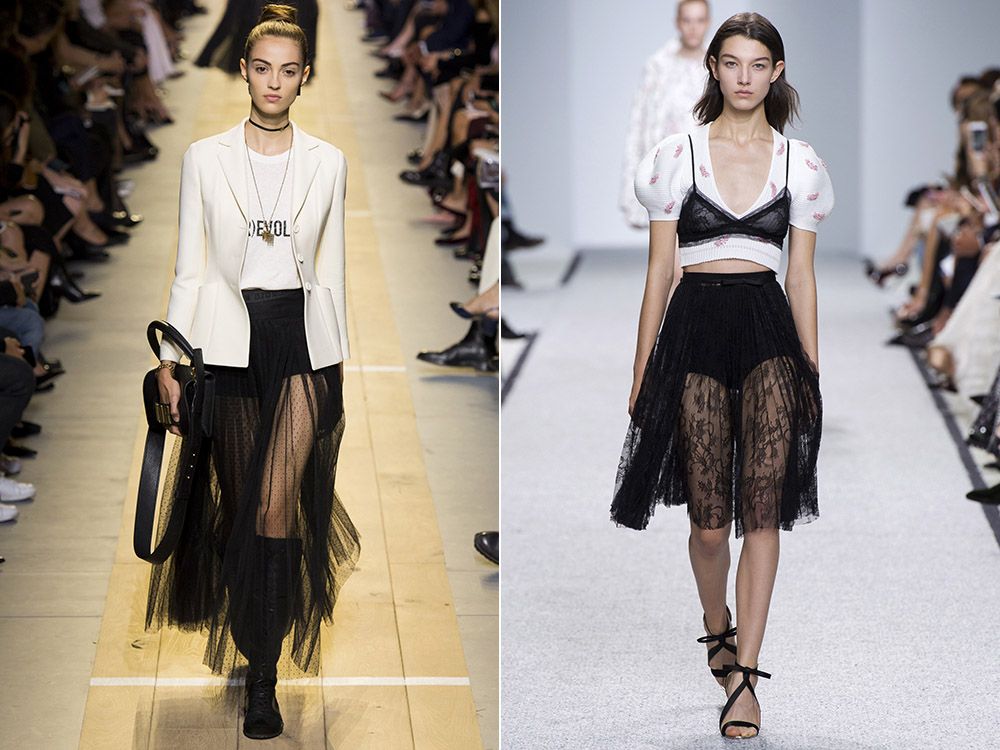 It is worth noting that all the current trends of the spring-summer 2017 season: transparency, flying silhouette, smell, an abundance of frills, asymmetry, the effect of metallic touched skirts as well. All of them are aimed at creating the most feminine images, in which there are no rude details and masculinity fashionable in past seasons..