Content
---
---
In general, designers headed for versatility. In other words, even the most sophisticated handbag or clutch can now fit perfectly into the sports bow, and large shoppers and trunks can be worn literally with a business suit. Fashion weeks have pleased us with their diversity, so feel free to proceed to the review.
Giant bags
In order to take a break from office austerity during the holidays, many fashion houses suggested fashionistas to bet on dimensionless leather shoppers, bag-bags and bag-bags. Although, if desired, such a model can even be made part of the working image – summer gives you the opportunity to relax a bit.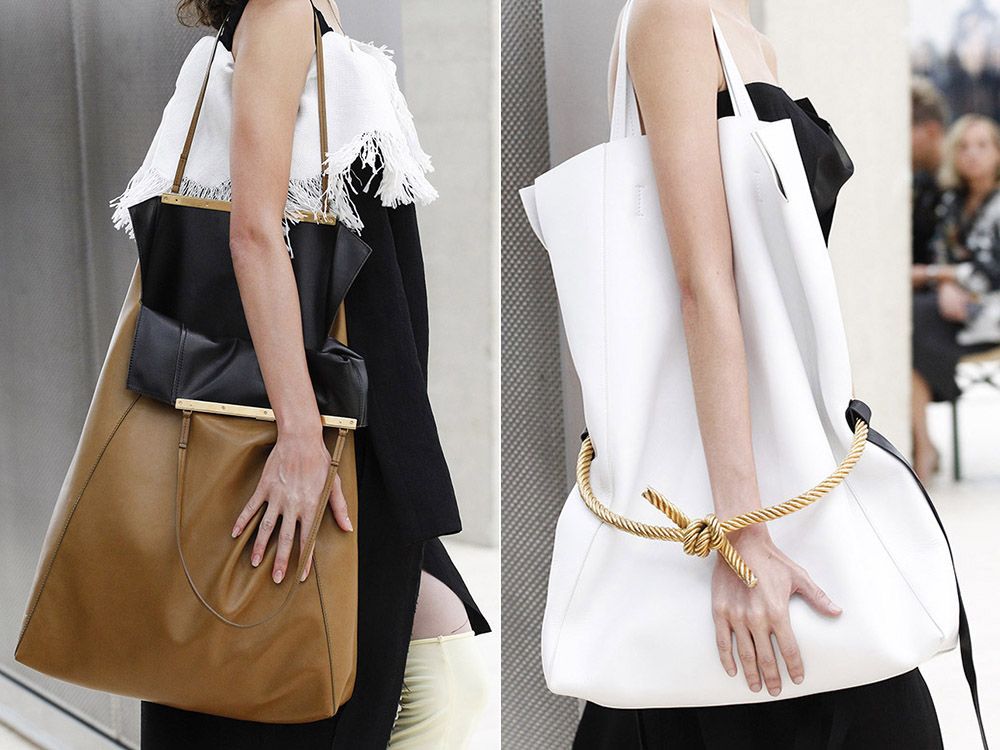 Balenciaga offered fashionable trunks stylized as shuttle bags. True, modern models resemble originals except in shape. No checkered print and cheap oilcloth. Only genuine quality leather.
Another representative of the giant bags is a bag-bag. Its shape resembles a regular bag, but it looks very fashionable. Instead of the usual zipper or clasp, the bag is equipped with a cord, which performs not only a decorative function. With it, you can adjust the volume of the bag, accommodating everything you need.
The most fashionable trunks made of quality crocodile leather, complemented by decorative legs, clasps and swivels.
Lilliput Bags
On the issue of the size of bags, designers rush from one extreme to another. If some people think that the trend of the spring-summer season 2017 should definitely be giant bags, then others urge you to pay attention to tiny midget bags. Such mini-models are presented in the form of chest metal boxes and miniature purses for small things. For greater spaciousness, you can wear such handbags in pairs – one on a short strap, the other on a long.
The Stella McCartney lap wallets have the same story. Only a phone and a wallet with credit cards can hardly fit into them.
Chloe crescent bags and Fendi trapezoid bags are more voluminous, but those who like to always carry everything with them are unlikely to do. For them, giant bags are also fashionable in the spring-summer season of 2017..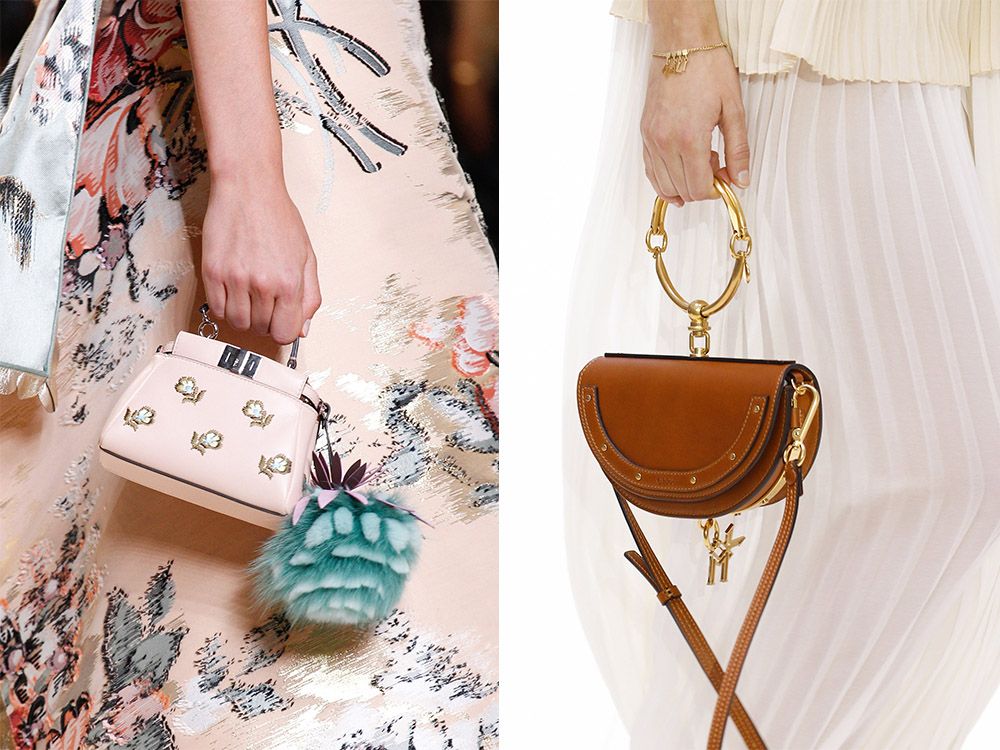 Classic bag models
If you prefer a classic style, be sure to check out Celine, Hugo Boss, Louis Vuiton, Miu Miu, Valentino handbags next spring. These brands, against the background of universal originality, were able to present eternal Kelly bags, trapeze bags and tote bags in a completely boring guise.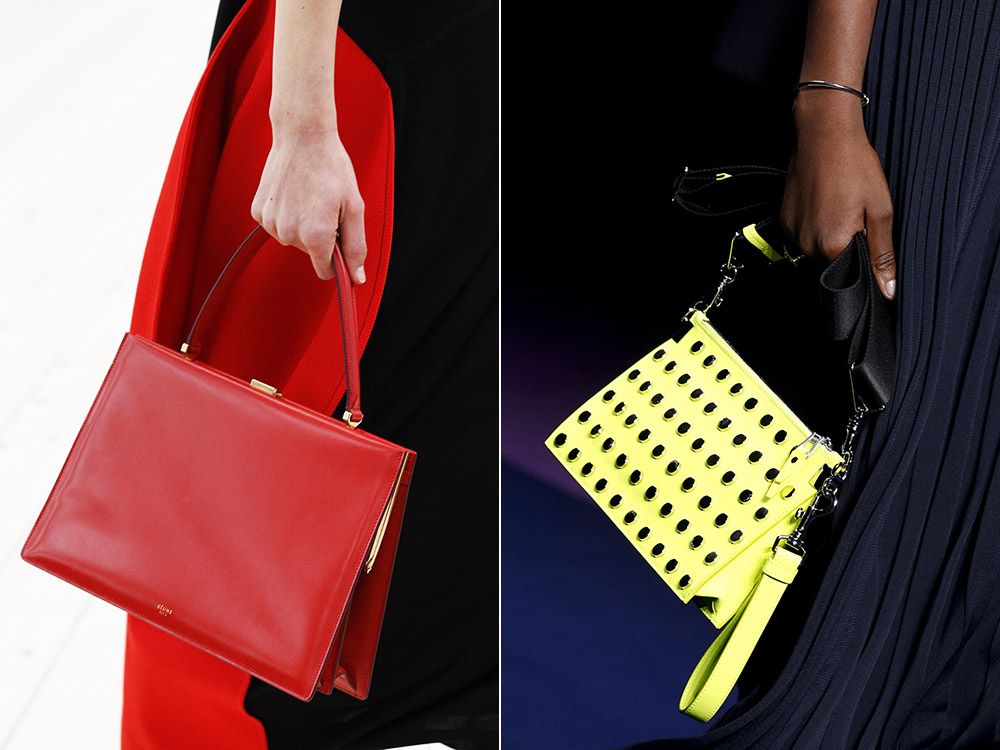 The clear geometric shapes of the handbags were complemented only by a neat decor: floral applique, rivets and handles in the form of braids.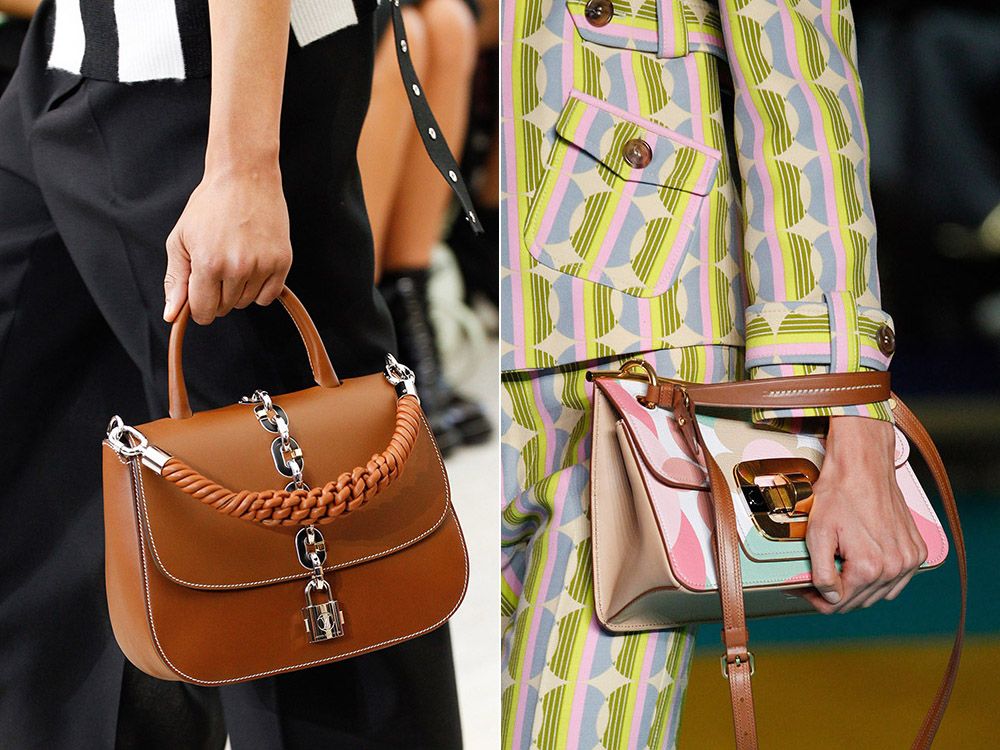 If your style borders on minimalism, you will be pleased with Hugo Boss accessories. Bags of this brand were presented in two versions: in neutral brown tones and in bright colors. Their plus is that they are very roomy, comfortable and almost universal. You can safely fit the same model into three to five images without risking looking ridiculous or funny.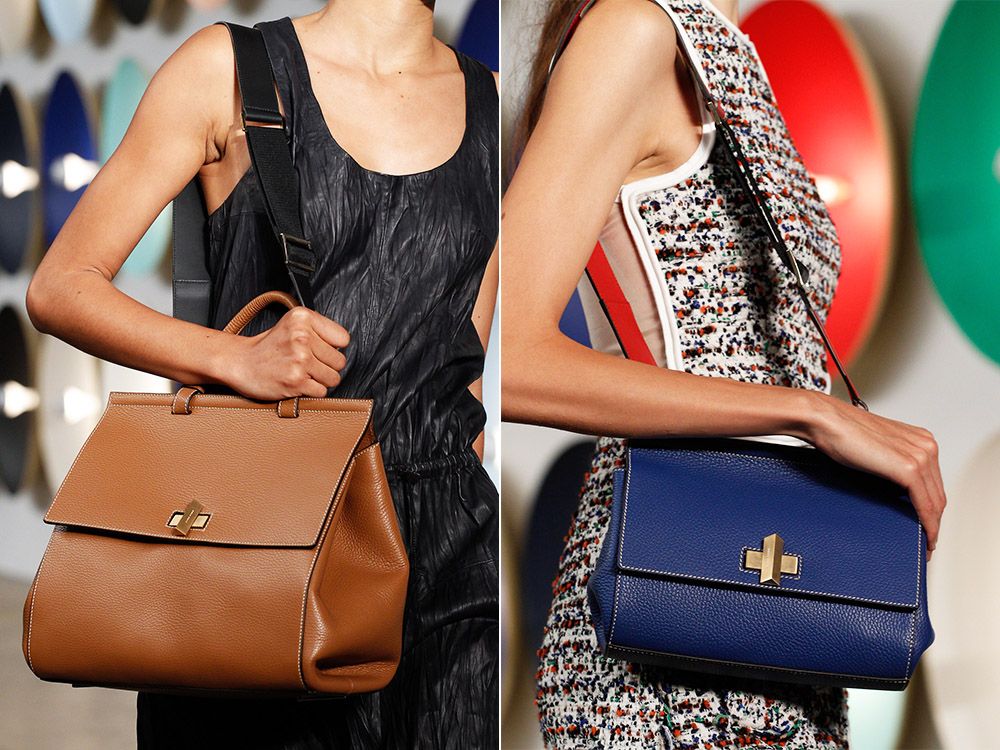 Multiple bags at once
Another bright trend in the spring-summer season of 2017 is to carry a set of two or three bags of different sizes. The most common option is a large bag-bag or a bag of a classic rectangular shape, to which a clutch bag or small suitcase is matched. In all its glory, this approach was demonstrated by Celine and Dolce&Gabbana.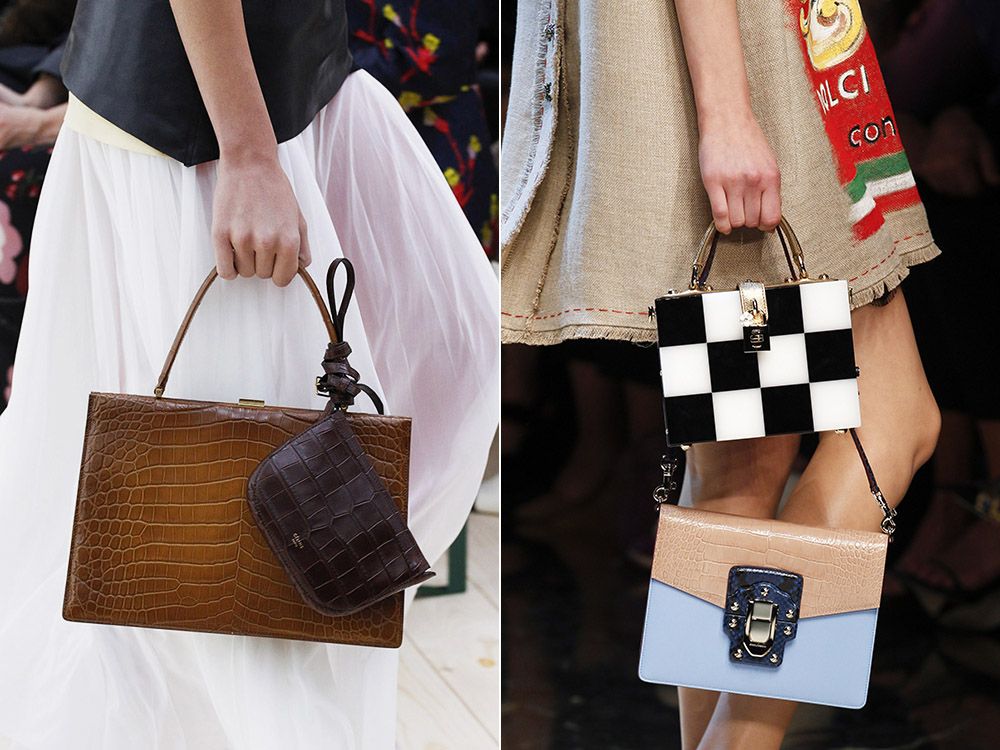 John Galliano proposed a set consisting of a backpack and a small bag, made in the same style and from the same materials. Designer of Tod's fashion brand approached this issue differently – he suggests carrying several bags that are different in style, color and material.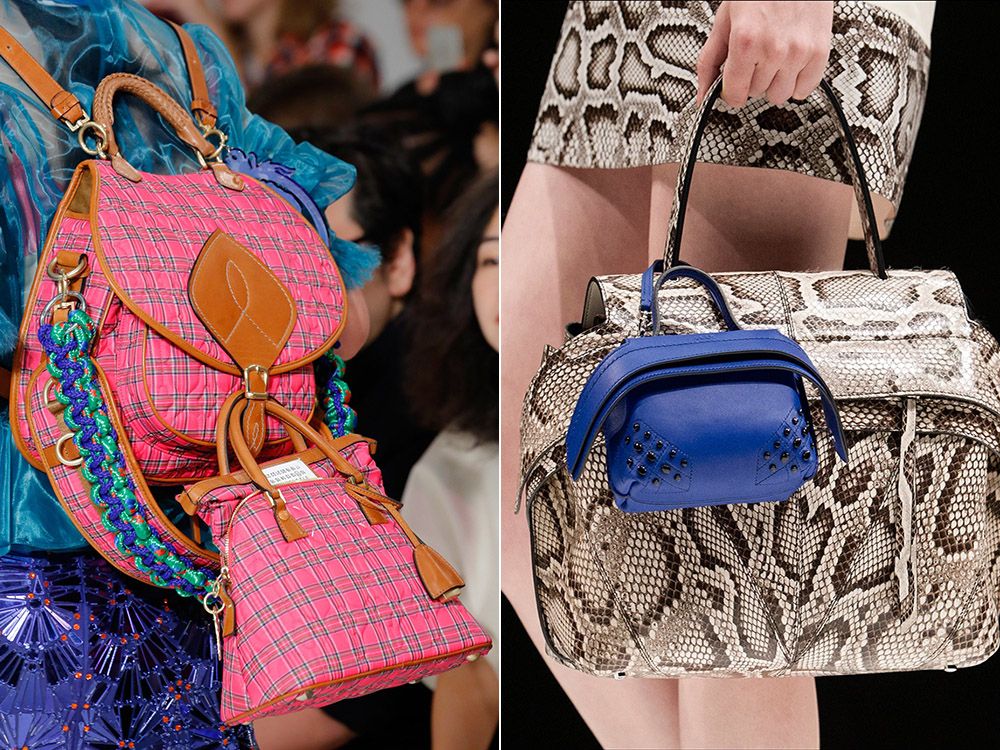 Bag-bag or pouch
If we talk about styles, then the most fashionable in the spring-summer season of 2017 can be safely called a bag-bag or bag-pouch. Almost every designer included this bag model in his collection. Its main plus – it is roomy even with its small size.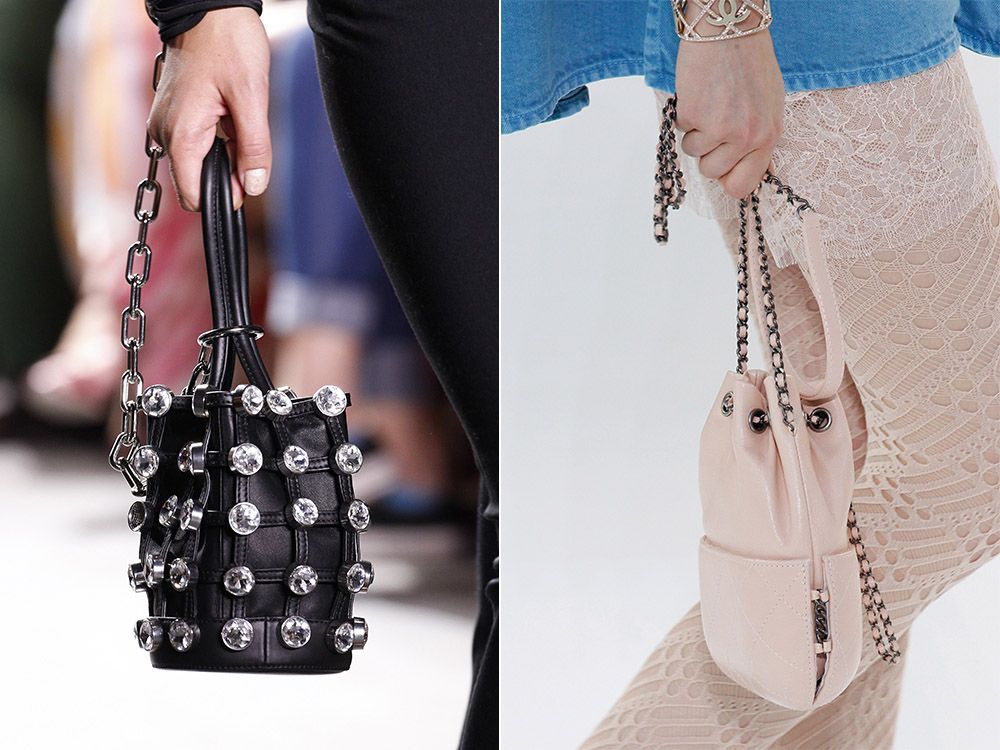 Handbags and pouches Alexander Wang-bags would not stand out from the crowd, if not for the unusual shape of the handle in the form of a bracelet and bright summer colors.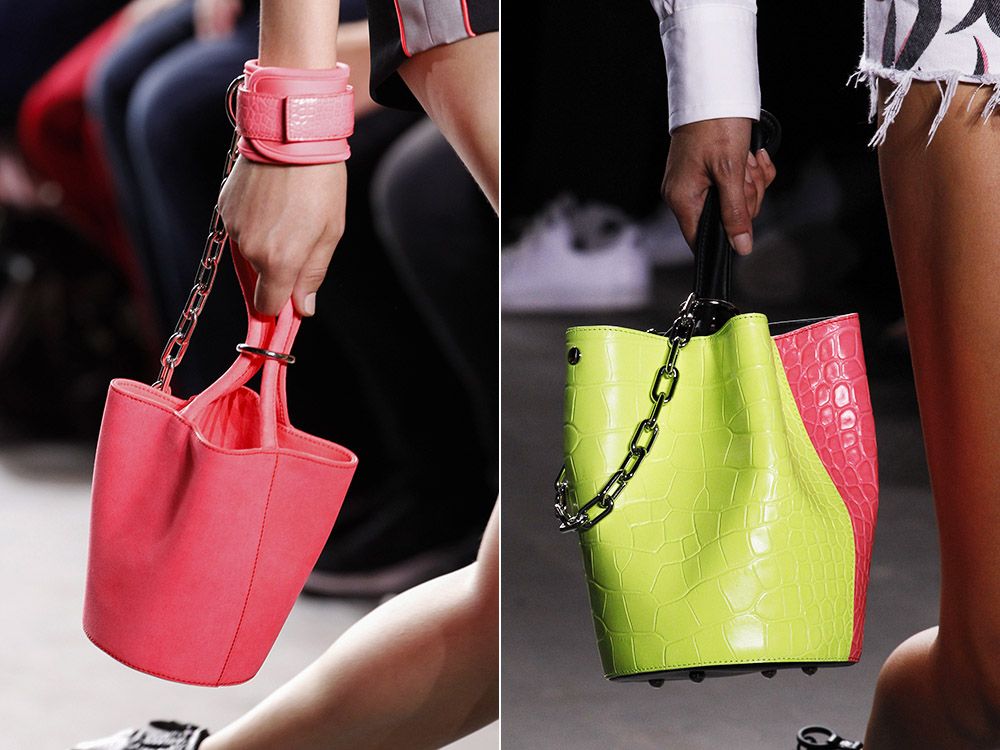 Half Round Bags
Another popular style is semicircular bags or hobo bags. These models can be quite roomy, while due to the lack of sharp corners they look very feminine and neat. This model is very versatile: it can be fit into almost any image.
Semicircular bags do not need an abundance of decor. Even evening options contain a minimum of attention-grabbing elements, since all attention is riveted to their form.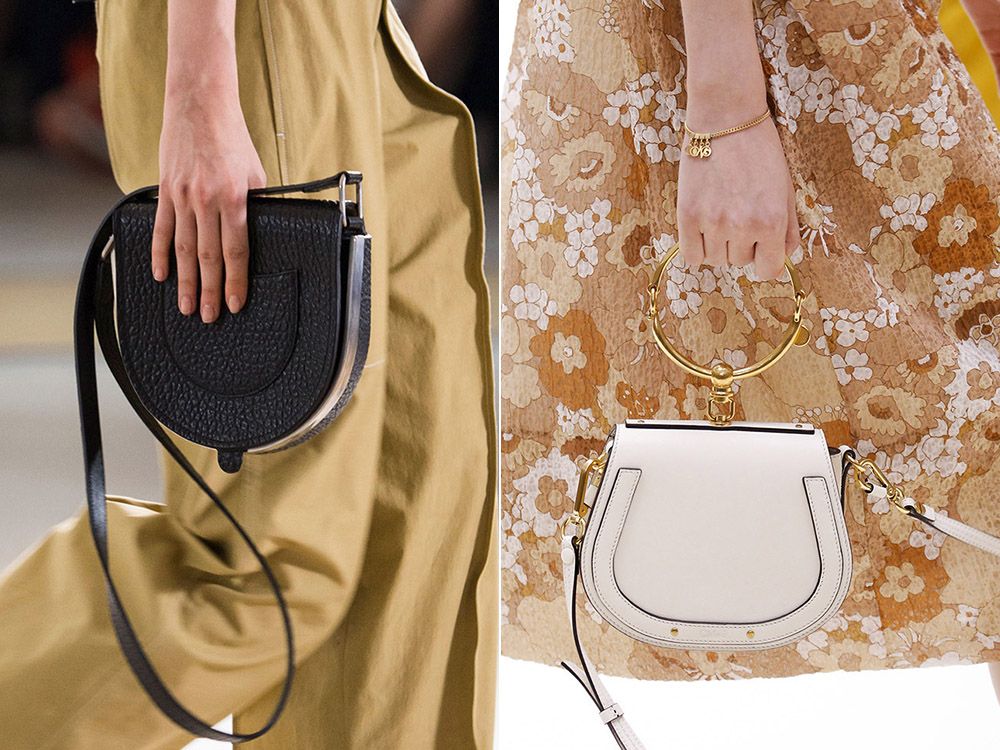 Suitcase bags
 Small suitcase bags are gaining popularity more and more, and judging by their abundance on the catwalks in the spring-summer season of 2017, we are facing a real fashionable "suitcase" boom. Fortunately, a variety of design allows you to choose a model to your liking.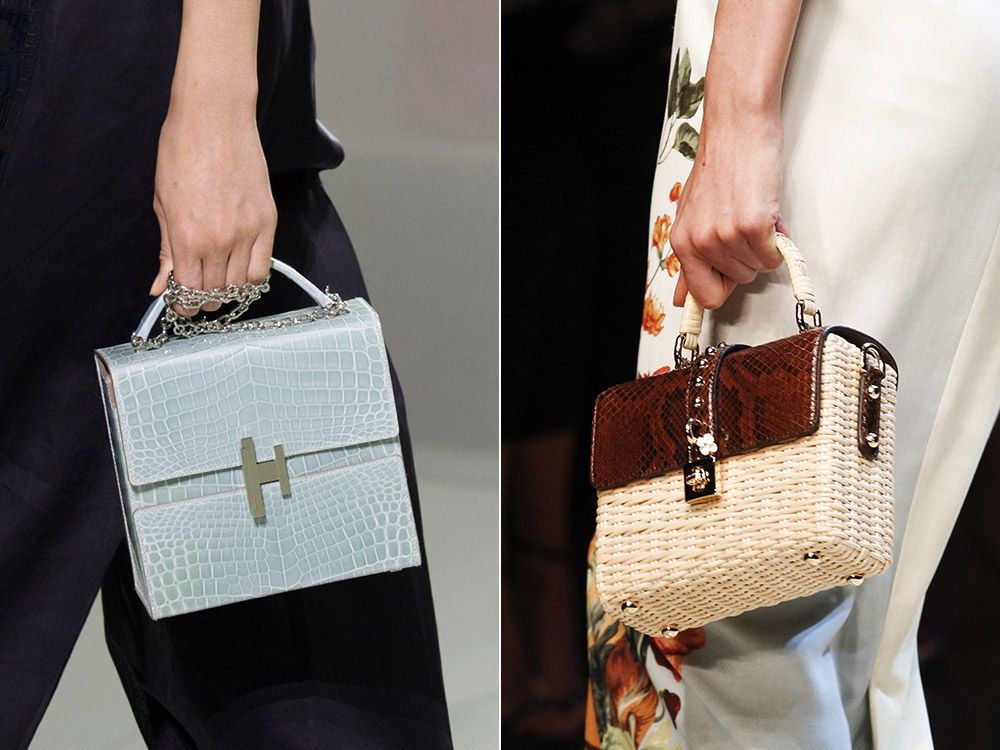 For example, Hermes and Dolce&Gabbana offered small crocodile and vine leather suitcases, Christian Dior and Chanel evening clutch boxes, and Louis Vuitton presented mini-copies of real grandmother's chests.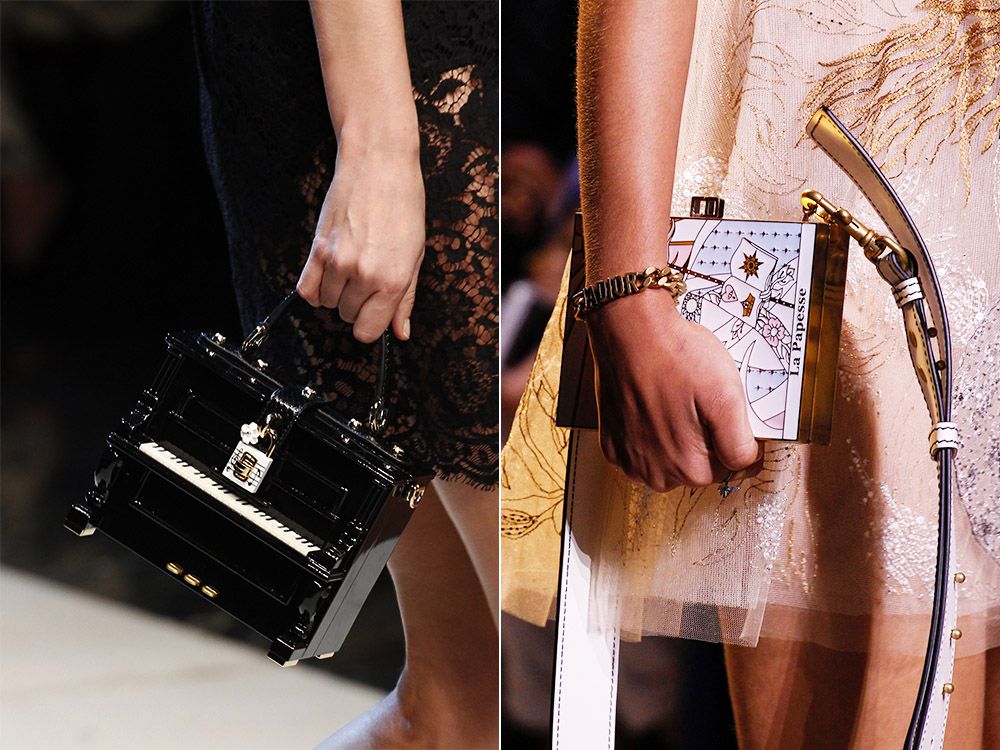 Clutches
Small clutches are also in trend. Leading brands played with shape, size, color, but gentle clutches by Michael Kors and Miu Miu with frills and voluminous petals made a real sensation. Their tenderness and originality cannot be expressed in words – it seems that the models in their hands are holding real bouquets, just collected in the garden.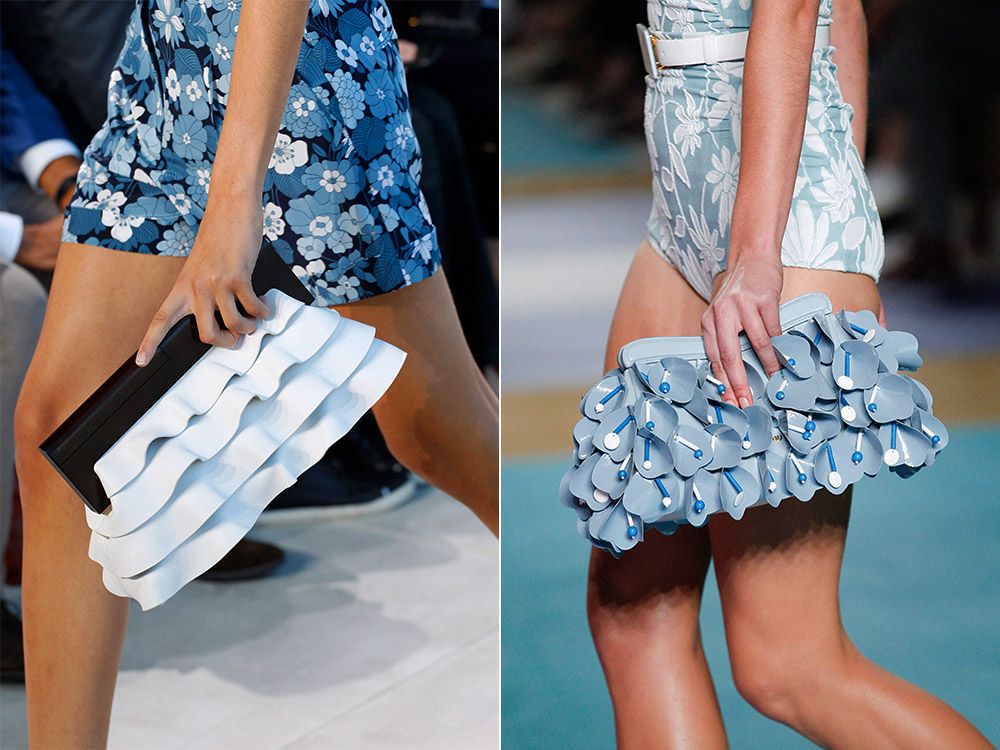 Issey Miyake abandoned the usual forms. "Fashionable" for him means "original", so his clutches acquired completely different forms that are far from classics and familiar ideas. At the same time, Mary Katrantzou relied on unusual materials: plastic, stone, metal.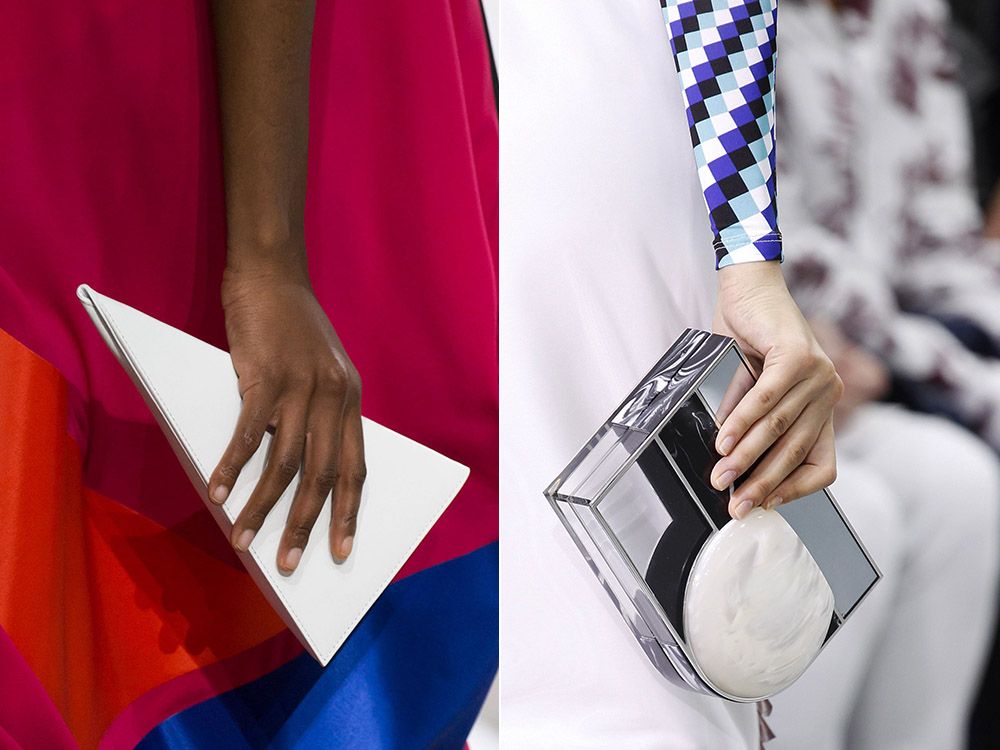 Also pleased with the variety of colors of bags Miu Miu and Chanel. The usual rectangular shape of clutches would be commonplace, if not for the juicy summer shades.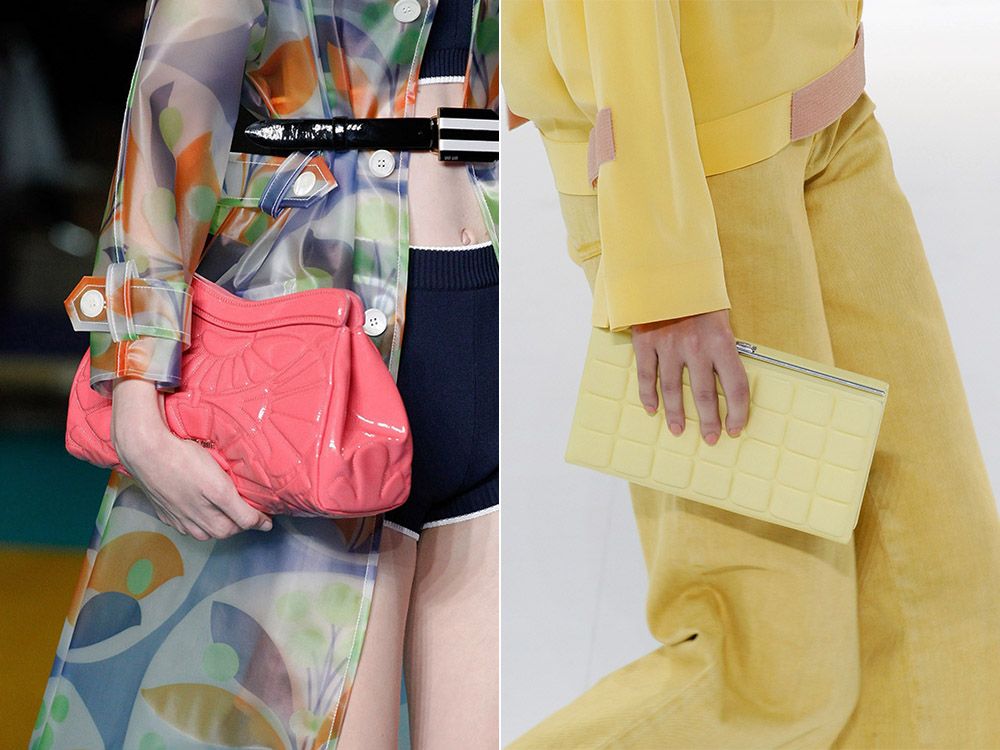 Bags that repeat the print on clothes
Designers still can not say goodbye to the images of total look. It was popular all last year, so no one was surprised at the return to the catwalks of bags that were exactly repeating the print, color and texture of clothes.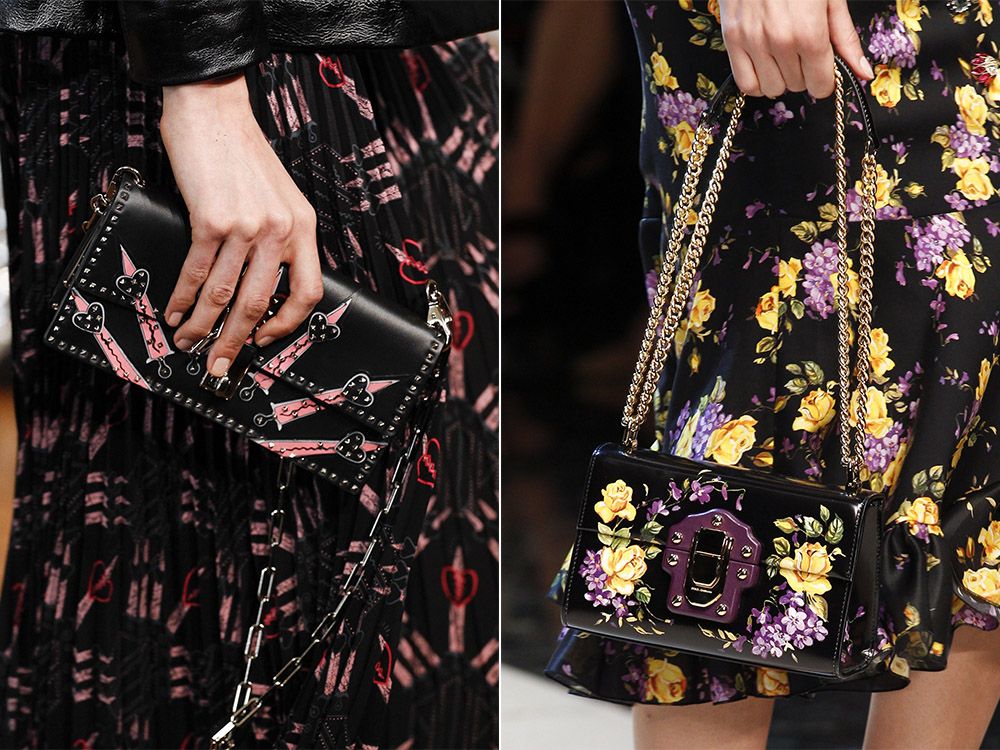 Especially this idea was exploited by the fashion house Chanel. After the considerable success of the autumn-winter collection, built on the basis of total look, the fashion designer decided to use the same methods in the new spring-summer collection 2017.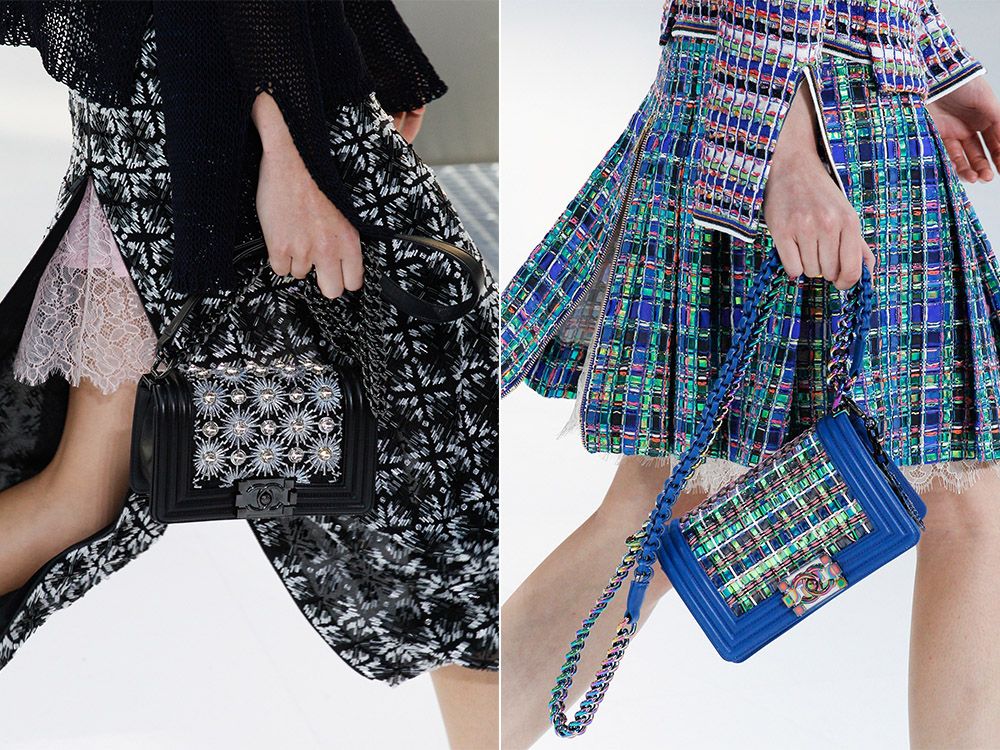 Fashion bags imitating the clothes of their owner were also widely presented at the shows of Stella McCartney and Fendi. Designers tried to make the bag not just a place to transport things, but an indispensable detail of the image.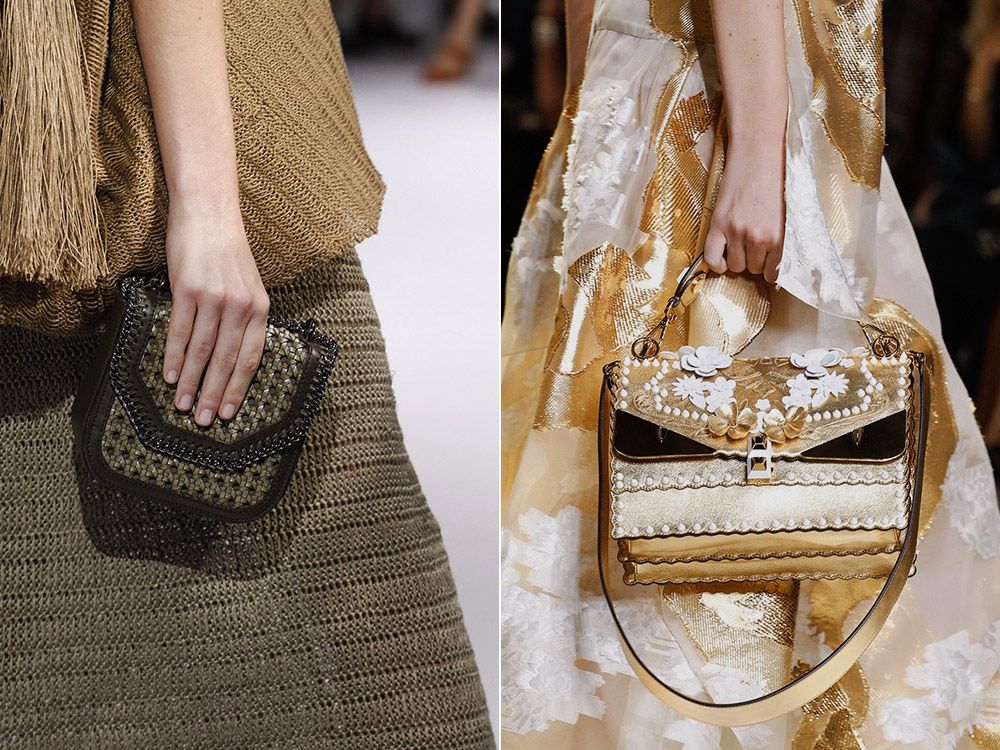 Reptile Leather Bags
When ordinary leather runs out of its mind as a material for creativity, designers turn to the more expensive and original reptile skin. Prints in the form of coloring snakes and crocodiles were found everywhere: Altuzarra, Dolce&Gabbana, Givenchy, Louis Vuiton, Miu Miu, Valentino.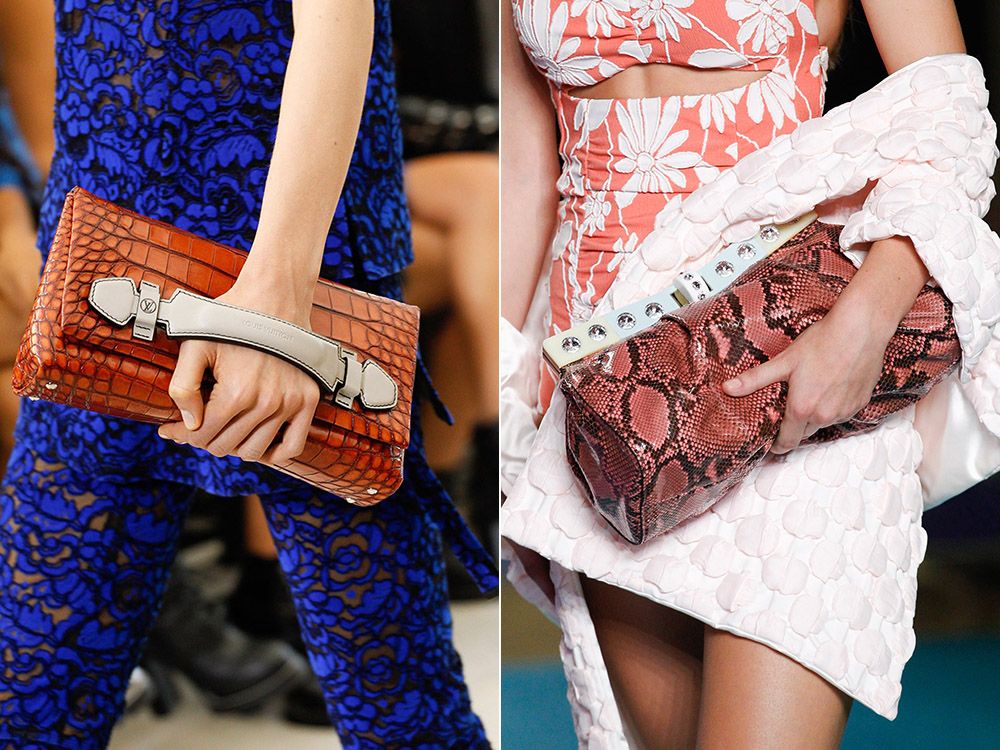 Designers have tried to diversify this trend. Thus, instead of the classic gray, black, swamp green shades, they presented yellow, blue, burgundy and purple handbags made of reptile skin. Also in fashion is a combination of several textures – a mix of python skin, a lizard and a crocodile.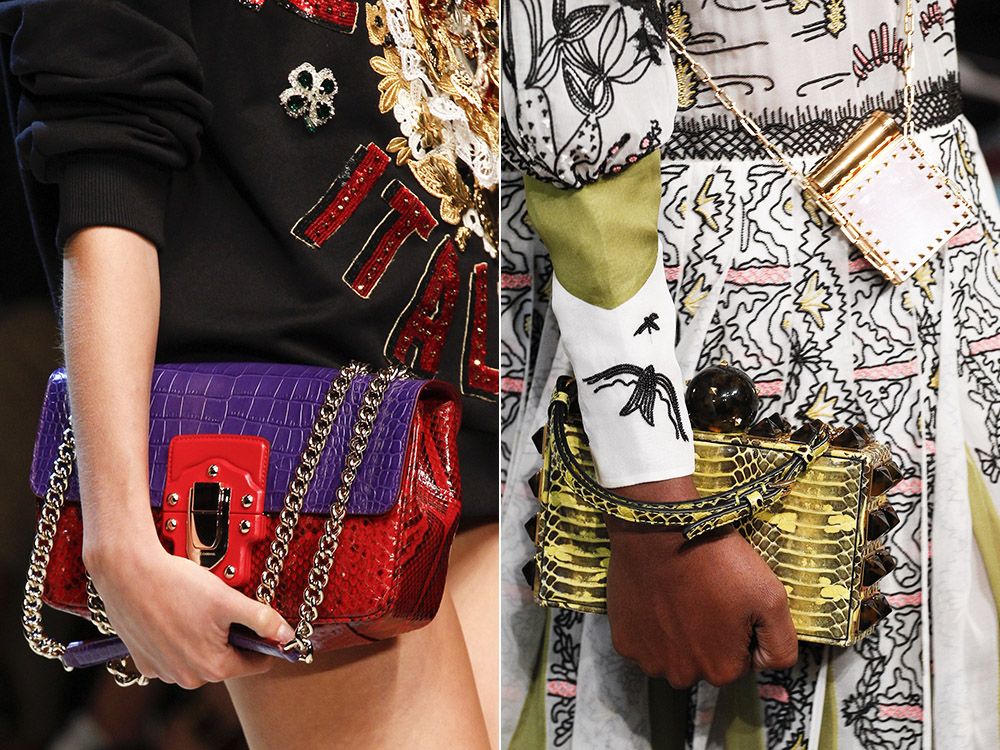 Fringe Bags
Fringe firmly occupied a niche in high fashion last season. But in the spring-summer 2017 season, she promises to completely move from clothes to bags. Faithful supporters of this trend are Giorgio Armani, Altuzarra, Hermes, Loewe.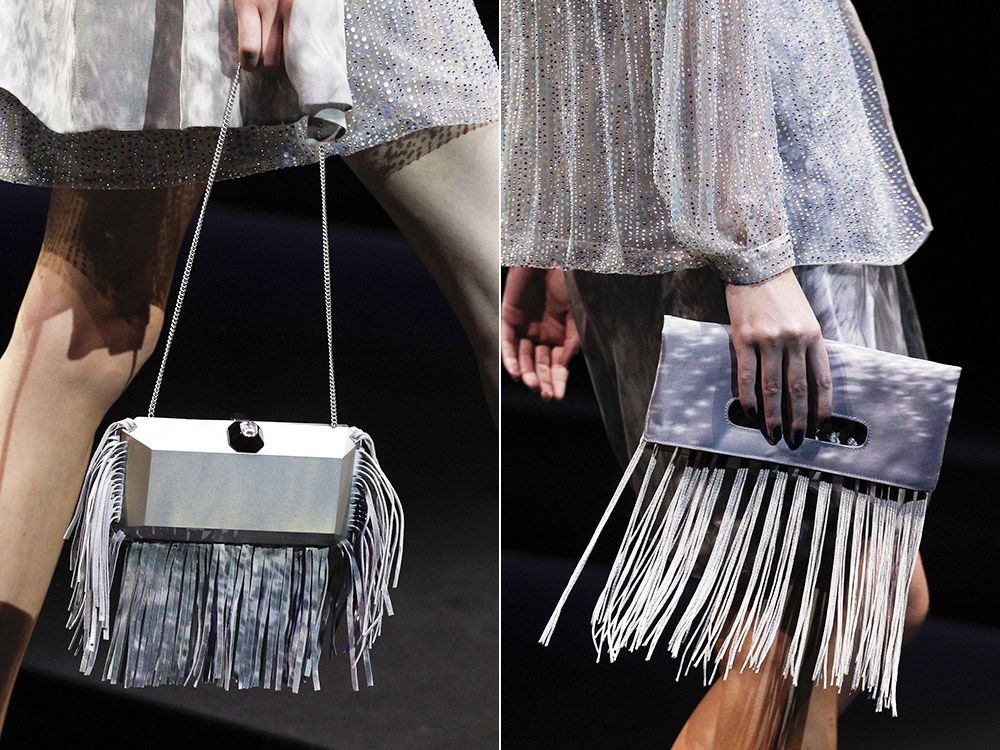 Giorgio Armani and Lanvin presented a line of evening clutches decorated with trendy fringe. Loewe introduced an original mix of minimalism and boho-chic, decorating bags with a clear geometric shape with small fringe tassels.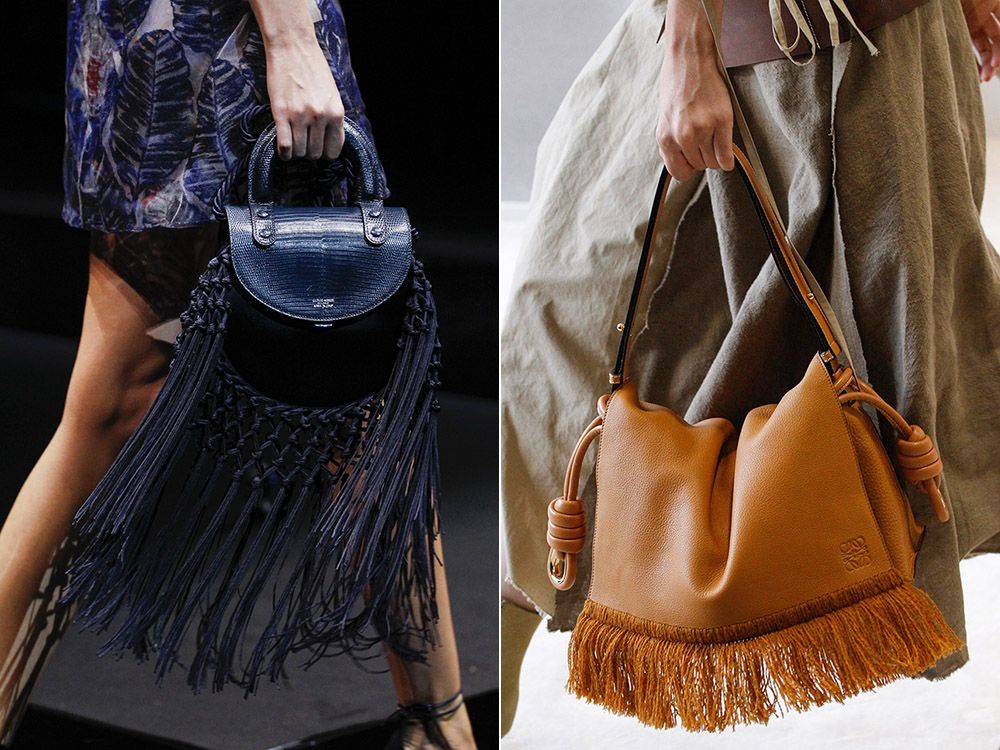 Metallic Bags
"Metal" accessories along with metallized dresses, skirts and trousers in the trend is not the first season. Many leading designers presented this spring a line of bags with metallic effect: from everyday roomy versions, to evening clutches and small handbags on a long chain.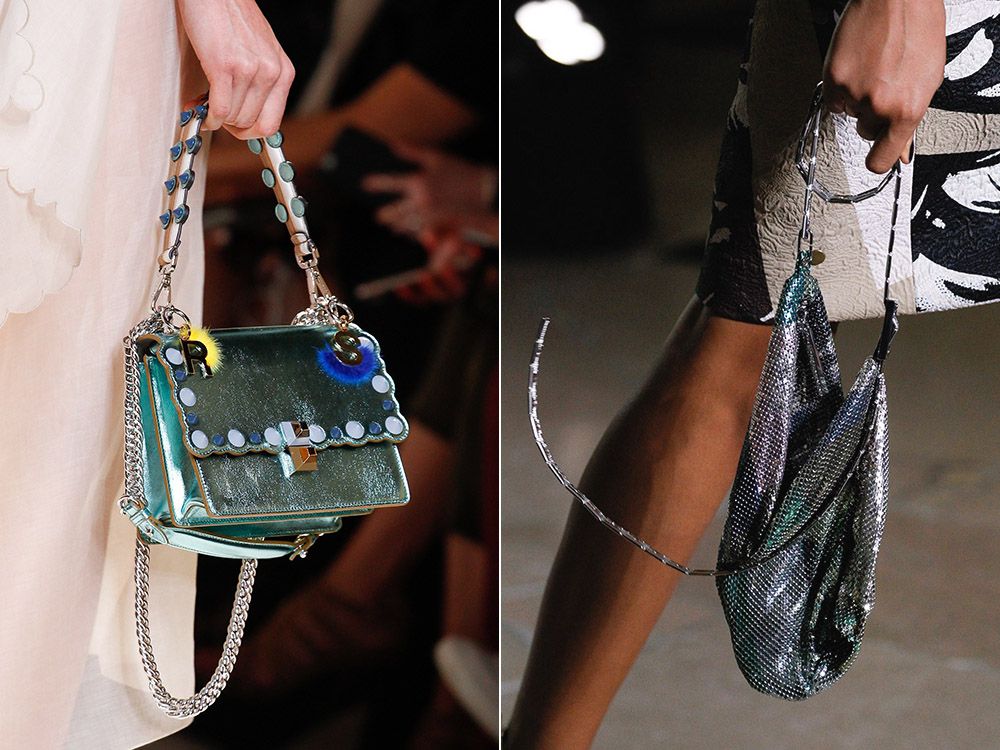 In addition to the classics in the form of gold and silver bags in fashion accessories made of non-ferrous metal, with a holographic effect and with a metallic texture under the skin of reptiles.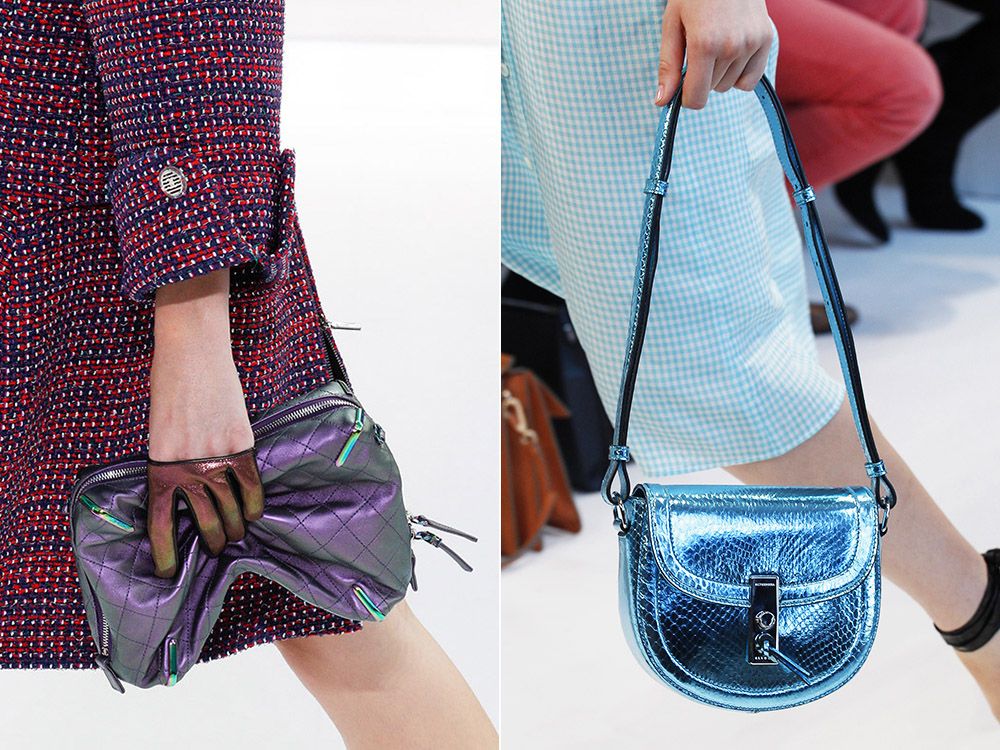 Fancy bag models
To give way to their irrepressible imagination, some designers abandoned the usual shape of bags. Thus, on the catwalks appeared: a drum bag, a robot bag, a carpet bag and other strange models. Recklessness rolls over, but such unusual bags will appeal to connoisseurs of Dolce&Gabbana and Chanel who bring us something unusual every season.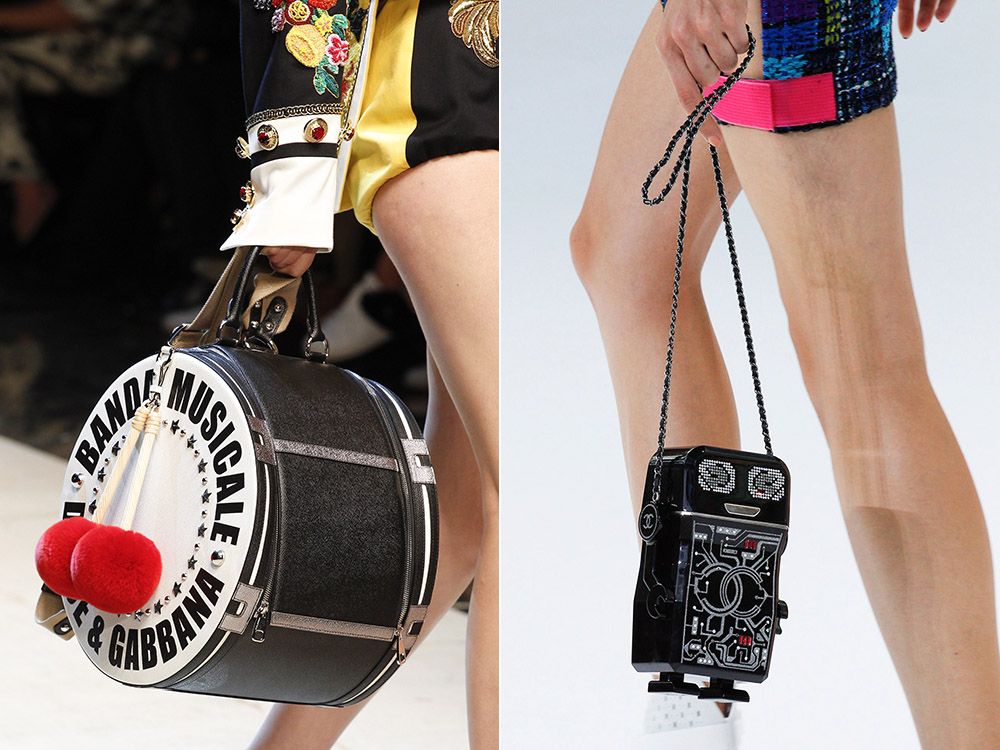 More mundane models introduced the brand Issey Miyake. He suggests wearing comfortable shoulder bags, which also have a shape that is far from ordinary..
As you see, utter eclecticism reigns in fashion. A variety of styling, colors, prints and shapes is fully consistent with the mood of a big city in which every fashionista is an individual. So do not be afraid to express yourself through unusual bags, which in the spring-summer 2017 season will be in bulk.