Content
---
---
Many trends have moved from past seasons. Clear plastic, mules, platform and fringe are still relevant. There were unexpected new items – mesh inserts, shoes from the era of Queen Victoria and the diagonal strip.
Transparent shoes
Shoes and accessories made of PVC made their furor back in 2017. For the first time, completely transparent boots, ankle boots and bags debuted in the collections of Chanel and Balmain. The effect of weightlessness, which creates shoes made of transparent plastic, was so liked by the designers that they gave the palm of primacy to this texture. Shoes can be made entirely of plastic, as in the models Marc Jacobs and Balmain.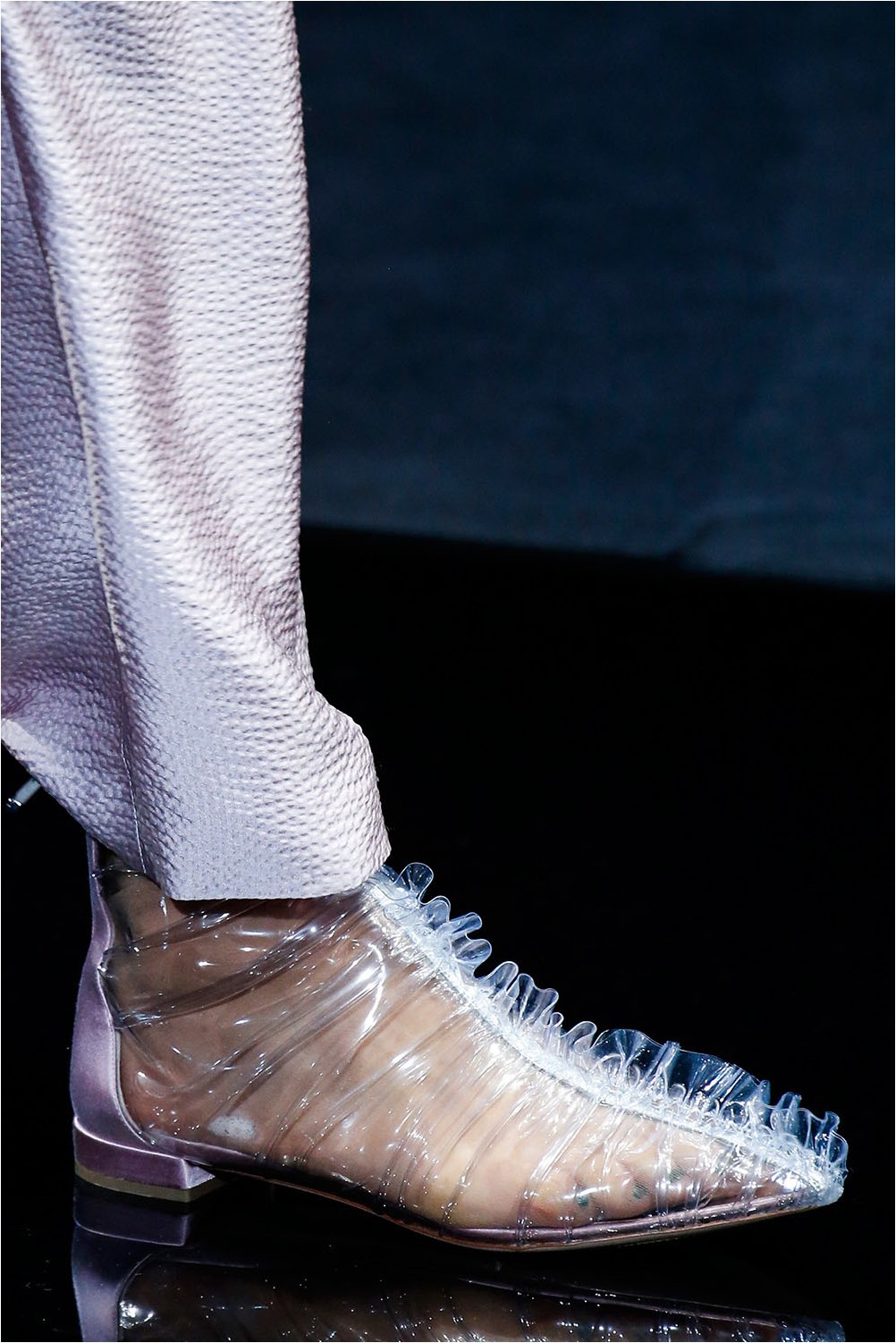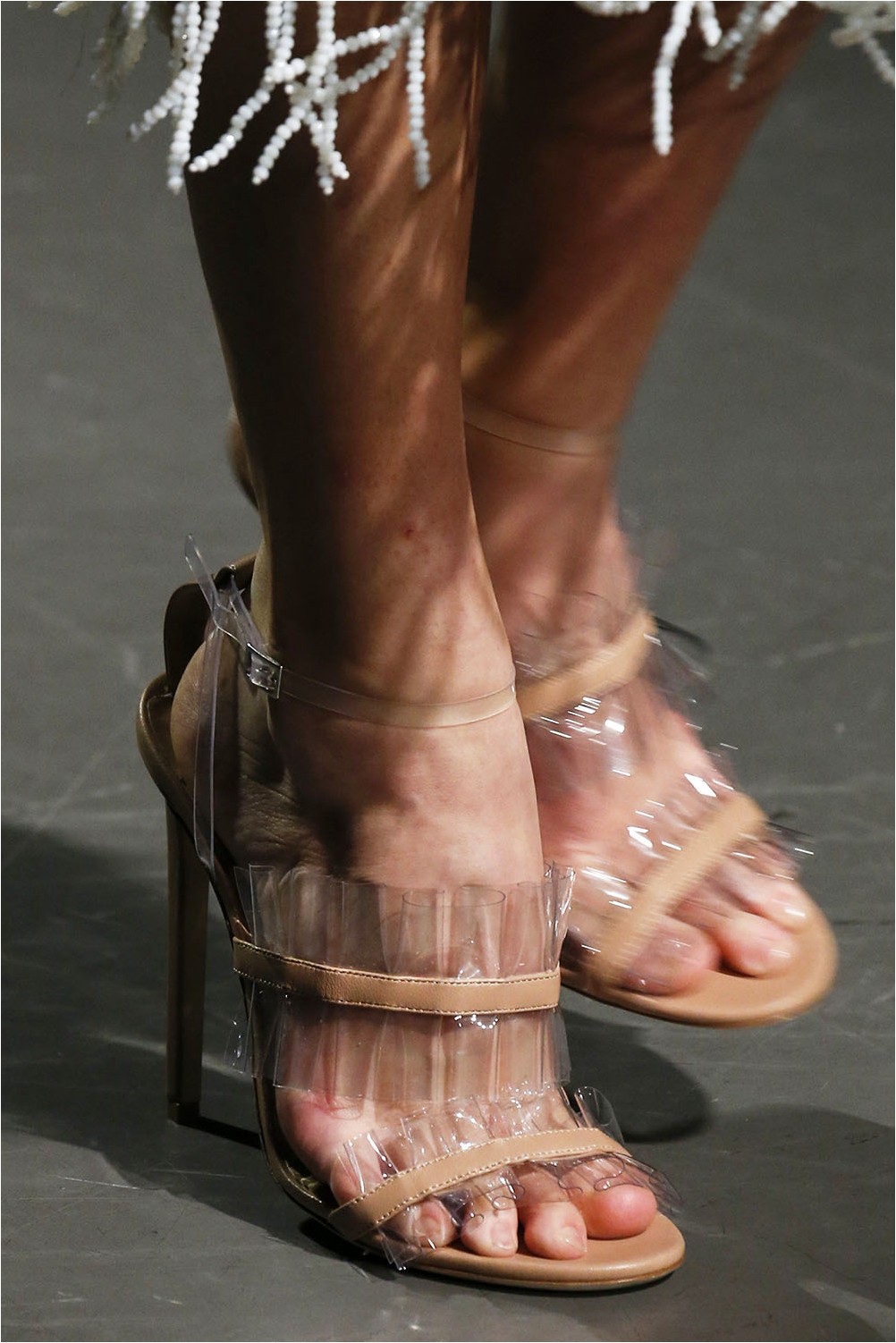 Some designers chose to decorate with "invisible details" only certain parts of the shoe. For example, Giorgio Armani made only the lift line transparent, which made the neat shoes look even more elegant.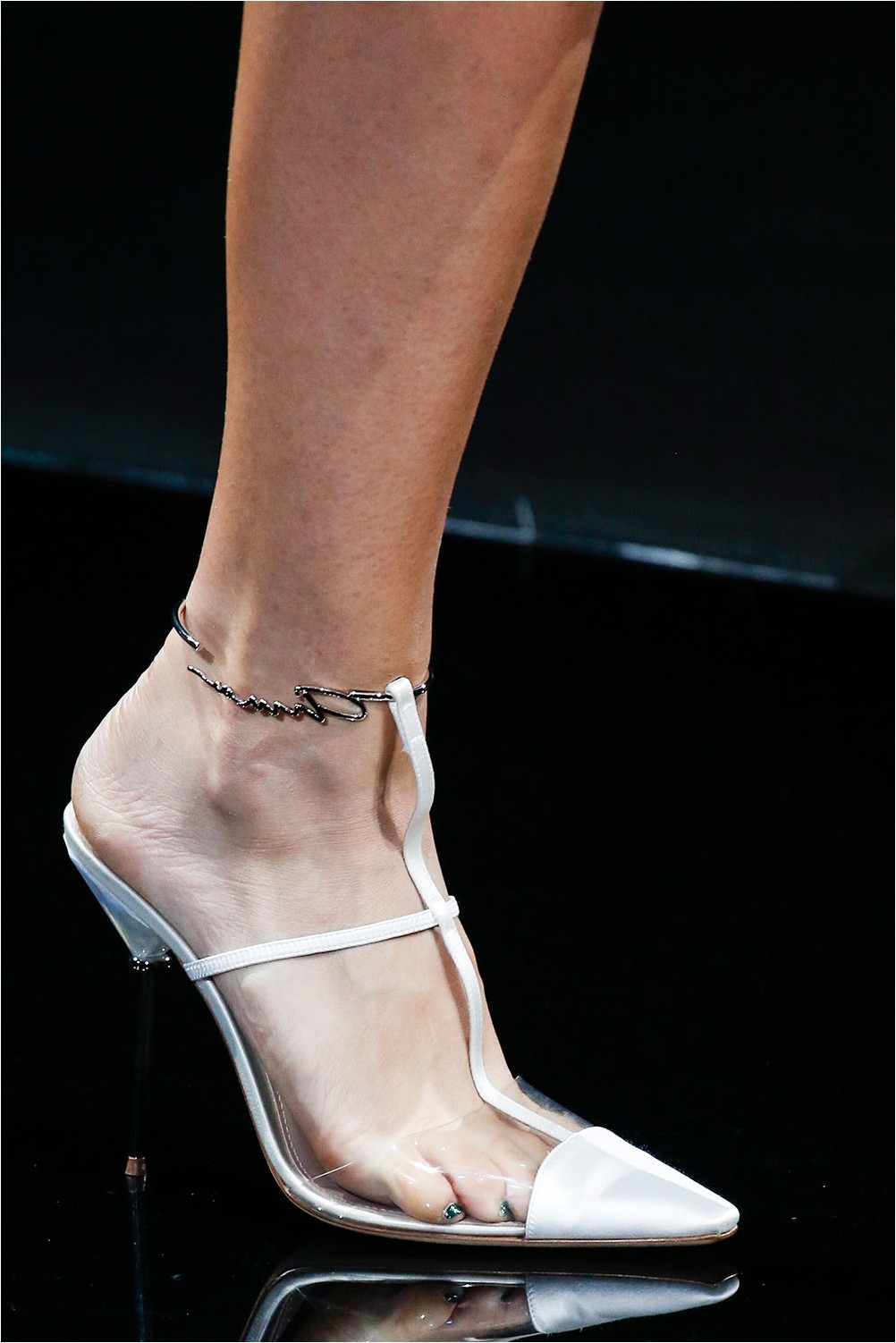 But most often on shoes, boots and boots, leather is combined with plastic inserts. Futuristic notes of fashionable Balmain transparent shoes added beveled transparent heels.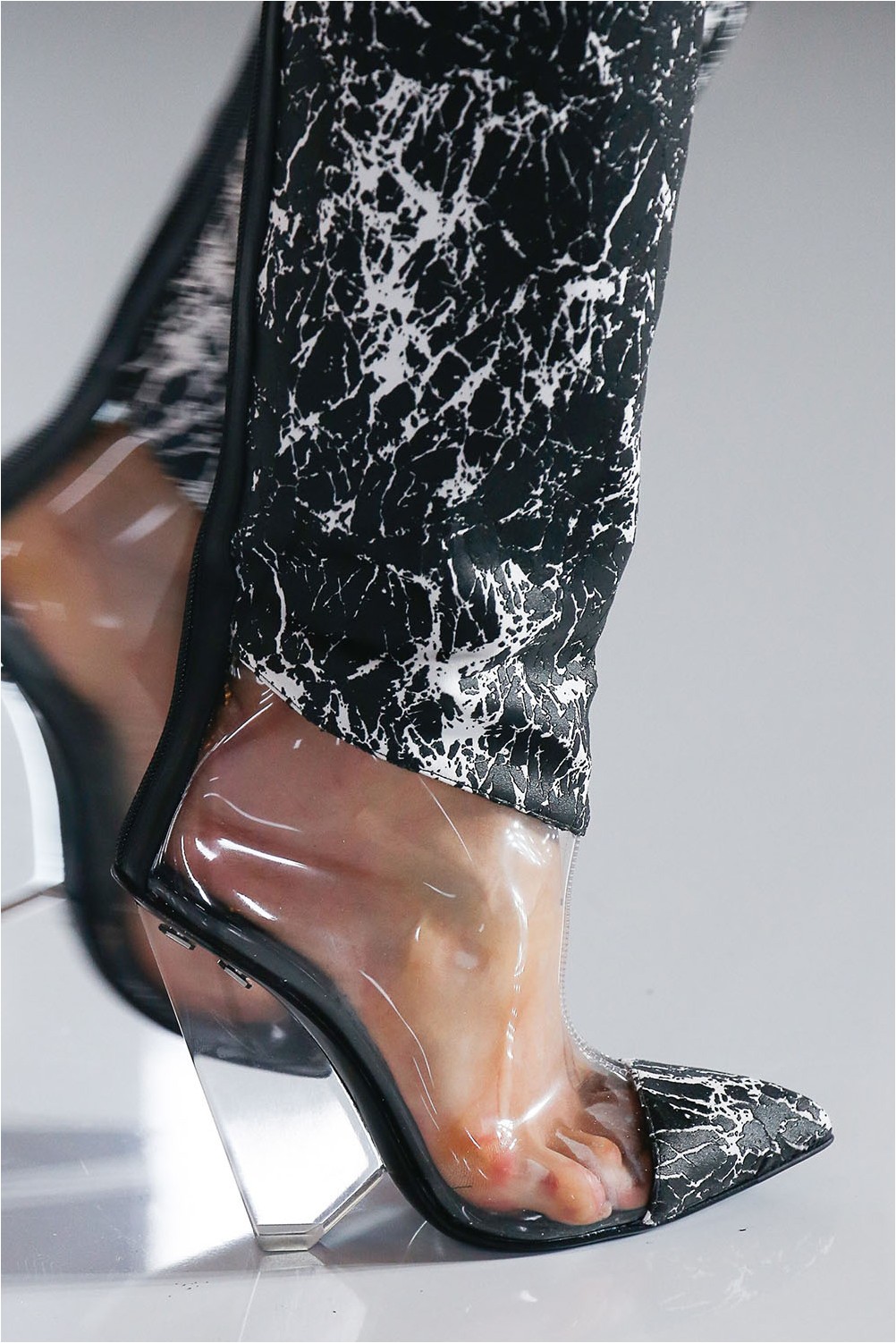 Thongs
If crystal heels and transparent boots do not inspire you, then pay attention to shoes with straps. This trend will be no less relevant in the spring-summer season of 2019. An abundance of models decorated with different types of straps has appeared on fashion catwalks. Broad in rocker style or thin and graceful strips around the ankle – all of these options are possible. Even a small leather belt around the Burberry shoe stud supports the fashion trend..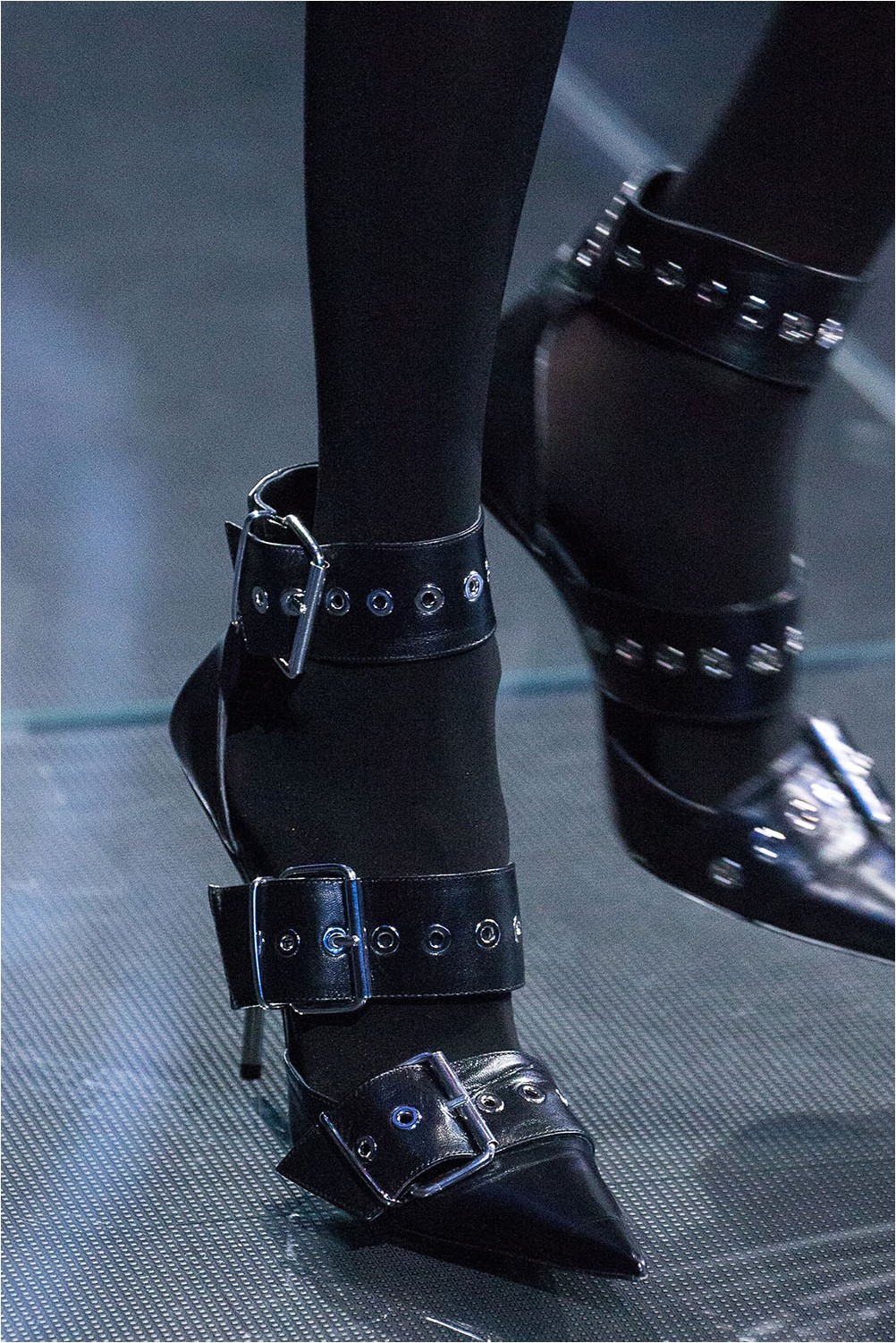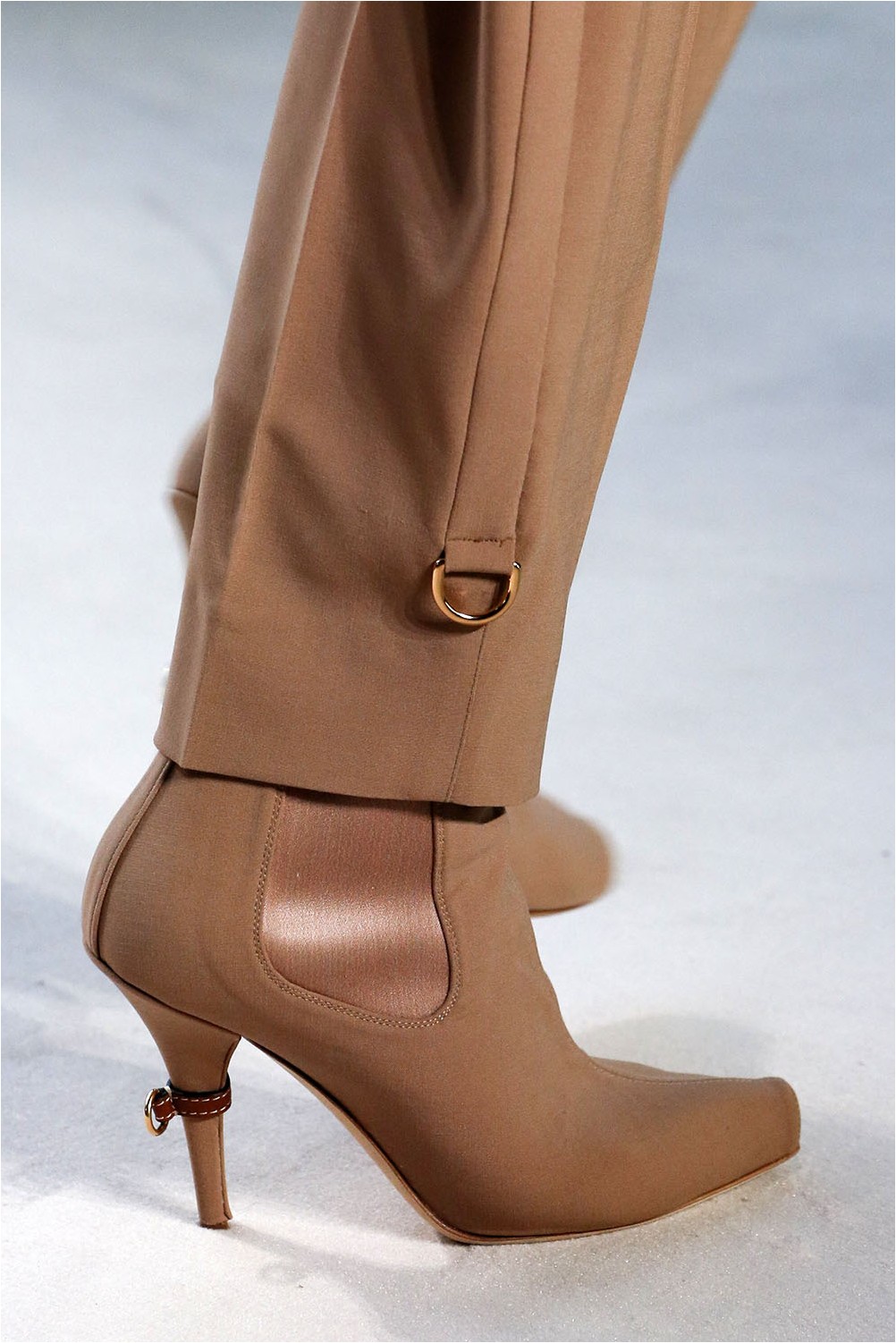 The straps can be of very different thicknesses, as their number can be unlimited. For example, in Versace and Oscar de la Renta sandals there are only two thin straps – a little thicker on the line of the fingers and very thin around the ankles. And Marni and Salvatore Ferragamo sandals consist entirely of single straps. At the same time, decorative fasteners can both decorate shoes and facilitate donning, and even be absent.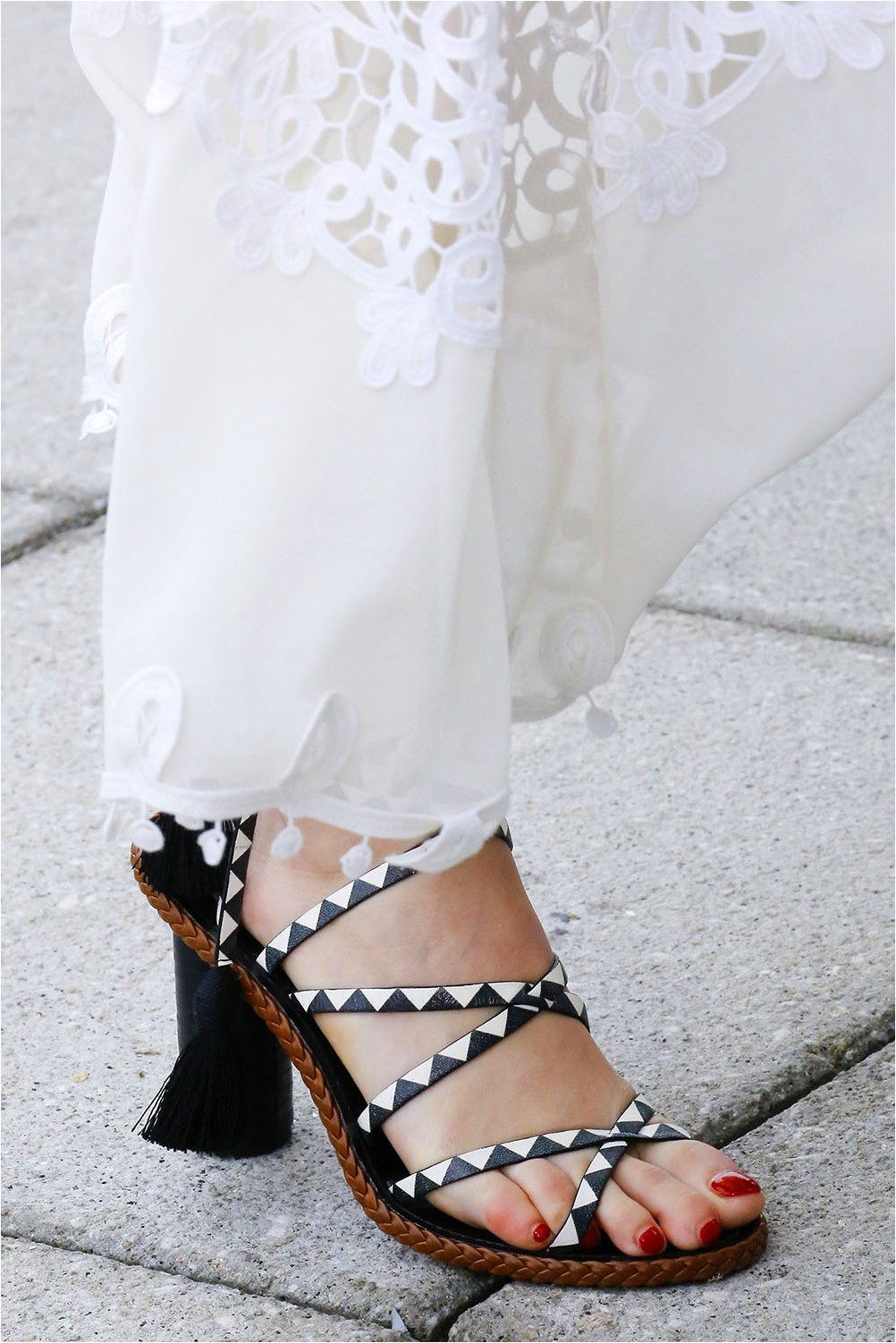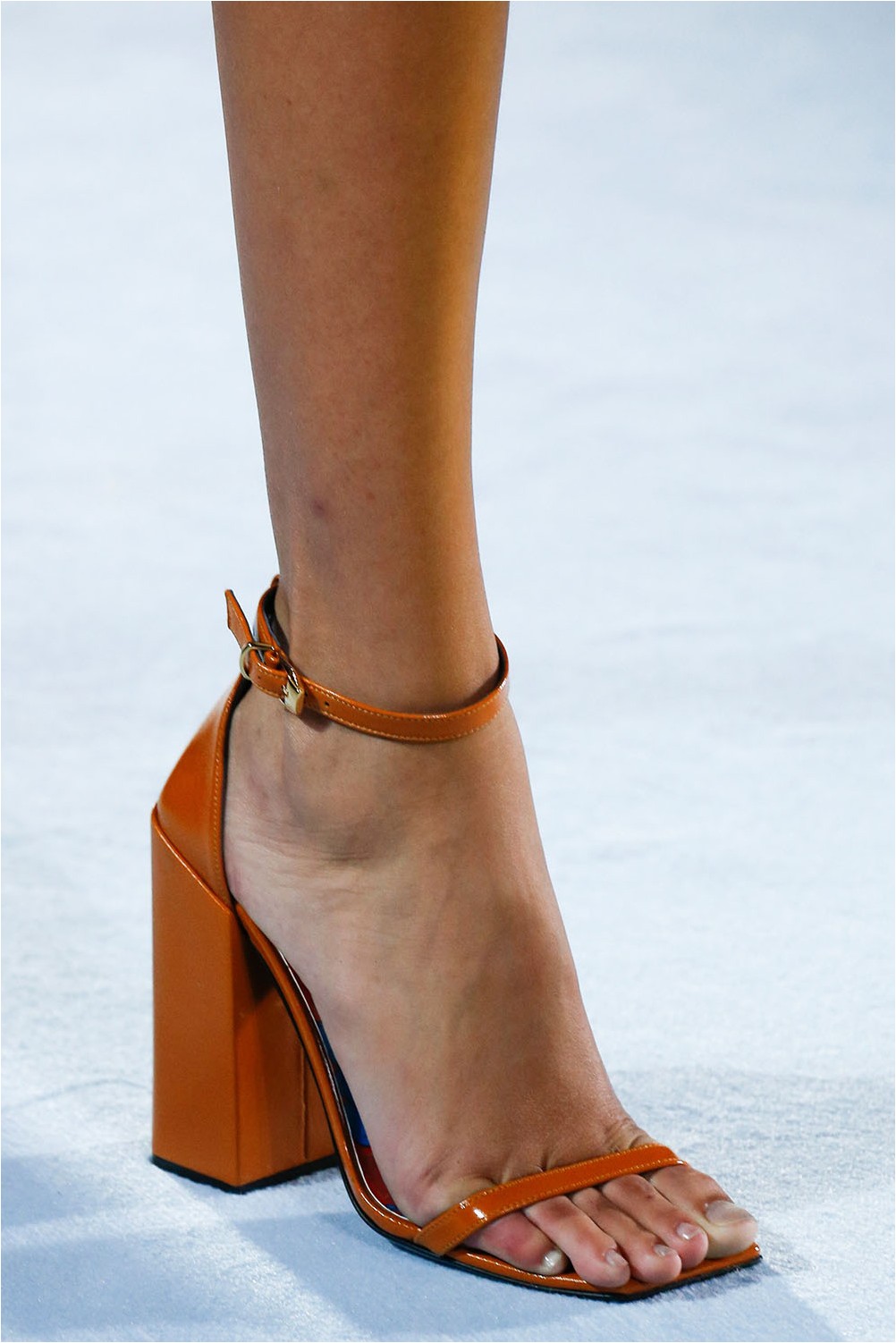 Giambattista Valli and Altuzarra equipped the shoes with a comfortable strap on the rise and a T-shaped clasp, which makes you feel confident even with a high heel.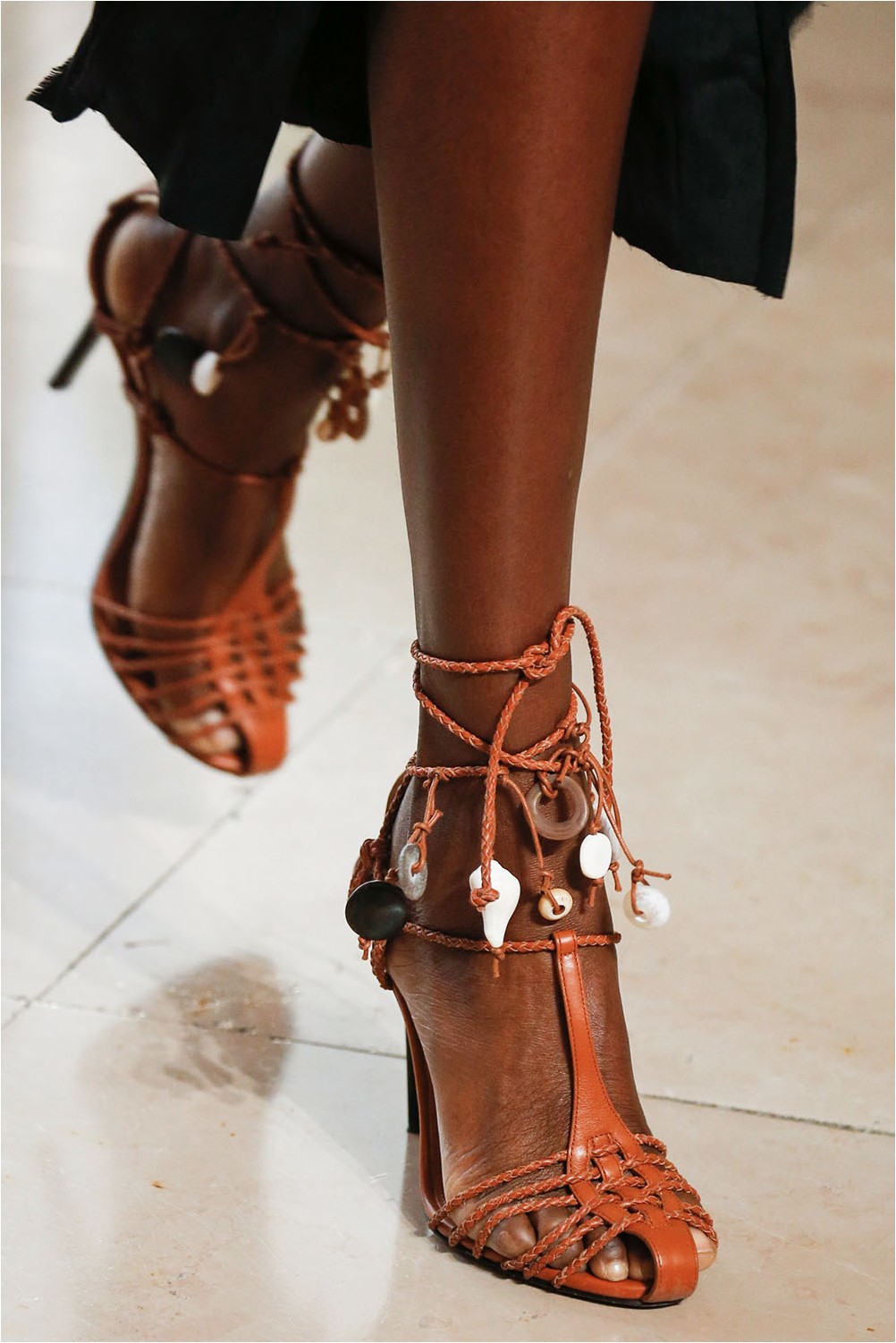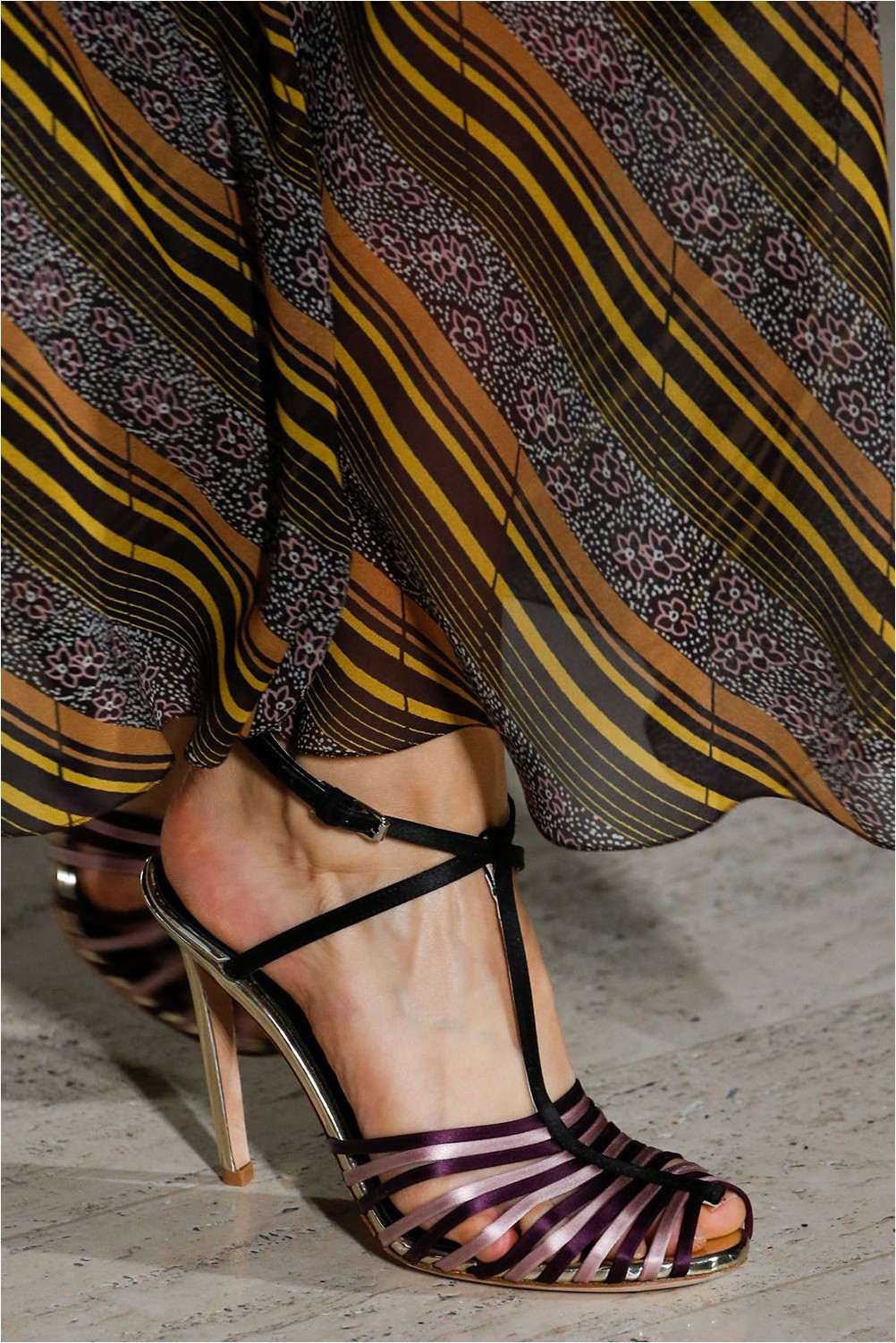 Mesh and weaving
If you braid thin straps in a pigtail, you will get another actual trend of this season – macrame or "weaving". Each in his own way embodied this idea. Altuzarra has open sandals with woven straps, while Stella McCartney designers used more complex weaving.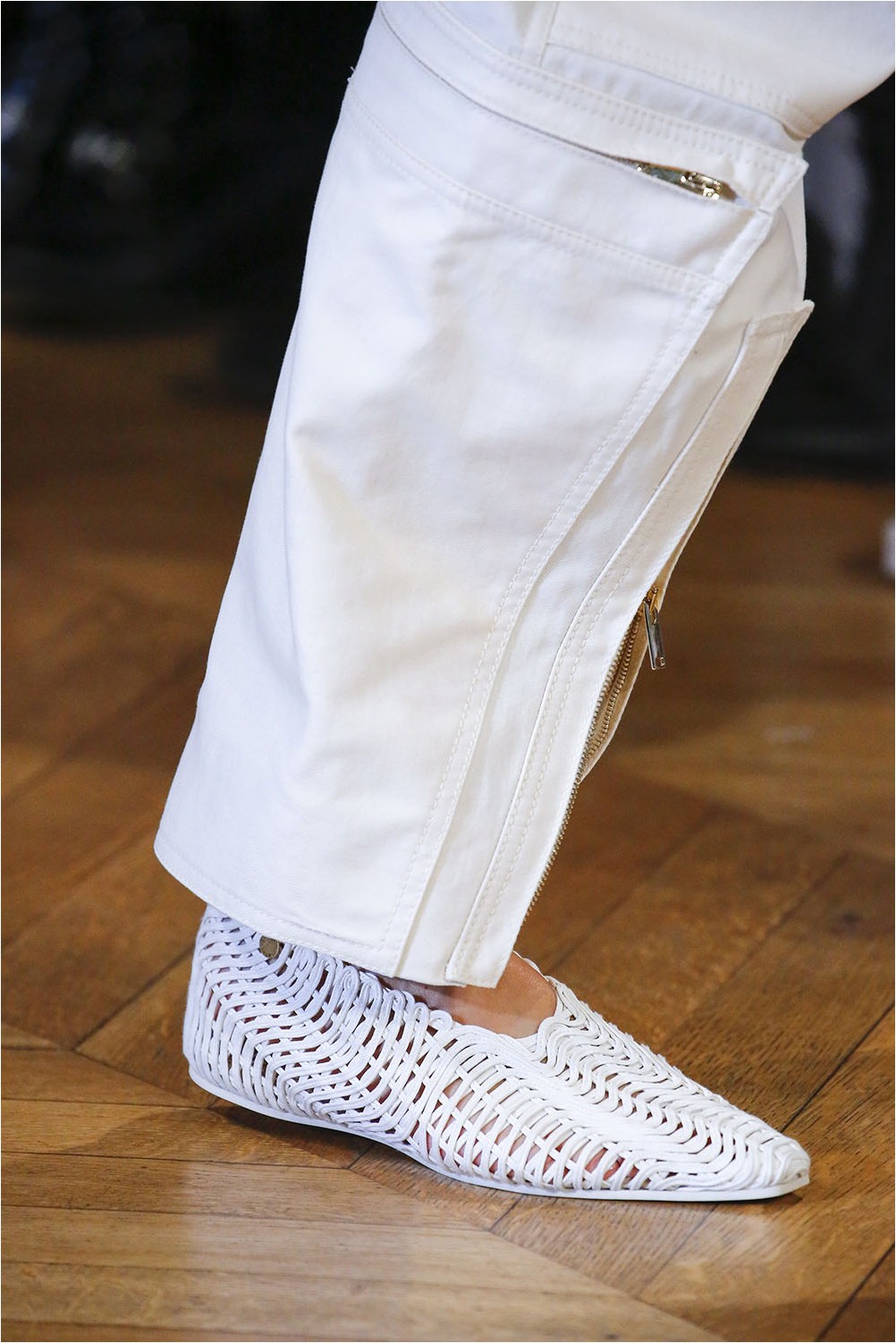 A breakthrough in the spring-summer fashion 2019 was a crochet in the form of a grid. This could not but affect fashionable shoes. The trend is mesh shoes and shoes stylized as macrame technique or crocheted mesh motifs..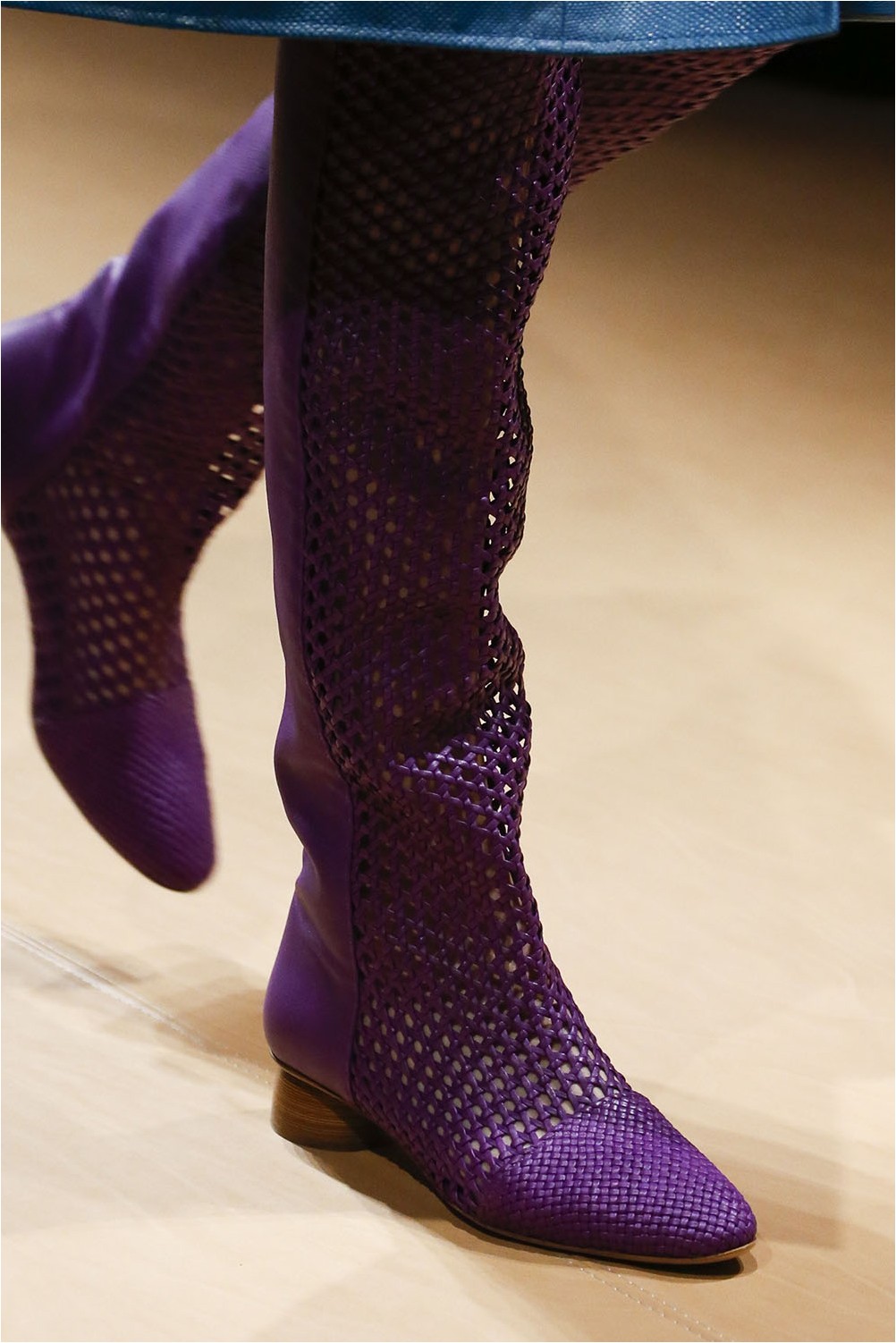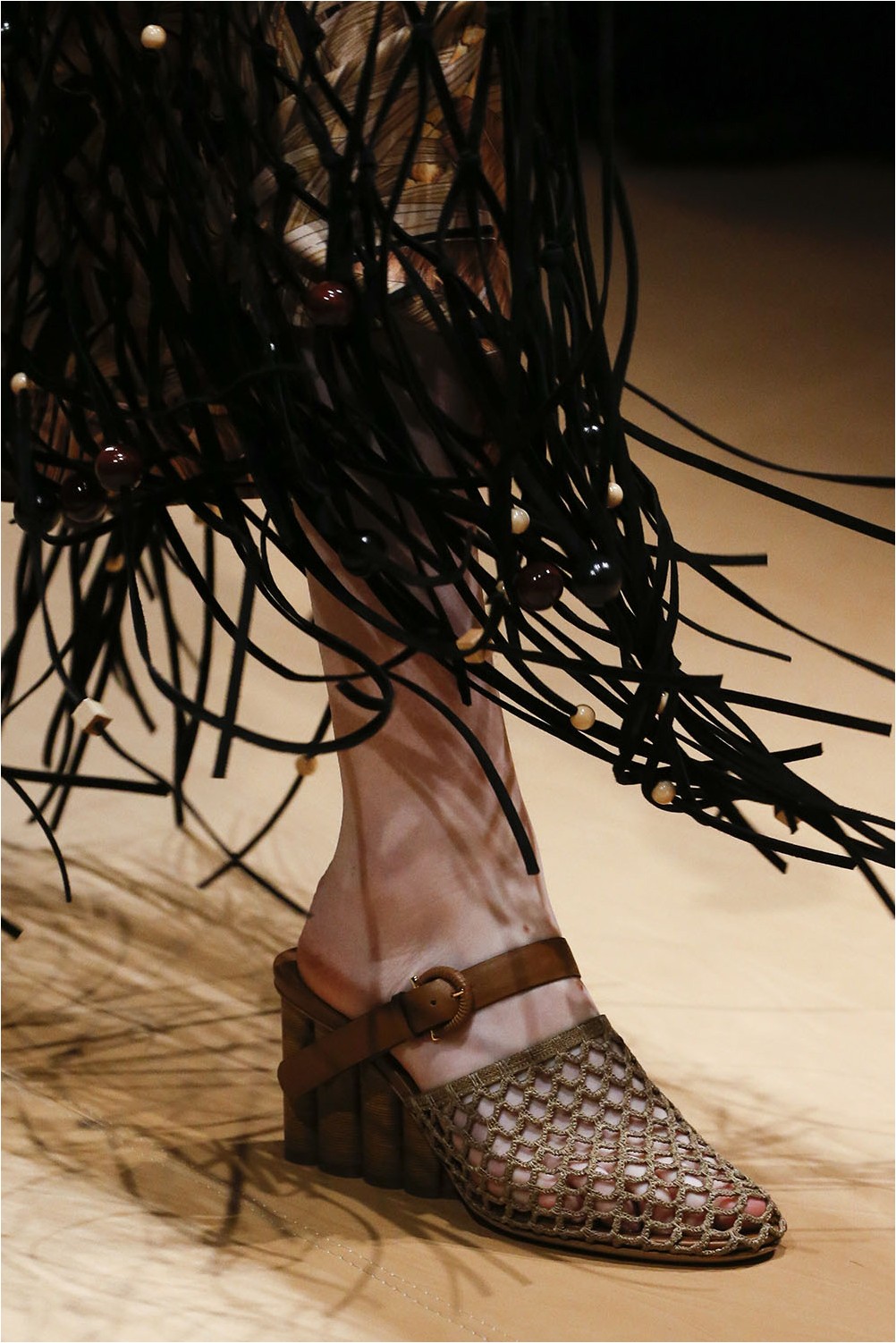 High heels
But the pointed-toed shoes with the thinnest heels from the collections of Tom Ford, Giorgio Armani and Louis Vuitton look too exaggerated. Metal and plastic, protruding behind the heel of the heel – all these elements are not peculiar to classic models of shoes.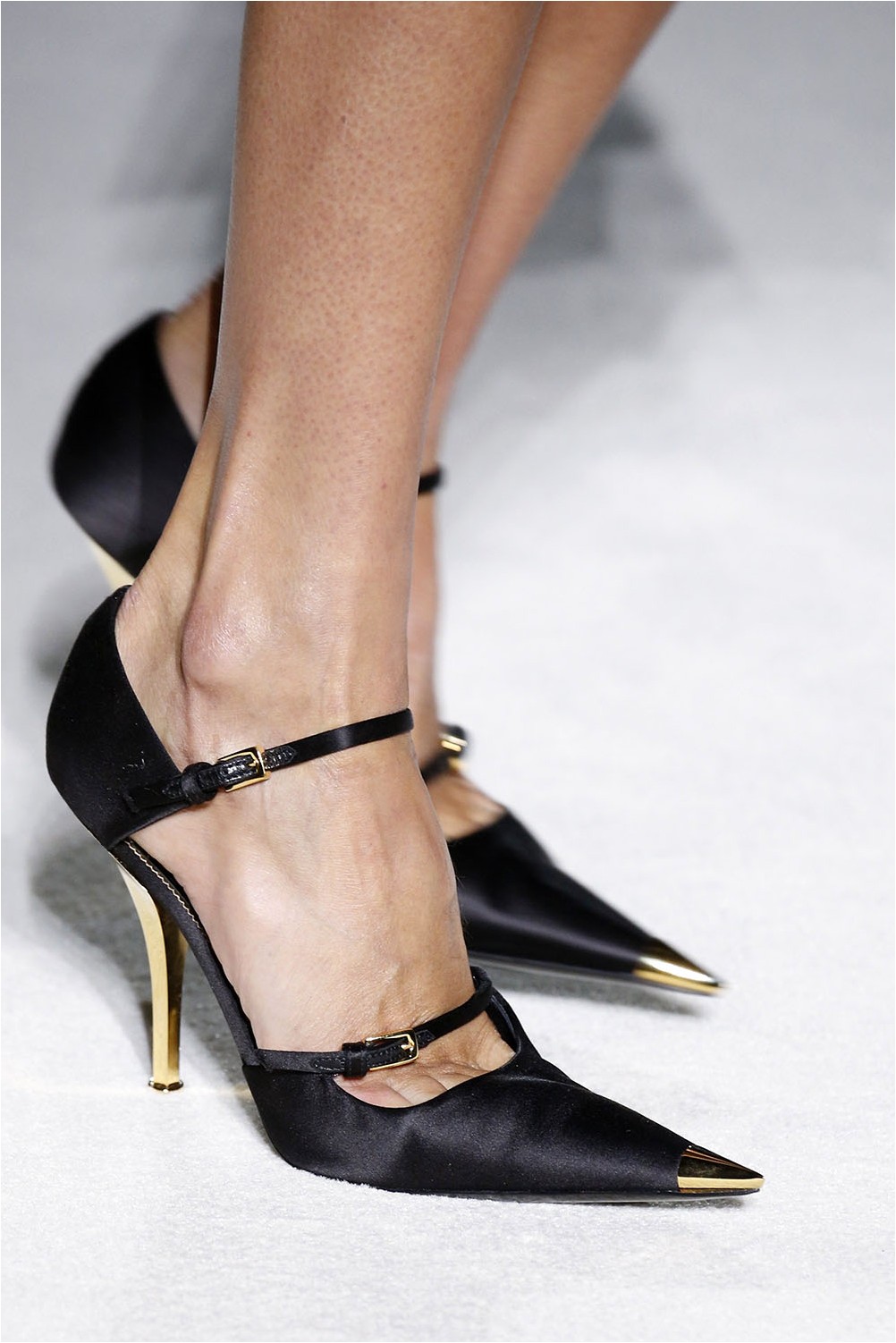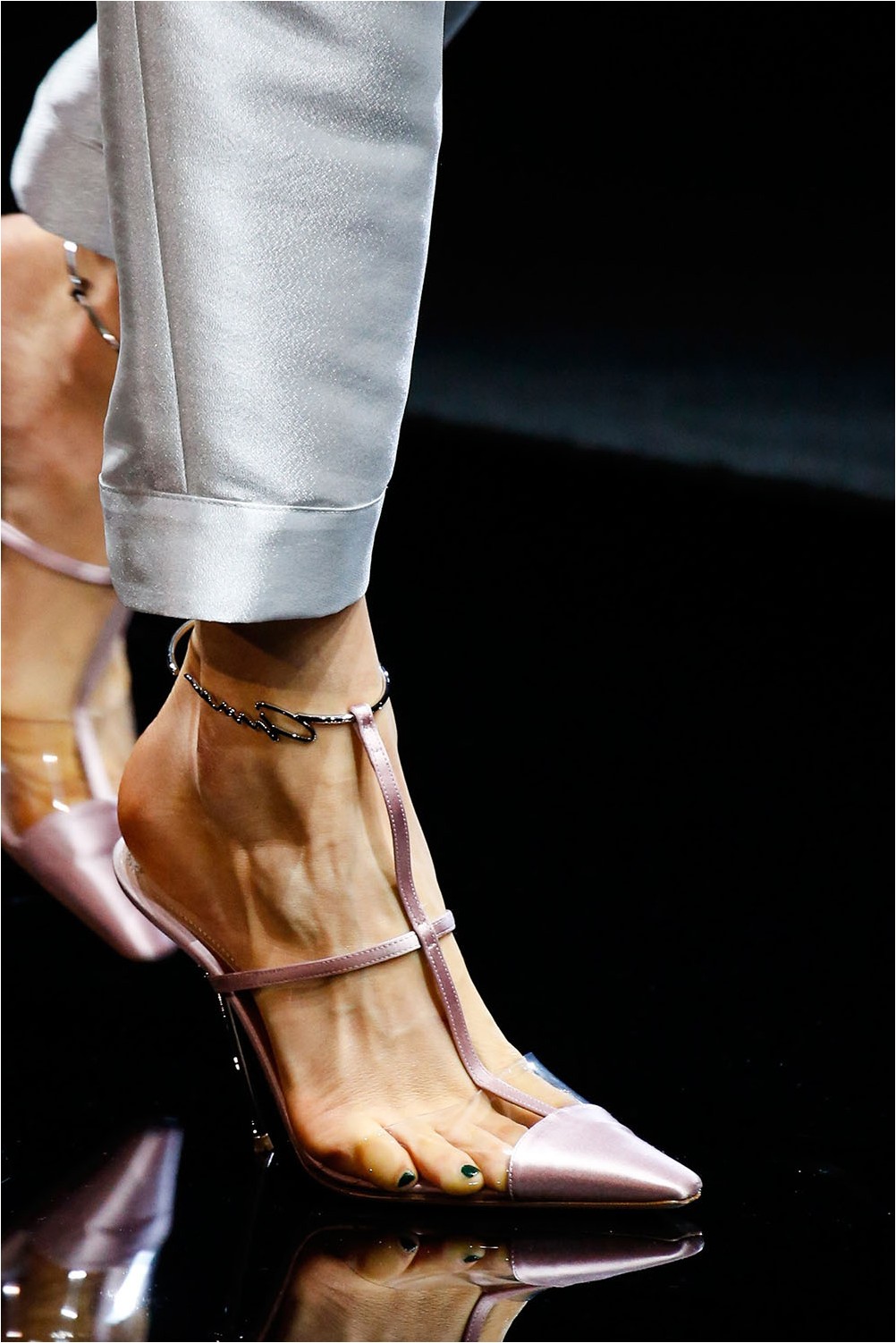 But Mary Katrantzou saw the trend in a different light. The interpretation of the "ultra-thin hairpin" – she presented in the form of ankle boots with high elegant heels with decorative lace in the style of the Victorian era.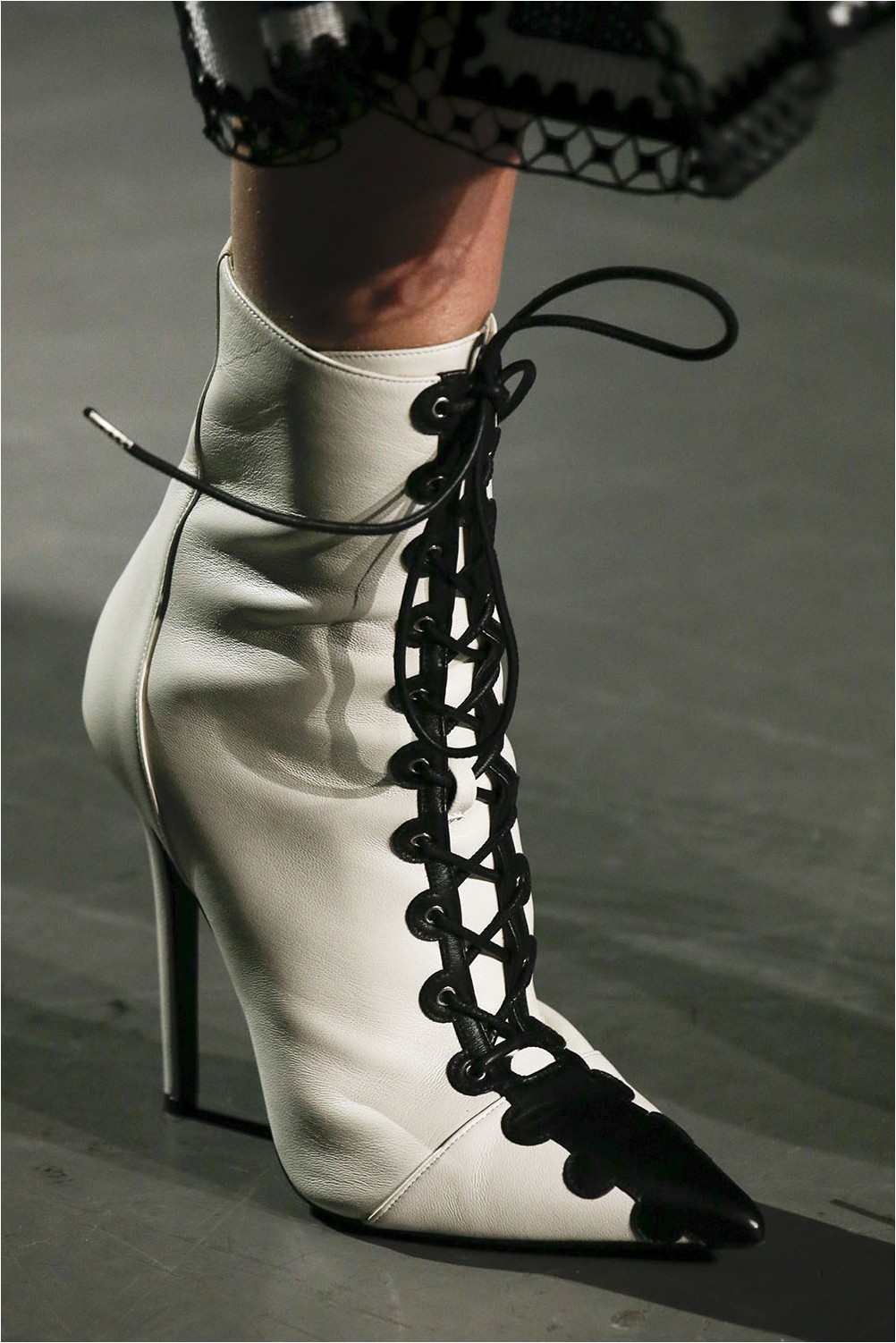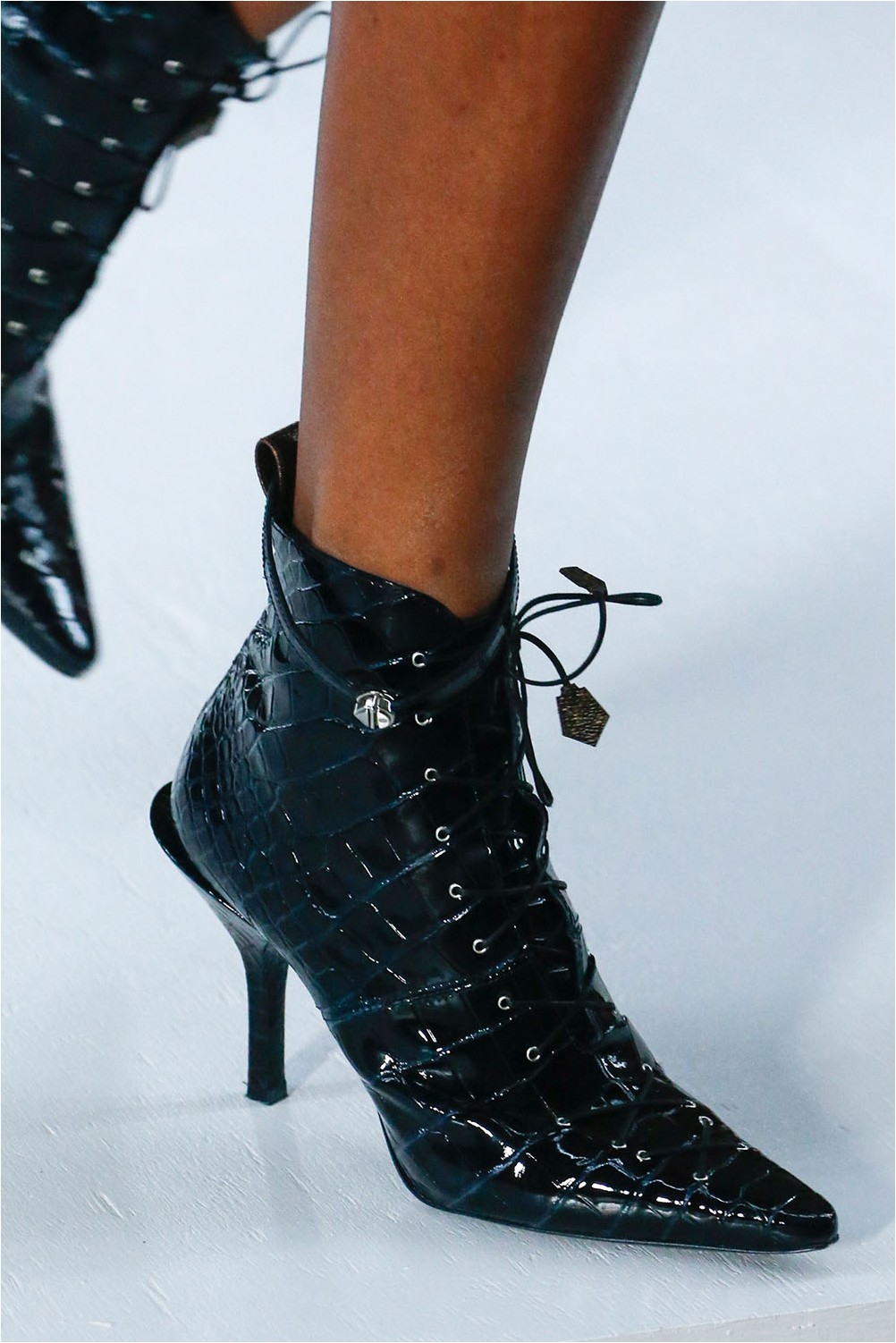 Low stud
The antipode to fashionable high heels is a low stiletto heel. She did not meet as often as ultra-high heels, rods. But small 2-3-centimeter kitten heel stilettos occupied their niche in a fashionable wardrobe. After all, the "baby" heel has a lot of advantages. The graceful and thin low hairpin does not create inconvenience when walking, looks elegant and refined and fits almost any look.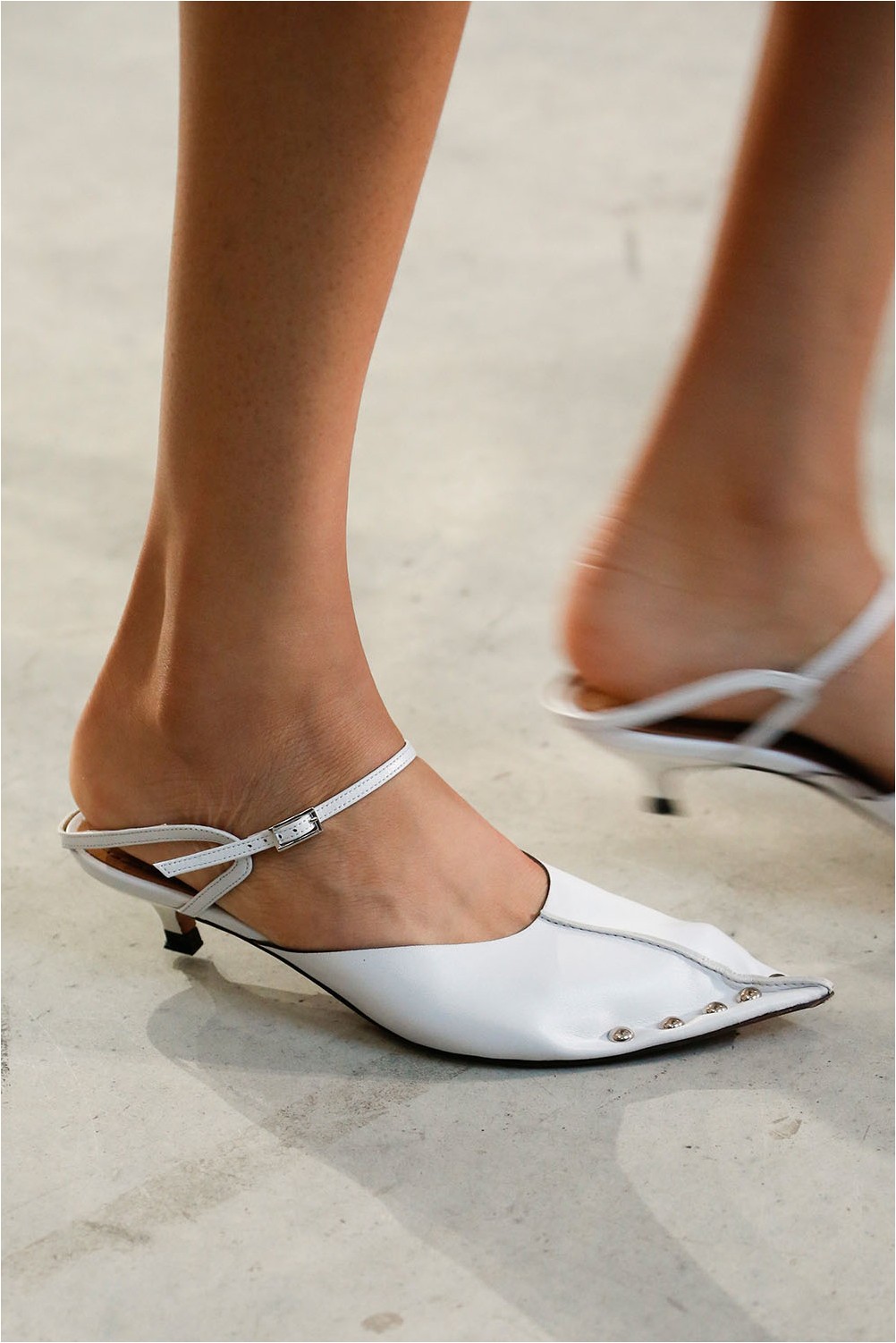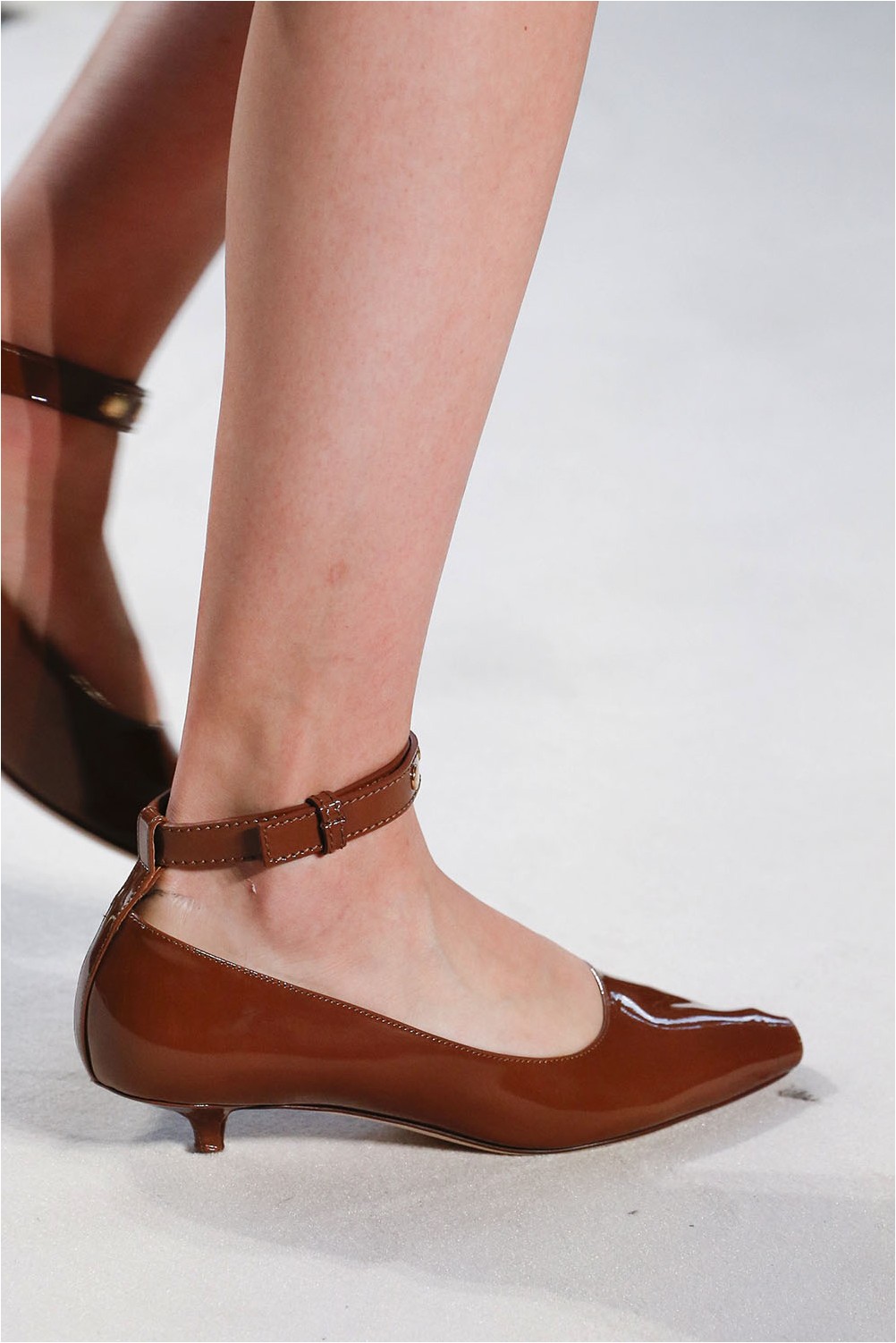 Kitten heel adorned almost all shoe models – from sandals to boots and mules.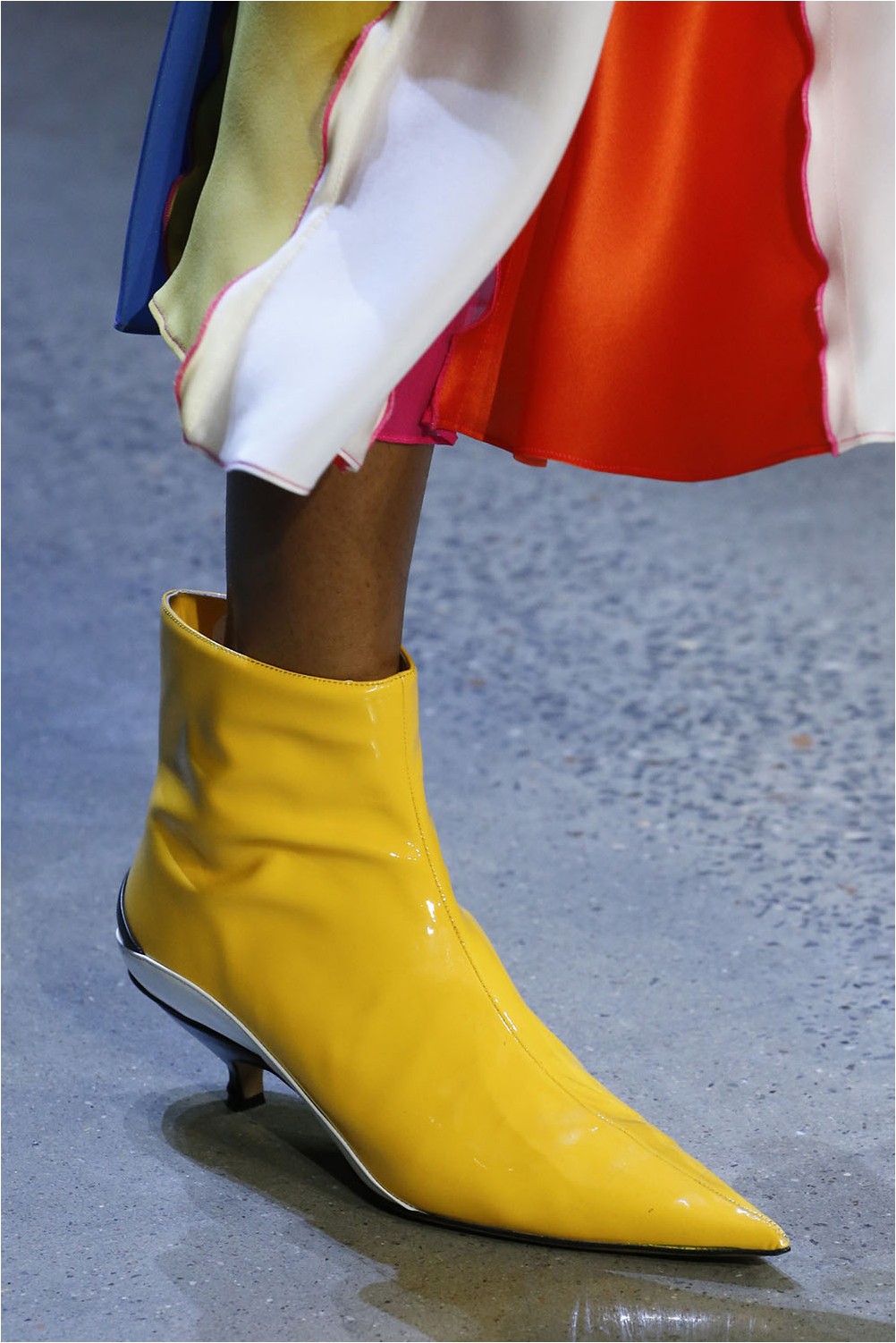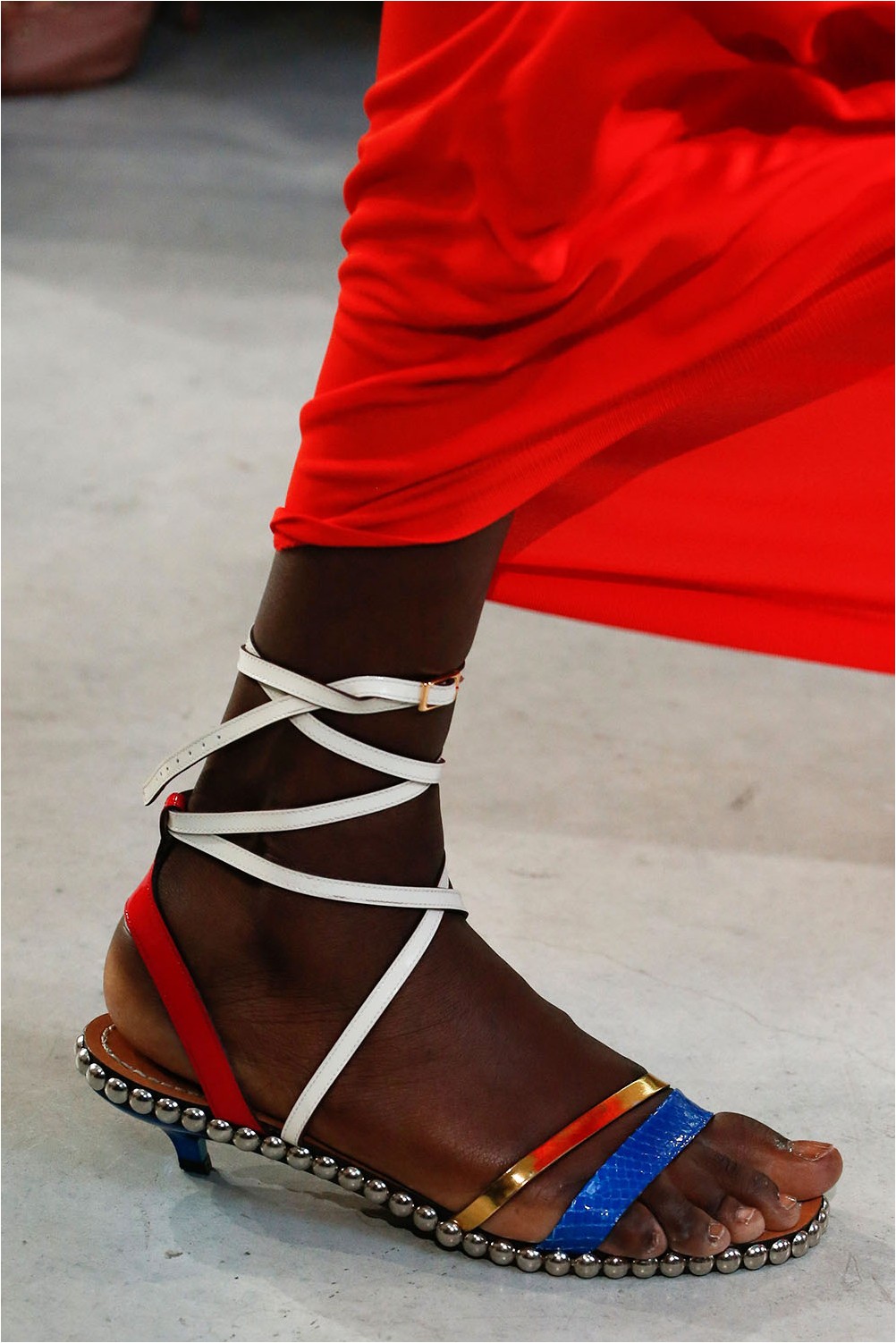 Victorian shoes
English fashion at the end of the 19th century again dictates its own rules. Fashionable experts seriously declare that at least something from the Victorian era should be present in the modern trendy image. Whether it's ruffles, shuttlecocks, lace, wavy frill – designers use all the tricks to convey the feminine and romantic style of those times.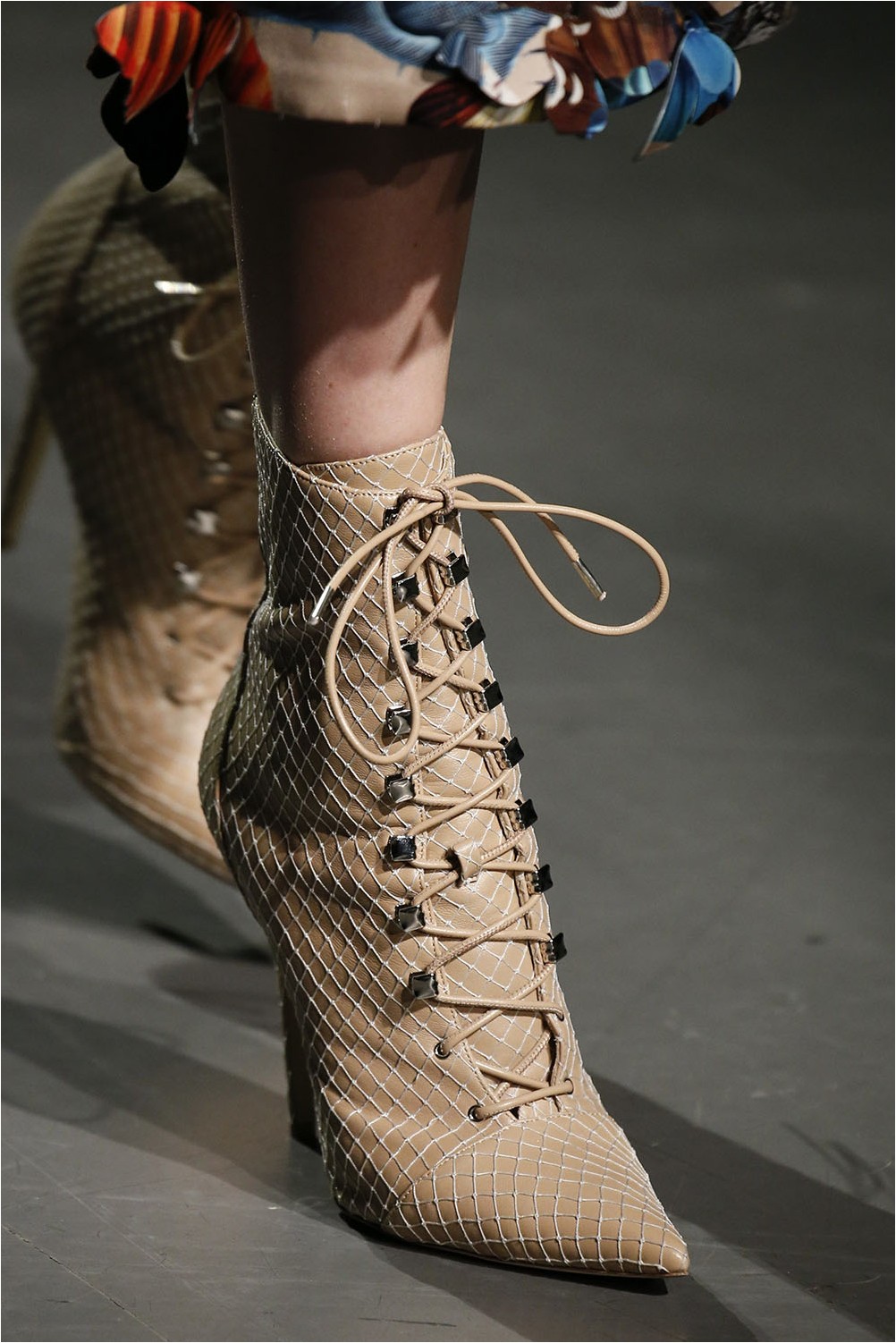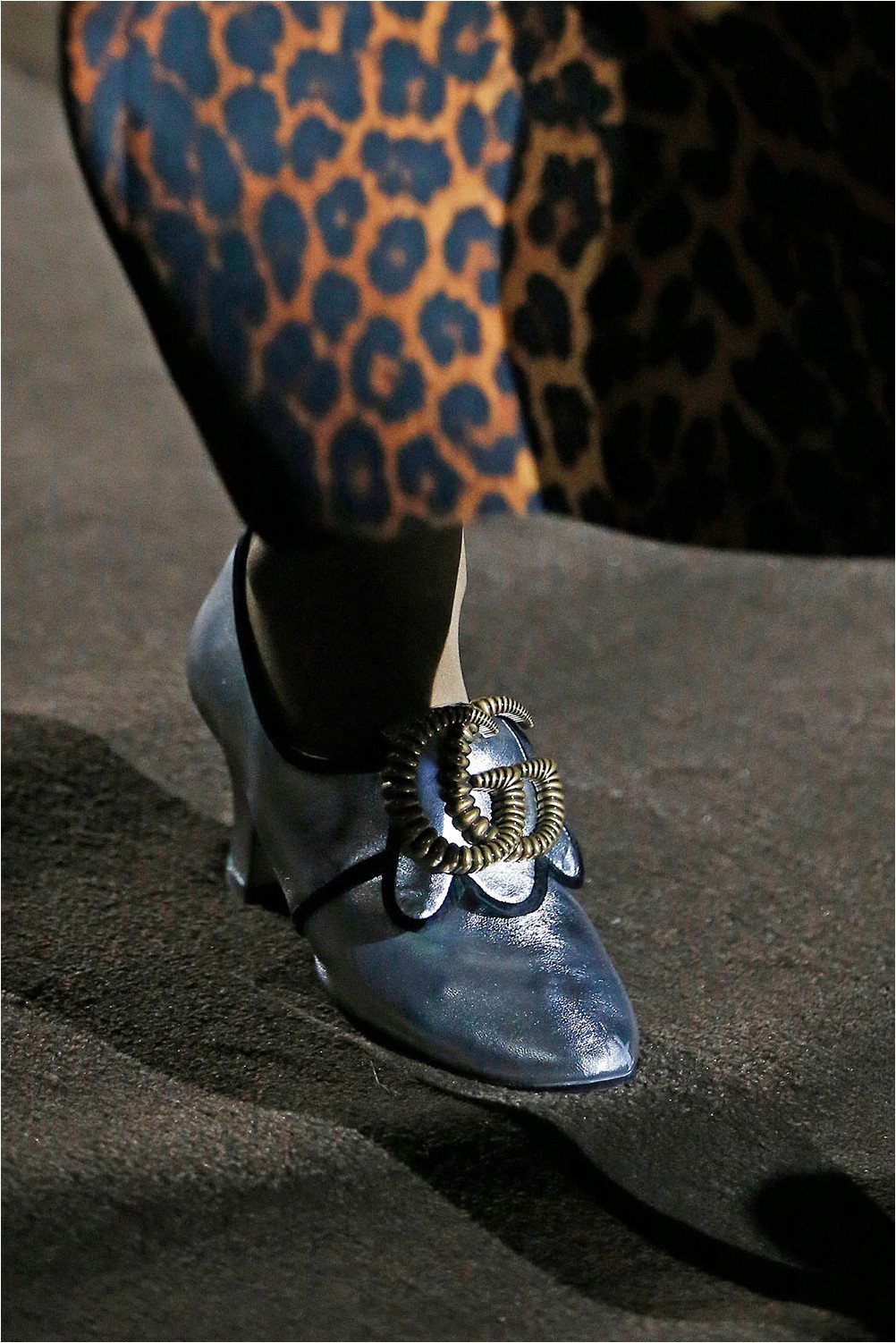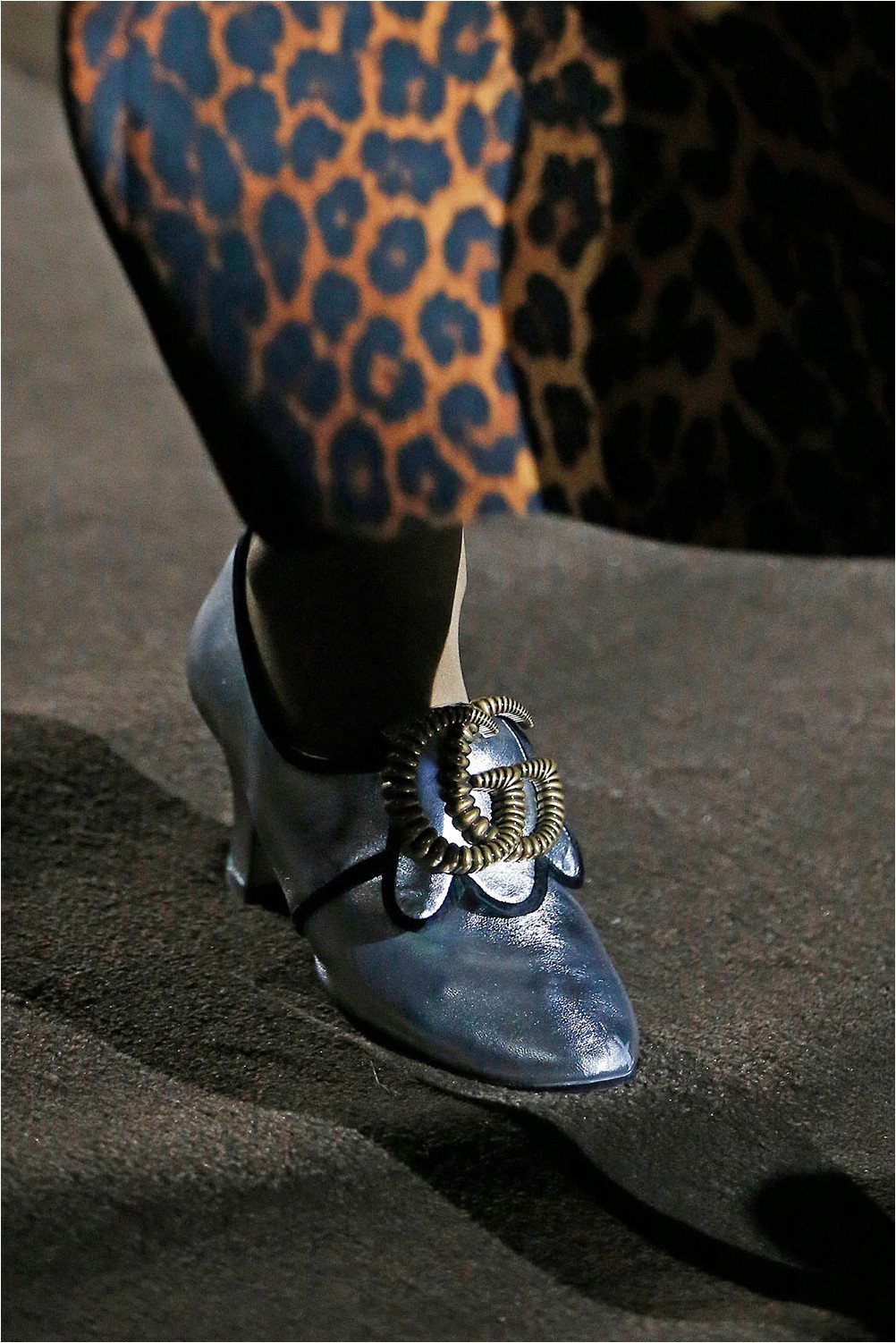 In shoes, the trend is expressed in a special retro cut and large buckles. To achieve a complete immersion in the Victorian era, beaded fabrics are sometimes used in the manufacture of shoes, for example, Erdem shoes.
Platform and massive heel
Sandals by Michael Kors and Miu Miu on a platform and massive heels are another proof that a wide and high platform of shoes will remain a standard of urban style for a long time. The popularity of the trend is easy to explain. Firstly, such shoes are comfortable. Secondly, it fits almost any everyday look. Sandals on a flat and wide platform can be worn under ripped jeans or short shorts paired with long sleeves, t-shirts and tops..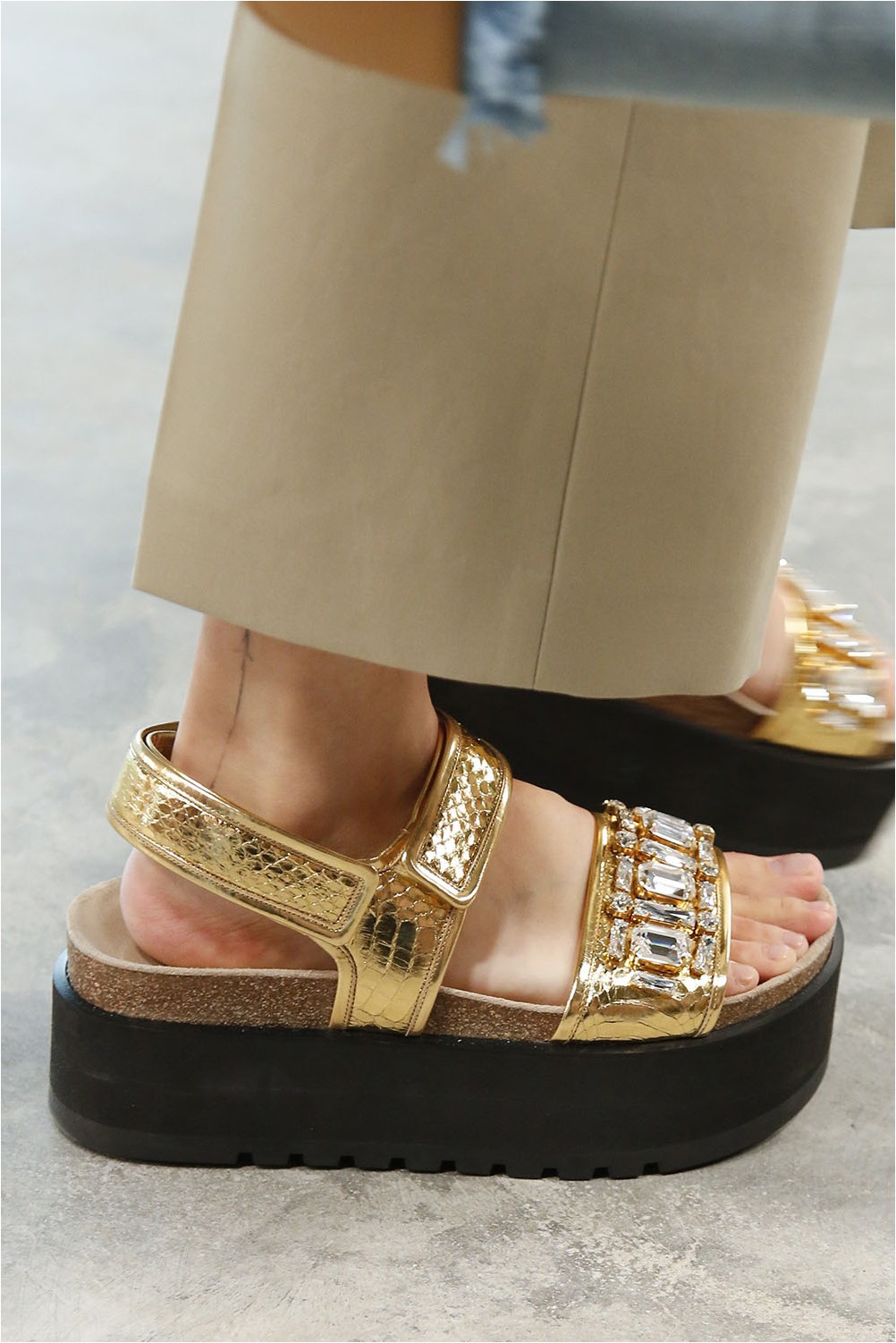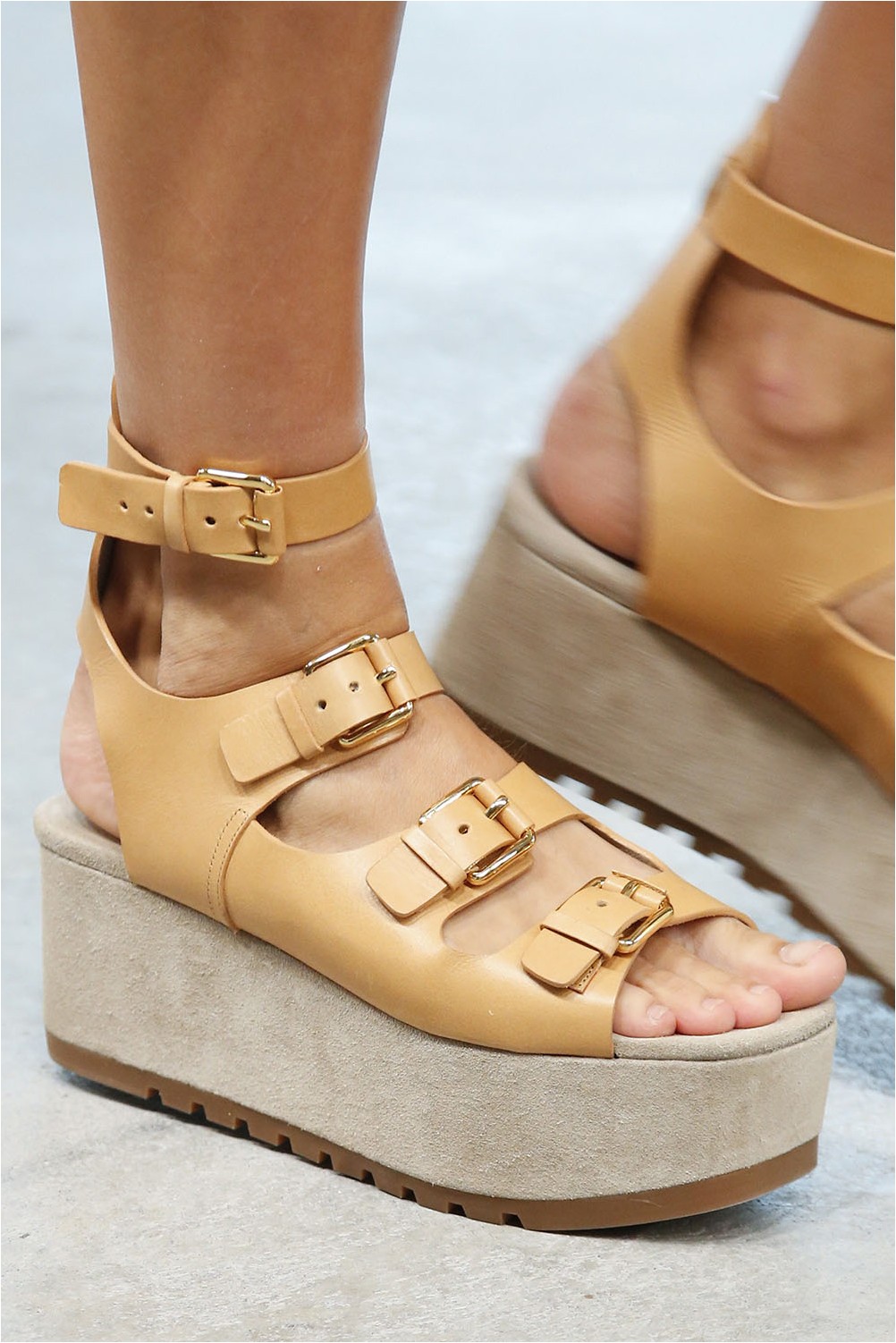 Softer looks are obtained by combining them with a pleated skirt, culottes or a denim miniskirt.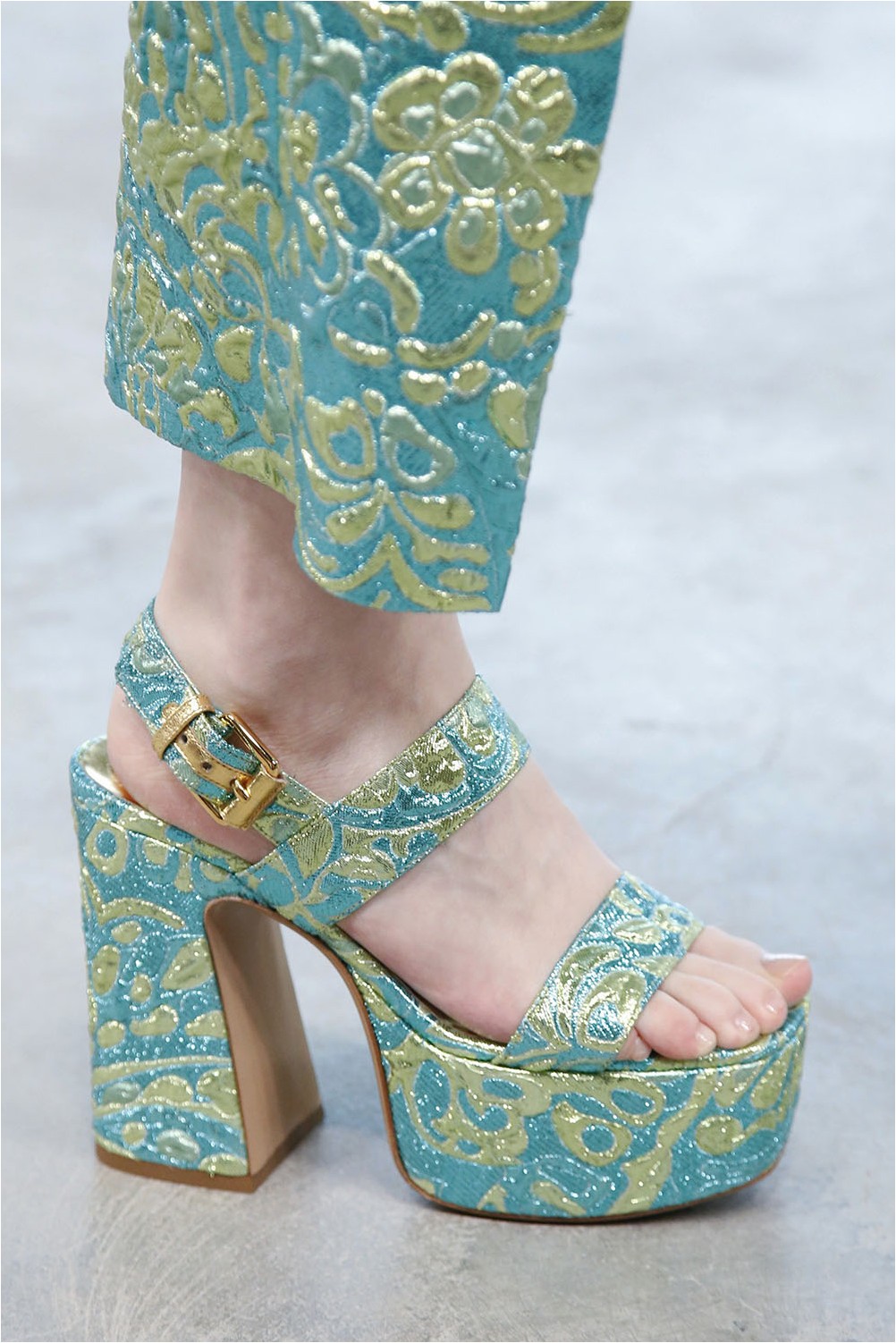 Fringe
The most sought after decor is fringe. She appeared in fashion collections for a reason. Indeed, many stripes and ribbons create a beautiful dynamic while walking, and also draw attention to the beauty of female legs. Braid with decorative "noodles" appeared even on Coach sneakers.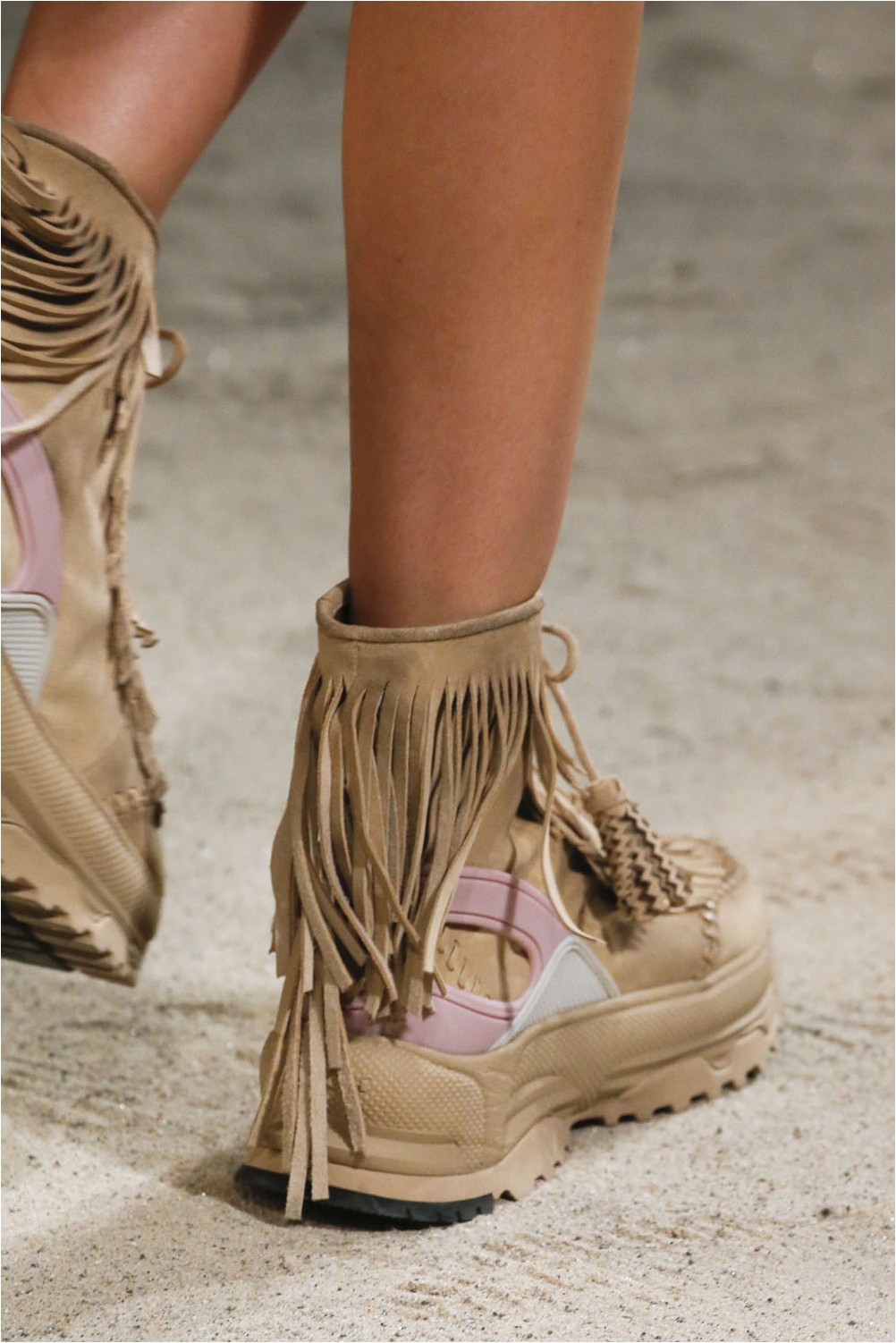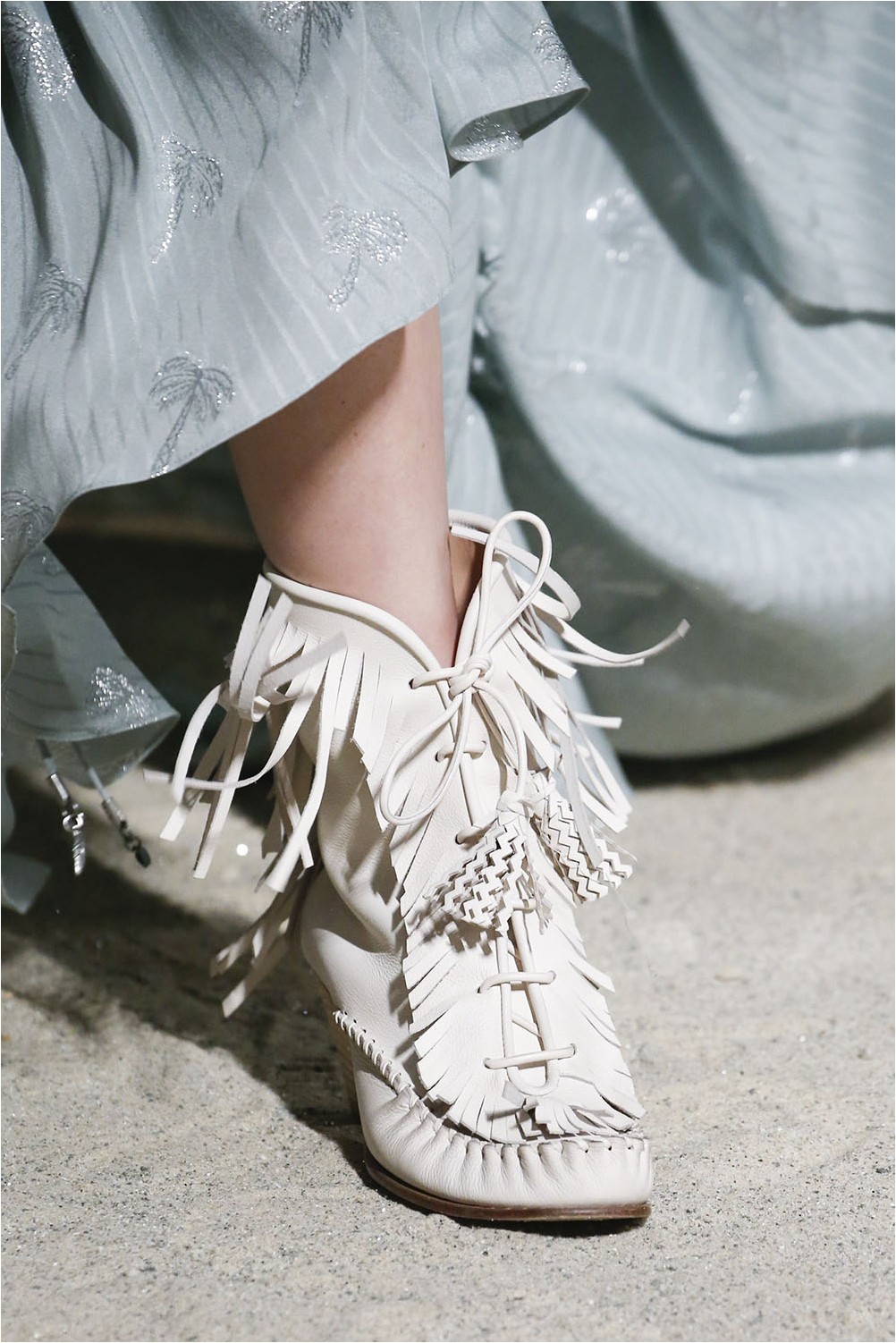 Fringe adorned all kinds of shoes – from open sandals to boots..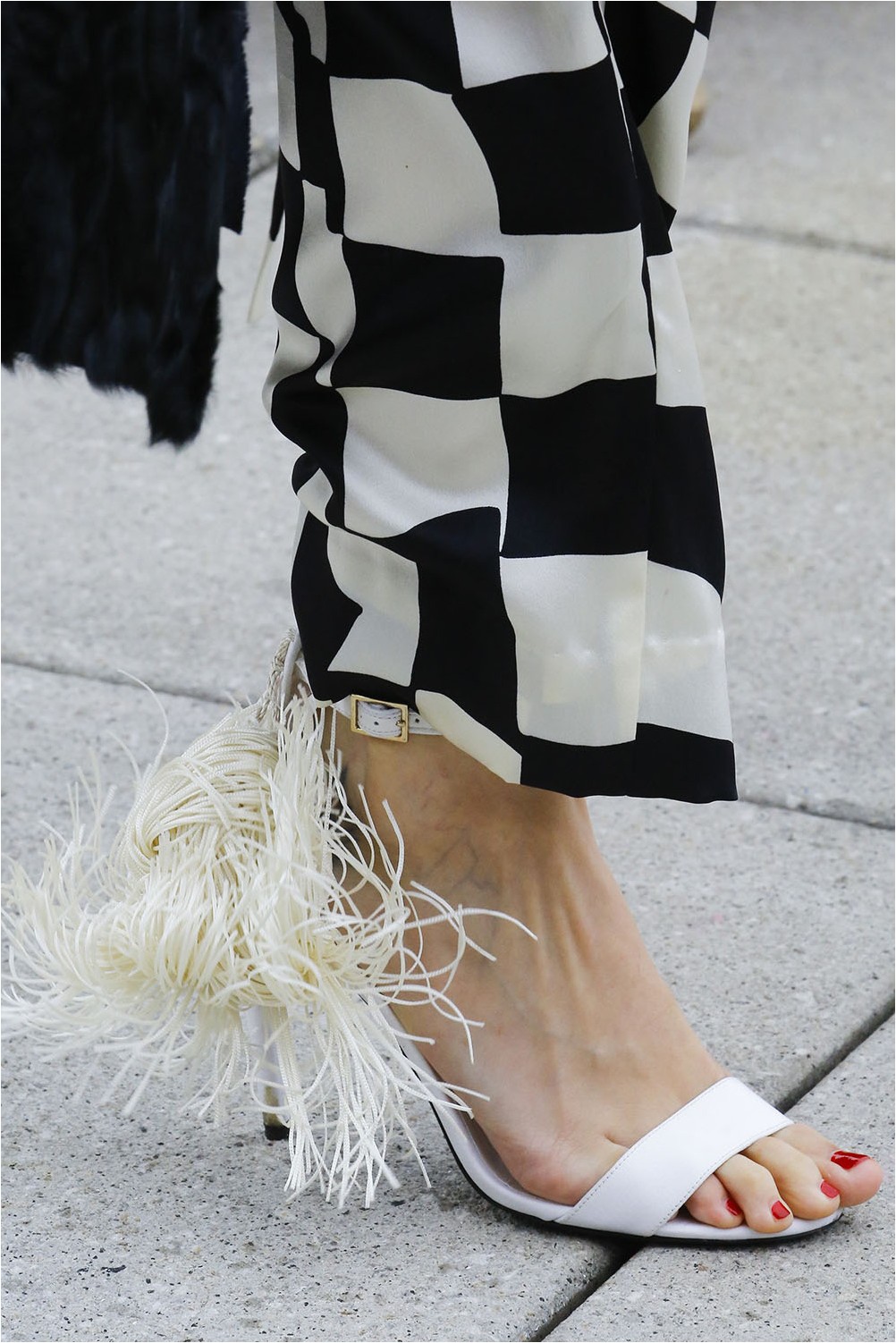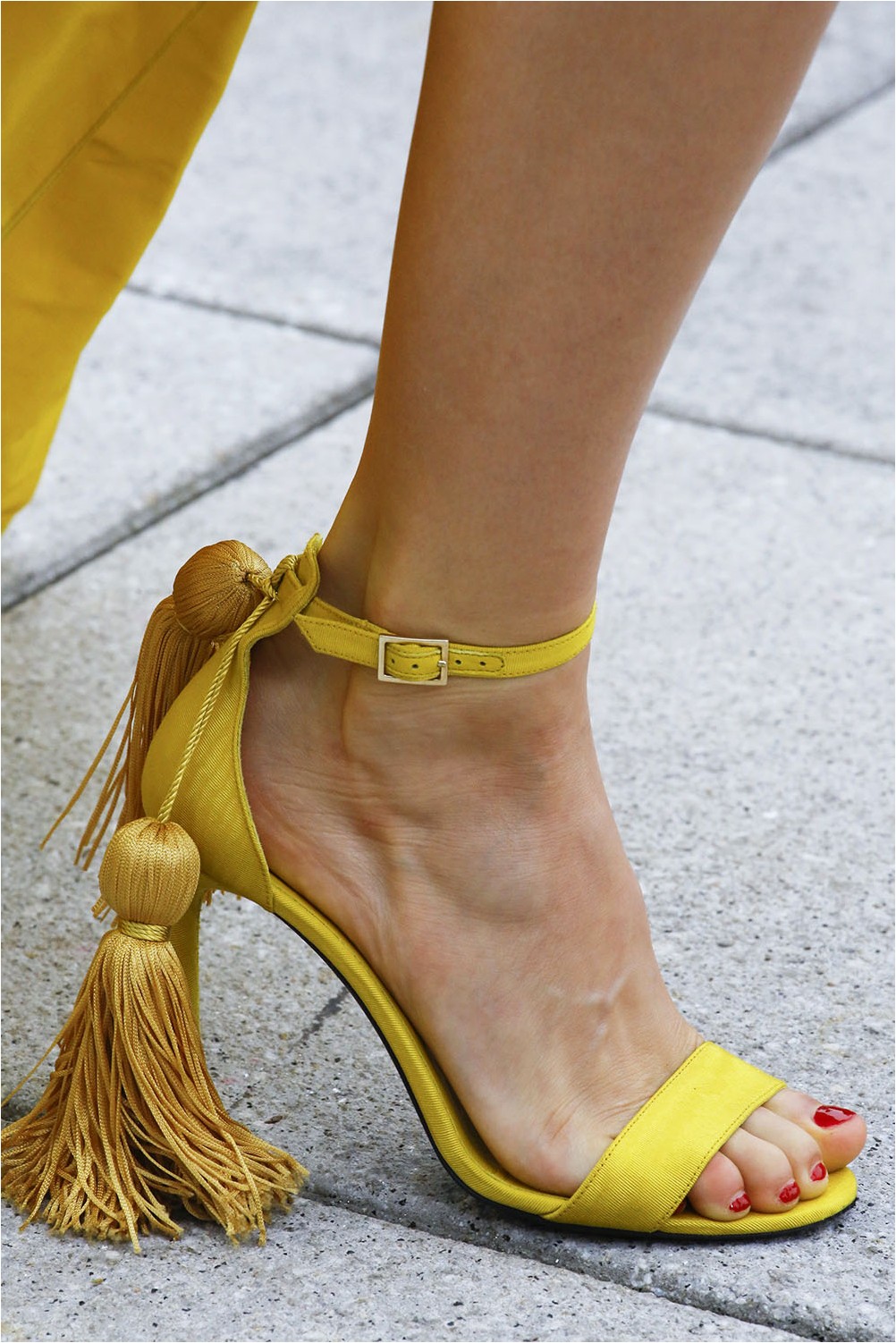 Reptile skin
How to make ordinary shoes spectacular? The answer is simple – emboss reptiles under the skin. And although the trend for everything serpentine is gradually losing its former relevance, spring-summer 2019 shoes could not do without it. Volumetric relief repeating the patterned contours of reptile skin is in fashion. Often, these models are complemented by mesh inserts, straps, wooden beads, weaving and fringe..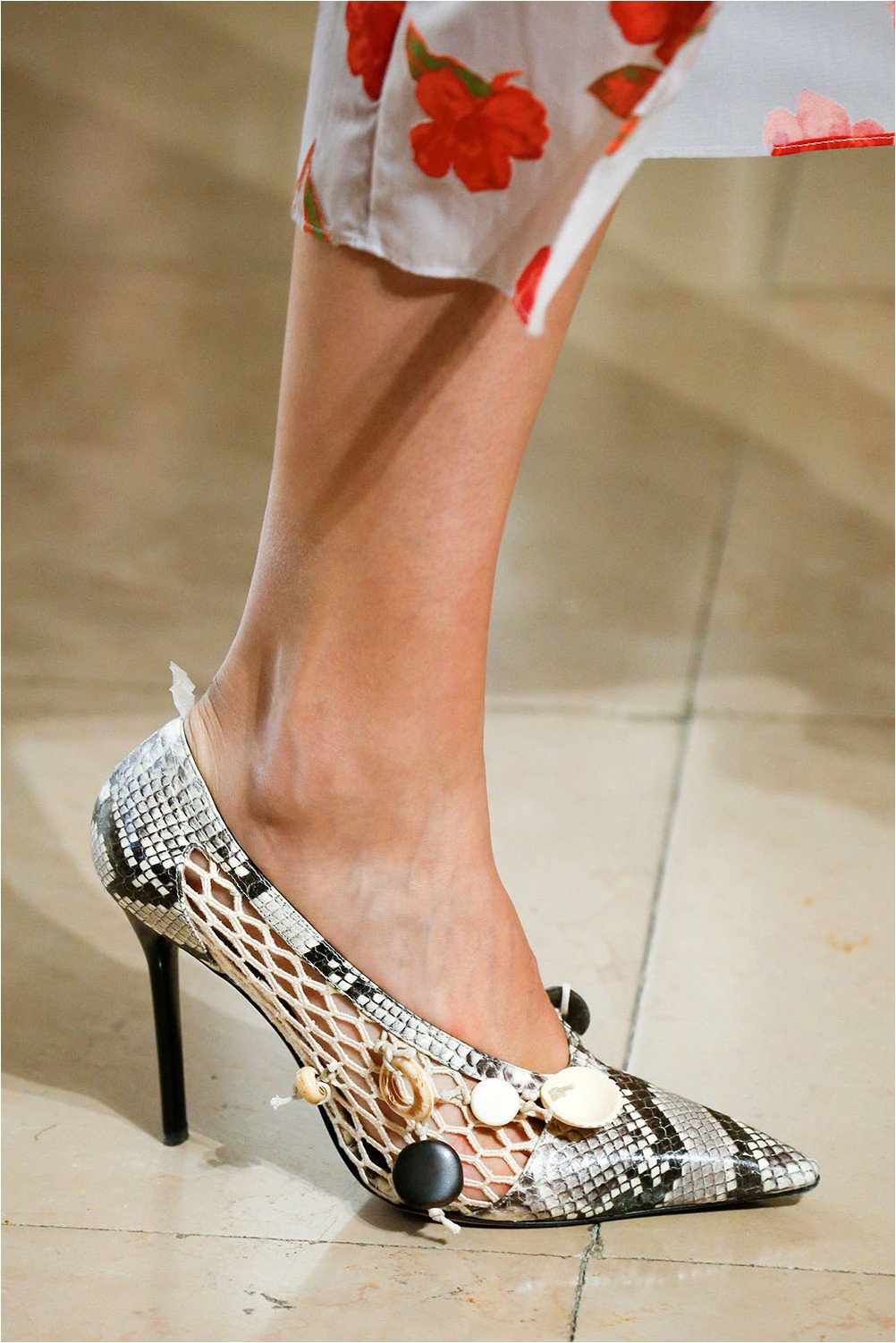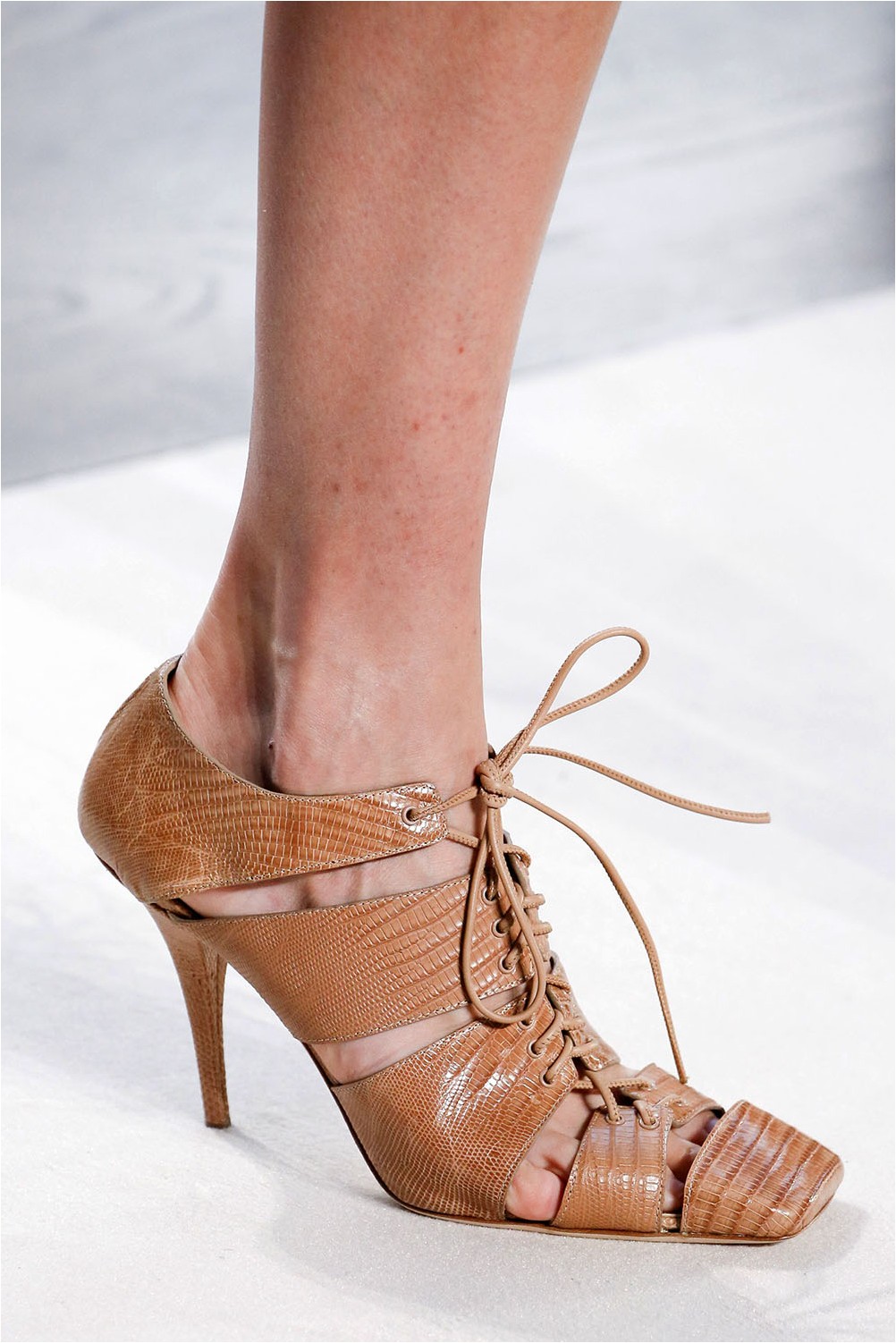 Remember: no defiant shades. Black and white classics and shades inherent in natural colors are in fashion..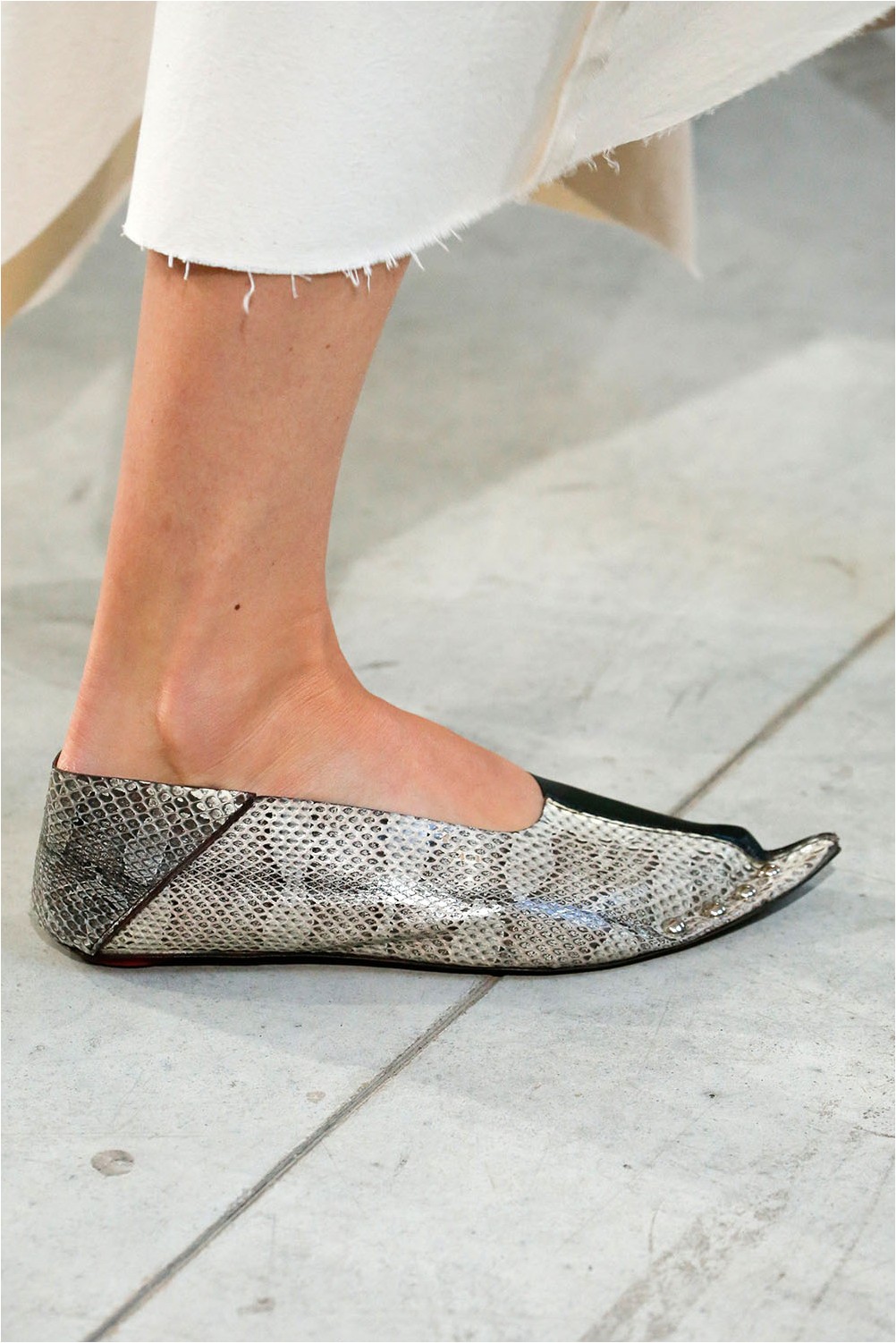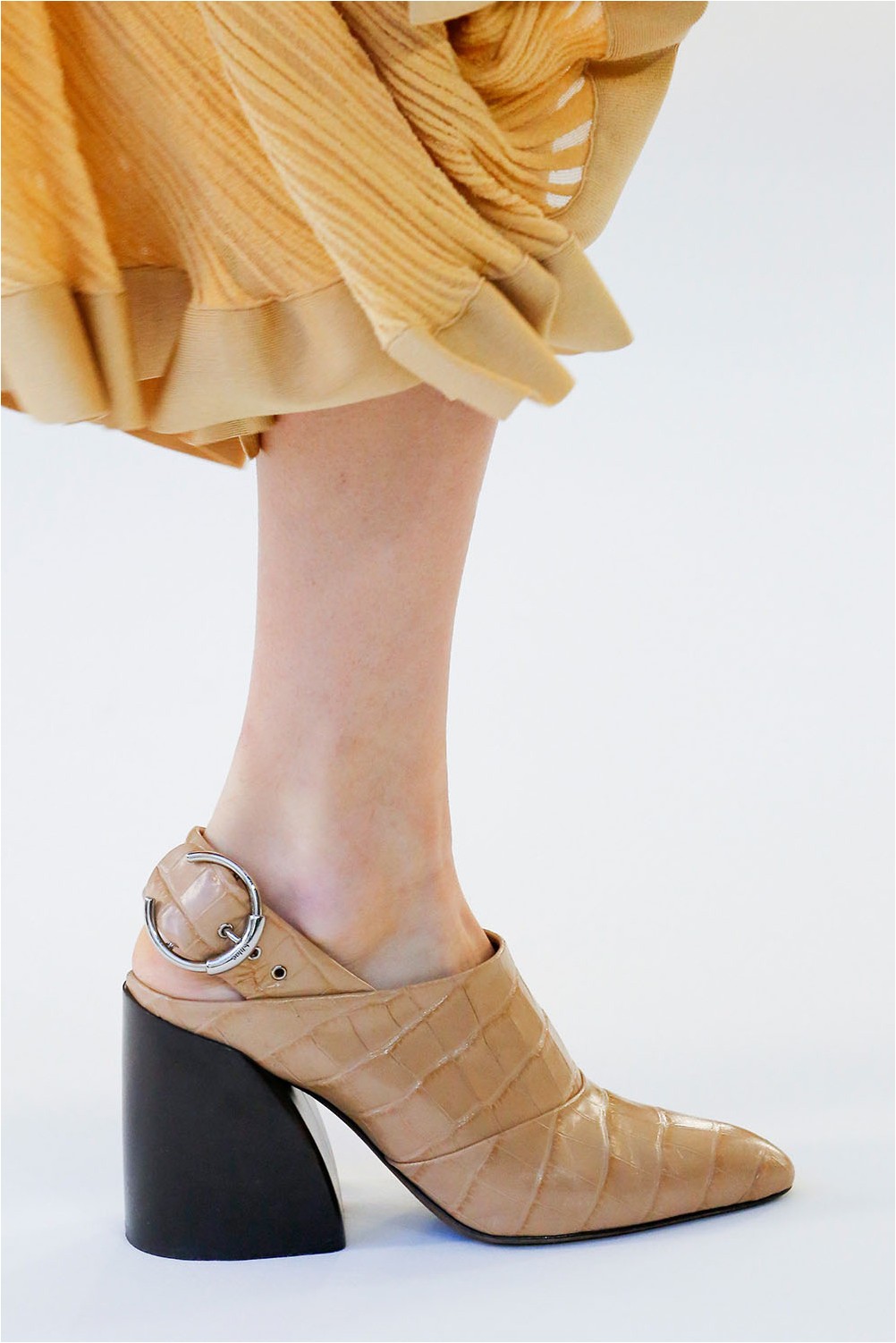 Bows
The current style of this season, Madame Bovary has found its continuation in accessories and shoes decorated with lush bows. The choice of models will suit even the most demanding fashionista. For example, Sacai suggested decorating ordinary slippers on a low stroke with leather or fabric bows tied with a simple knot.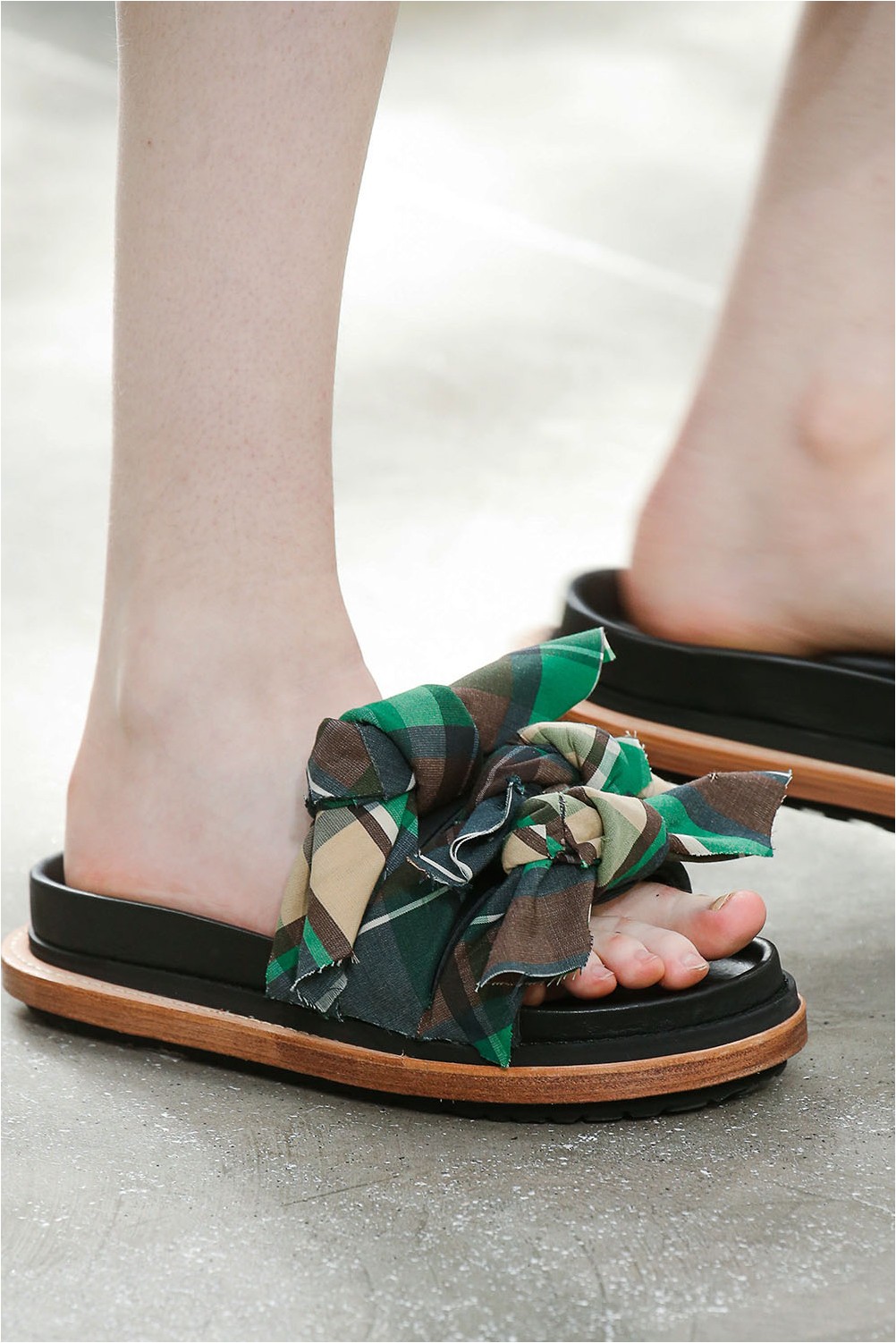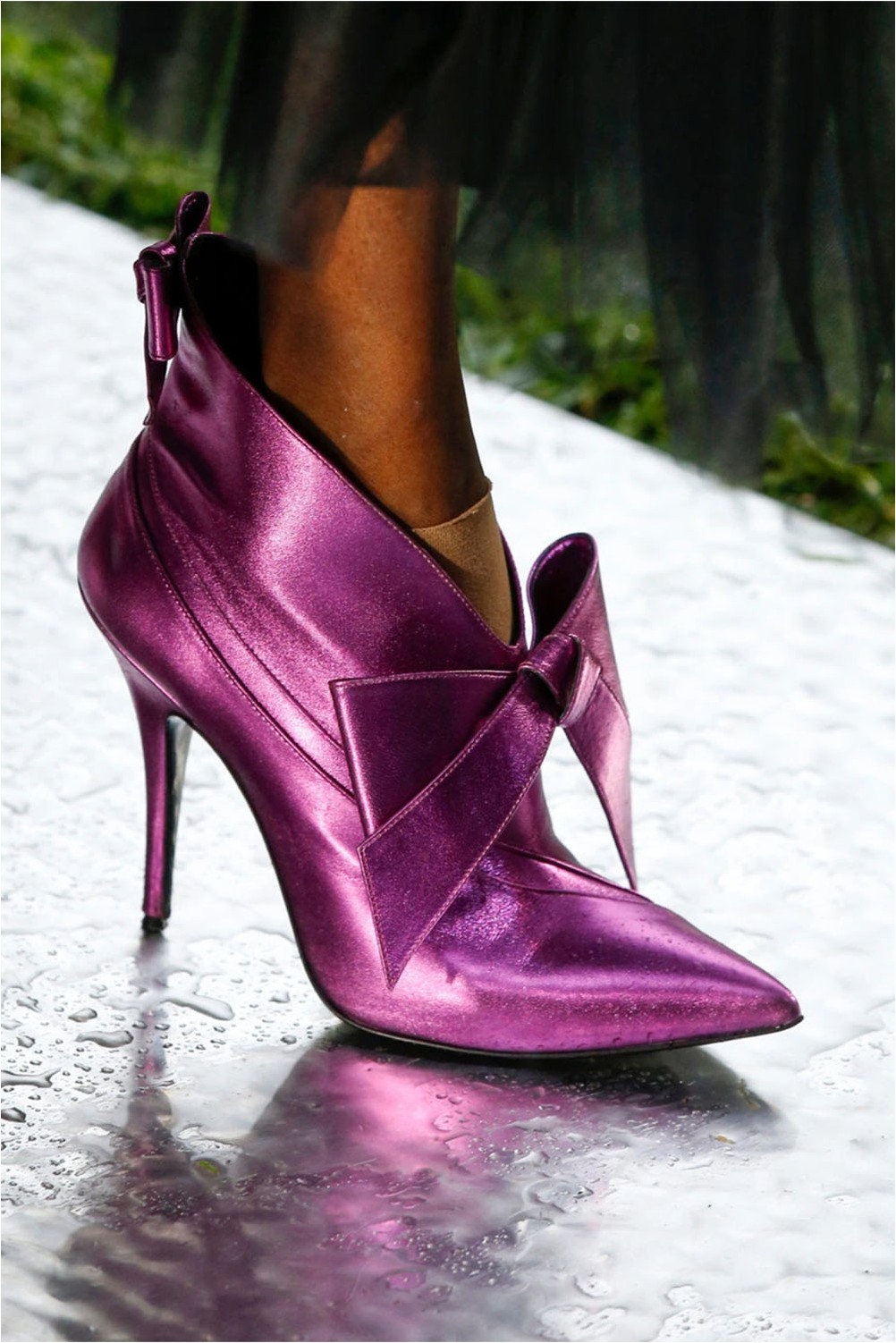 Designers Miu Miu, Rodarte and Marc Jacobs twisted magnificent magnificent roses from satin ribbons. The image turned out to be more feminine, with a light retro touch.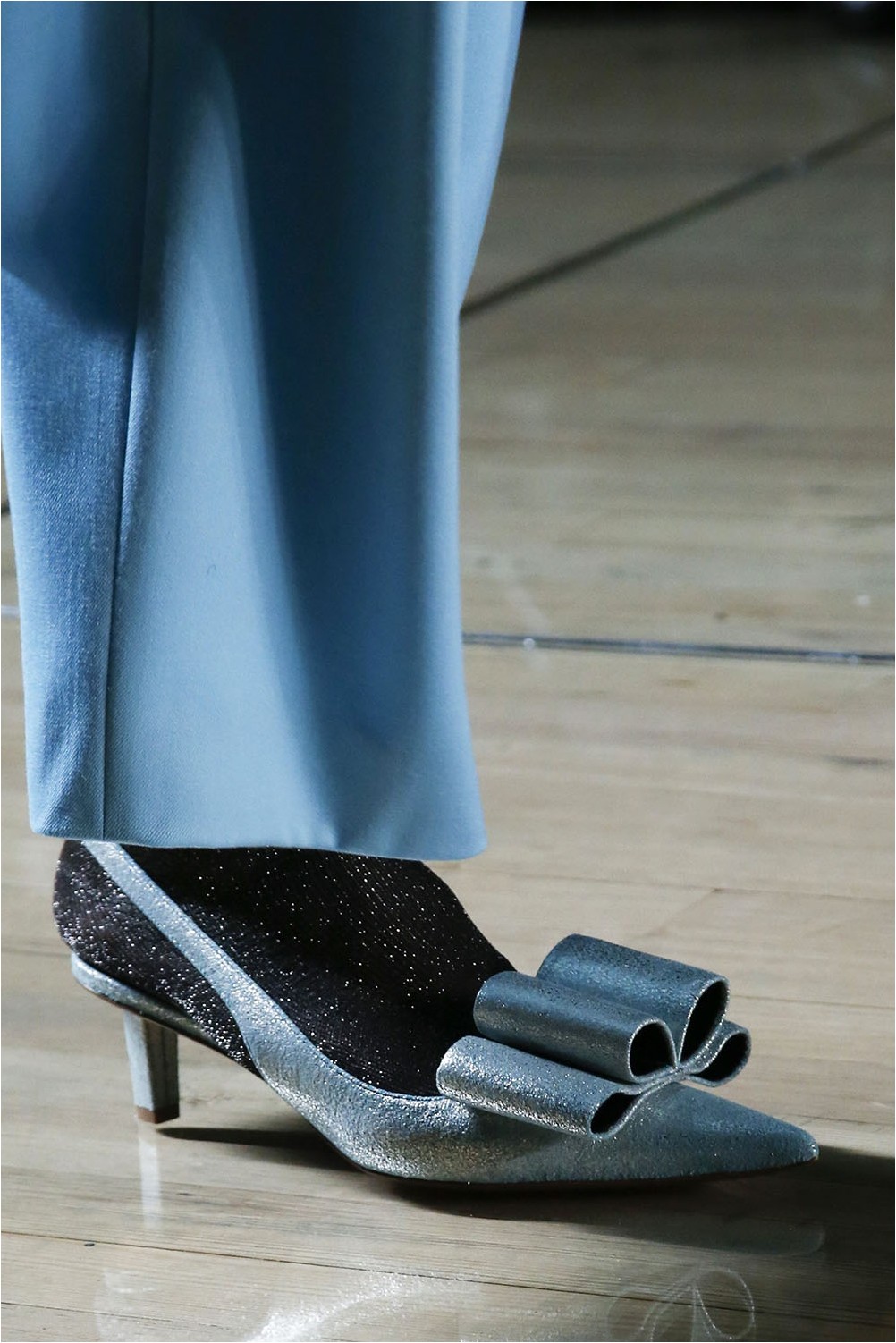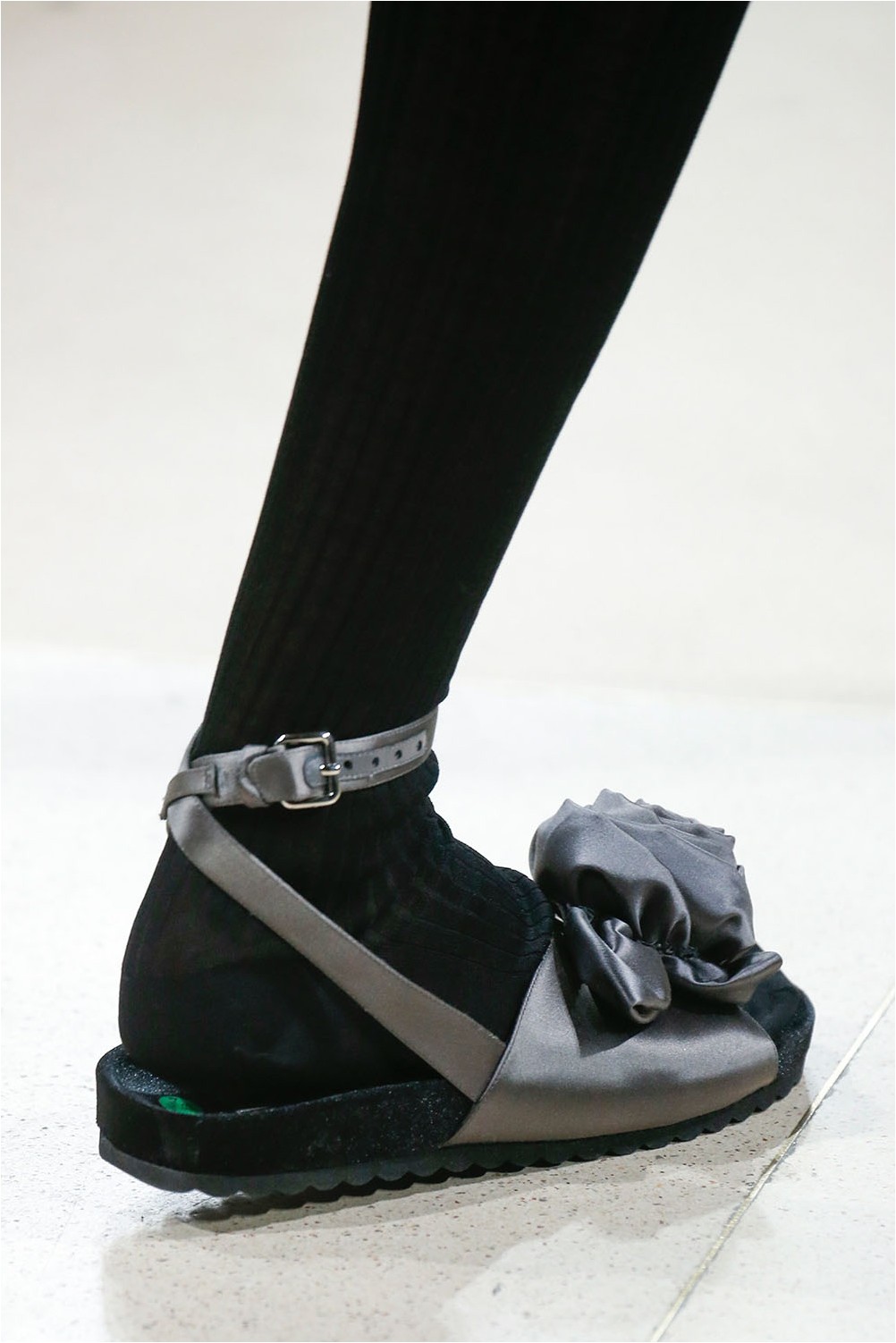 Sporty chic
Elements of the style of sportswear are gradually moving into the basic wardrobe. Few people will be surprised at the combination of a fluffy baby doll skirt with sneakers. And comfortable and weightless sneakers have become mandatory shoes for the summer. It is not surprising that such fashion houses called as Prada, Off-White, Coach, Gucci and Versace supported the sports trend. Some even equipped sports shoes with heels and a wedge..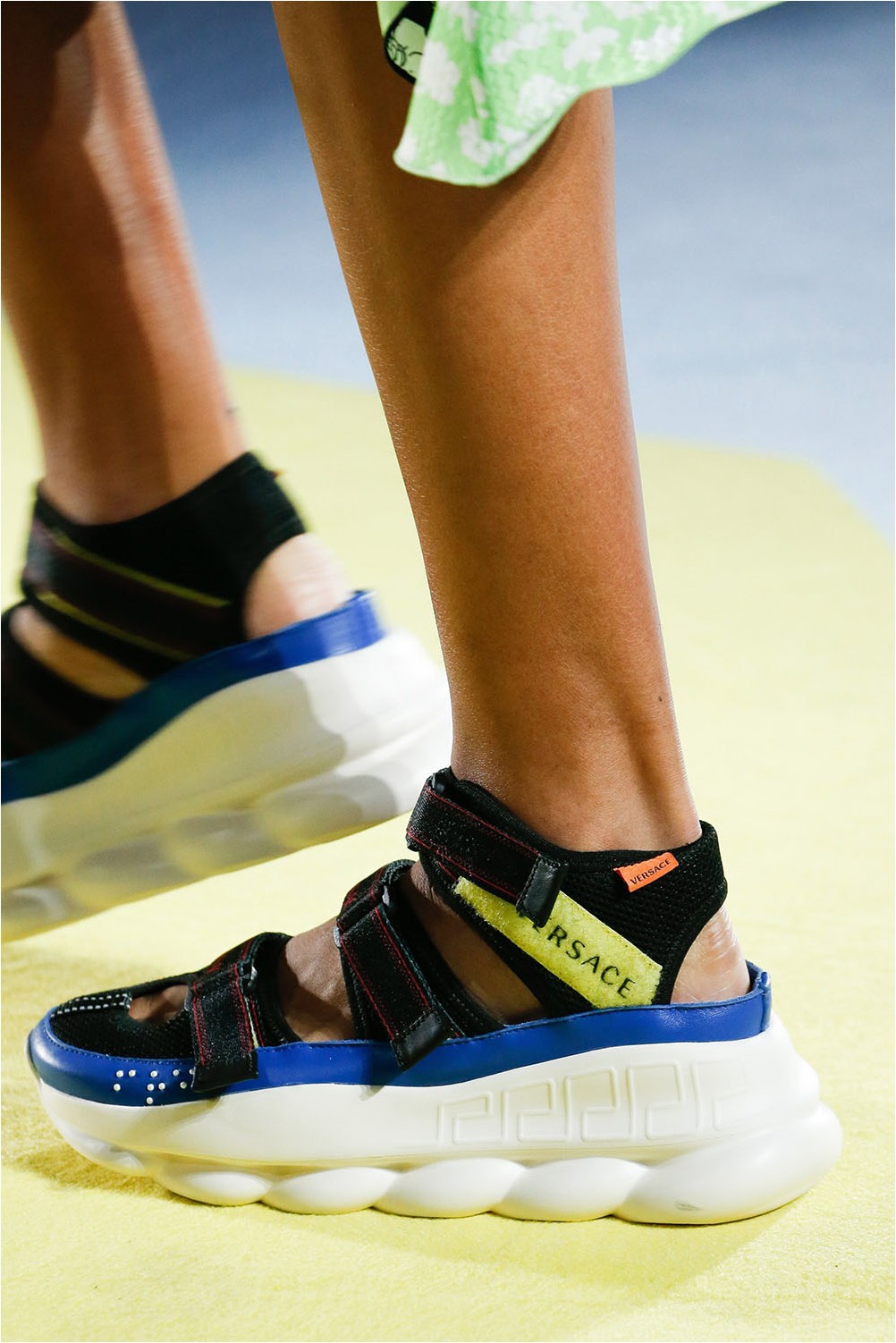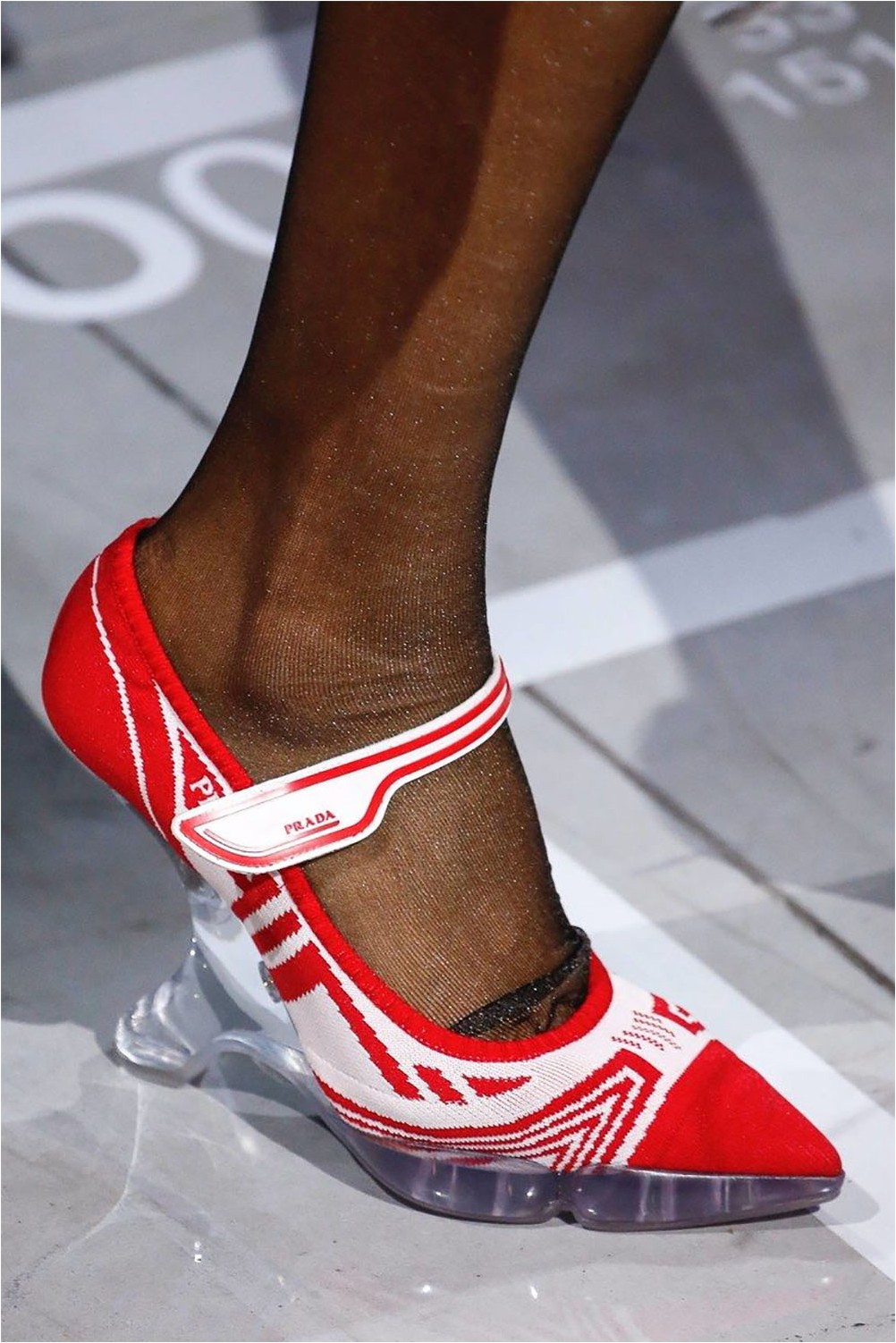 Sneakers with feminine decor, such as: fringe, pendants, decorative feathers, acid laces in the style of the 90s are in fashion. Do not get lost among the brilliant splendor and more concise models. Black and white collection by Michael Kors and white Stella McCartney sneakers once again proved that asceticism can be stylish.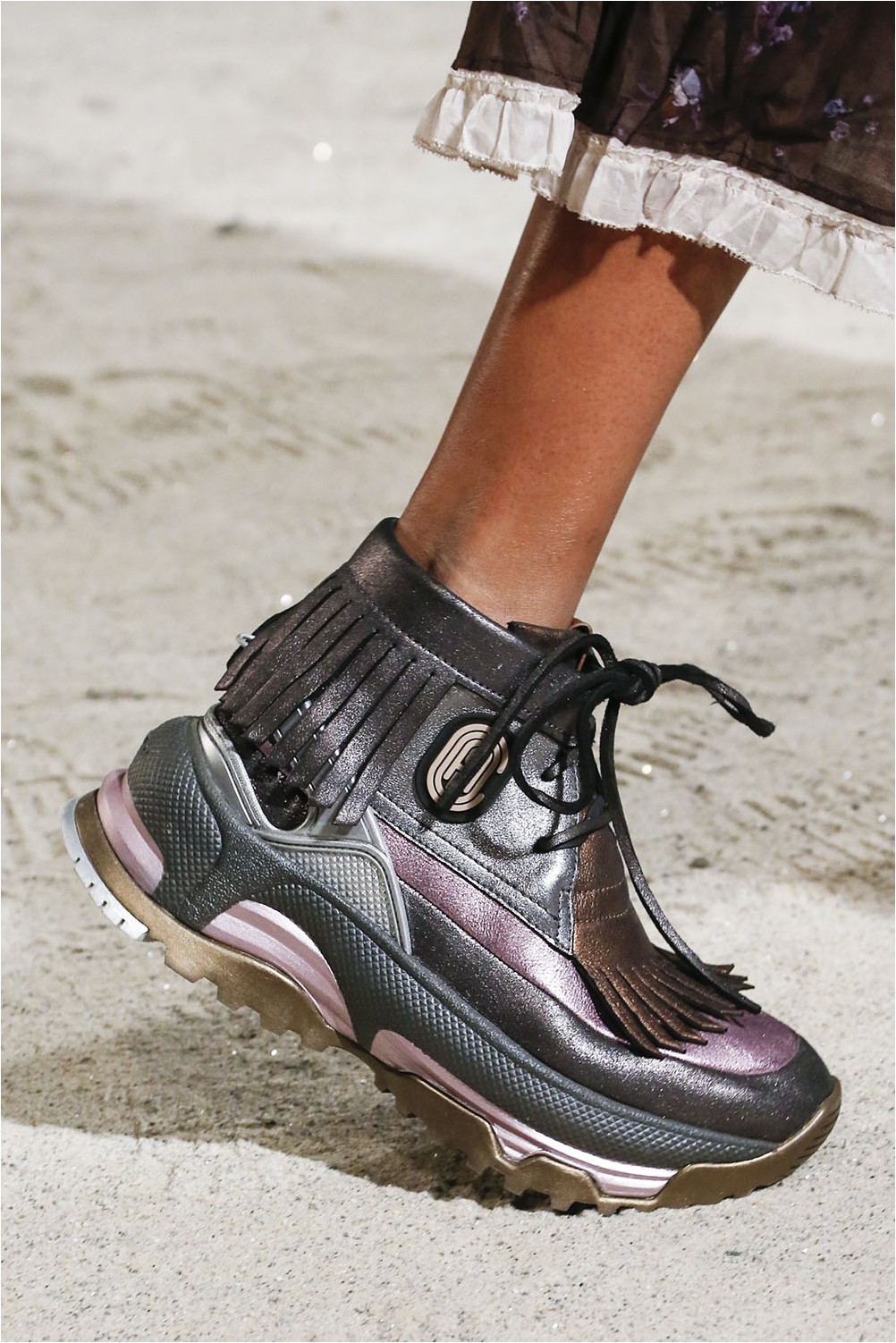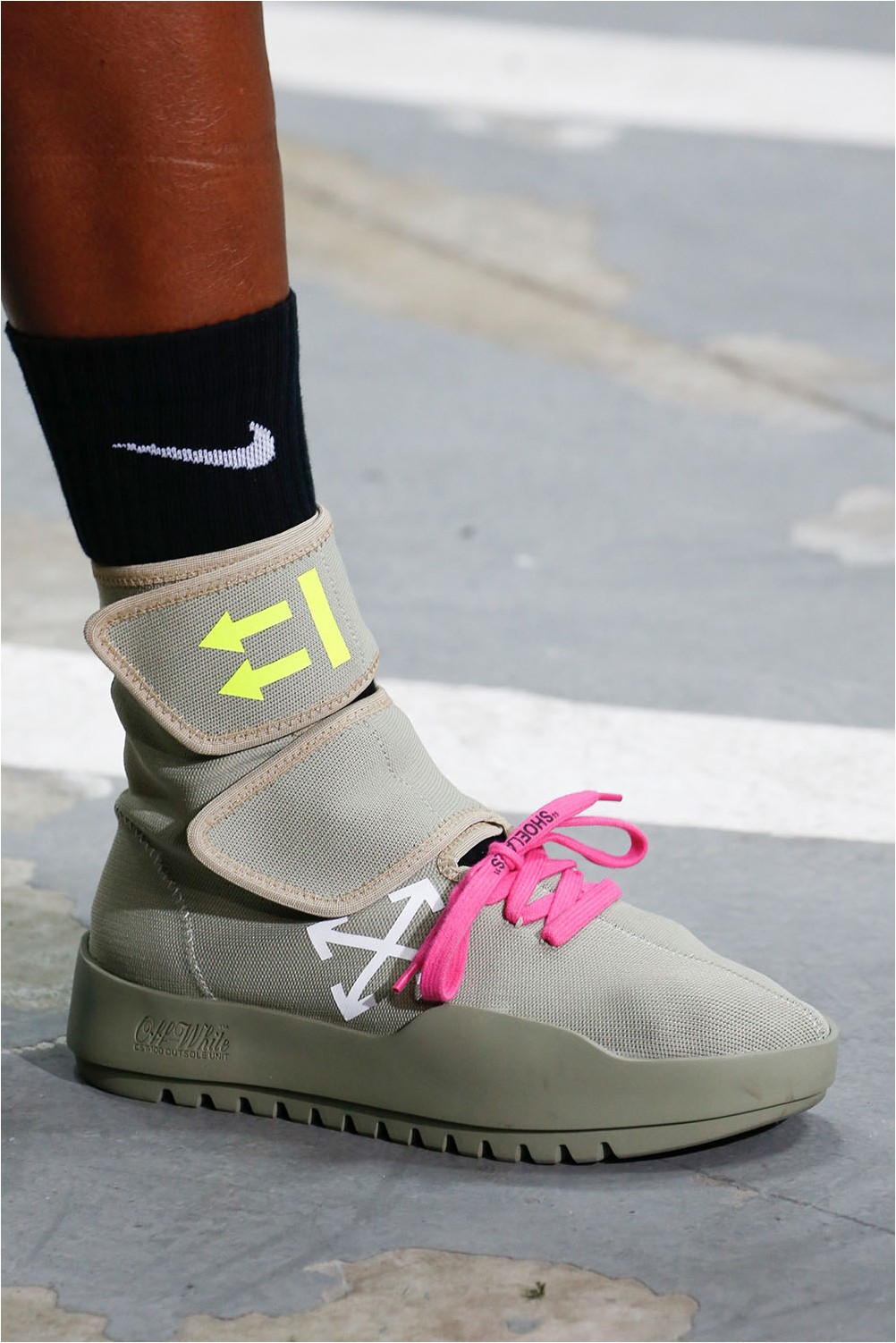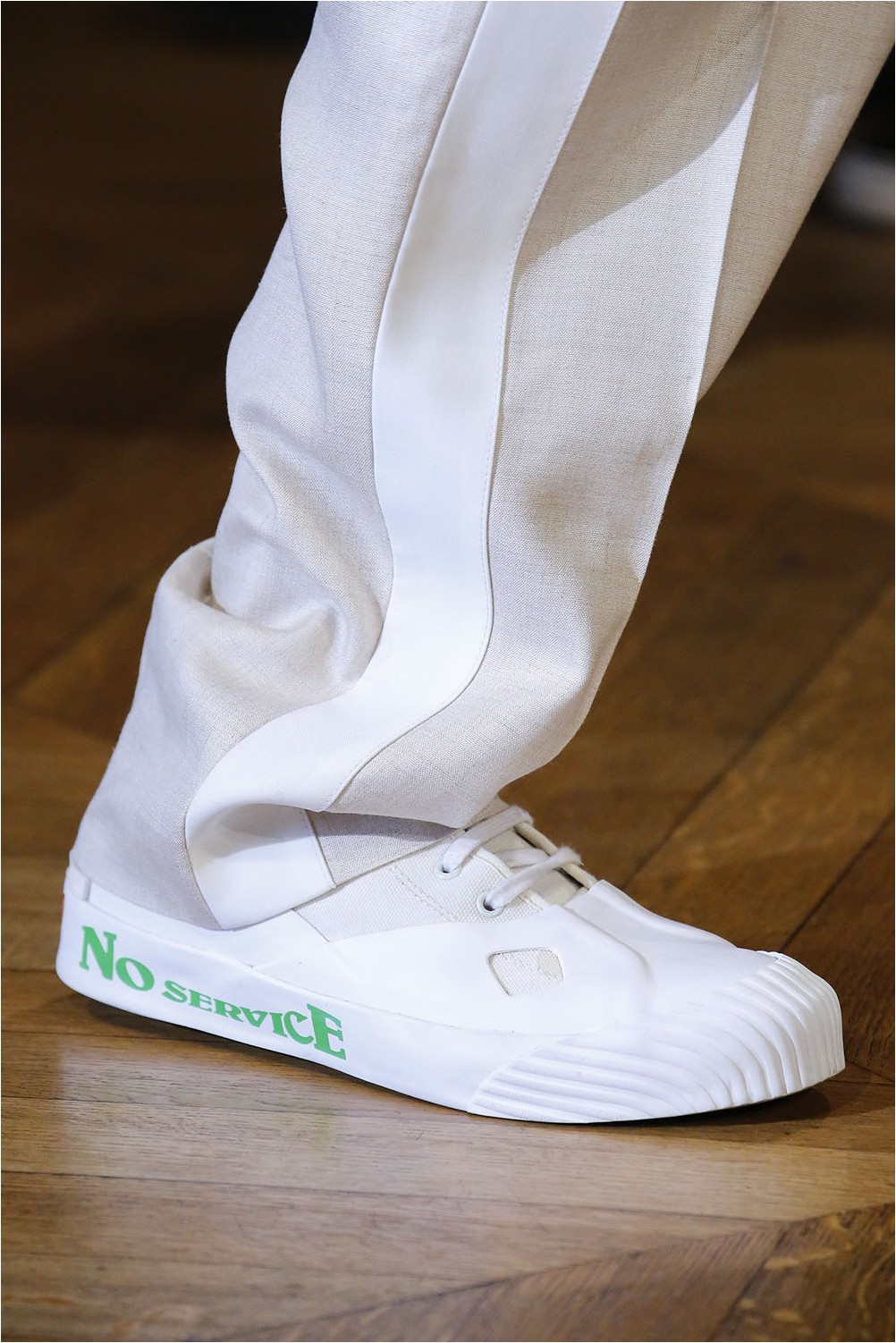 Ruffles
Demand for ruffles and shuttlecocks is increasing every day. Shoes with frills became a logical continuation of skirts, blouses, dresses and trousers, decorated with millions of airy ruffles and frills. Now in fashion shoes, ankle boots and sandals with trim from ruffles and flounces. And to make the look even more airy, designers Giorgio Armani and Mary Katrantzou combined two trends at once – a transparent texture and wavy frills.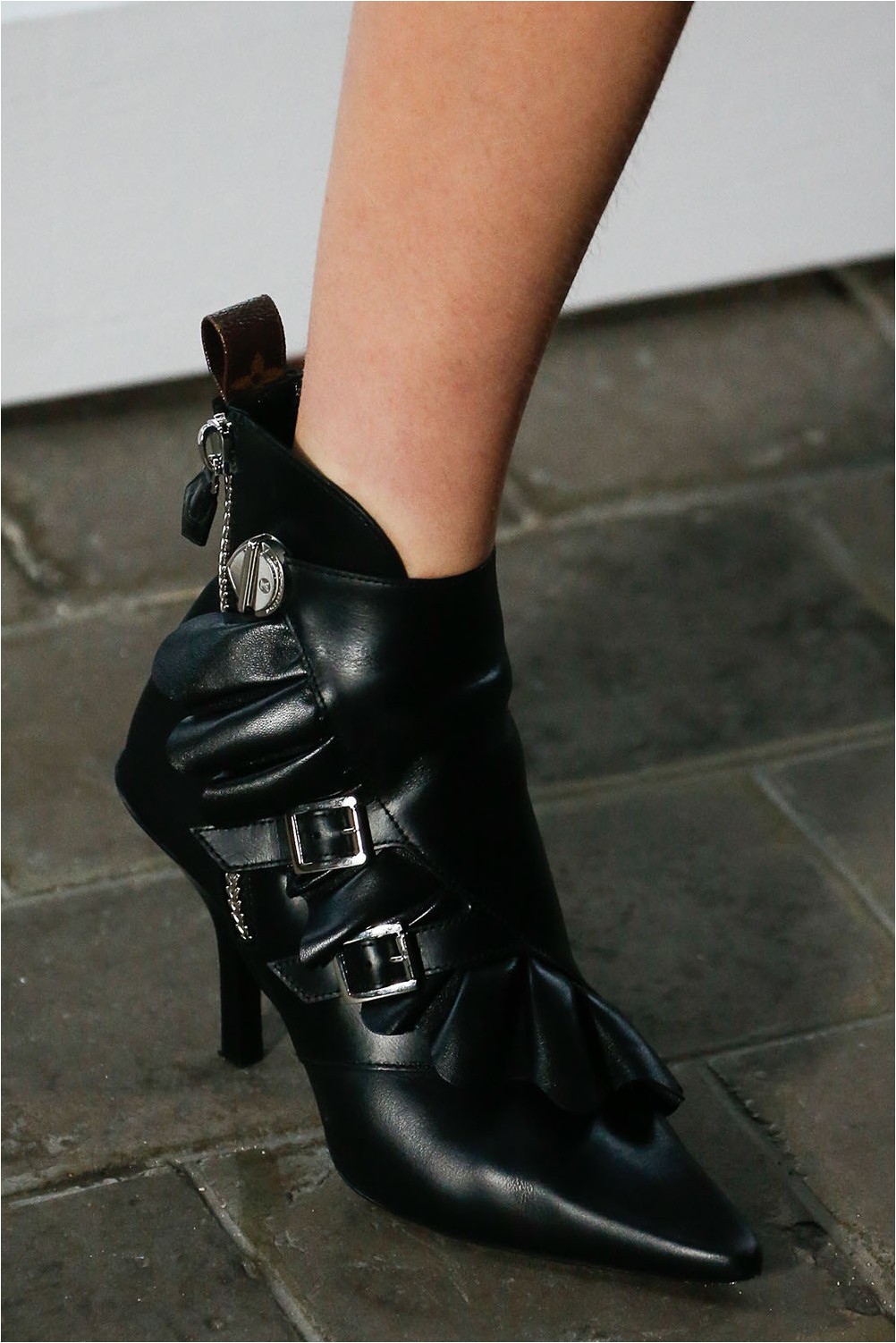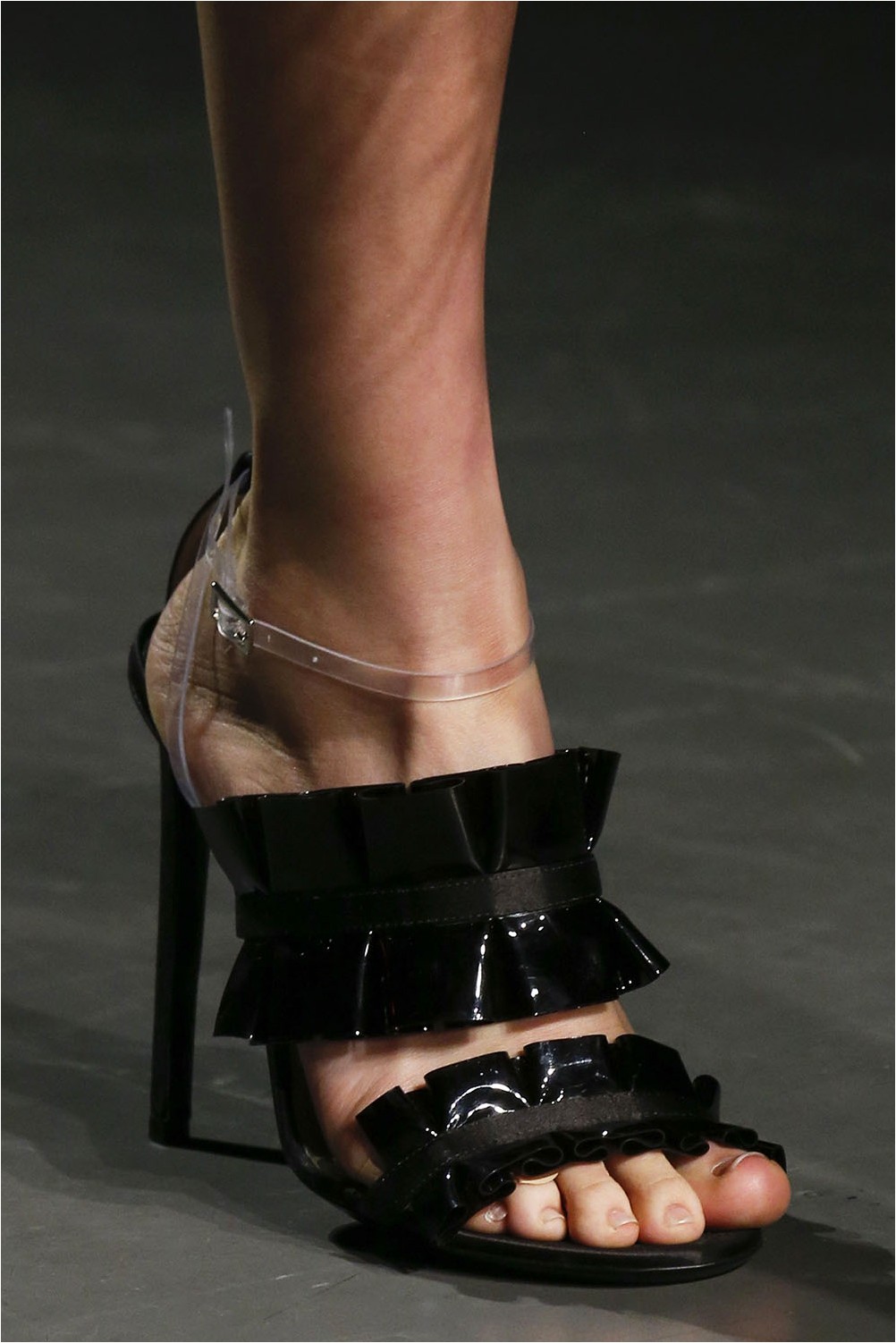 Glitter, stones and sequins
In spring, you can afford a little more than classic standard heels. If from past seasons you did not have at least one pair of shoes with a brilliant decor, then it's time to get it. Gloss, glamorous radiance of rhinestones and stones are back in fashion.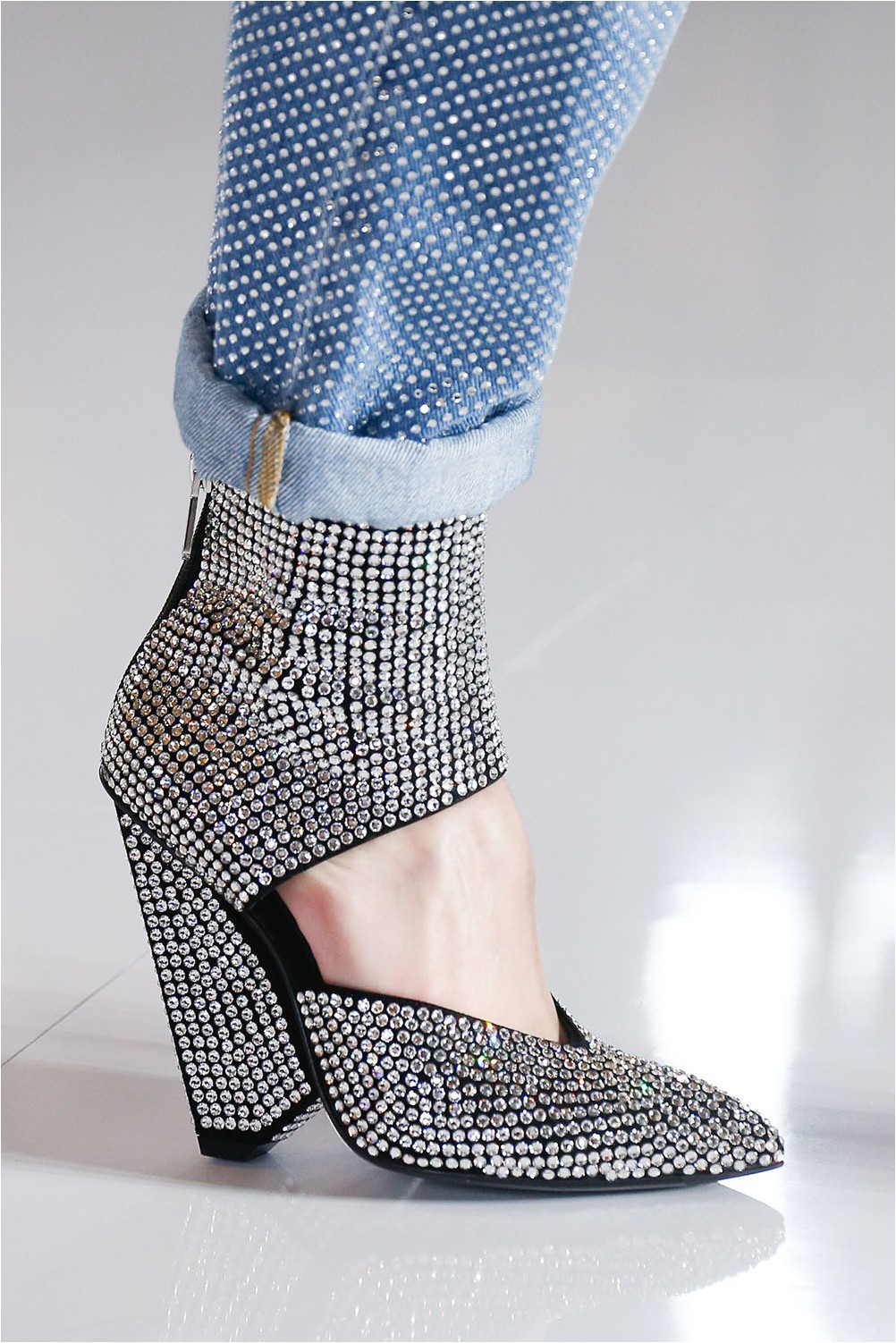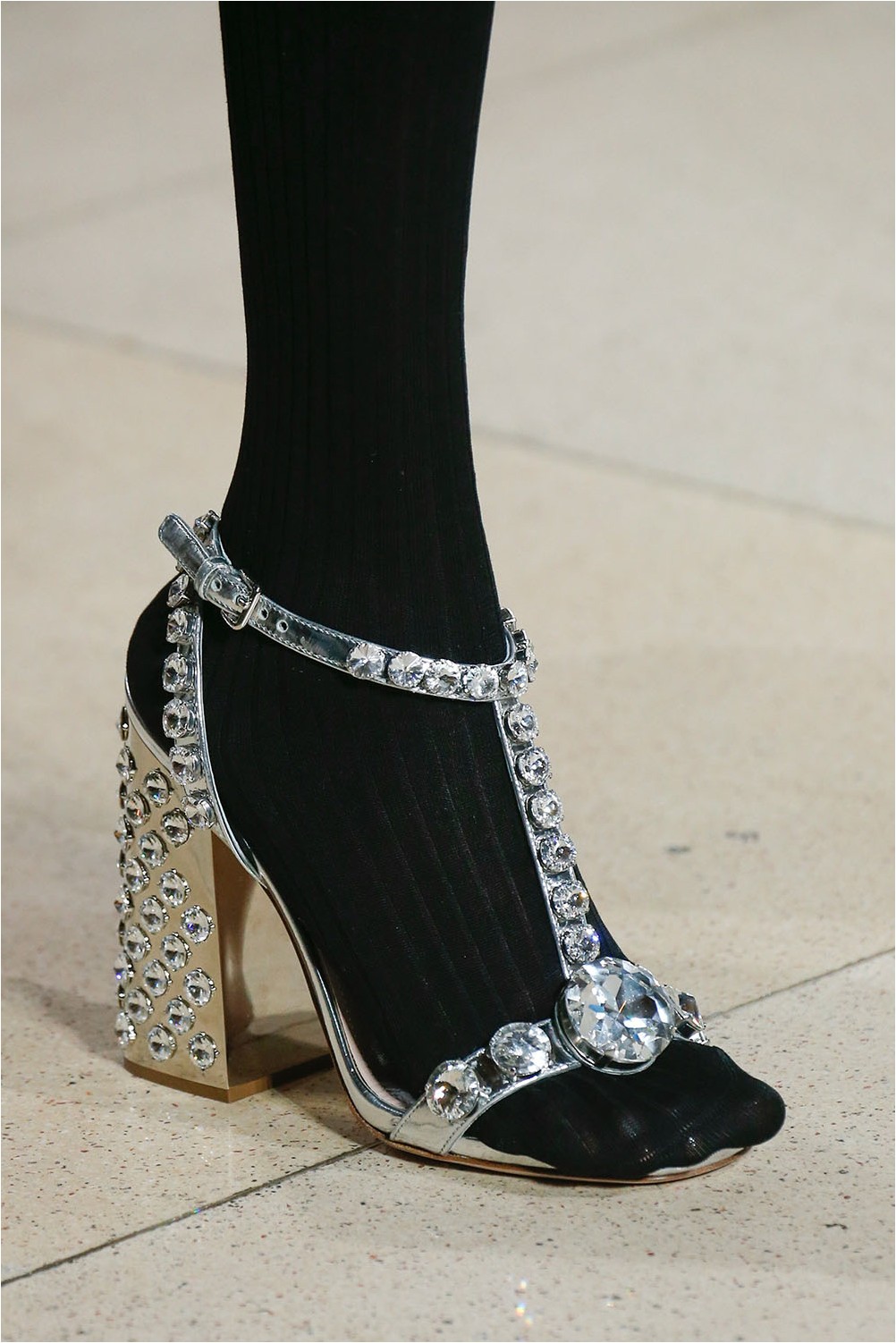 Sandals of Miu Miu will help to dilute the monotony of gray everyday life. They are generously strewn with shimmering stones. And in stylish shoes with Balmain rhinestones, you will become the queen of the party. It is advisable to choose a brilliant decor in silver tones.
Cowboy style
Wild West or free hippies – it doesn't matter who started the fashion for cowboy shoes. The main thing is the unique style that they give to your image. Celebrate spring with Céline shoes with light masculine motifs. Two trends coexisted at once in the same image from Maison Margiela. Cowboy lines are clearly visible in their boots and boots. But there are also female notes – an open heel and thin straps around the ankle.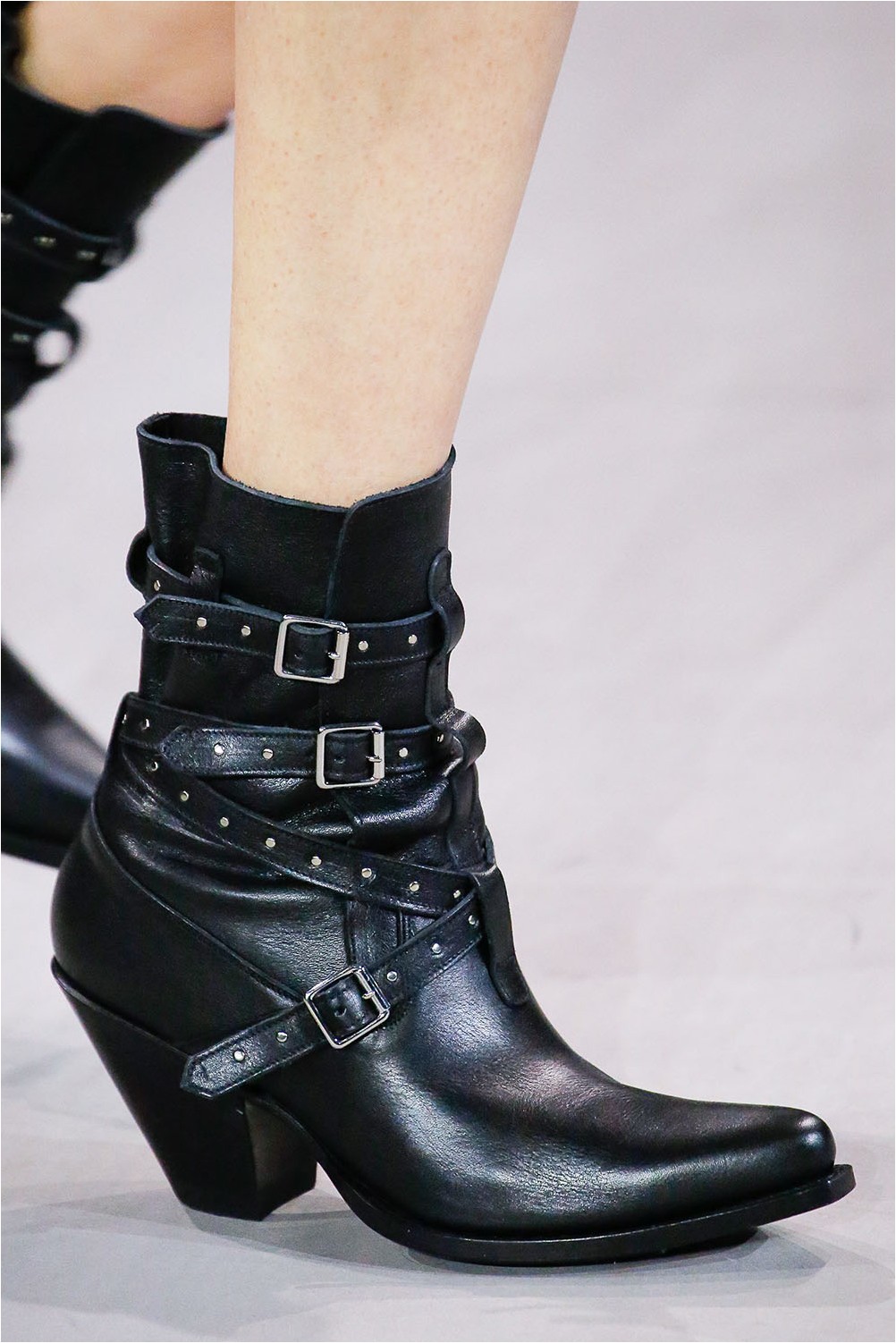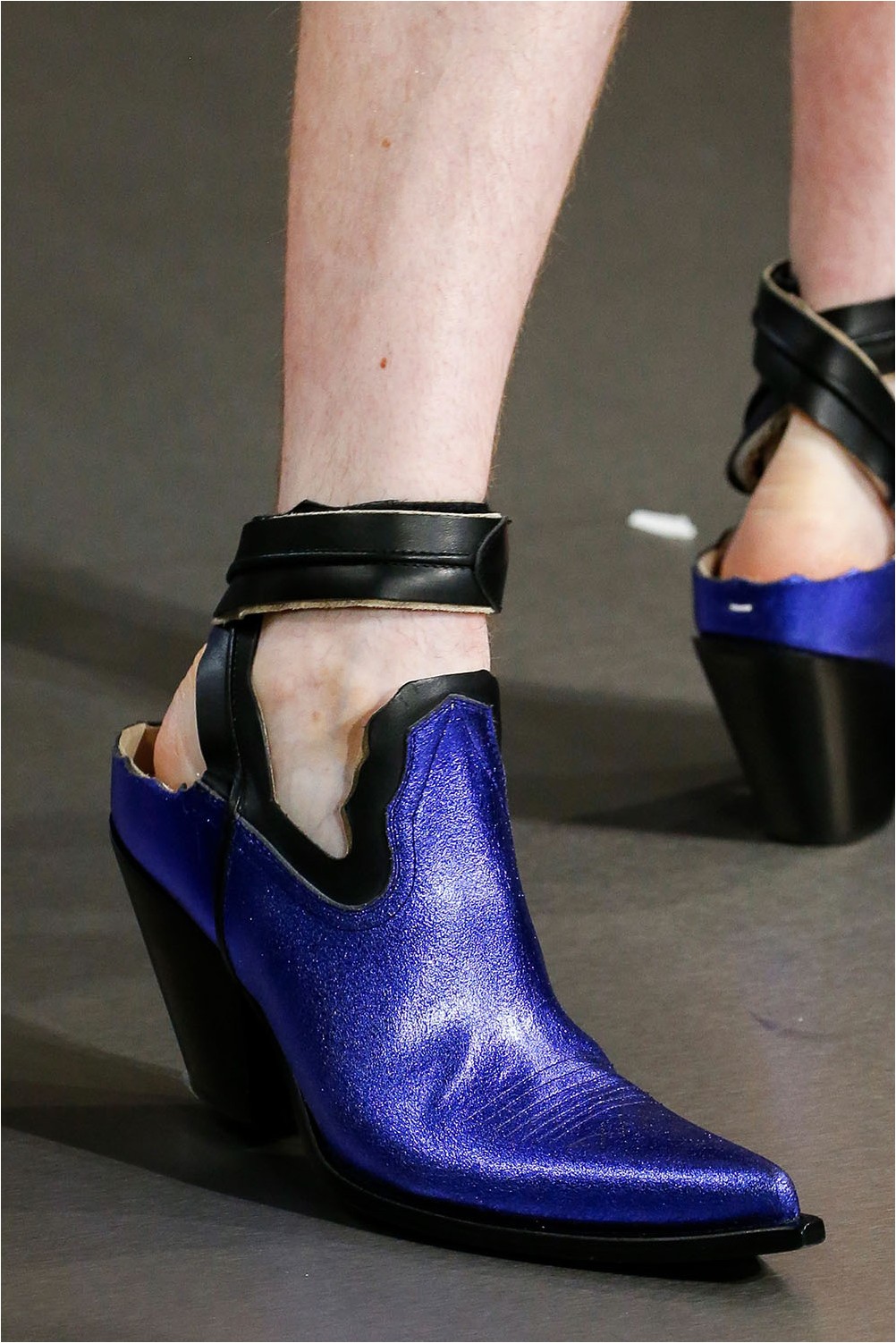 Shoelaces
It is fashionable to lace up everything – sandals, ankle boots, high boots and even flat-slippers. A special chic – laces in combination with a high hairpin. A lineup of such shoes was presented at the Louis Vuitton fashion house. At the same time, the laces can be tone-on-tone or contrast with the basic design of the shoe. Often lacing is used in models with straps and fringe..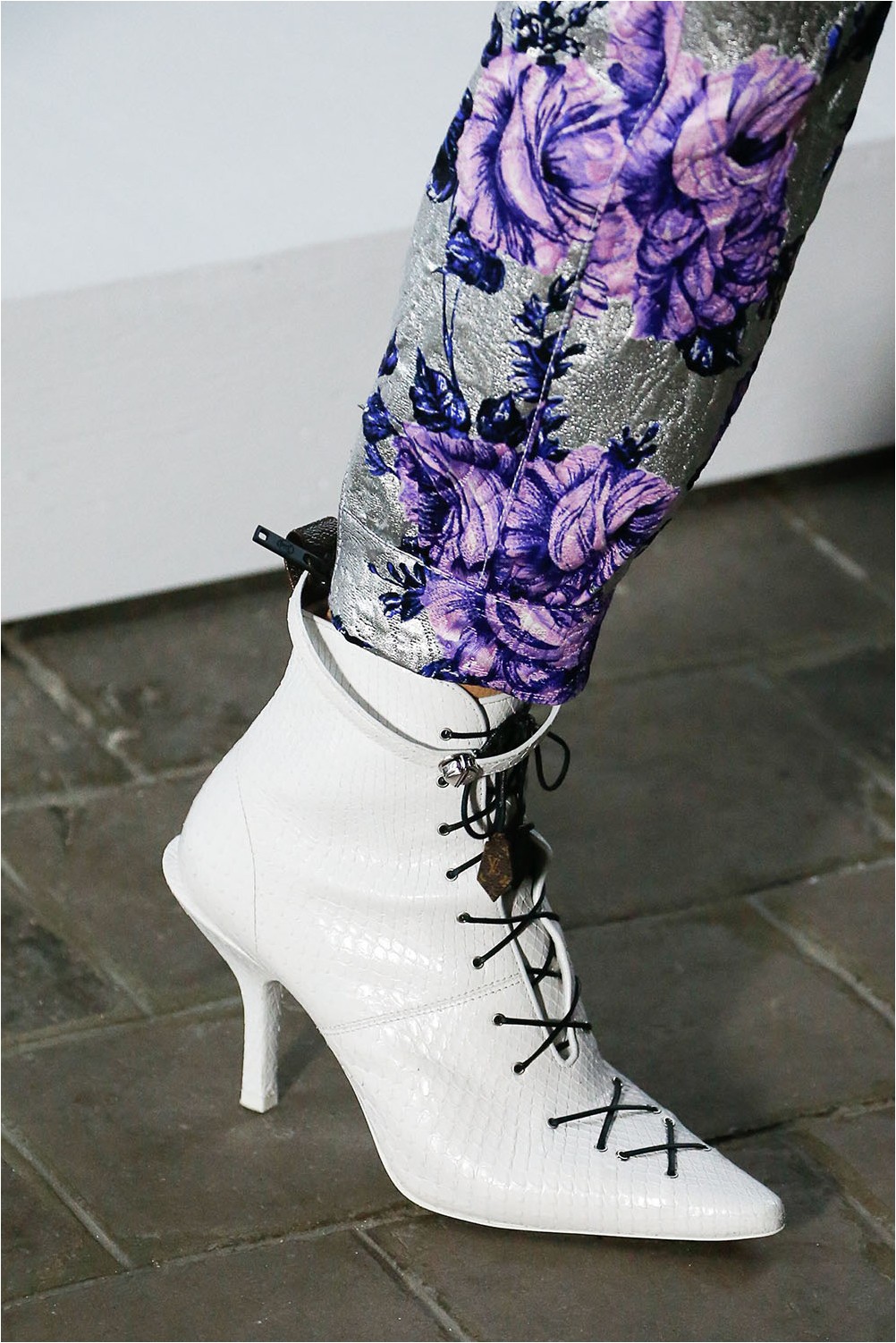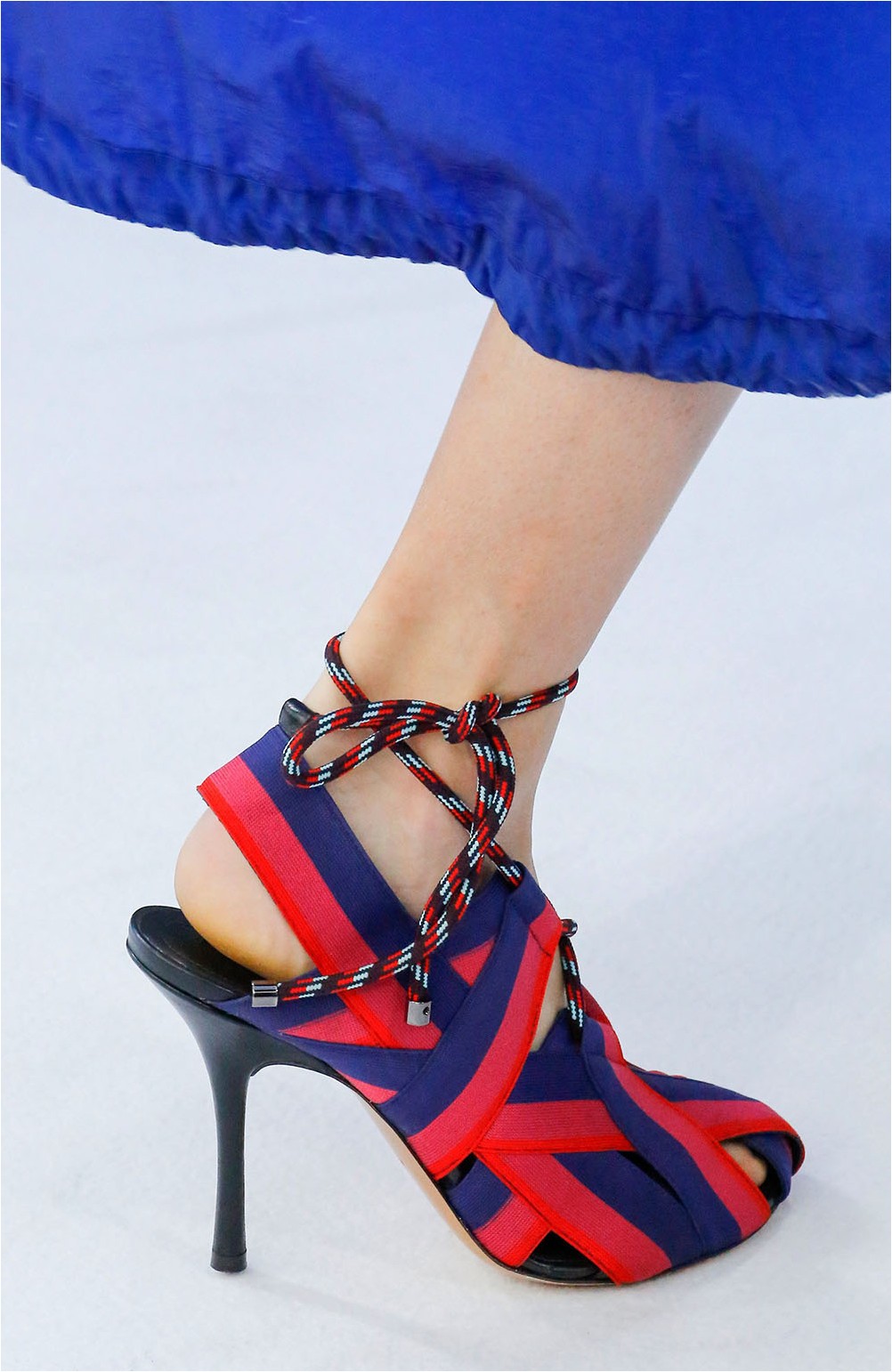 Combination
The combined trend does not leave fashion catwalks. On the contrary, he is steadily strengthening his position. Combining leather stretches that are different in color and texture, designers create unique and vibrant shoe models. Combining allows you to mix not only textures and shades, but also styles.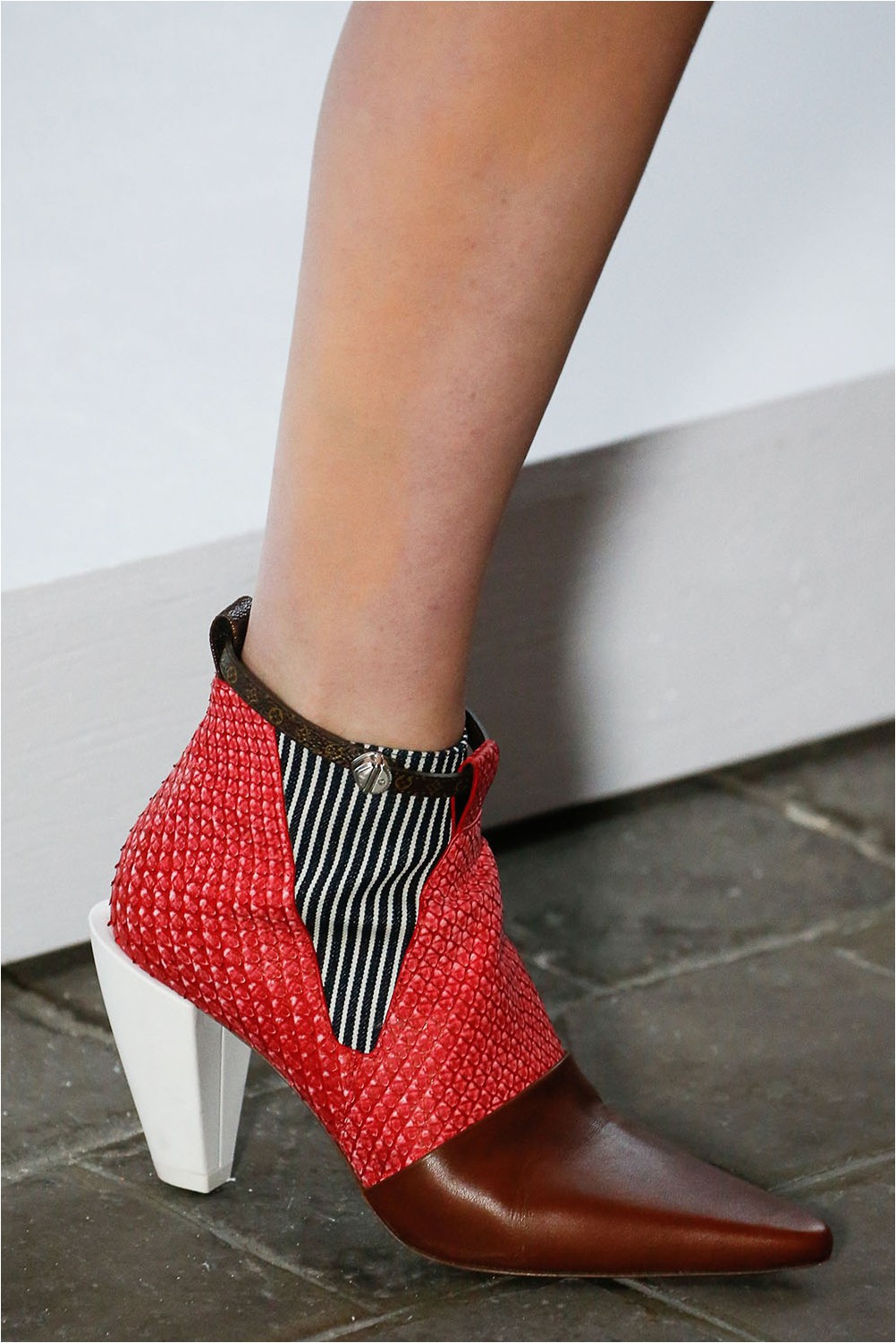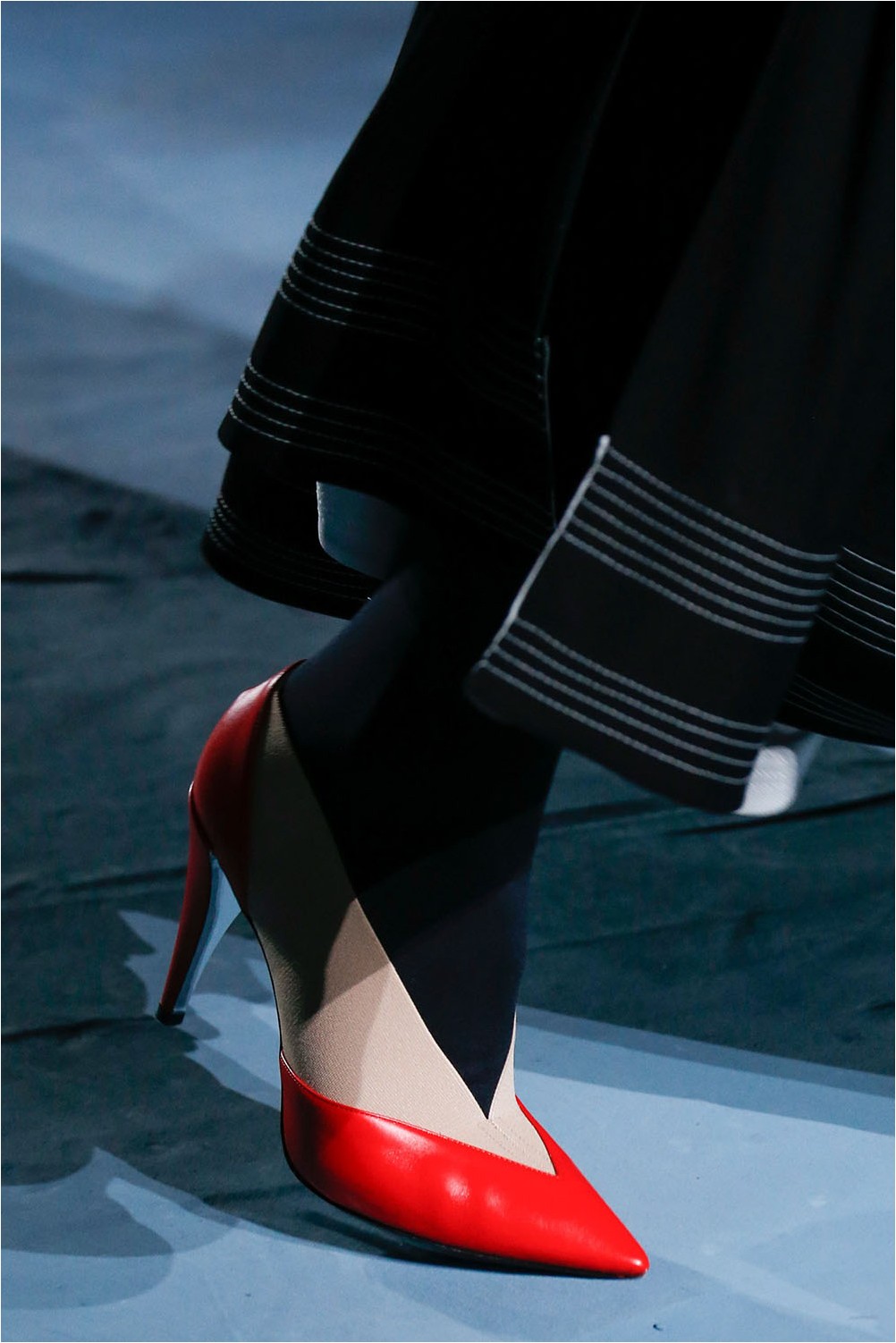 For example, in sandals and Fendi shoes, a romantic image is combined with sports motifs. In the Oscar de la Renta and Mary Katrantzou models, ethno elements are visible. Louis Vuitton and Givenchy decided to work on the classics and soften its strict rules. And in Chloé shoes interestingly immediately joined three completely different in texture materials: wood, leather and knitted fabric.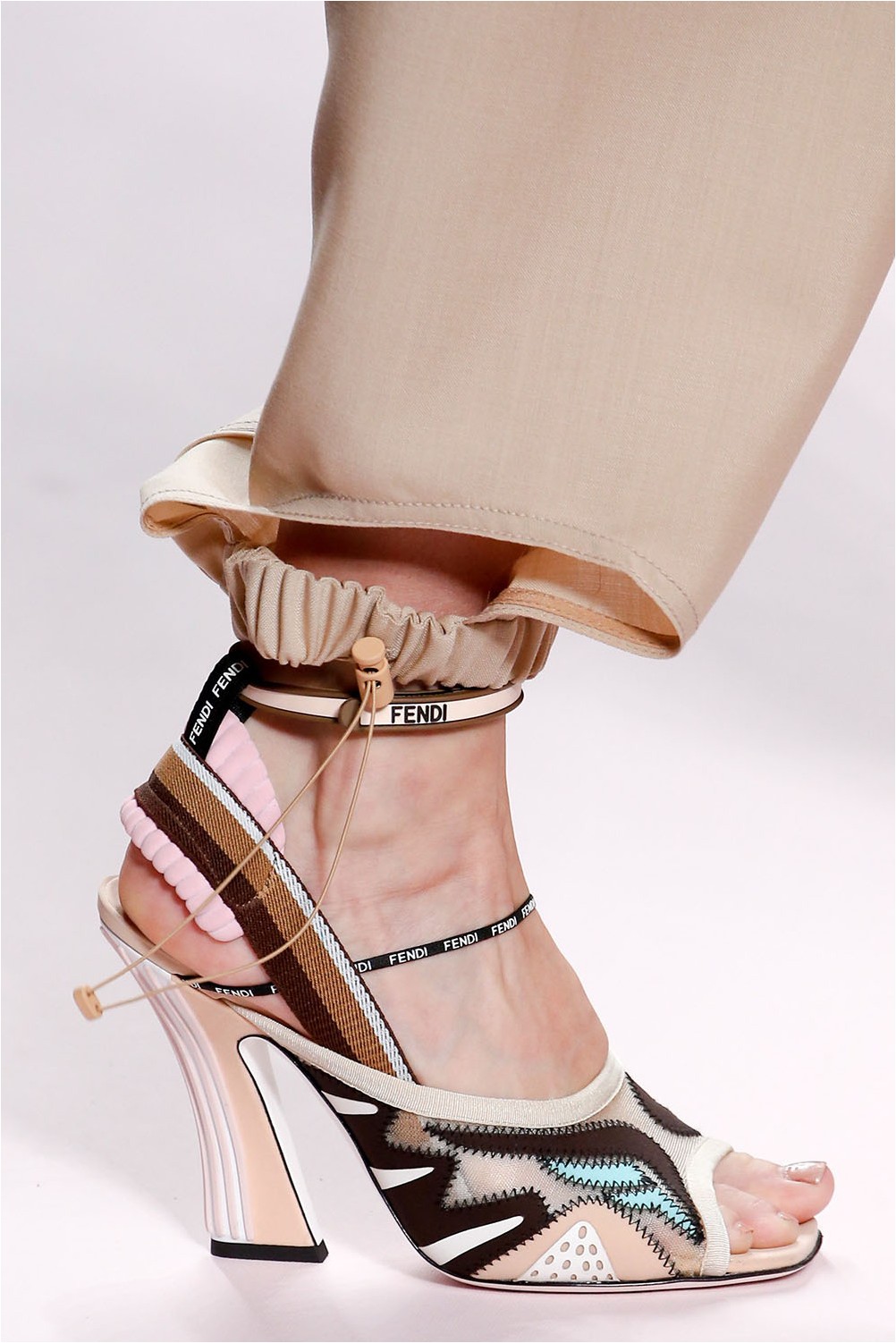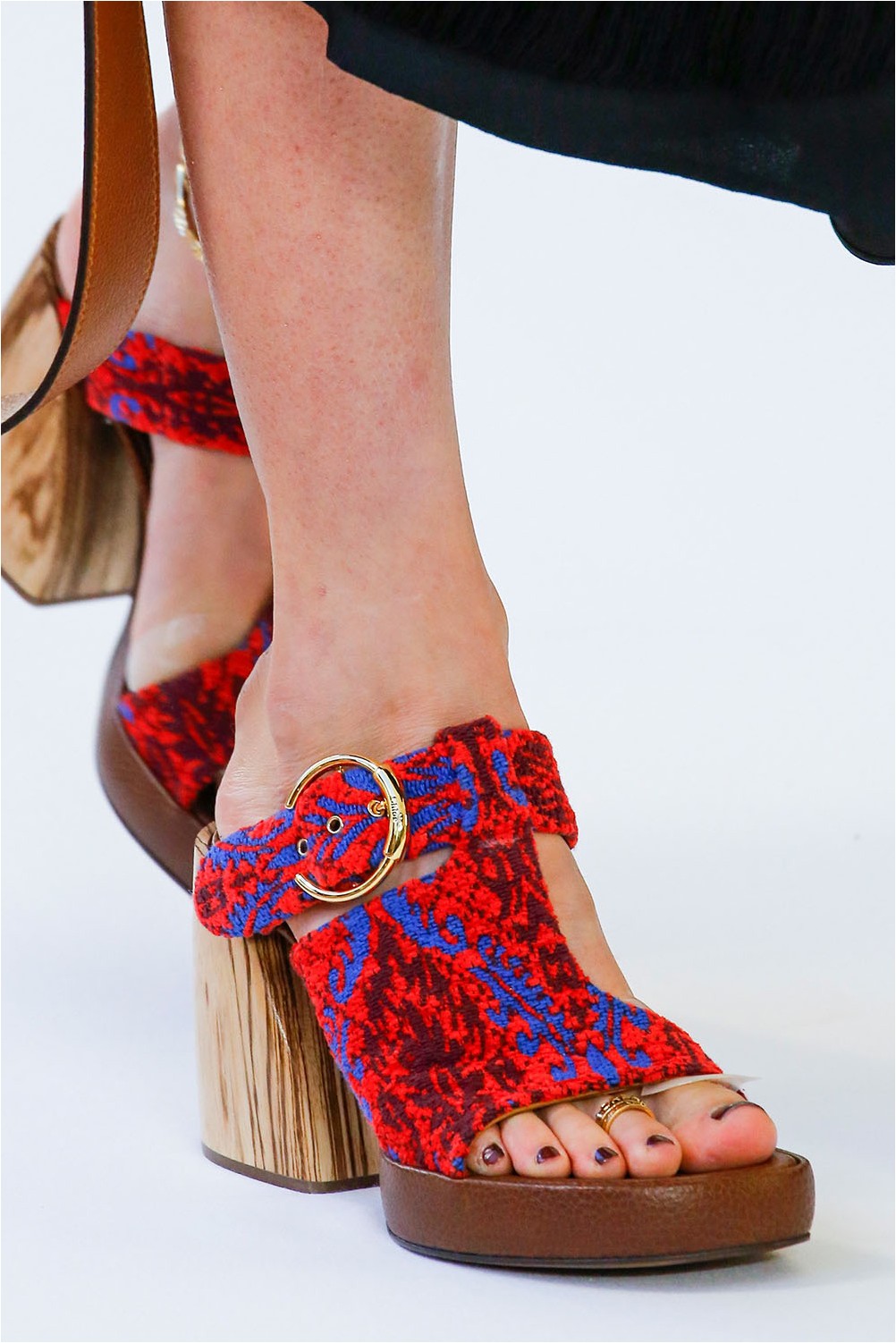 Feathers
The most extravagant decor in the spring-summer 2019 season will be down and feathers. The plumage of birds continues to inspire designers to daring experiments. They replenish their collections again and again with airy fluff and light feathers..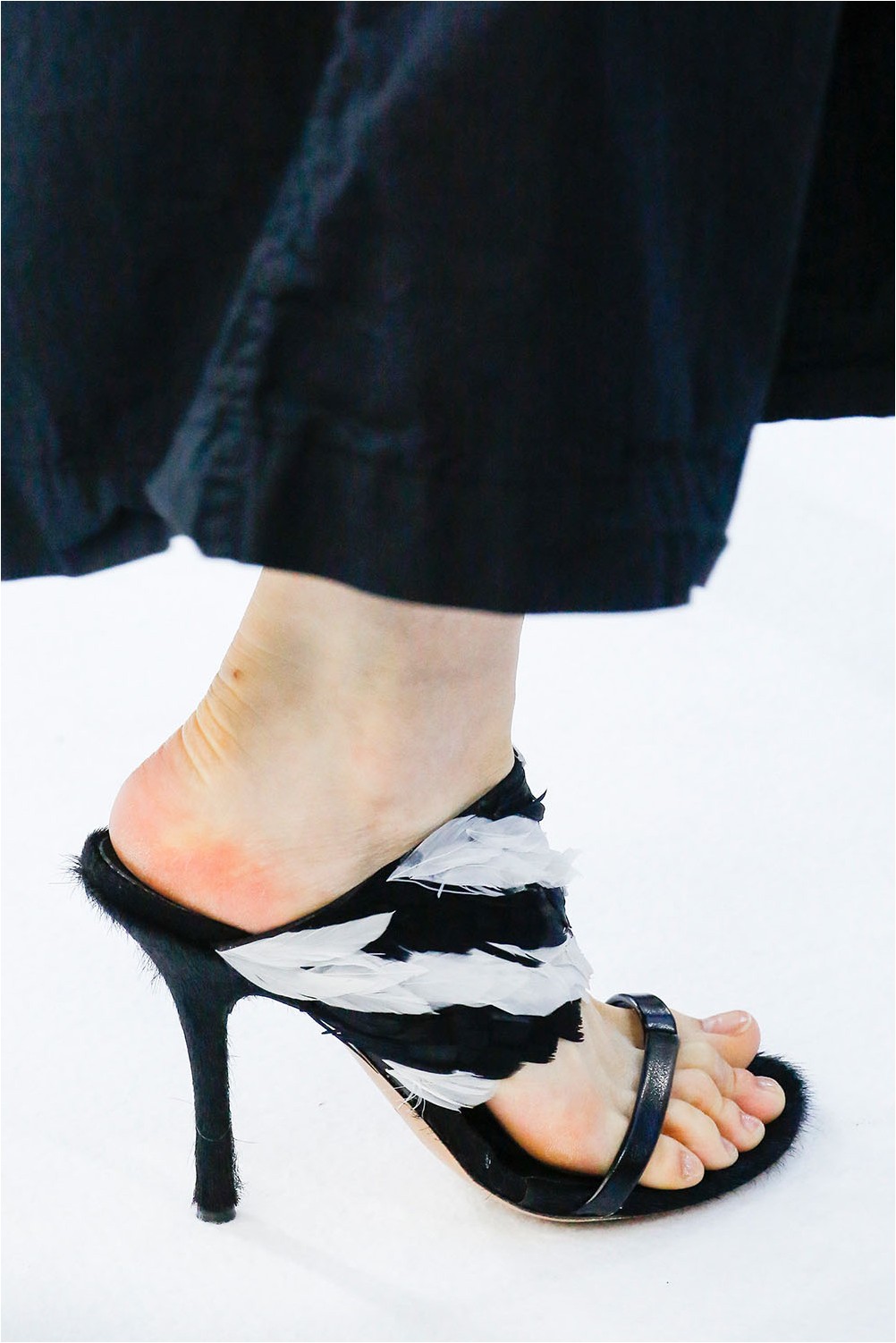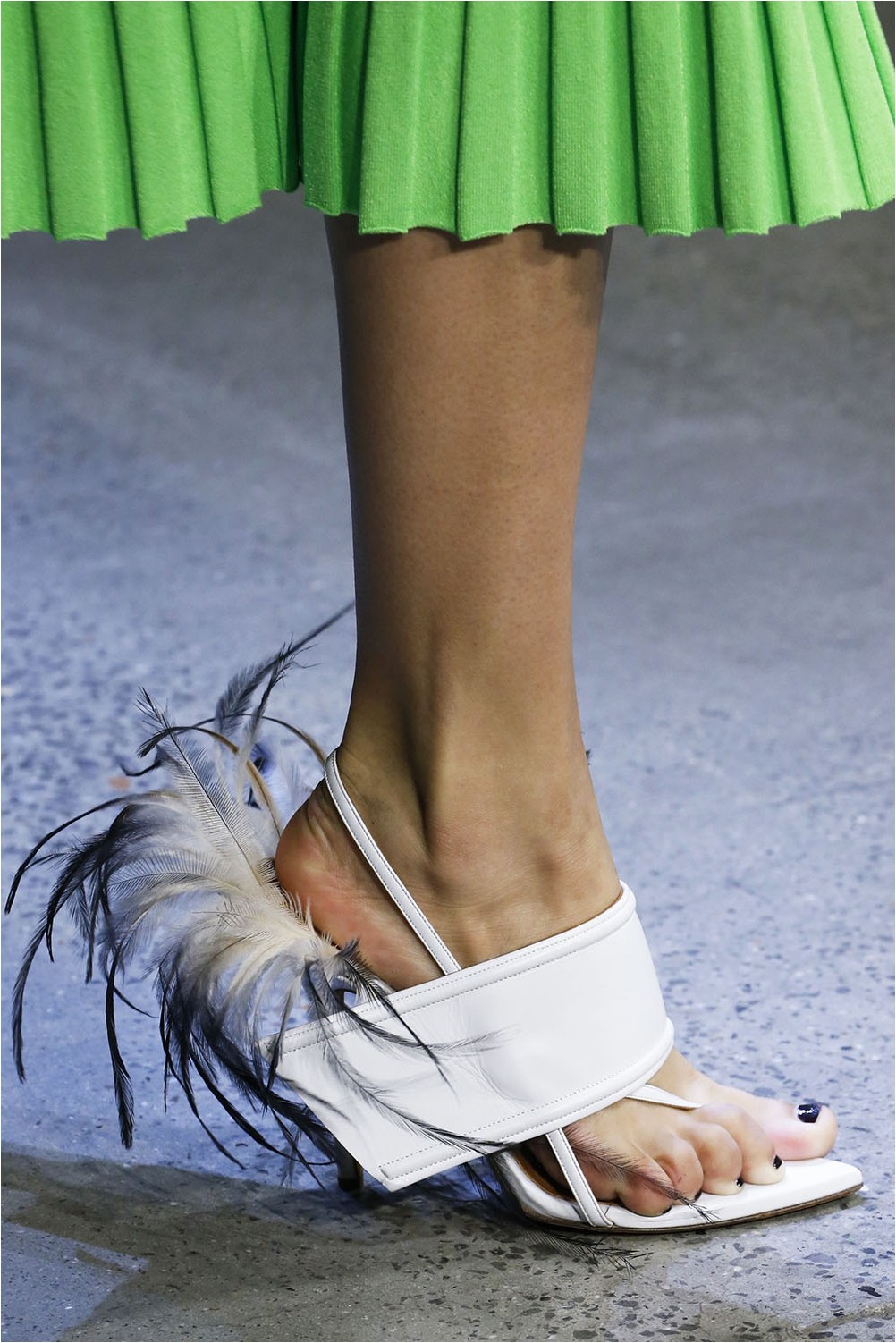 For example, Dries Van Noten "operated" high-heeled mules. And Valentino decorated the airy edge with bright birken rods. To create a collection of Tod's fashionable shoes, designers did not begin to weight the shoes with massive feather decor or cover them with clouds of airy fluff. They just around the edge decorated open loafers with decorative feathers made of leather. Simone Rocha did not stint on the fashionable decor and created a realistic effect of "bird legs" on the sole.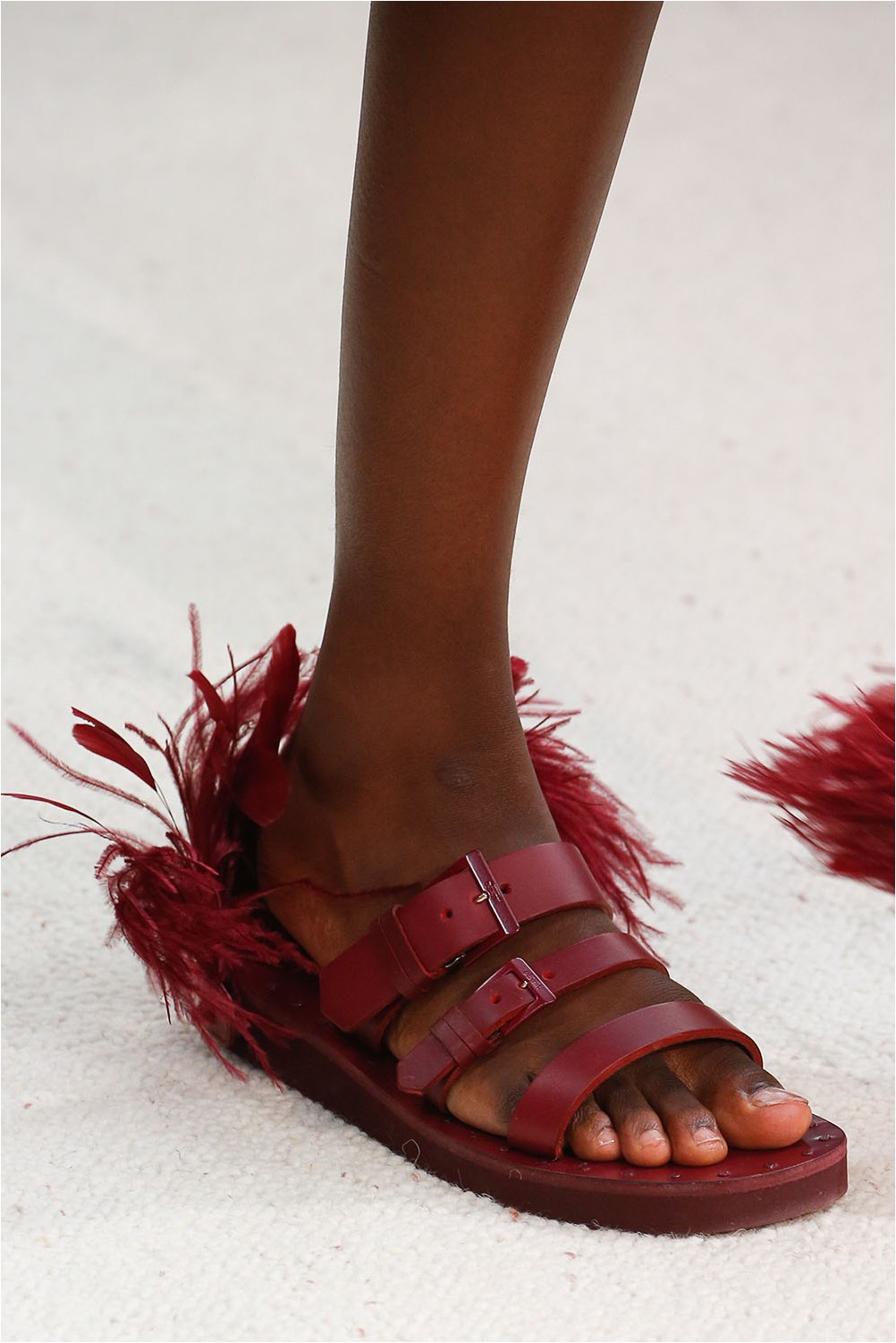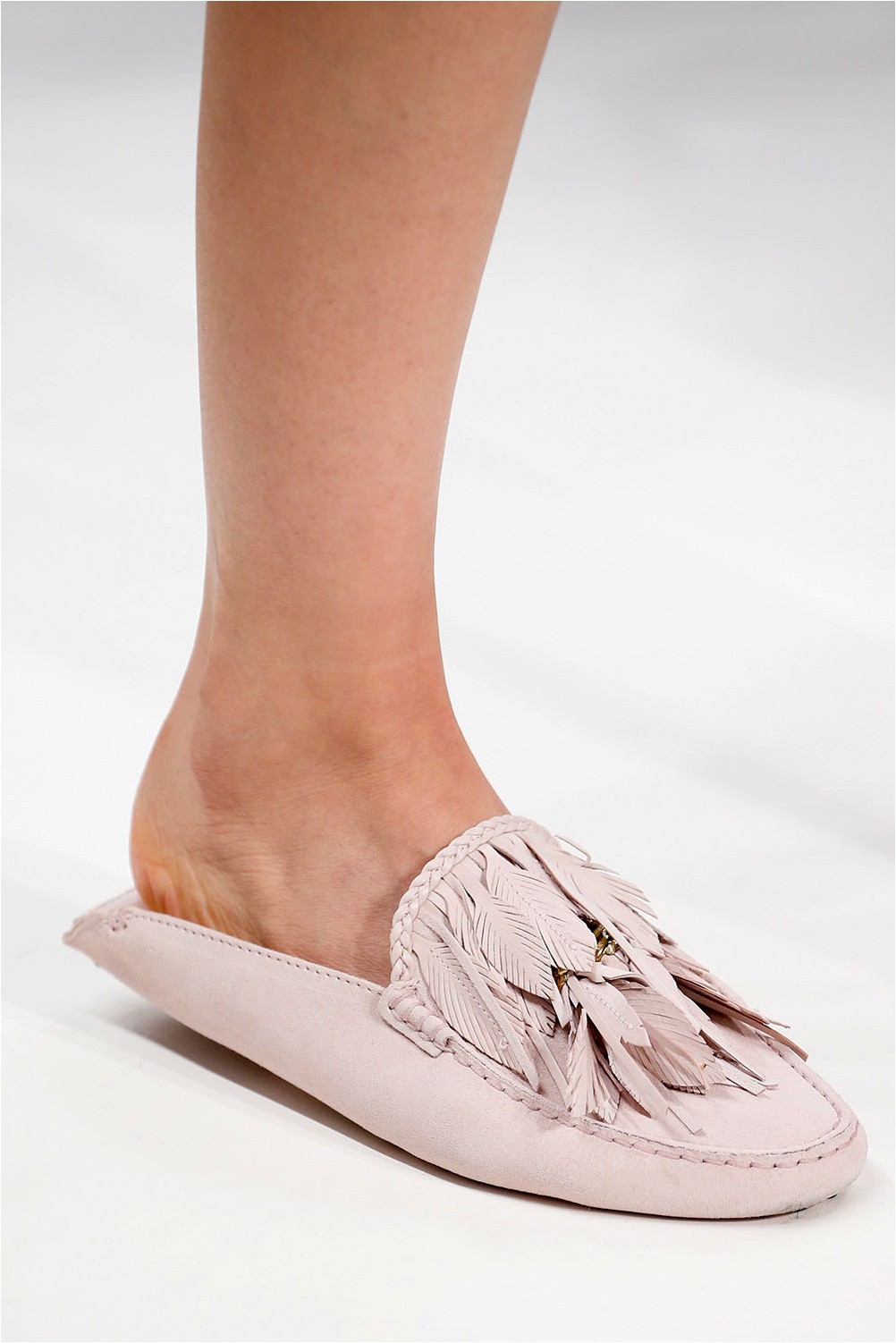 Floral print
The tendency to decorate clothes with flowers has also shifted to shoes. Now the flowers have blossomed on sandals, shoes and even boots from the most famous brands. Bright and original Michael Kors shoe models contain all the colors of summer. Kenzo shoes with delicate blue roses on a white background turned out to be more restrained. This conciseness ended. A soft print contrasts with massive heels, a wide sole and a bright edging..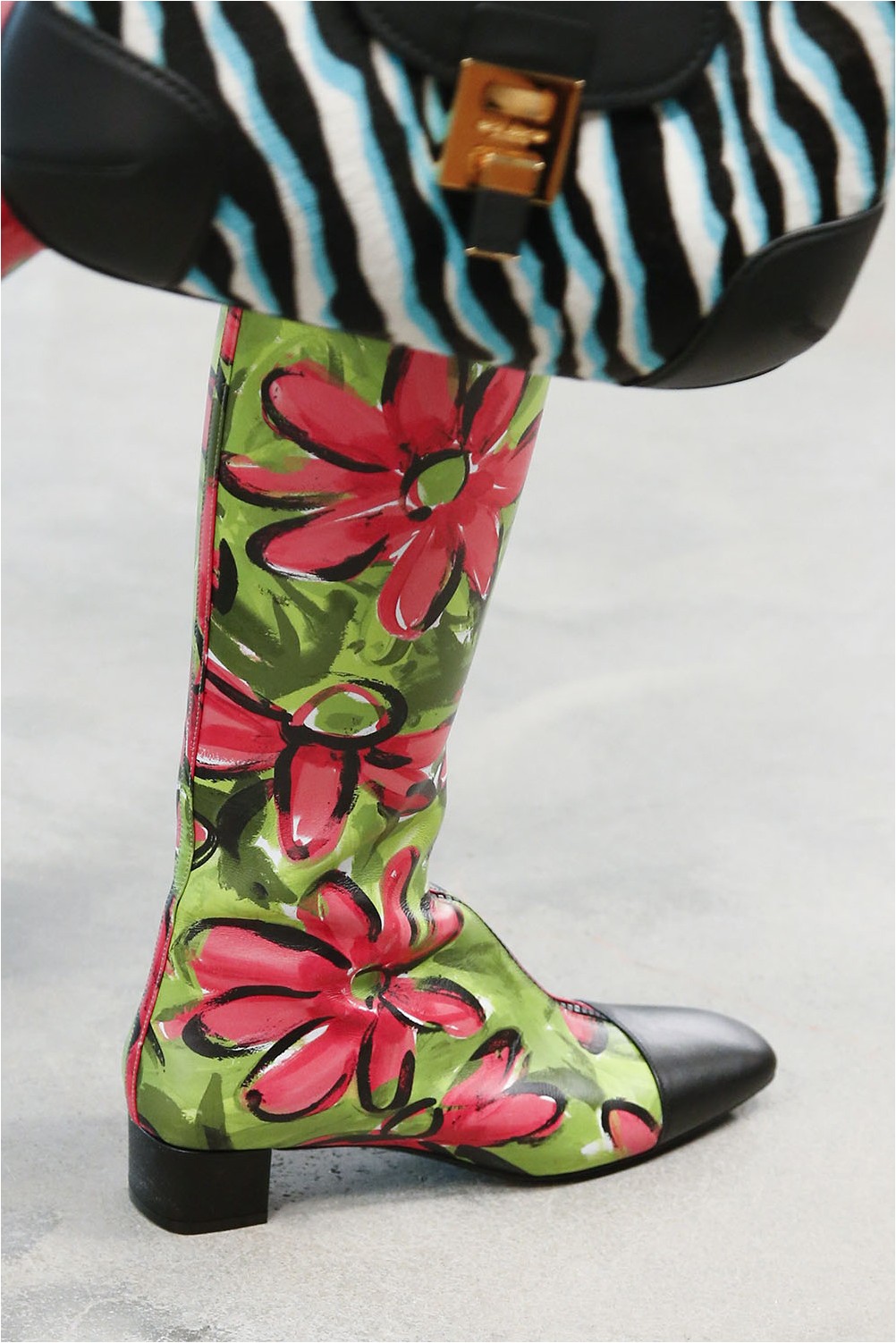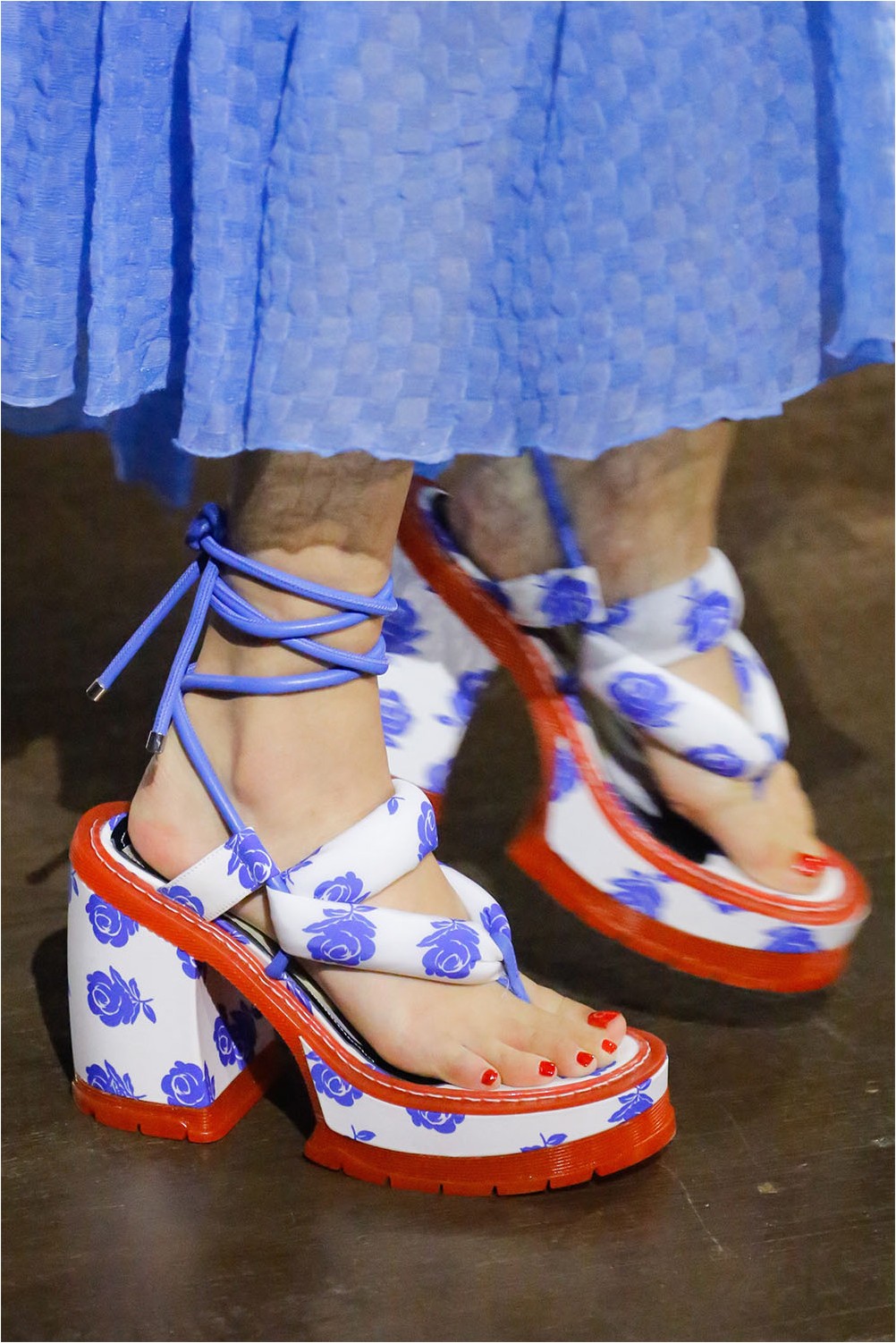 Strip and cage
The striped and checkered print refreshed the spring-summer 2019 fashion collections. Stilettos or mules on a high stiletto with a diagonal strip are in fashion. The strip should be clear and contrast. An example is a white-blue or black-and-white striped print from Dries Van Noten. High boots with laced checkered shoelaces like Thom Browne will become relevant.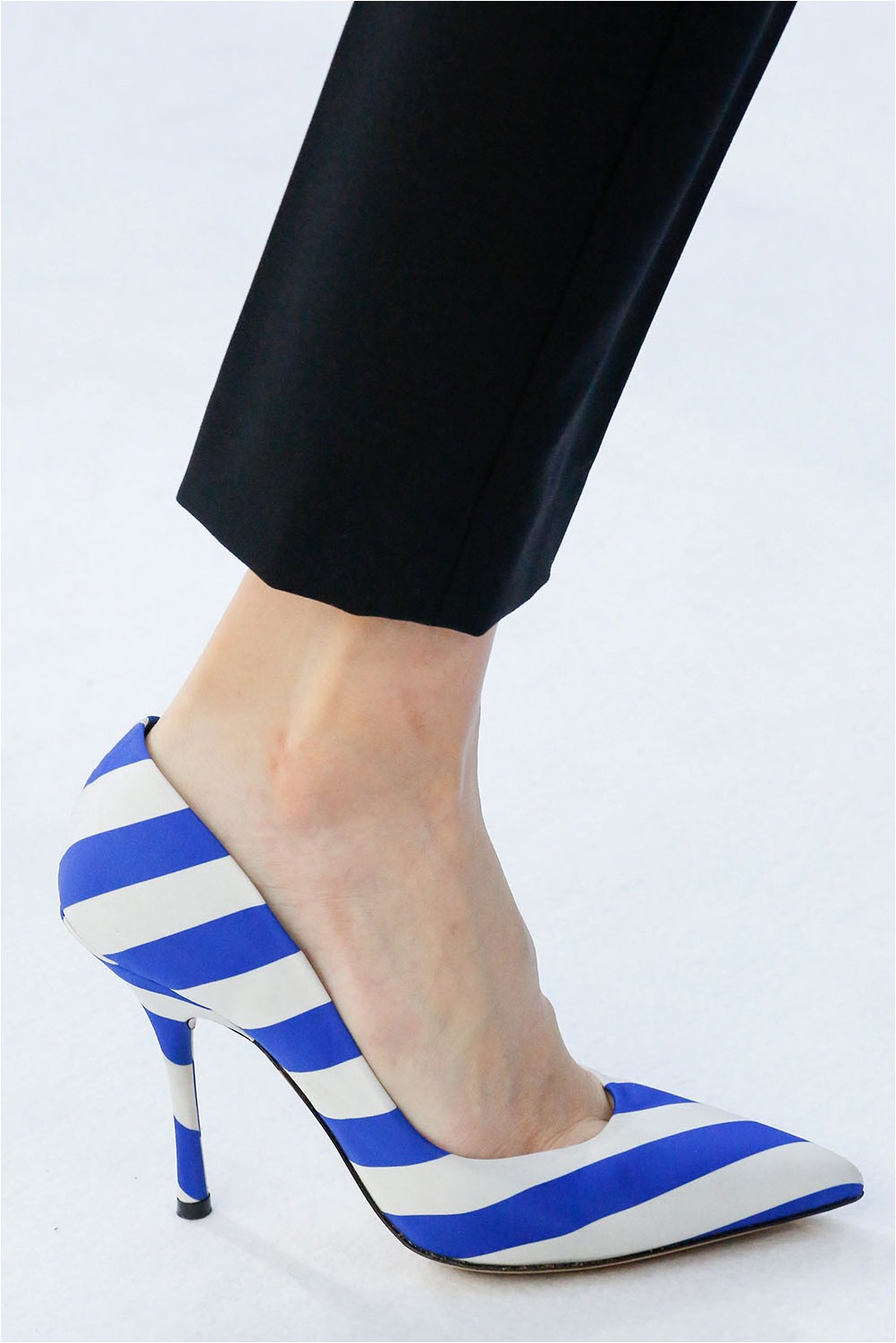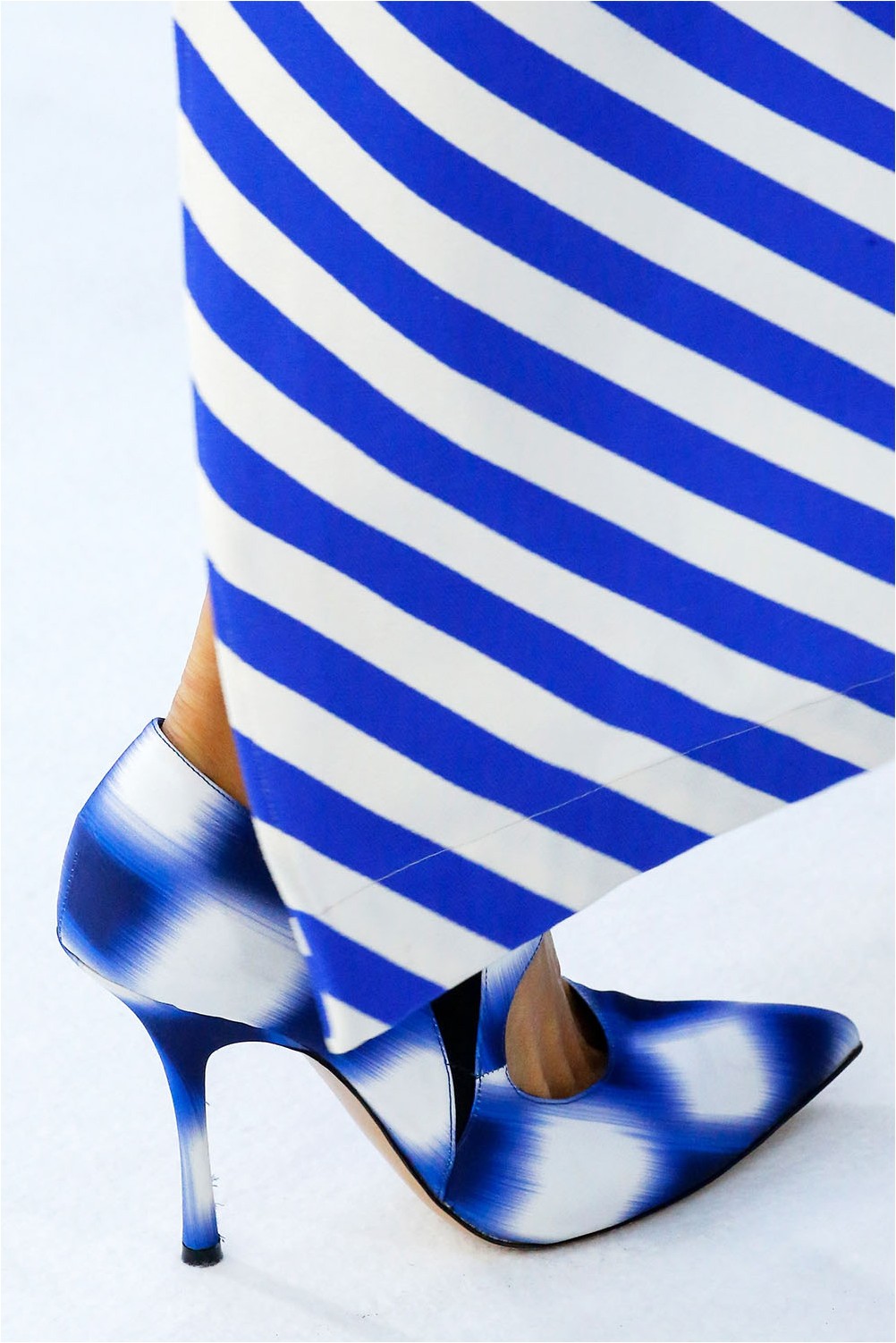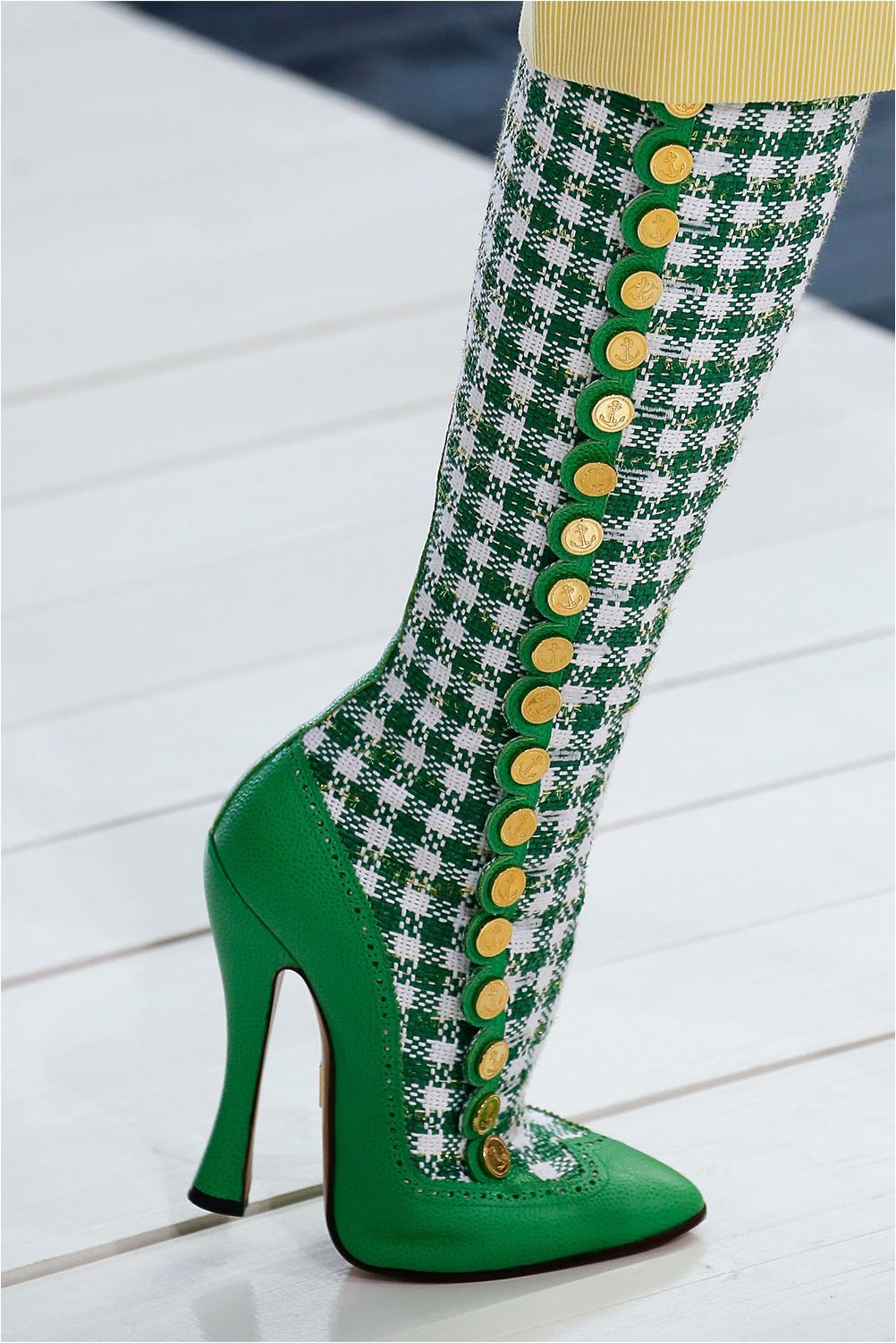 Hi-Tech Shoes and Futurism
The high-tech shoes of the future were created by John Galliano as part of the Maison Margiela collection. He supplied the boots with a tripod latch for a mobile phone. "Metallized" over-the-knee boots and ballet flats made of an unusual material resembling refractory metal look no less futuristic. In such shoes you can safely go on a space trip.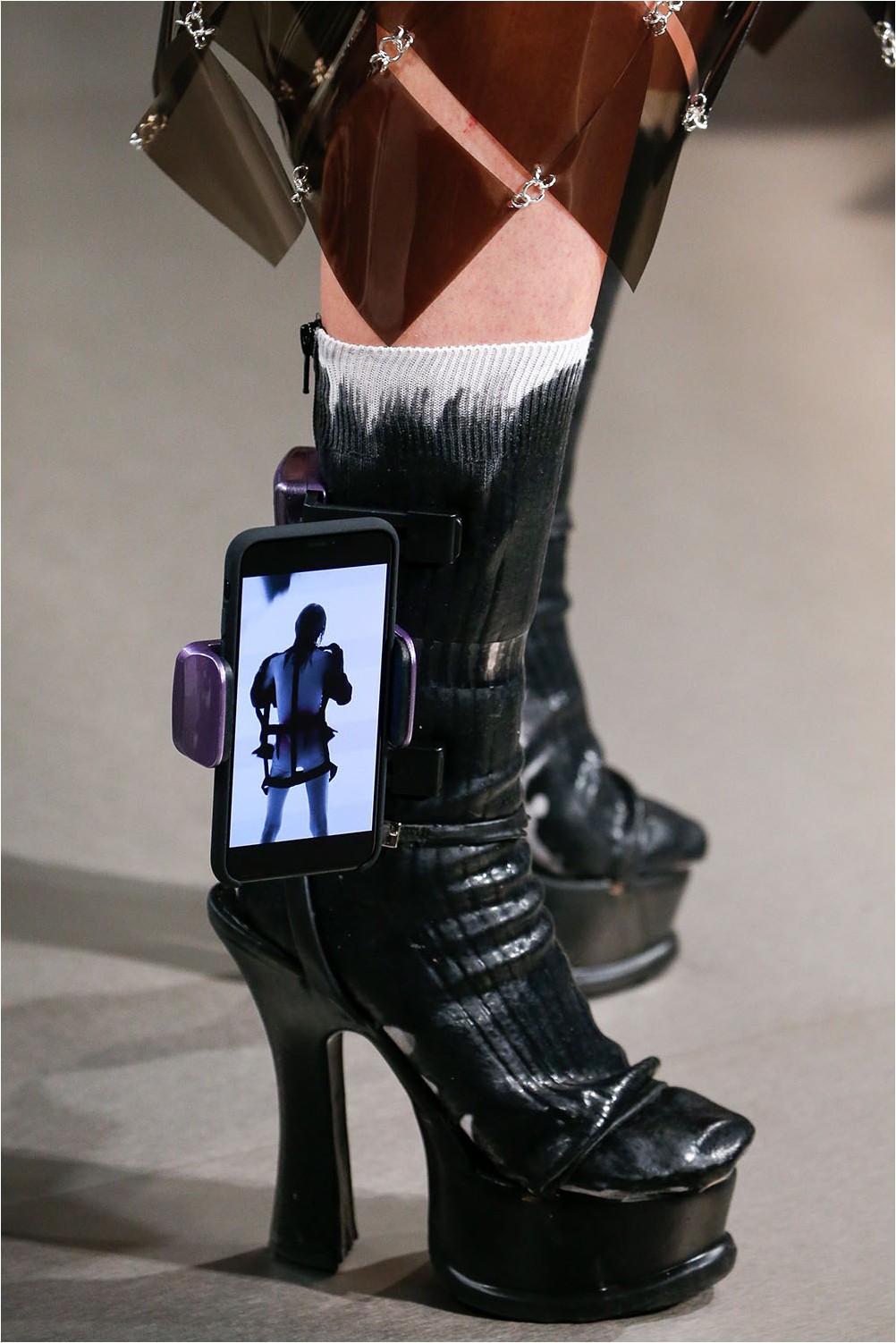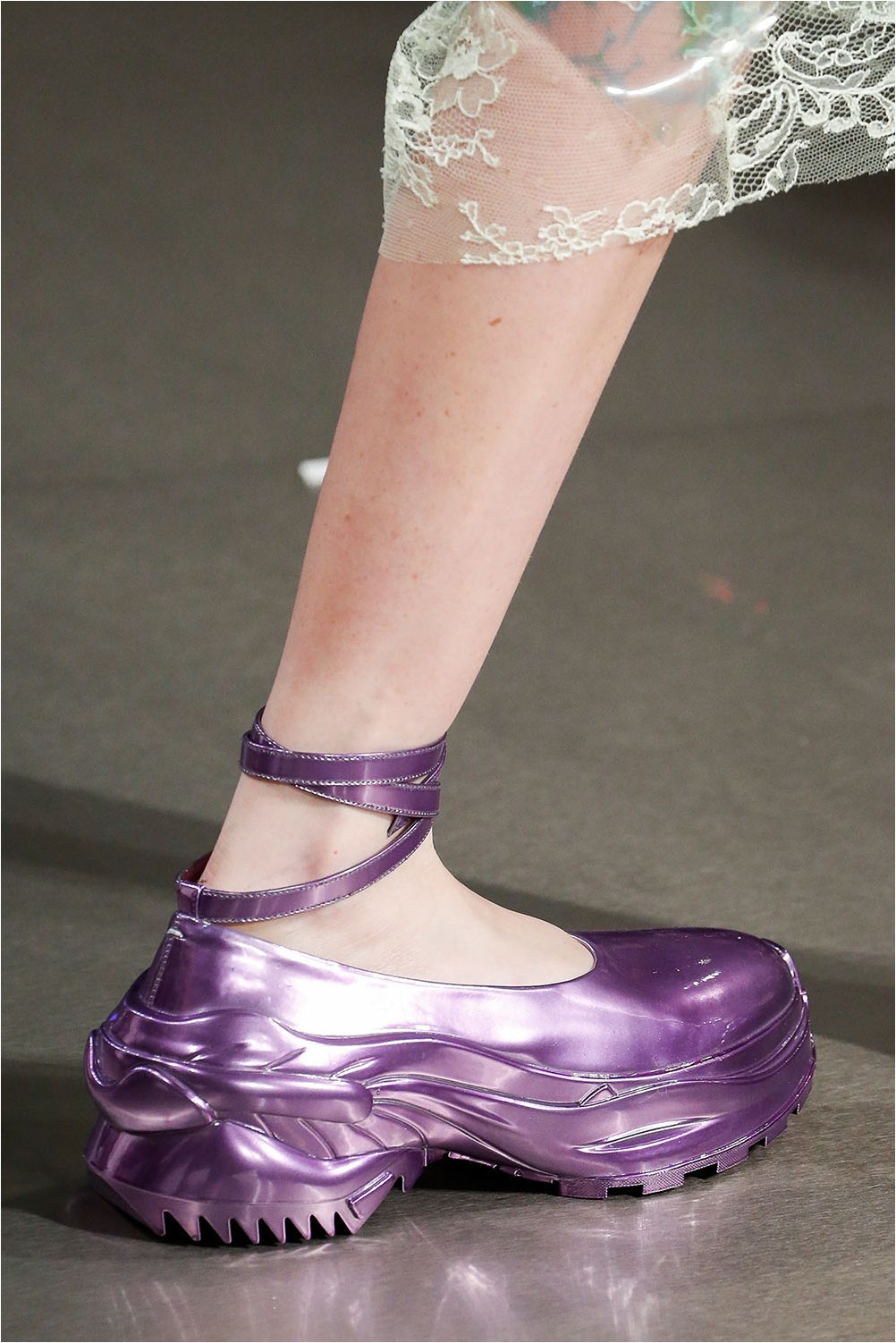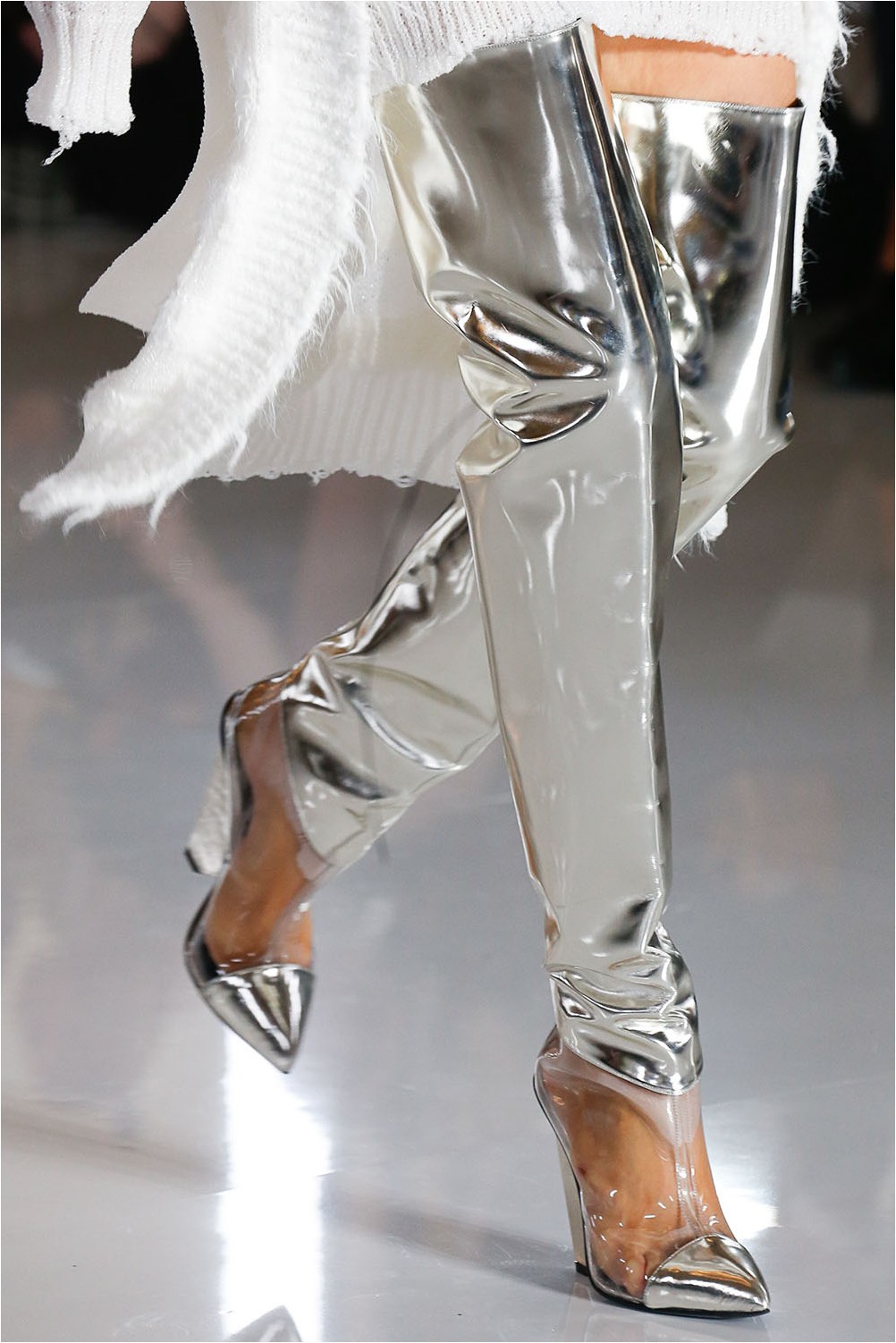 Open heel
In the warm season of 2019, it is important that at least some part of the leg is open in closed demi-season shoes. Cutout on the rise, side grooves, free heel – any tricks are suitable for the female leg to appear in front of her eyes in all its glory.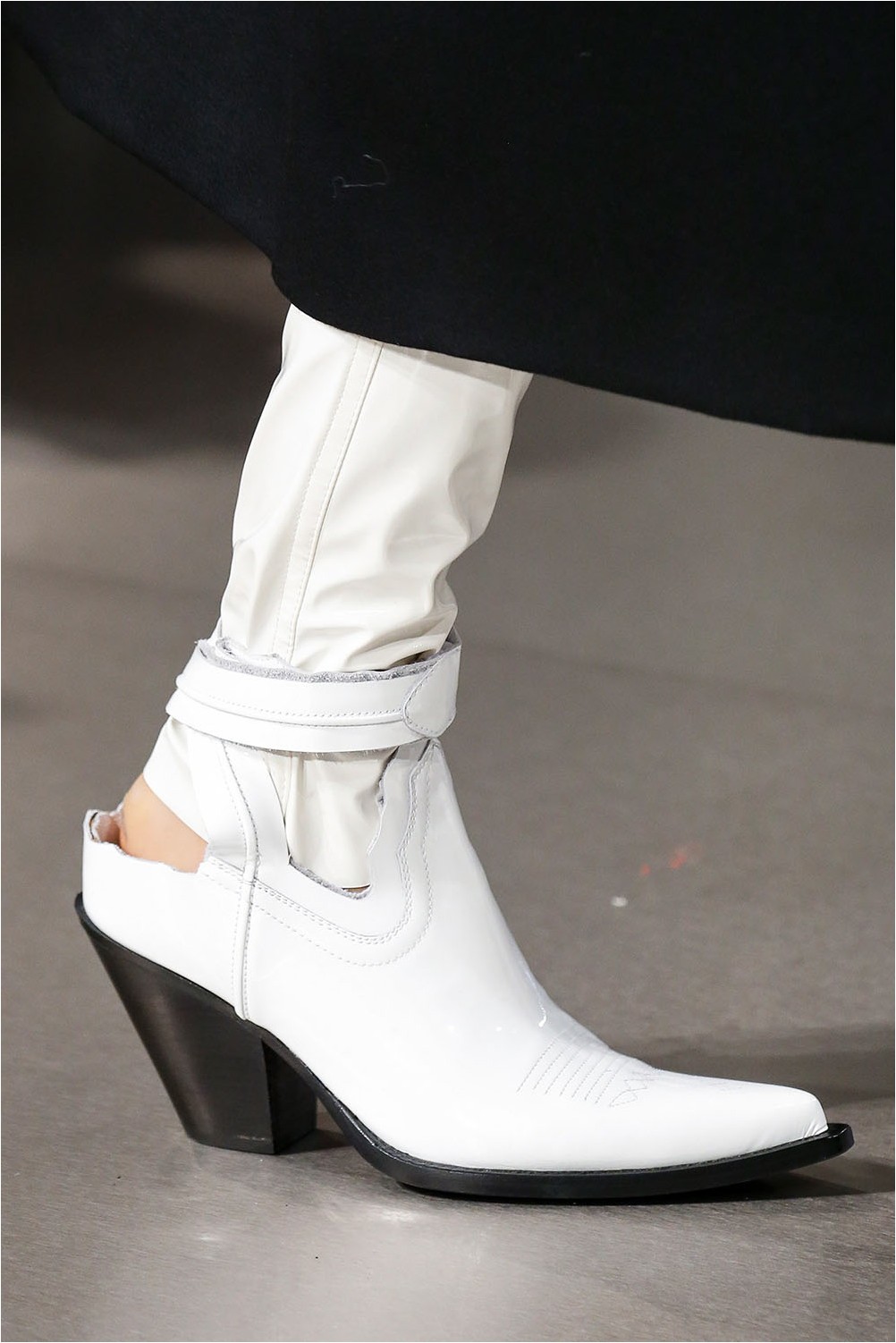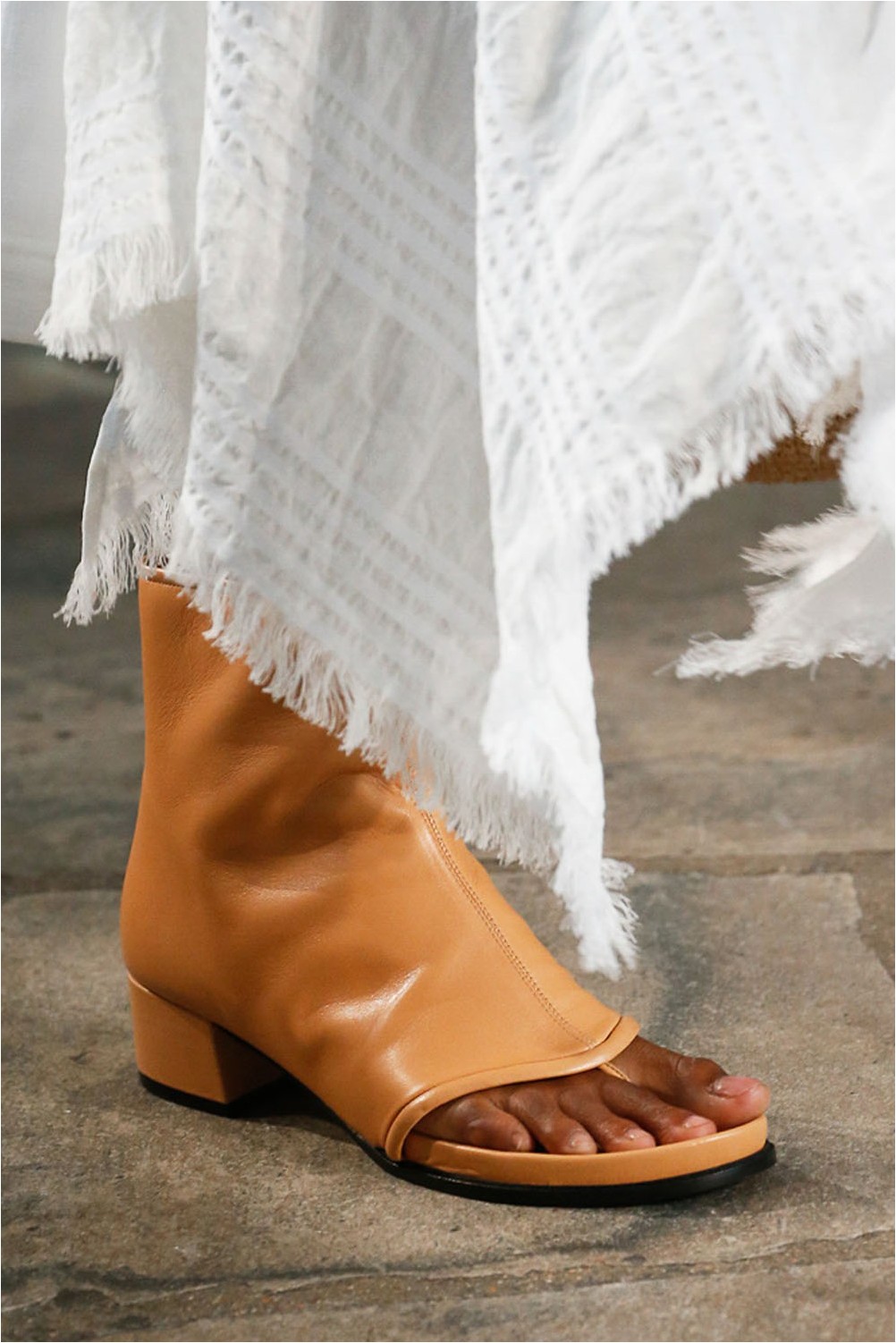 But perhaps the most trendy "discovery" will be a cutout on shoes, boots or boots.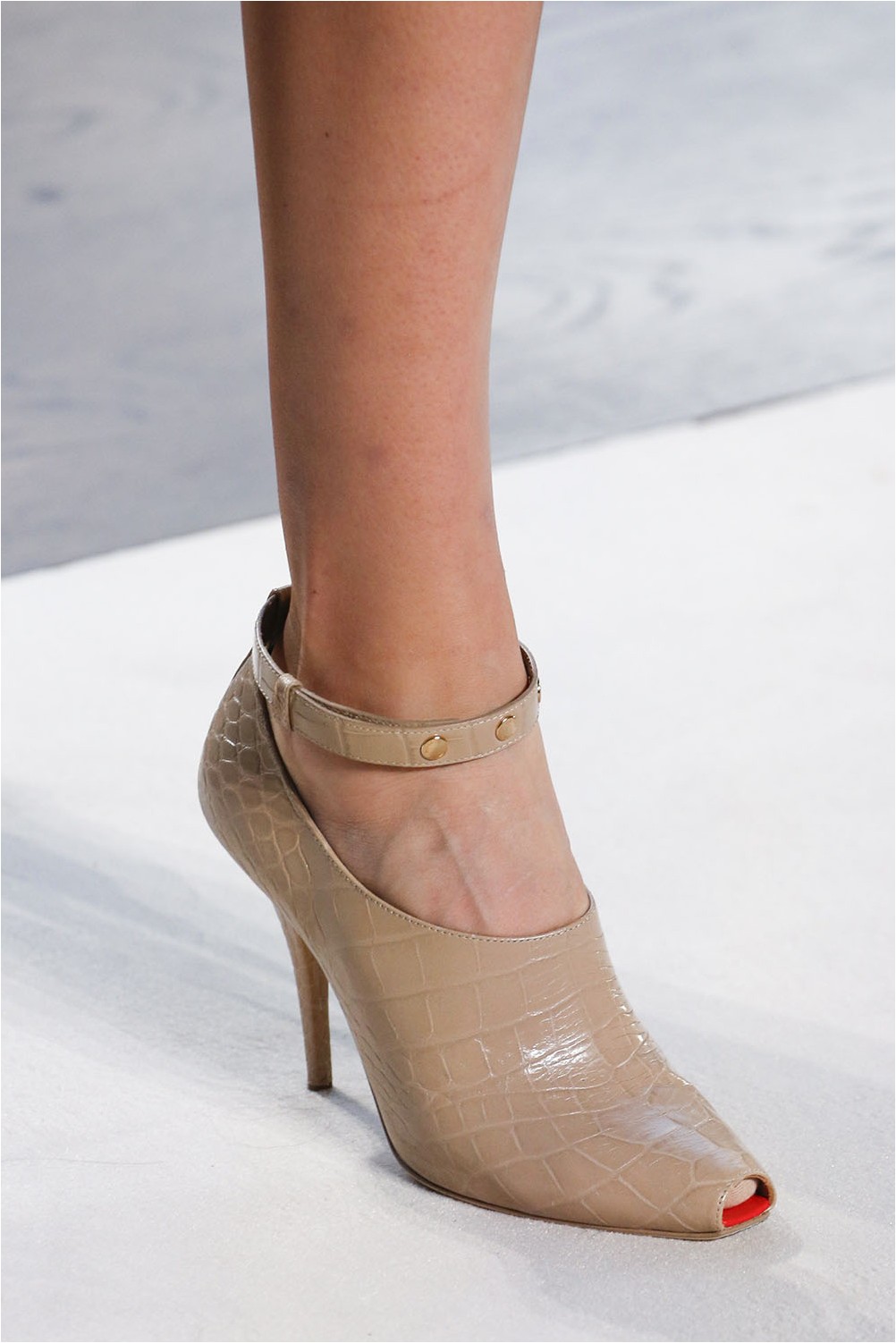 Masculinity
Men's notes do not appear so often in women's fashion shoes. The previous fascination with masculine trends would have completely disappeared if it had not been for the efforts of the designers of such authoritative fashion houses as Givenchy, Louis Vuitton, Haider Ackermann. They decided not to give up rude and ascetic lines. In their collections were presented various female variations of men's shoes: oxfords, chelsea, beatle boots, and blandstones.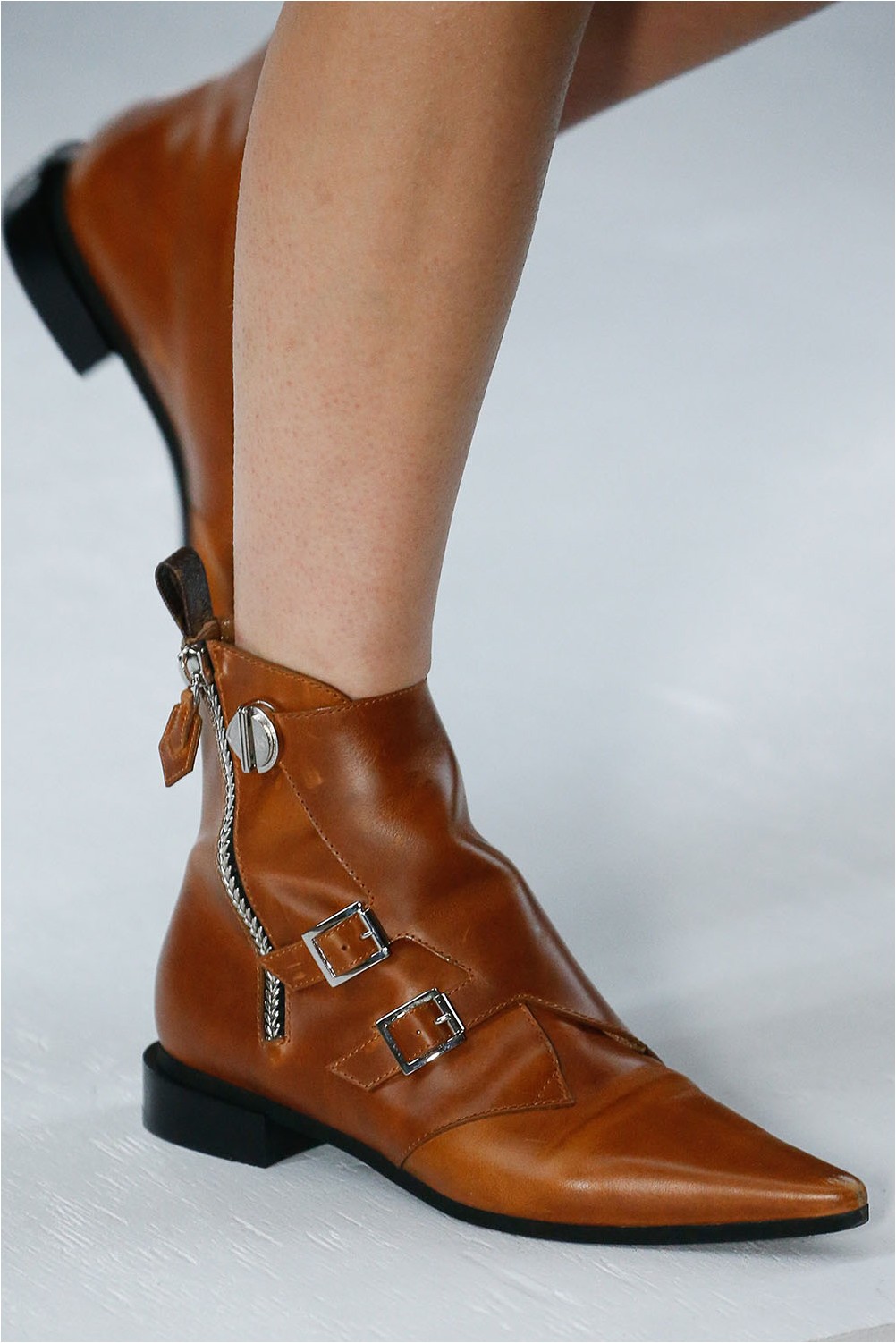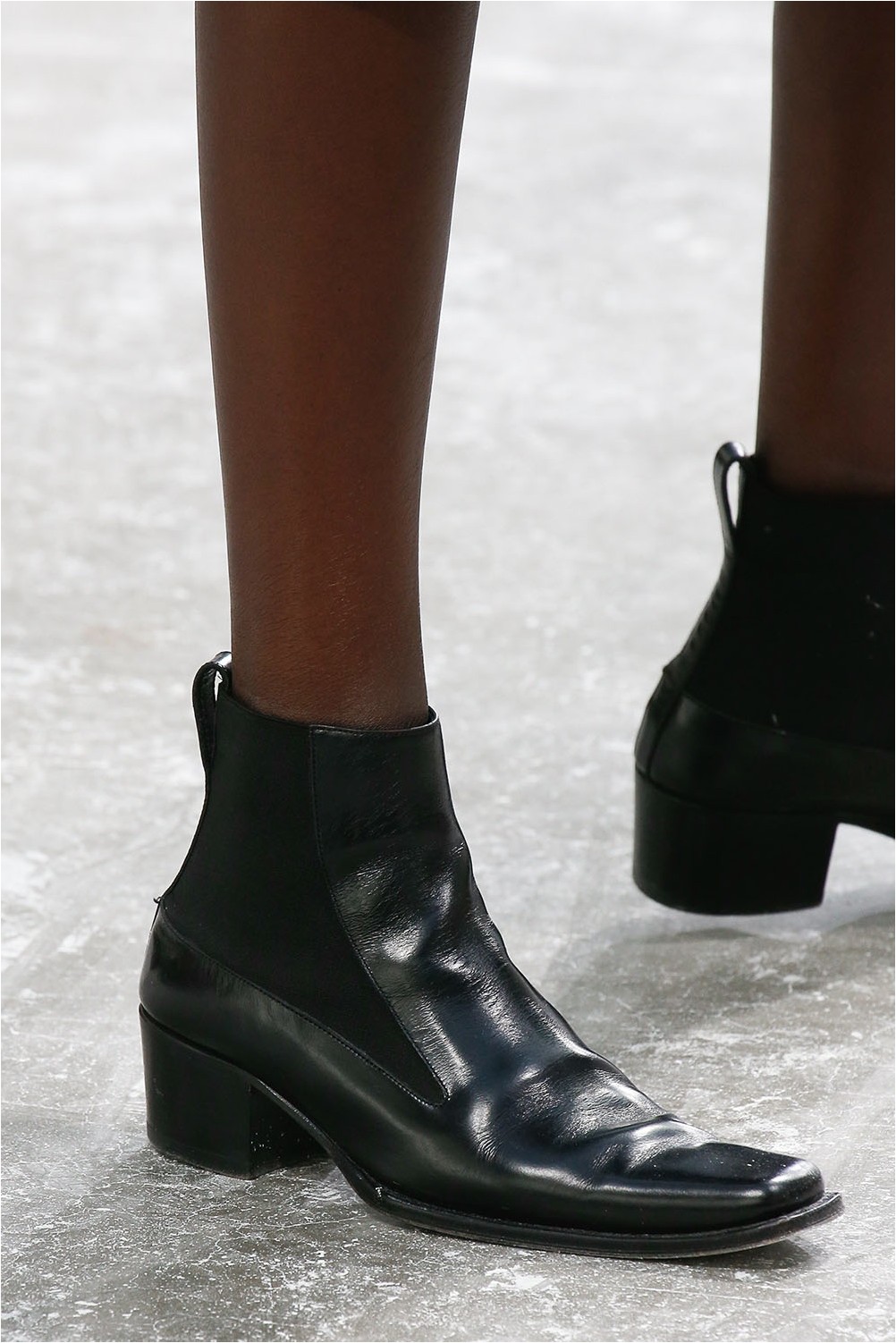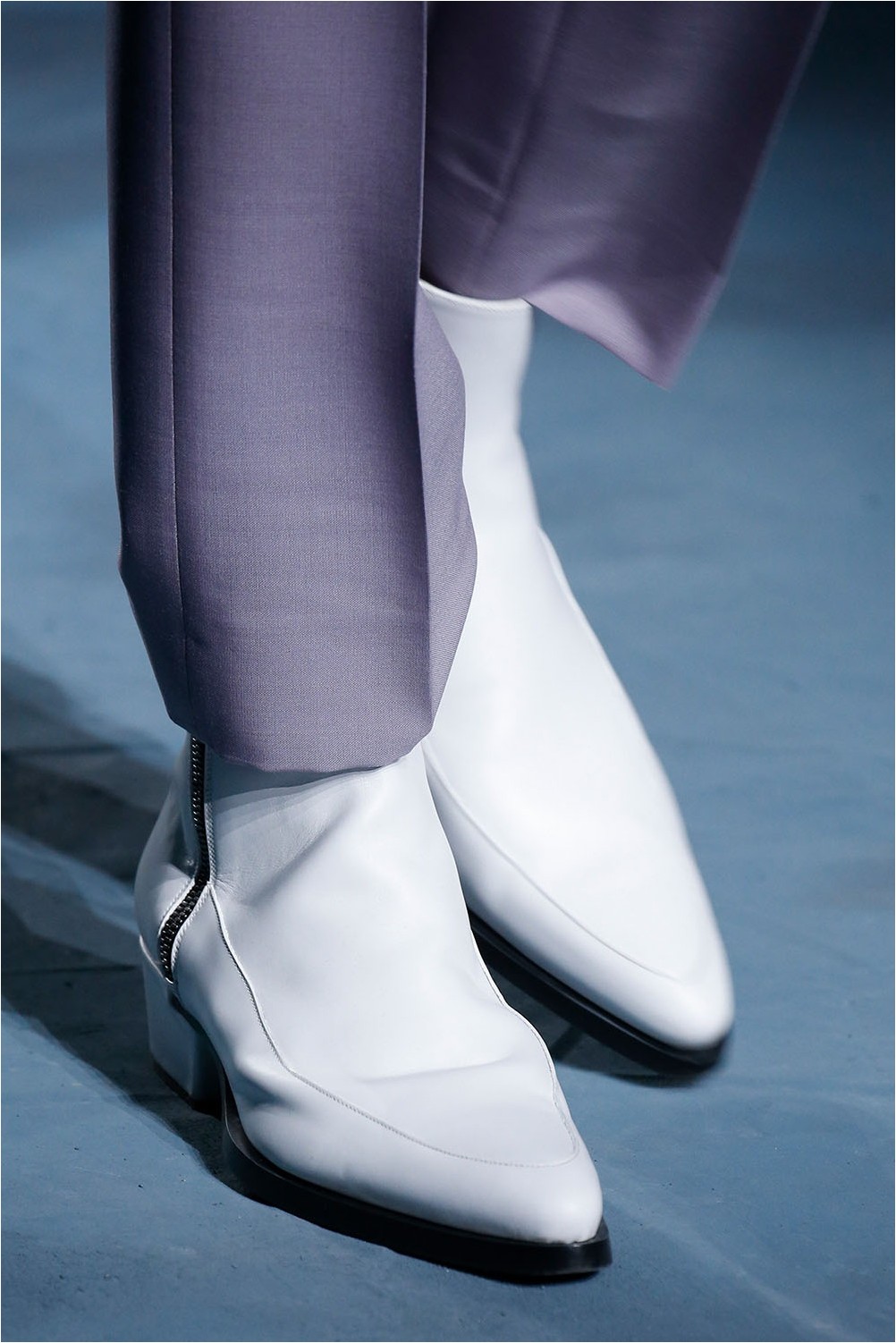 Vibrant colors and Latin American motifs
Pleased in the fashion collections is a riot of bright colors. All the richness of the juicy summer palette was demonstrated by Kenzo, Marni, Miu Miu. The picture turned out so bright that it transferred to the atmosphere of the festive carnival.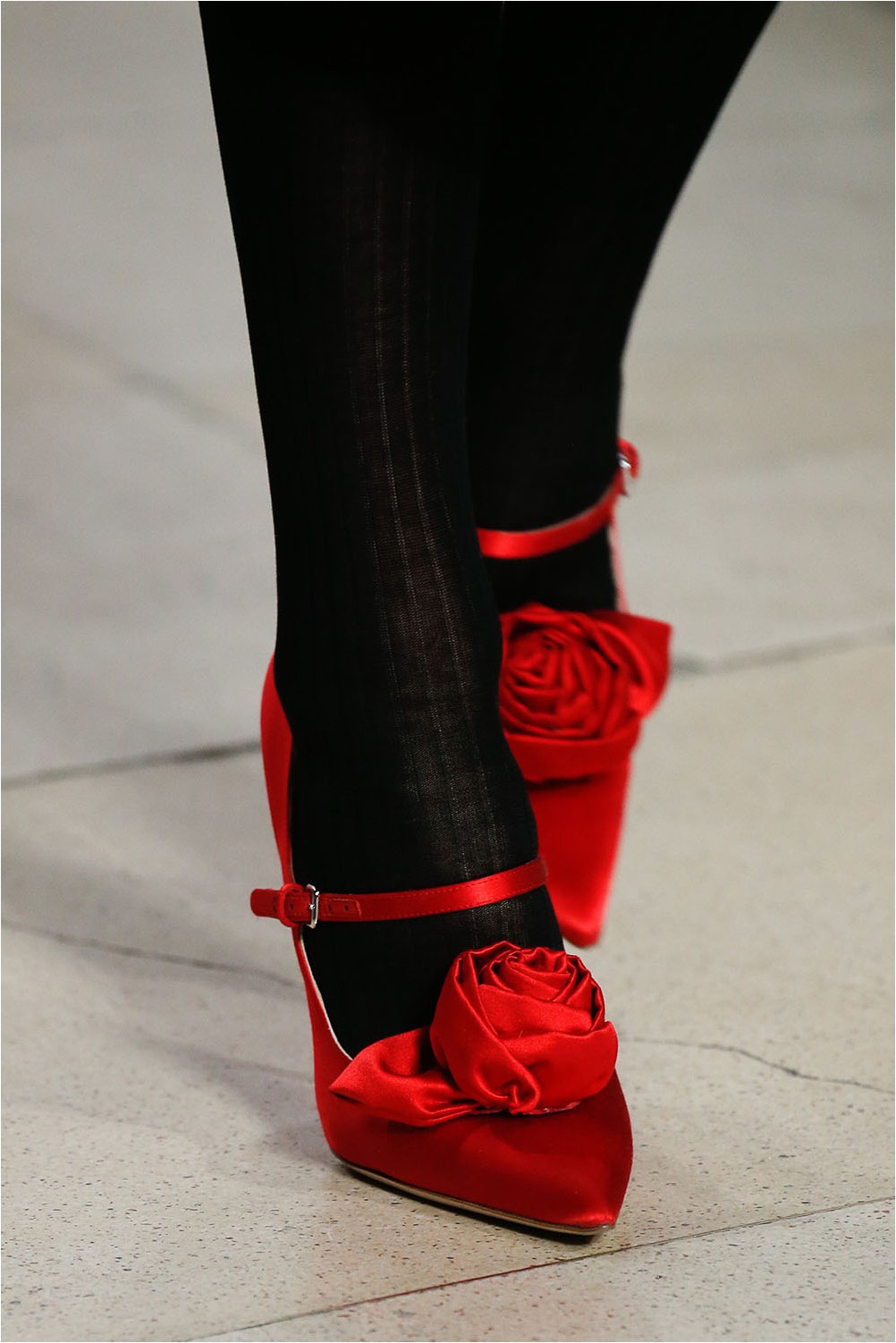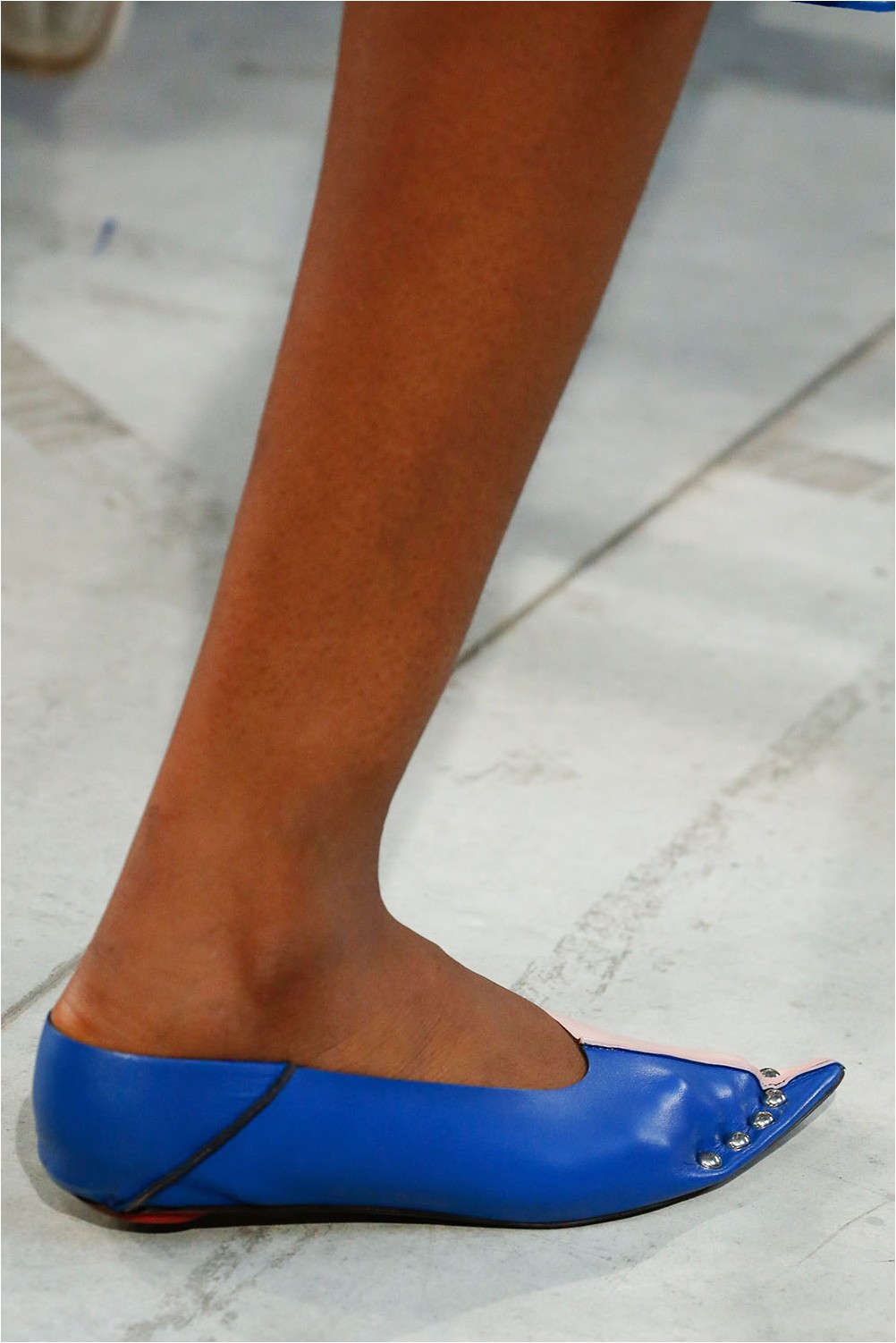 Dolce shoes and sandals reinforced the impression&Gabbana Jewelry in the national Latin American style completed the effect of the solar extravaganza.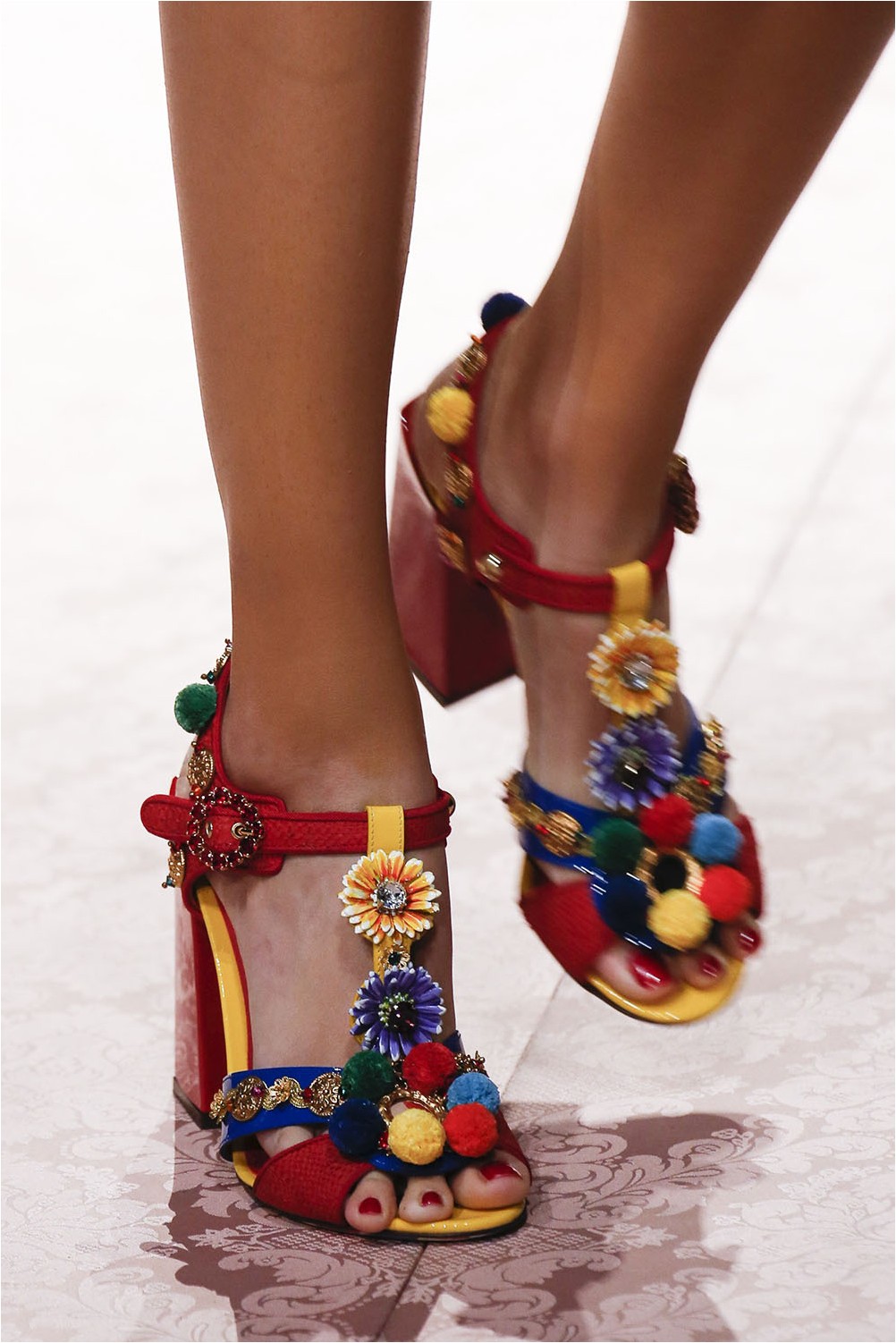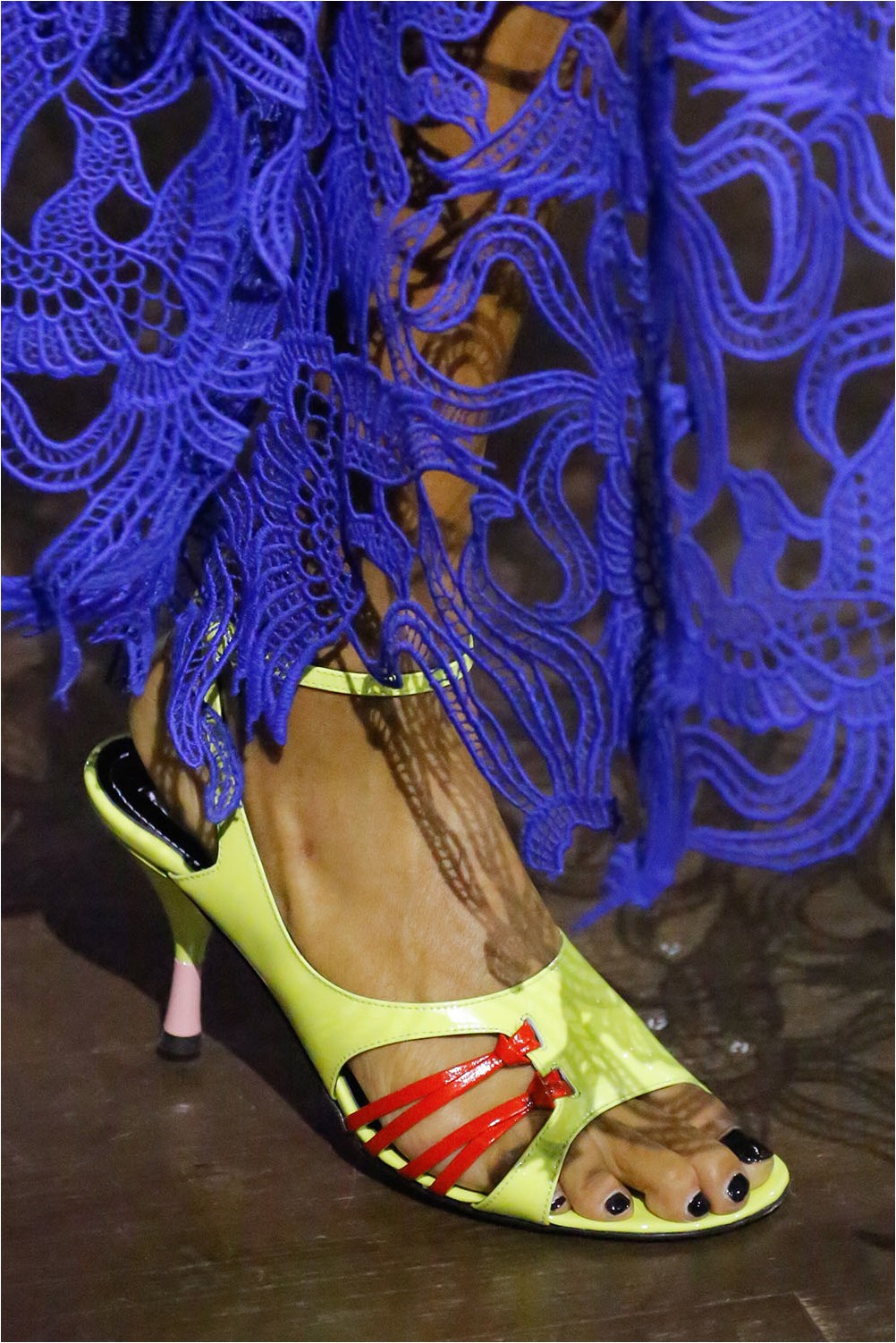 Flat sole
The main requirement for summer shoes is comfort. That is why one of the most sought-after trends in spring-summer 2019 is flat shoes. Many flat models have been proposed.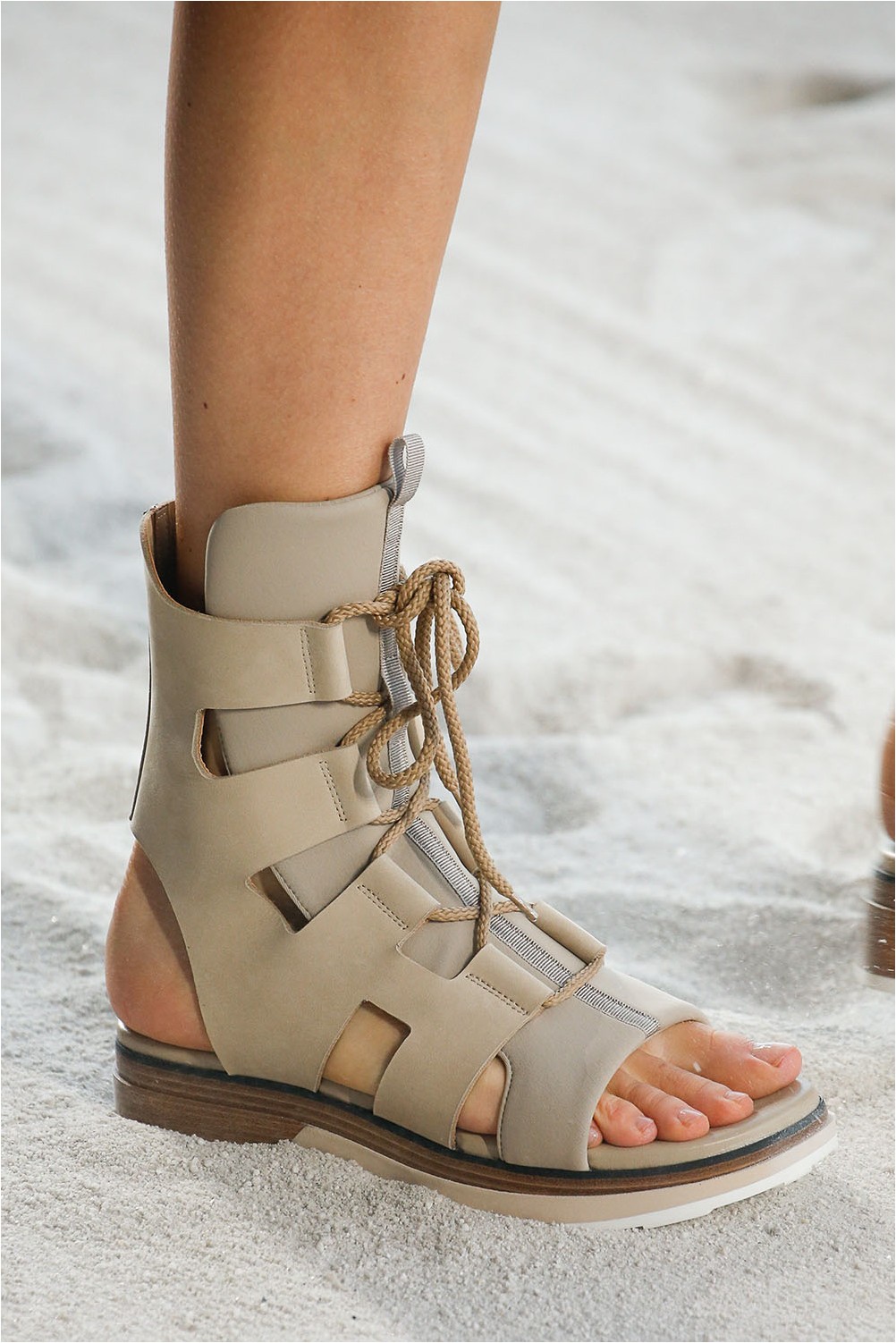 At the same time, both massive birken stocks and barely noticeable slippers, mules, sandals and espadrilles on a flat sole and thin straps are in fashion..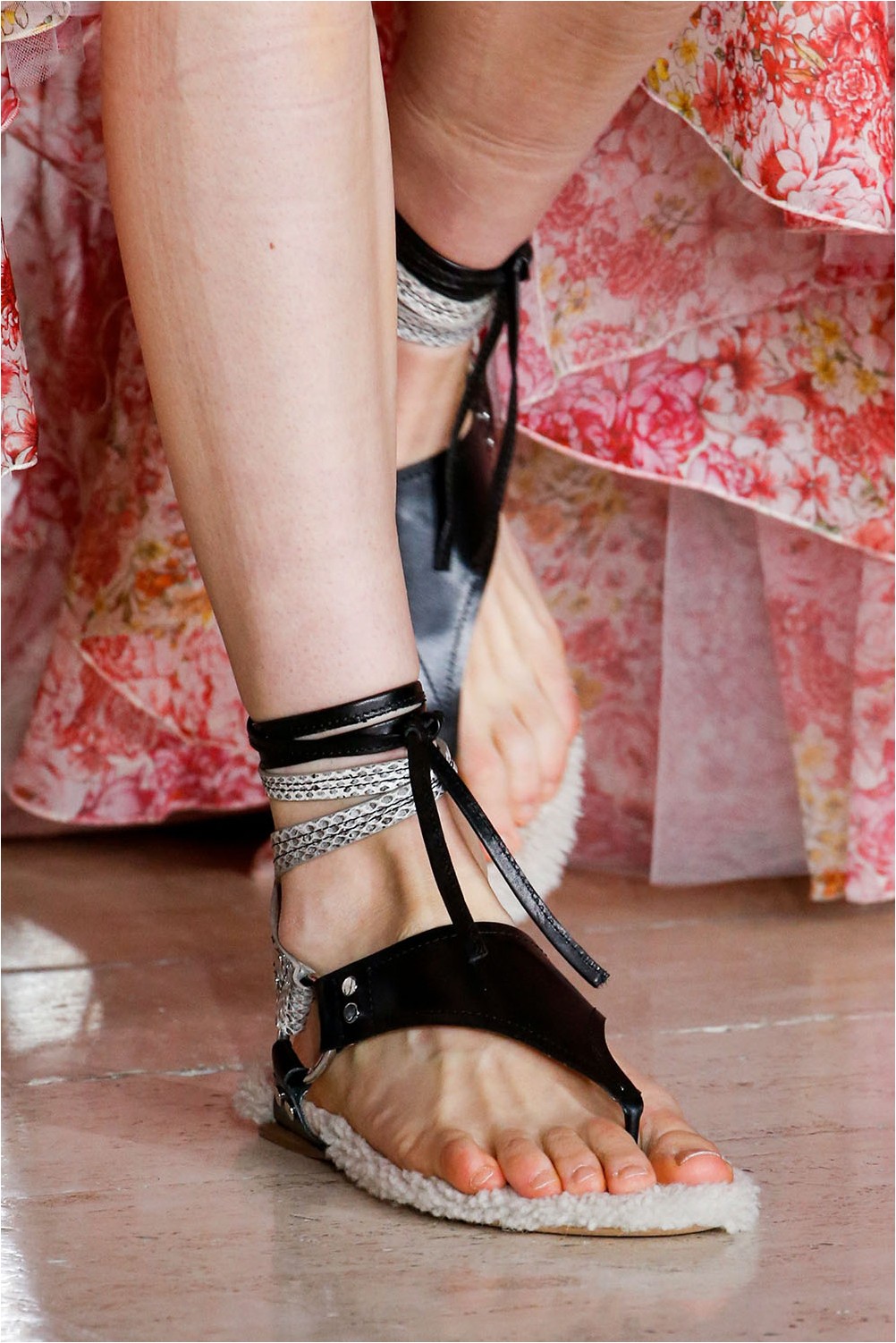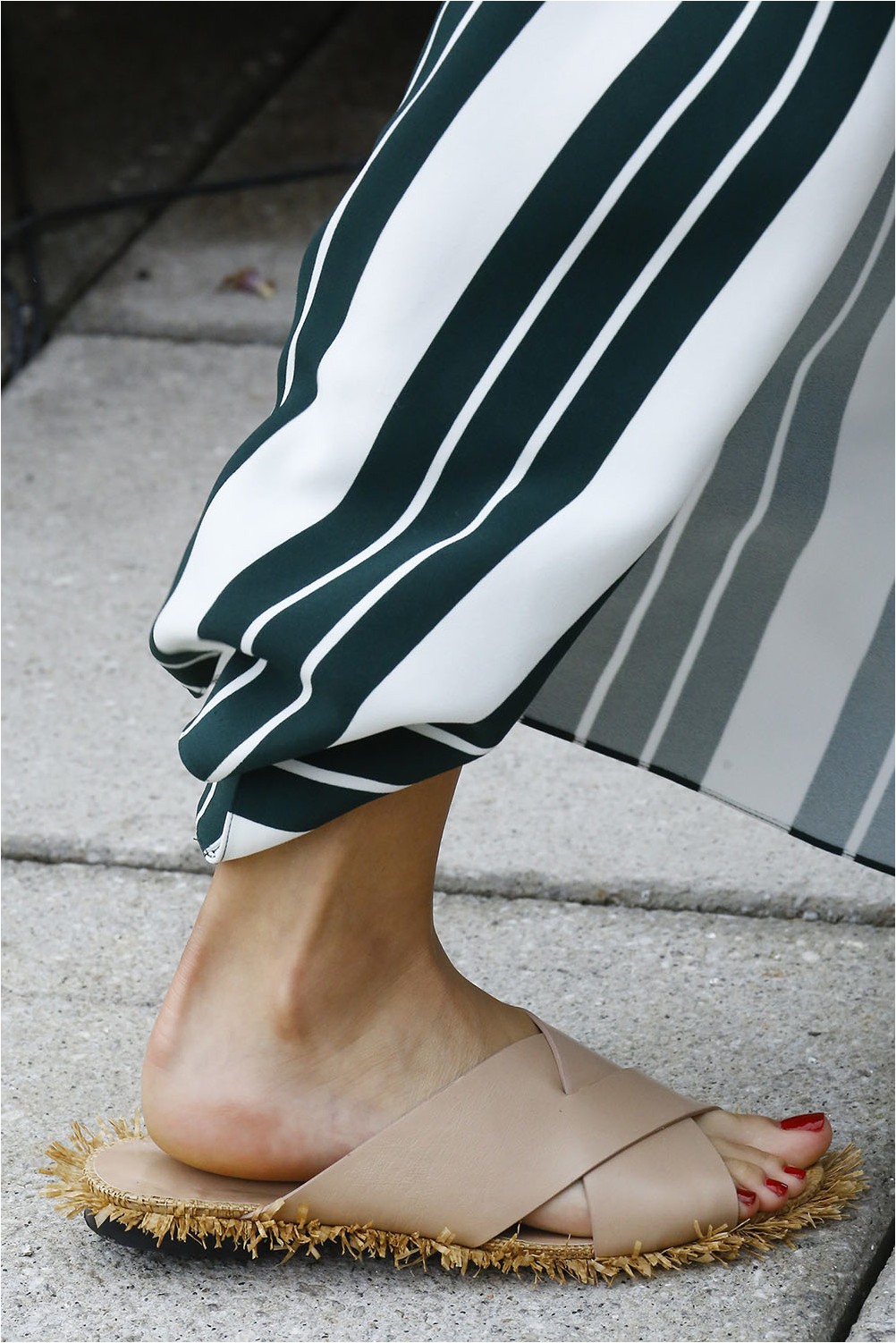 Slippers
The linen style does not lose its relevance. Perhaps that is why so many slippers in the style of hotel slippers have appeared in the collections. They complete the pajama trend in clothes and remind that there are only a few days left before the vacation. Such shoes can be made of leather, fabric, and even copy the felt texture of hotel slaps.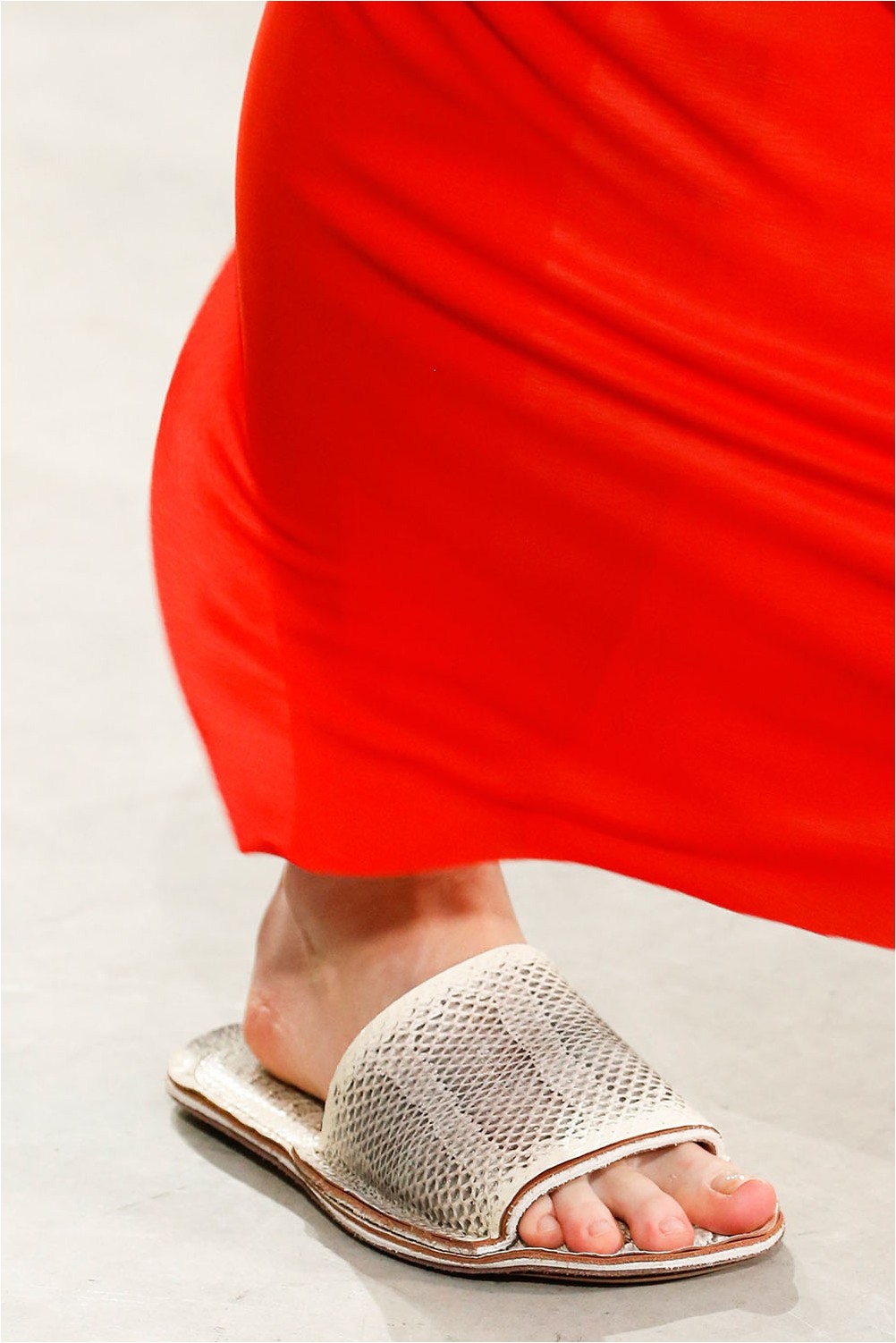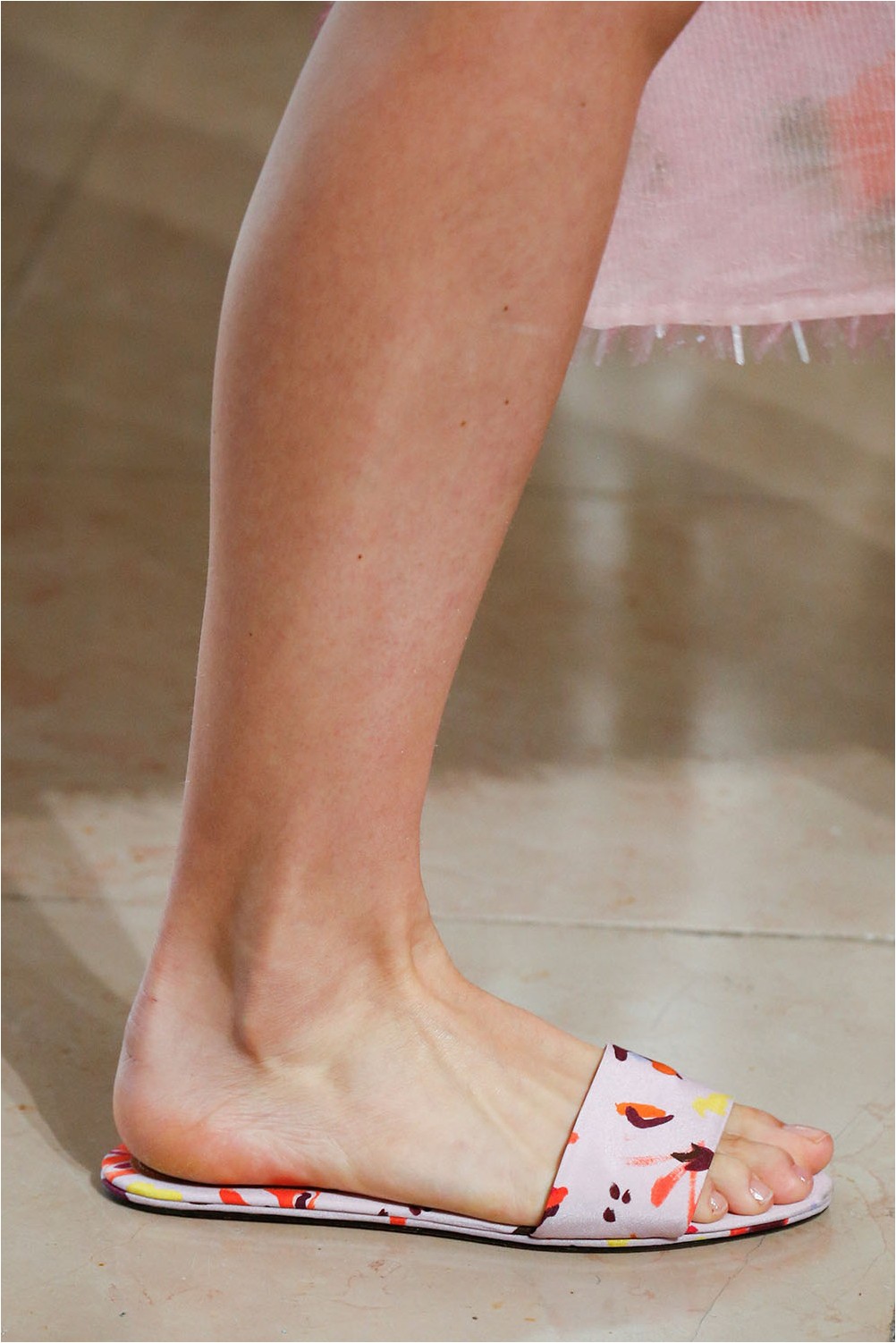 For sports enthusiasts, there are slippers in the Sacai and Dries Van Noten collections. They successfully combined both beauty and comfort. And the unusual decor will set a cheerful tone throughout the summer look..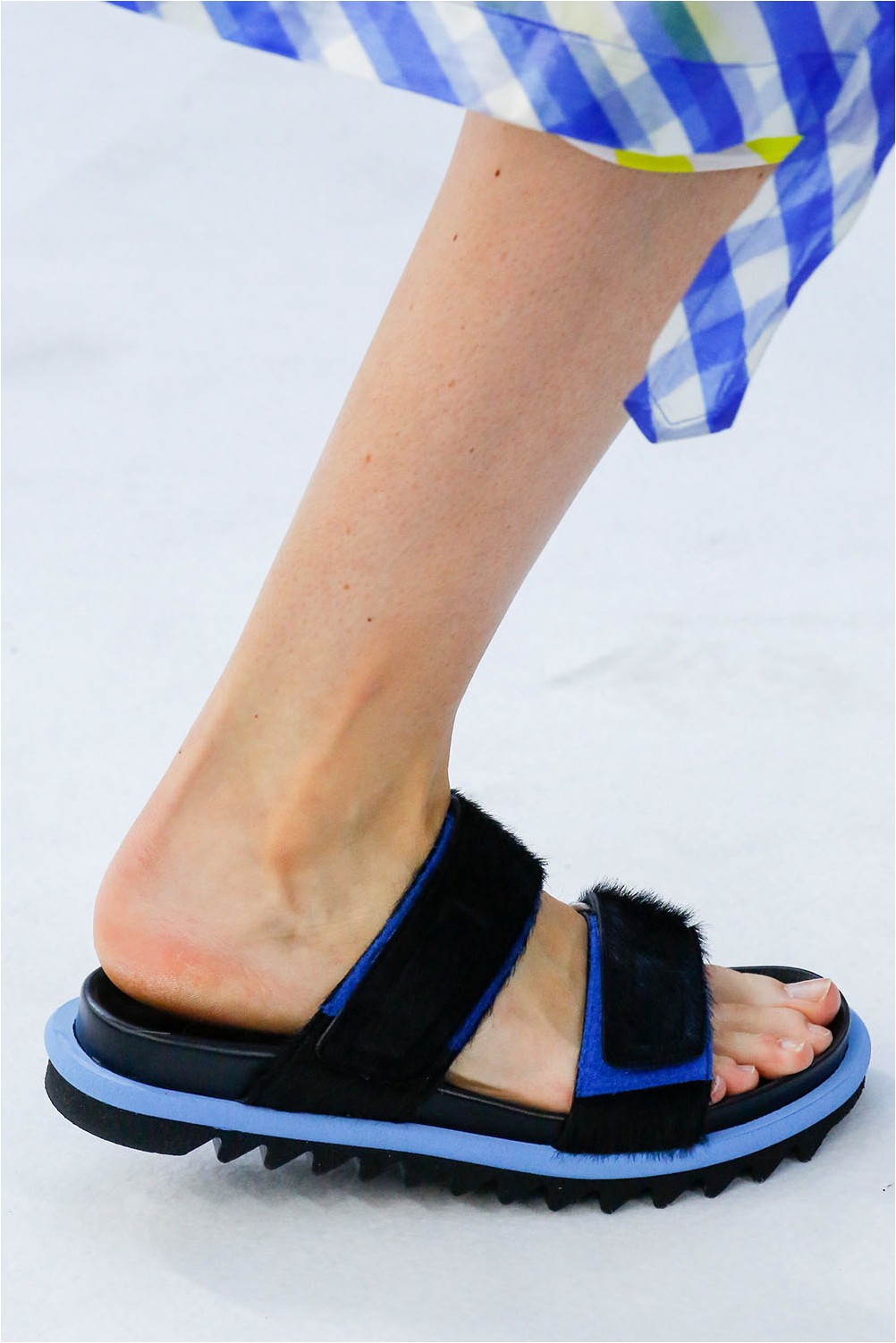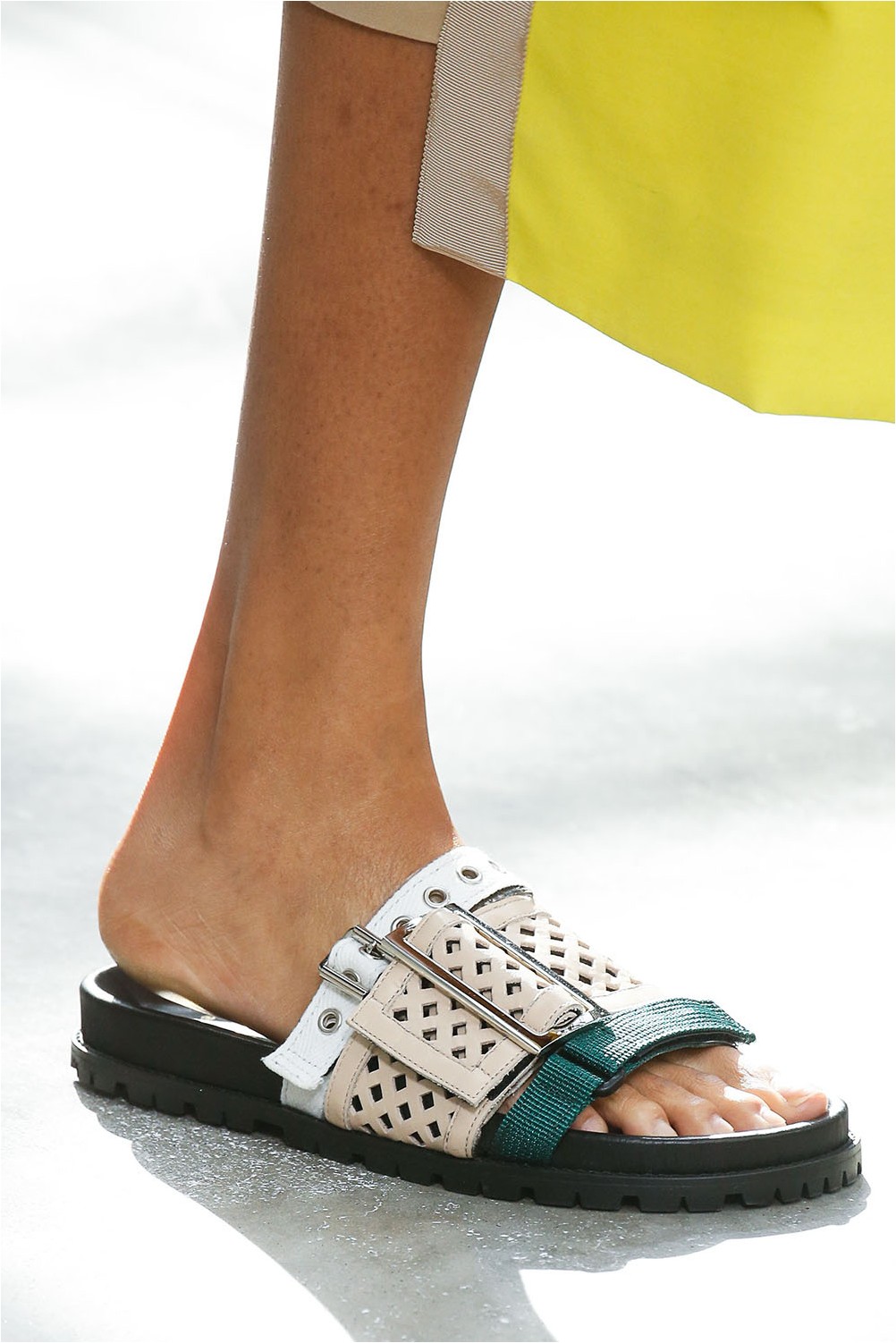 Fantasy heel
Heel should not be predictable. Along with low and high stilettos, transparent, beveled, cowboy heels and "glasses" appeared a lot of curly heels. Salvatore Ferragamo proposed a sophisticated heel in the style of wooden furniture legs.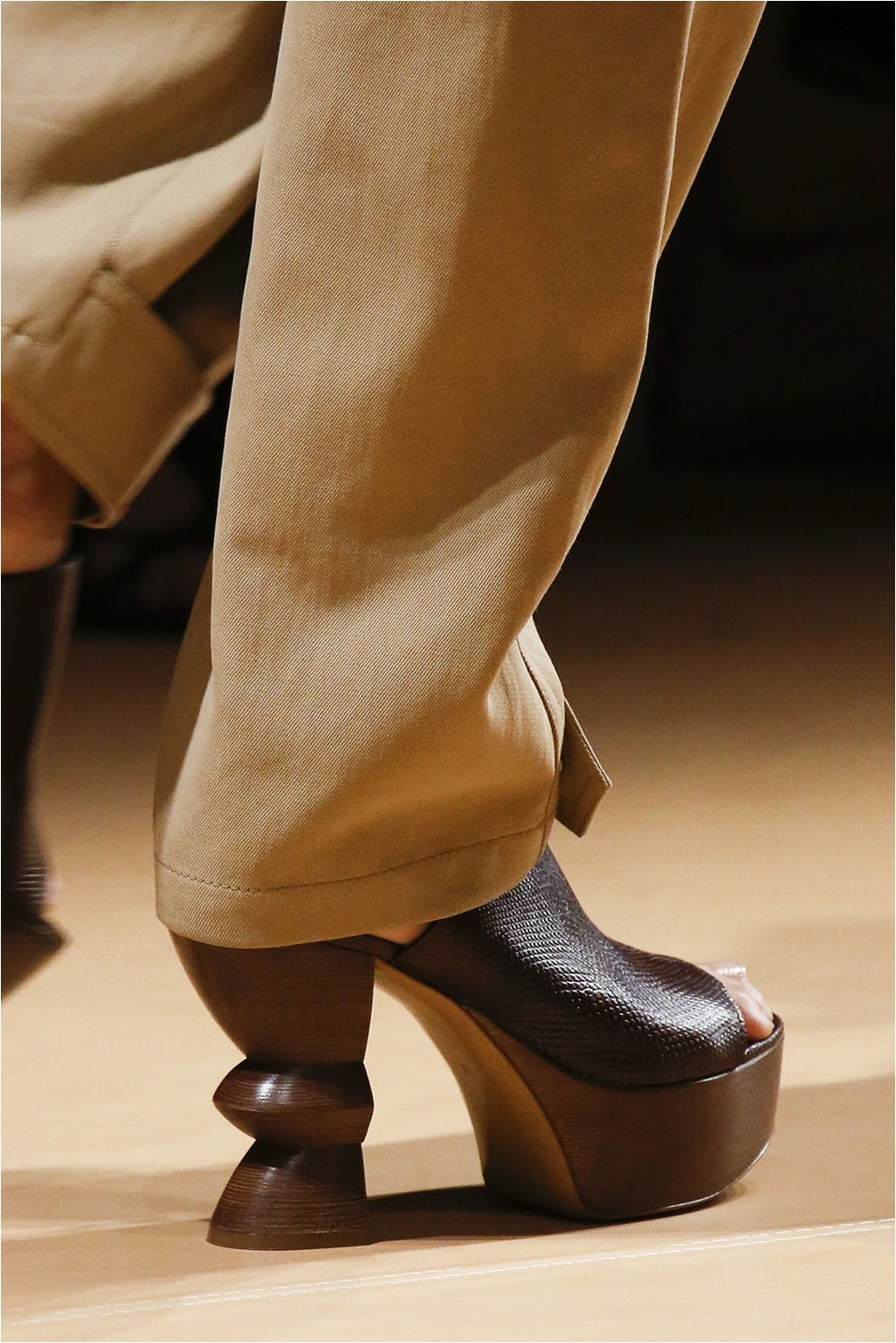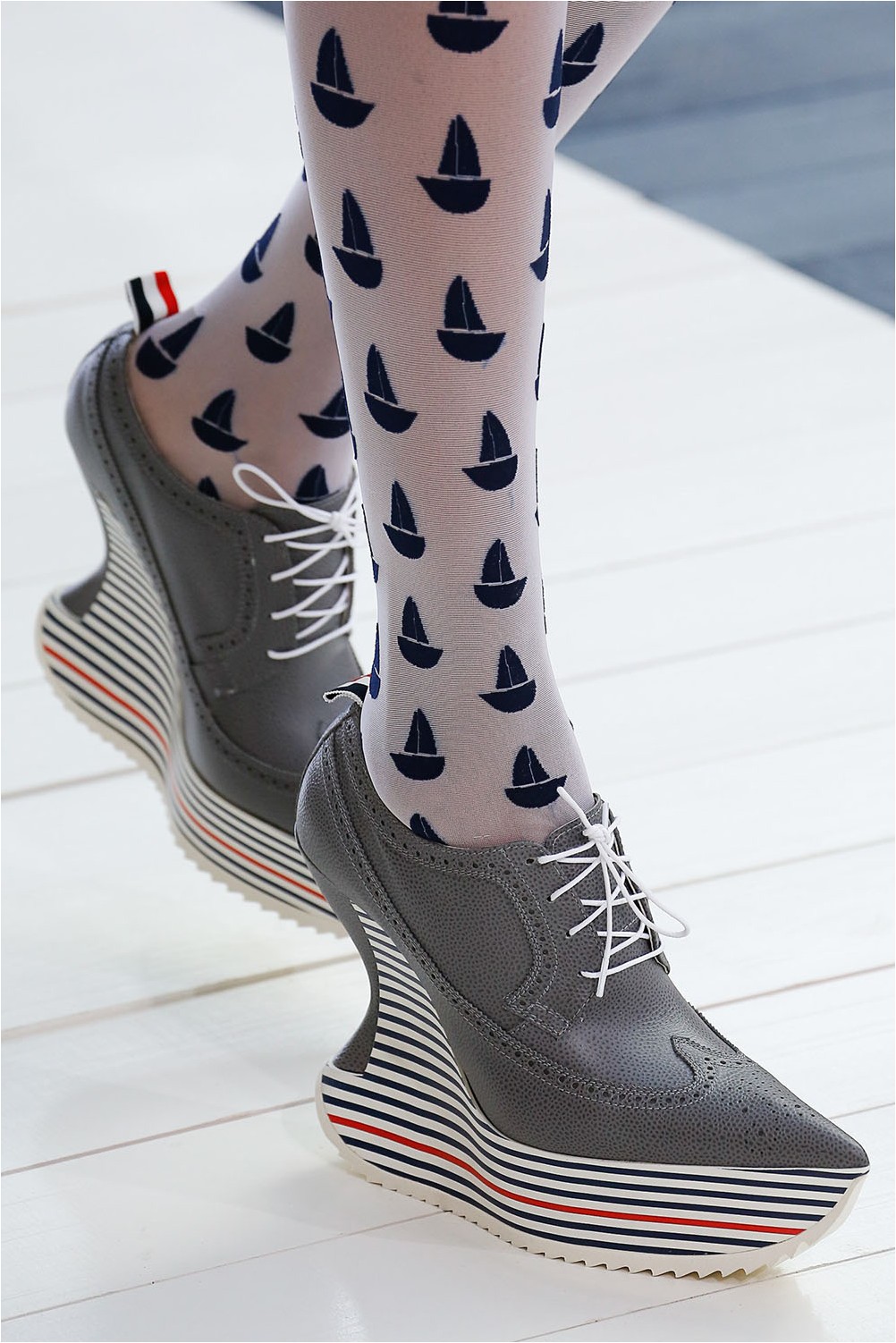 Thom Browne's fantasy platform is decorated in a nautical theme. Mary Katrantzou went the other way, she put on a hairpin a transparent case in the form of a flask. And in Versace sneakers, the sole is decorated with a decorative "braid".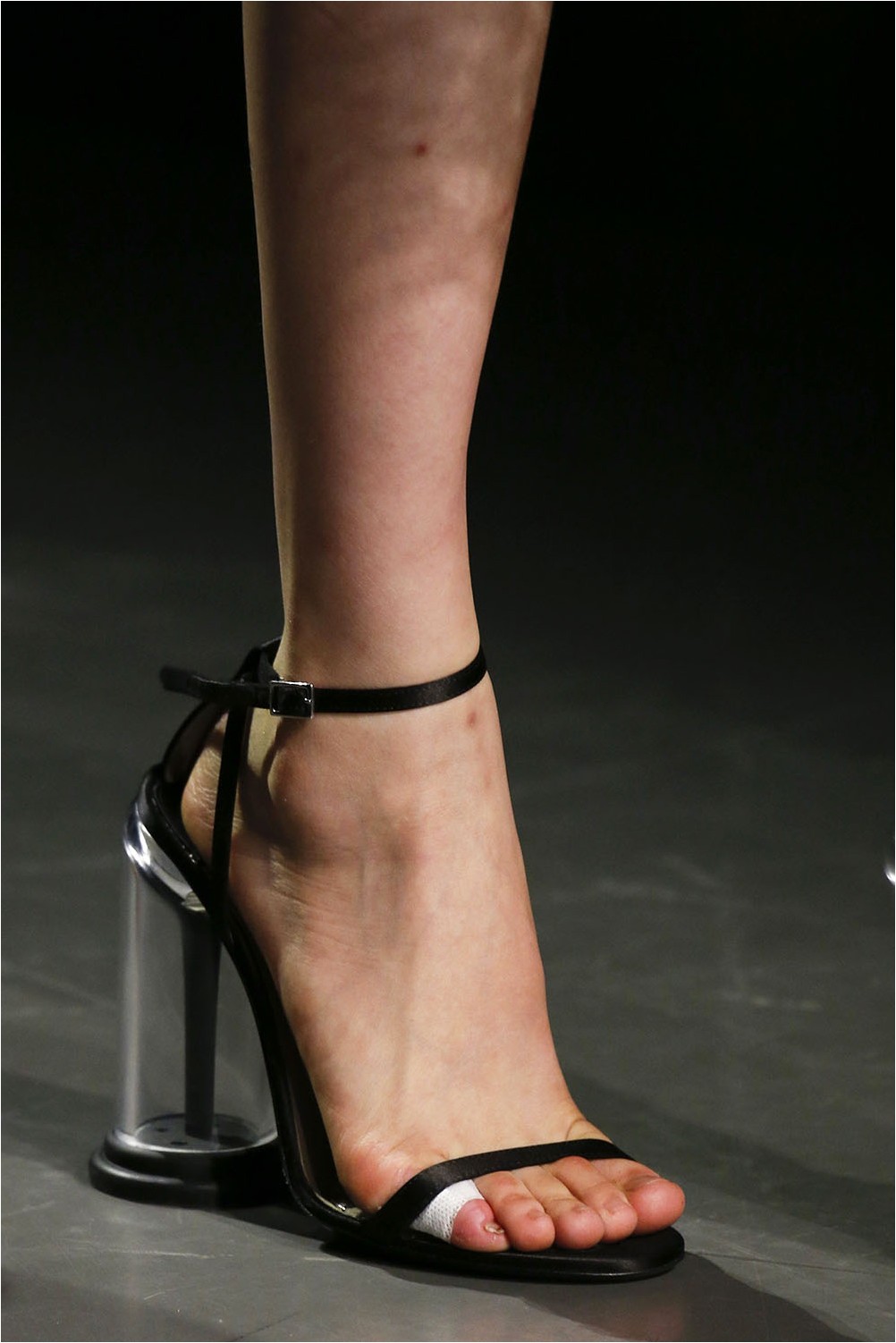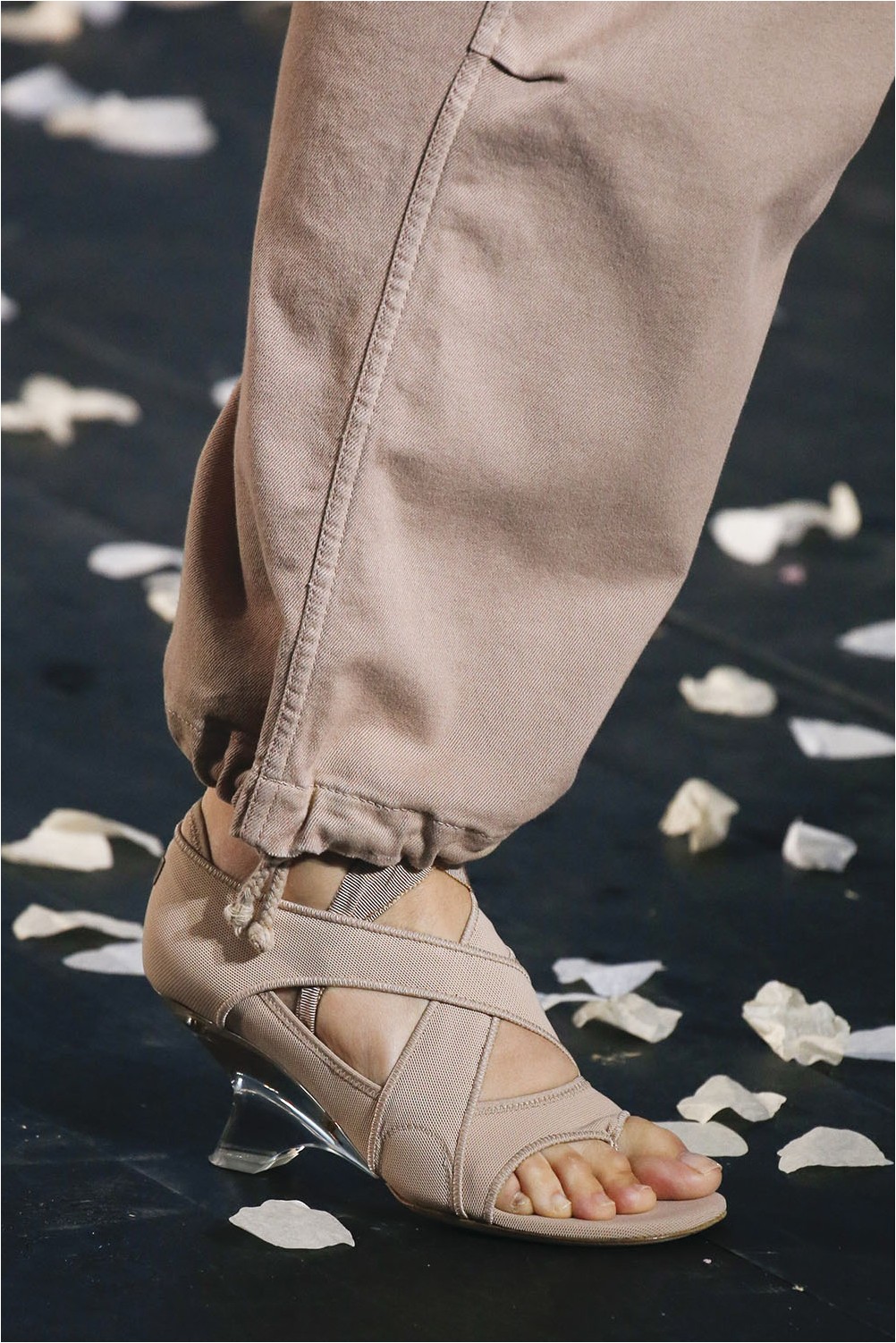 Bright and unpredictable – such was the fashionable shoe in the spring-summer 2019 season. There was practically no room for a rough masculine trend in it. Even the sporty style of shoes has found soft features. Only rich colors, catchy prints, a wide platform and massive heels contrasted against the general background. But without them, summer would not be so bright and truly festive.
Similar articles
---