Content
---
---
In addition to a stylish swimsuit, designers offer to wear beach skirts, trousers and sundresses. And, of course, it is difficult to imagine a fashionable summer look without a flowing pareo, which was attached to almost every look during fashion shows. So, we offer an overview of the most relevant beach trends for the summer of 2019.
Ruffles and shuttlecocks
In fact, the swimwear absorbed a number of general trends of the spring-summer season 2019, on which fashionable collections of outerwear were based. One of which was the numerous frills and flounces that adorn the hem of skirts, shoes and accessories. In the beach fashion, frills appeared on the straps of bathing suits, in the form of a peplum on the top of the swimming trunks and as a finish from the ruffle, passing along the canvas of the swimsuit.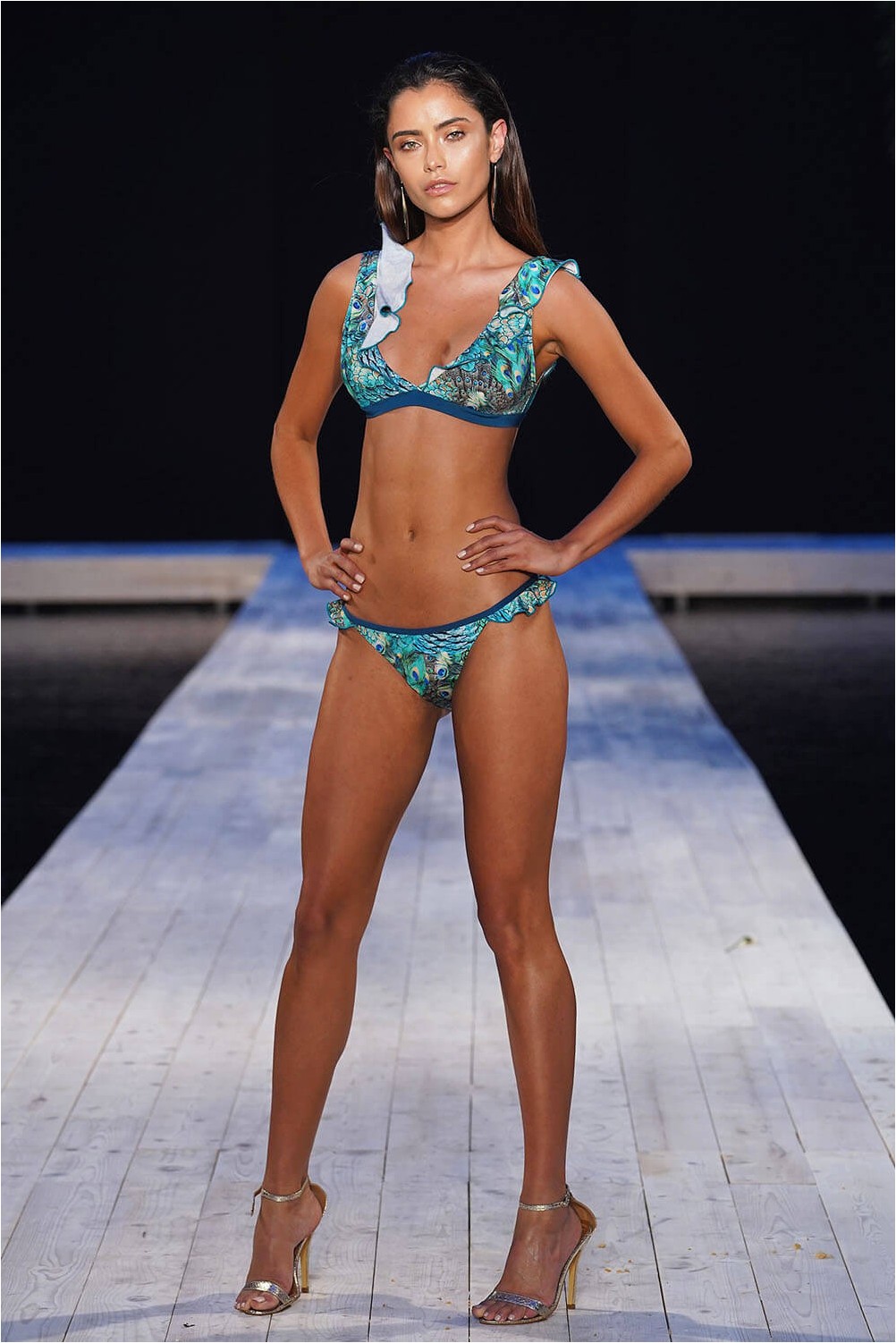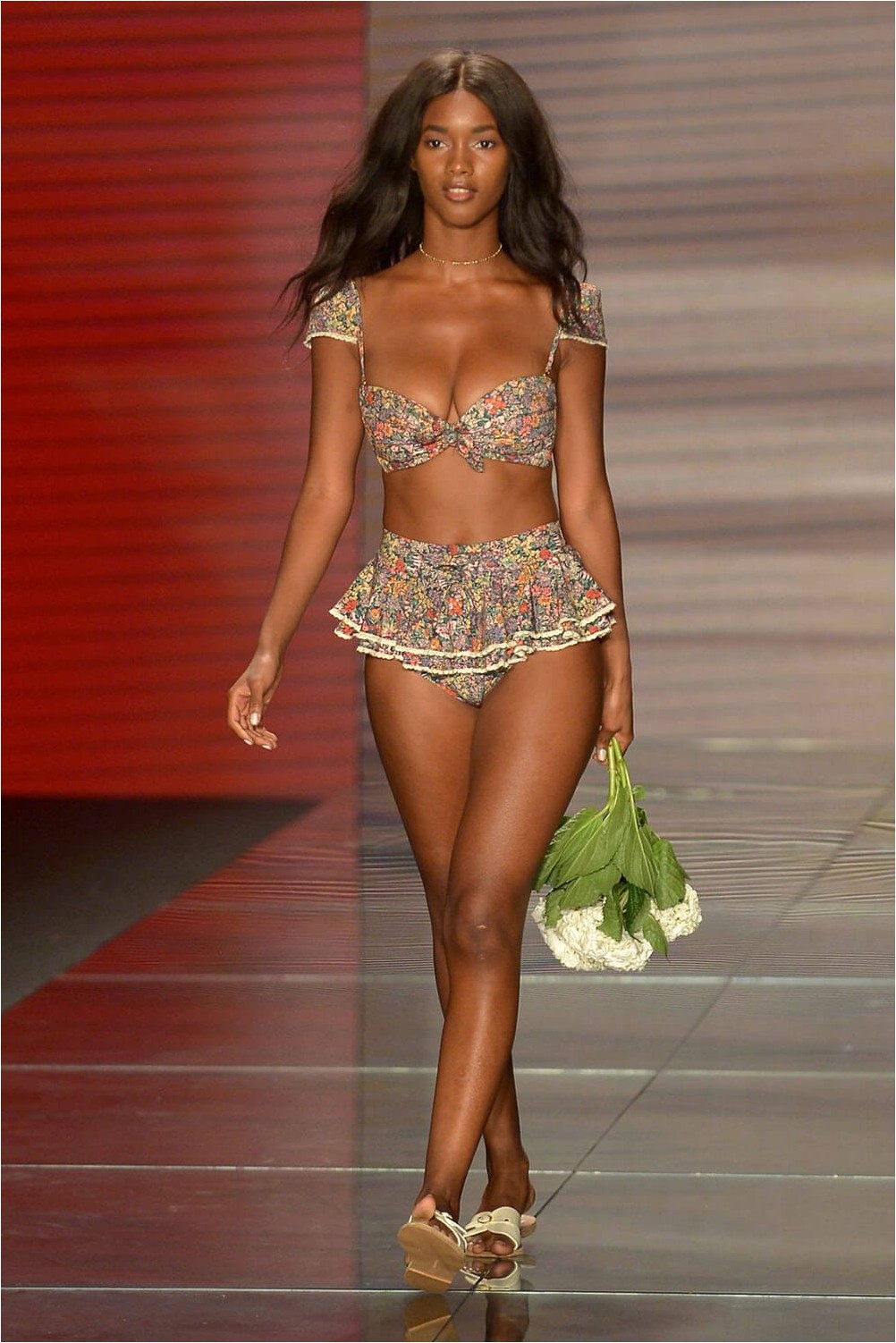 An interesting version of the fashion trend was suggested by the brand Tj Swim. In their variation, the flounces on the lowered straps of a red leotard are made in the style of flamenco dancers. You can choose absolutely any model with ruffles, because frills and frills create a romantic and incredibly feminine look..
Deep neckline
A deep neckline is a prerequisite for a trendy closed-top swimsuit. That's exactly what beach trendsetters think. Most often, such models are in the form of a plunge, where the neckline reaches the very waist. Often, an open neckline is combined with a no less provocative, highly open thigh.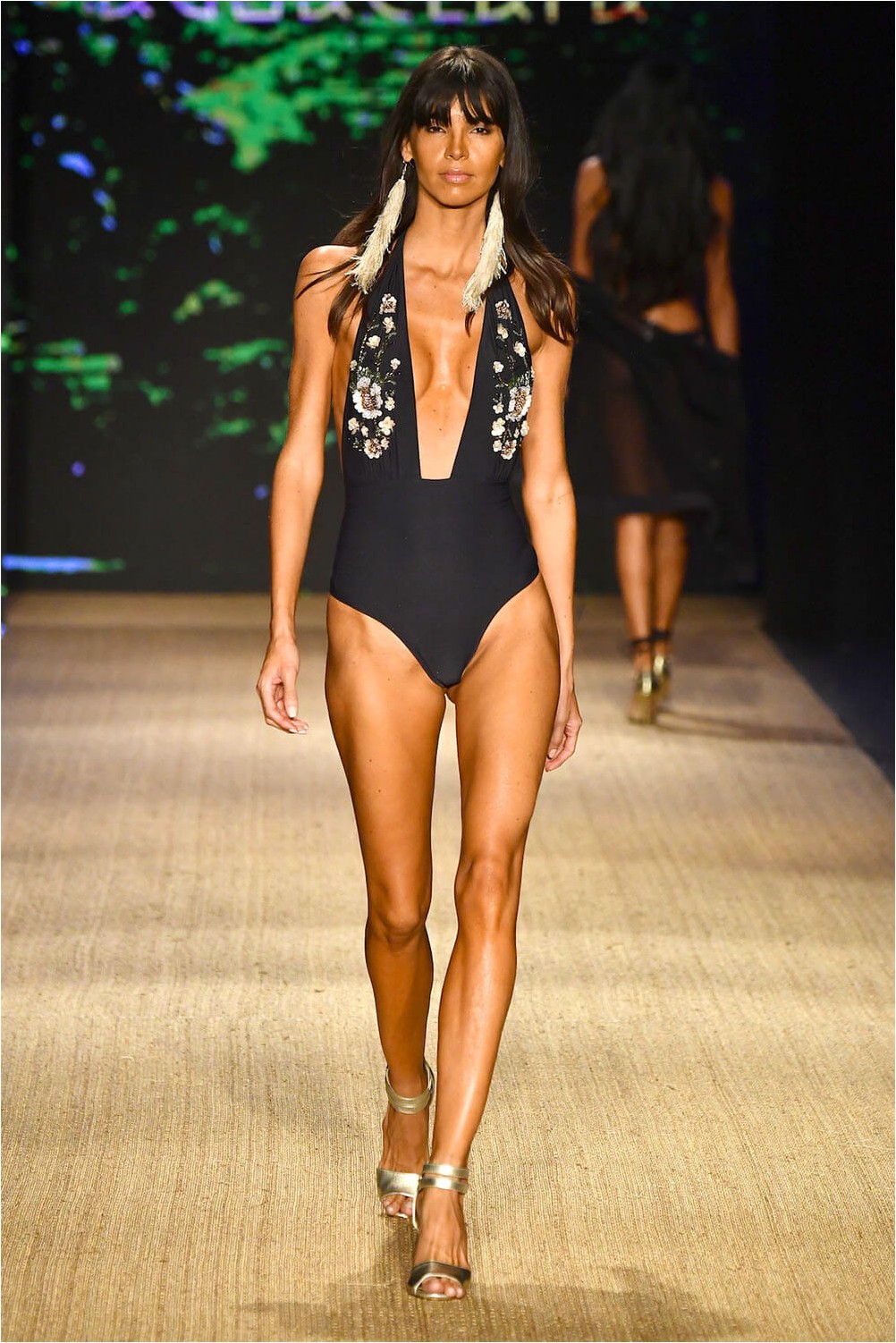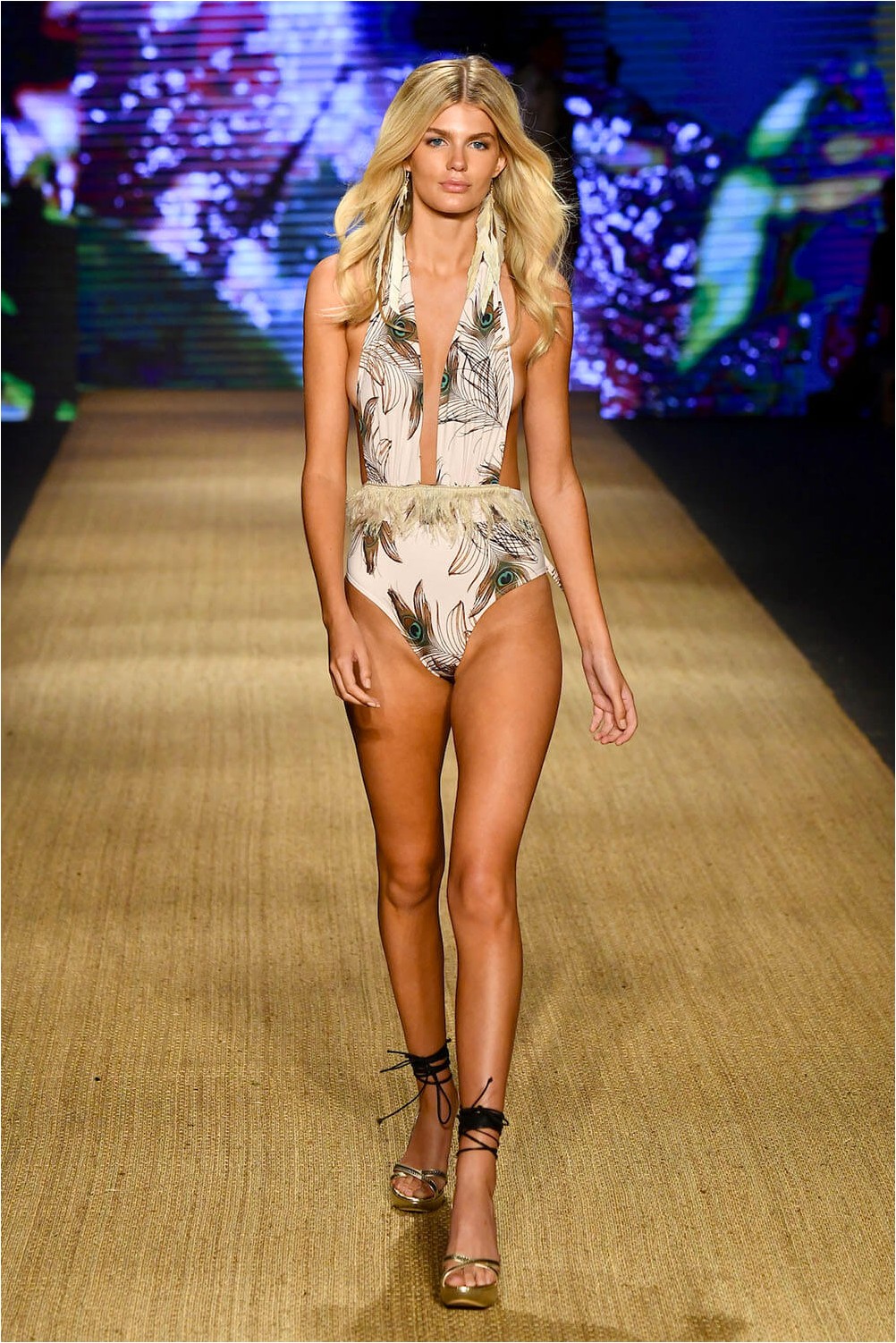 It is difficult to say how practical and convenient this type of closed swimsuit is, which has practically ceased to be closed. One thing is clear: a fashionable plunge today is a minimum of detail. The most trending models are two strips in the form of straps, barely covering the chest, and the bottom with an extremely high hip line.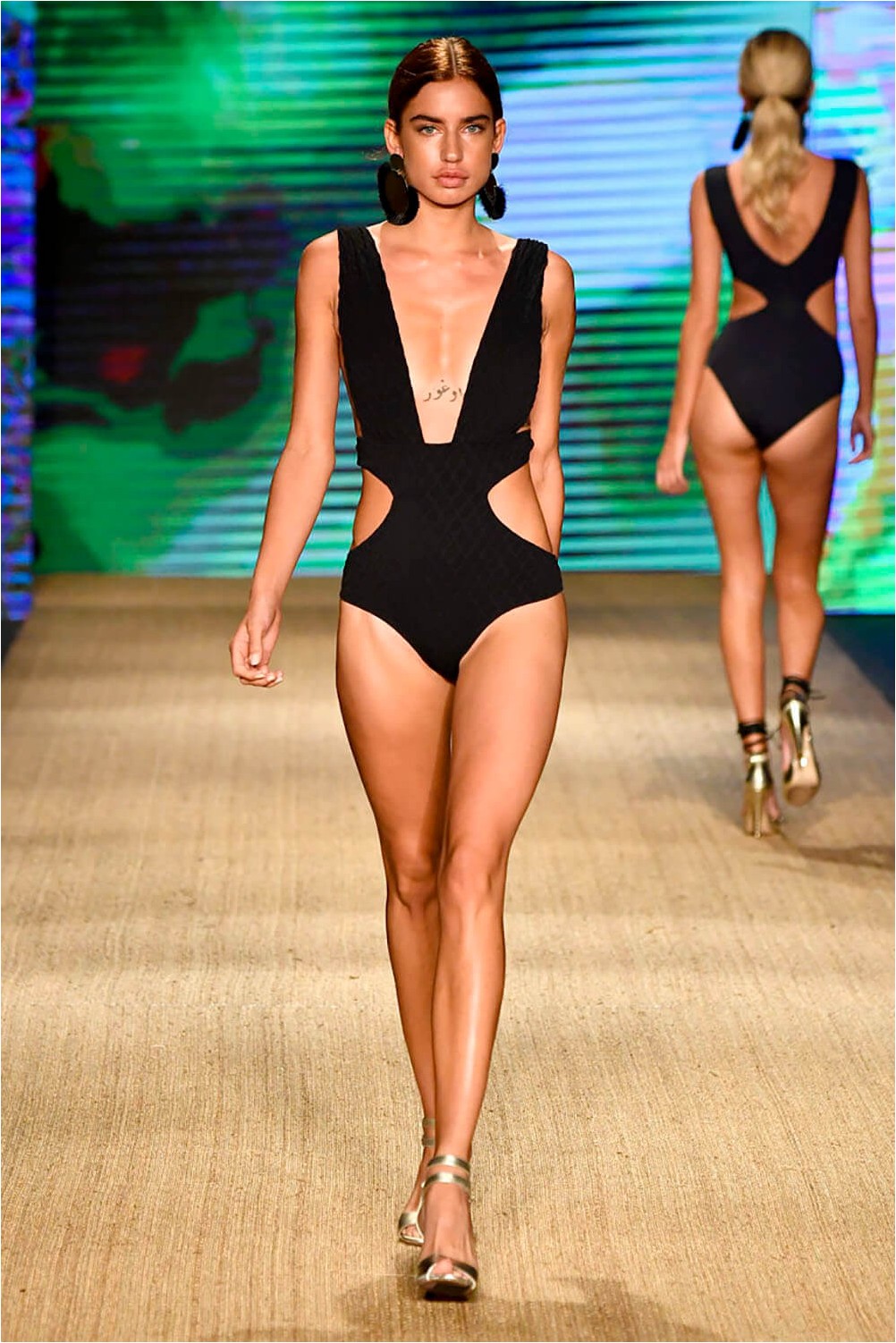 Closed top and combi dress style
In contrast to frank plungees, a new trend in swimsuit fashion has appeared – a completely closed top. If this is a closed swimsuit, then its upper part is made in the form of a golf or a tight-fitting jumpsuit. In the case of open models, the top is a short crop top, a cropped T-shirt or shirt in ethnic style, embroidered with embroidery.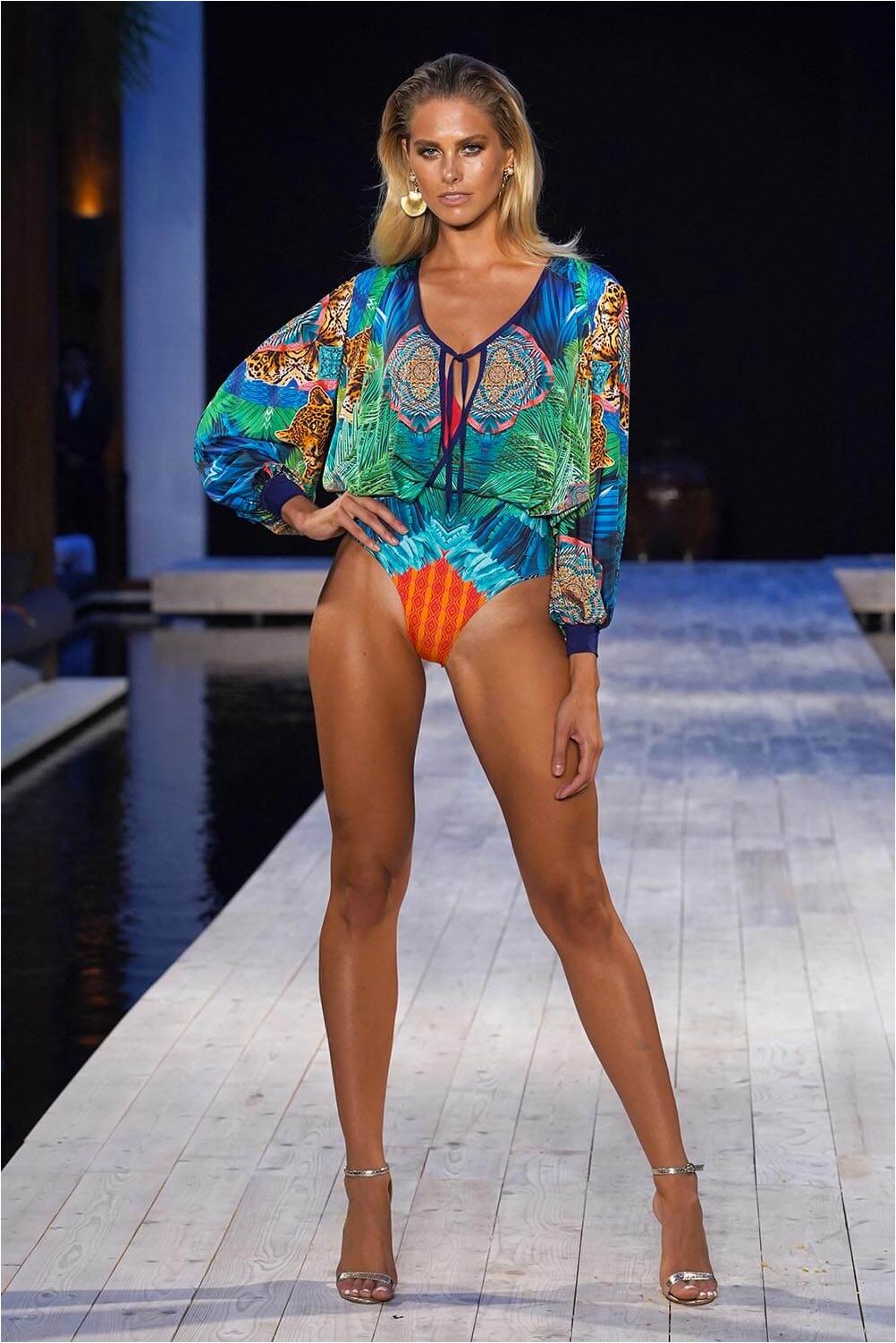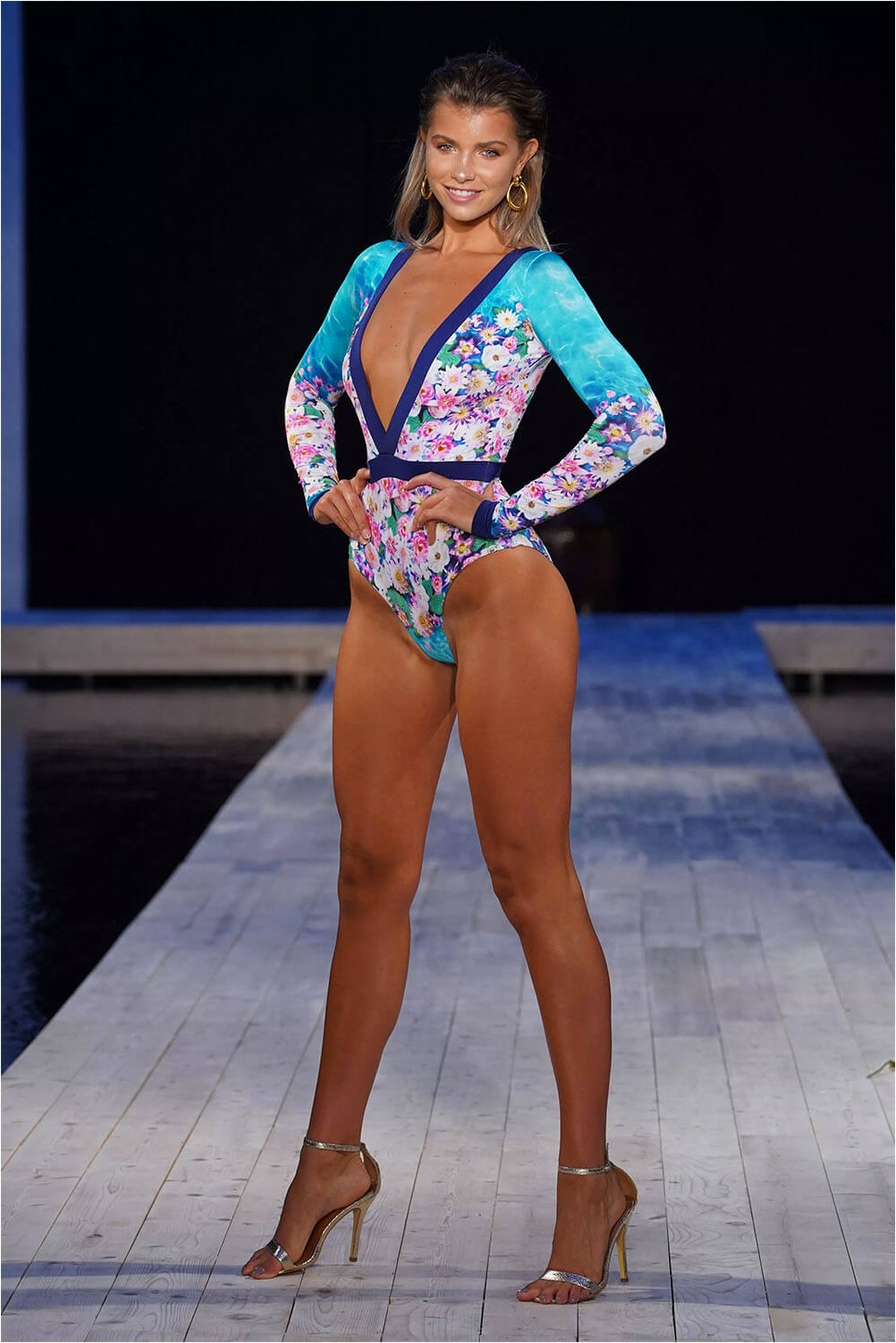 Sometimes a closed top resembles the top of a diving suit. It was in this style that the swimwear Gottex, Tammy Rivera and Gigi C. are made. And so that the swimming suits did not look boring, the designers decorated them with cutouts and a colorful abstract pattern..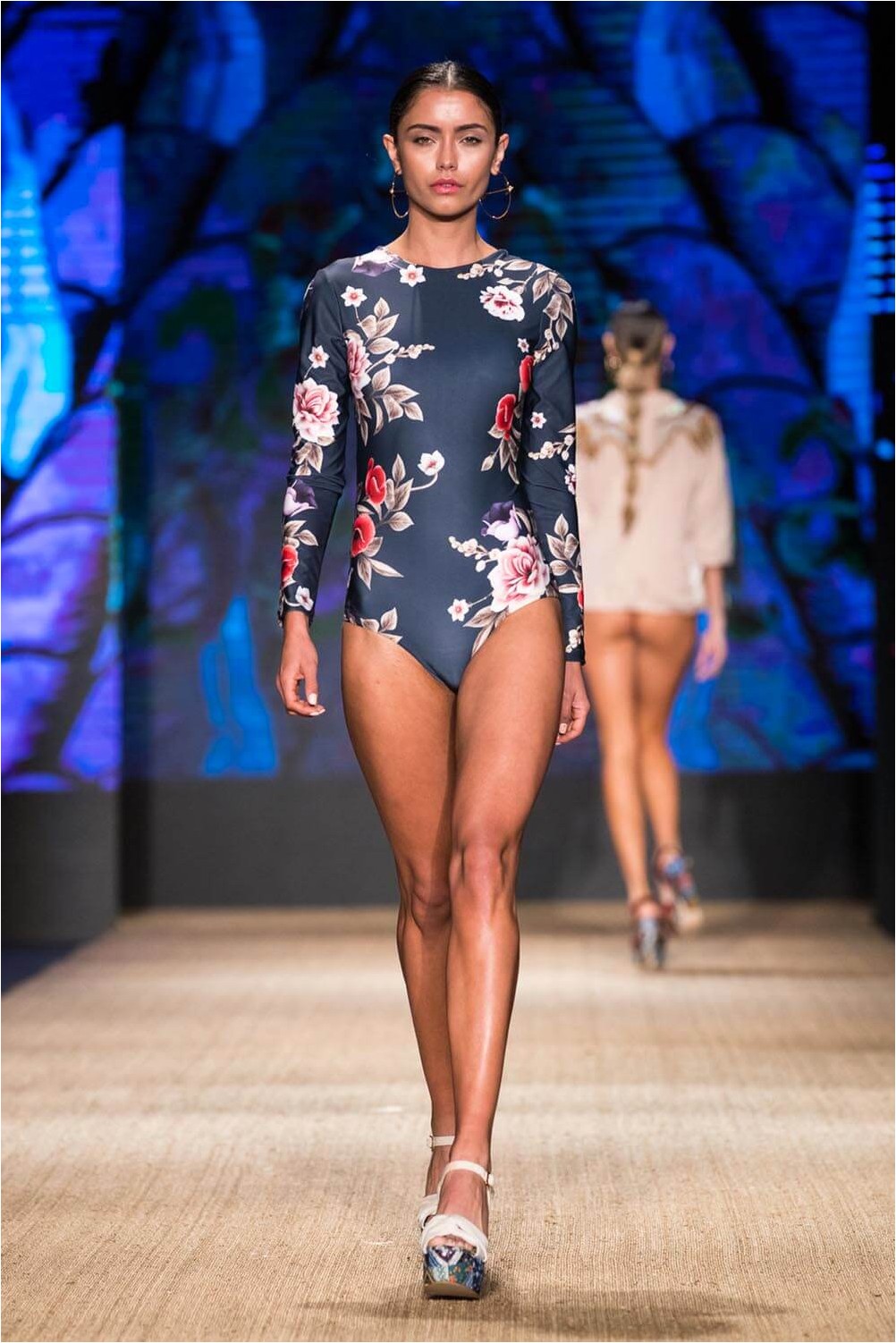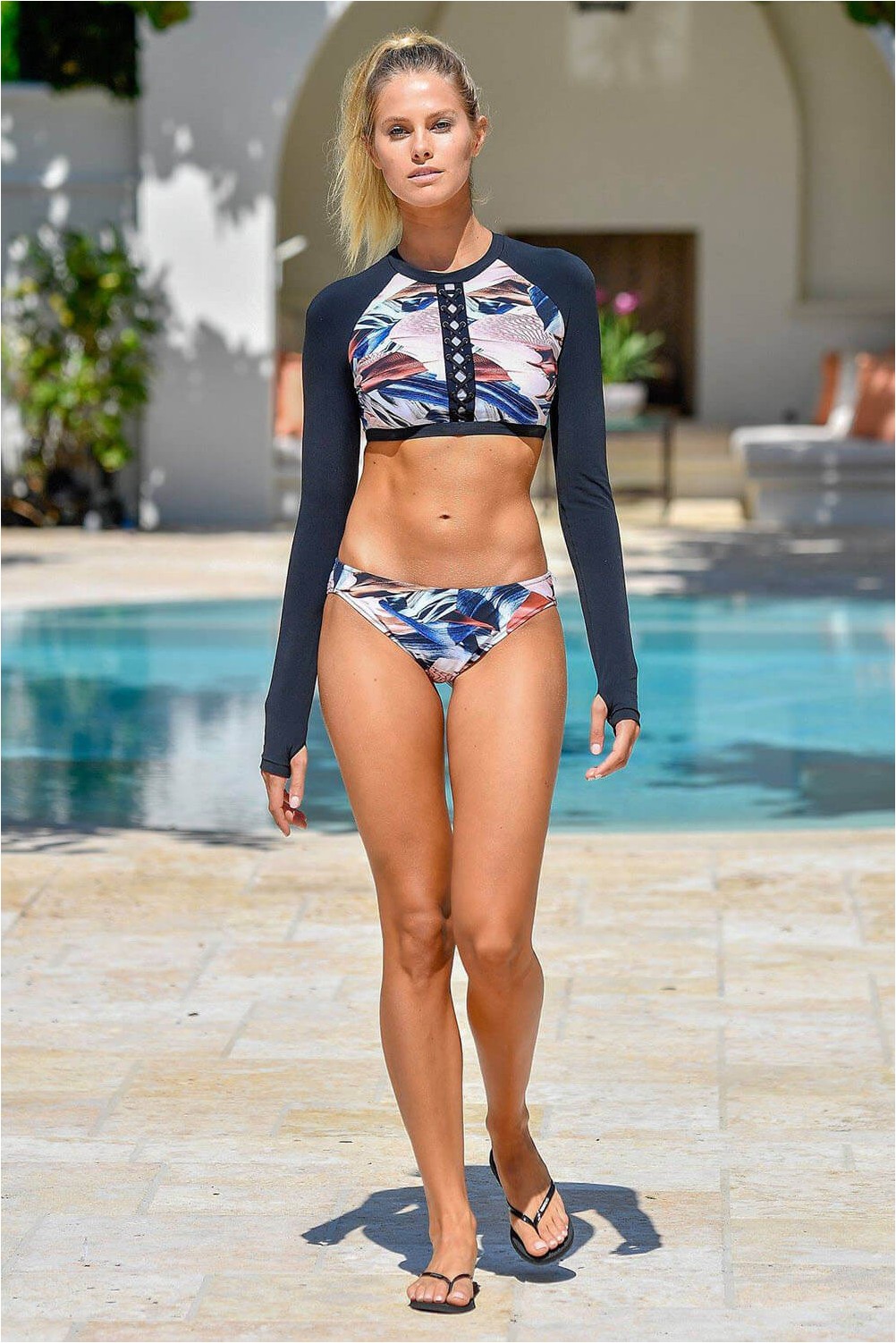 White swimsuit
In the fashion for swimwear in 2019, a number of snow-white models were presented. These were asymmetric bikini swimsuits. Often there were patterns embroidered with golden threads. Gold embroidery on white swimsuits by Aguaclara complete with a transparent wrap gives the beach a touch of sophistication and oriental luxury.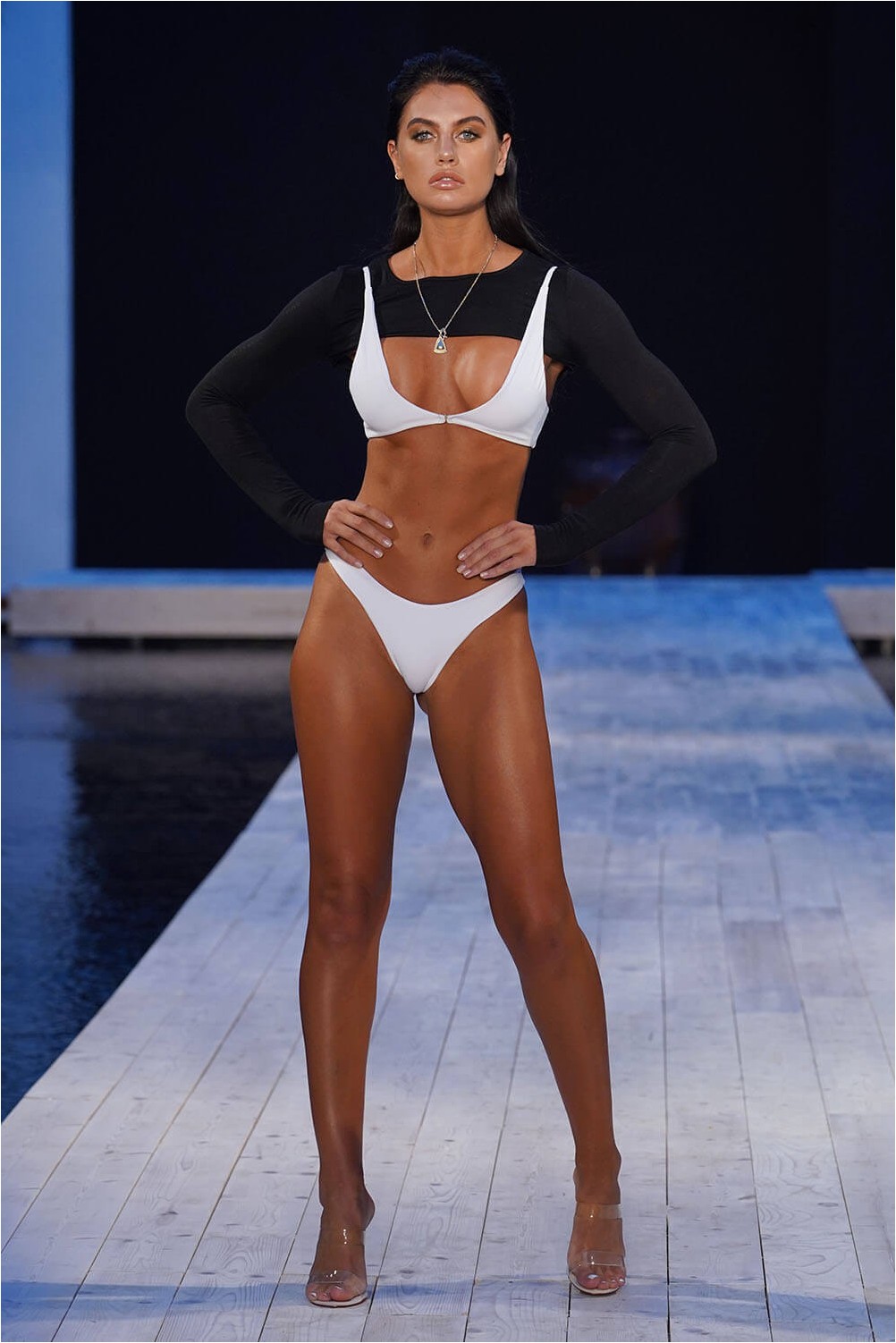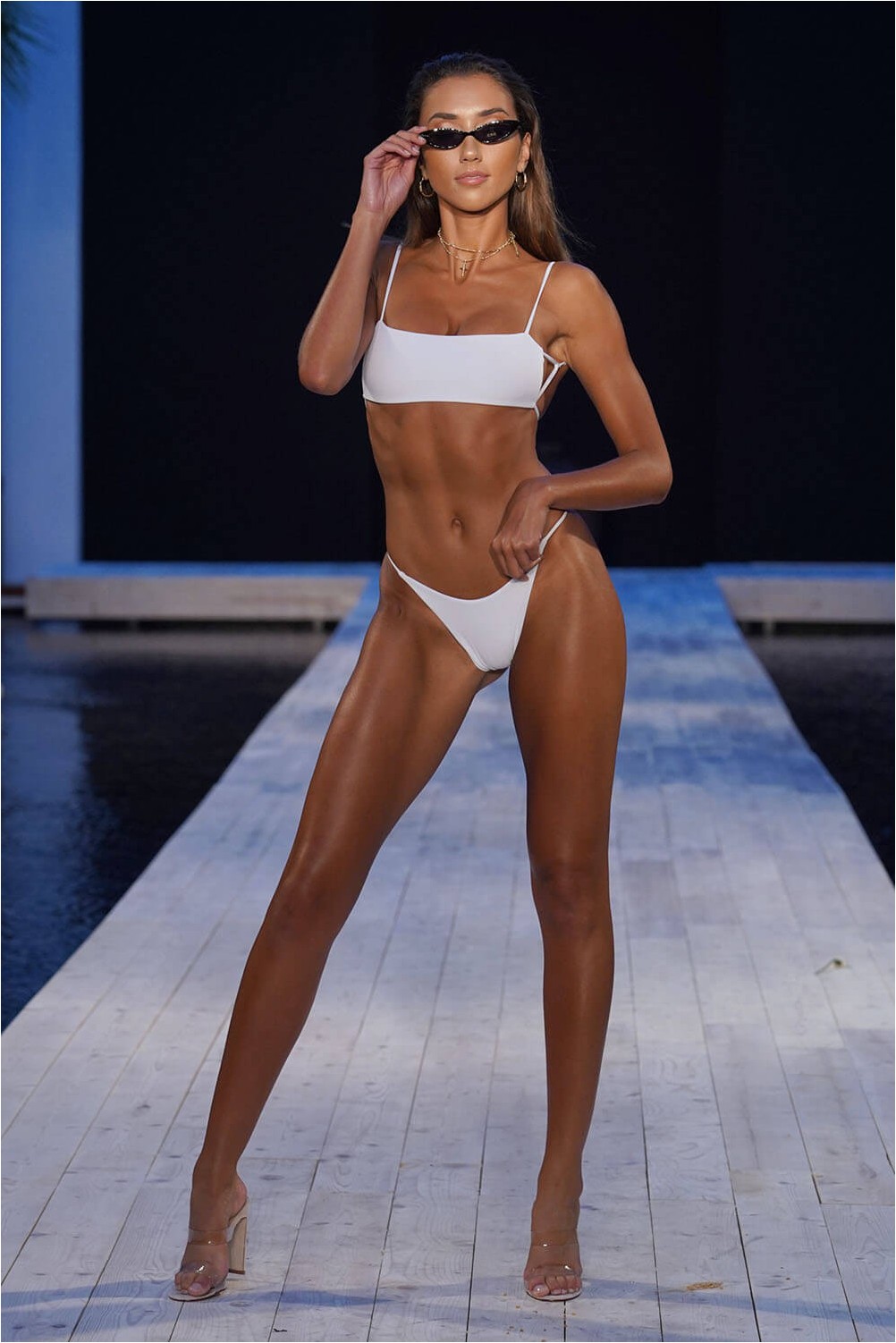 The trend will also be more concise options without decor and bright prints. Sometimes the restrained design is diluted with an interesting cut. For example, in models from Baes & Bikinis is like a peplum at the waist, and a white Lil swimsuit & Emm padded with black sleeves.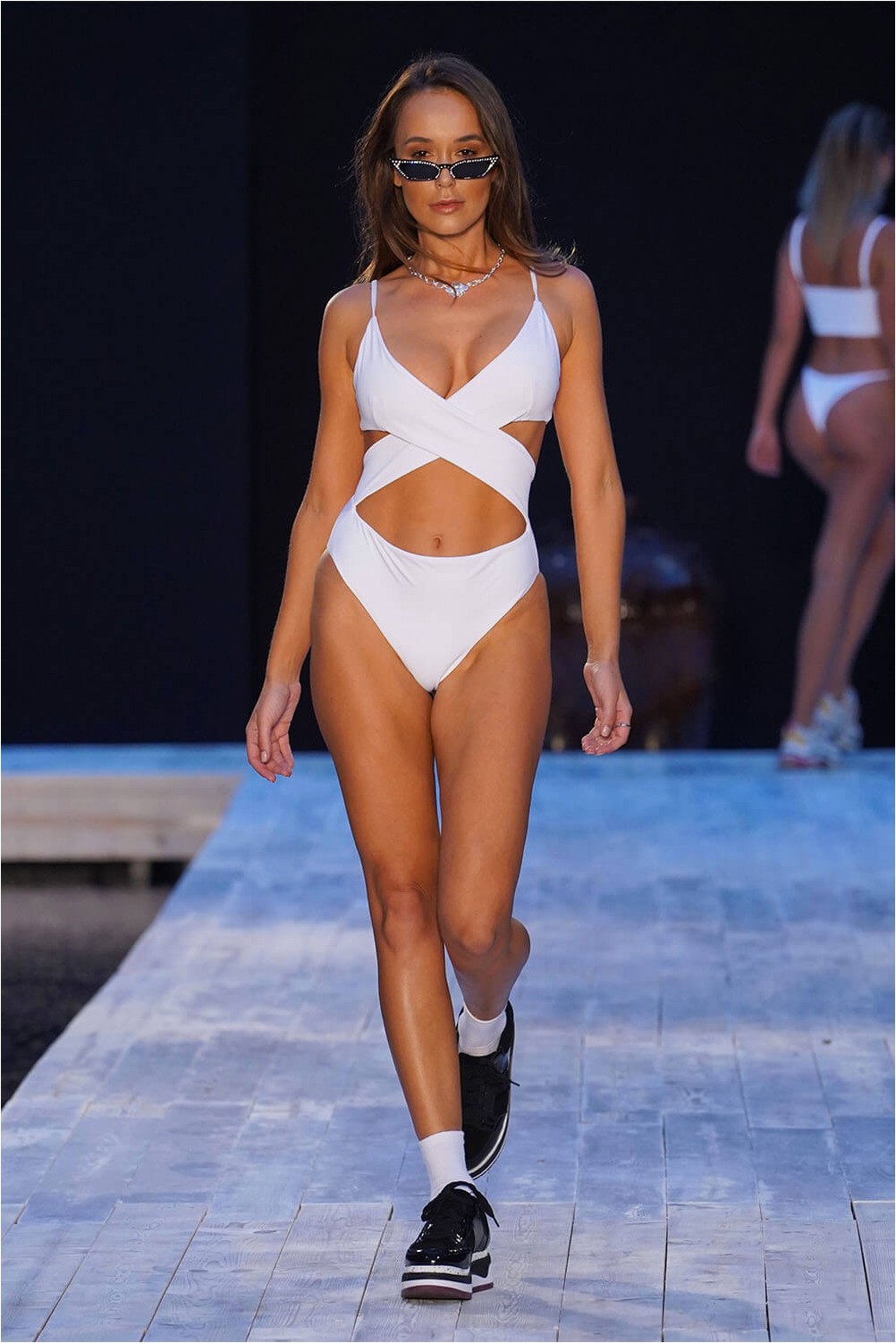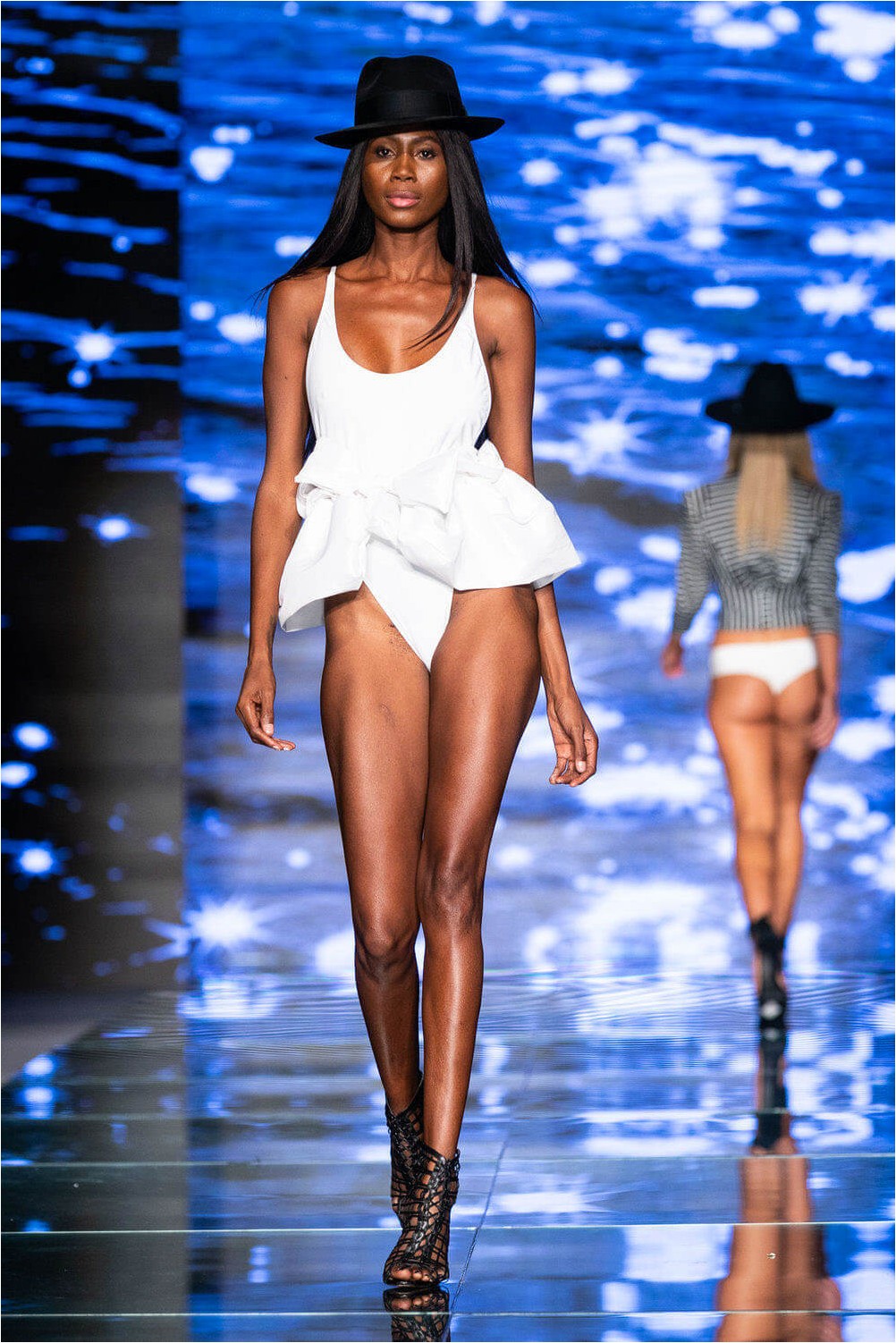 Sport style
Sport and a healthy lifestyle have captured the whole world. This could not but affect fashion. The trend includes models that imitate swimwear for swimmers, gymnasts and divers. Their main feature is a simple cut and characteristic print. Often adorn sportswear with colored stripes, logos, brand names.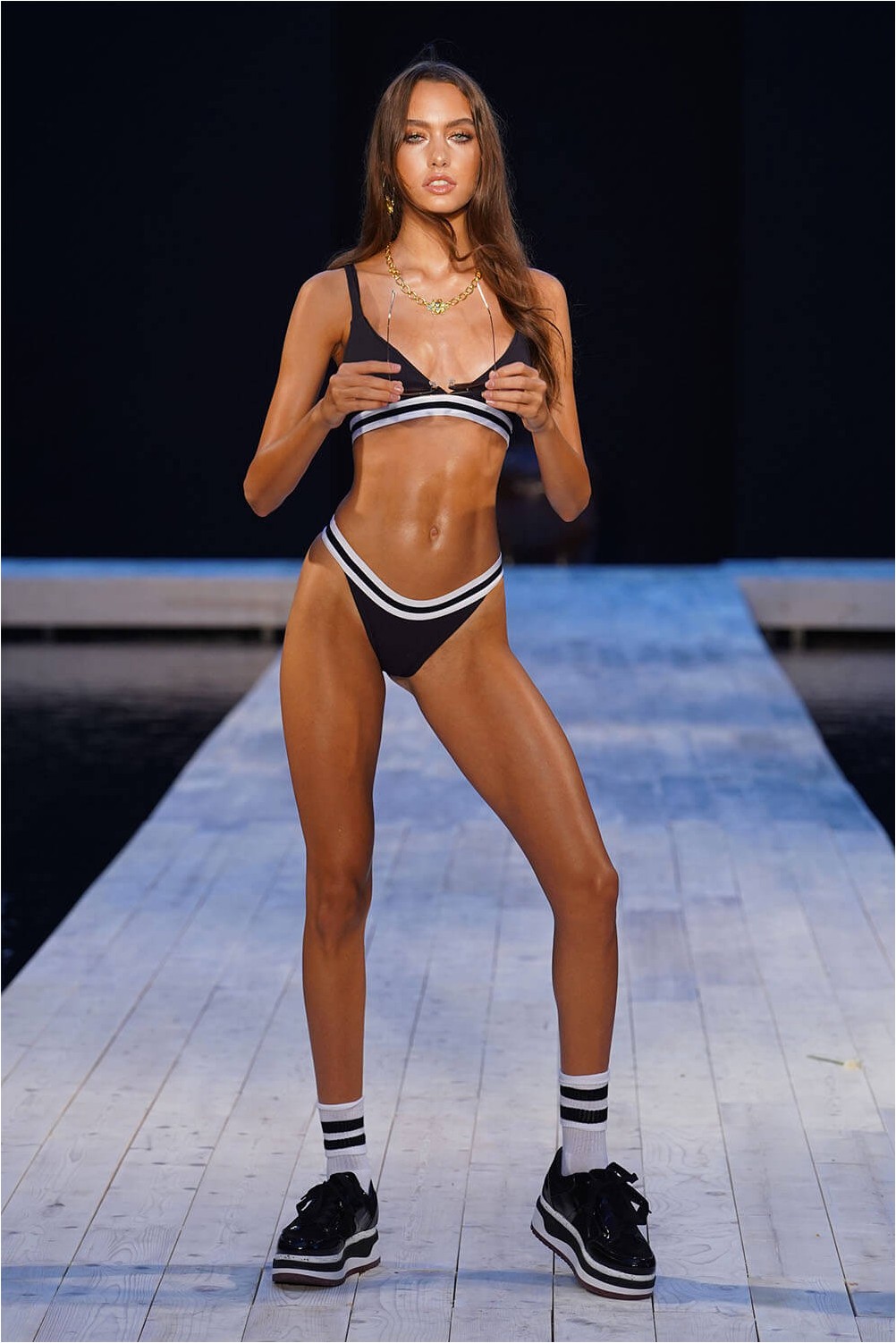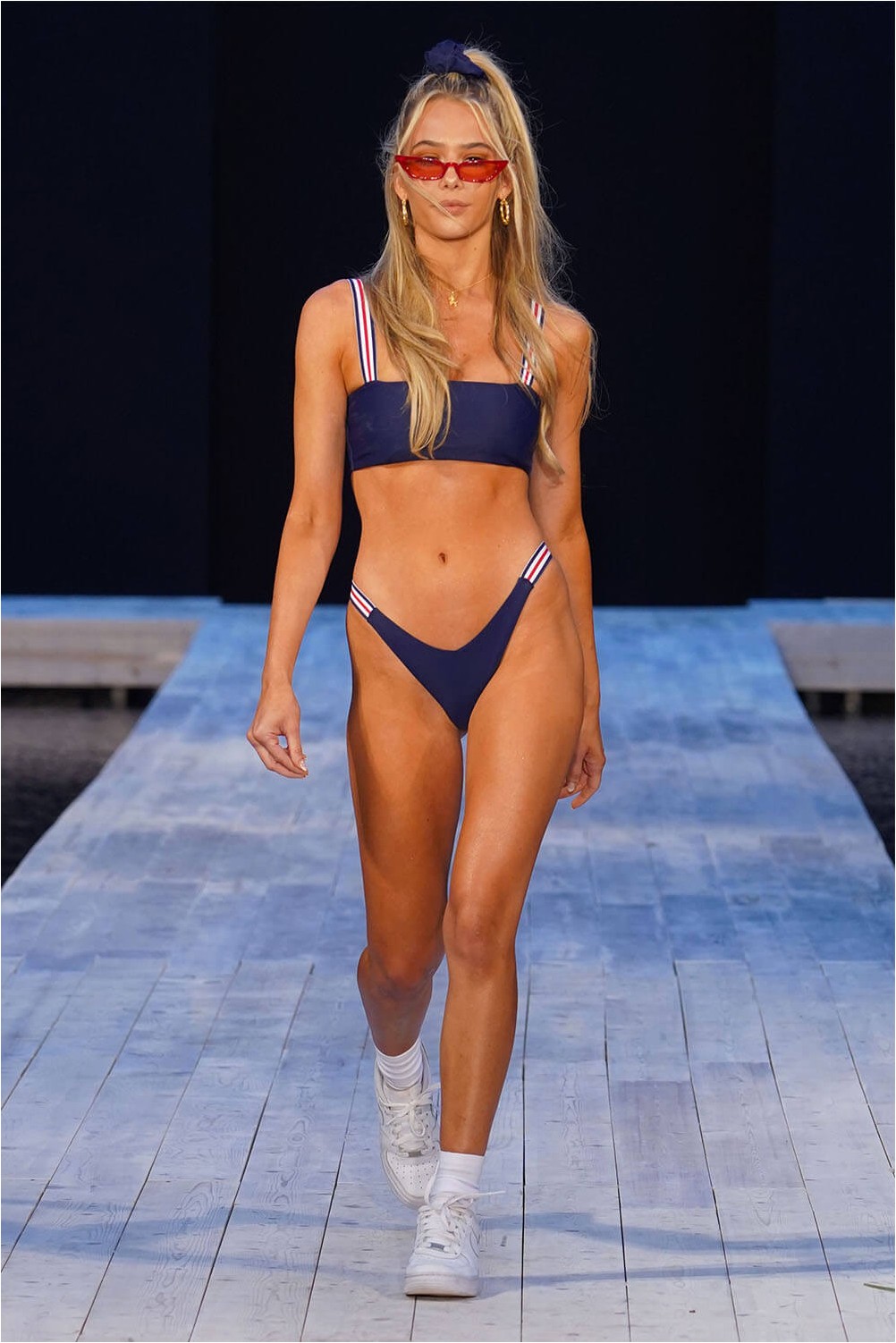 Sports style can be present on its own or combined with other fashion trends. For example, swimwear tailored to the type of aerobics suits from the 80s will become relevant in the summer of 2019. In the kit for him you can pick up a sports cap. So you complement the retro style and protect your face from the sun.
Bathing sets
According to current trends in fashion, today one bathing suit for a good rest is not enough. Therefore, for almost every swimsuit, designers have provided a shirt, bathrobe, skirt or beach pants. They come complete and complement its style and cut..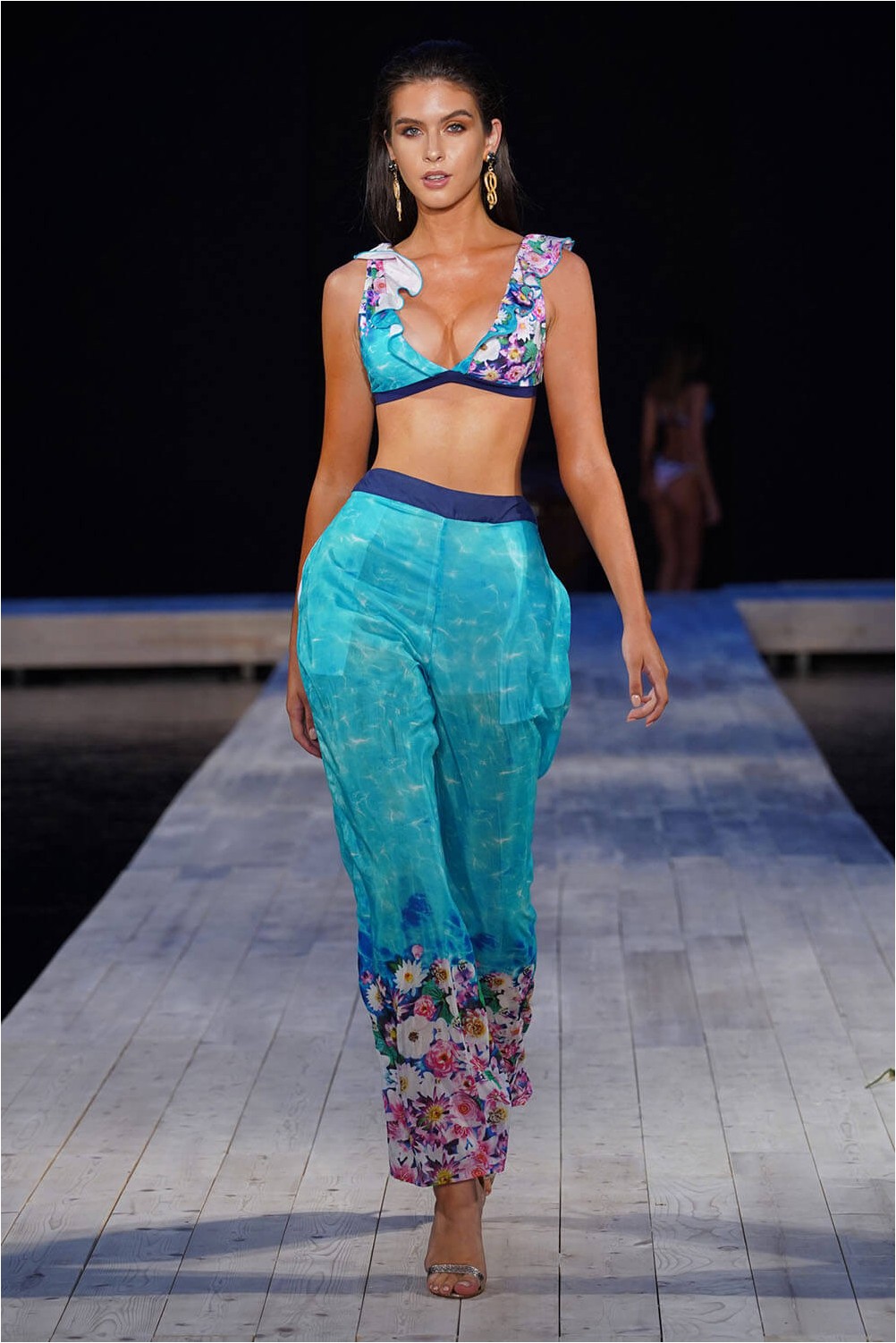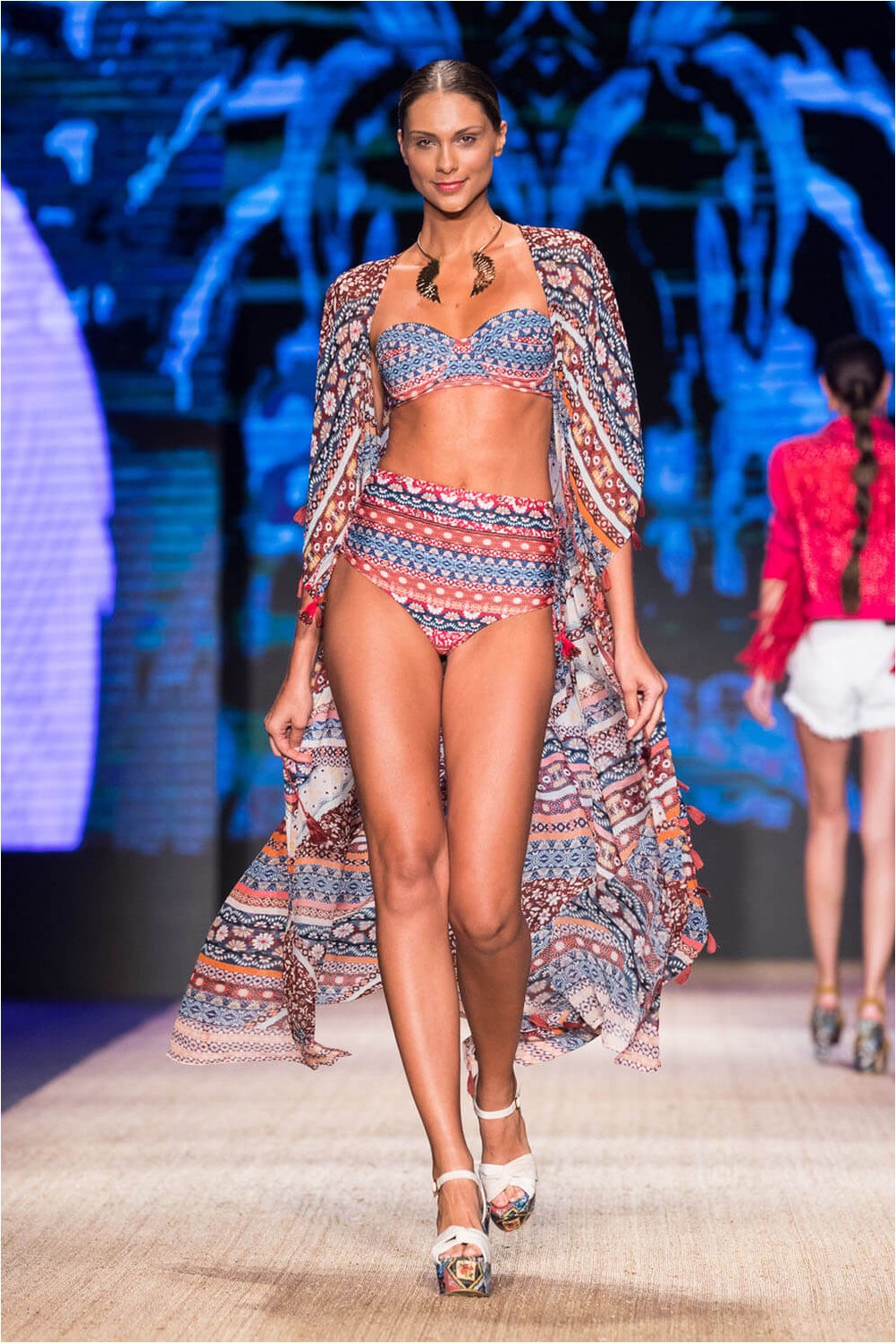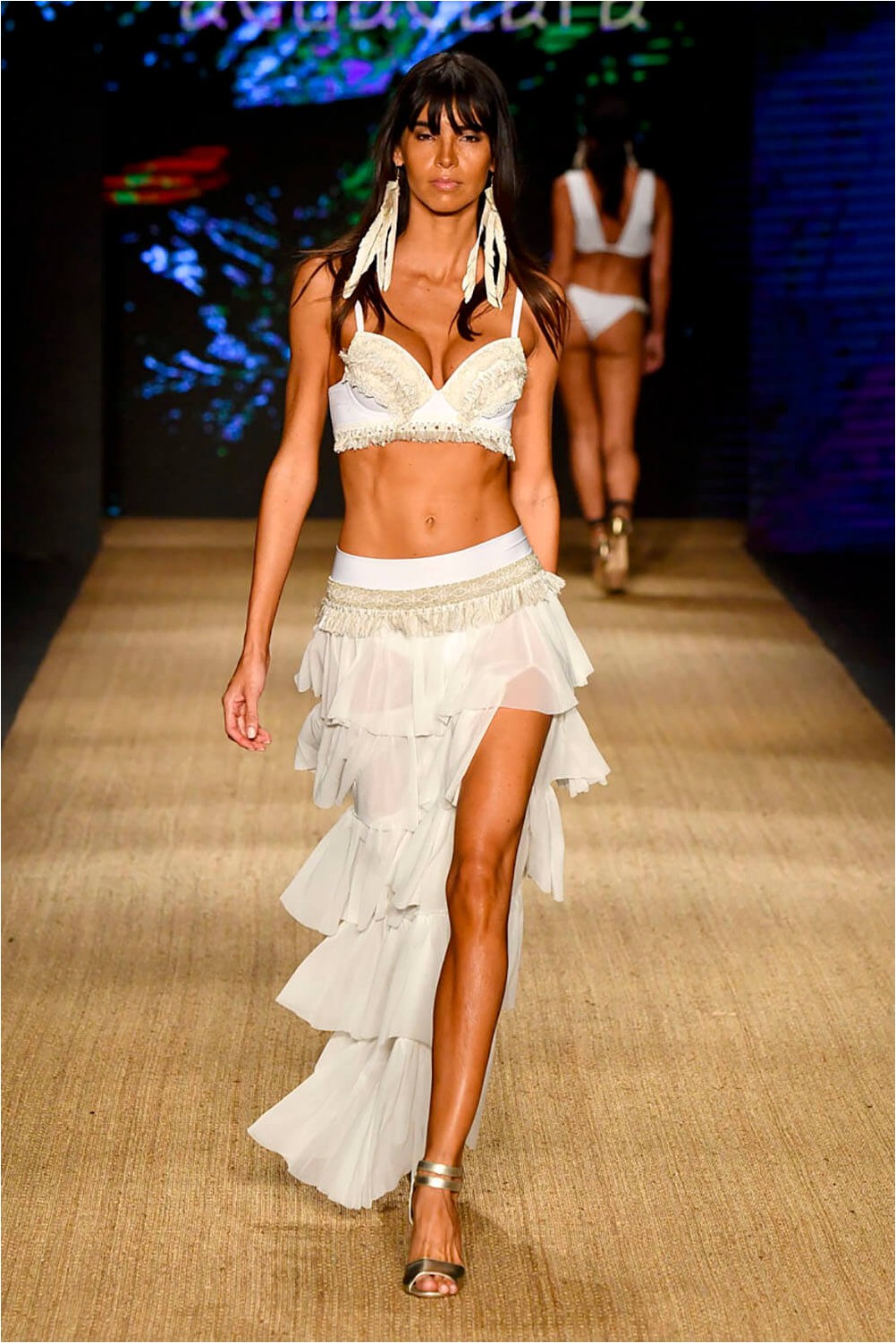 Some brands have relied on mono looks and created bathing suits in one color. But it is not necessary to limit oneself to single-color sets and to look for models similar to the exclusive couture option. You can build a fashionable image yourself. The main thing is that the sundress or dress in some way echoes the swimsuit. The connecting link may be the color, print or texture of the fabric..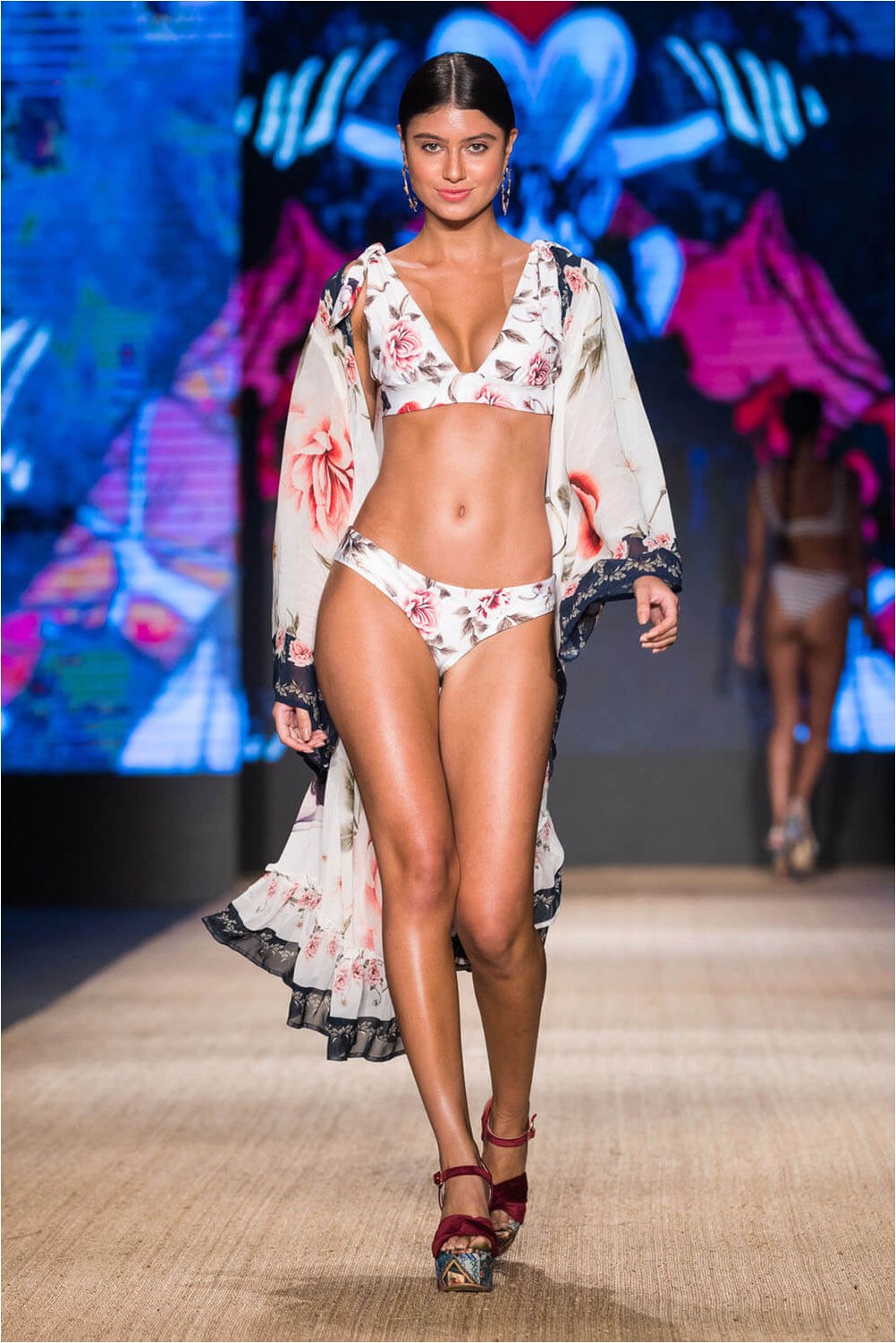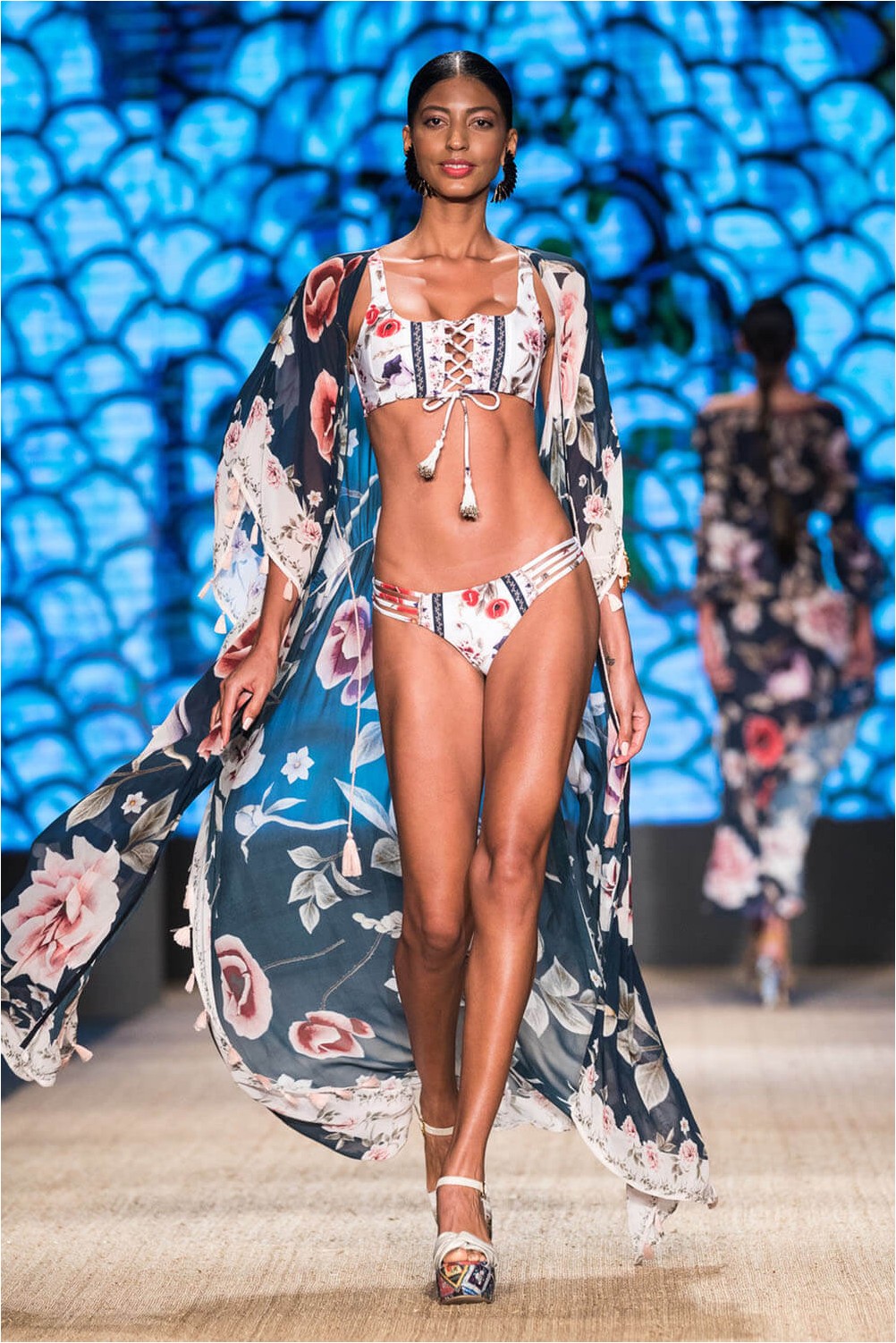 Asymmetry
The asymmetry trend stubbornly holds its position. Swimwear with any unusual asymmetry is in fashion. Asymmetry can manifest itself in different ways. In an open bathing suit – this is the top with one thin or wide strap. In closed bathing suits for non-standard solutions there is more space. One option suggested by Sinesia Karol. In her interpretation, asymmetry is a combination in one model of a frank open bikini with a closed swimsuit of a classic cut.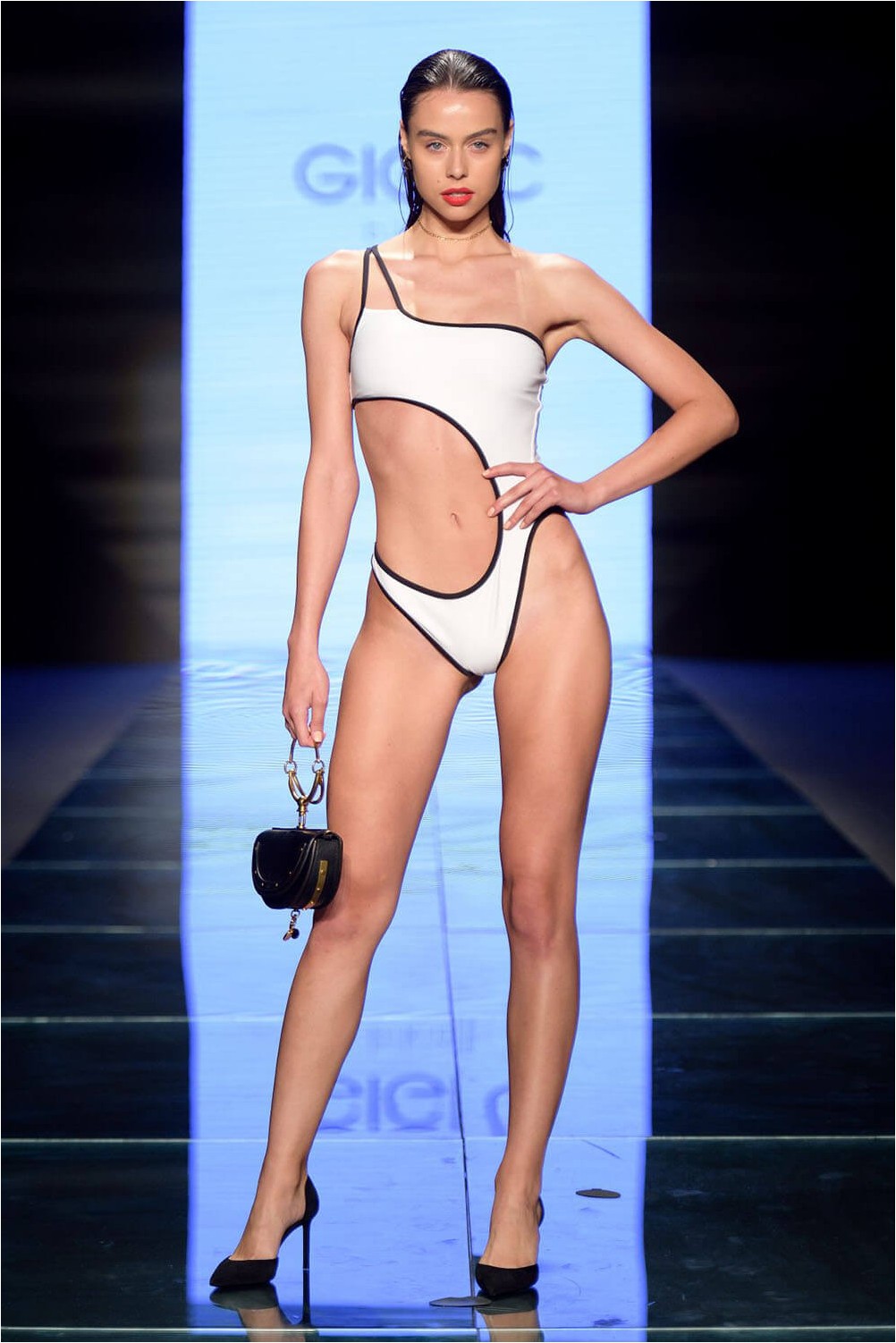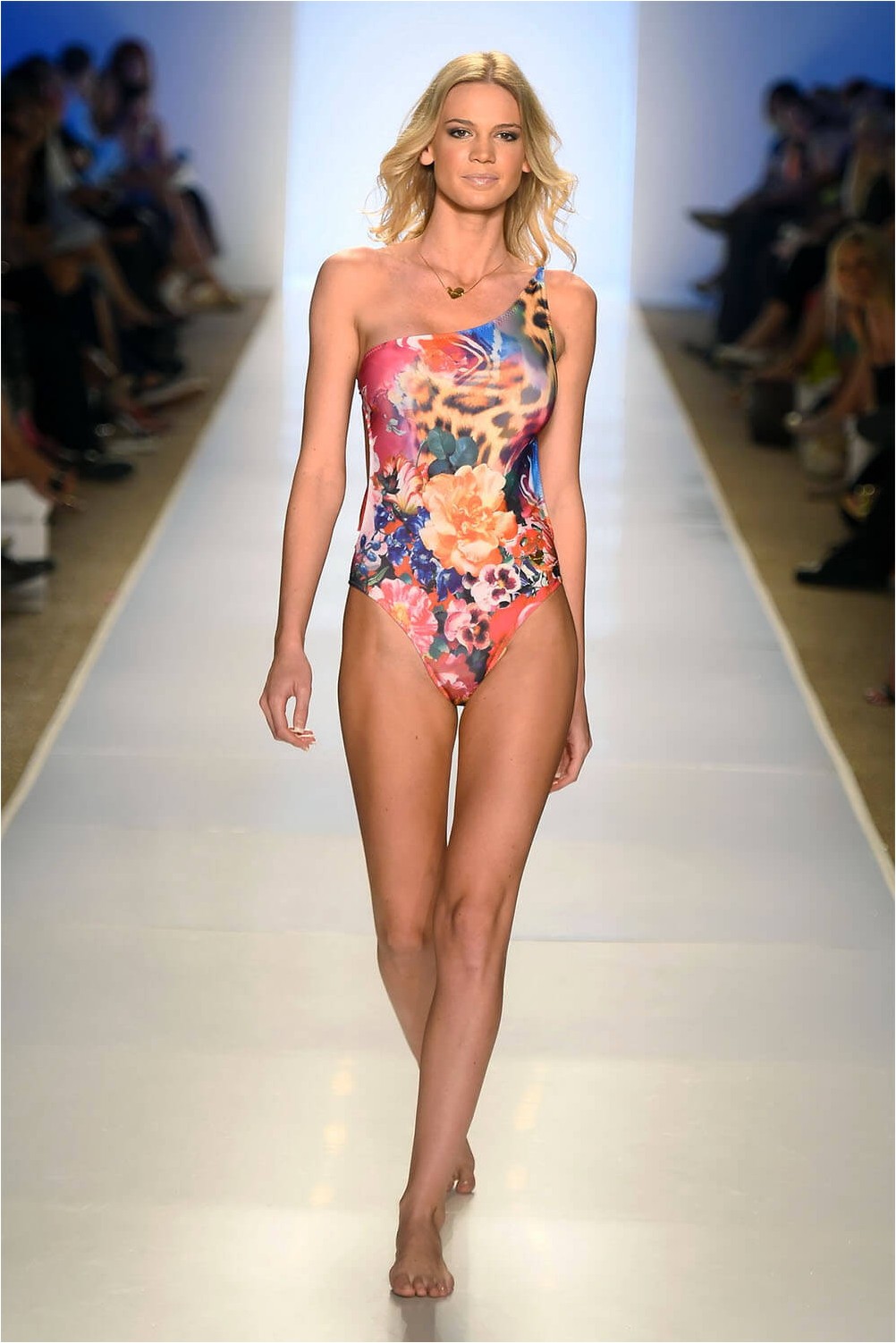 If you are not ready for such bold transformations, then you can support the fashion trend with a swimsuit with a shoulder strap on one shoulder. There are no style restrictions. Sporty, romantic or retro – choose any. Colors can be completely different – from delicate to bright yellow or deep wine tones..
Sequins and guipure
Today it is already difficult to imagine a female outfit without shiny sequins or glitter. After all, they are so fond of designers that from time to time appear even on swimsuits. Some models by the amount of decor may well compete with even the most luxurious evening dresses.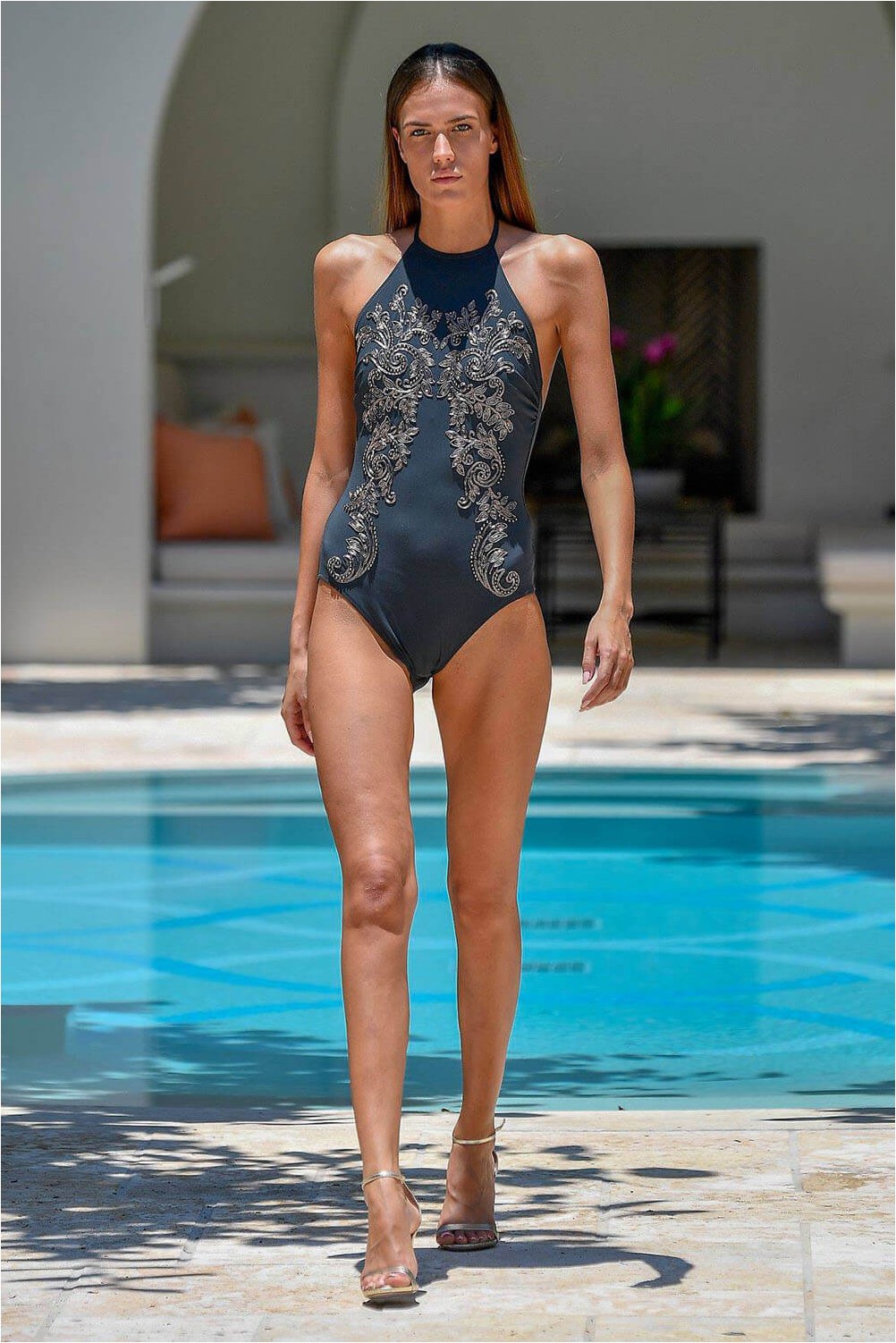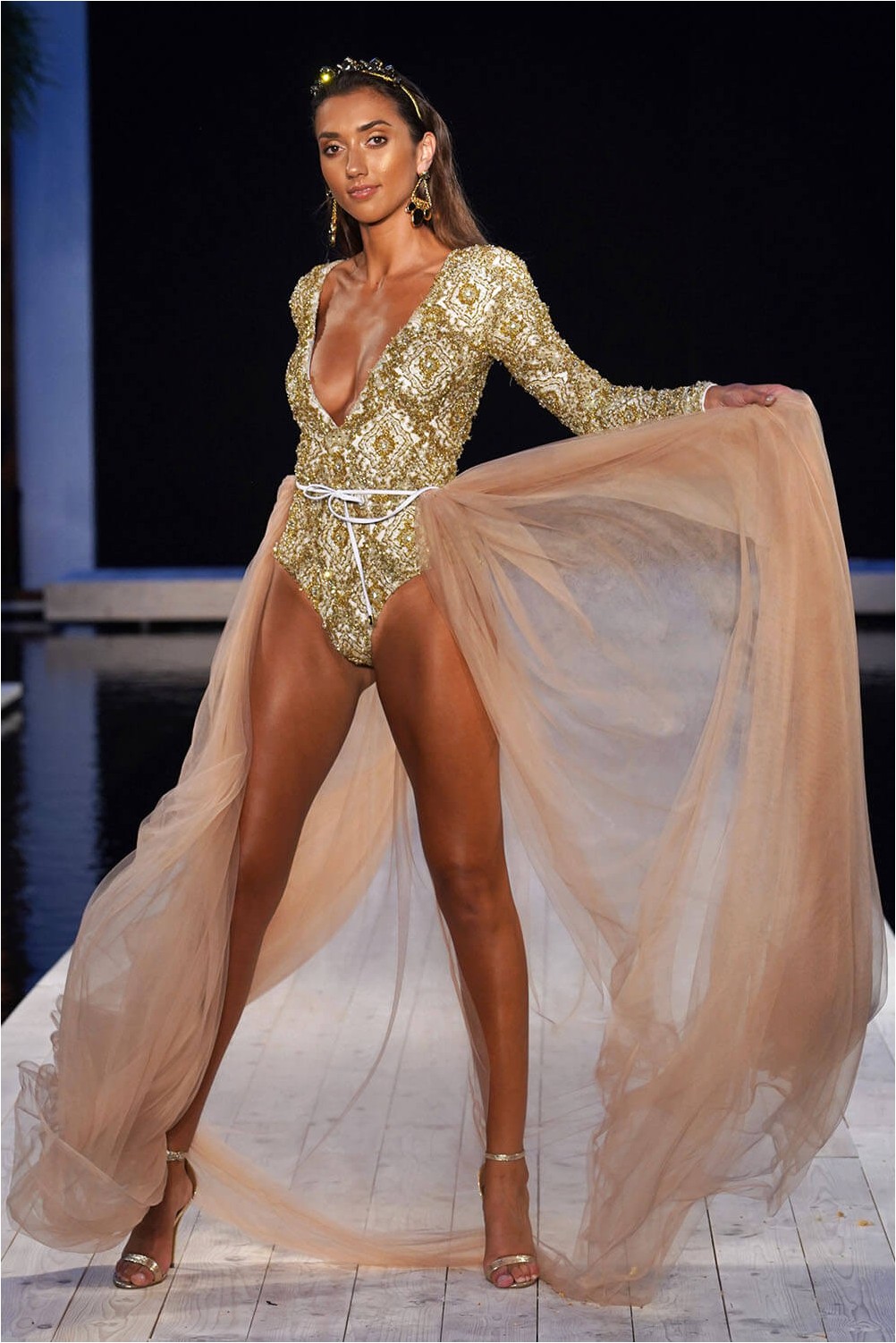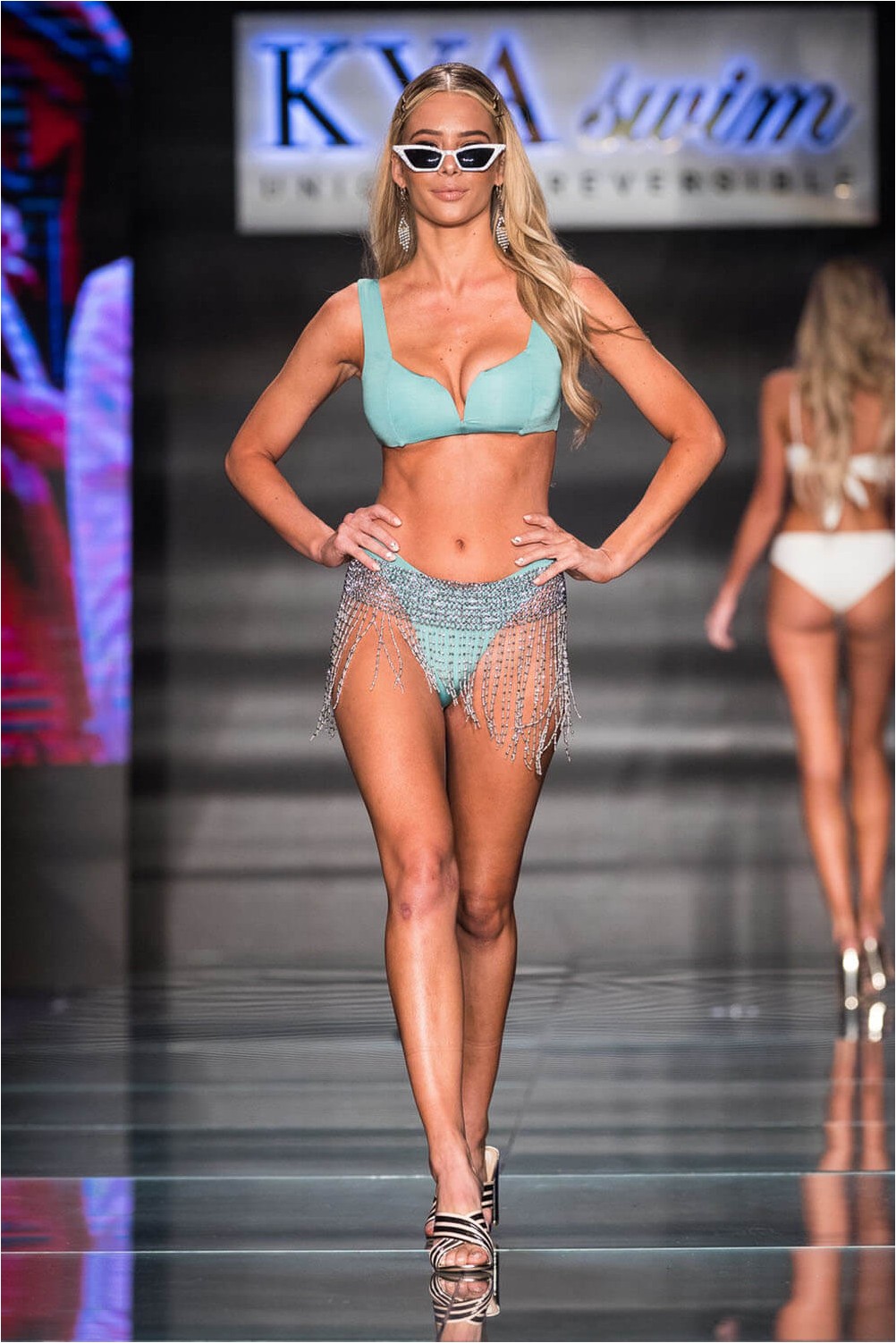 In the summer season 2019, the marine theme is in fashion. Therefore, a swimsuit, embroidered with sequins under fish scales, is one hundred percent falling into a fashionable trend. Another current trend of this summer is Victorian style. Guipure or lace swimsuit perfectly reflects the female beauty and gives the image romantic features.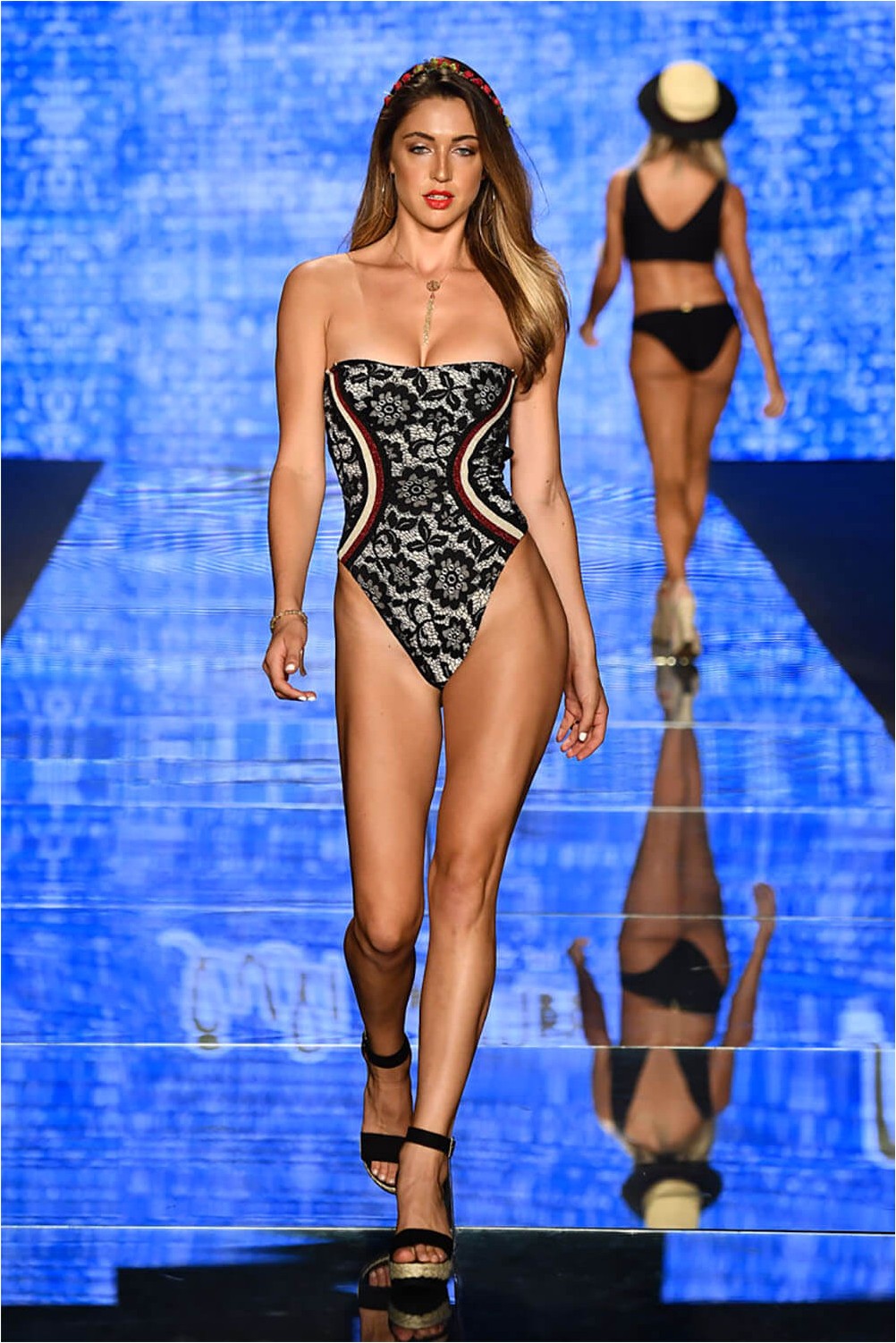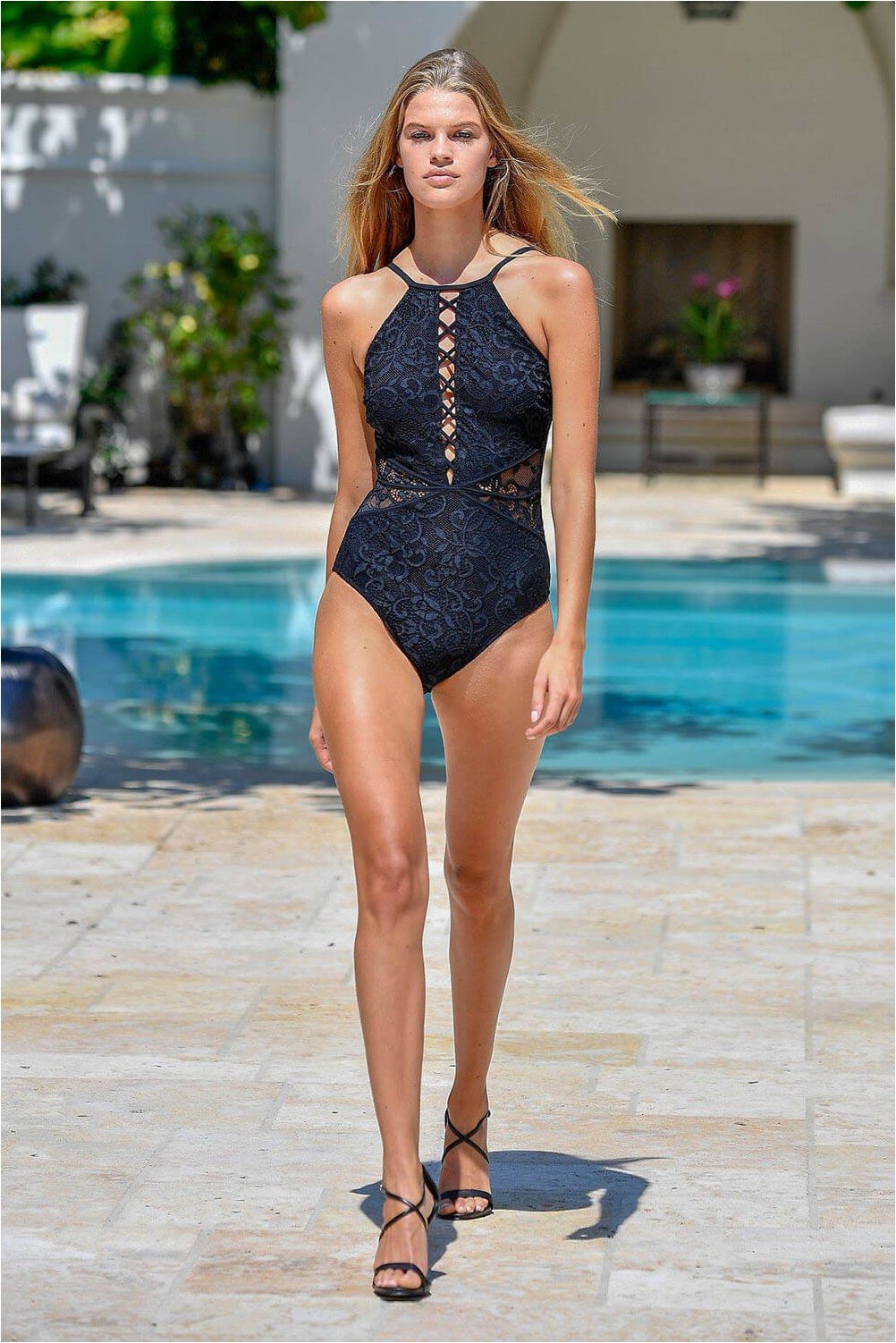 Garter print
Shawl pattern is the new hit of this summer. Motifs copied from shawls, scarves and wraps appeared on fashion swimsuits from Agua Bendita and Aguaclara. Flowers, fairytale birds, abstraction – these and other motifs have become part of trendy swimwear.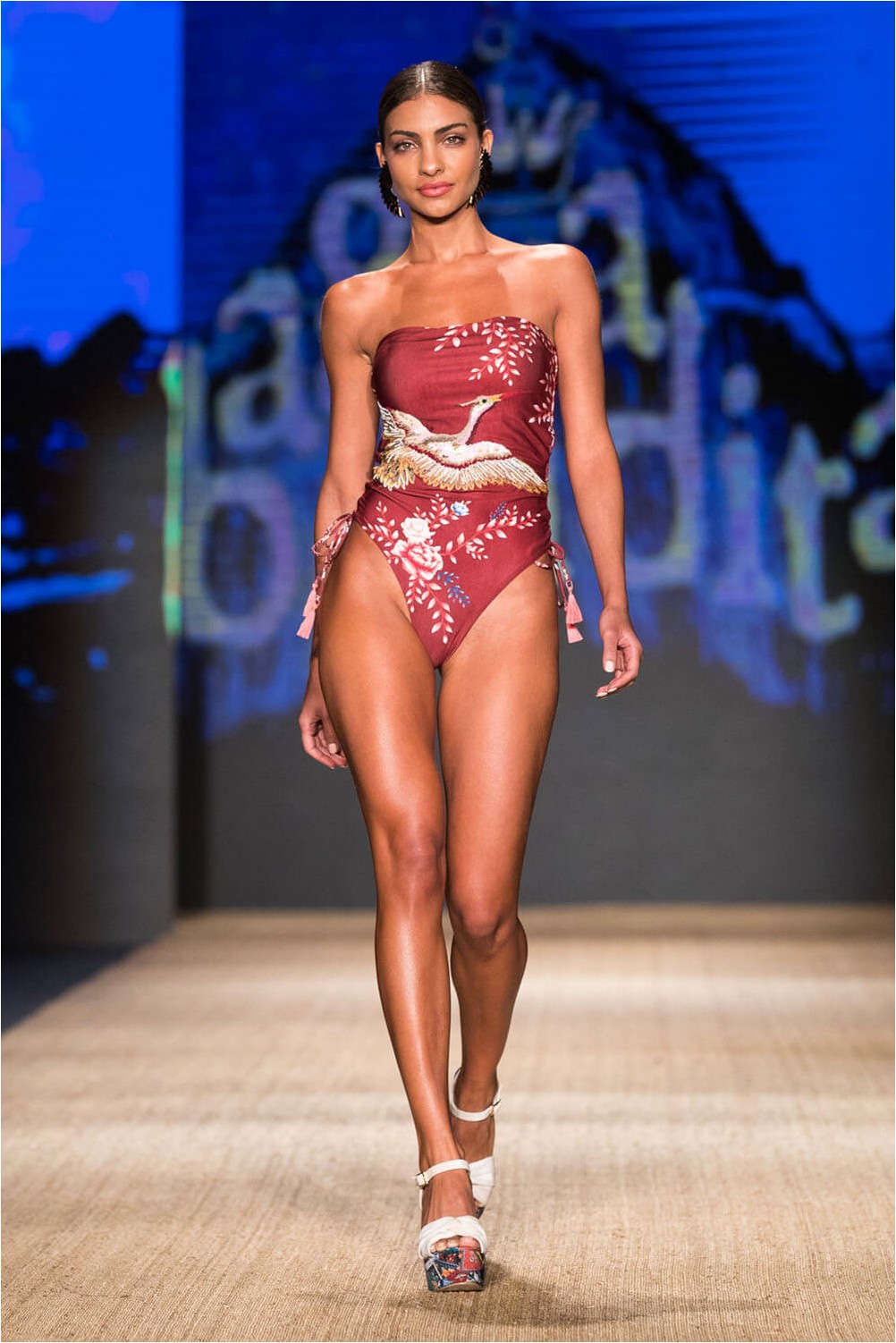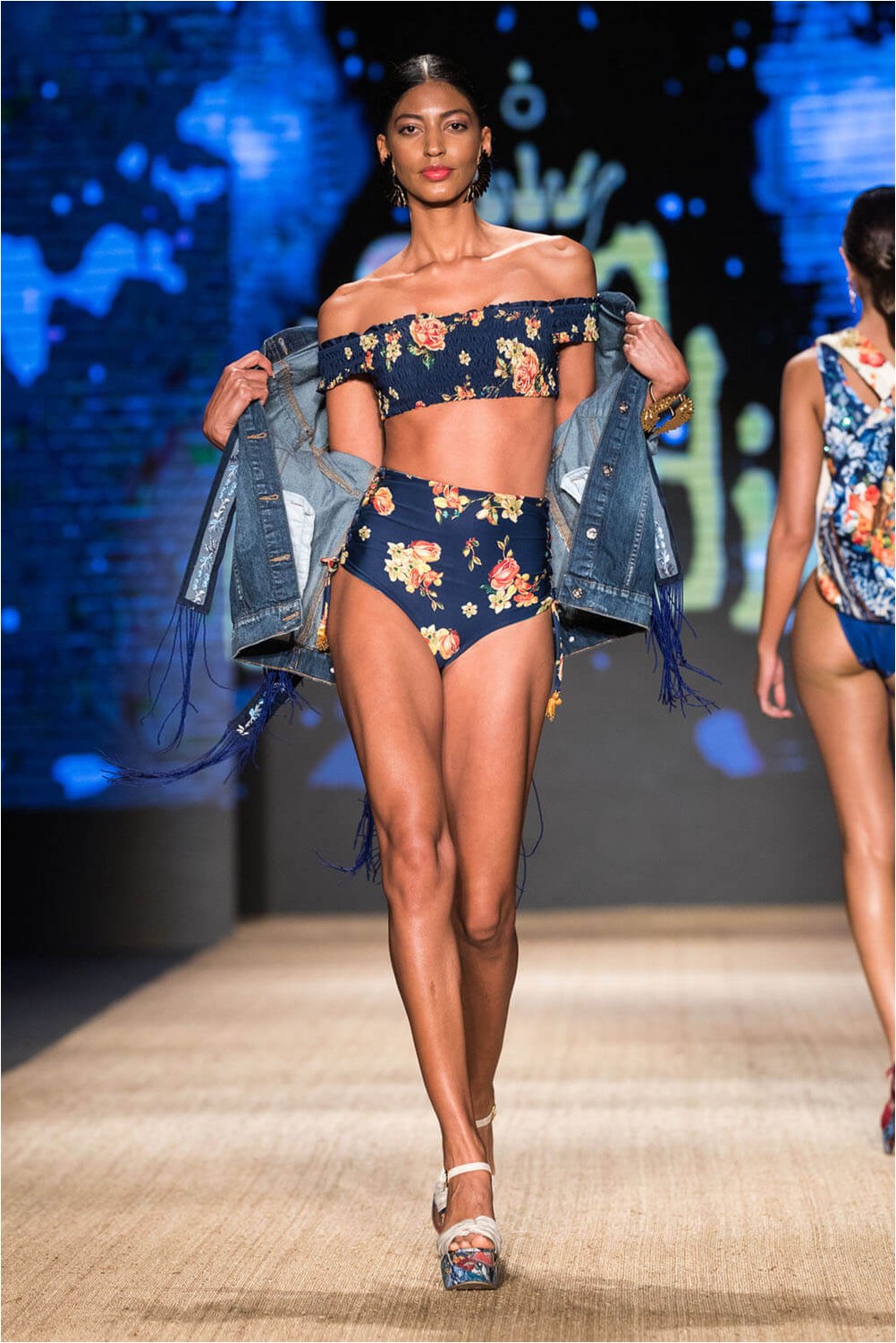 Shawl patterns on bathing suits were complemented with skirts, beach robes, pareos and wraps made of fabric with a similar pattern. The set looks stylish, it has some kind of oriental flavor.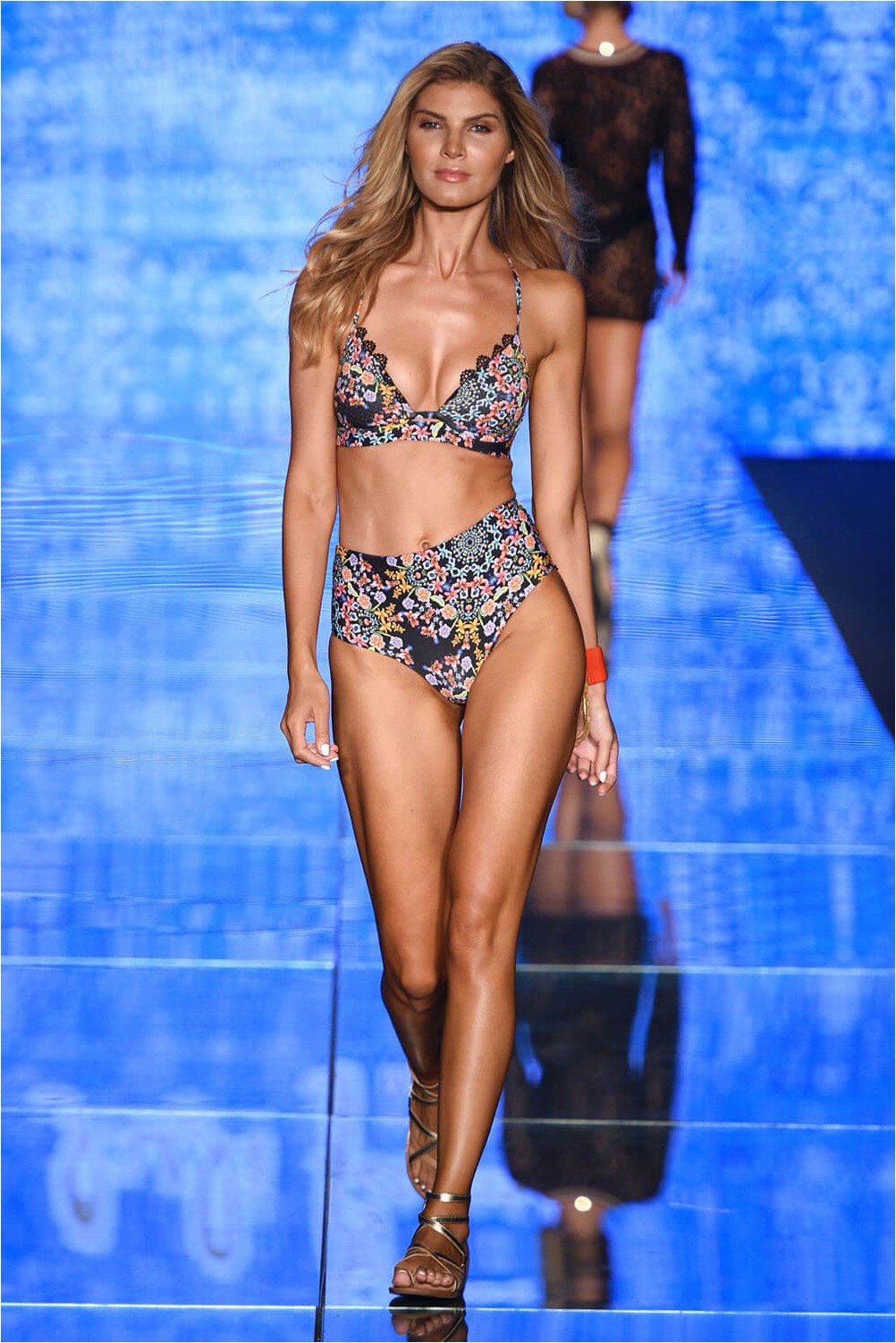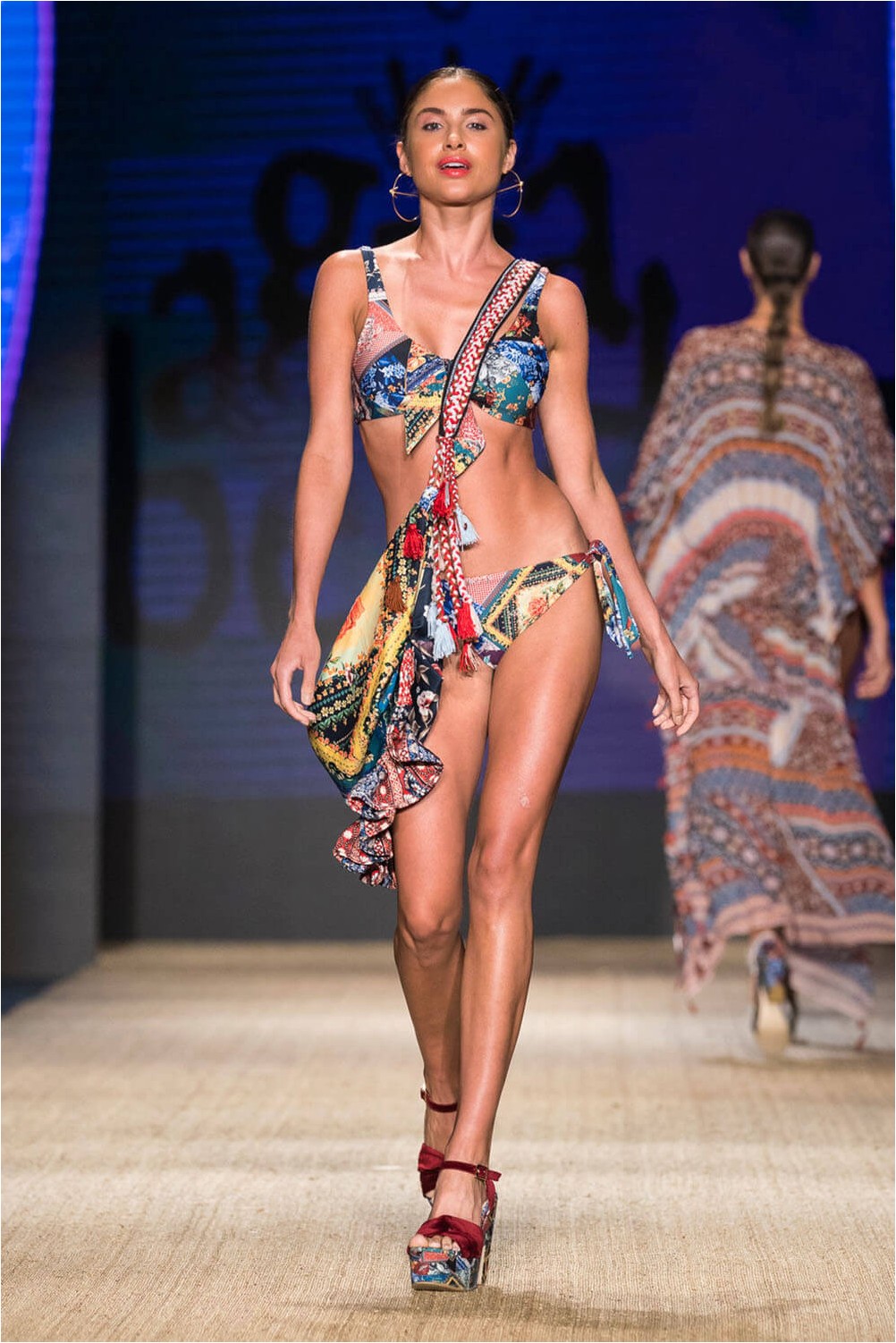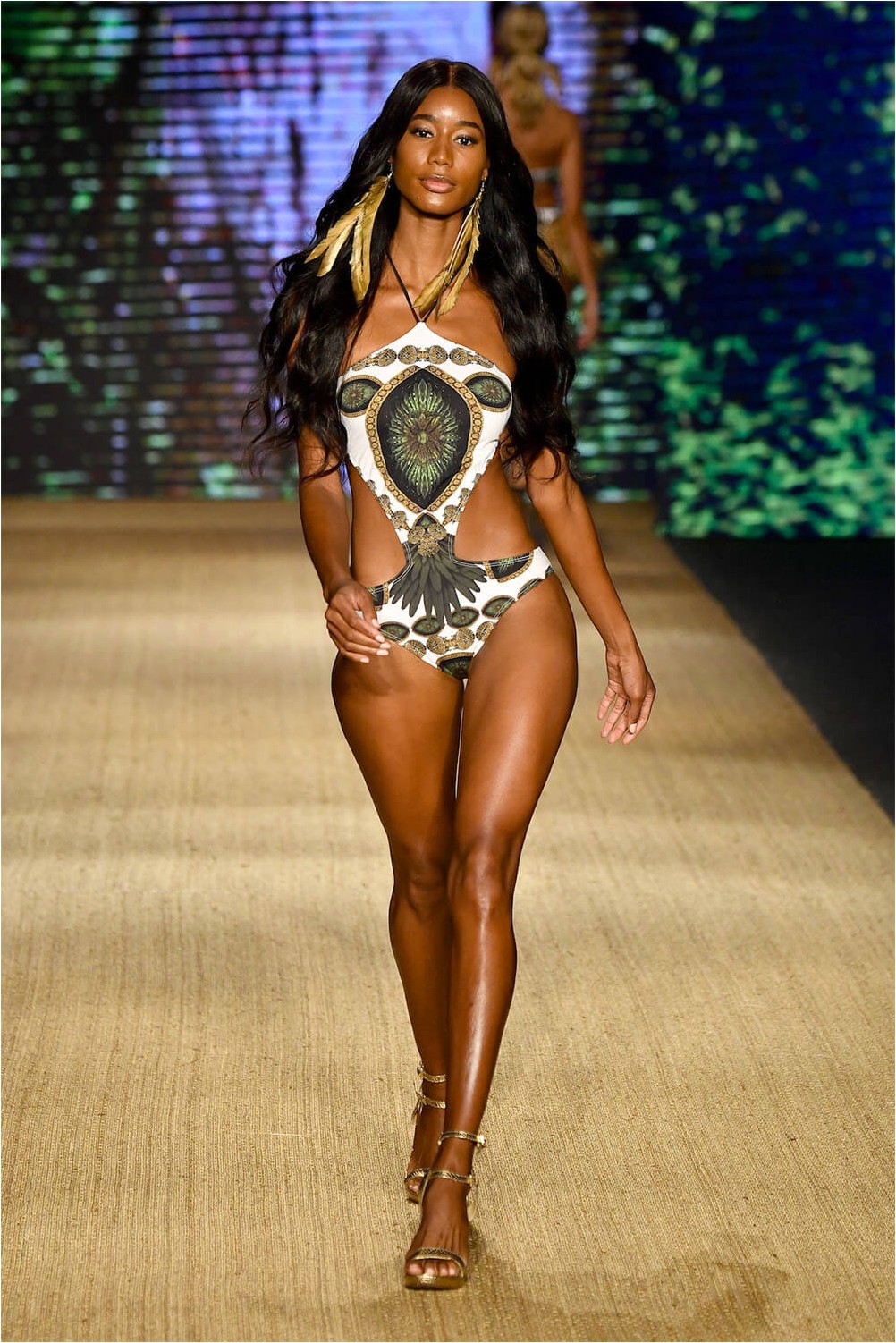 Transparent wraps
In the summer fashion 2019, swimwear could not do without evening models. They look luxurious and relaxed. After all, sometimes in the swimsuit there is no upper part, which is replaced by a luxurious translucent cape. But more restrained options are also possible – lightweight long robes with a floral, marine or predatory print.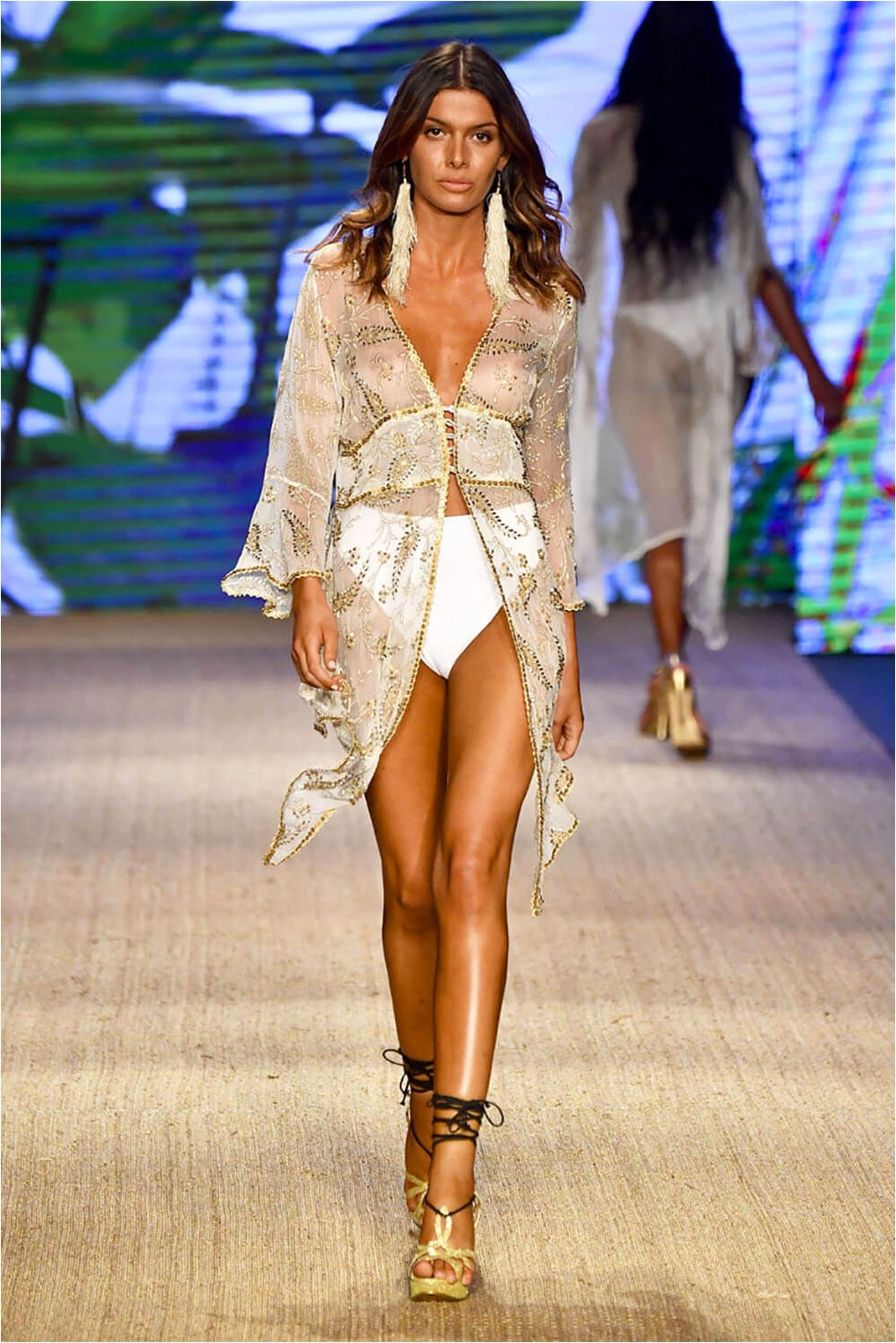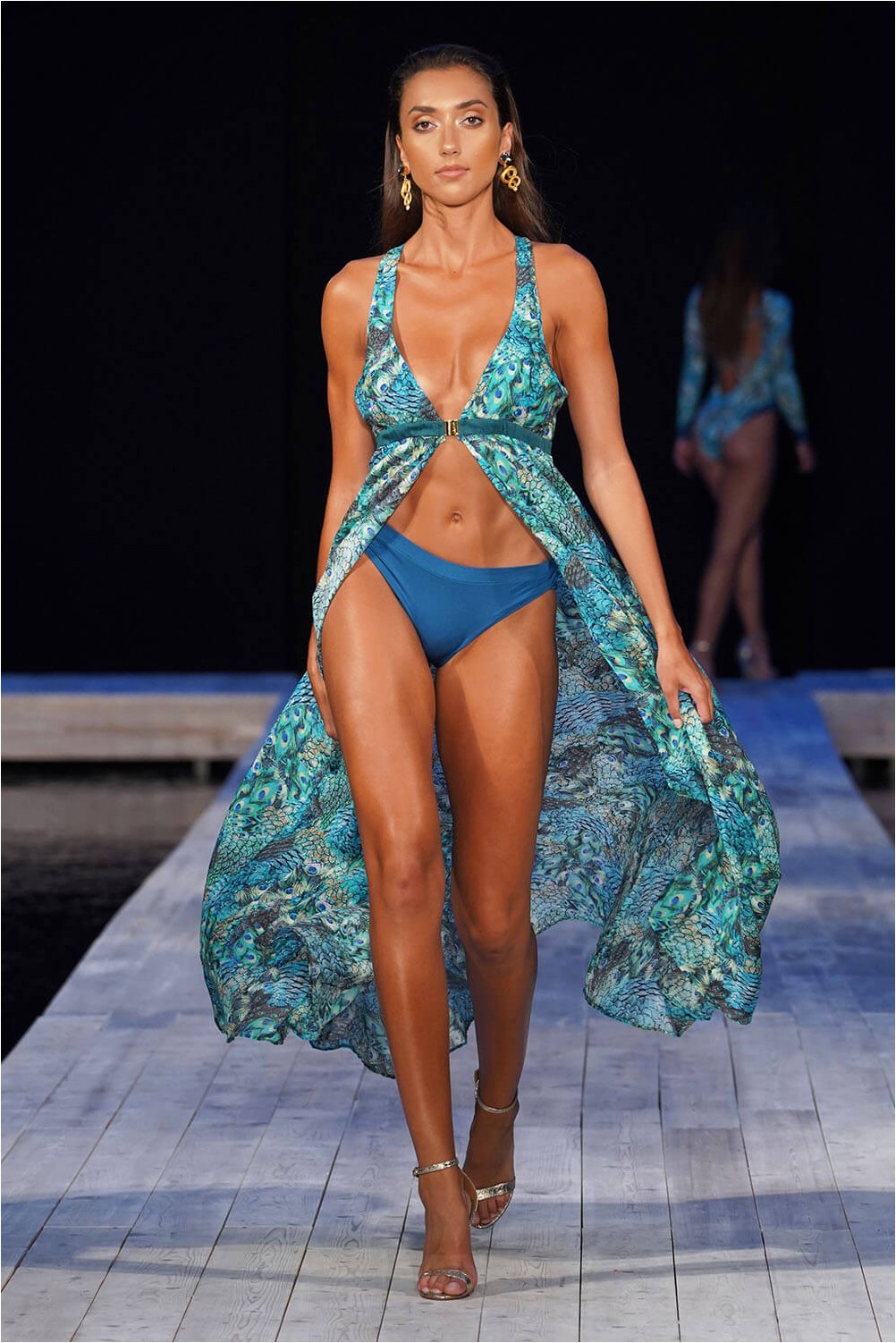 By the way, you can add a swimsuit not only with a transparent cloak. Designers suggest wearing a swimsuit paired with a light chiffon skirt, a long summer dress or a colorful sundress.
Belts
In the last summer season, fashion catwalks conquered swimsuits with suspenders. In the fashion of 2019, there was also a place for stylish and original experiments. One of which was a swimsuit with a strap. The most standard option is a belt fastened at the waist of a closed swimsuit. More extravagant solutions are straps that envelop both parts of a separate swimsuit. Transparent wide belts over closed swimwear look unusual and fresh, as in models from Monica Hansen.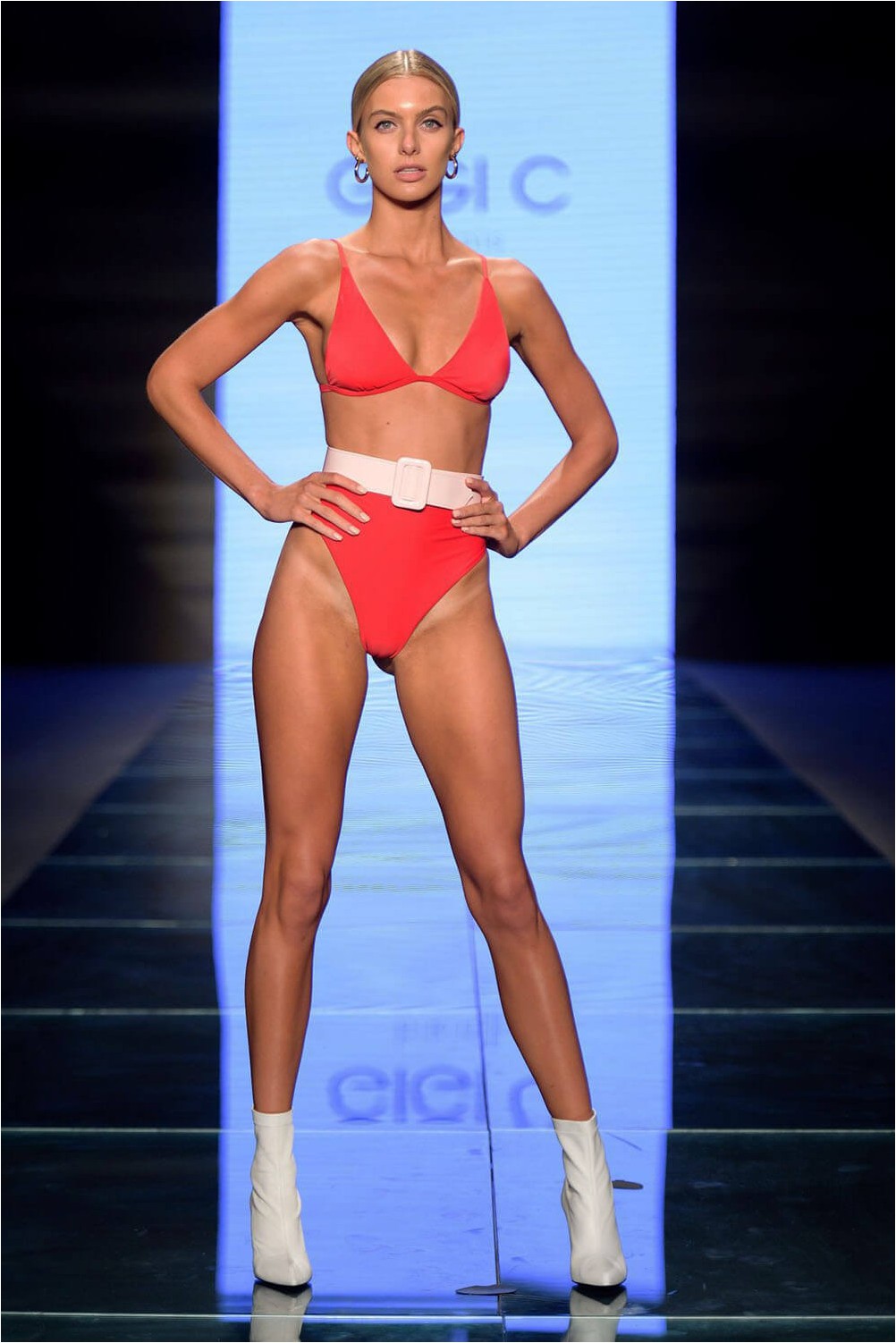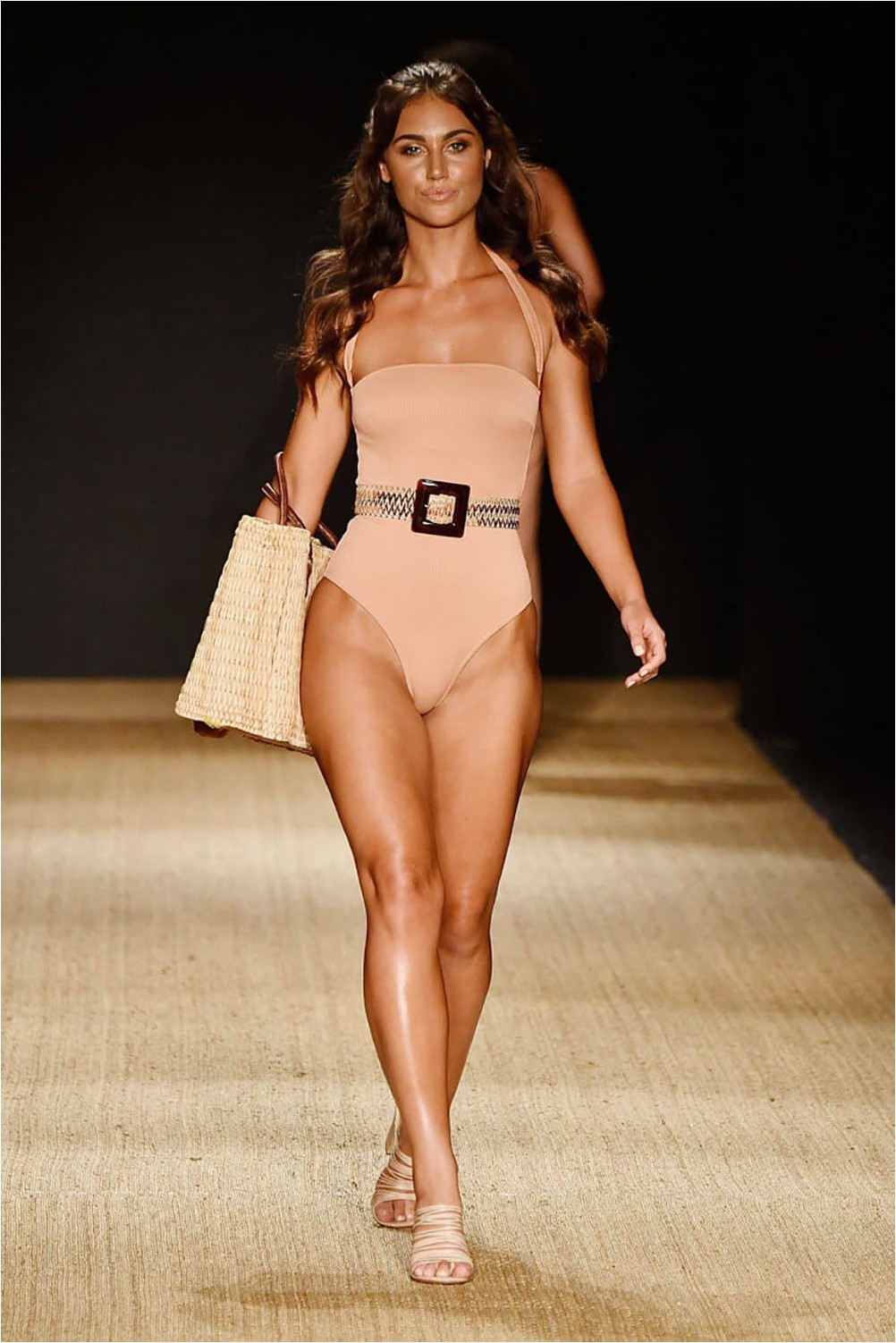 For those who love extraordinary solutions, a waist bag in a set for an open swimsuit is suitable. There is also a practical side to a beautiful accessory – the most necessary little things will fit in your handbag. Well, the fact that waist bags have been in the top of fashion accessories for several seasons in a row, and there's no need to say.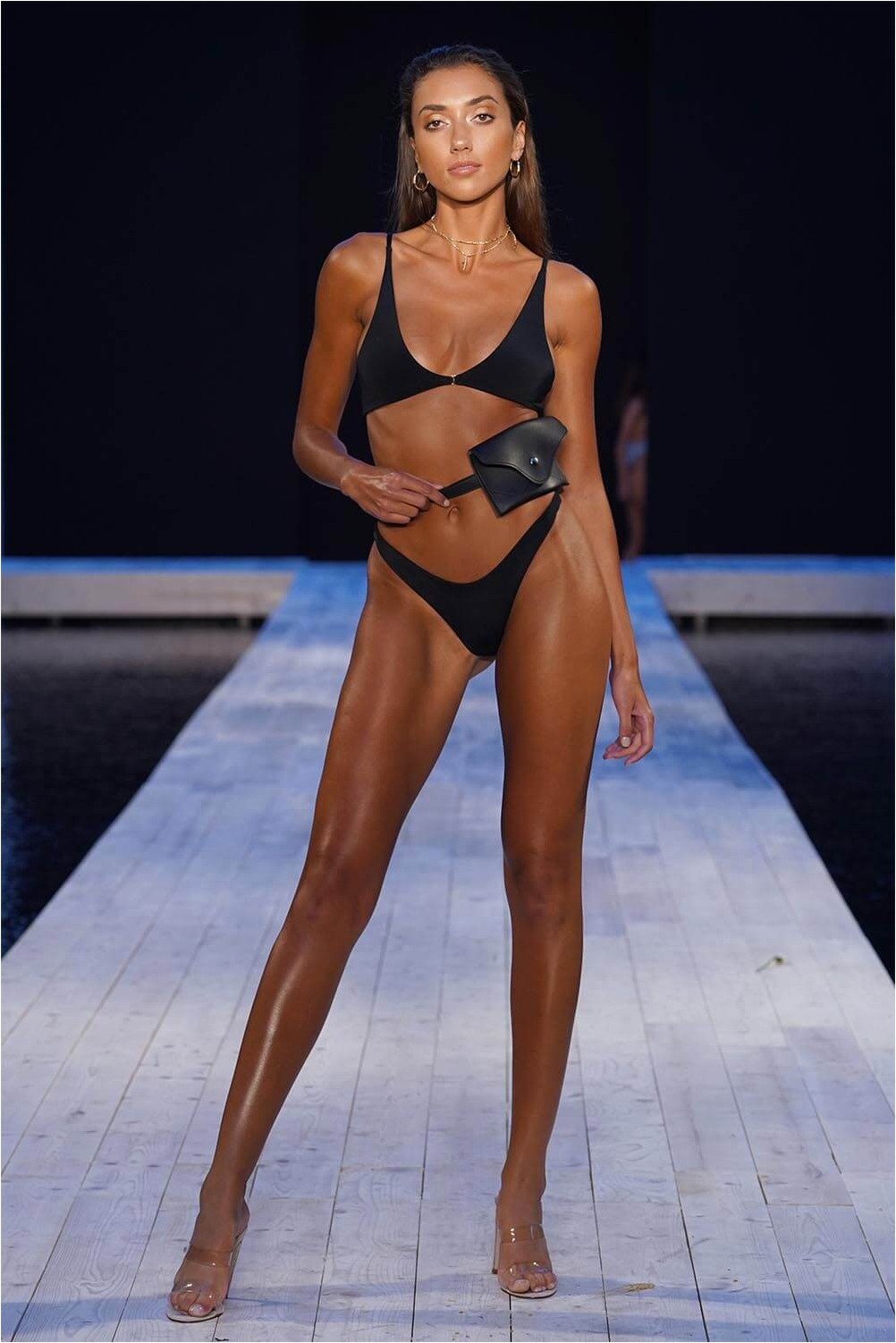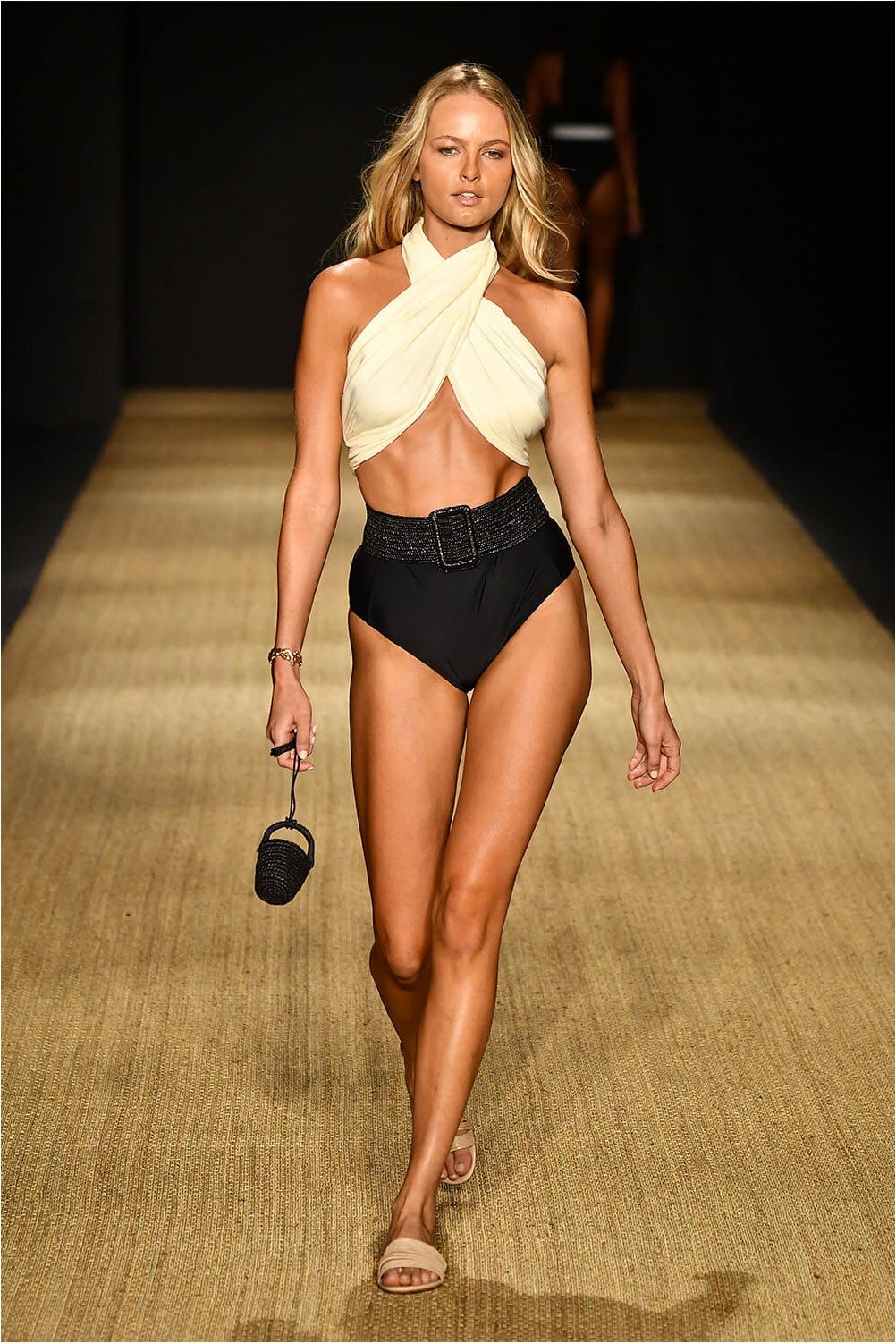 Retro fit
The style of the 80s is the most demanded among all retro trends today. High-waisted open swimsuits and a no less high hip fit are a hit in the summer season of 2019. The top can be borrowed from a bikini, bandeau or halter.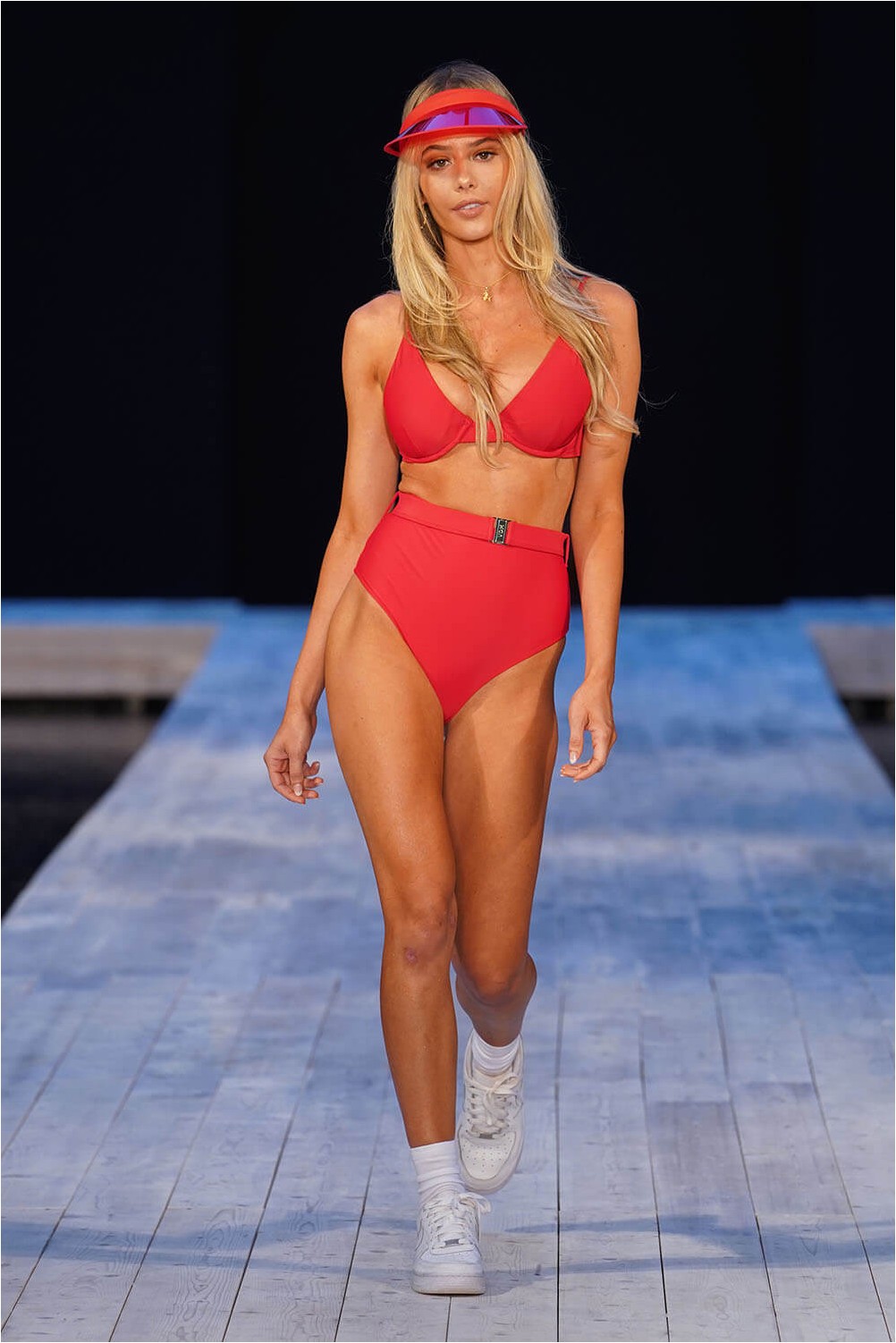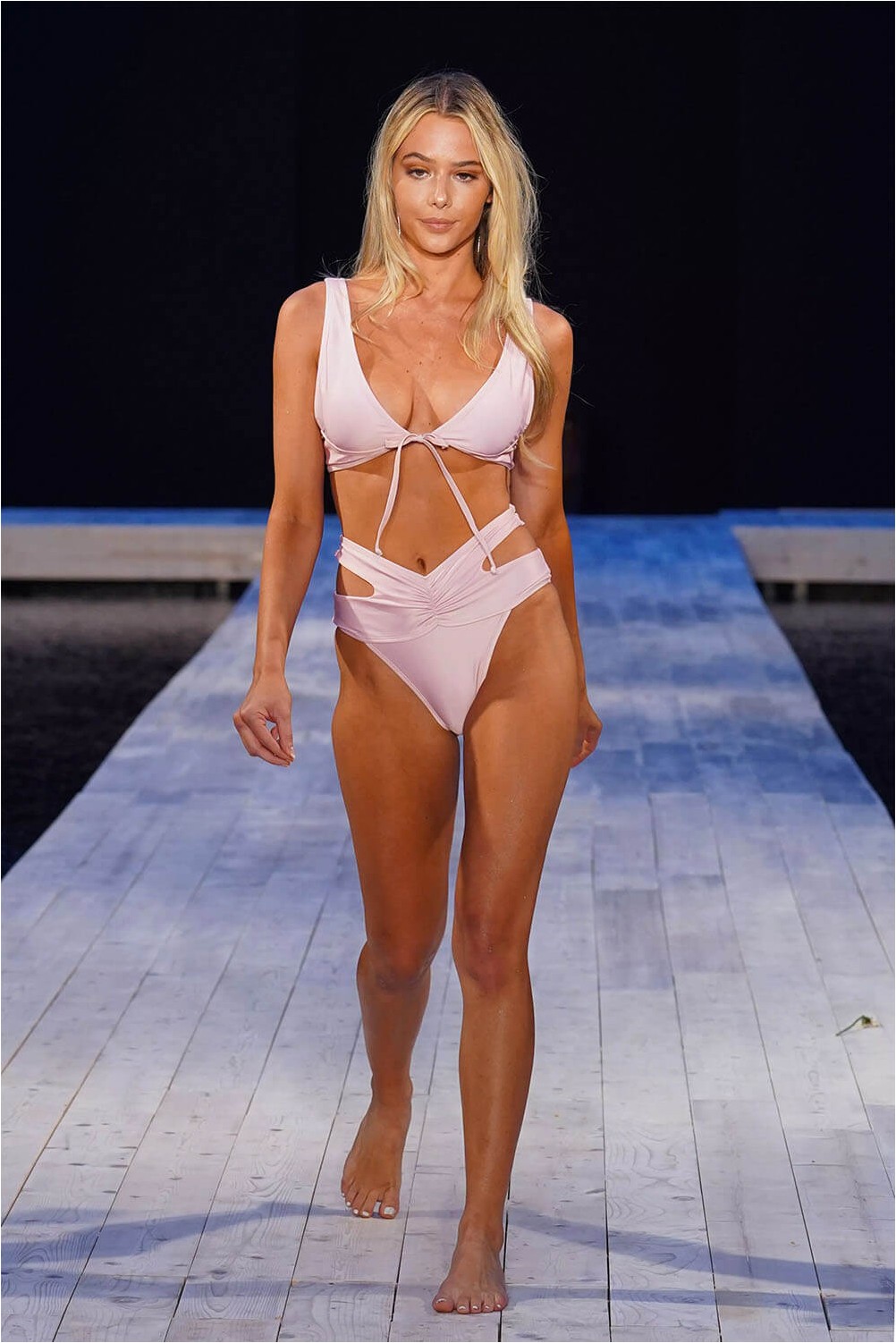 The combination of a wide bottom and an ultra-short mini-top creates a stylish, youthful image. In addition, wide shorts will allow you to slightly align the proportions – visually narrow the waist, expand the hips and tighten the stomach.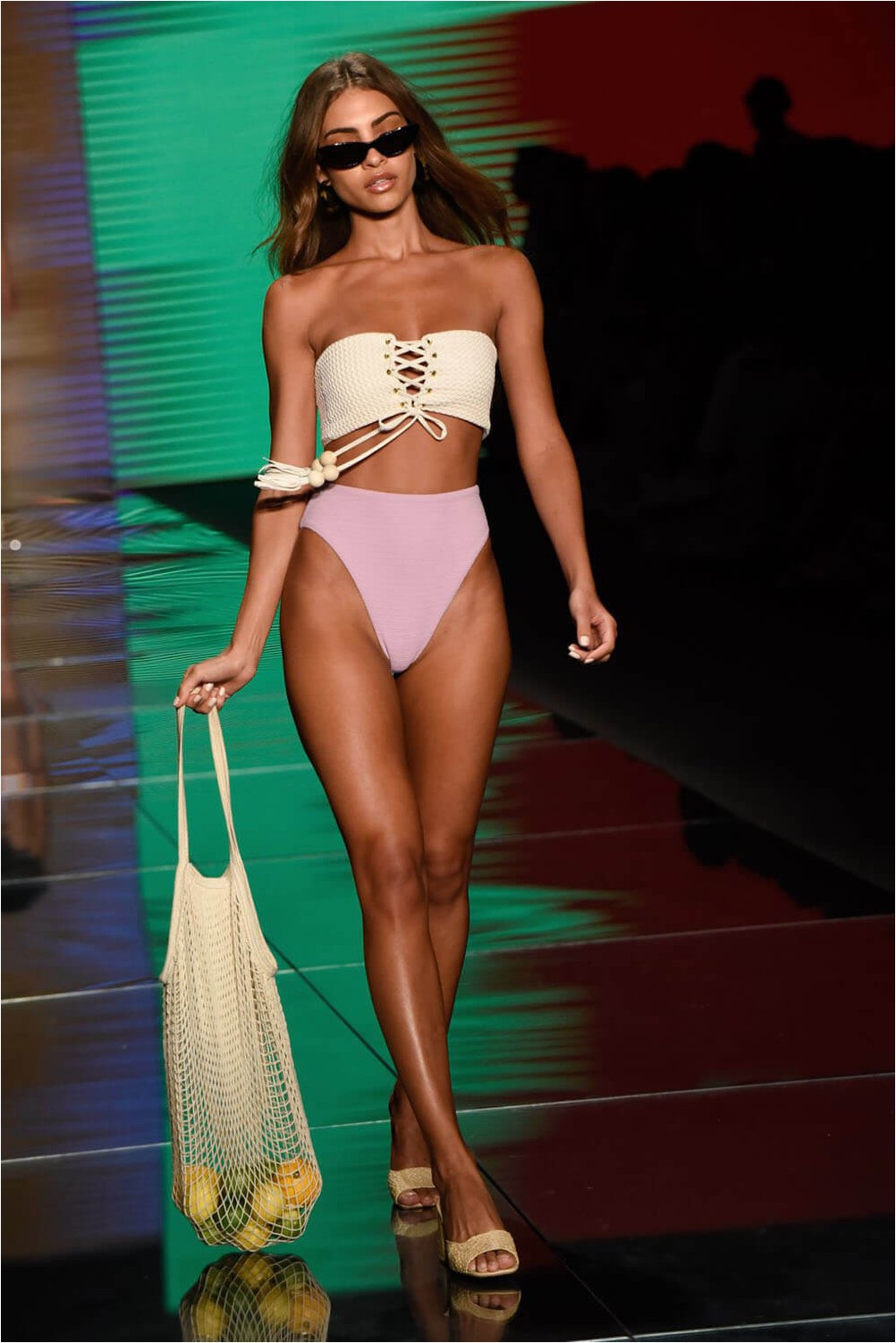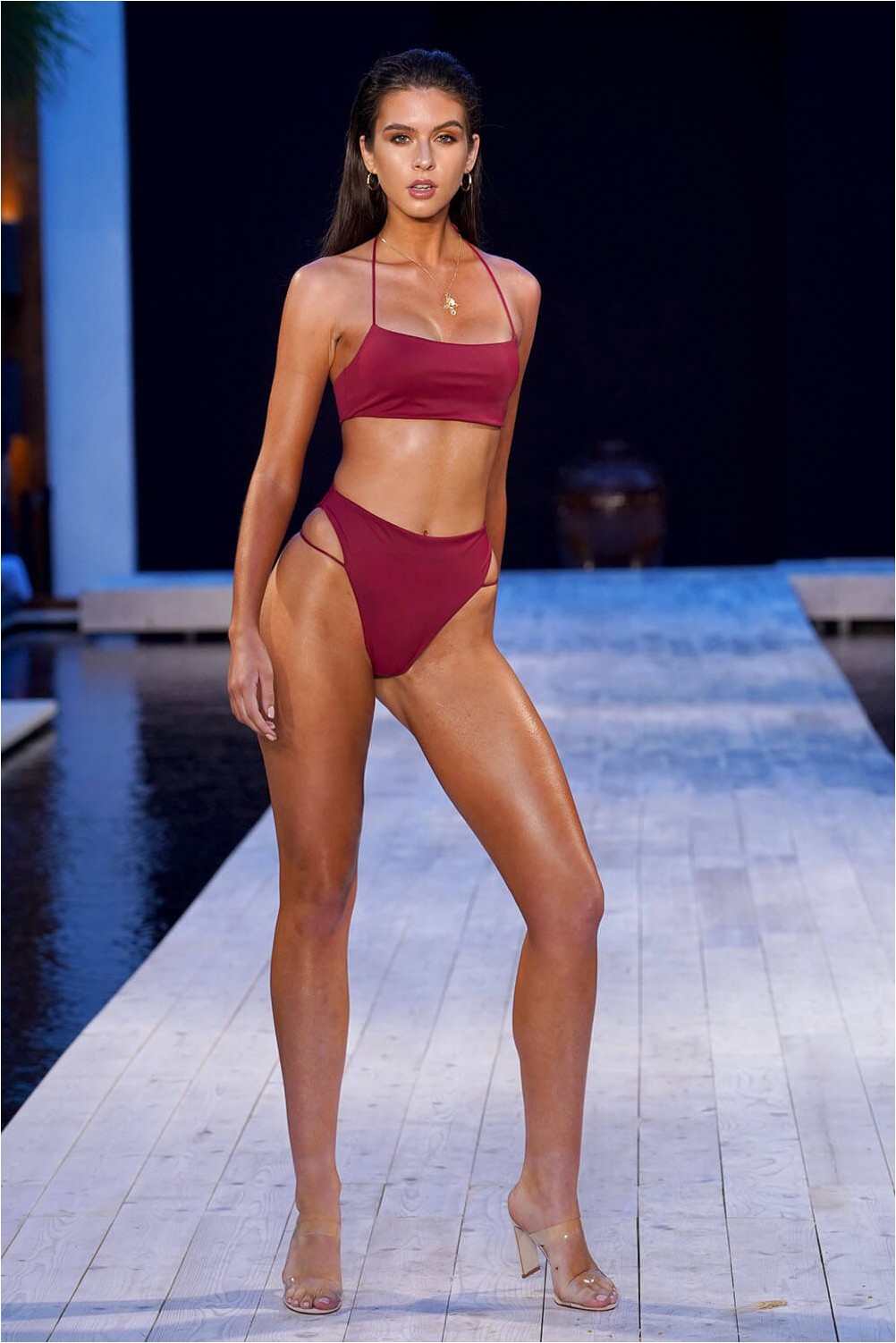 Crochet
Needlework is the most popular trend of 2019. Crocheted swimwear entered the top of the most fashionable novelties of the summer season. A couple of years ago, crochet technique already conquered a fashionable Olympus. A real boom then caused a pattern called "grandmother's squares".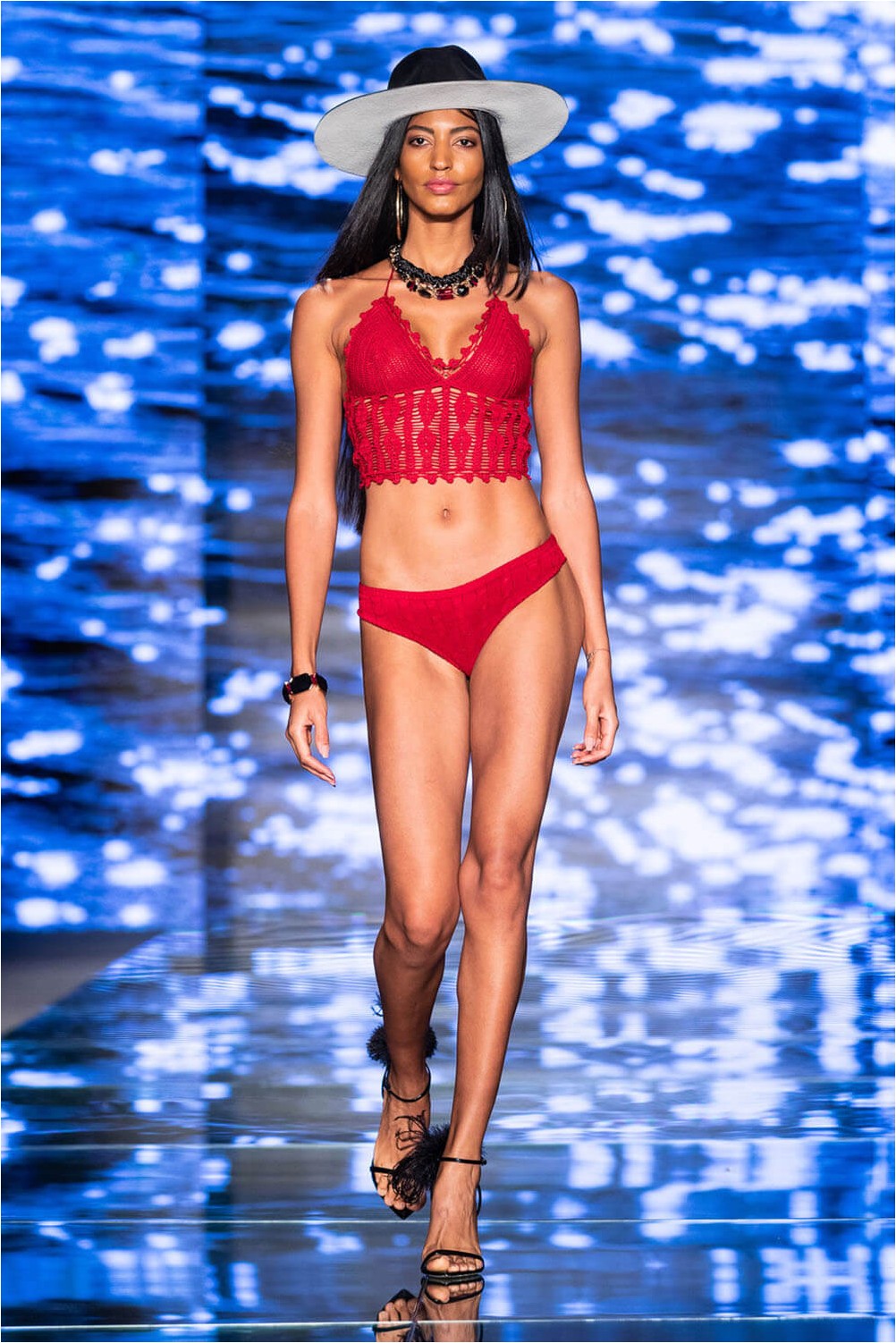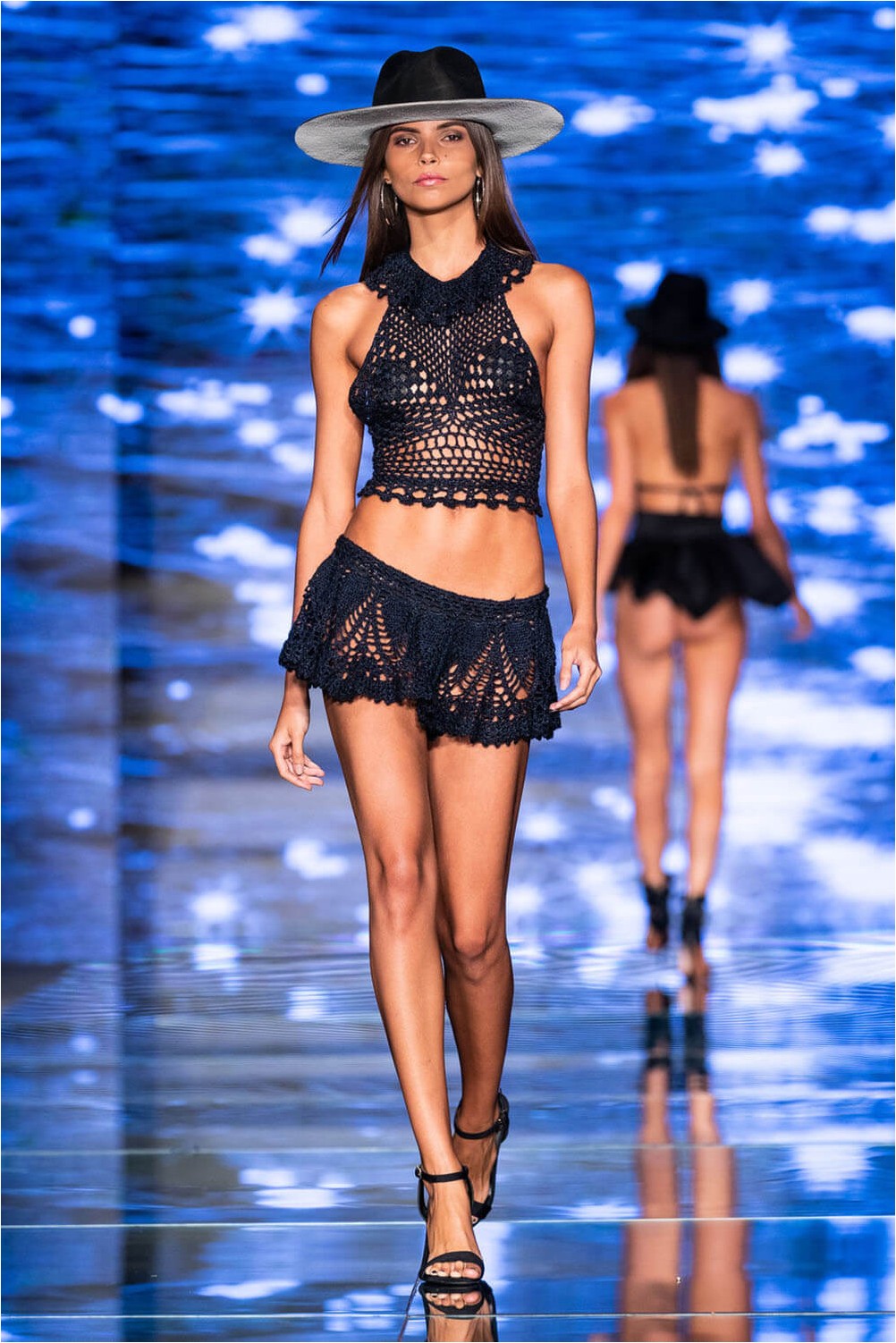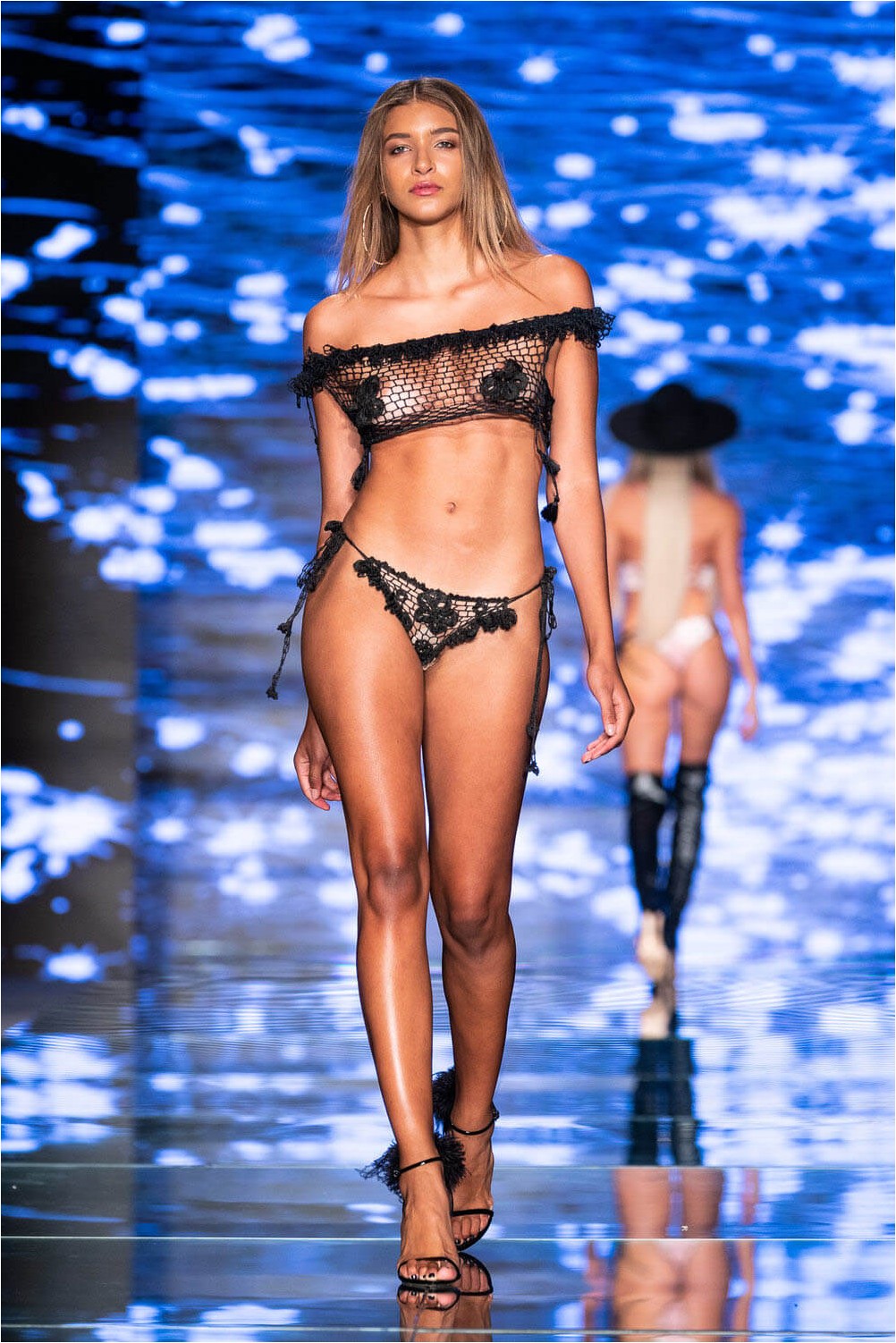 Now other motives are in fashion. In connection with the revival of interest in marine subjects on swimsuits, knitting in the form of a mesh appeared. Bathing suits connected by a lace look very expensive and beautiful. Swimwear with a short skirt and a lace top are becoming relevant. True, only the most brave fashionista dares to put on such mesh, glowing through sets.
Top Carmen
The new trend of the beach season 2019 is a swimsuit in the Carmen style. Its uniqueness is a top with lowered shoulders. For greater resemblance to the clothes of the Spanish beauty, feminine shuttlecocks are launched along the edges of the swimsuit. Sometimes the effect of airiness and lightness is achieved due to the canvas collected on small gum. And, of course, such an image is simply impossible without a colorful floral print.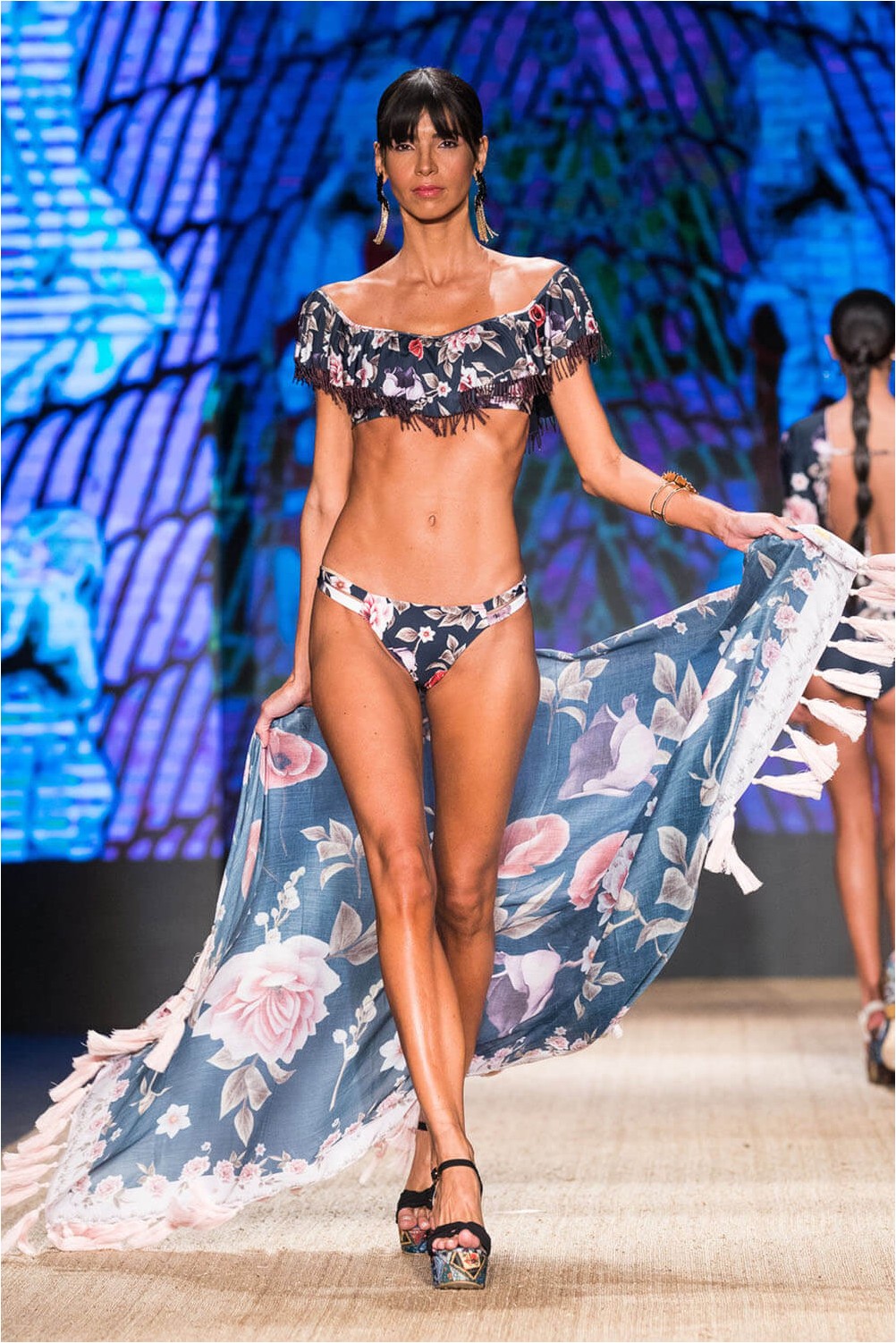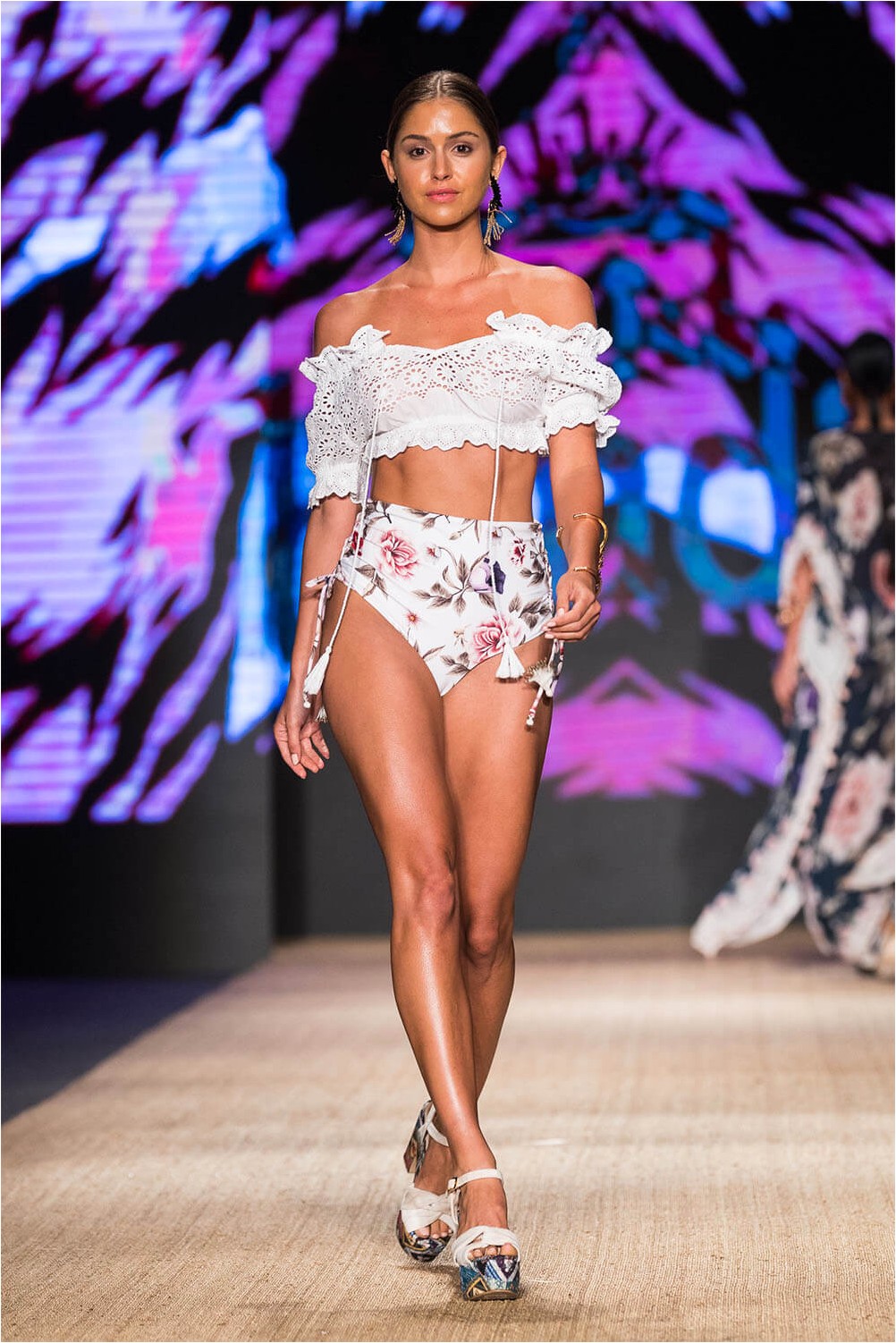 You can complement the kit with a beautiful pareo with tassels or a long beach skirt with high cuts. Light Turkish pants with elasticated cuffs look good in combination with a top with shoulders down. A beautiful and summer-like bright image in the Carmen style was created by designers as part of the Agua Bendita collection. Fashion designers presented a collection of swimwear in the style of "Carmen".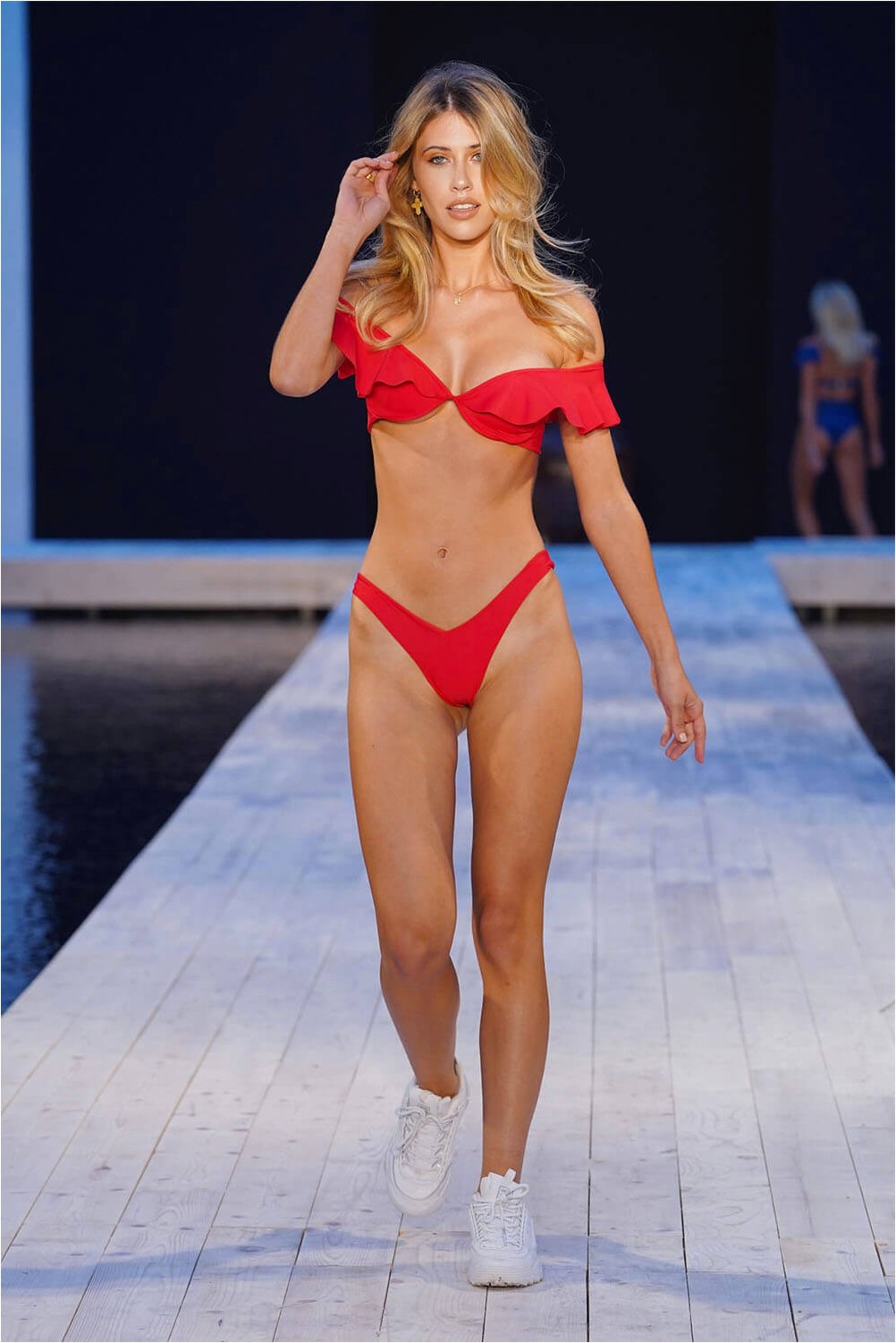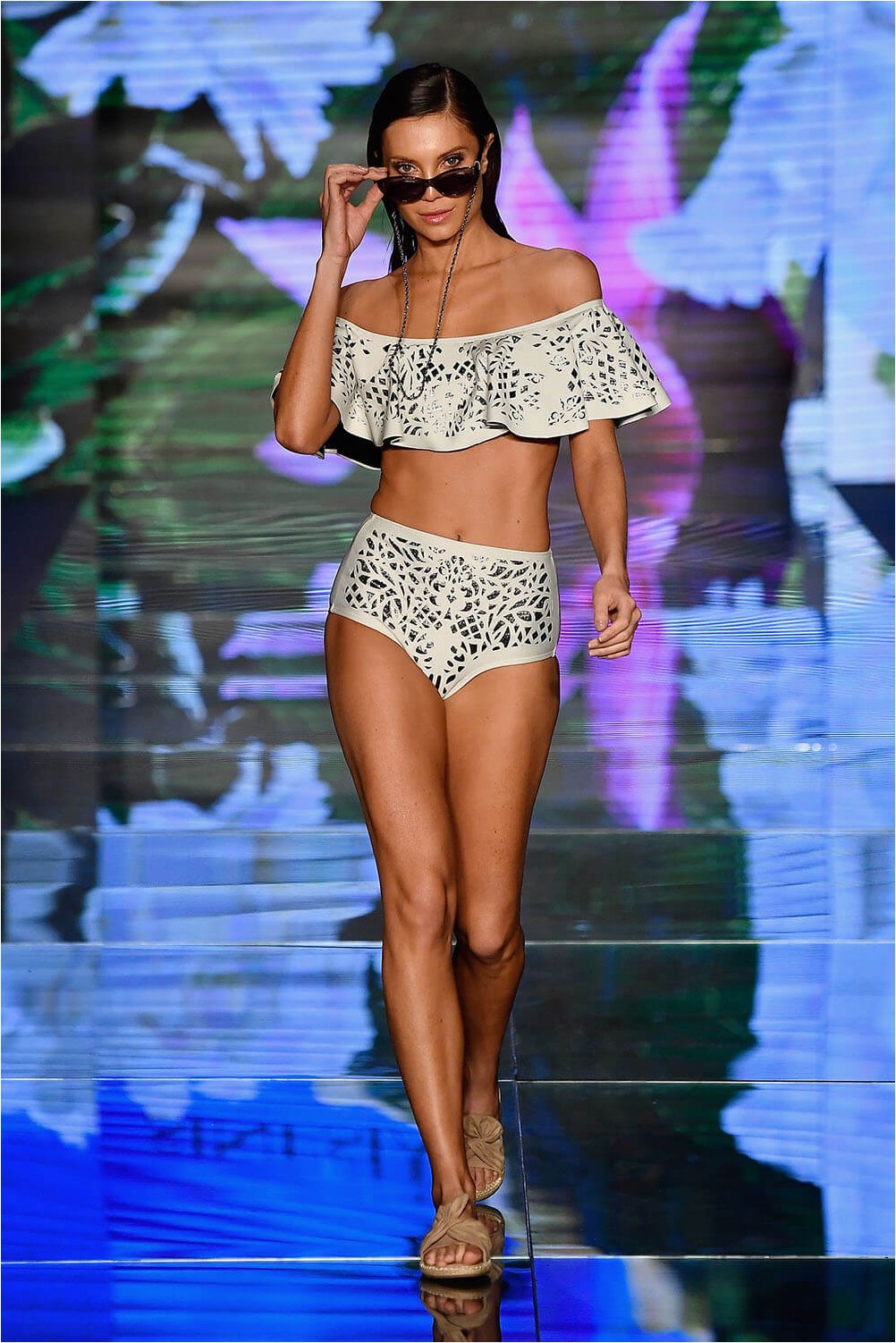 Tropical motifs
Prints with tropical motifs are the most natural patterns for a beach holiday. It is not surprising that they appeared among the fashion trends of the spring-summer season 2019. Large leaves, exotic flowers, bird plumage, strange plants – these and other motifs borrowed from tropical flora and fauna became the leitmotif of the summer swimsuit collections..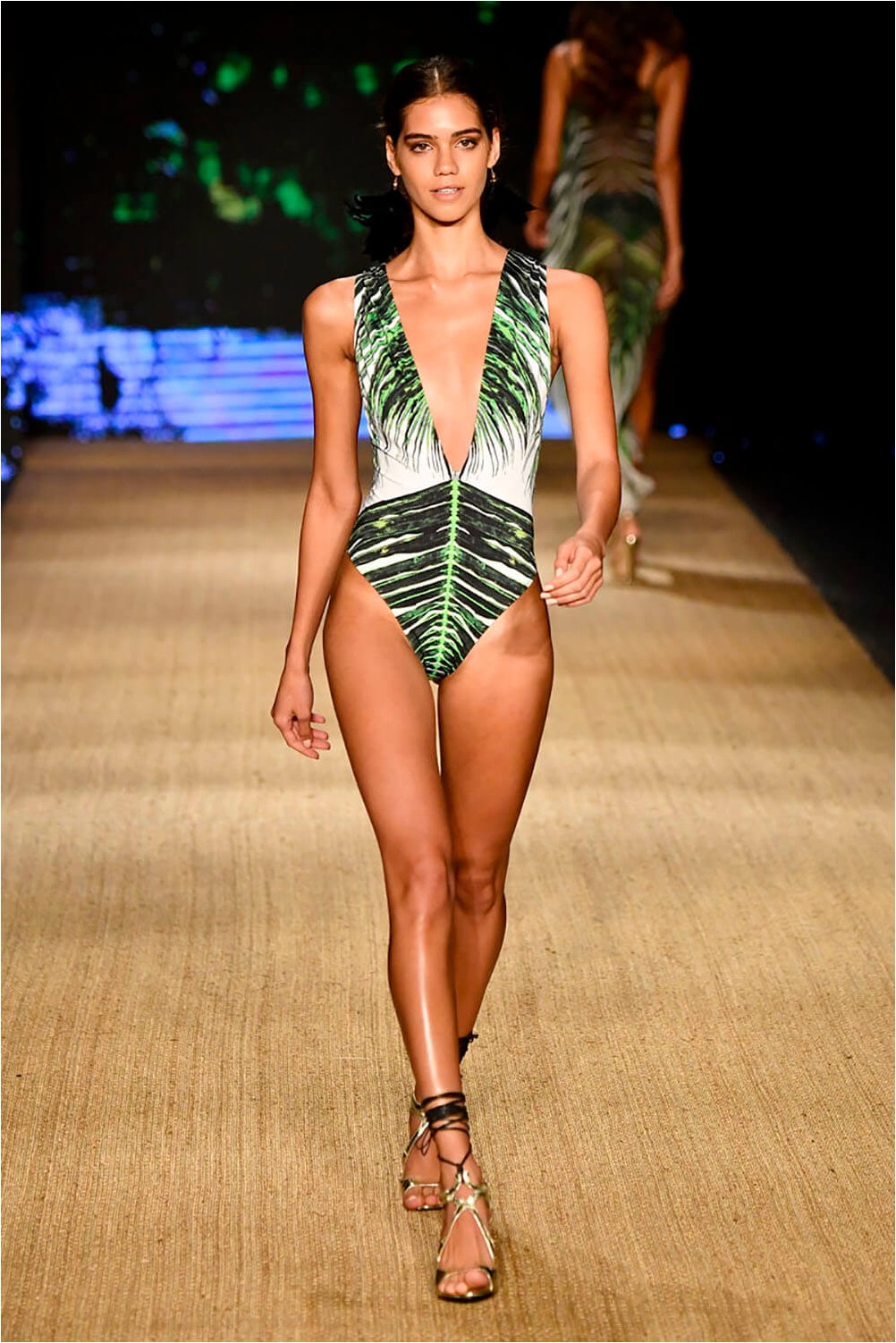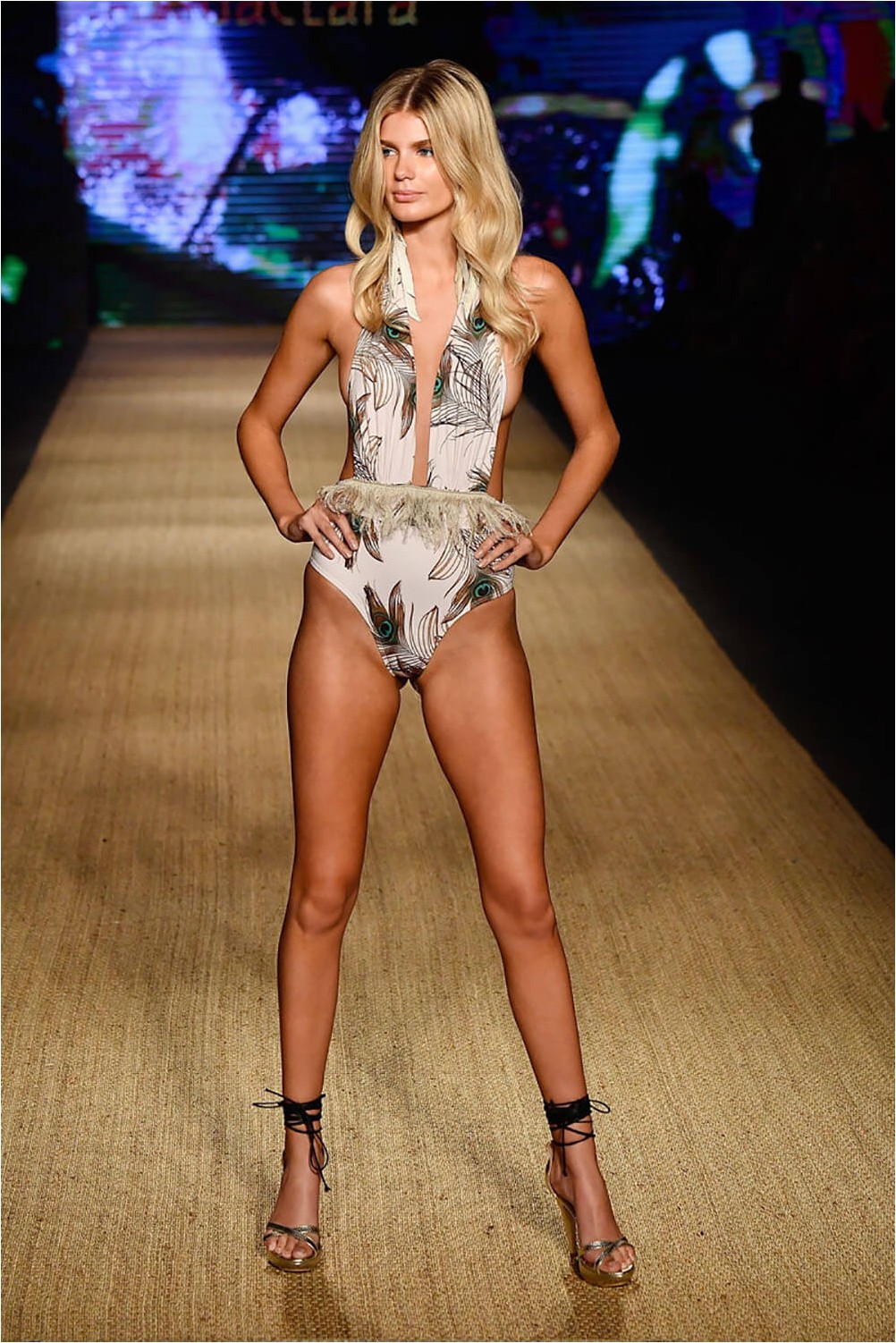 A stylish solution was proposed by the brand Aguaclara. The designer created a variation on the theme of the tropics using a print in the form of palm leaves. Her plunge, bikinis and bathing sets with wraps look fresh, give the image a joyful, summer mood.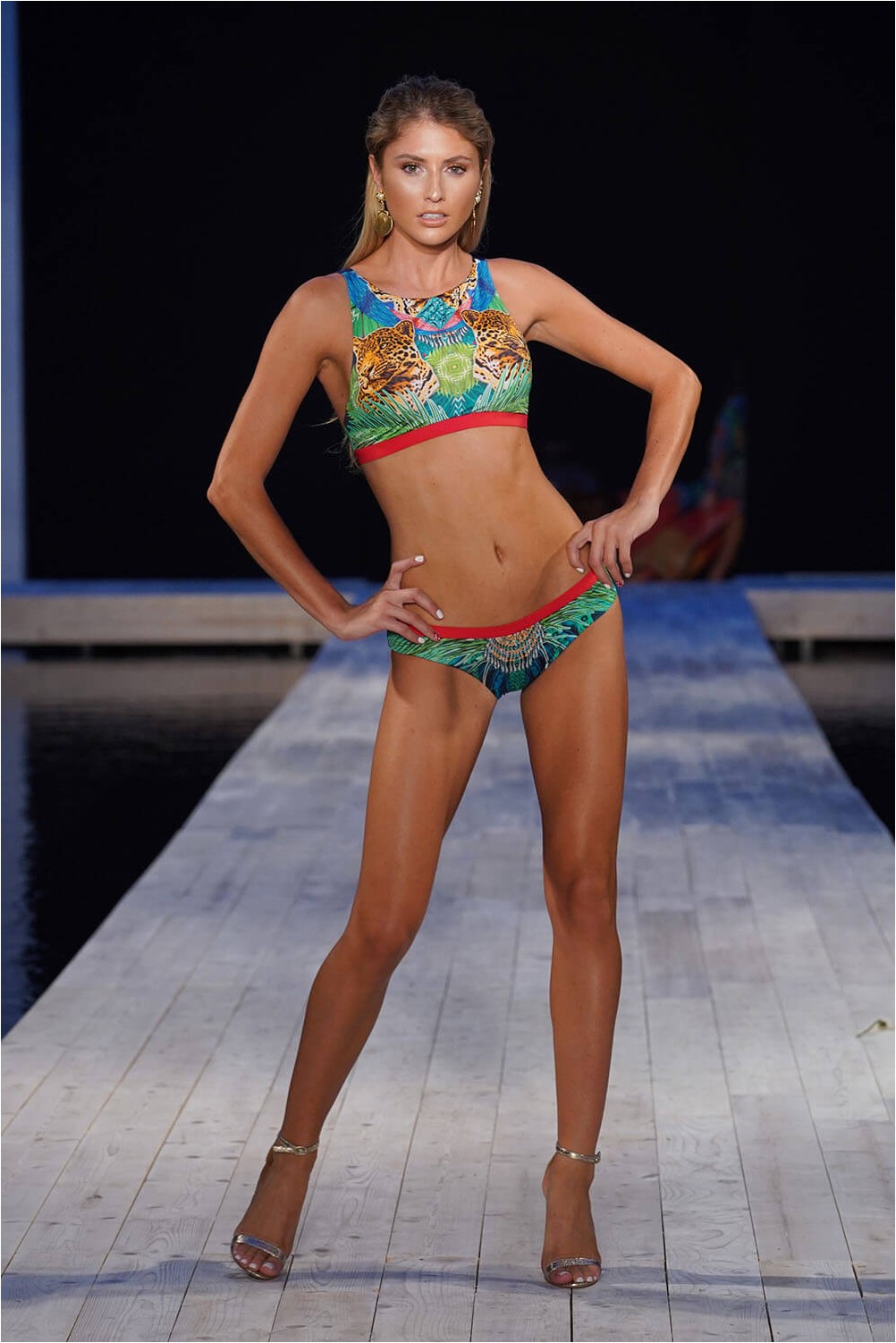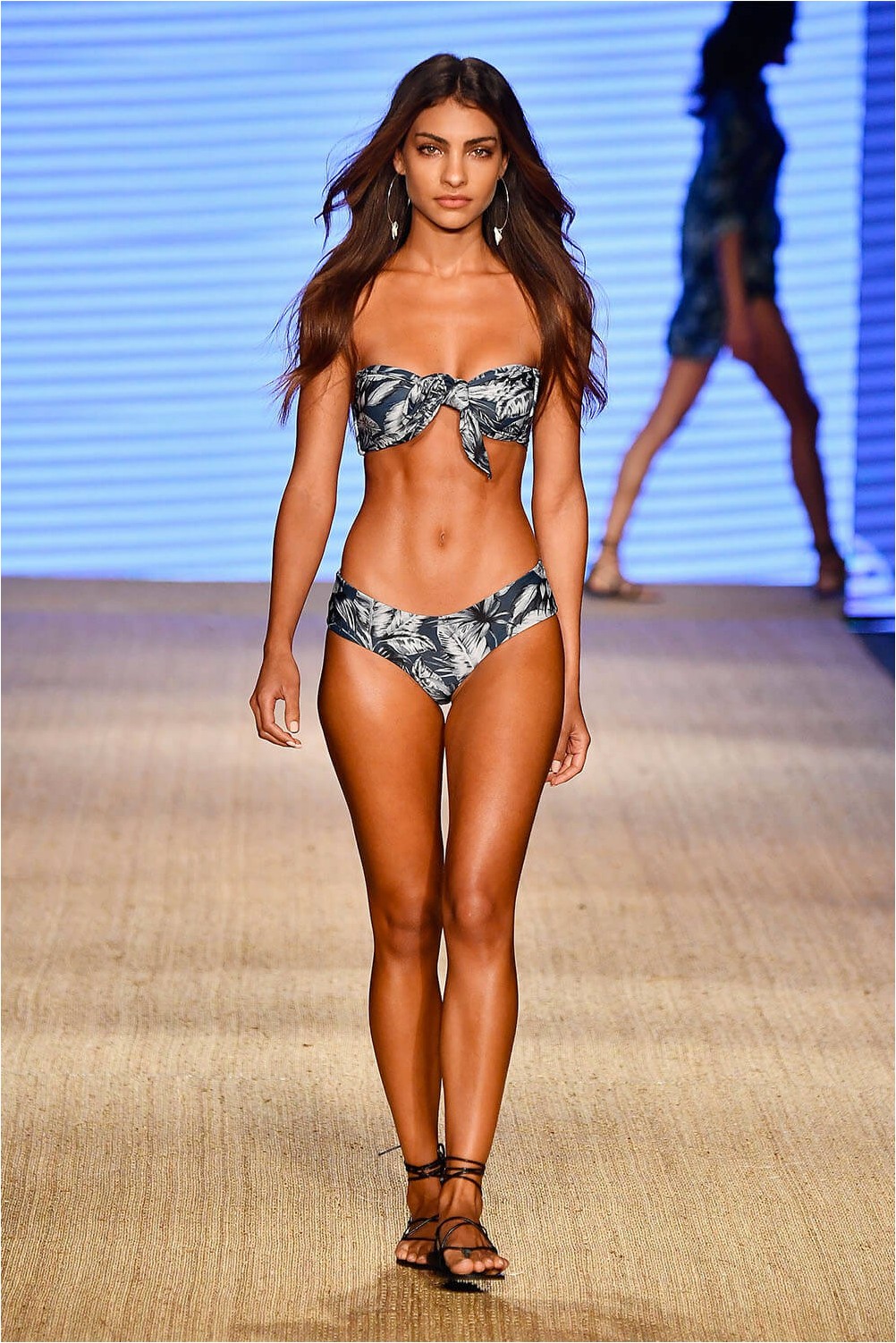 Predatory print
The theme of hot countries continues with animal prints. Drawings of tigers, leopards, jaguars and other predators are still relevant. In particular, designers spotted a spotted leopard print. And this is absolutely not surprising – this color scheme is perfect for bronze tan on the skin.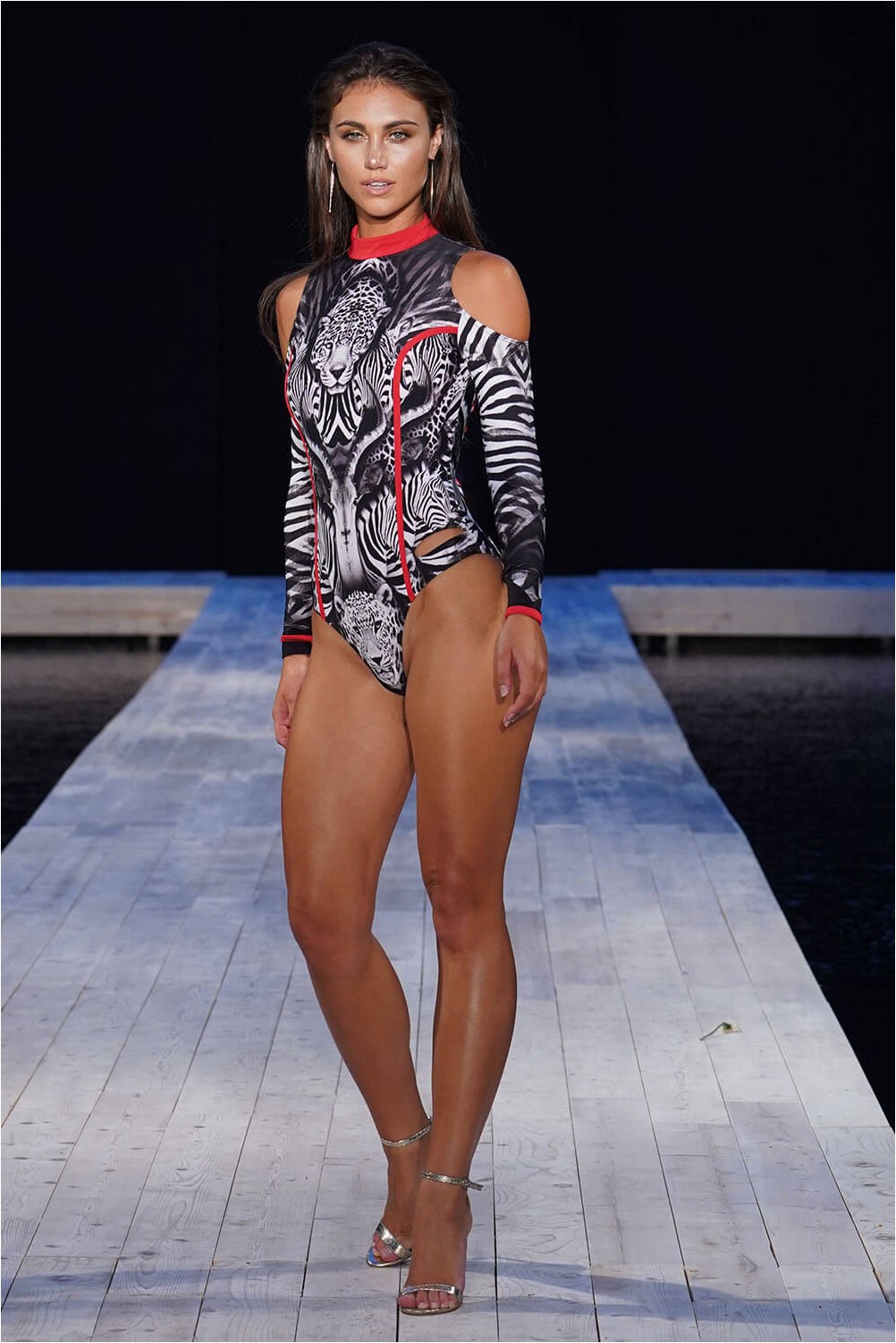 The best fit for a leopard print is a bando, bikini or halter. If you want to add a cloak or shawl to your image with a predatory print, then it is better to choose a plain color. So your image will not be overloaded with variegated drawings.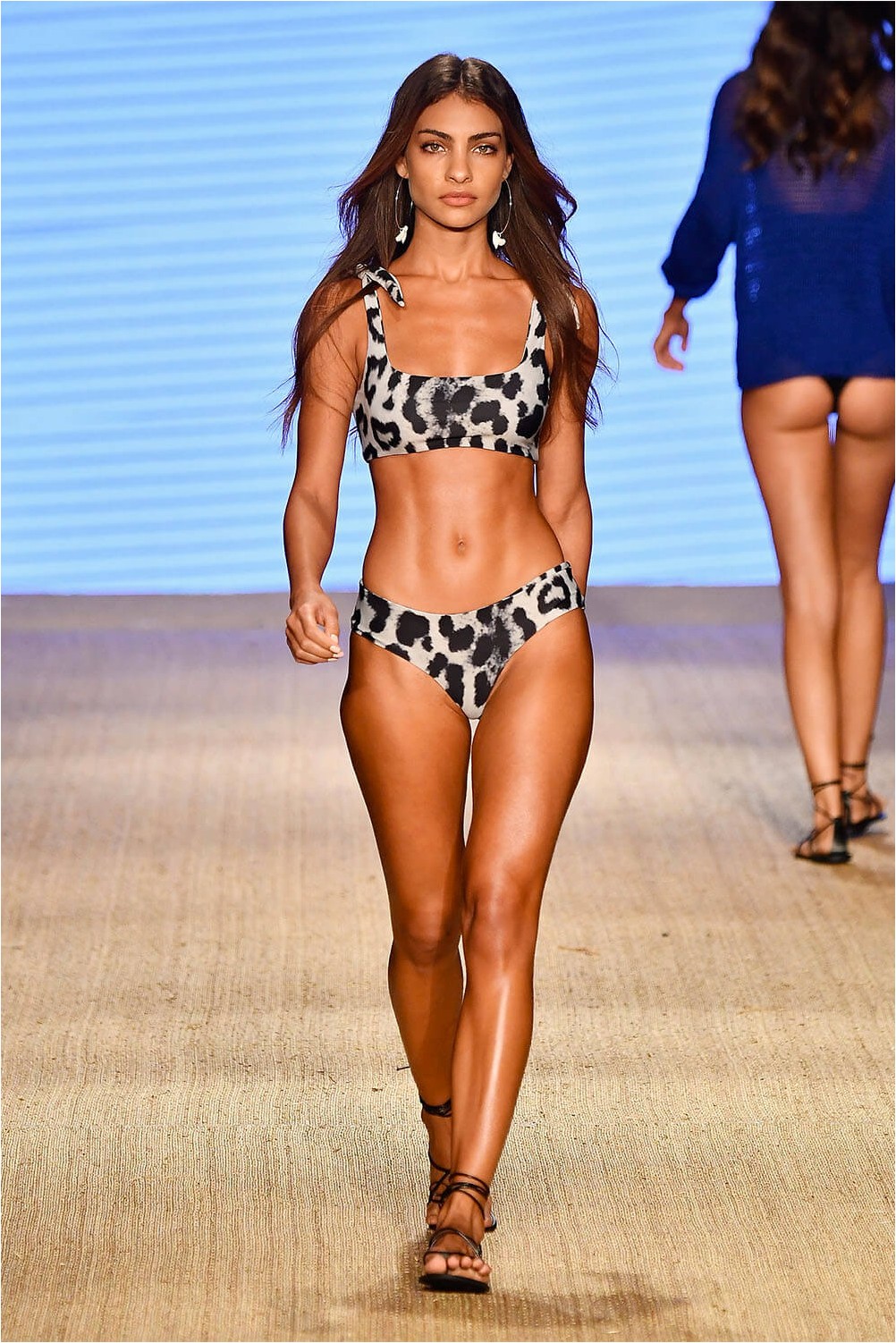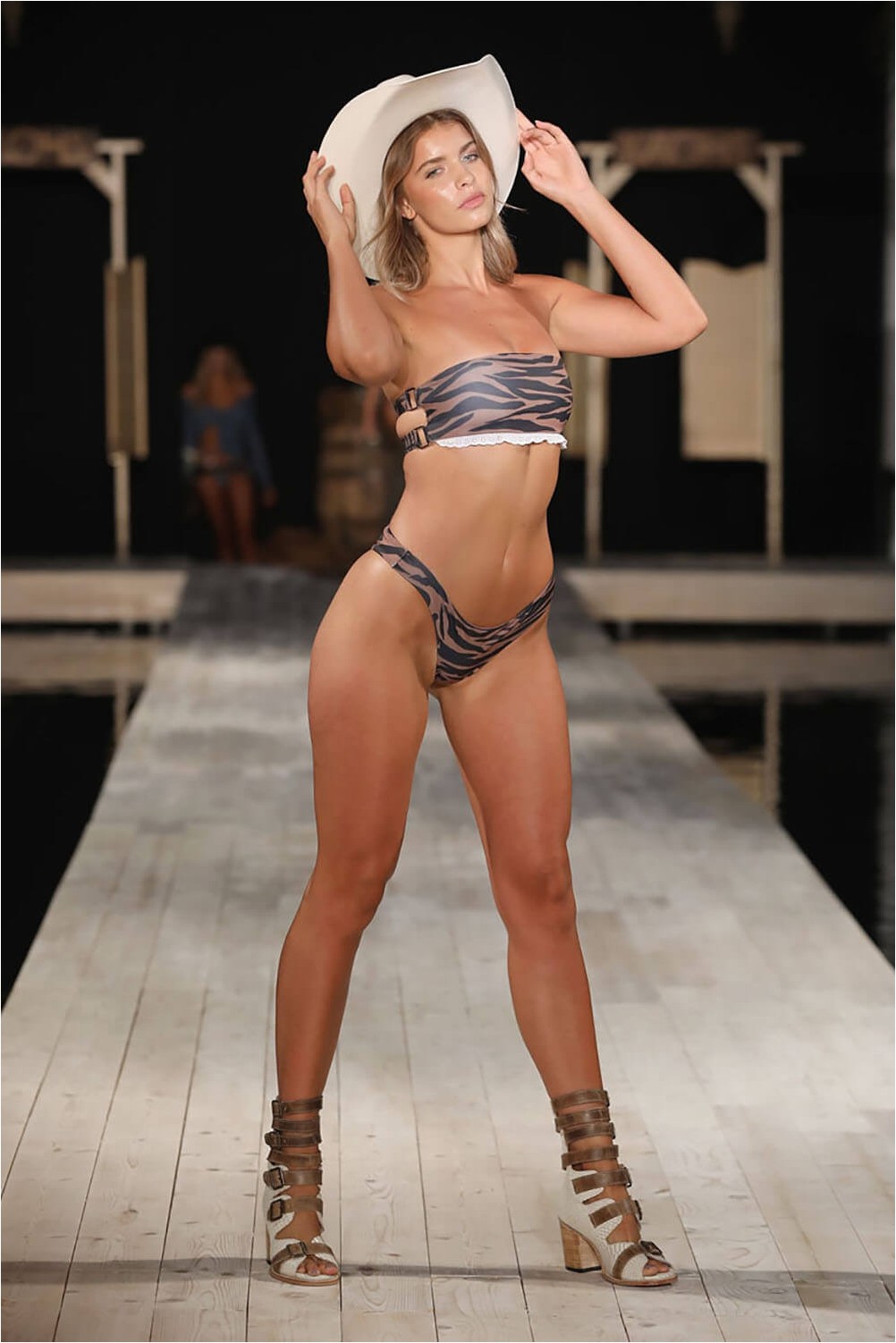 Floral prints
The trend is femininity in all its manifestations. Therefore, large flowers and small millefleur – print # 1 in the fashion of 2019. Lush buds or a small, barely noticeable millefleur must be present in your summer wardrobe.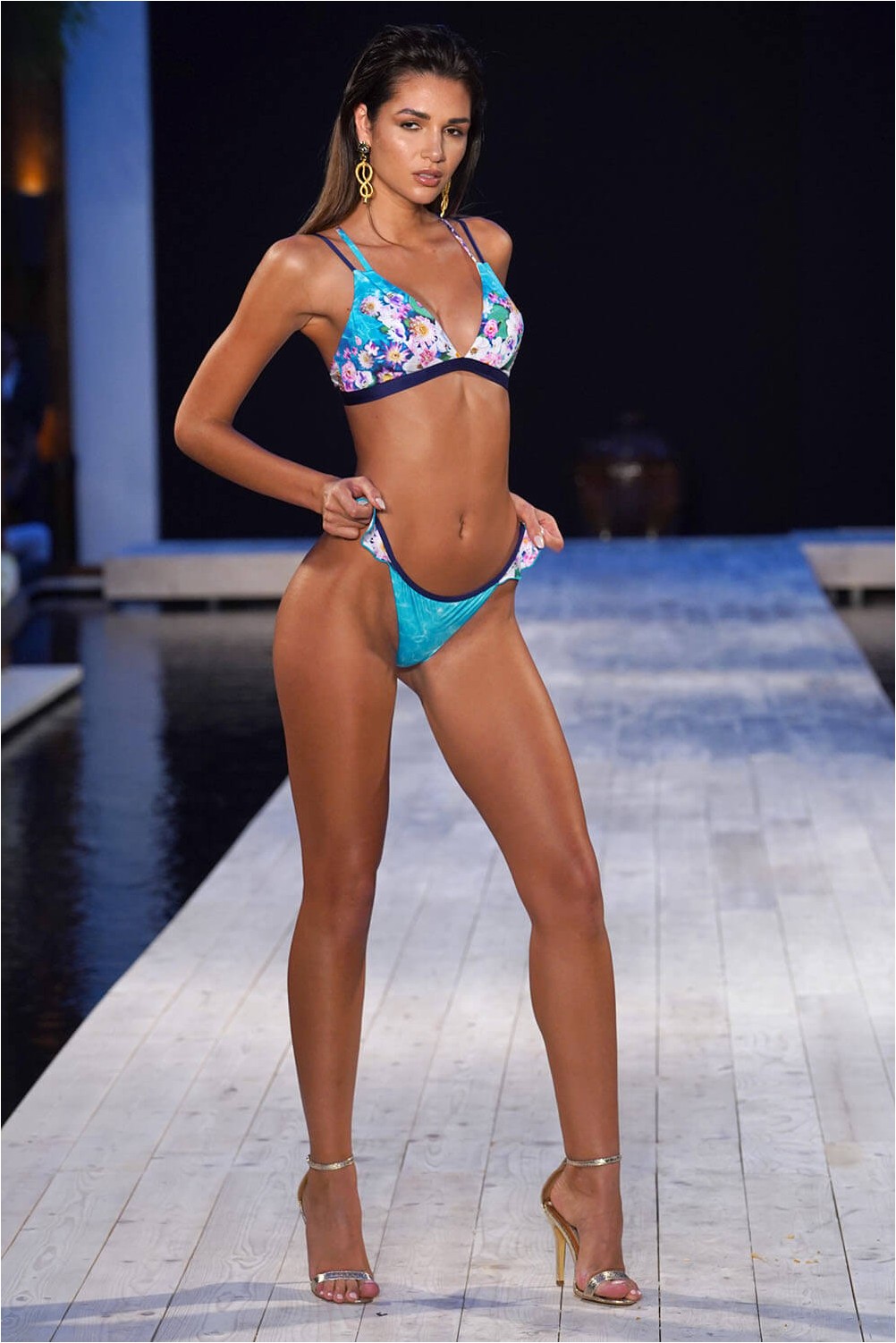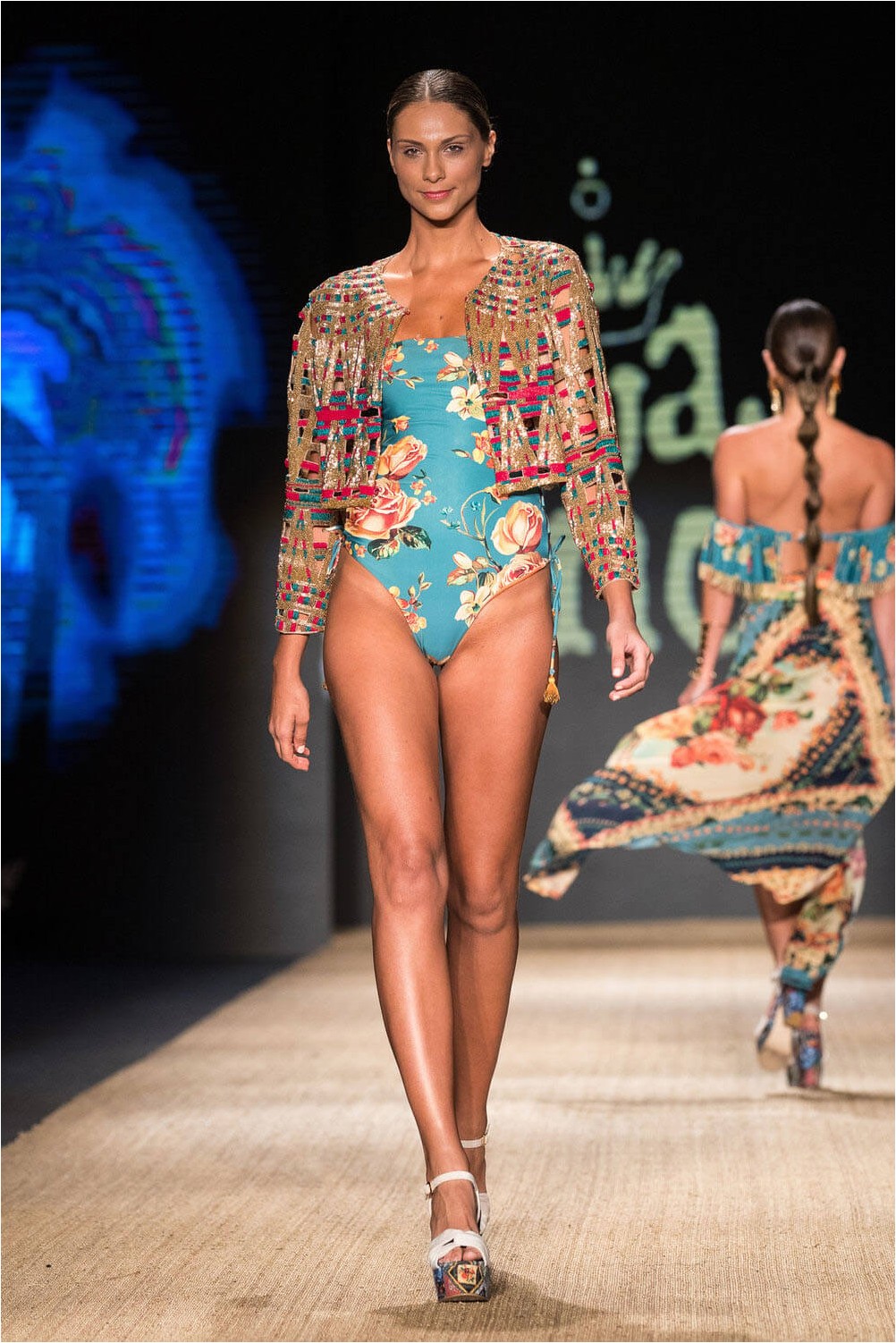 You can choose a floral print or order a knitted swimsuit with voluminous roses from the craftswomen – all this no longer applies to antitrends. On the contrary, luxurious flower meadows are welcomed in all their splendor..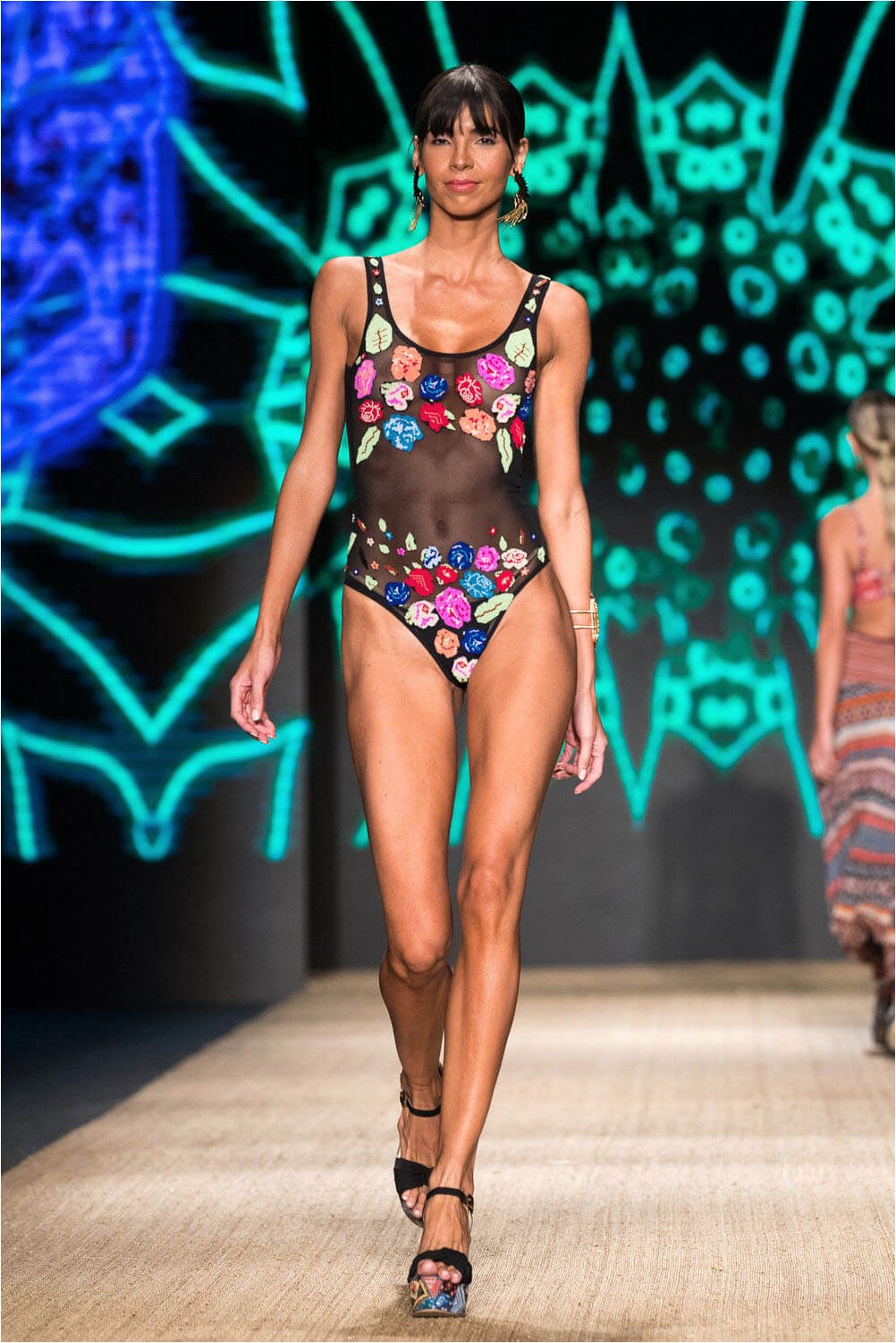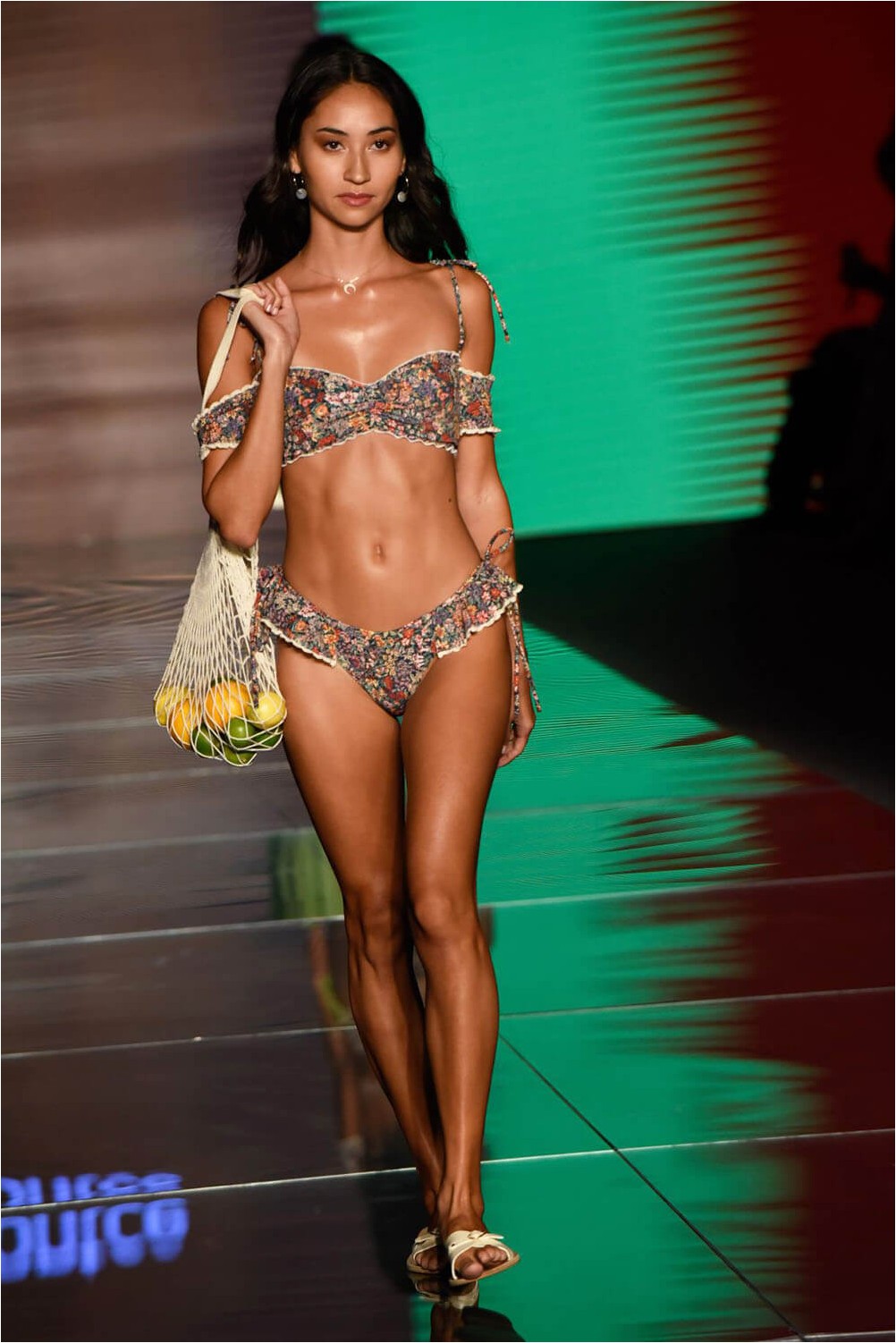 For example, the Agua Bendita brand proposed a bold idea – a transparent black swimsuit with an applique of multi-colored flowers. So designers combined two fashion trends – needlework techniques and fashion for transparent materials.
Lacing and multilayer straps
If you are not enthusiastic about colorful prints, then you can choose a solid model. But it must have a stylish detail. So that monophonic swimsuits did not look dejected, the designers decided to add a lacing. A lace-up swimsuit top catches your eye but doesn't look vulgar or defiant.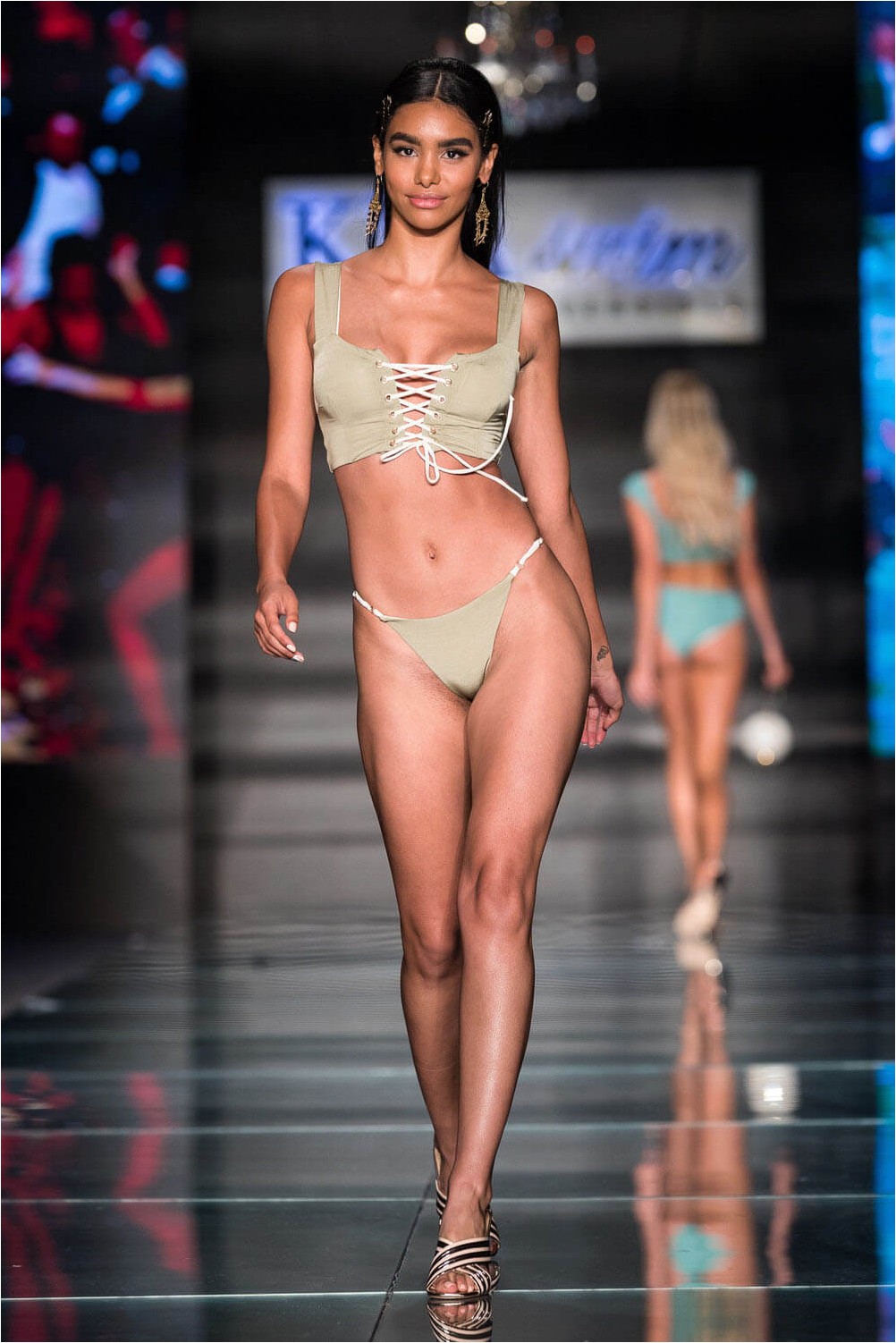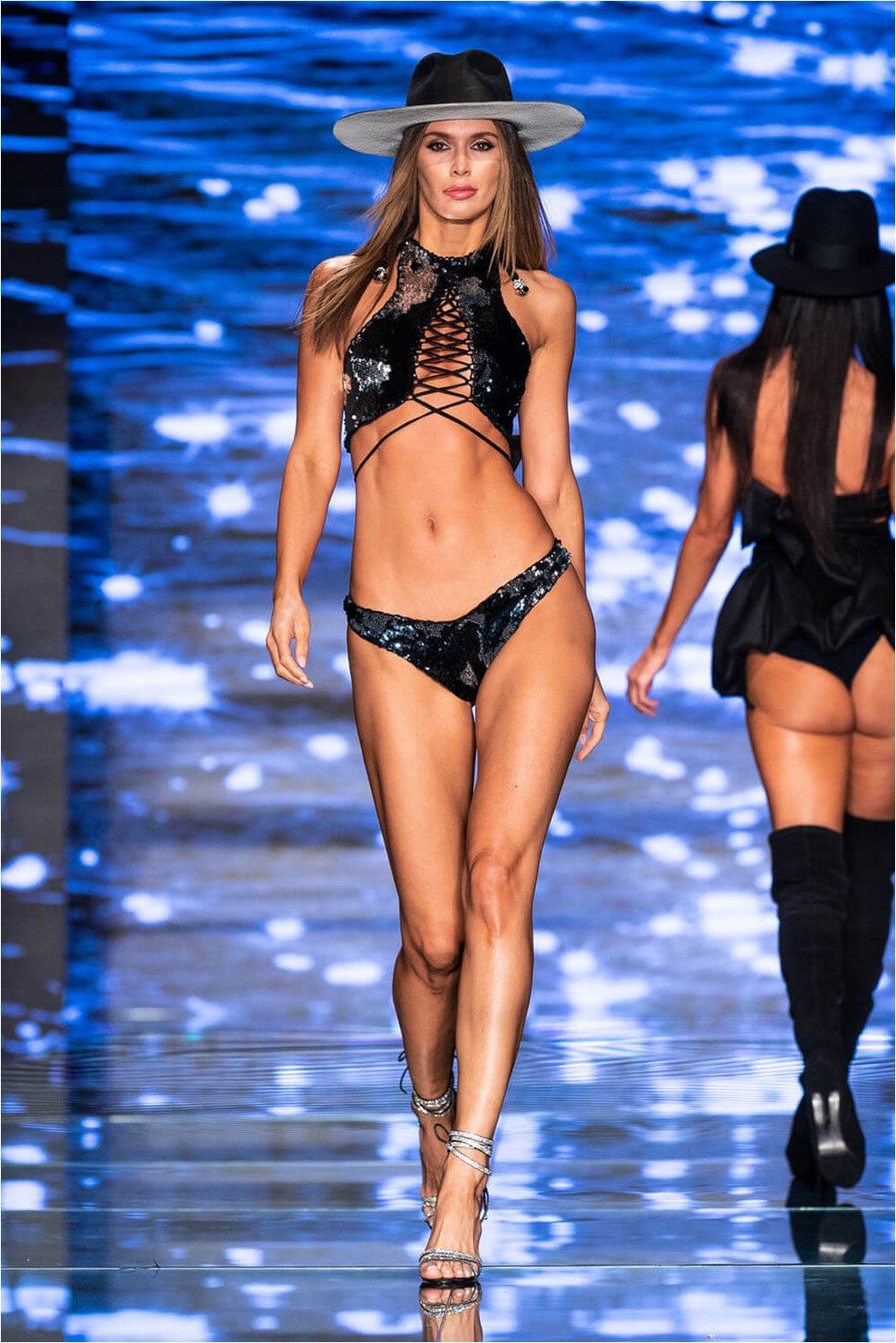 In addition to lacing, there is another way to make a plain swimsuit more attractive and original – multilayer straps. Cross-shaped ties under the bodice or "puff" straps on the hips – all these details emphasize the beauty of the female figure. Baes resorted to such fashionable tricks. & Bikinis, Luli Fama, Monica Hansen and other experts in the fashion world.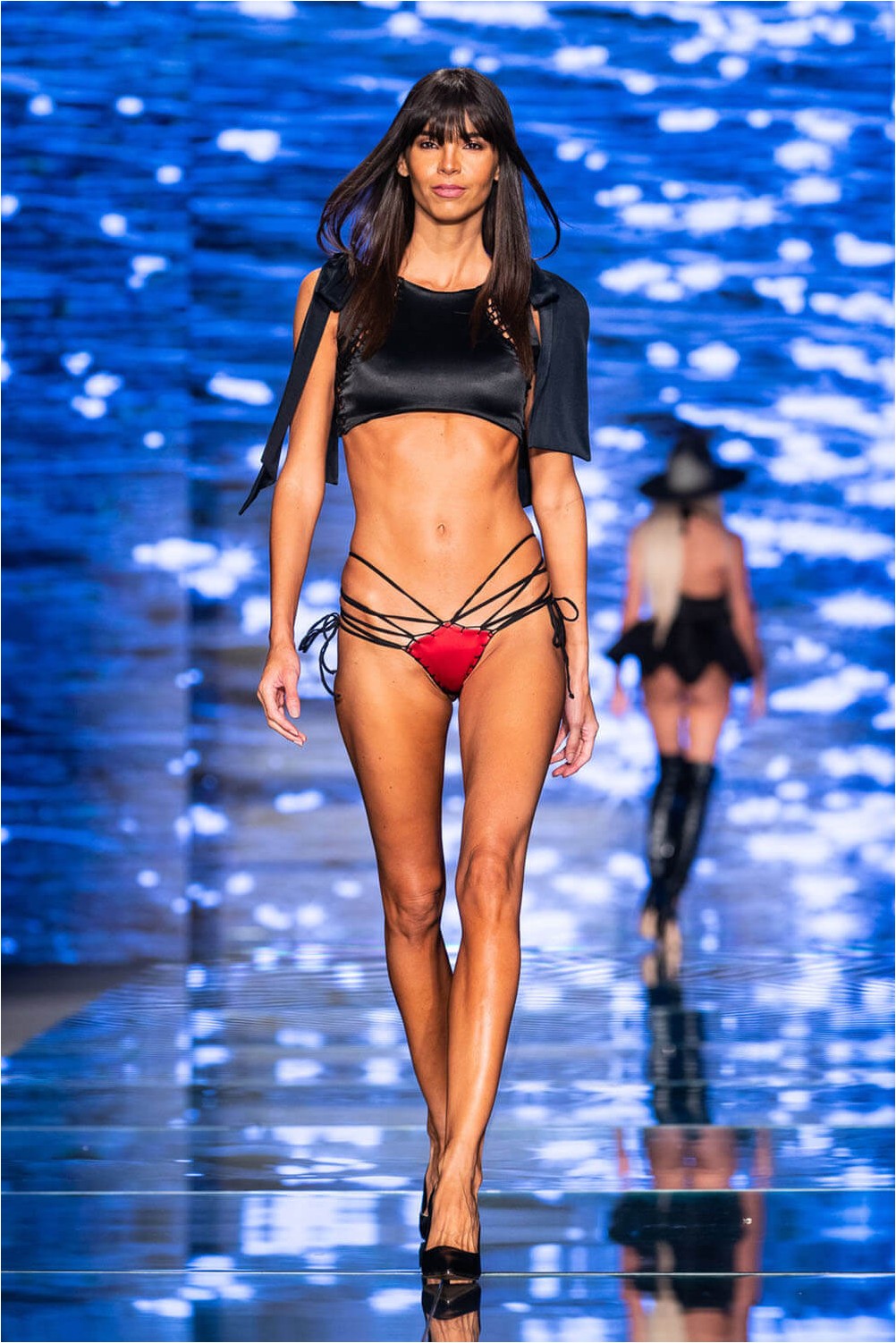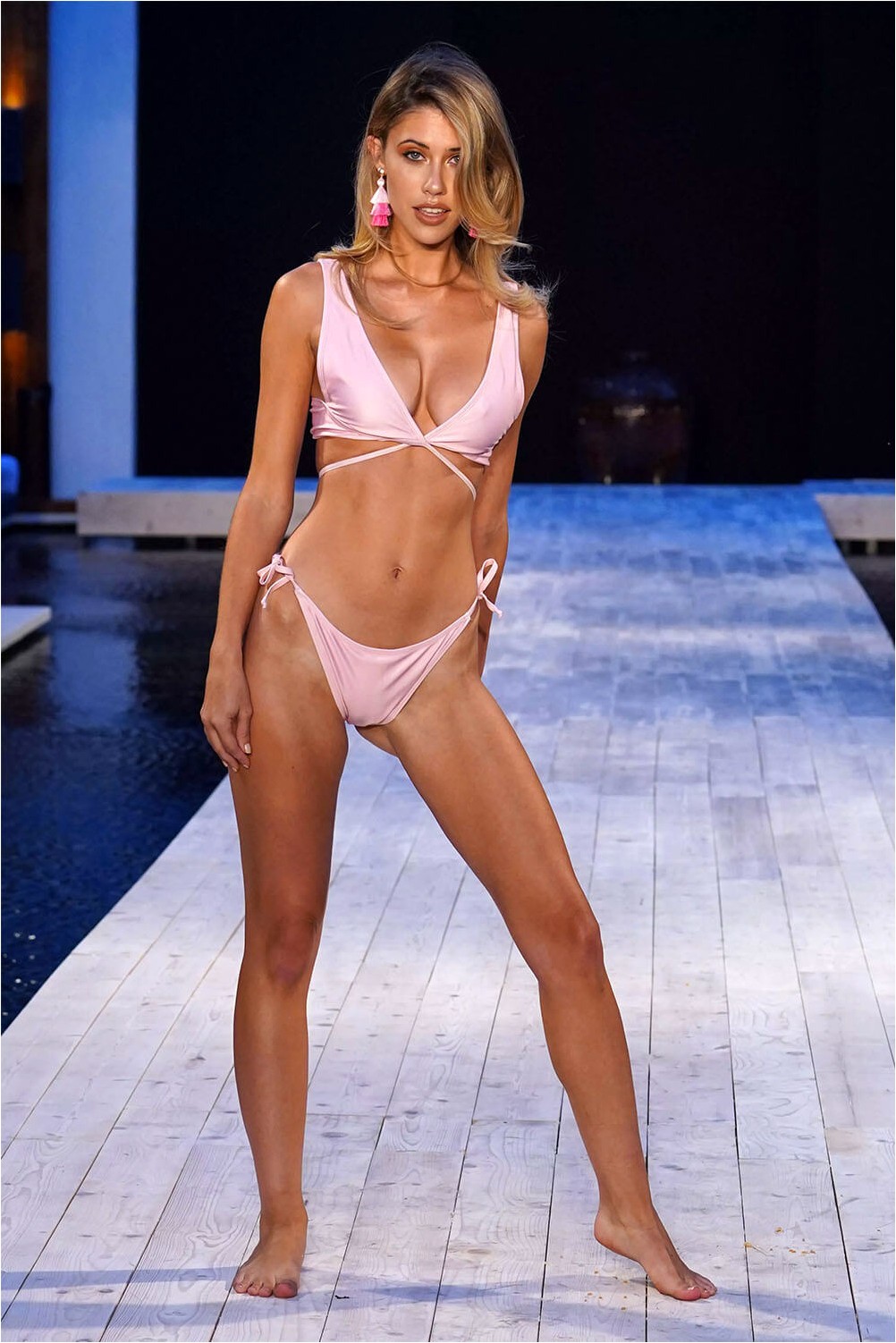 Juicy shades
Collections of fashionable swimwear are full of bright prints and cheerful colors. The most trendy colors of the summer of 2019 are the warm shades of orange, yellow, blue and pink. As a rule, the cut of such a swimsuit is as simple as possible, without an abundance of decor and other decorations.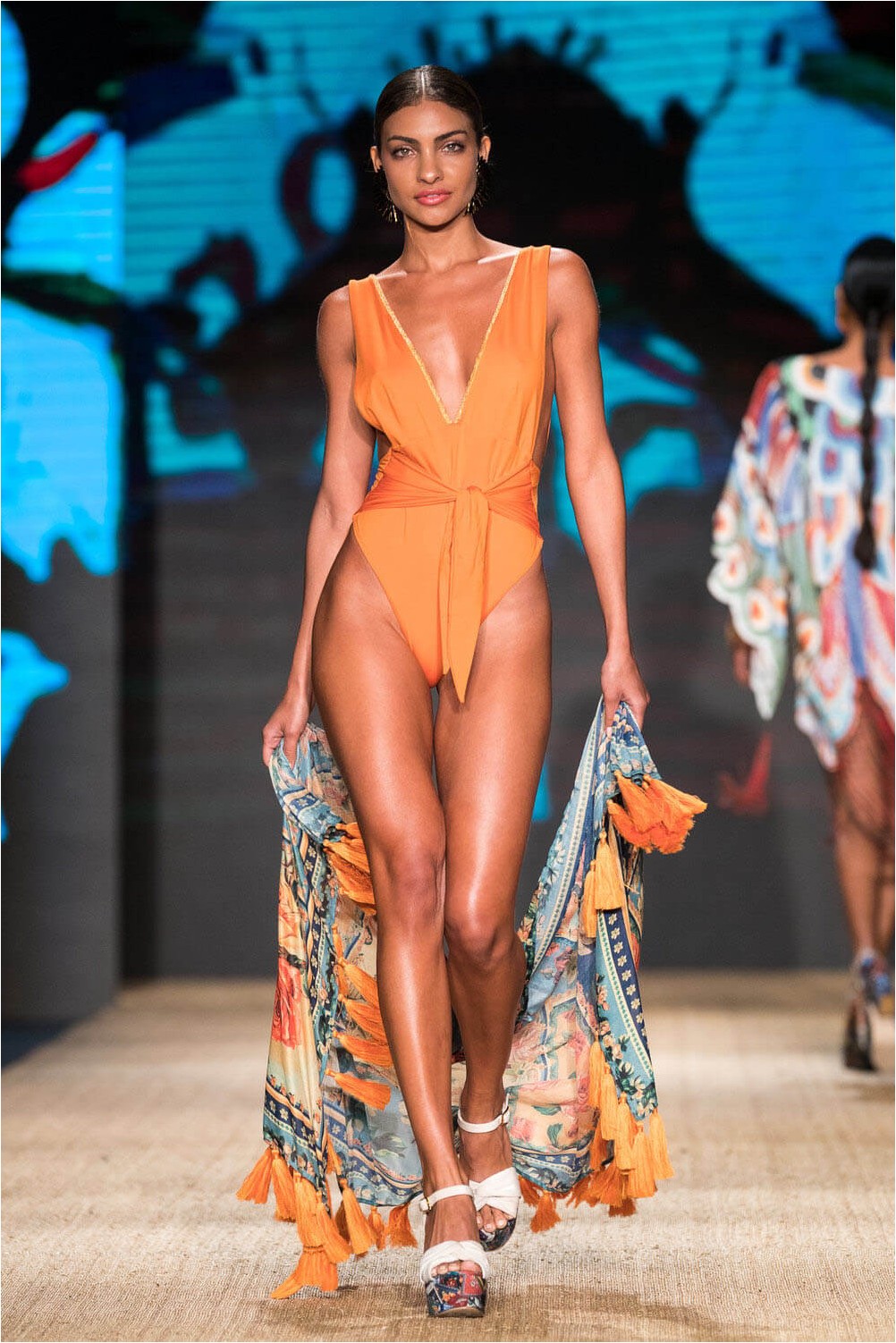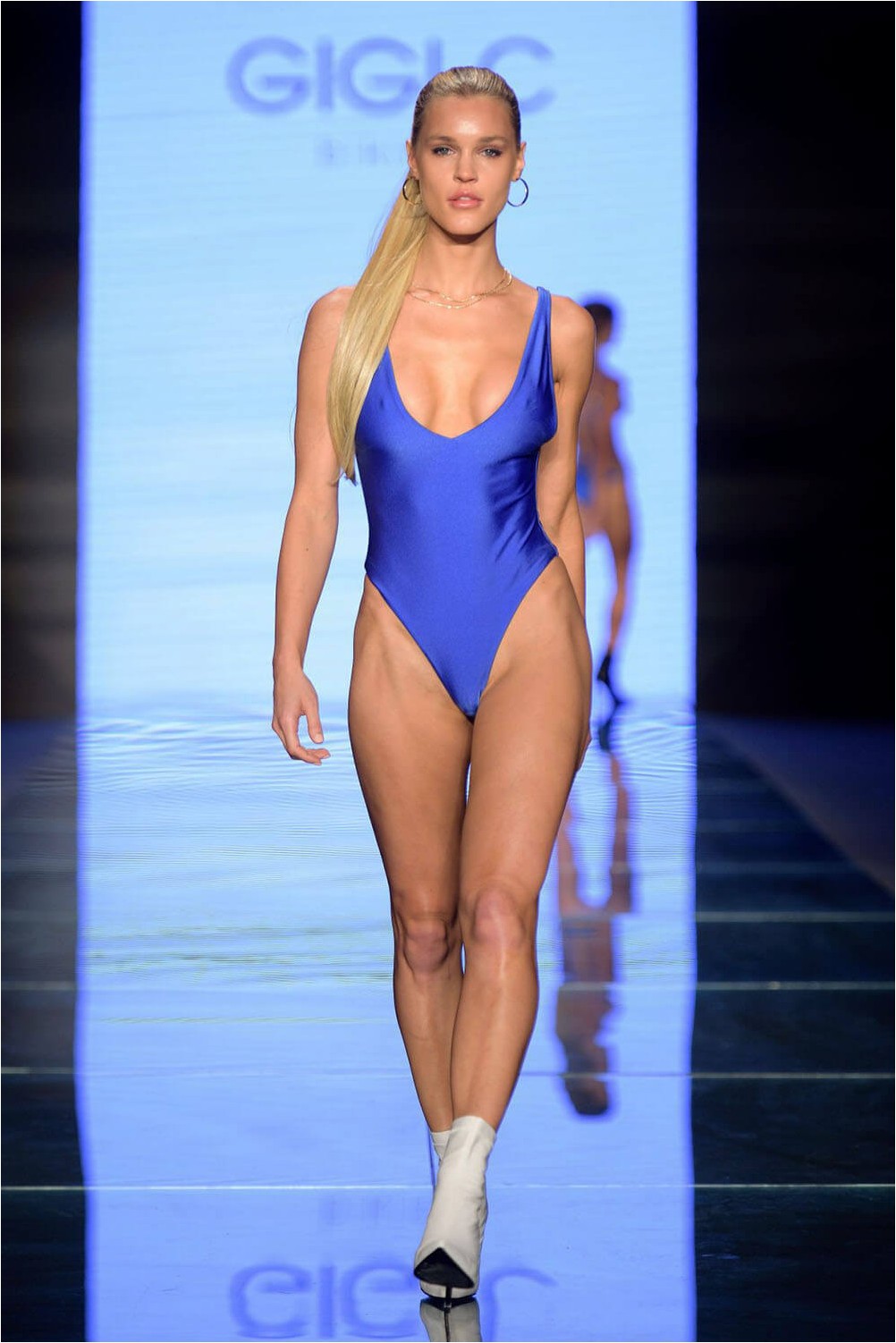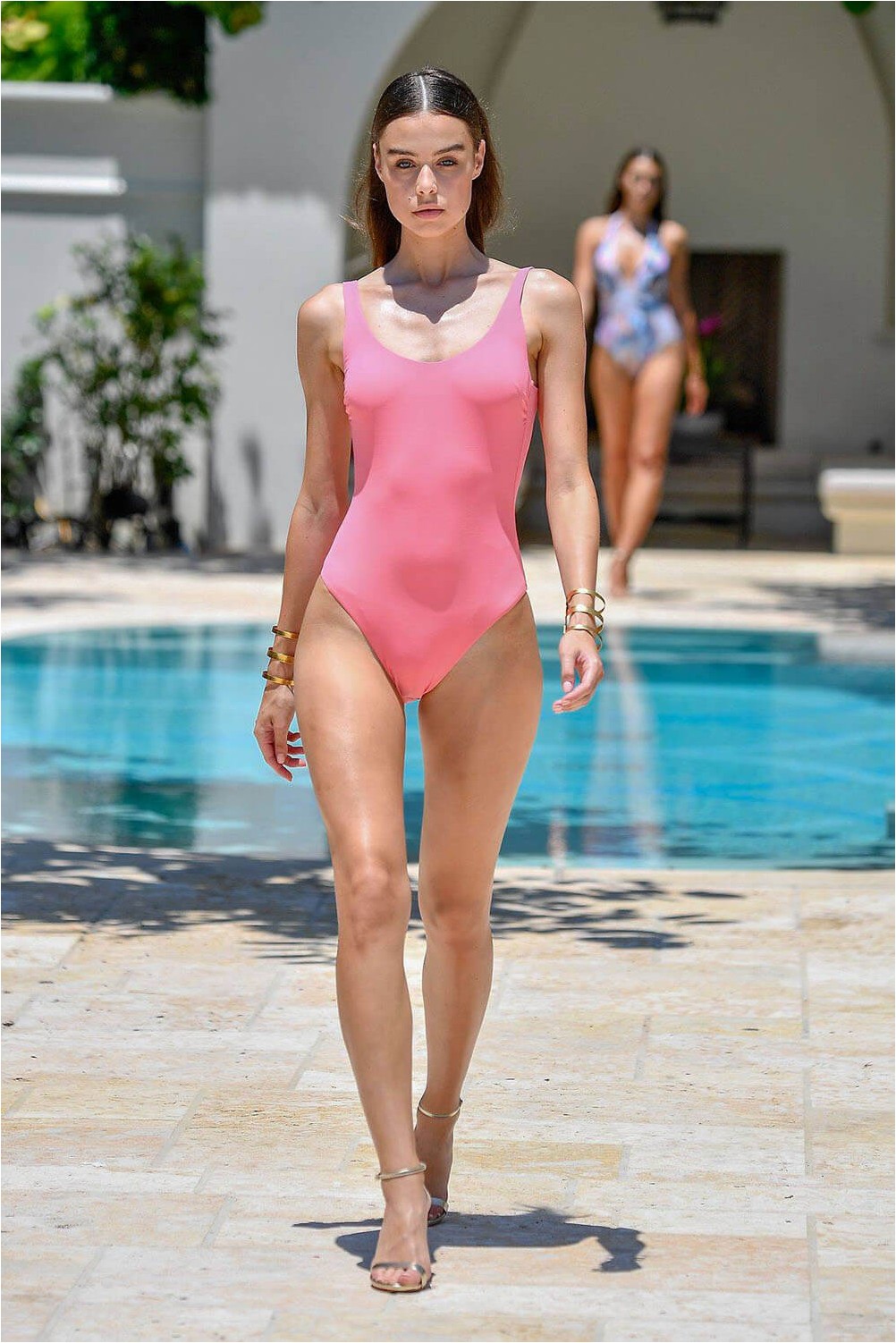 Minimalism
Along with catchy prints and rich shades, restrained minimalism defends its position in fashion..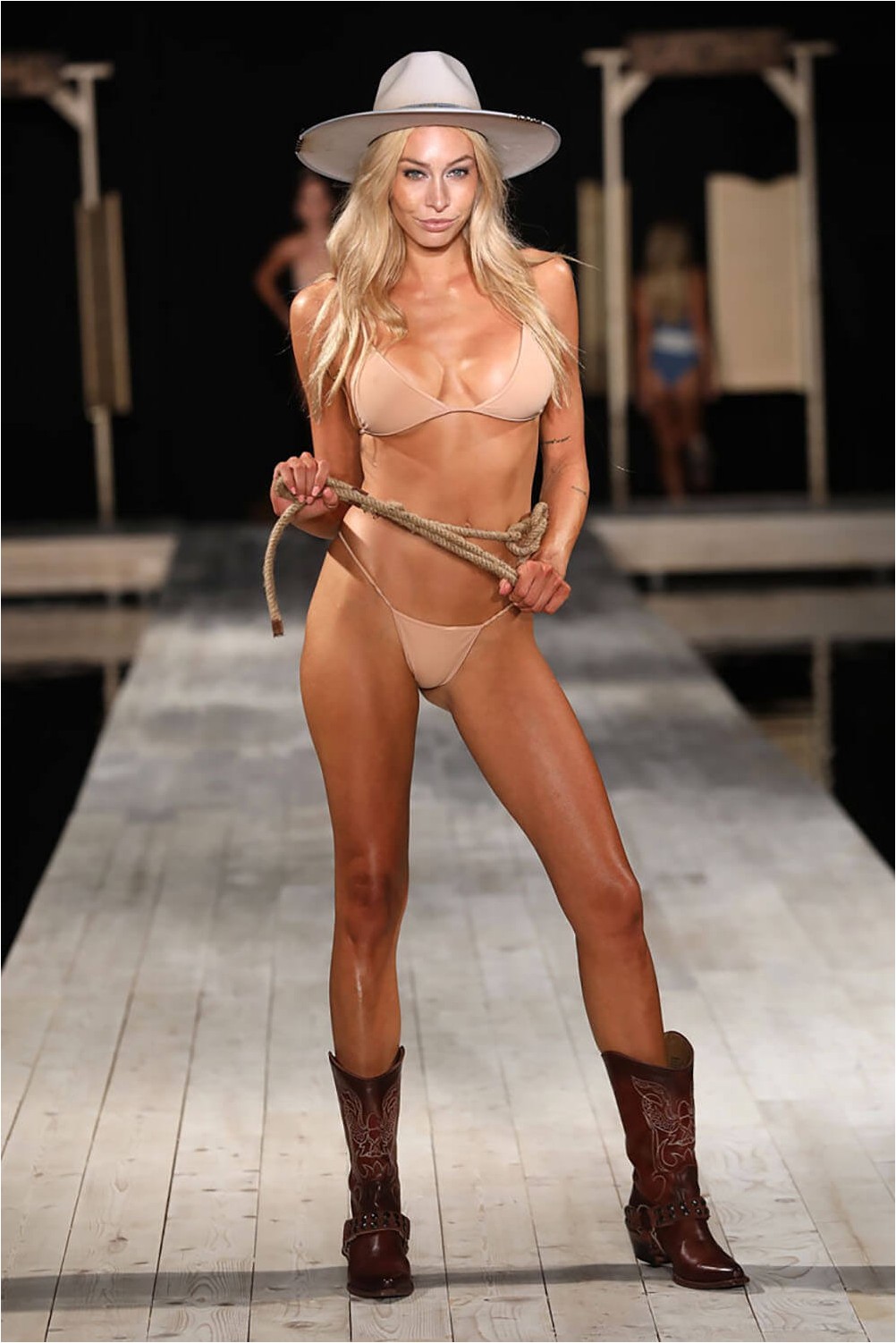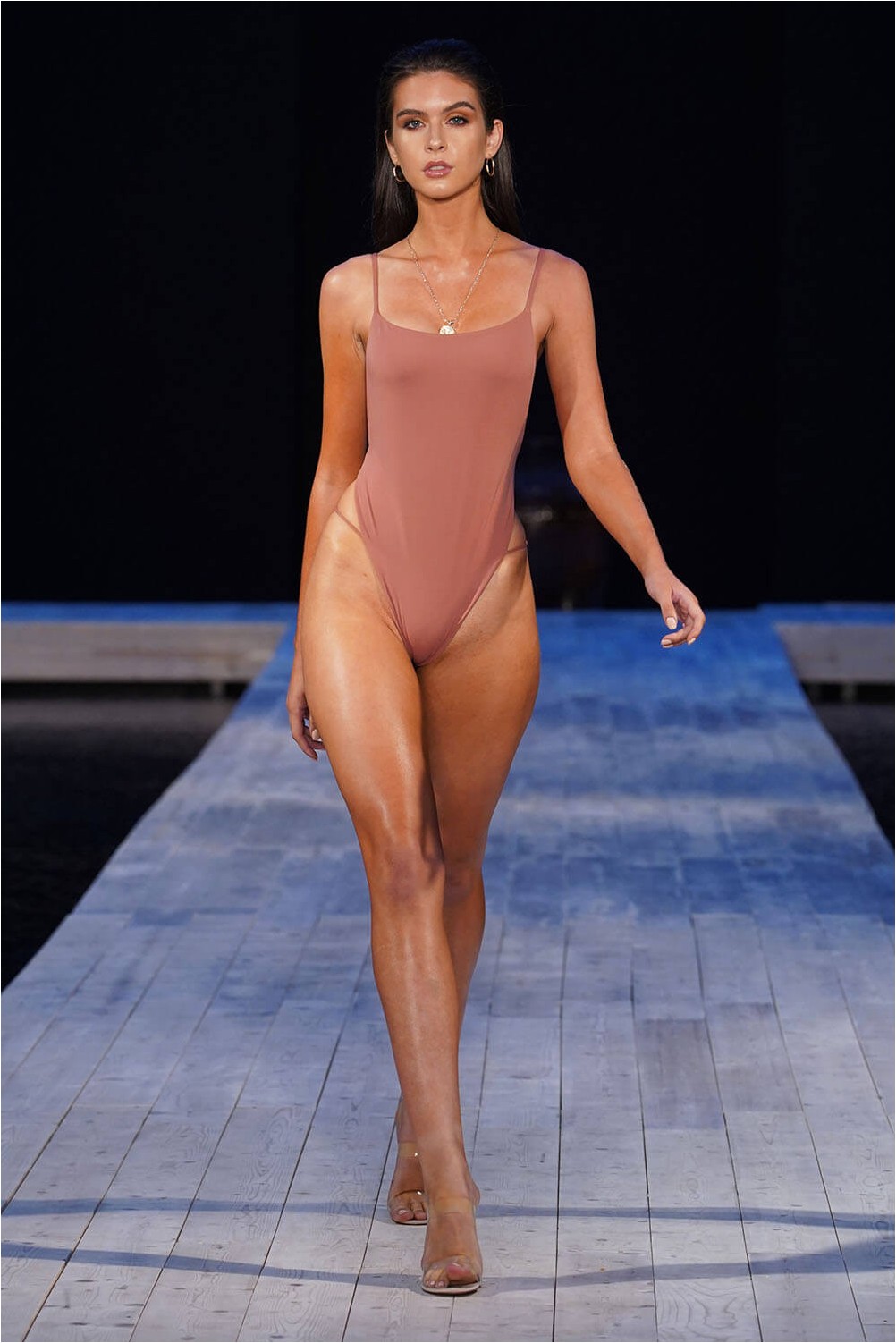 Solid beige swimwear will appeal to the most sophisticated fashionistas. Indeed, in addition to a stylish, moderate design, such swimwear has a practical side – they can be used instead of underwear, put on under a transparent dress or sundress.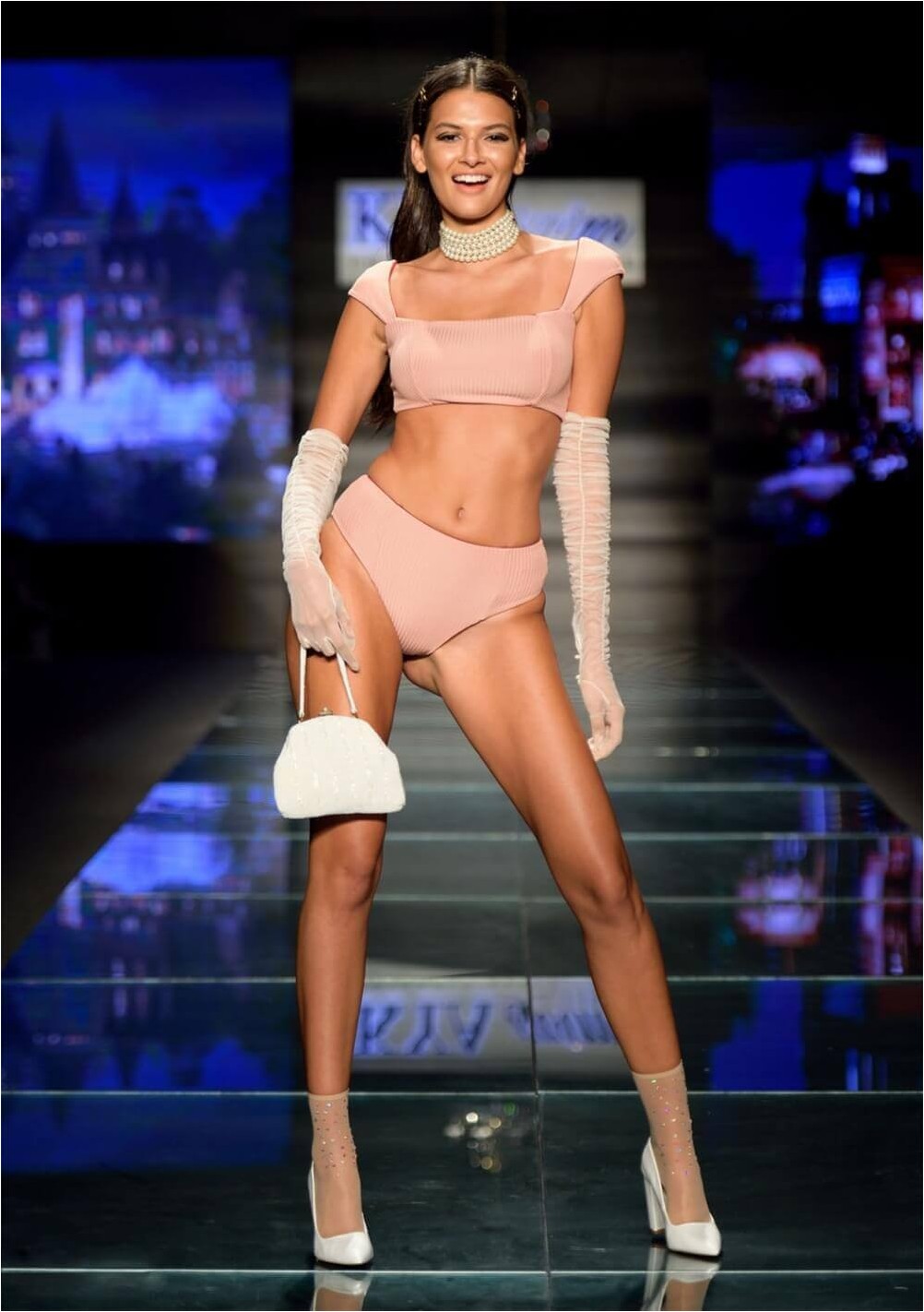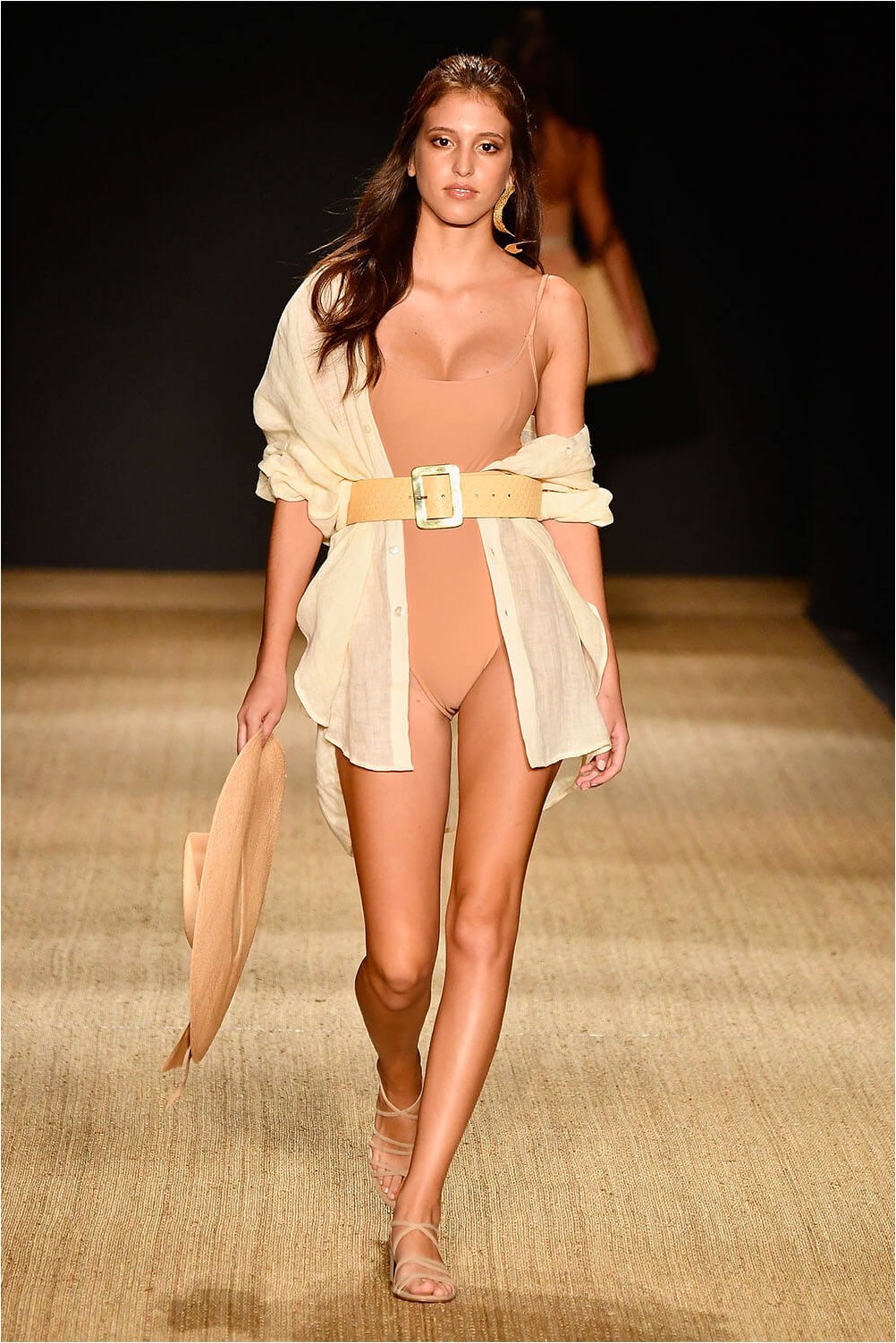 Fashionable swimwear for the summer season 2019 is a large selection of prints, colors and cuts. Fashion sets the trend. Your task is not to blindly follow them, but to take them into account when drawing up your summer wardrobe. After all, the main thing in a fashionable image is to emphasize your individuality, hide flaws and focus on the merits.
Similar articles
---