Content
---
---
Some trends were repeated. For example, everything remains the same relevant: transparent plastic, company logos, suitcases, waistbands and sets of bags. But there were also beginners in the world of high fashion – the effect of craquelure, macramé and bird plumage. The cross-body has become unusual, and the clasp is multi-layered.
 Weaving and macrame
Macrame weaving and mesh crochet have become an integral part of the 2019 spring-summer fashion. The weave appeared on dresses, tops, shoes and jewelry. And, of course, the trend did not pass by fashion accessories. The trend is bags woven from coarse, natural threads. Most often these are bulk shoppers or tote bags. Mesh models abounded with collections by designers such as Michael Kors and Stella McCartney.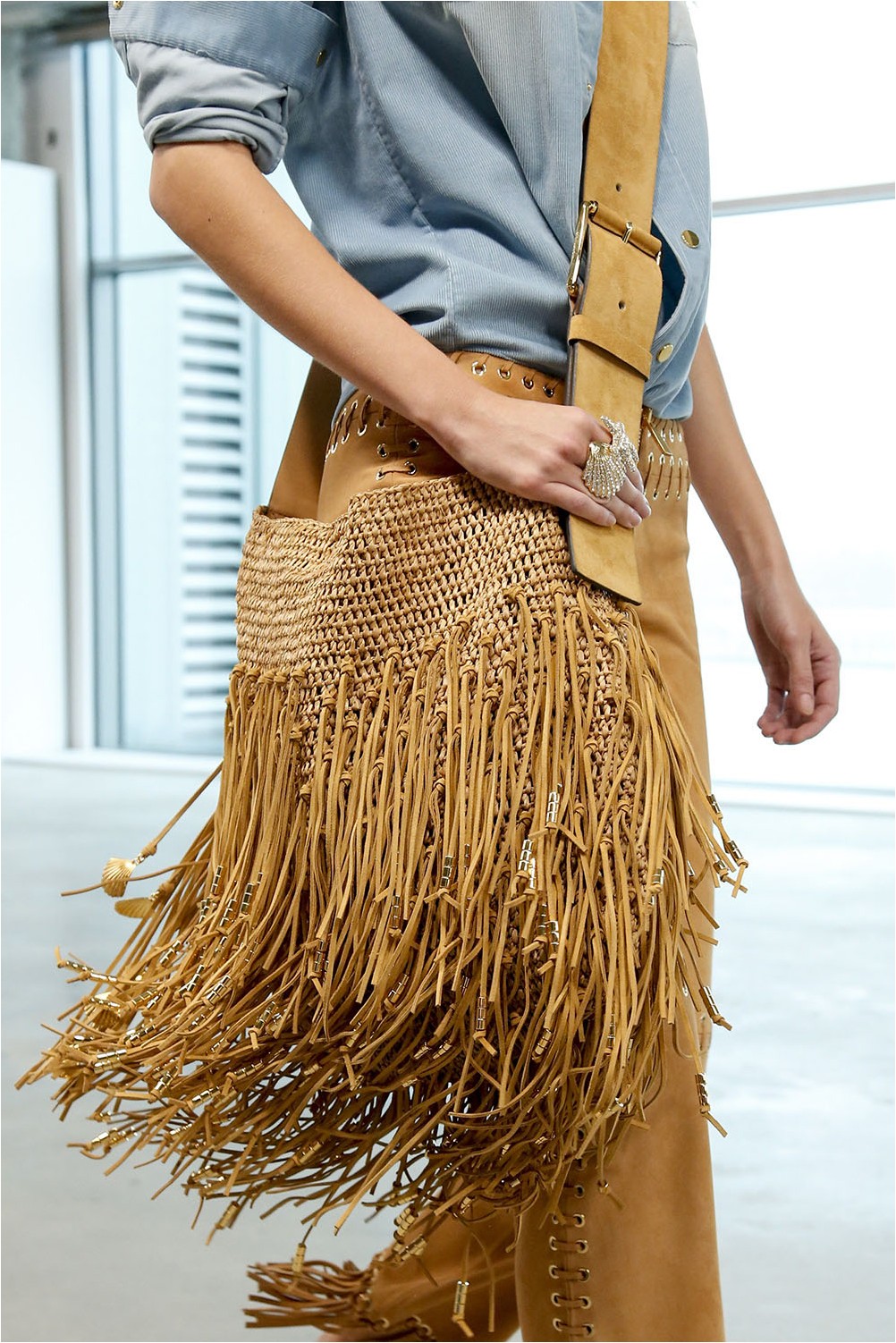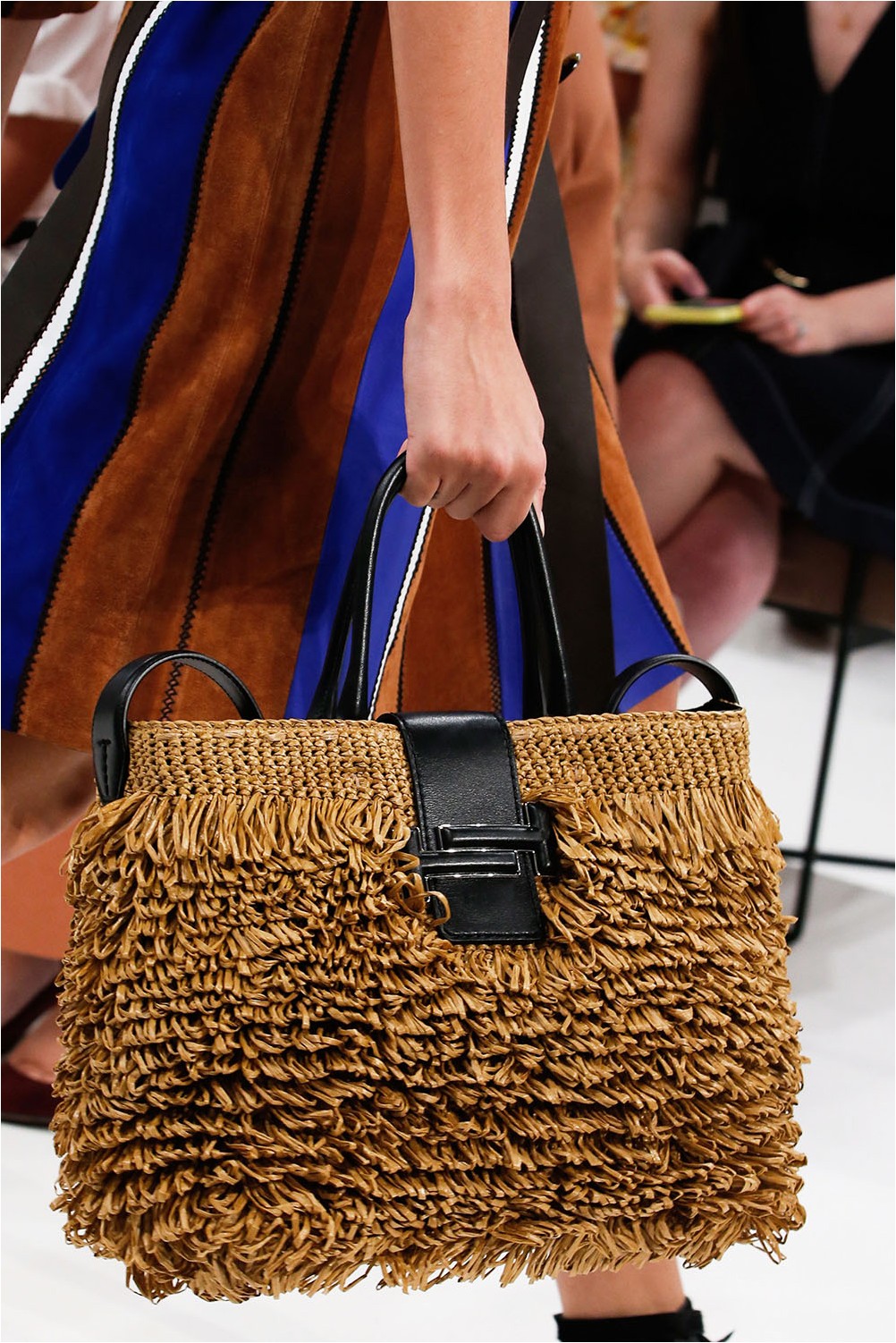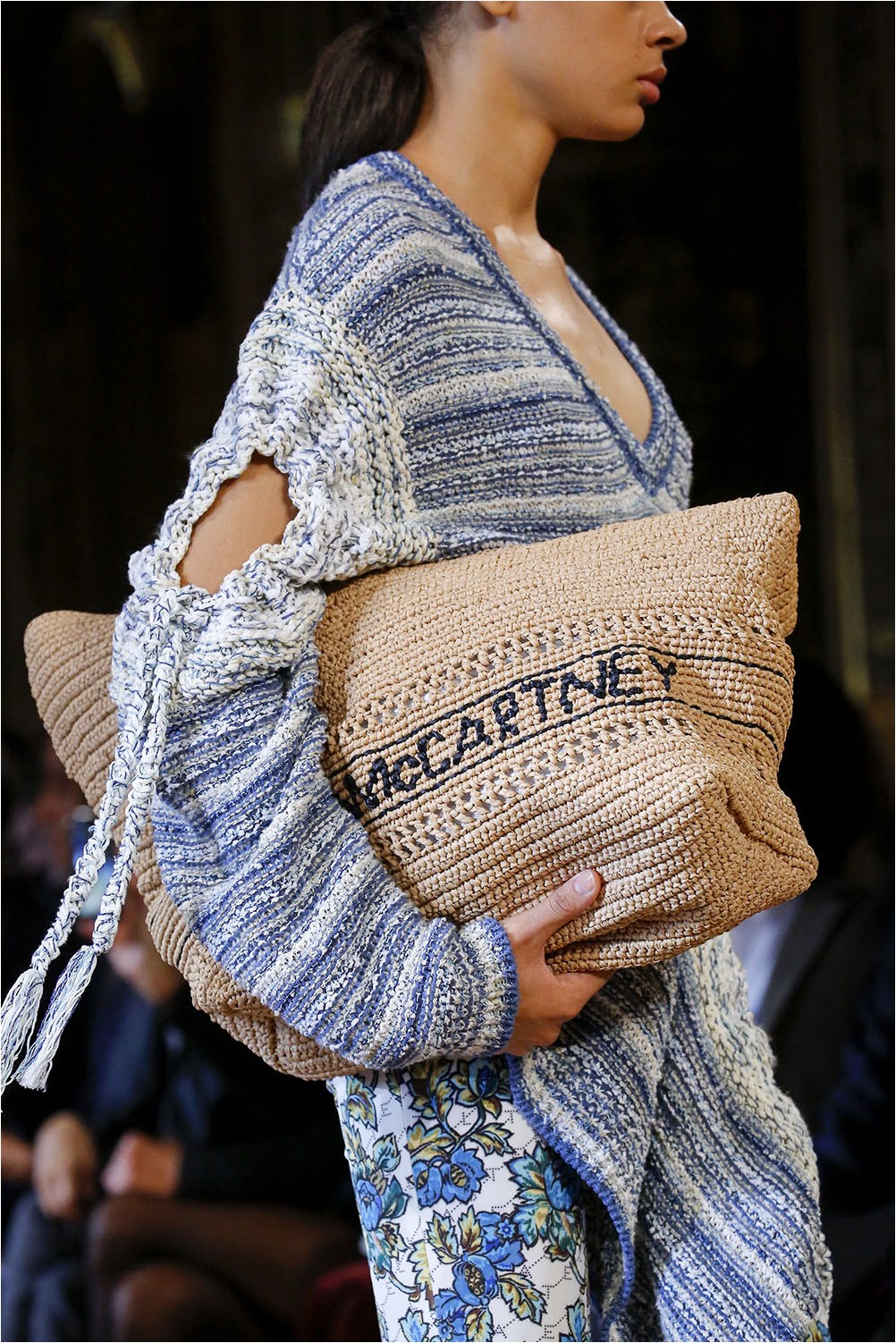 Altuzarra has created its own line of woven tote bags made of polypropylene yarns. The designers also found hand-made macramé and basket weaving favorites.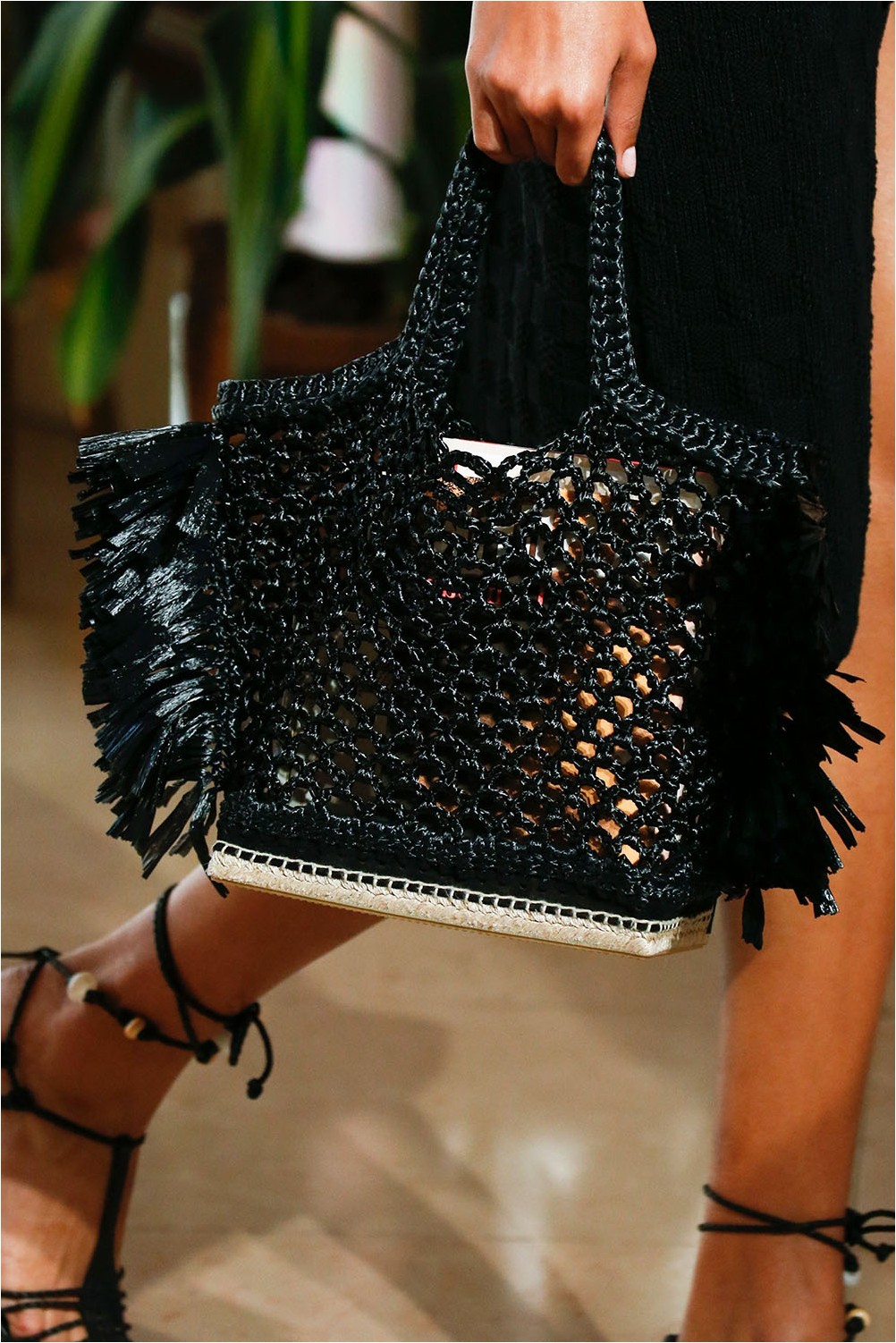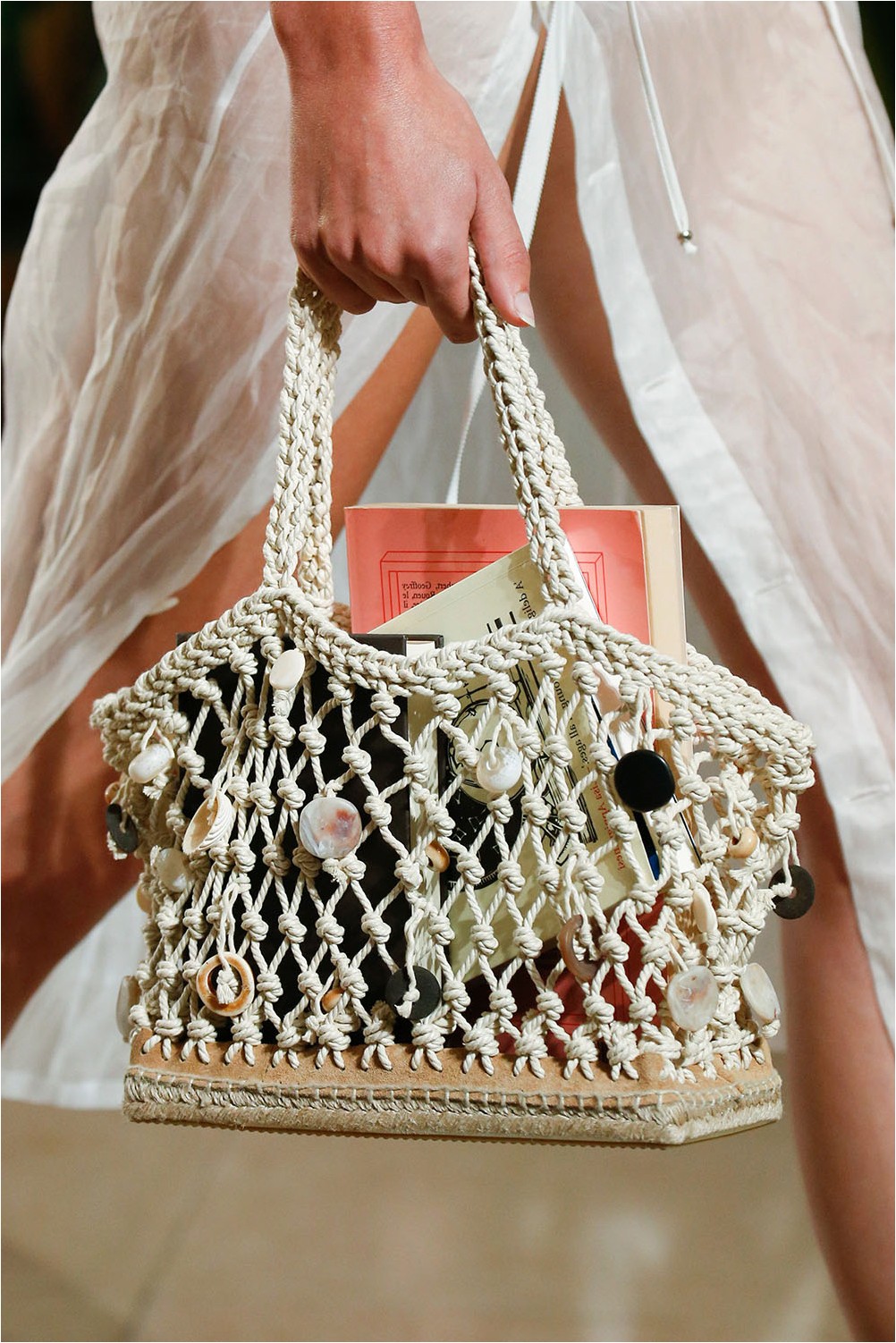 In the collections of Giorgio Armani and Oscar de la Renta, one could find original woven bags, clutches and shoppers.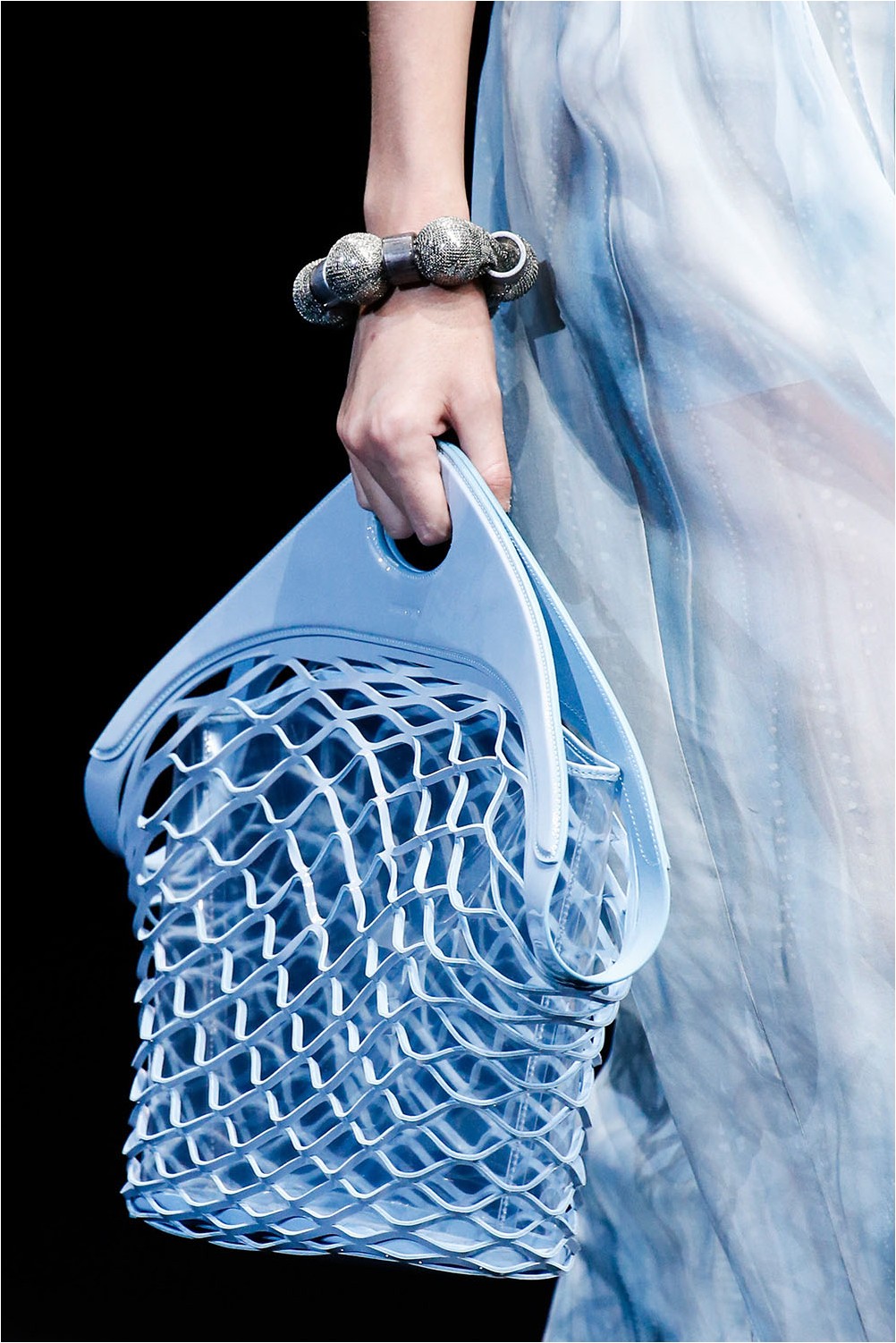 Handheld bag
In the warm season, without a handheld bag, it will not be possible to create a 100% stylish look. Translated from English "handheld bag" is a bag that is carried exclusively in the hands. That is, to throw over your shoulder or use as a crossbody will fail. Each interpreted a new trend in his own way..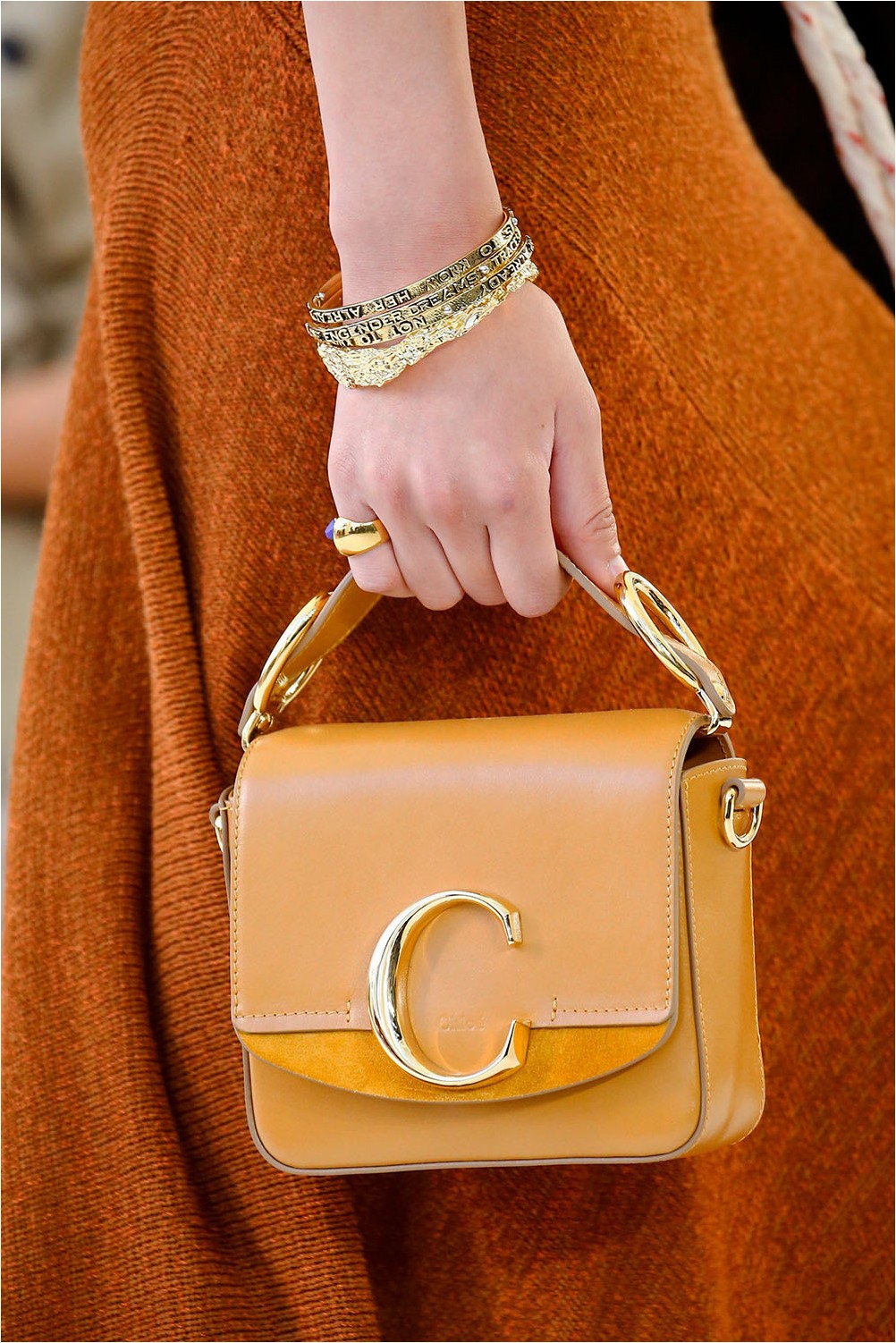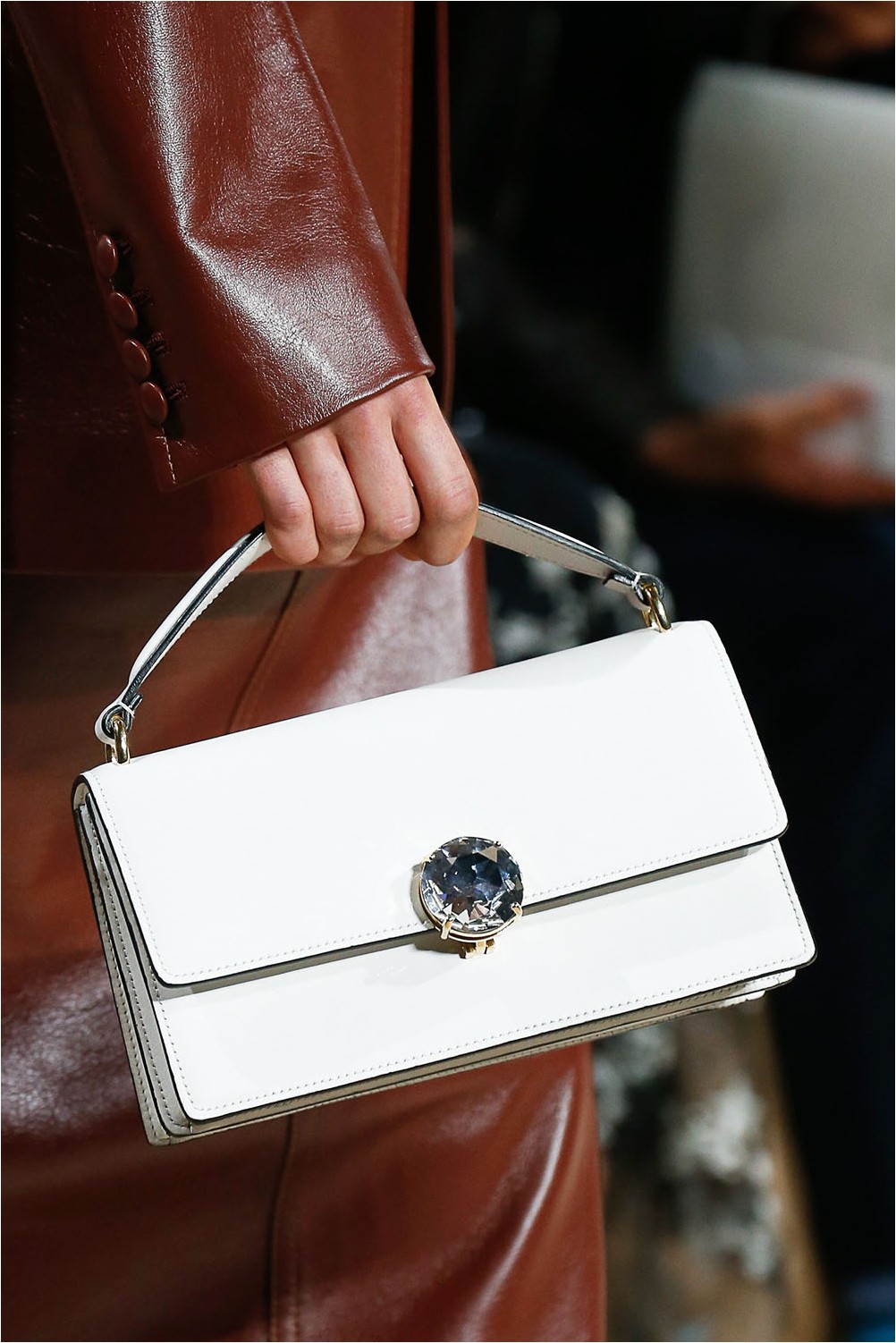 Karl Lagerfeld as part of the Chanel collection offered the famous quilted handbag Coco Chanel. Designers Marc Jacobs and Prada created a sleek "handheld" in plain leather with virtually no decor. In most cases, designed "handheld" in the form of a messenger bag with a front clasp and a short strap.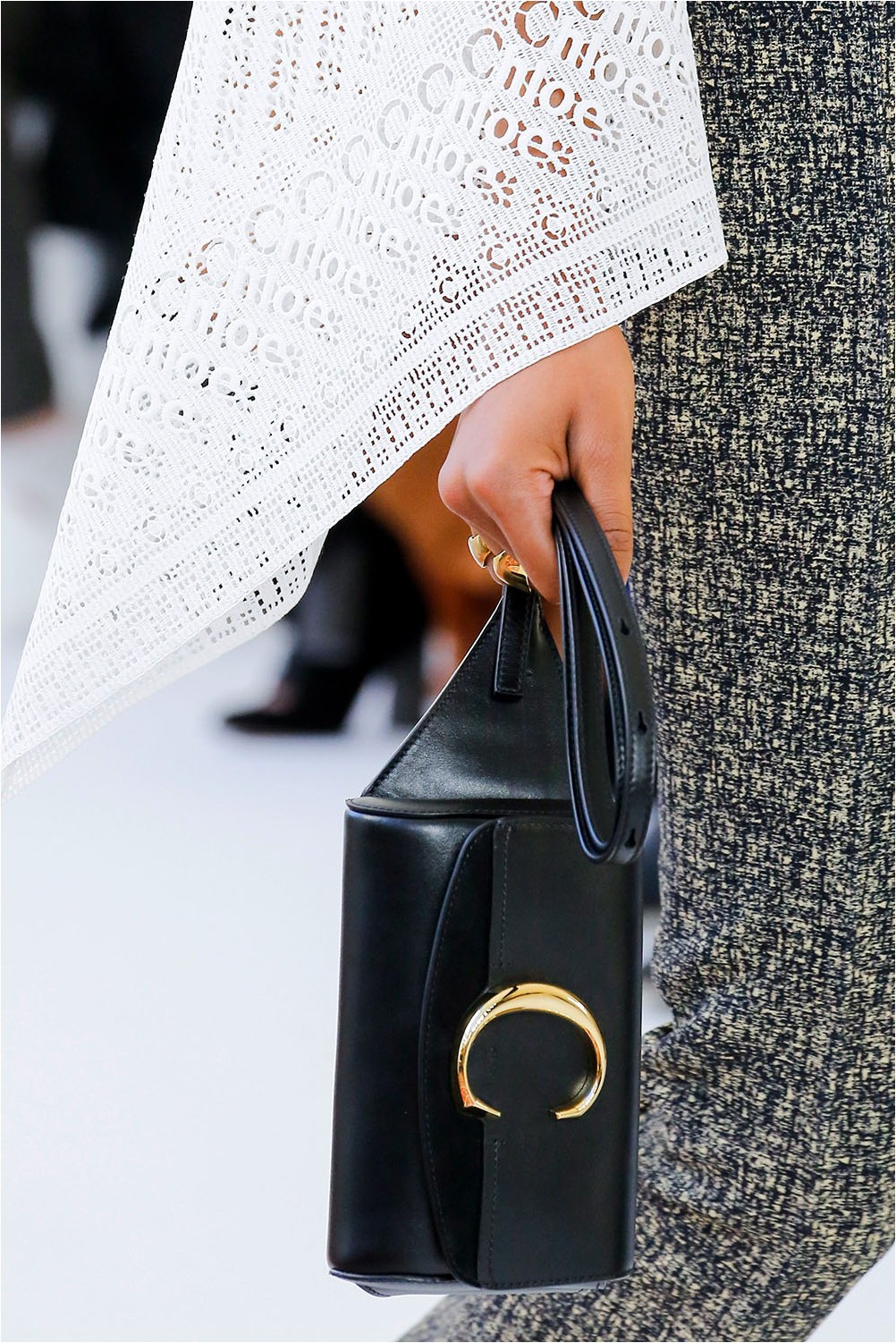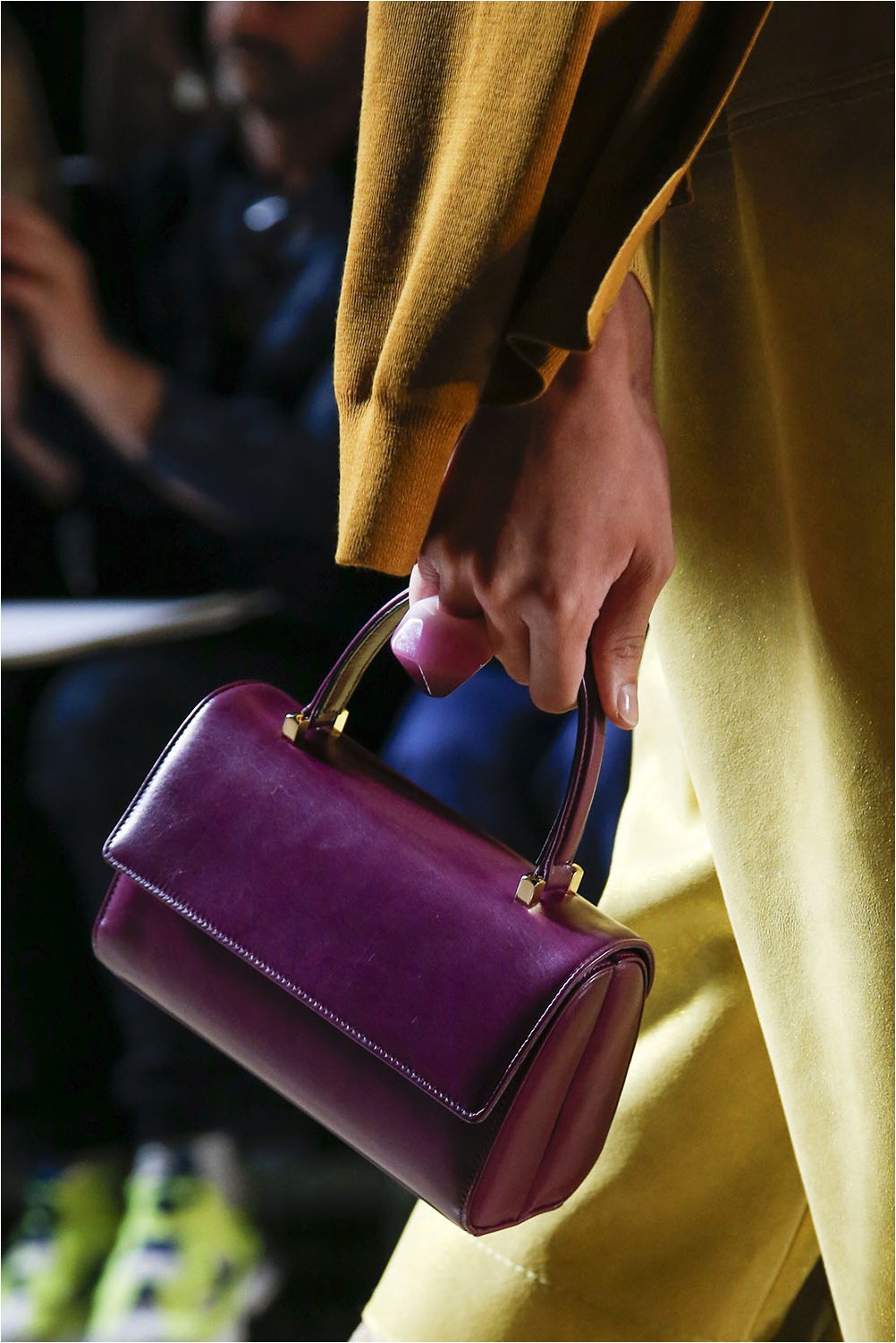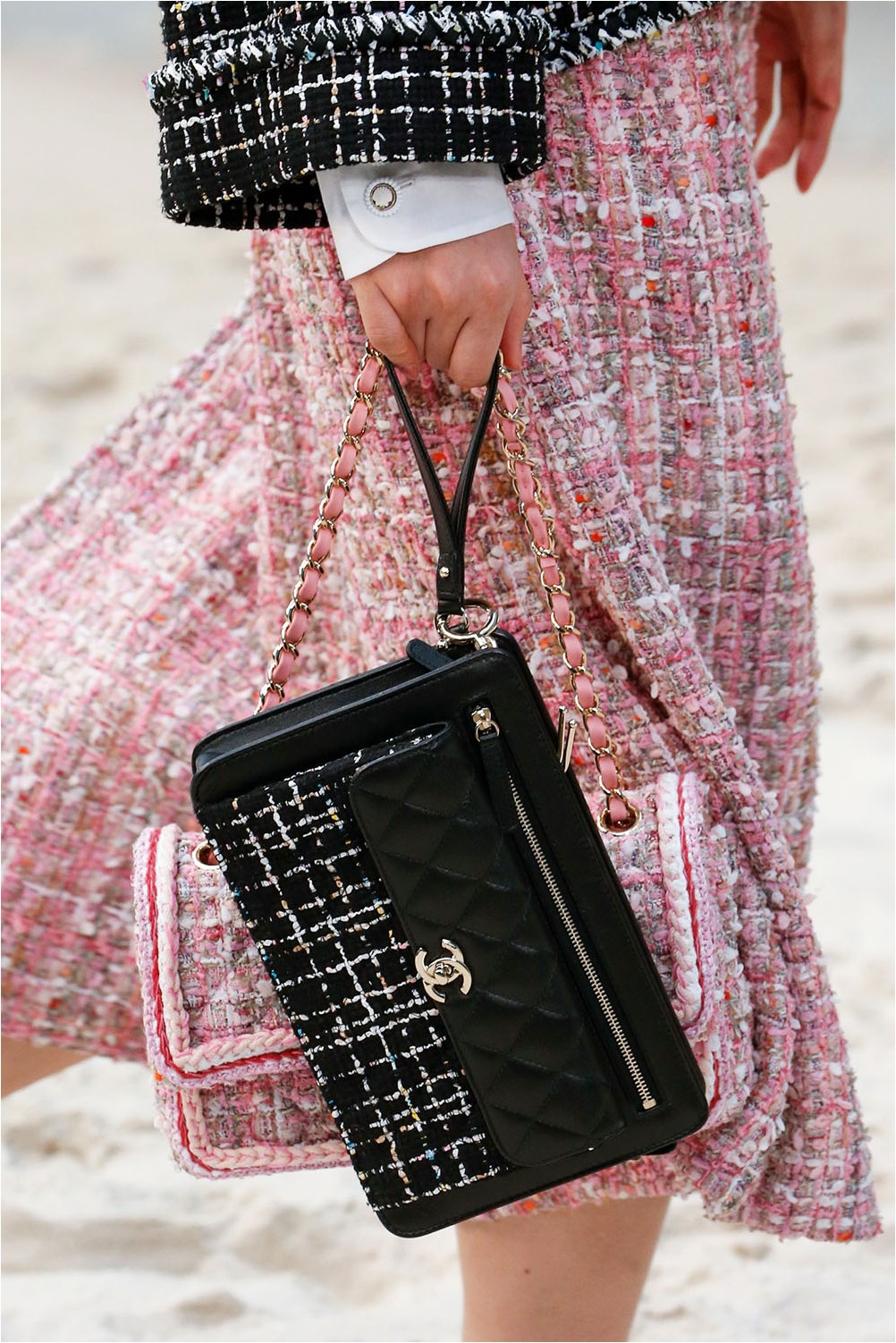 Craquelure effect
Today in design, various methods of aging things are increasingly used. One of them is craquelure. Special varnishes create microcracks on the canvas, which give the effect of antiquity. Craquelure prints are a fashion trend from Balmain. But in their craquelure graphics there is no sense of antiquity. On the contrary, there is some kind of futuristic note.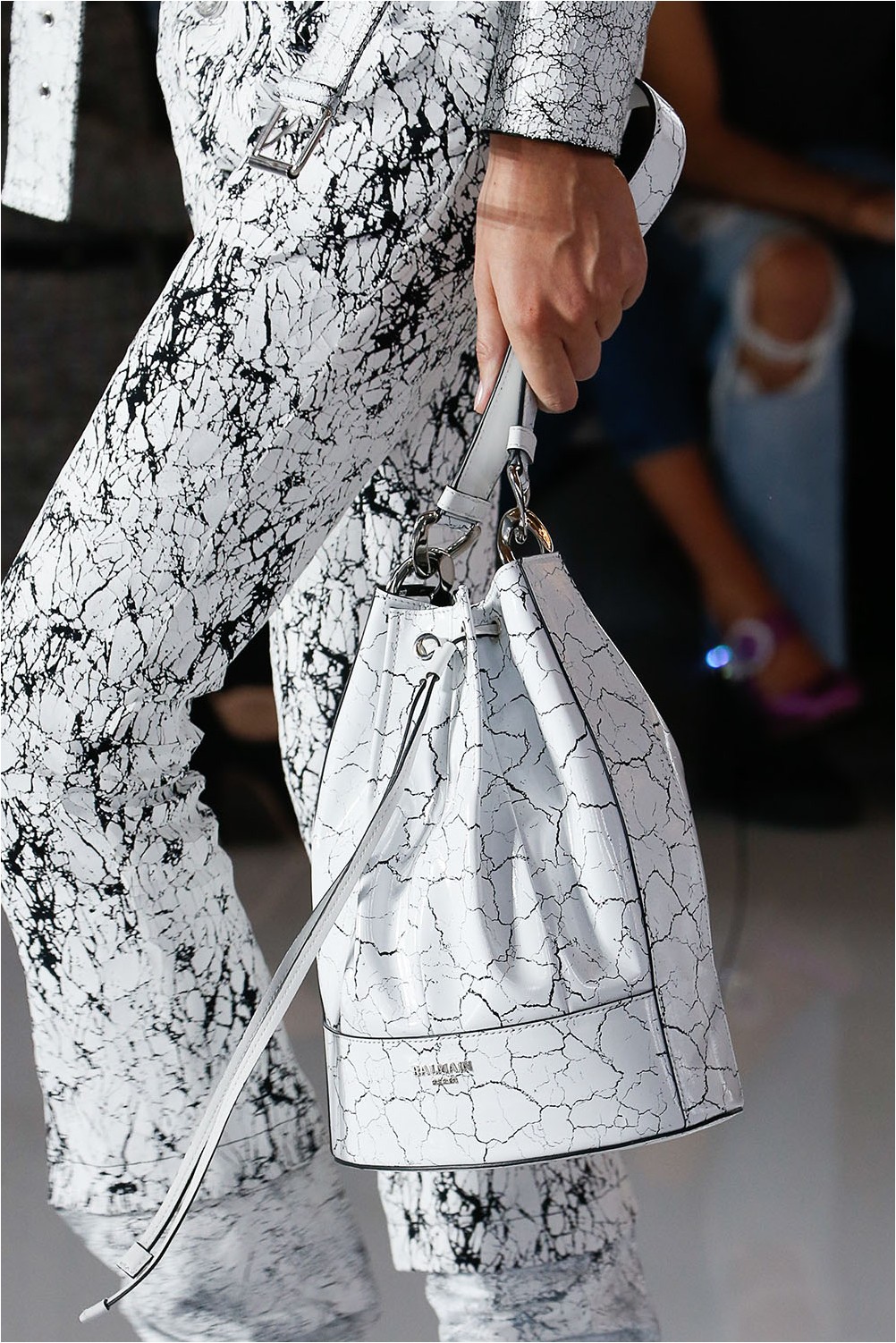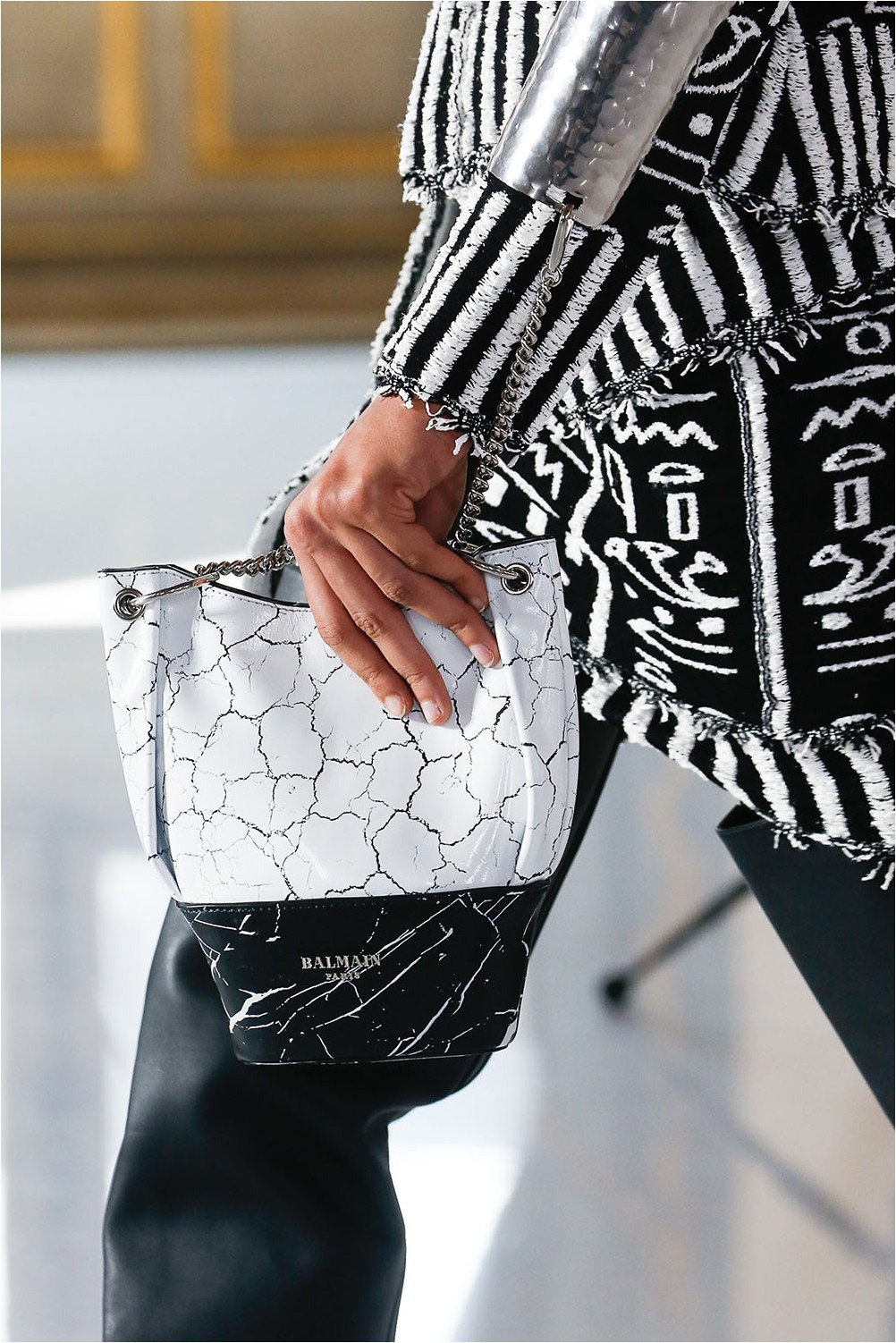 Box bags
Bags of square shapes – a hit of the spring-summer season of 2019. Clutches, minodyeres, gondola bags, "handheld" – almost all modifications of small handbags looked square. No rounded soft shapes, strict geometry and straight lines.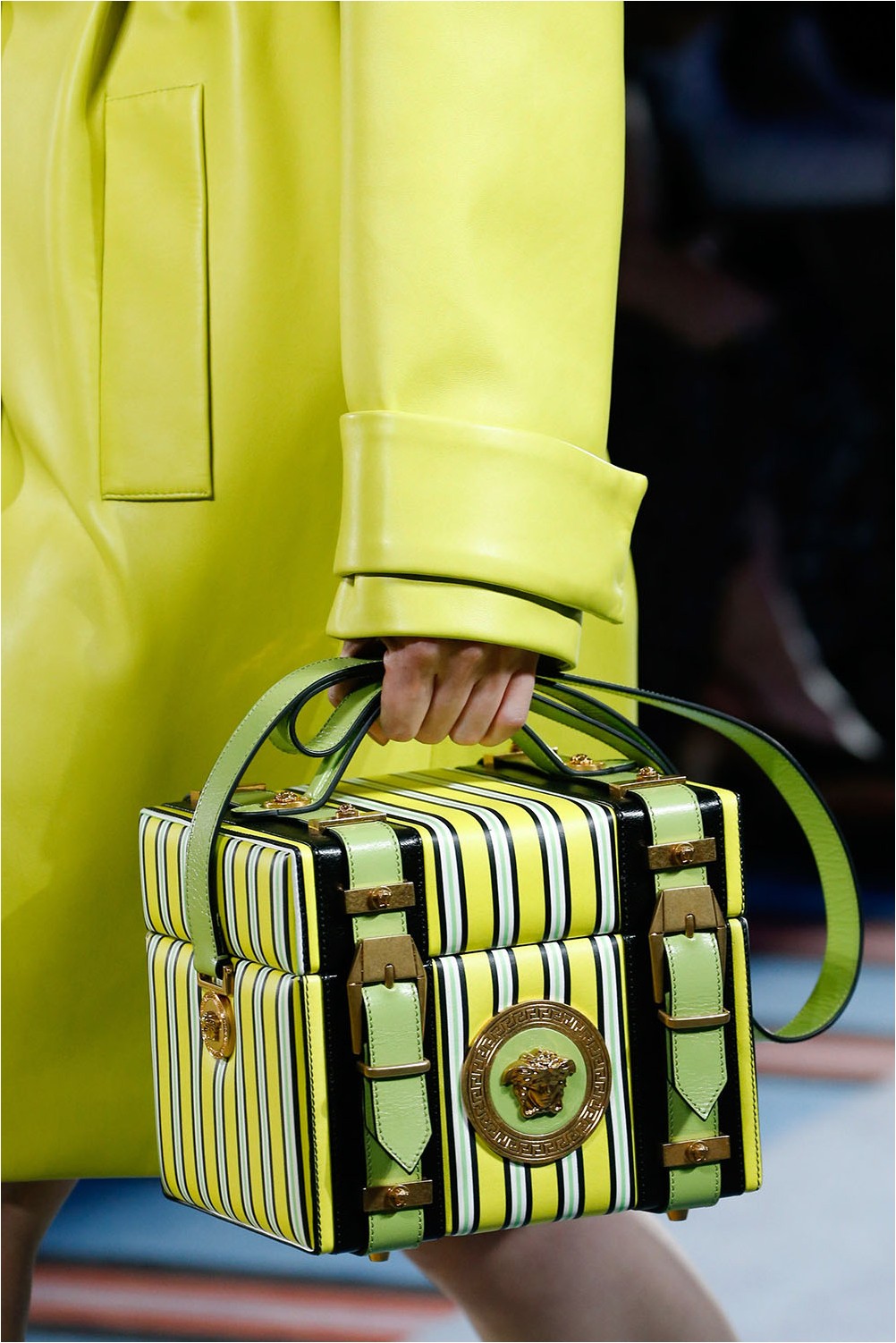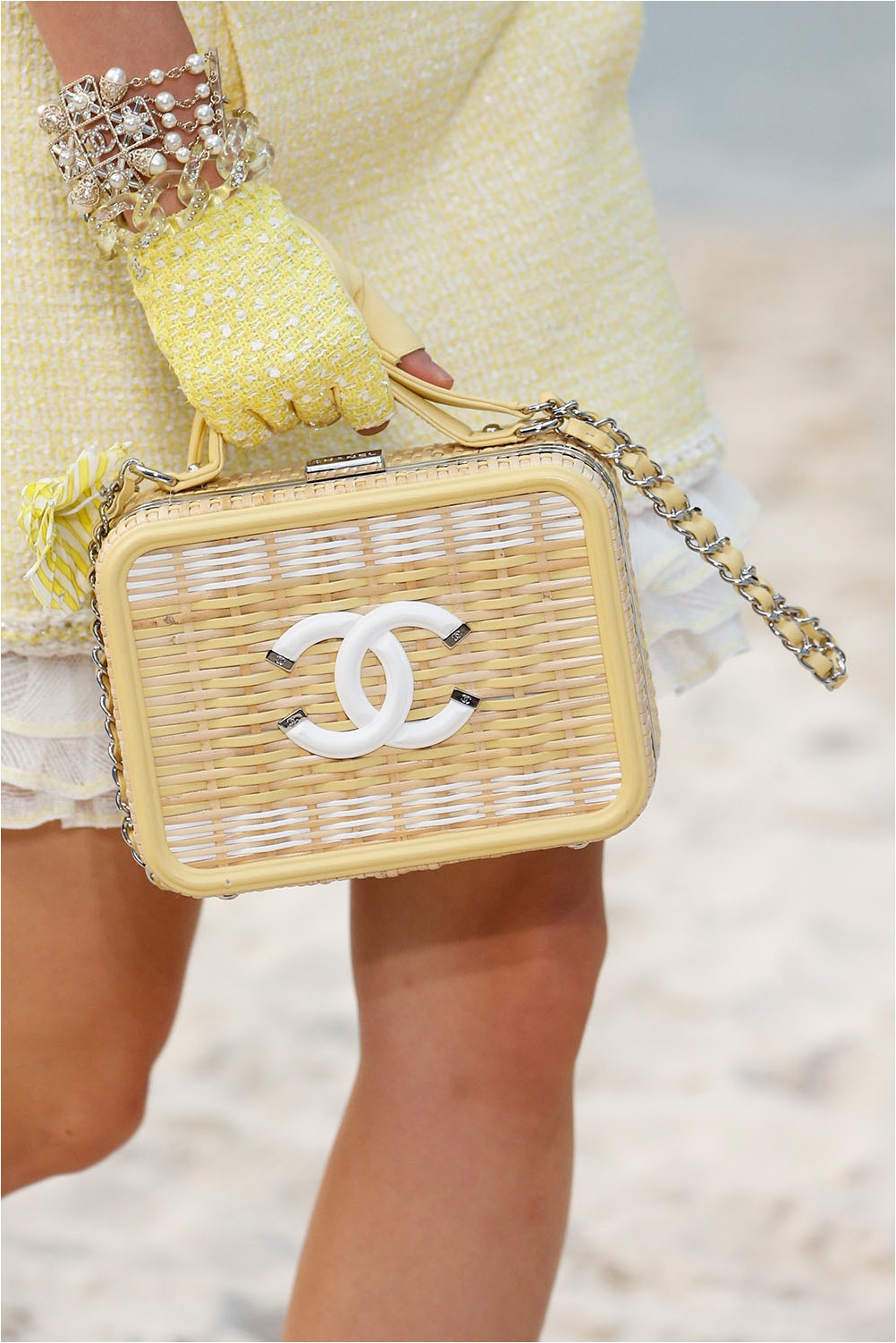 A square bracelet bag was proposed by Giorgio Armani. At Hermès, the bags were made in the shape of a small "handheld" in safari style. And Louis Vuitton, Versace and Oscar de la Renta created bags in the form of a make-up artist's case..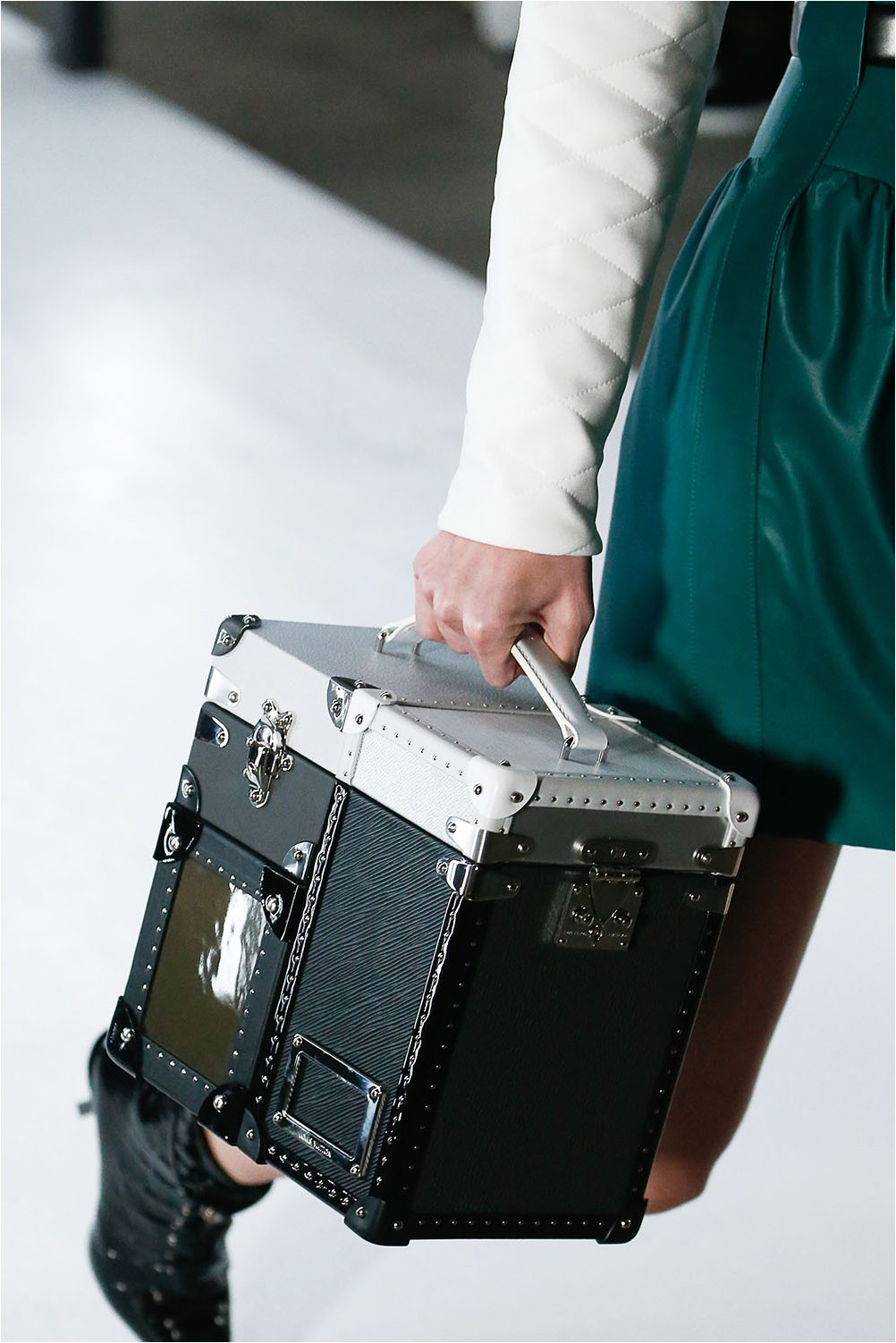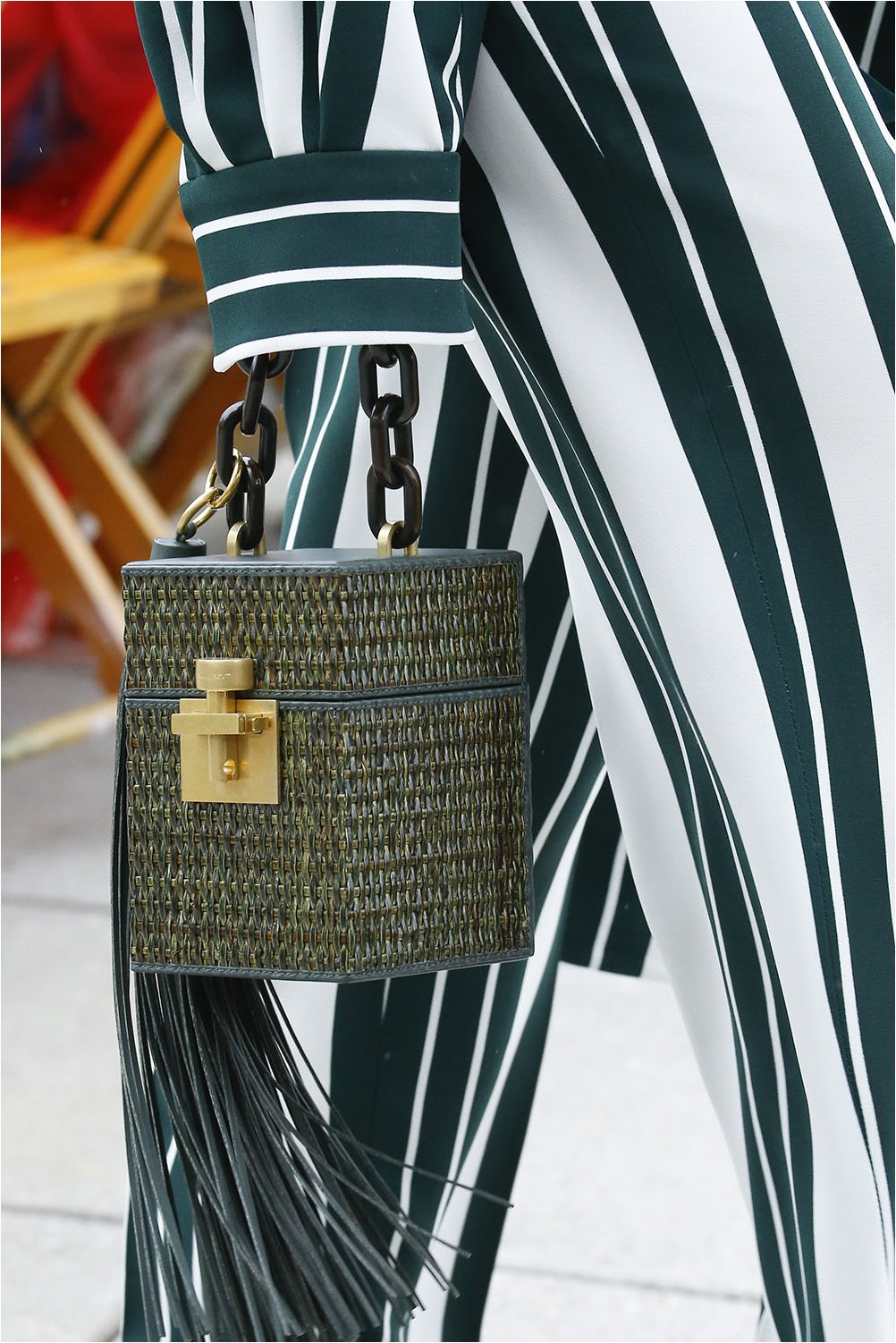 Clear plastic
Bags in transparent plastic will be given to us in the spring, as a legacy of last season. Only this time they went through a serious upgrade. Thanks to Balmain, they gained a futuristic touch. Fashion house designers updated the trend by placing a Chanel-style handbag on a plexiglass plate. They created a "crystal" minodeyer, which is almost invisible in the hand.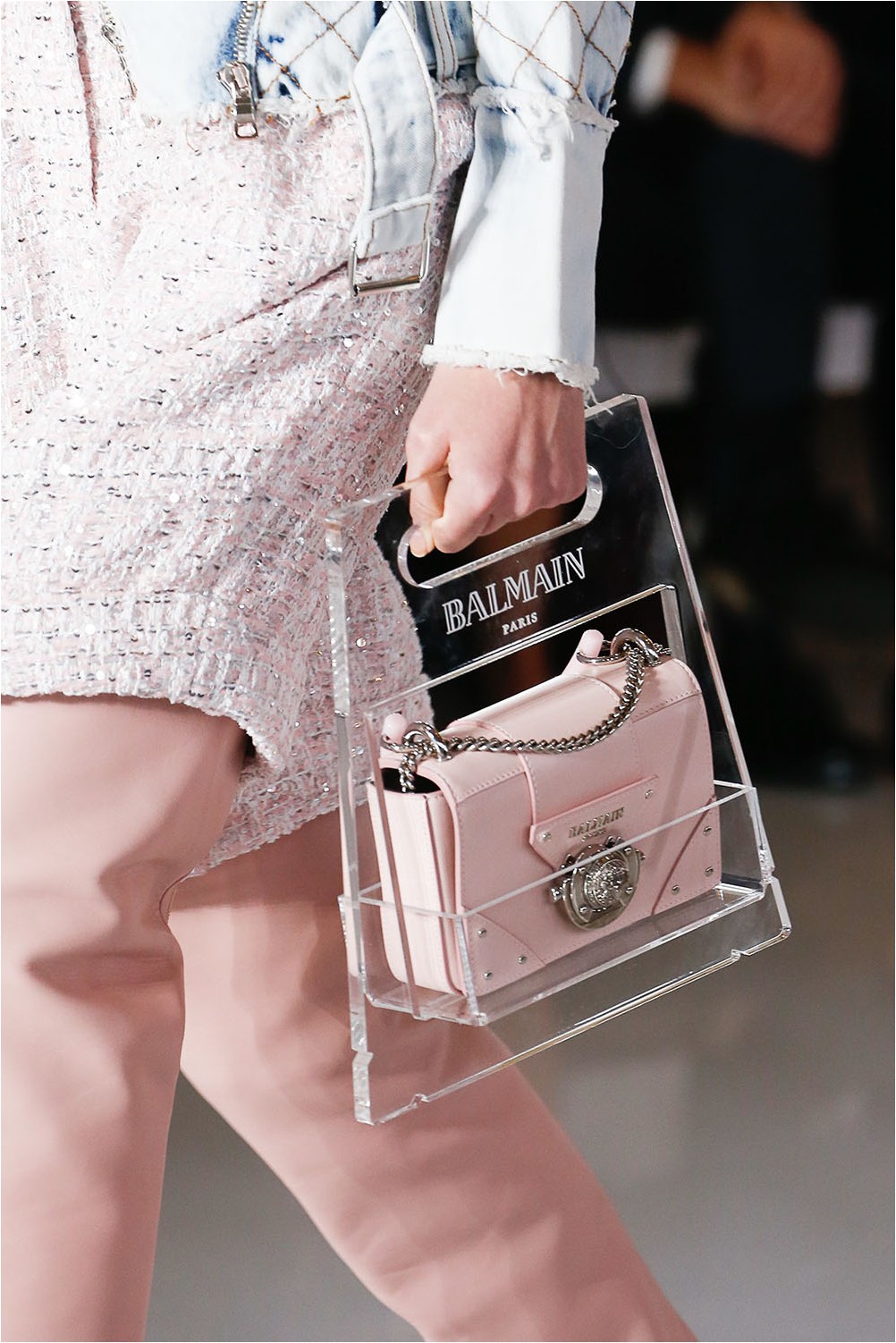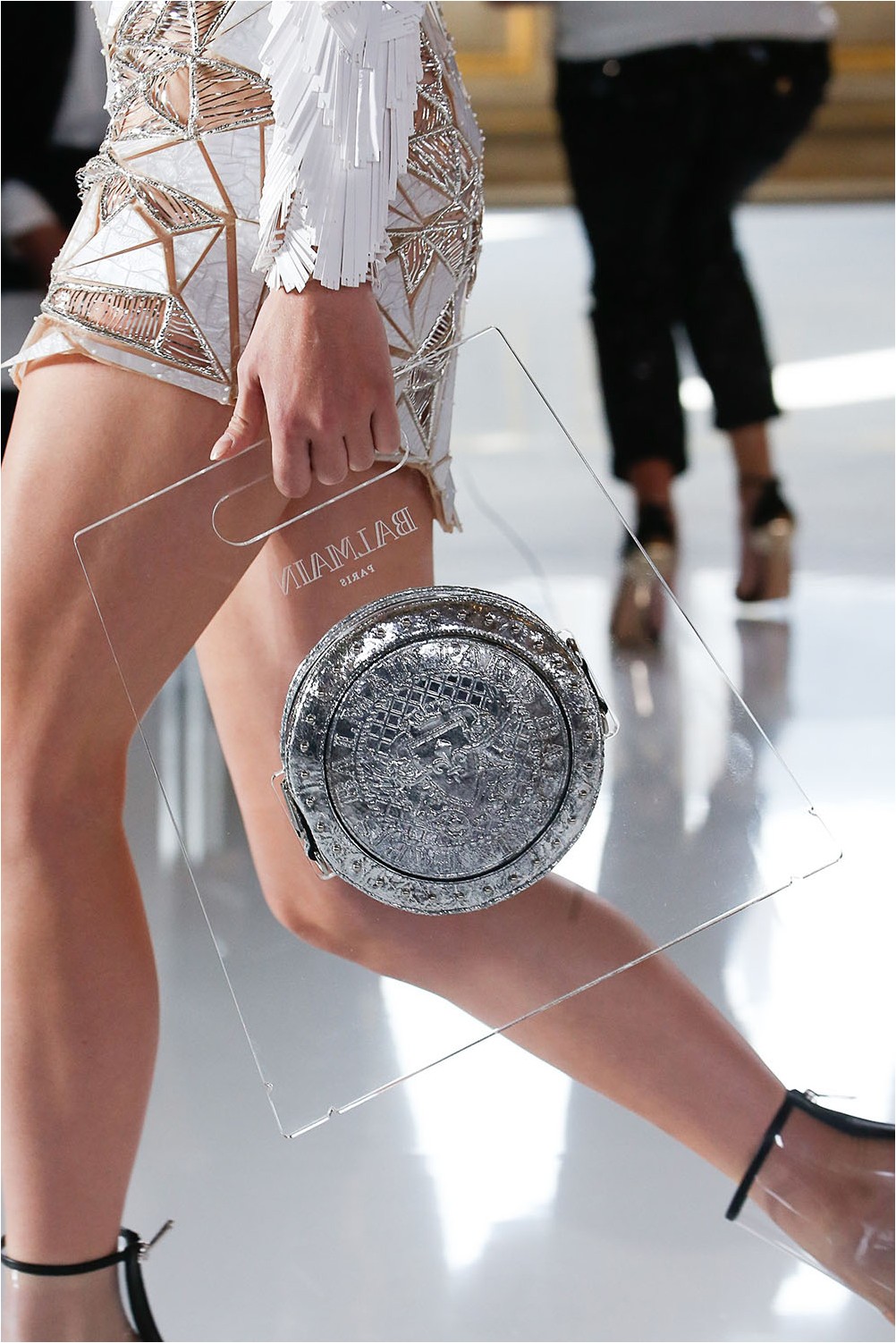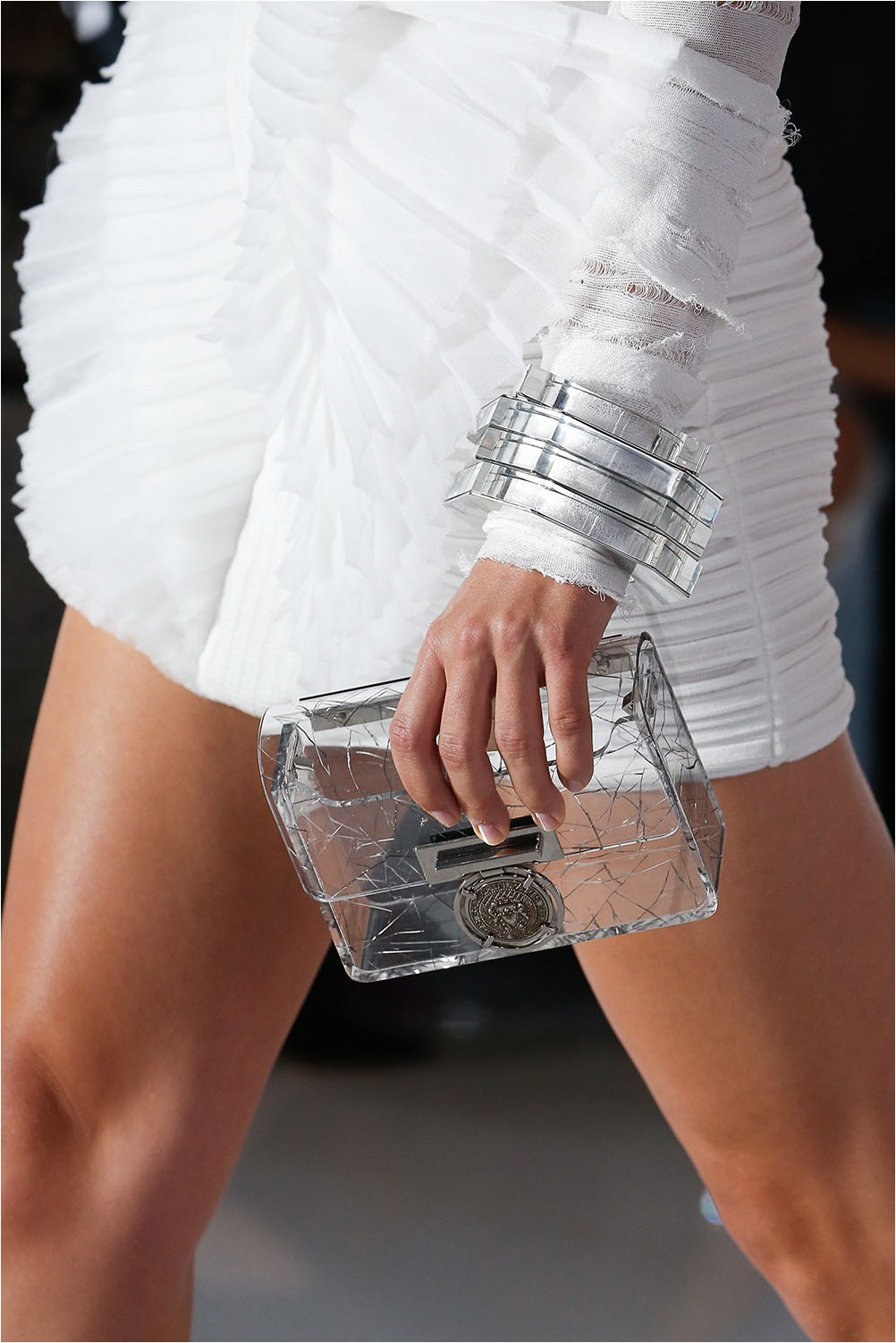 Transparent volumetric shoppers made of soft plastic will also be relevant, for example, Versace and Kenzo.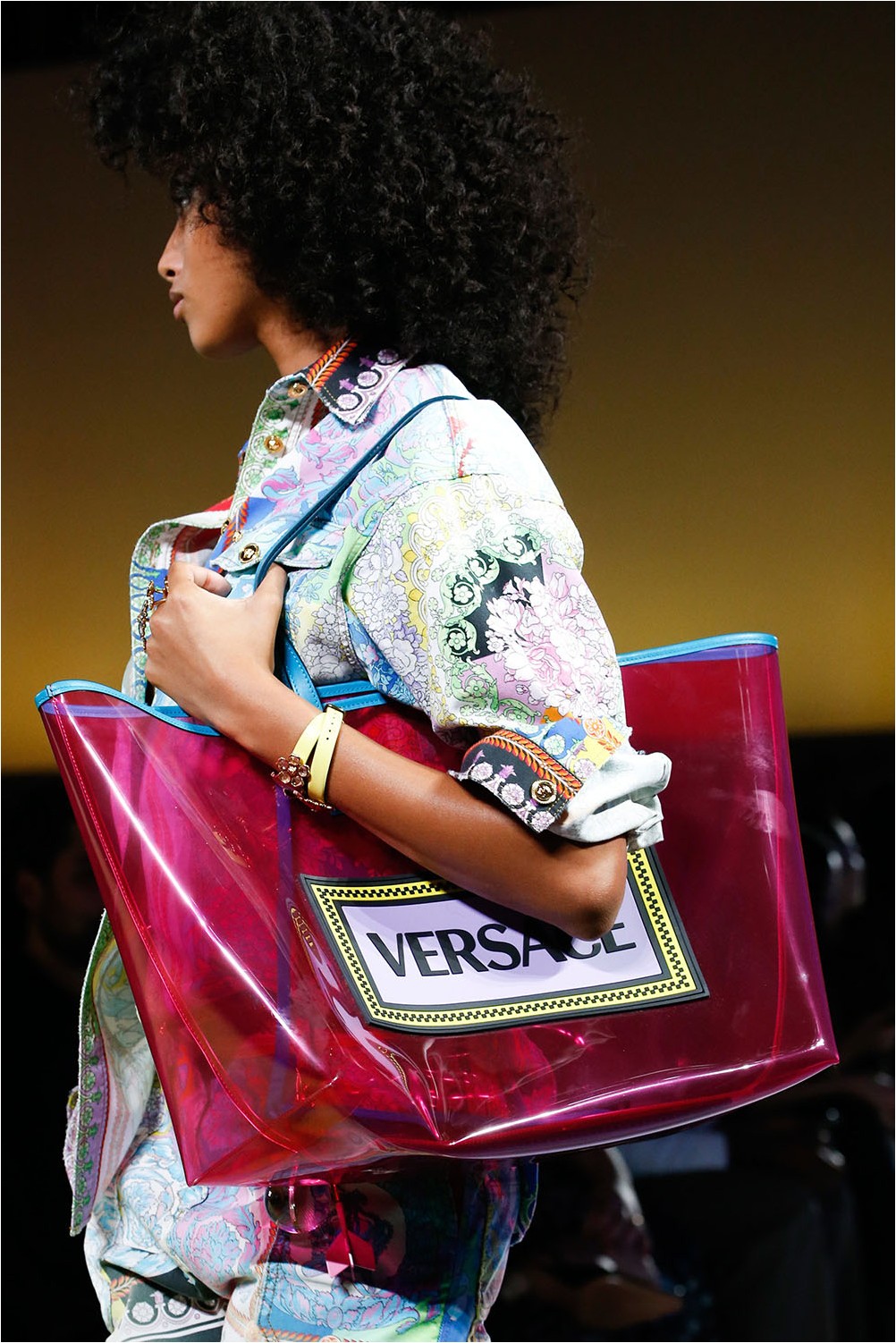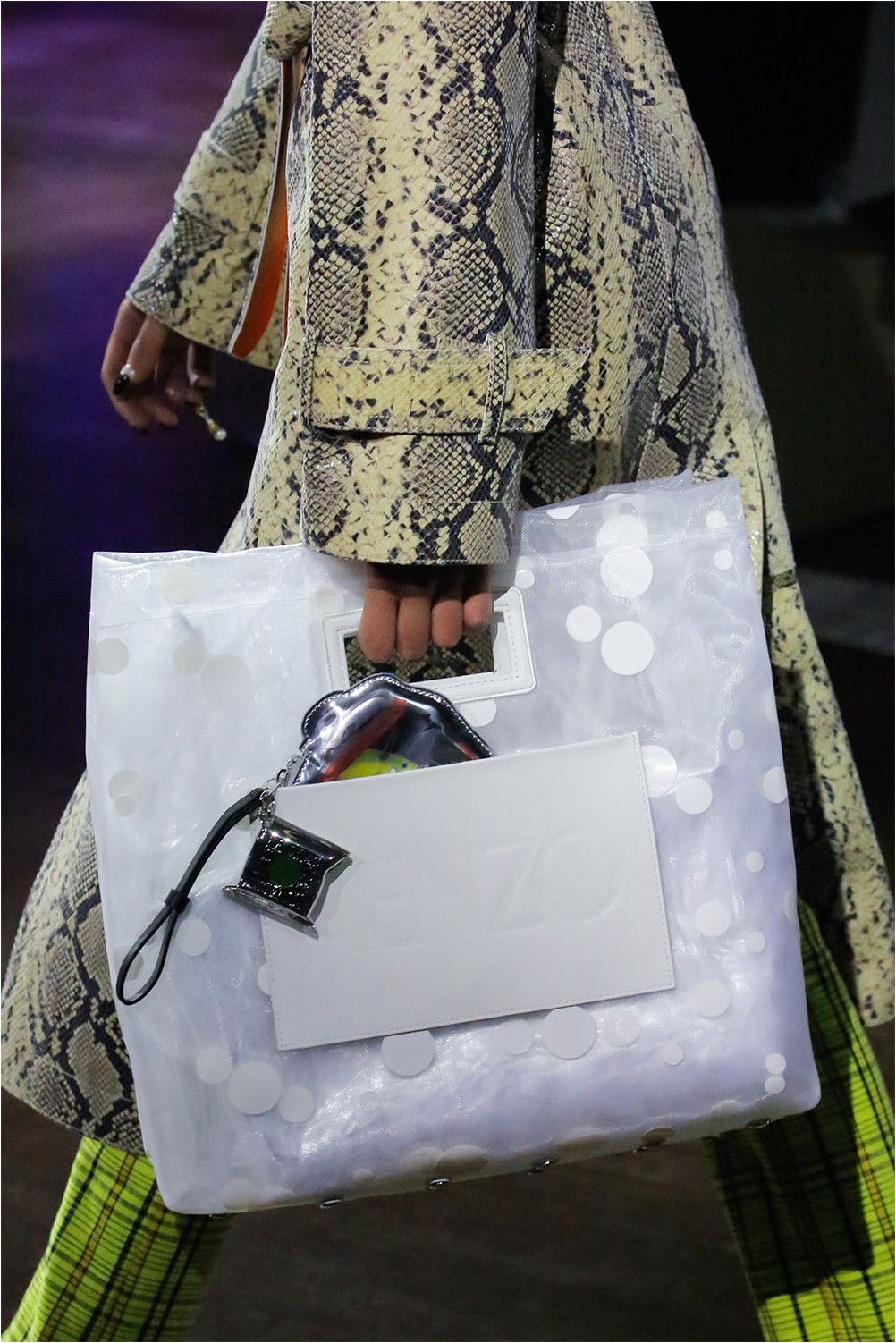 Bag set
Carrying several bags at the same time is another trend that has moved from past collections. But only now the layering of bags has become streamlined. Sometimes several bags form a mono look. After all, they are almost identical in style, texture and color.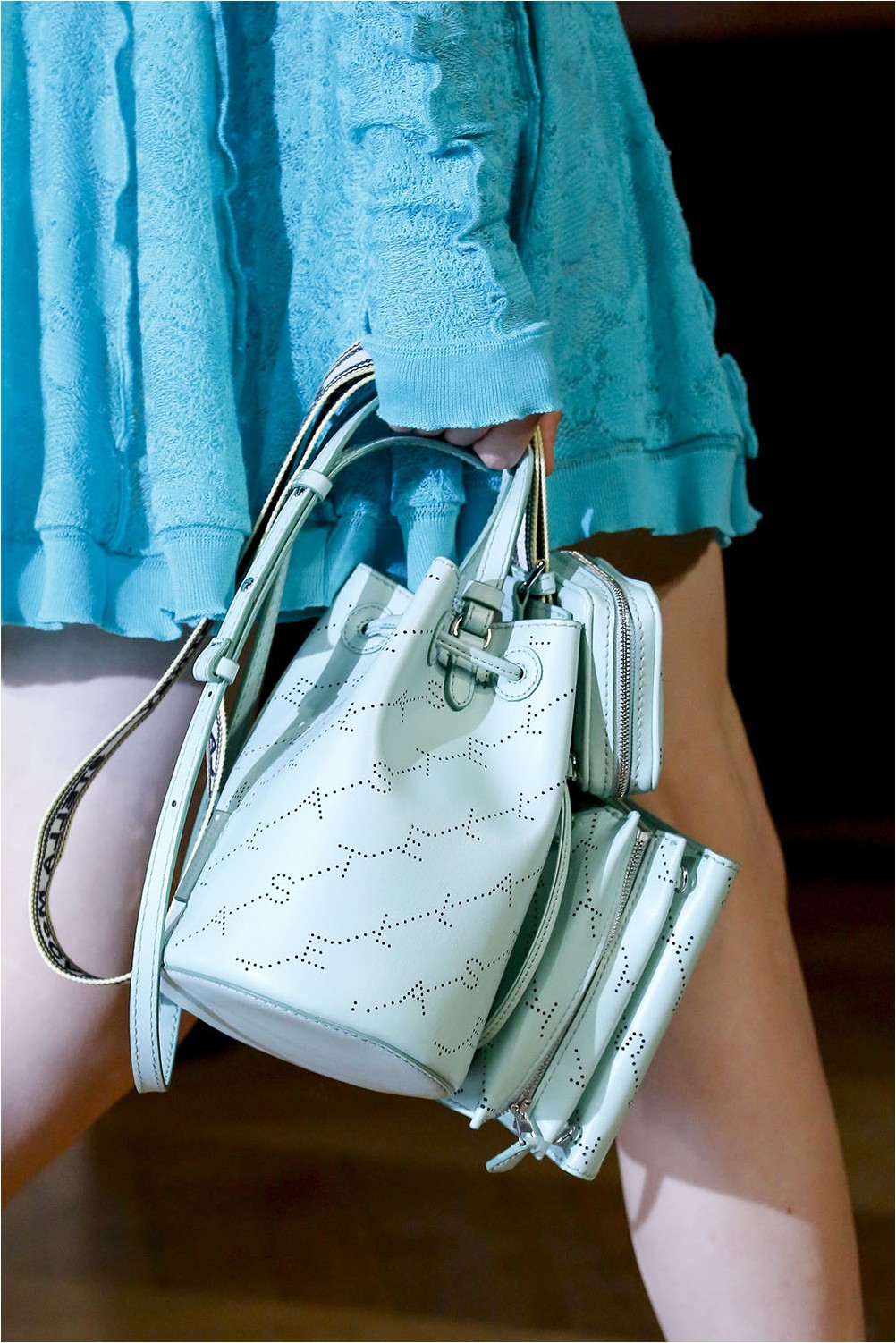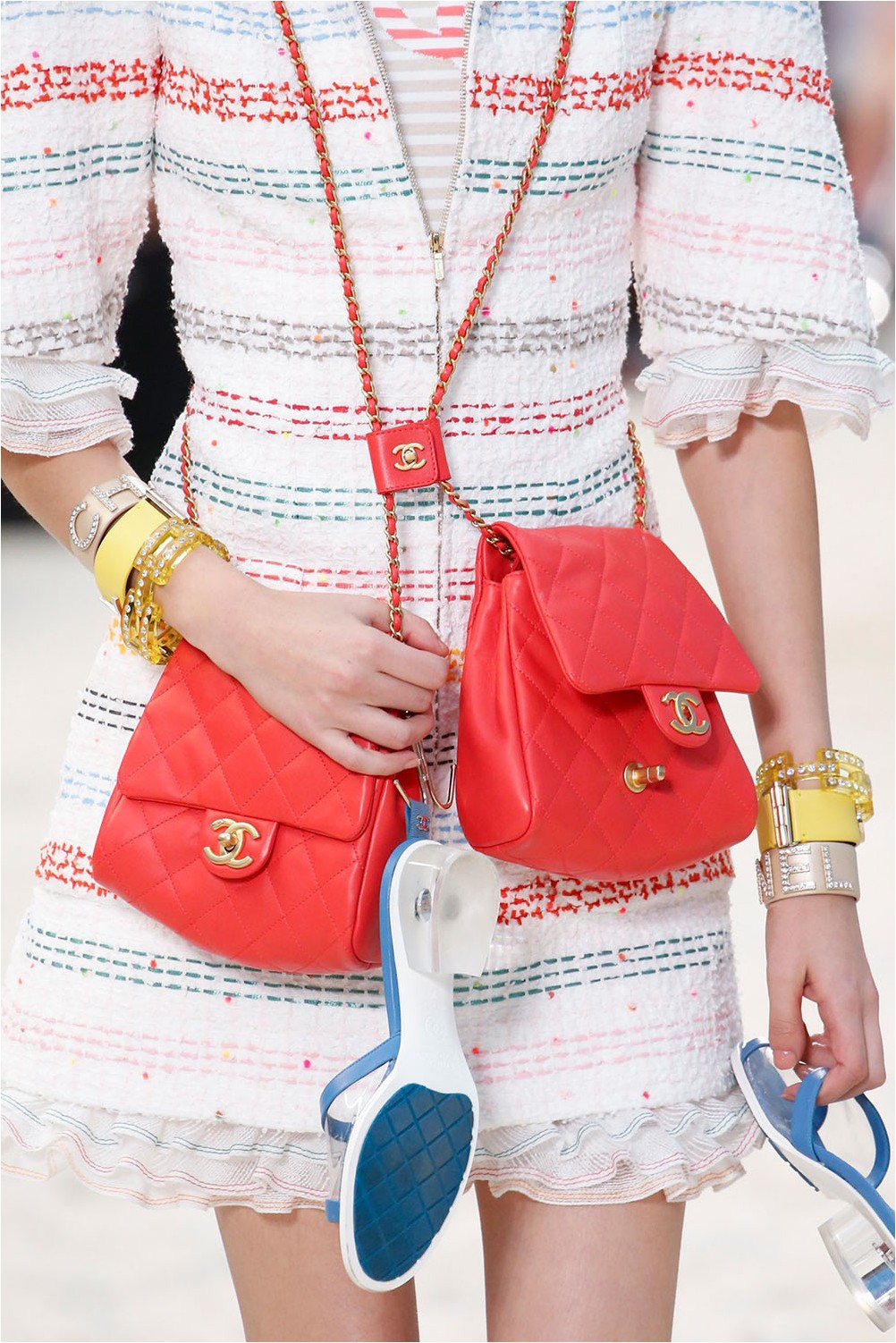 Such a handbag total look was found at Stella McCartney, Chanel, Fendi. Contrast options are also possible. Givenchy and Gucci models use different combinations of skin color and texture..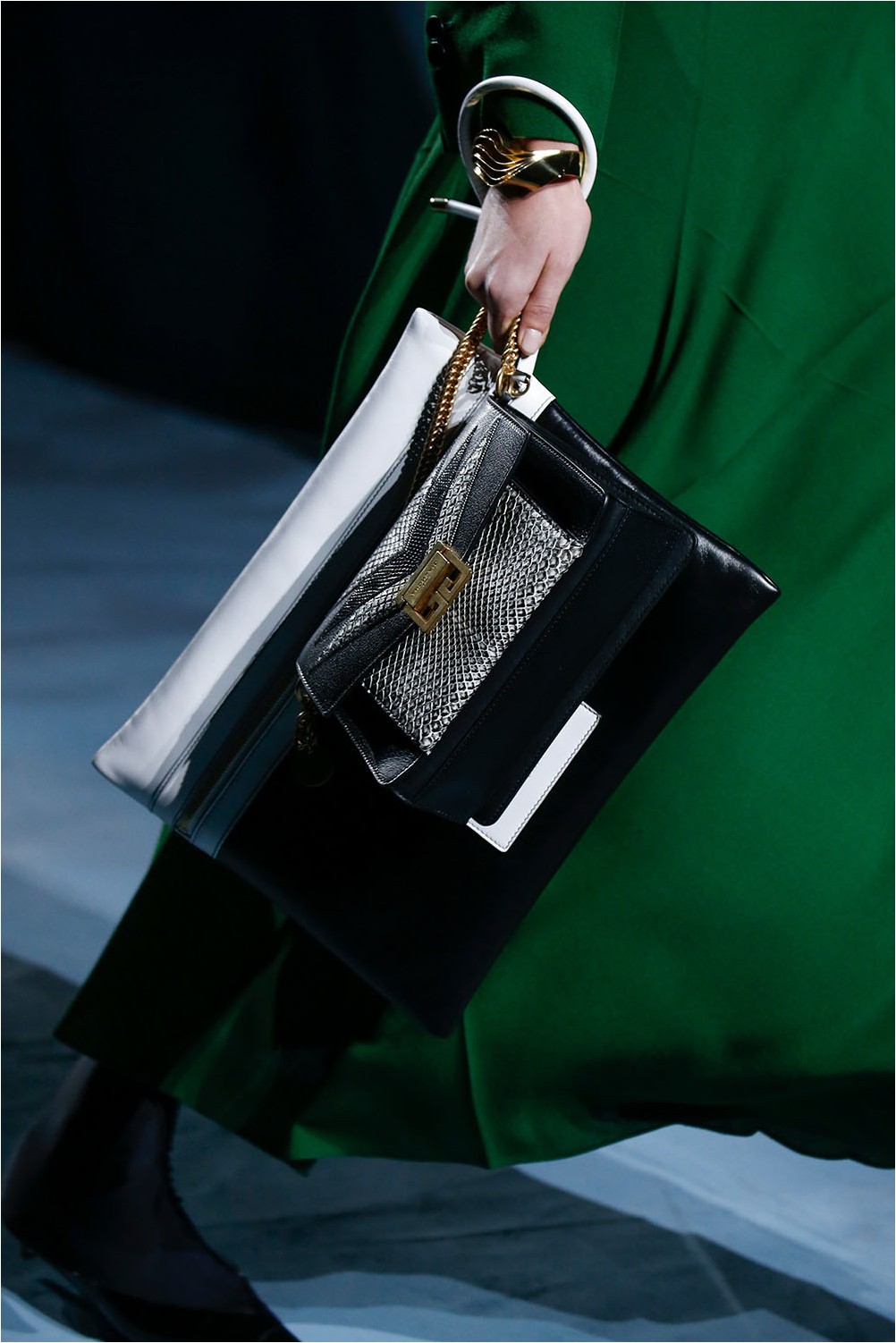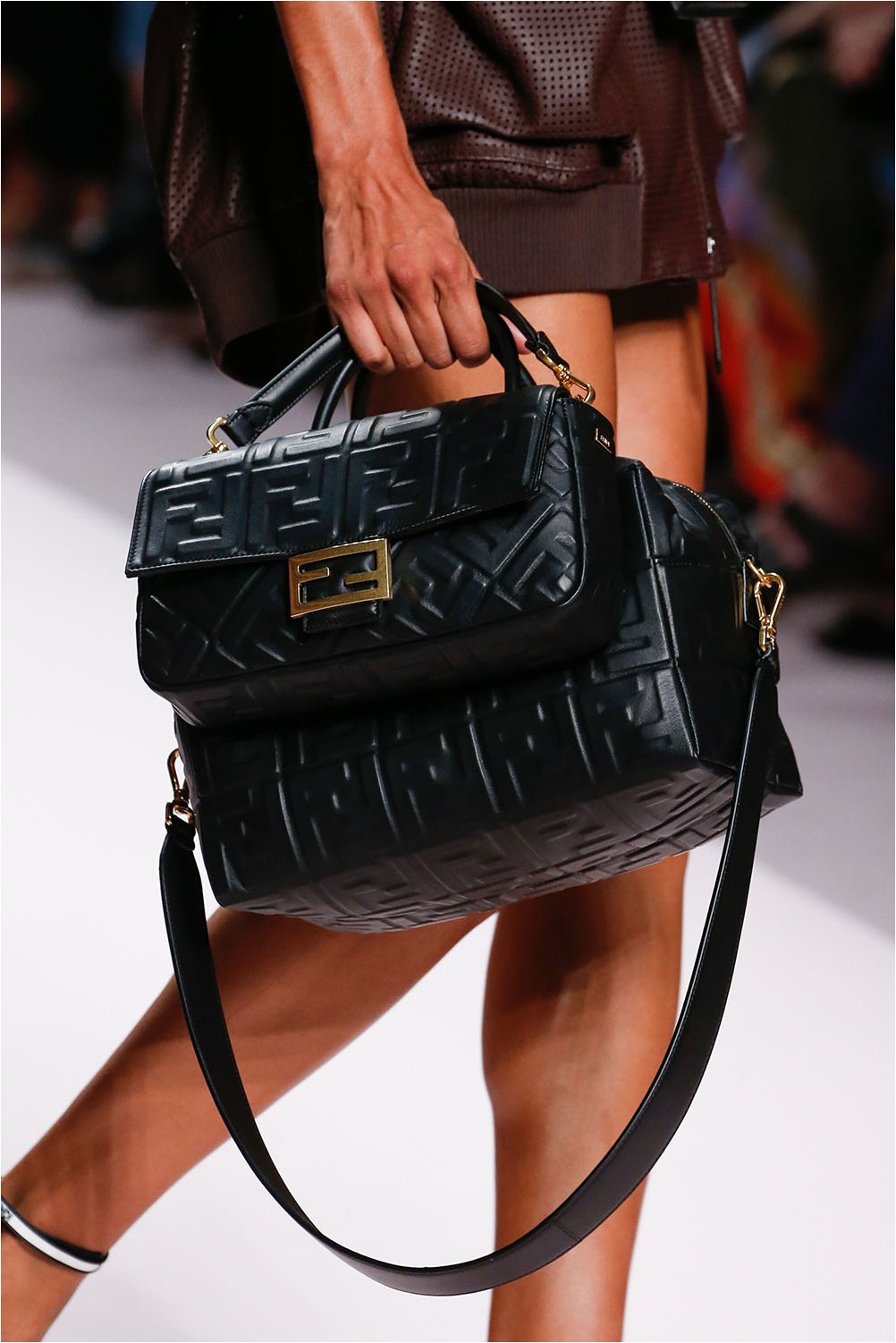 If you decide to create your own handbag kit yourself, then pick up bags that have at least one piece connecting them. It can become: the same buckle, a similar pattern, a single color scheme or style.
Logos
Many designers have decided that even their own logo can be a stylish addition to any bag. Now, in almost every haute couture collection, there is at least one bag with the brand name. Valentino, Givenchy, Fendi, Balenciaga and many other experts in the fashion industry have marked their logo on trend bags.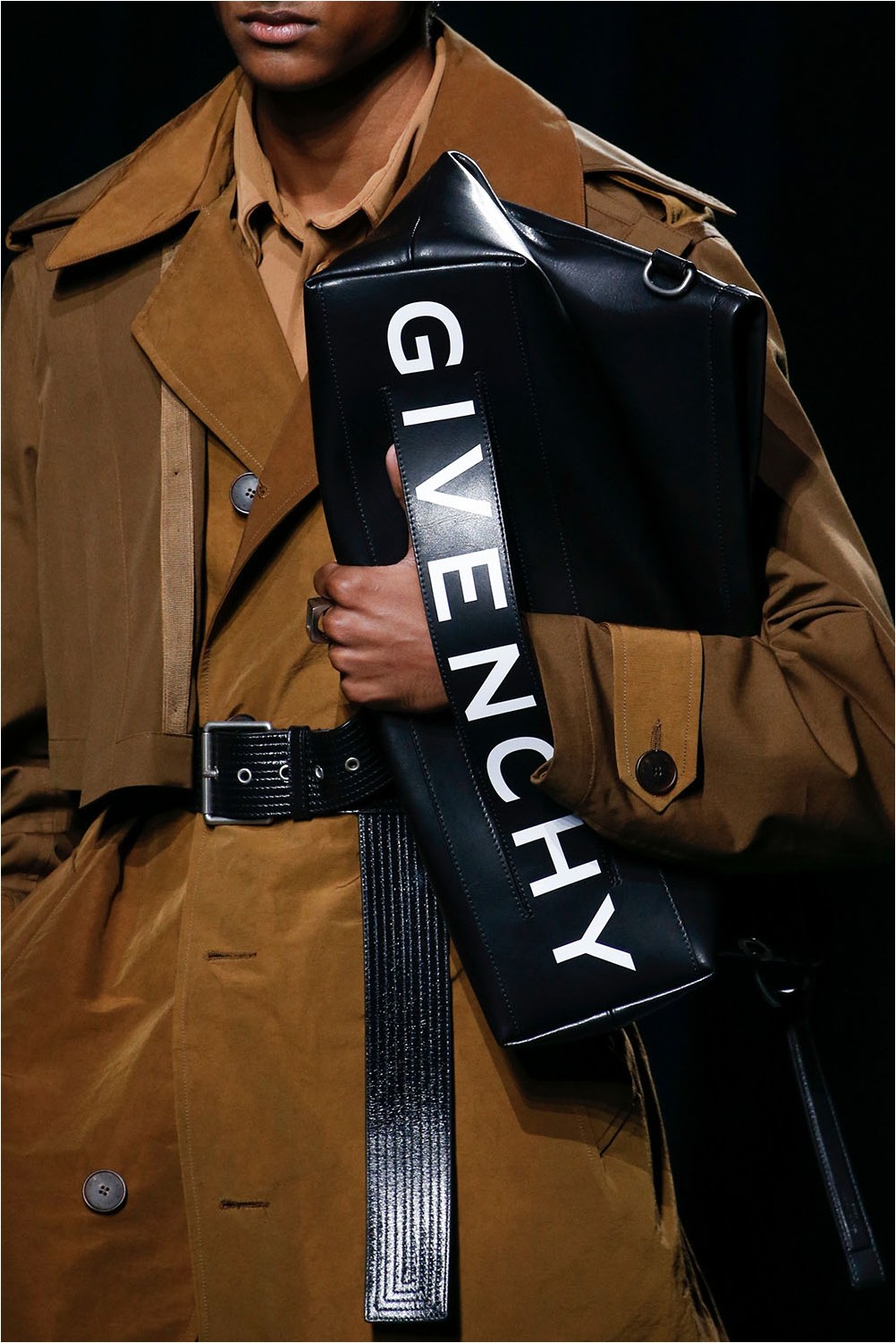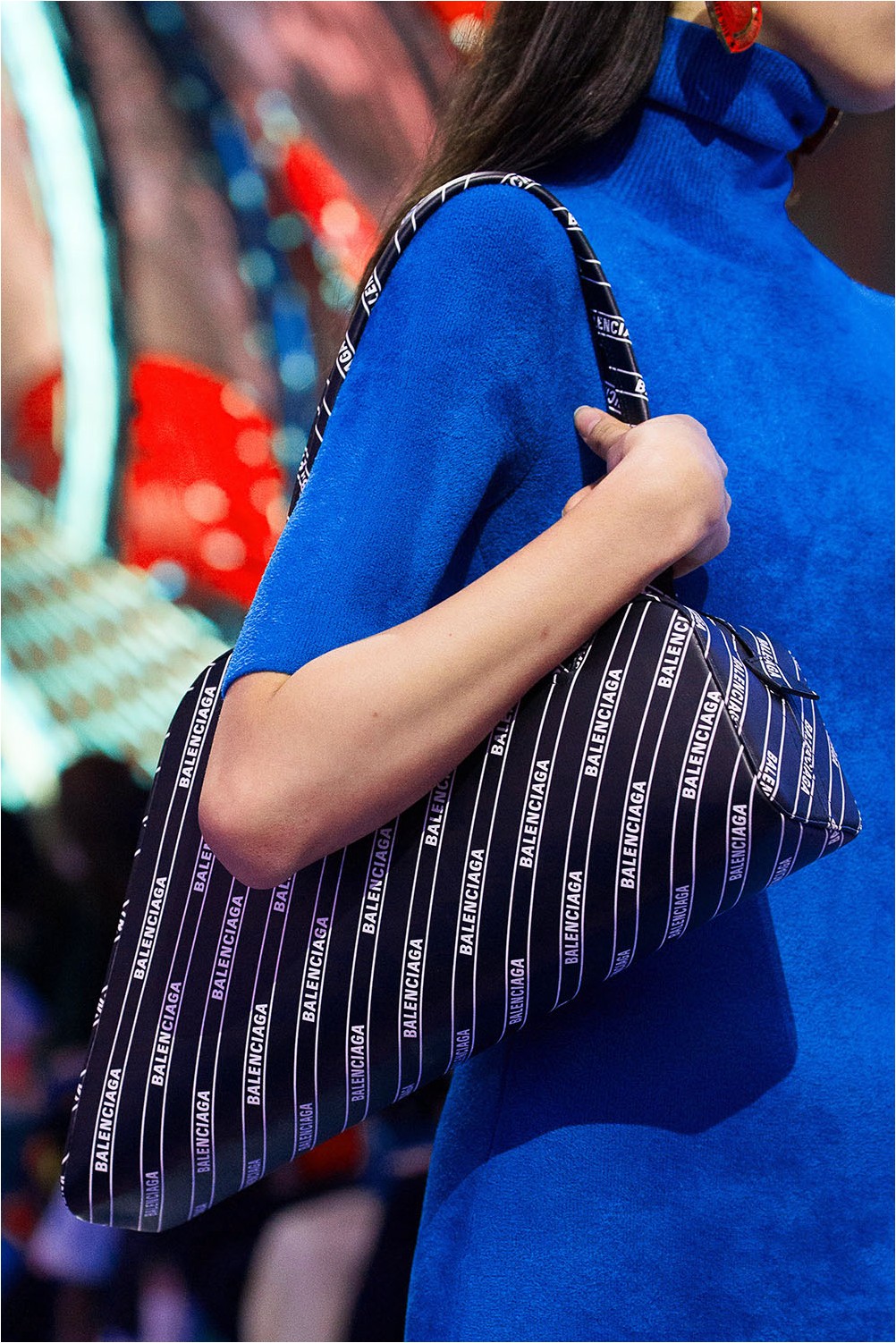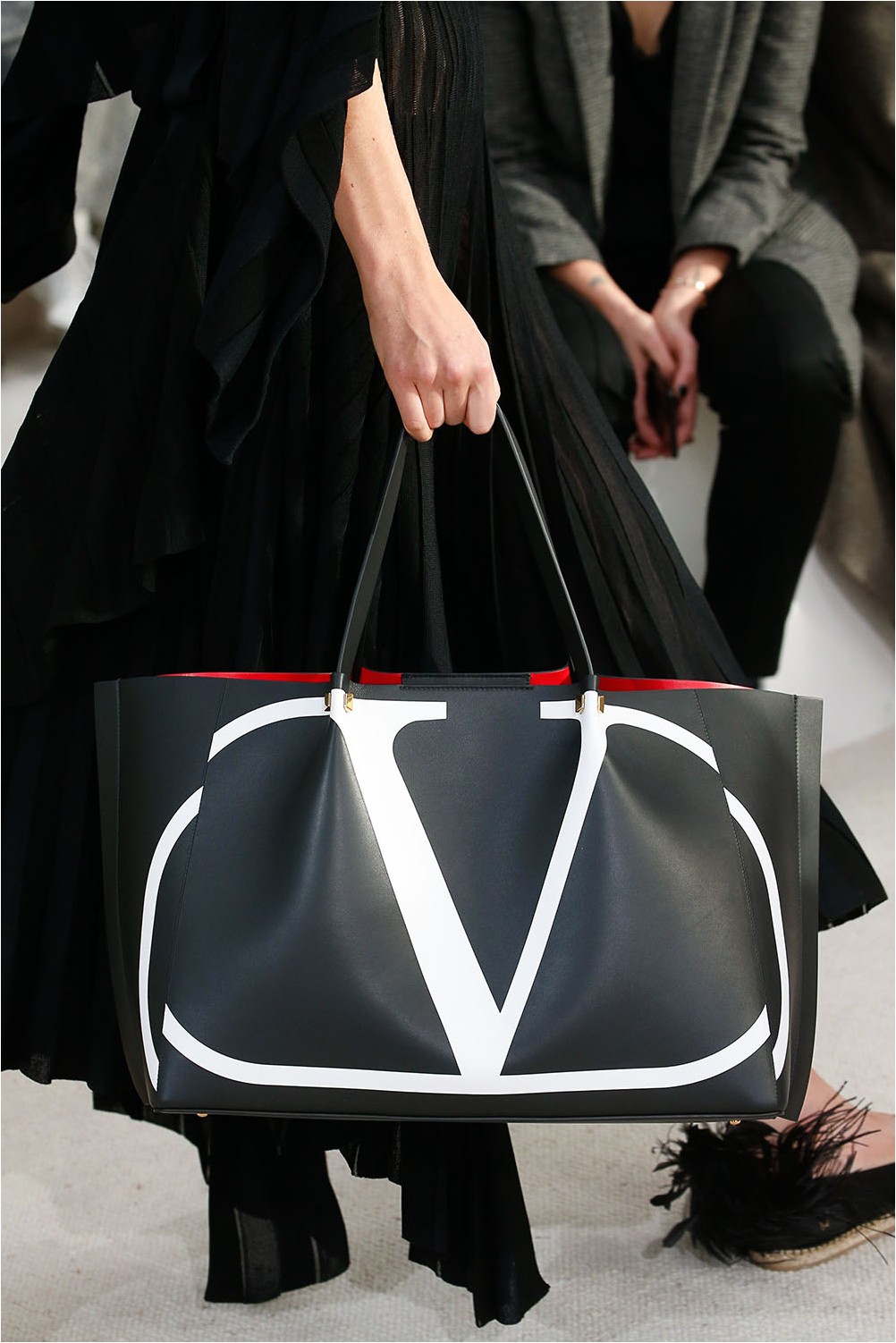 The logo is applied as a print, embossing, buckle or applique with the abbreviation of the fashion house. Chanel clutches are made of the famous Chanel boucle and are also decorated with a logo.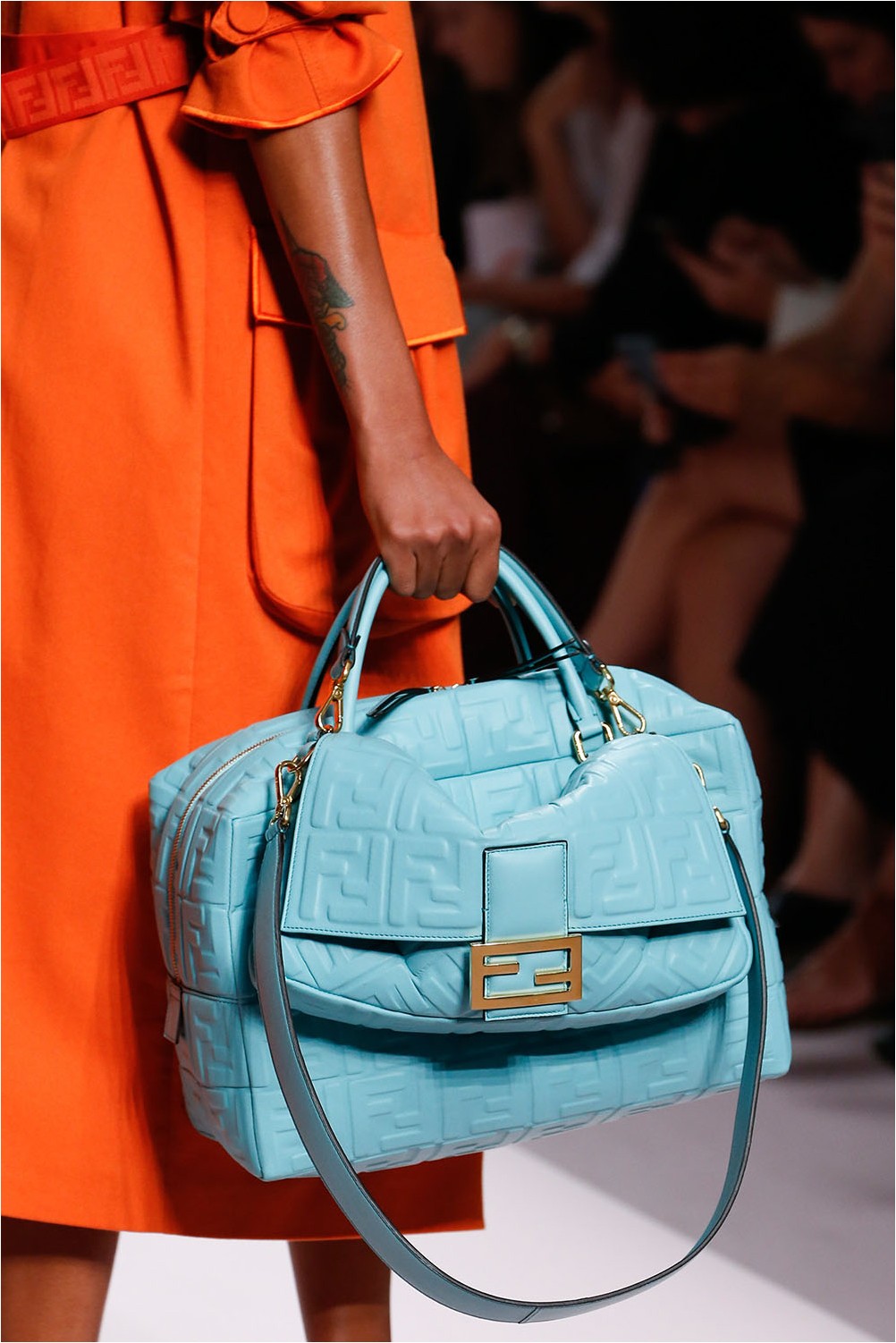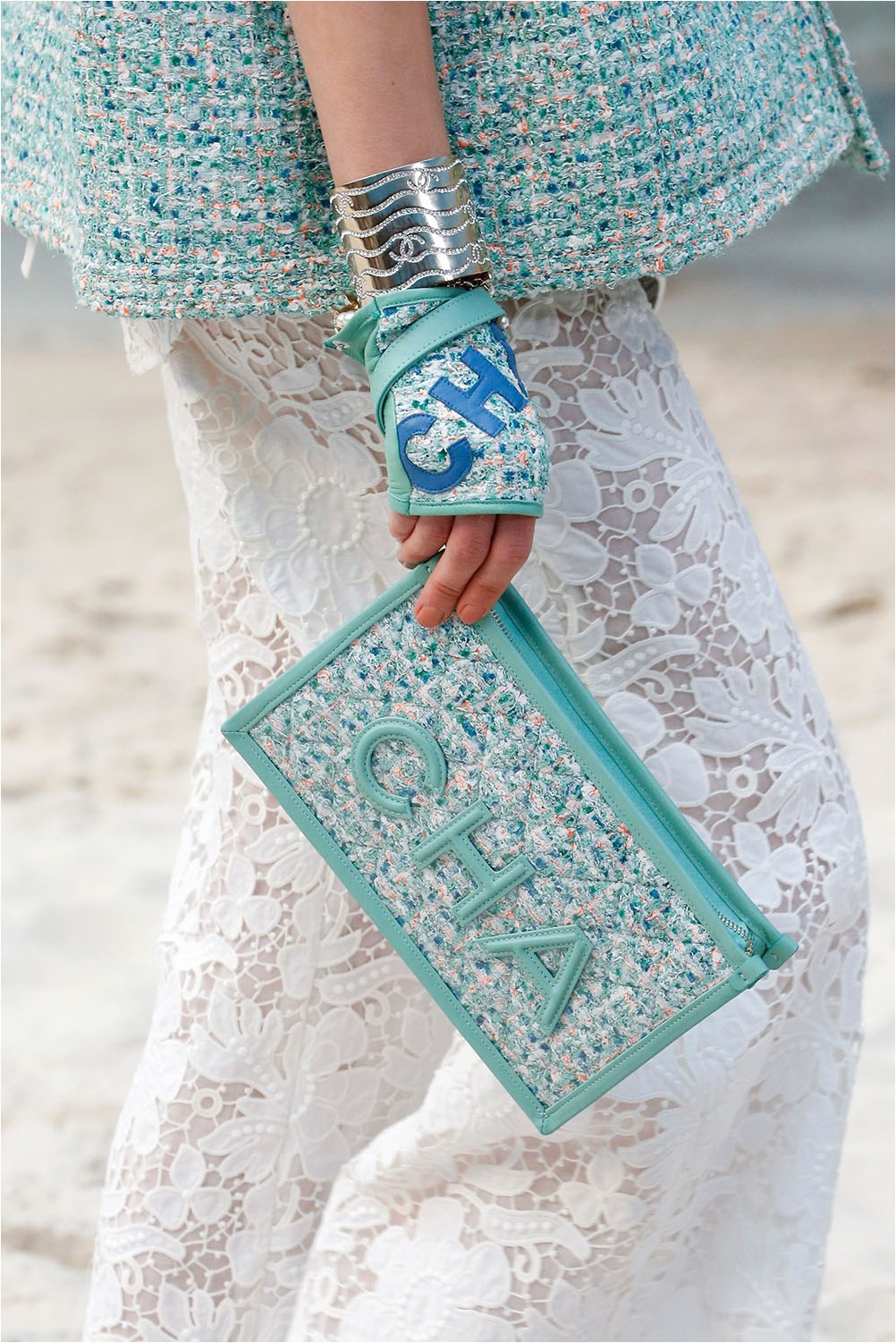 Waist bag
Convenience and style have added to the fashion of recent years small handbags on the belt. They do not bother, because they constantly change their appearance. Now the trend is tiny messengers. They are made like postal bags, but they do not spread over the shoulder, but are attached to the belt.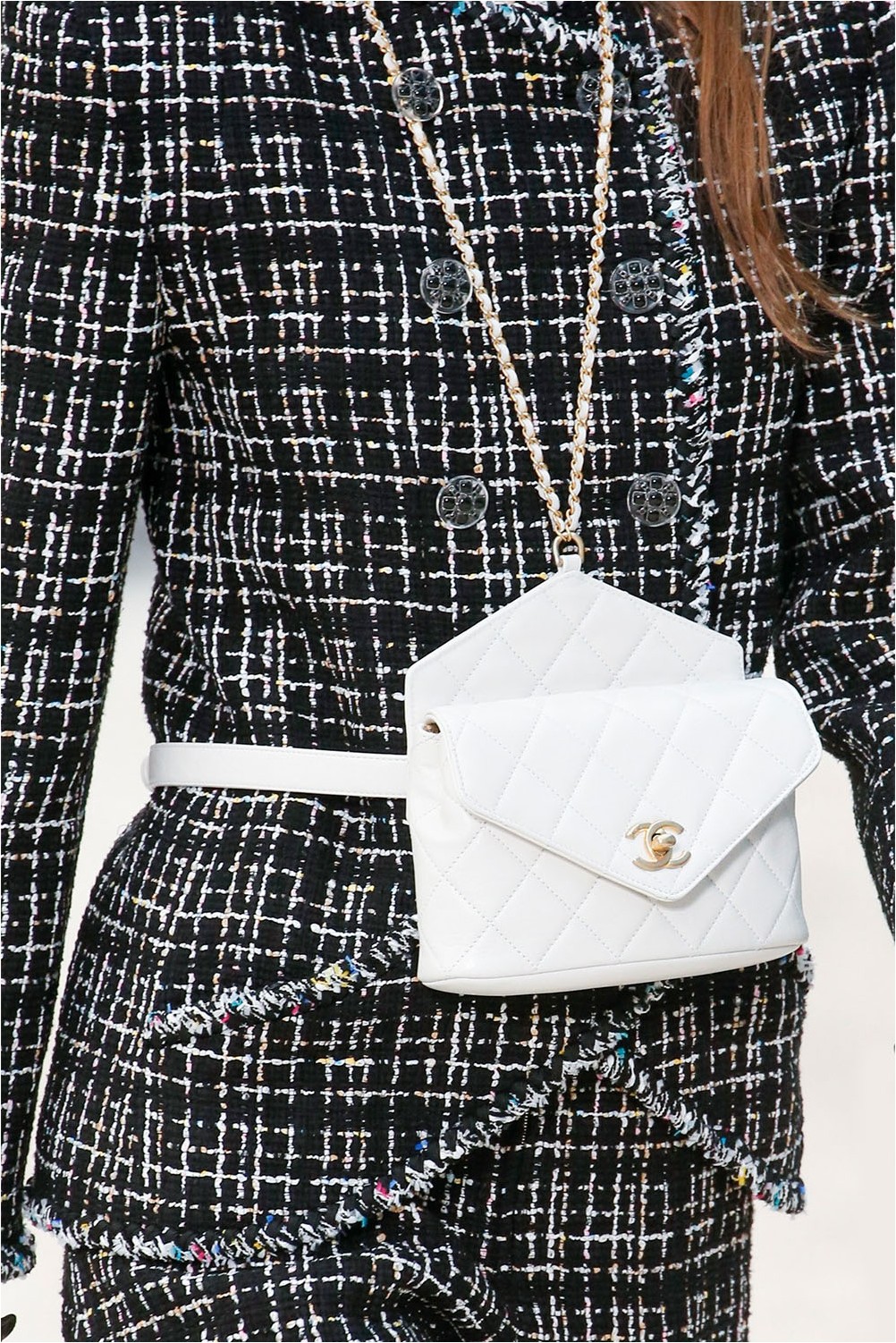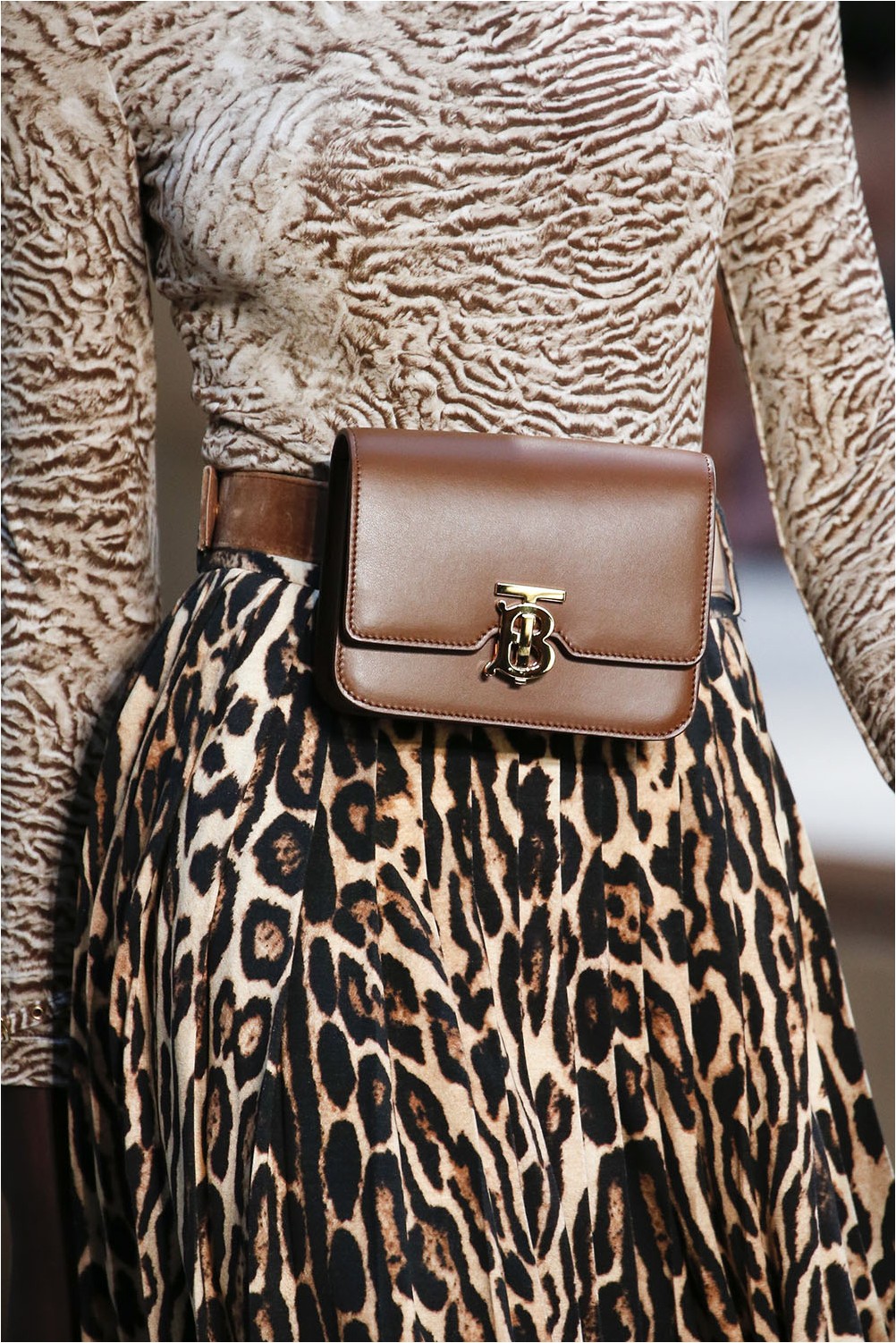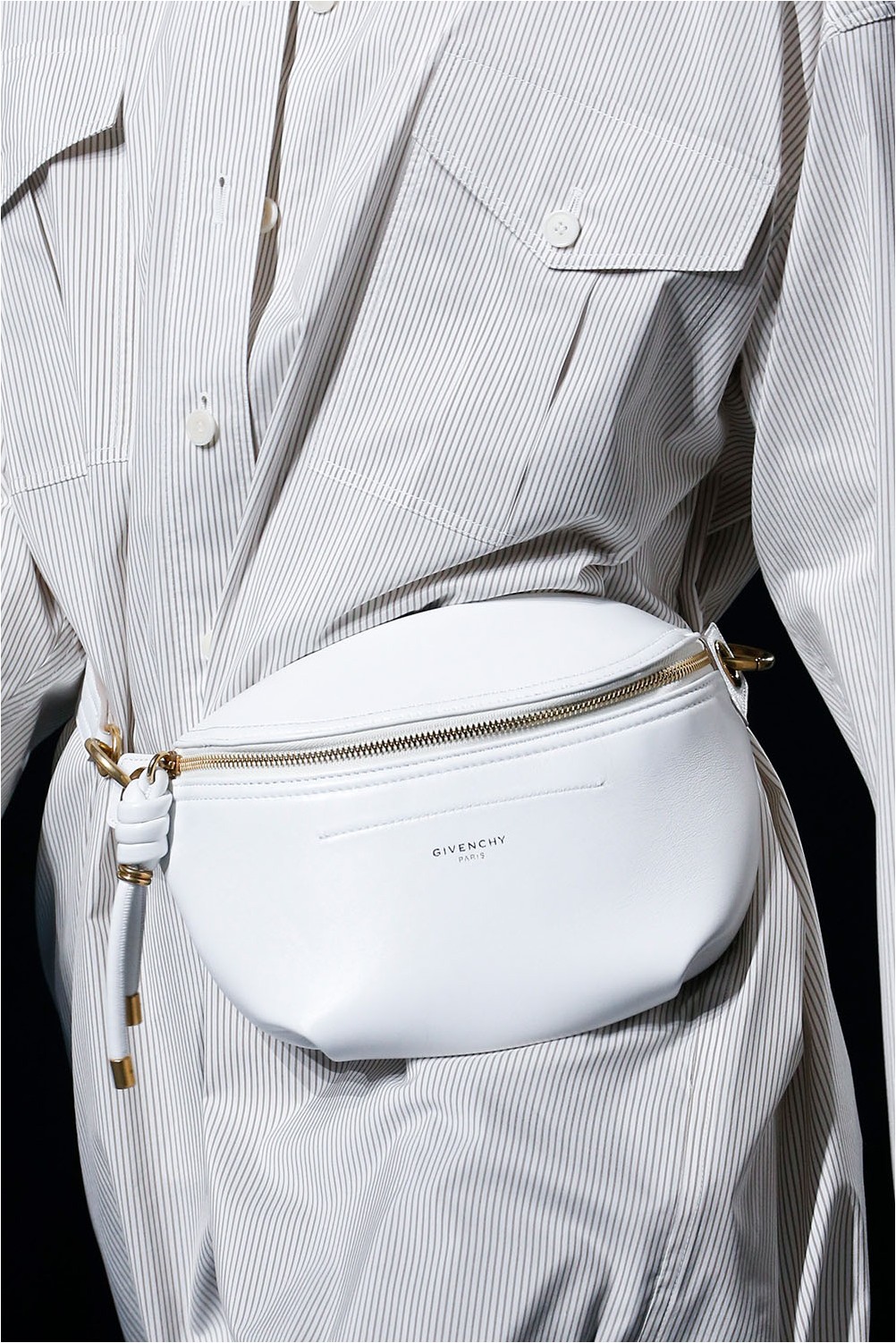 It is these models that adorned the trendy clothes from Burberry. Karl Lagerfeld, as part of the Fendi collection, made waist bags in the form of hunting girdle-belts. And the brand Giambattista Vall offered an envelope bag with a metal decor.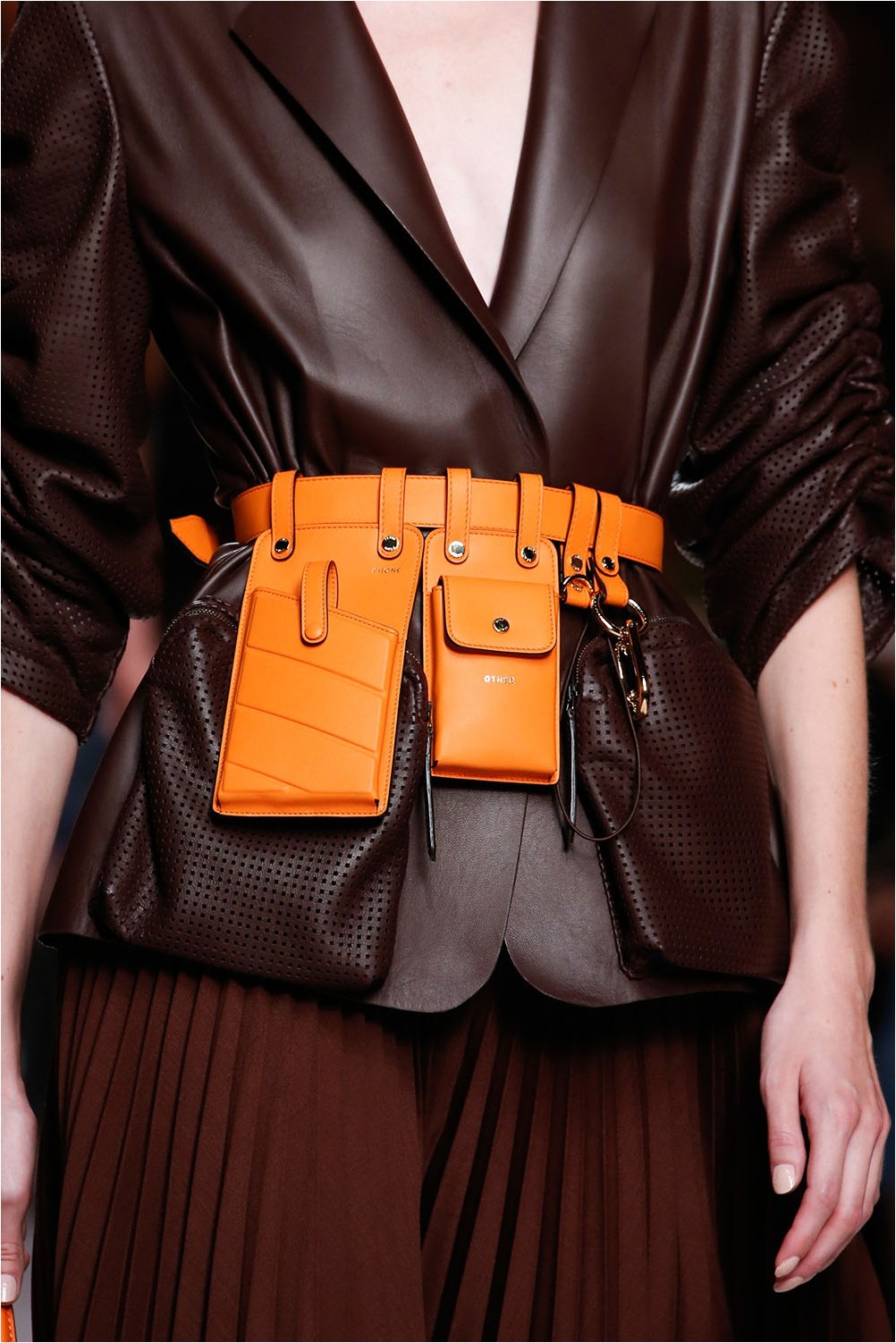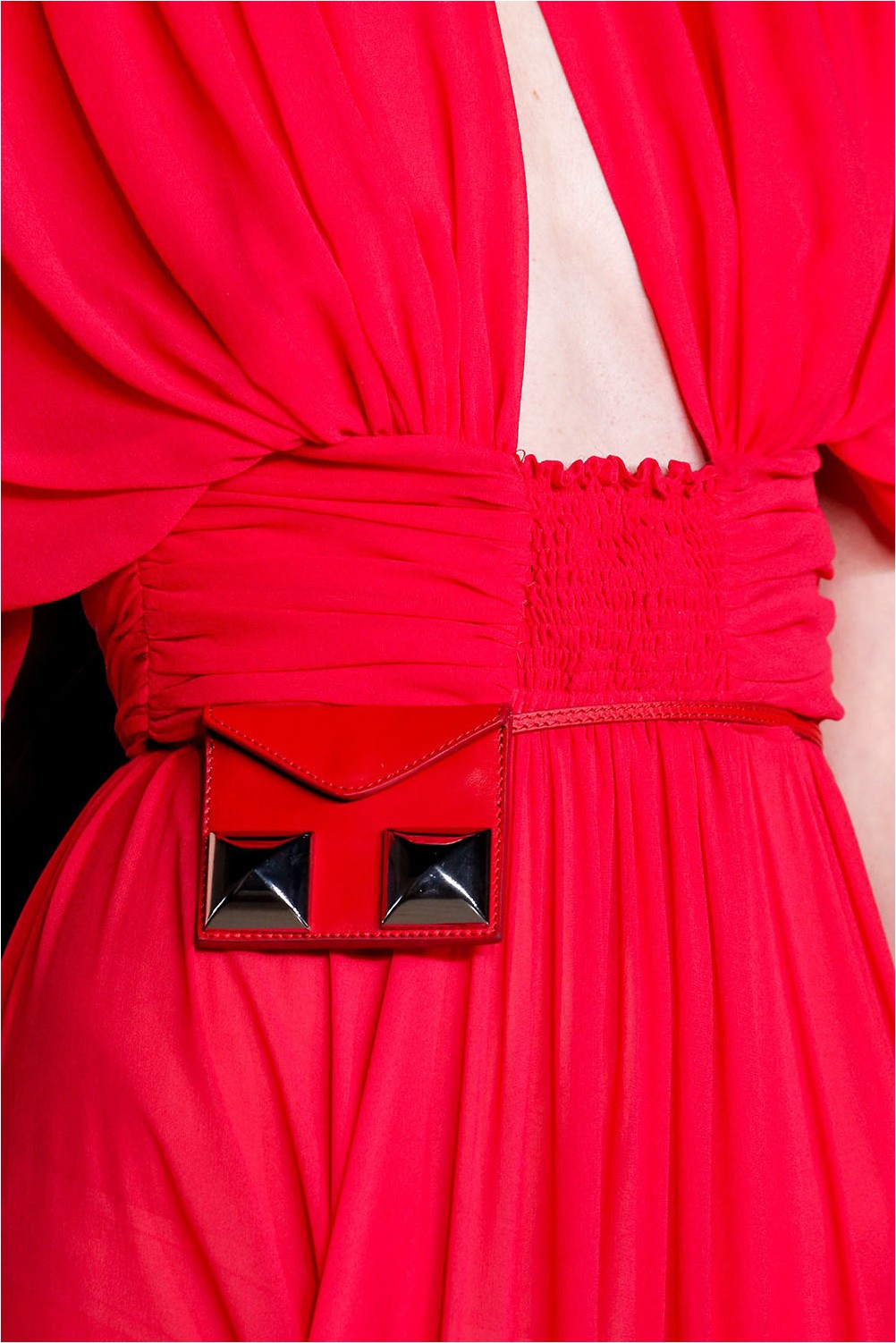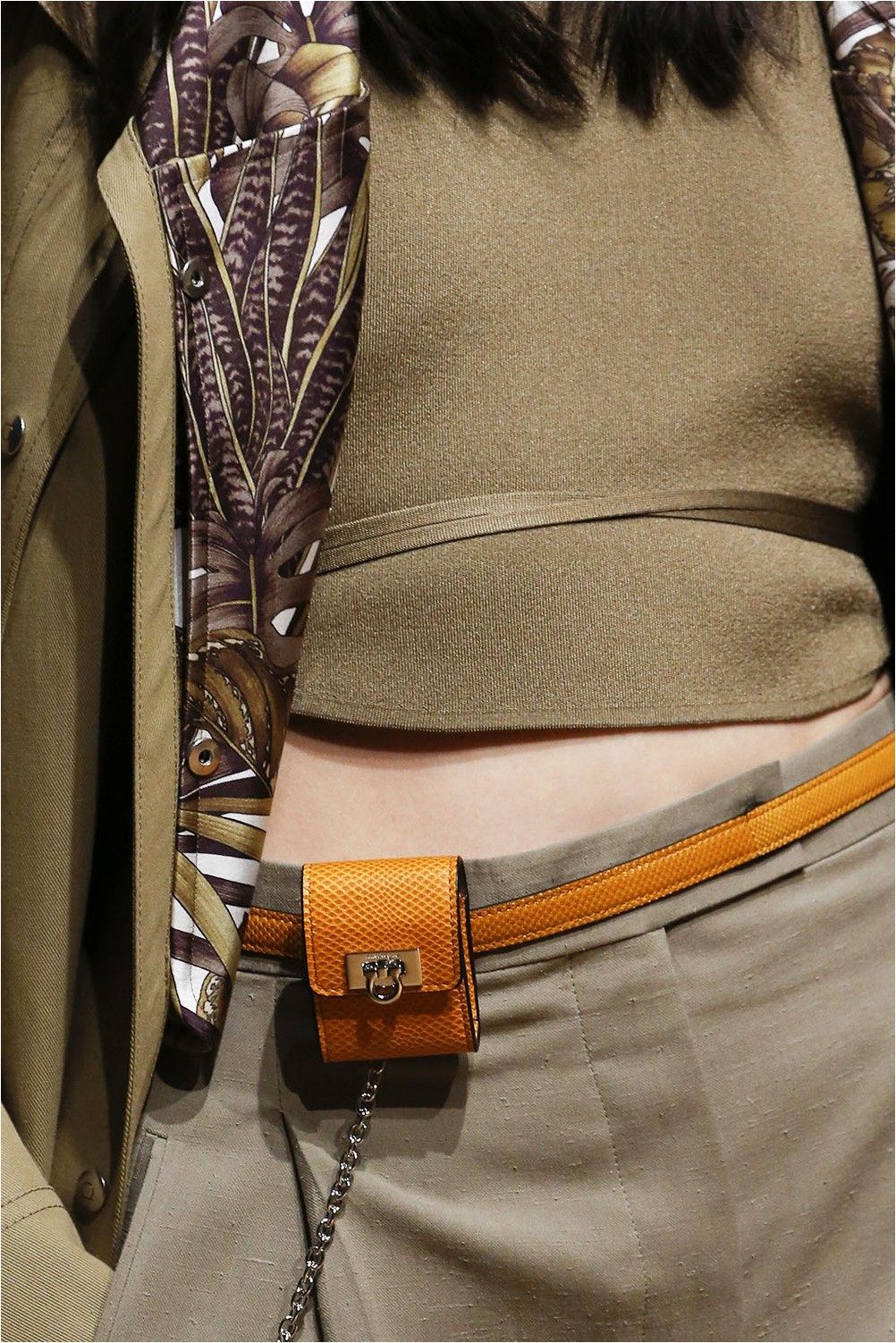 Bag "hat box"
In contrast to the square bags, the designers proposed a completely round "hat box". And, indeed, the perfectly round handbags from Balmain and Marc Jacobs look as if they just pulled out an elegant ladies' hat. The practicality of such a bag can be argued, but the wow-effect that it creates is difficult to deny.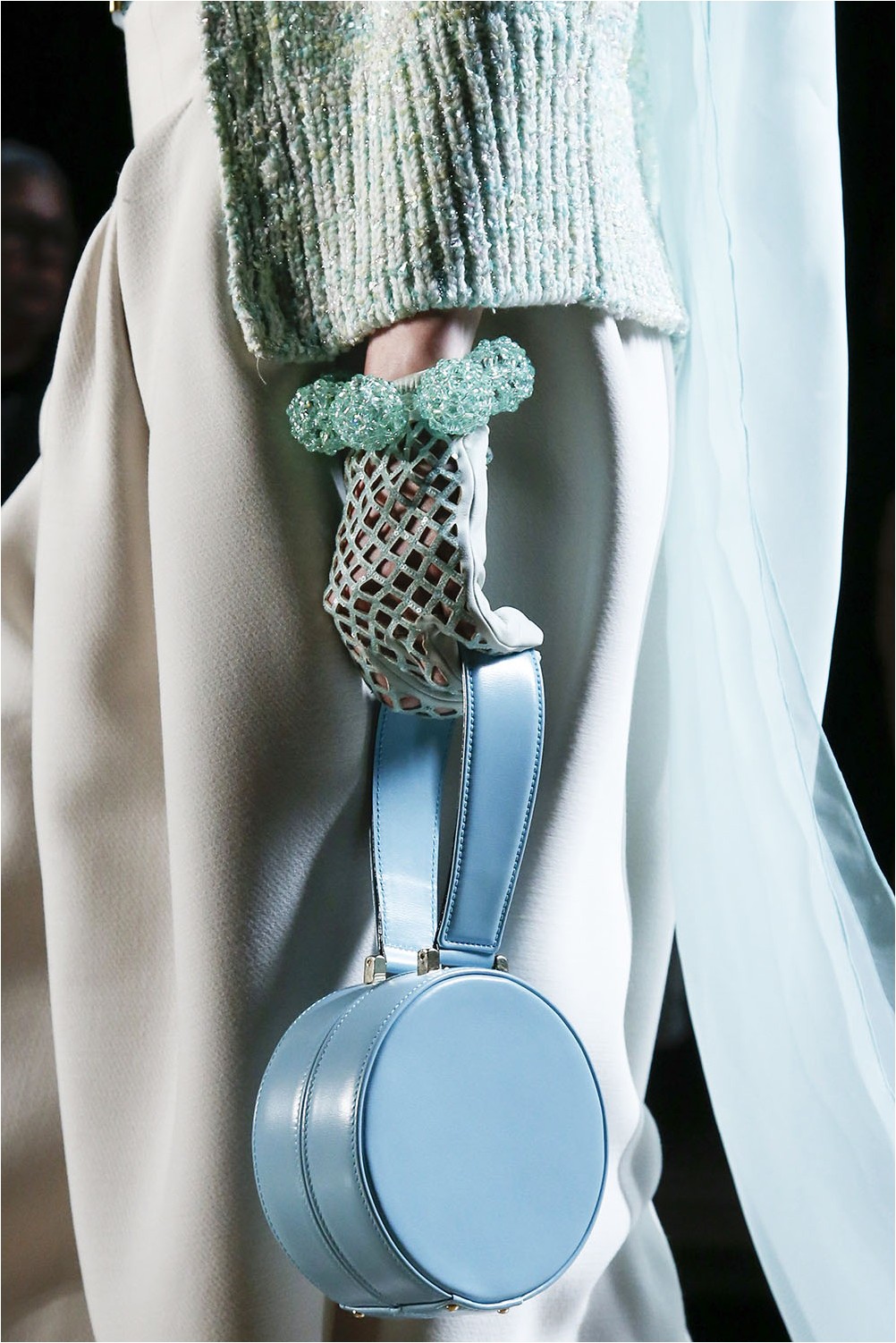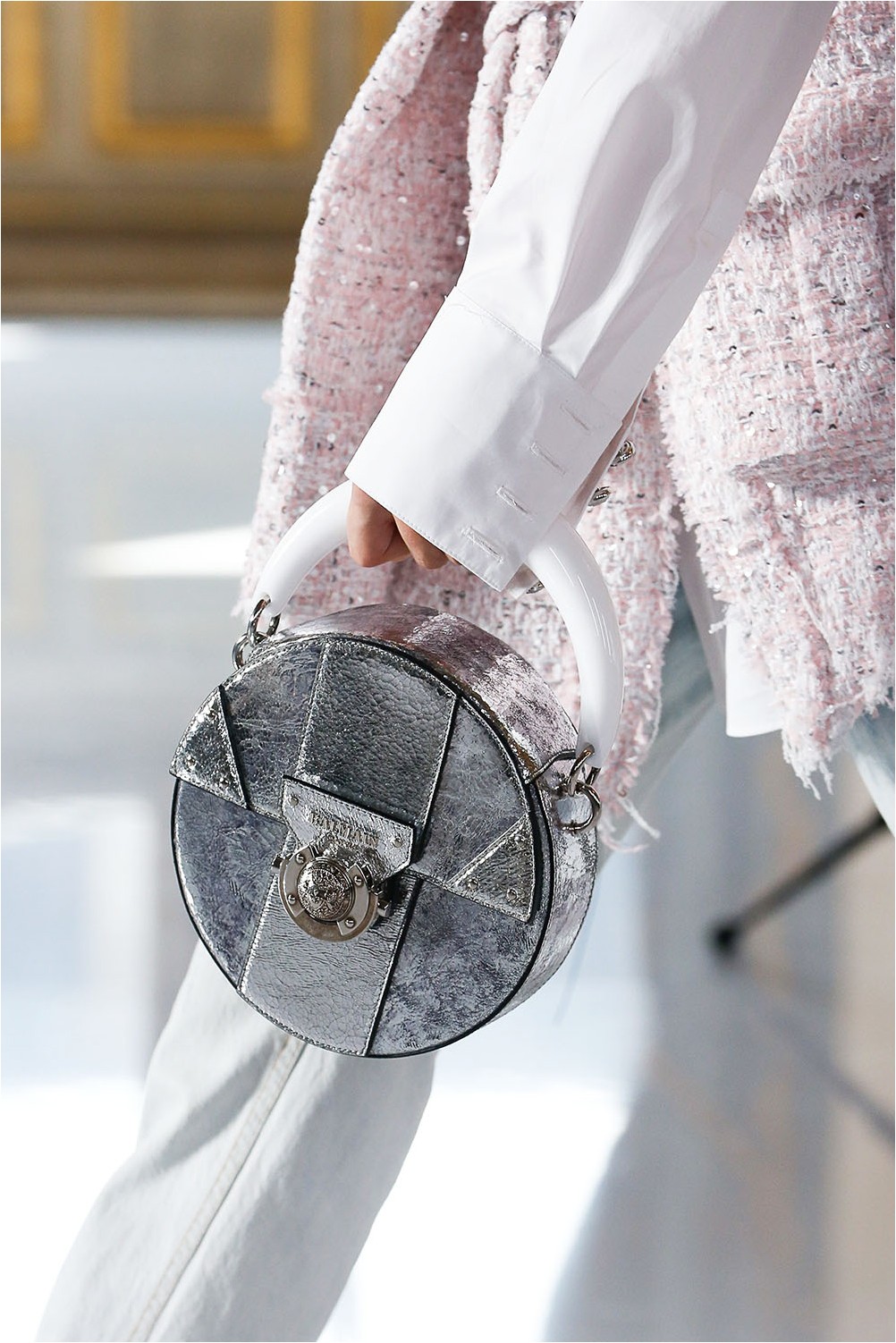 Keg and bucket
Continues the theme of the rounded lines of the bag-barrel. Cylindrical bags were invented by Louis Vuitton and named them Papillon ("butterfly"). The desire to revive retro trends has led to the return of fashion bags to the cylinders..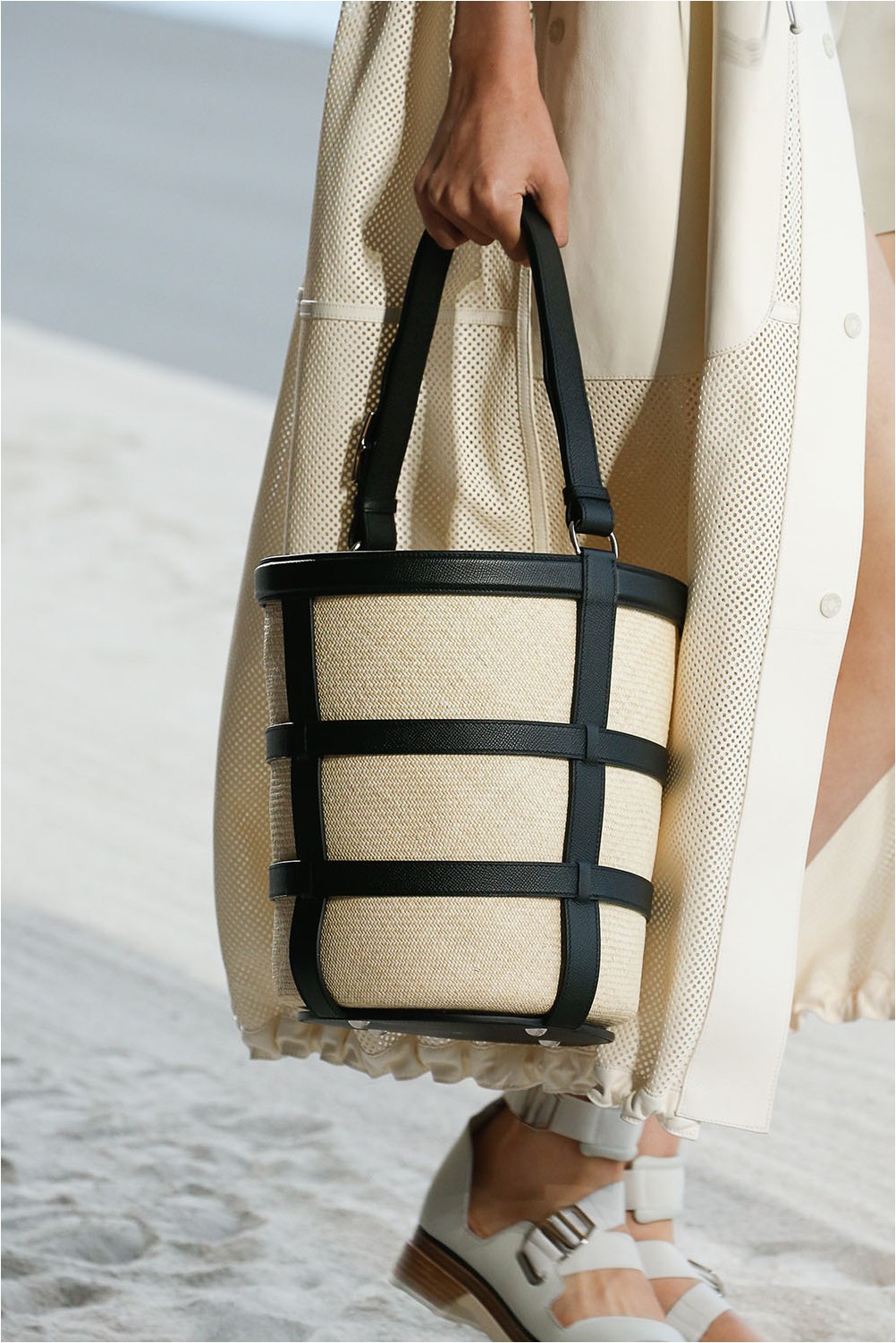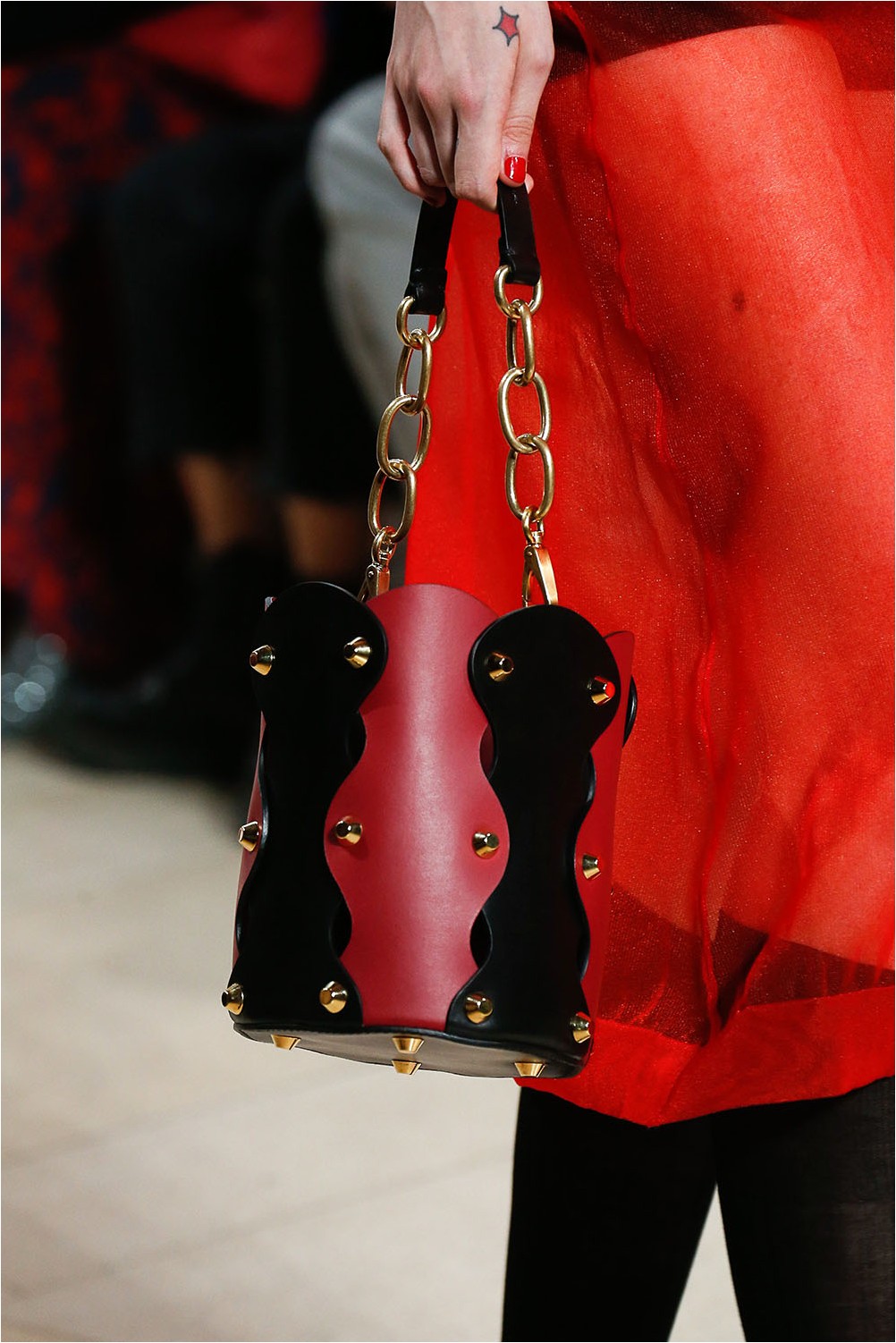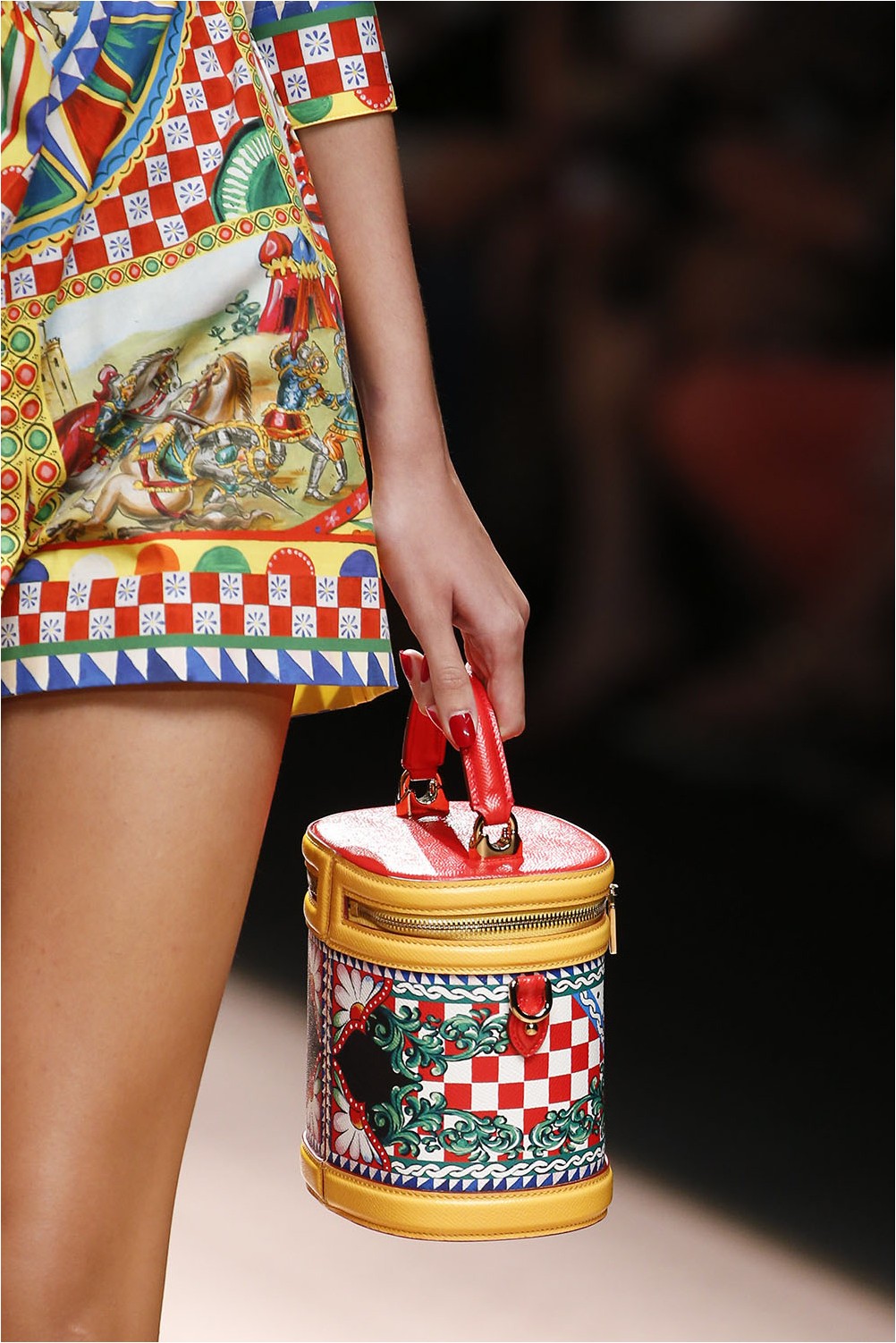 In Hermès and Miu Miu bags, a different configuration was used – the shape of a basket or bucket. As a rule, they did not have shoulder straps. Only small handles that allow you to carry the bag in your hands or throwing it over your forearm.
Fancy Crossbody
A convenient bag with a long handle over the shoulder has changed beyond recognition. With the light hand of the designers of the Christian Dior fashion house, she acquired bizarre forms or entered the total look at Fendi. Now even baggy shoppers can turn into cross-body. Fashion for everything Victorian has had an impact here. Erdem trend crossbody is made in the form of a clutch with a clasp, exactly the same as the true fashionistas of the XIX century wore.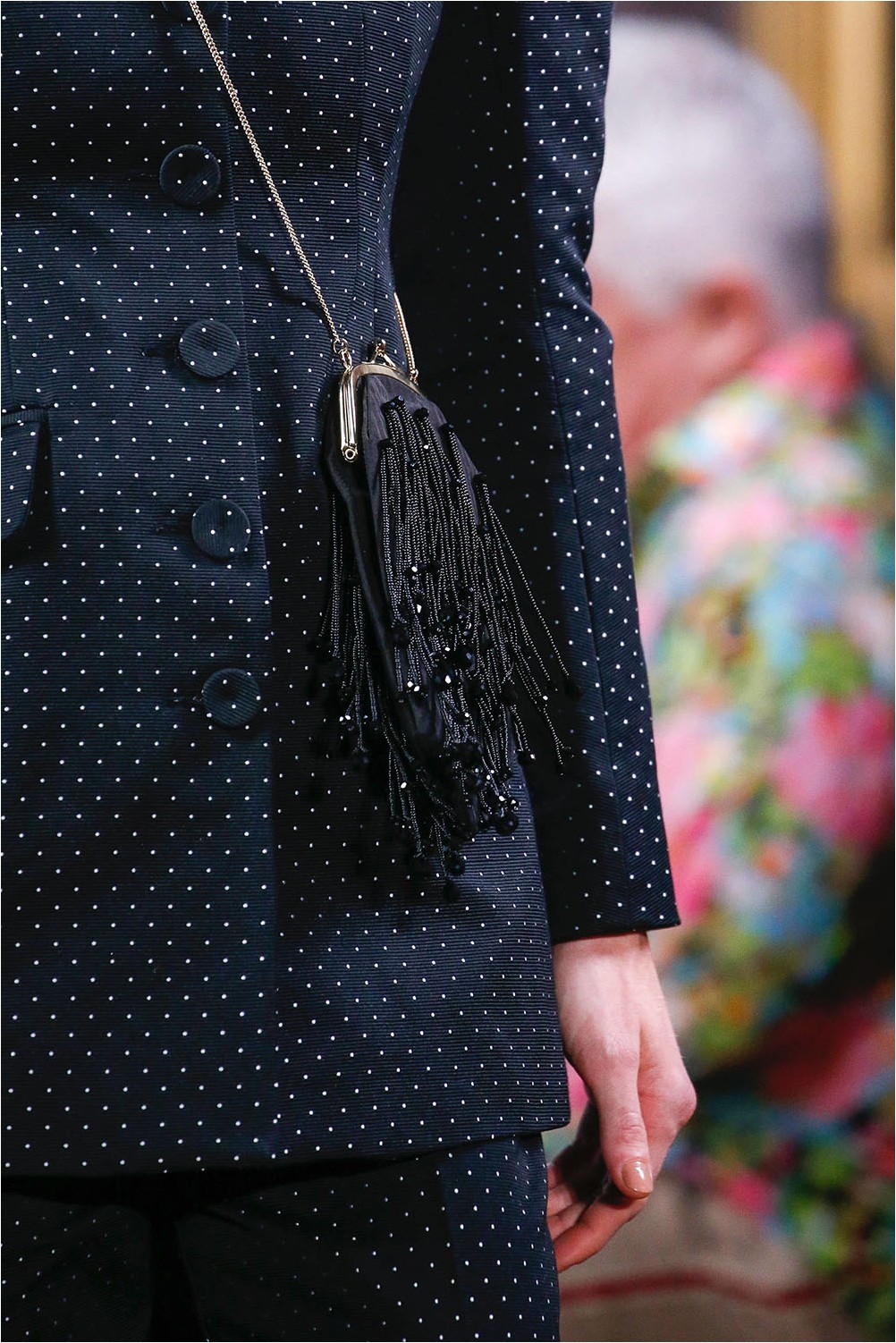 Multilayer clasp
The clasp inspired the Coach brand designers so much that it became not only a clasp, but also an element of decor. Bags in the form of retro clutches will be a successful addition to a bow in the style of the Victorian era. After all, elements of fashion of the XIX century every day become more relevant.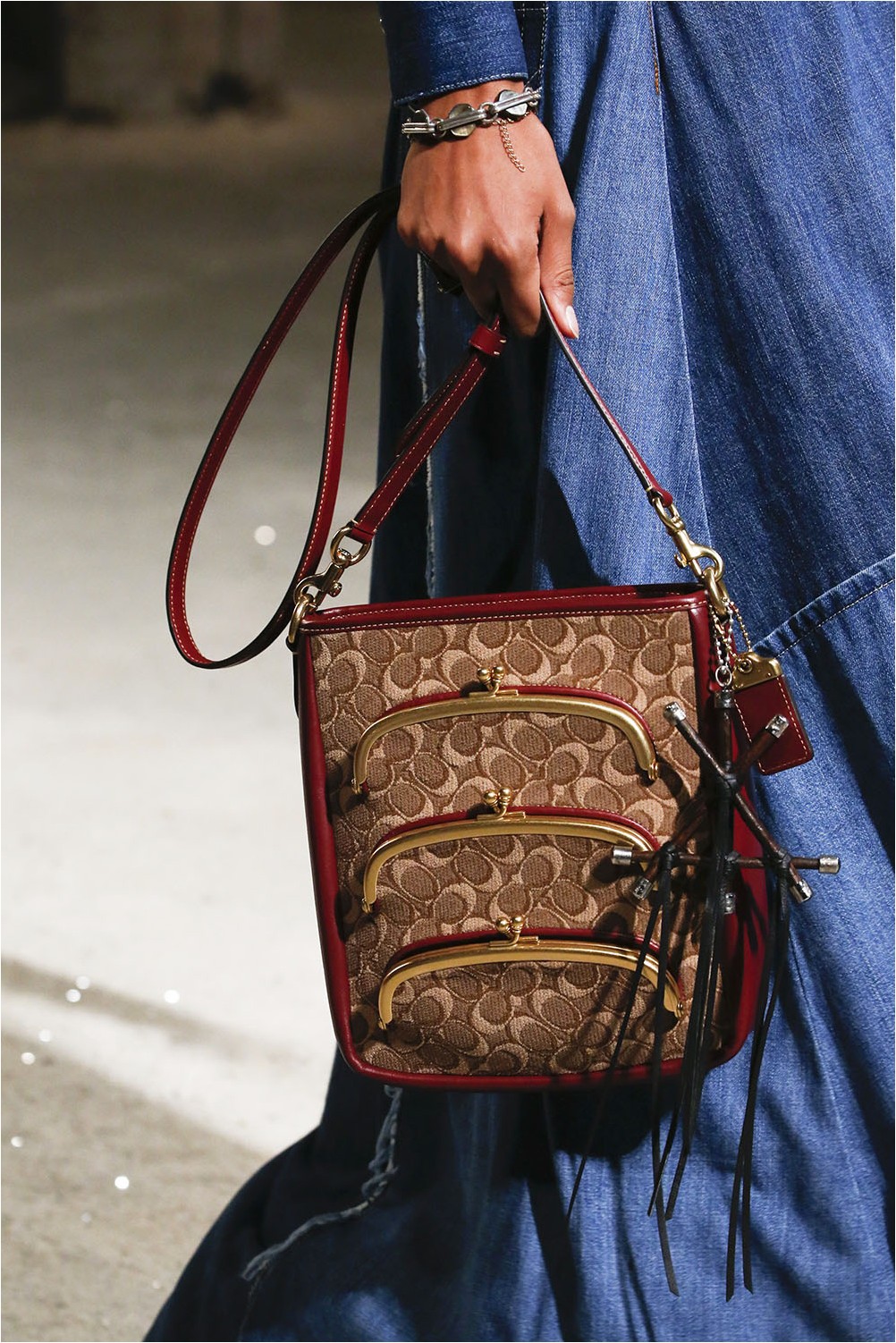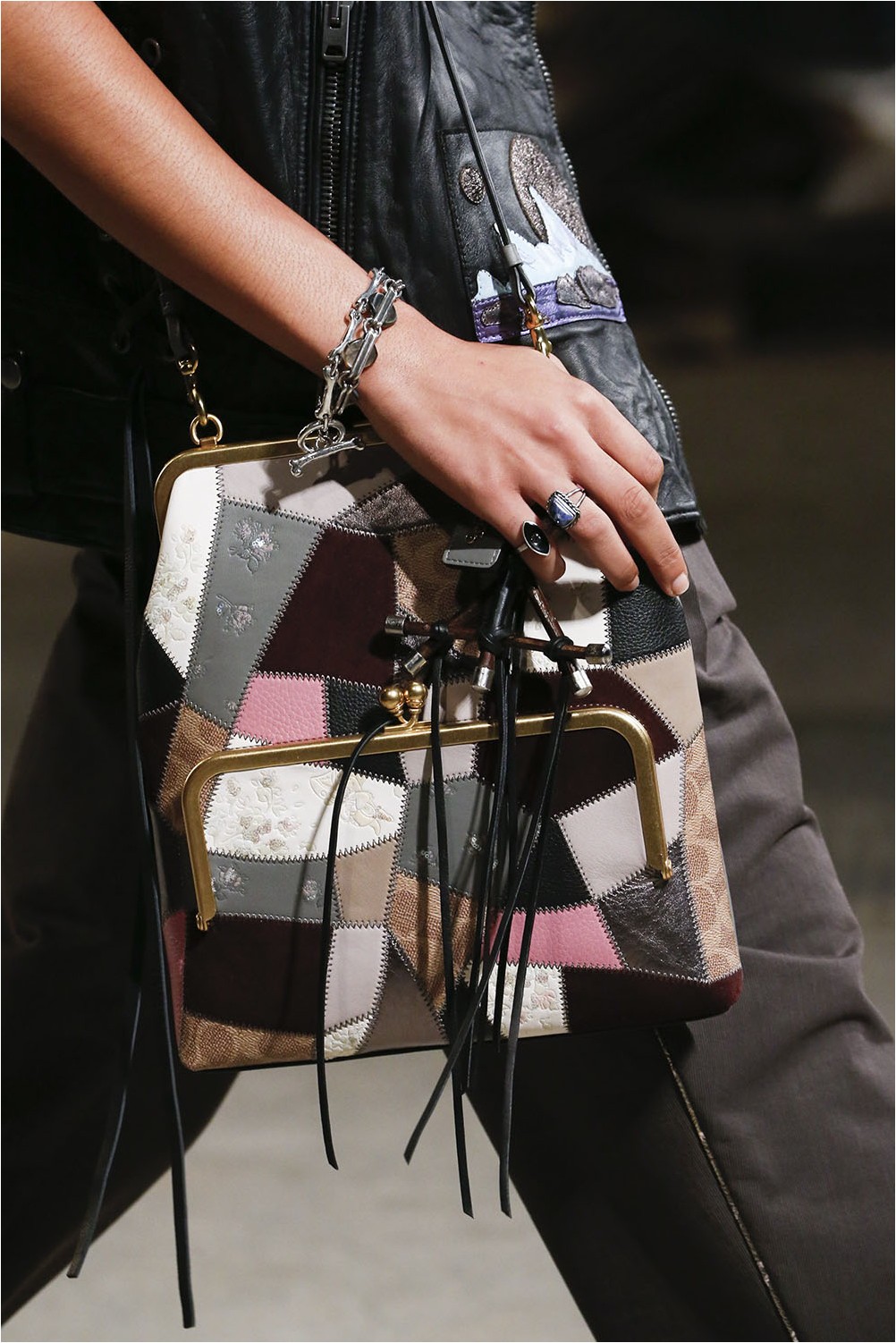 Accessories with one clasp introduced Simone Rocha and Marc Jacobs. A bag decorated with one or more clasps will perfectly complement clothes with frill, ruffle, lace and frill.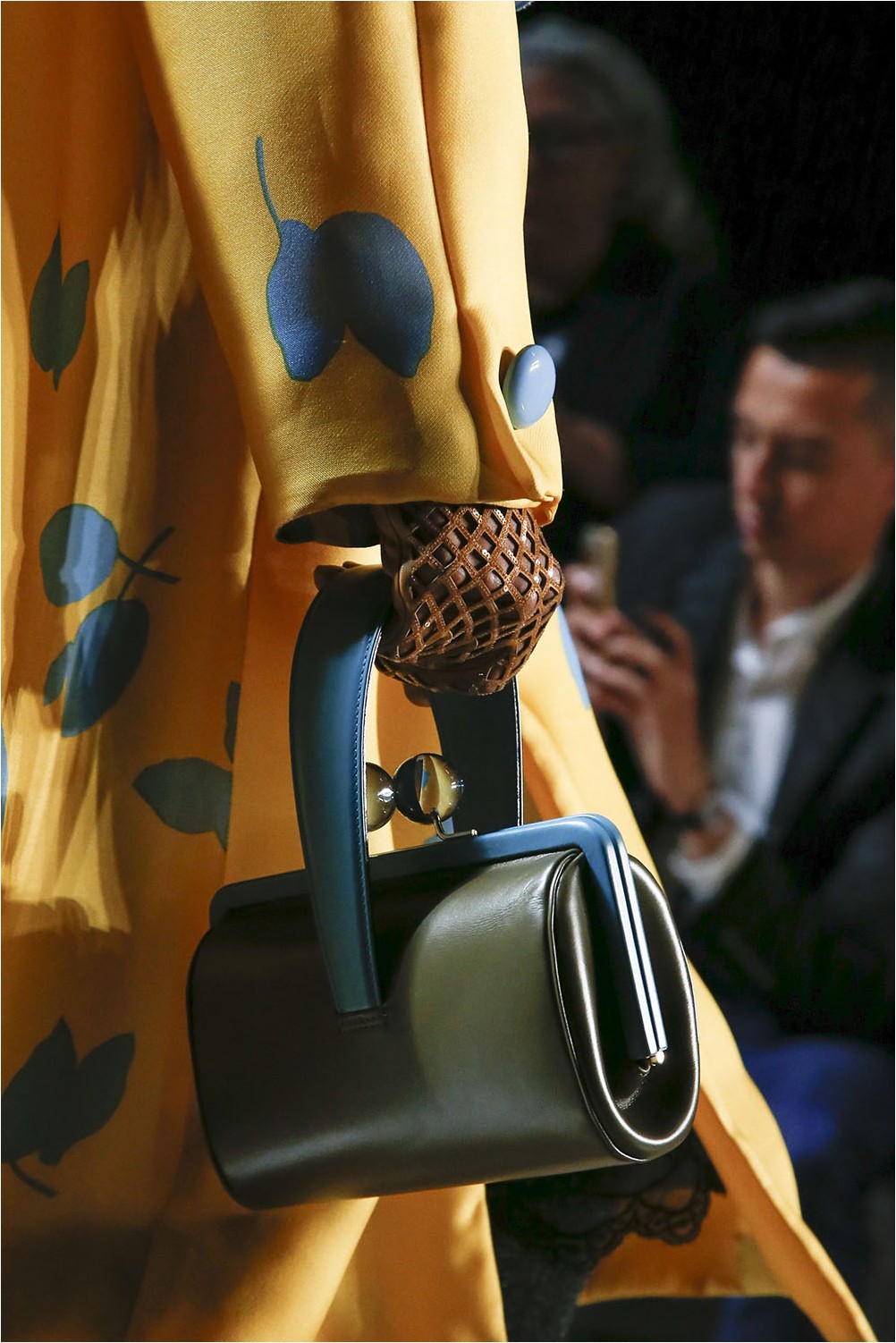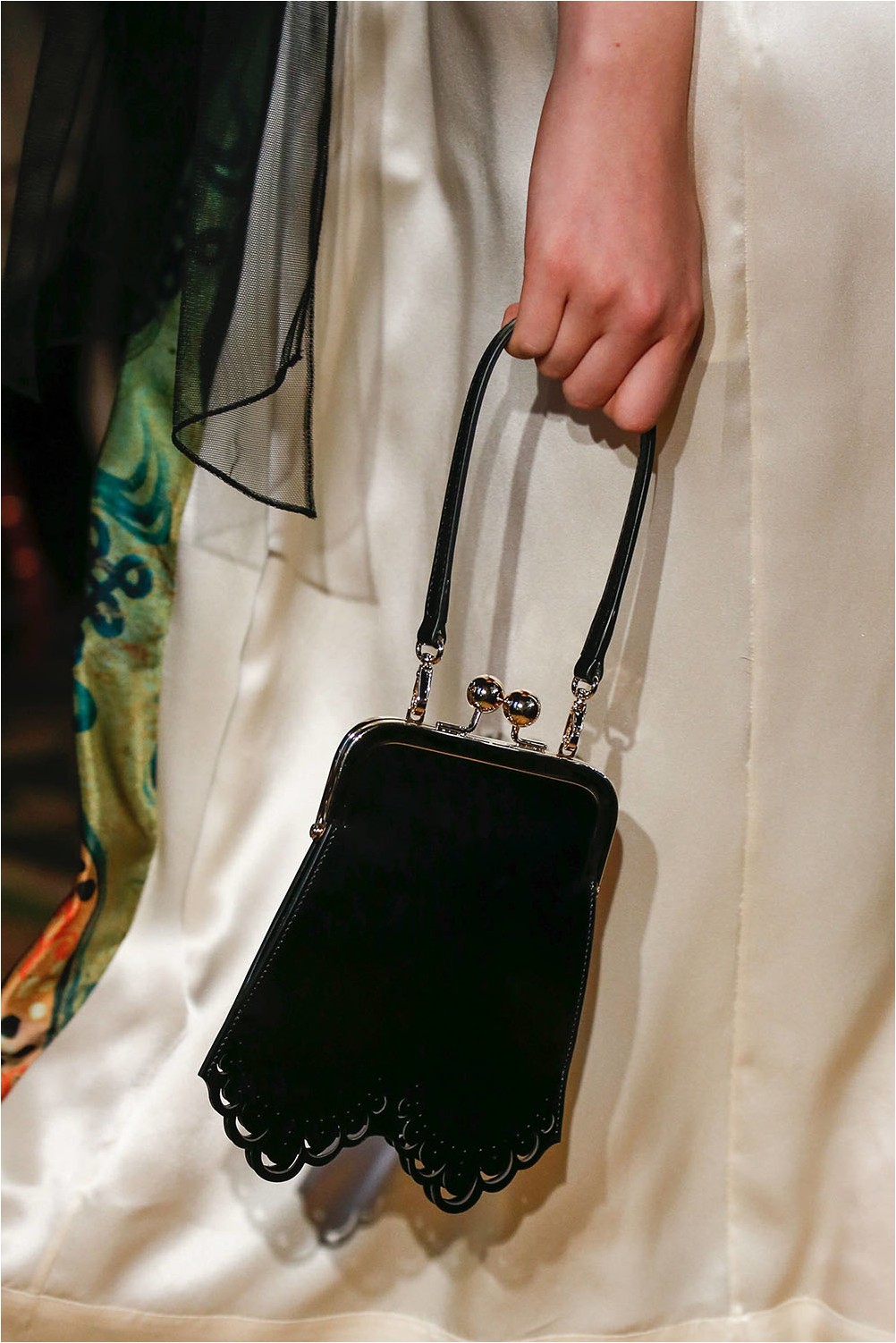 Fringe
The most sought-after trends always stay for more than one season. So it happened with fringe. After her triumphant appearance in the season before last, she again pleases fans with her presence in fashion collections. And if earlier the fringe on the bags could be made of completely different textures – threads, ribbons, plastic, braid, now models that are decorated with long strips of leather are relevant.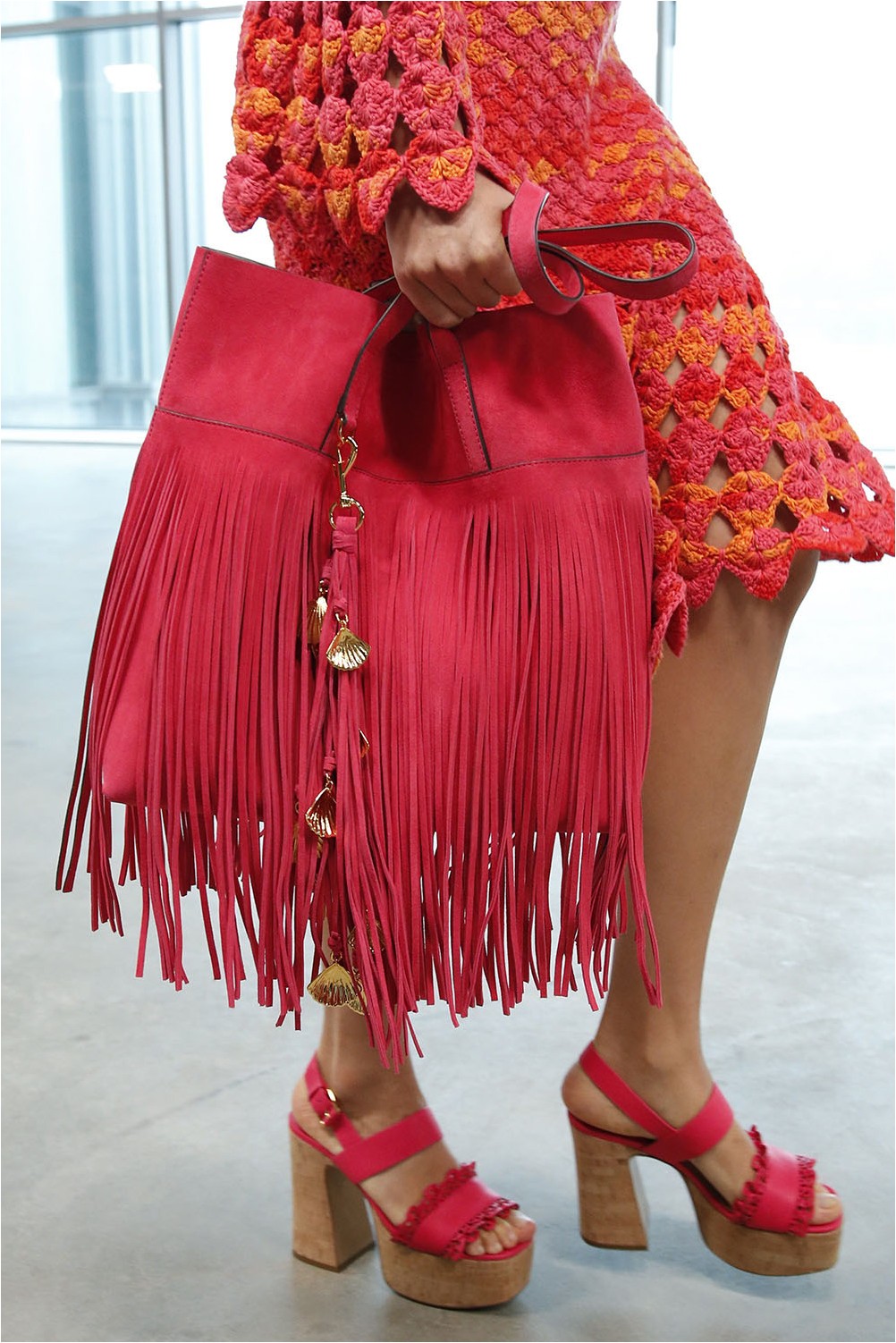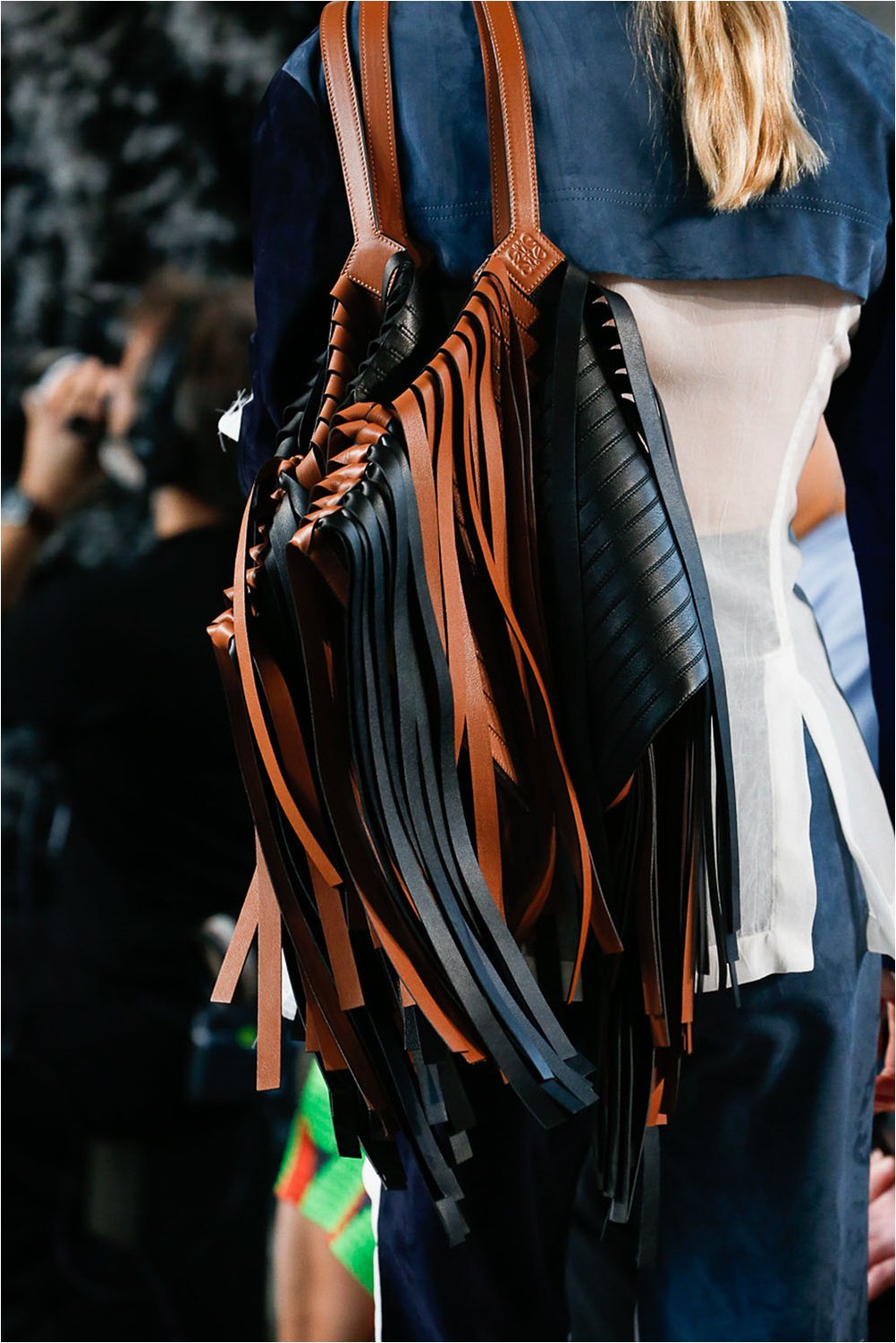 Michael Kors presented a full-fledged, bright, total look with a fringe. A more restrained option was proposed by Oscar de la Renta. His bags were decorated with tassels of thin leather ribbons..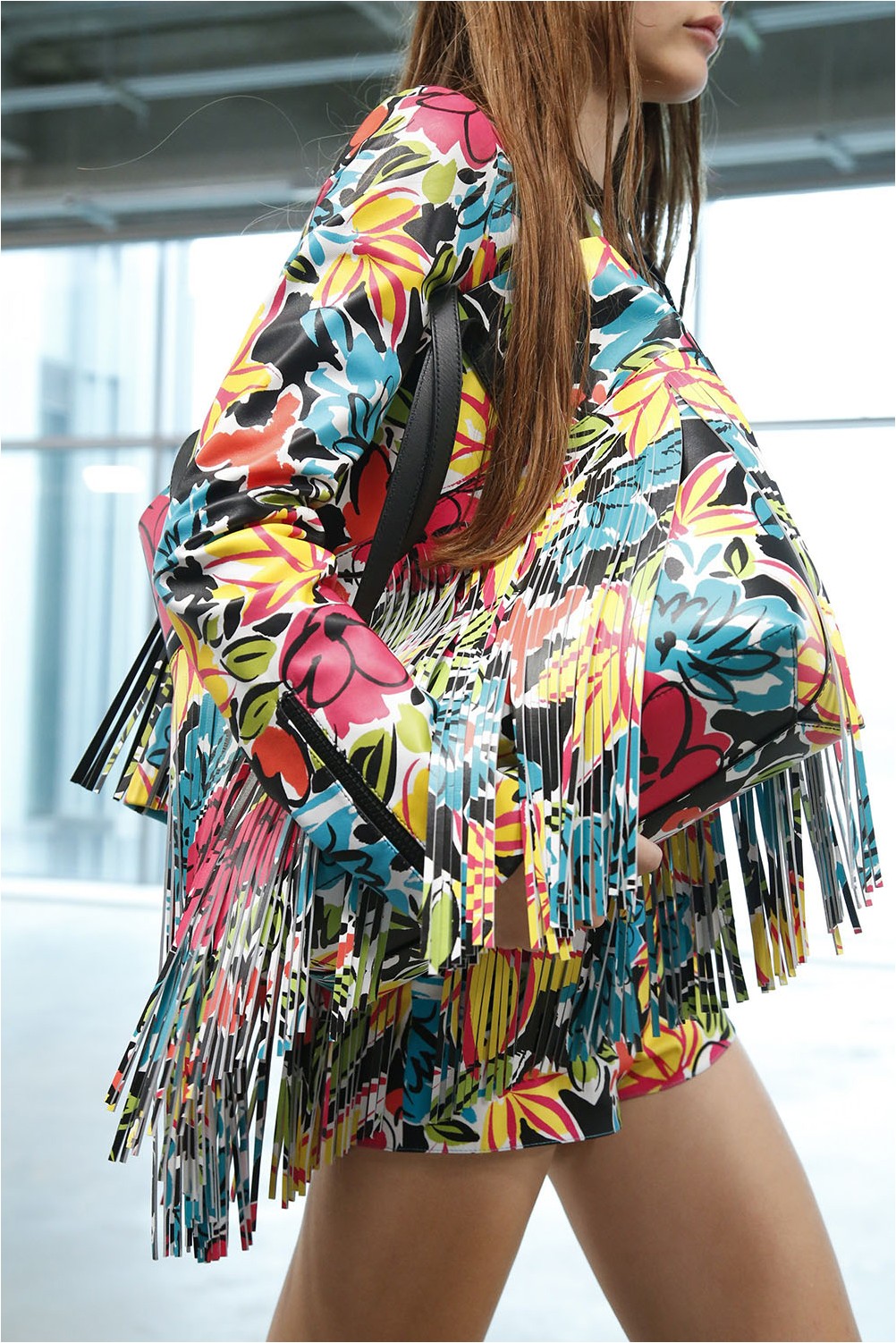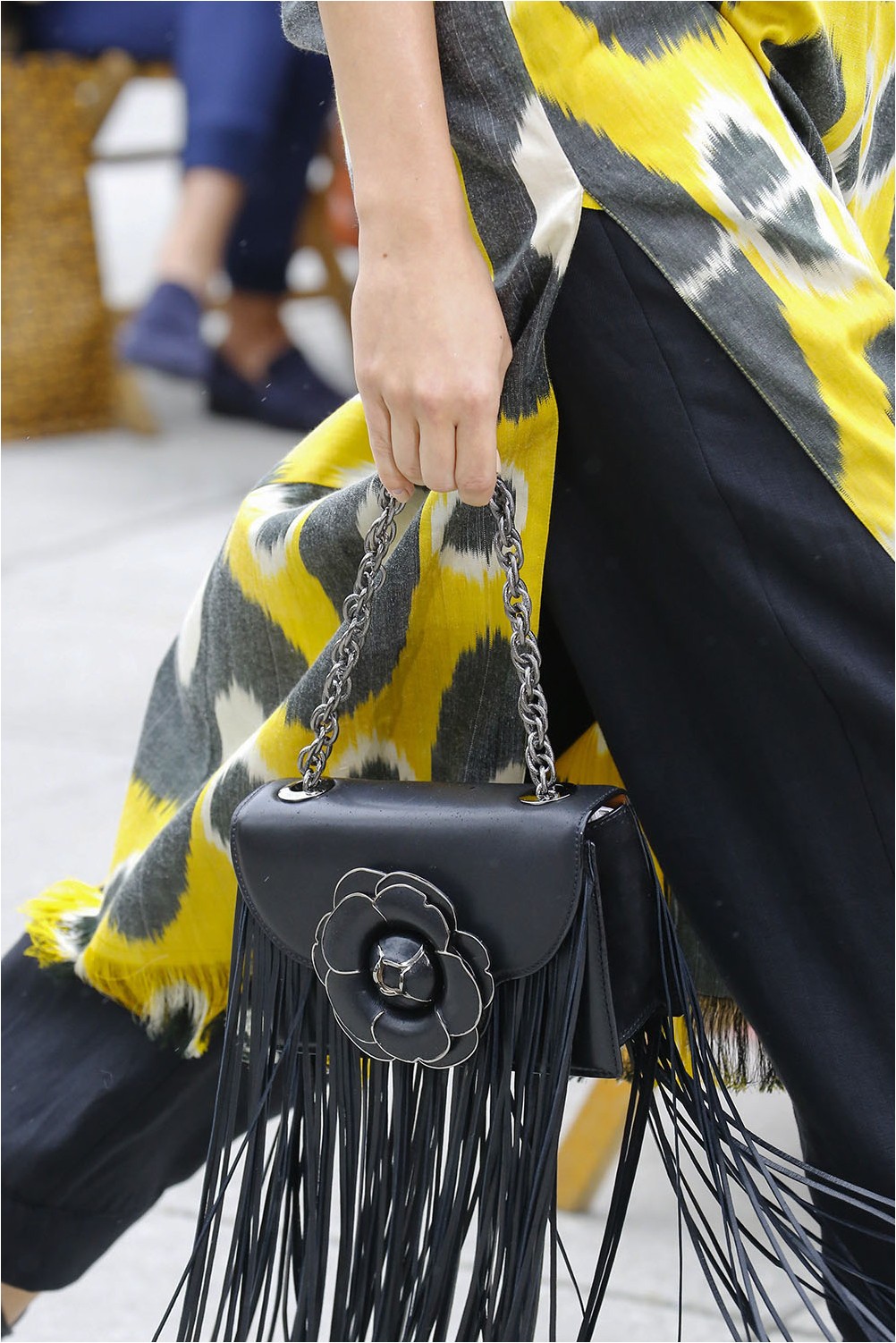 Crossbody, wrist and hip bag
For those who do not want to hold their hands with bags, in fashion collections there are a lot of options for trend bags without belts and handles. Models from the Fendi collection are laconic lap or shoulder bags. Loewe offers us to put everything we need into a miniature wrist bag. And in the fashion house Off-White went even further and attached the bag to the hip.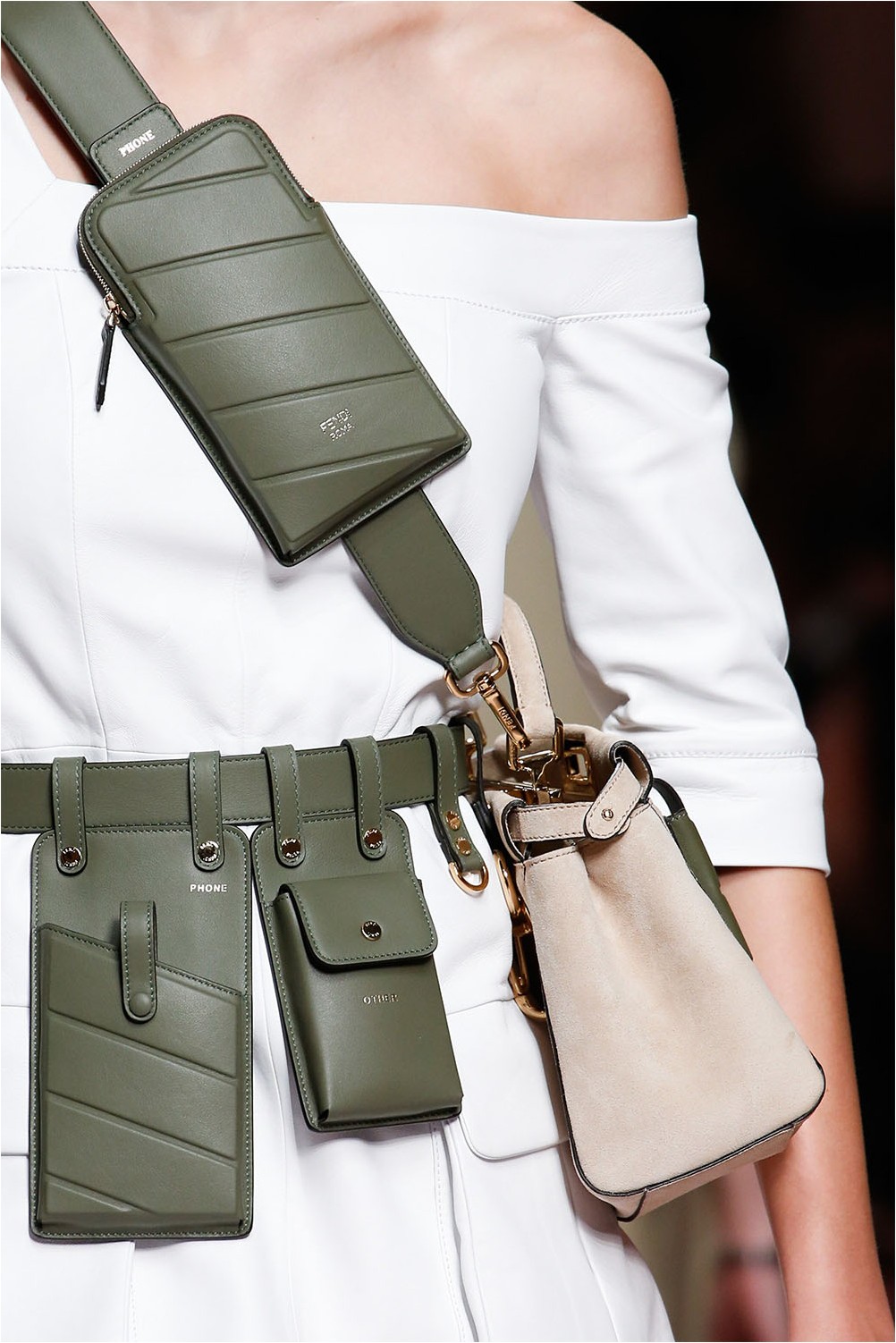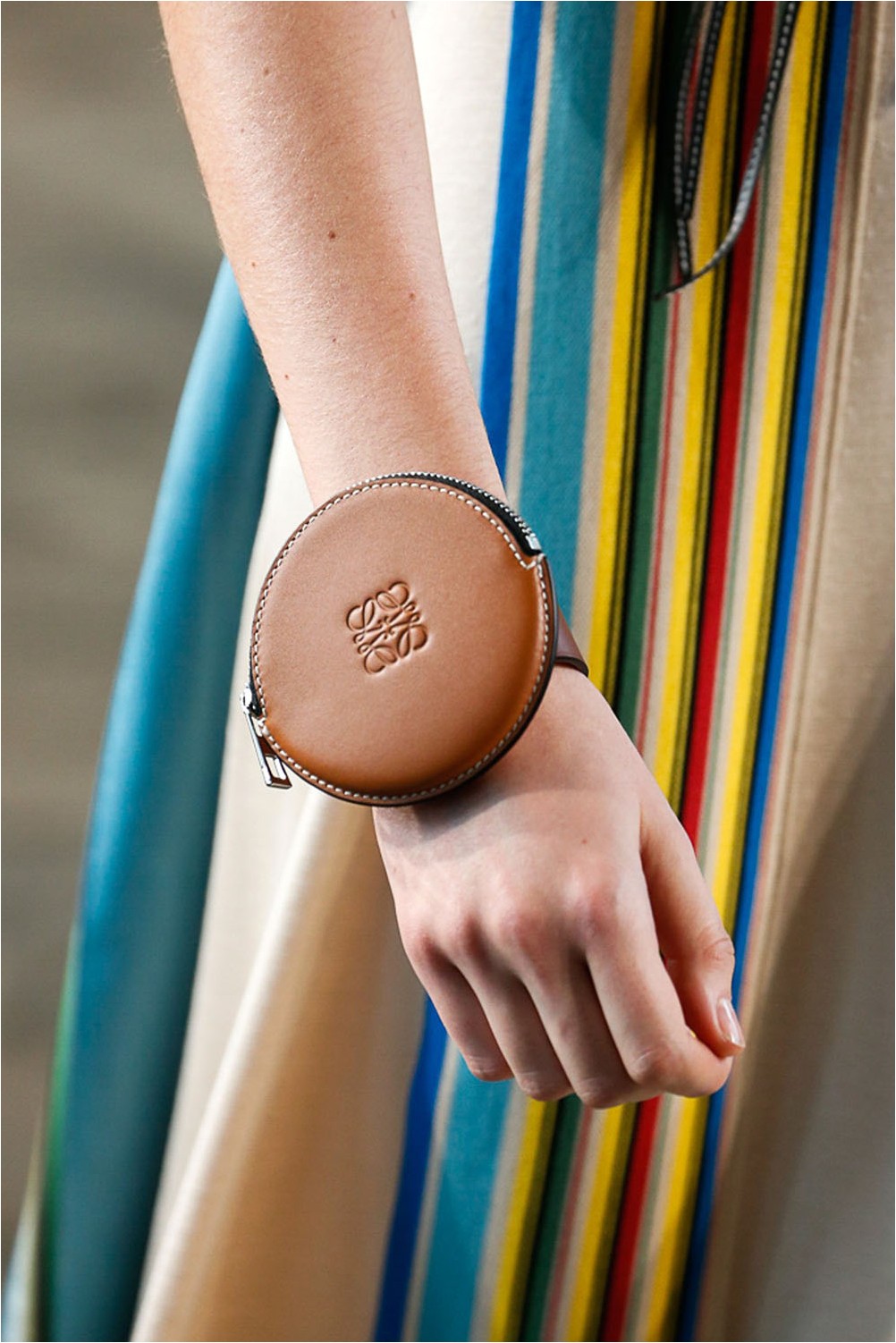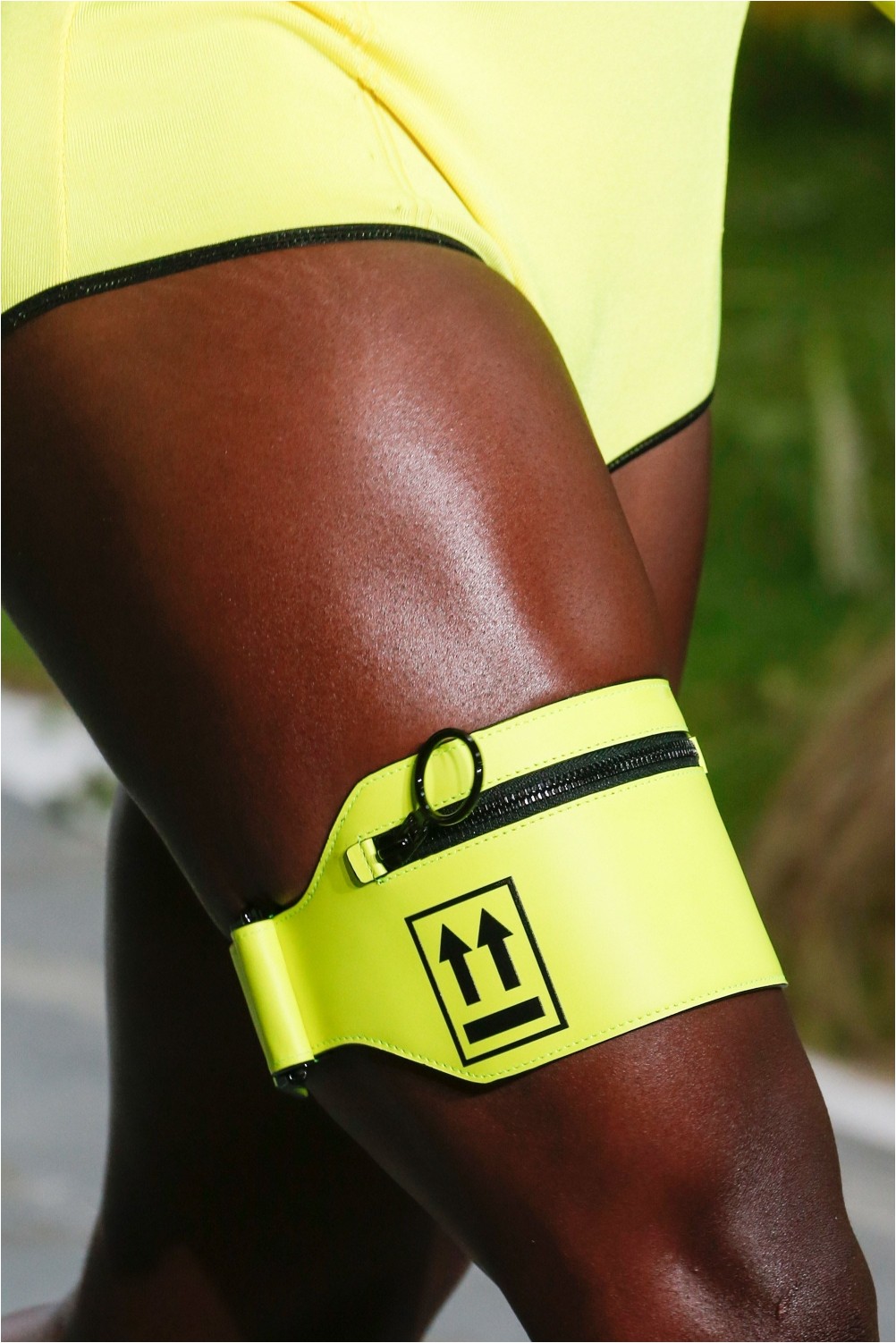 Clutches, poses and baguettes
Small clutches and baguettes are no longer predictable. Now on an elongated "baguette" a bright print can be seen, as in models from Céline. Balenciaga clutches surprise with an unusual, asymmetric shape.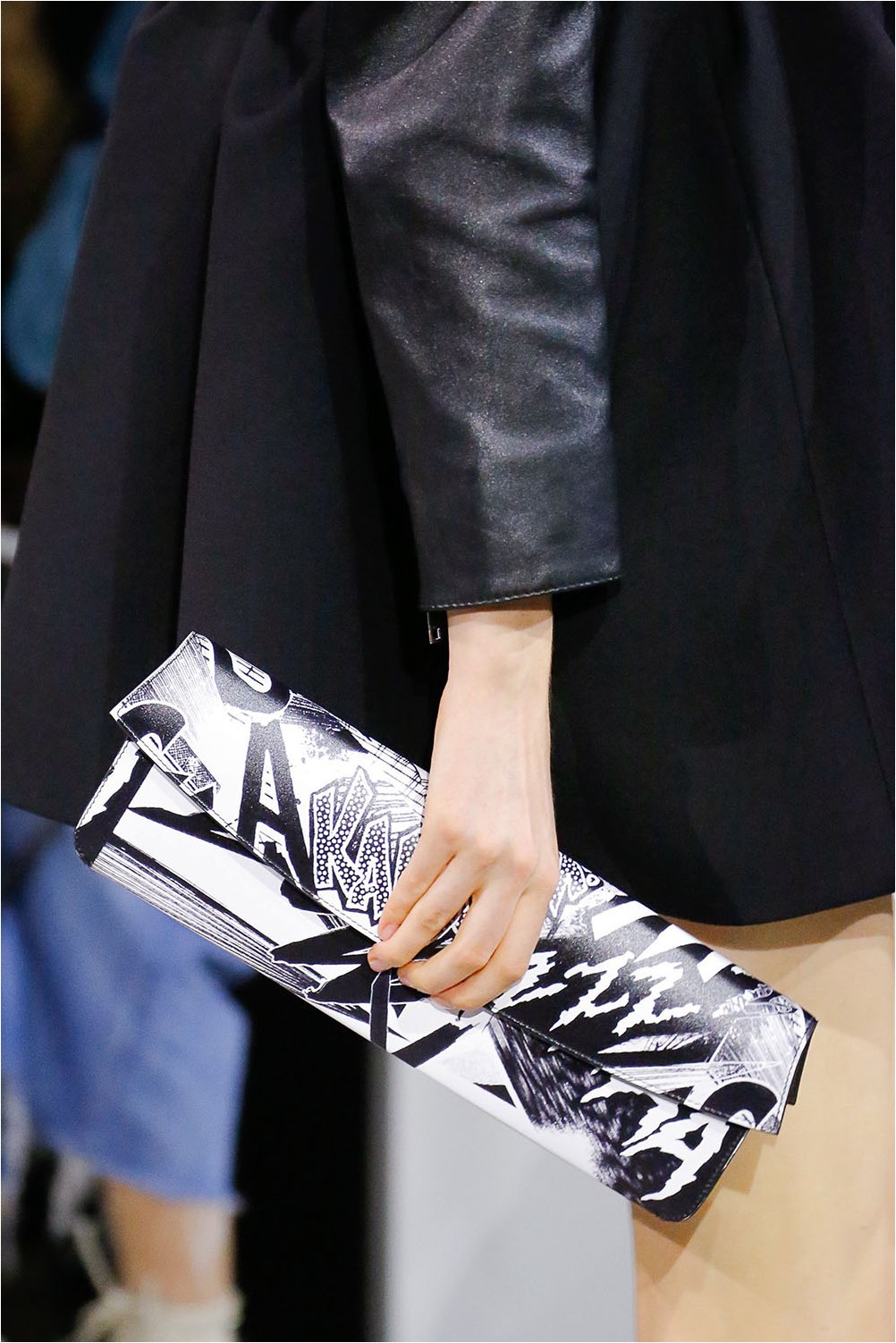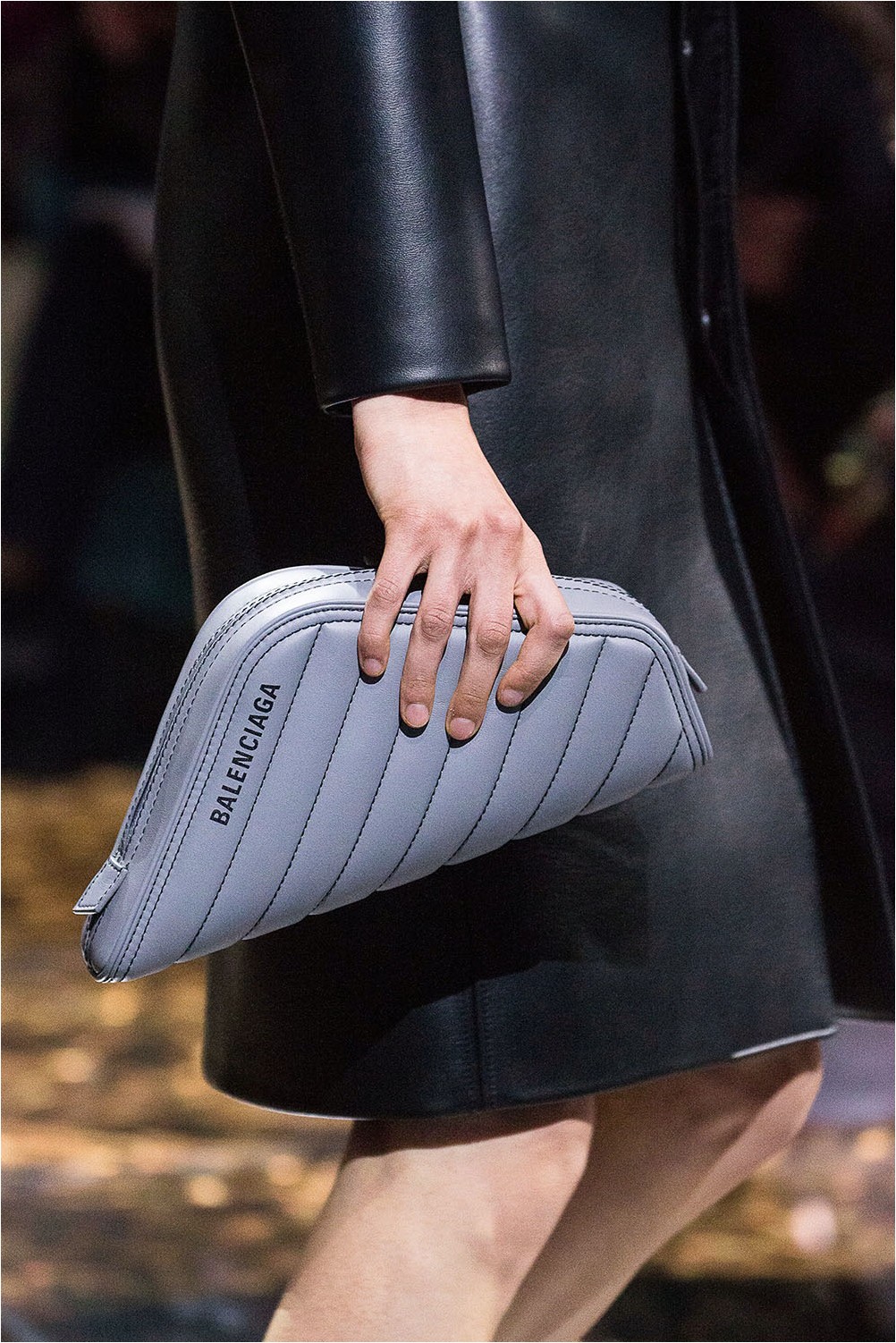 Only conservative Giorgio Armani and Dries Van Noten remained true to their standards. Their clutches, as always, are refined and concise, only bright colors dilute the rigor of their forms.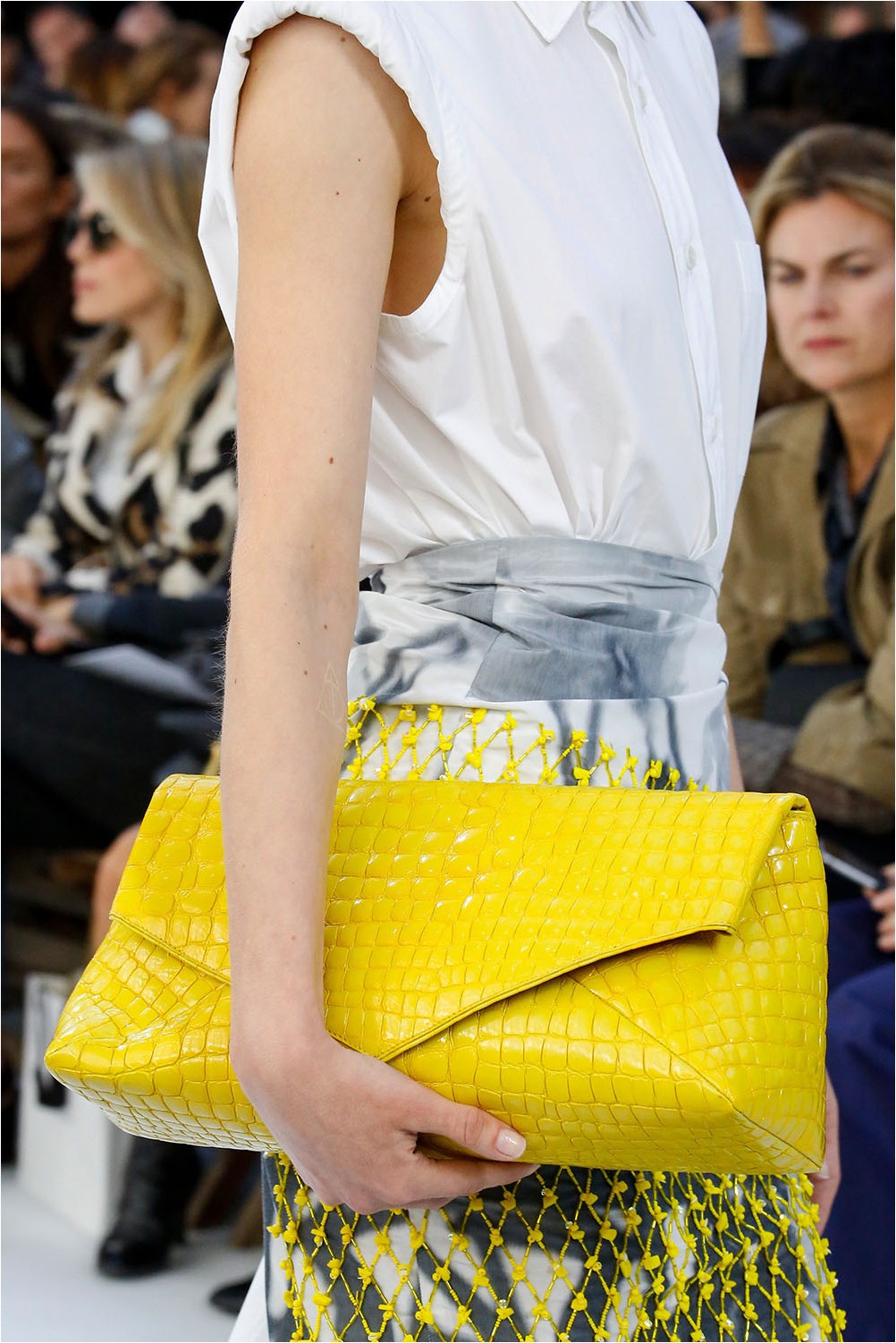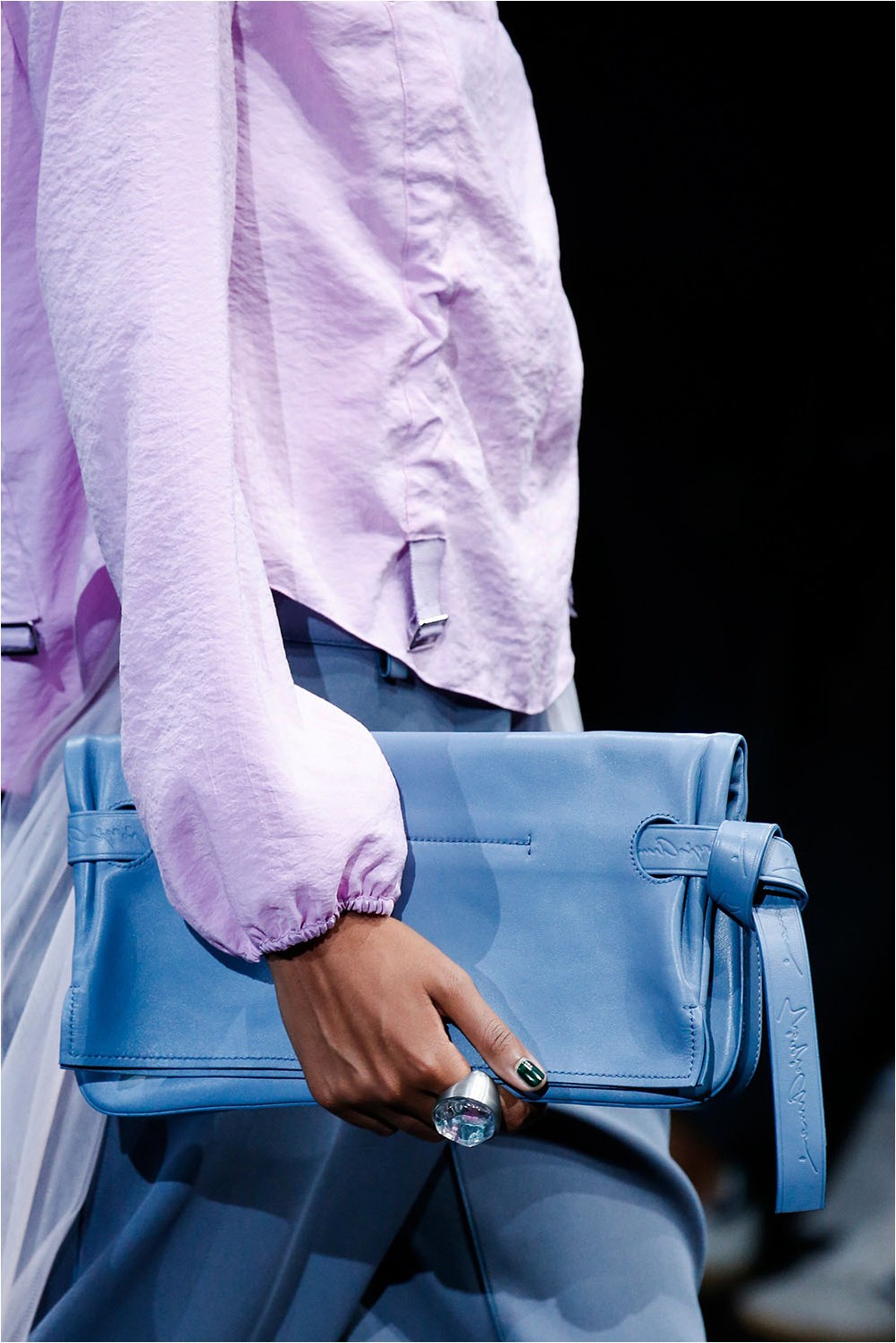 Special attention should be paid to small handbags. In the spring-summer 2019 season, every second designer must have included them in his collection of fashion bags. A distinctive feature of this model is that they all have a long chain handle. The Louis Vuitton line of handbags is also an unusual trapezoid shape..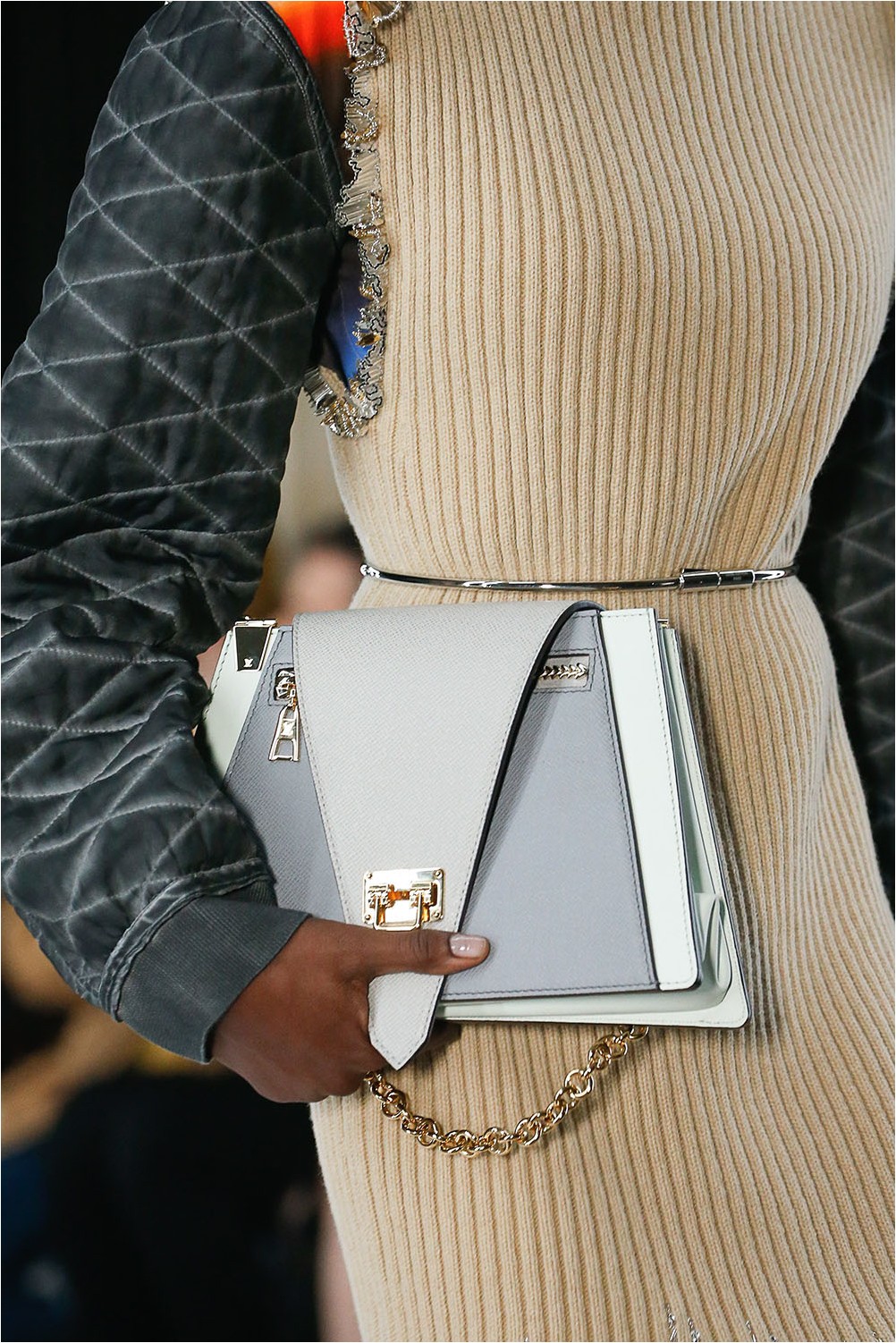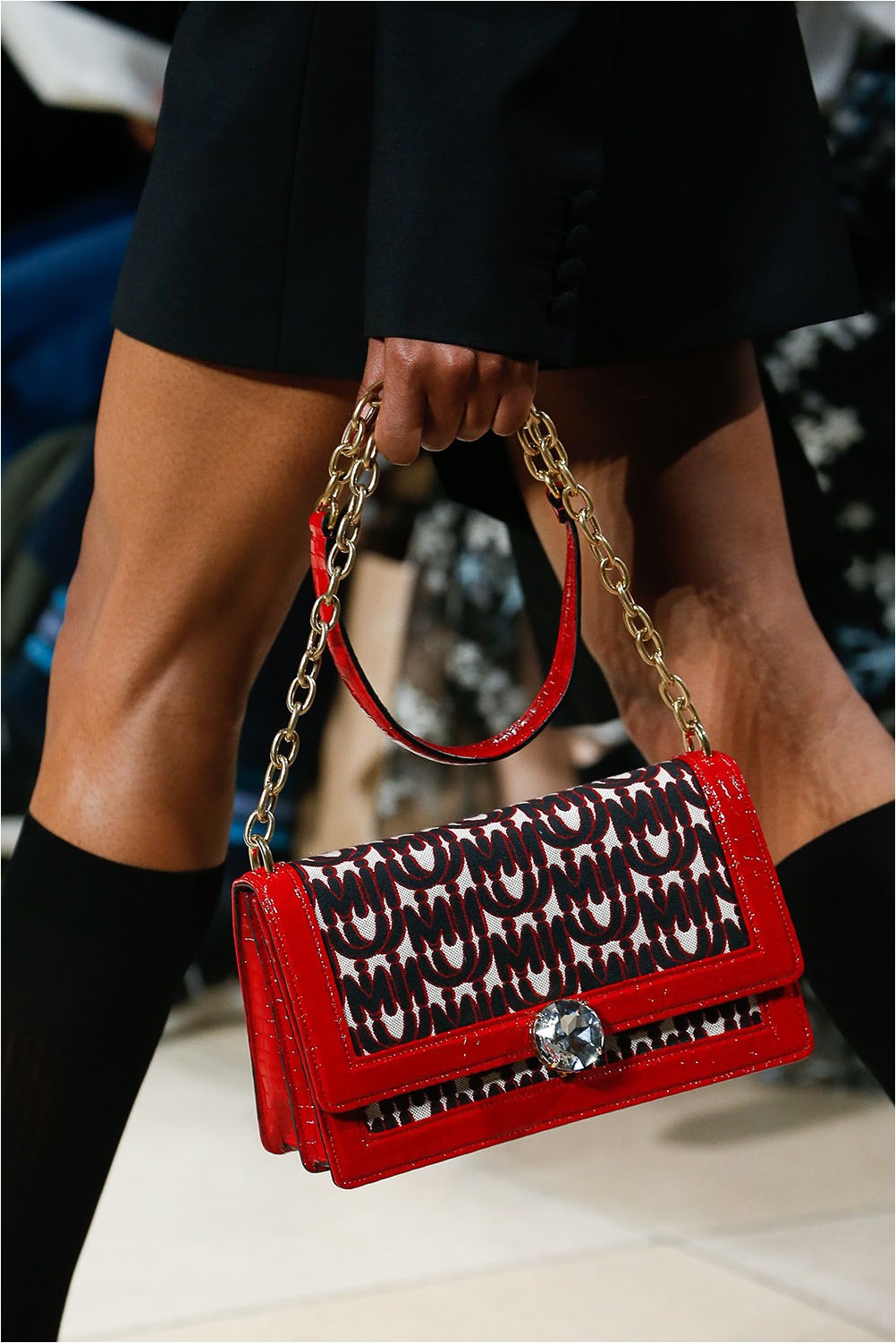 Combination
The combination of several different types of materials in bags is another trend that came from past seasons. Now you can combine different pieces of materials not only in color and texture, but also combine them in different techniques.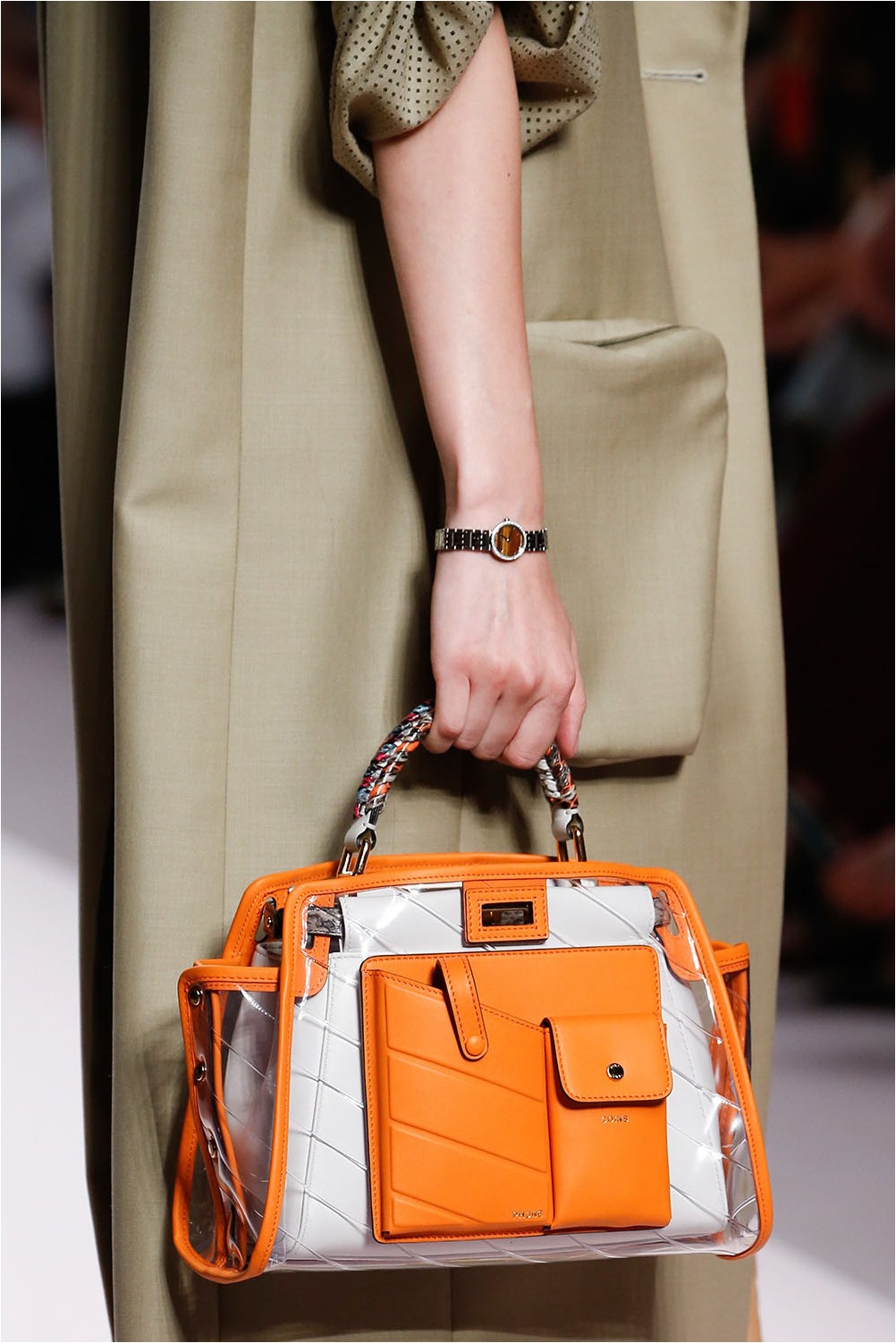 For example, in Coach bags, multi-colored combinations of fabric flaps look like a cozy and cute patchwork. Givenchy's combined trend is a stylish combination of two contrasting shades. And Michael Kors combined the incongruous: in one bag, he simultaneously used leather, embossed reptiles, and floral applique patches.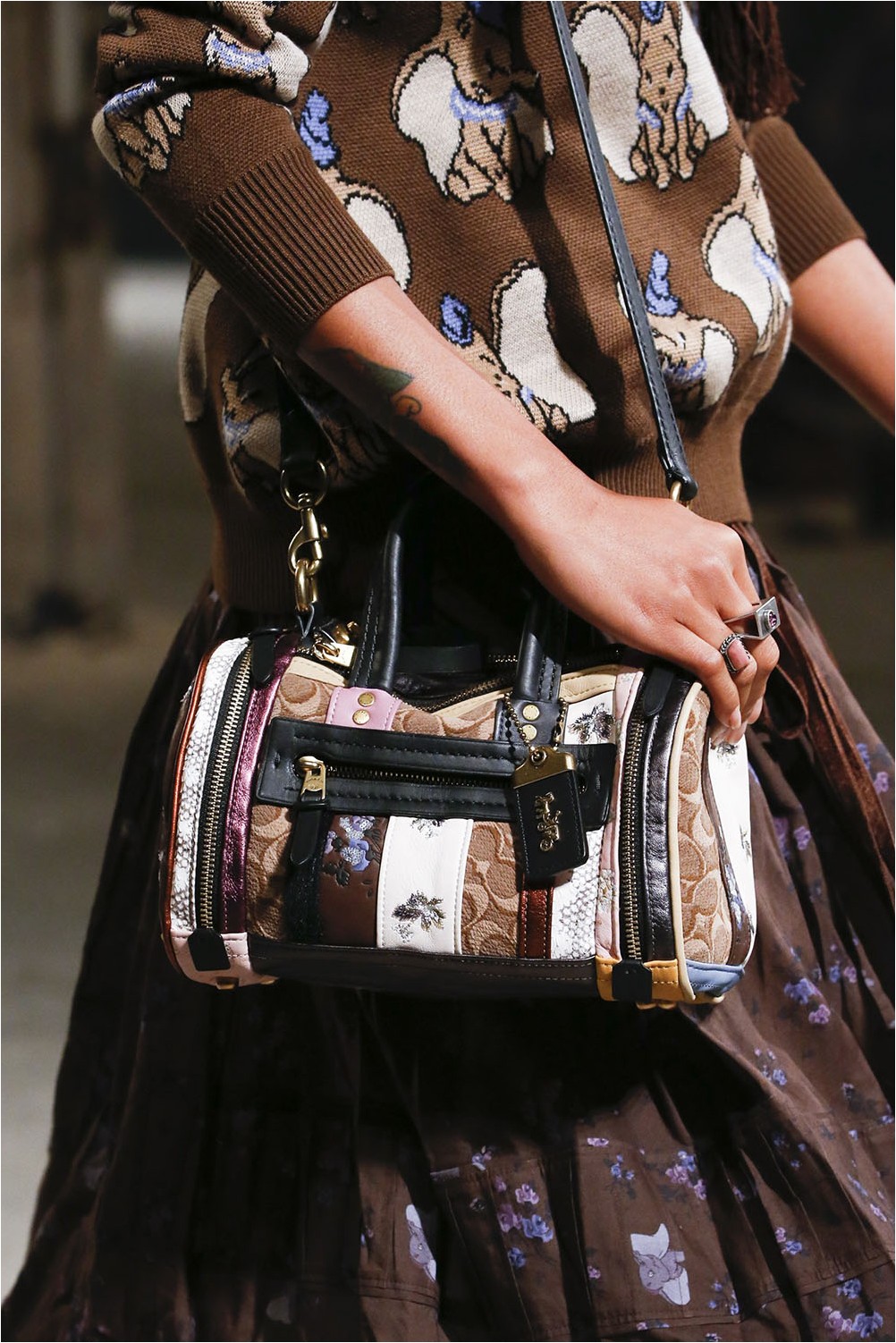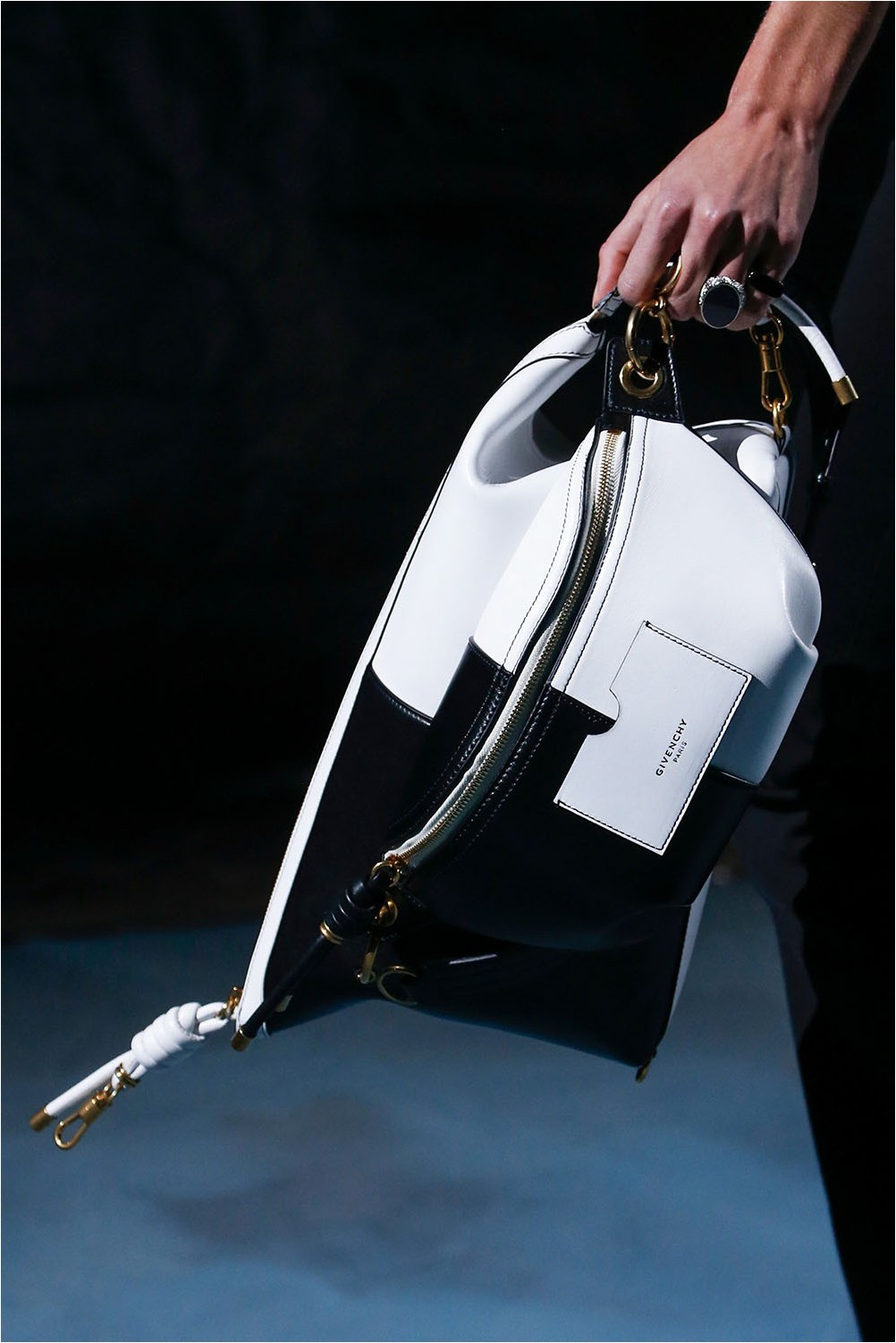 Tote
A roomy and convenient tote bag will always help to survive in a metropolis. Maybe that's why she has remained in the top of her favorite women's accessories for so long. In the spring-summer 2019 season, she will look more elegant than ever. No catchy decor or poisonous shades. Only matte leather, sleek design. The bag should look in the best conservative traditions of England.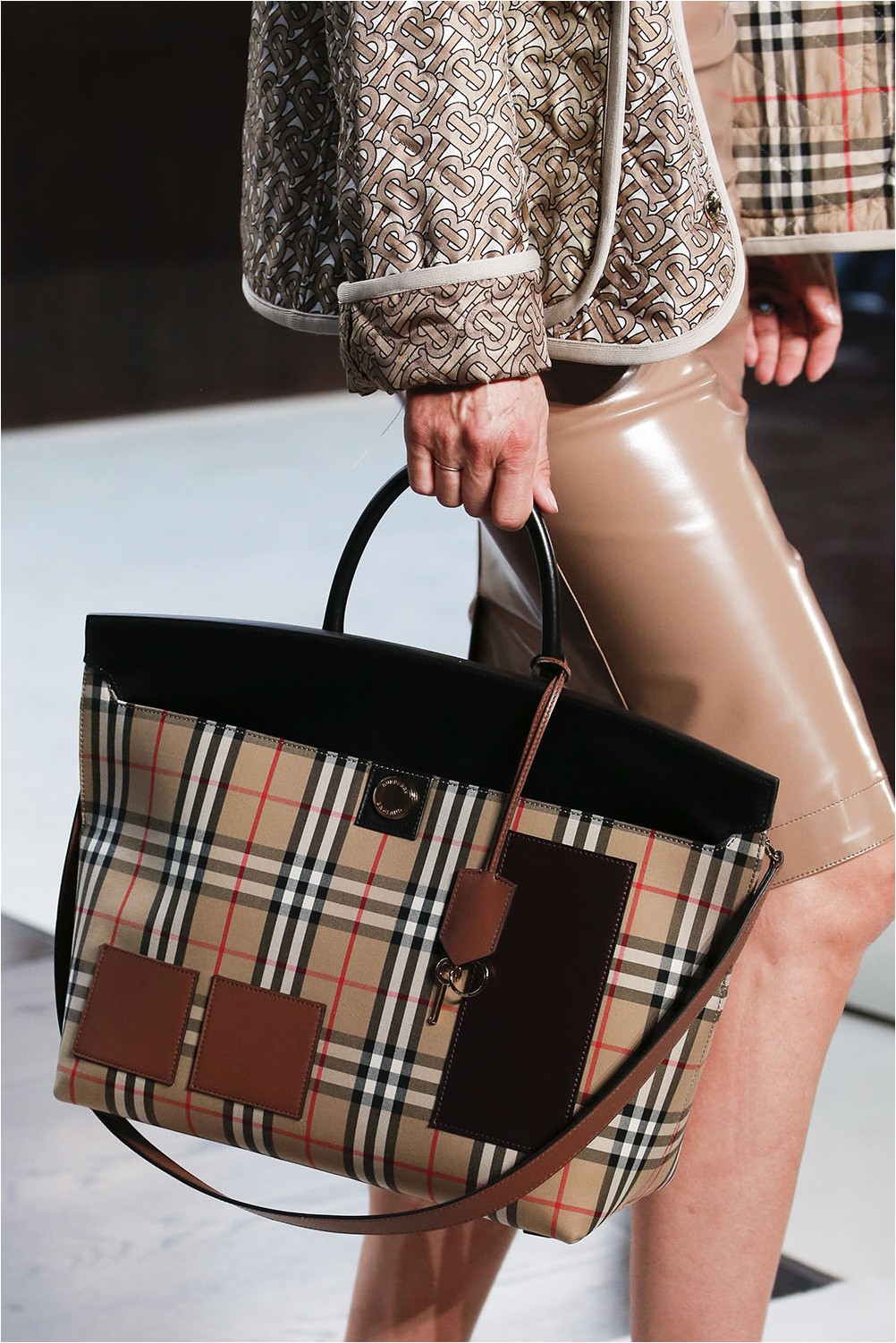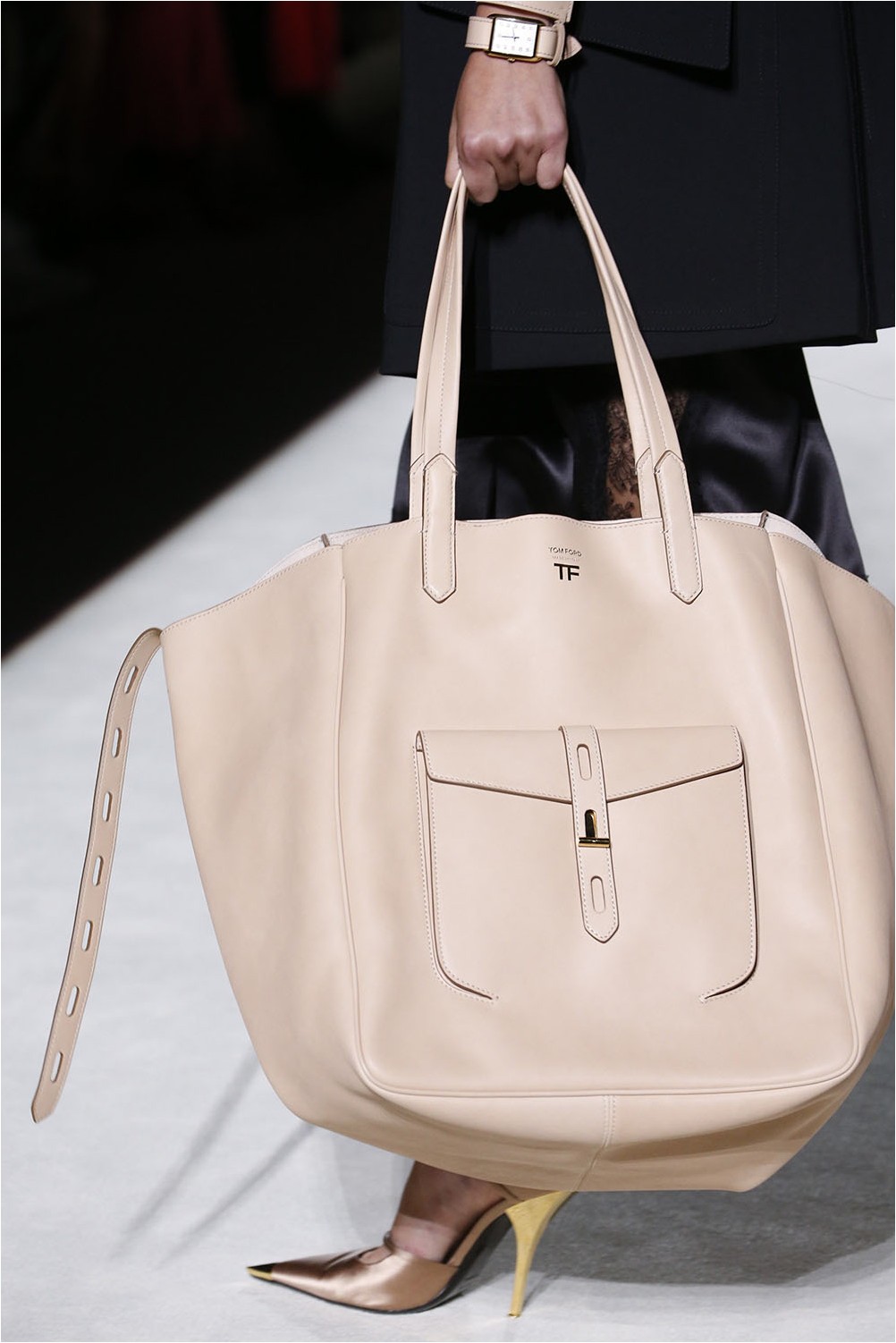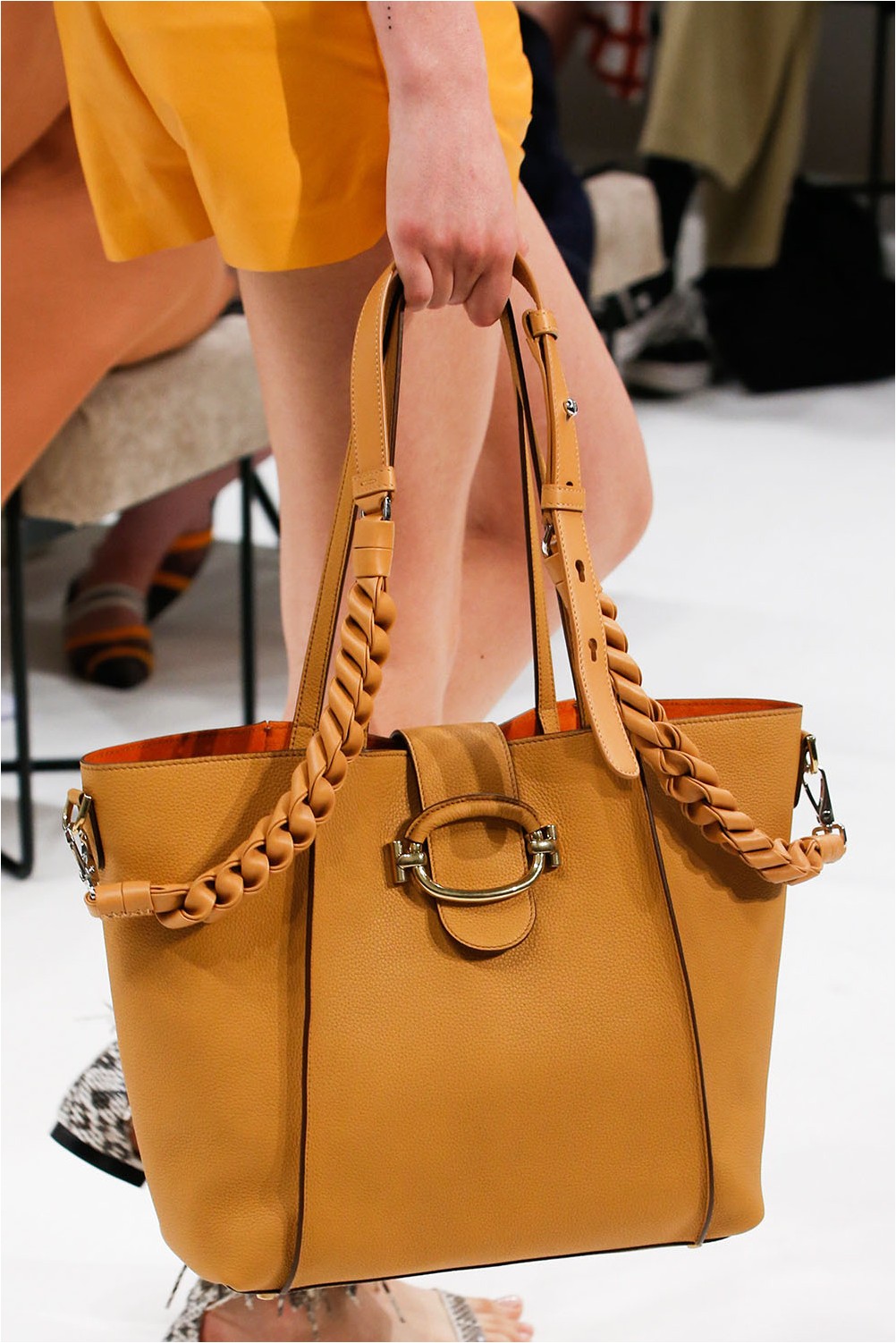 True, designers still allowed themselves some liberties. So there was a rounded corner on Hermès bags or a black and white print from Salvatore Ferragamo. But these small digressions did not get out of the picture..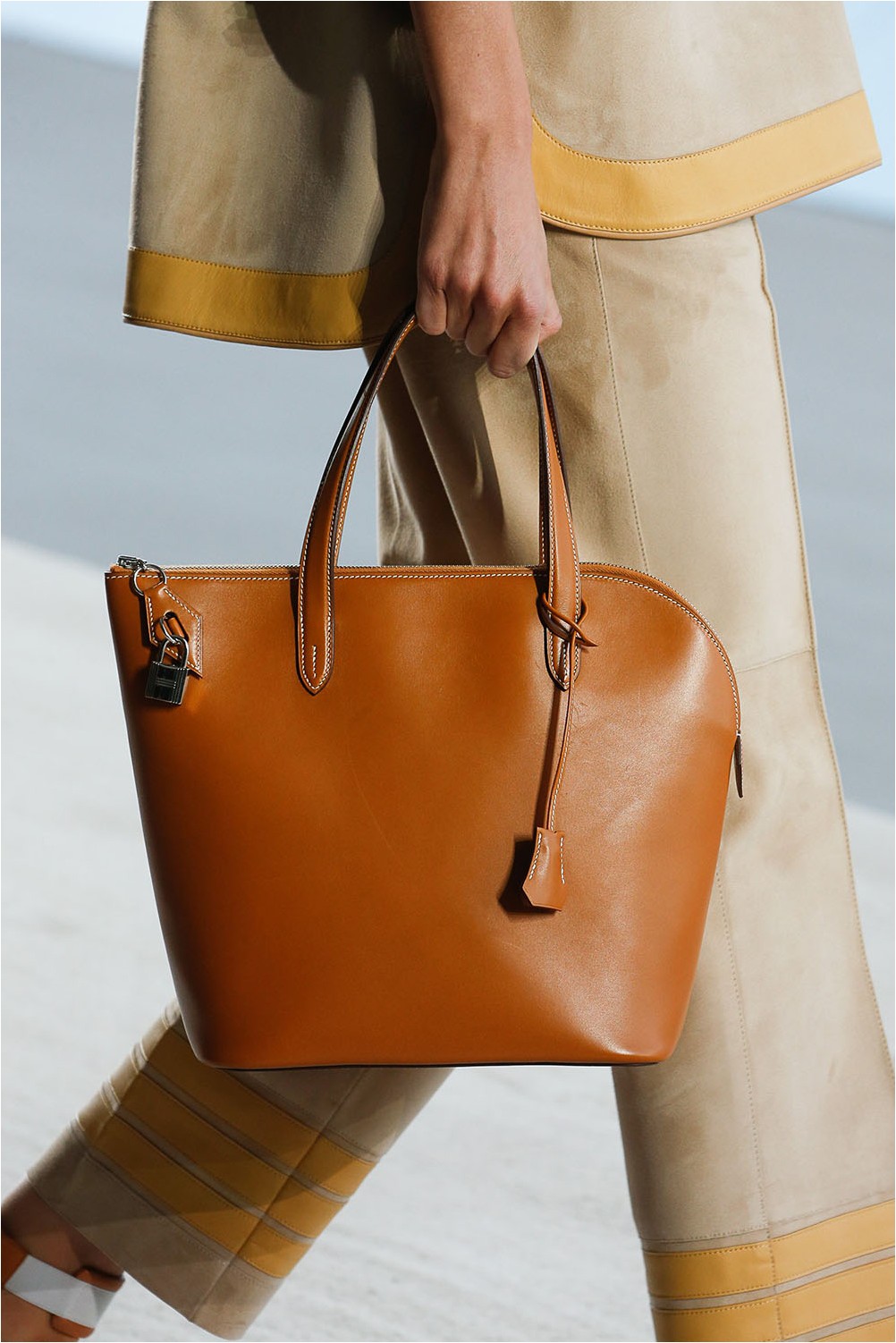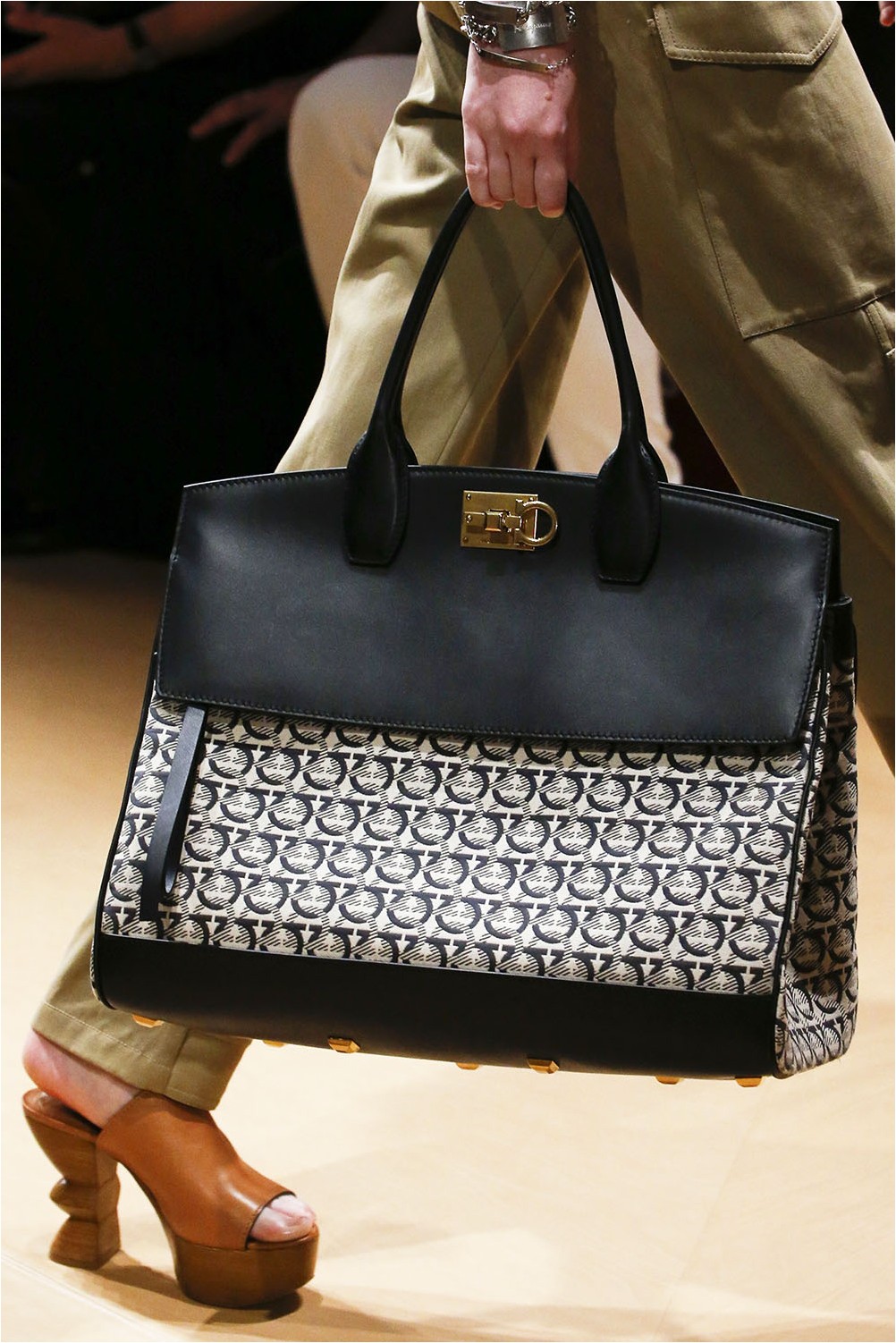 Feathers and birds
The bird theme continues to inspire designers. Bags with plumage and down decor became even more relevant than in the fall-winter season, feather decor conveys the bird's-eye dynamics, and delicate fluff covers the canvas of the bag with the finest moving haze.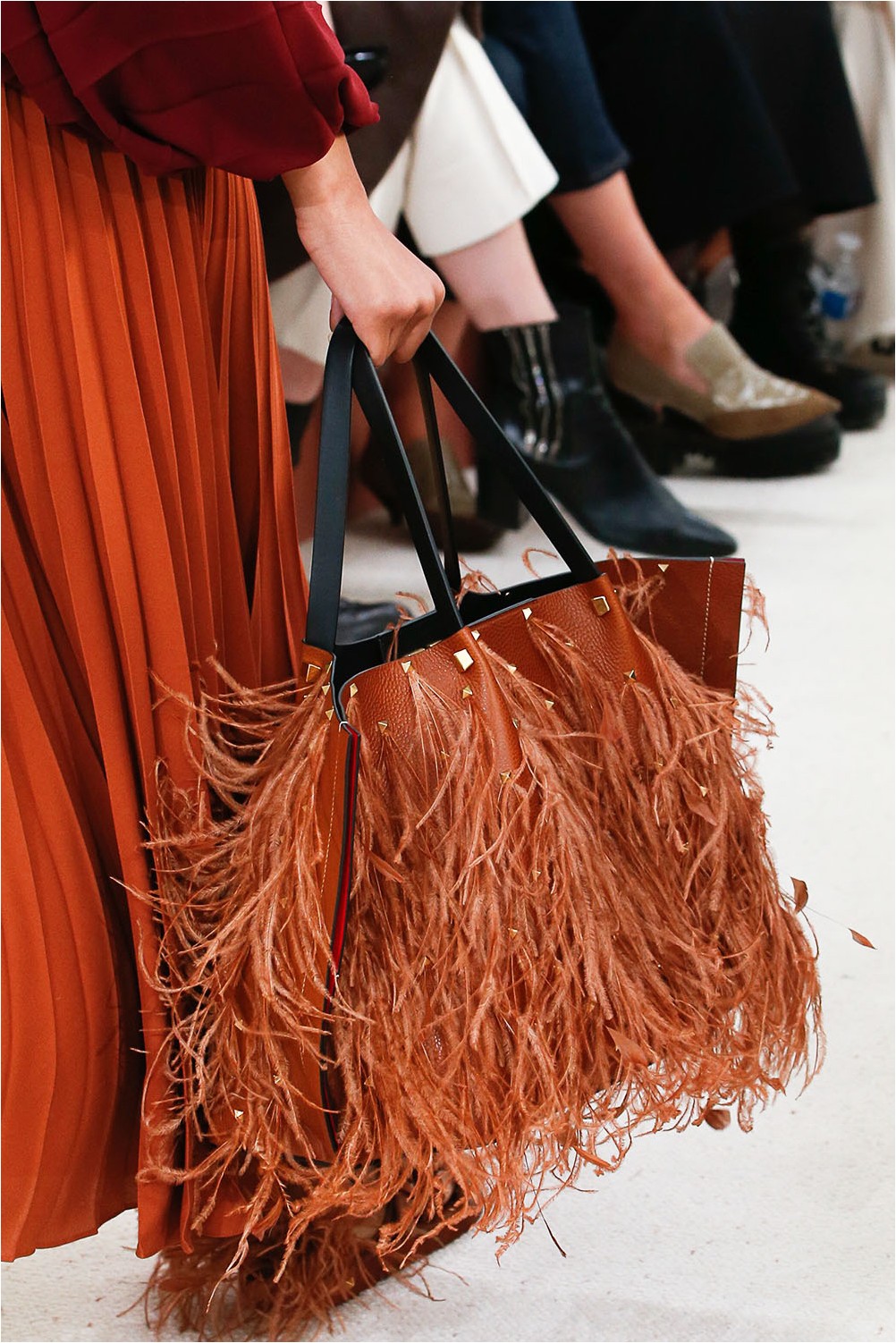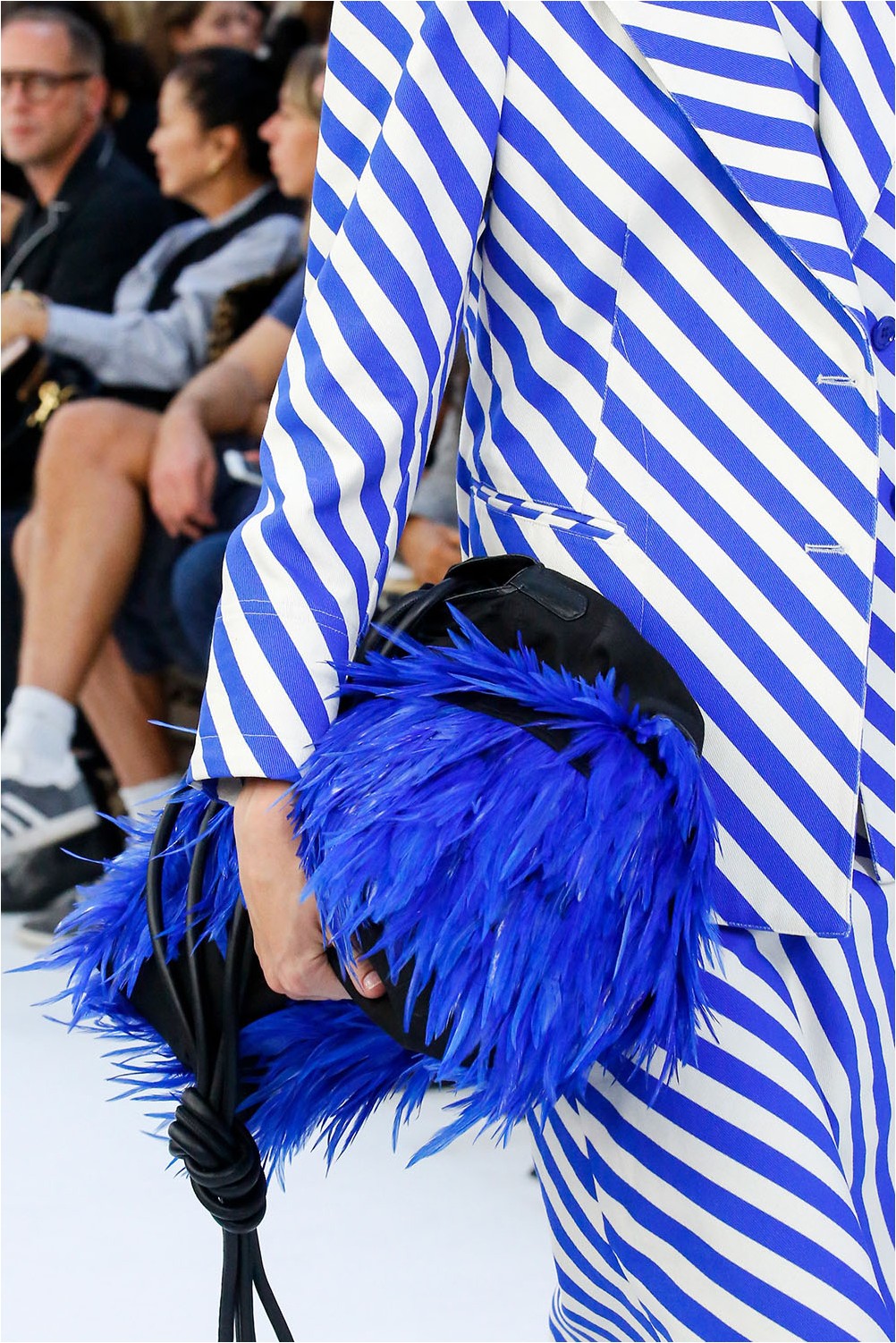 Oscar de la Renta proposed another option on the "plumage" of bags – clutches in the shape of parrots and ravens and even cage bags.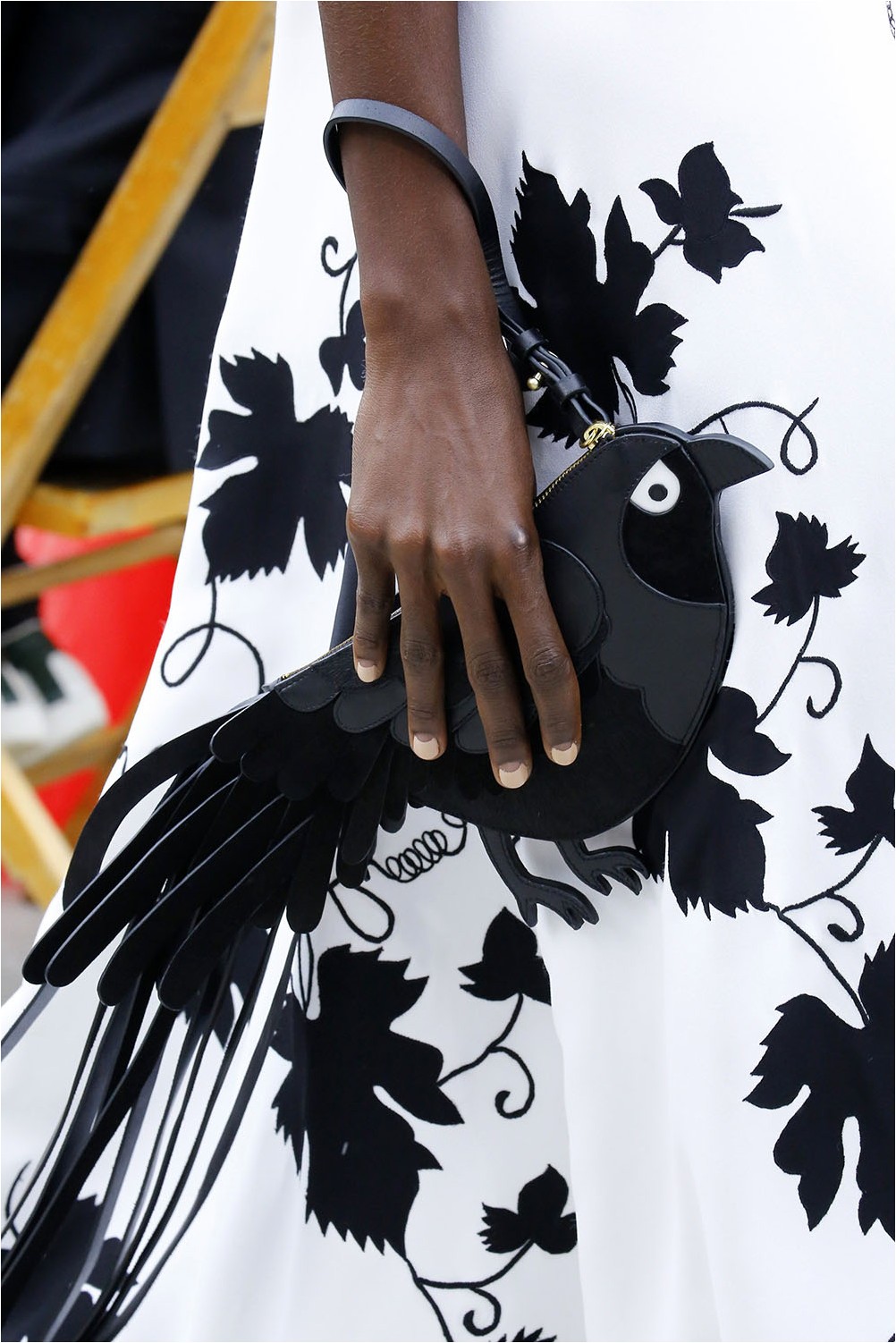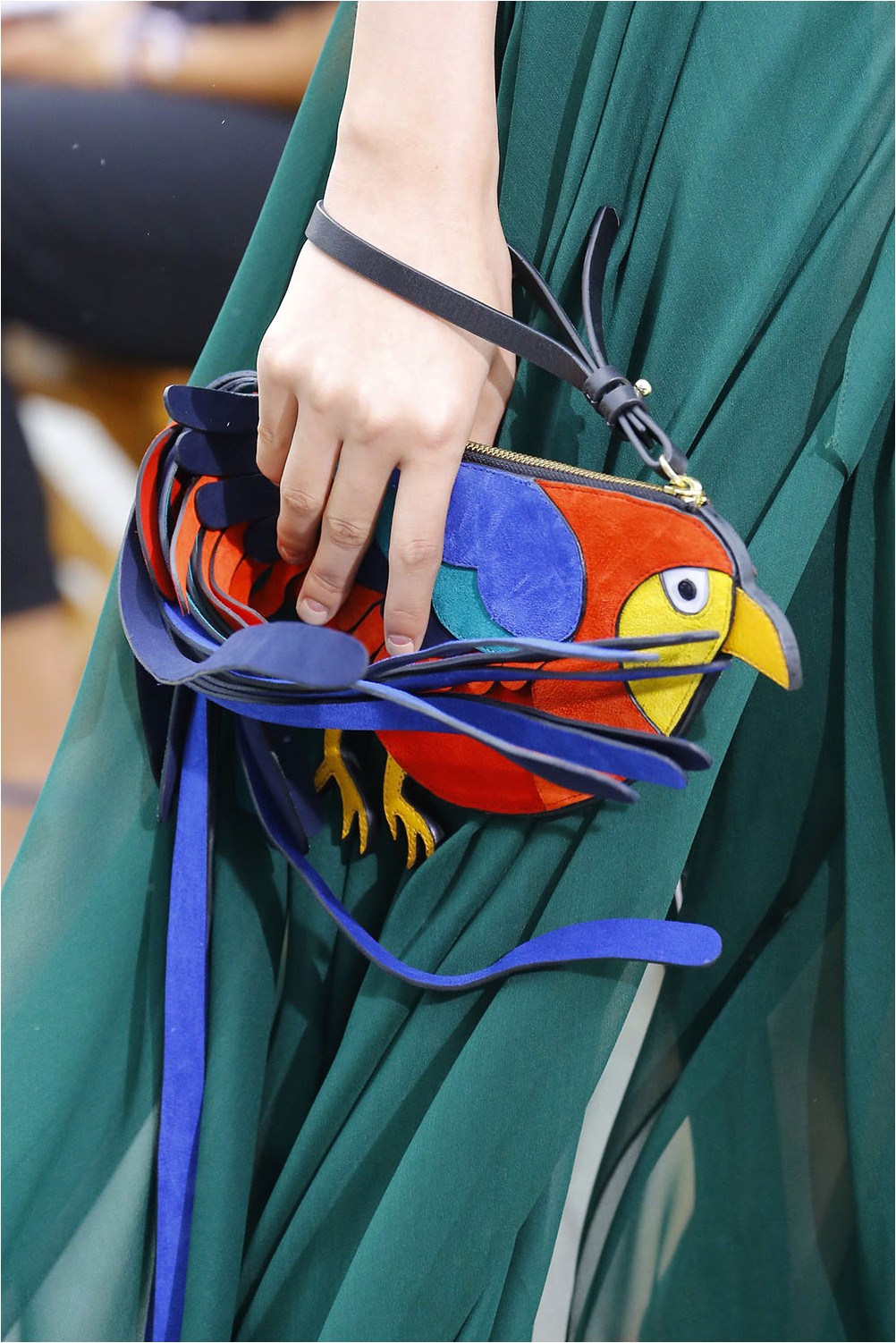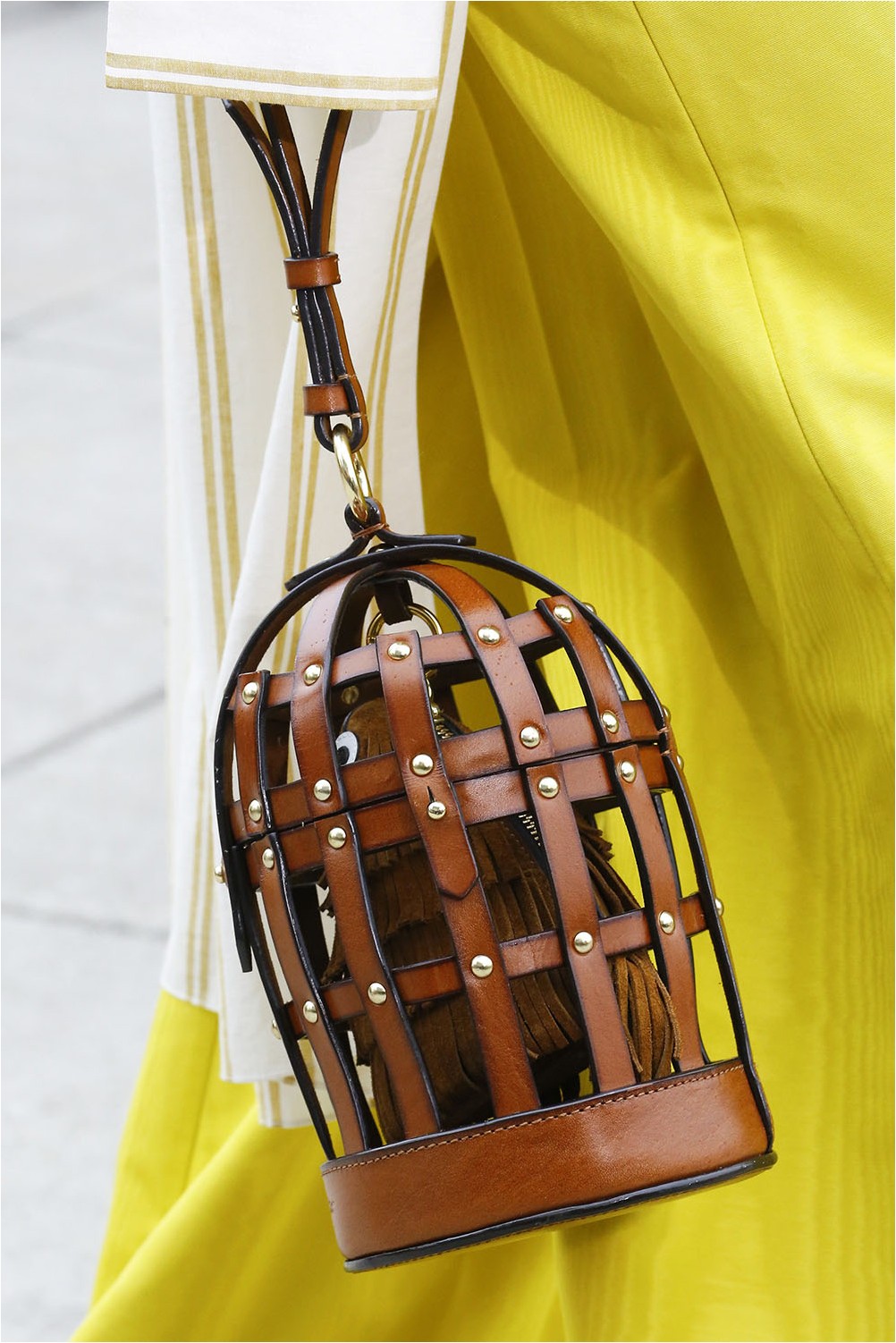 Original forms and Hi-Tech technology
Non-trivial, non-banal and atypical bags today at a great price. Shell bags, flower clutches, handbags in the form of soccer balls. There are no restrictions on the shape of the bag today.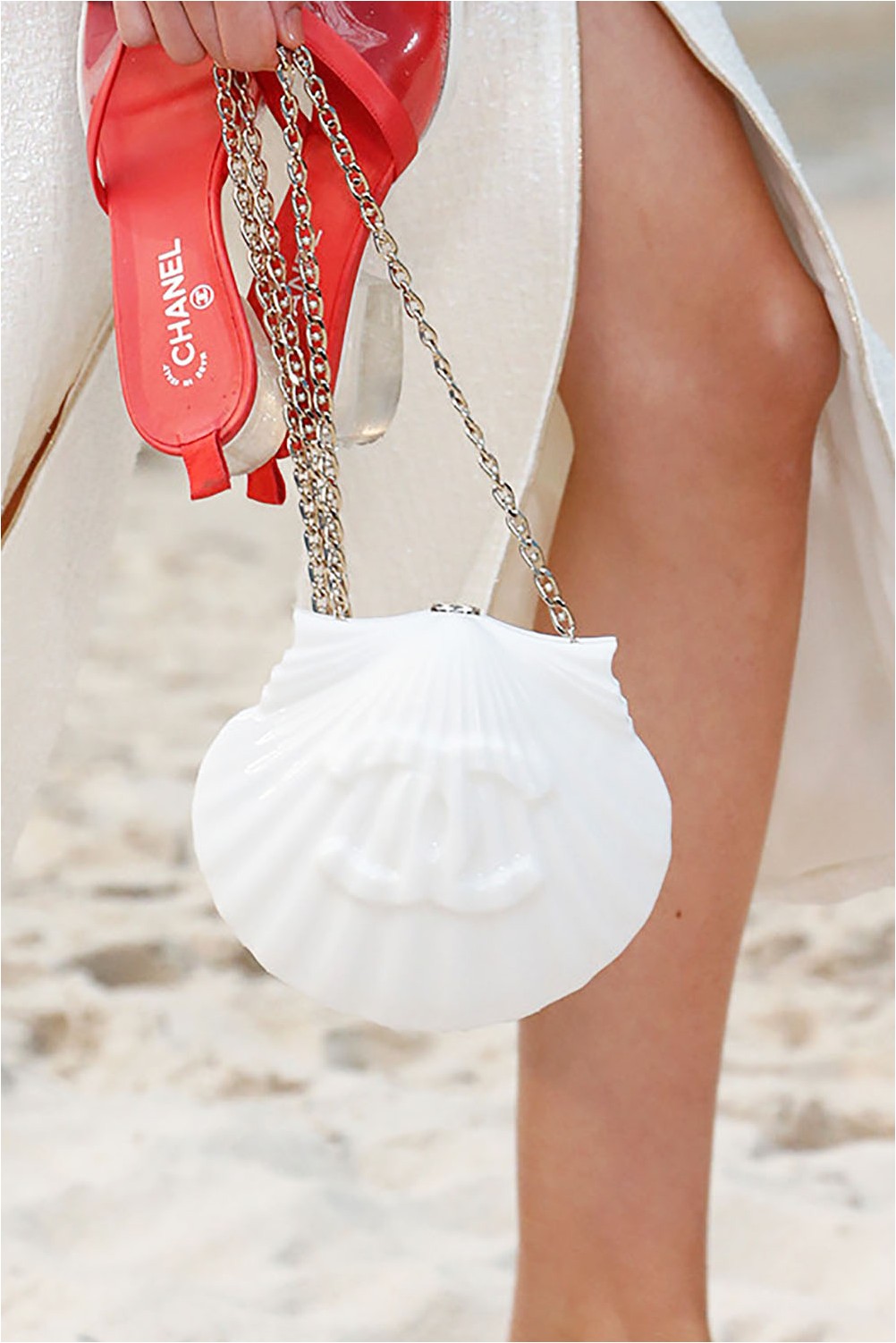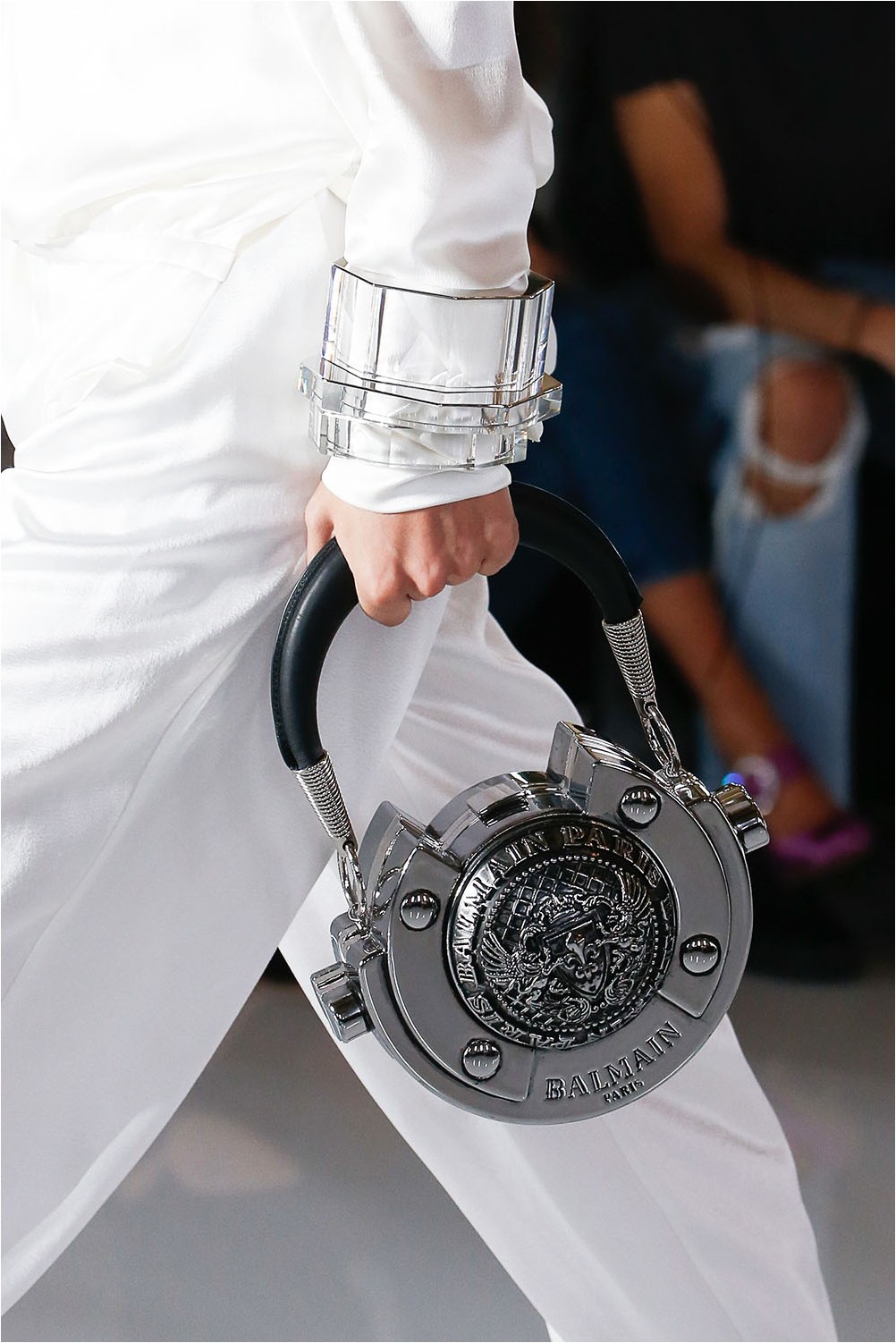 For example, Louis Vuitton offered us extravagant clutches in the form of Faberge jewelry masterpieces. And Marni completely puzzled with his handheld of a complex design, reminiscent of an open bag.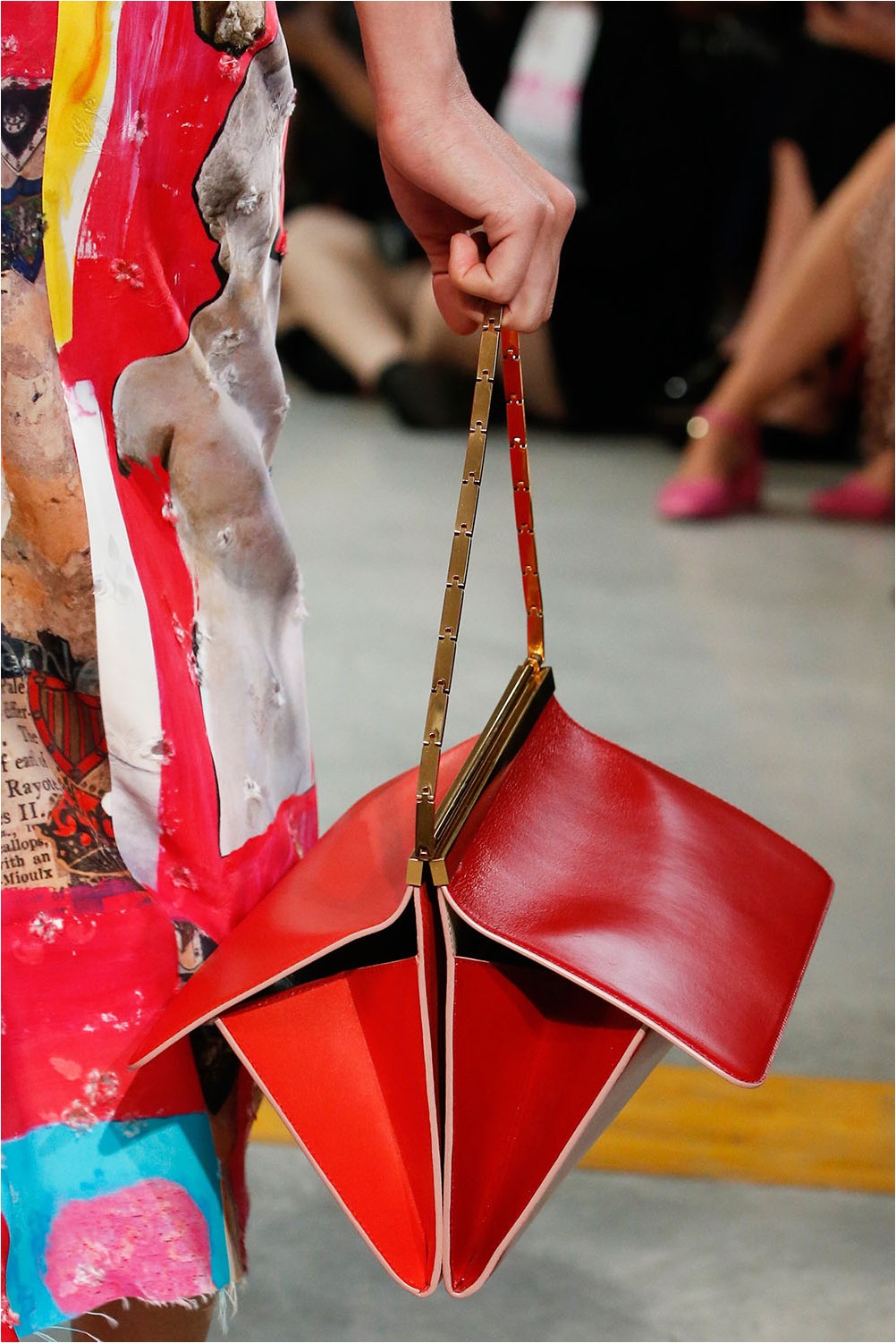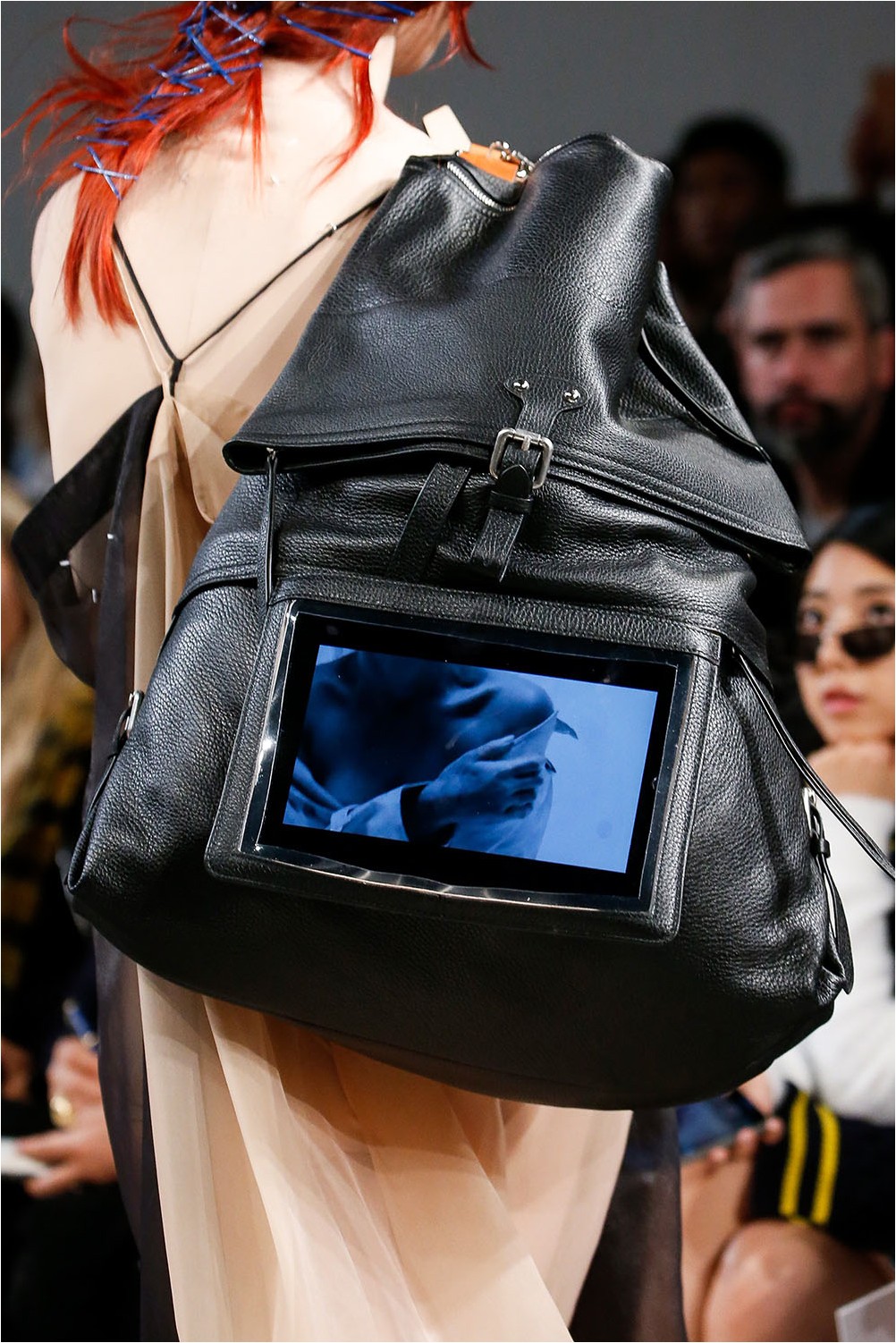 The high-tech bags of the future were created by John Galliano as part of the Maison Margiela collection. He provided accessories with digital screens and tripod brackets for mobile phones..
Saddle bag
A bag with a rounded bottom and slightly narrowed top looks like a saddle. That is why it is called saddle. Saddlebags in classic shades are in trend. No complicated or massive decor. Only a small ring on the clasp. It is these bags that the fashion house Chloé has been demonstrating for several seasons in a row..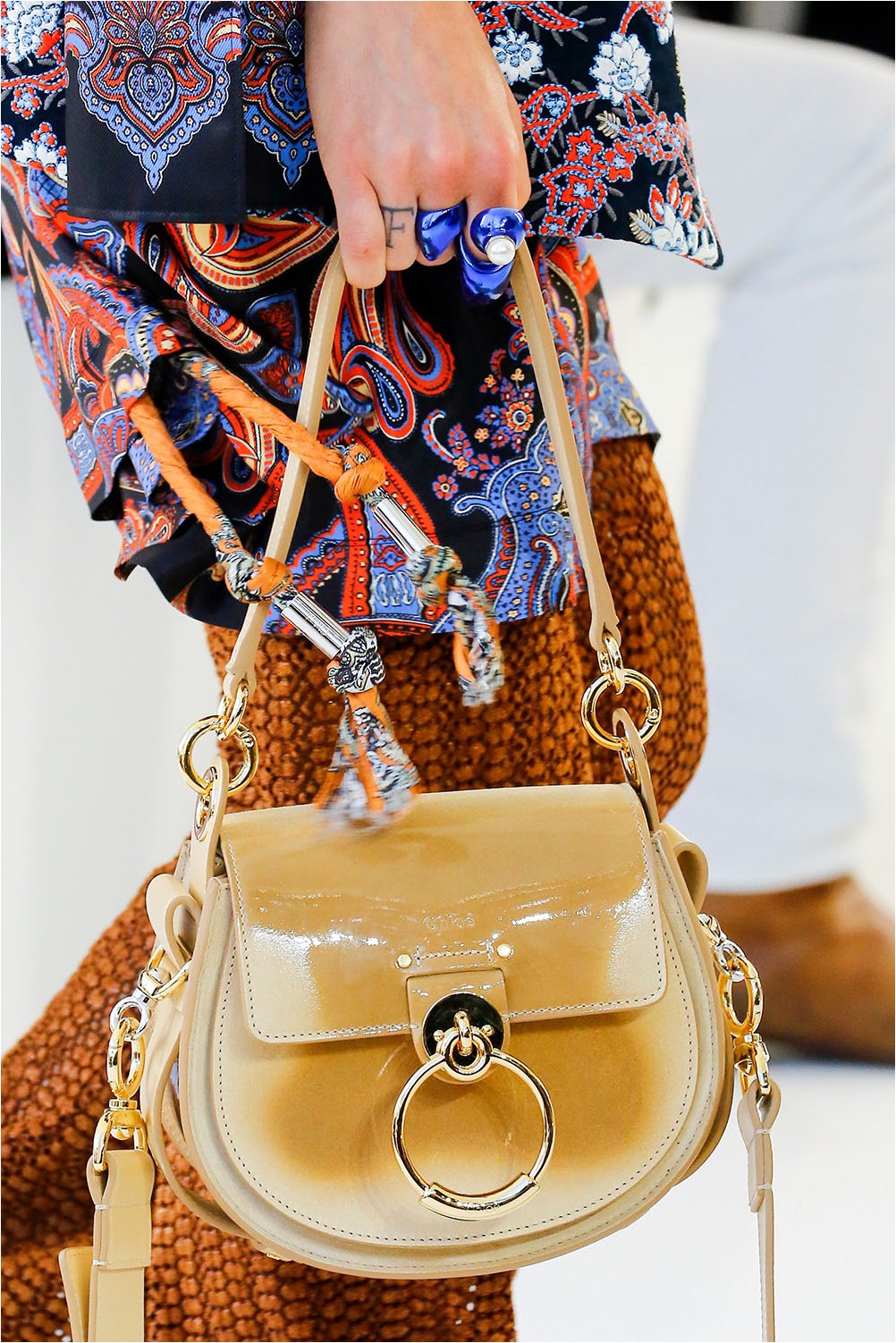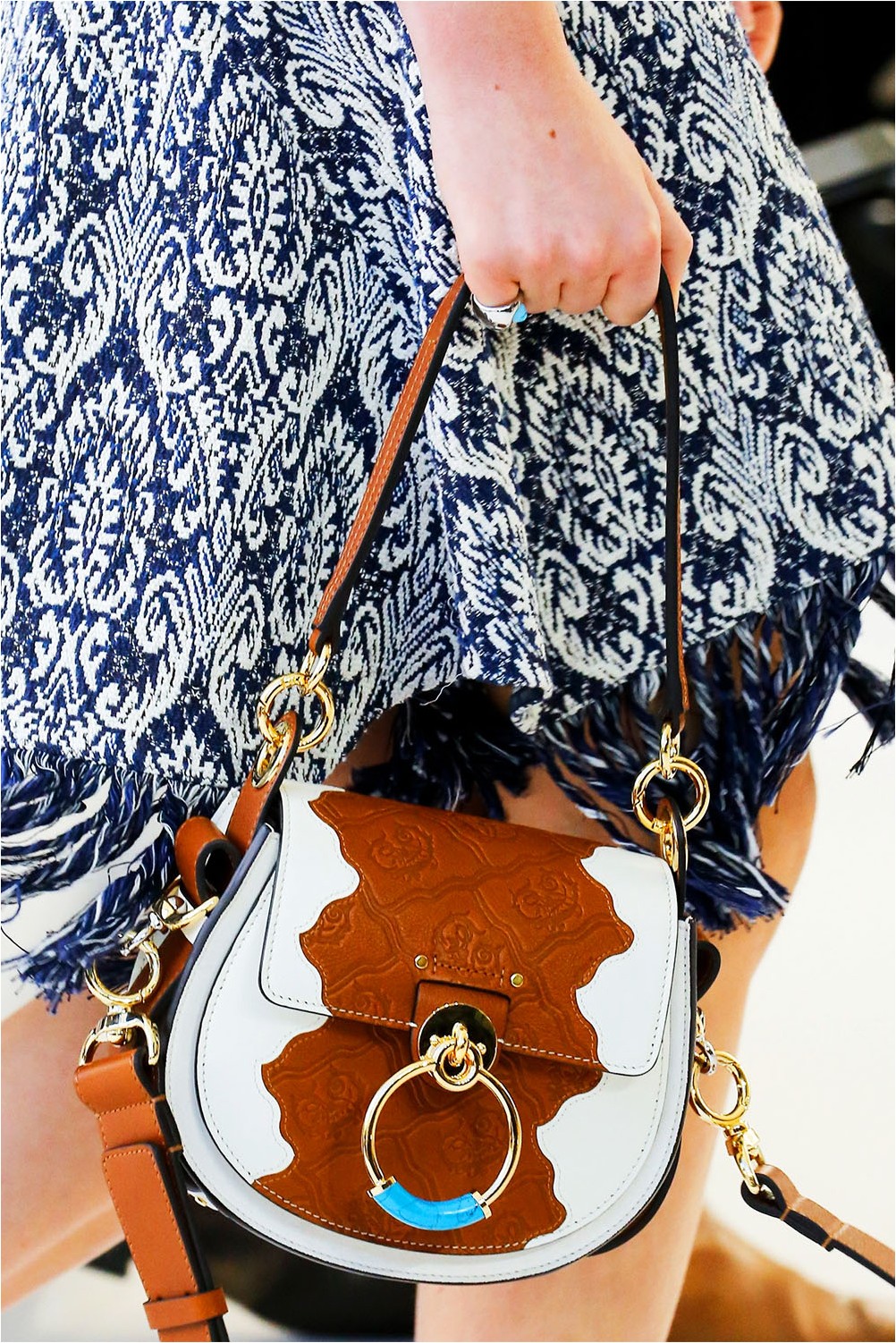 Sometimes designers dilute the monotonous design with embossed reptile skin or lacquered texture. But, in general, the models look restrained and elegant.
Prey print and reptile stamping
No wonder the crocodile leather handbag has always been considered a sign of the elite. Too textured and secular look accessories with embossed embossing. Many designers abandoned natural fur as part of animal welfare.
But no one forbids using copies of drawings of the skins of predators and reliefs of the skin of reptiles. Moreover, the predatory and snake trend is still at the peak of popularity. Almost all well-known brands supported the fashion trend: Giorgio Armani, Chloé, Hermès, Louis Vuitton, Versace.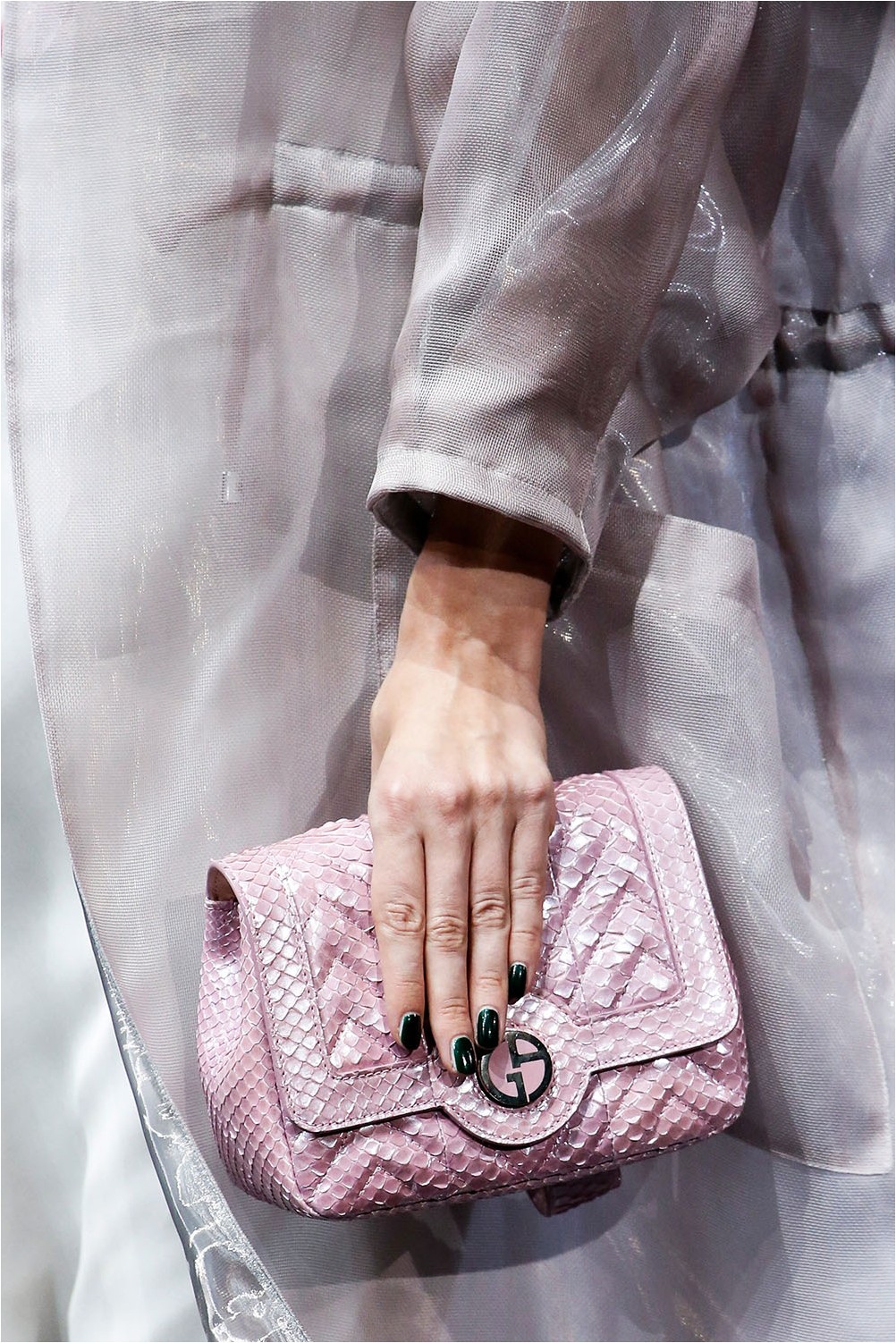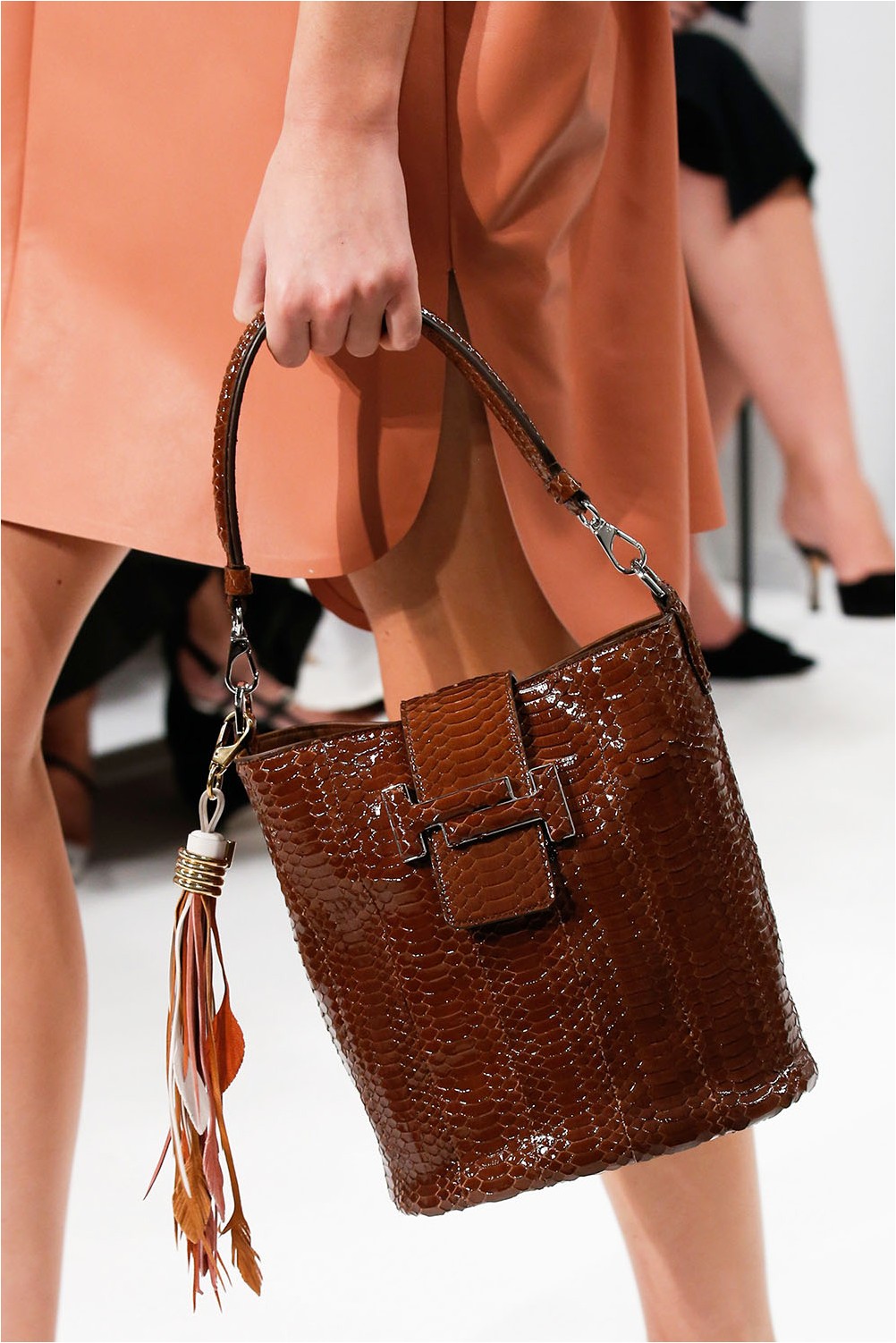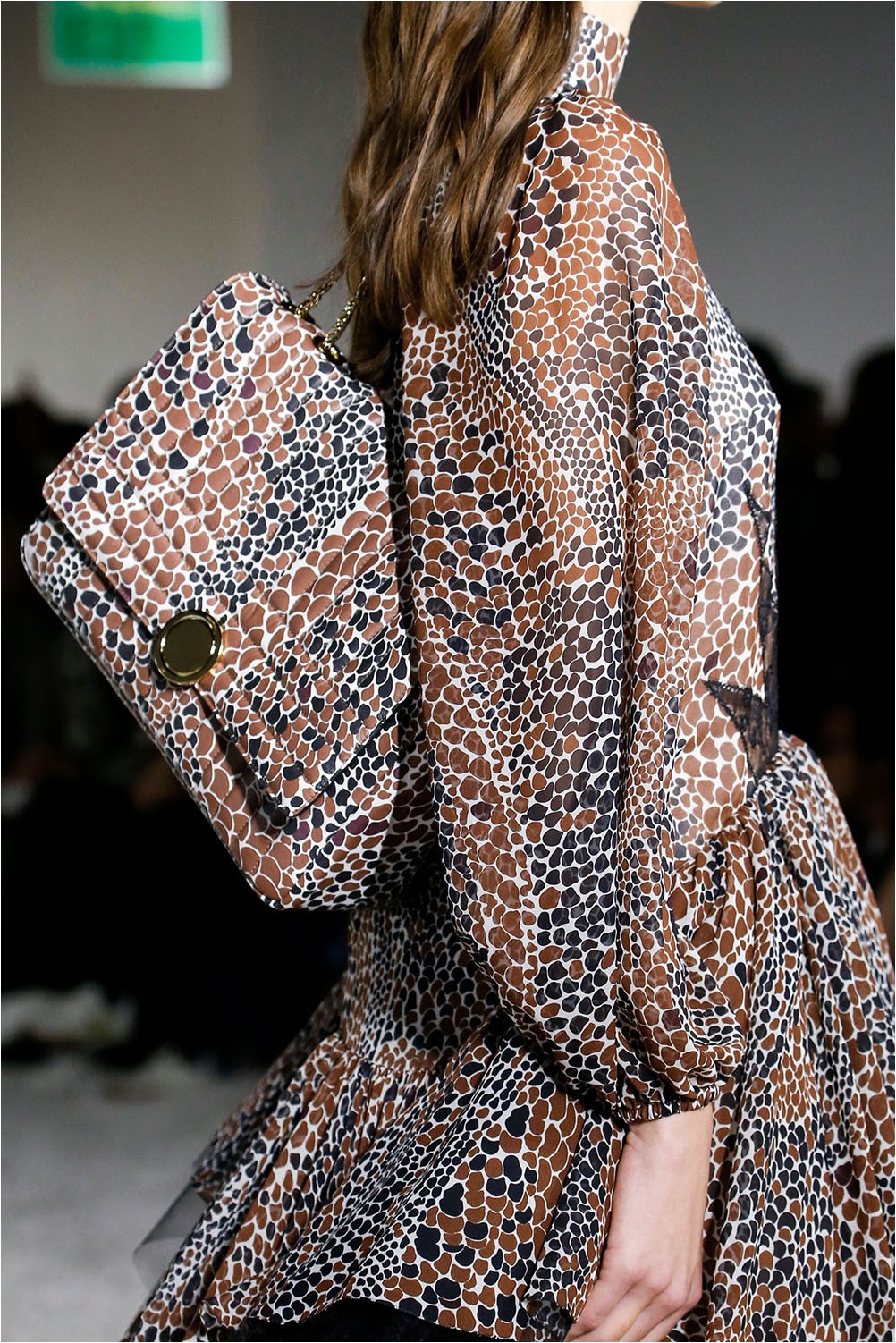 If you are a supporter of a mono image, then you can not find a better option than total look with predatory prints. Interesting mono images in "snake or predatory performance" were presented by designers Michael Kors and Giambattista Valli.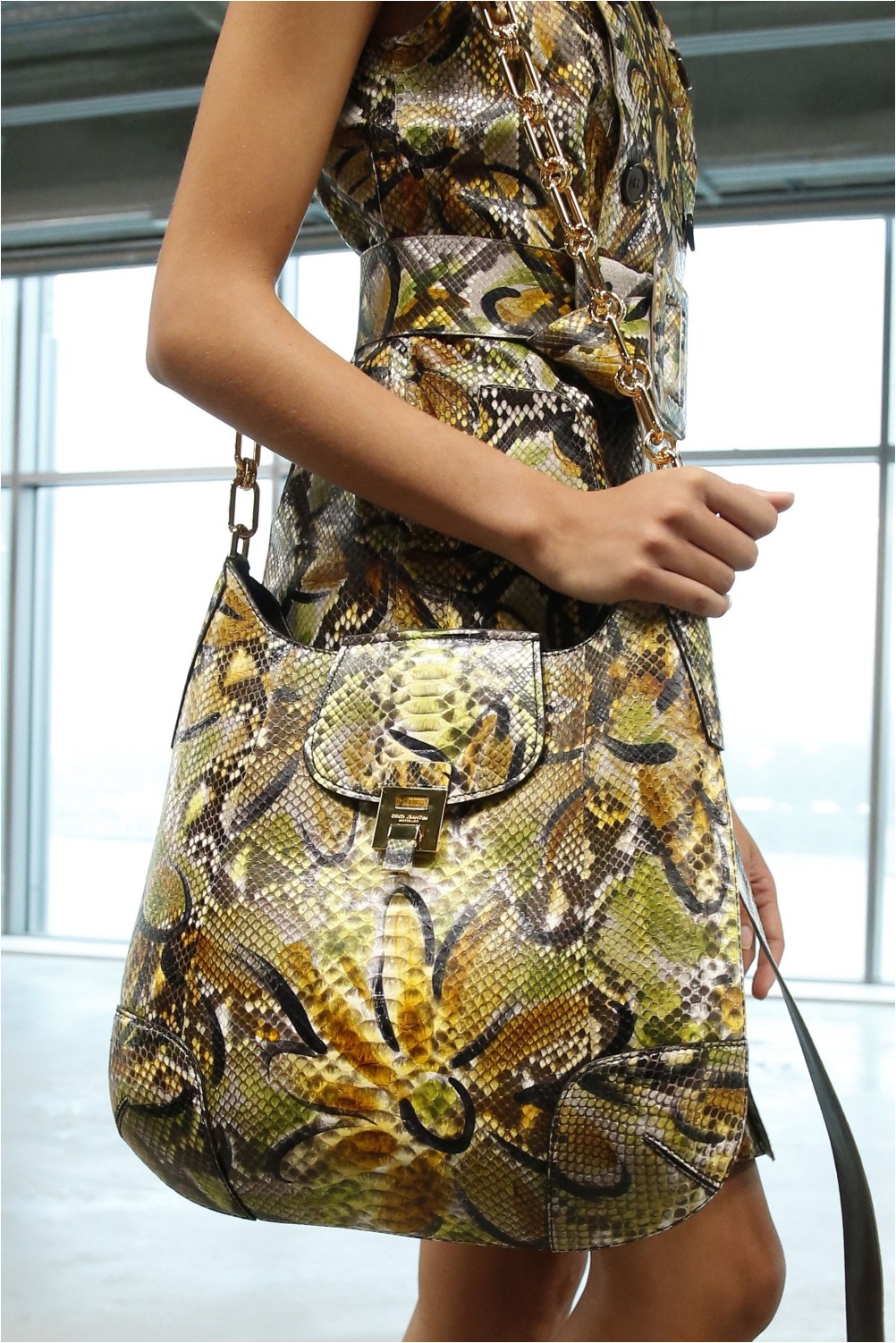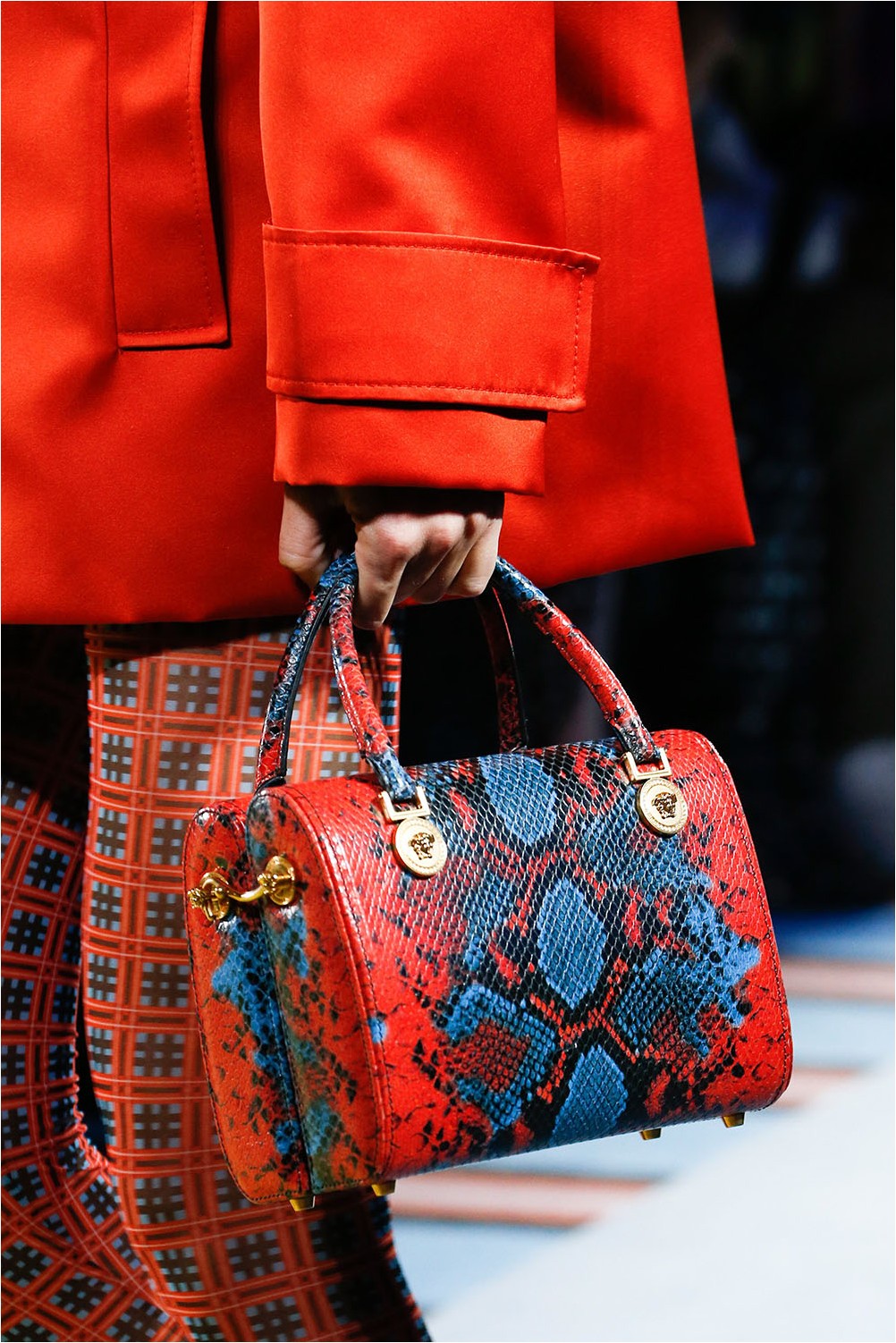 Bright print
If we talk about the print, then it should be bright. It is hard to imagine a real summer without rich colors. Therefore, a handbag with a funny pattern is a must have for the spring-summer season of 2019. And it does not matter if it is a complex abstract pattern, like in models from Louis Vuitton, the Tie-dye effect, like in Prada dresses or a frivolous berry print, like in Gucci bags. The main thing is that he recalls how beautiful and carefree spring and summer days.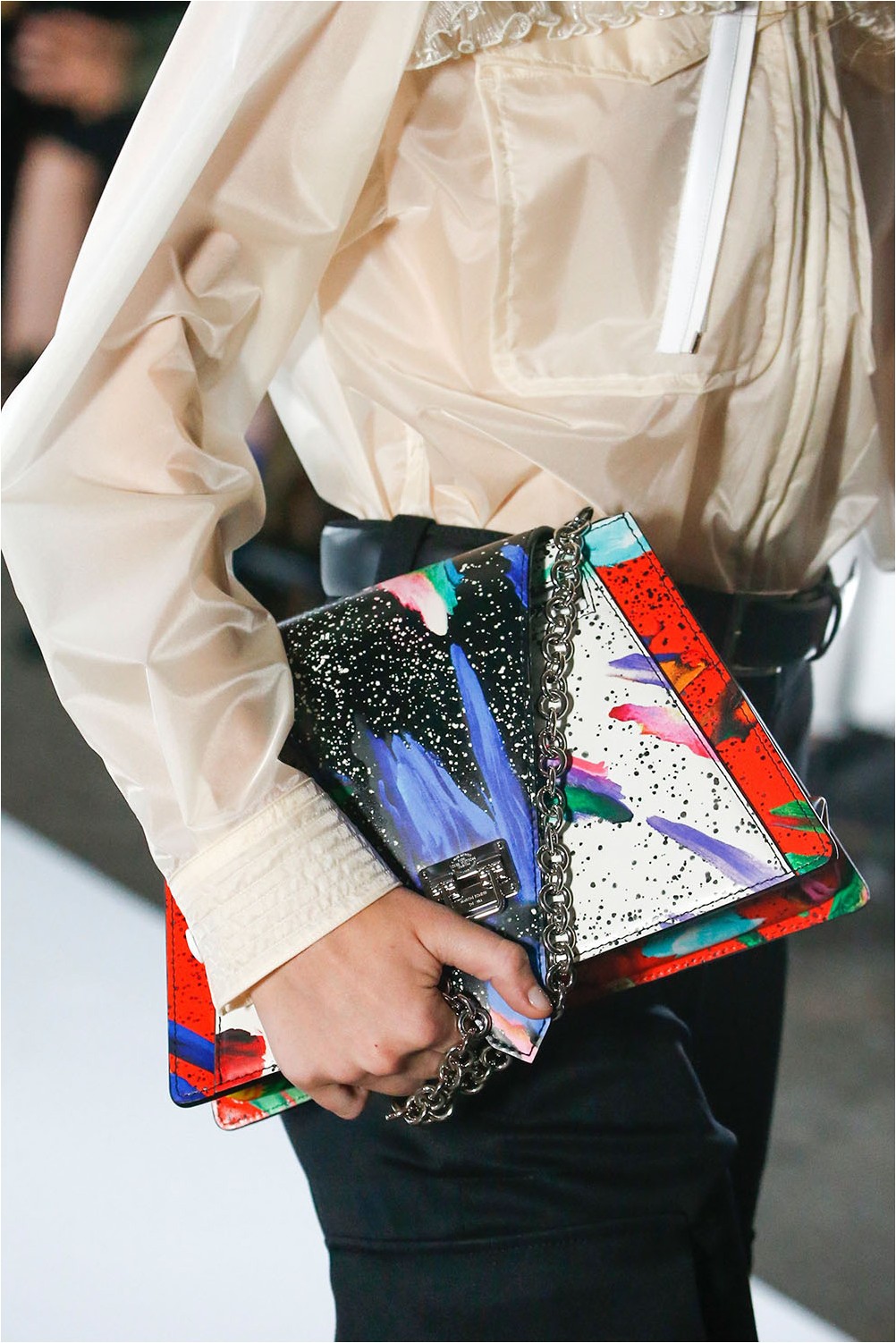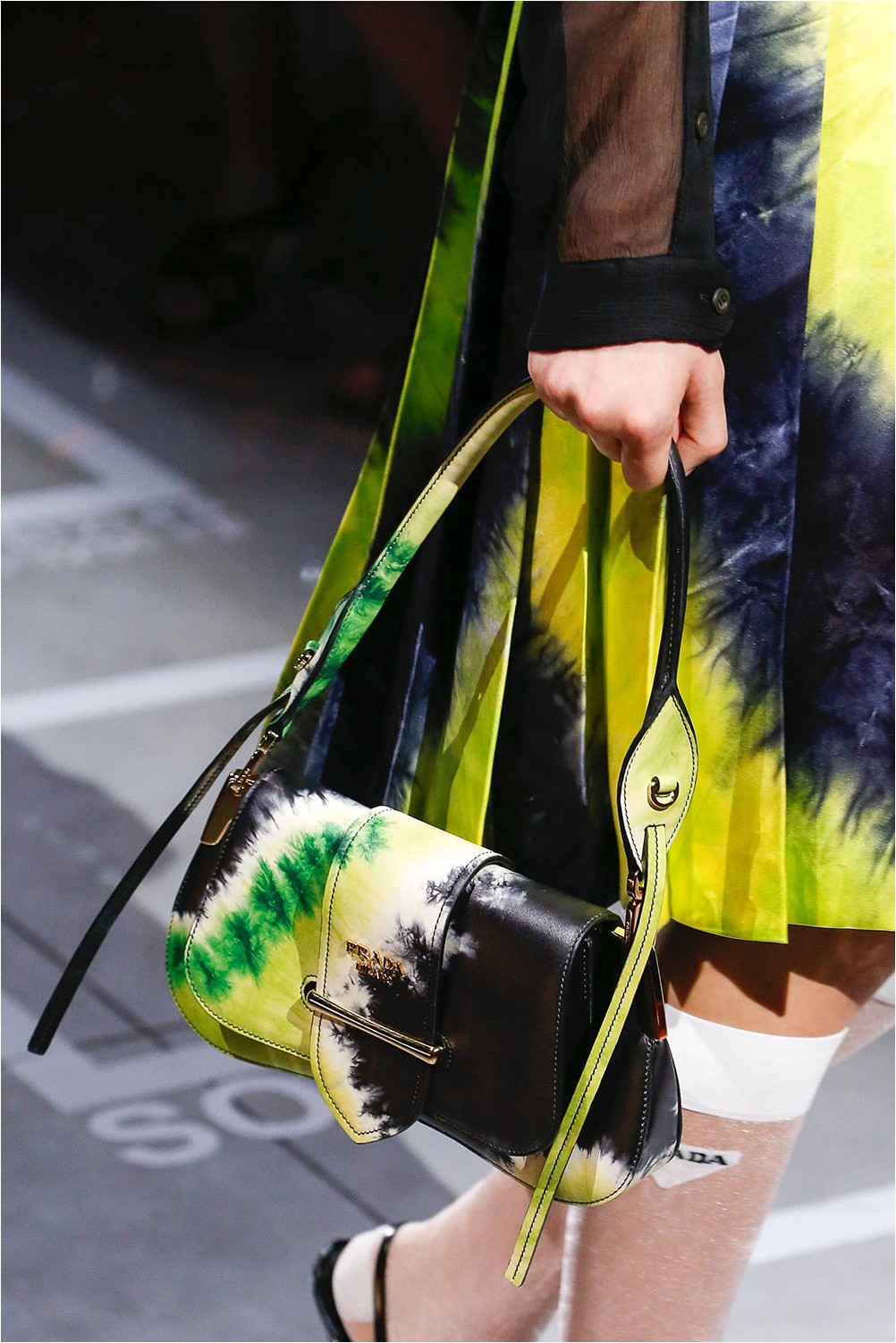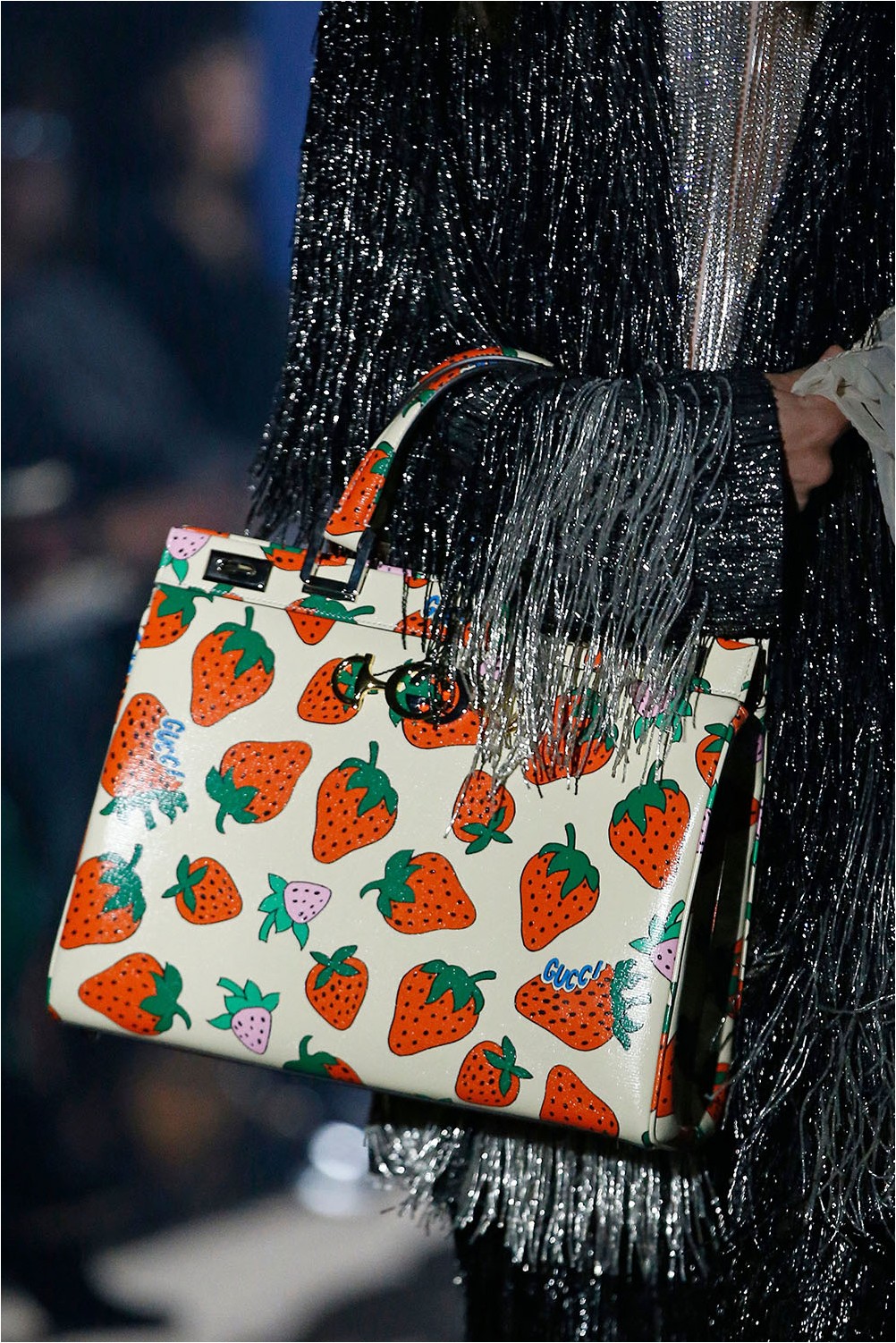 Despite the abundance of rich shades, there were more delicate options. For example, Kenzo has launched a series of translucent shoppers with a Polka dot pattern and pastel floral prints..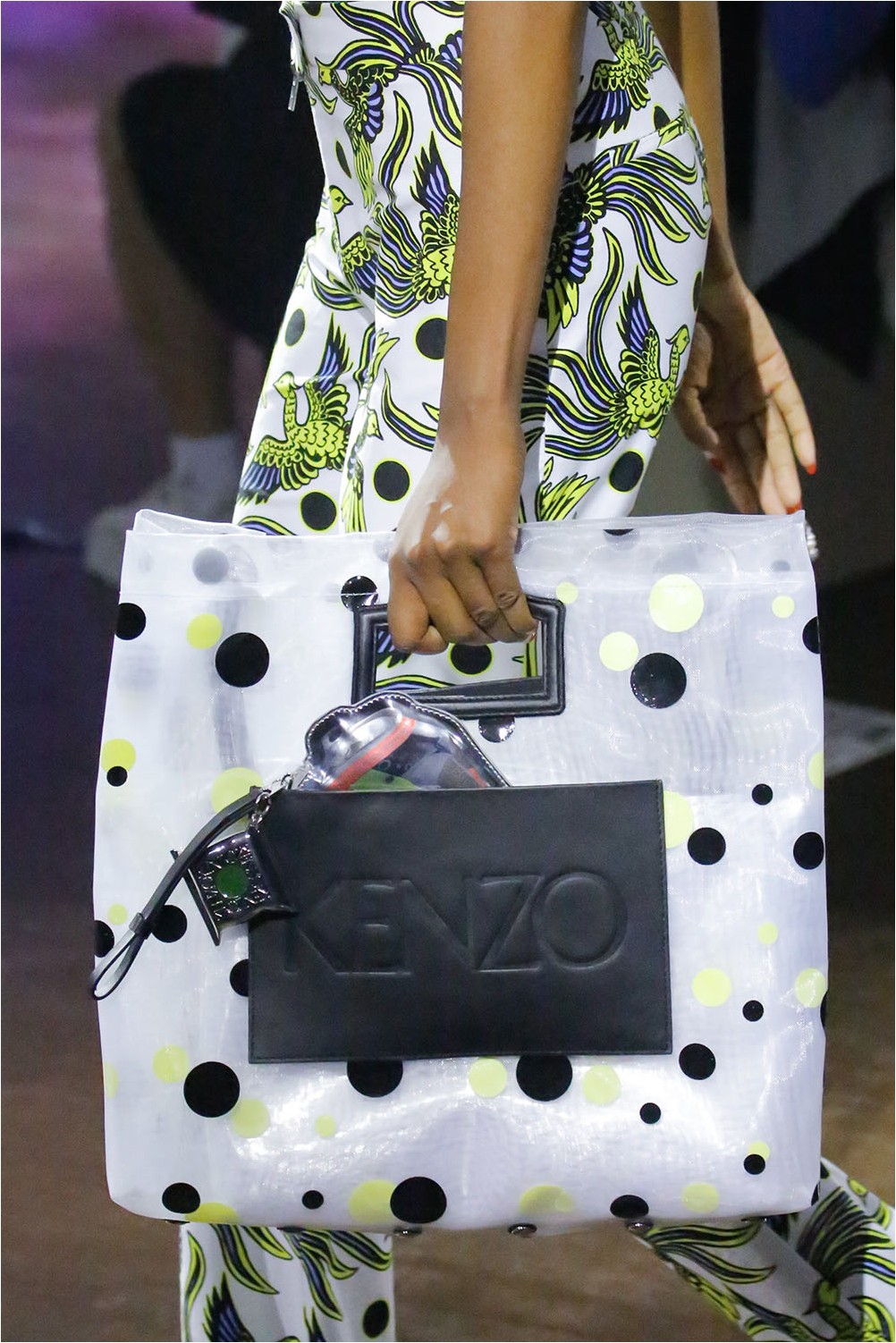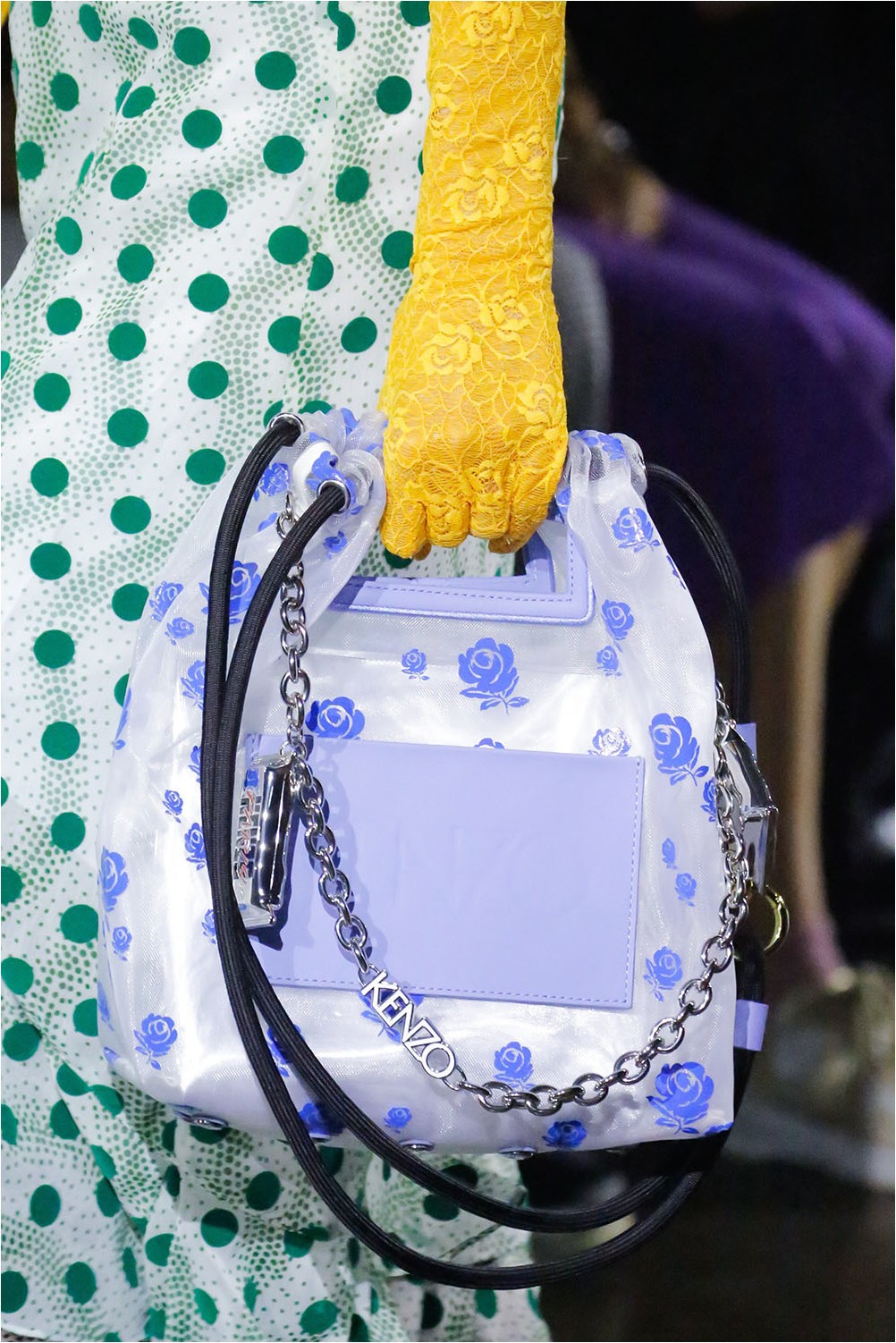 Shoppers
Shopping bags have become concise. Most often, they were made in the classic design of soft leather in terracotta shades. The options with the addition of light summer notes were relevant. For example, an embossed pattern with birds, an avant-garde print in fresh shades or a wicker texture. But all this should not distract from the simplicity and laconicism of shoppers.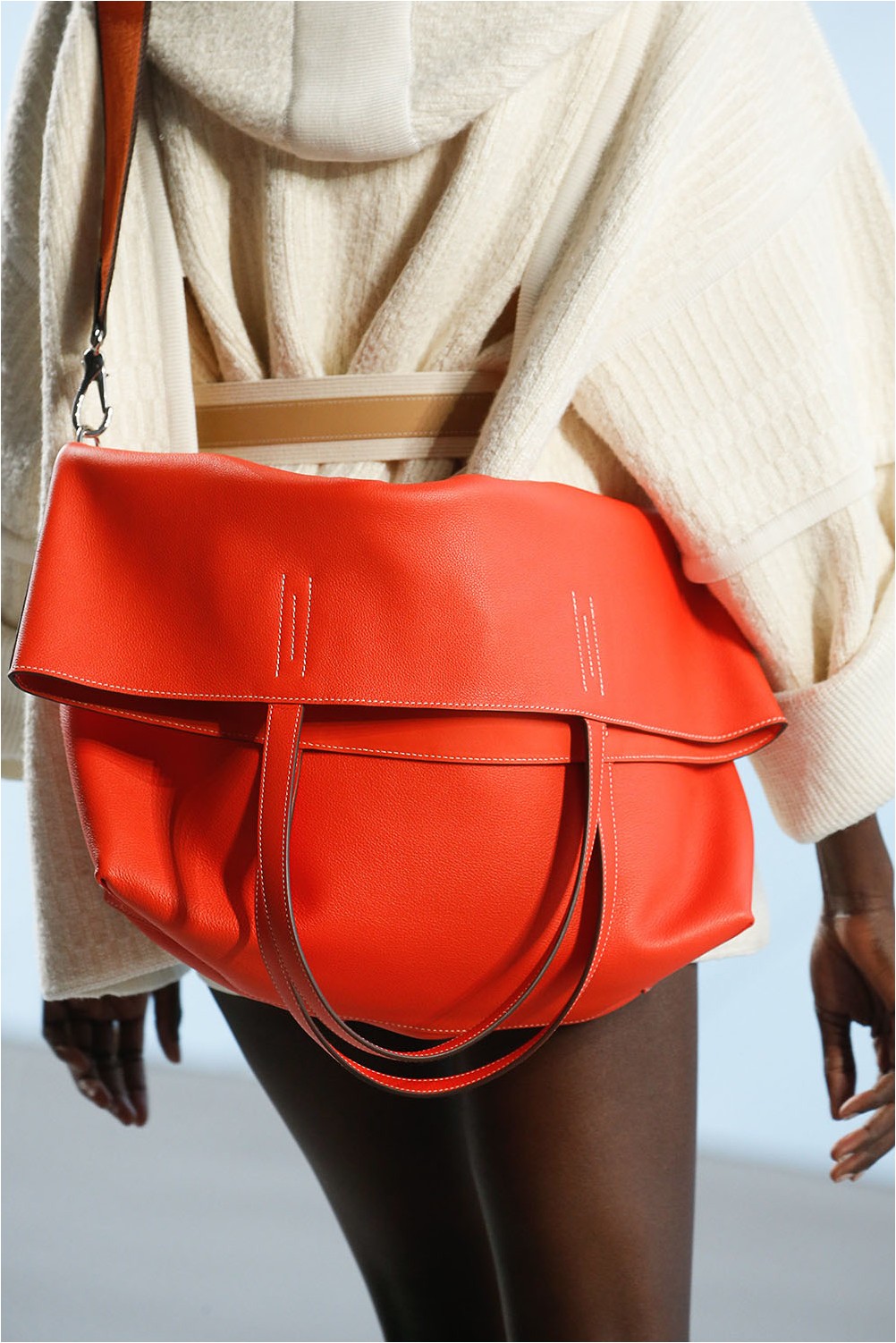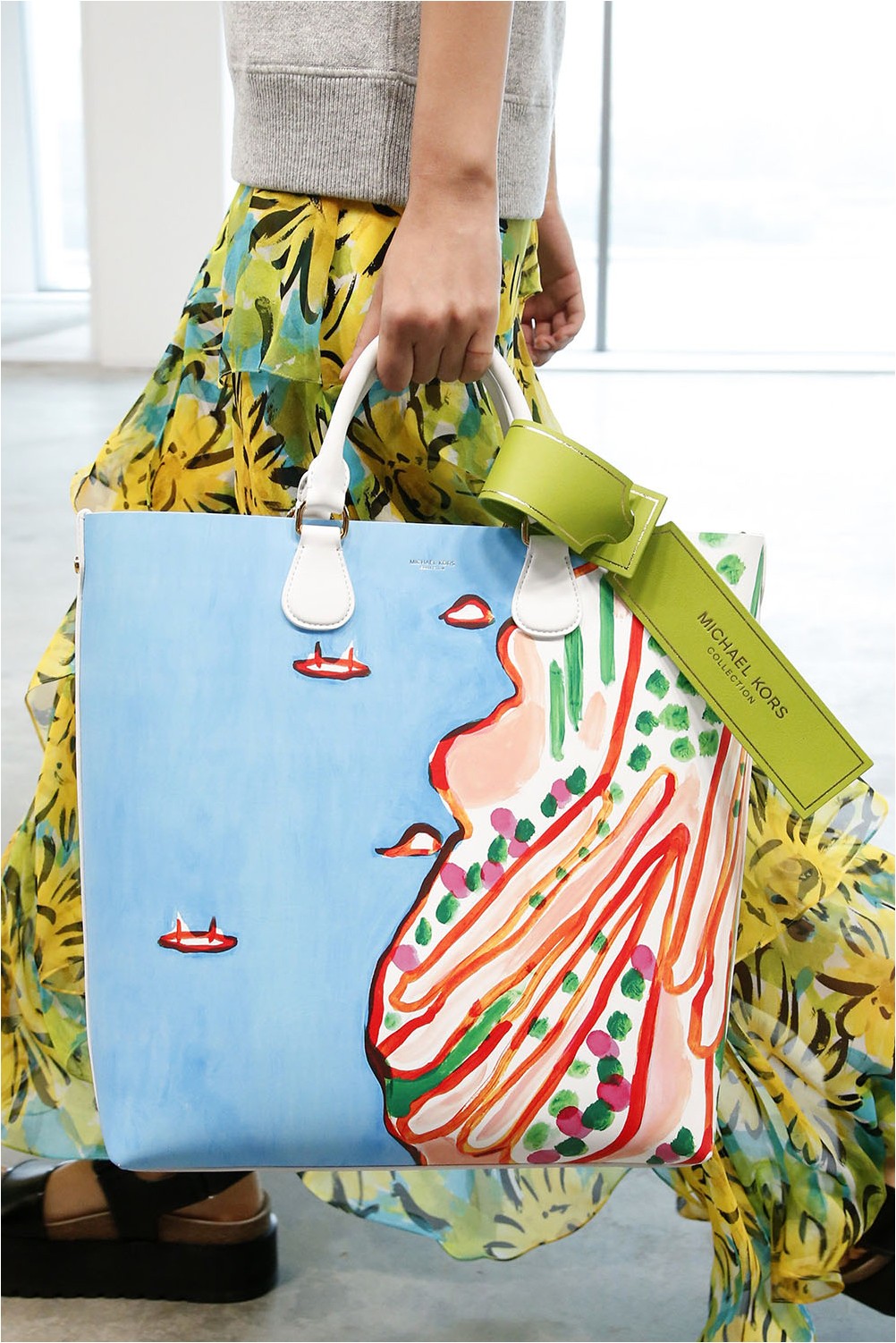 Hand made decor
The trend for hand made decor proved to be excellent in spring-summer 2019 fashion bags. Handmade decor adorned the models of many designers. Each of them showed his vision of the fashion trend. Versace adorned his "bags" with voluminous plastic flowers. Michael Kors and Karl Lagerfeld used stitch embroidery for the Fendi collection, and beautiful flowers and textured birds appeared on the bags.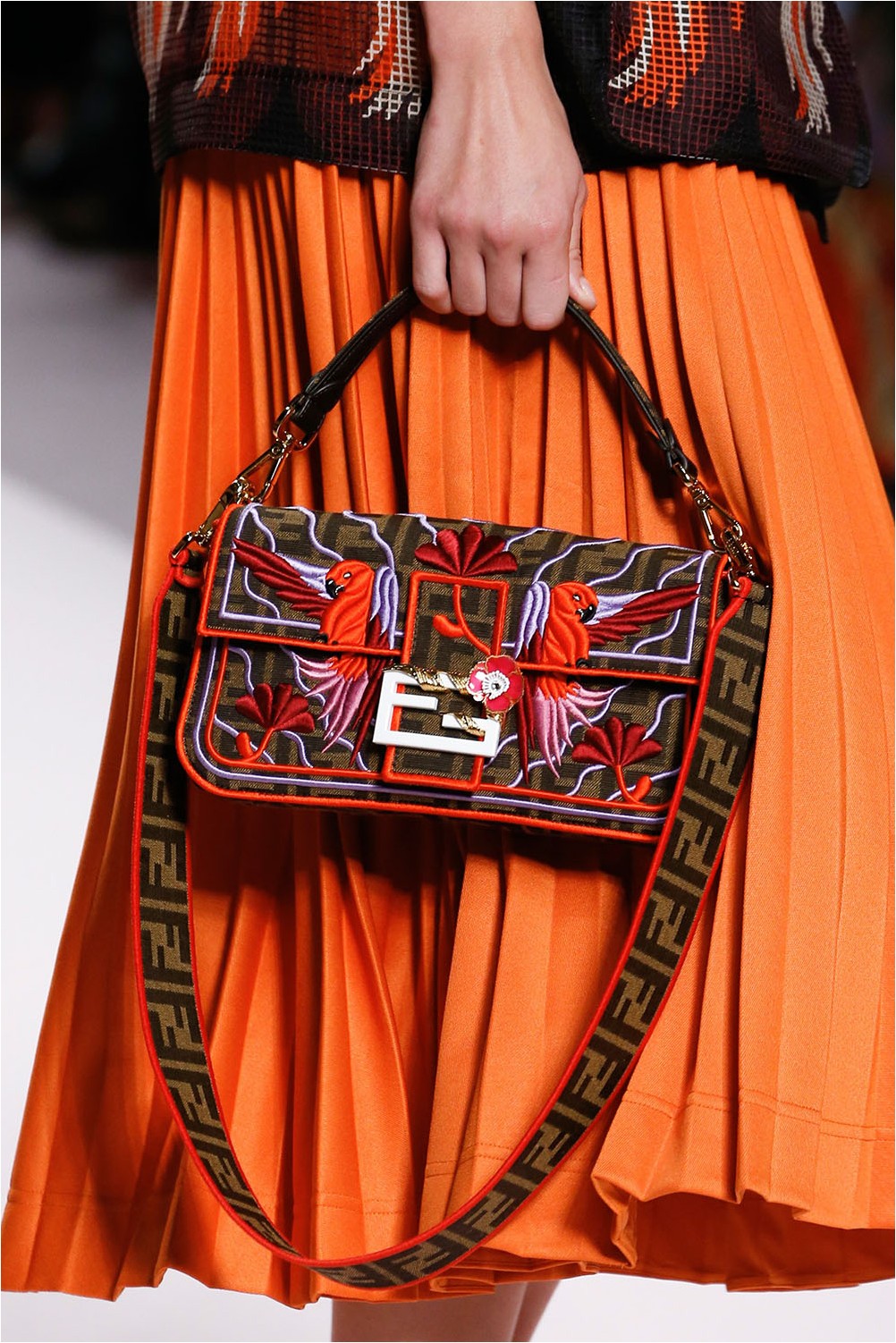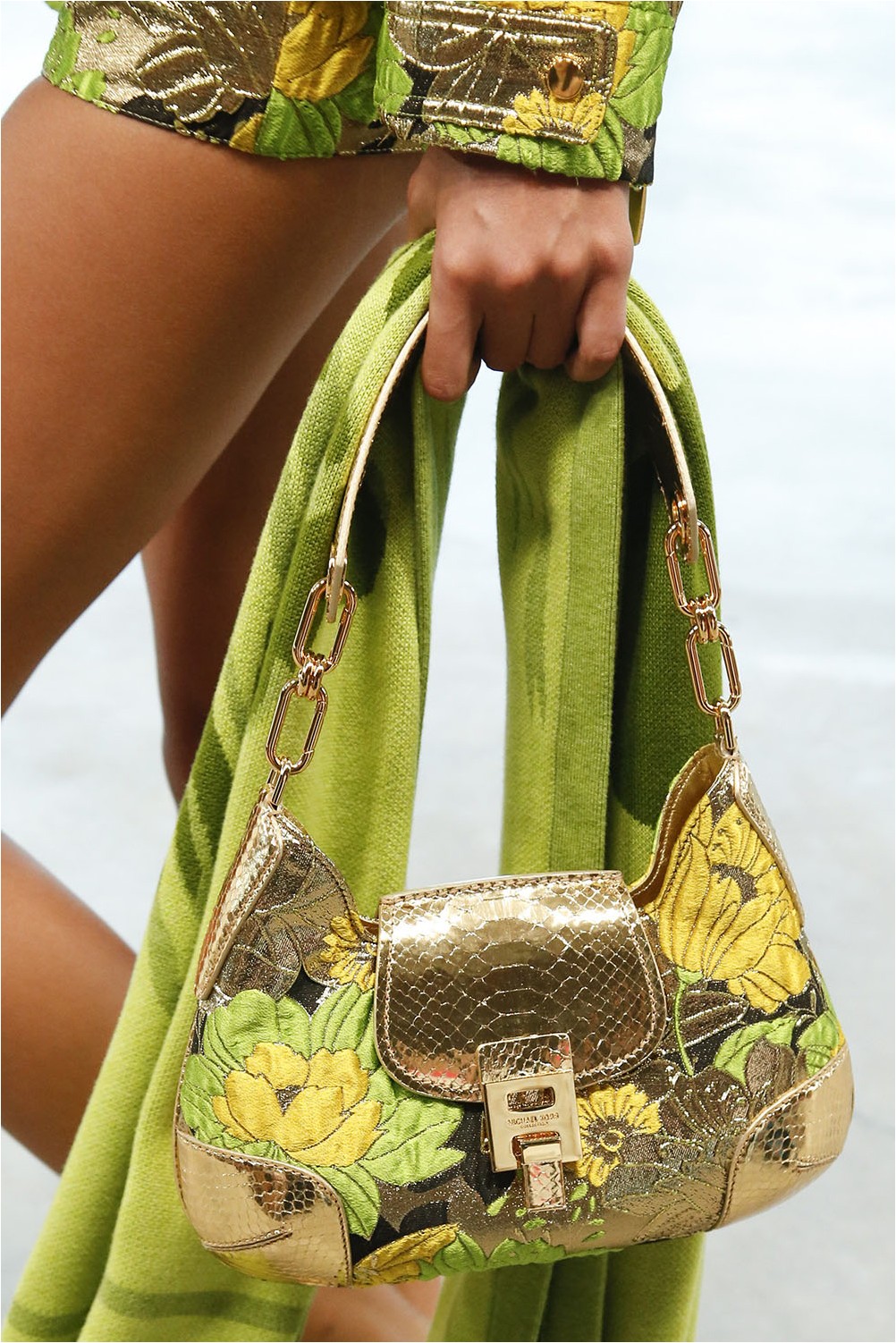 And Oscar de la Renta decided to apply several hand made techniques at once: this is how bags of straw, minoders with sequin embroidery and mini handbags with leather decor.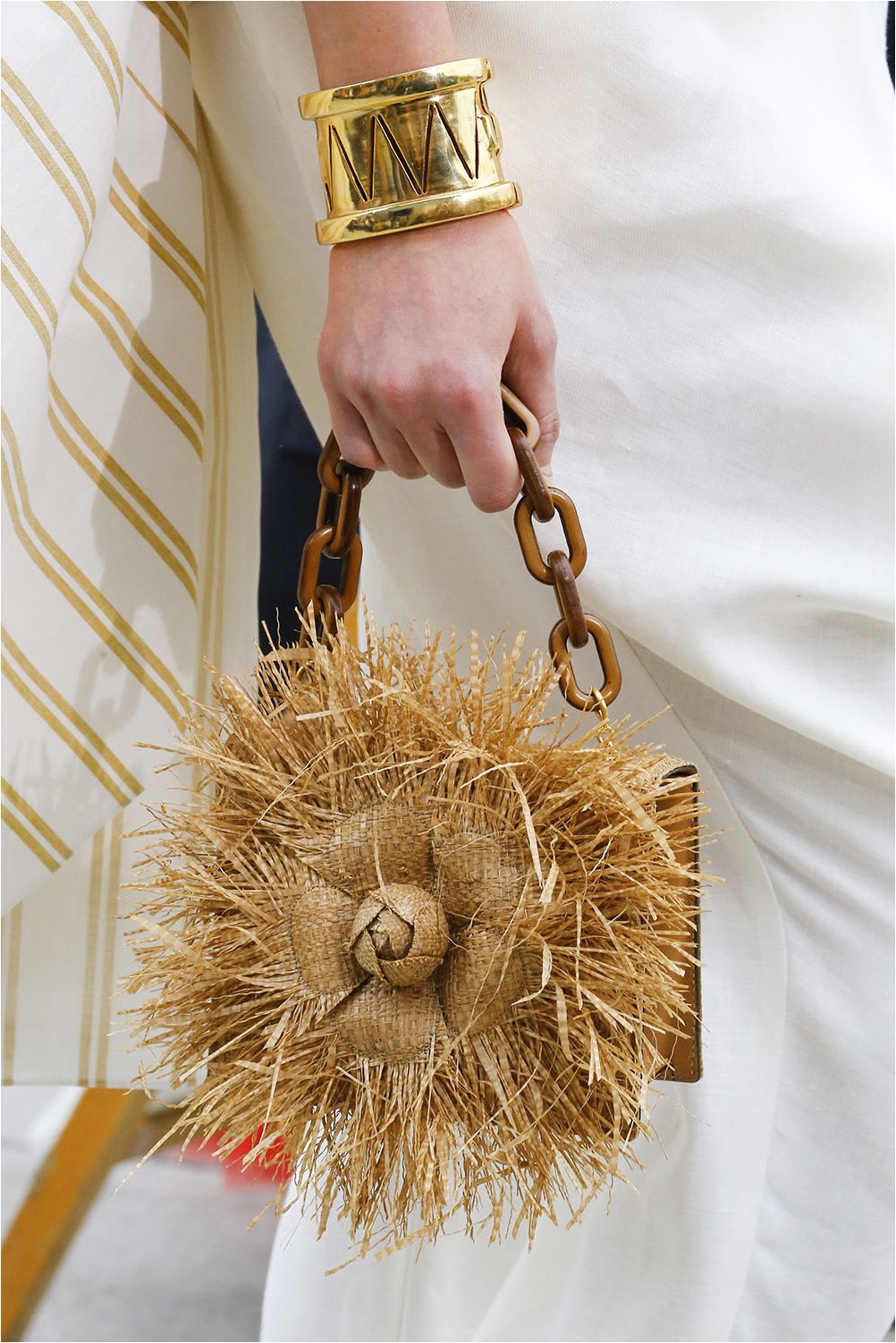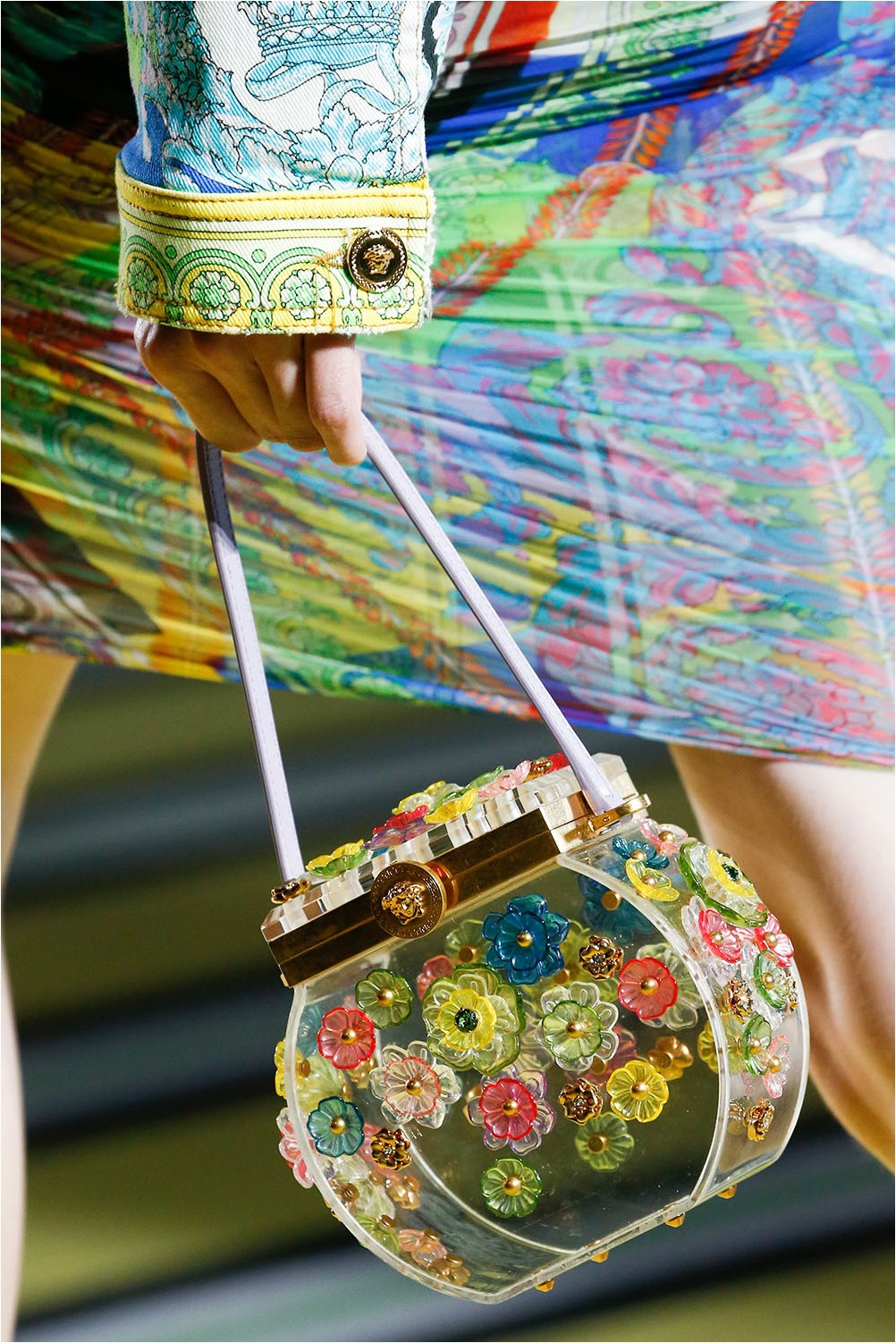 Fur bags
Summer and fur – is it compatible, you ask. Yes, if it's a design from the creator of the "luxurious simplicity" style of the Chanel fashion house. By spring, Karl Lagerfeld prepared a new interpretation of a classic handbag on a chain. It was made of faux fur in bright colors. On the canvas, the famous Chanel stitch was traced. And the pen was decorated with a cult chain from Chanel.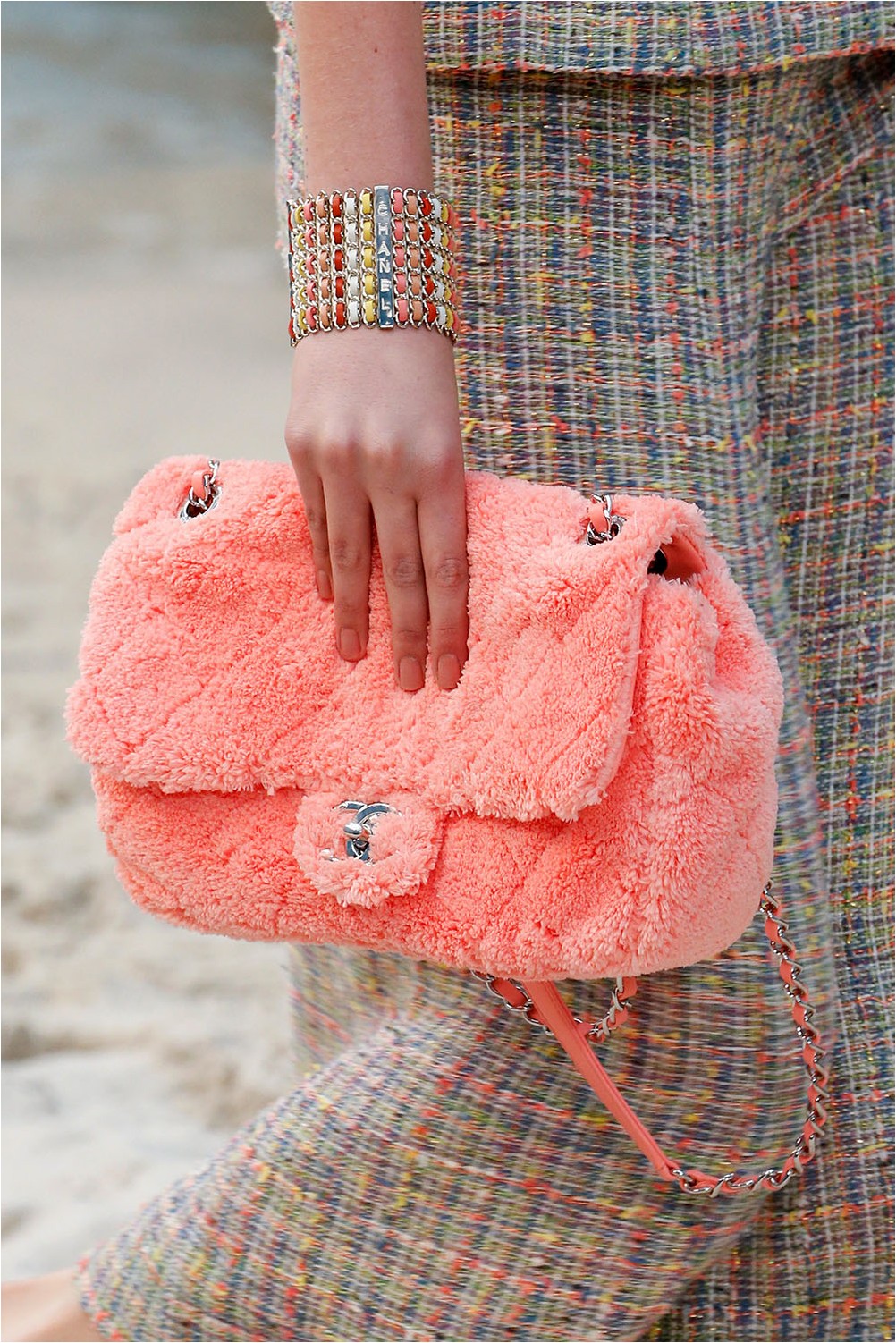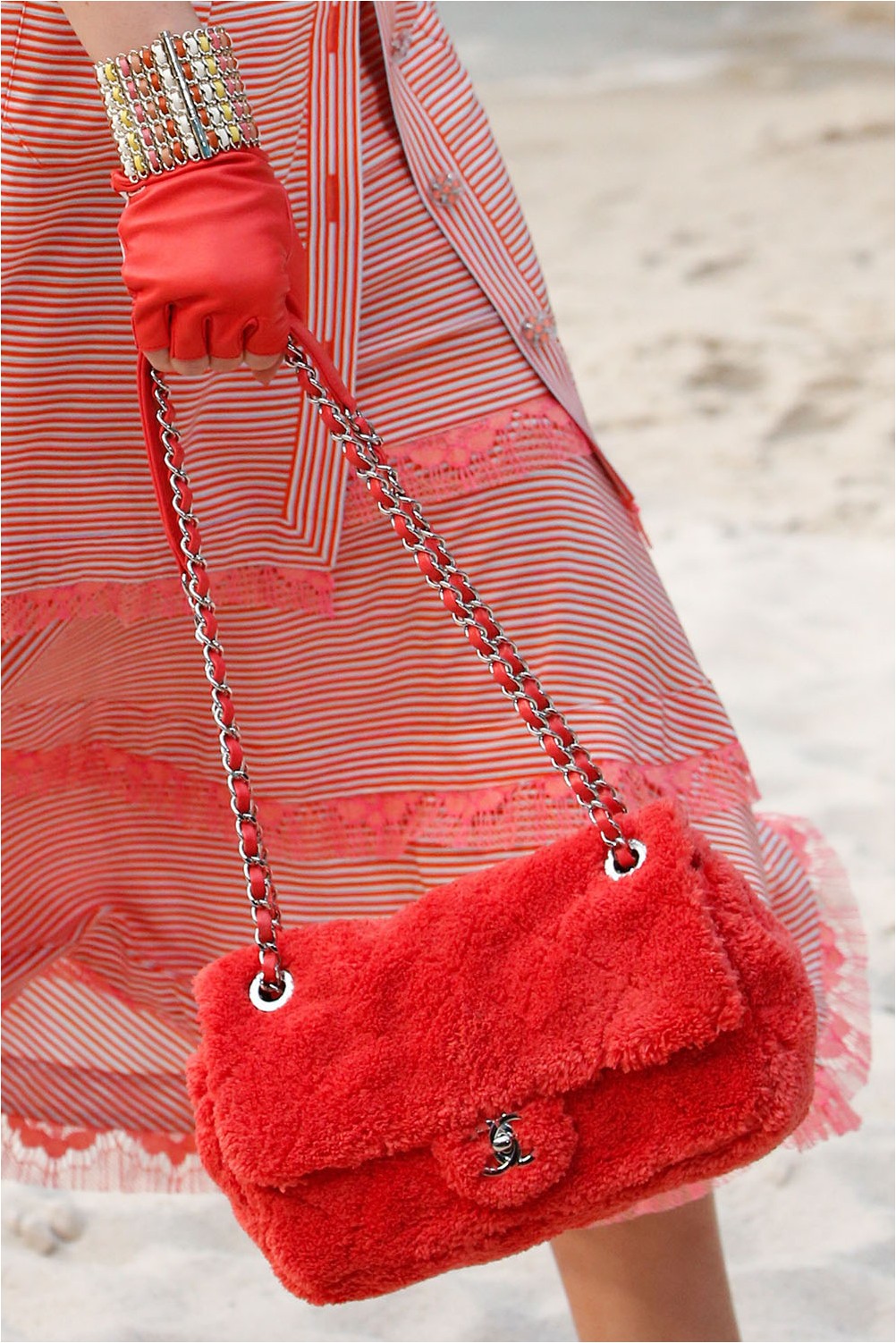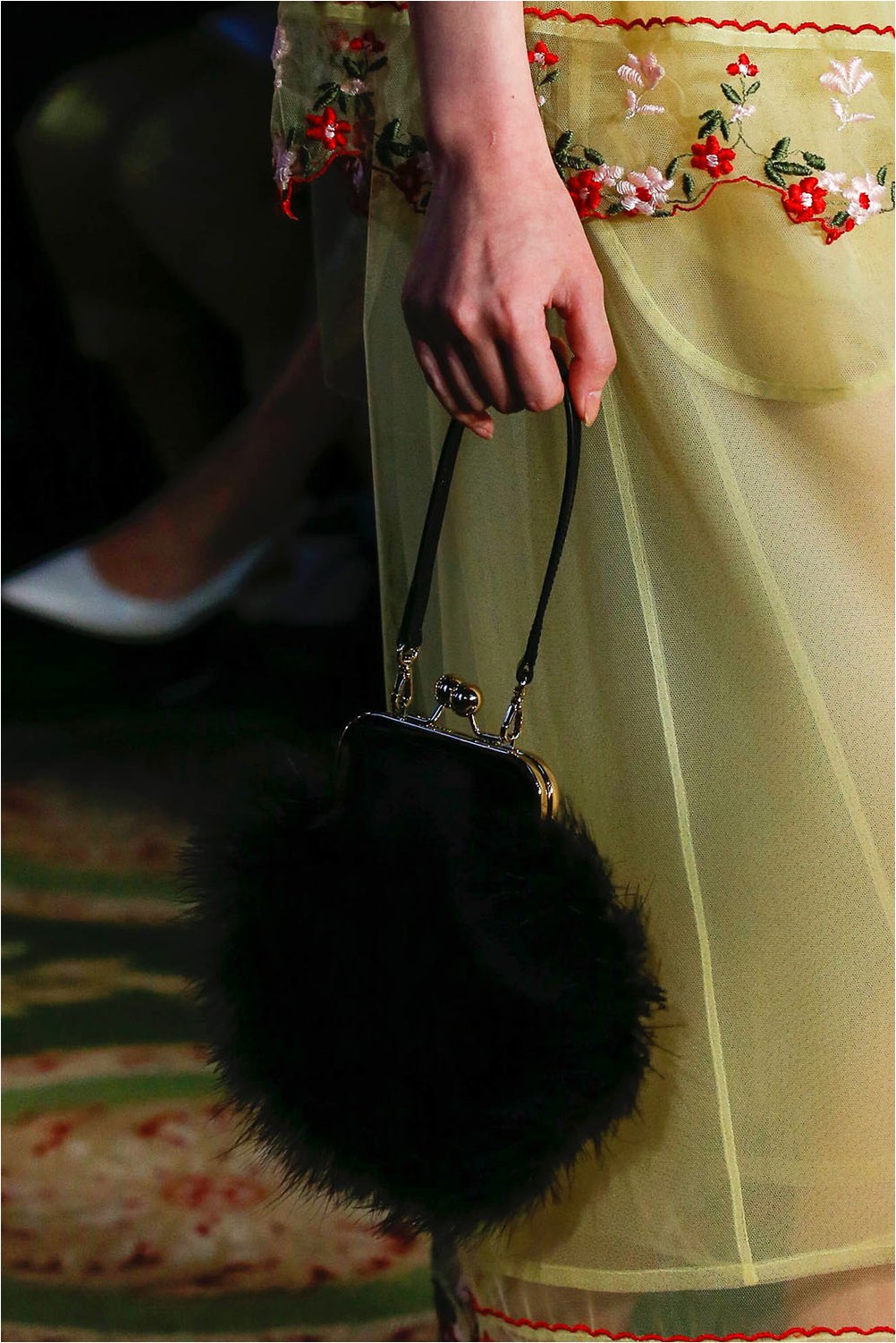 Simone Rocha also included a fur clasp decorated with a clasp in its summer collection of accessories.
Suitcases and chests
The 19th century travel bag style continues the theme of the Victorian era. Handbags styled like bags from past centuries were introduced by Versace and Tod's. Louis Vuitton offers a series of handbags that look like retro travel chests.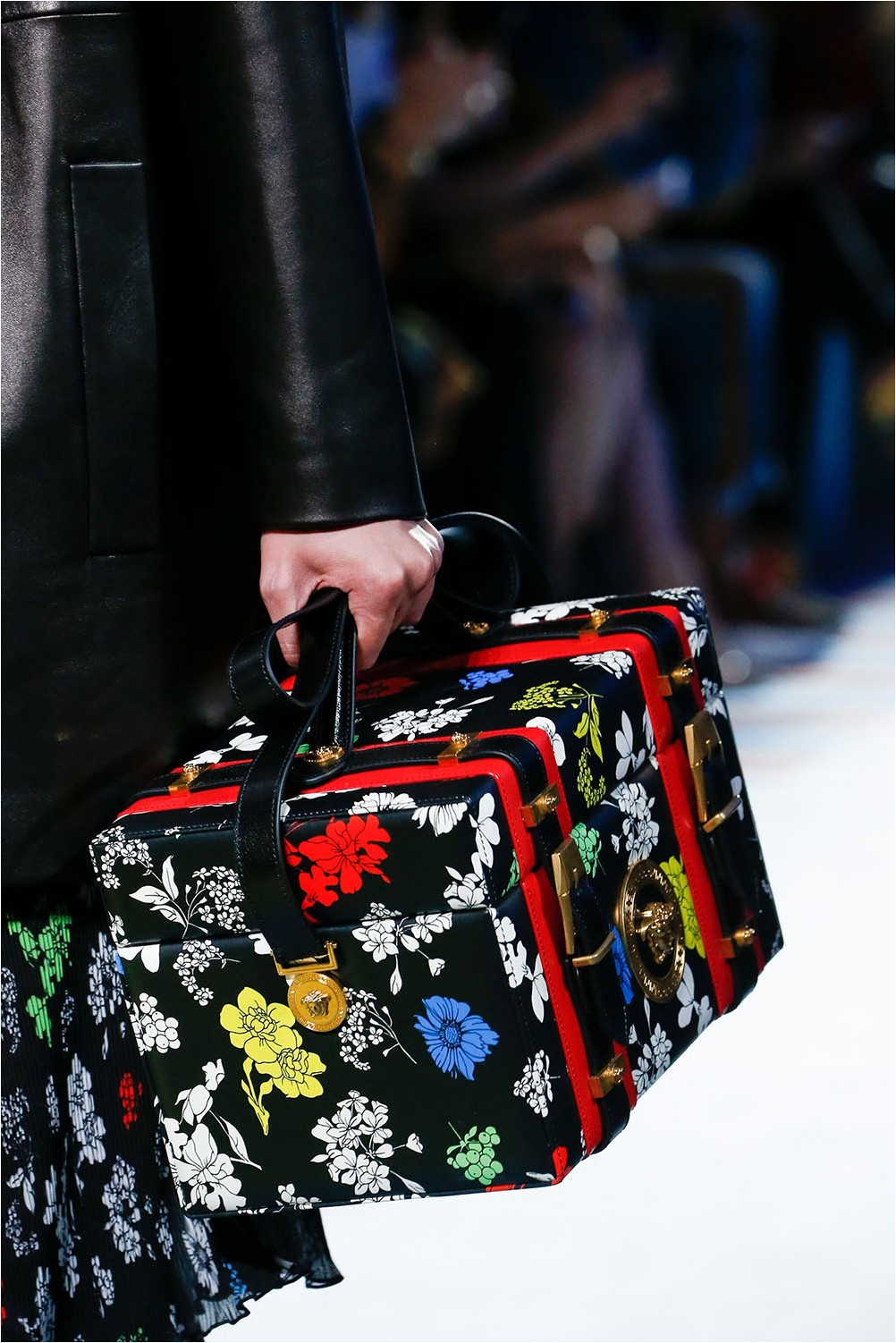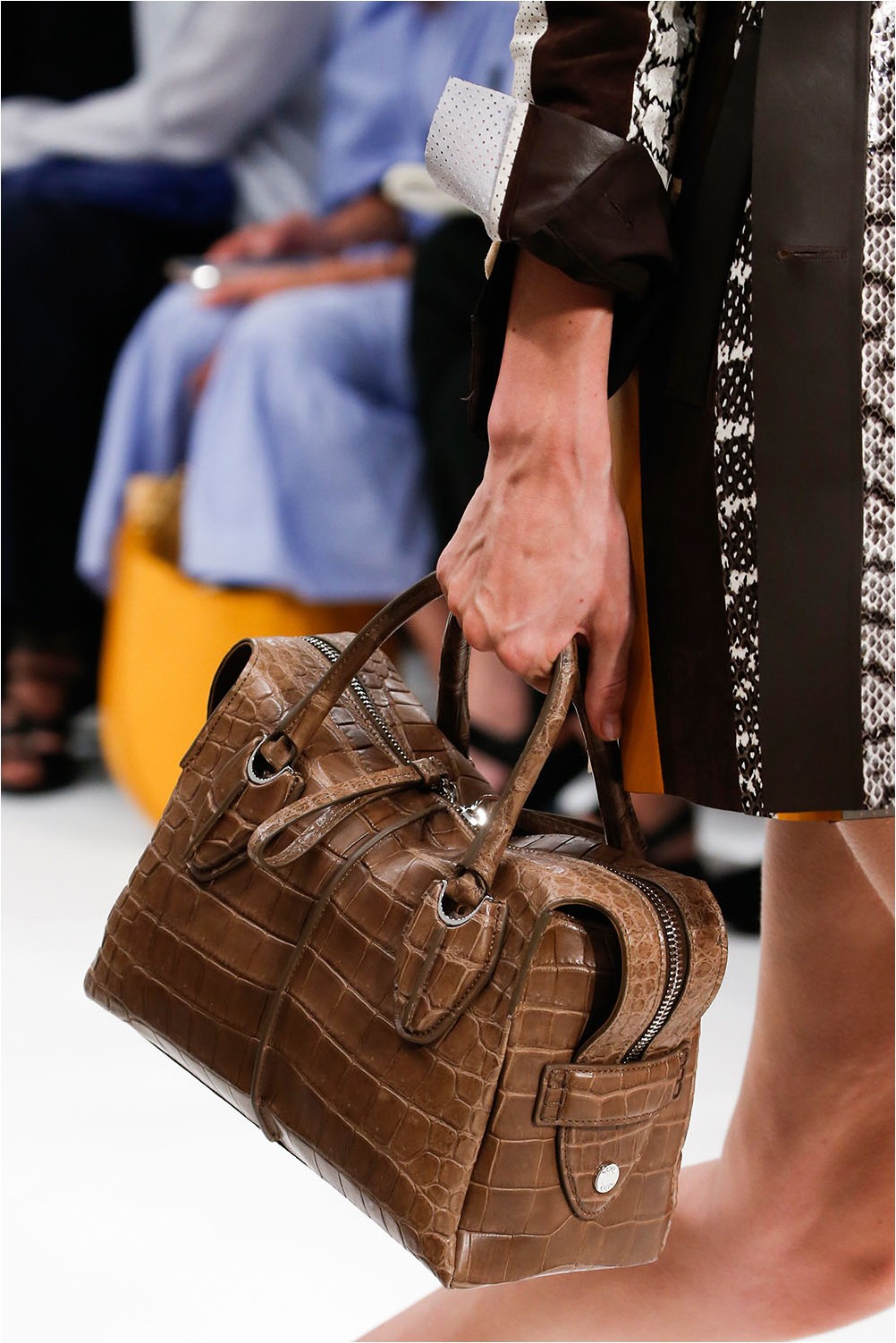 With such stylish travel bags, you can go not only on a long trip, but also at a party with friends, shopping at the shops, and even to work in the office. After all, such models are small in size, perfectly refresh a strict office image and do not get out of the dress code.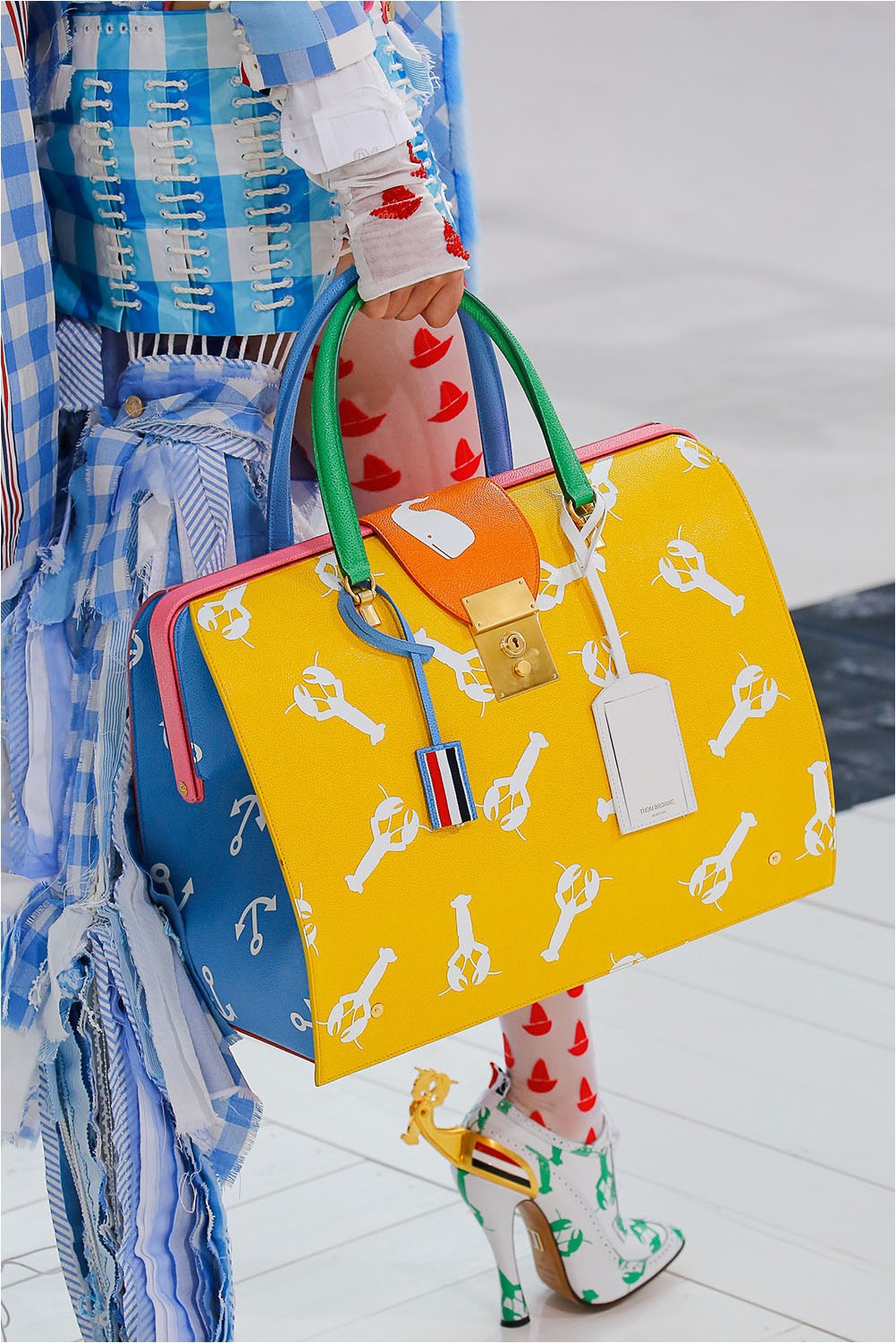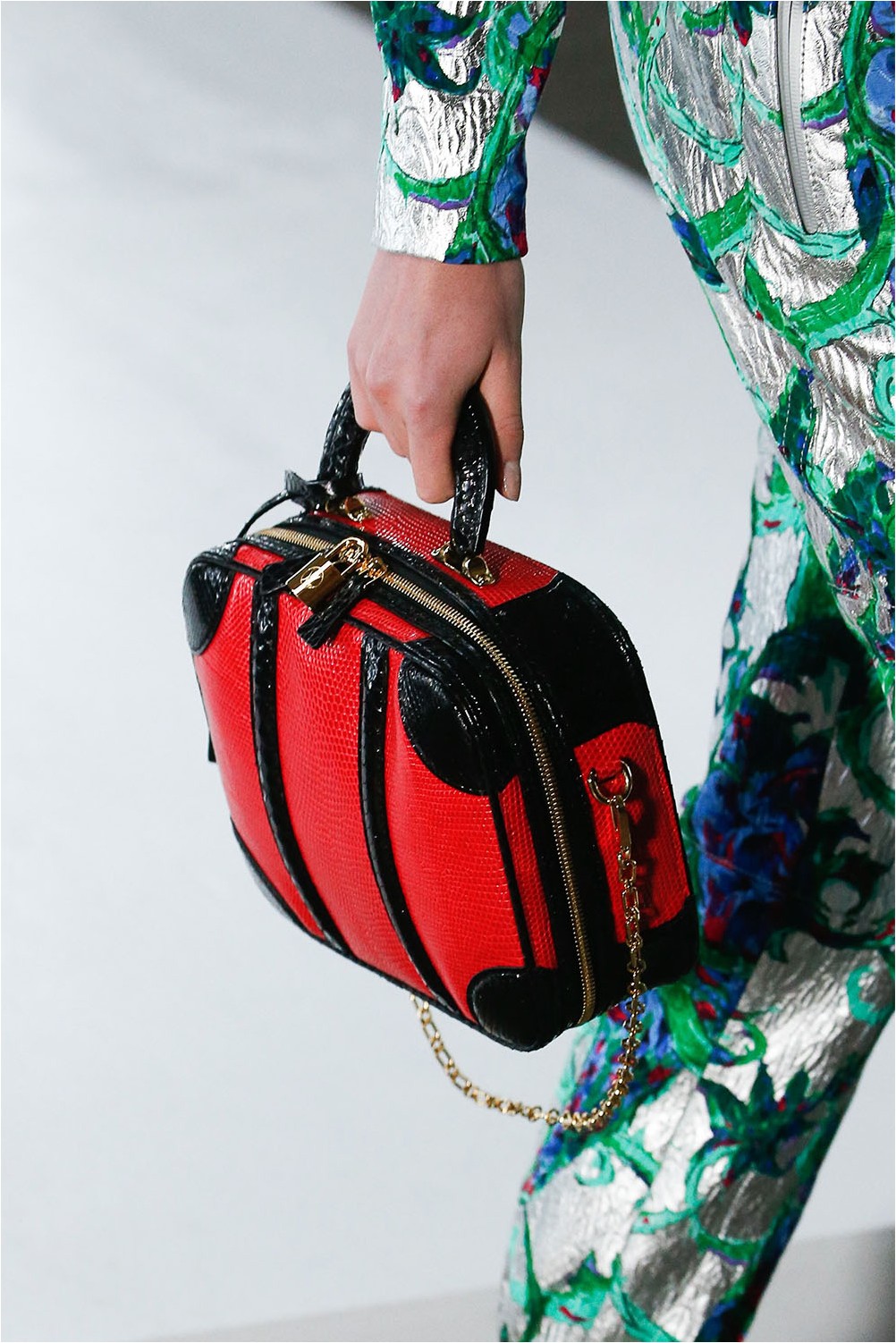 Bags that repeat the print of clothes
The images of total look still disturb the creative minds of designers. Bags that copy the color, print and texture of the main dress for several seasons in a row do not leave fashion catwalks. Each fashion house interpreted total look differently..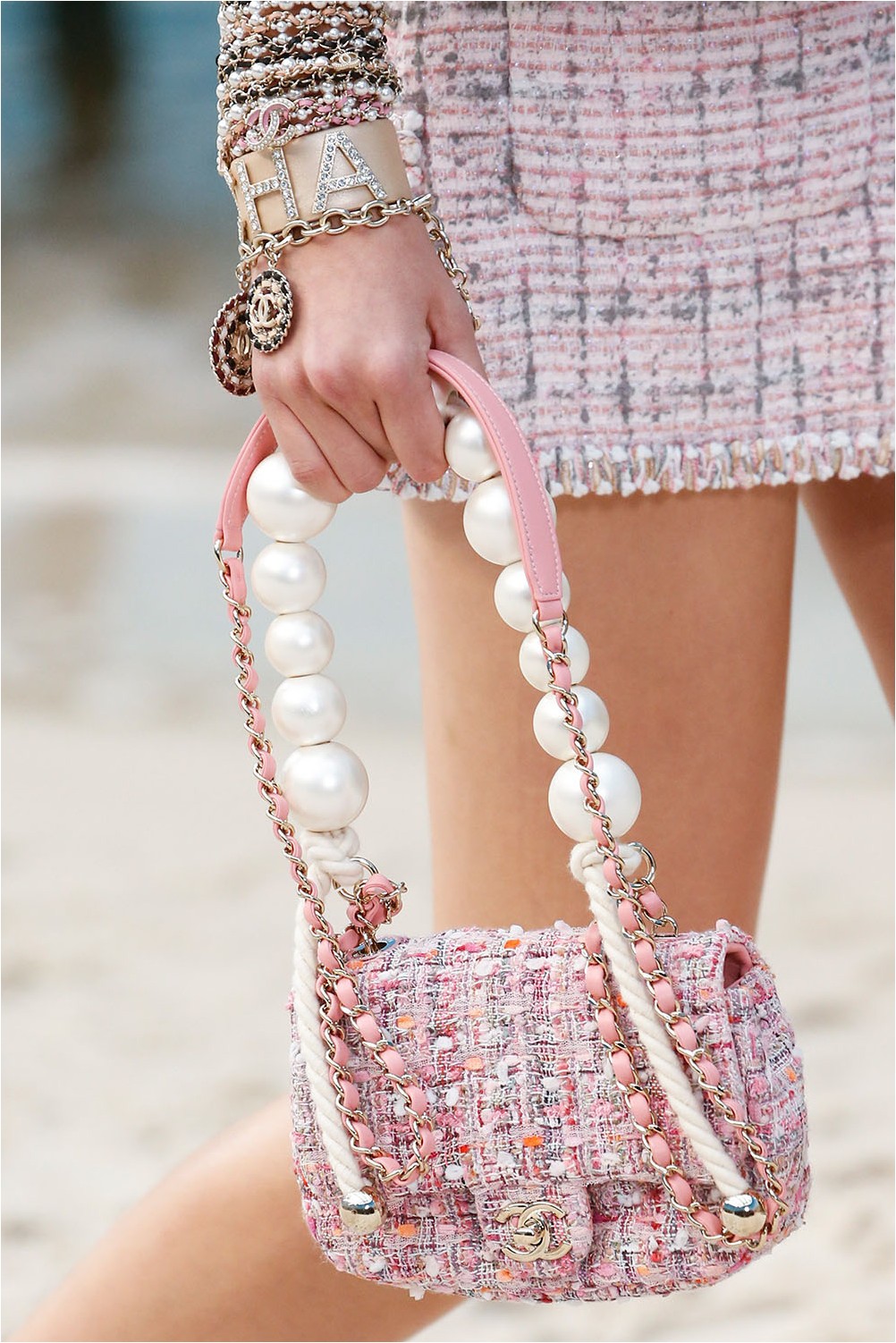 Balmain has created a whole line of pouches with craquelure effect. For each pouch, the appropriate outfit is poured, exactly repeating the color and pattern of the handbag. Chanel has released another line of accessories and outfits from a traditional boucle. Off-White's Total Look is an acid print for reptile skin.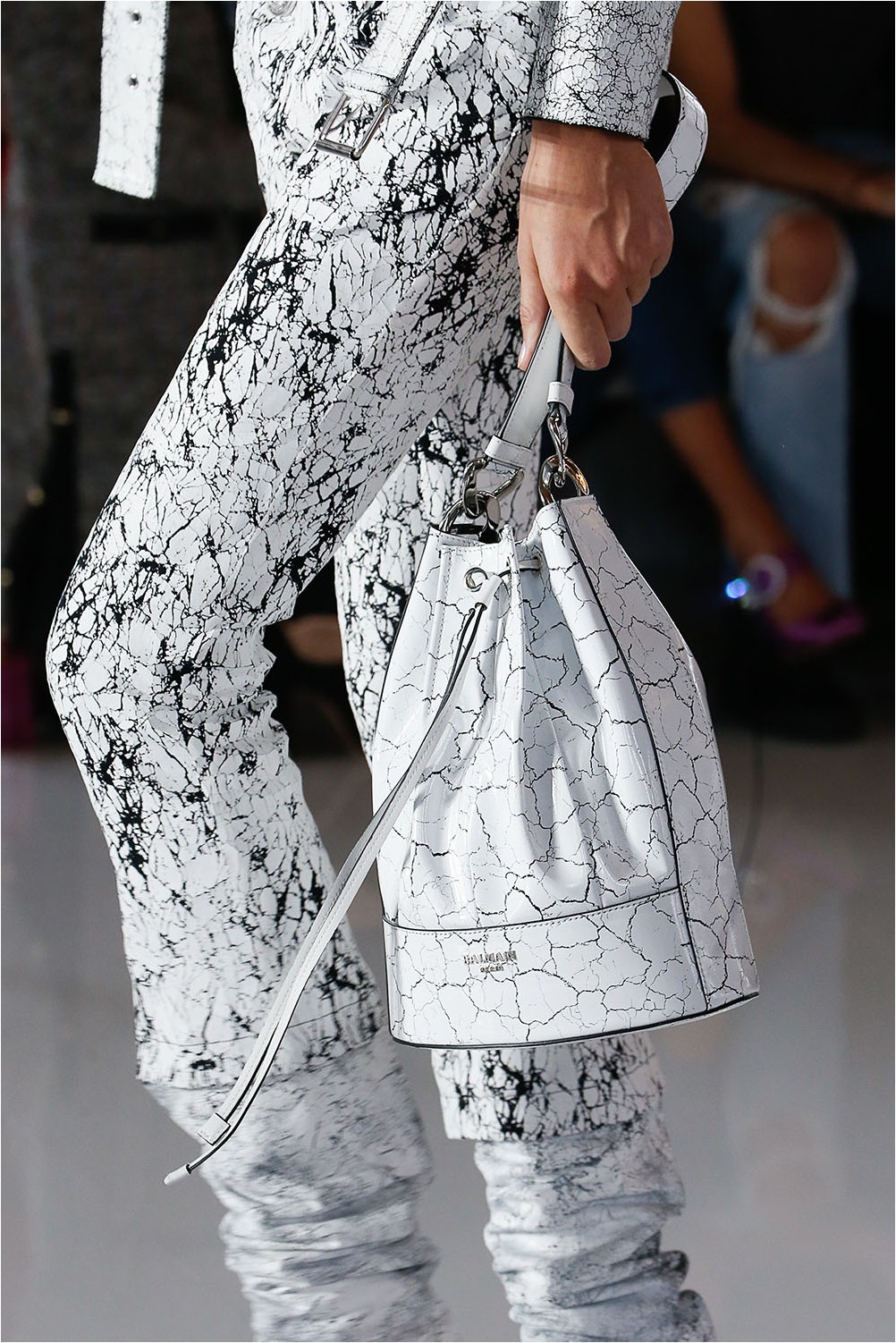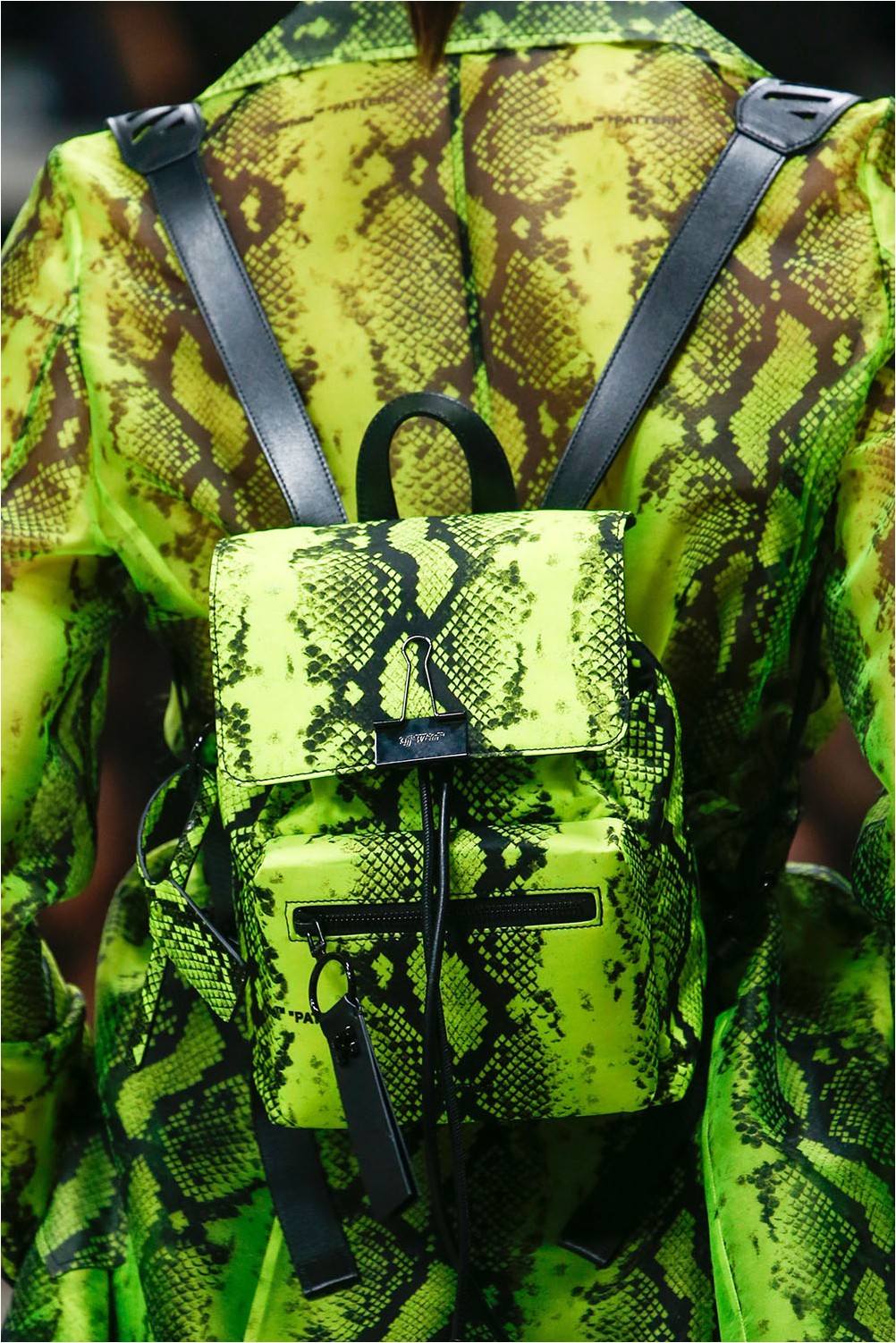 Fashionable bags of the spring-summer 2019 season pleased with variety. A huge number of models were offered. But the most trendy was the small "handheld" bag with an envelope clasp. Its "unusualness" is the absence of a shoulder strap. You can only wear it in your hand or throwing it over your forearm.
If functionality comes first for you, then choose convenient and spacious shoppers or touts. You can completely free your hands and fasten a small handbag to your belt or throw it over your shoulder.
Similar articles
---